Wall Hanging Collage Picture Frames
Collages are a beautiful, dynamic way of decorating your home and displaying precious memories. Using pictures from vacations, adventures, or family gatherings, you can make a heart-warming collage that lifts your mood every time you see it.
If you are thinking of decorating your home with a collage, you'll need the perfect wall collage picture frames to organize your photos. Frames for collages can come in creative and eye-catching designs that make a big style statement in your home.
Consider your décor style and the type of pictures you want to use to help choose a collage frame that matches your design vision. For some inspiration, here are 15 stunning picture frame wall ideas for decorating your home.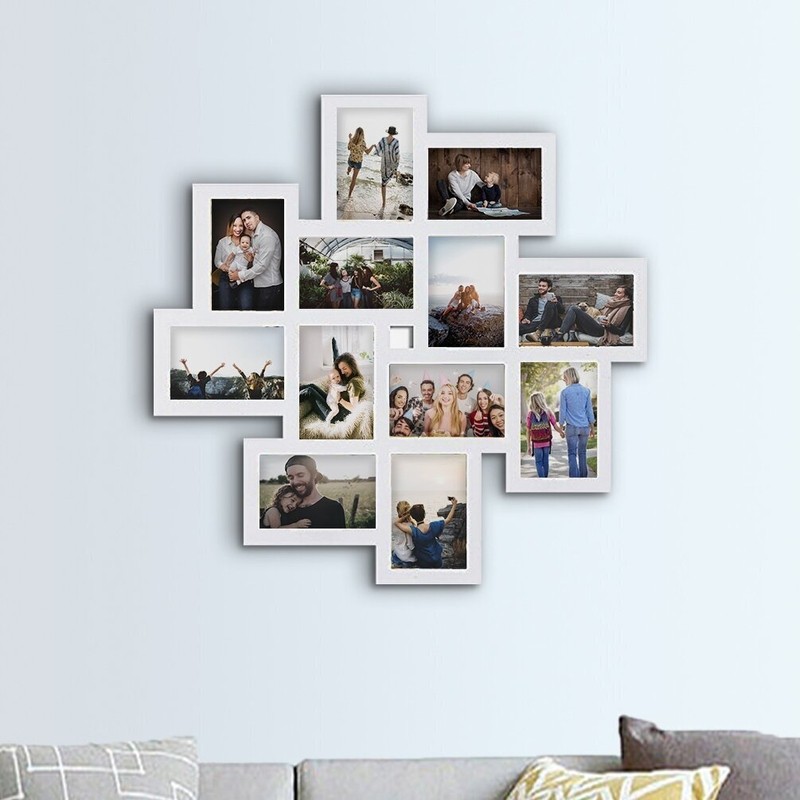 Gallery Style Wall Hanging

If you are looking for wall collage ideas, this gallery style frame is a great place to start. This collage frame has an abstract design that gives your space a contemporary feel.
If you have lots of family pictures but not enough wall space for a full gallery wall, this collage frame features both landscape and portrait orientation frames offering an exciting way to display your memories. This type of large frame can work great in the living room or the entrance of your home.
$38.99 $40.99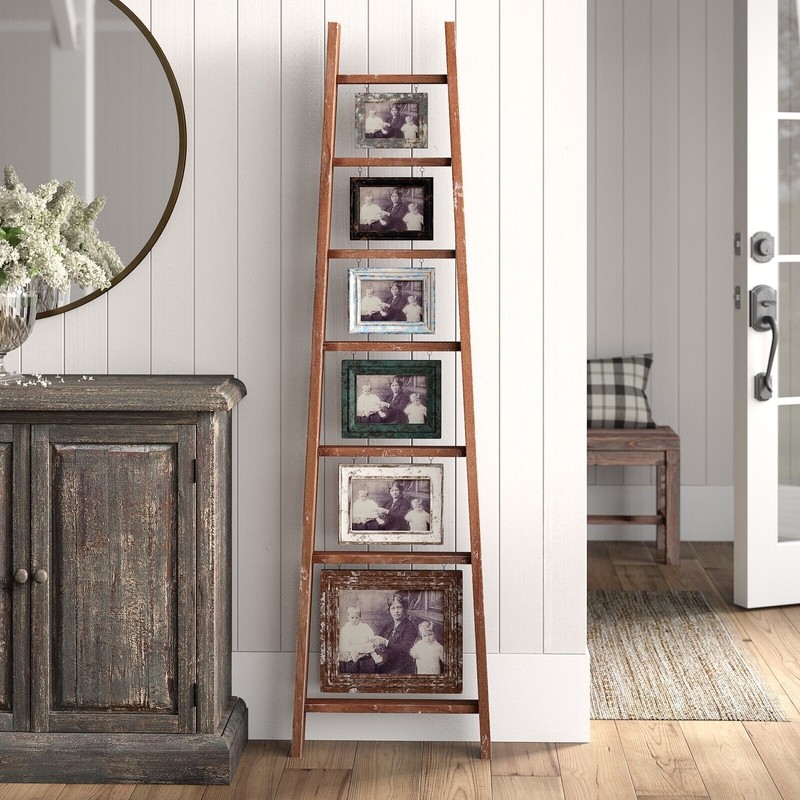 Ladder Style Collage

This unique frame display is perfect for farmhouse or shabby chic homes, offering you a rustic vintage style with a twist. The pictures hang from the steps on the ladder, creating a vertical display of images that gradually get bigger the further down the ladder you look.
If you have a home with small children or pets, you'll need to ensure that you anchor the ladder to the wall or floor to prevent toppling.
$179.99 $223.99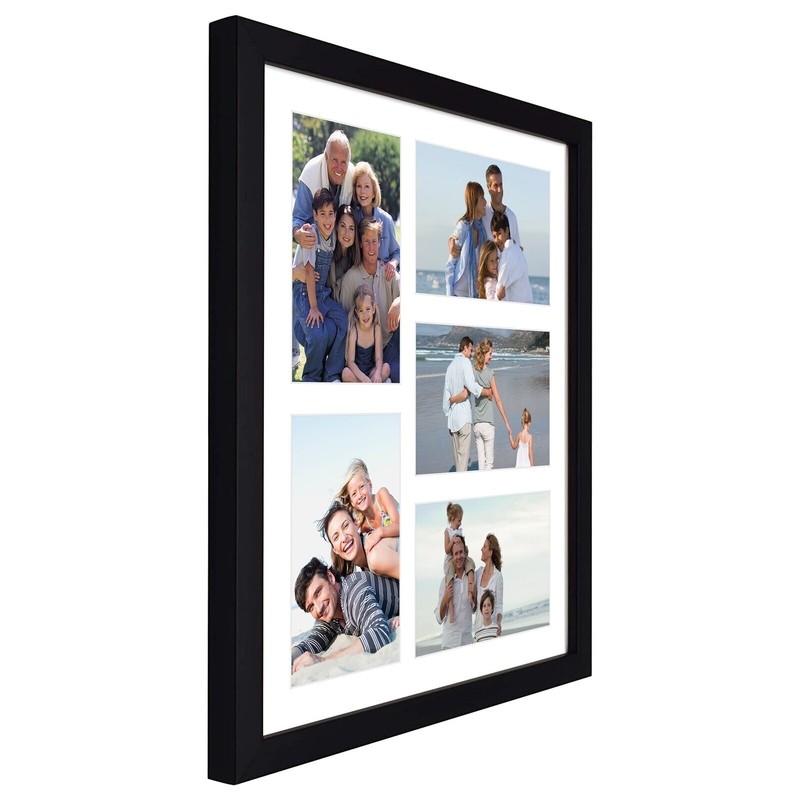 Small Table Collage Frame

A small collage frame is a great addition to a coffee table in your living room, an entryway console, or a bedroom vanity. This simple rectangular frame allows you to organize your pictures in whatever way you prefer. Use the space to tell a story about a recent holiday or special occasion, or fill each frame with a different loved one.
Each photo slot is designed to fit a standard small 4"x6" photo, so there is no need to trim your photos to fit.
$14.99 $20.99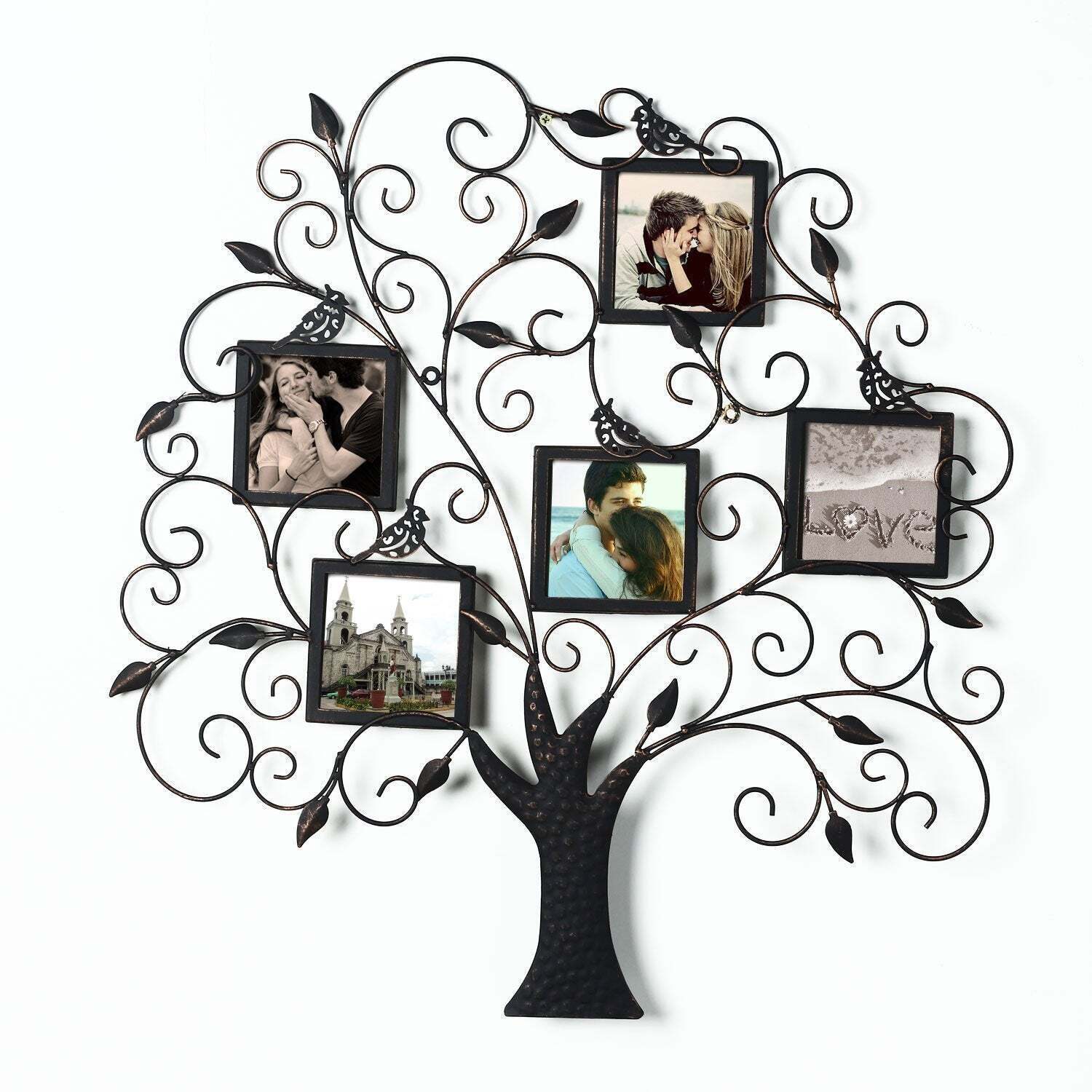 Tree Shaped Iron Collage Frame

Most collage frames have a square or rectangular design to reflect the shape of the photos, but for a more vibrant display, why not try more interesting shapes and styles? Instead of a wooden frame, an iron collage frame can add a different vibe to your home. This specific design comes in the shape of a tree, and the pictures are placed as if they were hanging from the different branches, perfect for displaying family pictures and adding a personal touch to your home.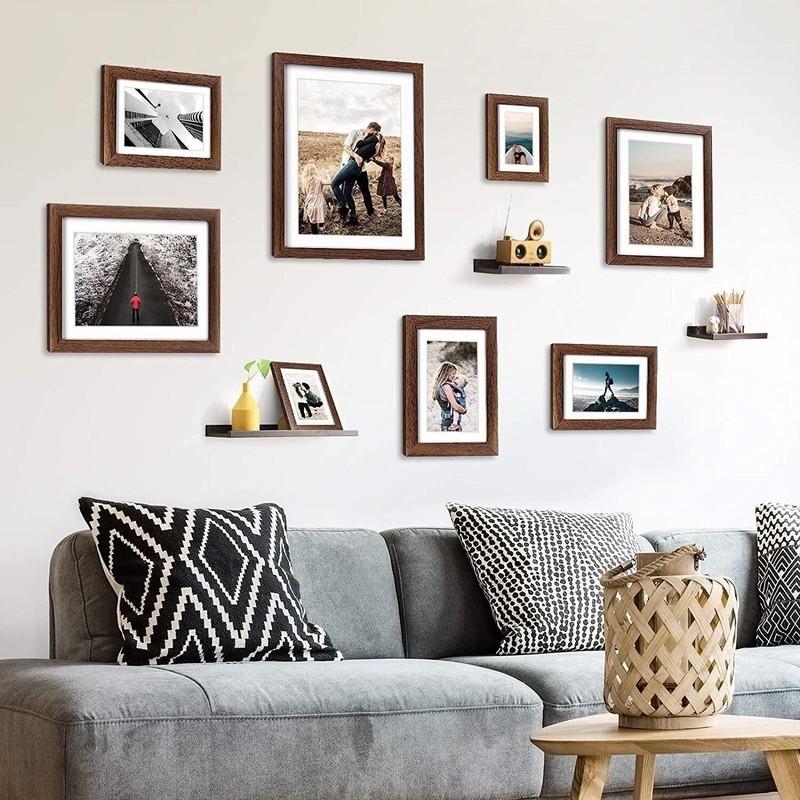 Picture Frames Collage Set

Instead of purchasing a pre-made collage frame, one of the best photo frame ideas for walls is to use a set of picture frames and organize them in whatever way you prefer. You can place the picture frames very close to each other or space them out more to create a different effect.
Using a set of frames can be useful because you can change the layout of the collage easily. Also, if you want to add new images to the wall, you can simply add an extra frame or rearrange the layout.
$117.99 $132.99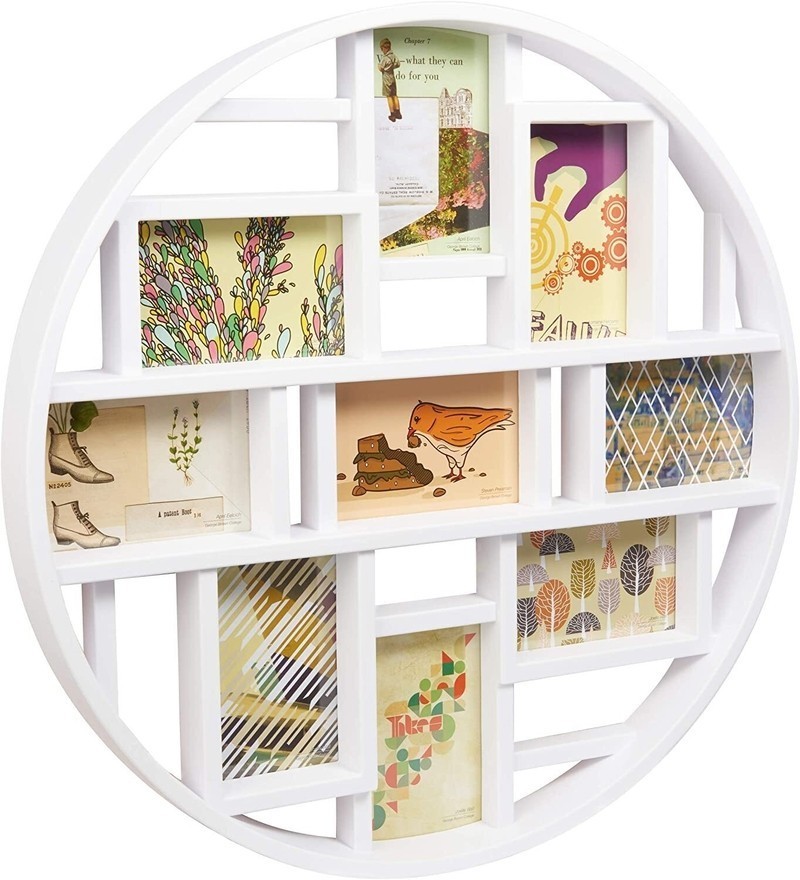 Round Collage Photo Frame Design

A round collage photo frame offers a sleek modern aesthetic to your room and is an eye-catching alternative to conventional square frames. Whether you are doing a family collage or putting together pictures of your latest trip, a round frame offers a distinct and unique touch.
However, you need to consider the photo's subject matter and perspective when using round frames for photos. A round frame can make a close-up portrait shot of a person's face appear rounder. Use this frame for displaying landscapes, pets, or long-shot images of family.
$40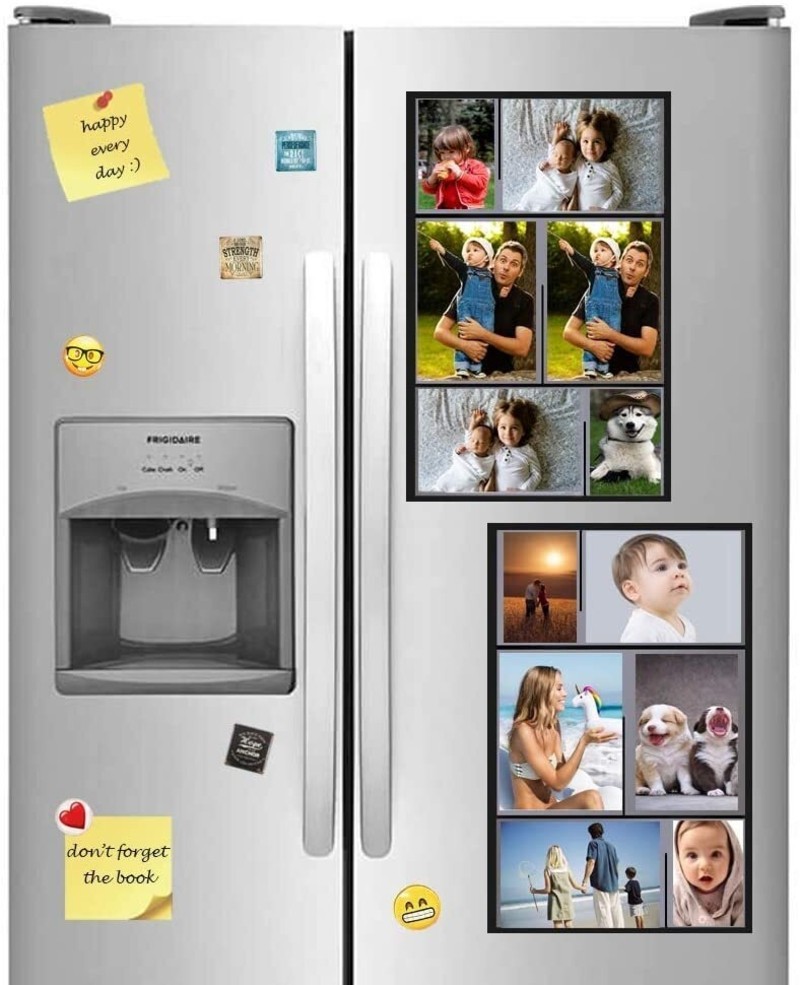 Magnetic Collage Frame for the Refrigerator

The kitchen is a place where we spend a lot of our time. It's also the room in the house where we begin our day, have a cup of coffee, and eat breakfast. So why not display images of the people you love most where you can see them every day?
This magnetic collage frame has a strong grip, and it's easy to place on your fridge. Pictures held by small magnets on the fridge tend to fall easily. A magnetic collage frame holds your pictures steady and stays attached to the fridge.
$16.59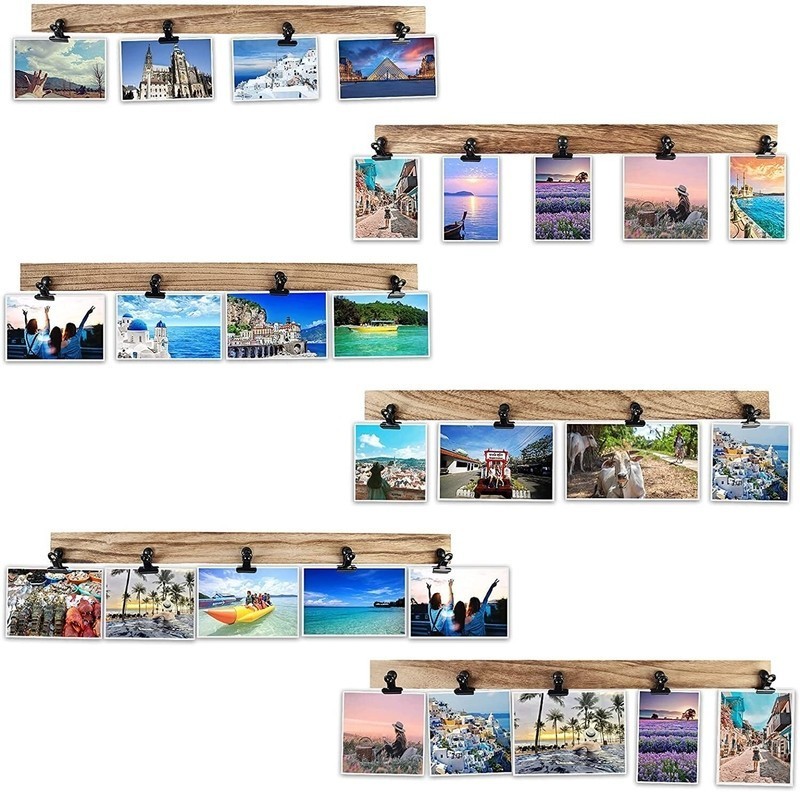 Wall Hanging Wood Frames With Clips

Using long pieces of wood and clips to attach pictures allows you to easily change the pictures, reorganize them, or replace them with updated images. For those who like taking polaroid pictures, this type of frame works great because you can easily clip the pictures to the wall for an instant gallery wall look.
The wood pieces have high-strength adhesive stickers on the back, so you don't have to drill holes into the wall, making it ideal for renters or dorm rooms.
$18.99 $24.99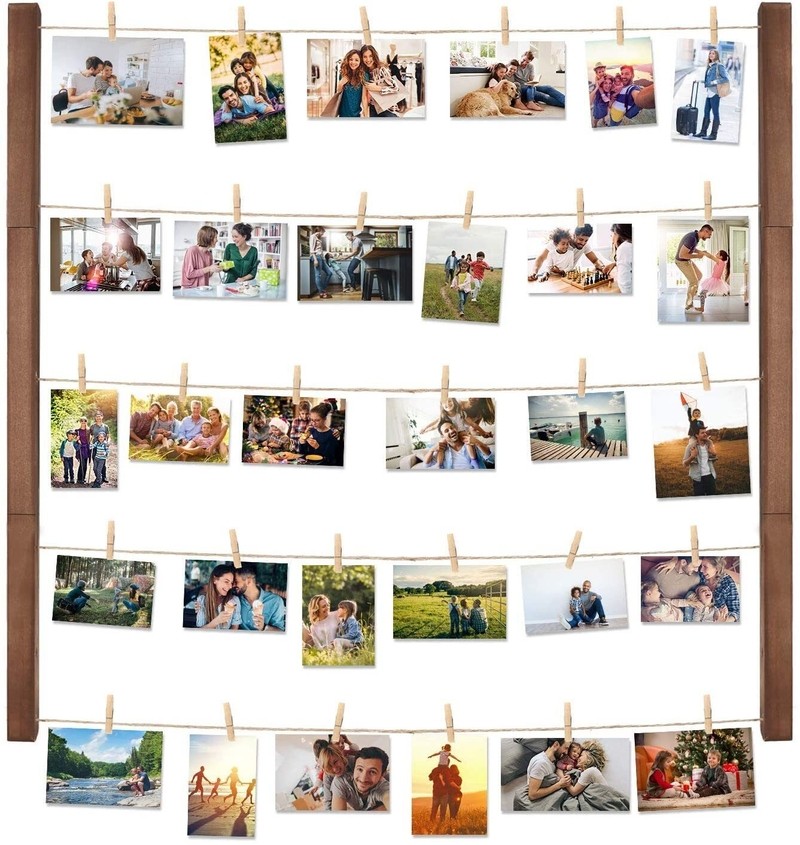 Wall Collage Frame with Strings and Wood Clothes Pegs

If you are looking for a fun way to display your favorite pictures, take a look at this picture frame collage wall idea. Using two pieces of wood and some strings, you can hang your pictures in a fun and creative way by attaching the photos using clothes pegs.
This style can look great in apartments of young couples or students and is a charming way to tell the story of a wedding day, vacation, or birthday.
$15.98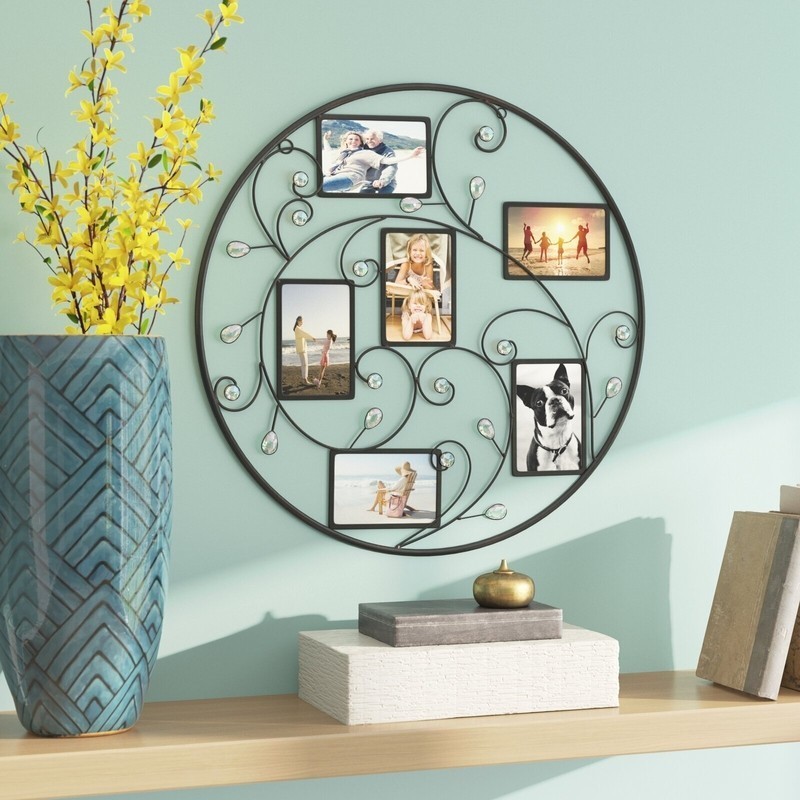 Round Iron Wall Collage Frame

Metallic finishes can add texture and interest to your space. This round iron wall collage frame is a stunning focal point to hang over a mantel, buffet table, or above a sofa without detracting from the beautiful photos displayed within. Look for a round iron frame with delicate scrollwork and faux gemstones that subtly highlight each image.
These frames work best on white or neutral walls as the space between the scrollwork exposes the paint, impacting your perception of the prints if it is a bold wall color.
$45.99 $69.99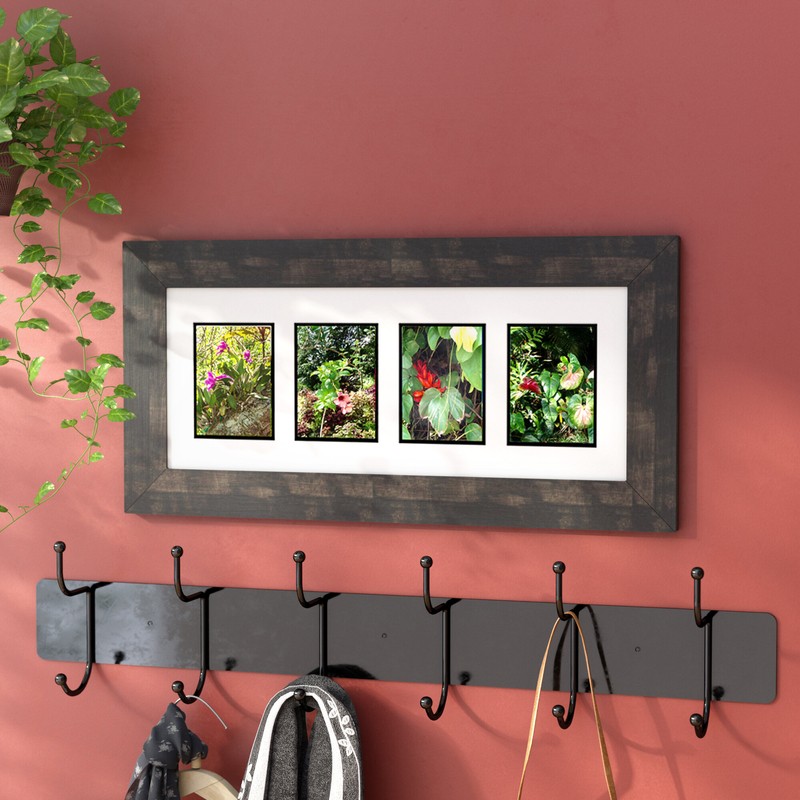 Small Wood Collage Frame

Small photo frames can still have a big impact on your décor. A light wooden frame designed just for a few photos allows you to curate a small collection of happy memories. Small frames can be displayed in almost any space, from a coffee table to above your coat rack, making them one of the most versatile wall collage options available.
Choose a frame that features a high-contrast white or black mat backing to make the colors in each image pop.
$92.16 $108.37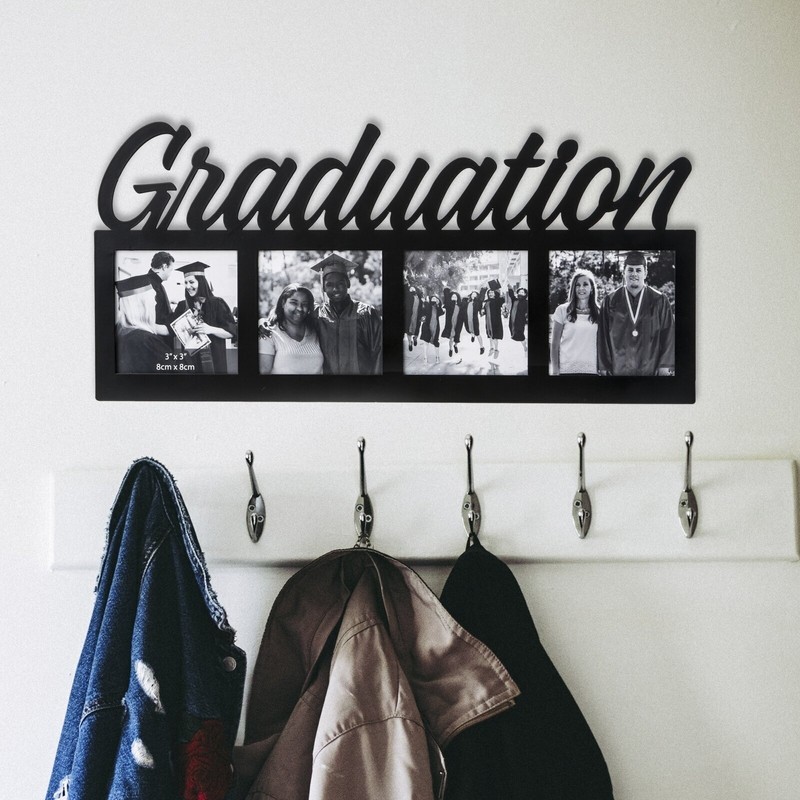 Graduation Collage Frame

Proudly display your or your child's amazing achievements with a graduation wall collage frame. Perfect for placing above a home office desk or in the family room, you can highlight key moments from their graduation, from shaking hands with the Dean to waving their diploma in the air.
The four slots in this frame are square, so you may need to trim standard photos to fit. Or, if you are printing the images yourself, make sure you adjust the resolution and crop the image, so you don't lose any picture clarity.
$20.99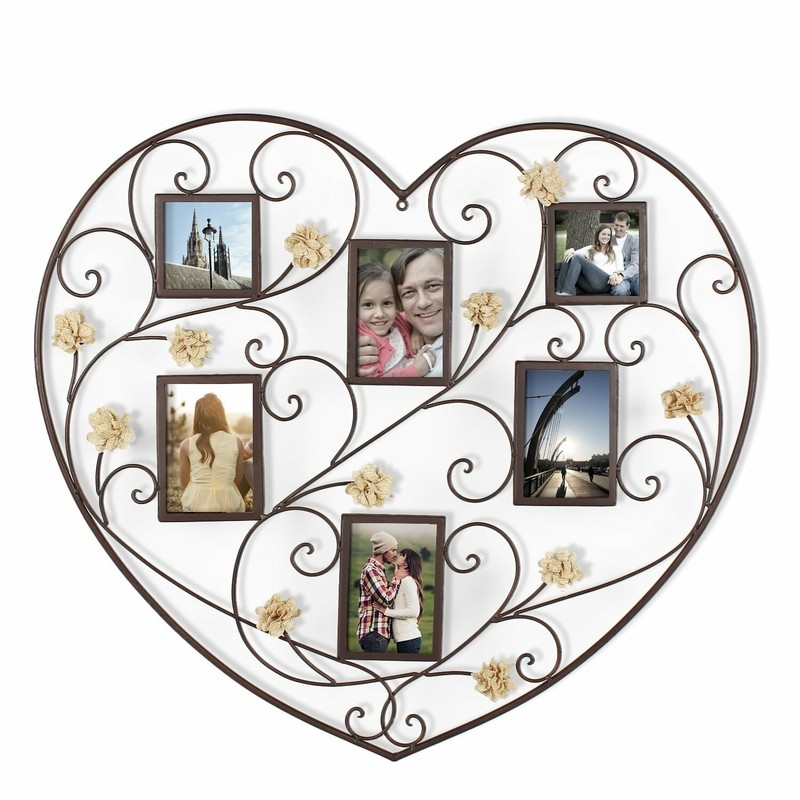 Heart Shaped Iron Collage Frame

Show off pictures of the people you love the most in this whimsical heart-shaped collage frame. The design is excellent for displaying family pictures and can look great in a dining room or living room.
Since most people tend to use squared or round frames, a heart-shaped collage stands out as a different and creative design to draw the attention of guests.
$55.99 $69.99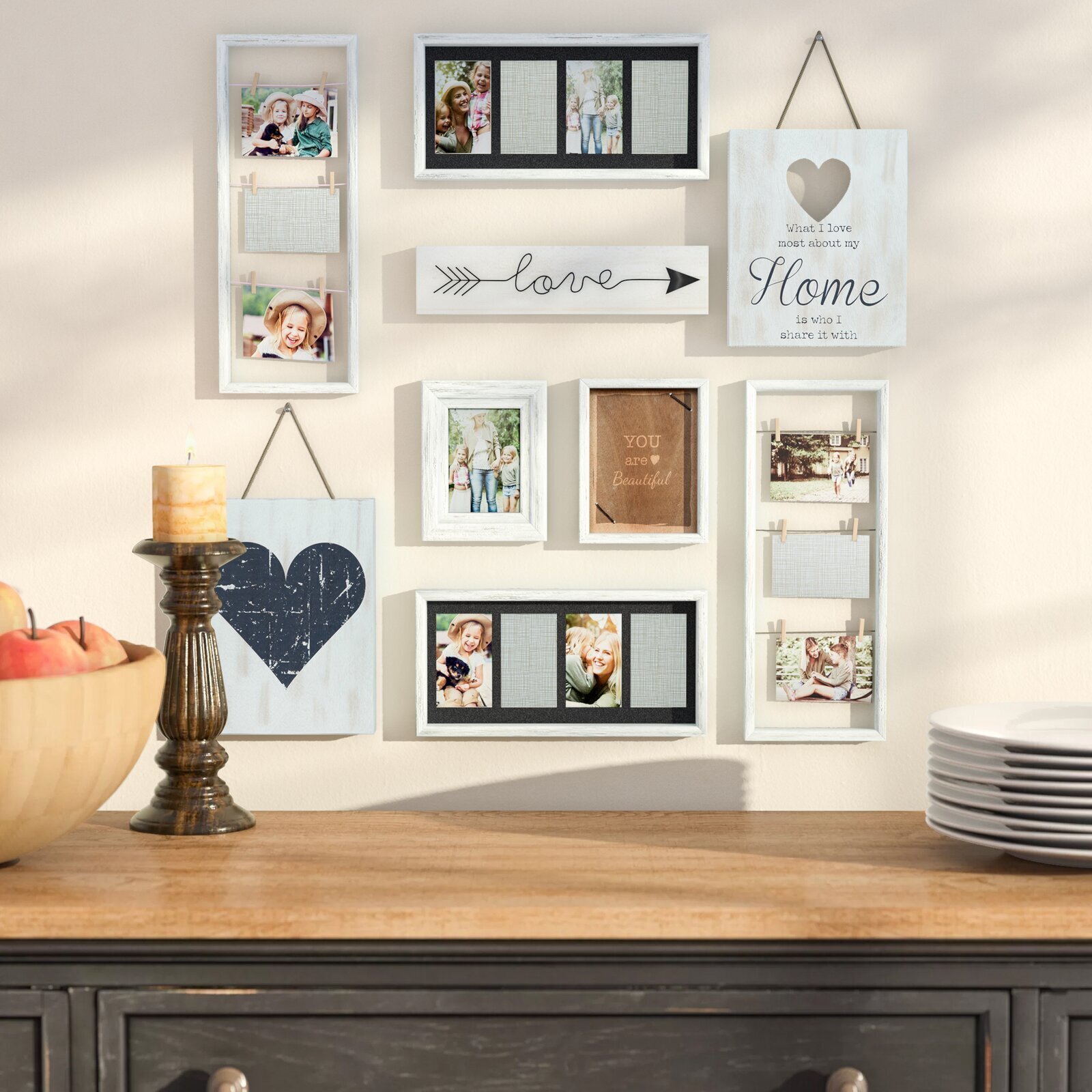 Rustic Style Wall Collage Frame

Adding extra elements to a collage wall frame can create a more engaging and interesting design. This rustic style distressed wood collage frame has several frames and décor accessories that you can organize to suit your style and available space.
If you are looking for photo frame collage ideas that are different and unique, this set of rustic frames is a great choice.