Our Choice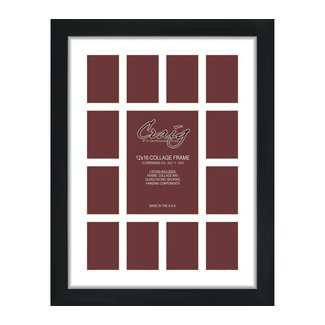 13 Photograph Picture Frame
Your pictures will take center stage is this clean and simple black collage frame with a white mat. The mat has openings for 13 different photos. The focal image is 5 x 7 and it is surrounded by 12 smaller photos. This frame comes with your choice of three different photo arrangements. The collage is perfect to document a child's progress from kindergarten through twelfth grade or for following a baby through the first year of life with monthly snapshots.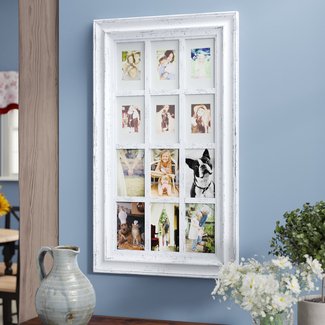 Corduff 12-Opening Collage Picture Frame
Looking at the photos in this collage frame feels a lot like looking in a window. This frame holds 12- 4 x 6 photos and each of them appears to be part of a window pane. The frame is designed to hang on a wall but it's your choice of whether it is placed vertically or horizontally. The intentional distressing to the white frame will blend in gracefully with farmhouse or cottage or vintage decor.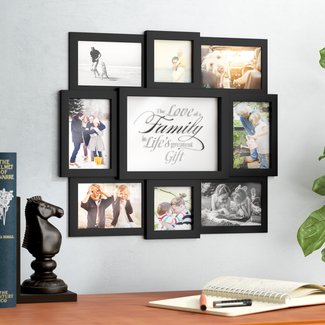 Family Sentiment 8 Opening Collage Hanging Picture Frame
This collage frame celebrates everything family. Made of a lightweight matte black plastic, this collage frame has opening for eight photos of your favorite people. Each picture has its own black frame around it. Two of the smaller frames are made for 4 x 4 photos and 6 are made for 4 x 6 photos. The sentiment in the middle reads, "The Love of a Family is Life's Greatest Gift" and it is silkscreened onto the glass. Hang this frame in a special spot where you will constantly be reminded about the family you love.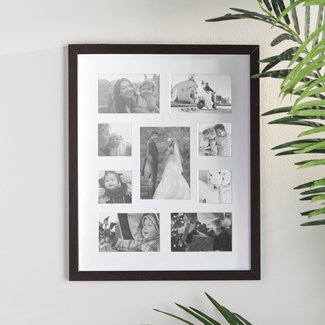 Wayfair Basics 9 Opening Collage Picture Frame
This striking collage frame gets its style from the balanced openings in the mat. There are a total of 9 openings for different sizes of photographs. The frame protects your precious memories with an acid-free mat and UV glass. This frame hangs beautifully whether you choose a horizontal or a vertical orientation. It would be a striking addition to any gallery wall.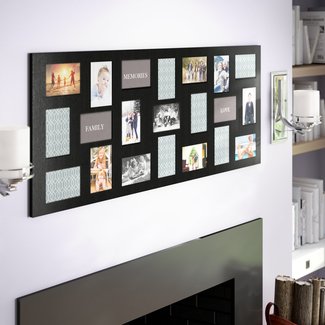 Christopherso 21 Opening Collage Picture Frame
If you have a lot of pictures to showcase then this is the collage frame for you. This frame features 21 openings and it is easy to work with because each opening is for a 4 x 6 picture. The contemporary black wood frame features UV-protected plastic that protects each picture. If you've been considering creating a gallery wall, this frame is a great place to start. It takes up a large amount of wall space and the pictures are already placed for you.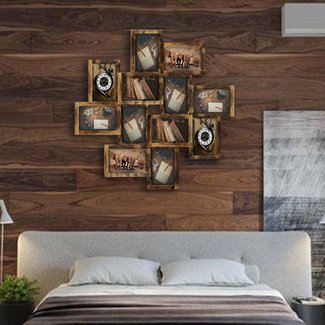 Madyson Square Storm PVC Selfie Gallery Collage Picture Frame
This eye-catching frame deserves a grouping of some of your favorite pictures. The frame has a warm wood finish but is really lightweight PVC. There is room for 12 4 x 6 photos that slide in easily behind a plastic protector sheet. A frame this striking works best with a cohesive set of pictures. Maybe all the pictures are from a mountain vacation. Or maybe each frame holds a single person's head shot. Easy to install hanging hardware is included.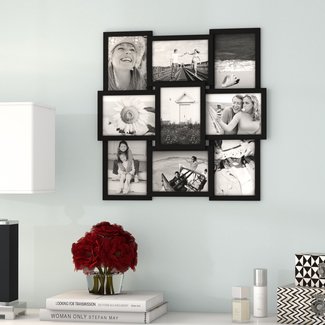 Stanek Puzzle Picture Frame
If you like to go big or go home then this is the collage frame for you. This frame is designed to hold 5 x 7 photos which is larger than most. The neutral black frame holds nine of your larger photos and keeps them protected underneath a sheet of plastic. You can hang this one vertically or horizontally depending on what looks best in your space. If your photos look best in larger sizes then this is the collage frame for you.
Souhail Rustic Wash Picture Frame
This rustic wash frame makes an impact by spotlighting three very special pictures. The bright white mat has three openings that each fit a 5 x 7 photo. The pictures rest underneath glass and it can be hung in portrait or landscape orientation. The availalble finishes are done in a charming cottage-style and are perfect for setting off special black and white prints.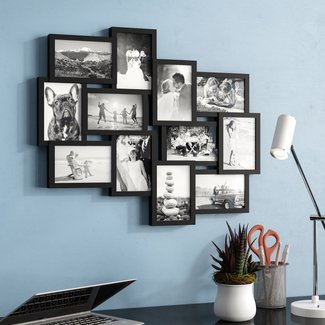 Nemeth Family Rules Dimensional Collage Picture Frame
This collage frame is perfect if you have a collection of special photos and some are portrait orientation and others are landscape. This frame in lightweight PVC has openings for 12 of your favorite 4 x 6 photos. The changes in orientation give this frame a geometric look that is particularly perfect in contemporary and industrial decor.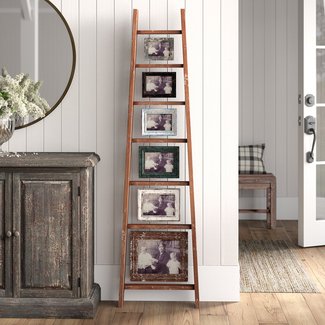 Fruita Wood and MDF 6-Photo Ladder
This photo collage ladder is definitely a statement piece. The ladder and frames feature purposefully distressed frames. The frames descend from the rungs of the ladder and the photos graduate in size from top to bottom. The photo ladder is 66" high and is freestanding. The feel of the finishes make this the perfect photo collage for a farmhouse interior.