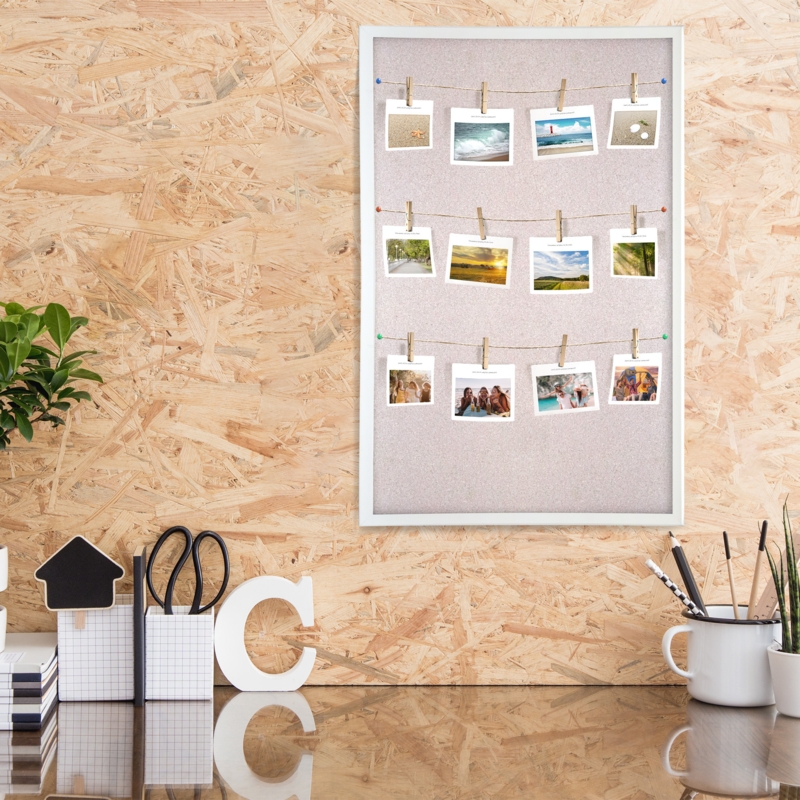 White Wood Finish Cork Board with Linen Surface
ORIENTOOLS
Perfect For: Office, home, and commercial environments
What We Like: Modern decor and light linen surface
This contemporary white wood finish cork board offers a stylish and functional solution for pinning notes, messages, and more in any space. Its light linen surface sets it apart from ordinary corkboards, providing a clean and subtle touch to your wall. The board's dense backing material ensures push pins stay put without falling out, while the linen surface hides pinholes once pins are removed. Versatile mounting options allow you to hang it vertically or horizontally, and mounting hardware is provided for easy installation.
$219.99
Designer Advice:
Pair it with a mix of metal and colorful push pins, creating an organized and visually appealing space for your reminders, photos, and calendars.
Merchant links are sponsored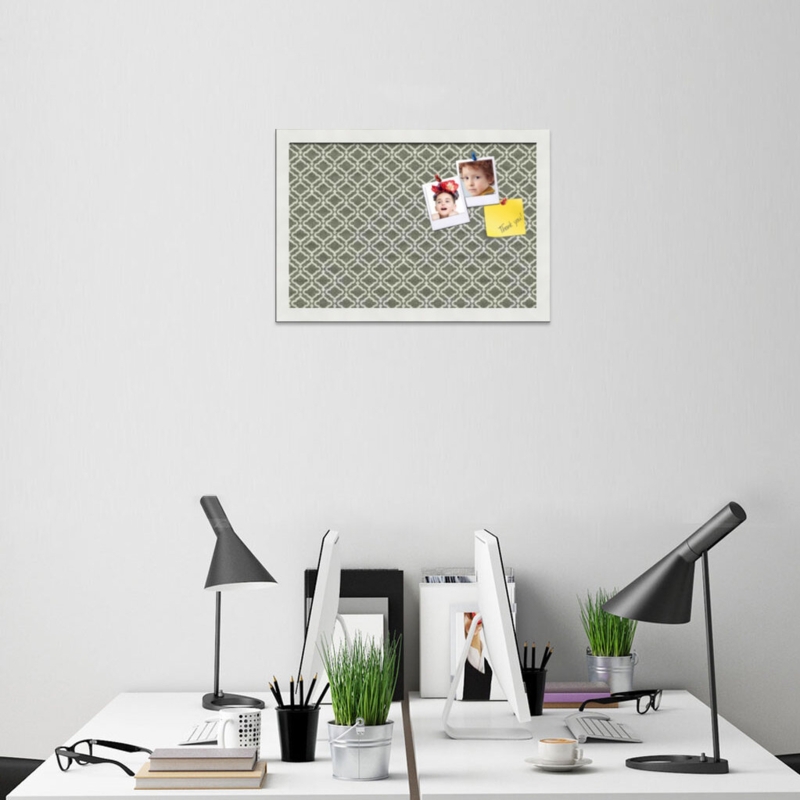 Elegant Wall-Mounted Desk with Cabinet
ArtToFrames
Perfect For: Small home offices and creative workspaces
What We Like: Space-saving design and versatile storage options
The elegant wall-mounted desk effortlessly blends style and functionality, featuring a spacious work surface along with a built-in cabinet for versatile storage options. It offers a compact solution to clutter-free workspaces, and its minimalist design complements a wide range of interior styles. Constructed from durable materials, this desk is perfect for setting up your laptop, organizing stationery, or displaying decorative items while the discreet cabinet holds larger essentials.
Designer Advice:
Pair this desk with a comfortable ergonomic chair and add a desk lamp to create a cozy, productive workspace that utilizes vertical space efficiently.
Merchant links are sponsored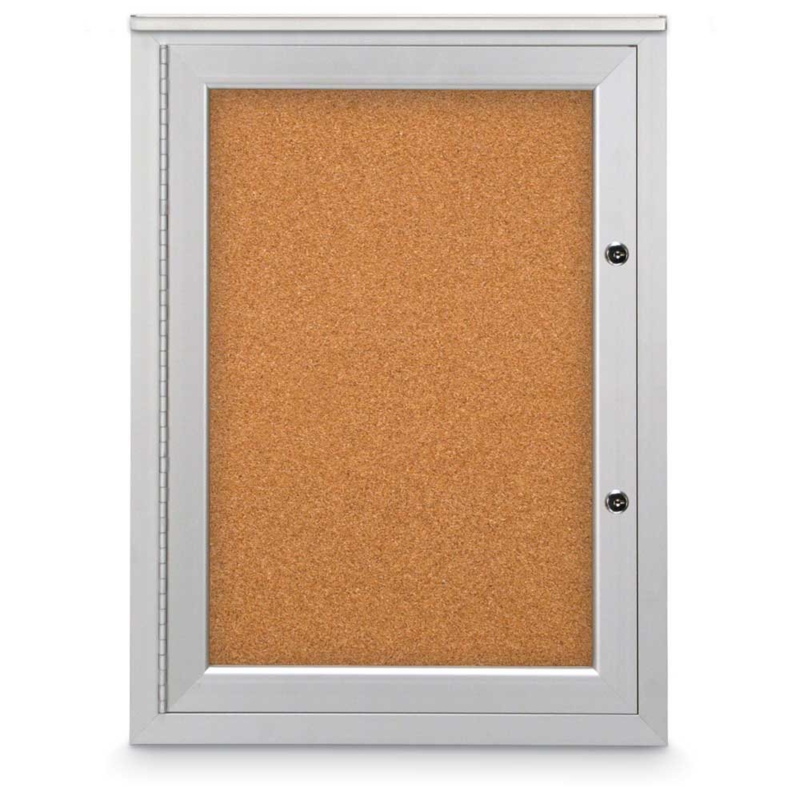 Traditional Single-Door Enclosed Corkboard
United Visual Products
Perfect For: Displaying important messages and announcements outdoors
What We Like: Durable anodized aluminum frame and cork backing
The Traditional Single-Door Enclosed Corkboard features a satin anodized aluminum frame, offering a sleek appearance while ensuring durability against outdoor elements. Designed with a cork backing board, it provides an ideal surface for pinning notices, flyers, and announcements securely in place. The single-door design makes it easy to access and update displays while keeping your items protected. This corkboard is a versatile and functional addition to schools, offices, or community centers.
$303.99
Designer Advice:
Consider installing this corkboard in highly visible public areas where everyone can easily see and access it. Don't forget to keep a supply of pushpins on hand for hassle-free updates.
Merchant links are sponsored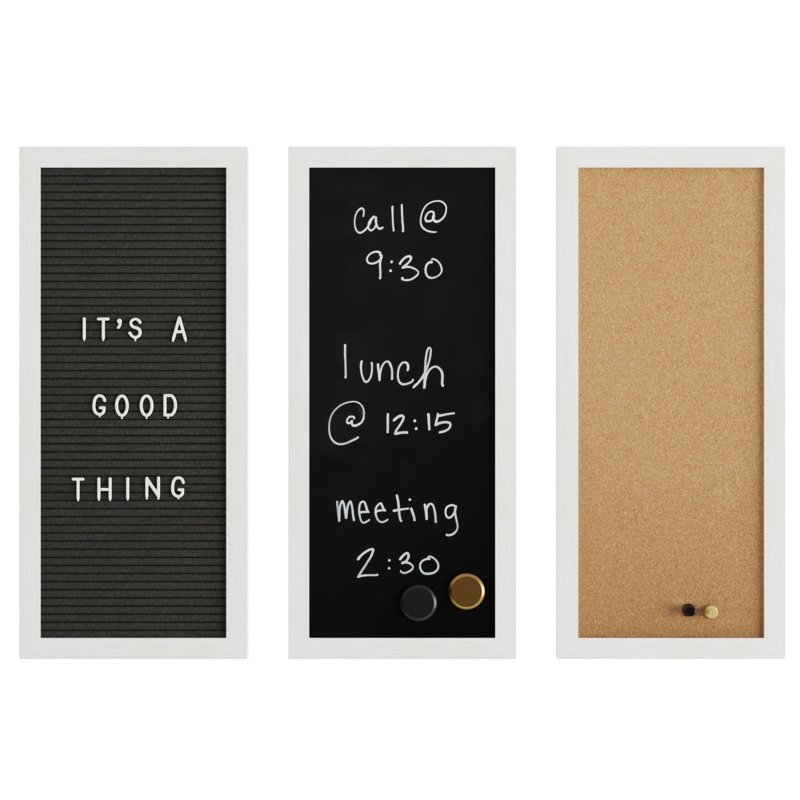 Cork Board, Chalk Board, and Letter Board Set
Martha Stewart
Perfect For: Organizing and personalizing your work or living spaces
What We Like: Versatile, modular design with multiple elements
Elevate any space with this modular, wall-mounted set that includes a cork board, chalk board, and letter board for versatile organization and personalization. Use the included push pins to attach important receipts or mementos, while the magnetic chalk board comes with two magnets and a liquid chalk marker for writing daily reminders or notes. Personalize the letter board with inspirational quotes or announcements using the provided letters stored in a velvet bag. This reusable and adaptable set is perfect for meeting your unique needs across various spaces.
$39.99
Designer Advice:
Arrange the boards side by side for a cohesive display or spread them throughout your home to create distinct focal points in different rooms, ensuring both functionality and style.
Merchant links are sponsored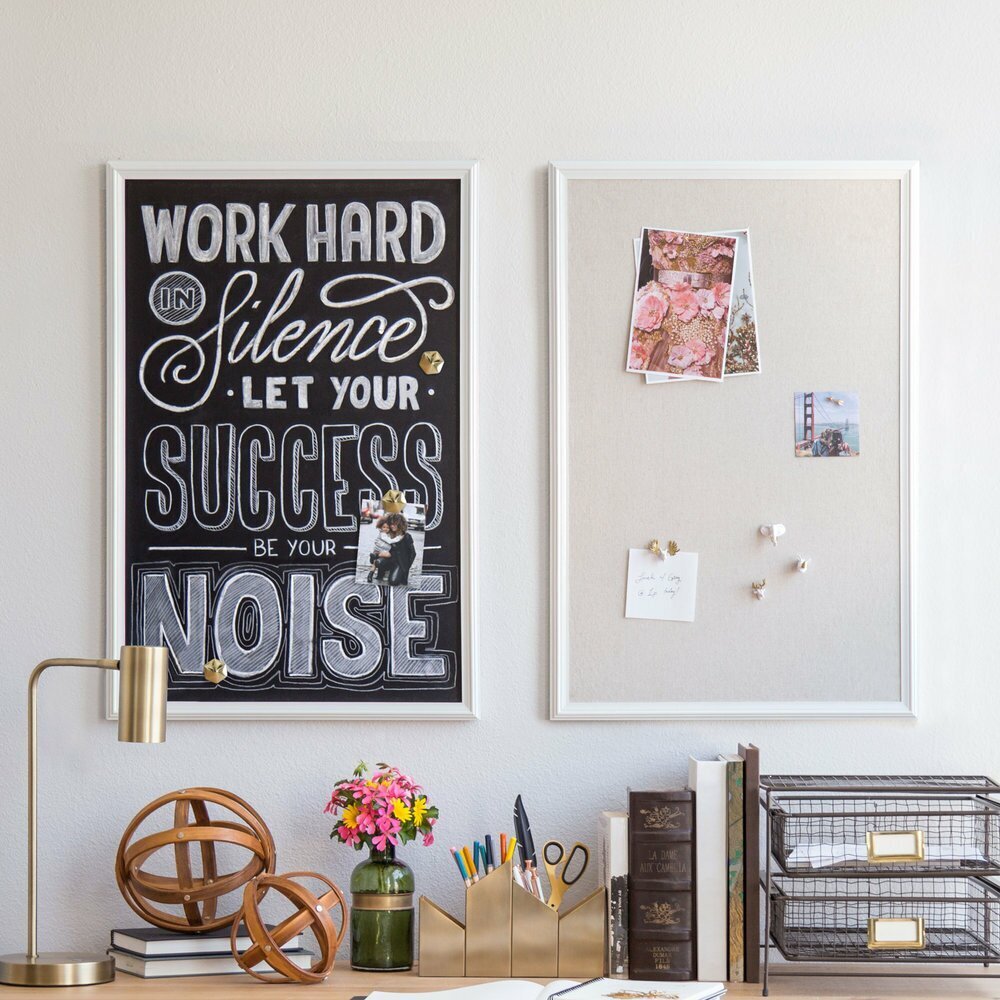 Bulletin Board with Molded Frame
Symple Stuff
Clean and modern, this white cork board is the ideal pick for pinning messages, notes, and pictures for better organization. The board is made of self-healing material so you don't have to worry about holes and chipped cork.
$29.99
Designer Advice:
A great size for a desk with medium dimensions. This piece can work well with contemporary, farmhouse, transitional, and cottage-style interiors. For longer walls, we recommend getting multiples of these and arranging them in vertical orientations. For a glammed-up look, we recommend using rose gold tacks to add color and coordinate with the gold pins that are included in the set.
Merchant links are sponsored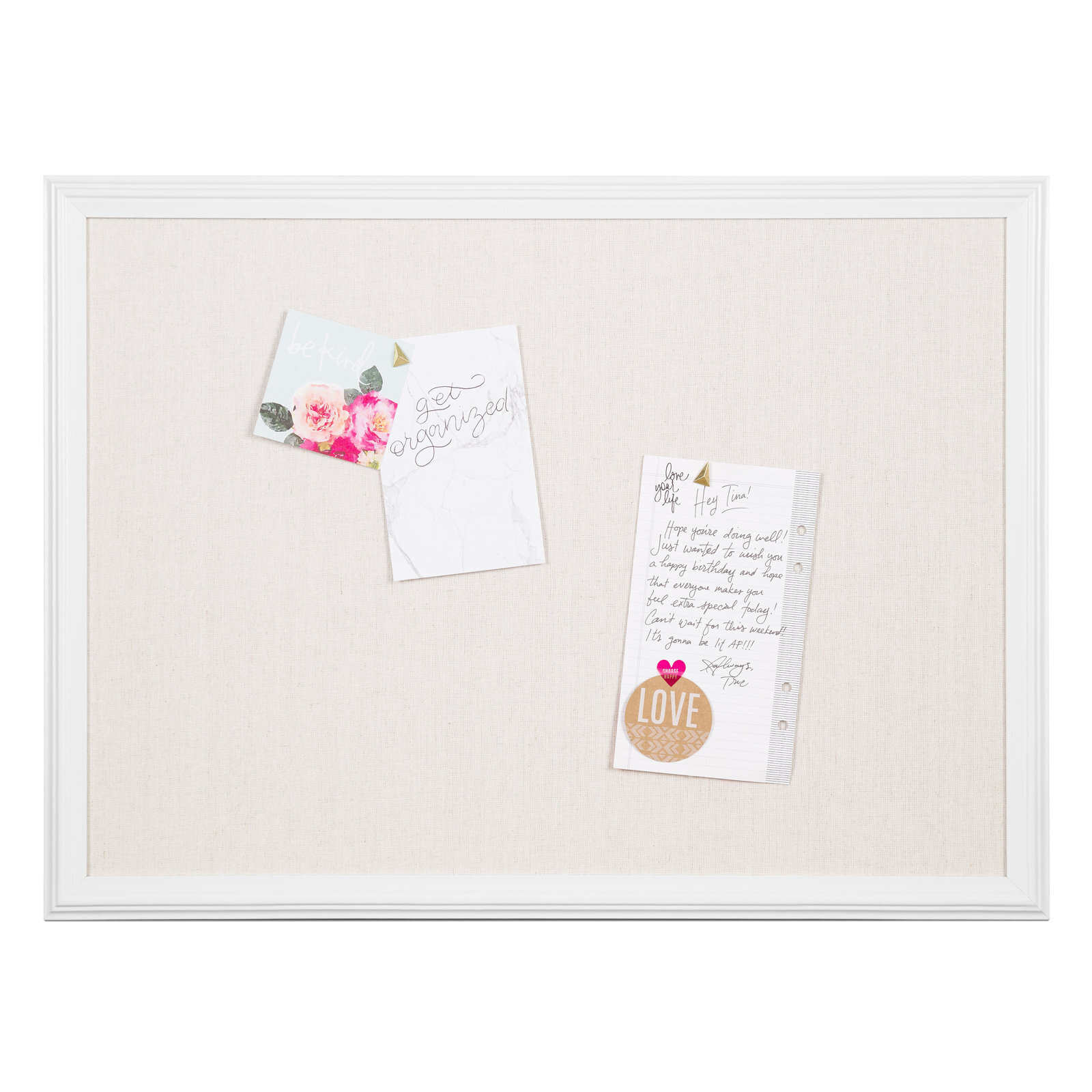 Cottage Style Bulletin Board
U Brands
A bulletin board for picture frames, this piece features a clean and classic wood trim in white. Its main surface is made of self-healing cork that helps mask pin holes. It also has a dense substrate that firmly grips tacks and pins.
$27.54 $24.94
Merchant links are sponsored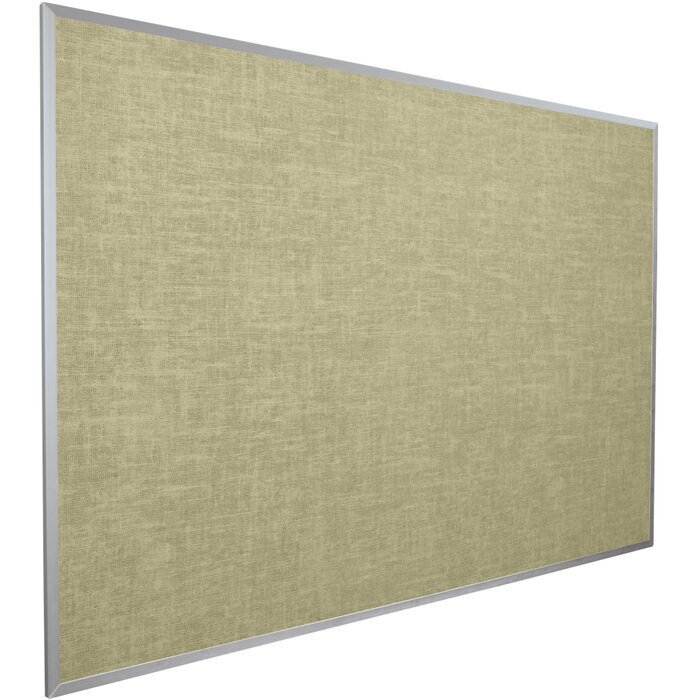 Textured Bulletin Board
MooreCo
This framed memo board has a surface made of vinyl material and an antique white finish for the aluminum trim. The fabric backing adds to its durability and makes it dirt-resistant. Available in ten sizes and can be hung vertically and horizontally.
$89.99 $133.69
Merchant links are sponsored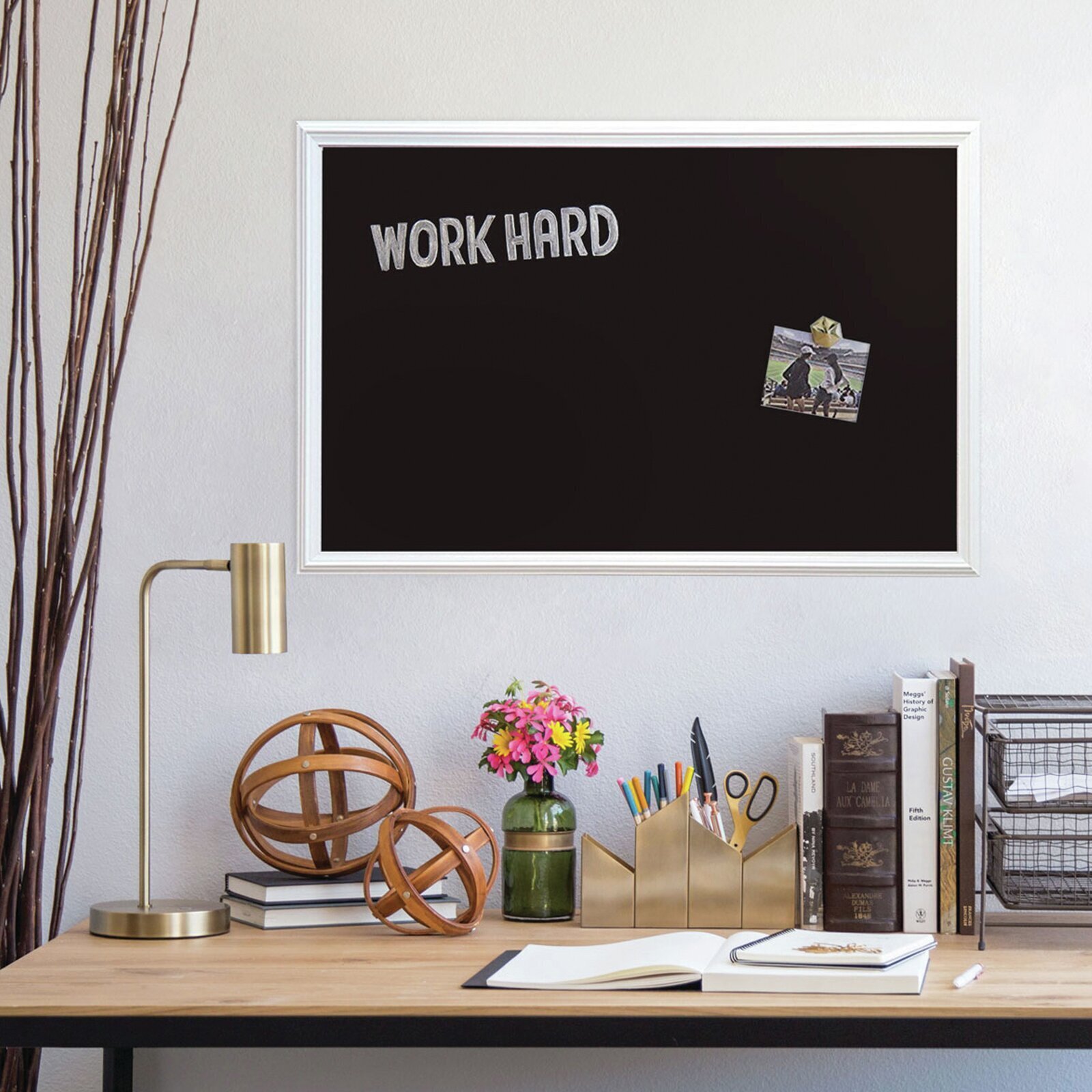 Modern Bulletin Board
Symple Stuff
For elegant bulletin board ideas, this modern piece presents a modern and contemporary look to your home office. Its surface is fabricated using a magnetic chalkboard, making it durable, stain-resistant, and compatible with liquid chalk markers.
$27.99 $29.99
Designer Advice:
While it's not made for pins, you can use magnets to stick your favorite photos, images, and notes into it. Write some quotes on some parts either using calligraphy or bold lettering. These will give your space a personalized and aesthetically-pleasing look. While they're compatible with all liquid chalk markers, the manufacturer recommends using the UBrands markers for better performance.
Merchant links are sponsored