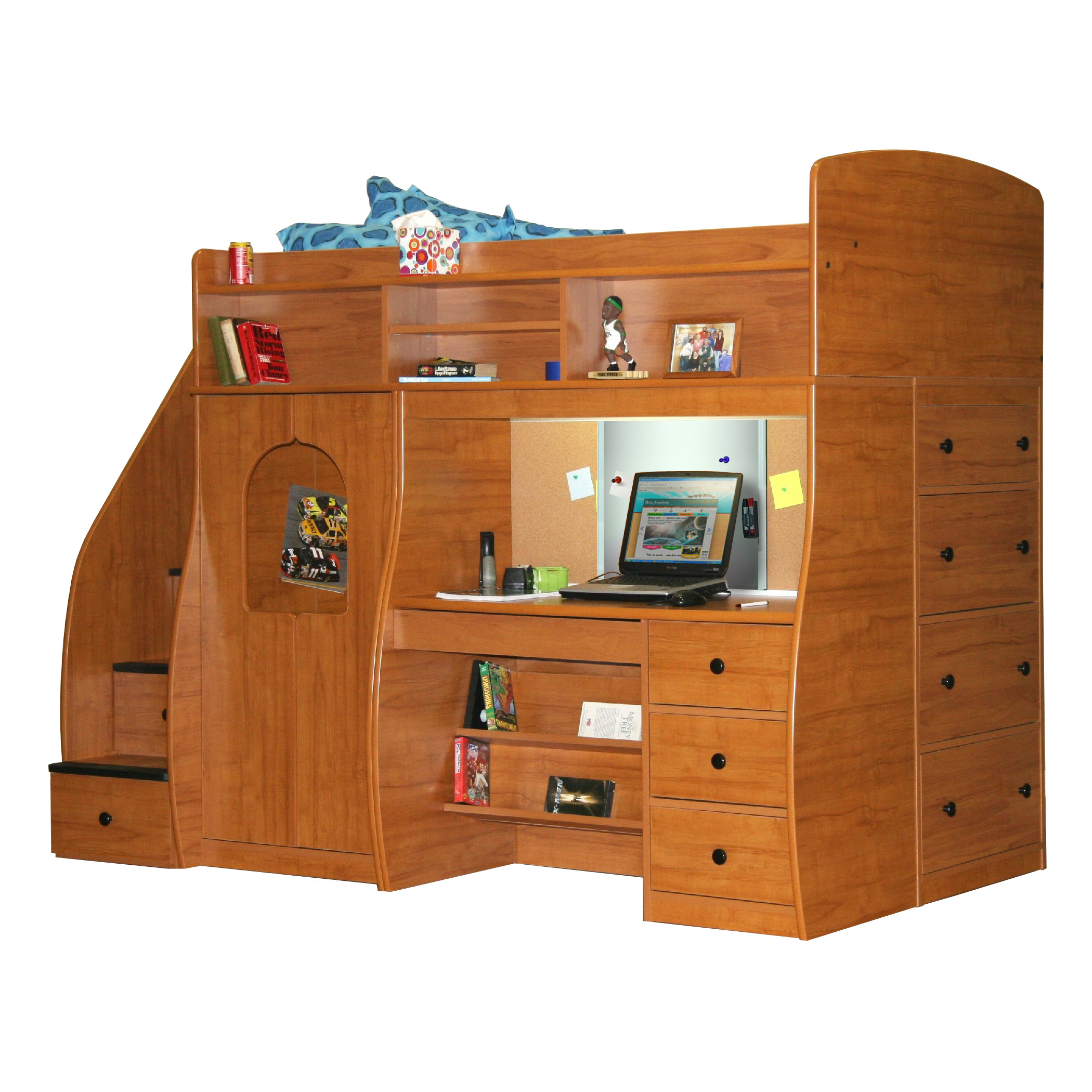 Interesting loft bed for school kids. This solution includes wooden platform, which consists of the loft bed and several shelves, secret drawers and the desk to make homework. Your kid would love it!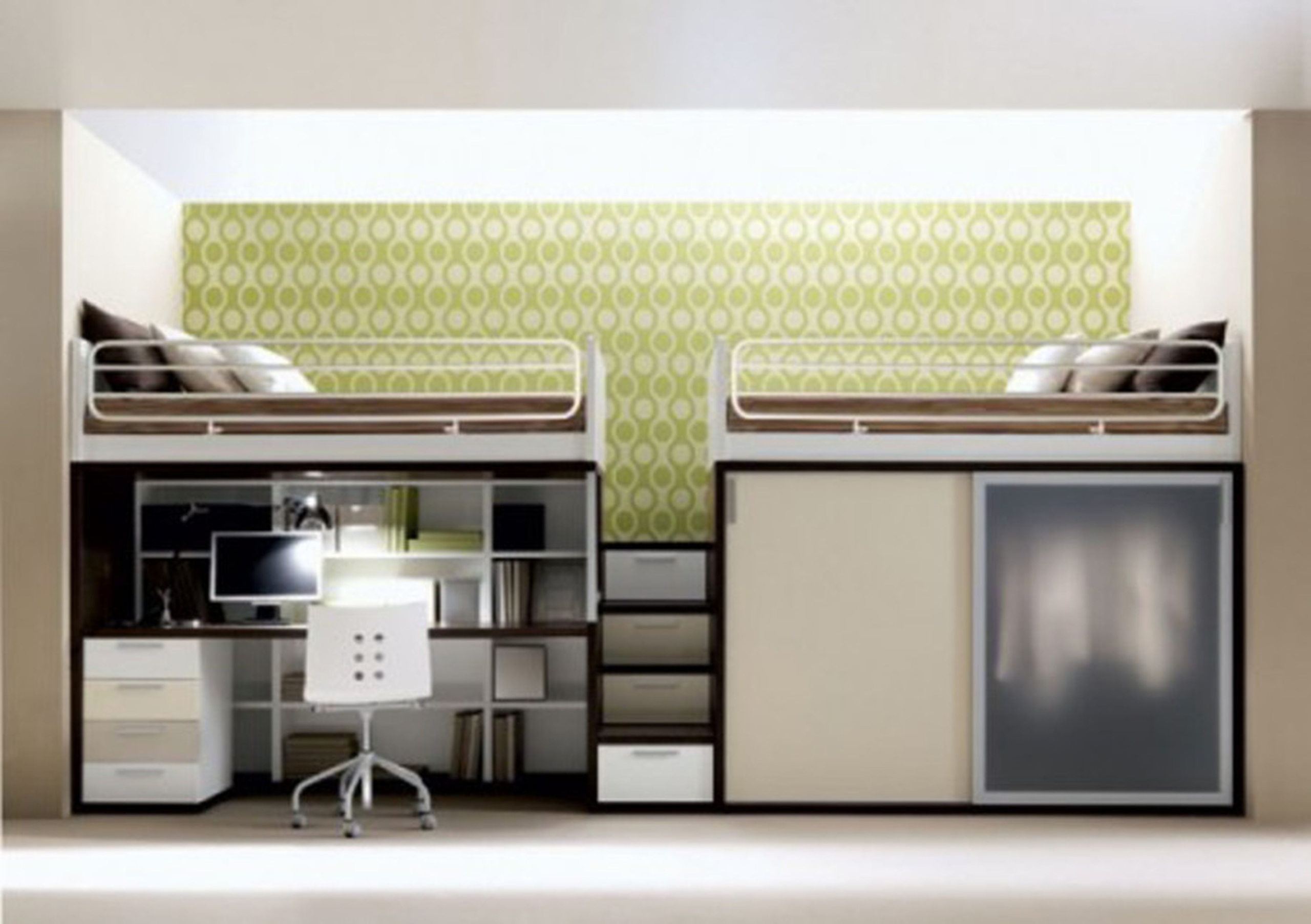 Loft bed for adults with small spaces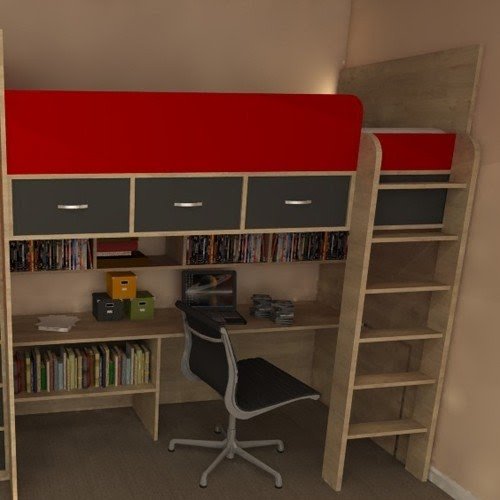 Need more storage space in your house? This bunk bed with a desk under it puts emphasis on ergonomy. Even the smallest of kid's rooms can be fully functional, as long as you pick appropriate furniture.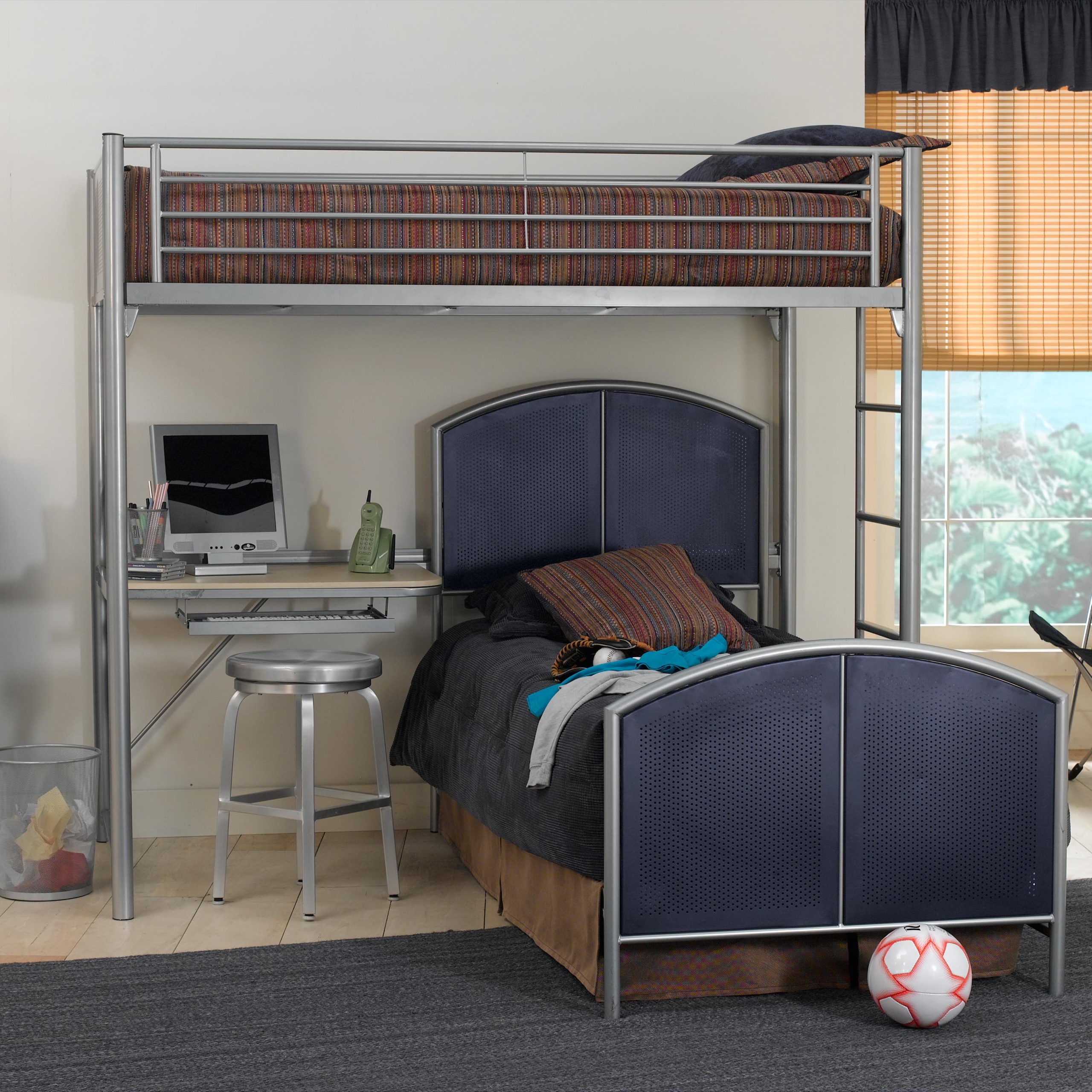 Universal Youth Twin over Twin L-Shaped Bunk Bed with Built-In Ladder and Desk
Suitable for contemporary interiors, this Loft Bed in Silver & Navy Finish features welded tubular steel construction. This combo includes a built-in desk, and 165 lbs of weight capacity for the top bunk. The whole should be frequently dusted with a clean, dusting cloth.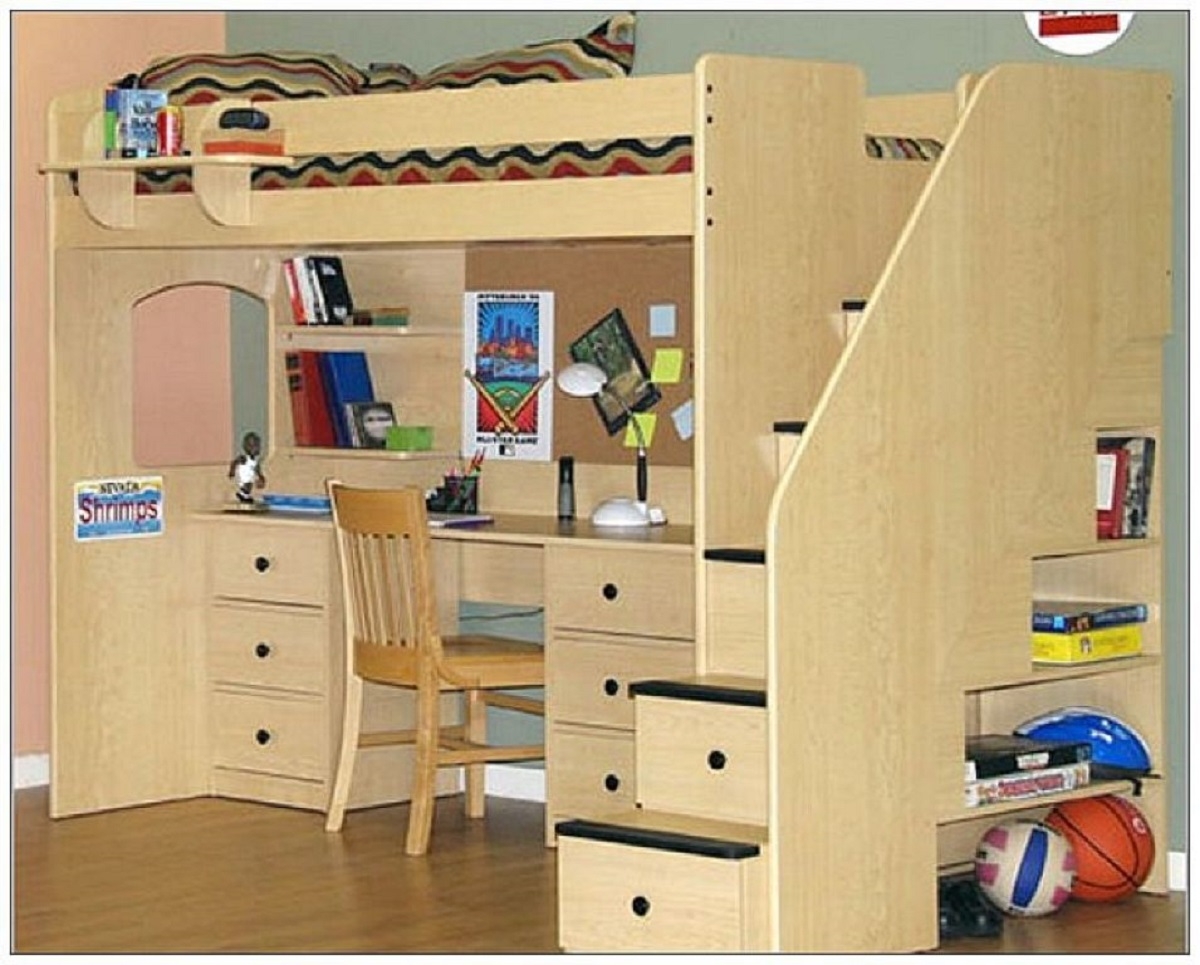 Such a piece of furniture allows you to save a lot of space and satisfy all the needs of a teenager. Wooden bunk bed with a computer desk and a lot of place for storage, like drawers and cabinets. Sleep at the top, and learn from the bottom.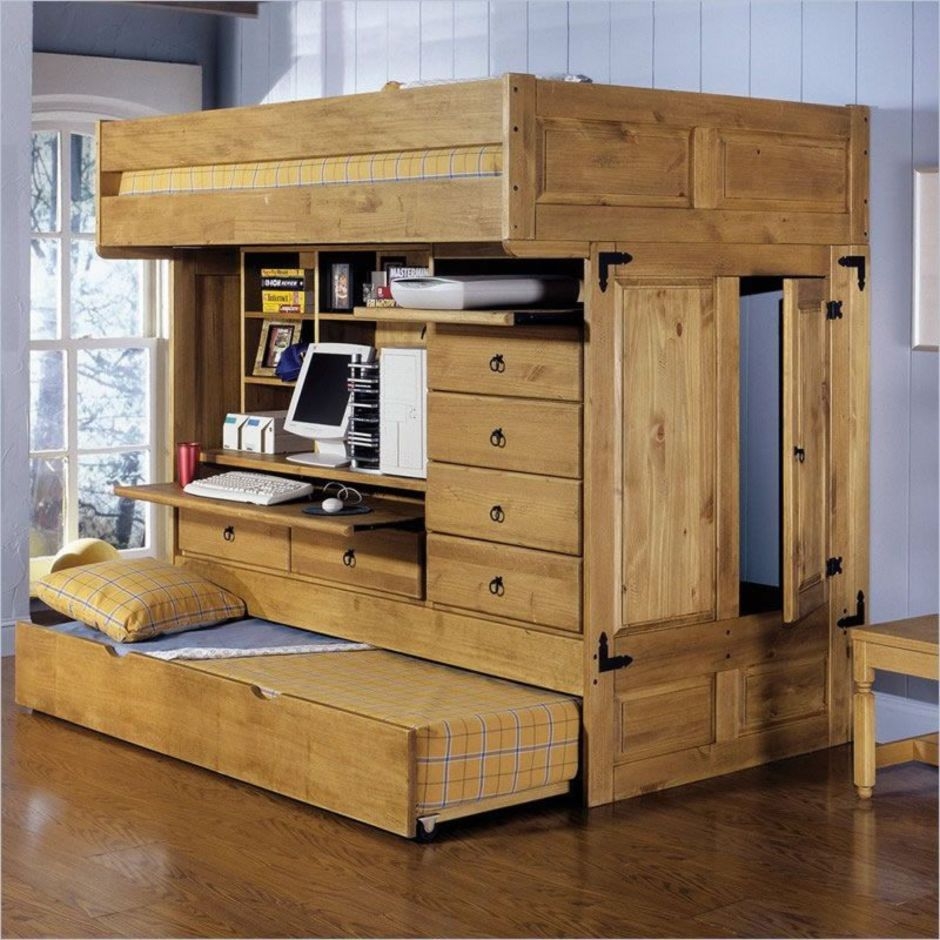 Rustic Powell Rustica All in One Full Loft Bed with Storage and Computer Desk a part of Building Stylish L Style Of Bunk Beds for Kids Bedroom under Bedrooms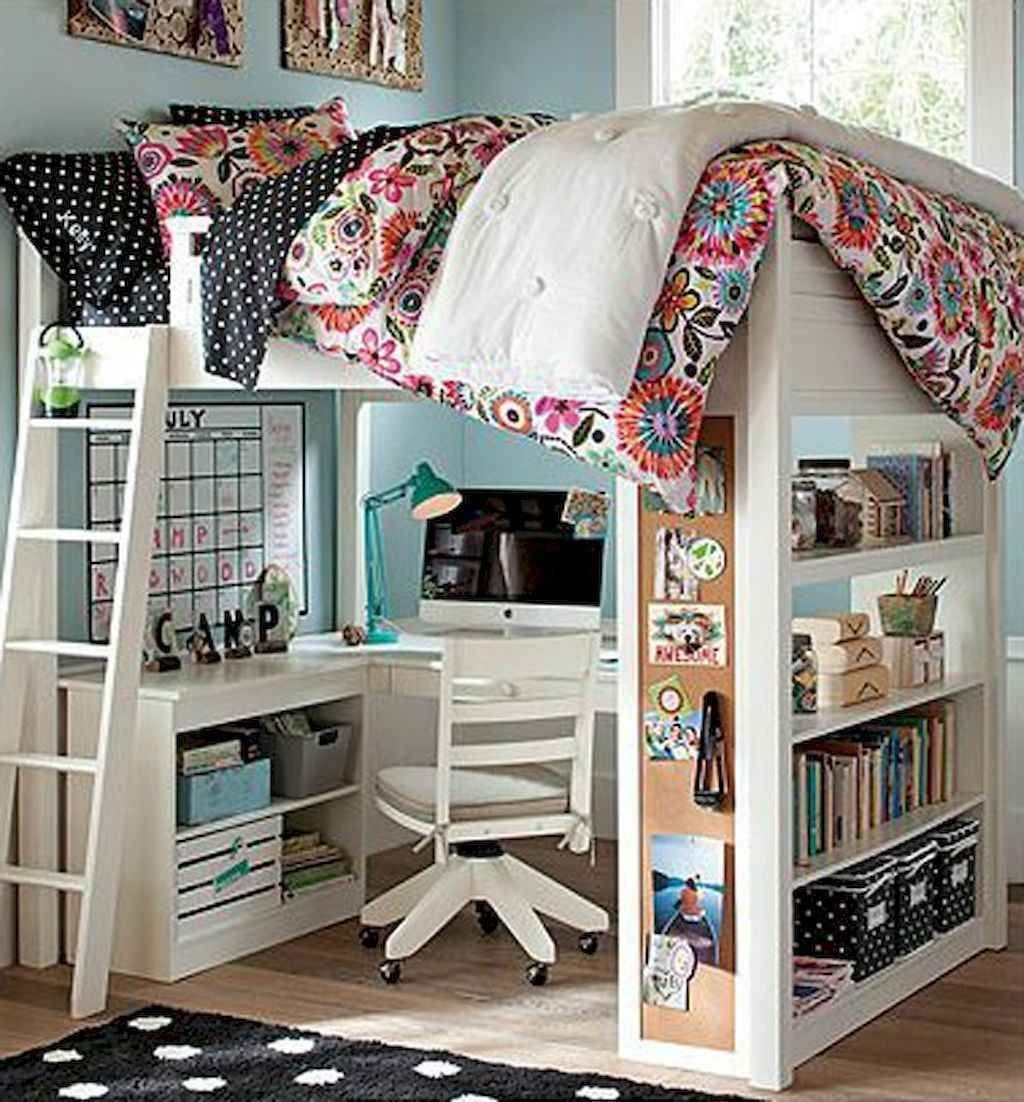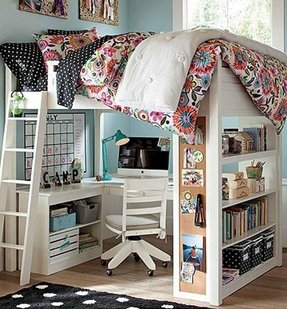 This beautiful white loft bed is an ideal way to handle the case of tiny spaces. You will love the colors, which bring so much bright to the interior. Functionality fans would not be disappointed as well, as this set can easily contain a cabinet inside.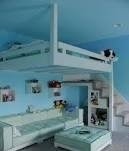 cute bed for girls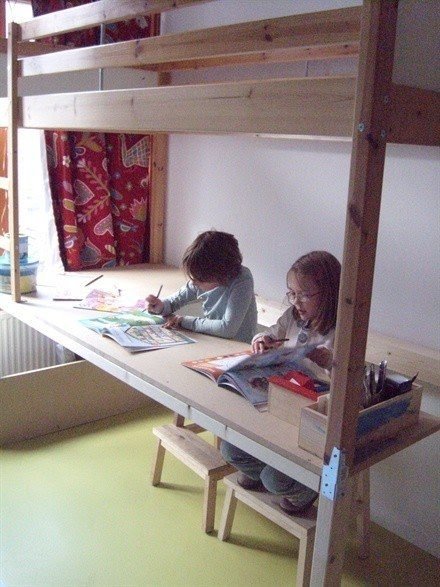 idea for the desk under bunk bed - with looking at the room and not on the wall ( very common) you got more light this way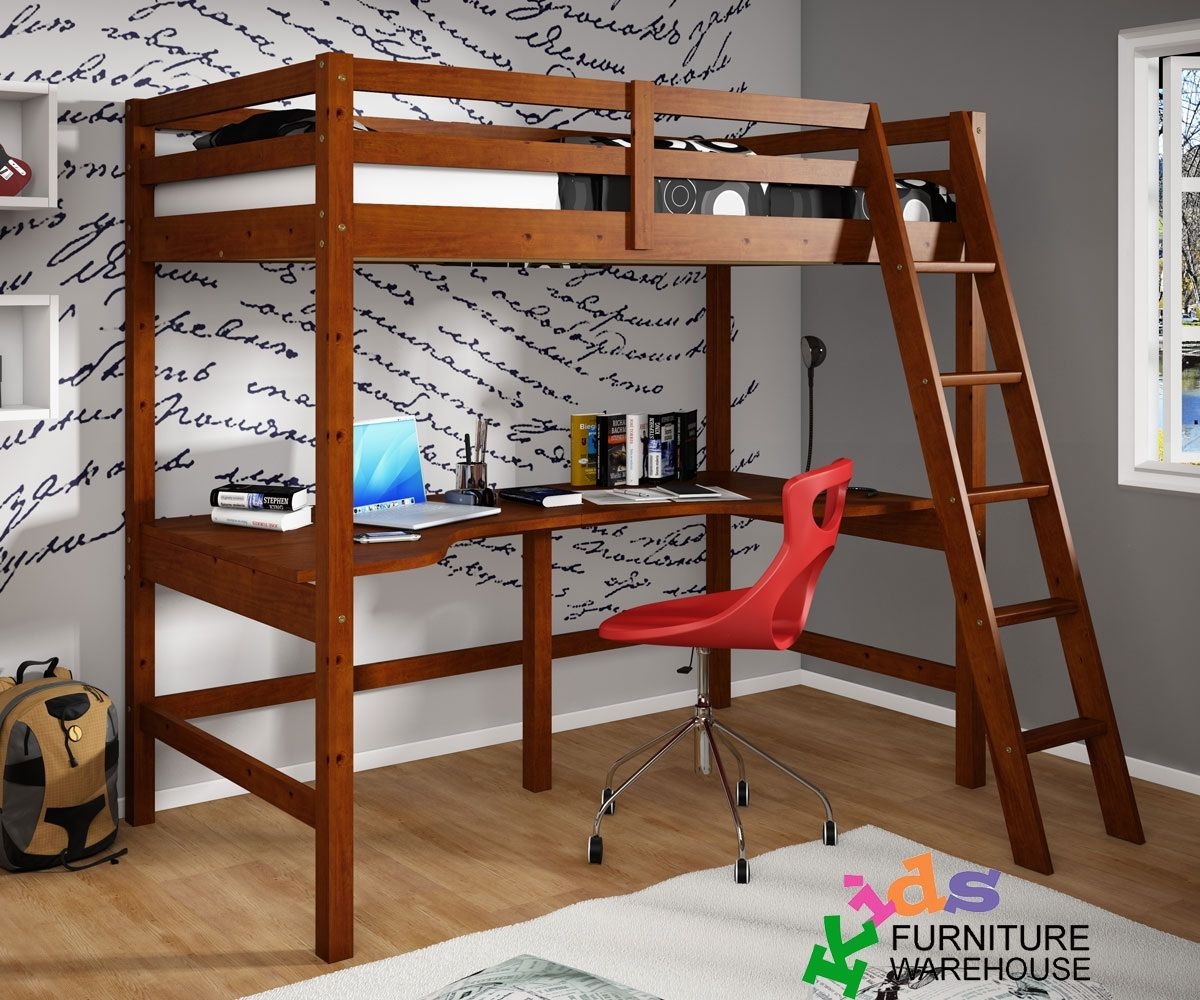 Donco Kids Twin Loft Bed with Double Shelves
Great looking and practical loft bed made of solid wood in light finish. Features functional study desk under the bed, sturdy frame with guardrails, and convenient ladder. High quality and durable construction.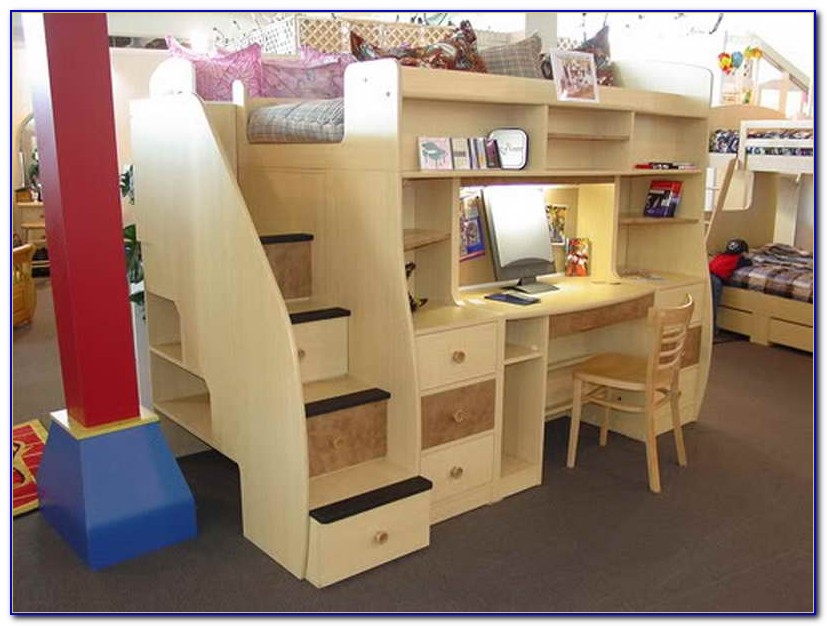 Bunk Bed With Desk Under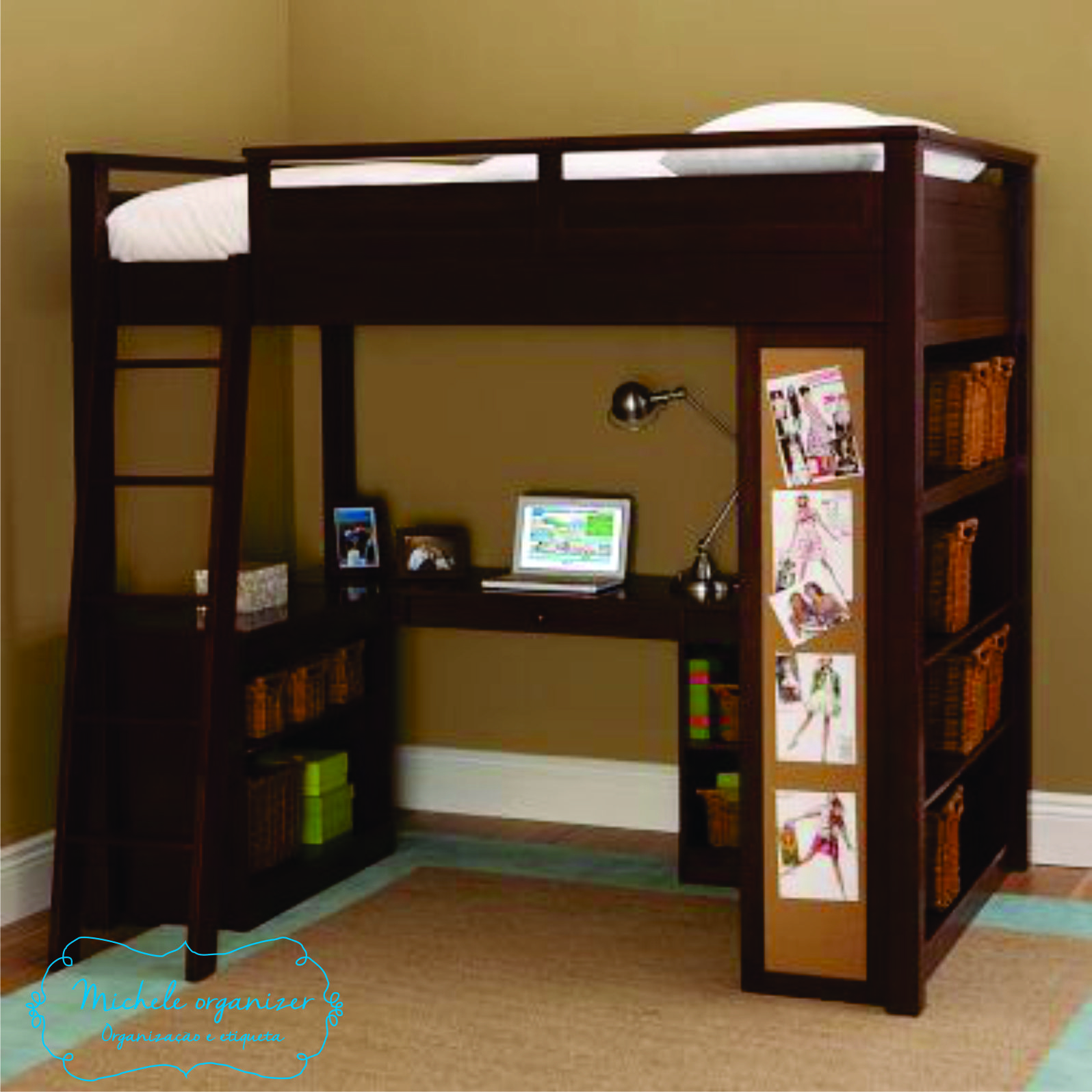 with a desk by bobbi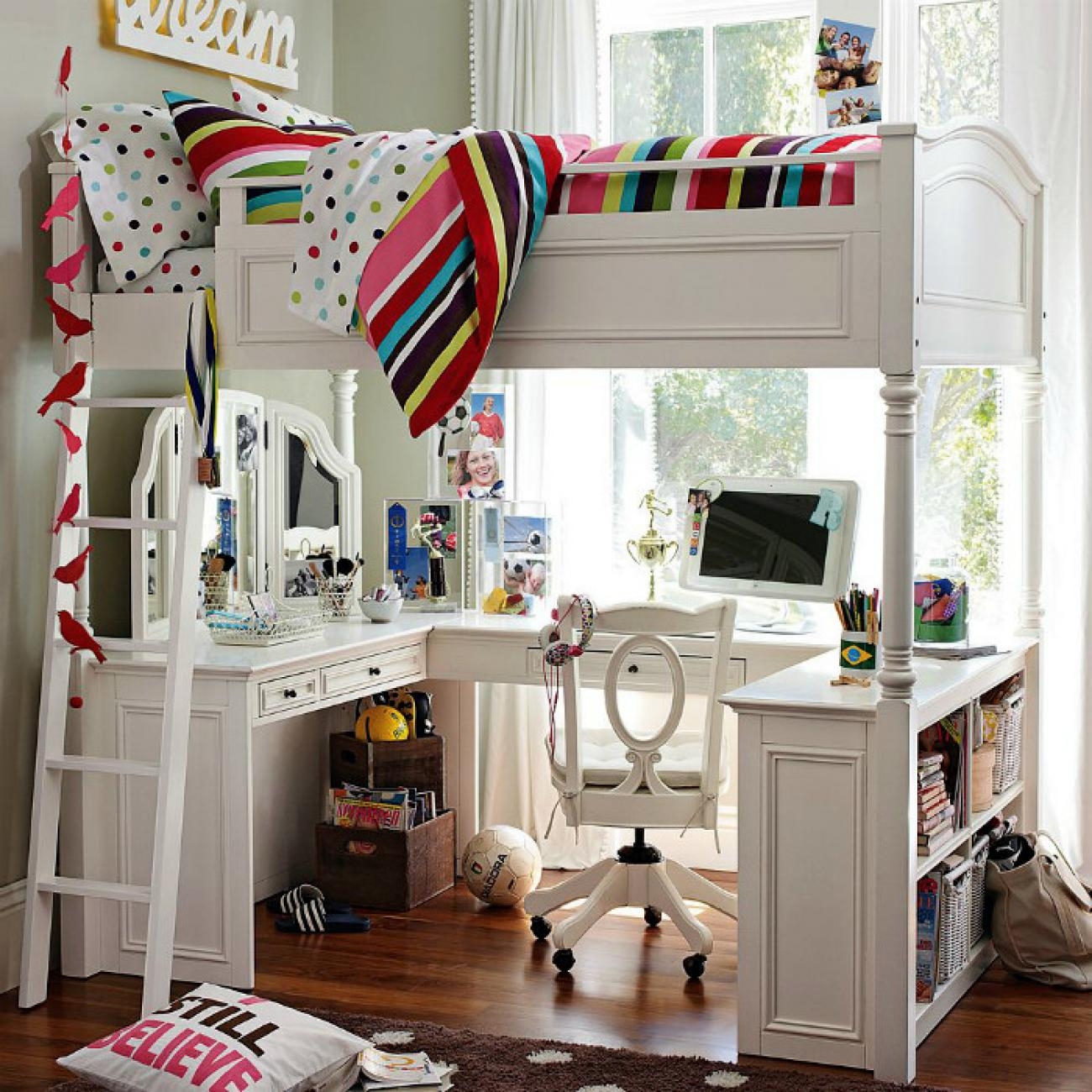 desk & vanity with built in bookshelves under lofted bed= space saver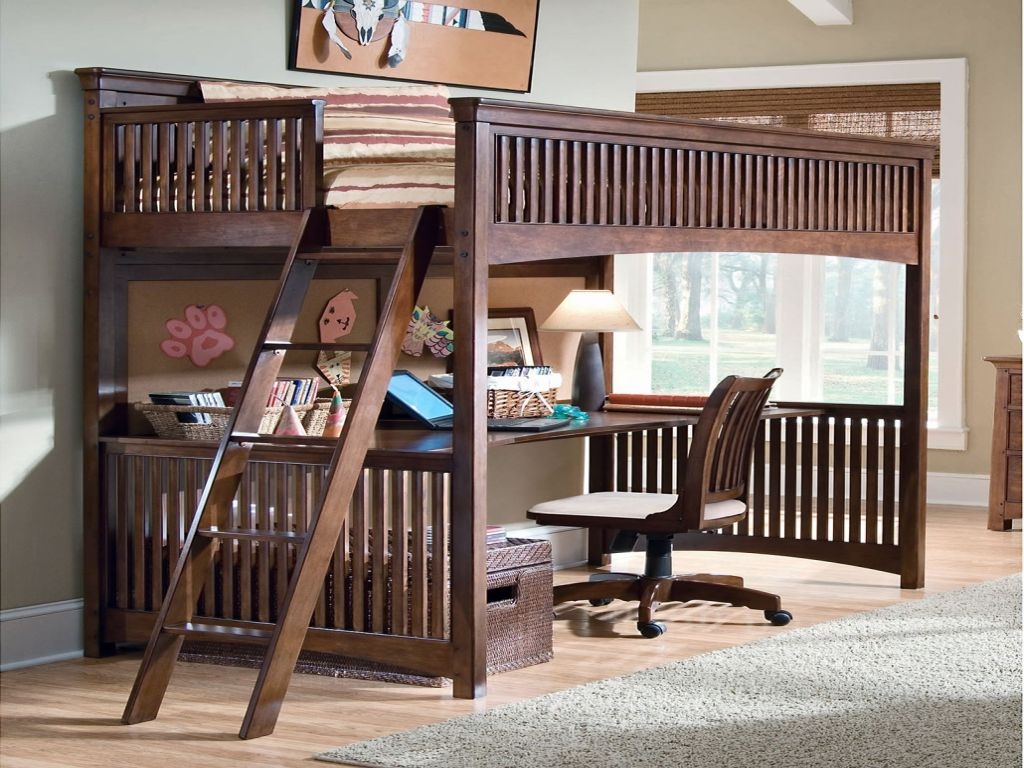 Full Loft Bed with Desk Underneath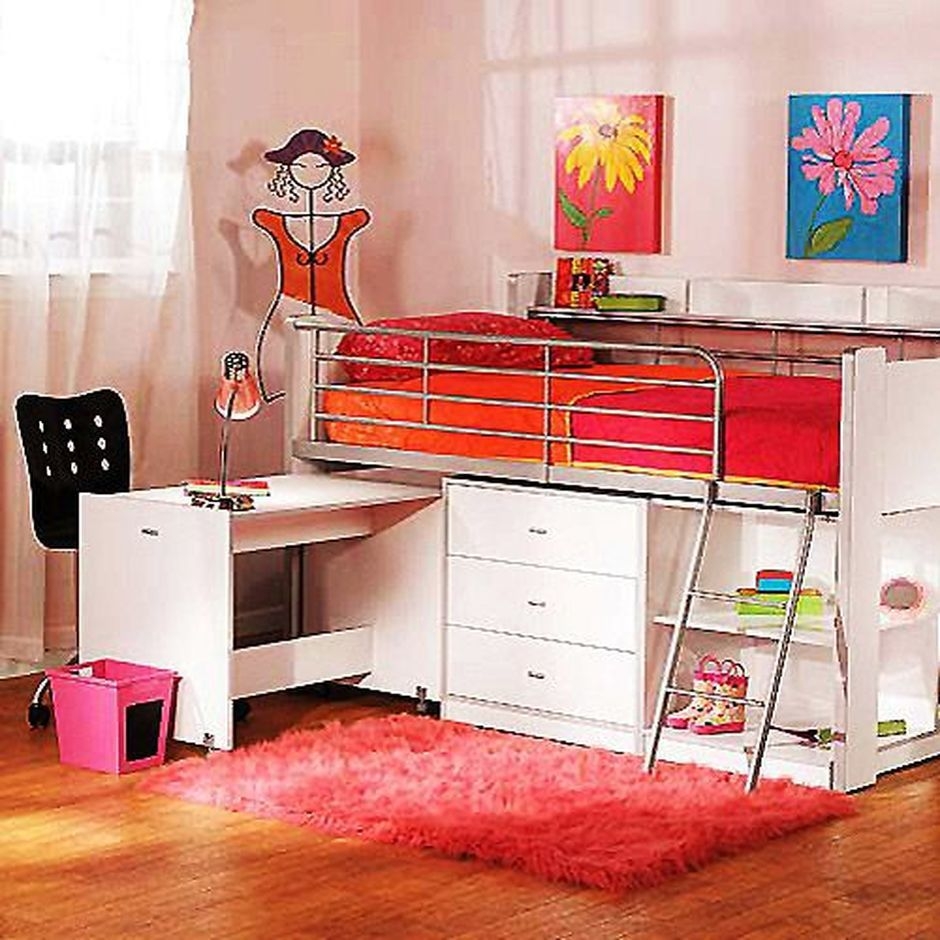 Loft bed with desk, open shelves and drawers for storing clothes. It is made of wood and fitted with metal rails for added safety. Modern design for kid's room, teenager's room and more.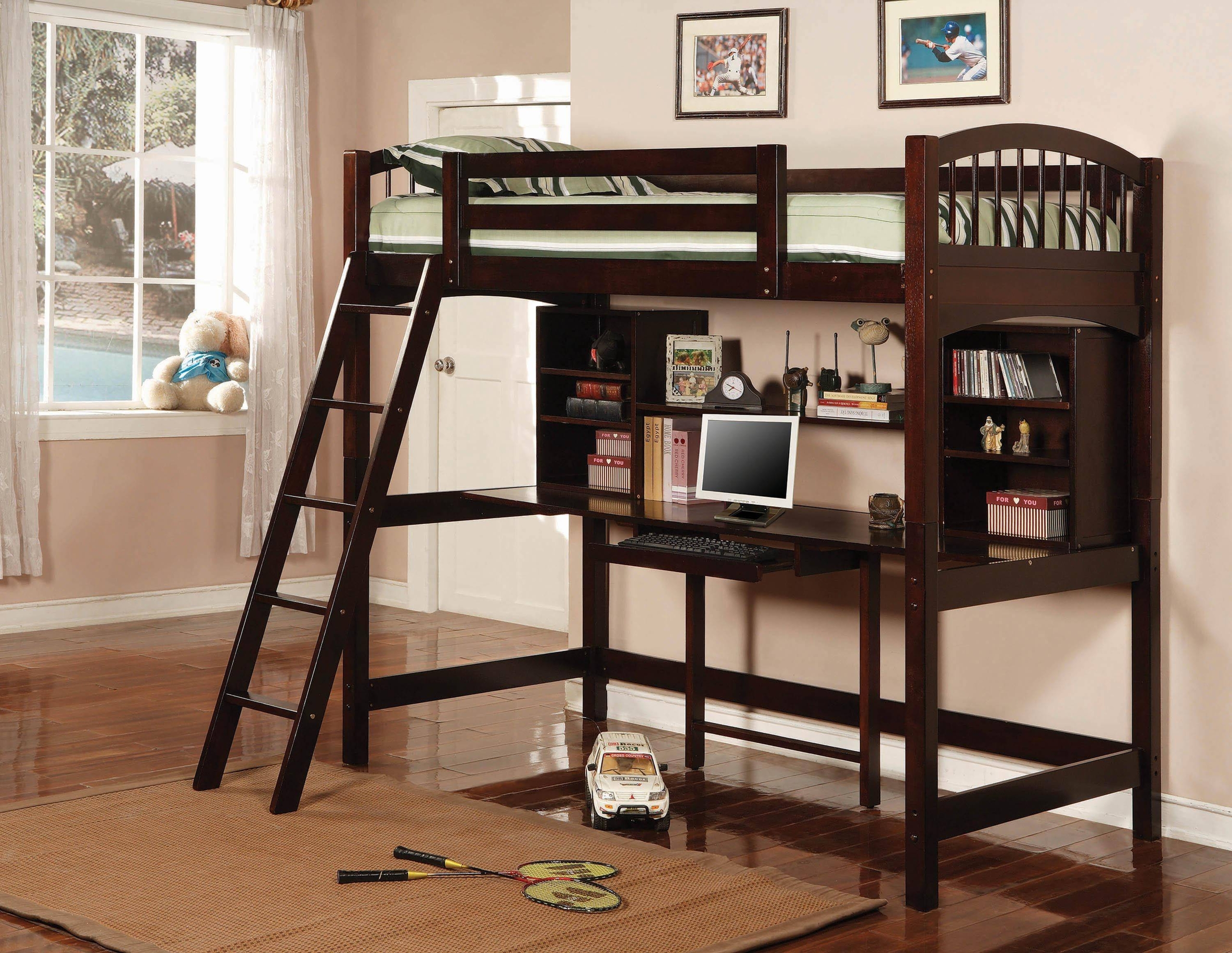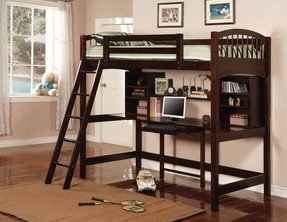 Dorena Twin Low Loft Bed with Desk and Bookshelves
Wonderful solution for your kid's room, this twin low loft bed comes with the extra desk and bookshelves, making sure you save up plenty of space, while the oak finish and the contemporary style takes care of accentuating your decor.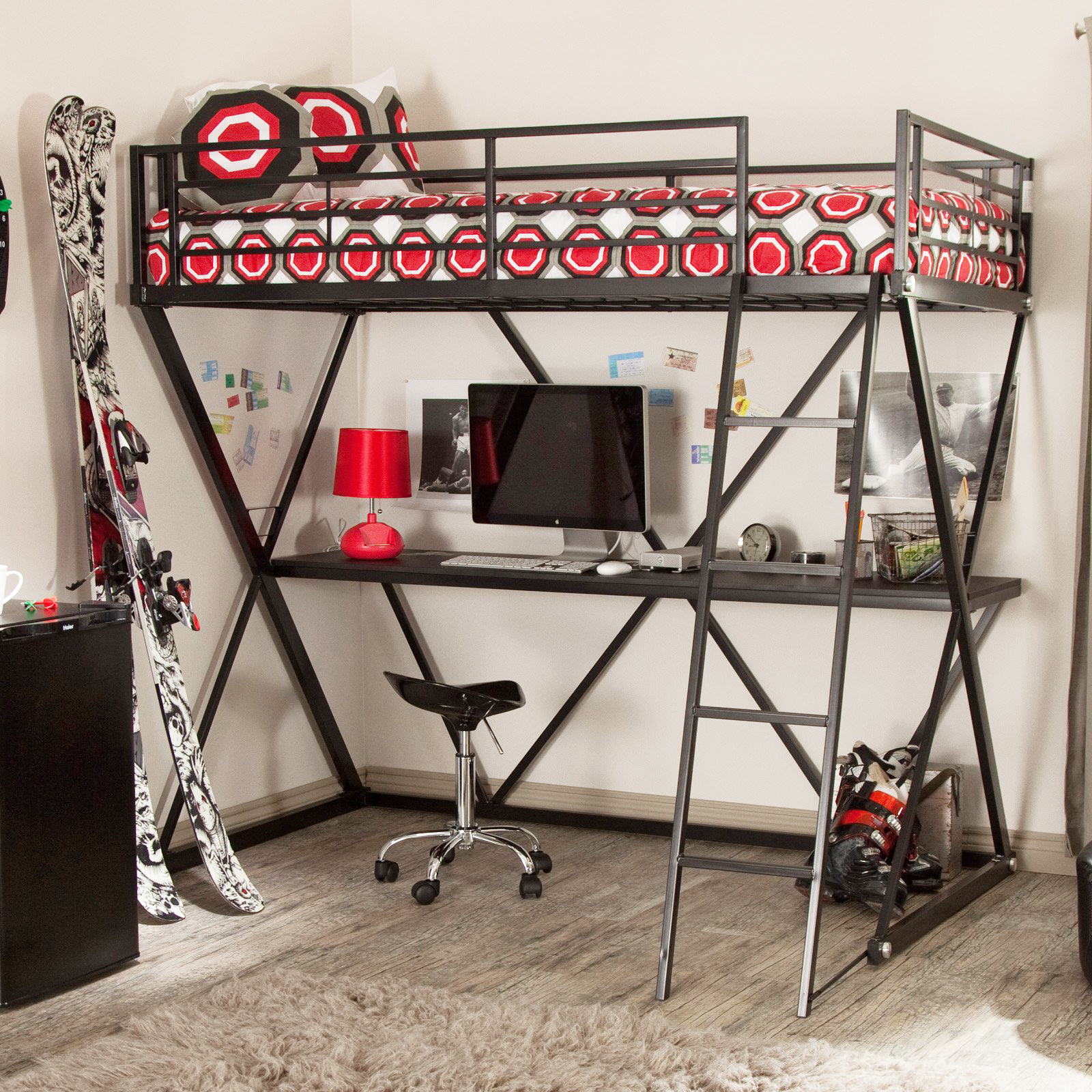 Loft-Bed-4.jpg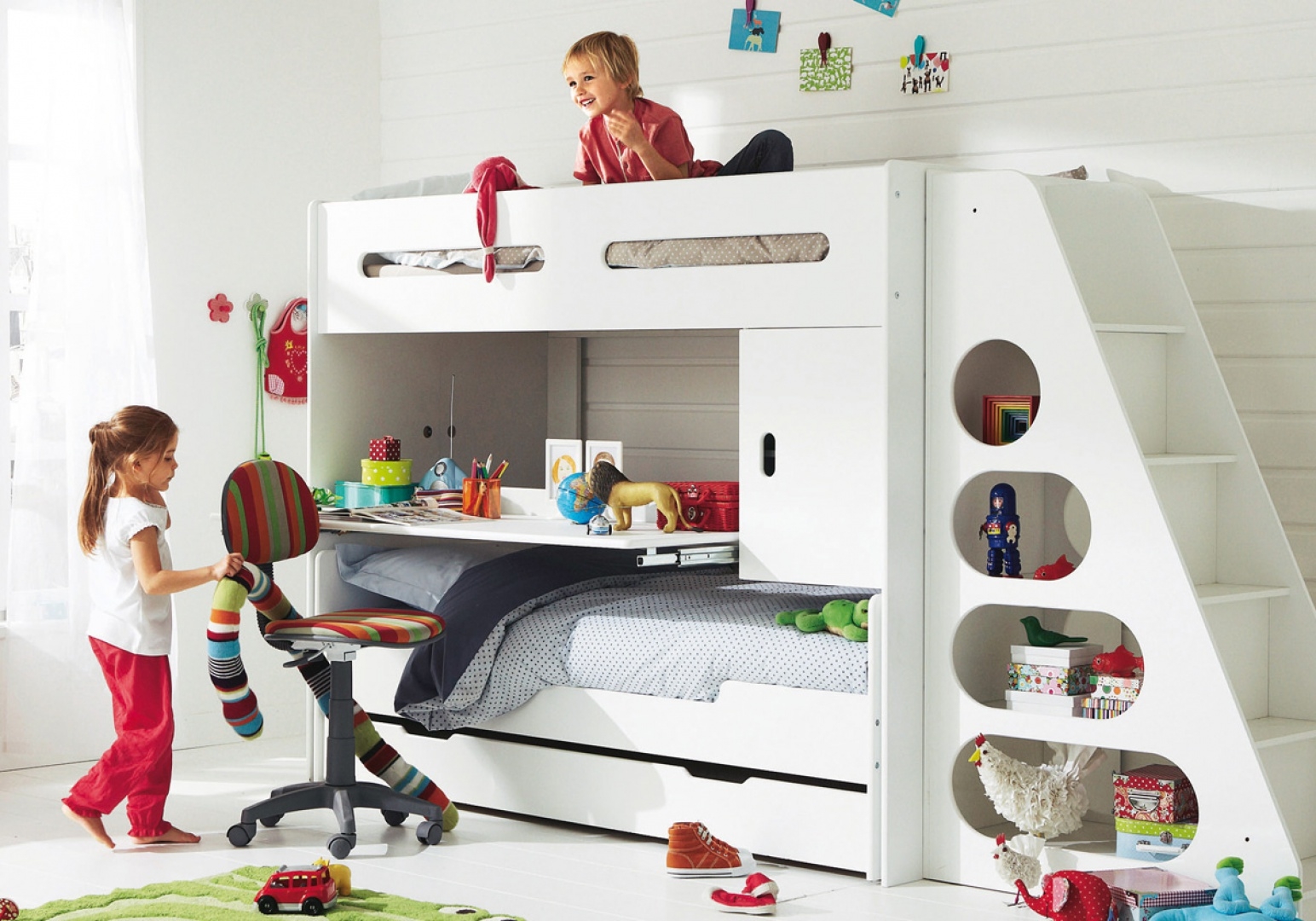 Space-saving children's room decor: a bunk bed with a slide, desk under and built-in staircase combined smartly with storage display shelves. Here: in pute white, designed to follow the contemporary trends.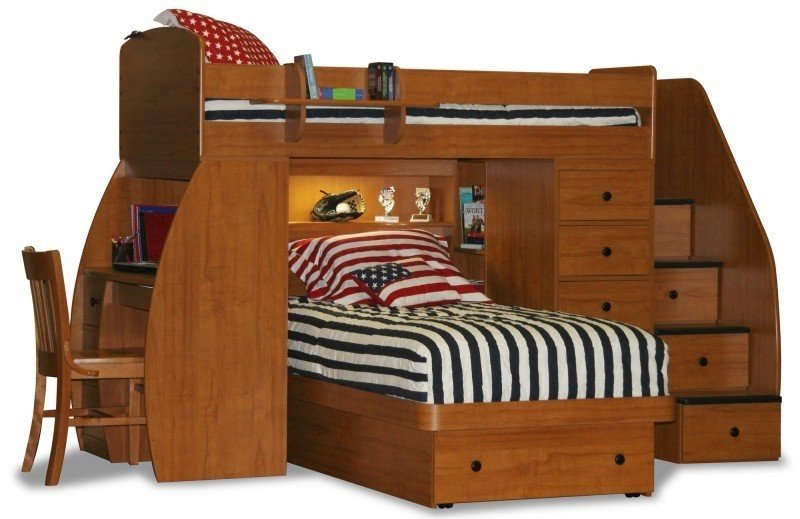 Space Saver Twin over Twin Platform Bunk Bed with Desk and Storage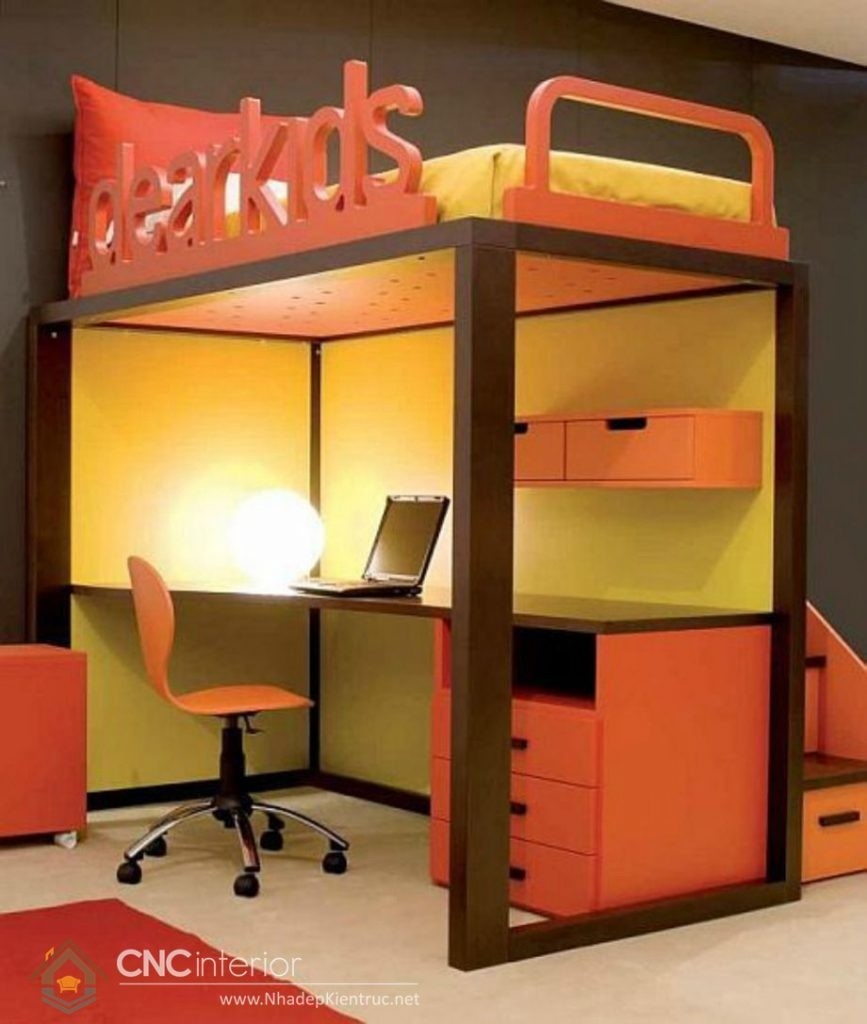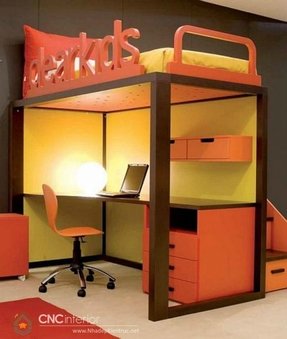 This combo for a kids' room, consisted of 1 bunk bed and 1 desk, can be a nice way to fill up the room with practical and eye-catching furniture. The combo features a desk with 3 drawers, 2 wall drawers, 1 office chair, a staircase with built-in drawers, and a bed with protective railings.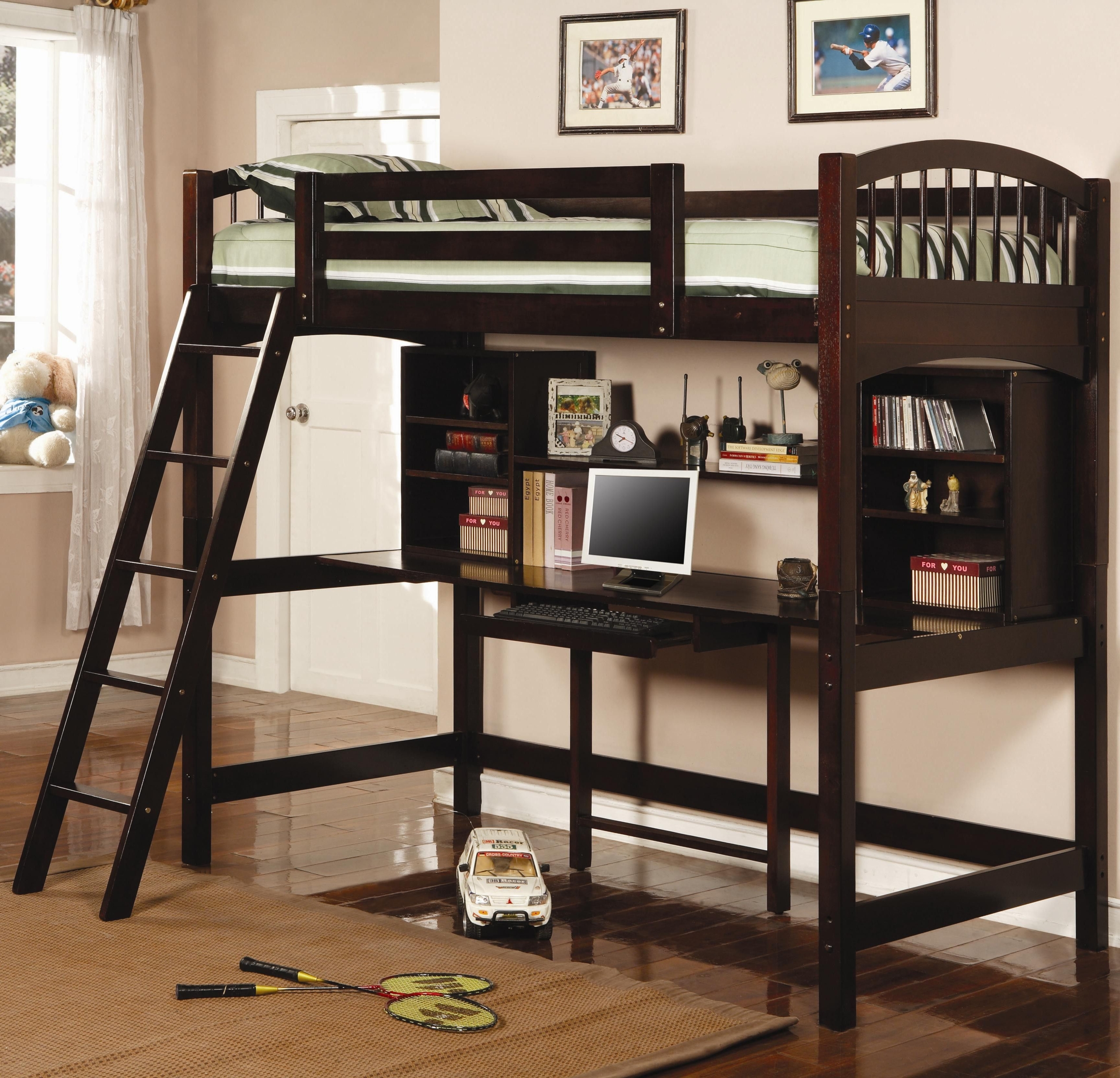 bunk-beds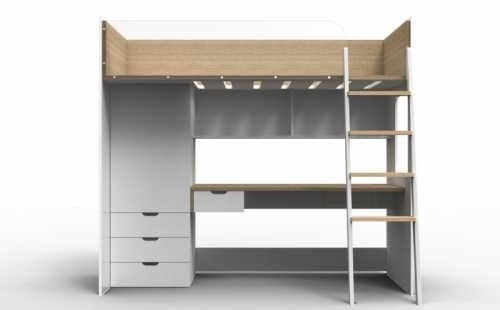 New in Box Habitat single size bed with under study compartment including desk and shelf with four step ladder and four drawer tallboy, Occupying little more than two square meters of floorspace, this clever bedroom set includes a loft-style bunk-bed, de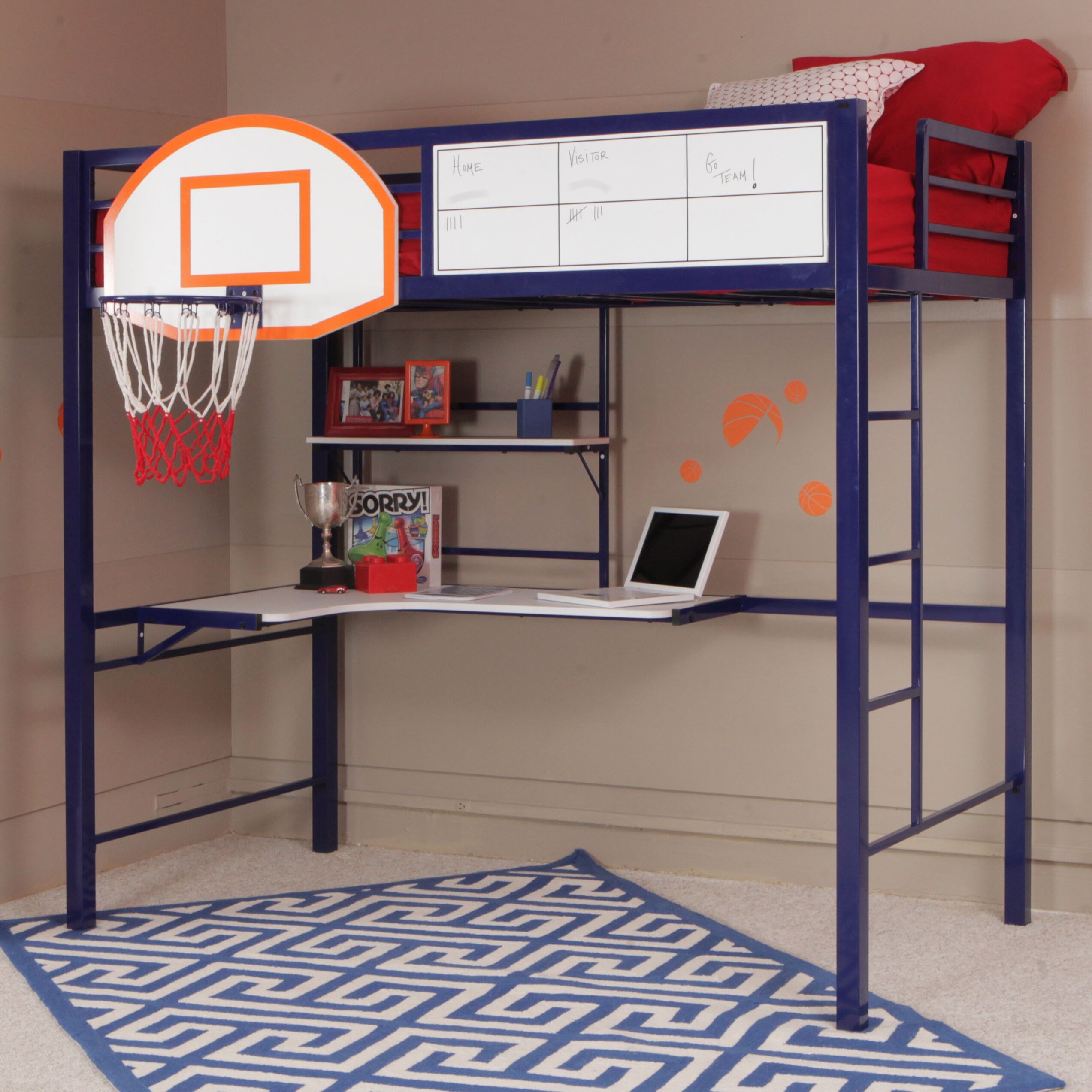 Hoops Basketball Twin Loft Bed with Desk
Every child's dream to have a playground in the house. Now you can fulfill this dream, thanks to twin loft bed. The lower floor is equipped with a desk and study area, upstairs floor has a bed. Also basket and the scoreboard are attached to the frame.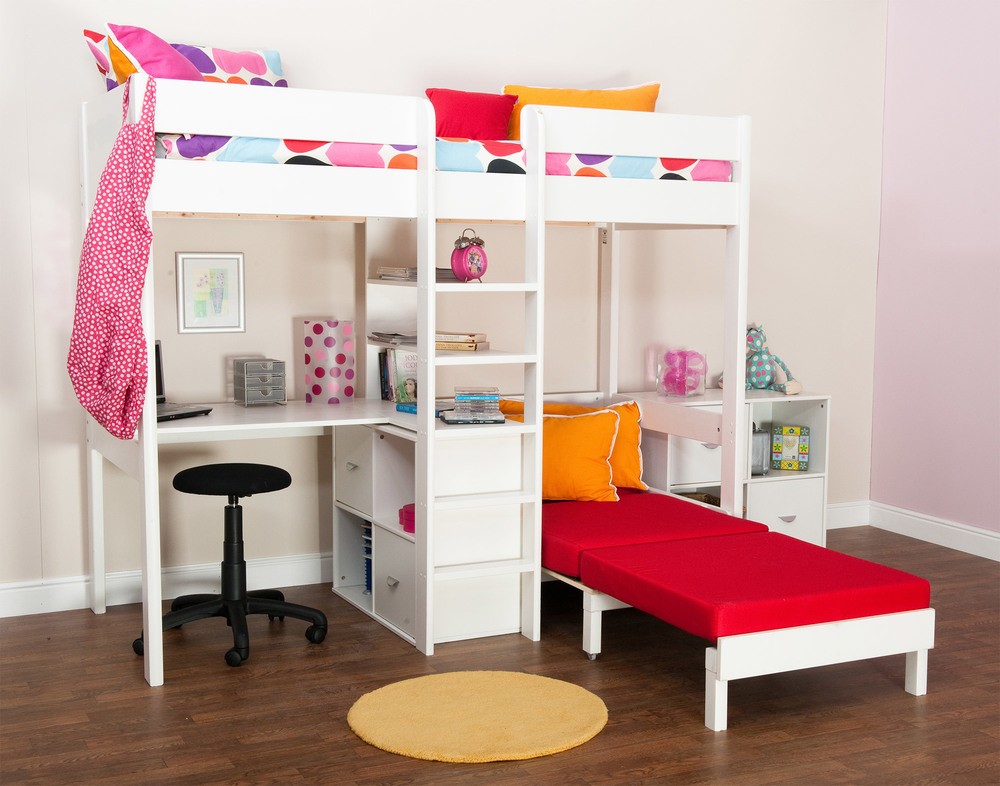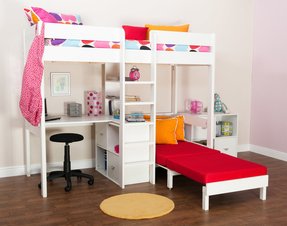 The straightforward and clear design of this futon bunk bed with desk is a perfect solution for children's room. Attractive design and plenty of space for fun, learning and relaxation enchant. The Beautiful white finish adds style.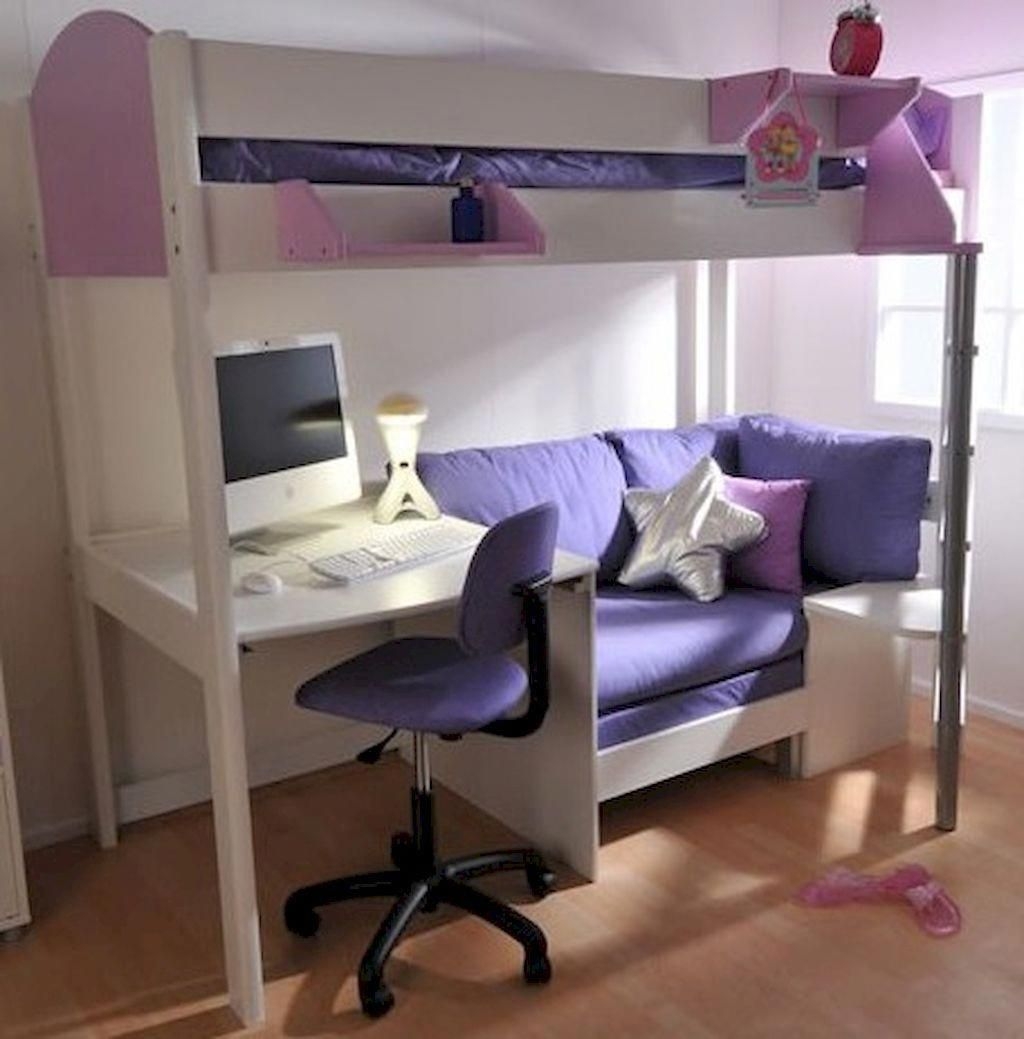 bunk beds with couch and desk - Idea for under aris loft bed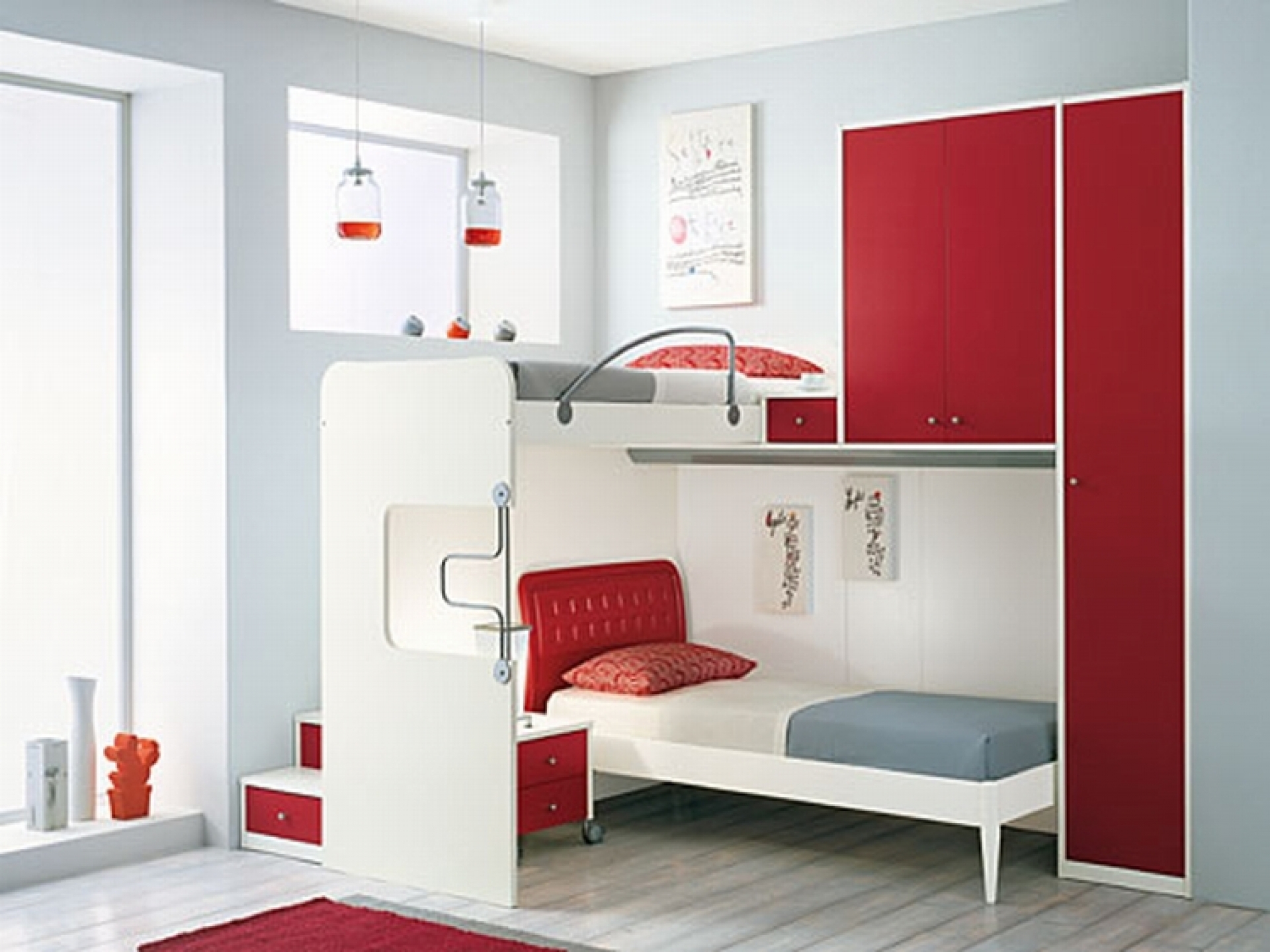 Bunk beds with drawers in the stairs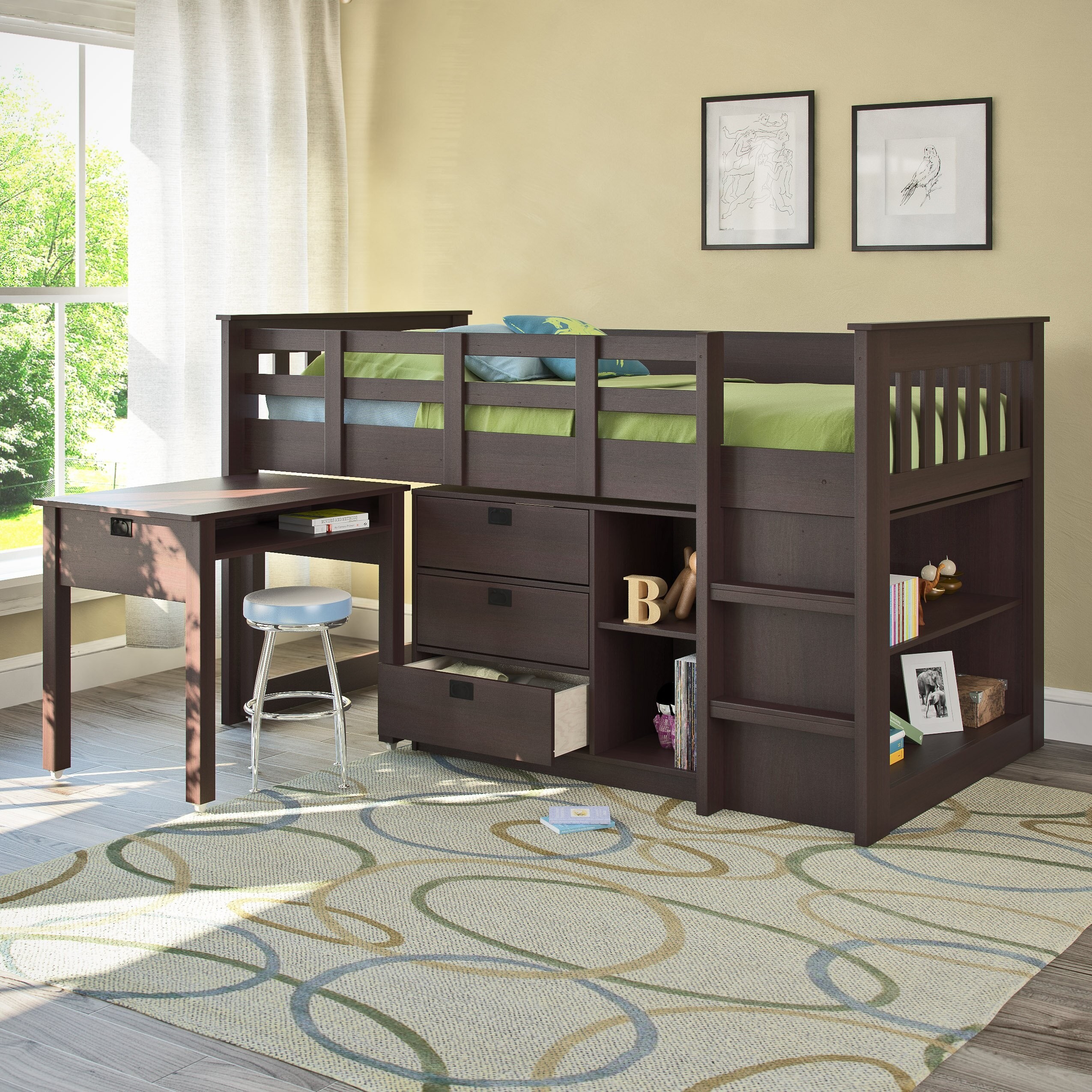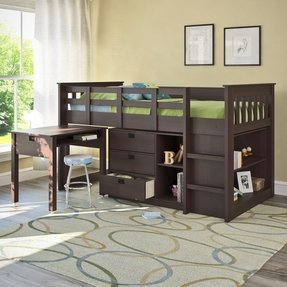 Madison Single Twin Loft Bed with Desk and Storage
This twin loft bed will let you easily combine the amazing style and comfort of the design, especially with the simple lines and rich, espresso finish and add some more functionality, since it comes with the extra desk and storage.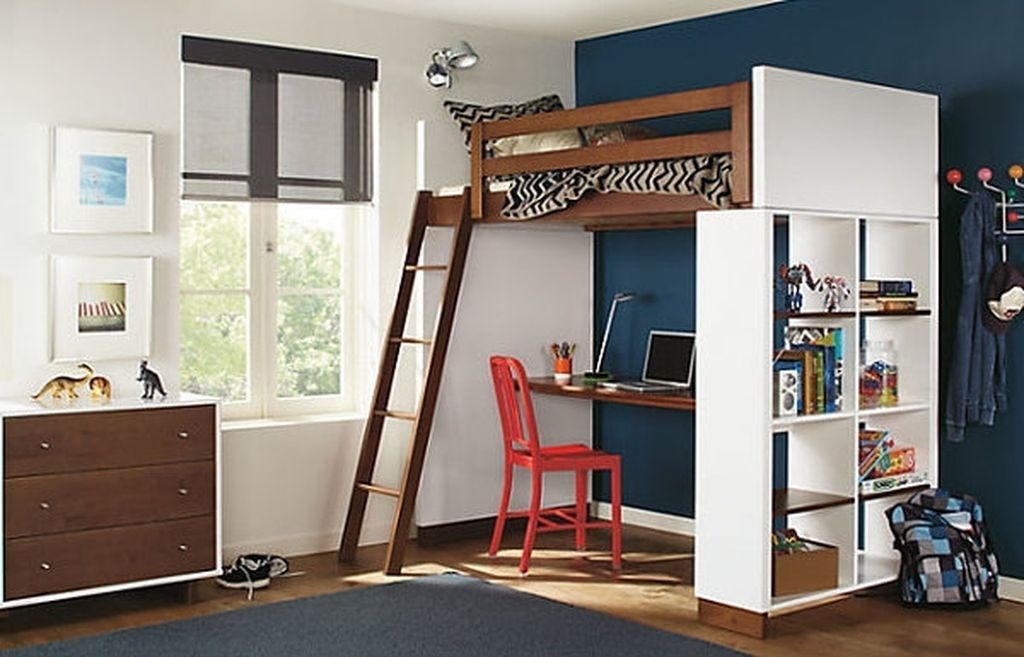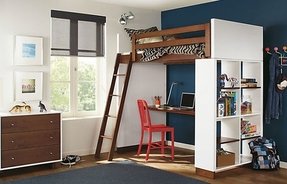 Loft bed with desk underneath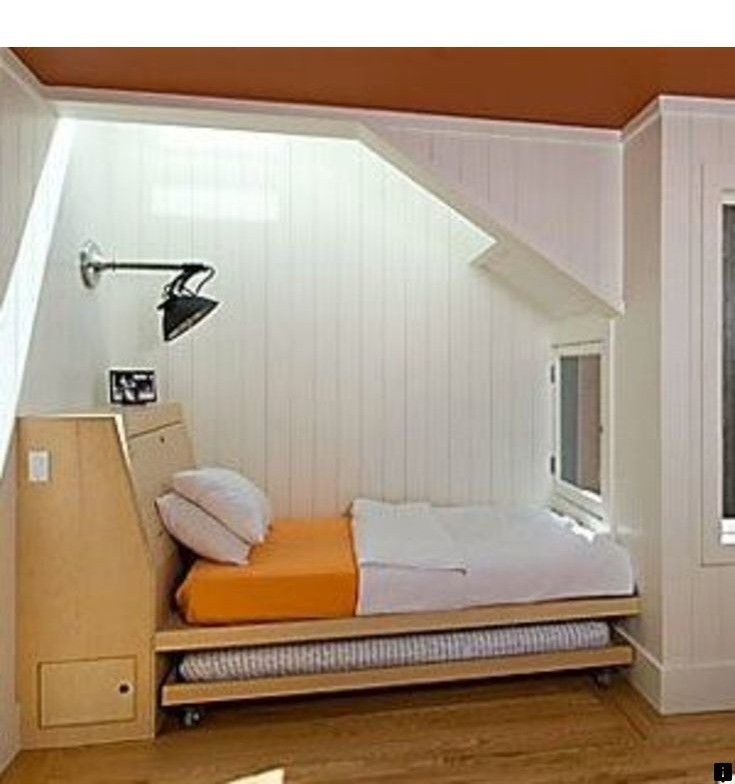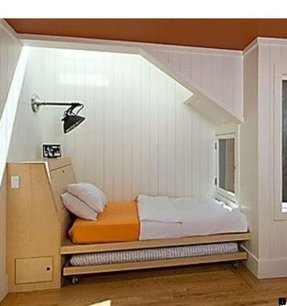 Interestingly, the trundle bed with a desk makes the decor of the interiors fun. Robust wood construction with practical details makes it an ideal solution for small spaces. Warm colors of it delight.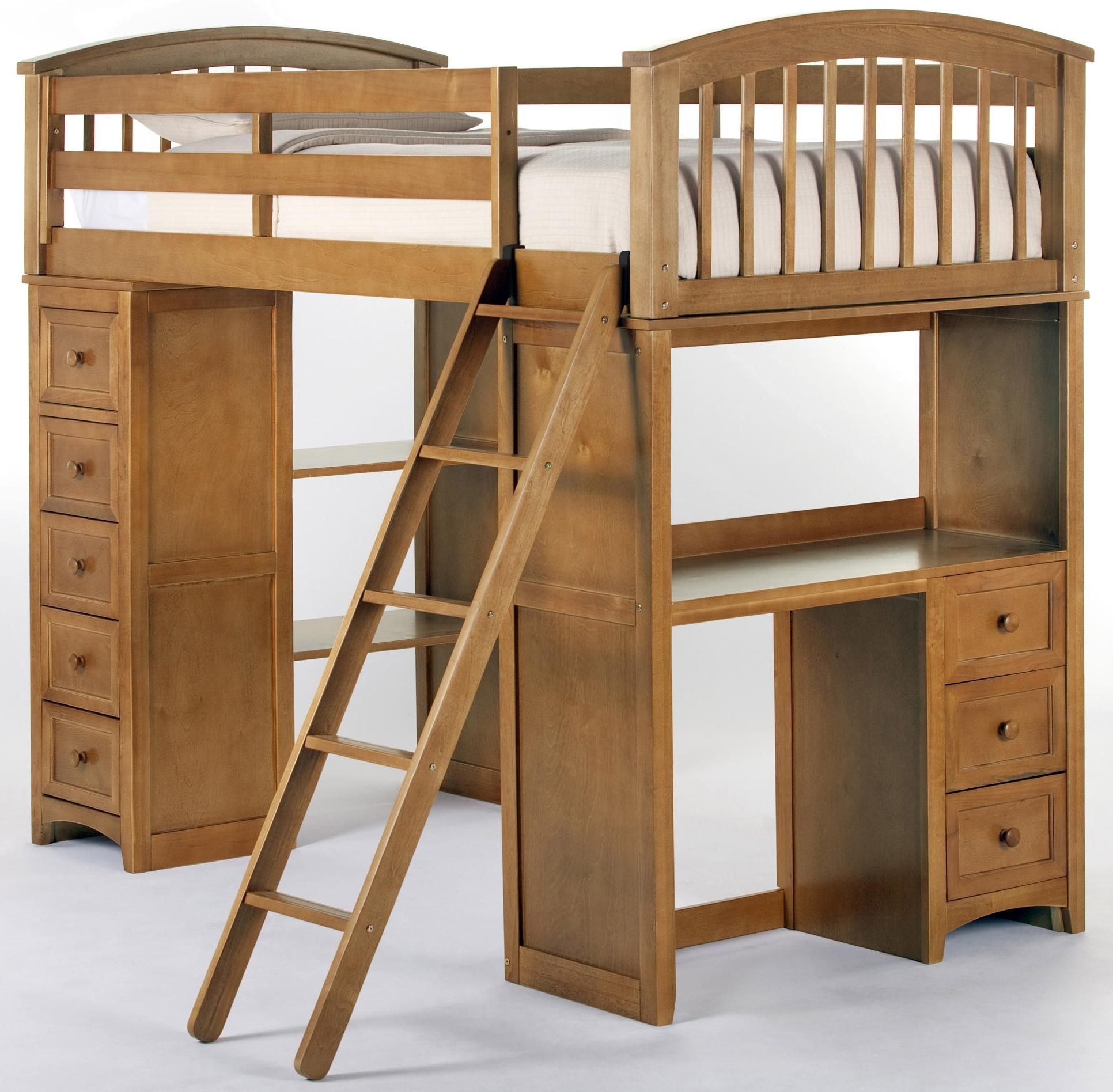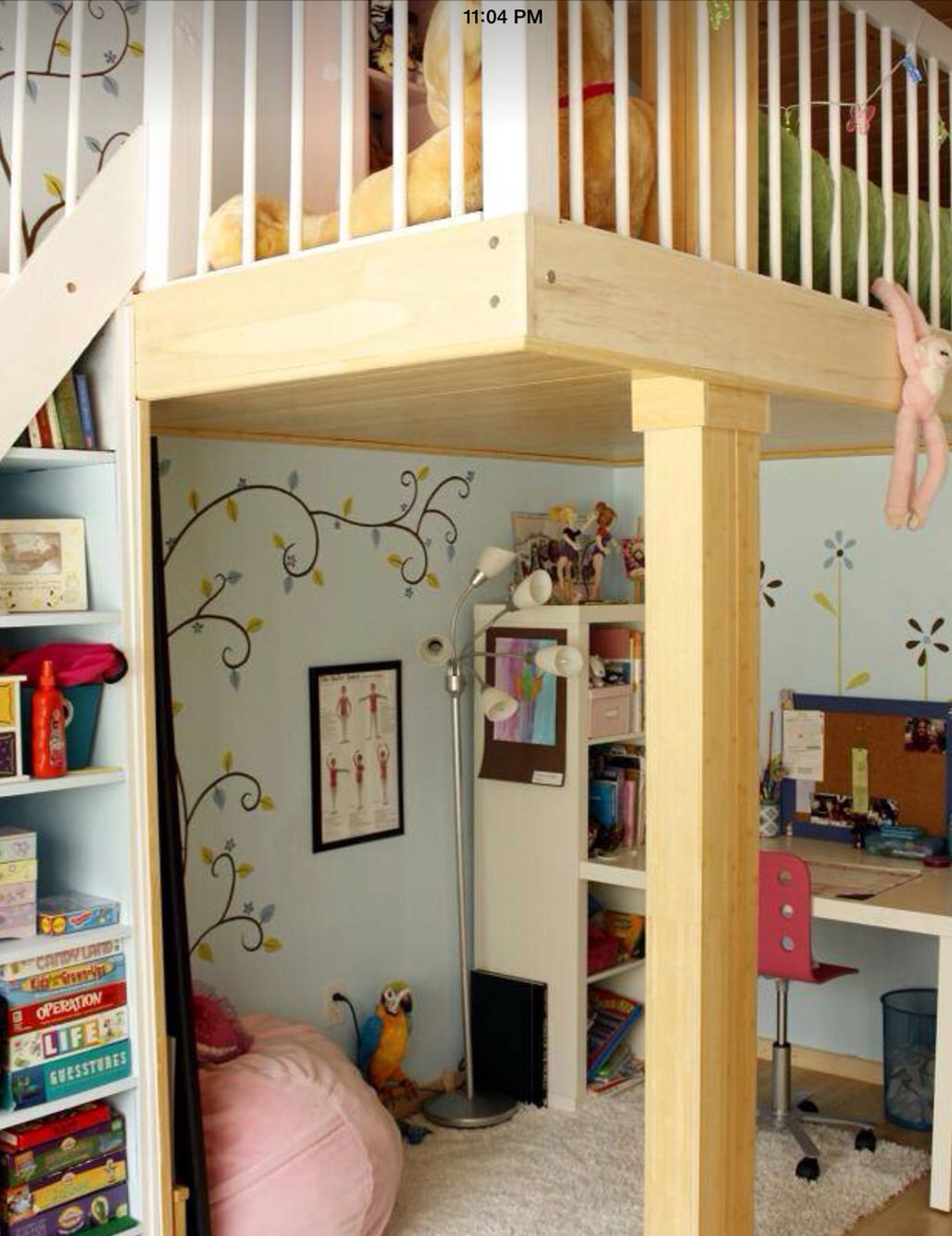 Reading loft on top with desk under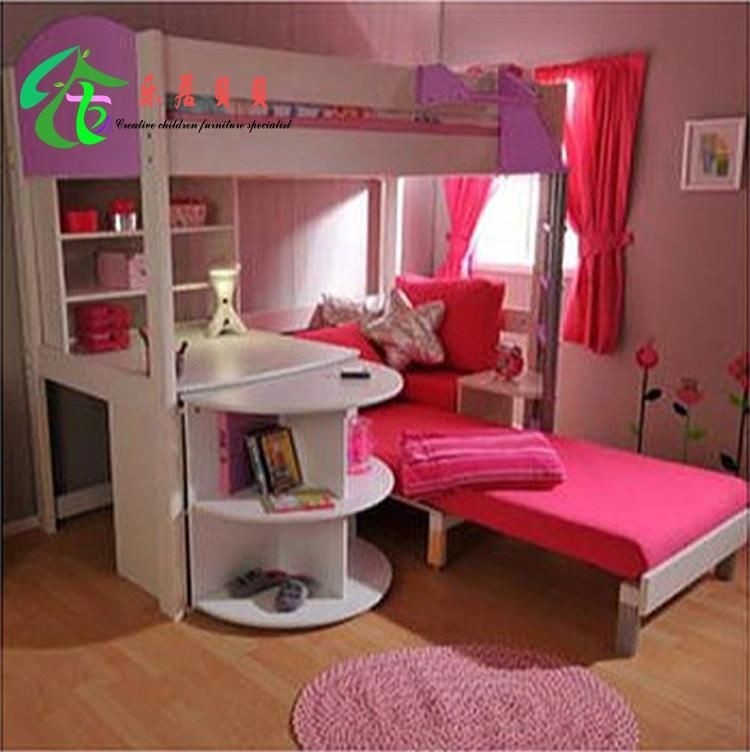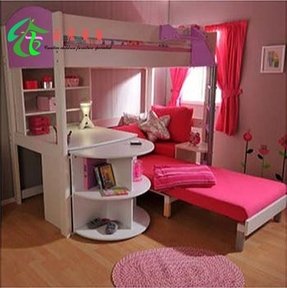 best catalog design bunk beds with desk beds with desks bed with desk ...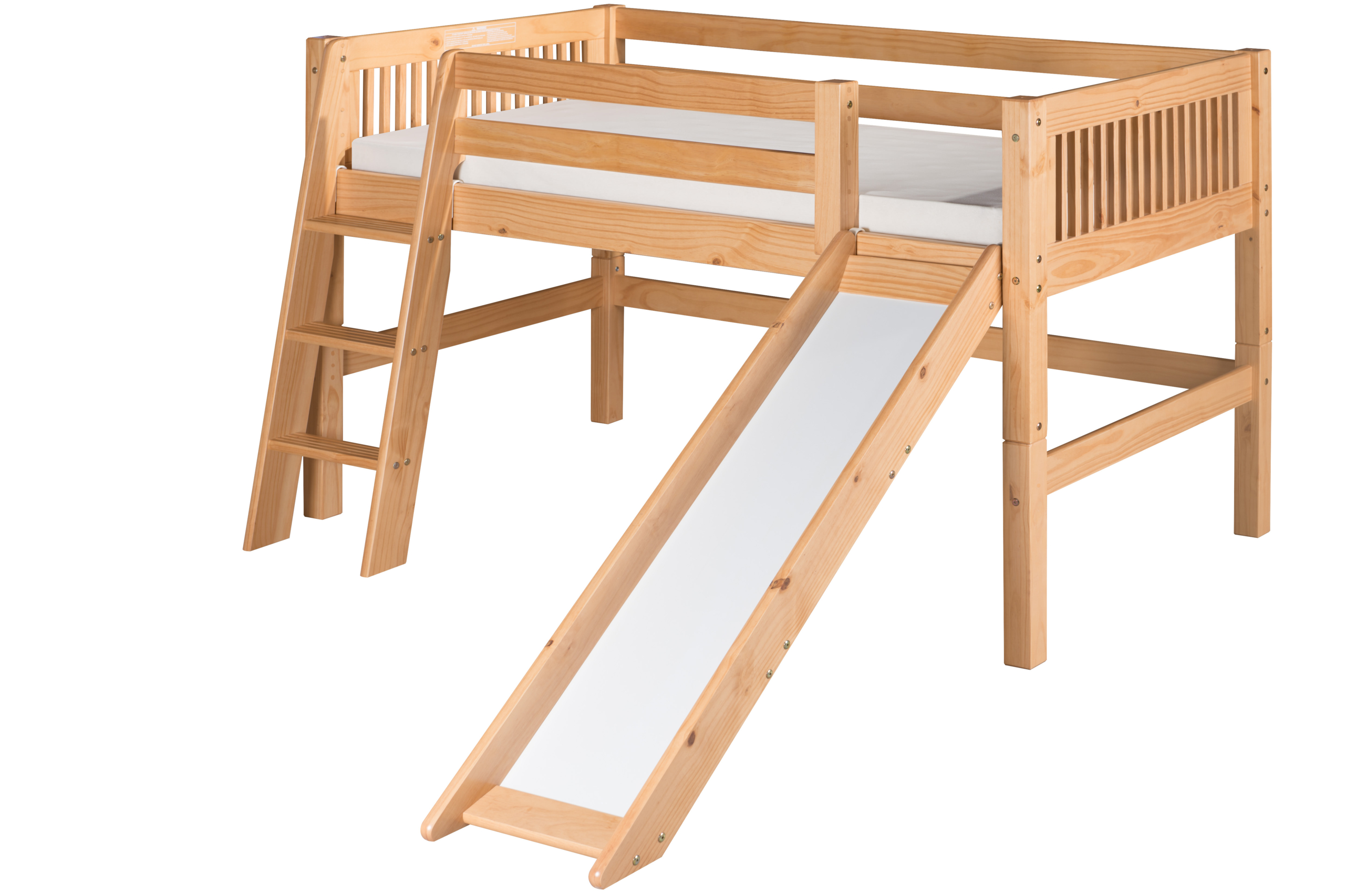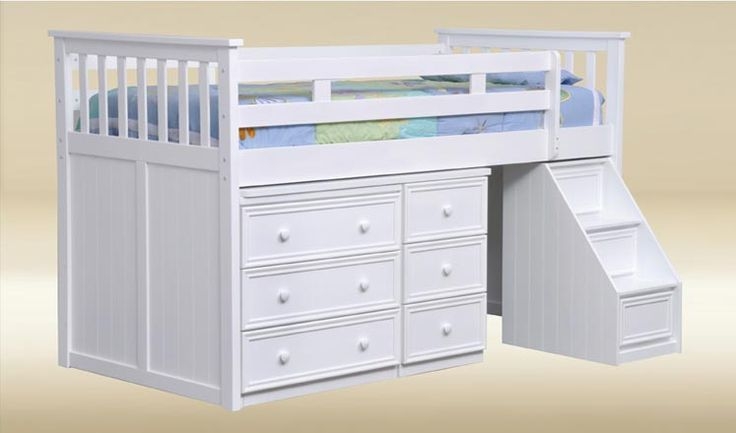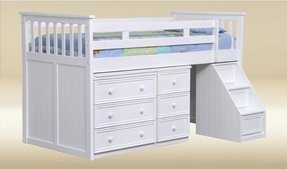 Bunk bed for saving space in kid's room, teenager's room and more. Construction is made of wood. Barriers and stairs for added safety. It is fitted with a lot of drawers for storing clothes and others needed items.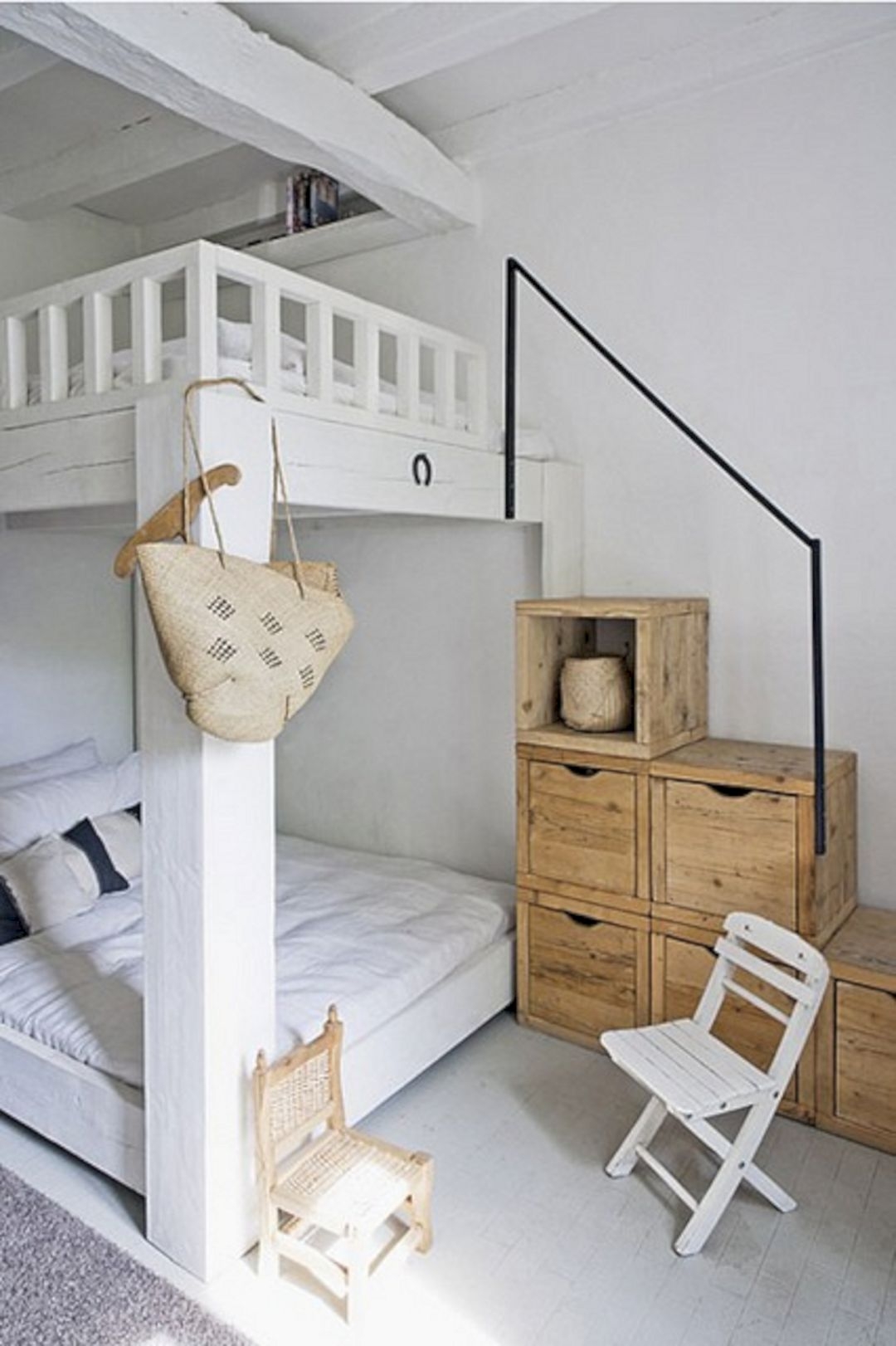 Oh my gosh this is like my dream room || Teens bedroom...
the-level-bedroom-that-is-unique-for-a-small-girl-with-colorful-modern-furnished-with-a-desk-and-chair-under-the-bed.jpg 600×345 pixels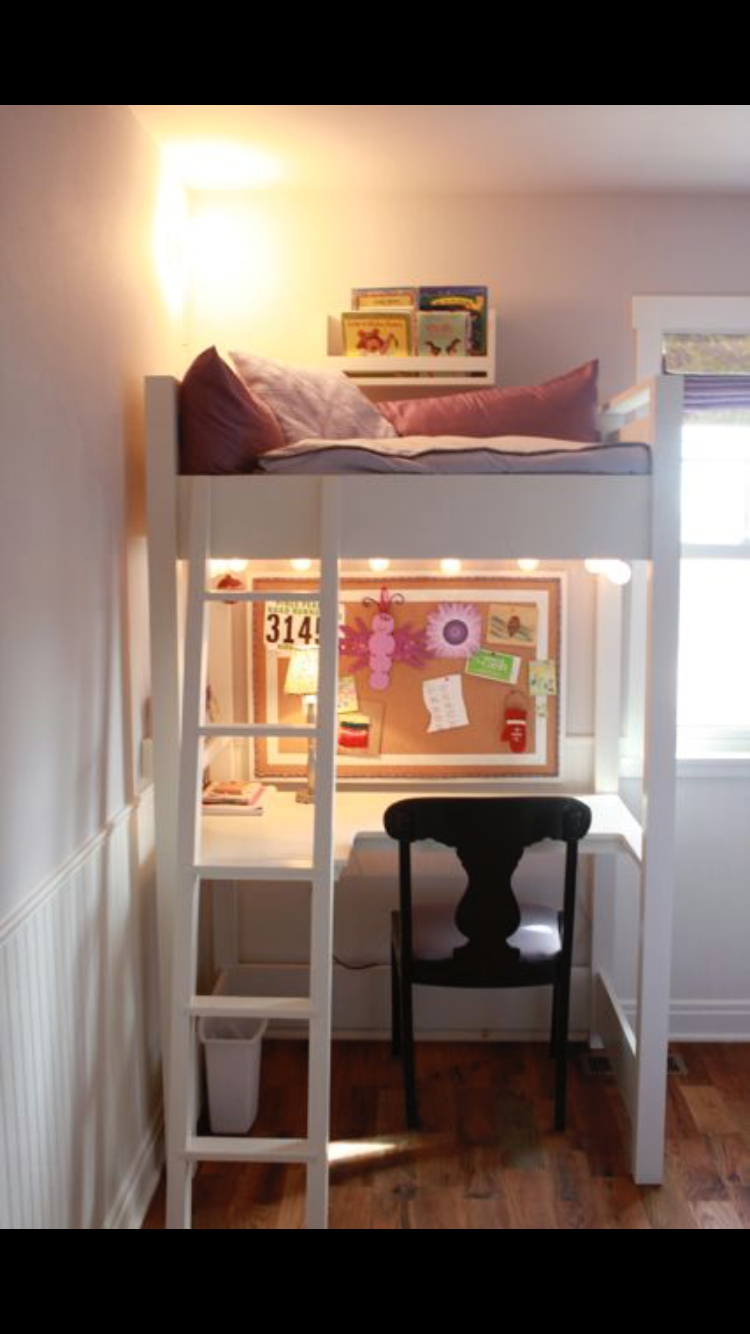 If your kid's room is small, that'a perfect solution for you! It's a clever furniture unit that offers a top bed and a homework station underneath. It provides comfort and privacy without taking too much space.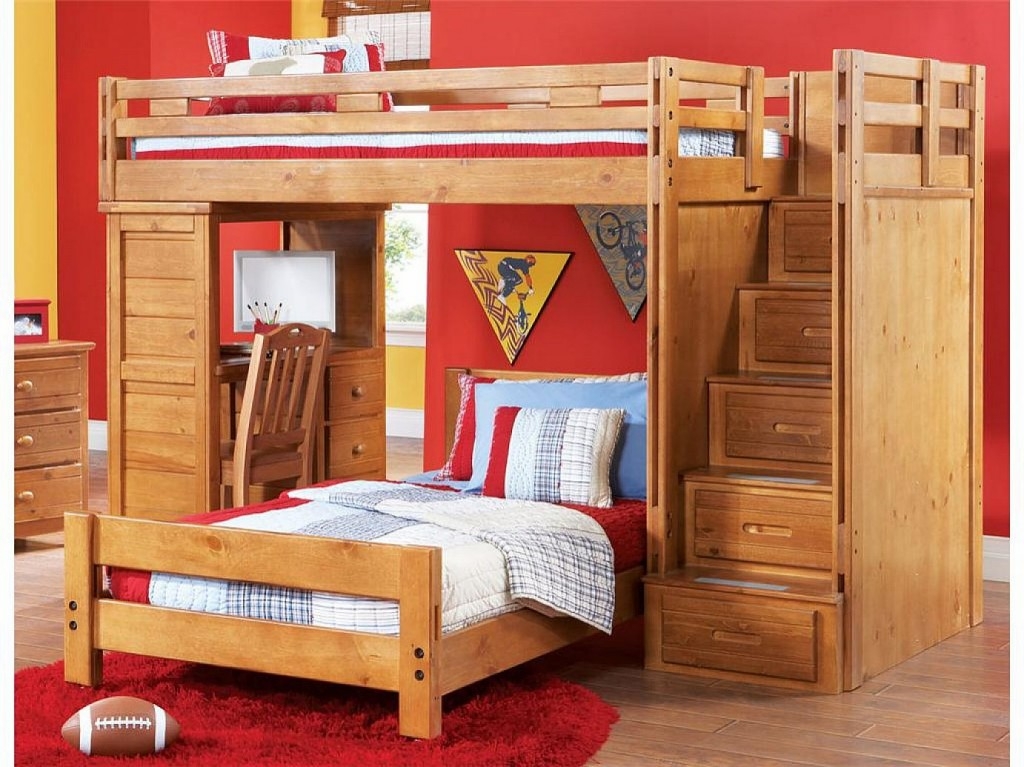 How to Build a Loft Bed with Desk Underneath with red wall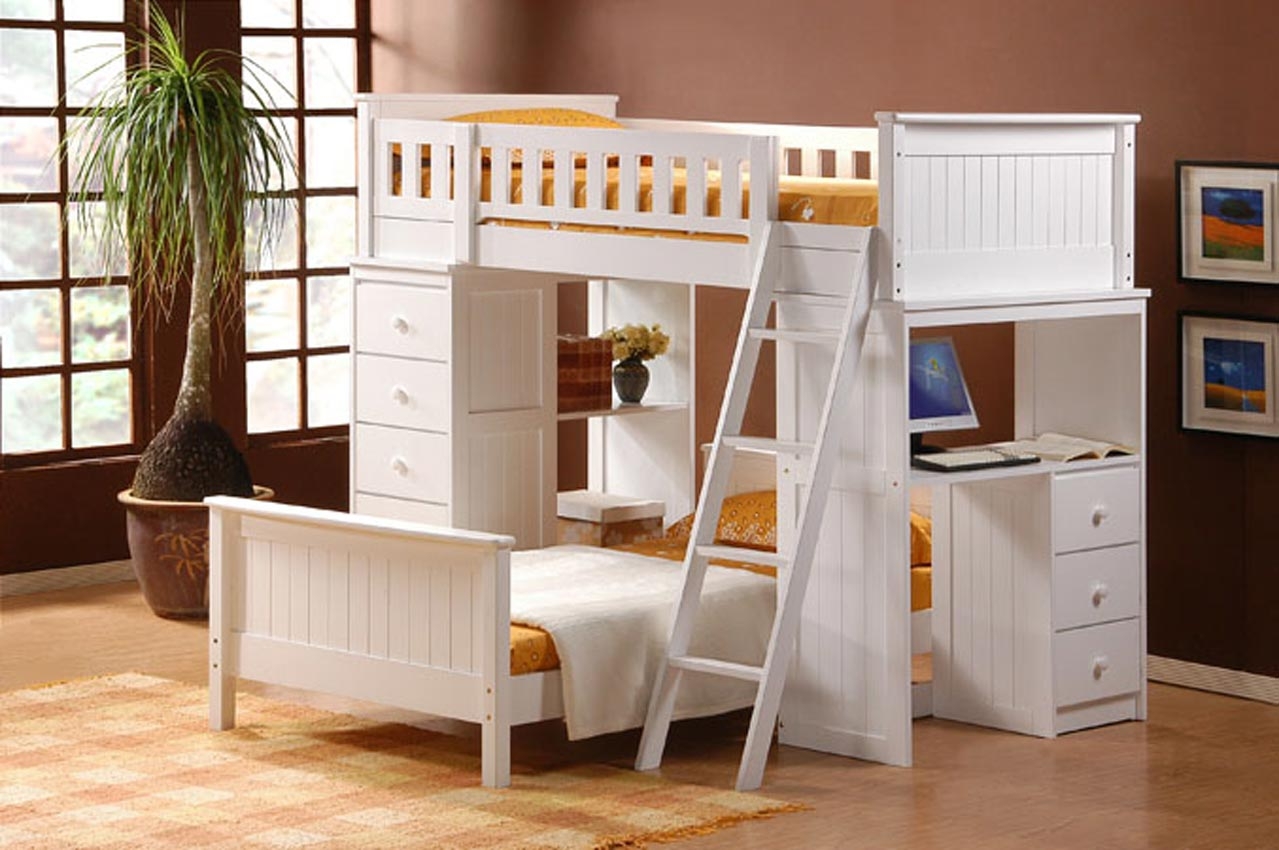 Loft Beds With Desks Underneath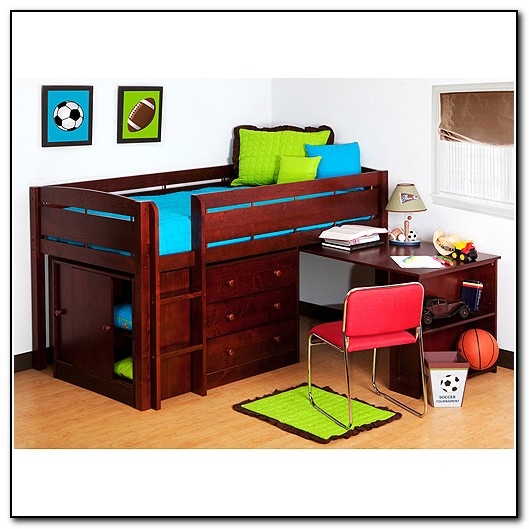 Canwood Whistler Storage Loft Bed With Desk Cherry
This is a very original and interesting piece of furniture suitable for use in the small kids room. It is a space saving solution that includes a bed, a desk, three storage drawers and one storage cabinet.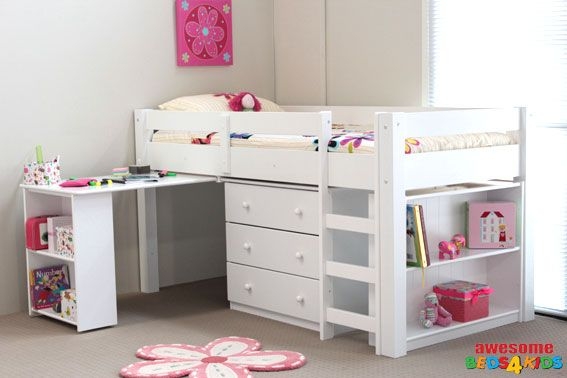 Now you can easily improve children's rooms with practical solutions and lovely craftsmanship by deciding on this white-finished bunk bed. The combo comes with an integrated desk, 4 open shelves, 3 storage drawers, 1 fixed ladder, and a properly secured top.