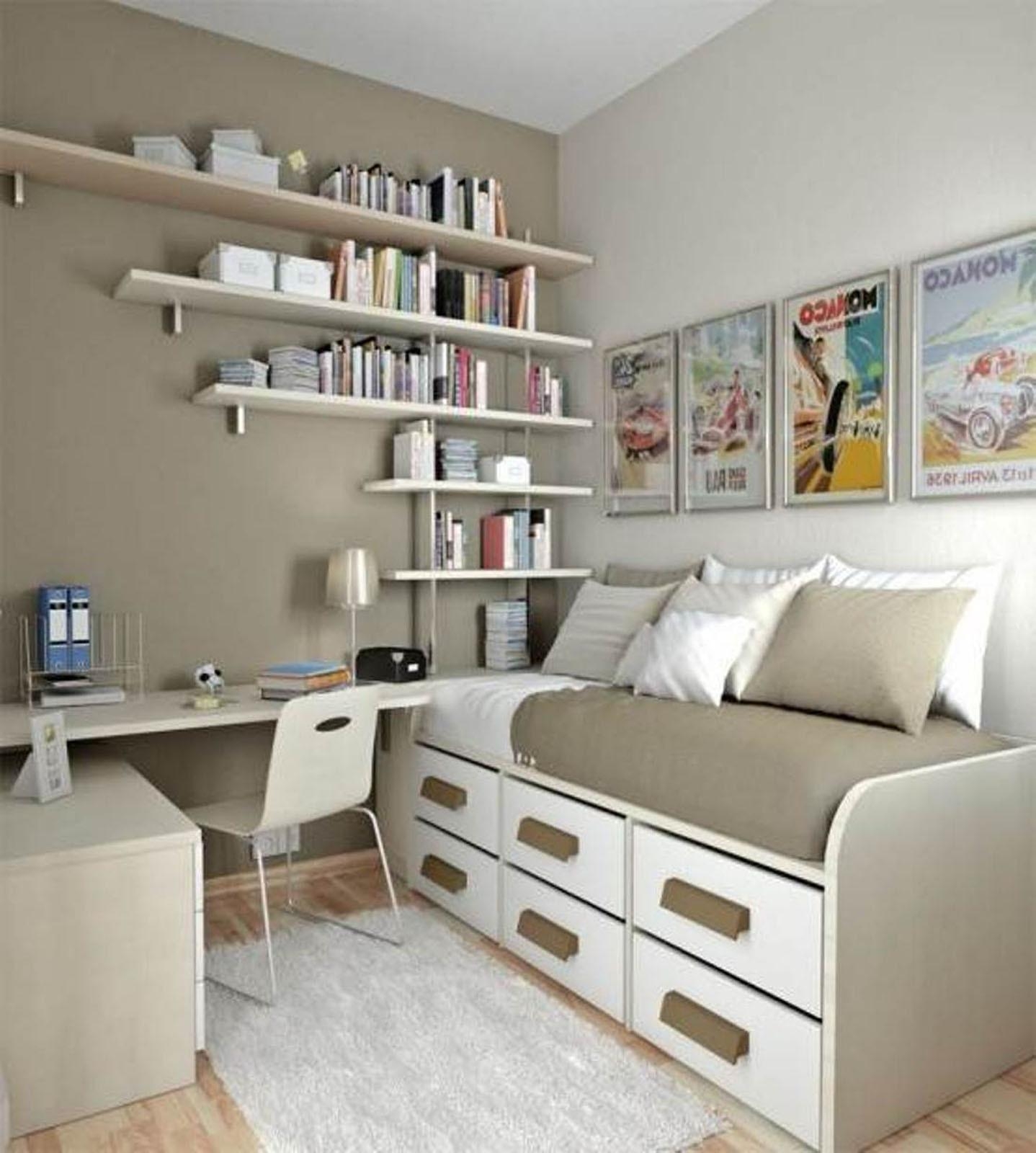 How about trundle bed with a desk made of solid wood? Good news, the originality has reached the bunk beds: so we can meet with this example in pastel, bright color of milk and cappuccino. 6 drawers underneath are minimalist and useful.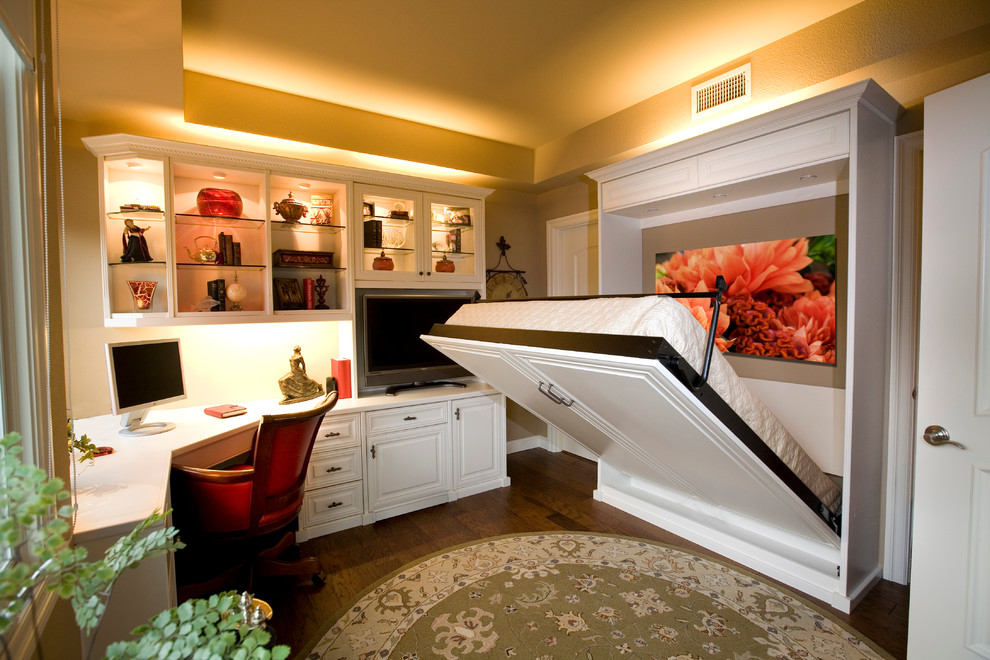 A practical solution for guest rooms, teenagers' rooms, and bachelor pads. This hidden bed looks like a stylish 2-door armoire with metal handles. It has a pull-down front that reveals a low-profile bed with a headboard, and tubular metal flat feet for balance.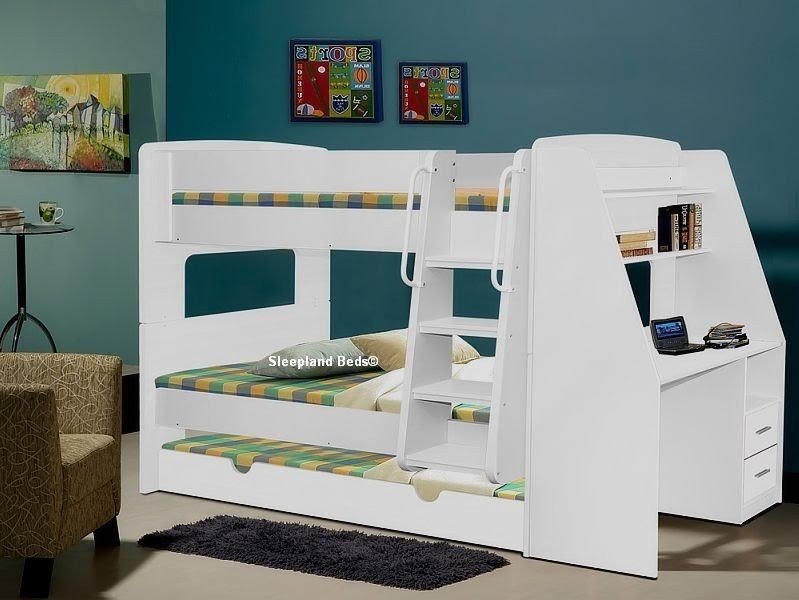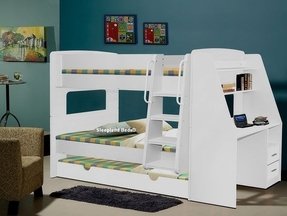 Olympic White Wooden Bunk Beds With Large Desk Storage And Trundle Bed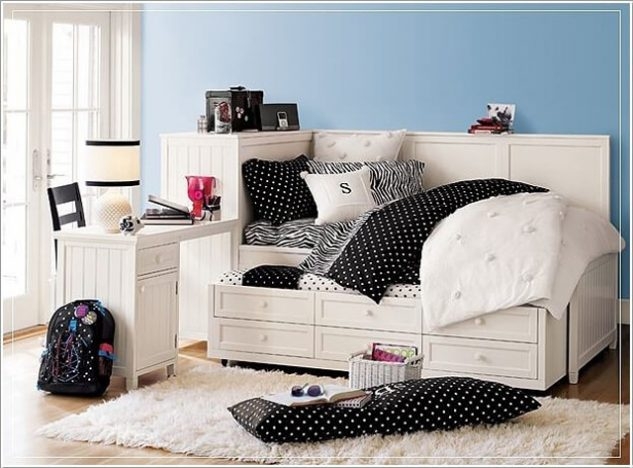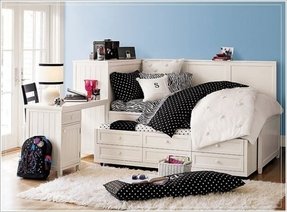 Fashionable teenage bedroom set. Off-white trundle bed with matching desk, paired with fluffy white fur floor rug and monochrome Polka dot day bedding. Six drawers in the trundle. Fairly enough of storage space!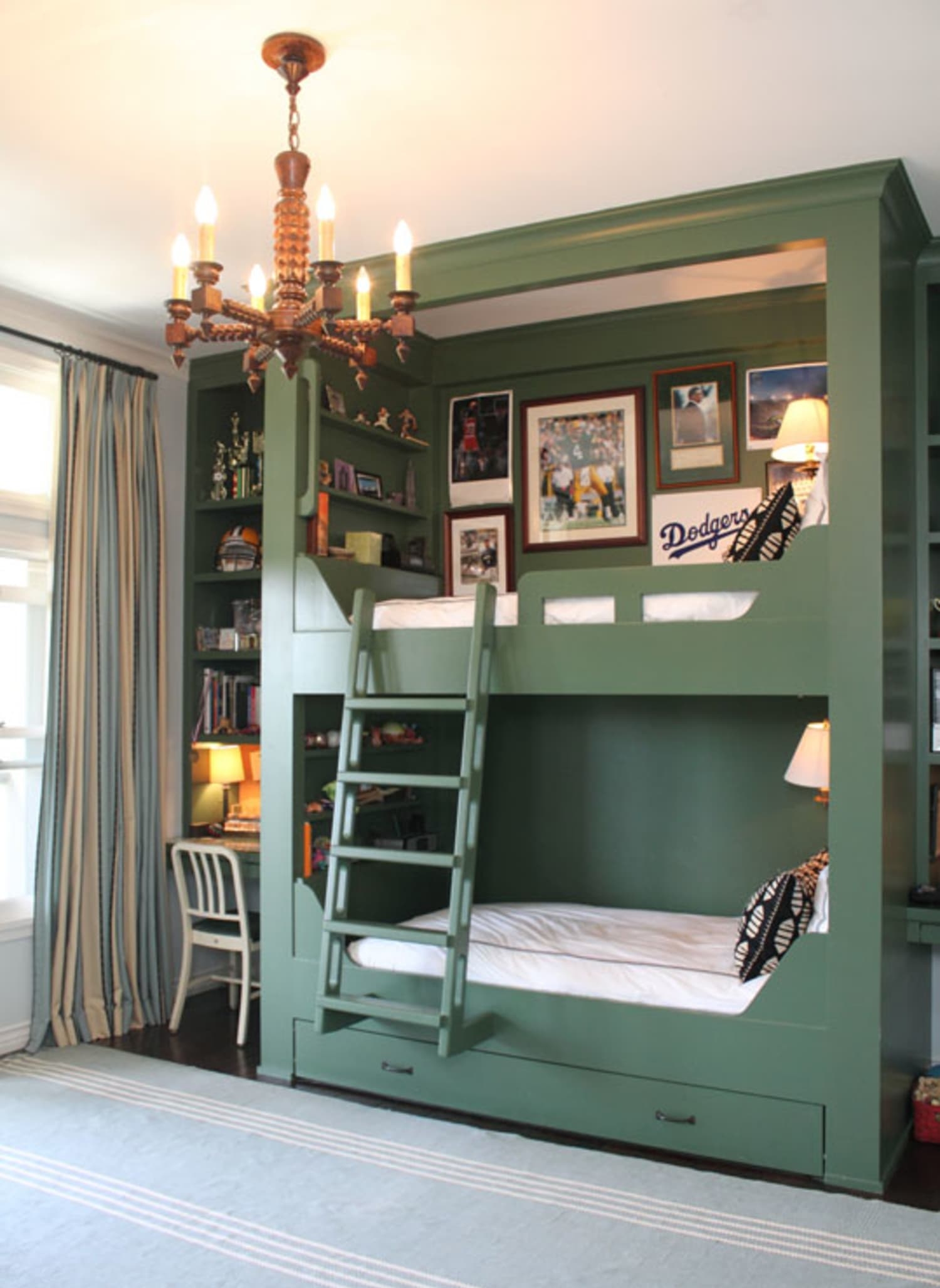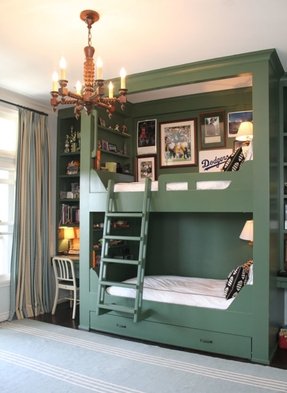 Extremely practical trundle bed constructed from wood and finished in a nice light green color. The bed is fitted with ample storage thanks to two large drawers at the bottom and an assortment of open shelving along the sides. It also features a small desk with enough workspace to cater to your kids.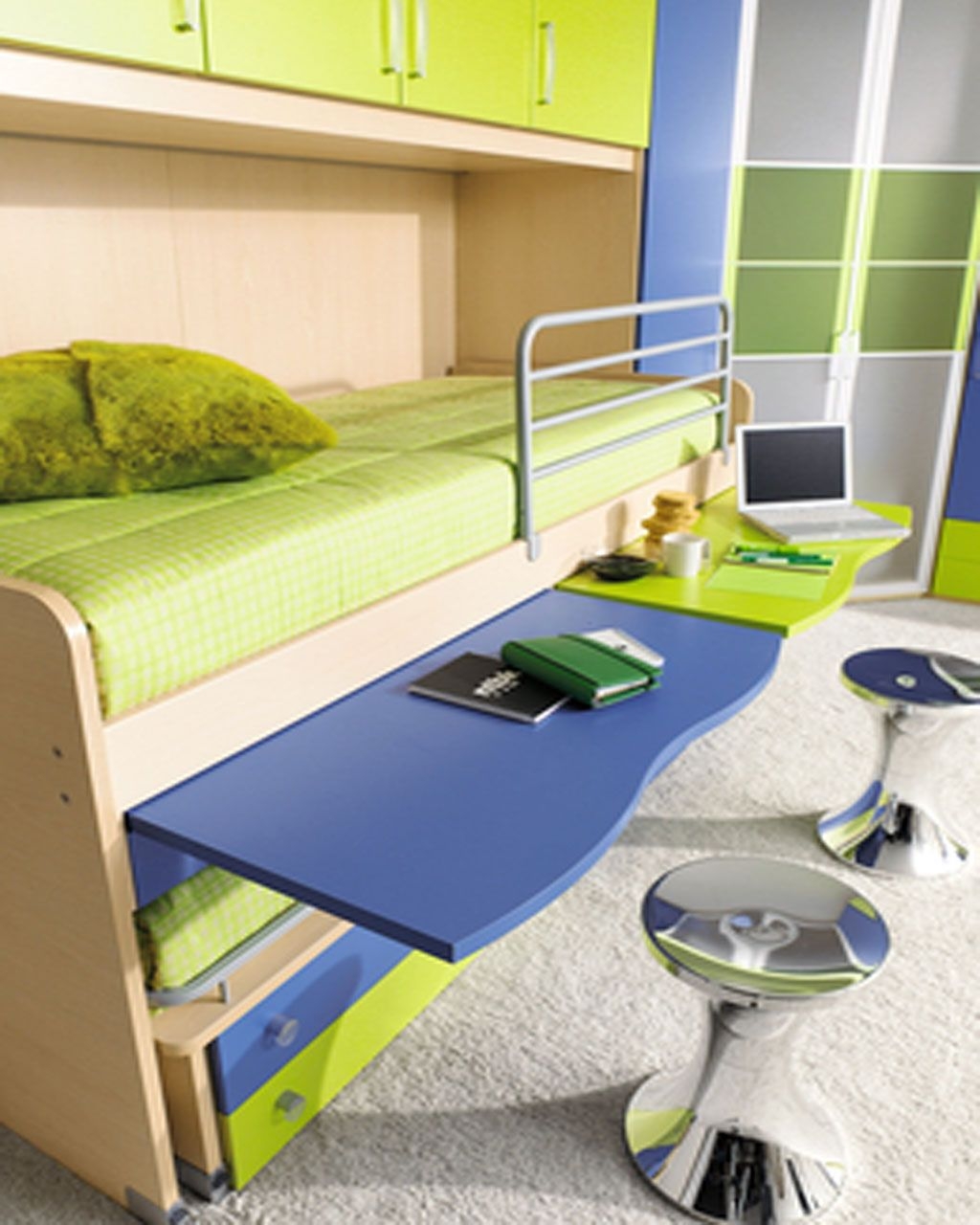 The combination of a beautiful hard bed with a desk and a bed stool makes the baby room take on an unusual style. All in a nice color scheme you will like the youngest. Large drawers and cabinets will work well in storage.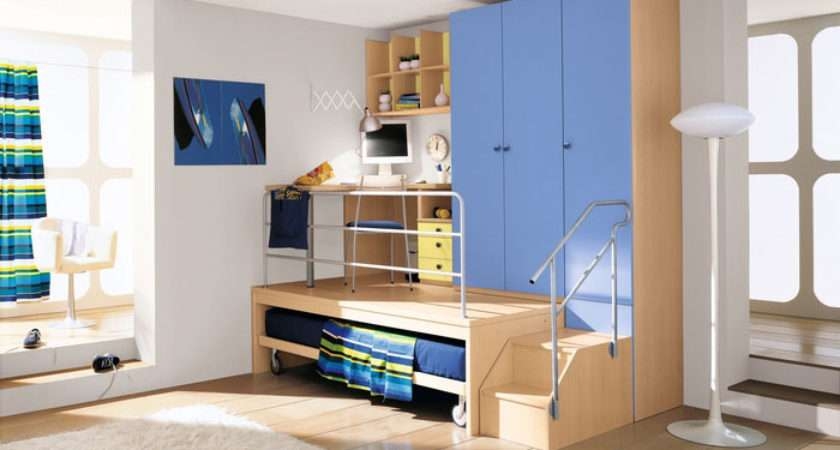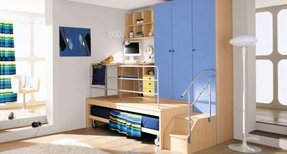 A cool and ergonomic bedroom design, ideal for a teenager or a single. Trundle bed placed within the platform, being the base for a desk and wardrobe. A stylish and practical space organization solution.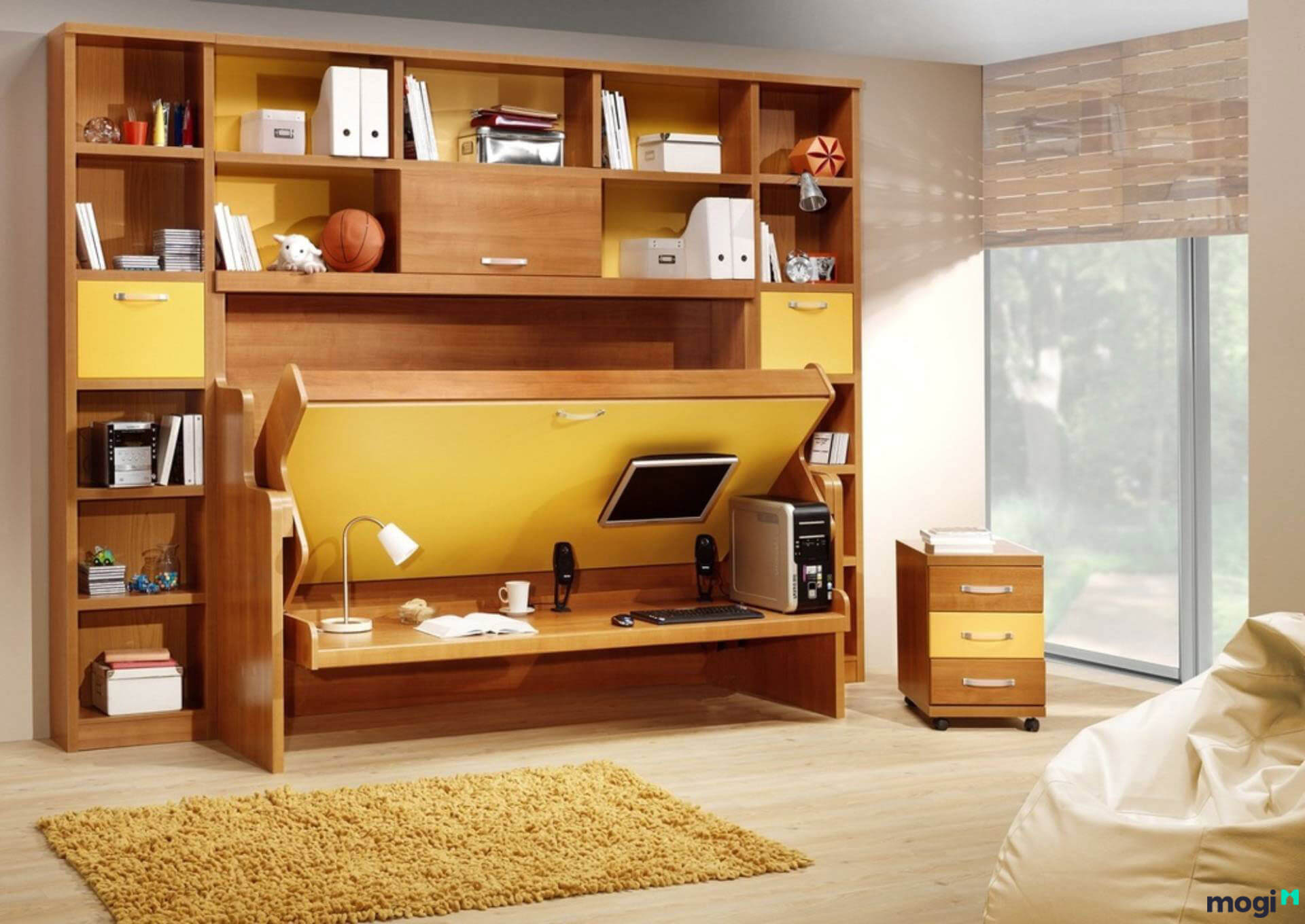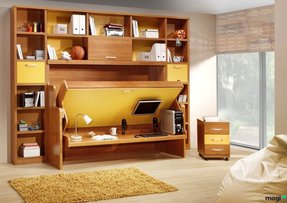 If you live in a studio flat or you have cramped bedroom, this set of furniture will be perfect for you! it is composed of wall unit with shelves intended to storage books and take-down bed connected with desktop.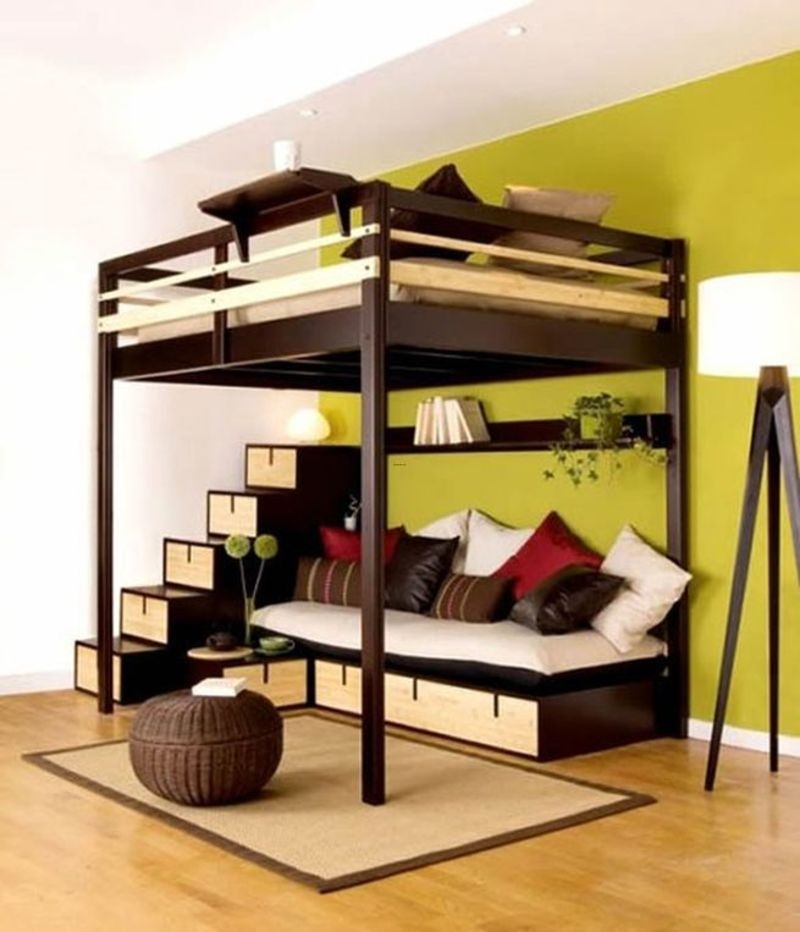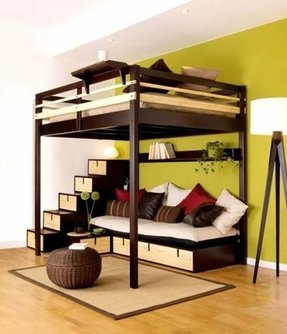 Bunk bed with a lot of drawers. Construction is made of wood. It is fitted with stairs and railings for added safety. Modern design for teenager's room, kid's room and others interiors according to taste and need.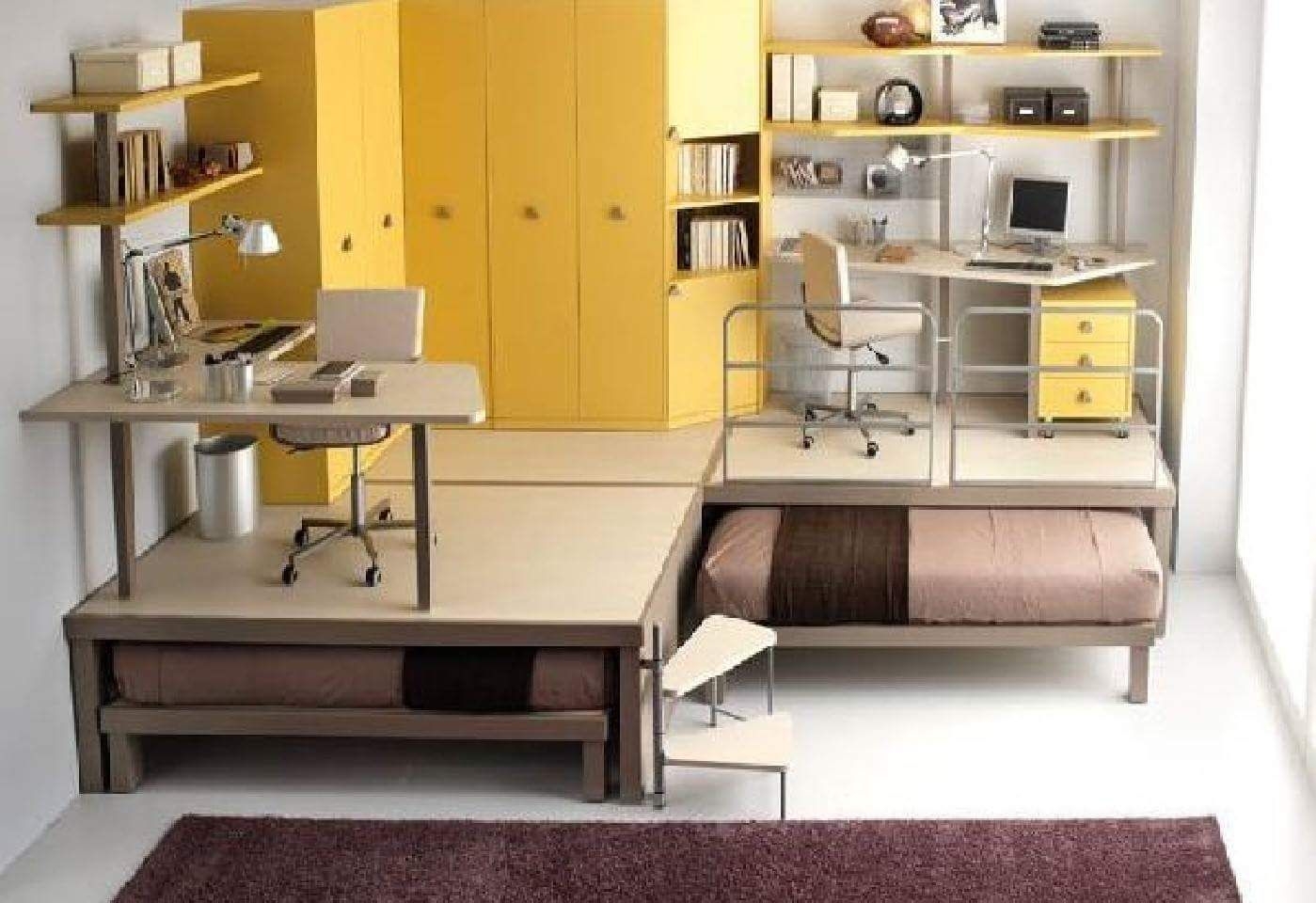 The contemporary, comfortable and functional trundle platform kids bed with desk will be an excellent addition into any bedroom. Great space saver solution for your small apartment.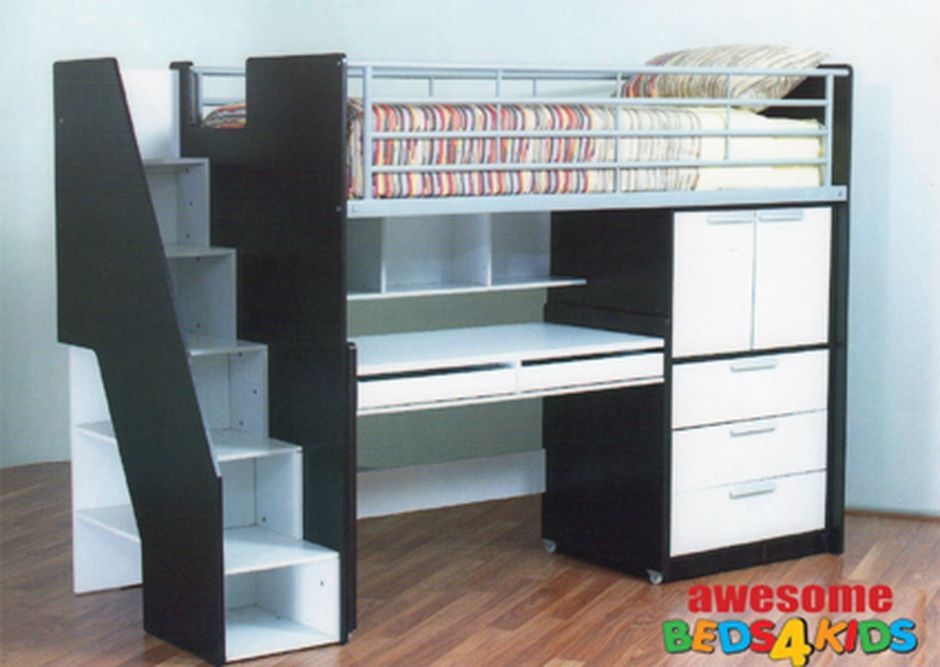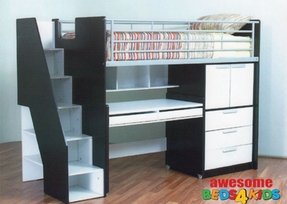 The Single Evan Loft Bunk is the perfect all in one solution for your kids room. The bed features a single bed, easy walk up stairs with storage, good size cupboard with shelves a full size desk $949.00 AUD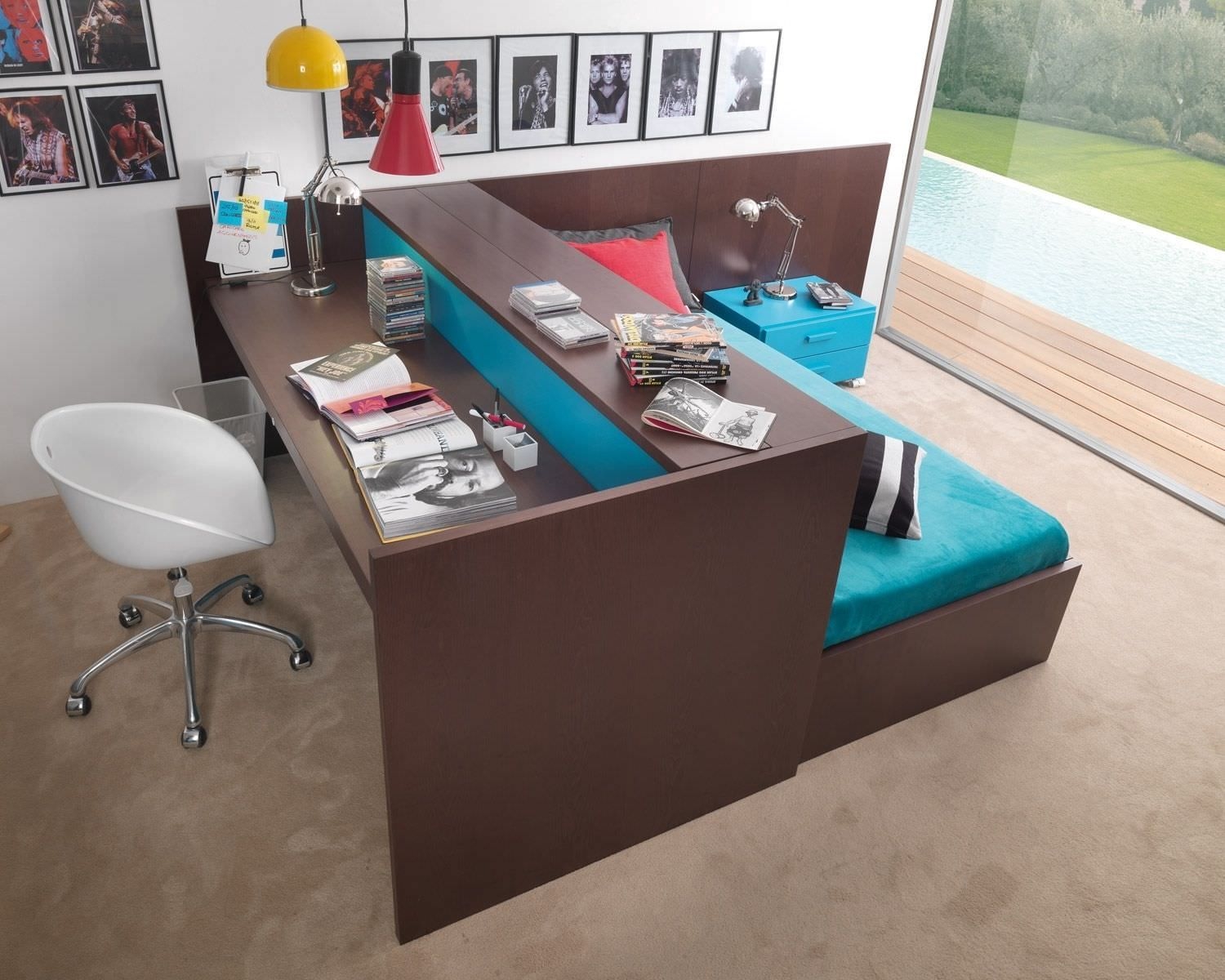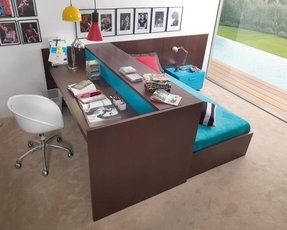 This decor can be an inspiration both for children and adults, men and women, showing how to achieve a well-organized contemporary decor in a small studio. The trundle bed with desk is an ingenious solution, which allows saving plenty of space.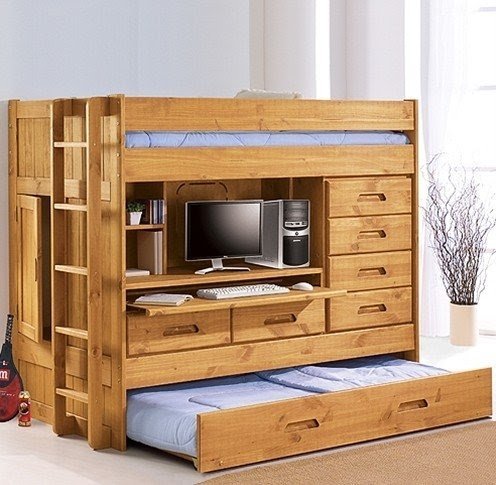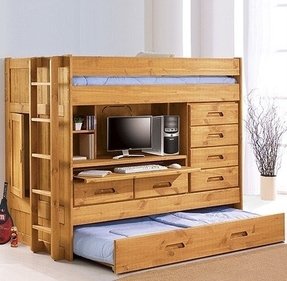 Yeah, this set contains many functional elements while taking really small amount of floor space. "Box" storage & bed solution incorporates a trundle bed, desk, bunk bed, dresser and entertainment center.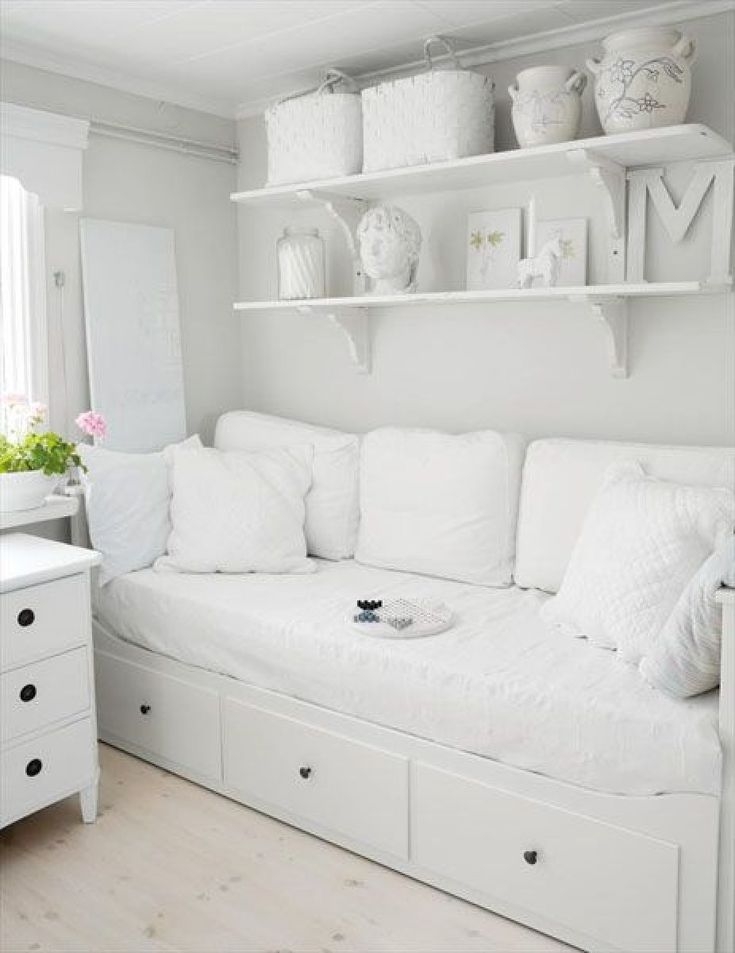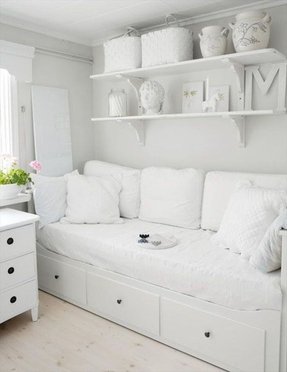 In your baby's room, you probably spend more time than in your bedroom. In the corner you can mount a blissful day bed with trundle, combined with shelves, everything in innocent white color - so you can take a nap at any time, still near the cradle.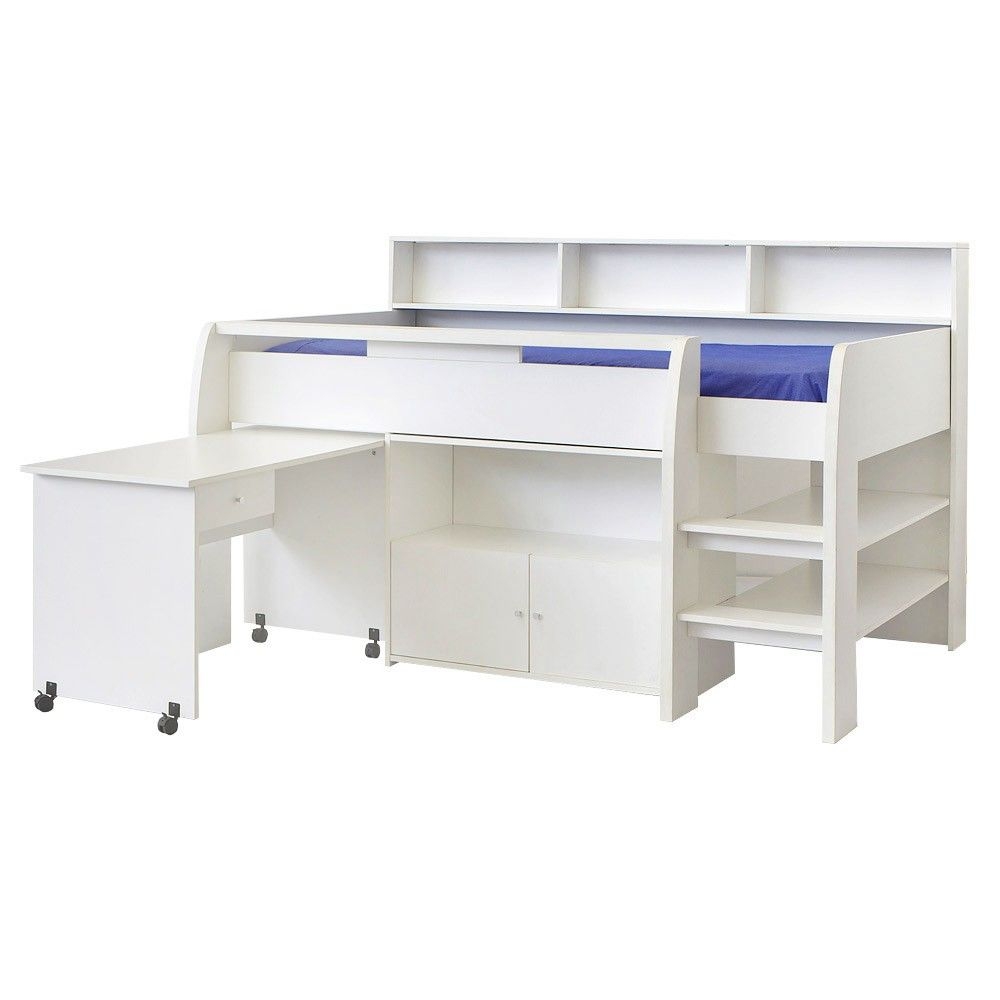 Bunk bed for space saving in the kid's room, teenager's room and more. Construction is made of wood. Base is fitted with cabinet, desk mounted on wheels and many open shelves in various sizes.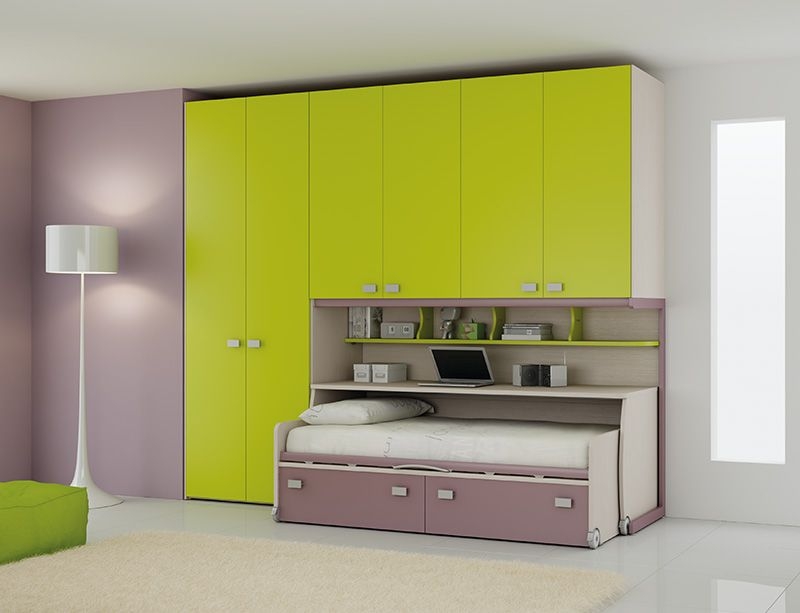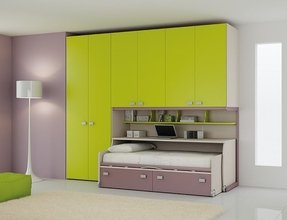 Desk with trundle bed / unisex / for kids LH13 - 2465 moretticompact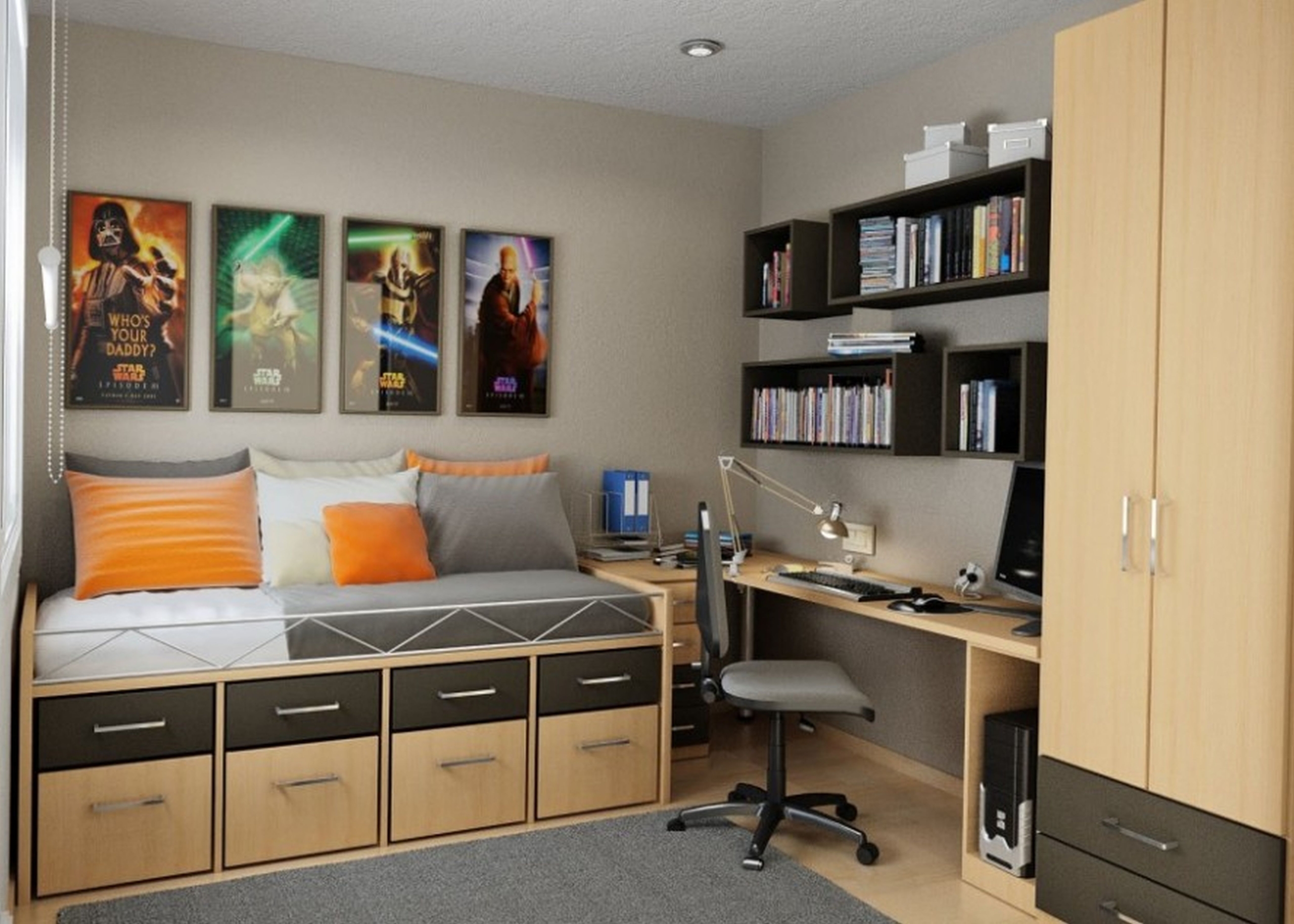 Amazing Modern Bedroom Ideas For Small Rooms : Beautiful Modern Bedroom Ideas For Small Rooms With Trundle Bed Pillow Throw Pillow Picture Sideboard Chair Chest Of Drawer Overhead Light Desk Lamp Computer Book Shelve Rug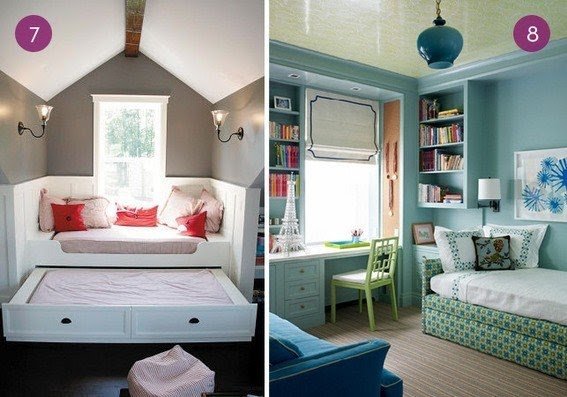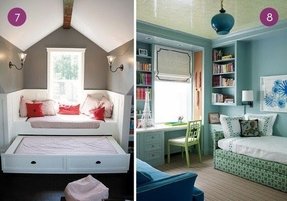 A trundle bed in the attic with pink throw pillows, and a blue and green office with an extra bed. // Small Space Guest Rooms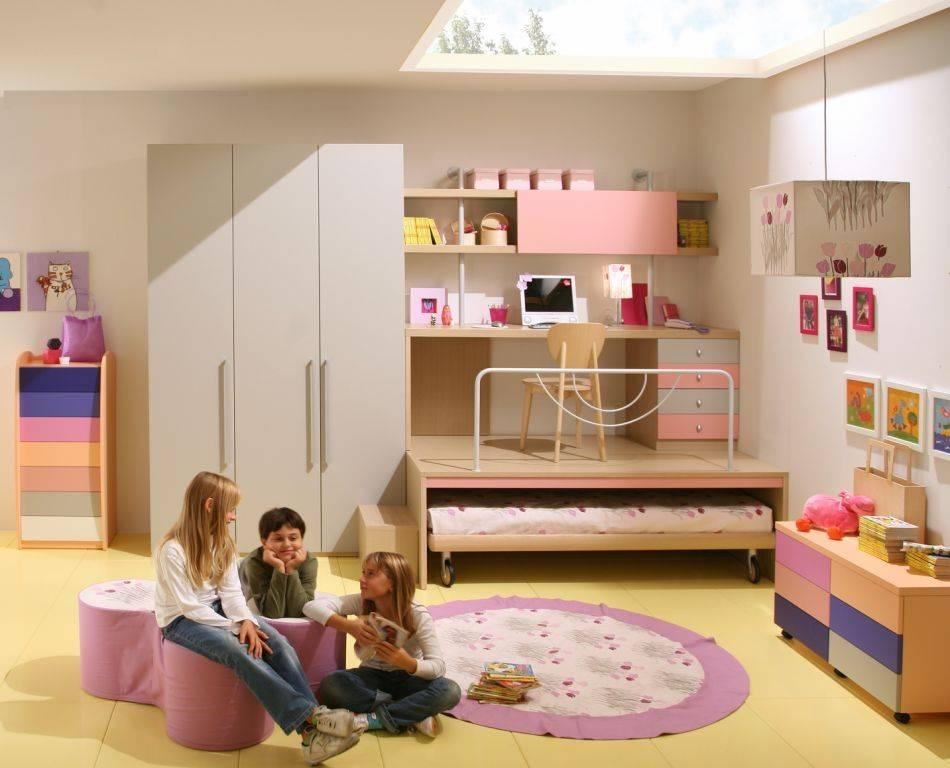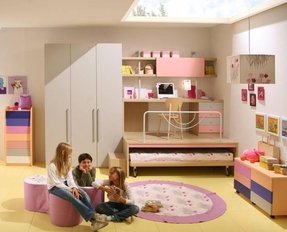 A clever, space saving solution for a children's bedroom. A platform working station, placed on the top of a trundle bed. All finished in bright wood, oozing a warm ambiance around the room.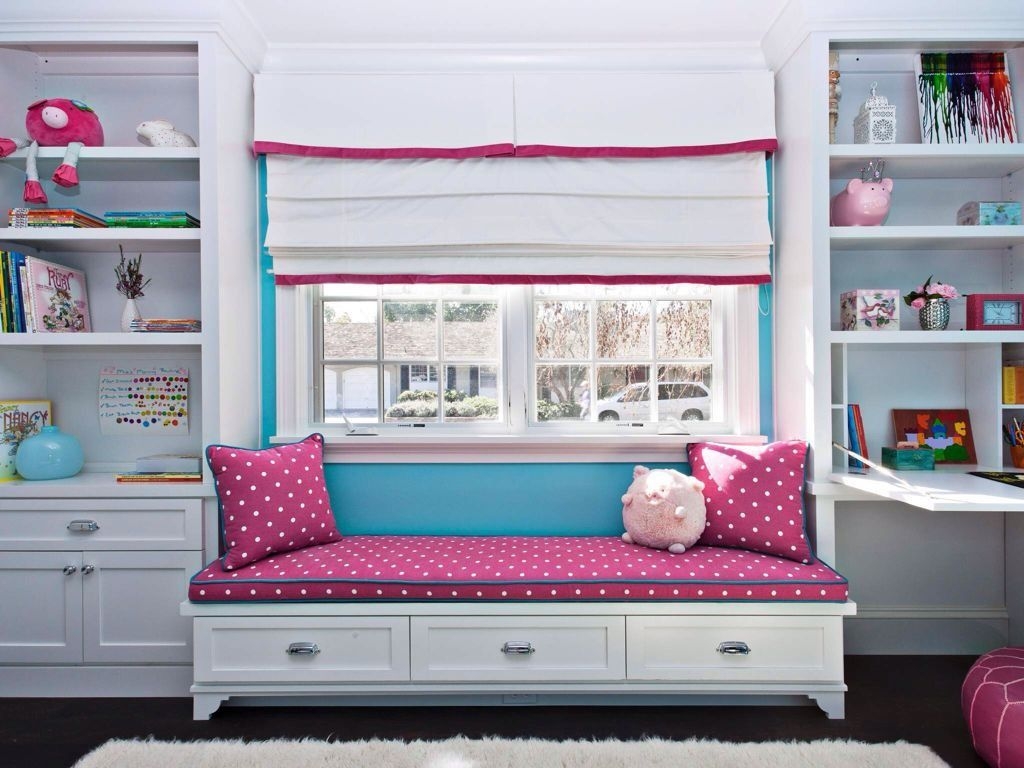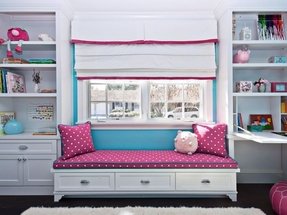 Daybed idea - flanking the bed with the armoire and the chest of drawers would help create the illusion of sides on the daybed. Adding headboard treatment on wall would help.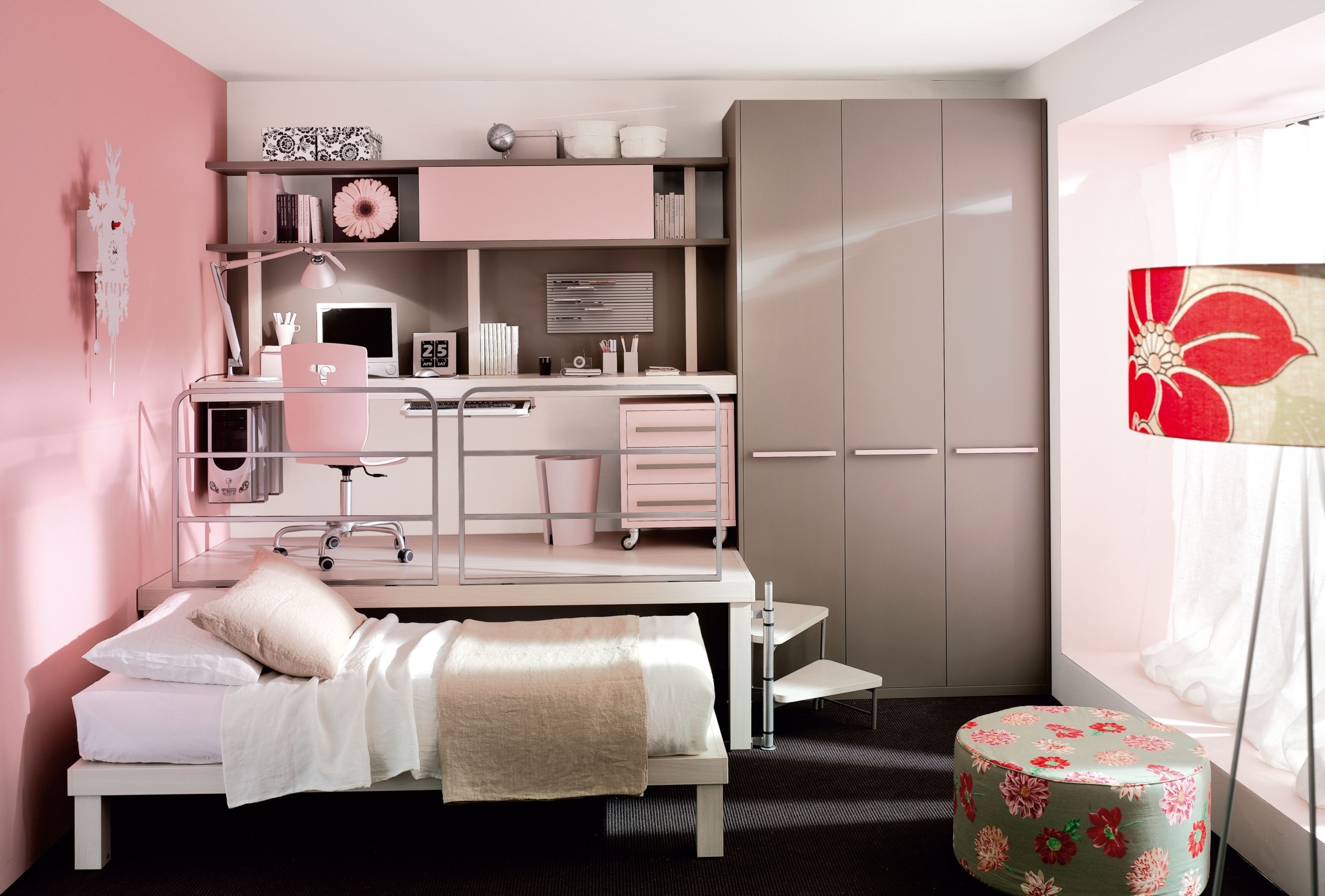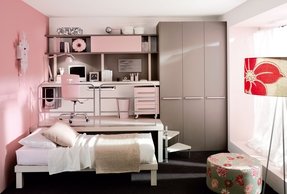 Why not go for something a bit different and choose a desk on a platform and a regular bed to complete your kid's room? These pieces offer double the functionality, since the bed can slide underneath the platform for more floor space.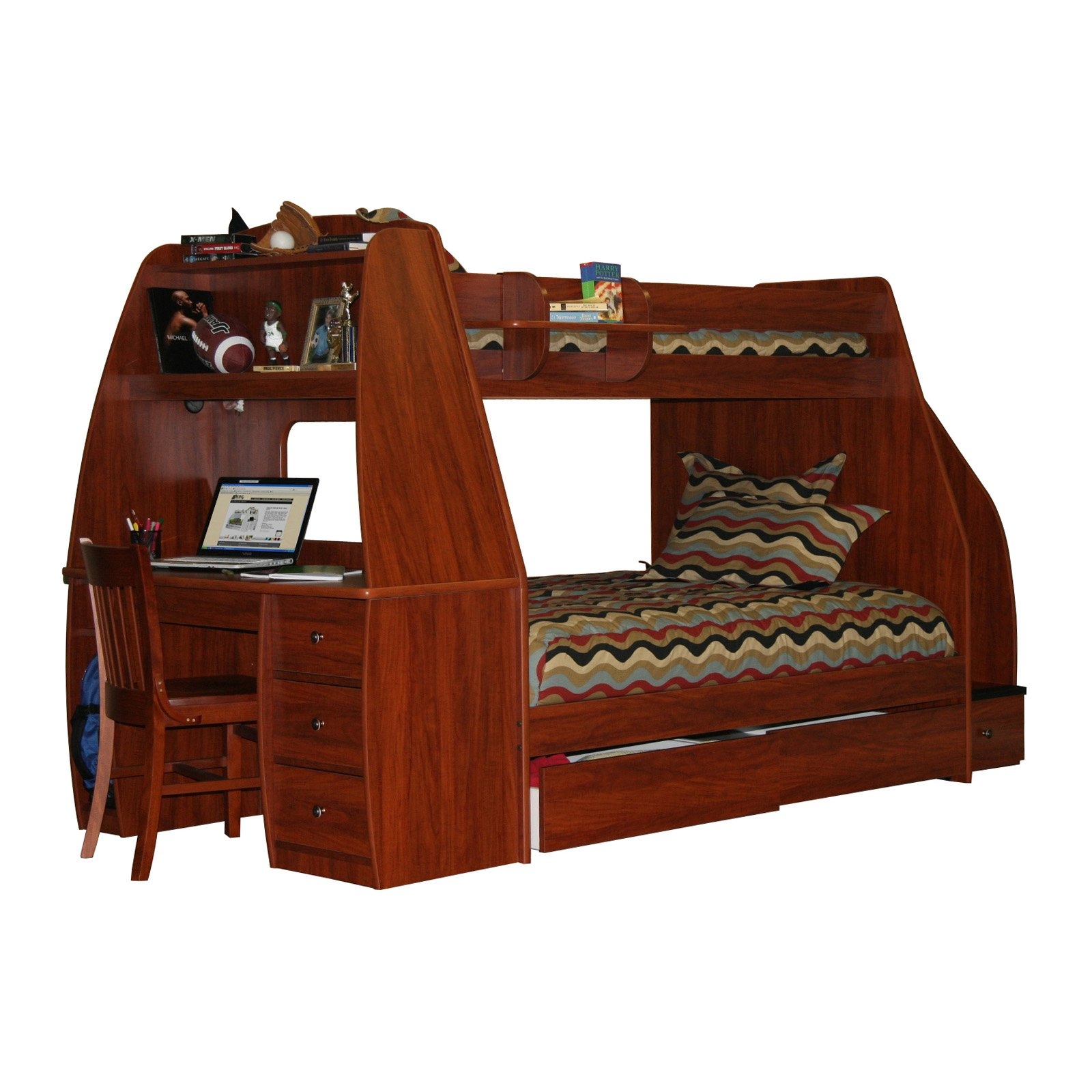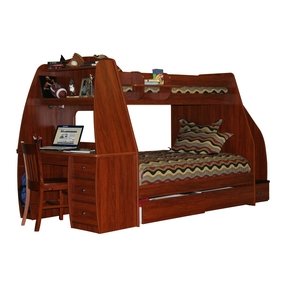 For fine-quality furniture, you can't find much better than Amish-made pieces. One of them is this trundle junior bed with desk, and stairs that traditionally play a role of drawers, too. To receive this deep cherry color - wooden veneer was used.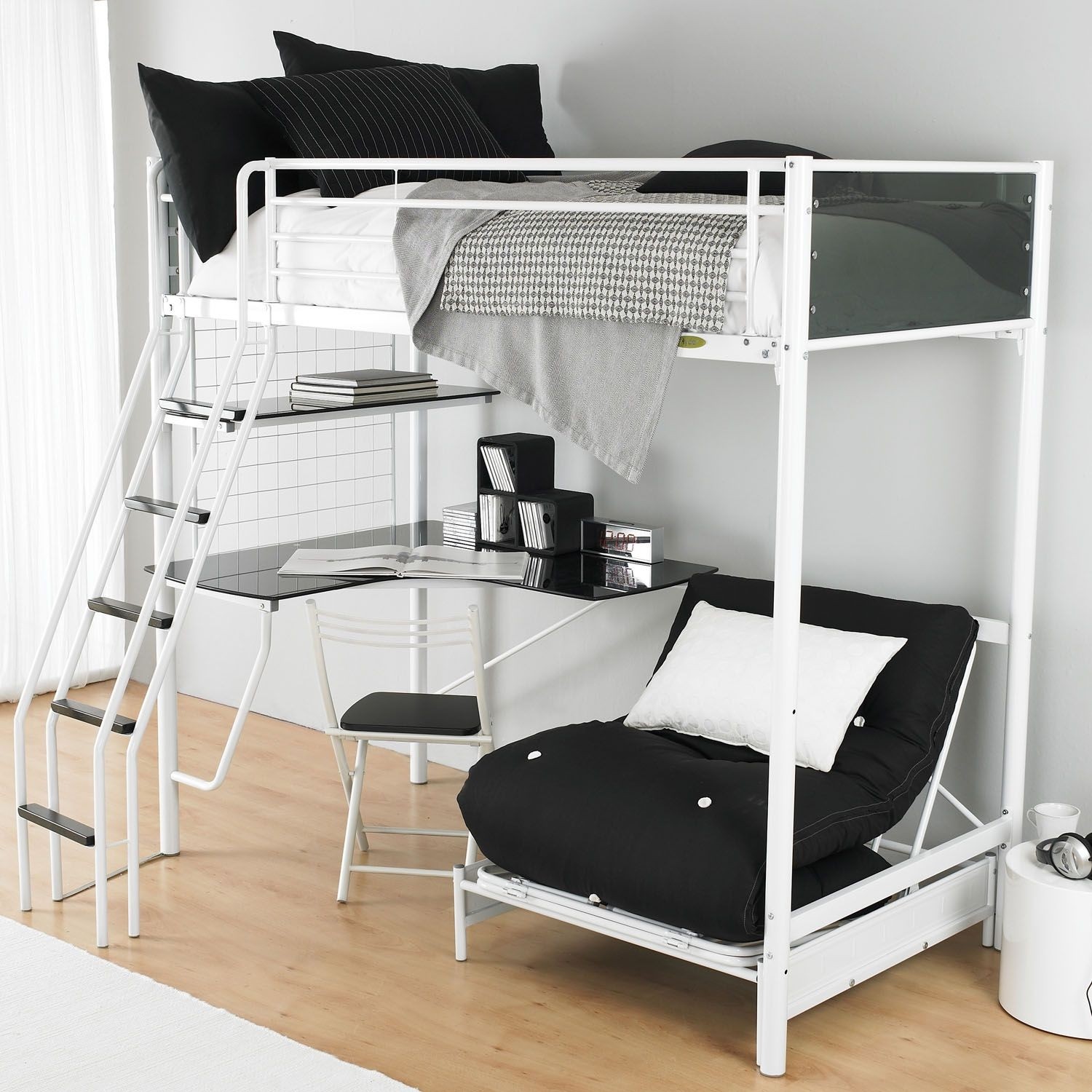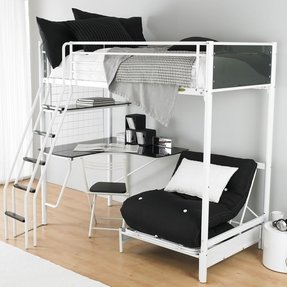 With this practical combo, your kid is going to have a real blast. The bed is situated at the top of the set, and equipped with iron rails that will prevent your child from falling out of bed. The bottom part offers a corner desk and a cozy black couch. There's also a ladder leading on the top bunk.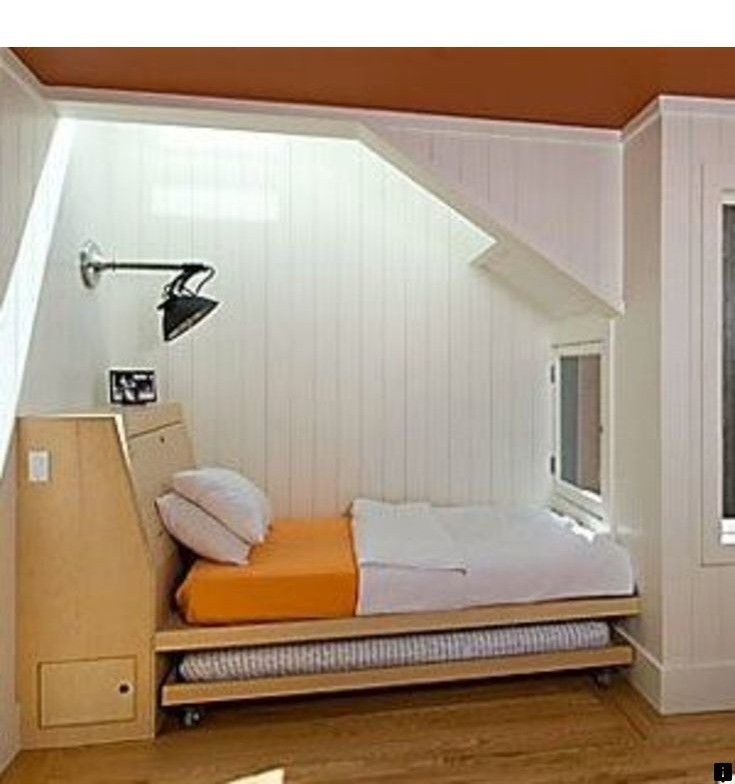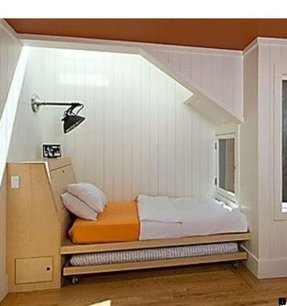 Interestingly, the trundle bed with a desk makes the decor of the interiors fun. Robust wood construction with practical details makes it an ideal solution for small spaces. Warm colors of it delight.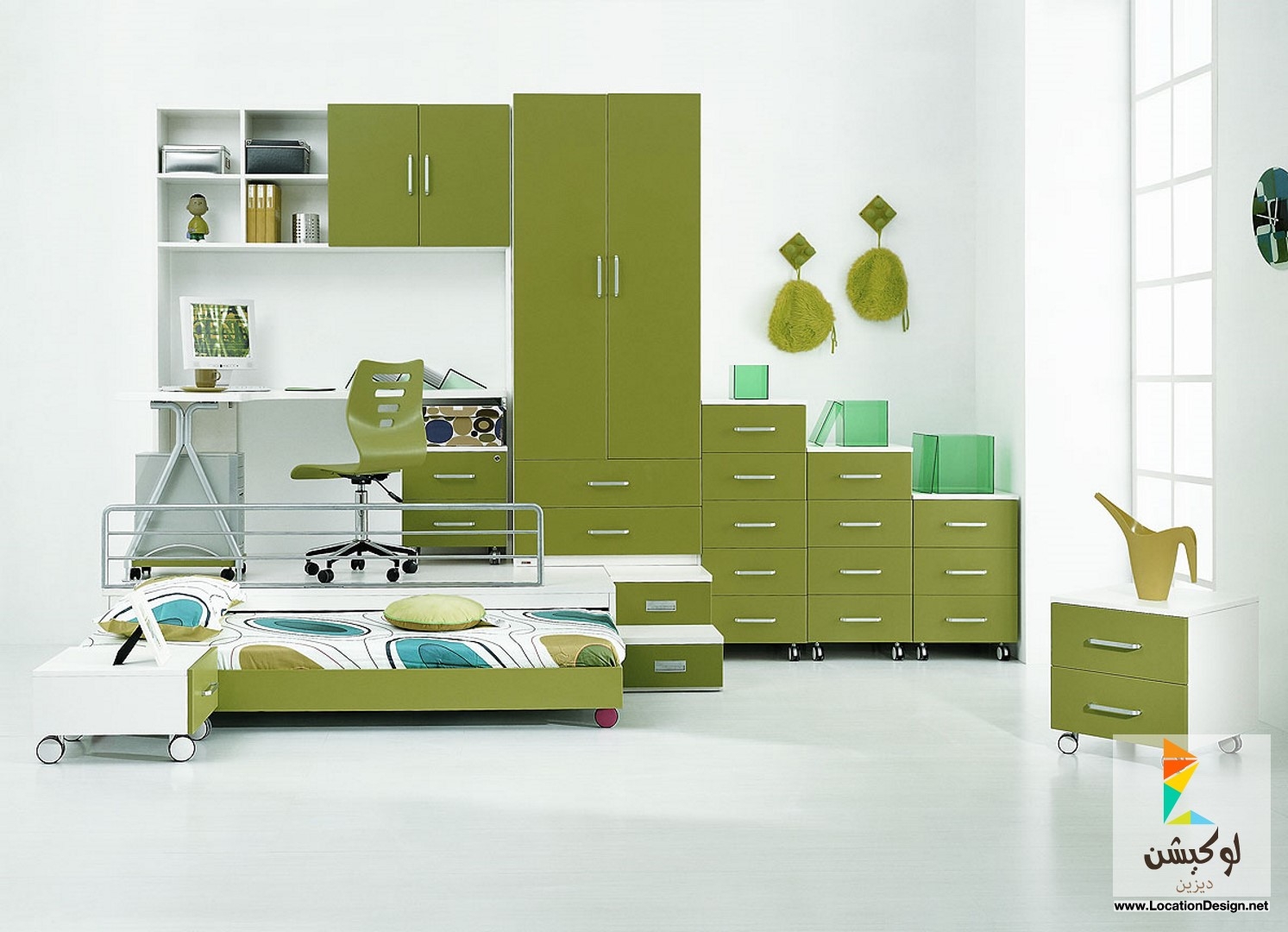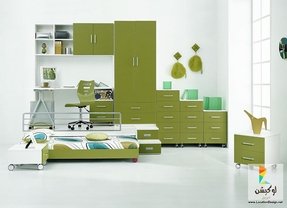 White & green boy bedroom with storage done right. Numerous drawers, cabinets and stuff provide tons of space to store things. All furnishing - even the bed and desk - have rolling casters, which delivers FULL arrangement flexibility.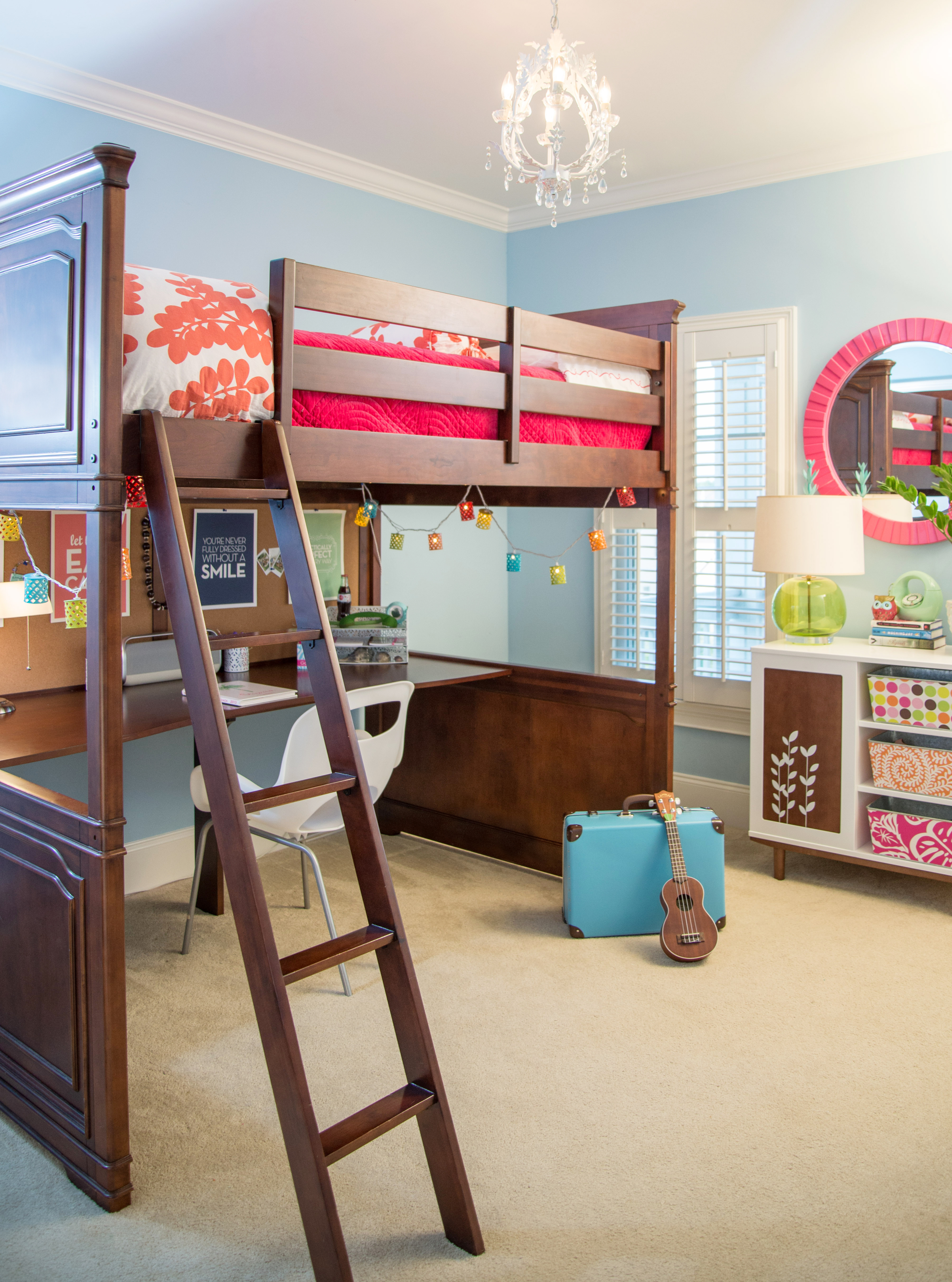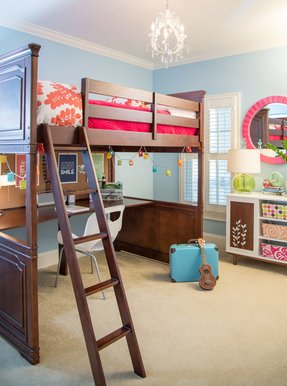 Transitional Kids by Rosenberry Rooms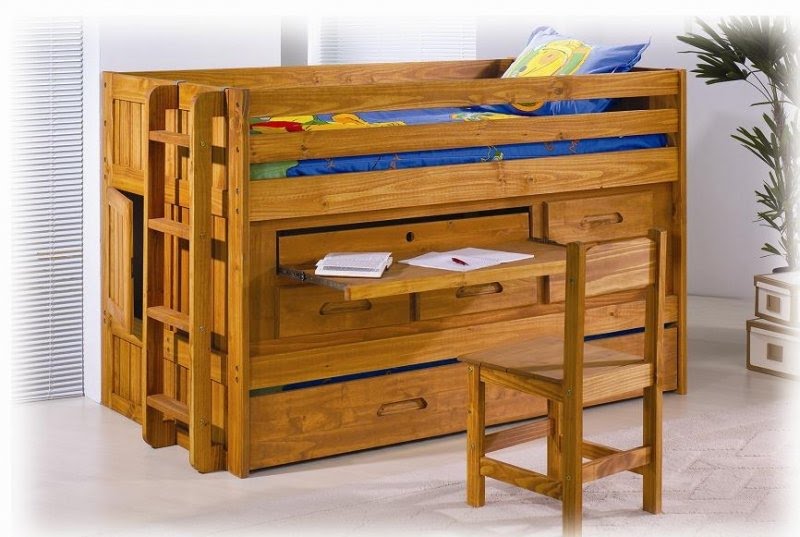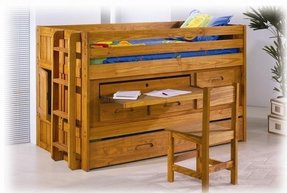 This amazing twin over twin loft bed offers the deep pull out writing desk with four built-in drawers and comes complete with webbed slat kit to make the installation easier, while the piece itself looks immensely elegant and classy.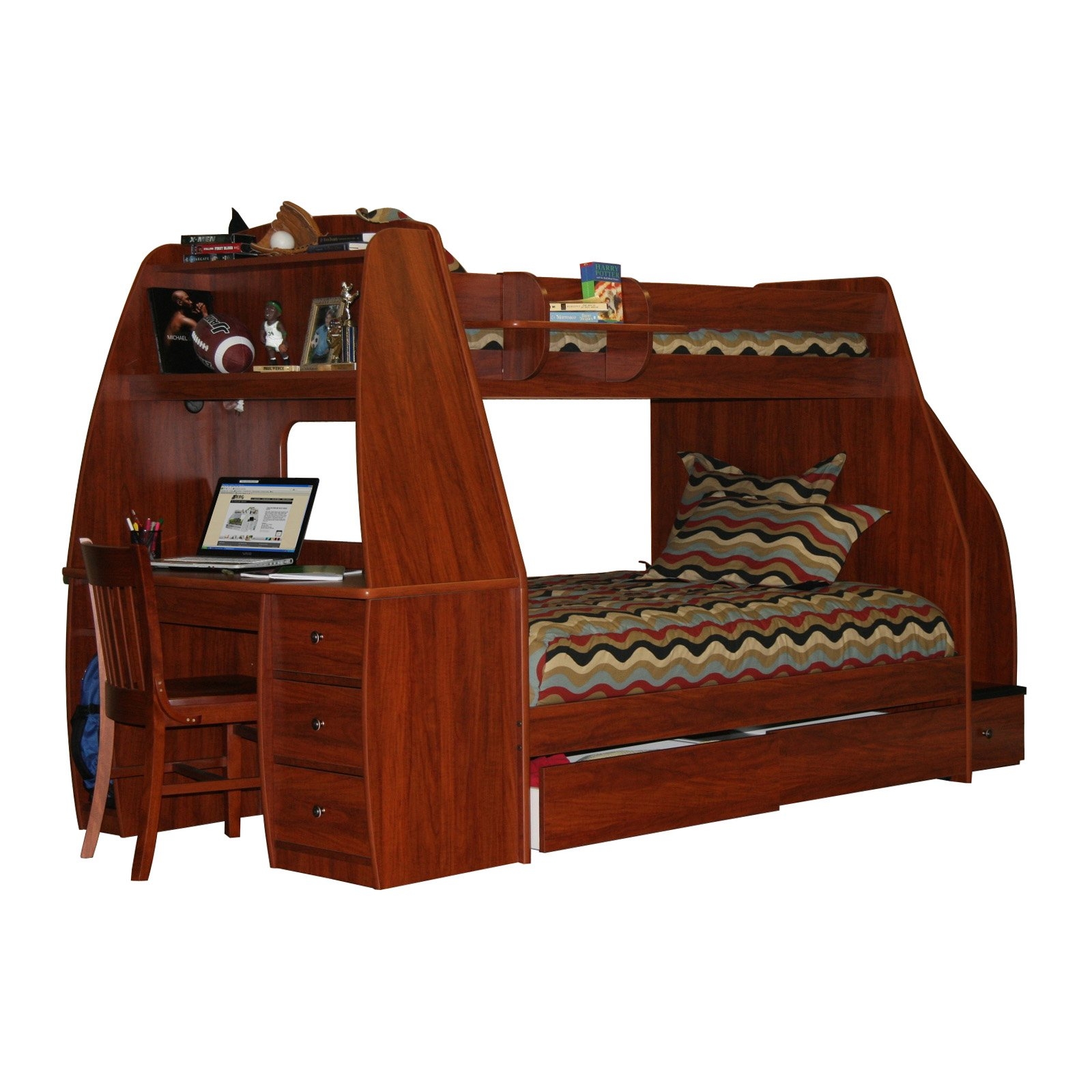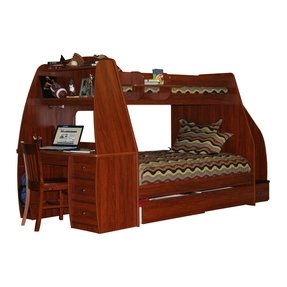 master:BRG760.jpg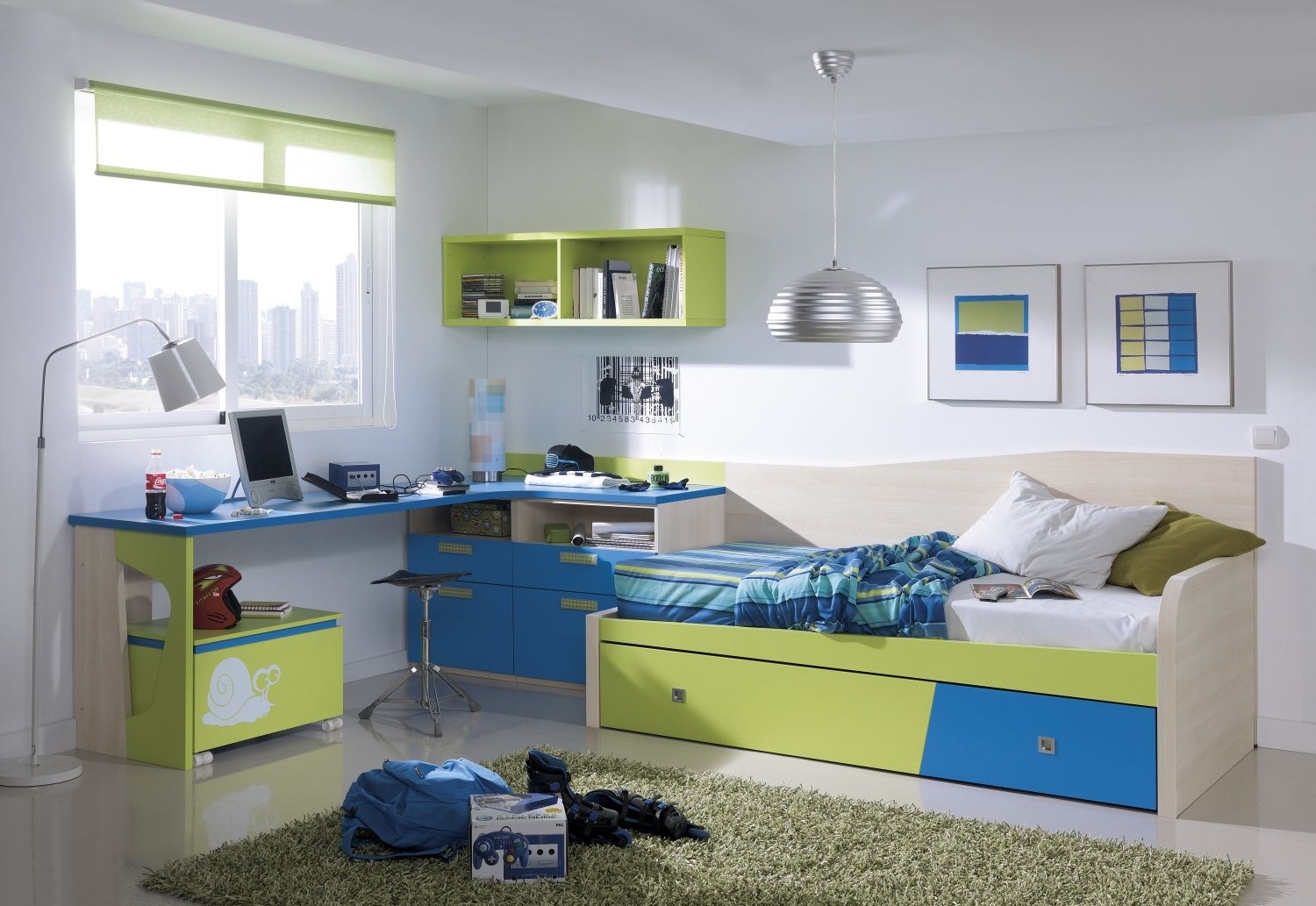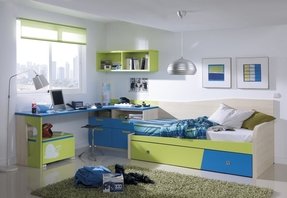 childrens bedroom set, trundle bed, guest bed, desk, furniture,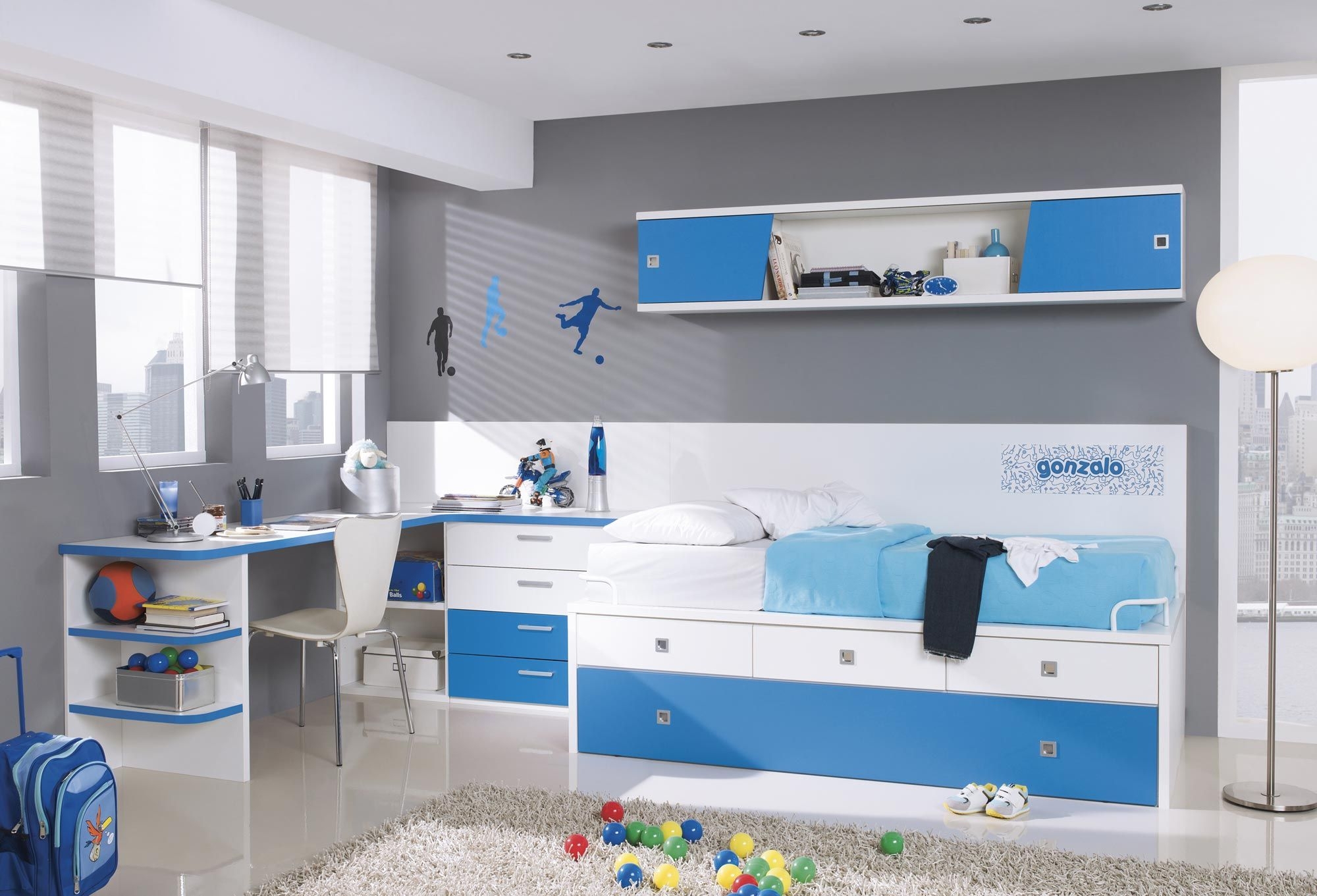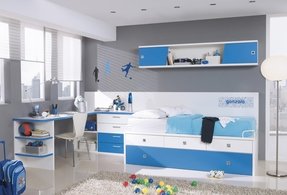 ... -cabin-beds2c-trundle-beds2c-kids-wardrobe2c-kids-desk-hermida02E.JPG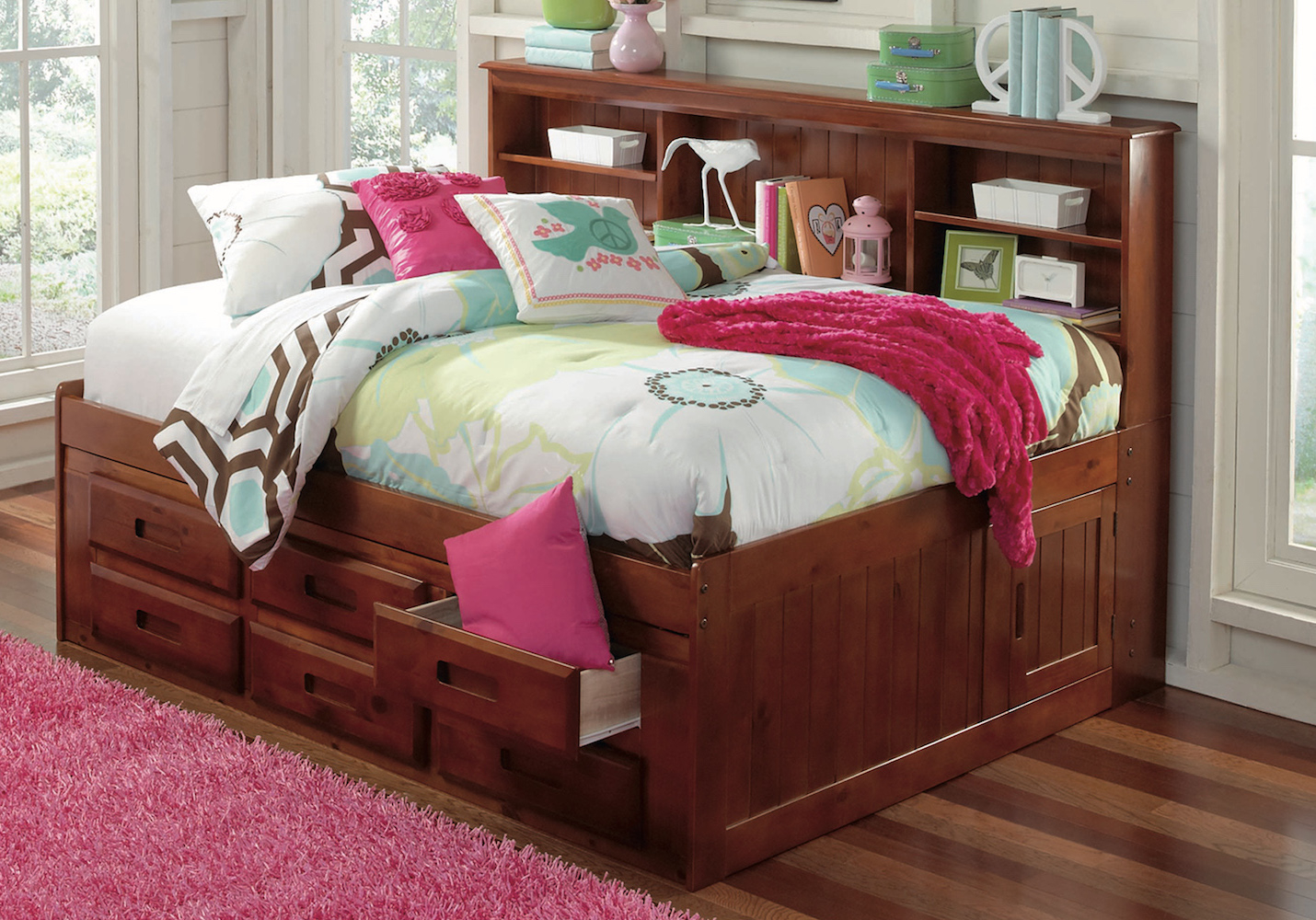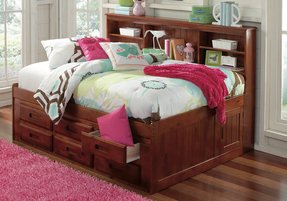 Kids Bedroom Ideas for Growth Age Boy: Small Purple Kids Bedroom Ideas Purple Stripped Wallpaper White Desk White Wall Bookshelves ~ Bedroom Designs Inspiration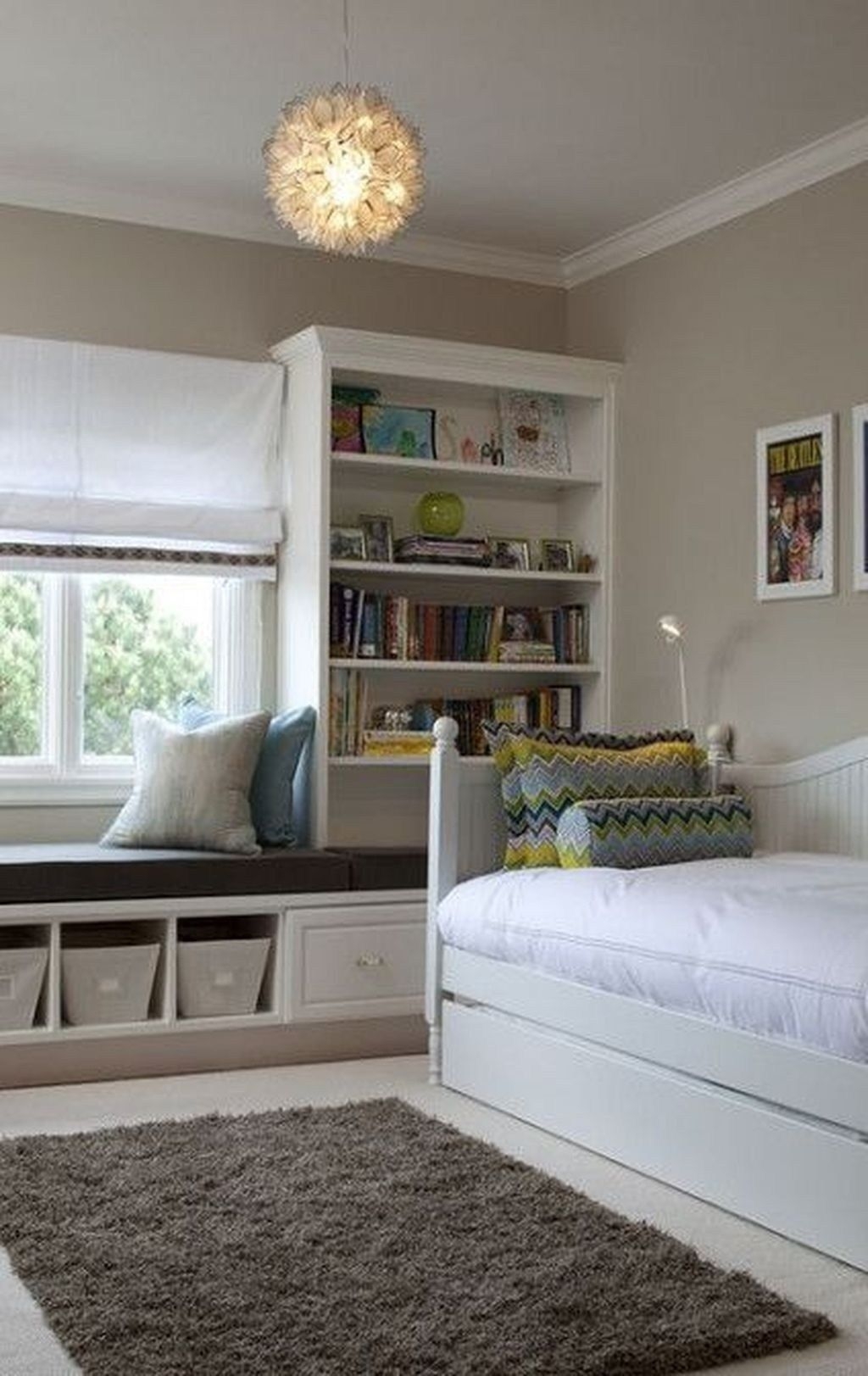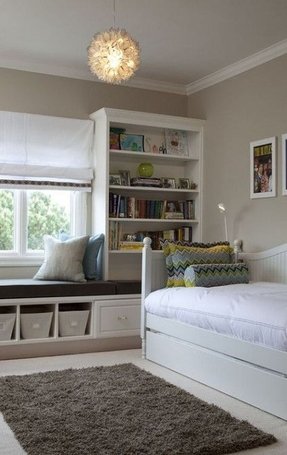 This whole room is awesome. I especially love the light fixture, shaggy rug, window seat, built in bookshelves, and other organization options. I would add some color to brighten it up and add a long white (corner?) desk to make it my perfect office. I al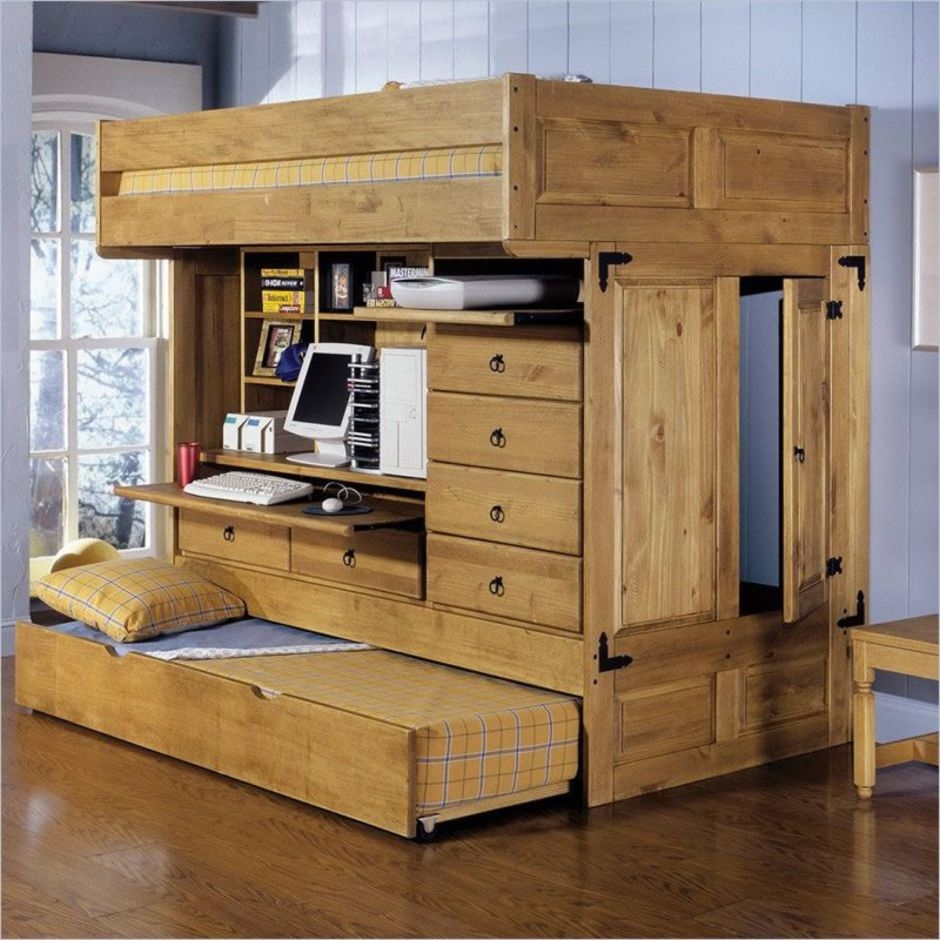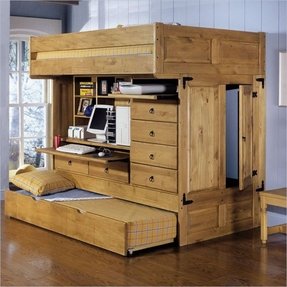 Fascinating Full Wall Decal Girls Bedroom Design with Bunk and Trundle Beds and Cloud Ceiling Mural by Irako Design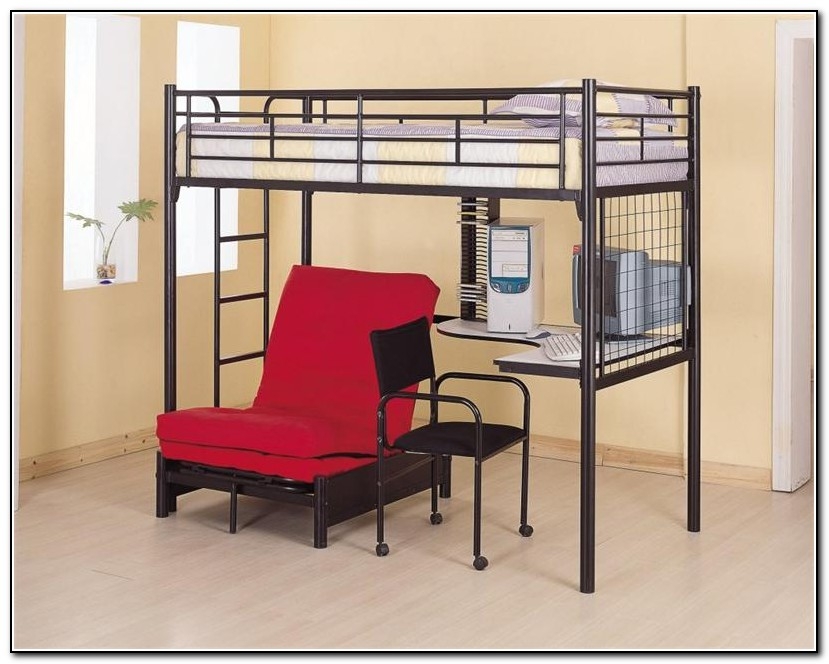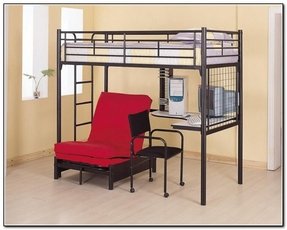 Multifunctional desk with a hidden bed. Desk and twin bed combination - office idea? A boon wherever a place to host a guest overnight is urgently needed. What's more, the combo has a top hutch and 2 side hutches.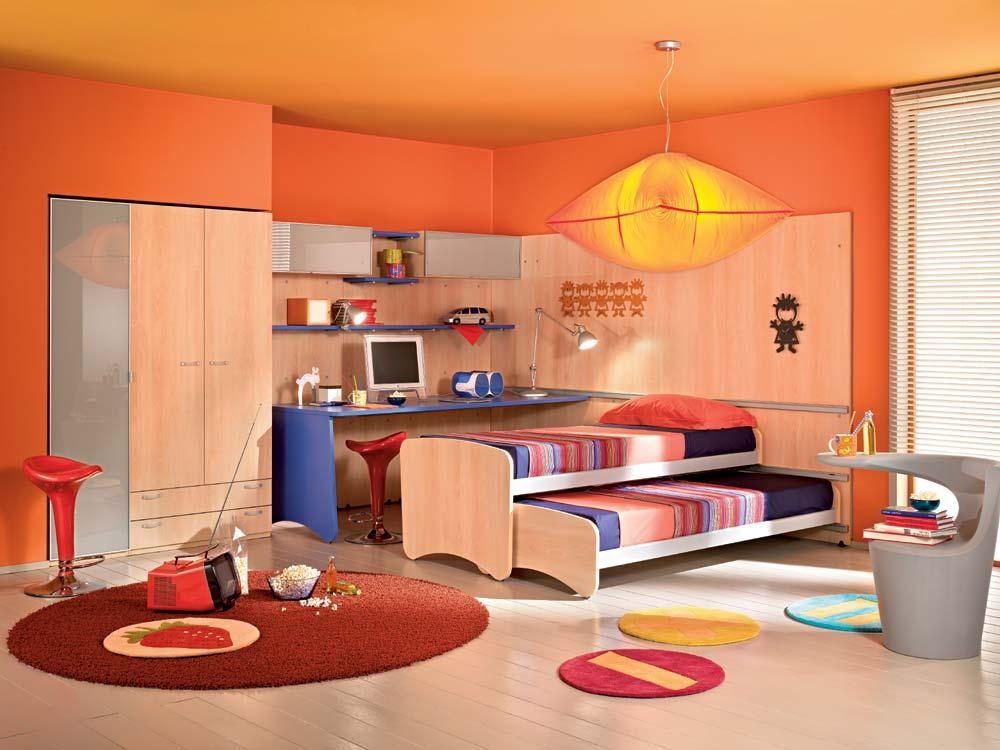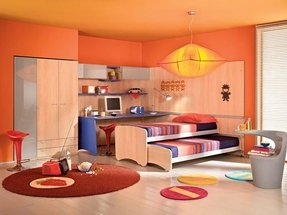 Contemporary Colorful Kids Bedroom with a Vivacious Trundle Bed 24 Cool Trundle Beds for Your Kids Room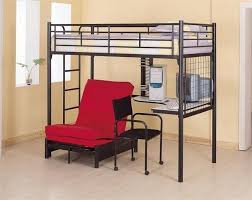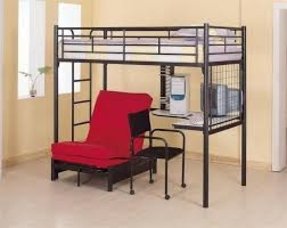 Home Design Ideas > Bedding Set > Loft Bed With Desk And Trundle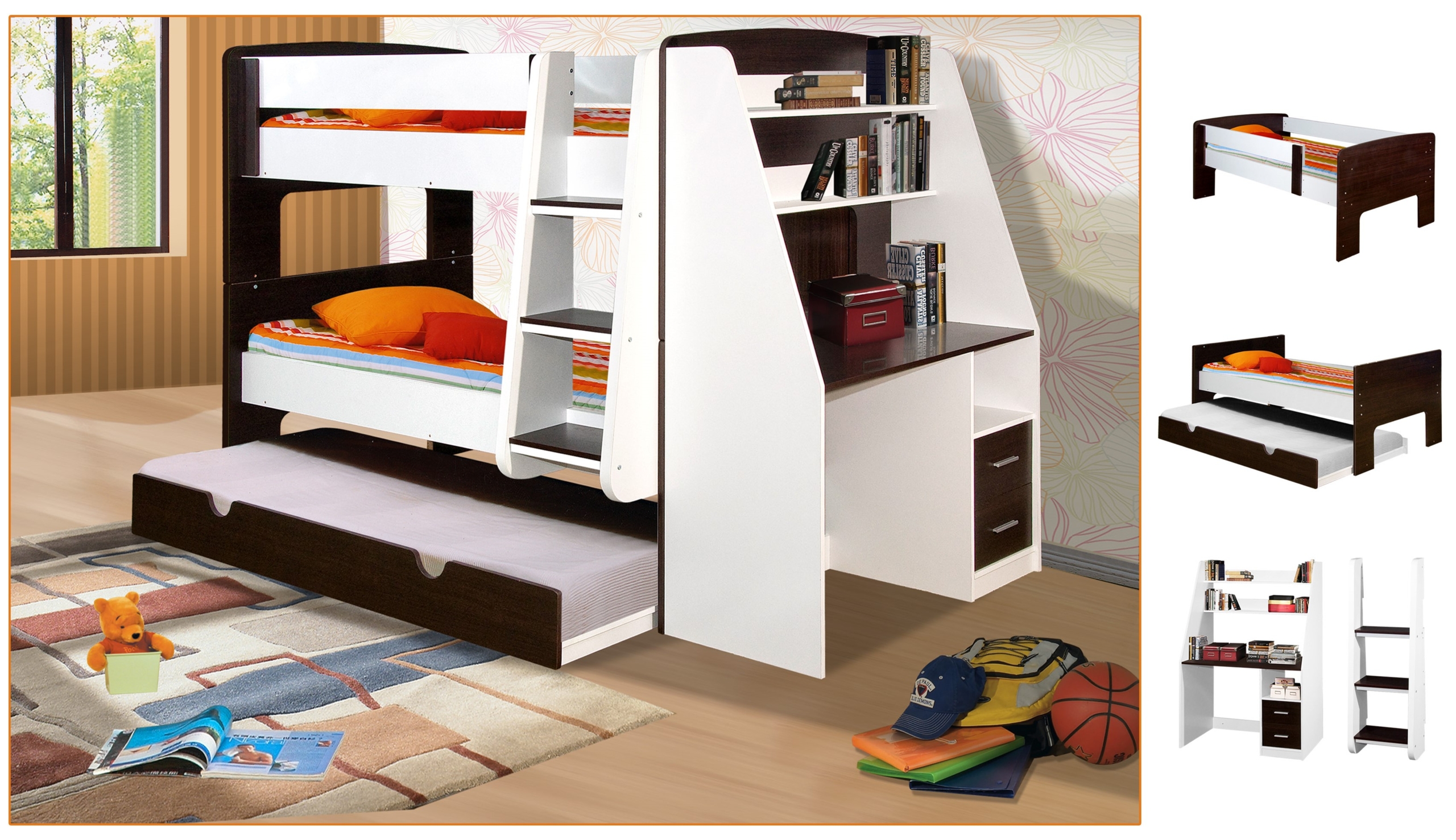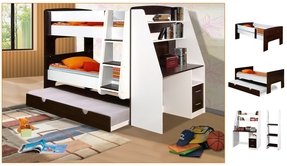 California Single Bunk Beds With Trundle Bed & Desk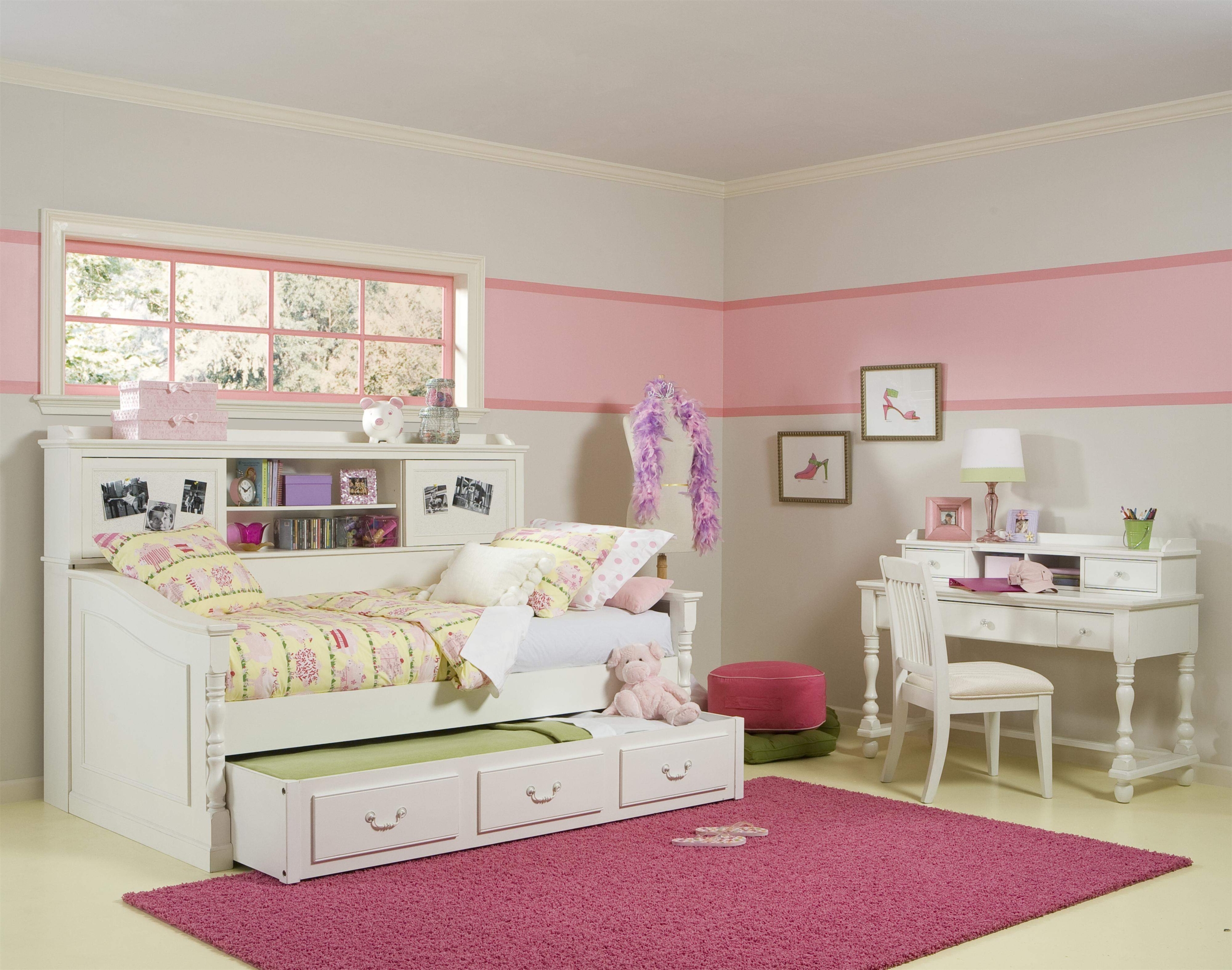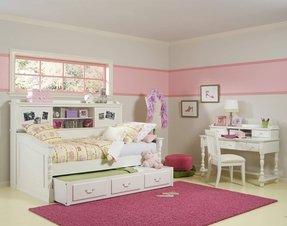 Charming bed combination with trundle is an excellent choice for your baby's room. Beautiful design, plenty of storage space and a great finish in white delight. Bookshelf beautifully blends in with the whole.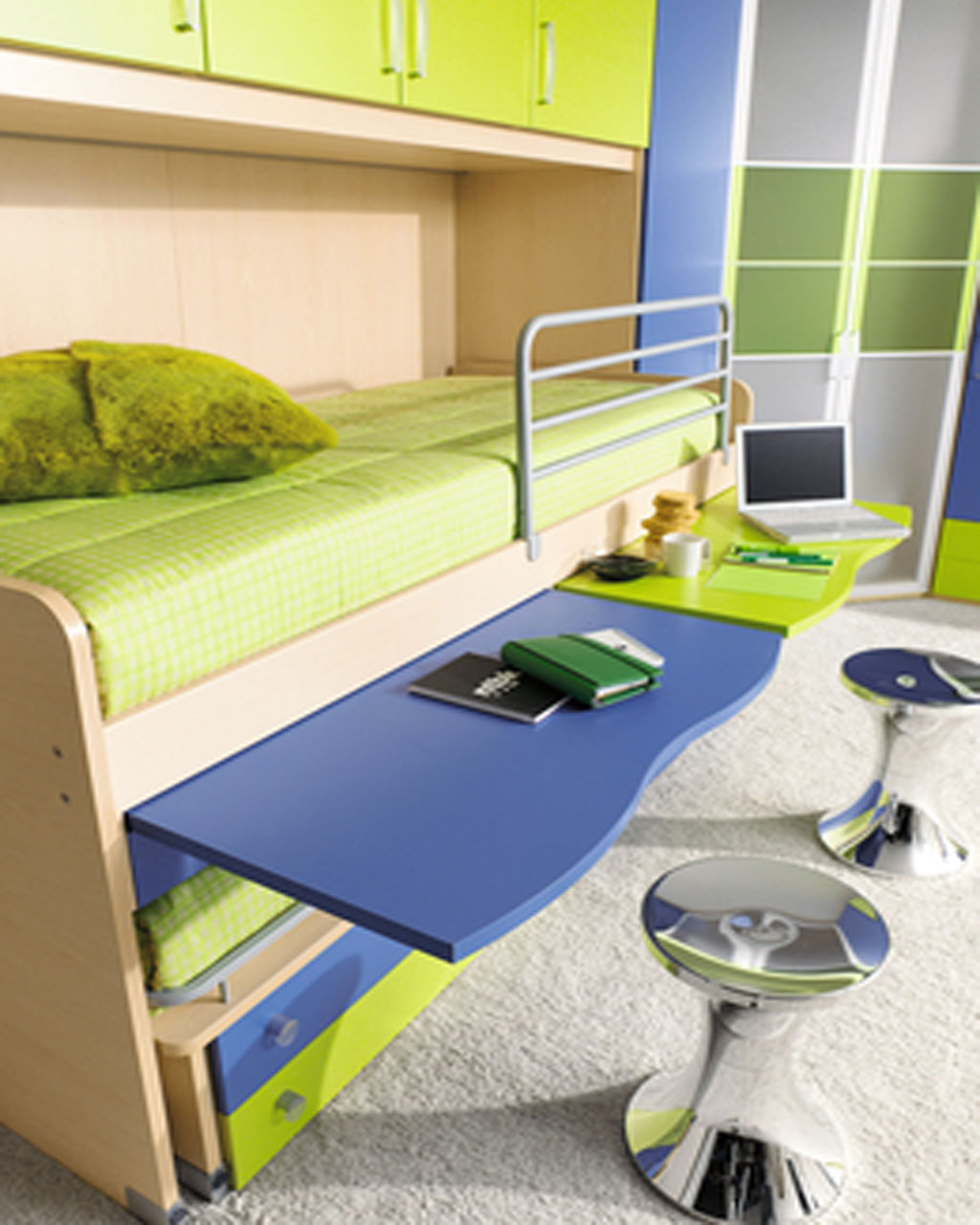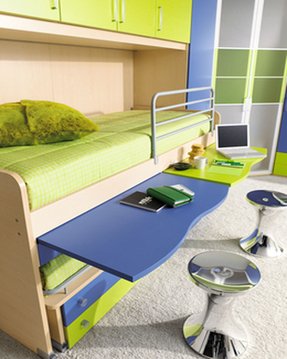 Trundle bed with desk under.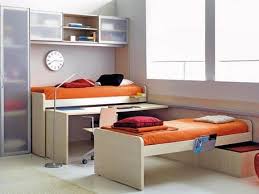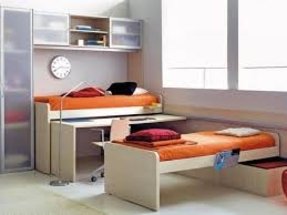 Need the desk? Pull it out. Need the bed, pull it out. Need more room to play? Push them all against the wall... THEY NEST!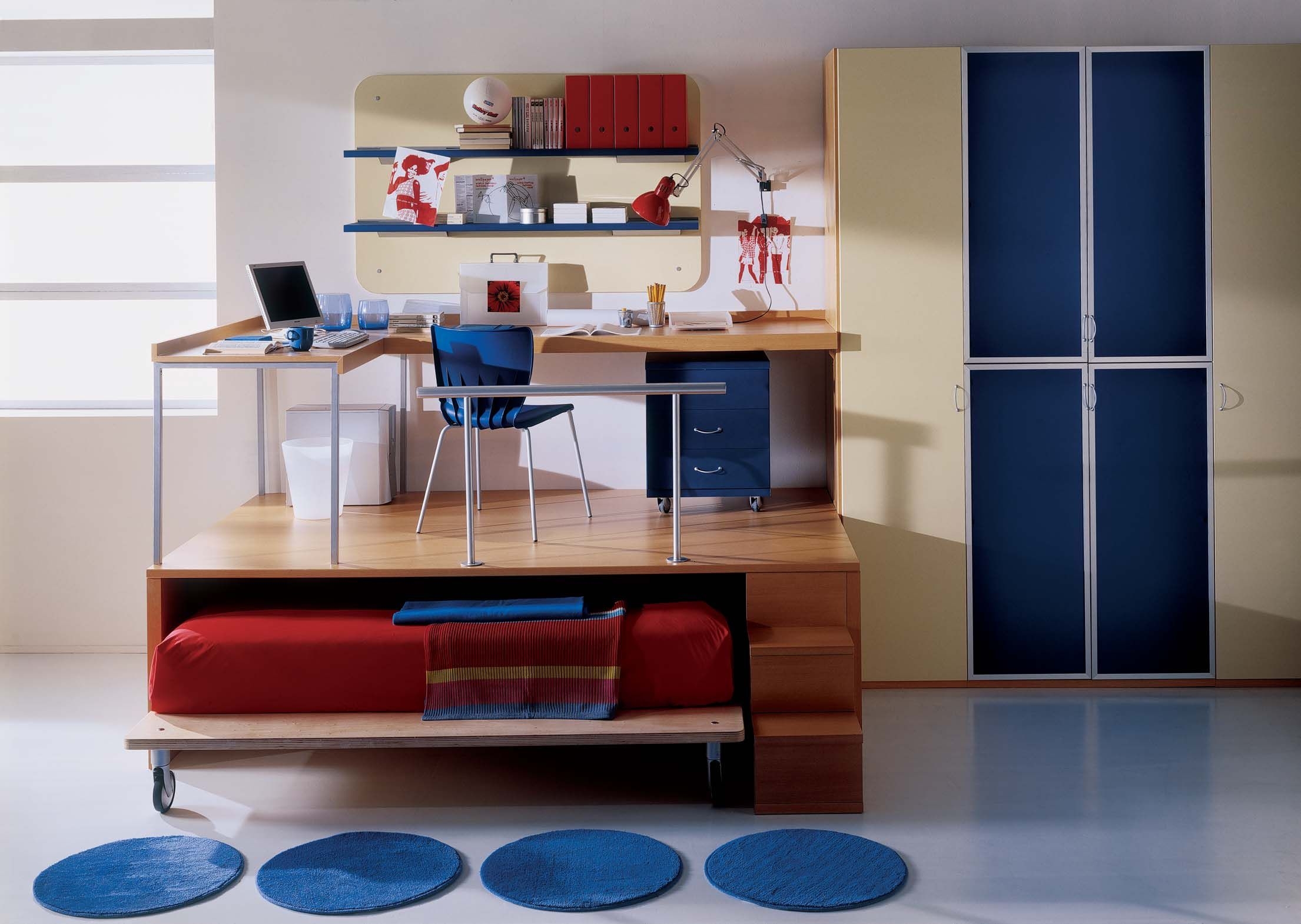 kids writing desk with trundle bed (boys) wow!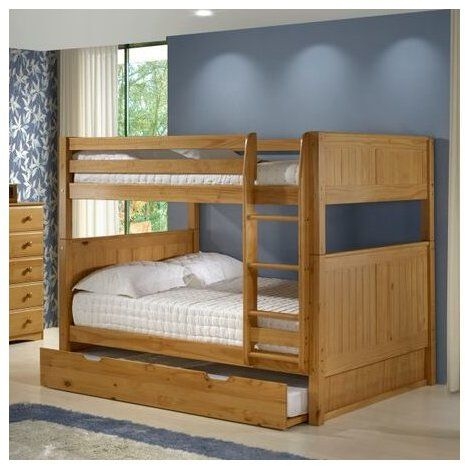 Traditional Camaflexi Full Bunk Bed with Twin Trundle