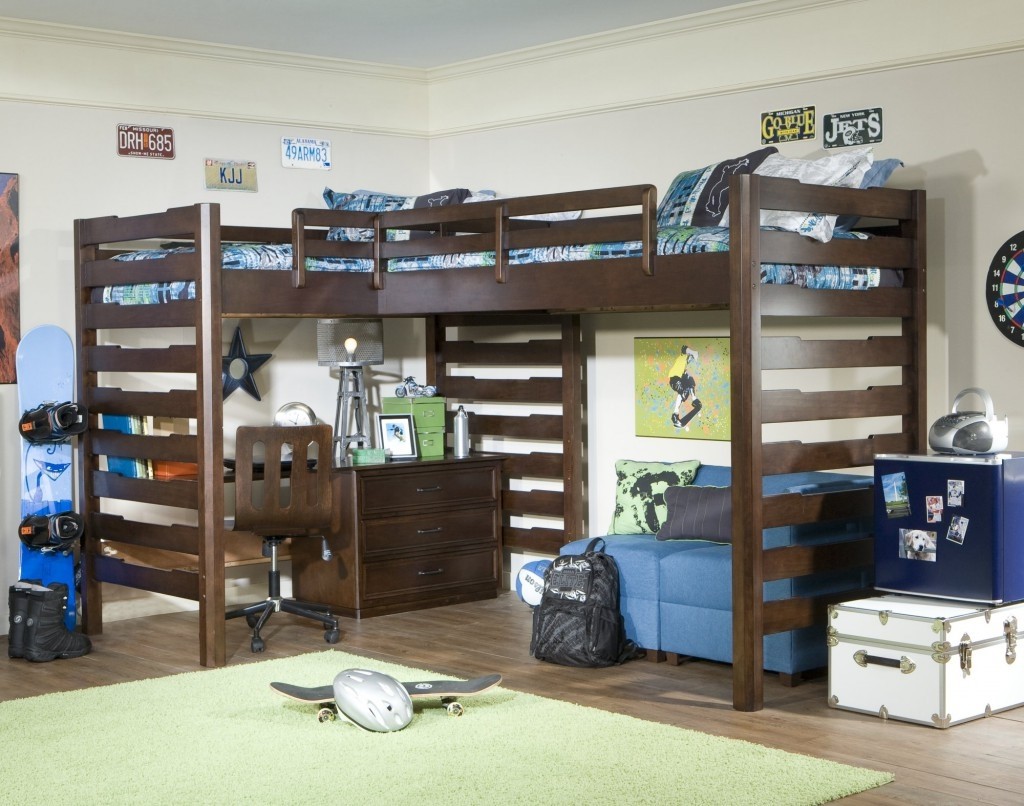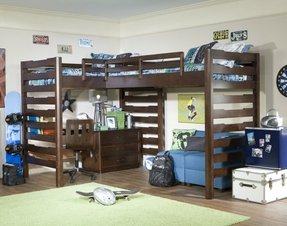 Legacy Classic Furniture Solutions L Shaped Loft Bed With Work Surface And Storage Drawers In Distressed Brown Cherry
A touch of classicity in the bedroom. This is a quite large and complex set of bedroom furniture. It includes beds, a chair and a storage cabinet with spacious drawers. All of these elements are made of poplar and hardwood.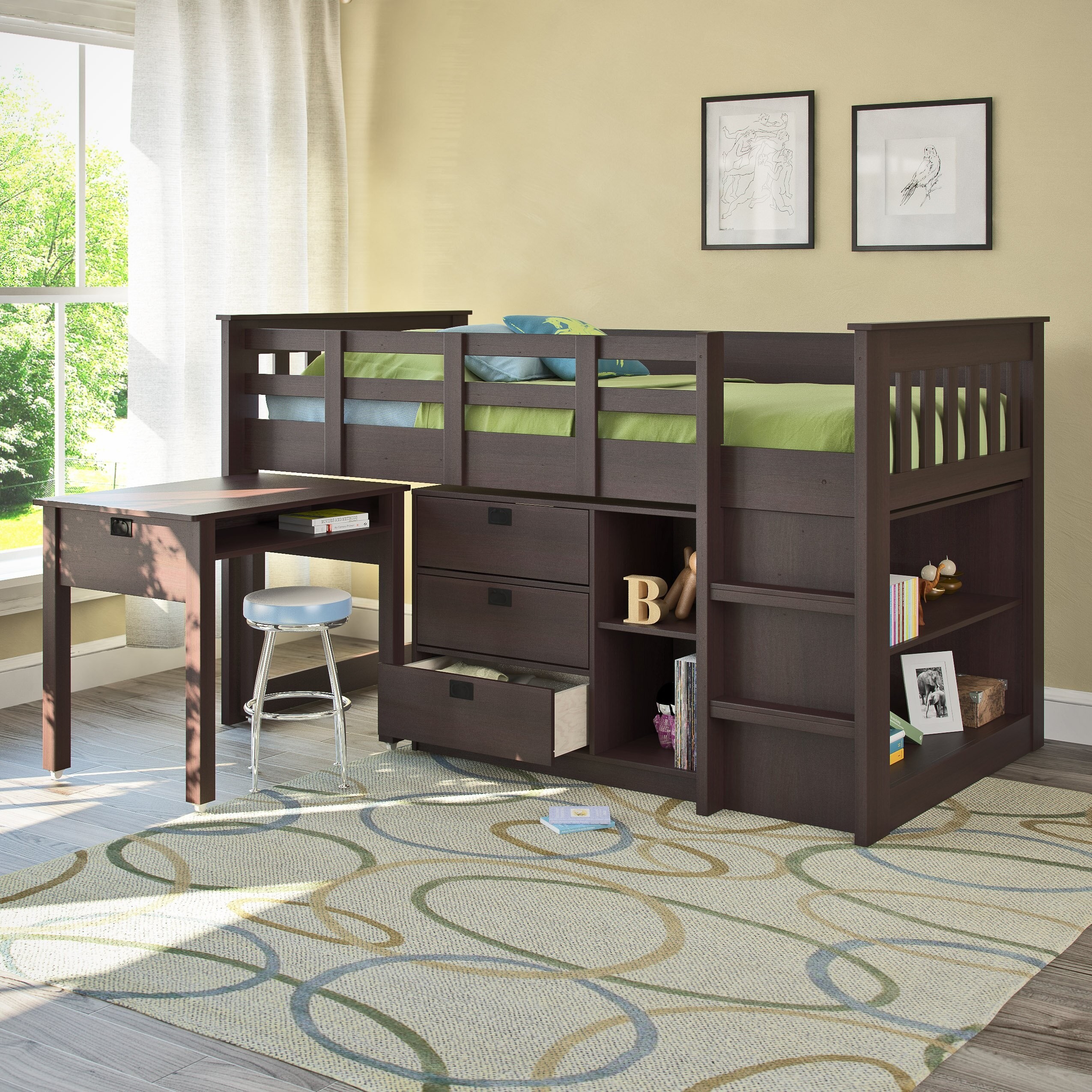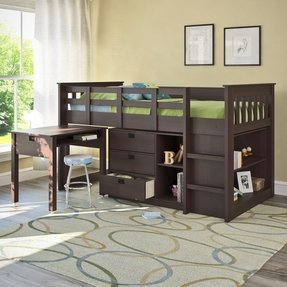 Madison Single Twin Loft Bed with Desk and Storage
This twin loft bed will let you easily combine the amazing style and comfort of the design, especially with the simple lines and rich, espresso finish and add some more functionality, since it comes with the extra desk and storage.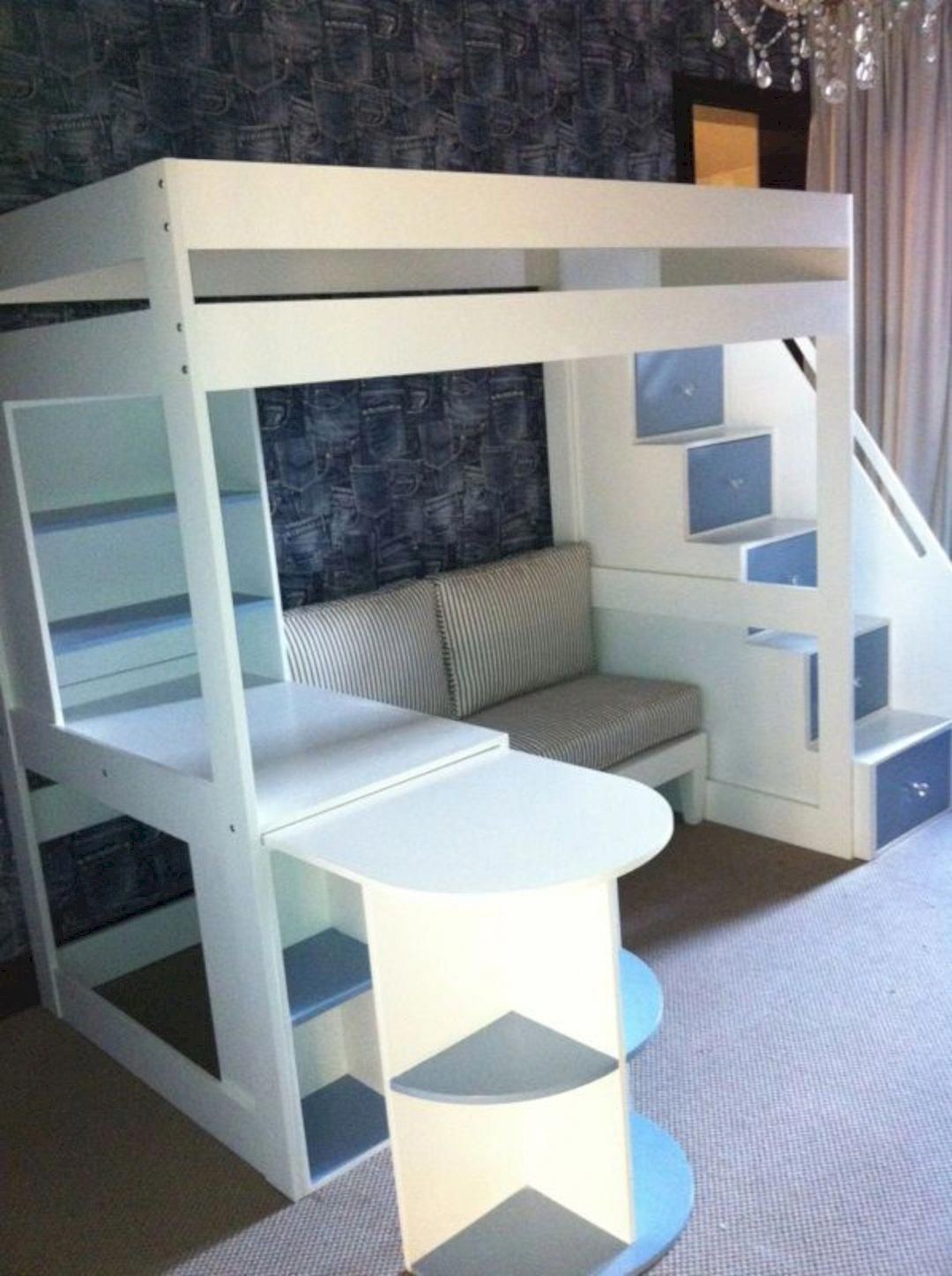 A nice solution for kids' rooms, this tween loft bed is as practical as it is inviting. The top bunk is secured by fixed rails, and has a beautiful staircase with built-in drawers. In the bottom part of the set, there's a pullout desk, and several open shelves.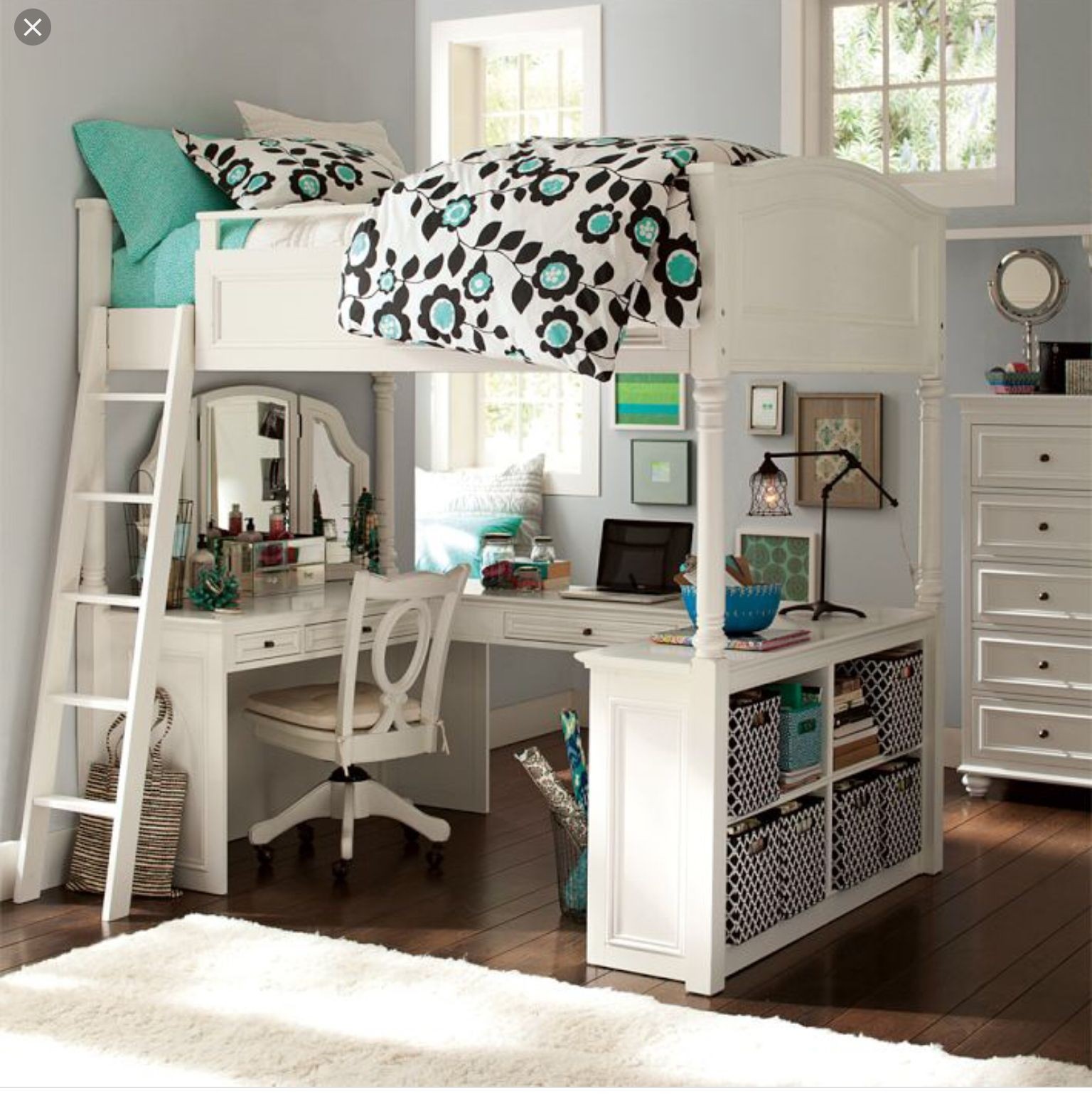 A lovely addition to a girl's room, this vanity loft bunk bed set is going to be a great panacea for nightmares, and a functional helper while doing your homework. The bed is secured with rails, and has a convenient ladder to climb on. The bottom part has a built-in desk, several drawers, open storage compartments, a 3-panel mirror, and an office chair with casters.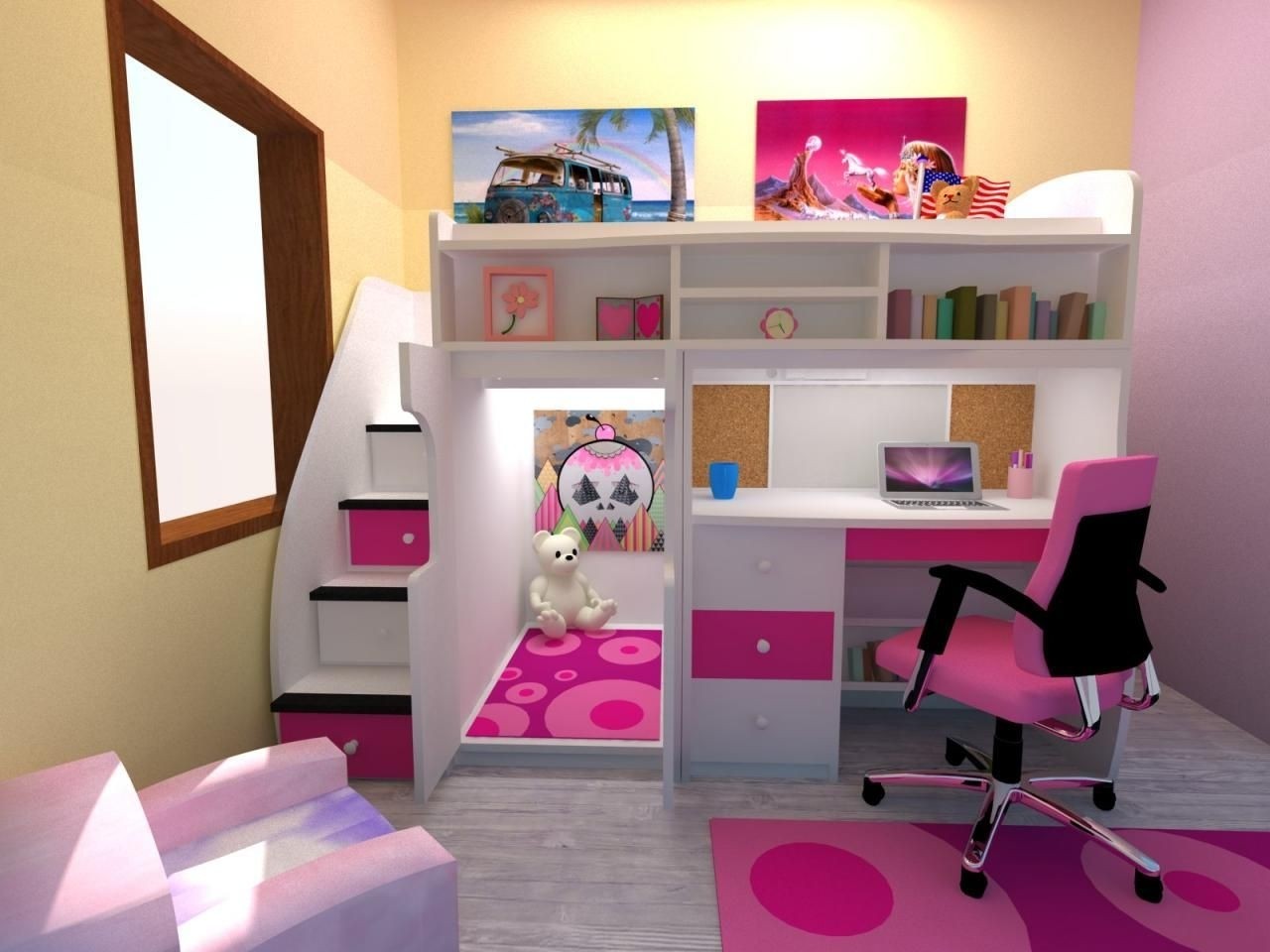 Trying to find the excellent, nicely finished and high quality loft bunk bed? We suggest you to choose this one! It creates the fun sleeping space, that can be used as a cozy study or play area!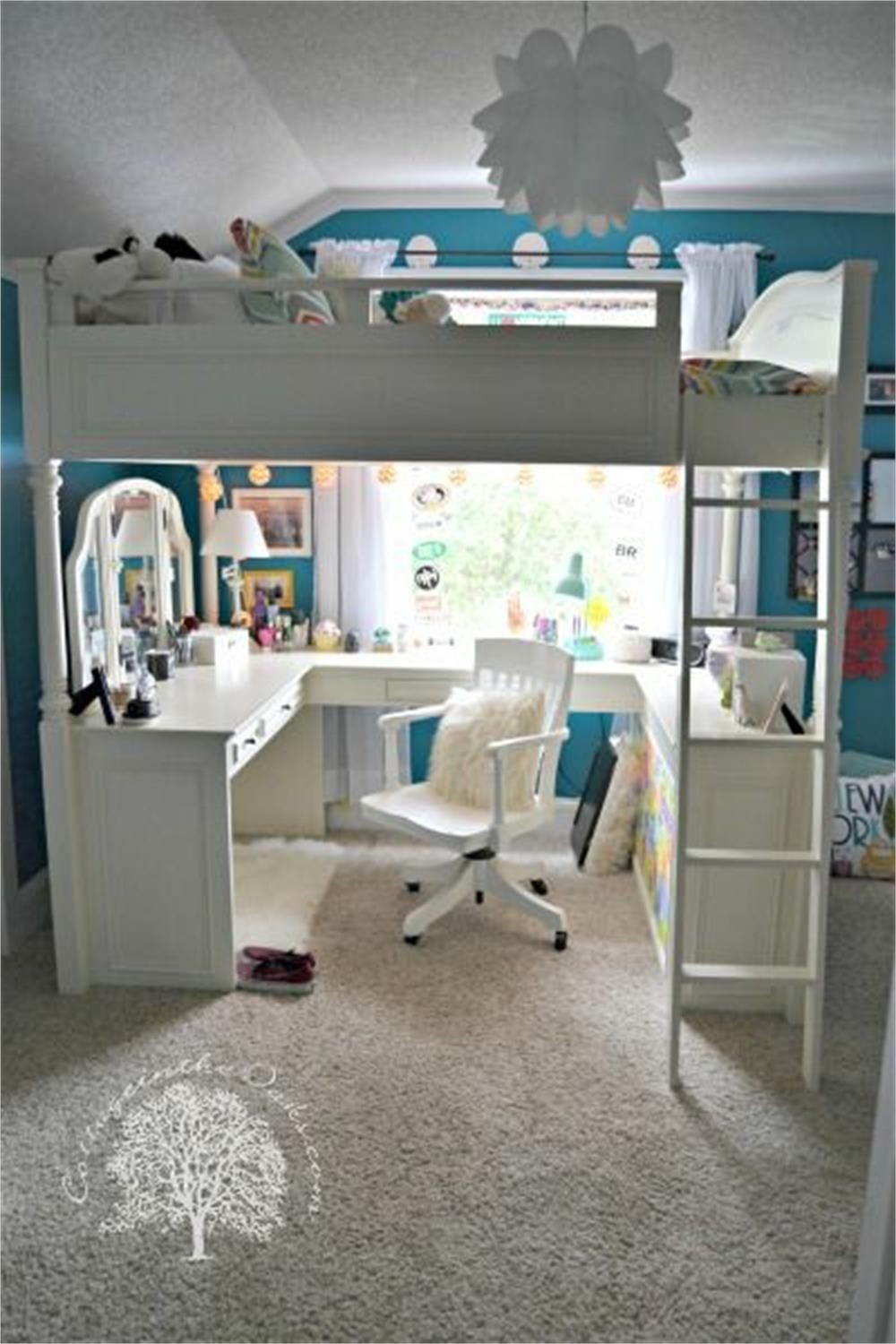 If you looking for the best design ideas, we suggest you to choose this loft bed with desk nook underneath! It features the white color and classic, simple design, which is excellent for girls and boys bedroom.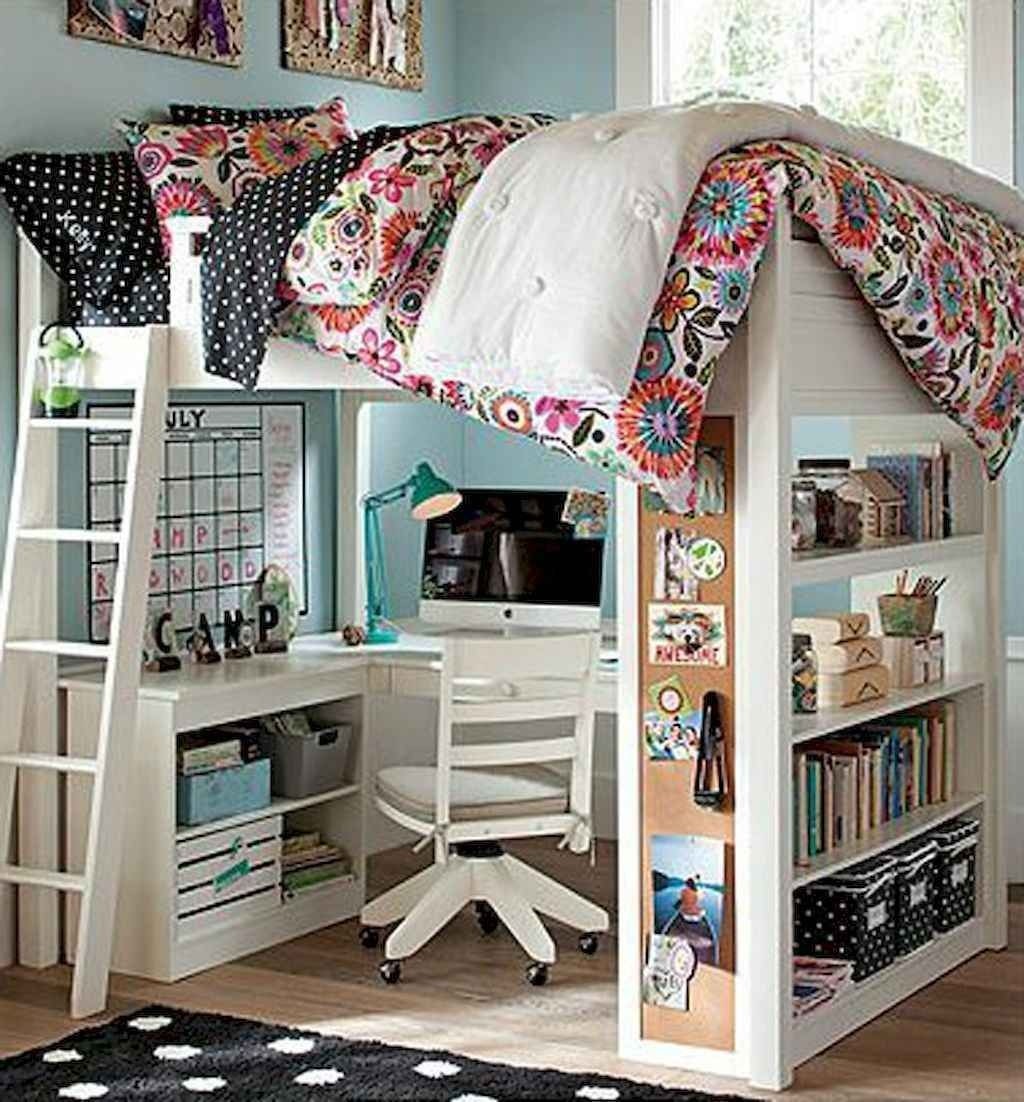 A perfect way of organization of small spaces. This loft bed is a solid wooden construction in a neutral white color. The upper part includes a comfortable bed and the lower area features a large corner desk with storage shelves.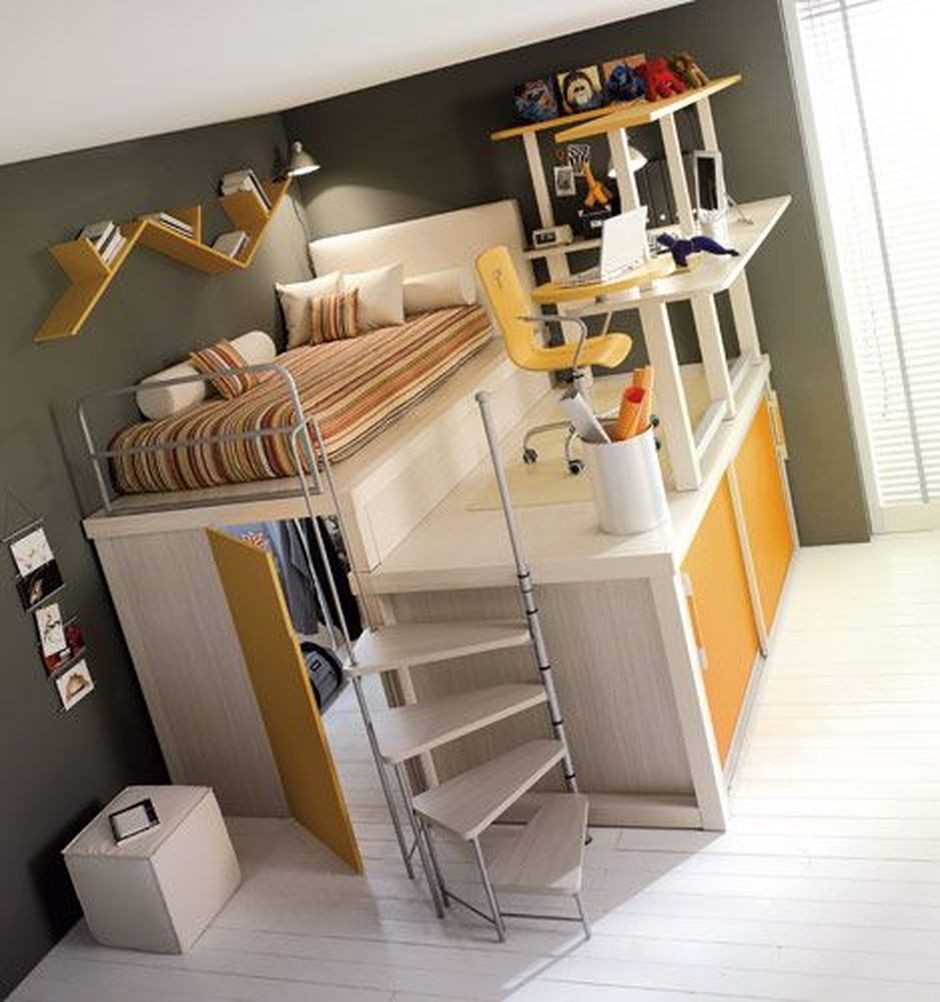 Add comfort and combine functionalities with the loft bunk bed. It features a work station, white and yellow colors, striped mattress and pillows with storage space under the bed. Great addition to girls room.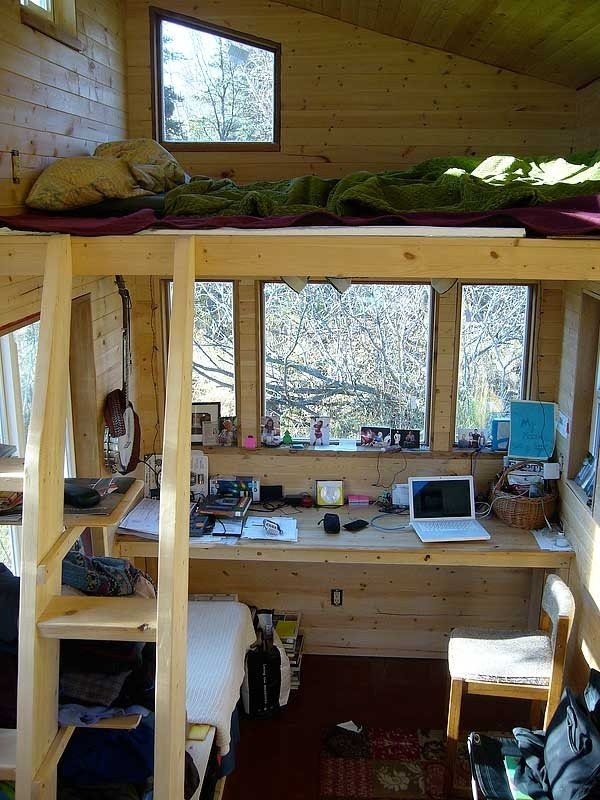 In this picture we can observe an interesting, comfortable and space saving construction that includes an upper bed with a window and ladder. The lower area includes a desk that provides some working space. The whole wooden construction is solid and attractive.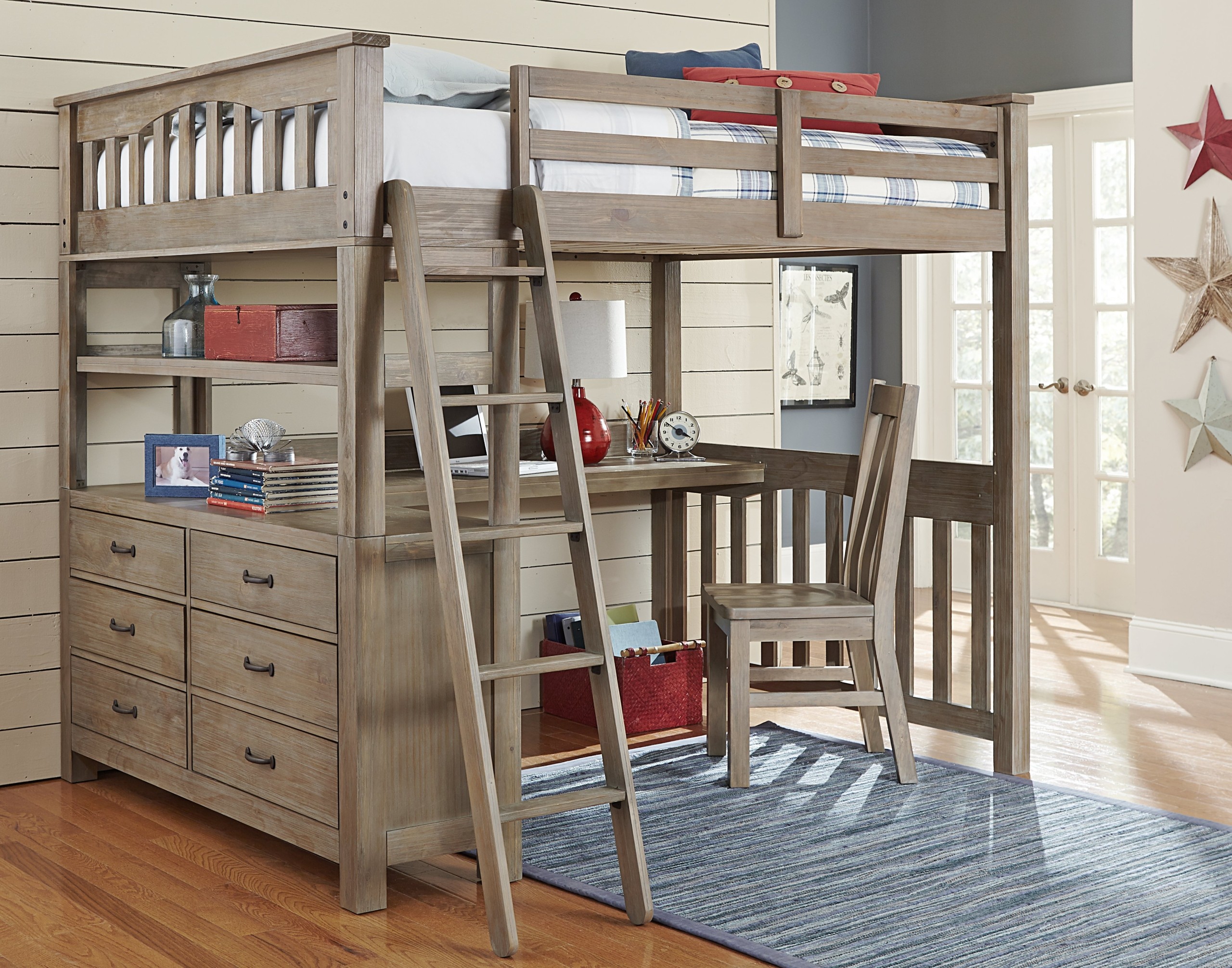 Full Loft Bed with Desk Top [ID 3095438] in Bedroom Furniture | eBay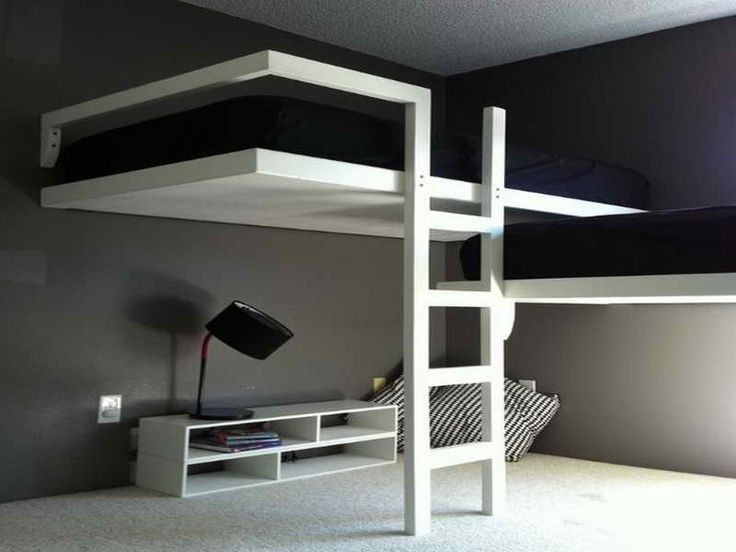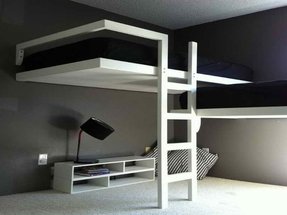 This amazing loft bunk bed project constitutes a perfect embodiment of the contemporary design. It allows to save space, while providing a comfy and safe sleeping surface. Each of the platforms supports up to 750 lbs.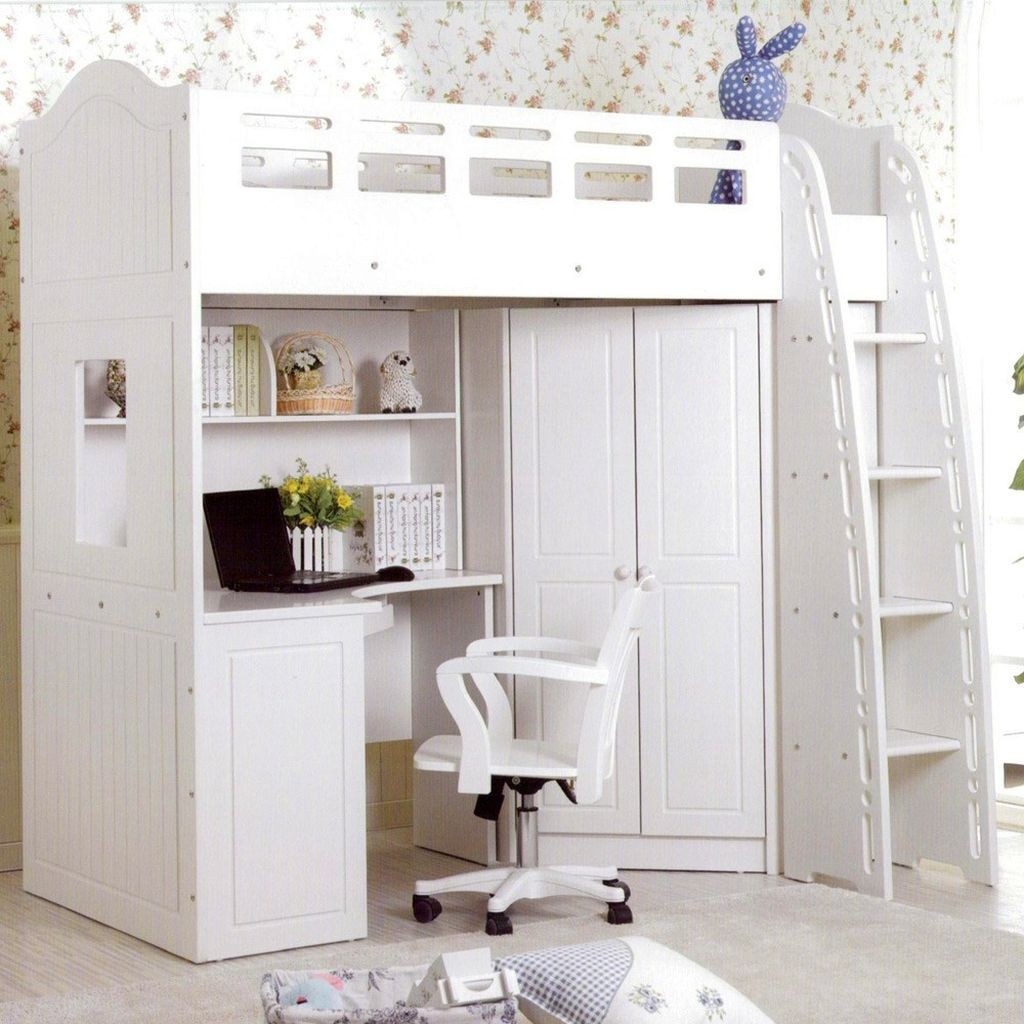 A solid and comfortable loft bed with desk. Its upper area is available thanks to a simple ladder. Lower desk includes some space for a computer and it also includes spacious compartments. The whole wooden construction is finished in white color.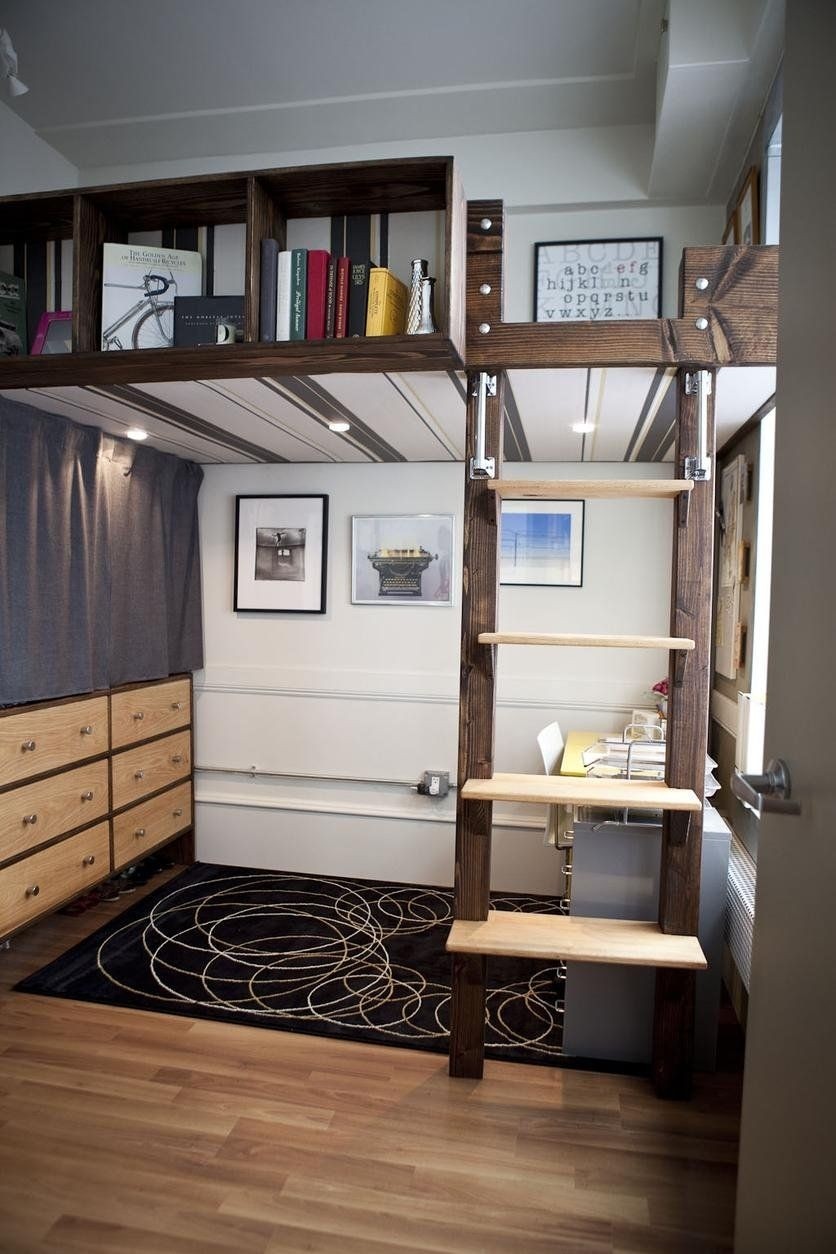 Small space does not mean cramped, as exemplified by this interesting loft bed project with a generous space downstairs. Numerous shelves and storage cabinets, unusual coloring and styling of the academic room create a pleasant whole.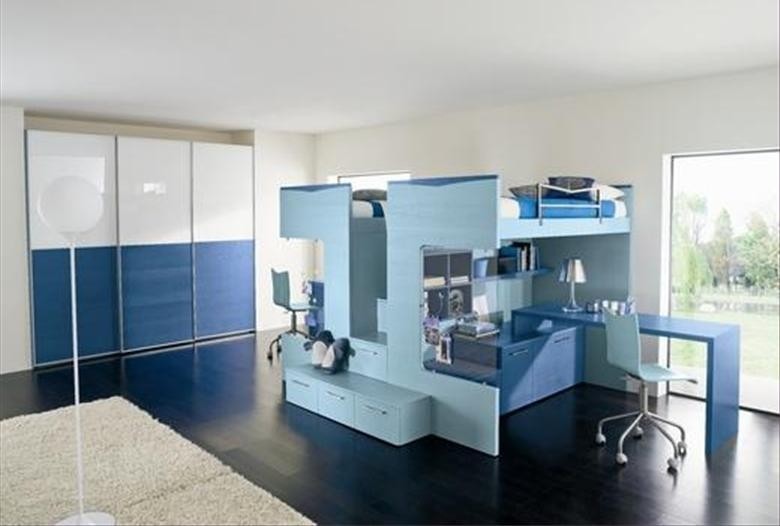 Loft beds with the desk underneath have been popular for a while. (Heck, my mom did one for my sister back in the day in an effort to make more floor space in her tiny room.) But these I haven't seen before. Double loft beds. Totally cool idea for saving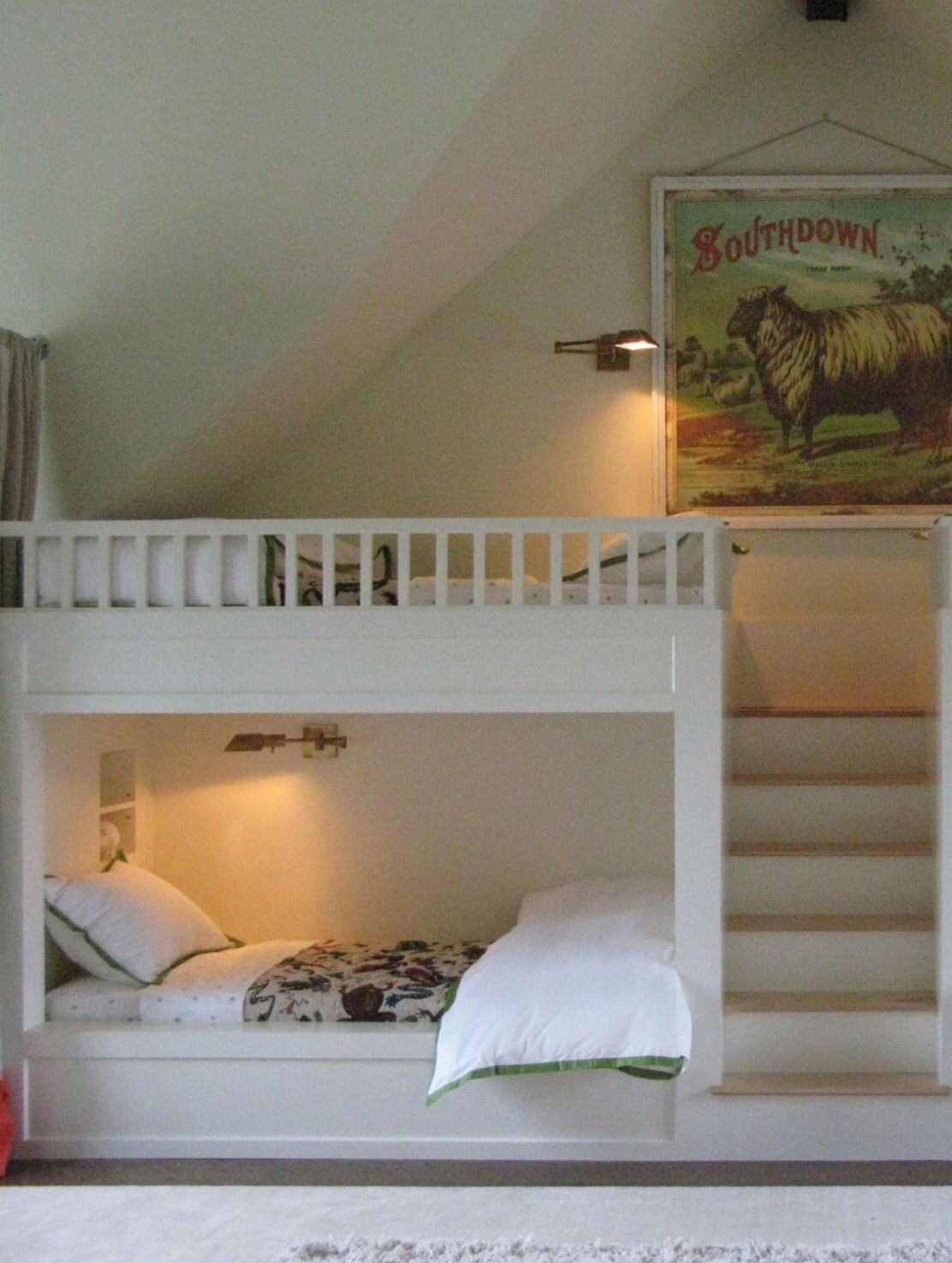 A very comfortable and space-saving solution for a bedroom in kid's room. This bunk bed features solid and safe stairs. Both beds include soft sleeping areas. The upper bed is also equipped with solid protection.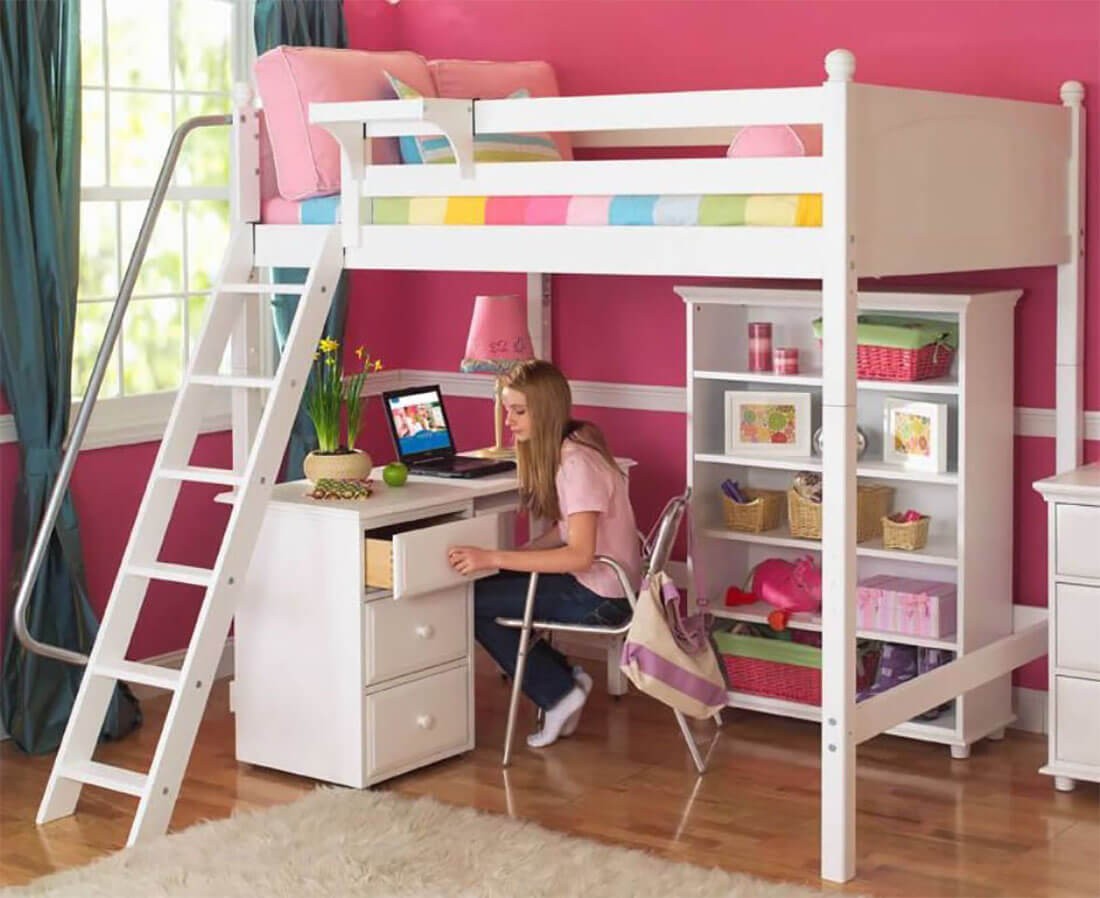 Maxtrix Kids High Loft Bed (shown with desk & bookcase, white) (41)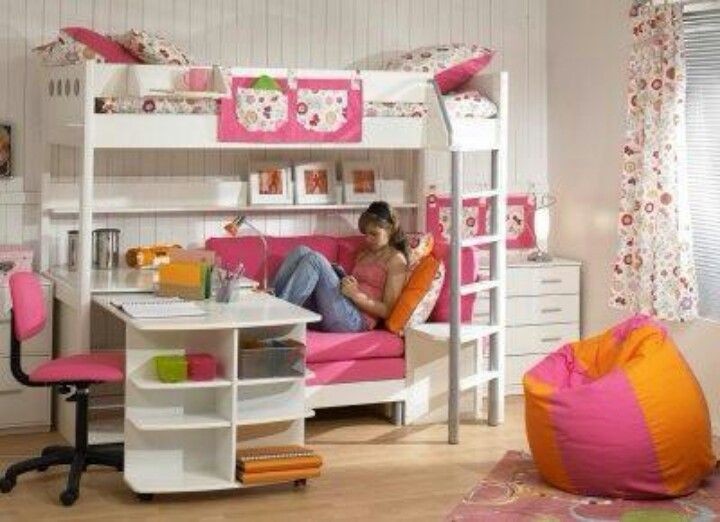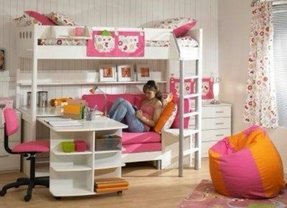 A cool practical bunk bed for kids. It's of wood finished in white. It has simple panel headboards and footboards, horizontal side rails. It's equipped with an upright but angled corner ladder and a shelved desk lapping a part of a lower bed.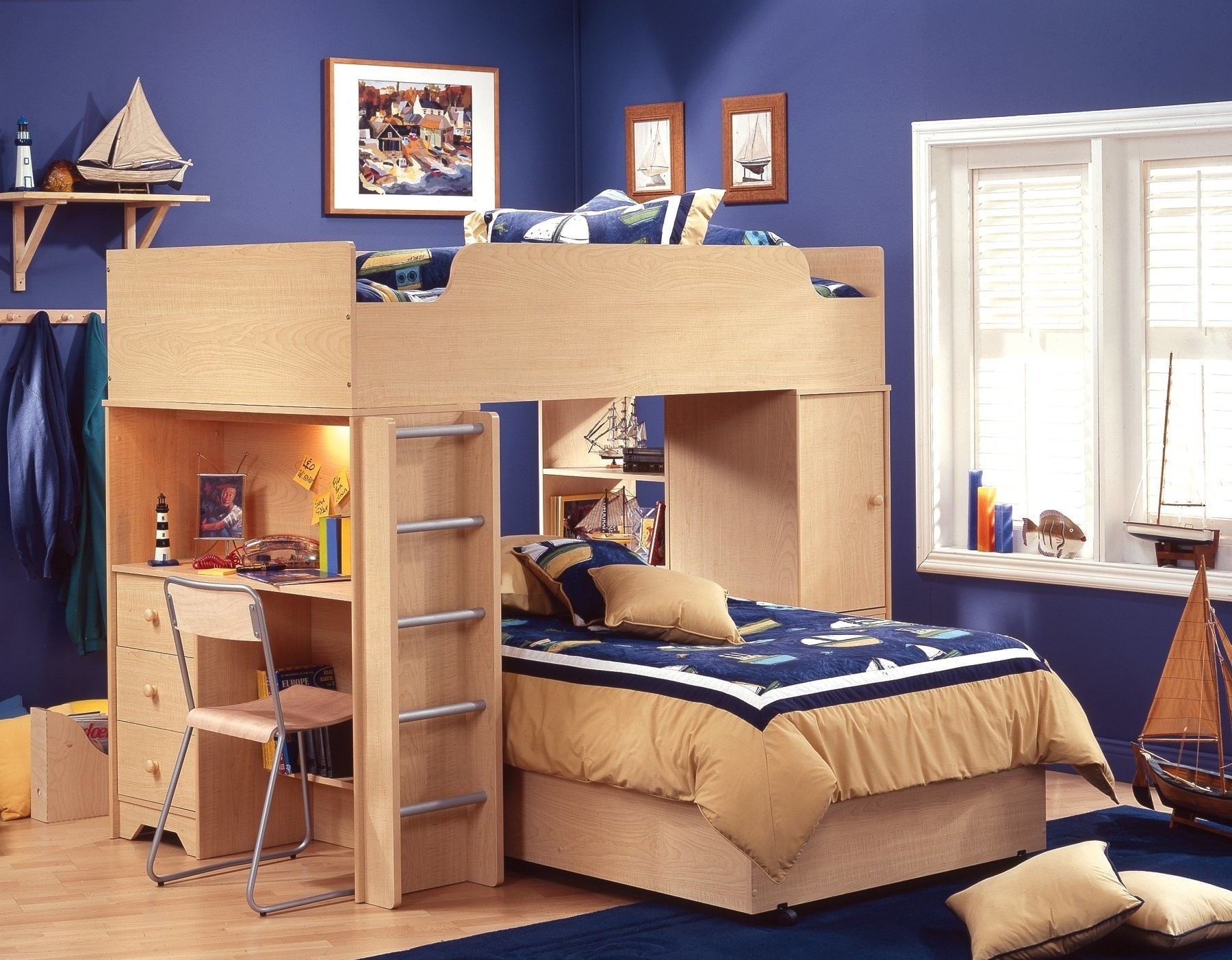 Minimalistic set of furniture which will play its role the best in student's studio flat or children's bedroom. It is composed of chest of drawers, night tables and loft bed in a shape of letter L dedicated for three people.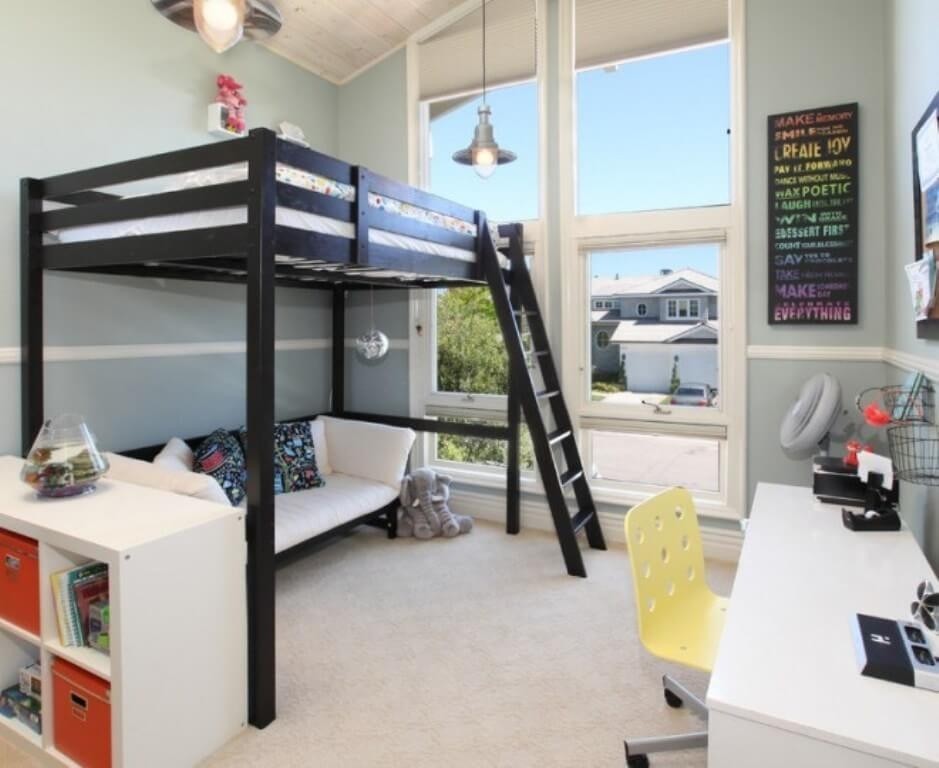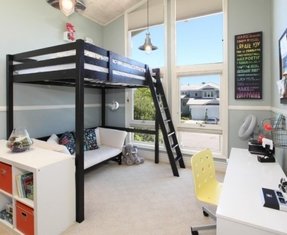 bed-double-bunk-beds-twin-storage-boys-room-ideas-decor-kids-wood-desk ...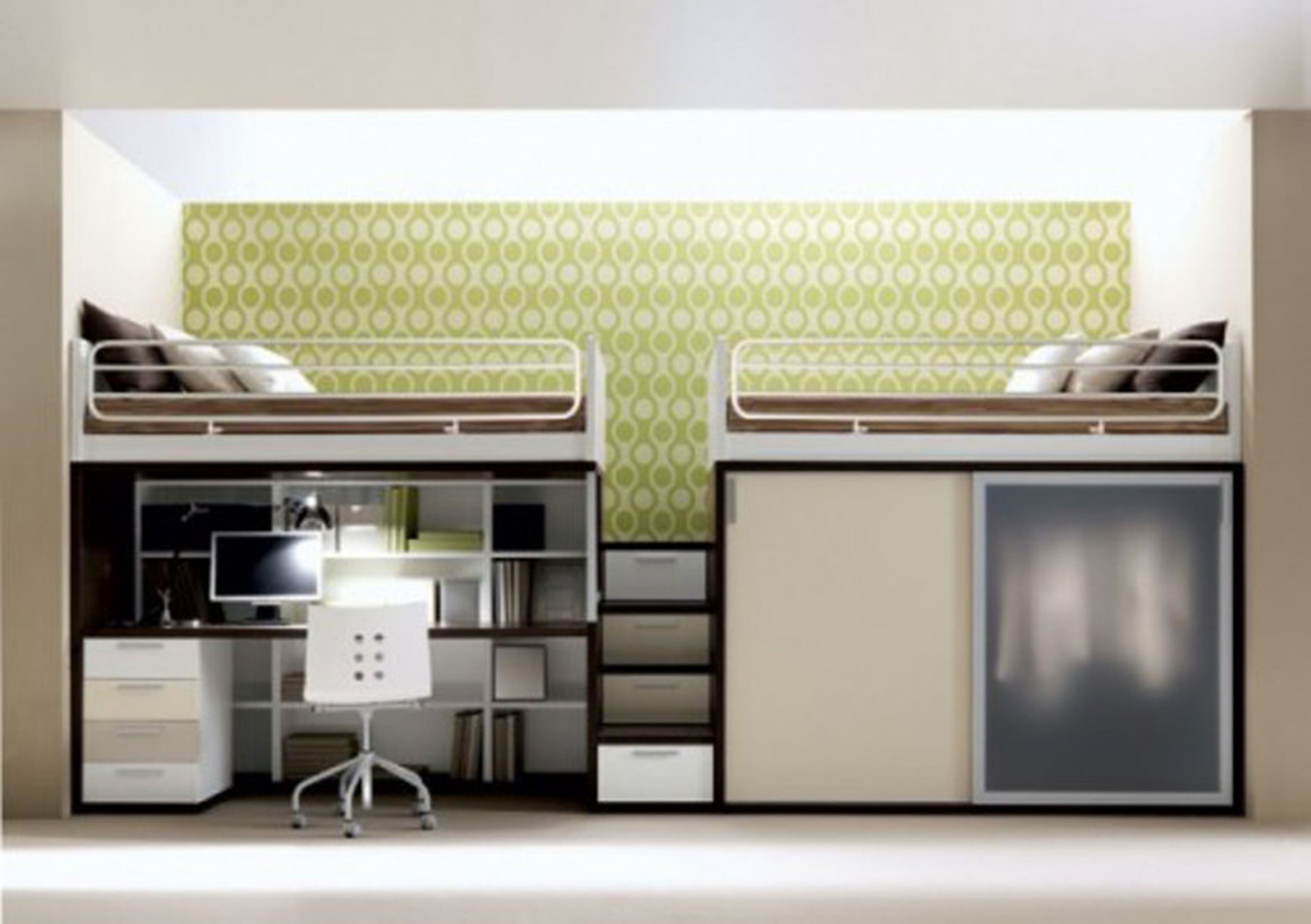 Loft bed with wardrobe, desk, drawers and open shelves in various sizes. Construction is made of wood and metal. Perfect solution for space saving in kid's room, teenager's room and more.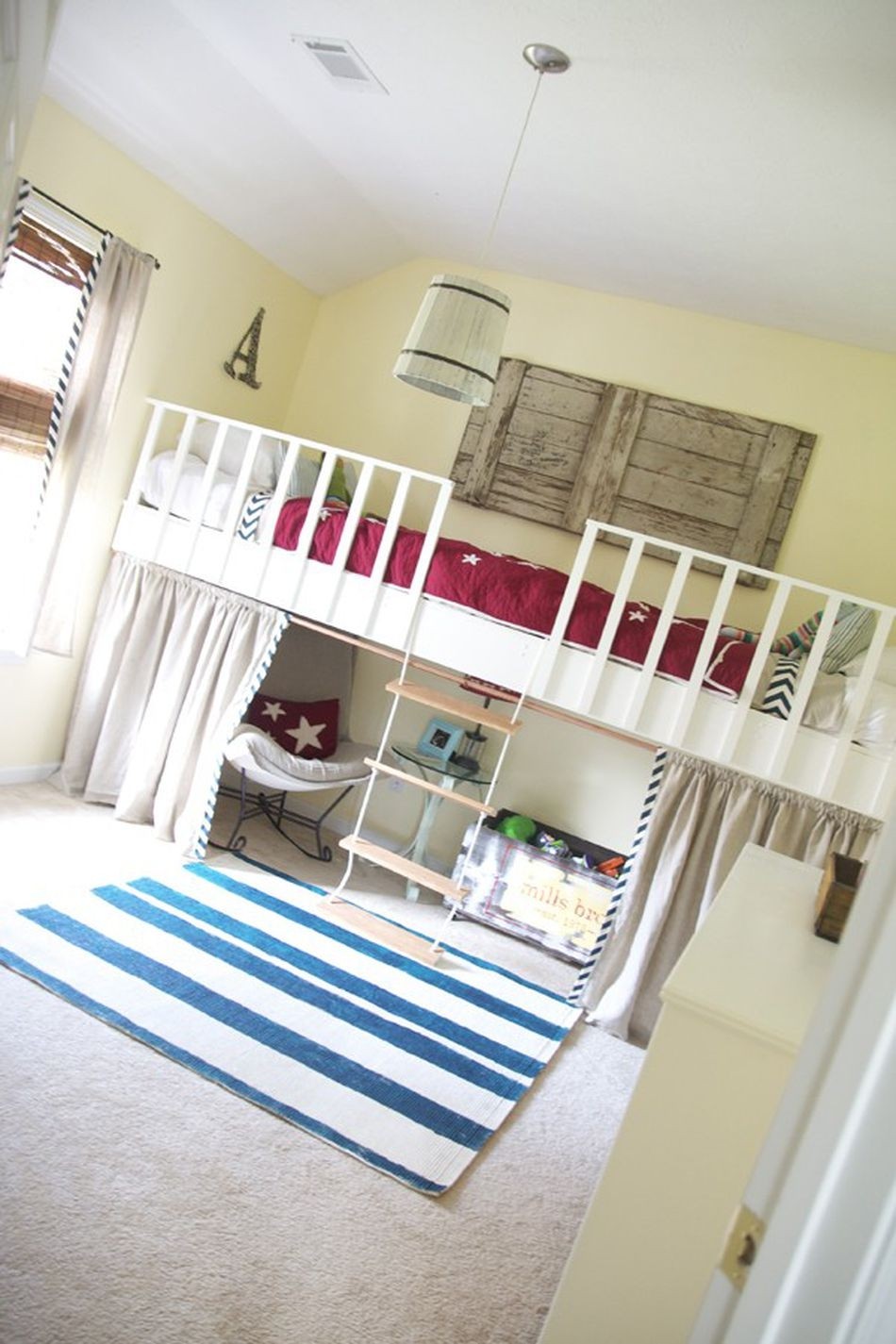 A loft bed with a functional rope ladder that provides access to its comfortable upper area. This bed includes white wooden protections and its lower part includes a comfortable sitting space and space to play with toys, etc.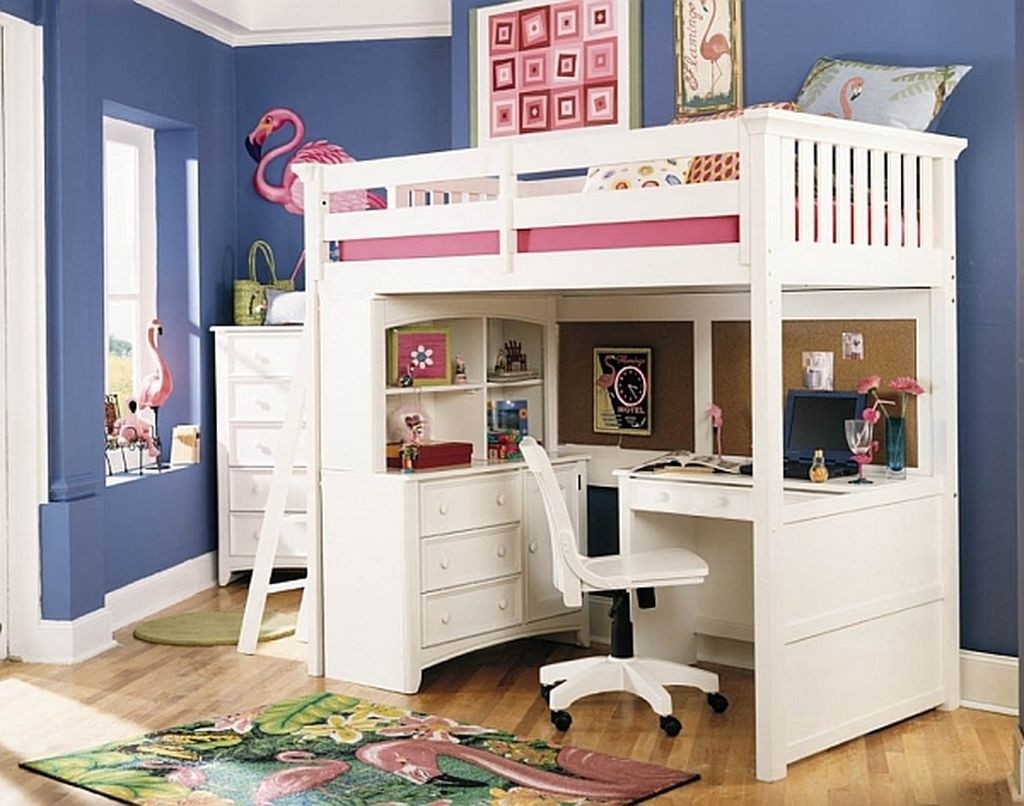 Bunk bed with desk under it. This could possibly be a birthday gift this year!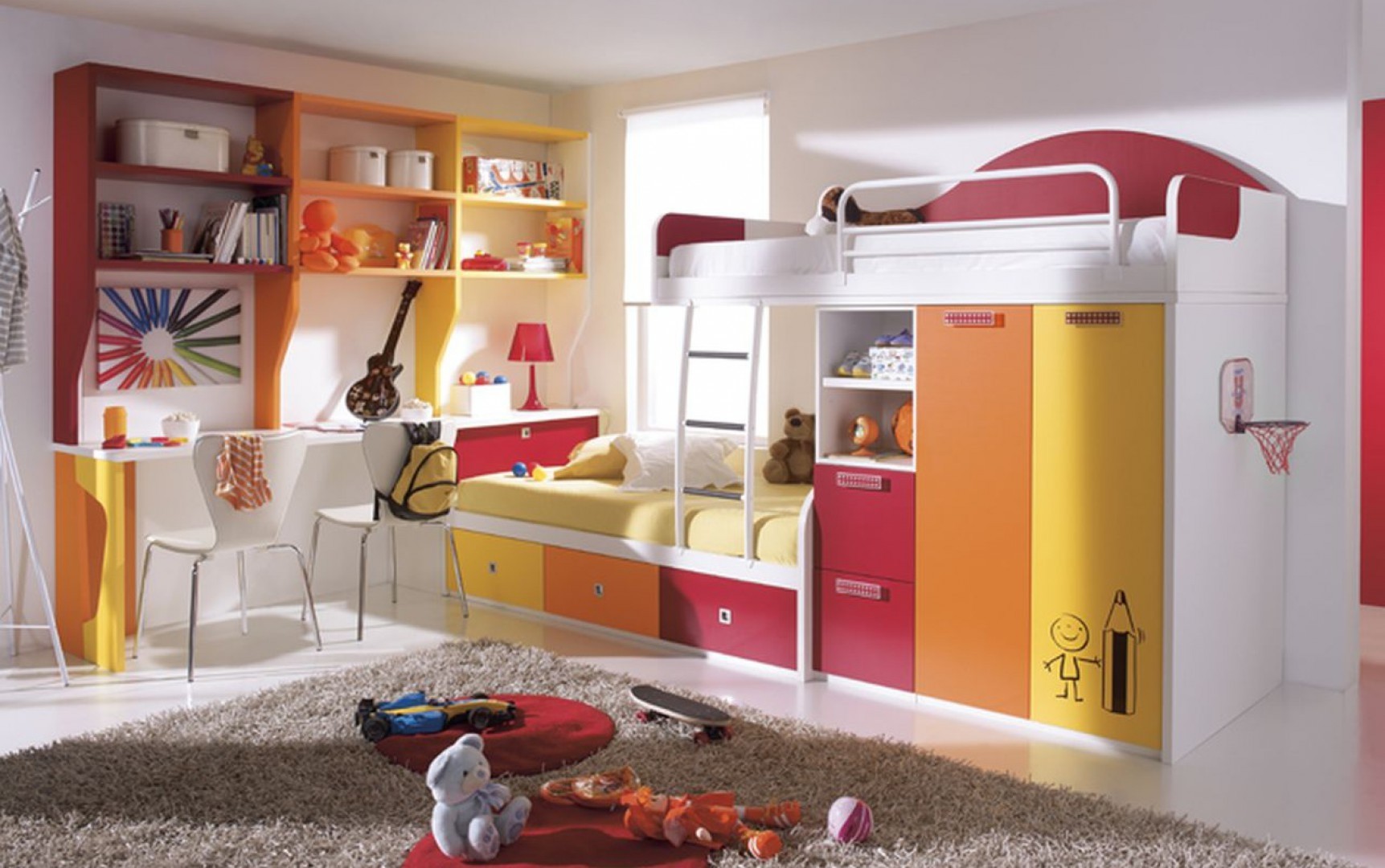 Loft Beds. Mesmerizing Funky Kids Offset Bunk Beds Adult Loft Bed With Desk: 75 Cool And Creative Loft Beds For Adults. Cube Holes Bookcase,...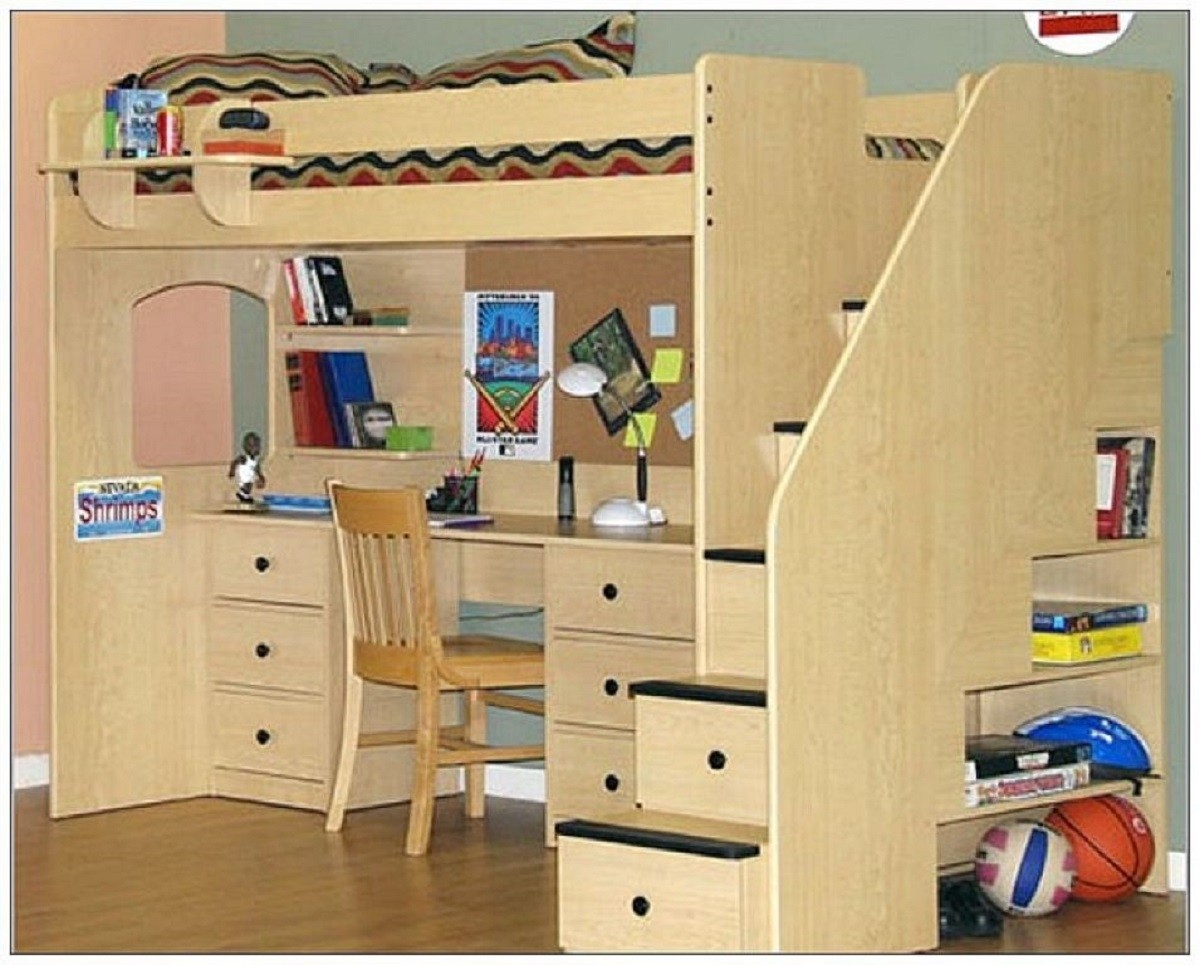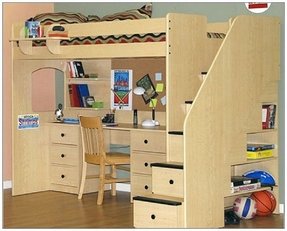 Compact and space-efficient design for a children loft bed with a built-in desk and a set of stairs with a bookcase inside of it. The whole set is made out of light birch wood, which gives it a simple and minimalistic vibe.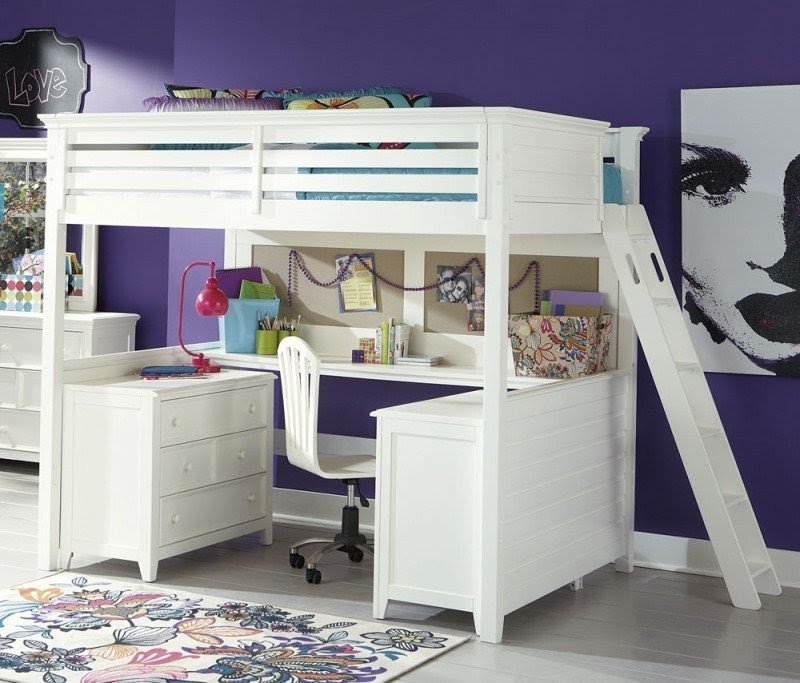 Willow Run, by Lea Furniture, is a clean, modern take on country styled bedroom furniture and designed to appeal to almost everyone. Generous undertop moldings, framed drawers and tapered feet give this group a sense of value and scale. Constructed with M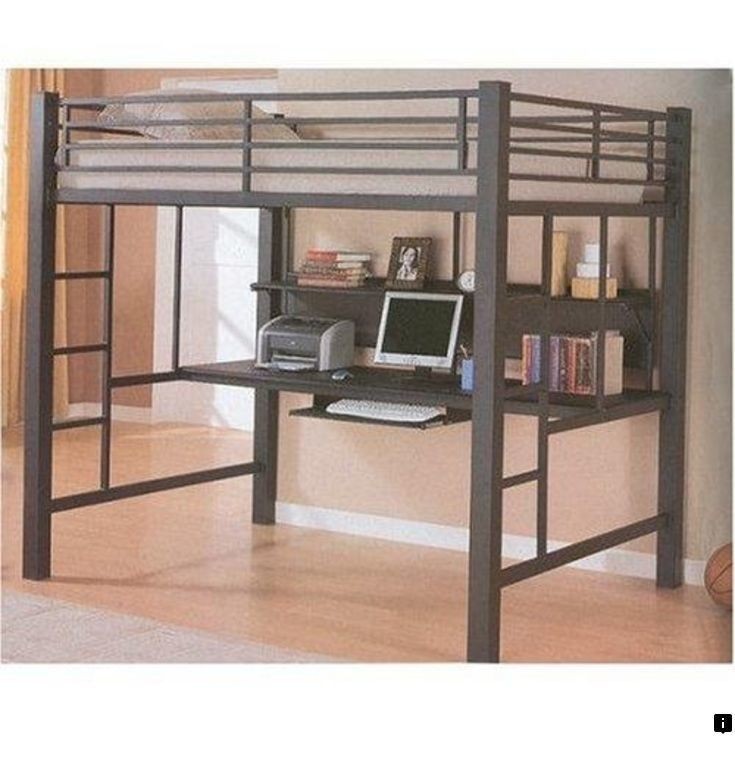 A bed with a desk is rather a choice for 1 person. In this case, it is adapted to the teenager, because made in metal - bunk bed with desk has strong and straight lines, dark graphite color and a place adapted to learning, and later to rest and sleep.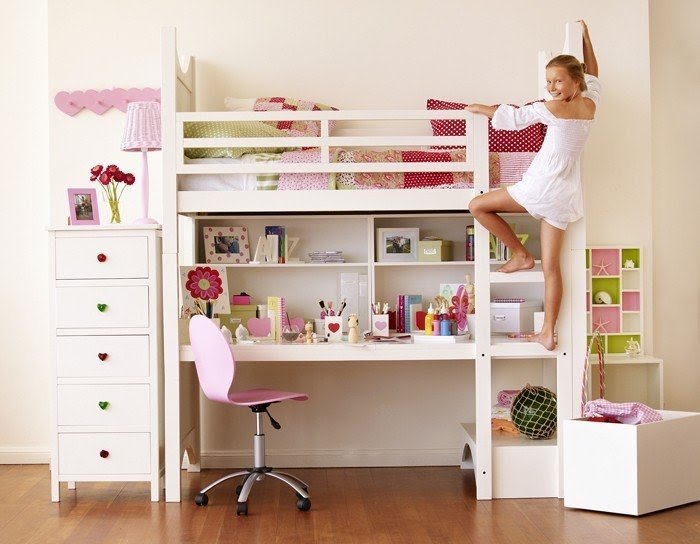 Bunk Loft Bed Package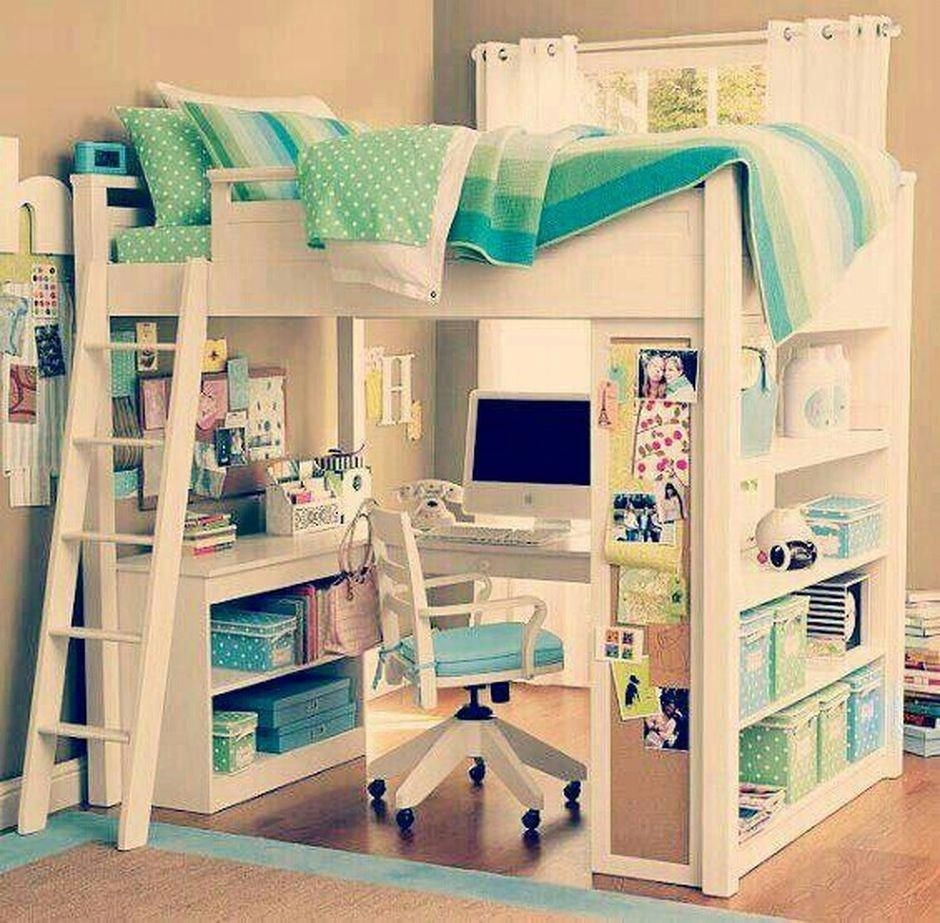 Space saving and room optimising solution. This loft bed includes a comfortable upper sleeping space with an access ladder. The lower desk area offers working space and plenty of storage shelves for books and other items.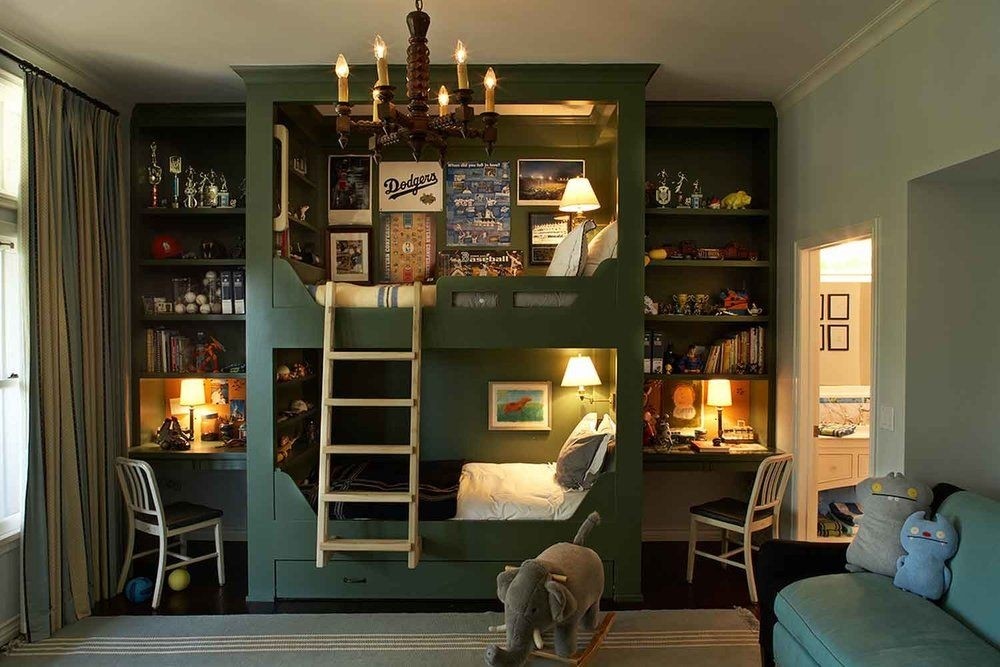 I am a sucker for creative built-ins. I used to fantasize about knocking down my parents' front hall closet & expanding my bedroom into a little lofted reading-nook where I could hang out with my American Girl dolls & devour my Babysitter's Club books.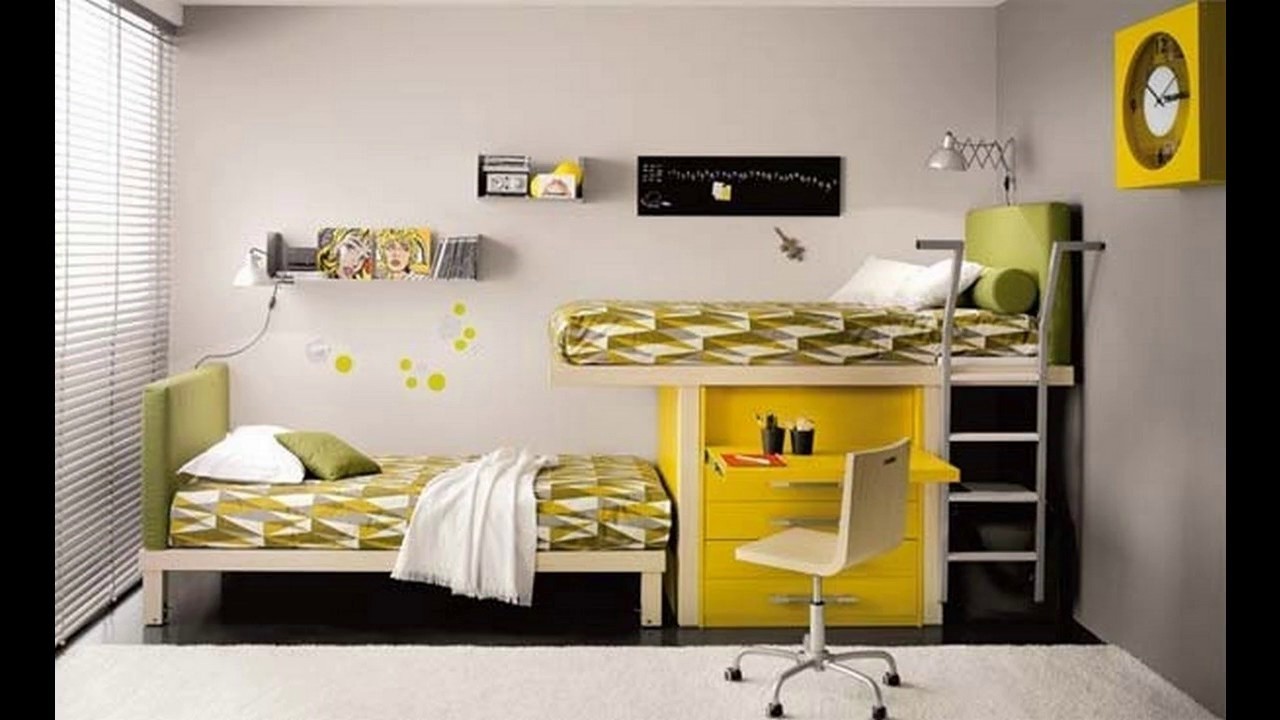 Small Bedroom Layout Examples | Small Bedroom Ideas for Cute Homes | Decozilla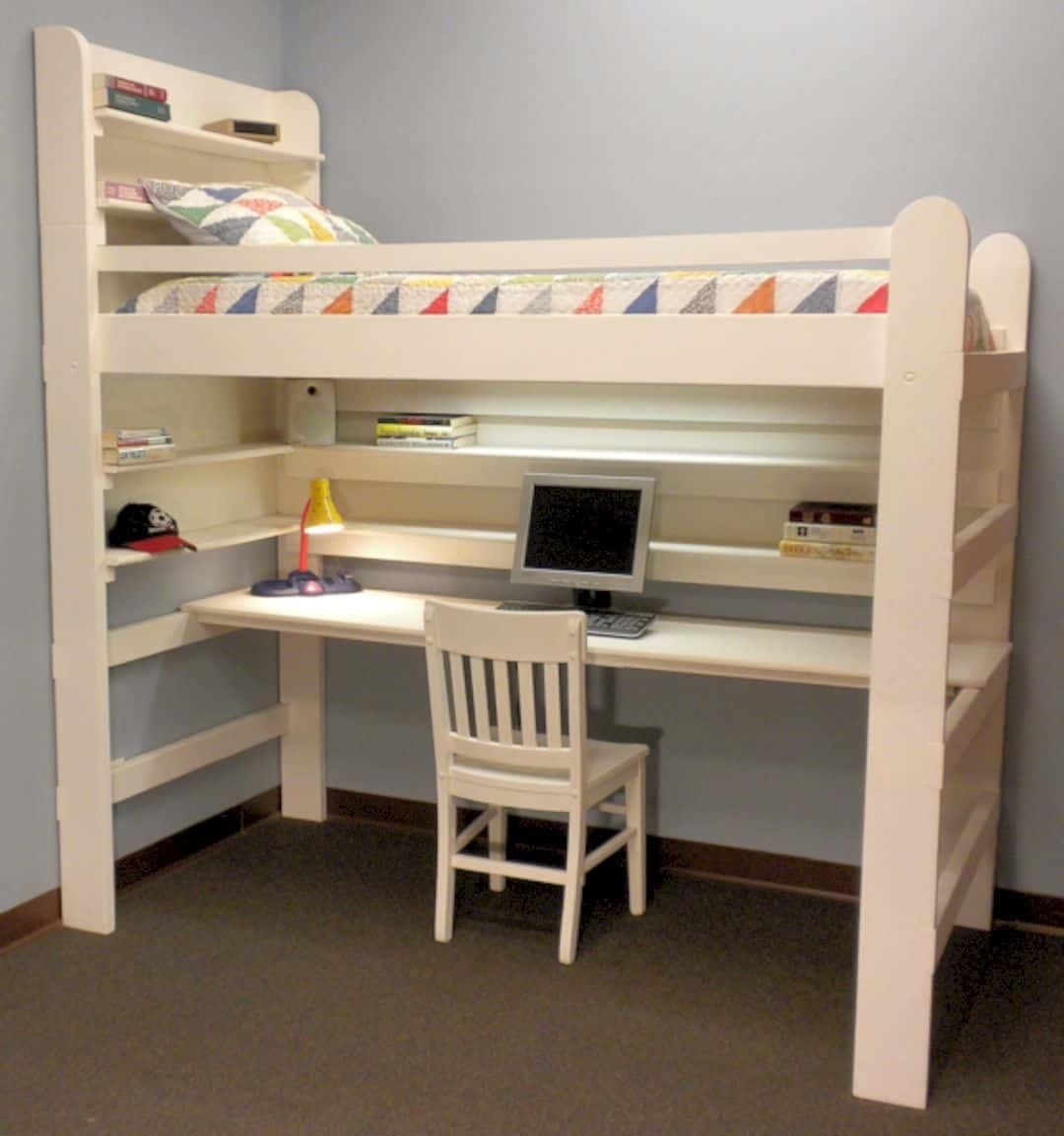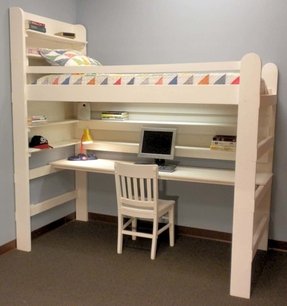 This loft bed is an element of furniture designed for young users. Its upper bed area is comfortable and includes functional shelves. The lower area features a desk with shelves and quite spacious working area.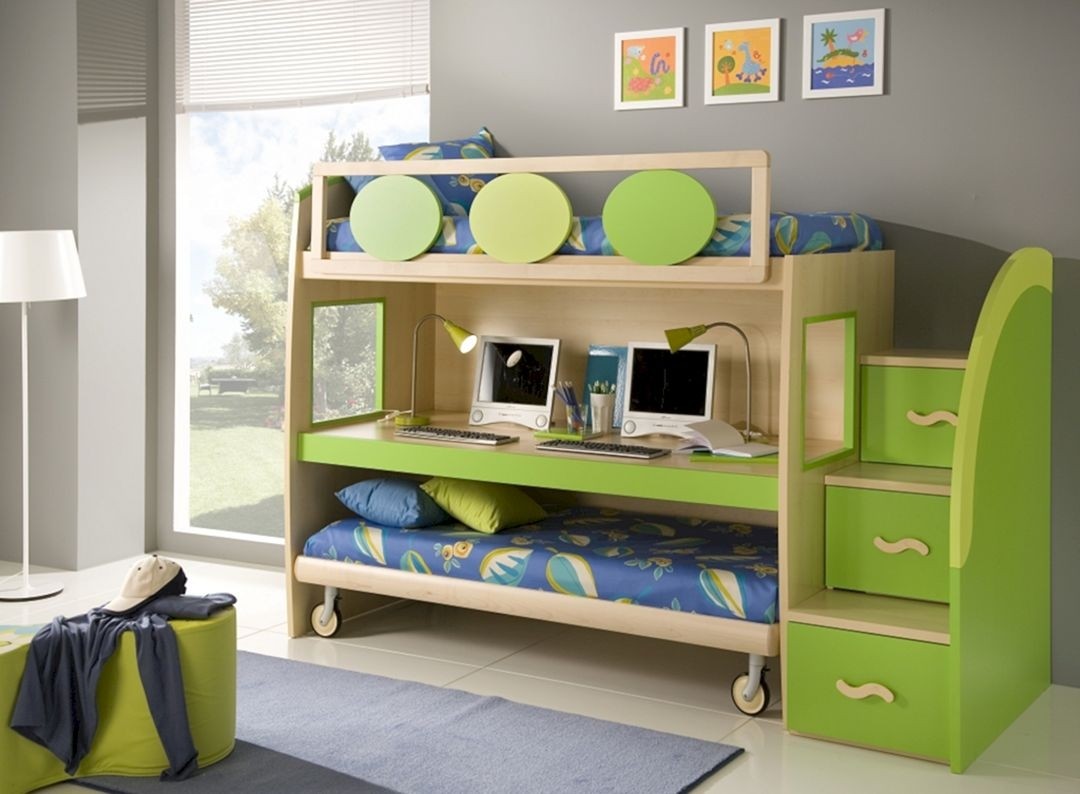 Little Boy Bedroom Ideas | ... boys bedroom decorating ideas with bunk beds bedrooms mixed decoration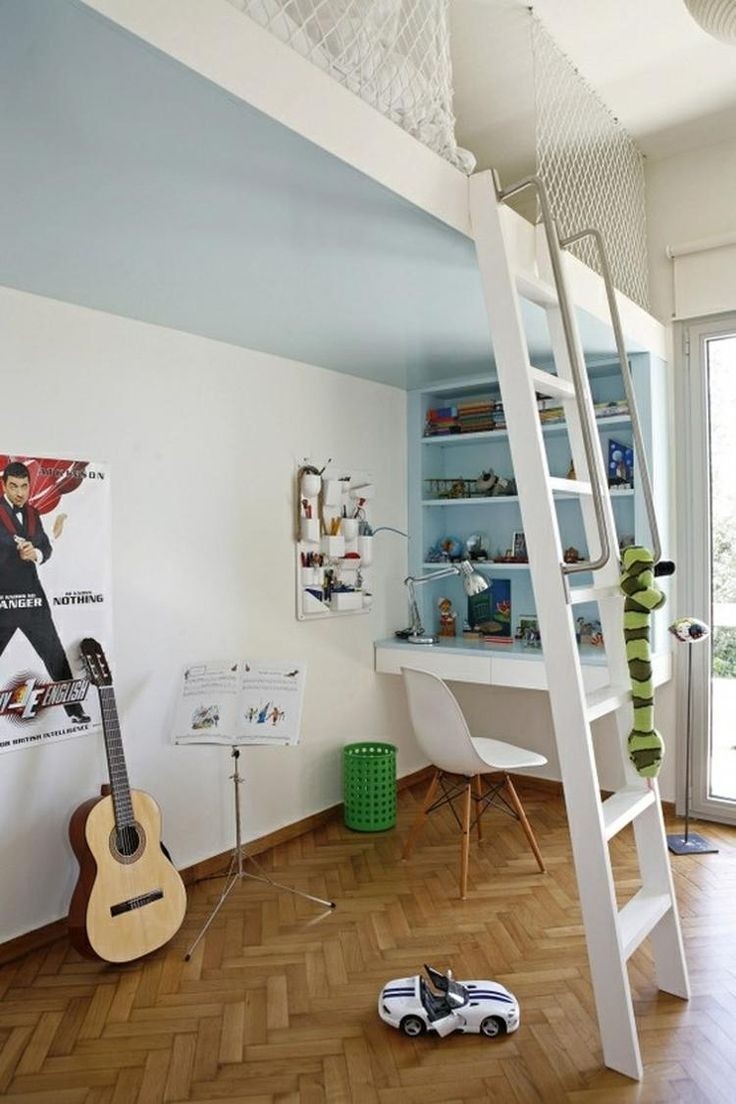 Space-efficient setup for a compact children's bedroom with a double loft bed with a handy ladder fitted with aluminium railing. The loft bed has a study desk below with a built-in bookcase, which provides additional display room.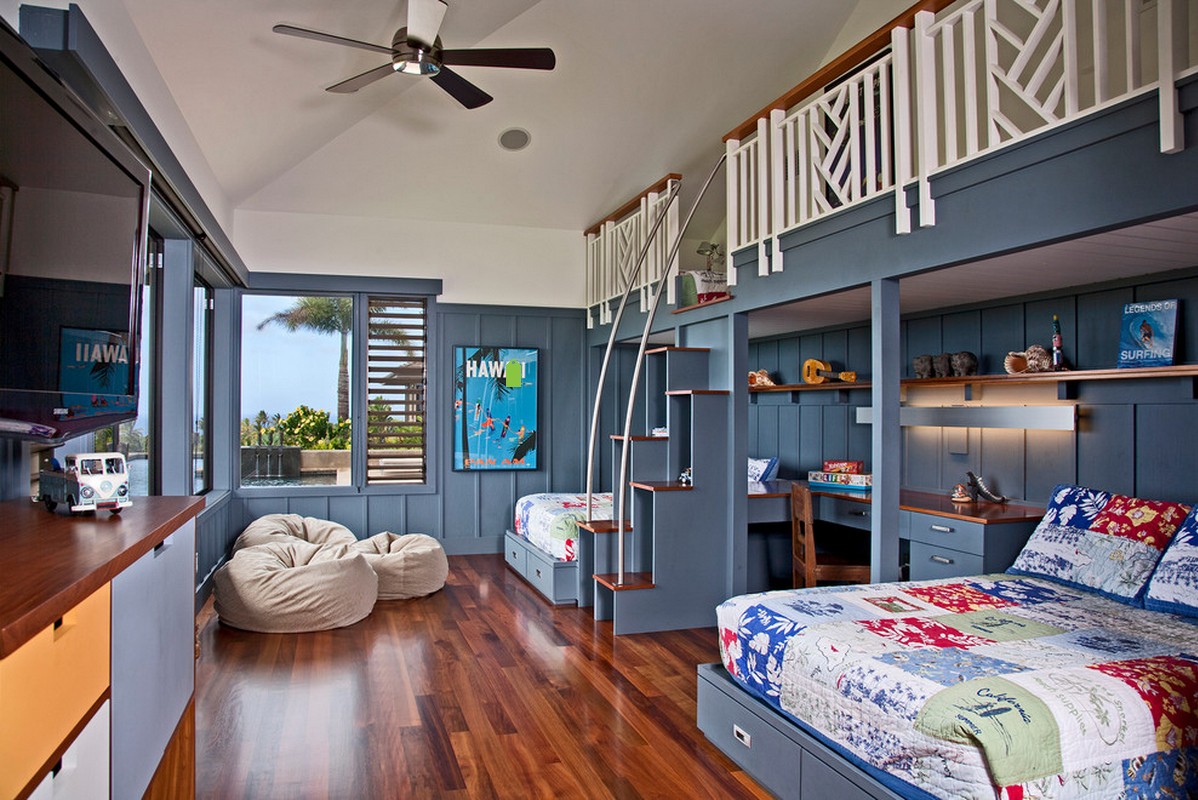 it's a huge bedroom for 3 boys with a tropical appeal, but I could get some wonderful ideas here for the playroom / family area.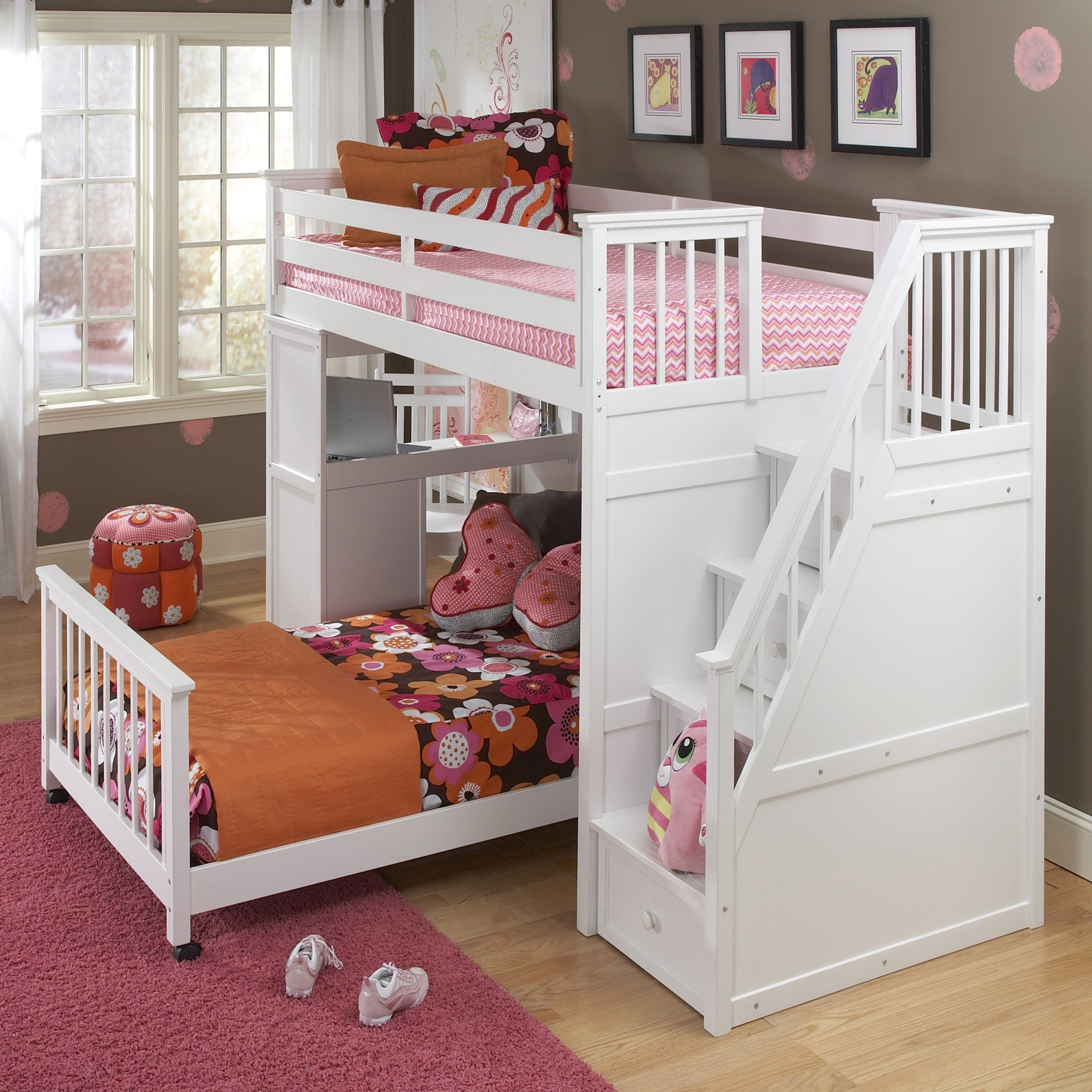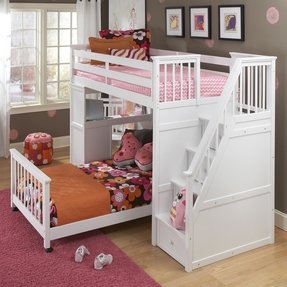 A comfortable bunk bed that provides soft sleeping space in the upper area and in the lower one. The upper bed is accessible thanks to stairs with storage drawers. White color of this bed matches any child's room.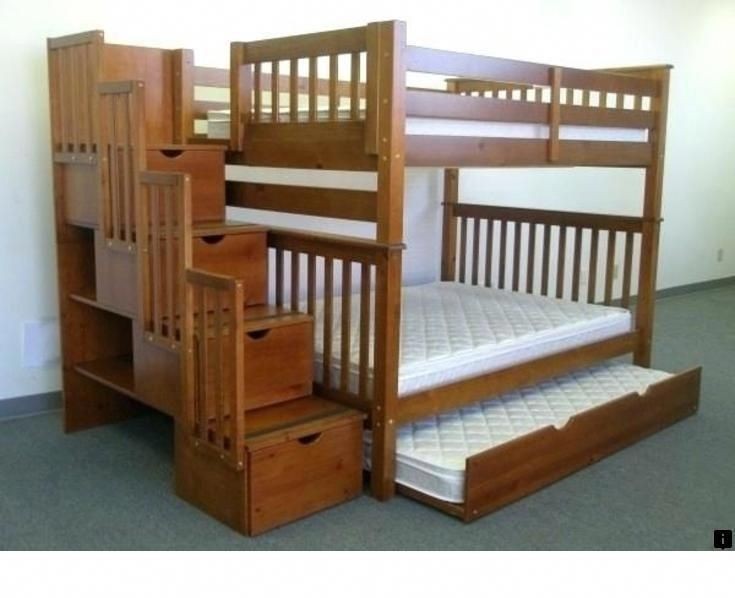 Bunk Beds with desk and built-in storage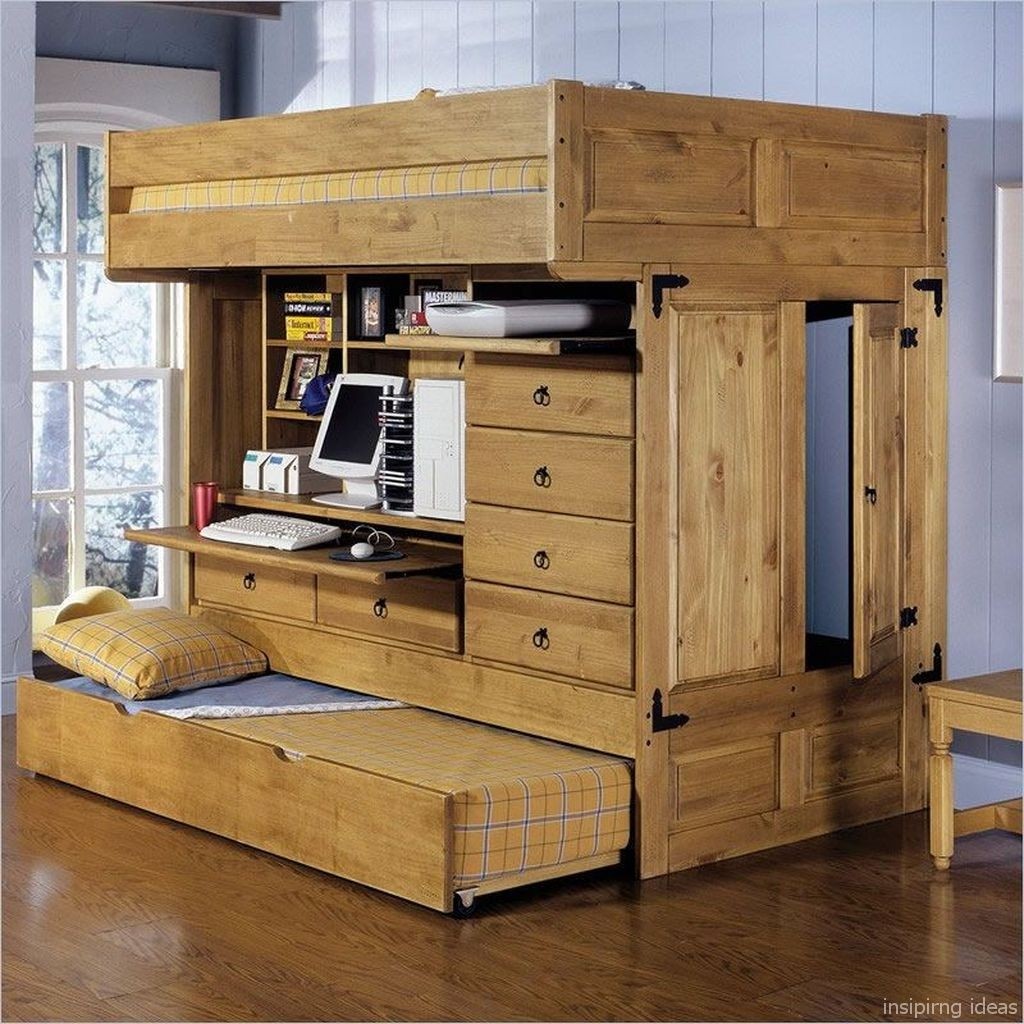 Space-saving bedroom set. Loft bed with built-in armoire, dresser, computer desk (with keyboard tray) and hideaway twin size trundle at the bottom. Made of good-looking solid brazilian pine and sturdy plywood.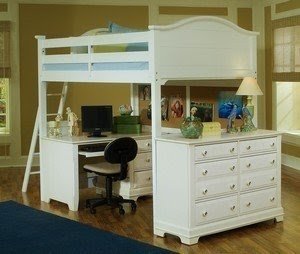 An ideal addition to children's bedroom. Its glossy, white finish refers to the best cottage or shabby chic works. The bed, entered by a ladder, towers over an ergonomic desk, comprising spaces for work and play in one place.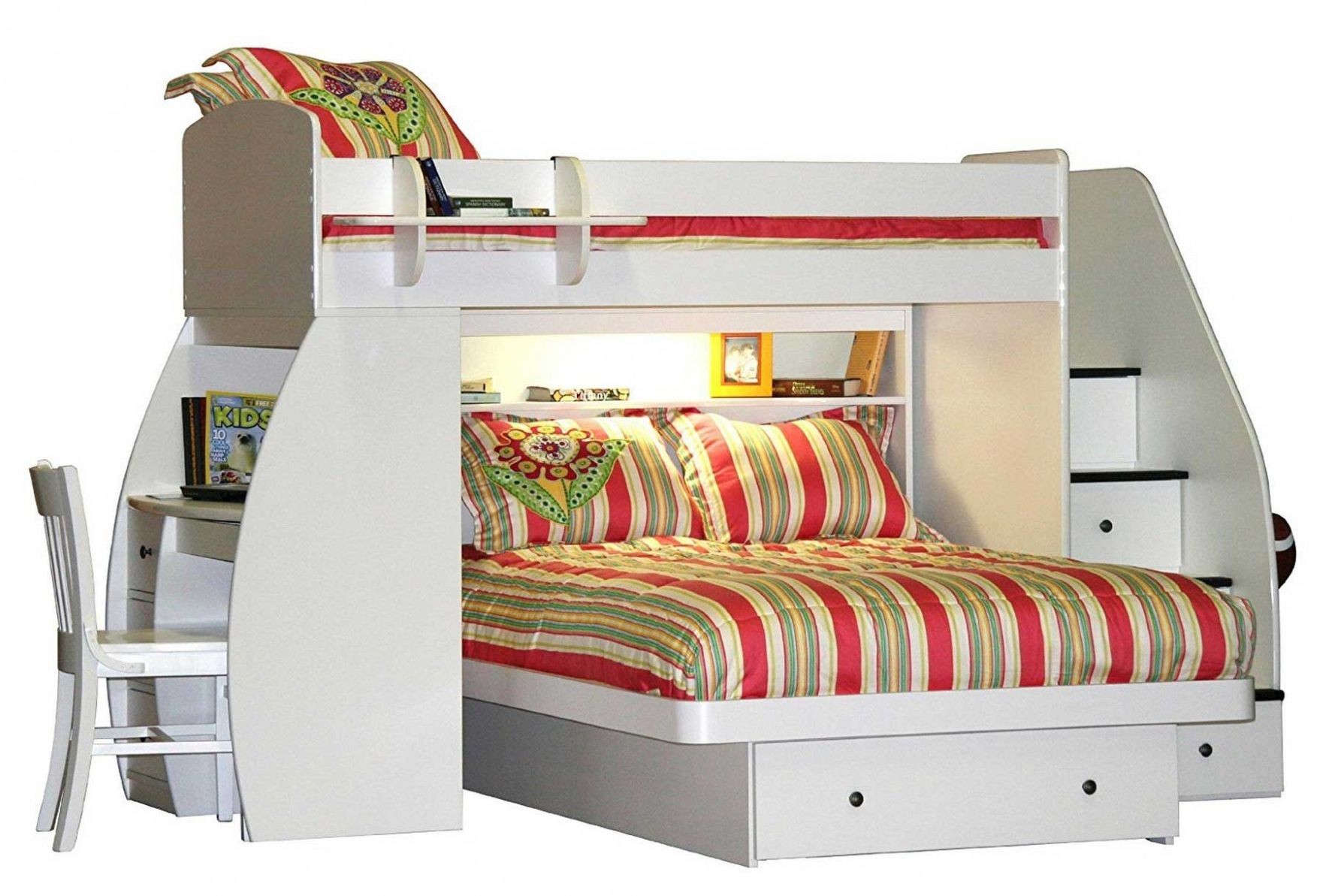 Twin Over Full Bunk Bed with Desk and Stairs CHECK PRICE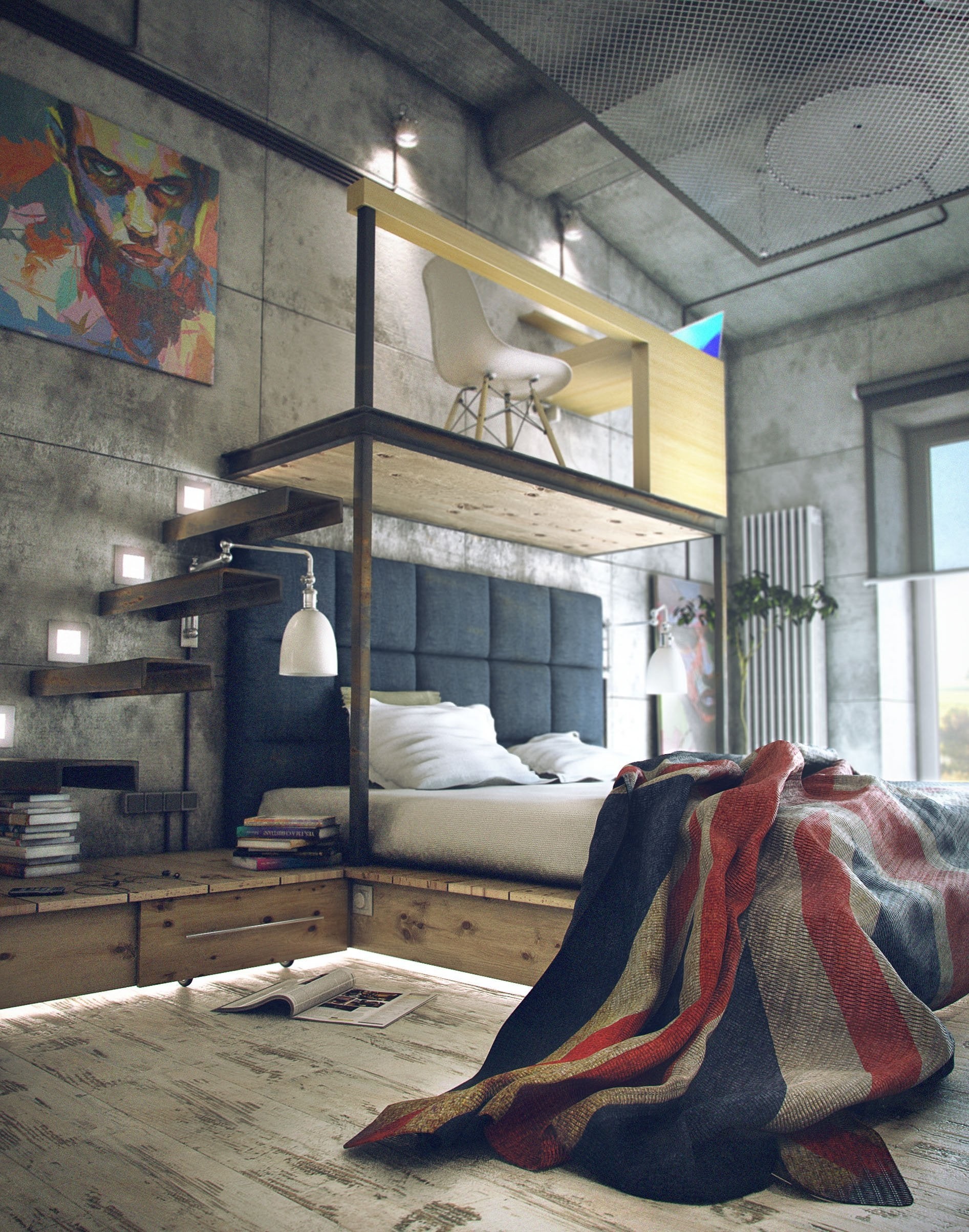 A Loft With Industrial Design by Russian Designer Maxim Zhukov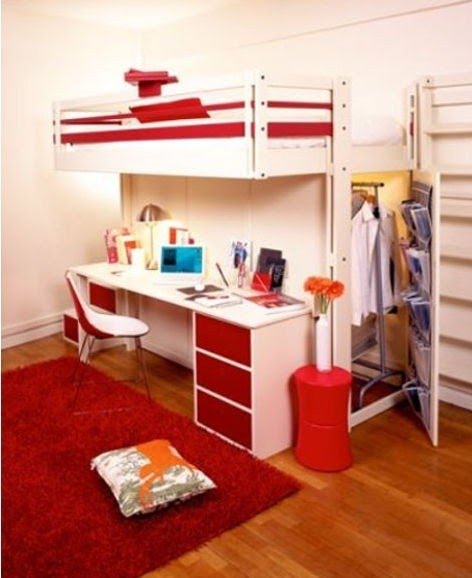 Loft bed with desk in contemporary style. Construction is made of wood and fitted with railings for added safety. Base contains capacious cabinet and a lot of drawers in various sizes.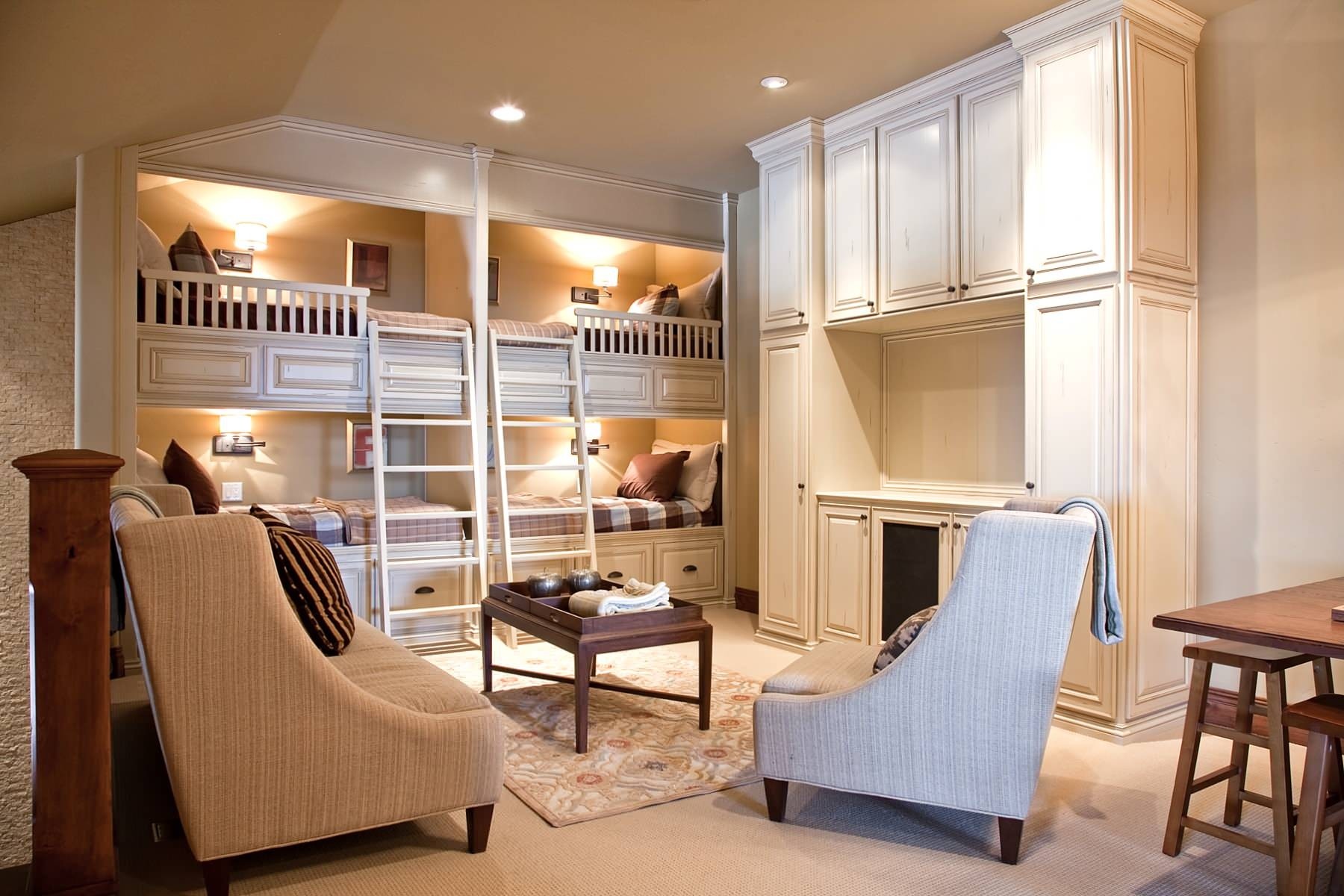 Yet another bunk room. Don't know why more people with large families and small houses don't utilize this. Five kids and two bedrooms? Use one for beds and one for desks and clothes. You should be teaching your kids to be each other's best friends any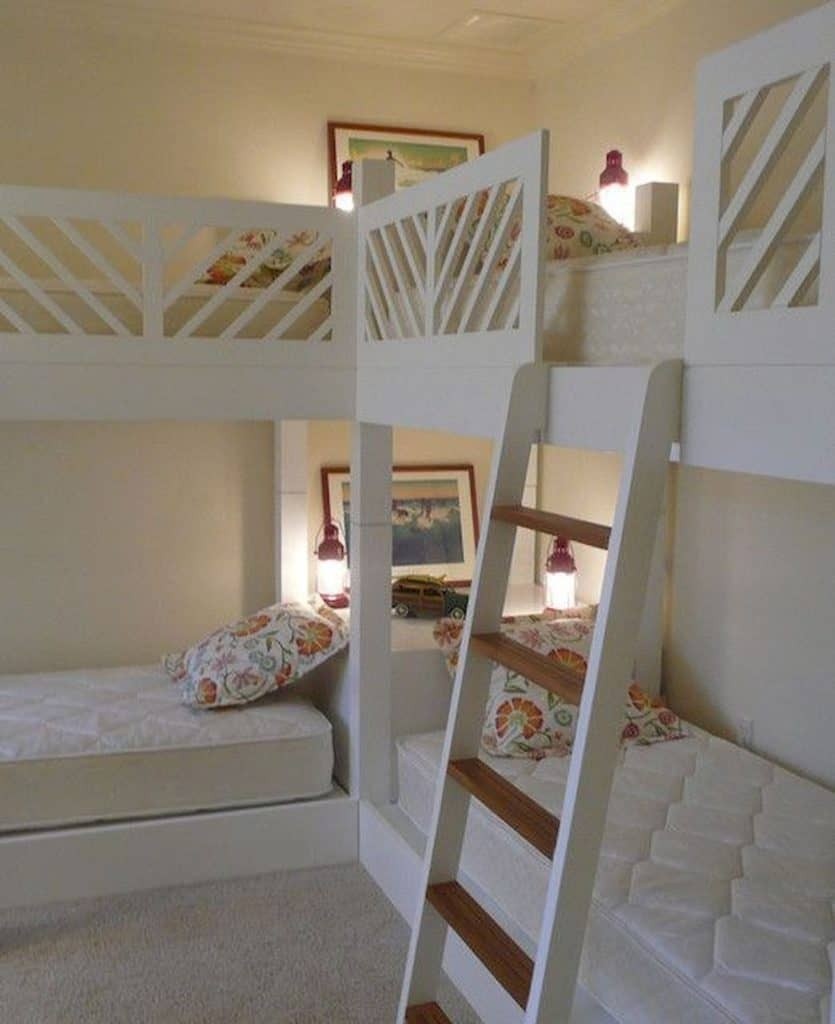 I love the idea of having one shared kids bedroom, a walk in wardrobe with sections for each of the kids and a play room with a desk for each child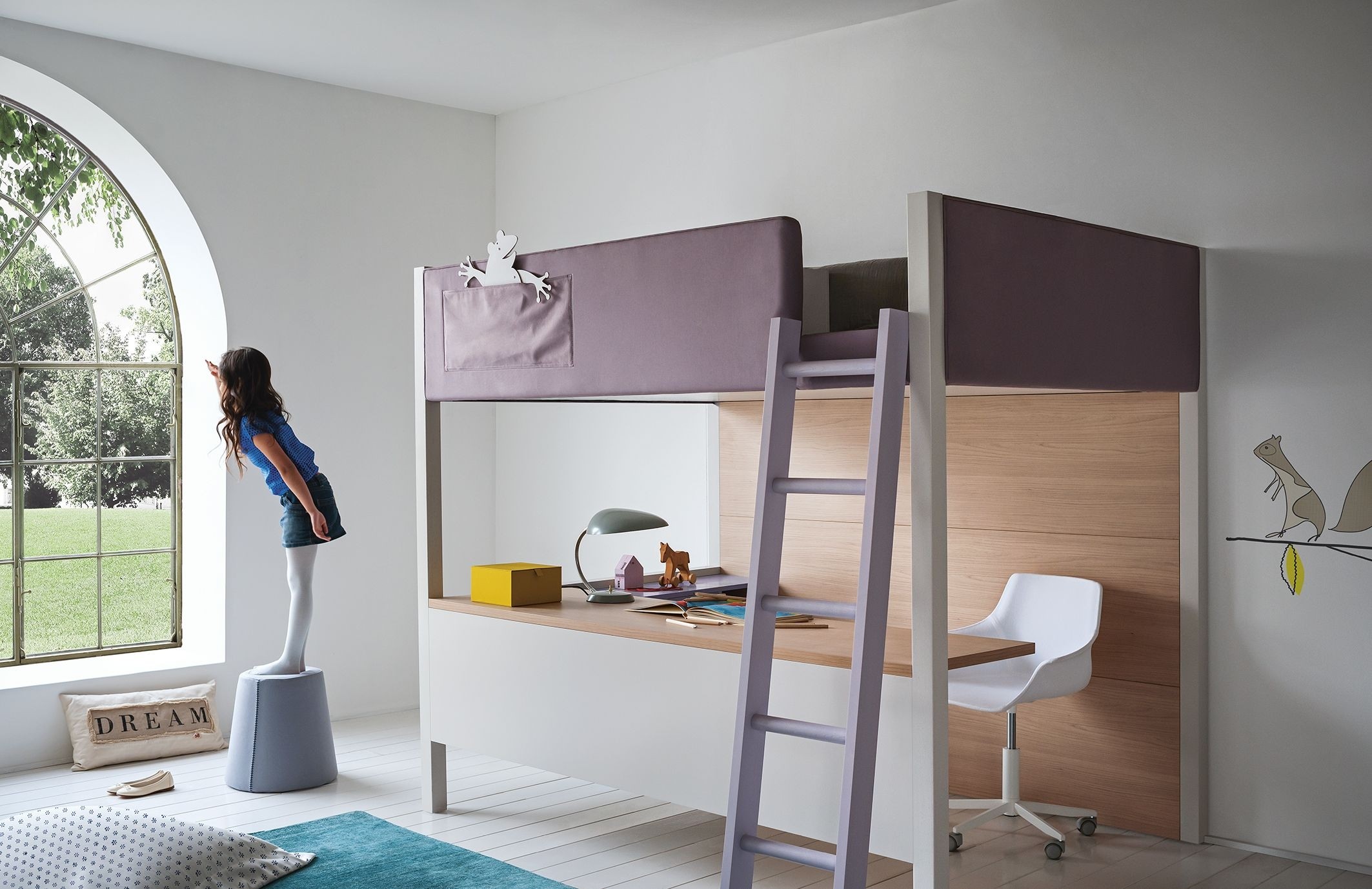 mommo design: LOFT BEDS WITH DESK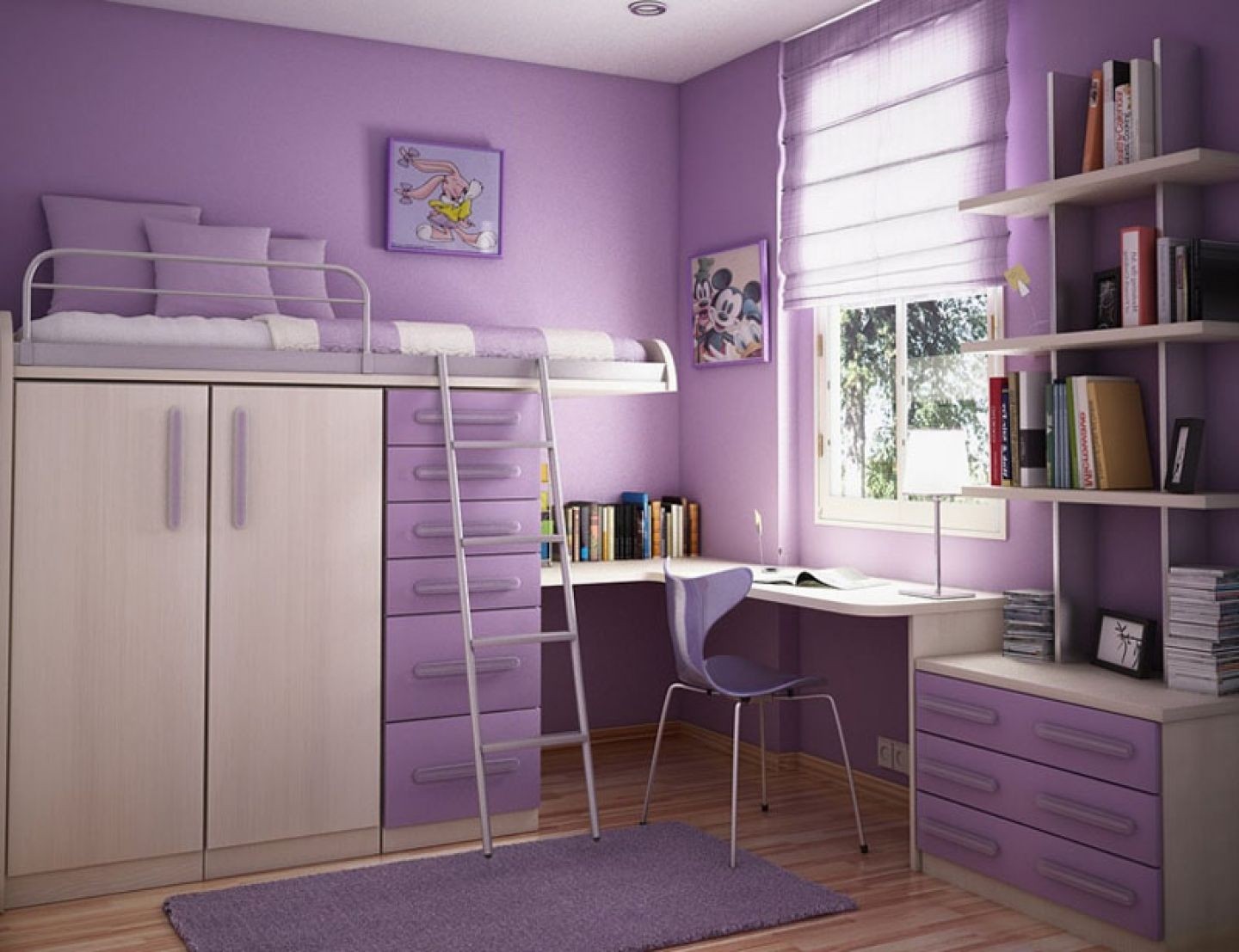 If there is a shortage of space in your child's bedroom, doubling the storage closets an drawers as a bed is a great way to save space!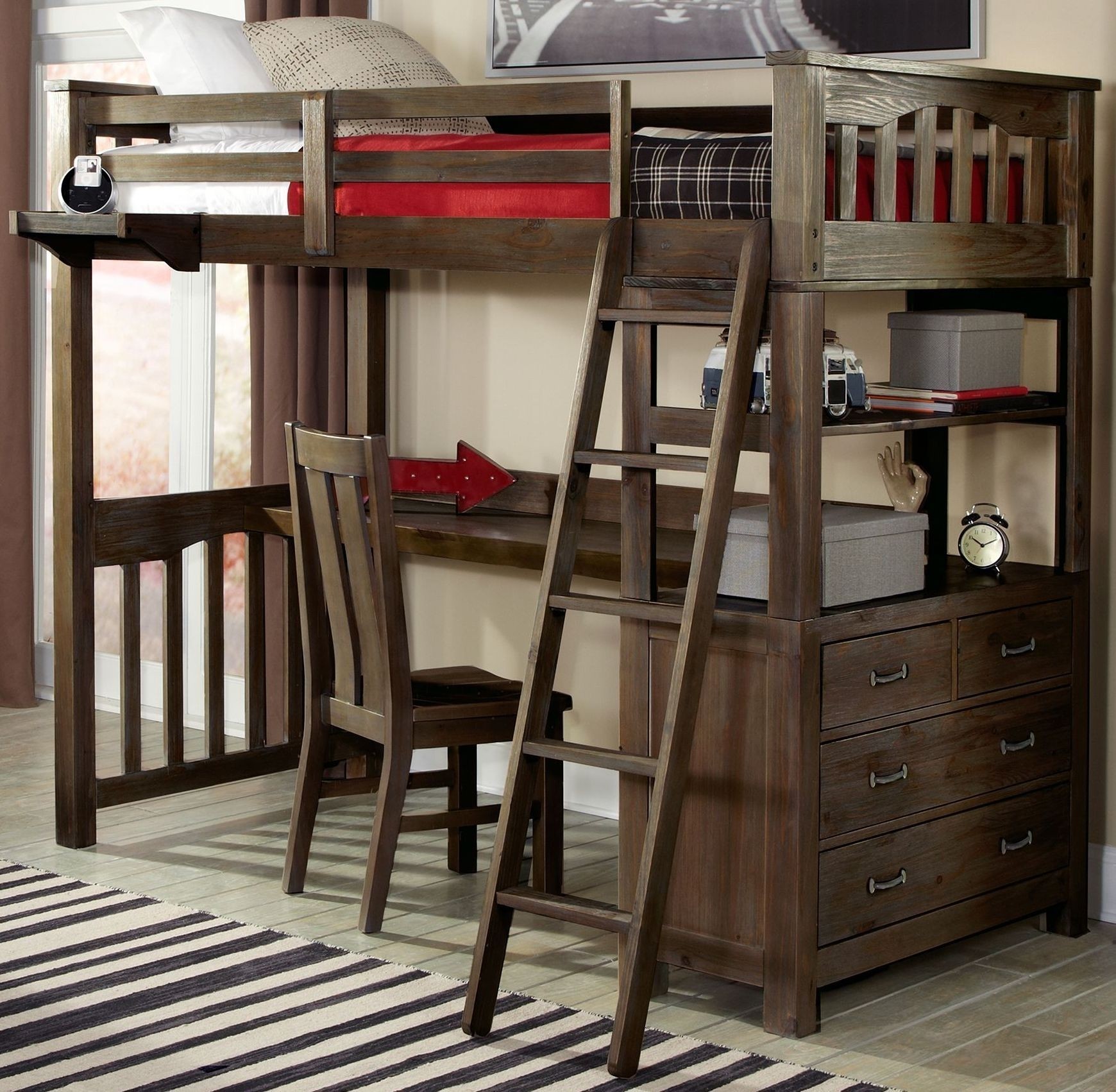 Highlands Espresso Twin Loft Bed with Desk And Chair ...
Lake House White Twin Loft Bed with Desk from NE Kids ...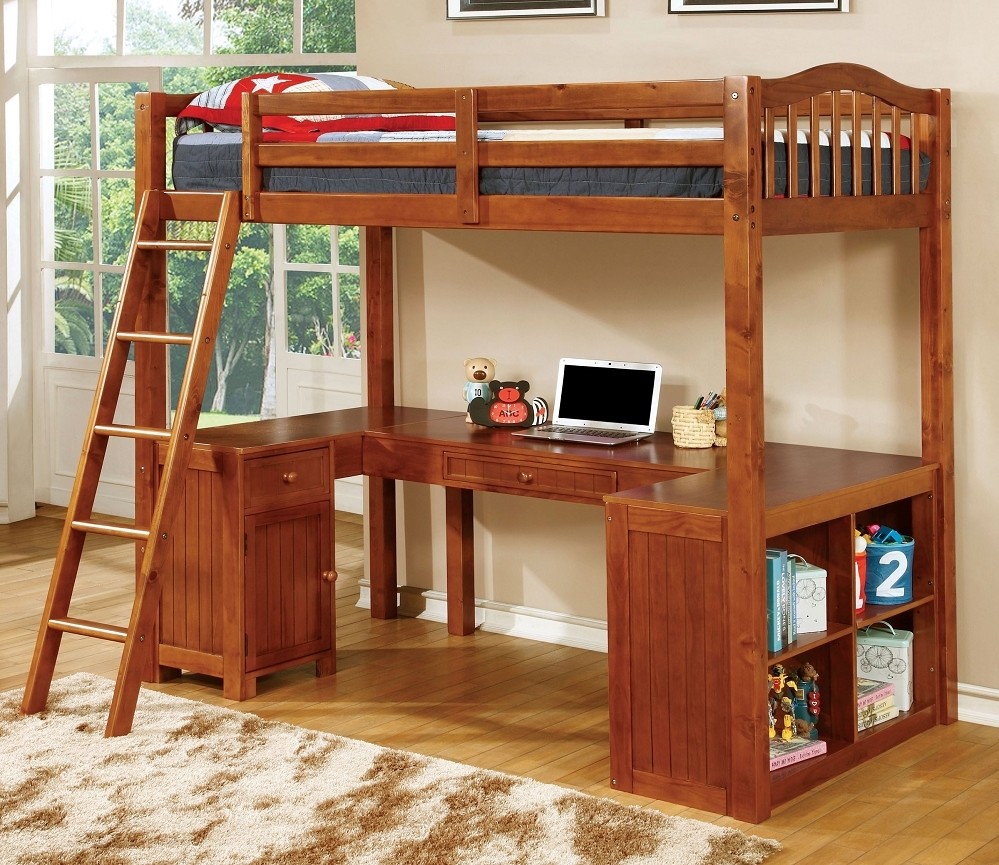 Dutton Oak Twin Workstation Loft Bed with Built-In Desk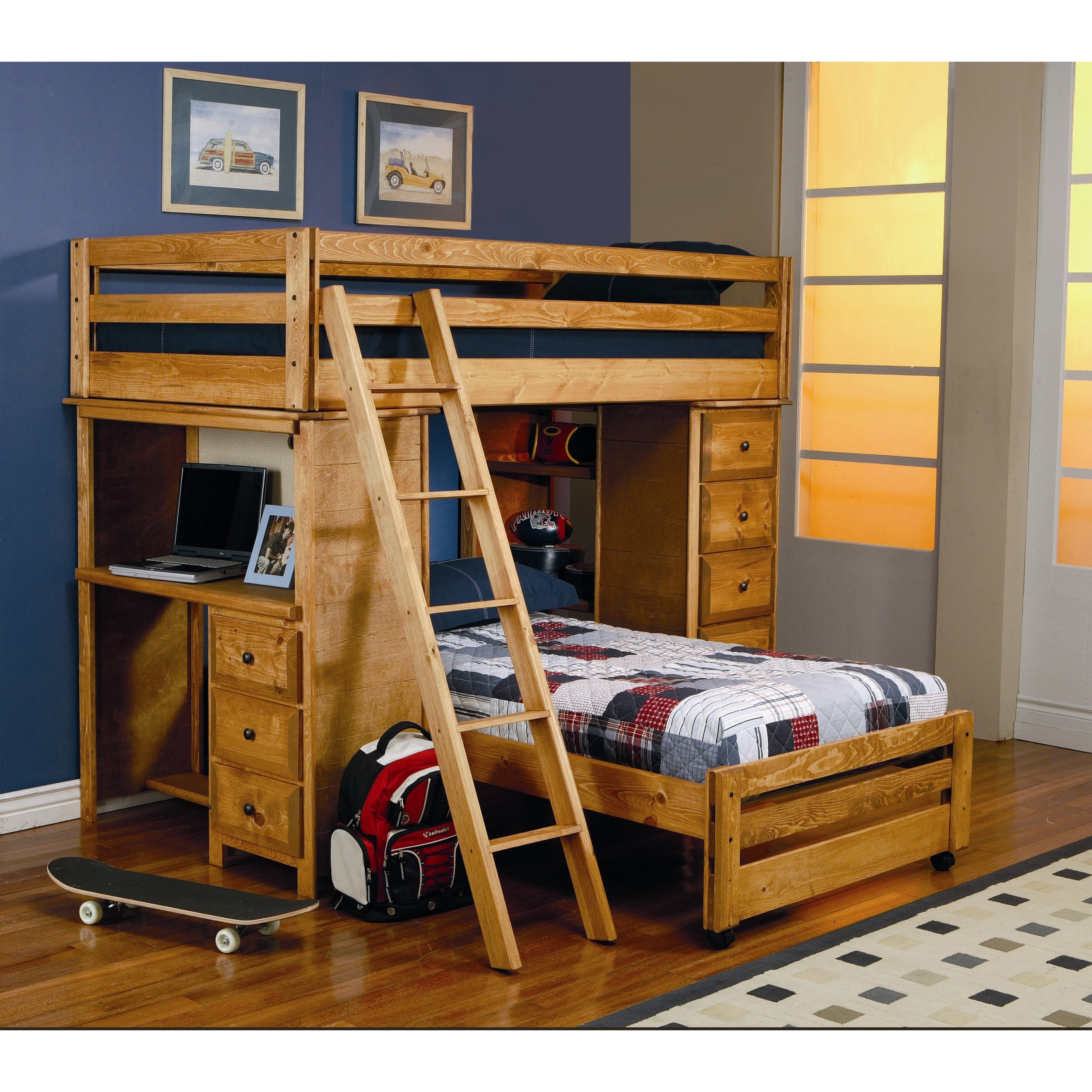 Twin Over Full Bunk Bed with Desk: Best Alternative for ...