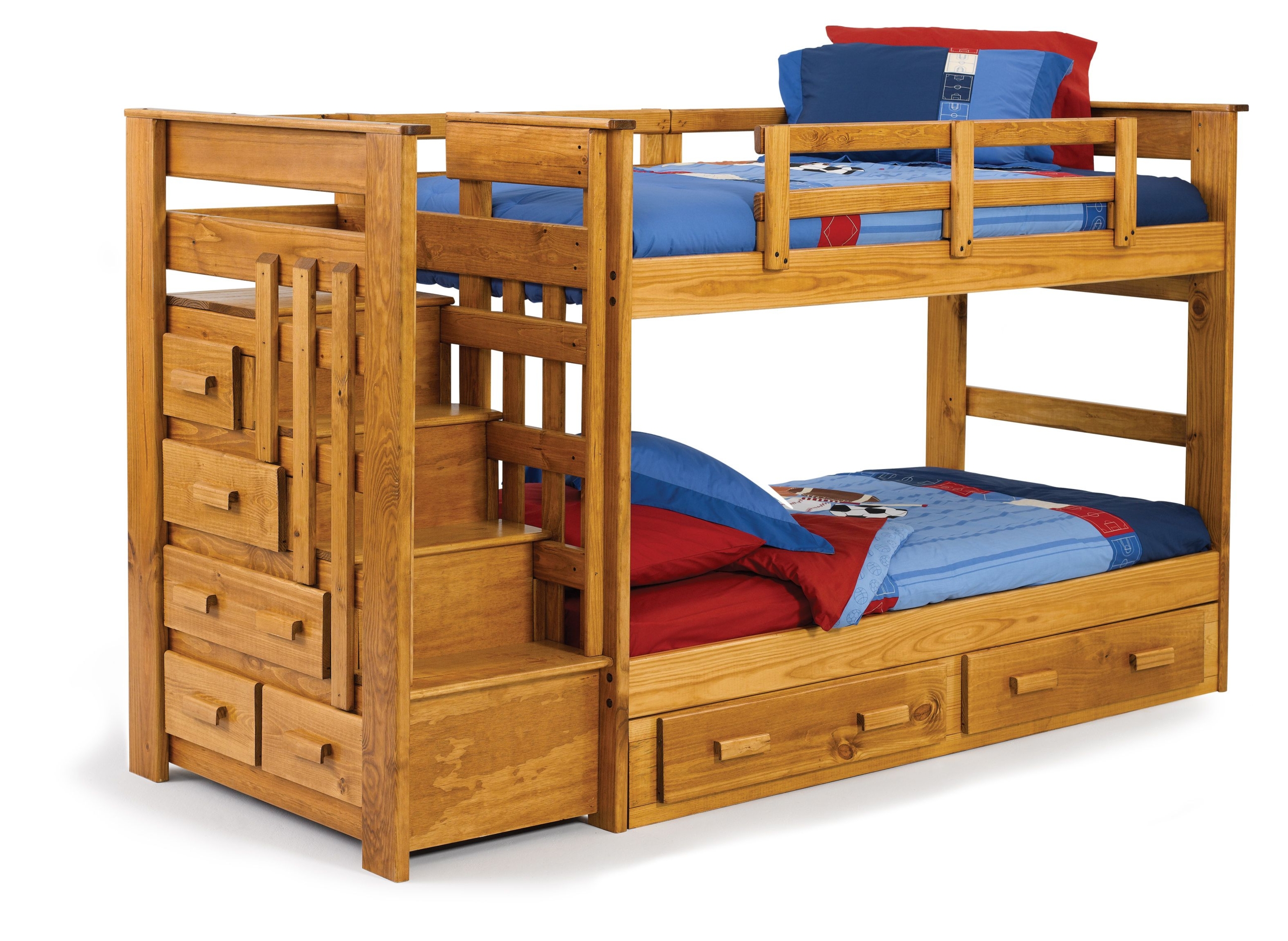 Every kid's dream! Youth stairway bunk bed! Made from solid wood, finished with delicate wooden pattern. It has 4 solid stairs and 7 drawers for extra storage space. Ideal for twin's room or siblings.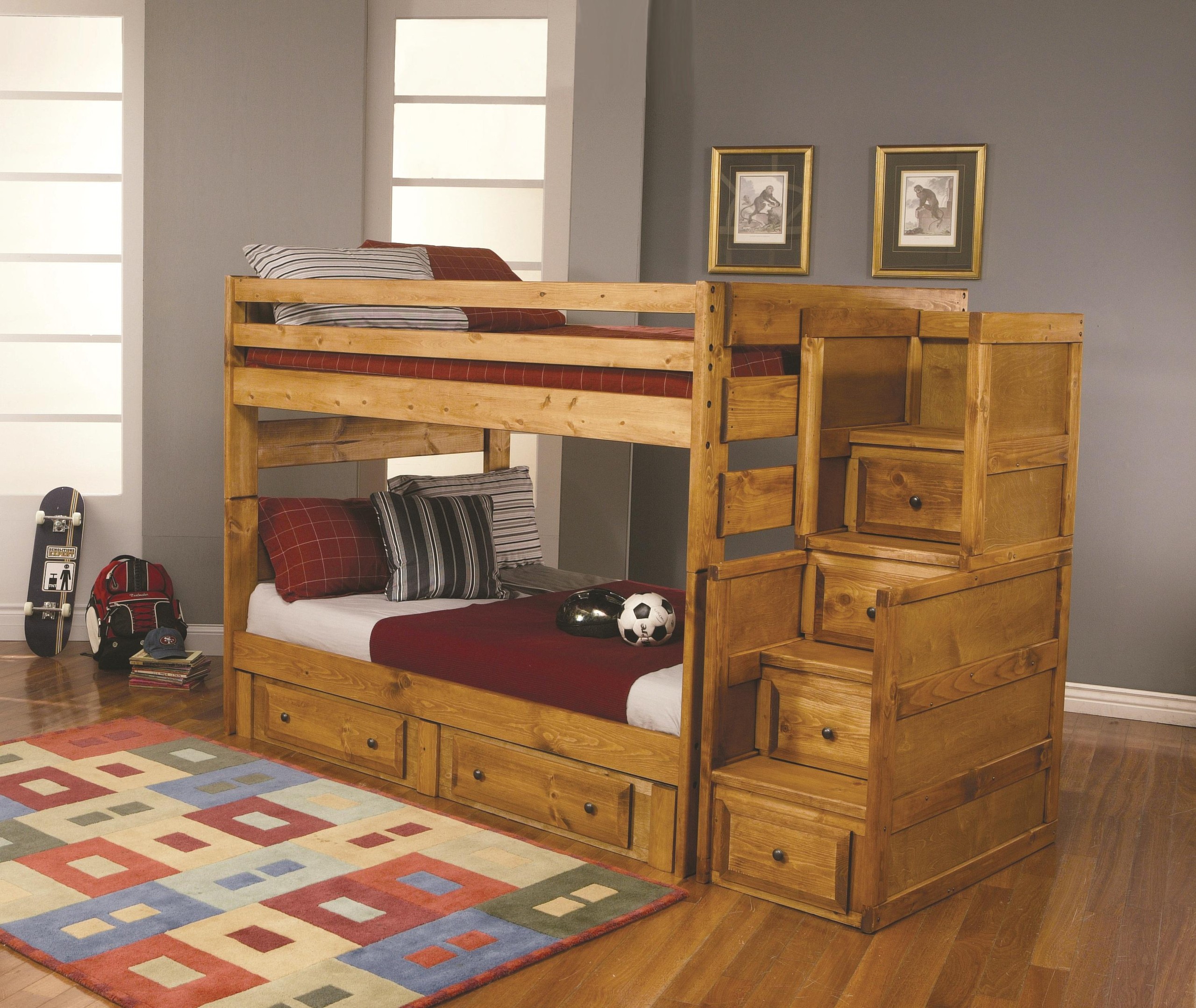 Magnificent Bunk Bed with Stairway Chest constructed from hardwood and covered in natural oak finish. The bed has few storage compartments consisted of a stairway chest with 4 drawers, and under dresser with two drawers.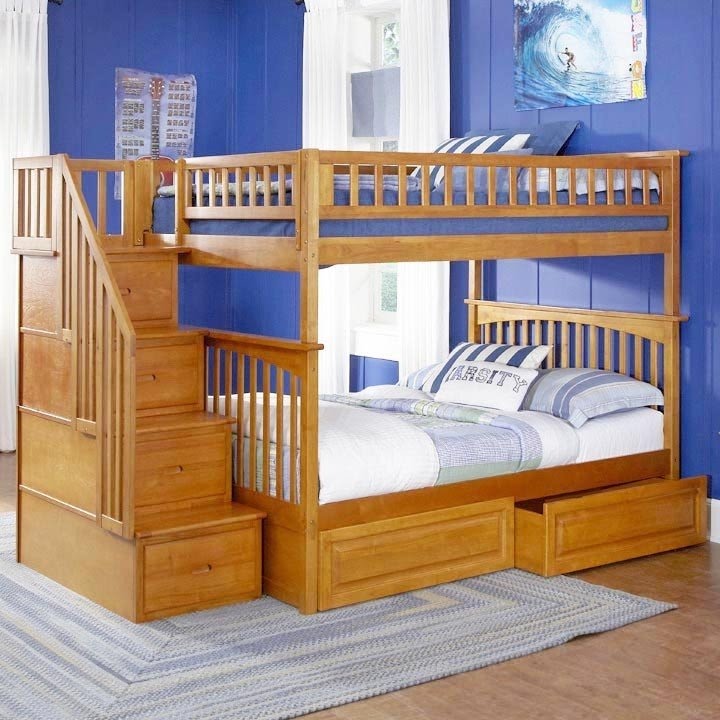 Top quality and highly functional bunk bed constructed from solid wood for longevity. The piece is finished in a glossed light brown finish and offers additional storage for your kid's room. There are two large drawers at the bottom and three more on the stairs.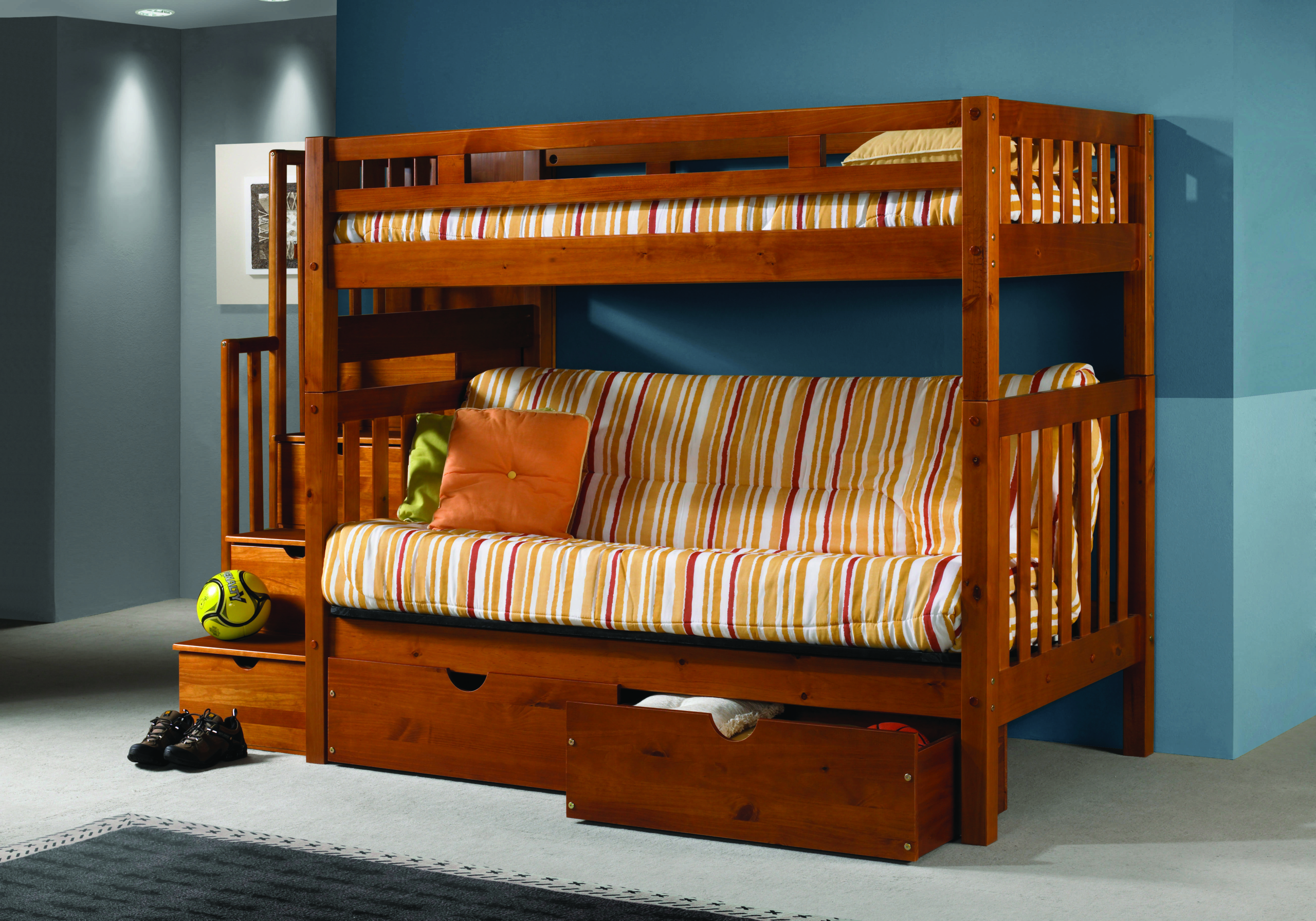 Where are we sleeping? In the same place! And still keeping our individuality. Made from beech solid wood - bunk bed with stairs contains also storage places, like drawers on the bottom or cabinets bulit-in stairs.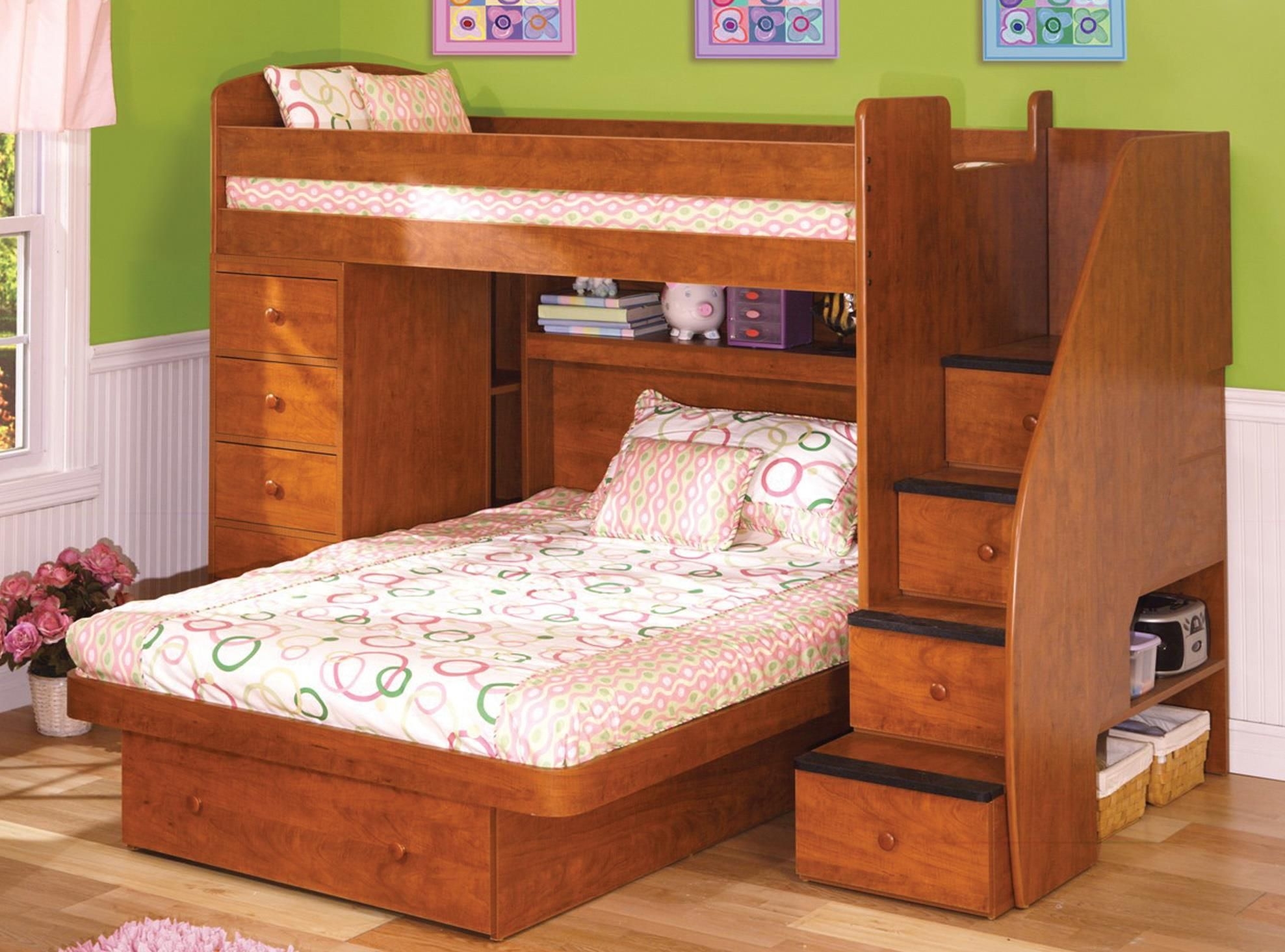 Berg Furniture Sierra Twin Over Full L Shaped Bunk Bed With Chest And Stairs
Wonderful solution for the families, who has many children, but not enough place to give them comfort while sleeping. The wide bed with the another bunk higher consume less space and built the community spirit.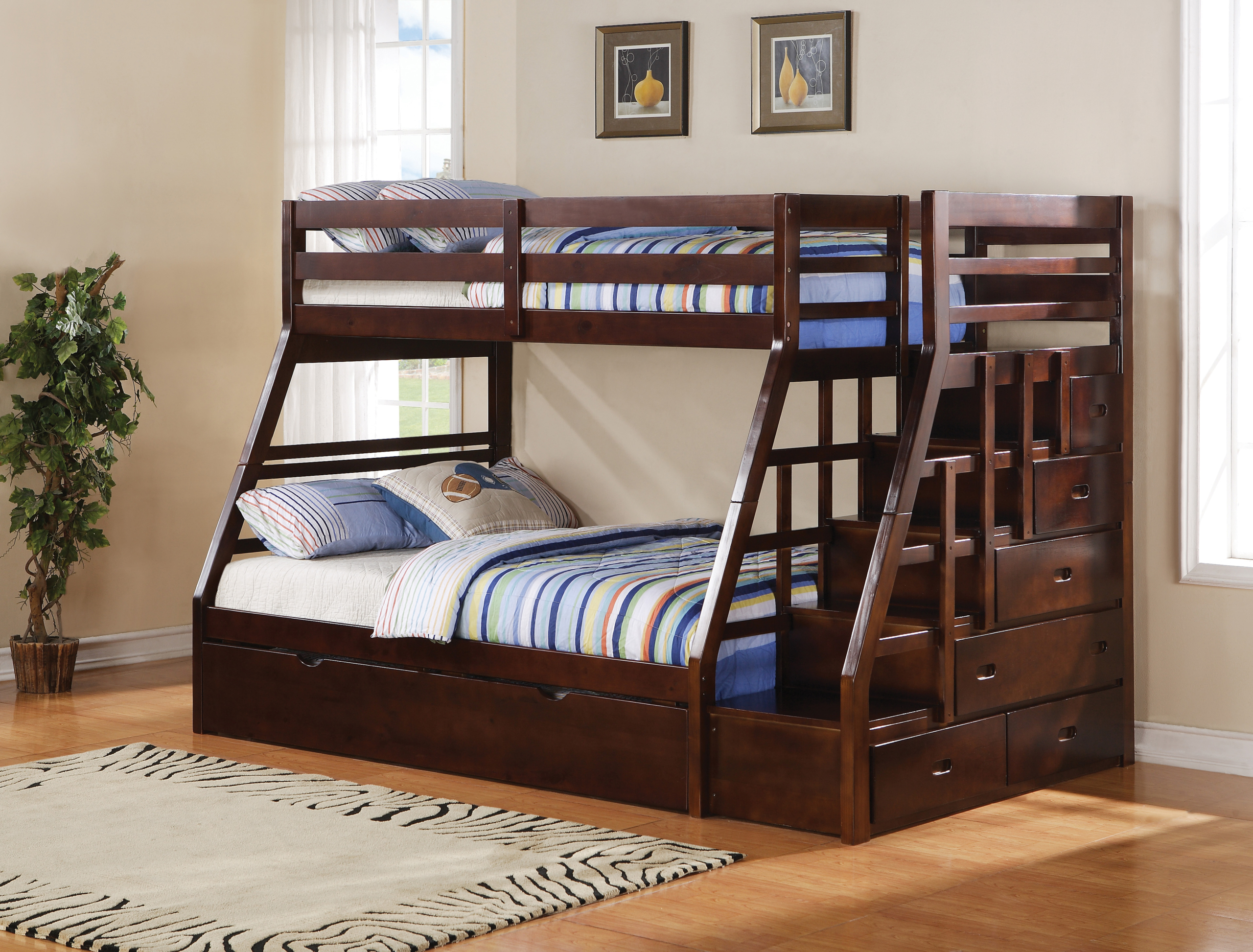 A classy and simple twin/full bunk bed in an espresso finish with additional space for storage - the stairs also serve as drawers, that can hold blankets, sheets etc. There is also a compartment for a quilt under the bottom bed.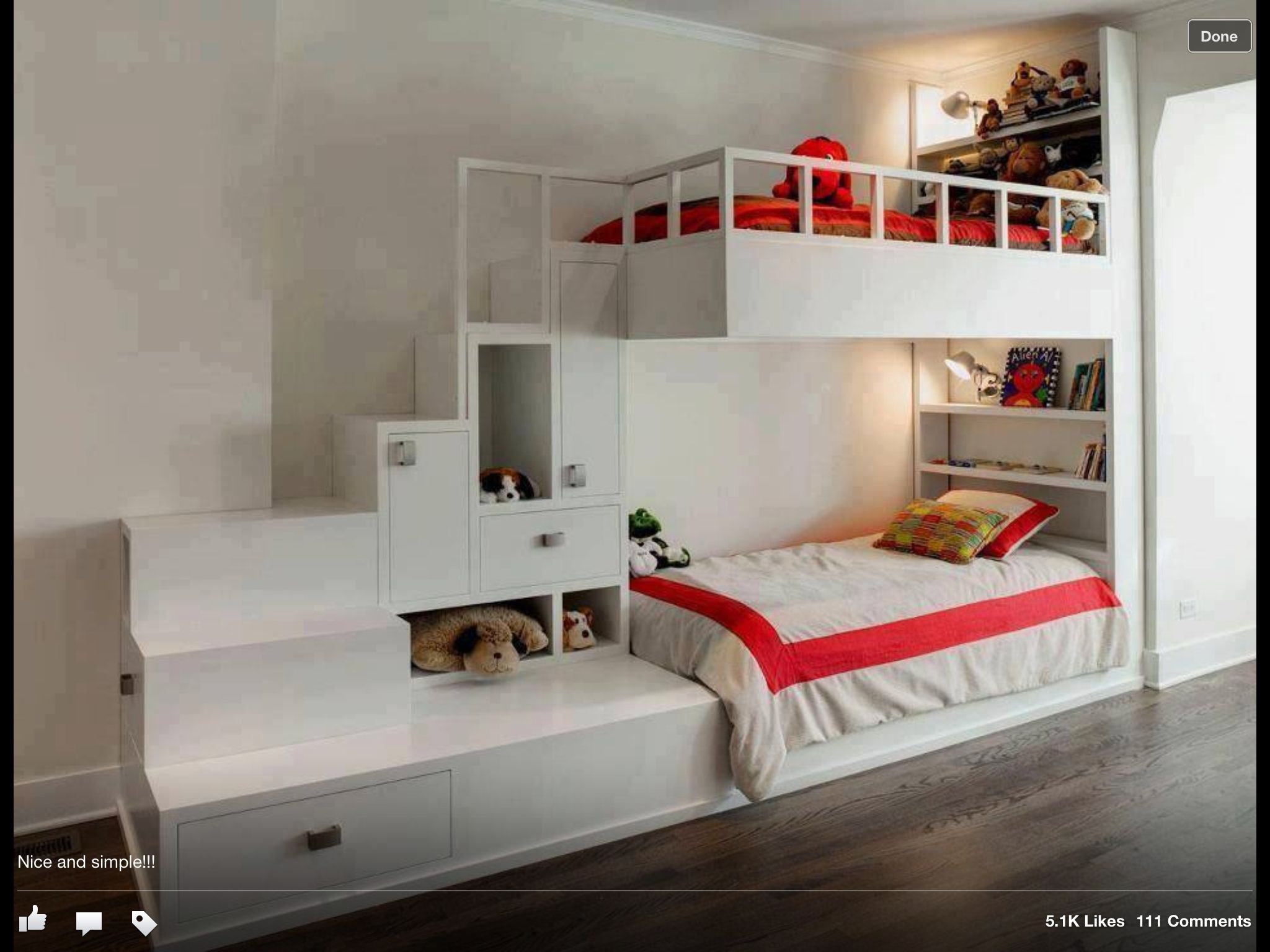 Bunk Beds With Stairs – Finding The Best Bunk Bed For Your Kids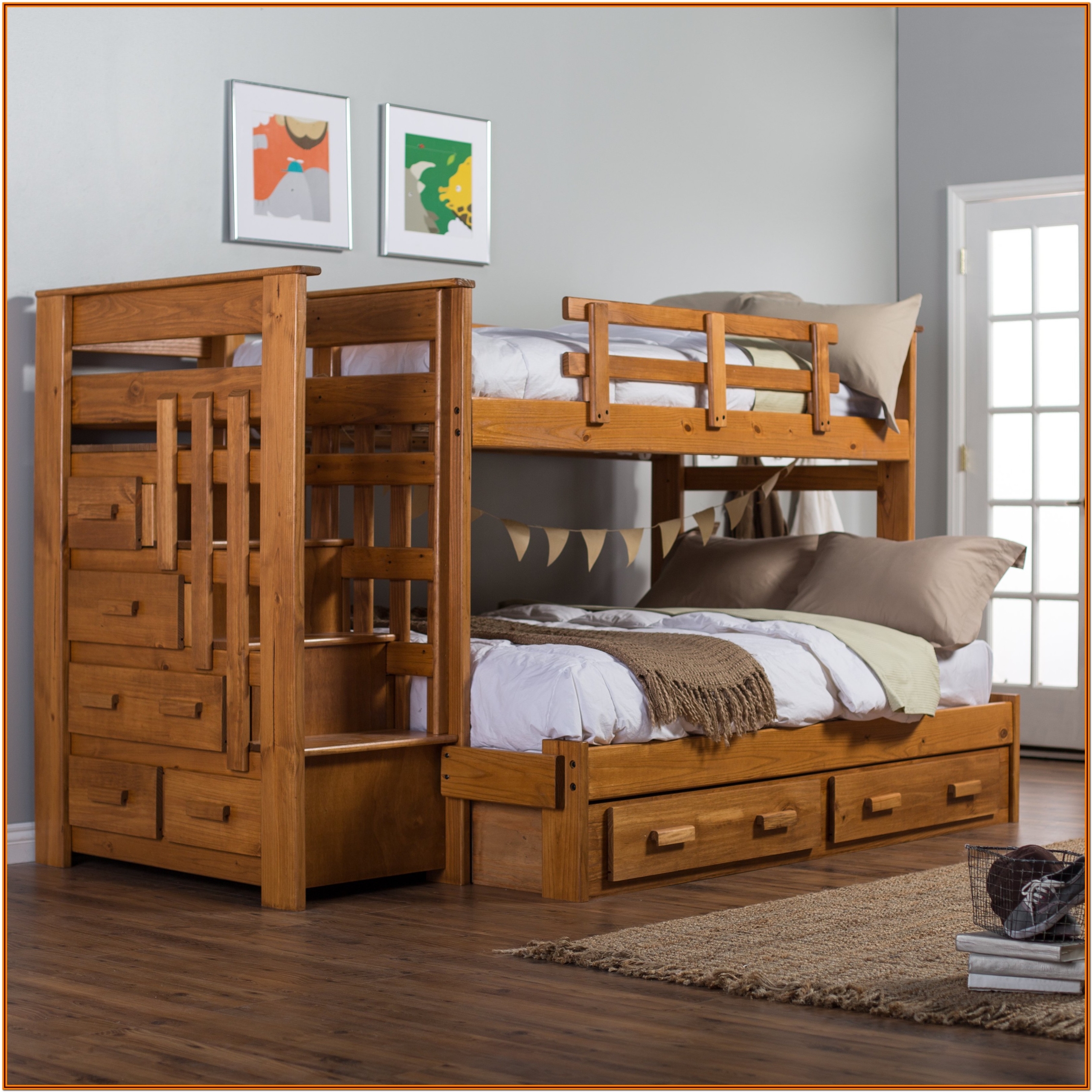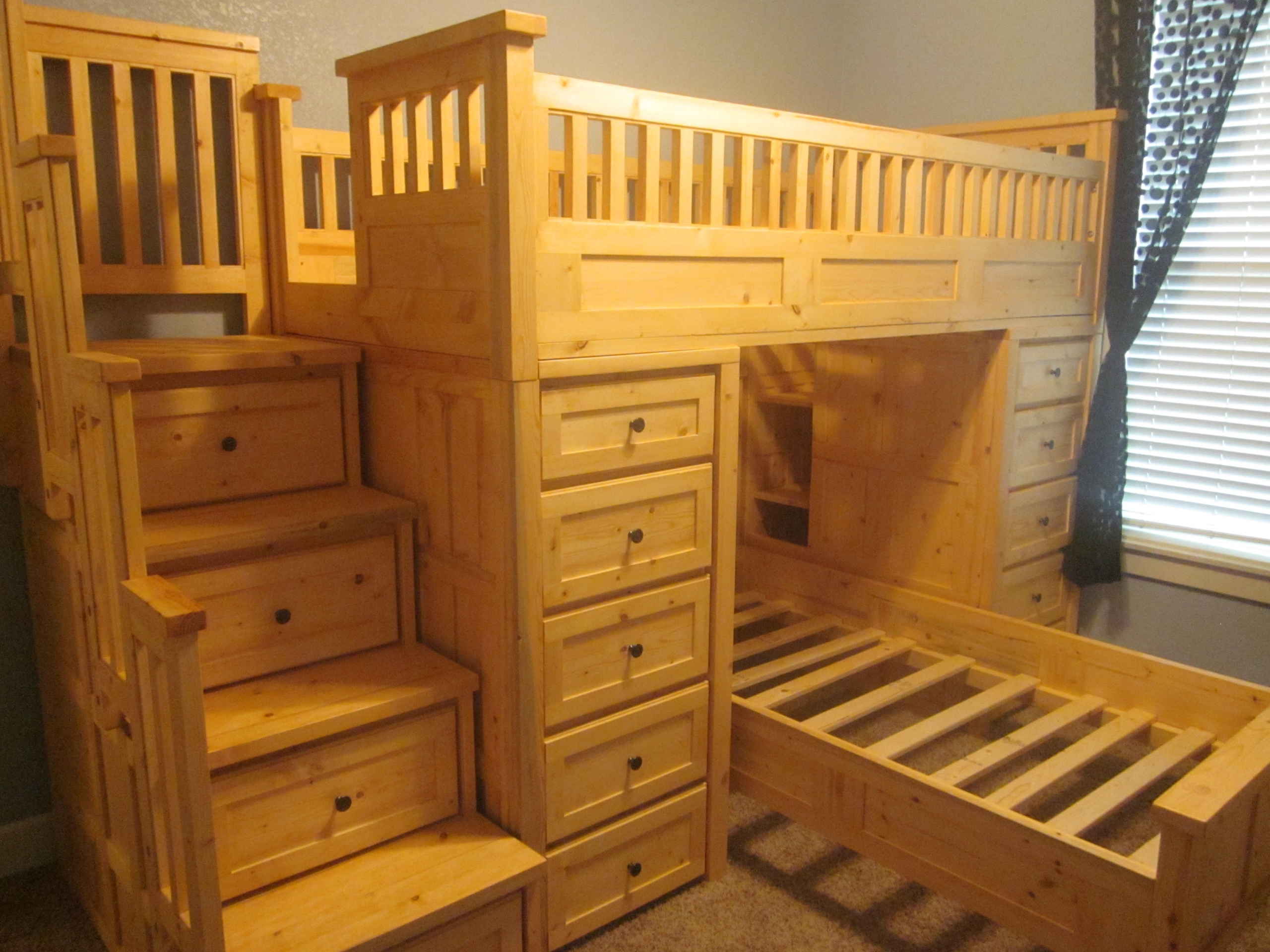 Large Twin Over Twin Loft Bed With Tons
If you like the charm and warmth of rustic furniture, this solid wooden bunk bed with stairs shall be a good proposition for your children's bedroom or guest room. The upper bunk is entered by stairs, while the lower is encompassed by drawers.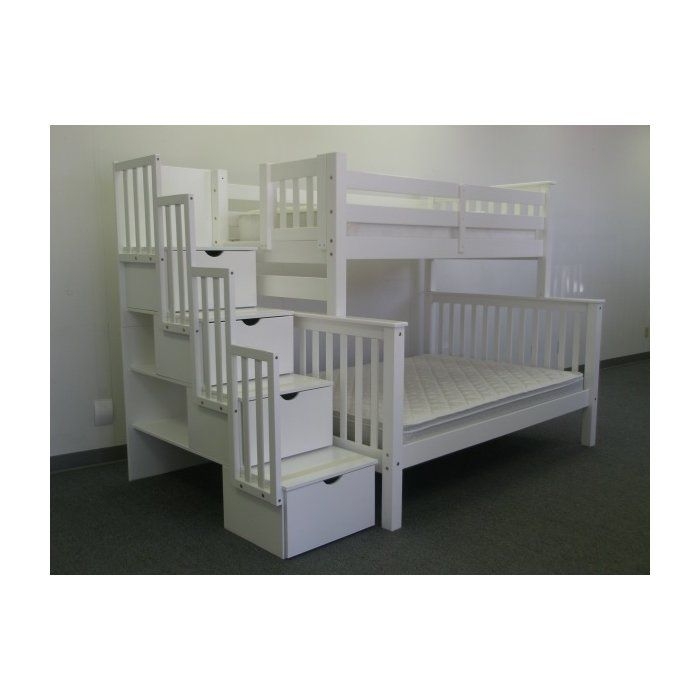 Highly functional and good-looking twin over full bunk bed with stairway revealing ample storage space. It is made of solid Brazilian pine which is sanded and has clean smooth coating to prevent cracks and splinters for long-lasting durability of the piece.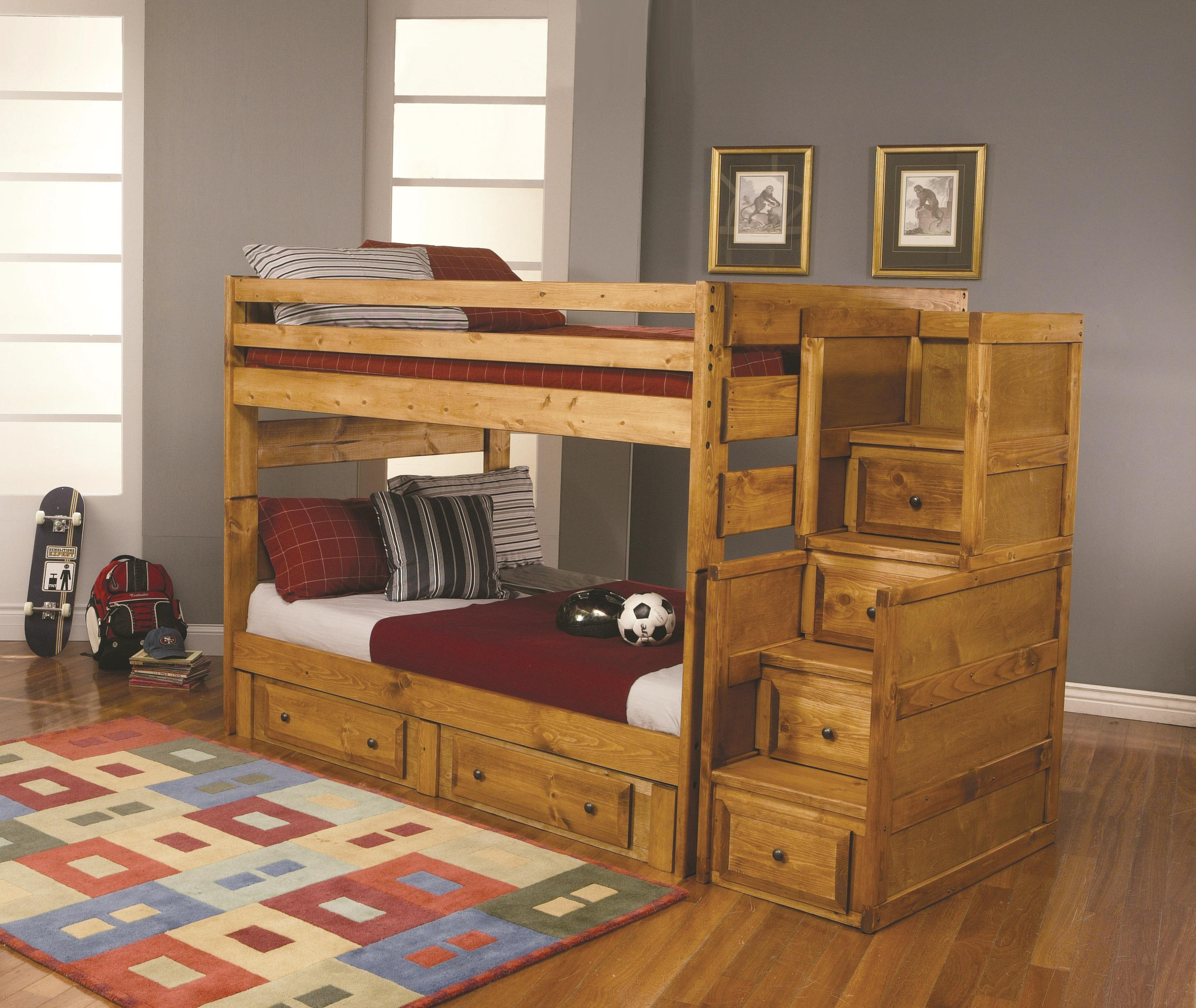 Amber Bunk Bed with Optional Storage and Stairway Full Over Full at | Coaster Company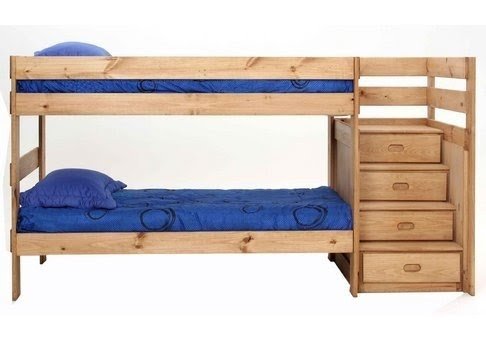 Simply bunk bed made from solid wood for your kid's bedroom. With stairs, which prevent falls perfectly fit in small bedrooms. What's more the stairs has hidden drawers for storage, which helps teach children keeping order.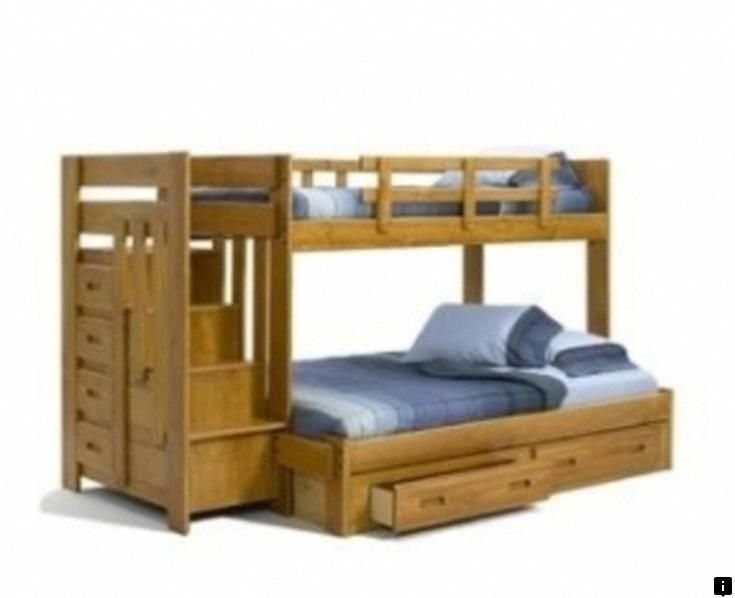 Twin/Full wood bunkbed with storage. $800 I would want just twins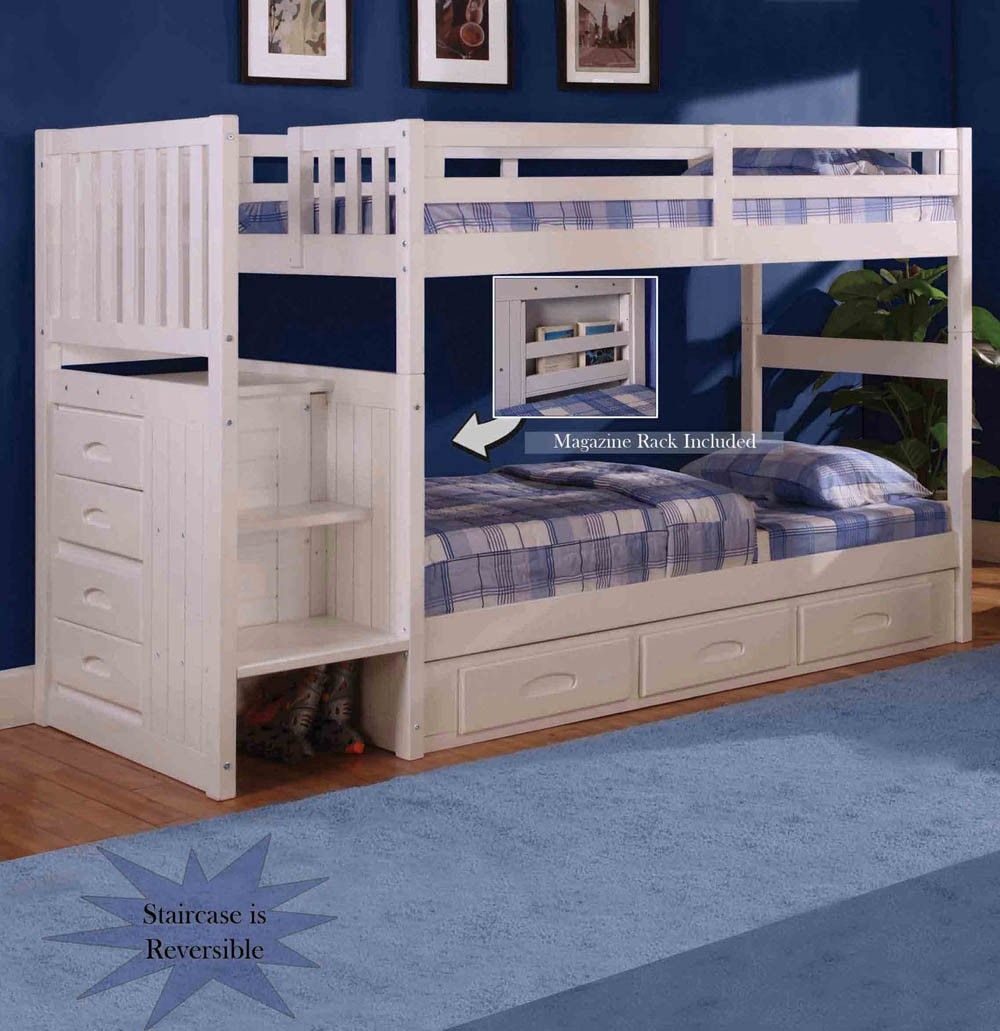 A staircase bunk bed with a staircase and 3-drawer storage, that comes in a neutral white finish offers a lot of extra storage space and the solid, sturdy construction ensures the durability and comfort. It's also sharp corner free for additional security.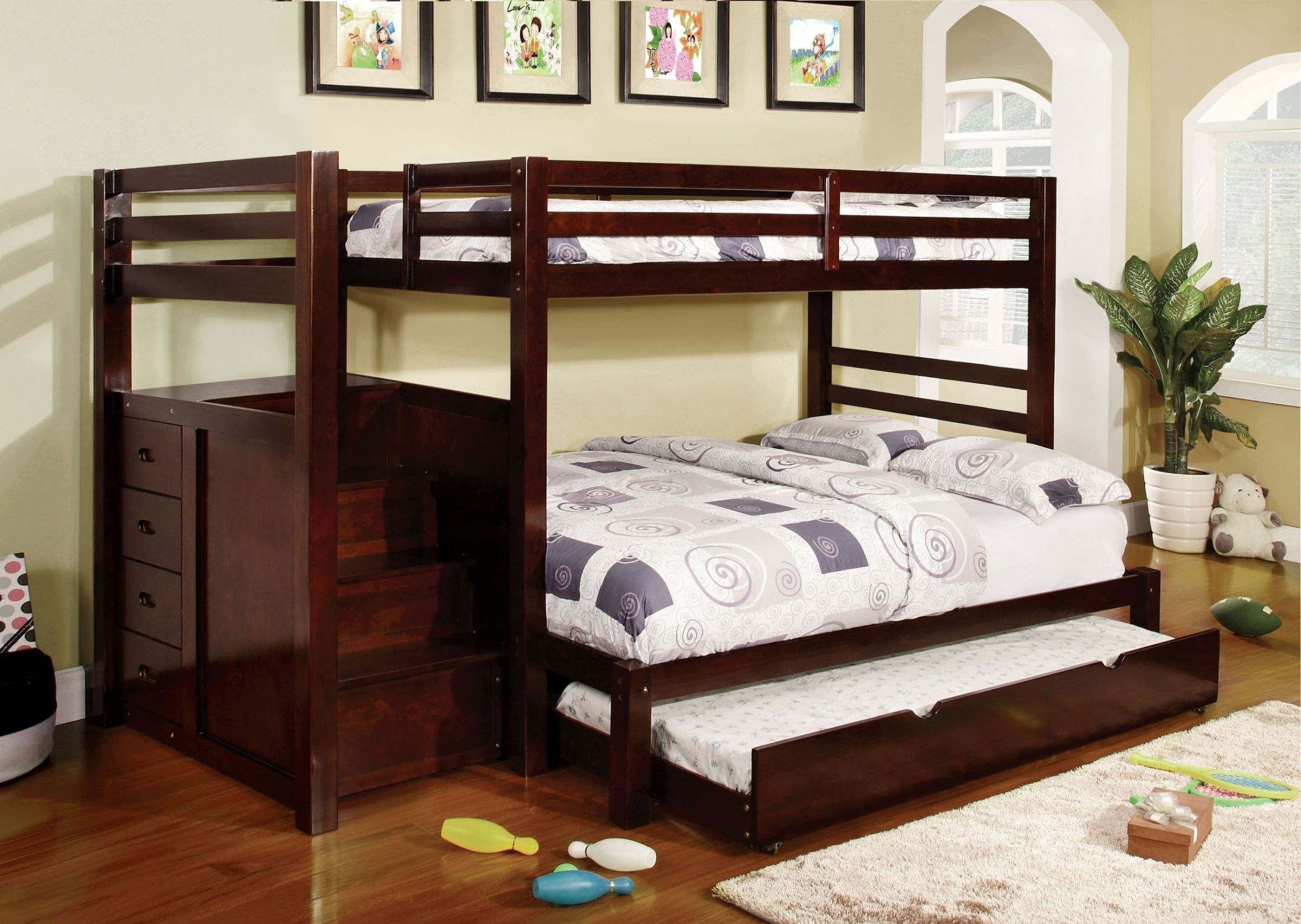 twin full bunk bed cm bk966f $ 469 twin full bunk bed w built in steps ...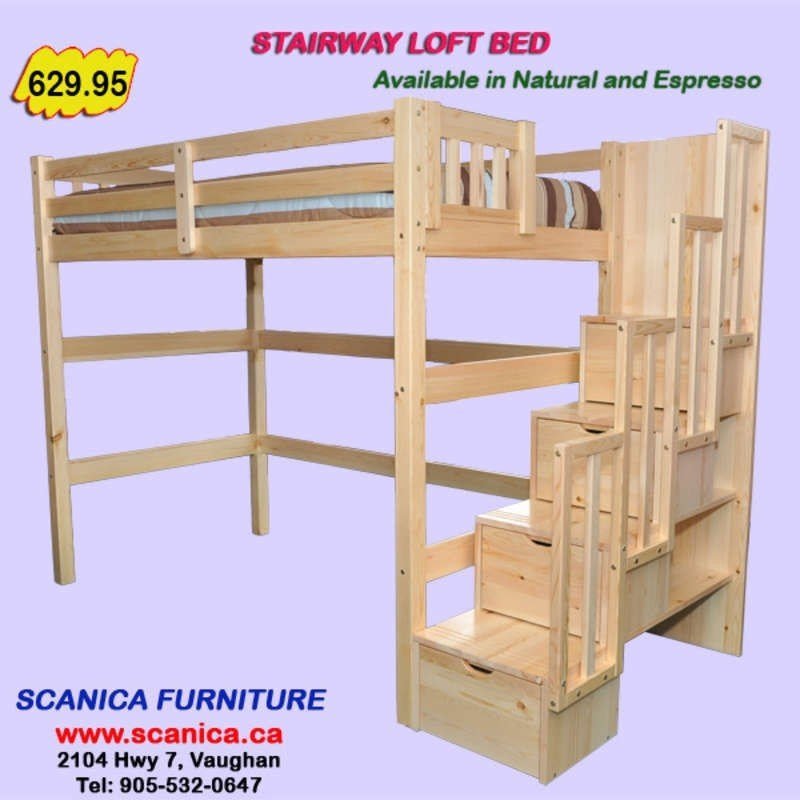 A large loft bed with a lot of free space underneath the top. The bed is made out of solid wood with a natural finish and has a set of drawers inside of the stairs, which provide the piece with a little more storage space.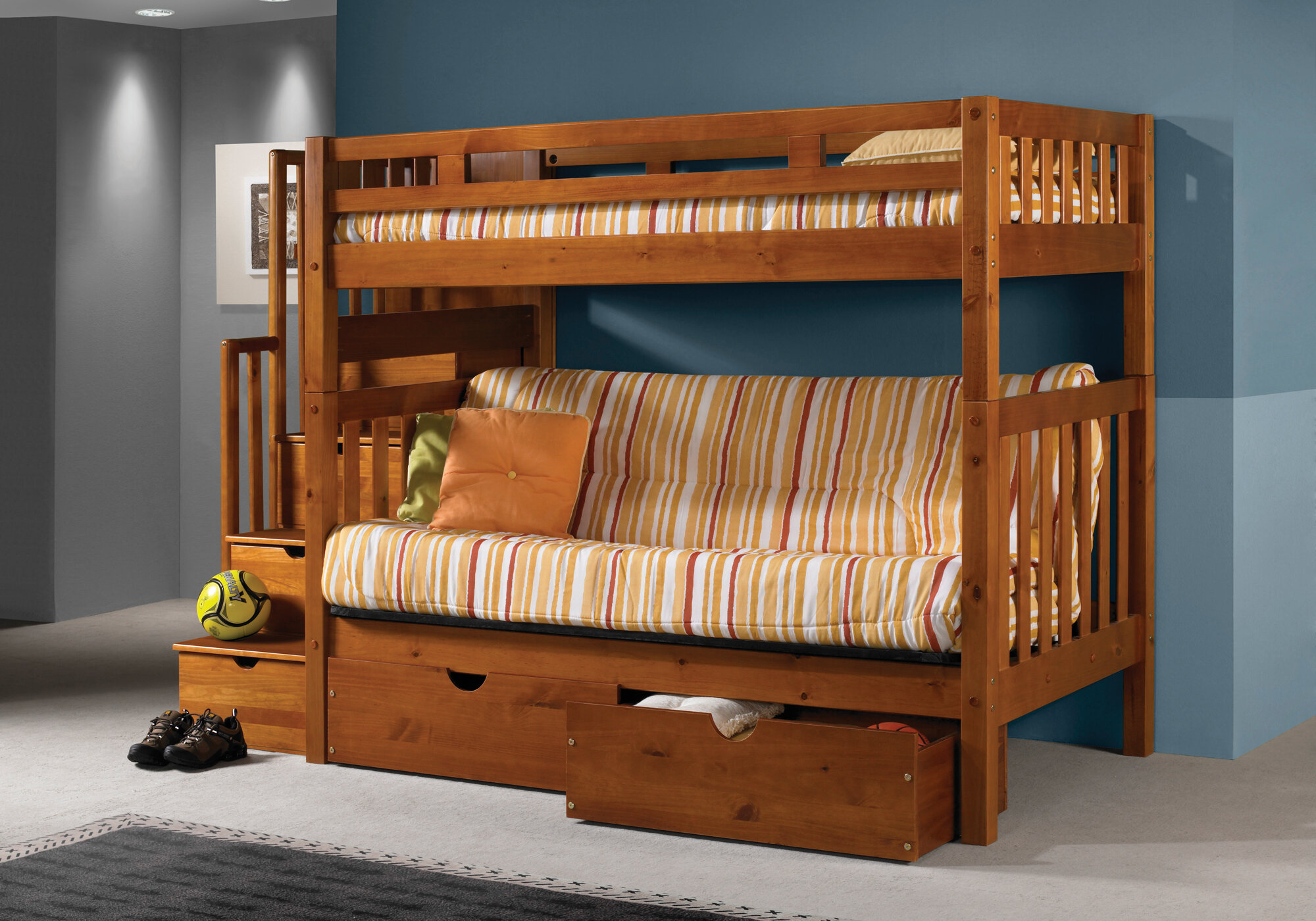 Bunk bed with stairway, which provides easy access to the top bunk as well as additional storage space, because each step is a drawer, and storage drawers in the main construction. Whole construction is made of solid wood.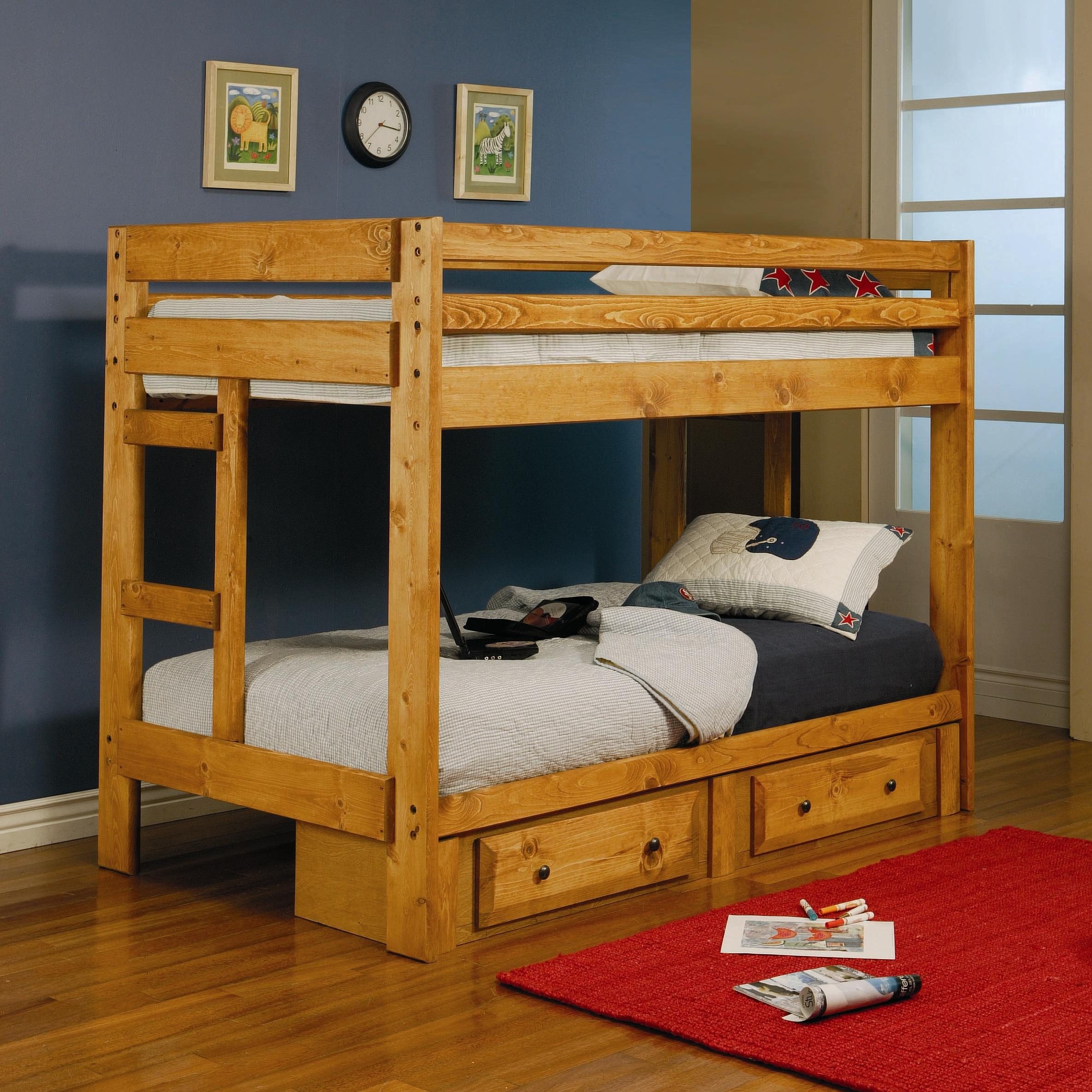 Amber Solid Wood Bunk Bed with Stairway Chest Twin Over Twin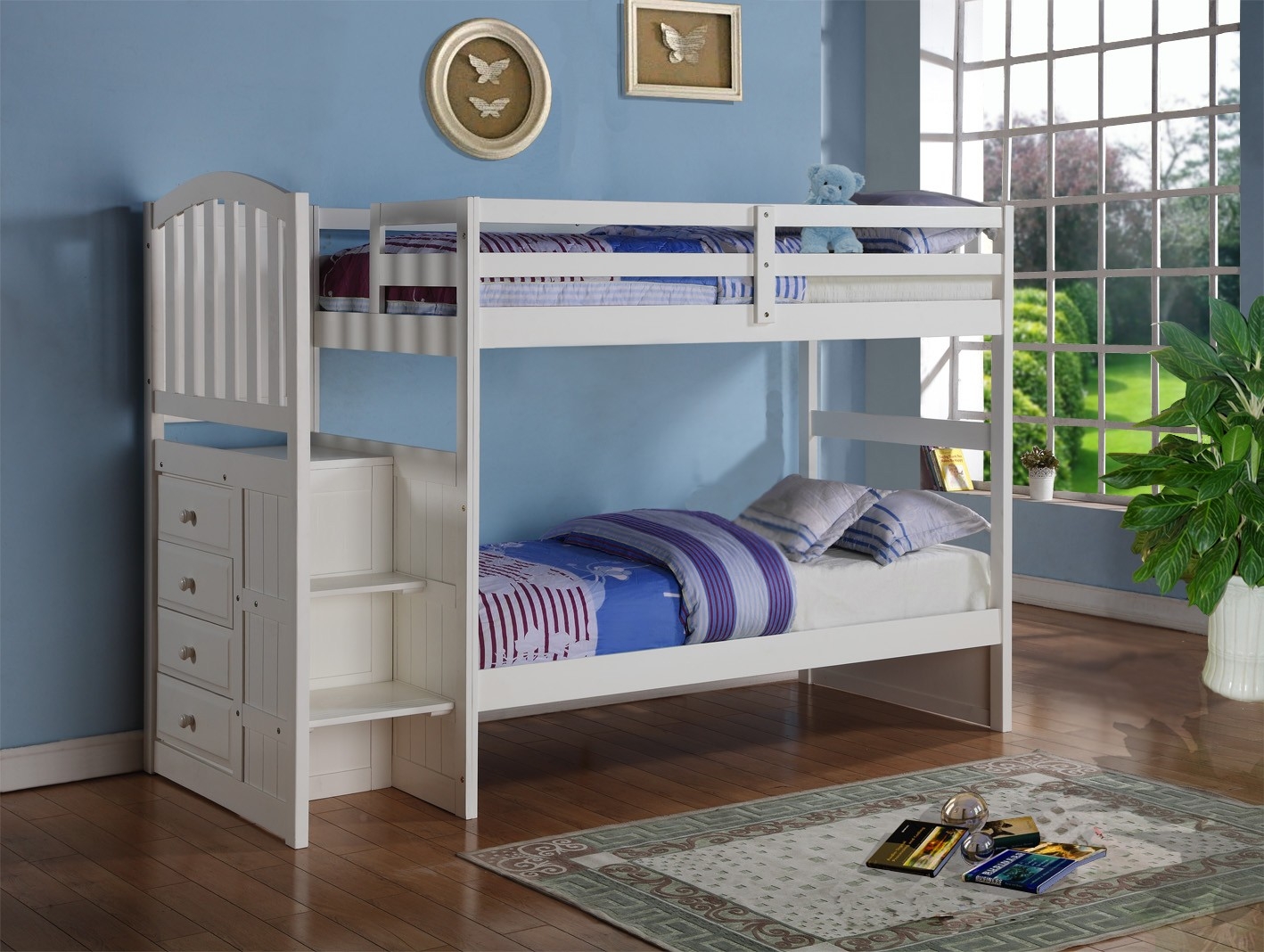 A charming and practical bunk bed for your children's bedroom. It is characterized by two comfy beds and safe stairs. There is also extra storage space in drawers hidden in the stairs. A simple, but elegant design.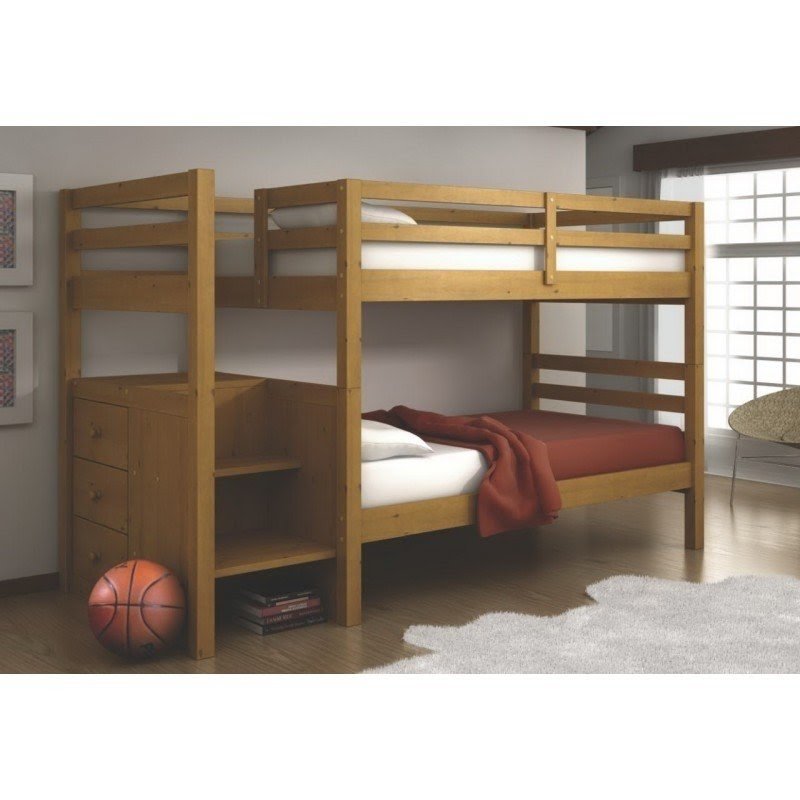 Stairway TwIn over Twin Wood Bunk Bed - 100H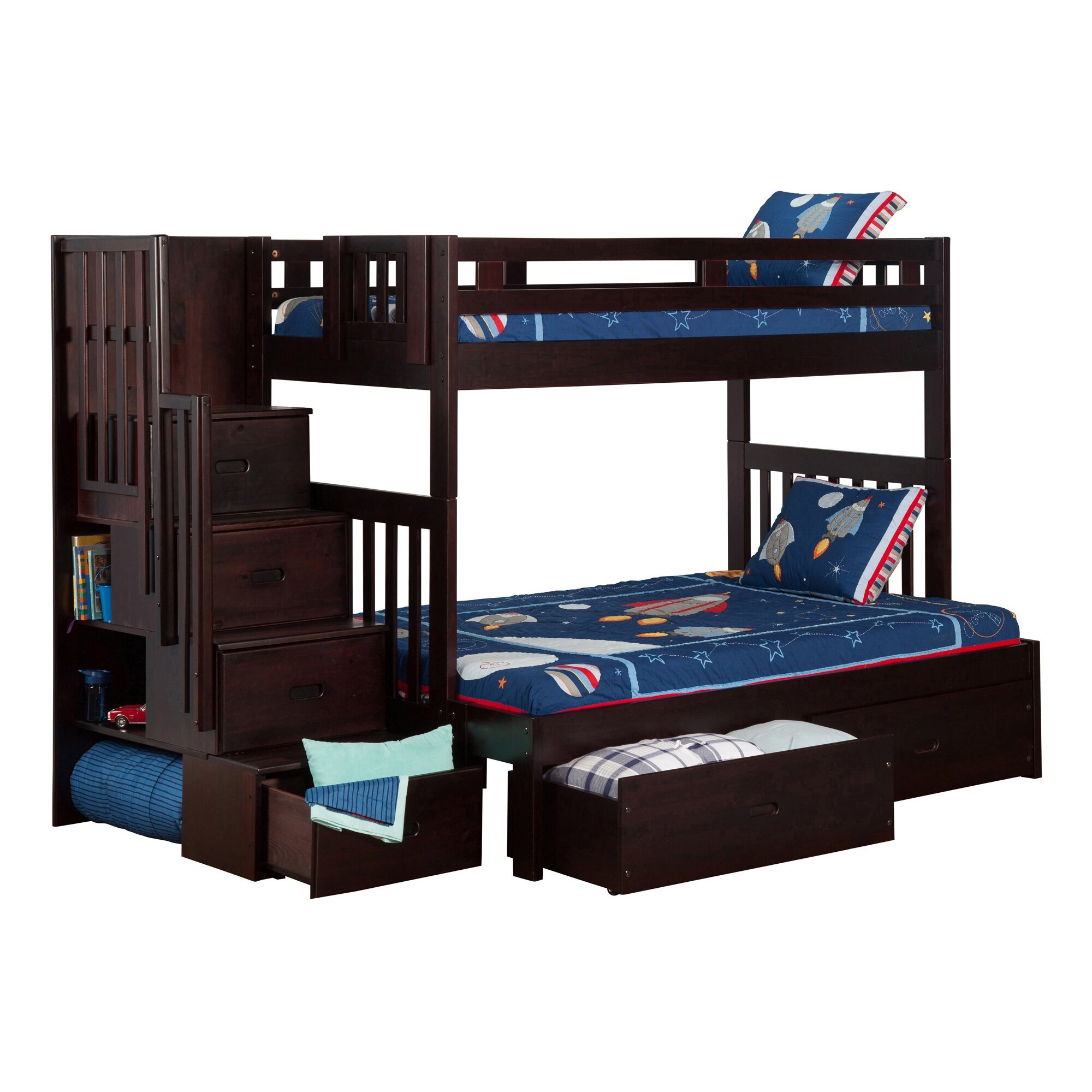 Practical and stylish bunk bed is ideal for siblings. The bed consists of two beds. One is at the bottom, the other is at the top. At the same time, the stairs leading to the upper bed are drawers, which can hold many treasures.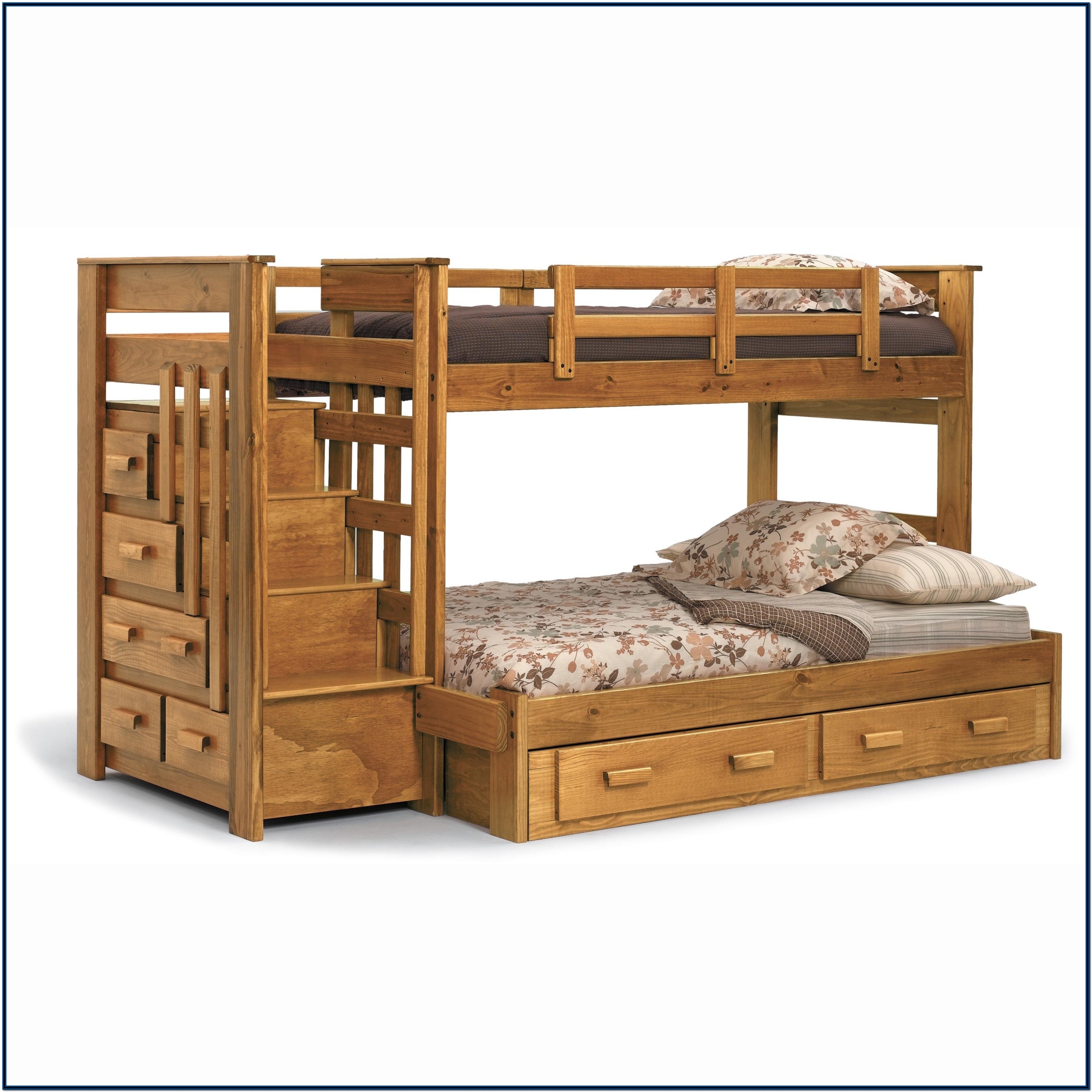 Twin over Full Standard Bunk Bed with Stairway Chest and Underbed Storage
Even if having the twins is a big luck, preparing the space for them is harder. This full standard bunk bed has been equipped with two full-size beds, the stairway with the chest inside and additional underbed storage.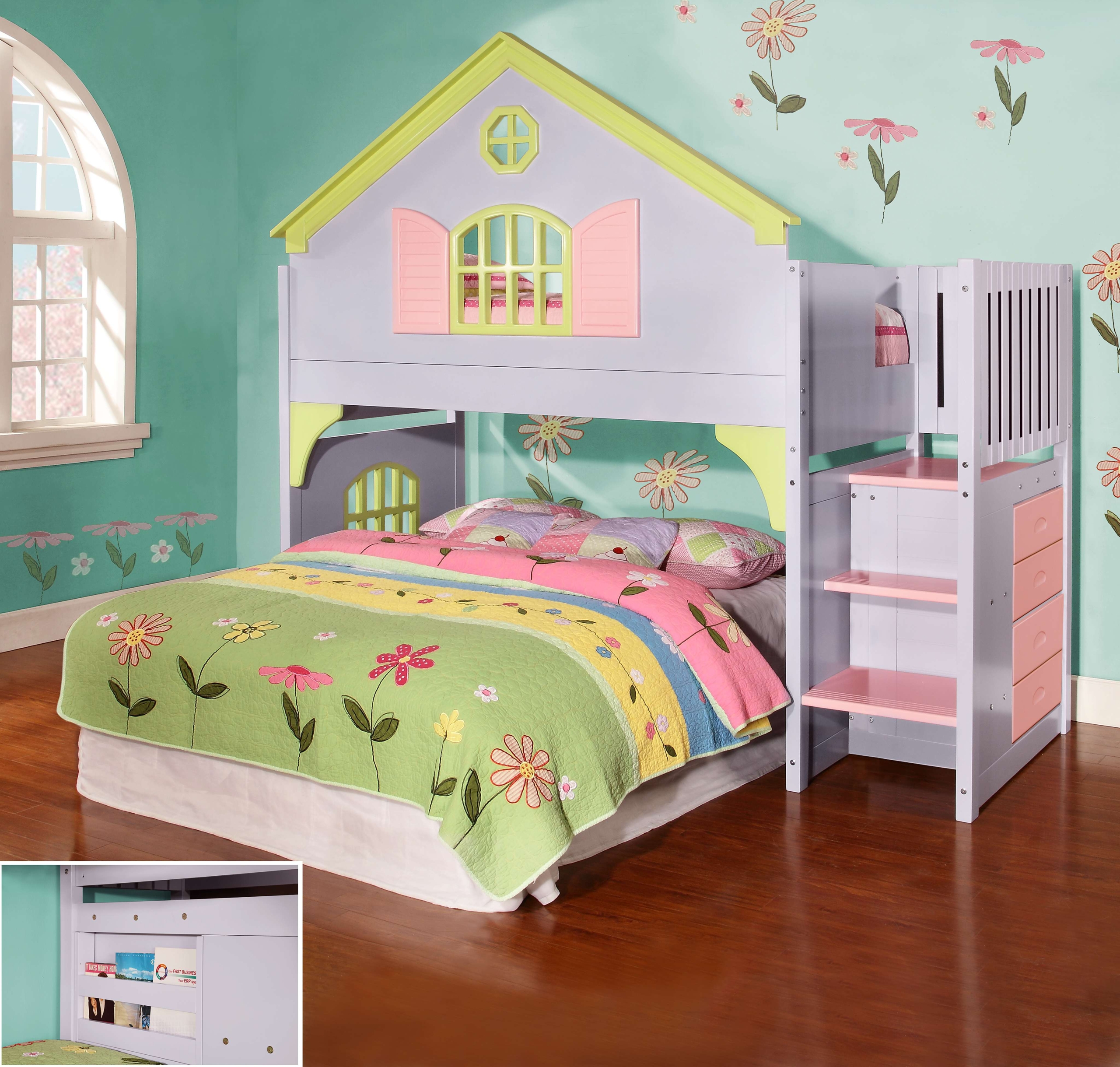 Has you little one been asking for a doll house? What about this doll house stair step loft? It's built to last with 100% Solid wood and we always ship free. All this for only $1,298.00 Check us out at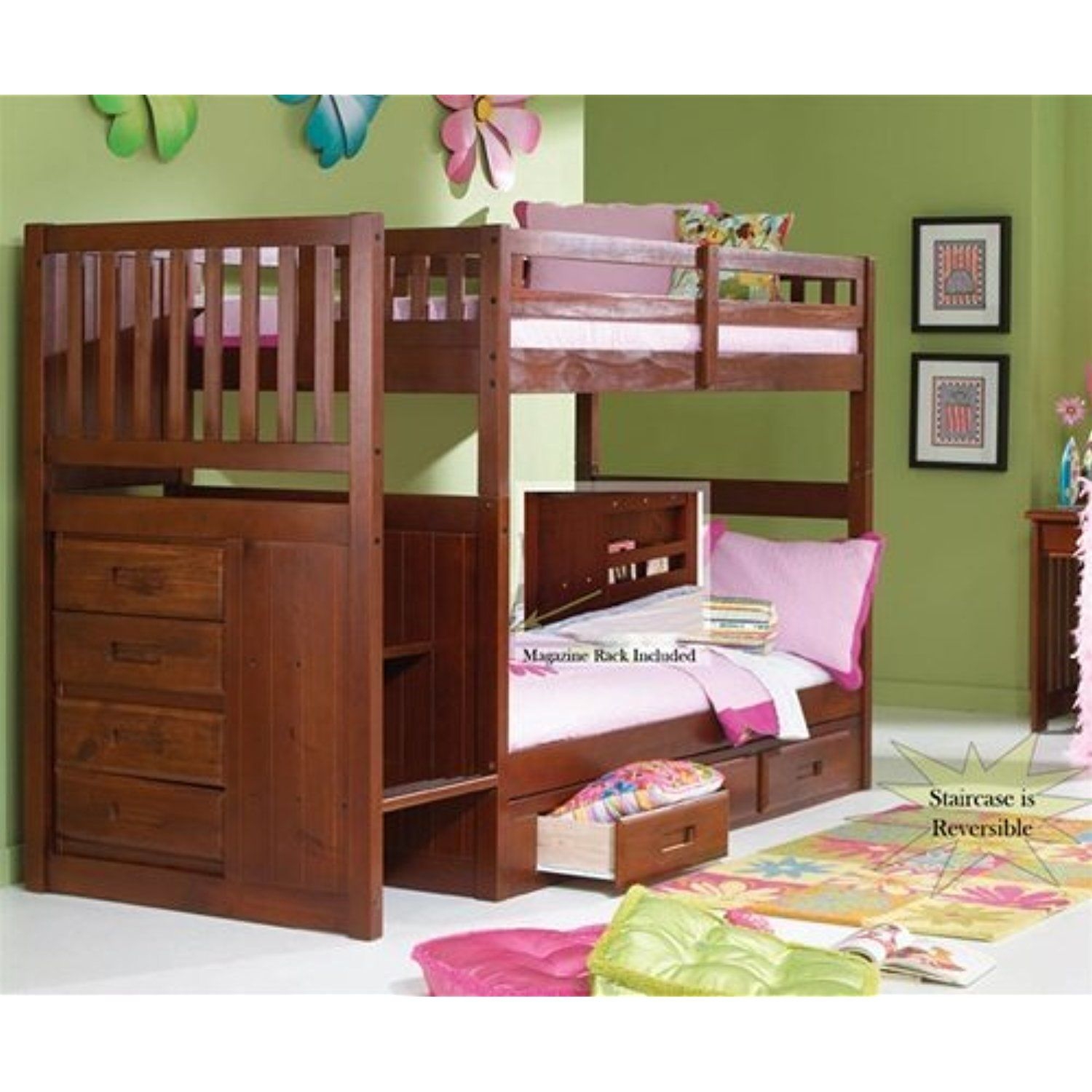 This bunk bed features three drawers and has been made of solid wood. It is a good solution for smaller spaces - when you don't have enough room and you want to utilize all that you have in a great way. Your children will love it!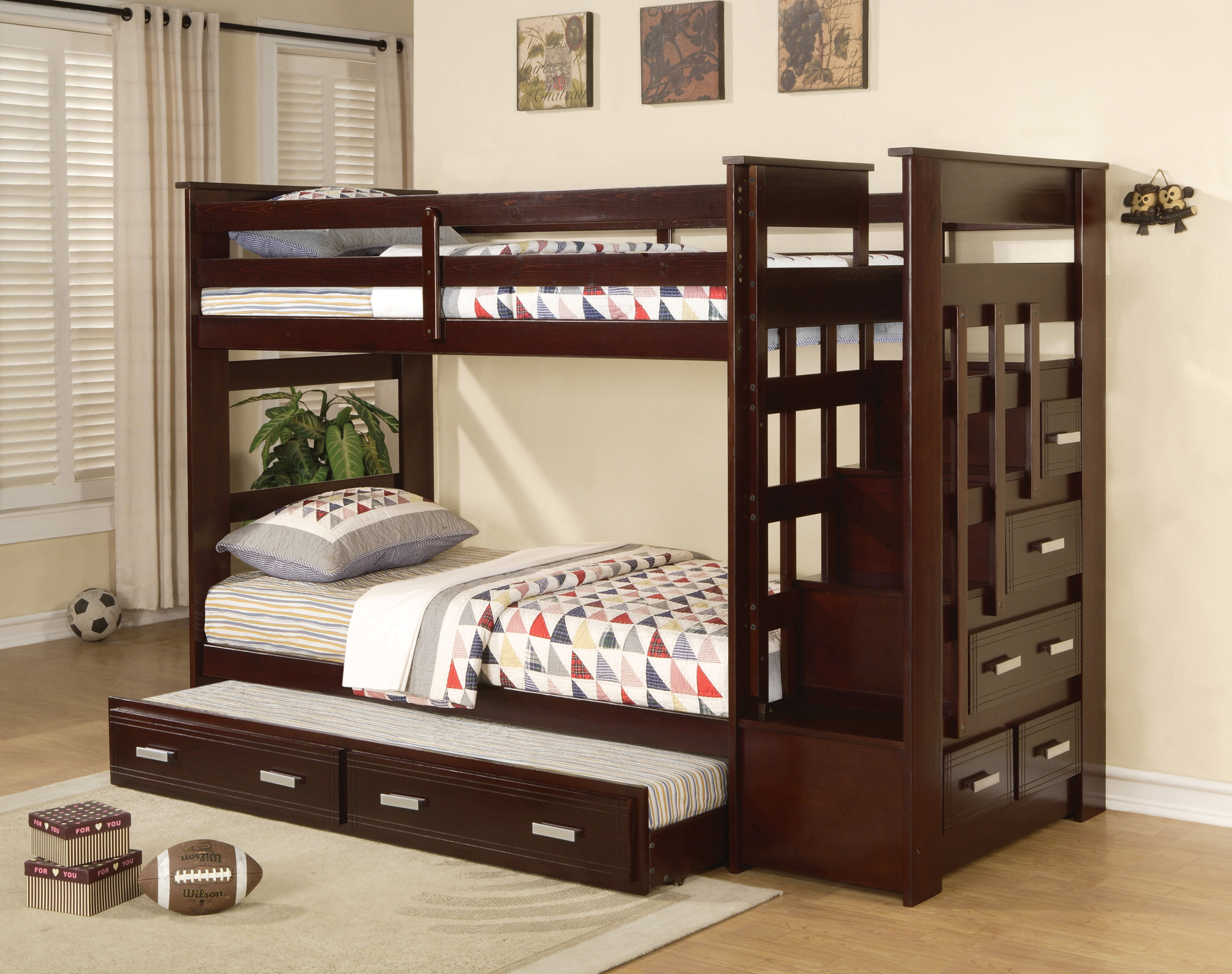 Allentown Twin Over Twin Bunk Bed Espresso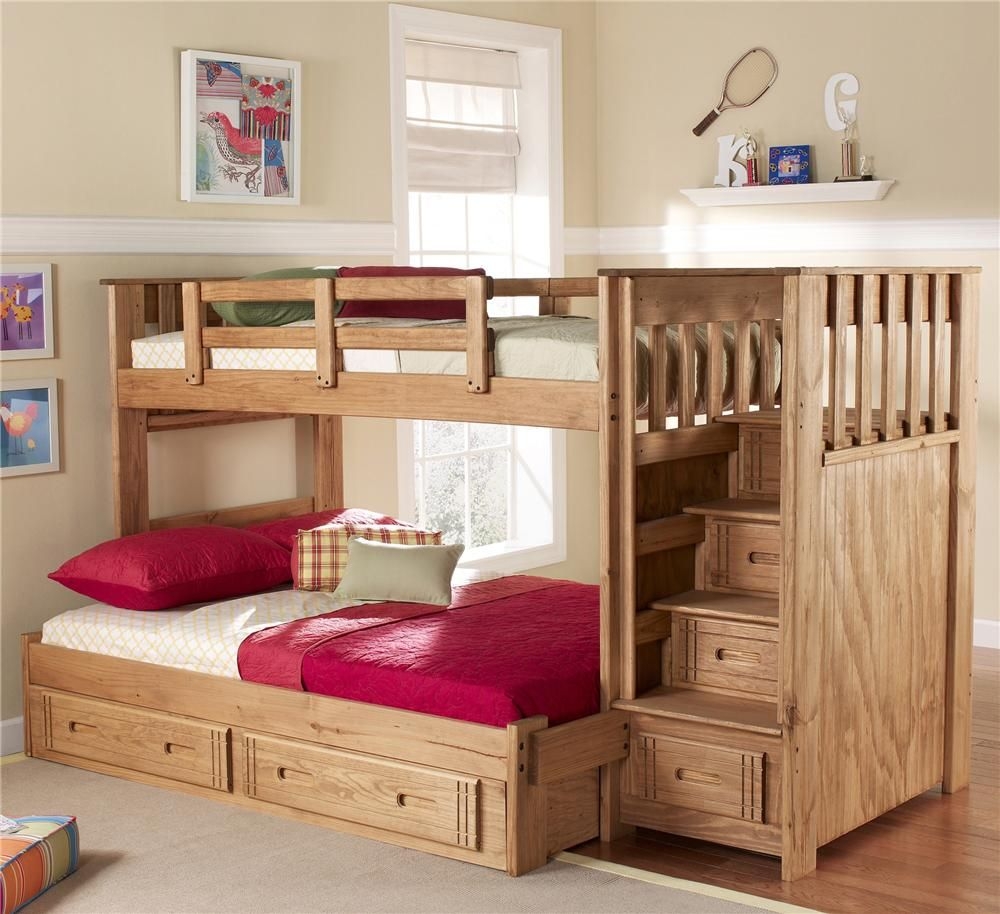 Twin over Full Standard Bunk Bed with Stairway and Underbed Storage
This Twin over Full Standard Bunk Bed with Stairway & Underbed Storage is going to revolutionize any kids' room while making sleeping time much more fun. The set includes stairway with fixed storage drawers, and large storage area under the lower bed.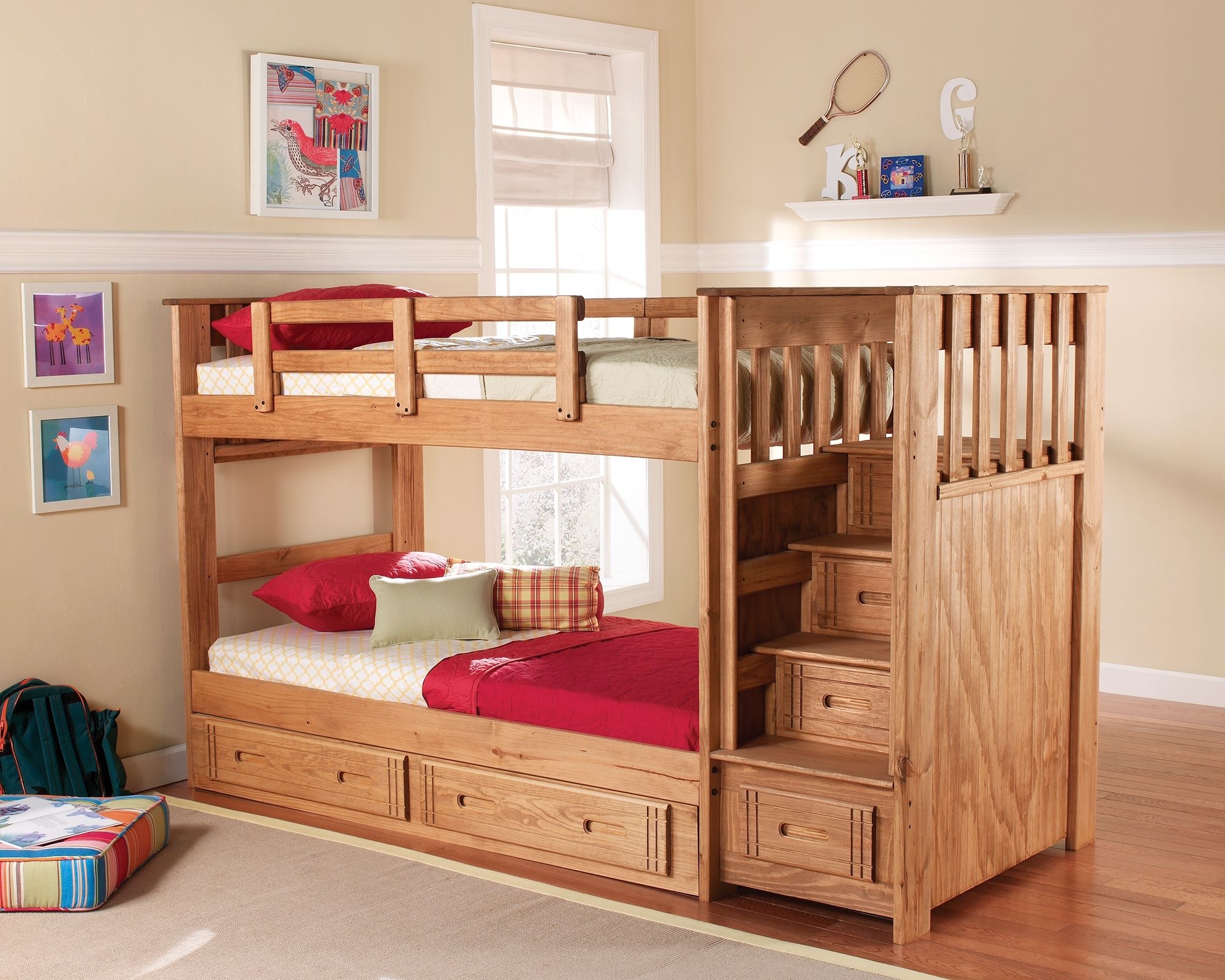 Twin over Twin Standard Bunk Bed with Stairway and Underbed Storage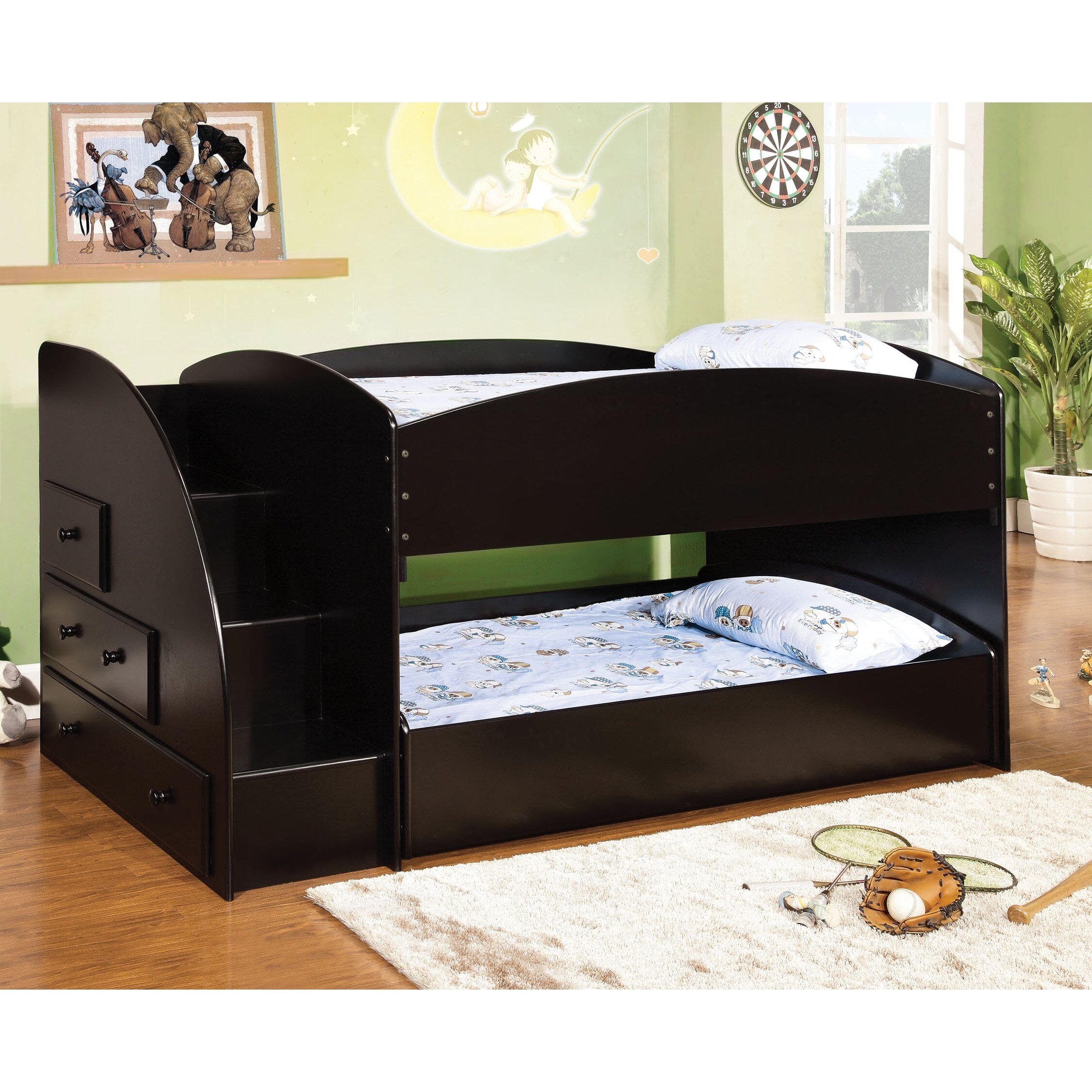 Youth Kids Wood Black Low Profile Twin Twin Loft Bunk Bed W Step Stair Drawers
A cool contemporary bunk bed of glossy black-finished wood. It features full subtly arched headboards, footboards, sides (a lower bed has straight sides) and stair rails. A 3-step staircase features 3 built-in size-varied drawers with mushroom pulls.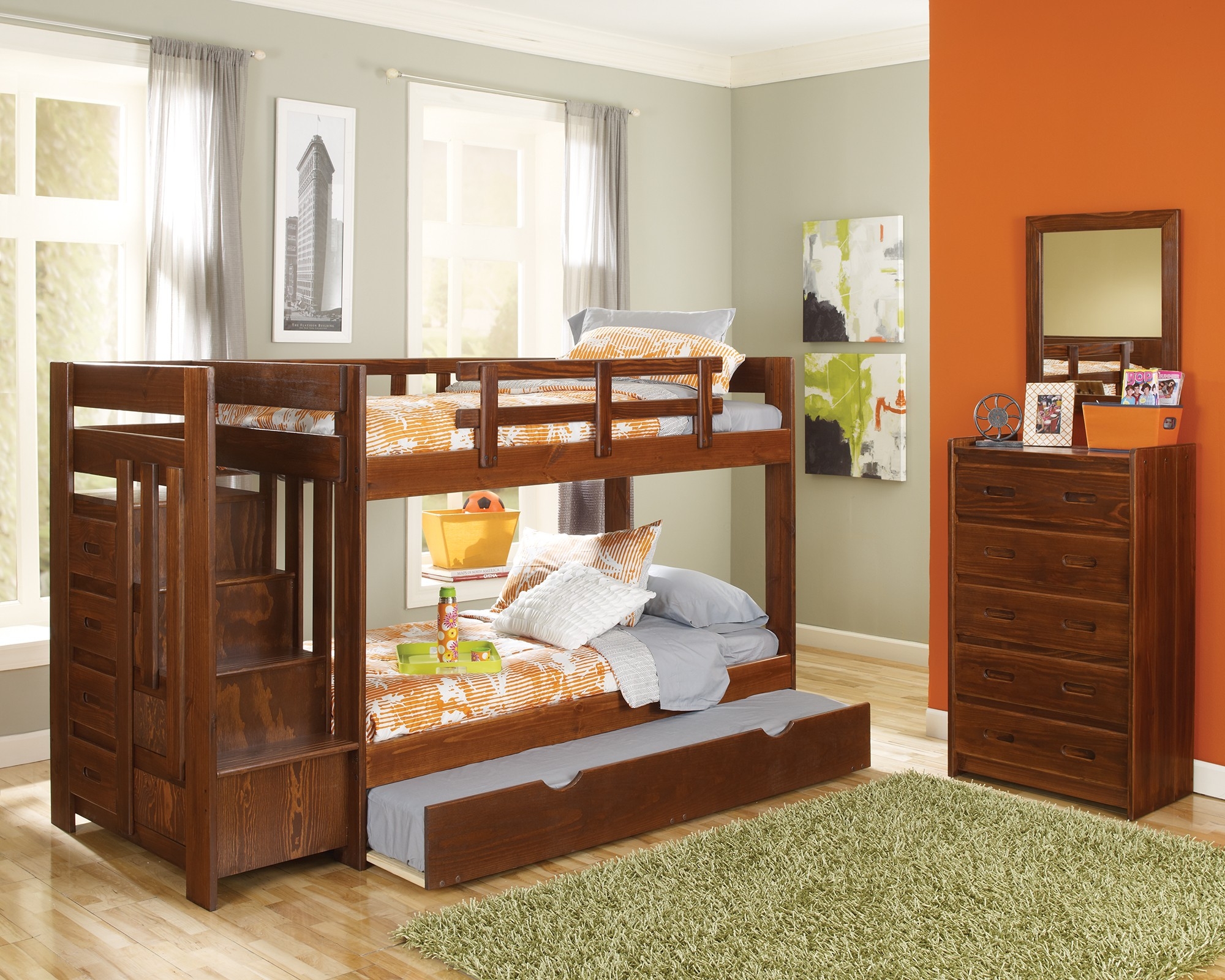 Twin over Twin Standard Bunk Bed with Reversible Stair and Trundle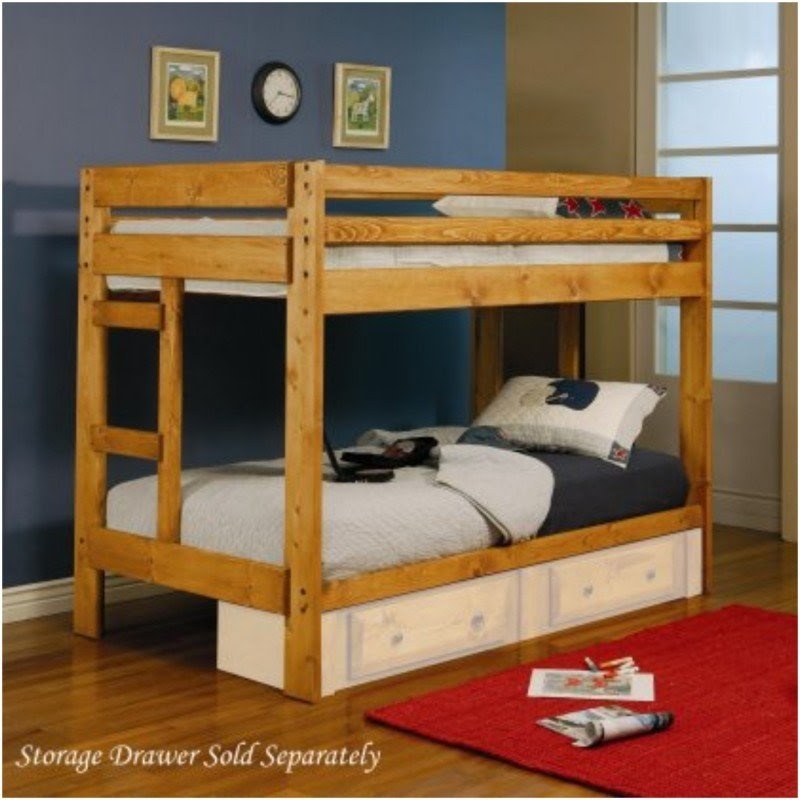 This rustic bunk bed distinguishes itself with solid pine construction, guaranteeing durability and Amber Wash finish offers a sense of warmth and comfort. According to its safety regulations, the lower bed is able to handle 300 lb, while the top has 200 lb. weight limit.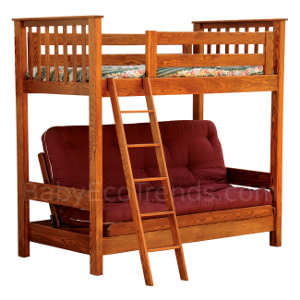 Amish Made Solid Wood Futon Bunk Bed. Woods: oak, maple, cherry ...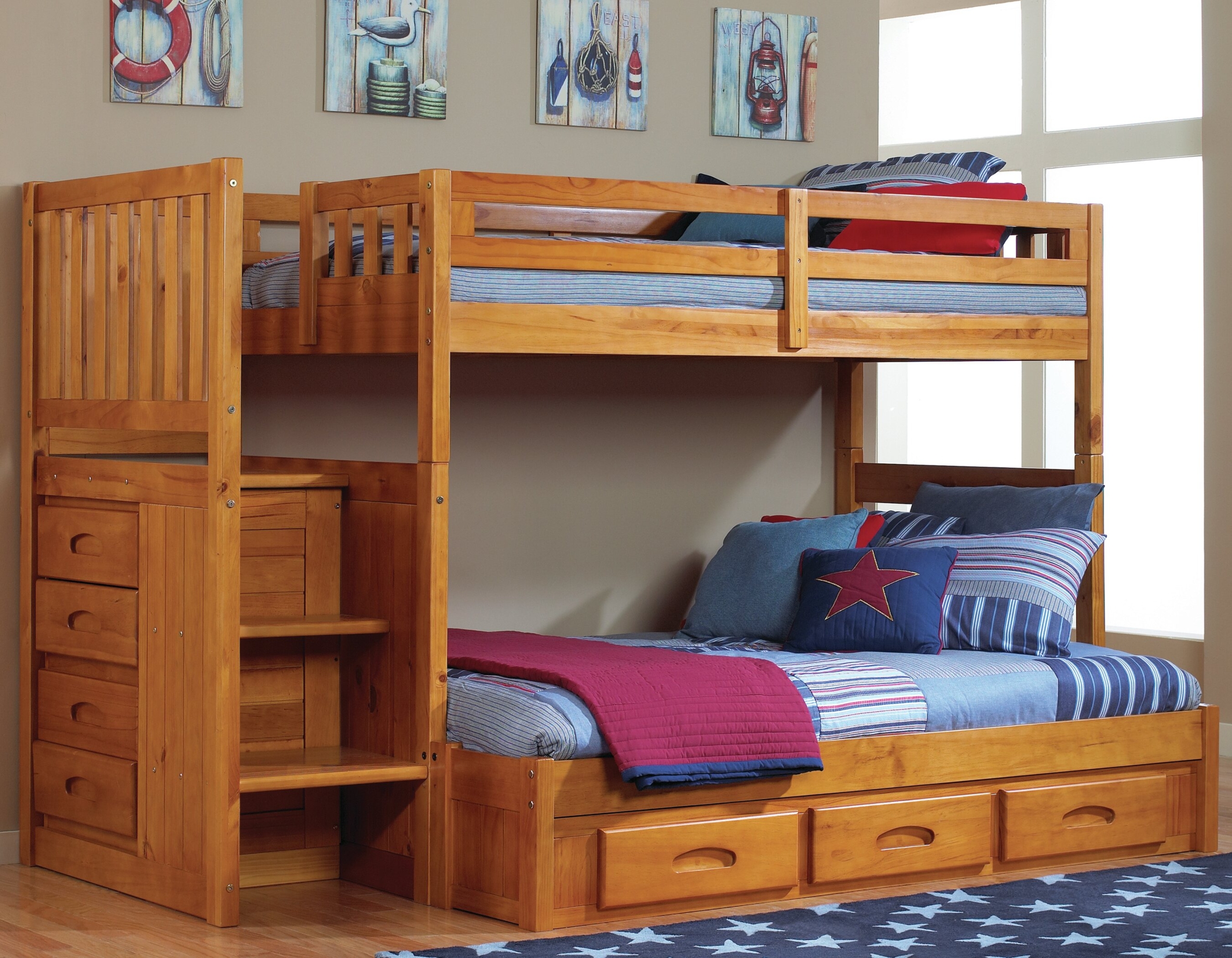 This beautiful bunk bed made of pine design is the perfect solution for peace teens. Plenty of storage room for all the necessary treasures. It is a perfect solution for small rooms where every centimeter is important.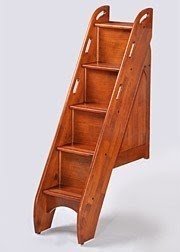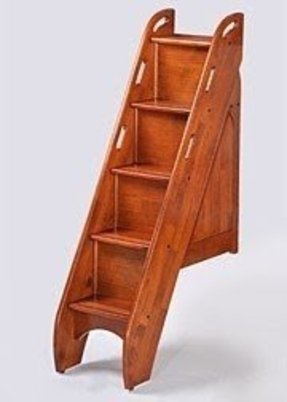 Bunk Bed Stairs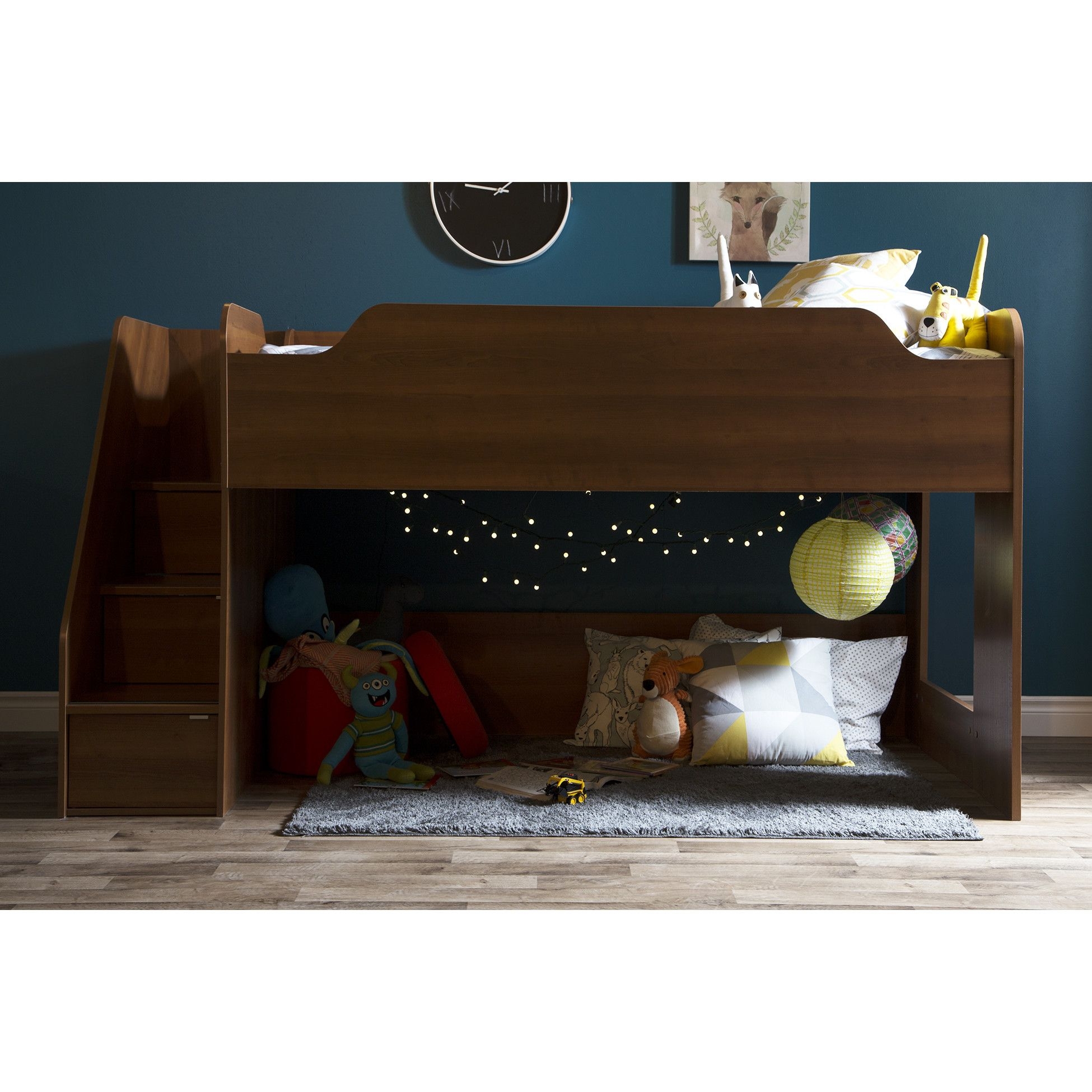 Mobby Loft Bed with Stairs
Make your kid's bedroom highly functional, even if you don't have too much space to use with this loft bed with secure stairs. It features a number of storage spaces on the steps and is ideal for keeping the room neat and tidy.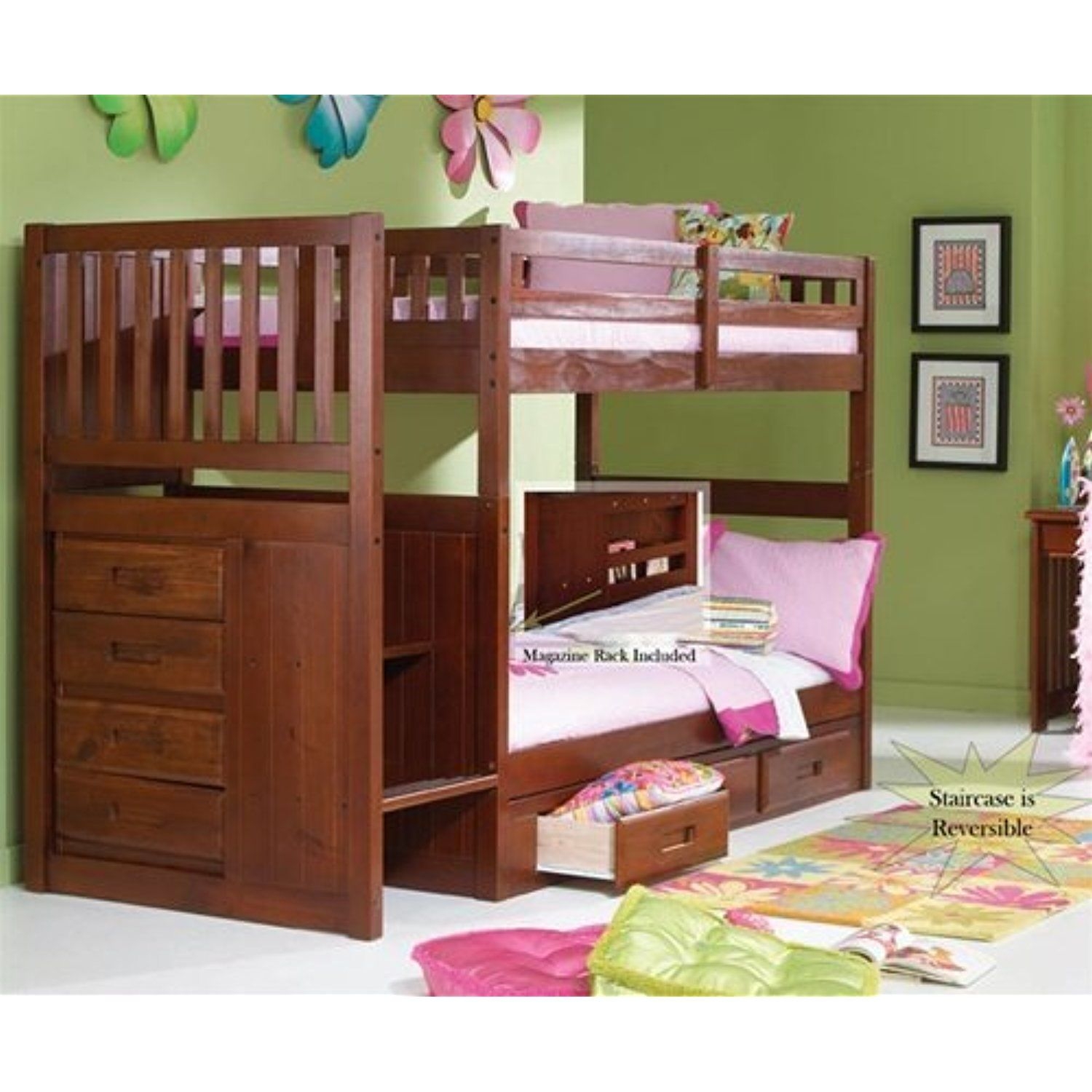 It is a twin over twin bunk bed with stairs that has got strong, sturdy 100% solid wood construction, safe stairs-style entry and steel hardware connections. It measures 63 inches high by 42 inches wide and 98.5 inches long.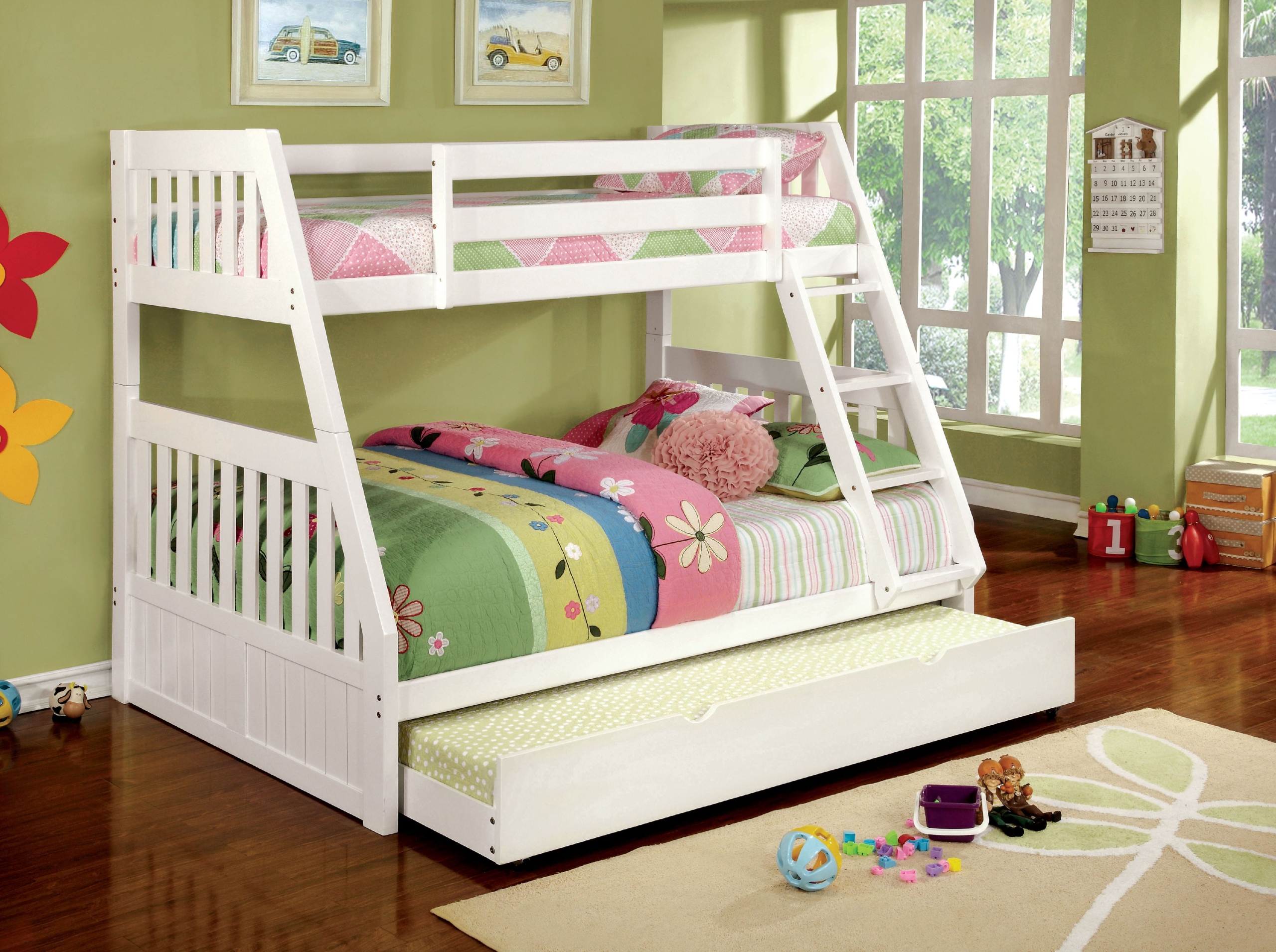 Twin Trundle for Caitlyn Bunk Bed
This twin bunk bed has got a white finish. It is perfect for your children room and small spaces. It fits to bright rooms and it is very comfortable. Your kids need this amazing bunk bed.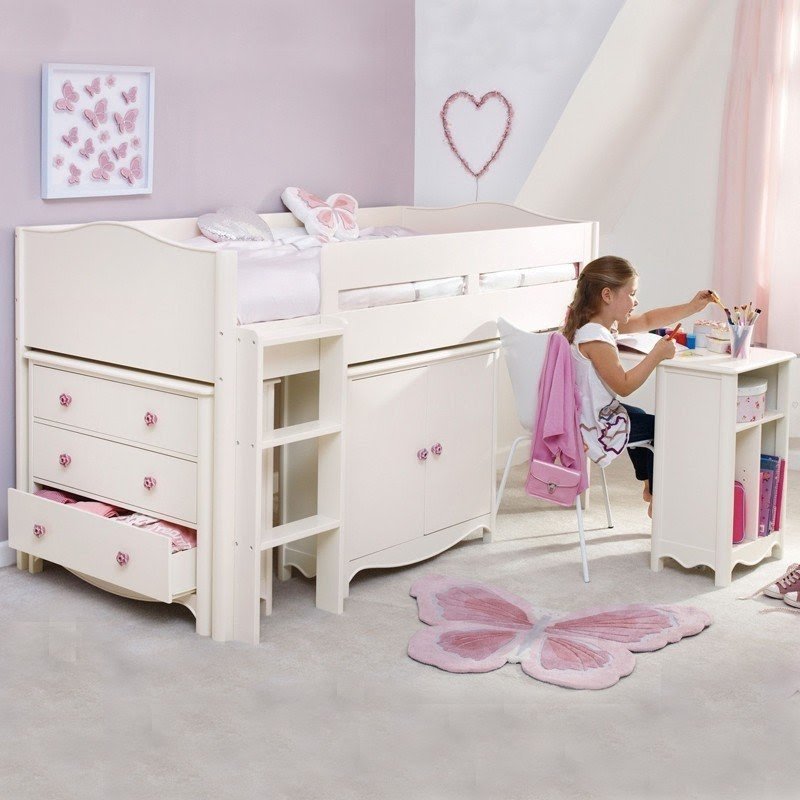 ... bed baby bed solid wood bed guardrail boy single bed bed with stairs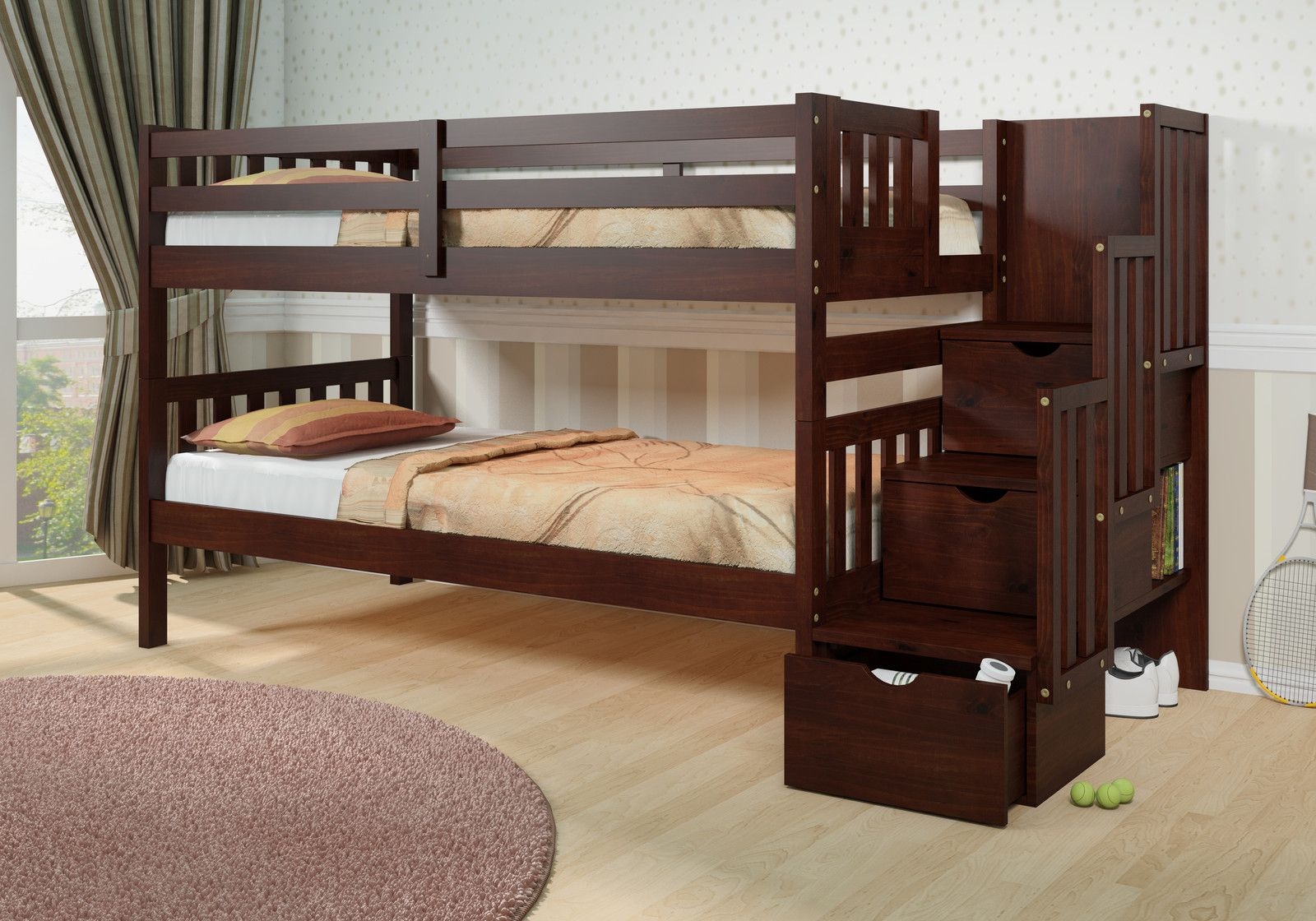 SOLID WOOD Espresso STAIRCASE Bunk Bed!