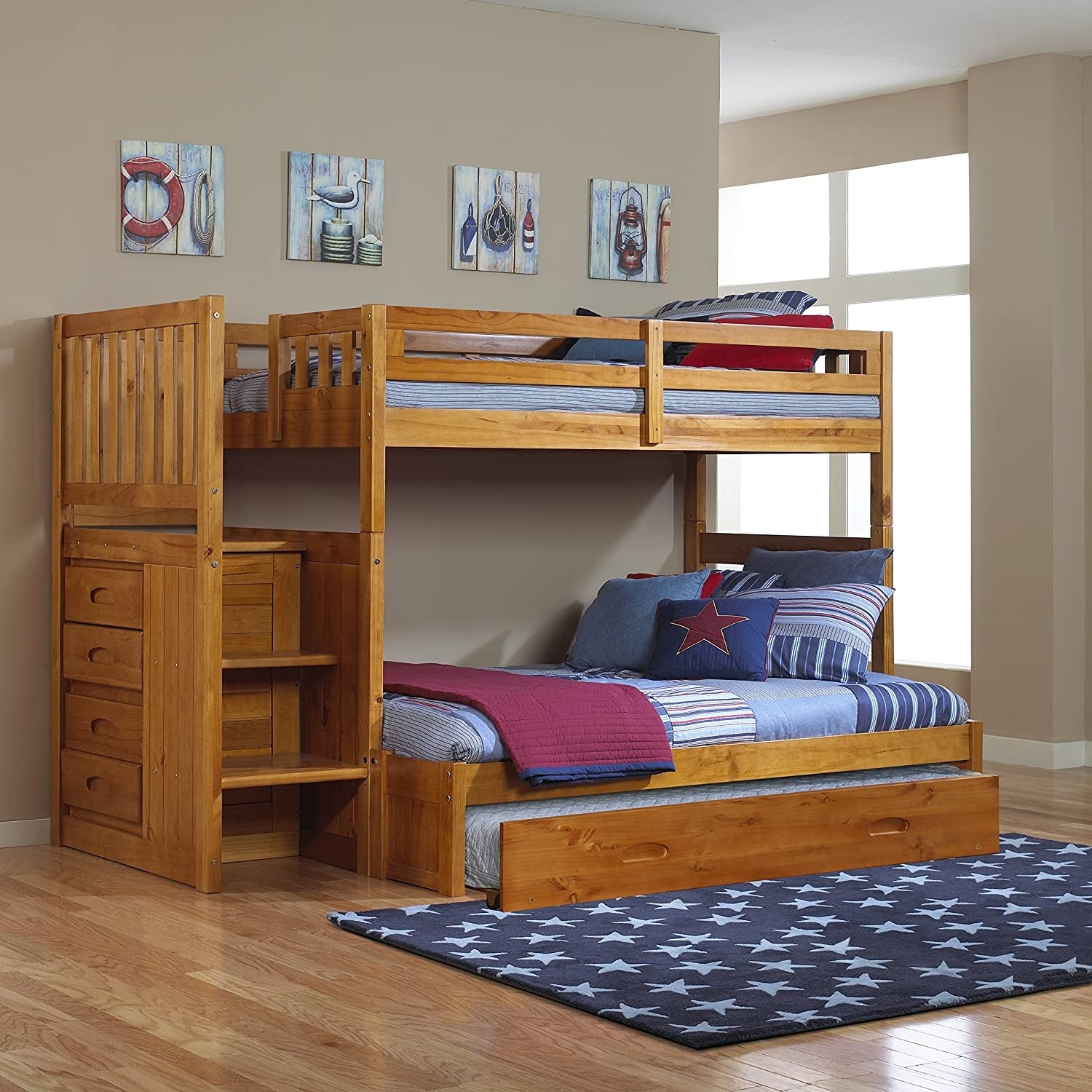 A fine piece of comfort and functionality, excellent for teenagers' rooms and guest rooms. This bunk bed with trundle is wood-crafted and oak-finished, offering a built-in staircase with 4 storage drawers, and a well-secured top bunk.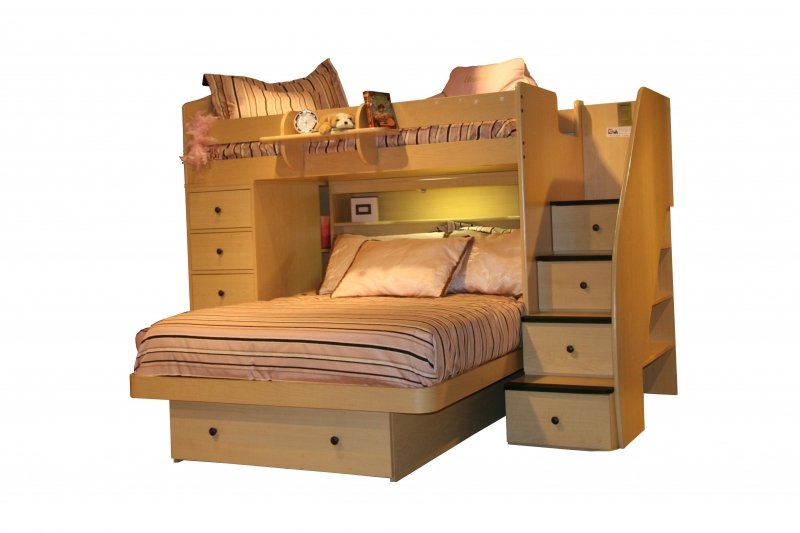 Raise the functionality of your children's room by deciding on this fantastic bunk bed set. Crafted of wood and covered in an oak finish with espresso accents, the combo includes a secured top bunk with a small tray, a built-in staircase, 10 storage drawers, 1 open shelf and a lighting system.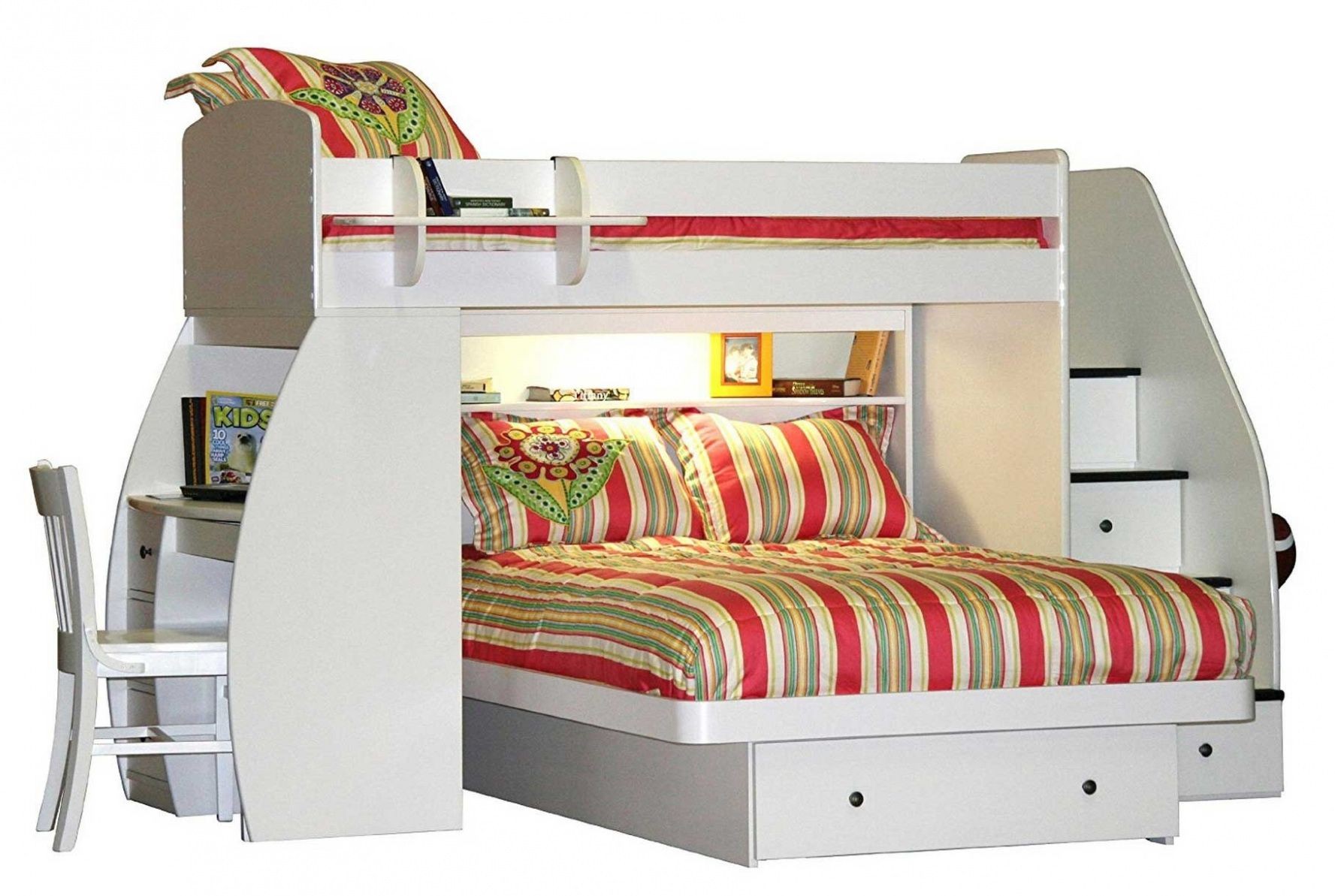 Finished in timeless white, this bunk bed set will be a stylish and functional proposition for all teenager bedrooms. It features a twin size bed towering over a queen size one. The upper bunk is entered by side stairs.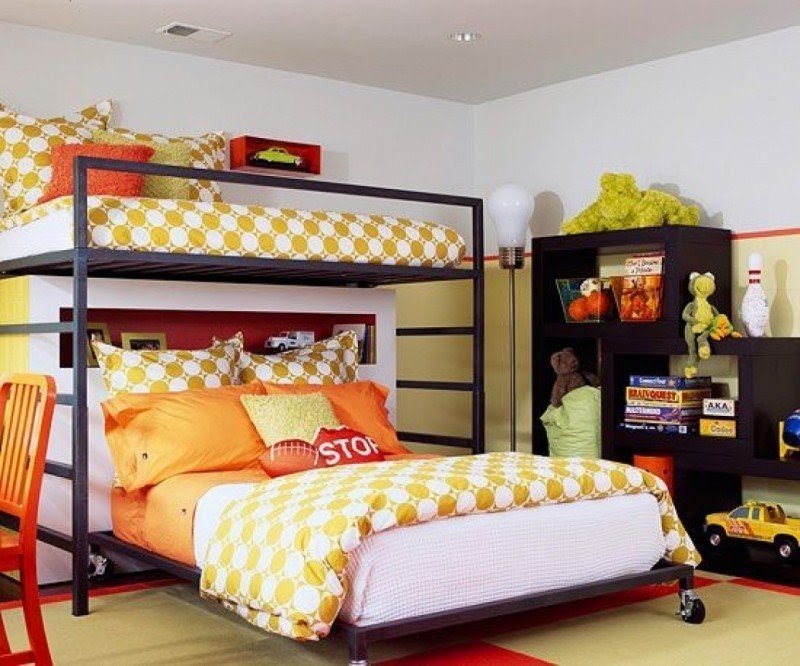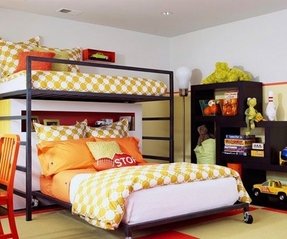 Can't afford to waste a single inch of space? Invest in clever design solutions. This bunk bed with a full bed on the bottom is a great example of such a clever use of space, to ensure you can accommodate everything that you need in your house.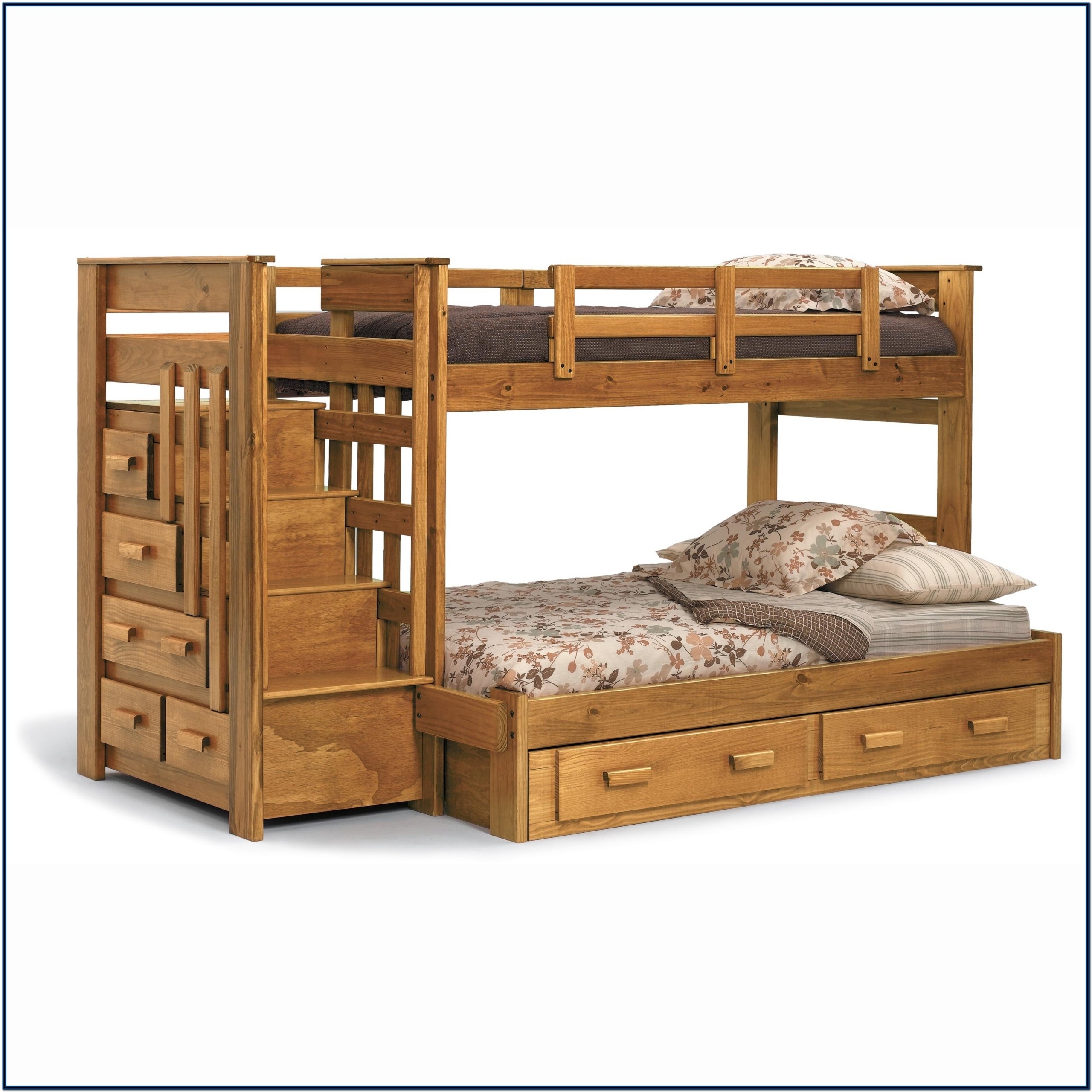 Bunk bed with a lot of space for storing clothes and others needed items. Construction is made of wood and fitted with railings for added safety. Great addition for the kid's room, teenager's room and more.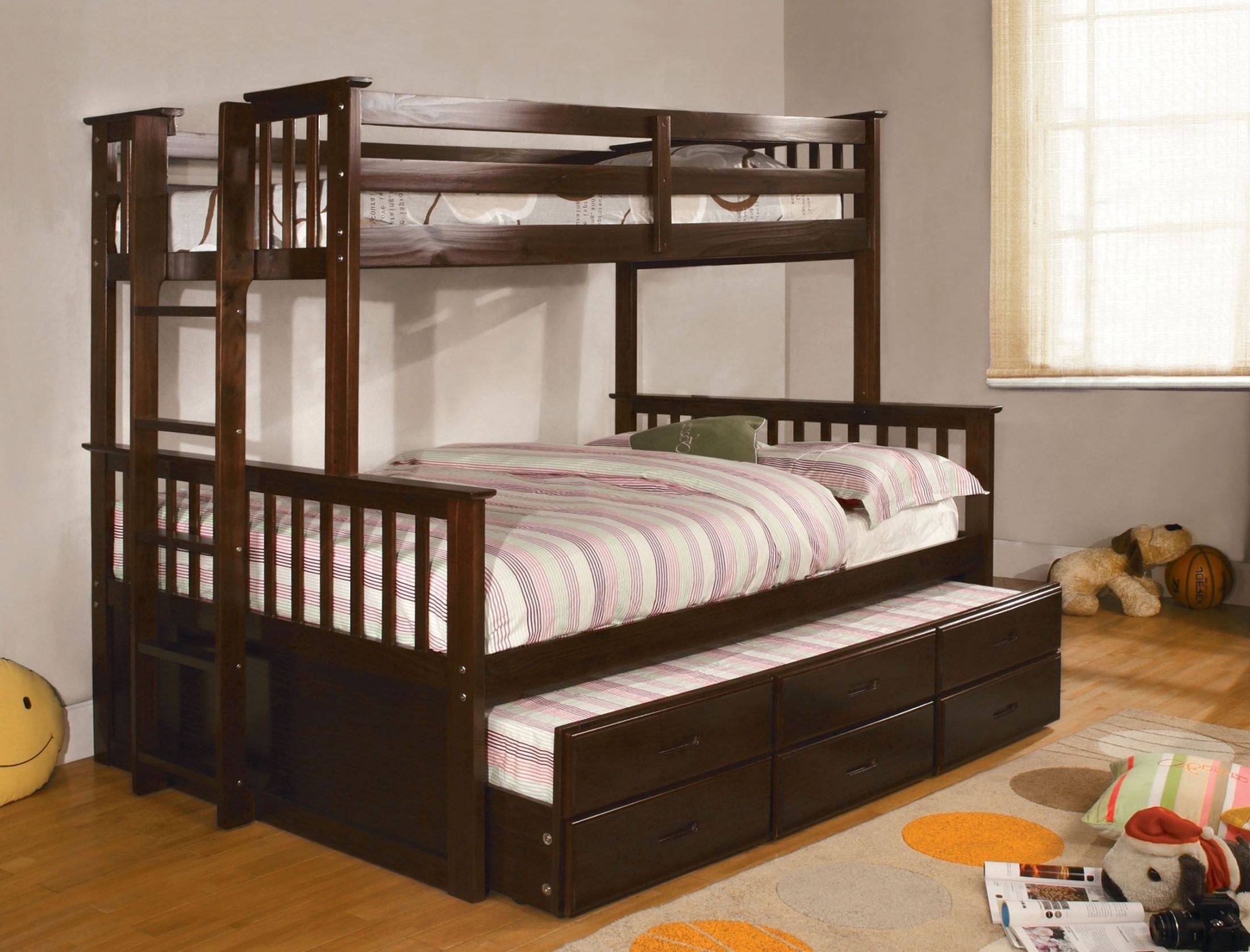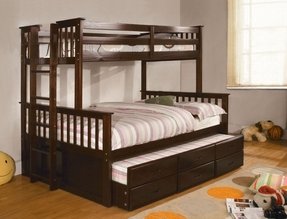 Unique bunk bed with asymmetric bed frames made of solid wood. Bulky looking and very sturdy. Simple and classic design features slat panel ends, a ladder and side rail supports on the upper bunk. Comes with trundle on wheels.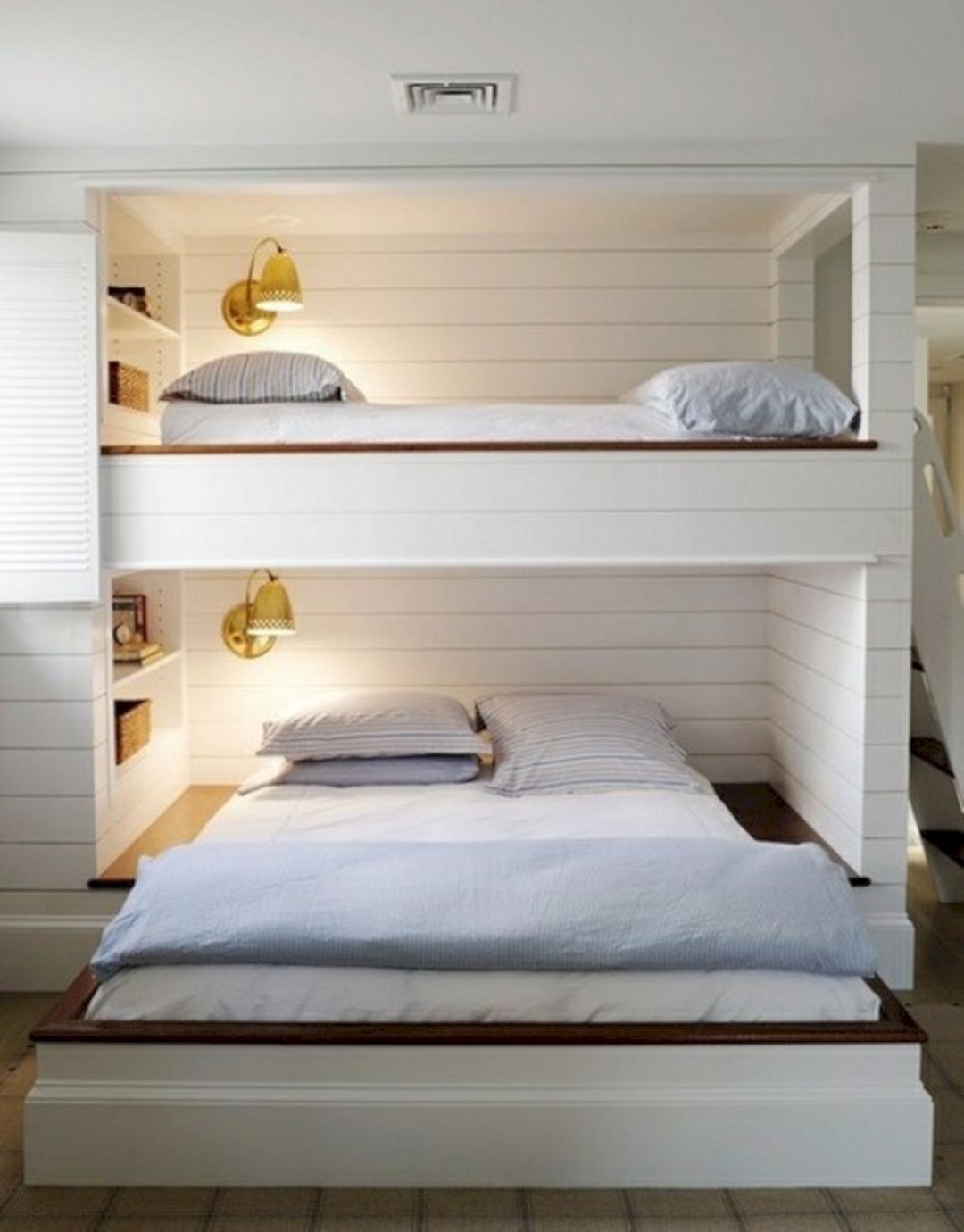 Stunning bunk bed featuring a unique platform design and up to two large beds. Constructed from wood, the bed is finished in a contemporary white shade and accentuated with glossed light brown edges for outstanding visual appeal. Several open shelves for storage are also included in this design.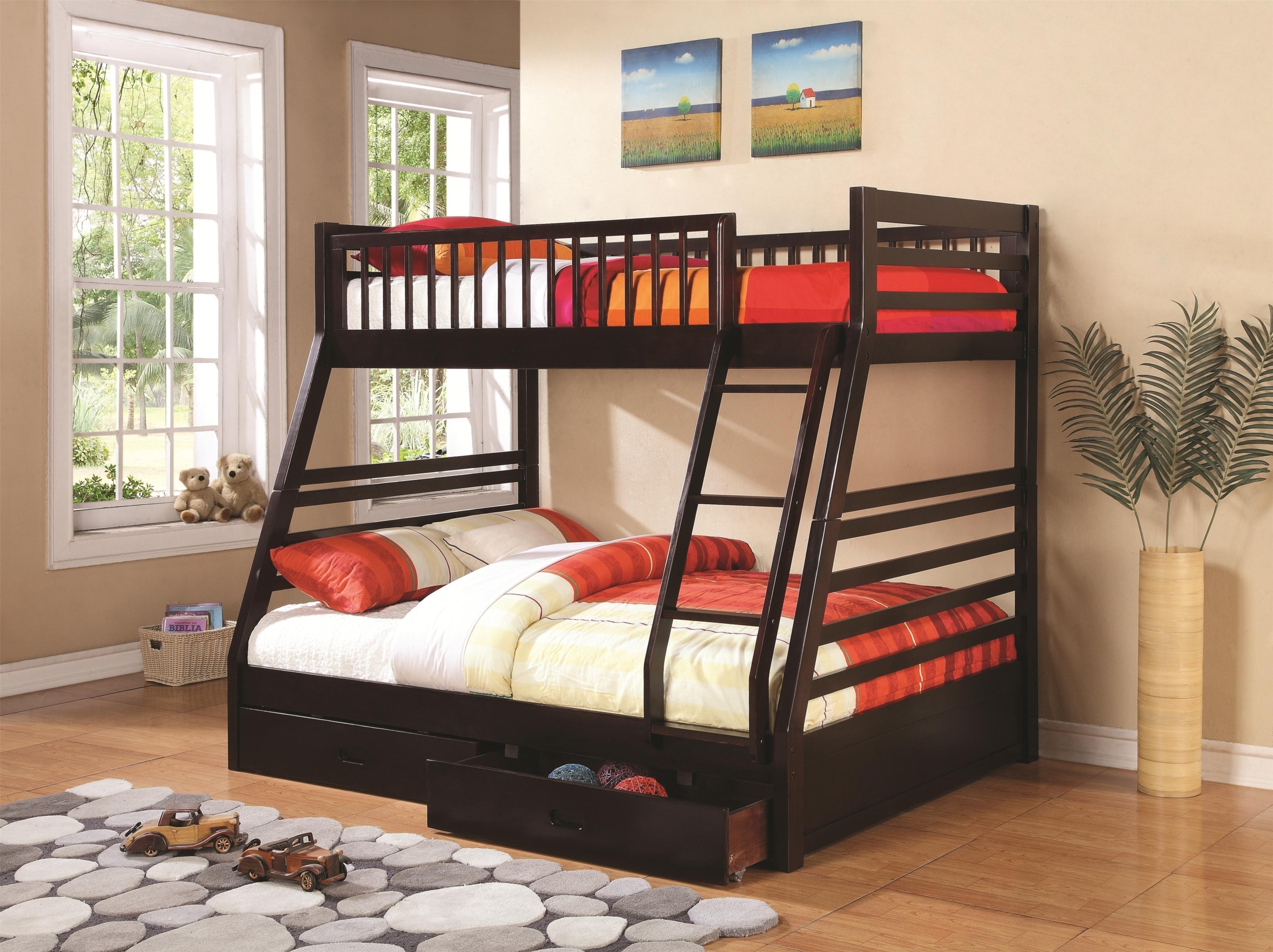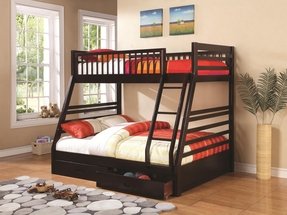 Compact bunk bed constructed from wood and finished in superb dark walnut shade. The piece offers two large beds and comes with additional storage drawers below as well. A sturdy wooden ladder is affixed to provide easy access to the top bunk plus you also get a strong railing for safety.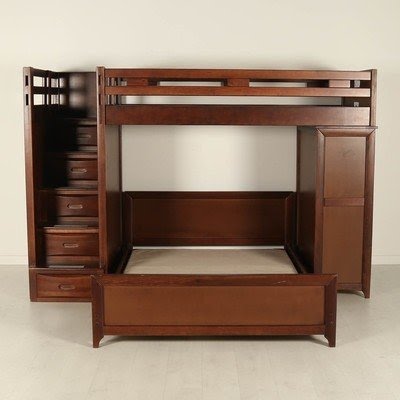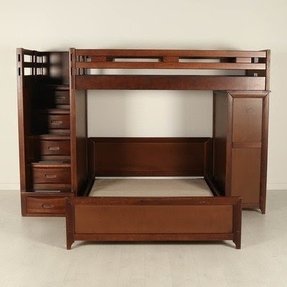 An elegant practical twin bunk bed over a full bed and a wardrobe of wood in mid browns. An upper bed has both a headboard, a footboard and side rails of horizontal slats, a lower bed - full panels. Drawers with cutout pulls are built in stairs.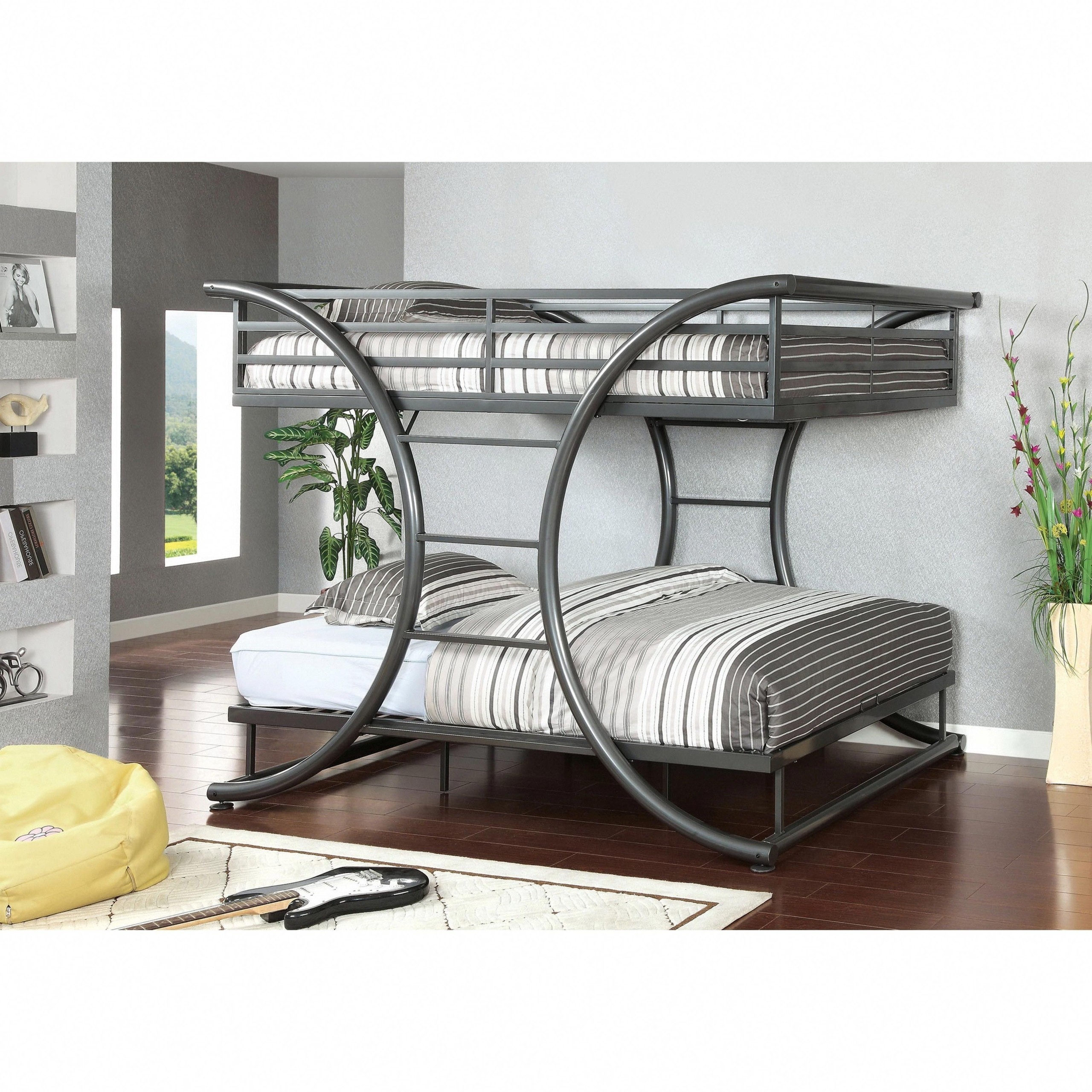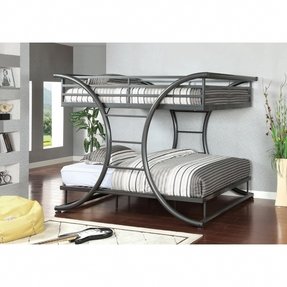 Cervia Full Over Full Bunk Bed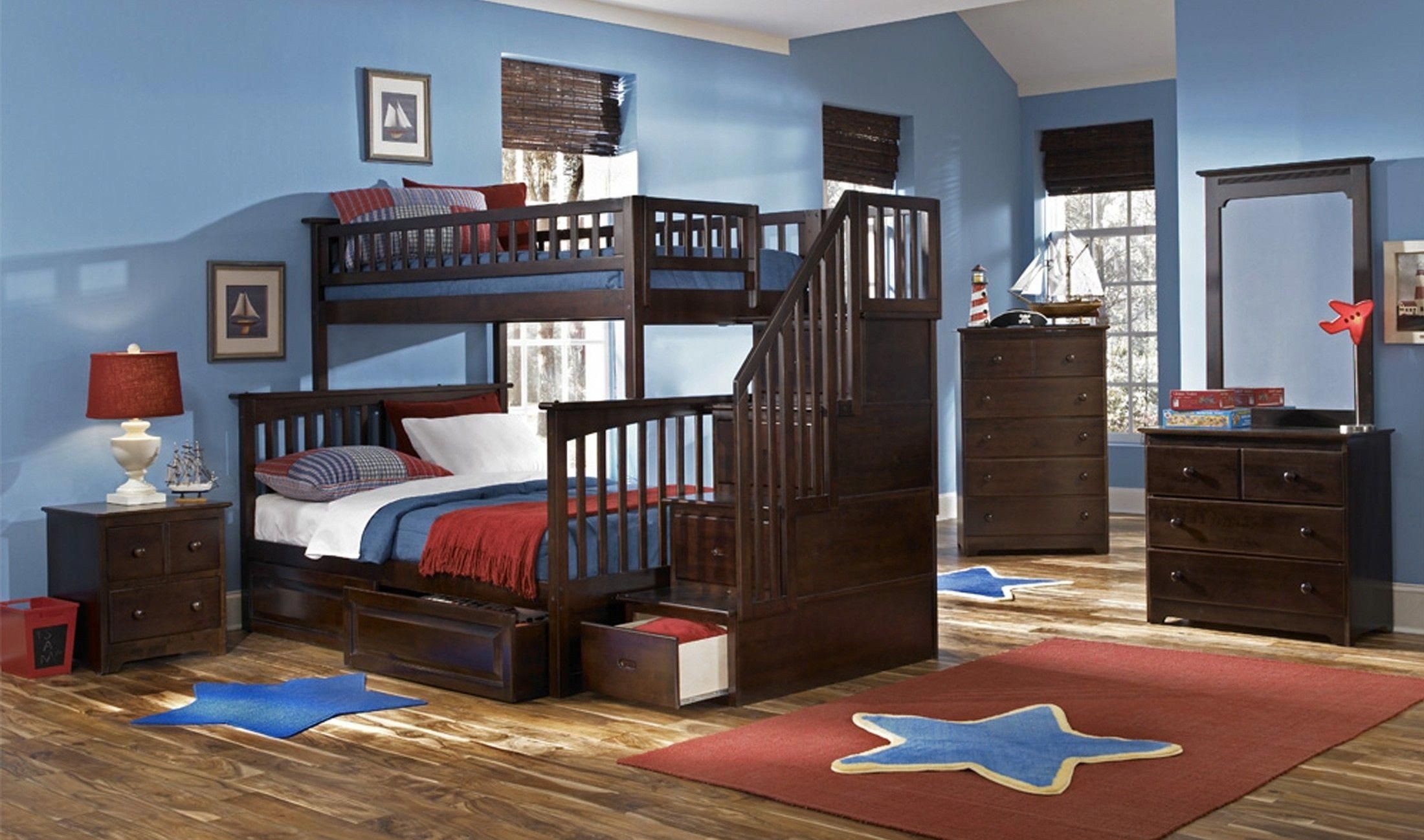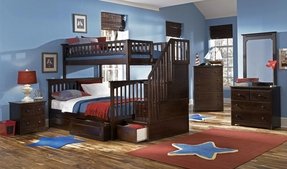 Loft bunks with stairs. Choice of full, queen on bottom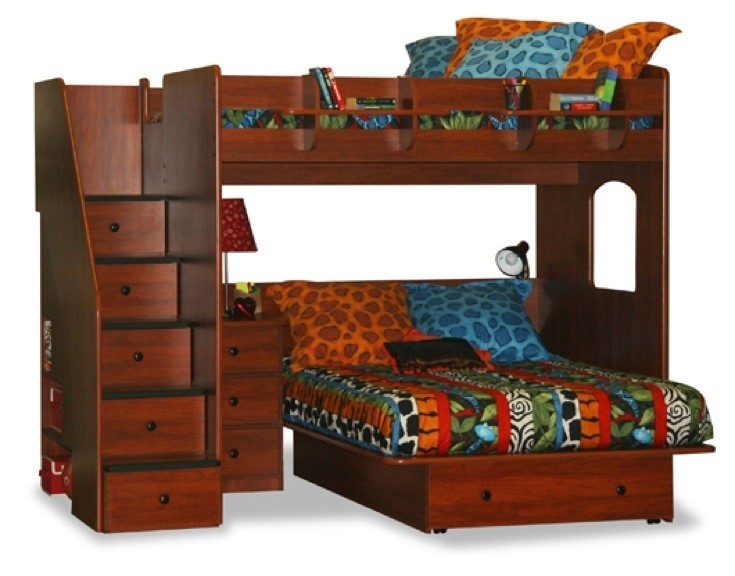 This type of loft bed saves a lot of space, due to the special storage area under the stairs and below the bottom bed. It is a great choice if you live in a studio flat and you share a bedroom with children.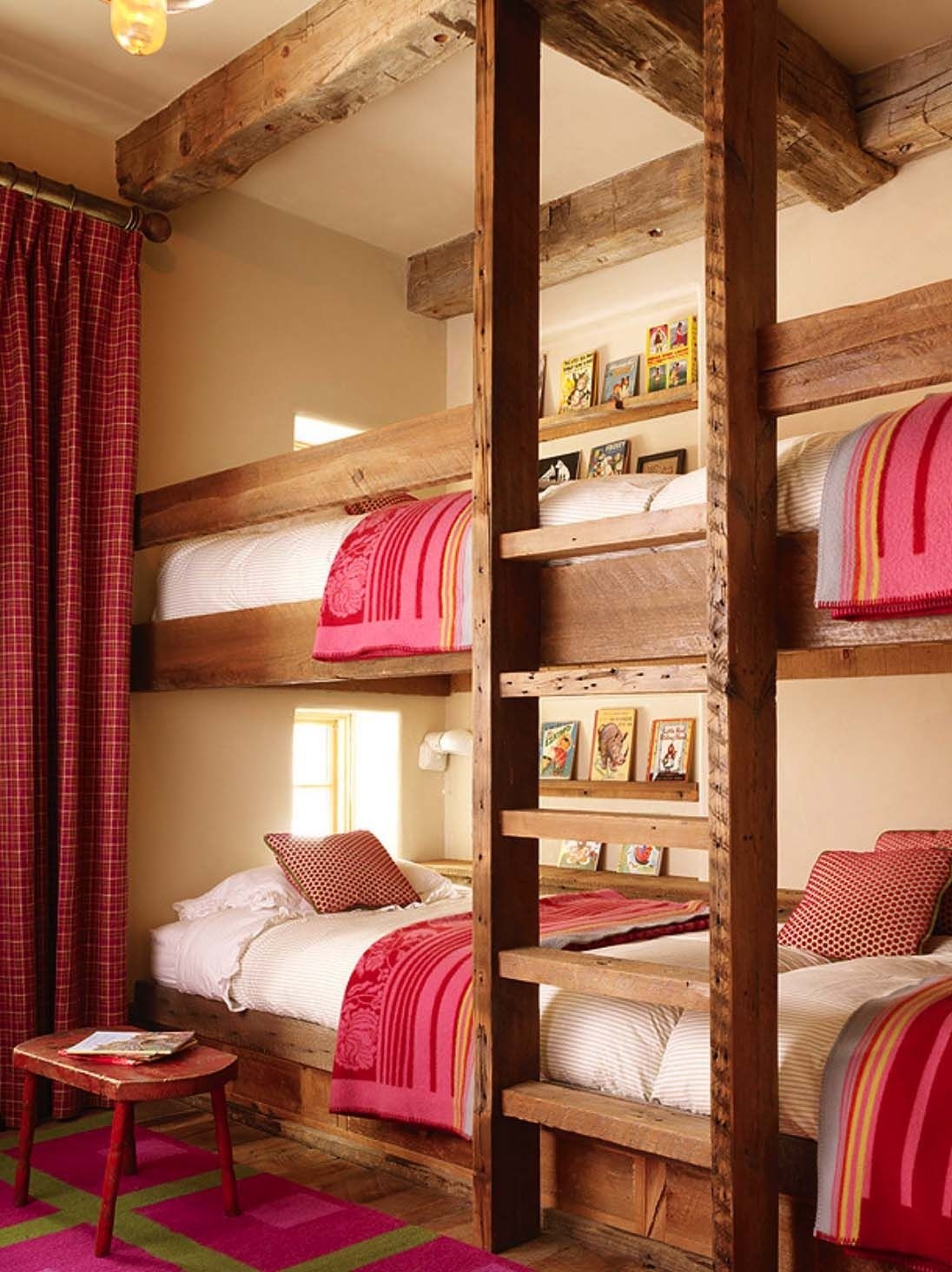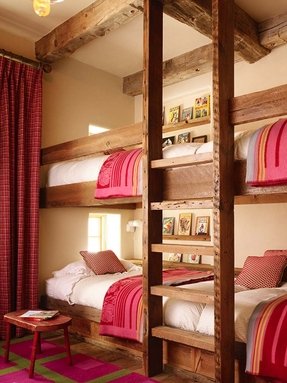 Open bunks, center ladder, shelves along walls, structure in tone with ceiling beams. Rustic Bunk Beds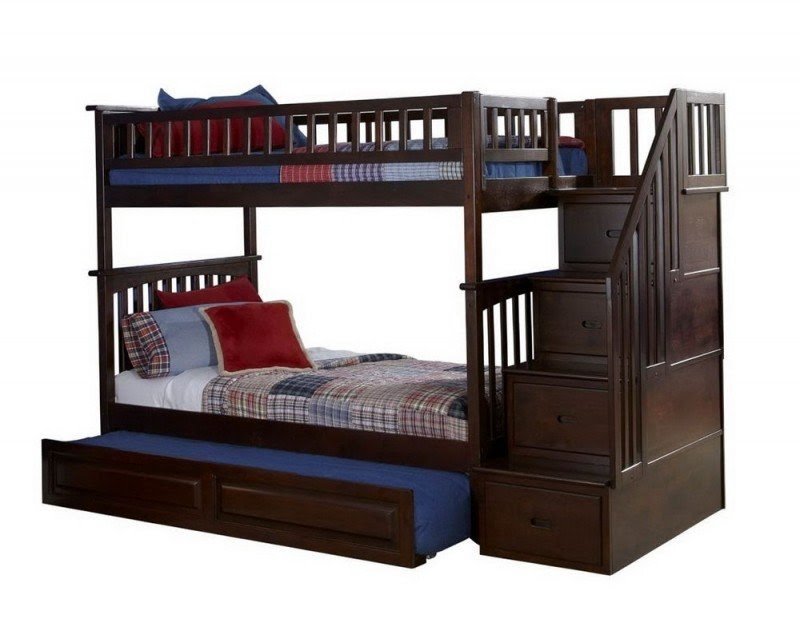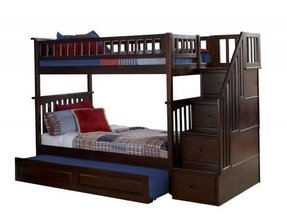 A splendid combination of practicality and eye-catching design; this fantastic set of bunk beds is crafted of sturdy wood in espresso finish. Includes a properly secured top bunk, an easy to pull-out trundle, and a built-in staircase with 4 storage drawers.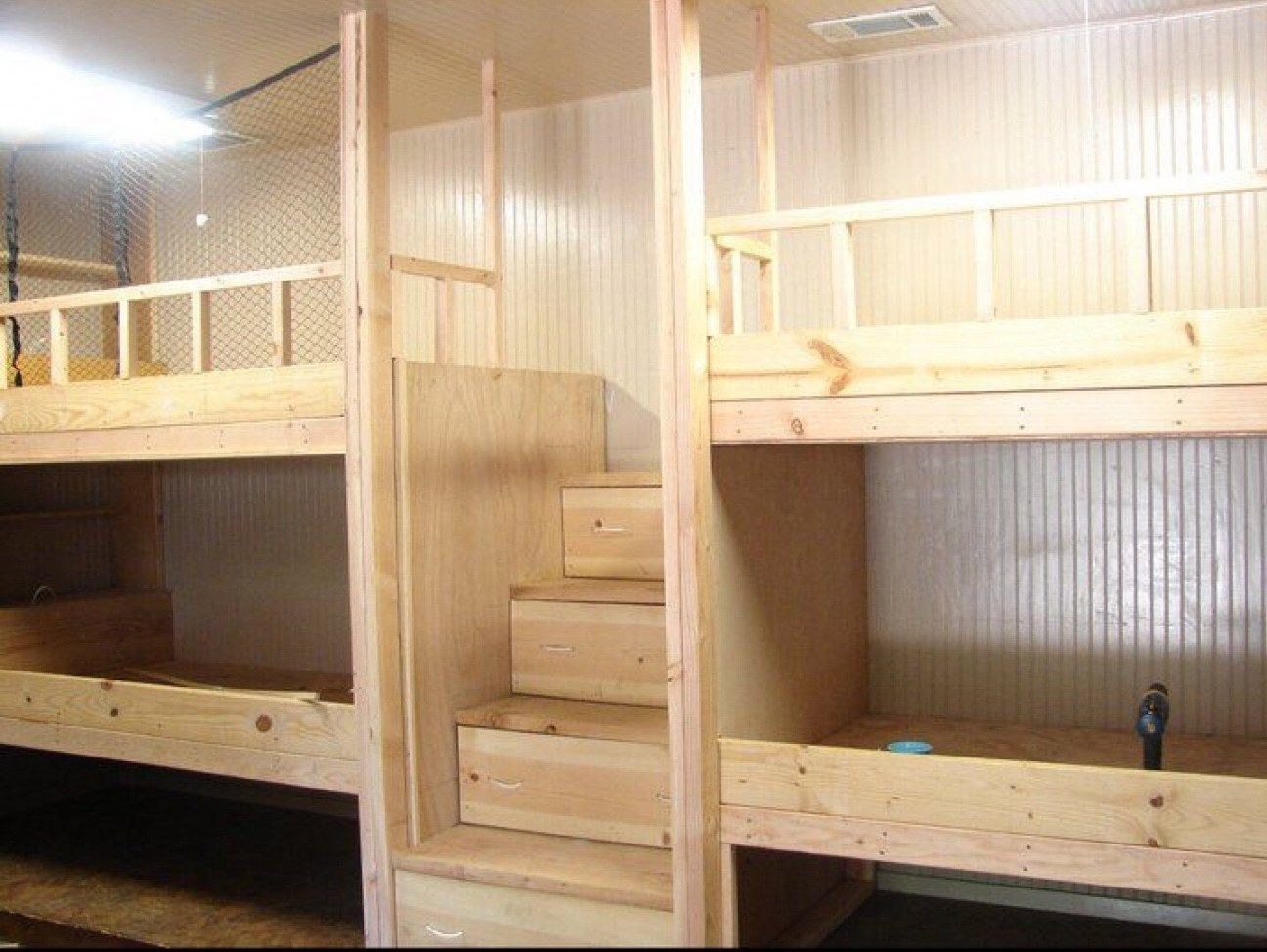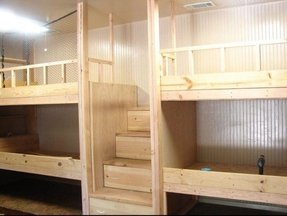 DIY bunk beds. I like the stairs instead of a ladder since the little one is still, well, little;)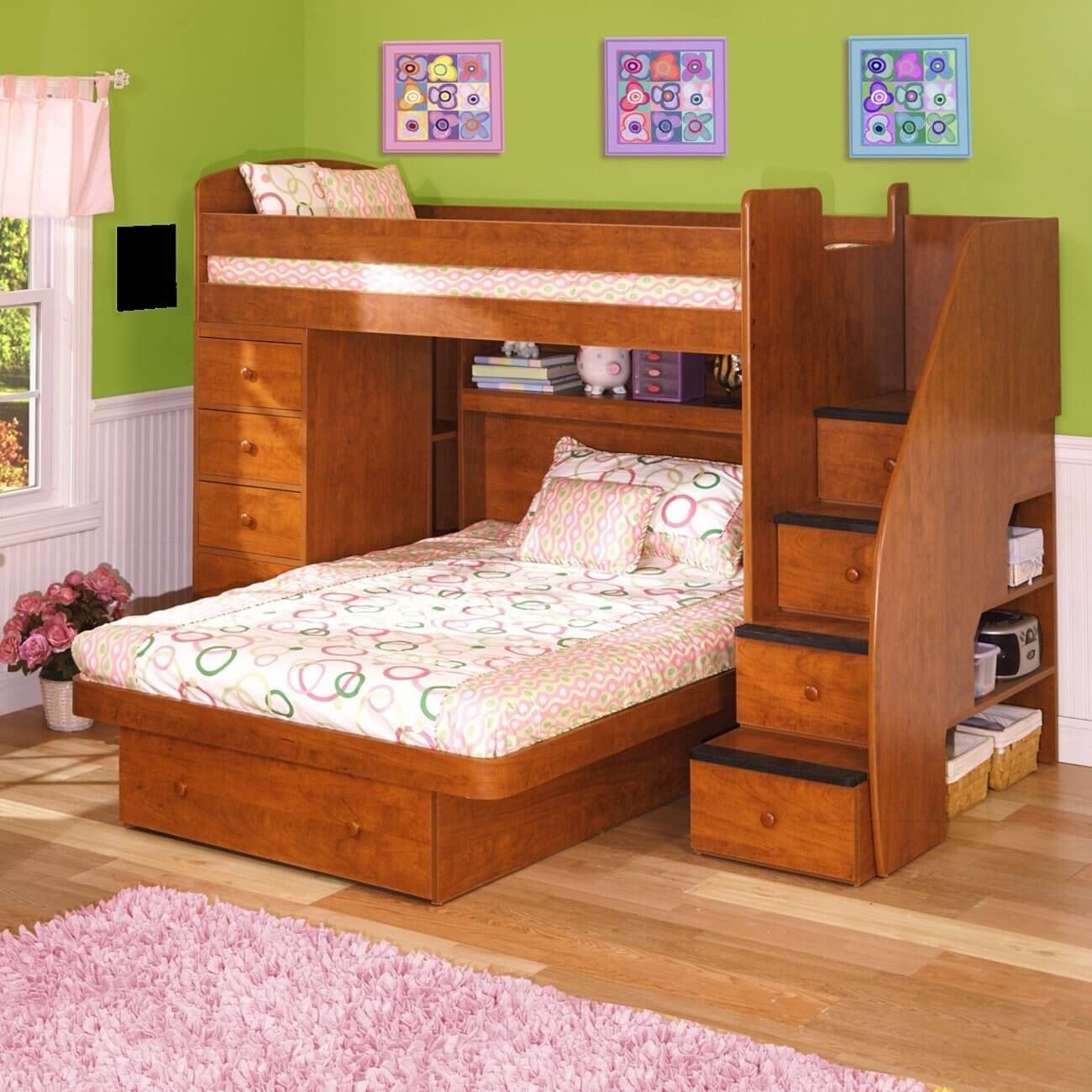 Saw this at Jordan Furniture. Thoughts-Would make the safety rail higher. Space under the loft bed has a 4 foot height. Assume bookcase on the right could be switched to the left and be under the loft bed. Stairs were an 18 " width with a 10" tread (B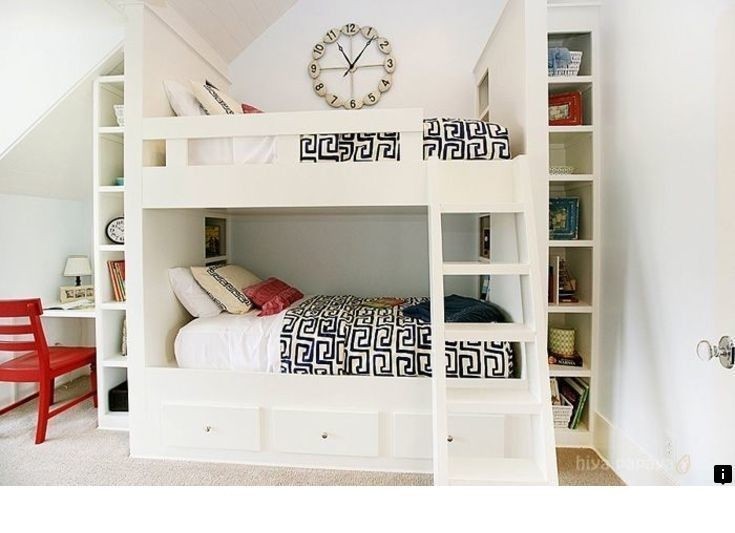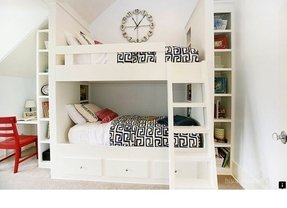 This kind of bunk bad seems to be the most contemporary one. Simplicity of form, same sizes beds,one above the other,parallel. White, and in addition to that the bed contains drawers underneath, and side added slim shelves.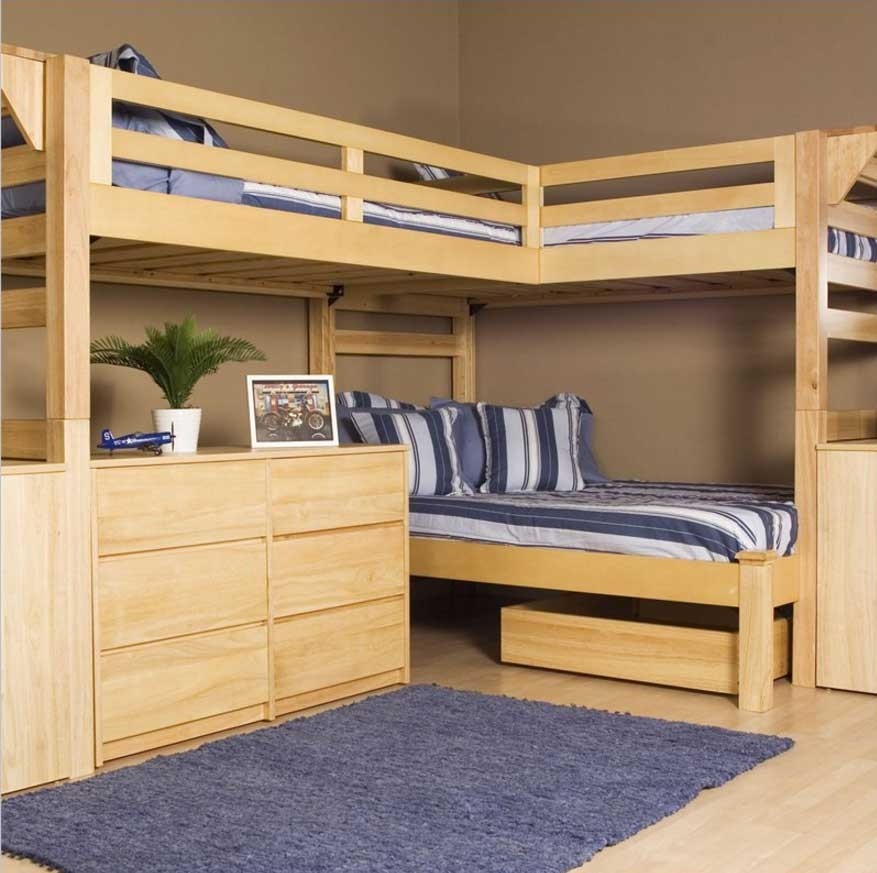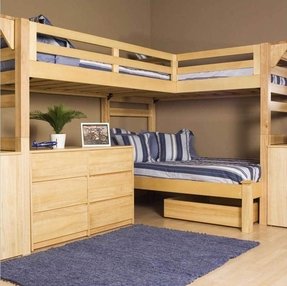 Designed to bring functionality and resolve the problem with the lack of sleeping places, this triple bed is a clever, l-shaped construction, featuring two upper beds towering over a twin bed and perpendicularly juxtaposed wardrobe.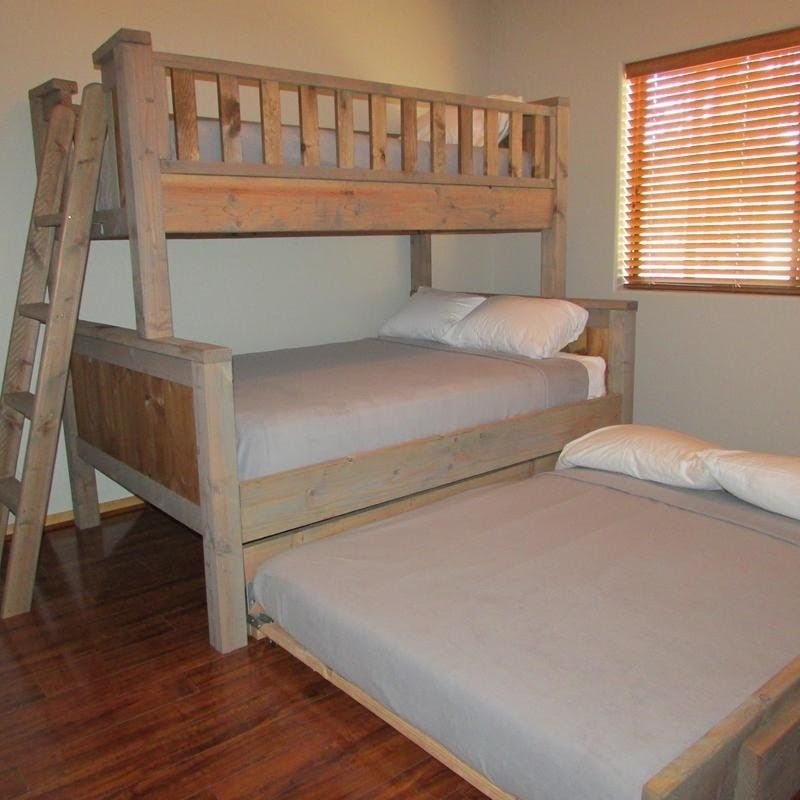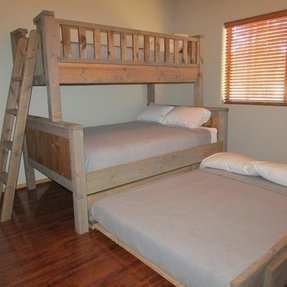 in Pinetop-Lakeside. Our custom built bunk bed sleeps 5. Twin on top, full size on bottom with full size trundle. Split floor plan with 3 bdrm/2bath only 4 minute drive to Show Low Lake.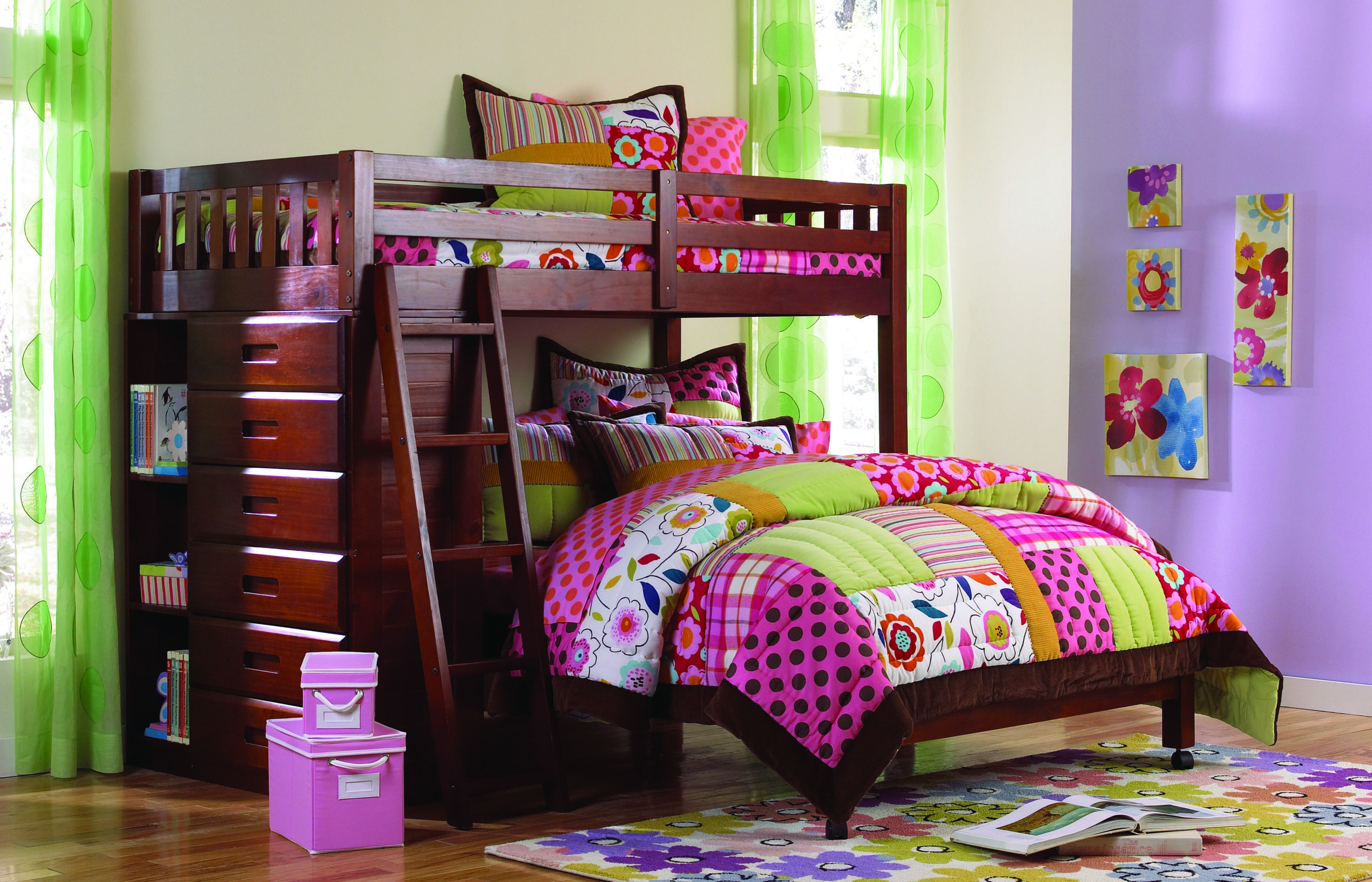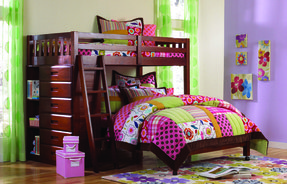 bunk bed with full bed on bottom | merlot loft bunk bed twin over full bottom bed removable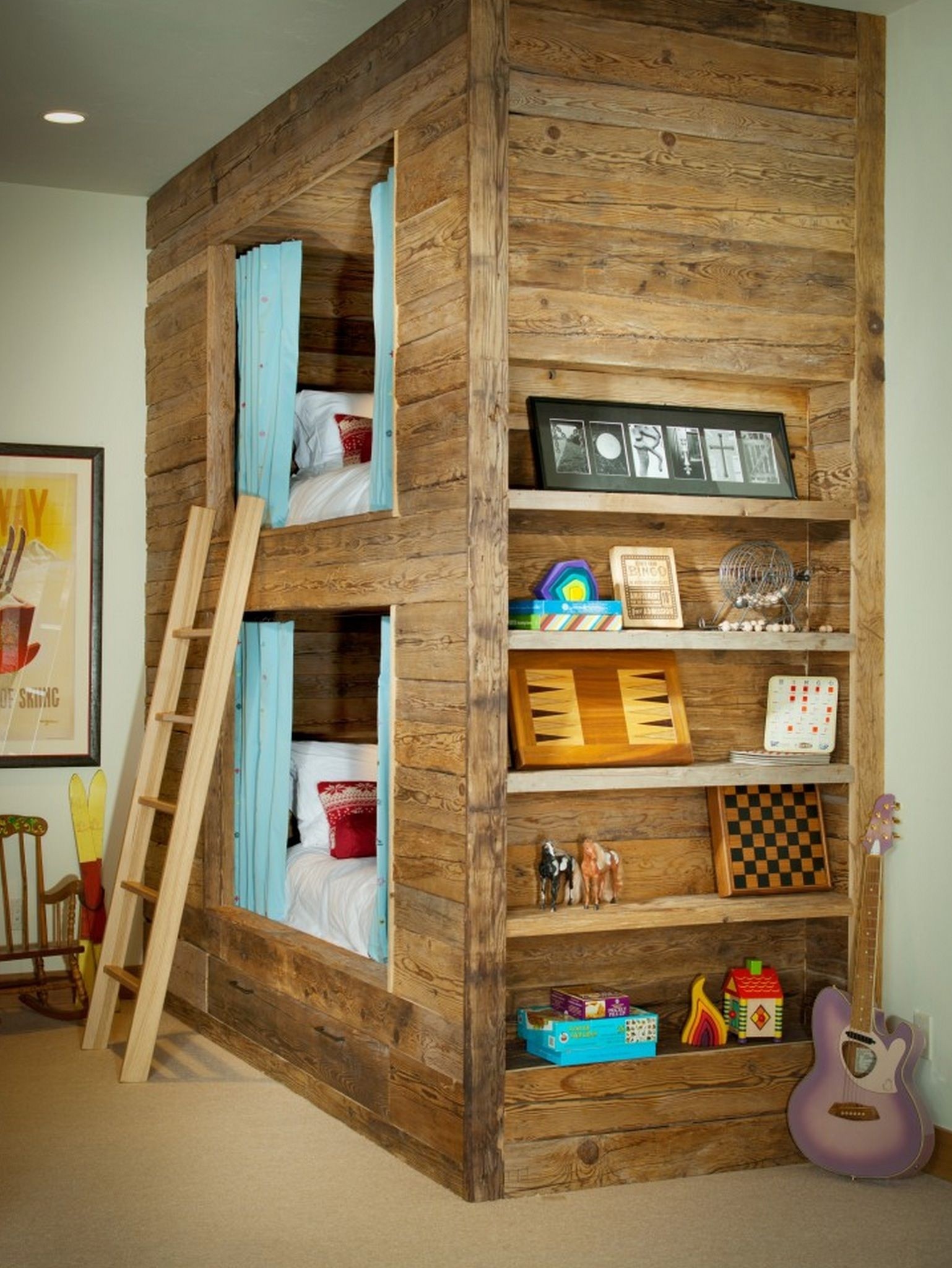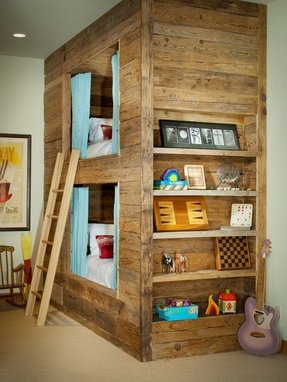 This would be cool for a boys room or guest bedroom (maybe with a full bed on the bottom?)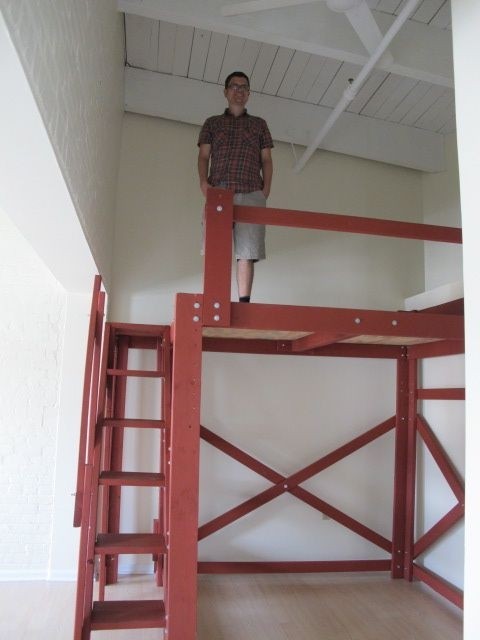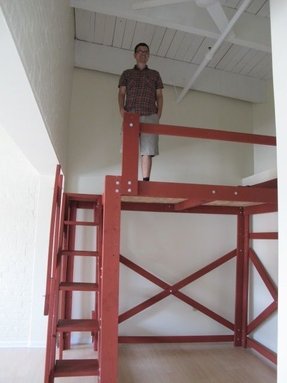 loft bed with stairs... seems sturdy enough too :)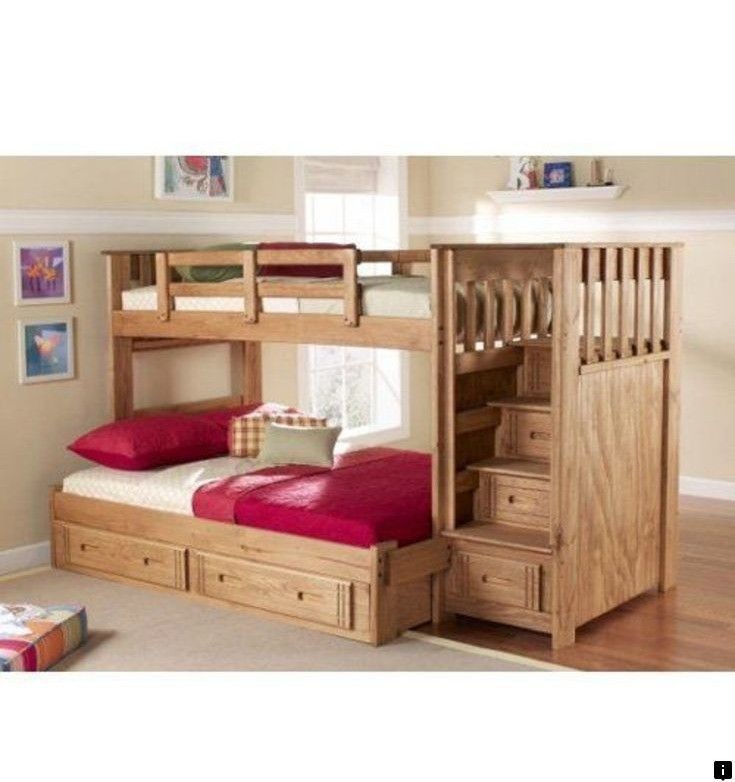 The twin over twin bunk bed is a brilliant suggestion, if you need save some space in the kids room. It features plenty of storage under the bed and in steps of stairs. The natural finish fits to girly room.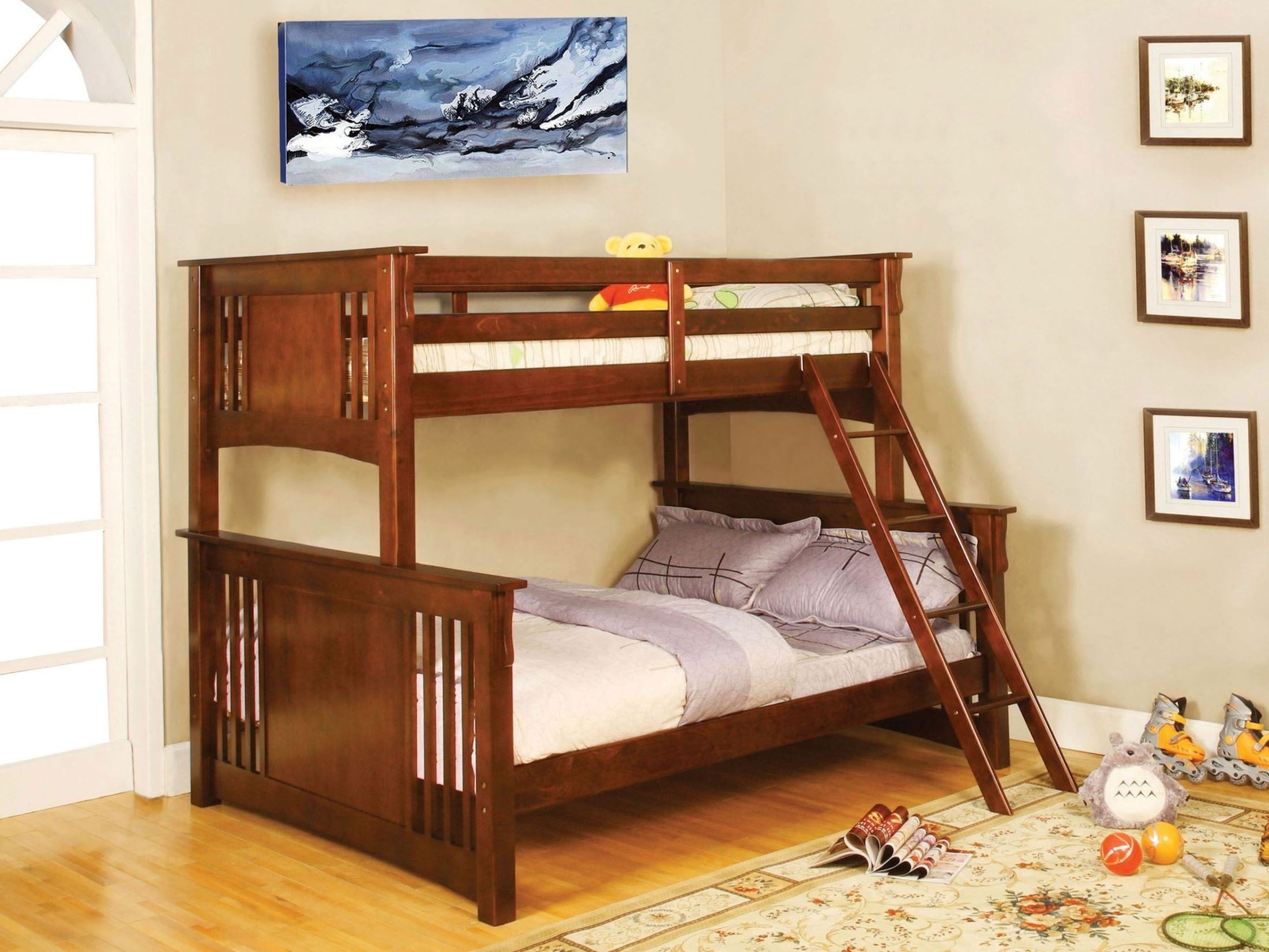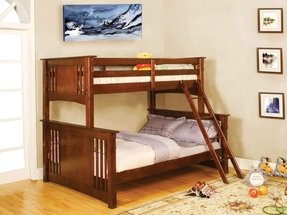 Enjoy a good night's sleep with a bunk bed from Ashton Youth bed features a full-size bed on bottom and twin-size bed on top Bedding is ideal for any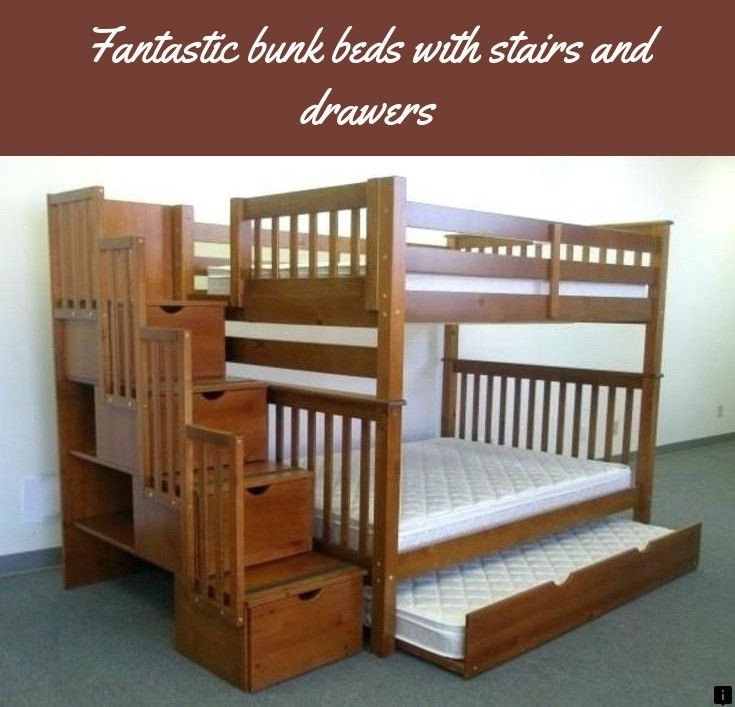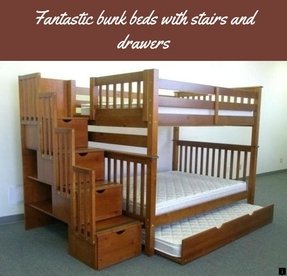 Bunk Bed - Full over Full Stairway Expresso for only $948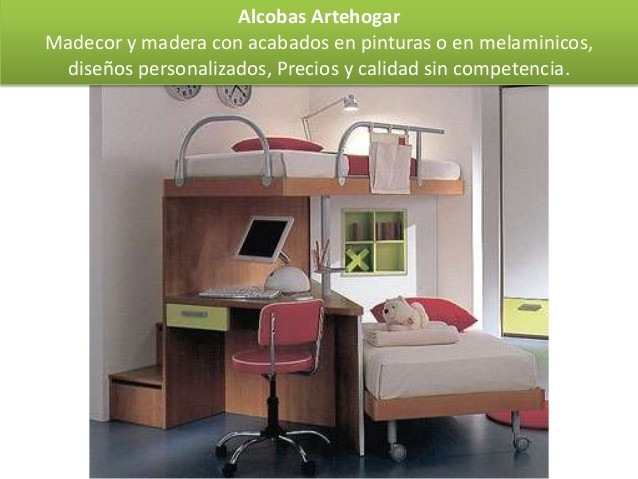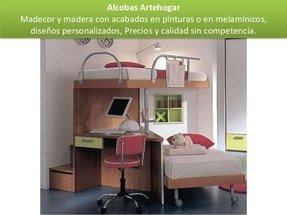 Full on bottom & twin on top. 20 Loft Beds With Desks To Save Kid's Room Space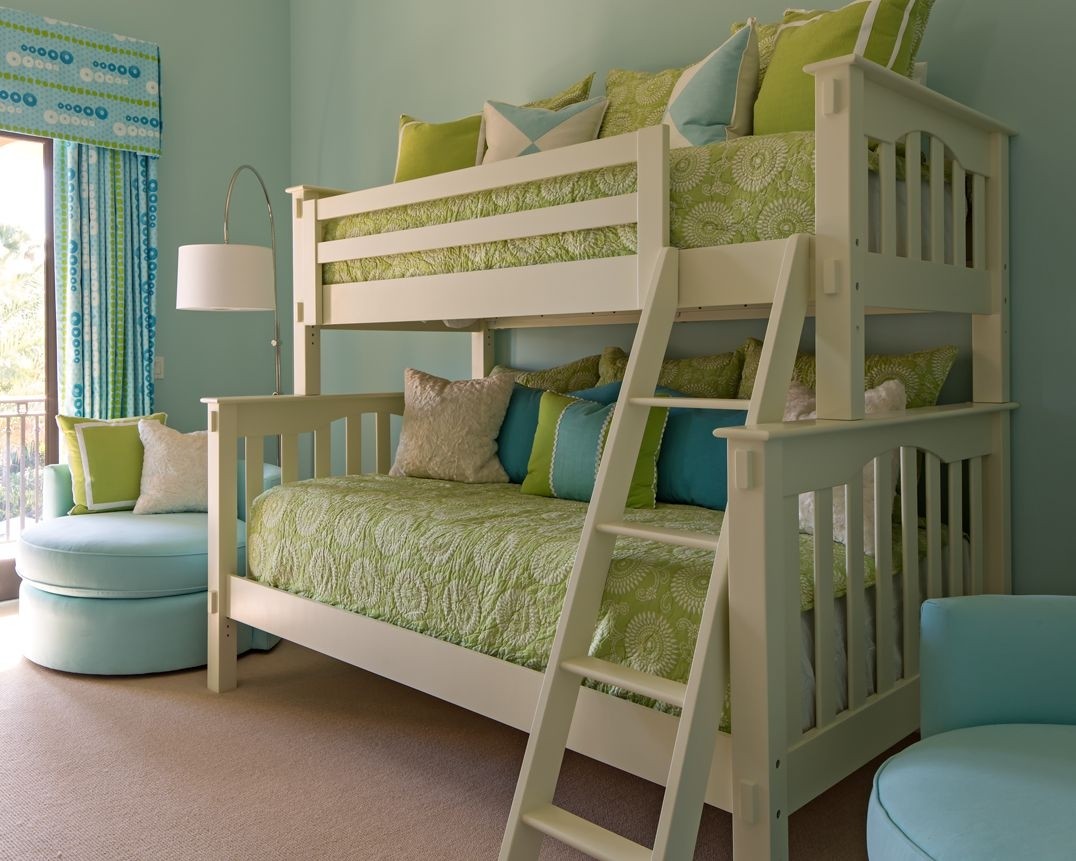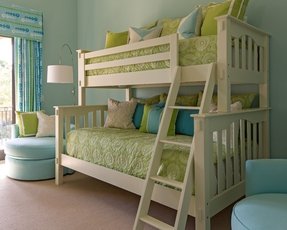 Bunk bed is a unique combination of great fun and practical furniture. It save your space even if on bottom contains full bed.Same mattresses for both. Made of very light wood.Ladder reaches the top. Green covers for mattresses are decorated with white flores.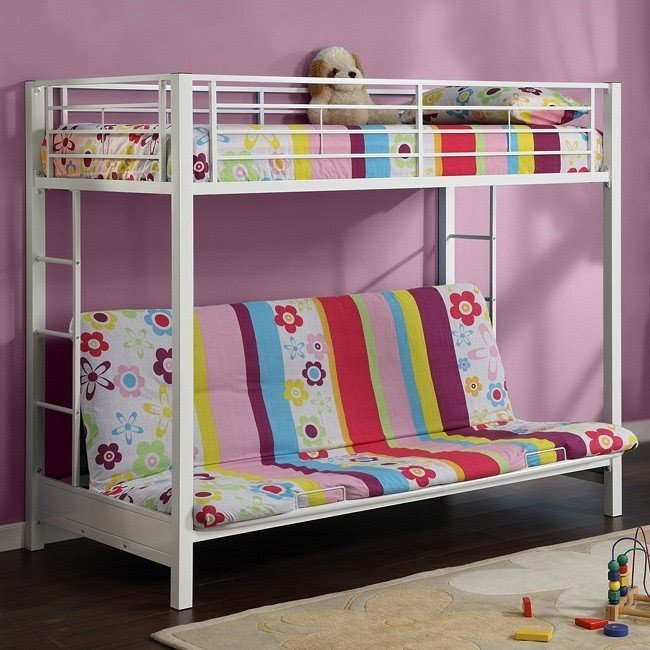 Create a multifunctional space in your bedroom with this white, futon bunk bed from Sunrise. It features a twin-size bed on top, with guardrails for extra safety. The futon on the bottom is great for lounging and can be made into a full-size bed easily.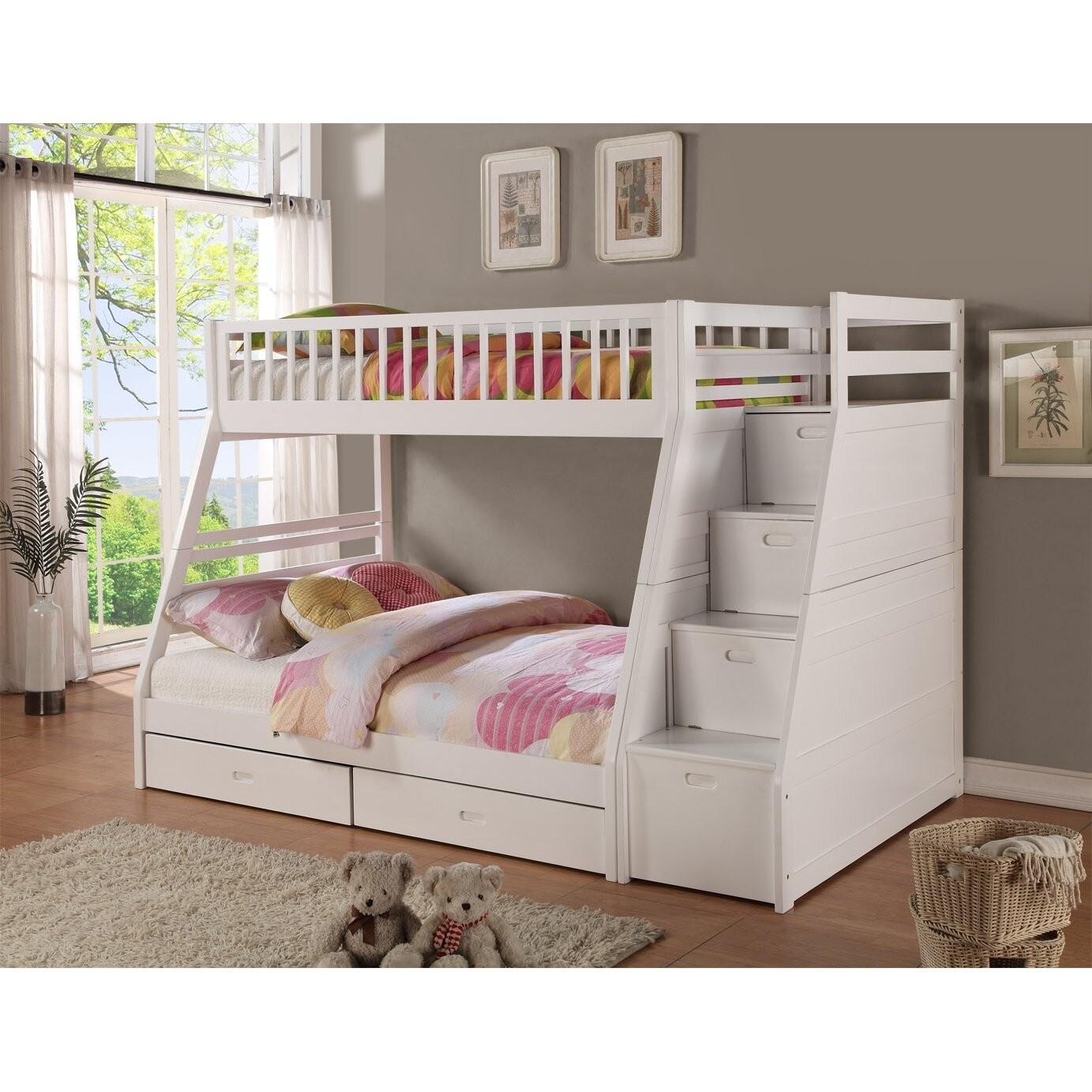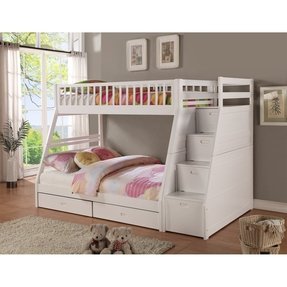 Twin Over Full Standard Bunk Bed with Drawer and Storage Step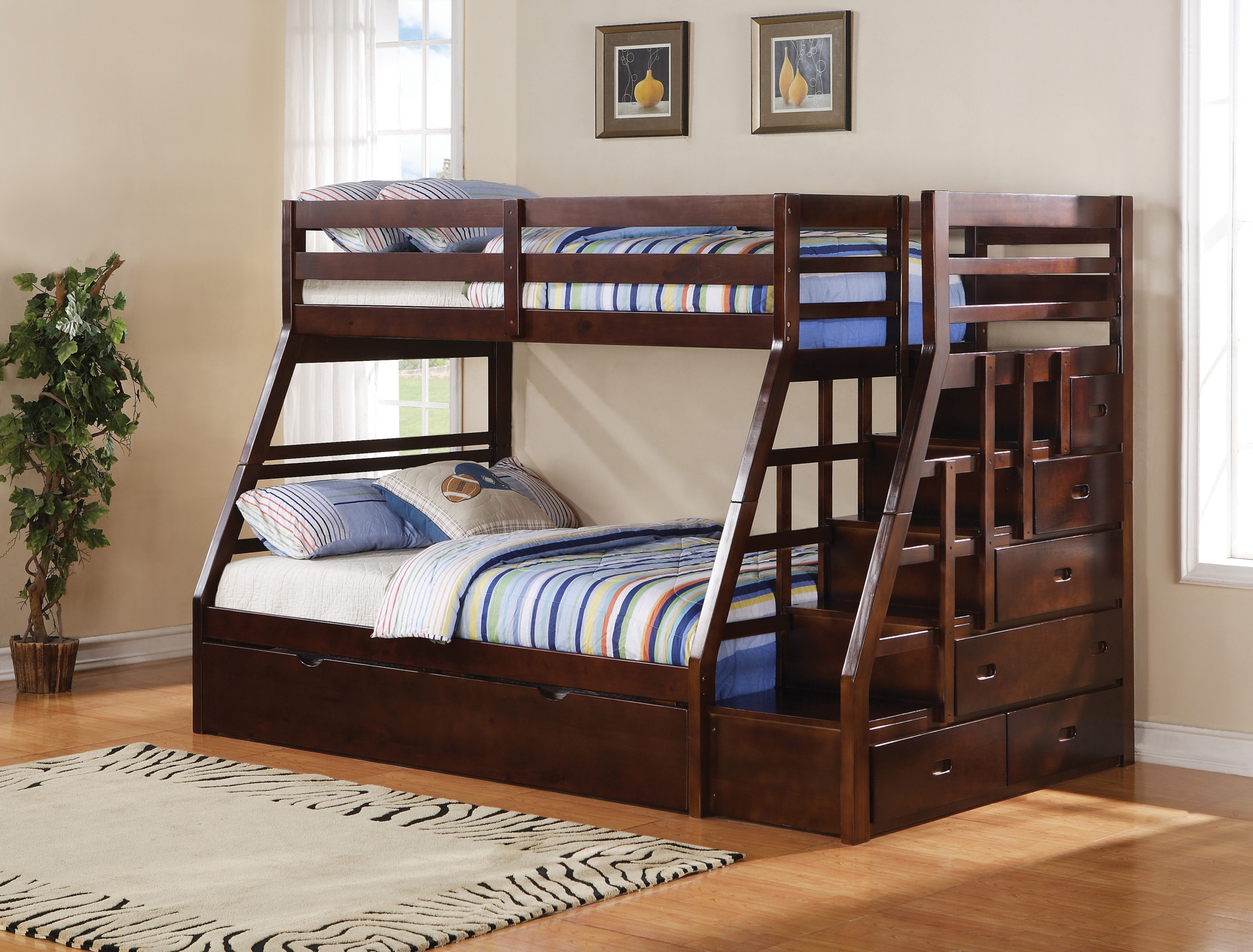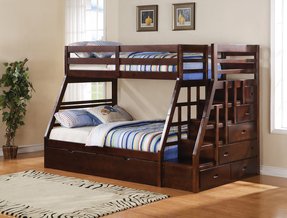 Jason Espresso Twin over Full Bunk Bed with Storage Ladder and Trundle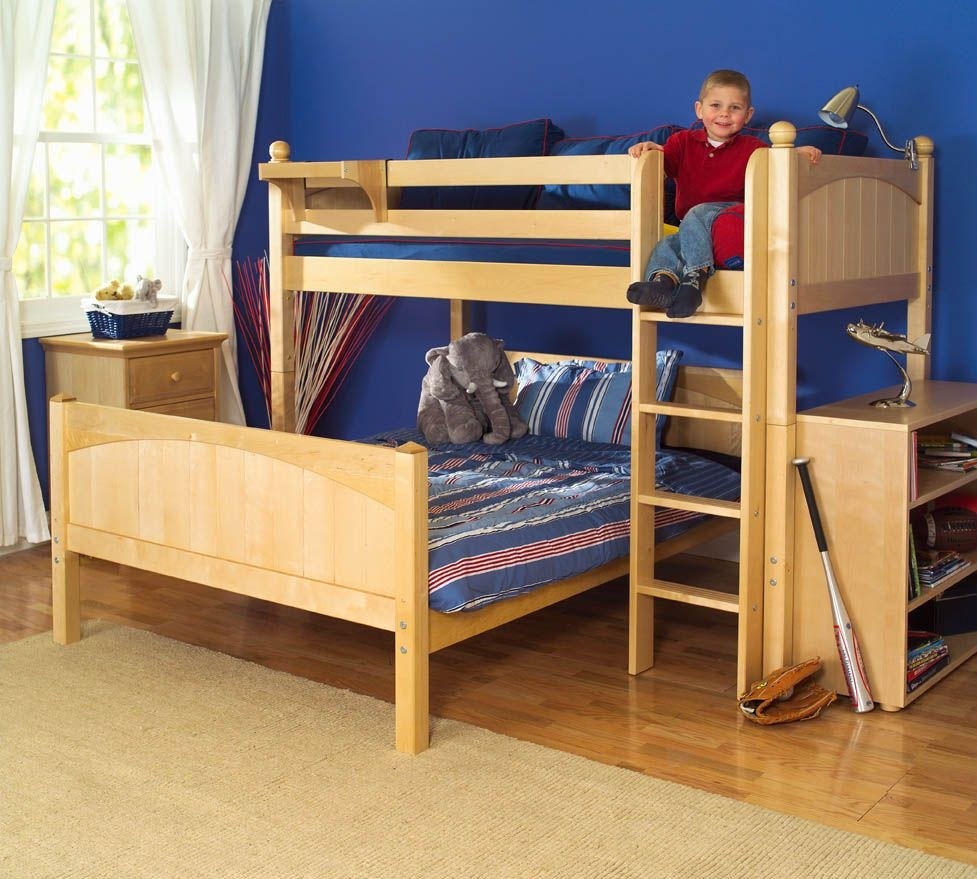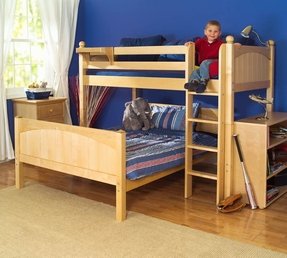 Maxtrix Kids Furniture - another style of a bunk with double on the bottom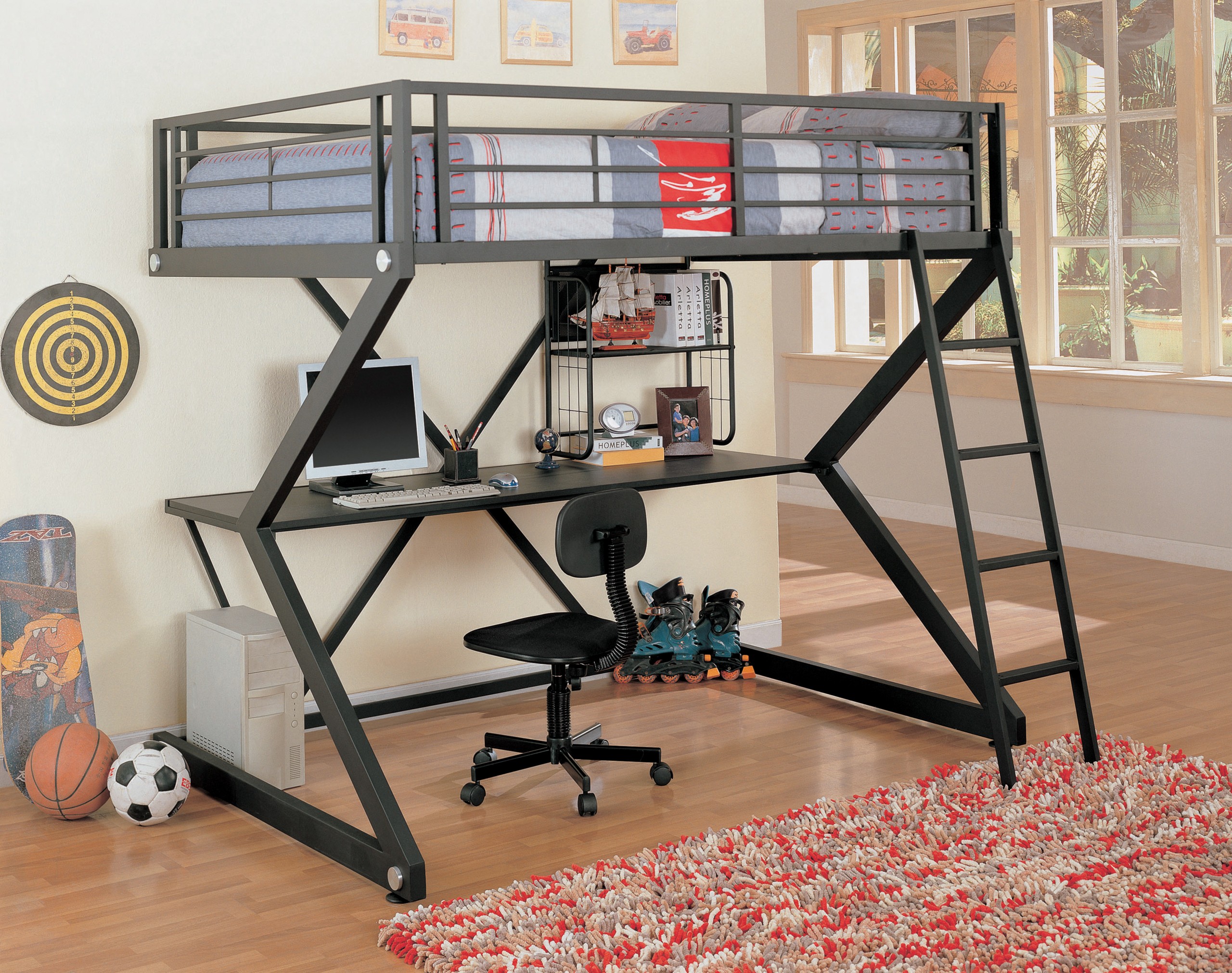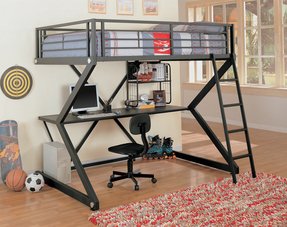 Fun top bunk bed with desk on bottom.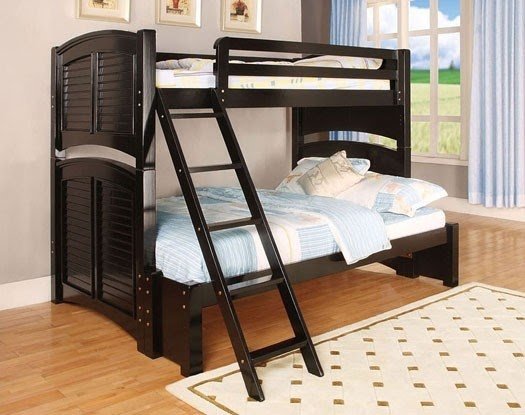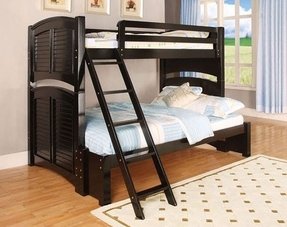 The Morgan is an example of a twin/full bunk bed with a twin size mattress on top and a larger full size mattress on bottom. Great for parents with children of different ages.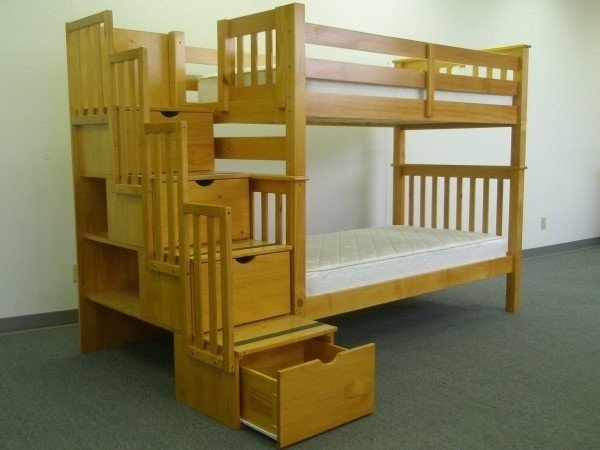 And here's the one we bought: Tall Stairway Bunk Bed. The "tall" model allows more headroom for the bottom bunk. We did receive a few bad pieces in the kit, but the company replaced them. We are very happy with it.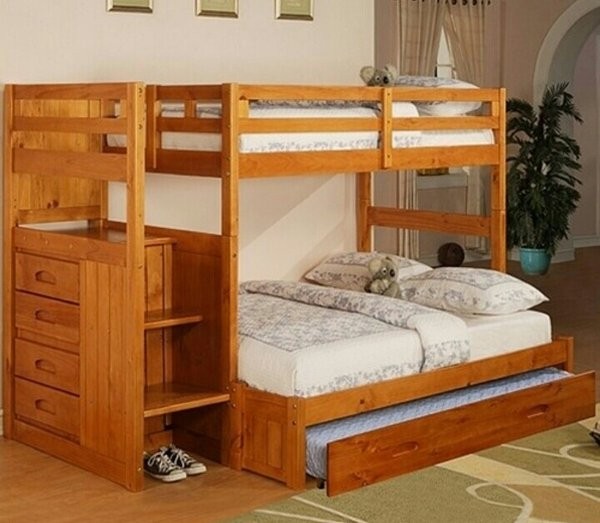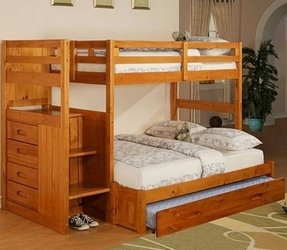 Honey Ranch Bunk Bed Twin/Full - With Trundle Bed - 2 I like the full on bottom, and the "staircase"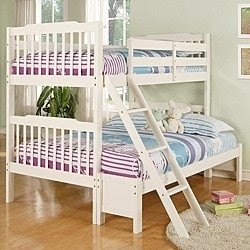 This bunk bed from Simone features a traditional slat design headboard and footboard. This bunk bed comes with a guard rail on top of the bunk and the bottom bunk can transform to a twin-size bunk bed when using the leg extension.http://www.o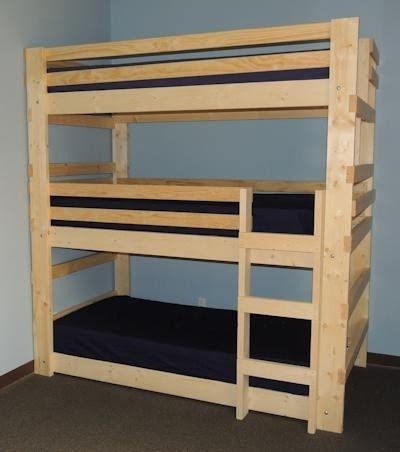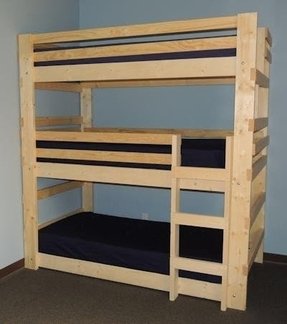 Triple bunk bed with full bed on the bottom is a perfect piece of furniture for a small apartment or a studio because they allow you to save a lot of space. Ideally, if like this one, it is made of oak wood and allow up to three sleeping places.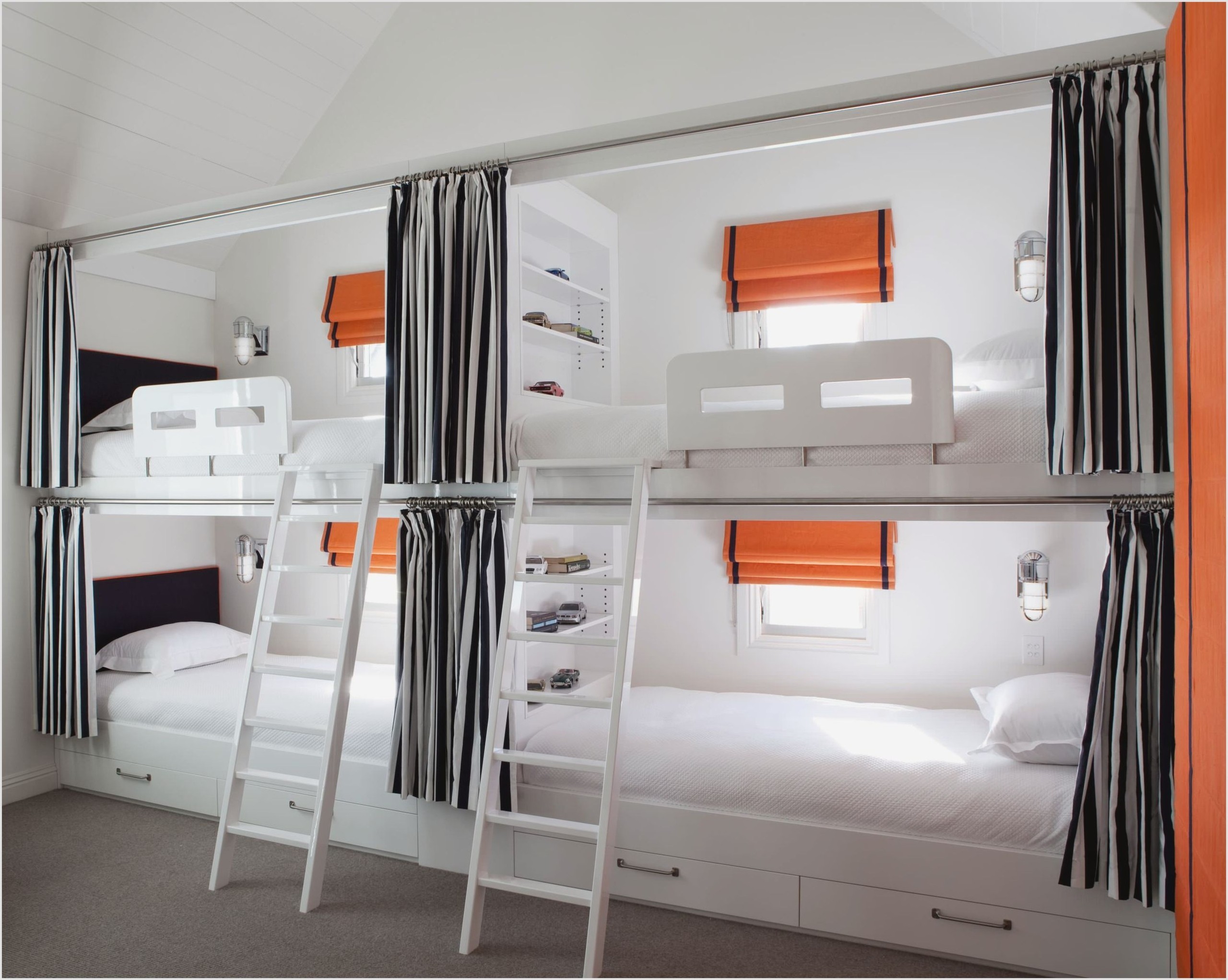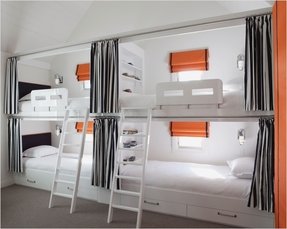 View in gallery Black and white bunk beds for four with orange drapes ...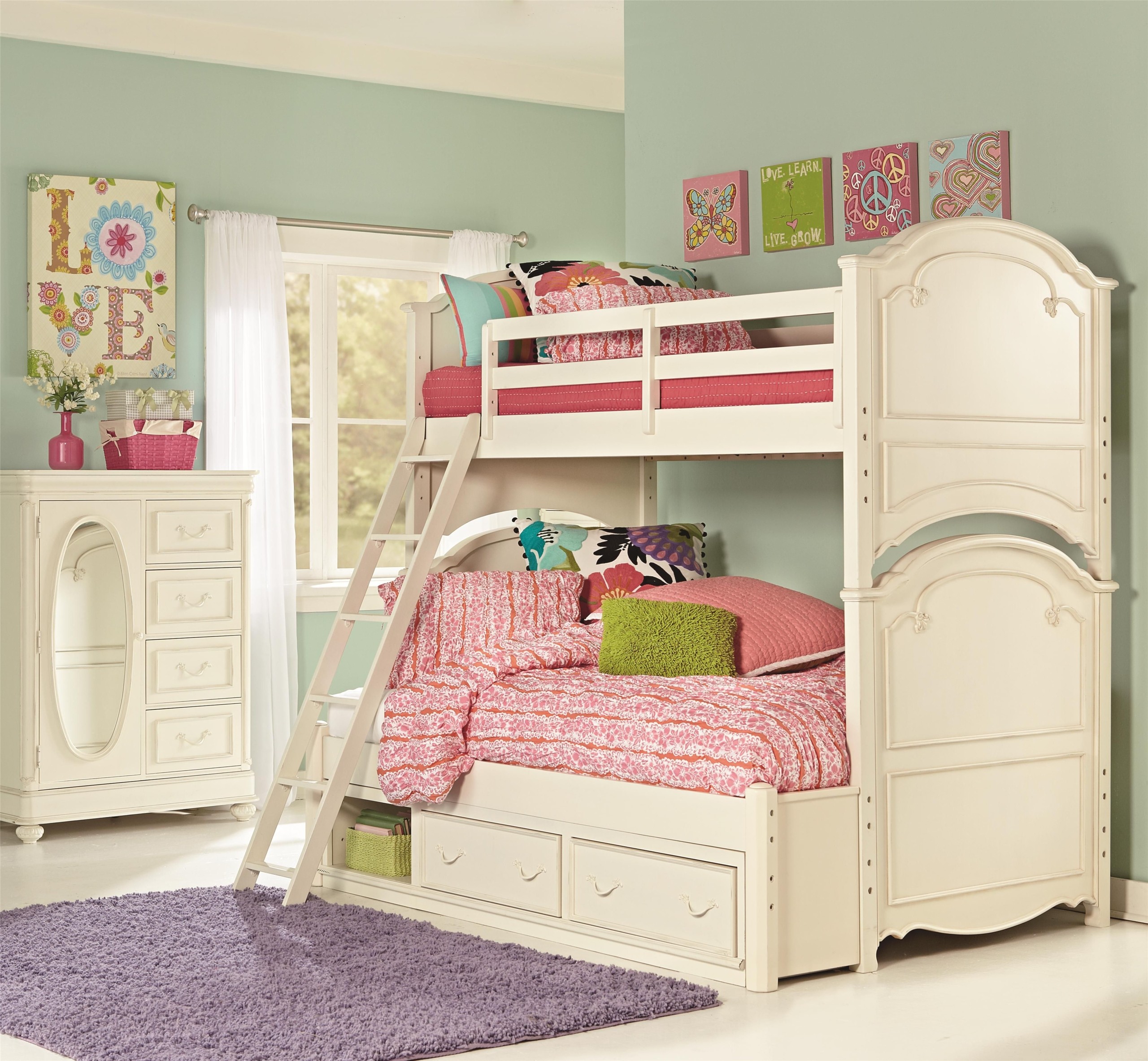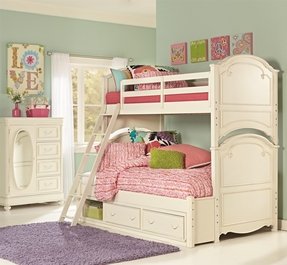 The antique style of this enchanting bunk bed with full bed on the bottom is a great combination for any children's room decor. The whole presents itself very stylishly and lightly, bringing to the decor a coziness.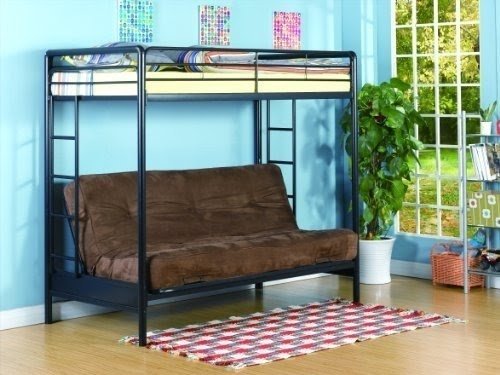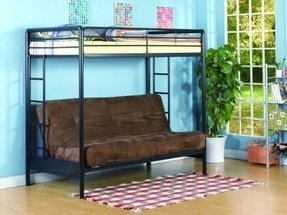 Black bunk bed finished in universal black color. This metal construction features a twin size bed located over a futon. It is a perfect idea for comfortable sleeping spaces in small types of indoors.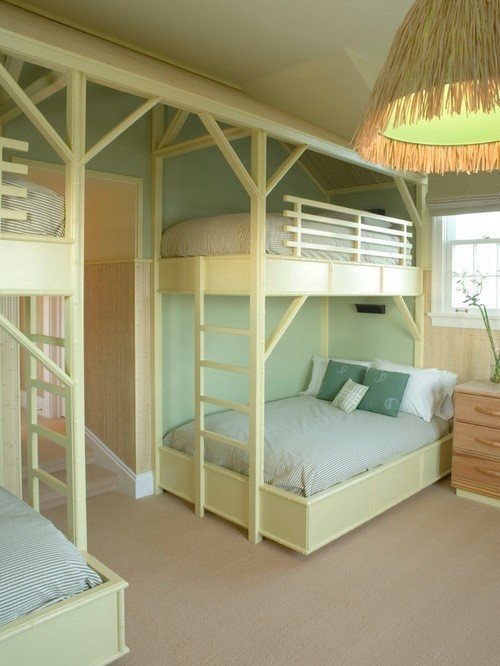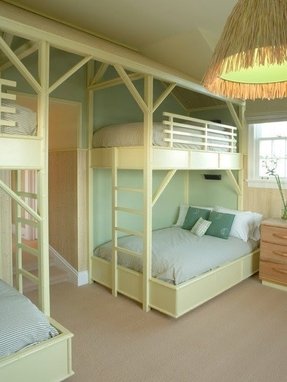 Loft Beds to Love | Bedroom | Ideas and Inspirations I really like the wood structure that you can see and that it is a nice use of space on either side of the door.