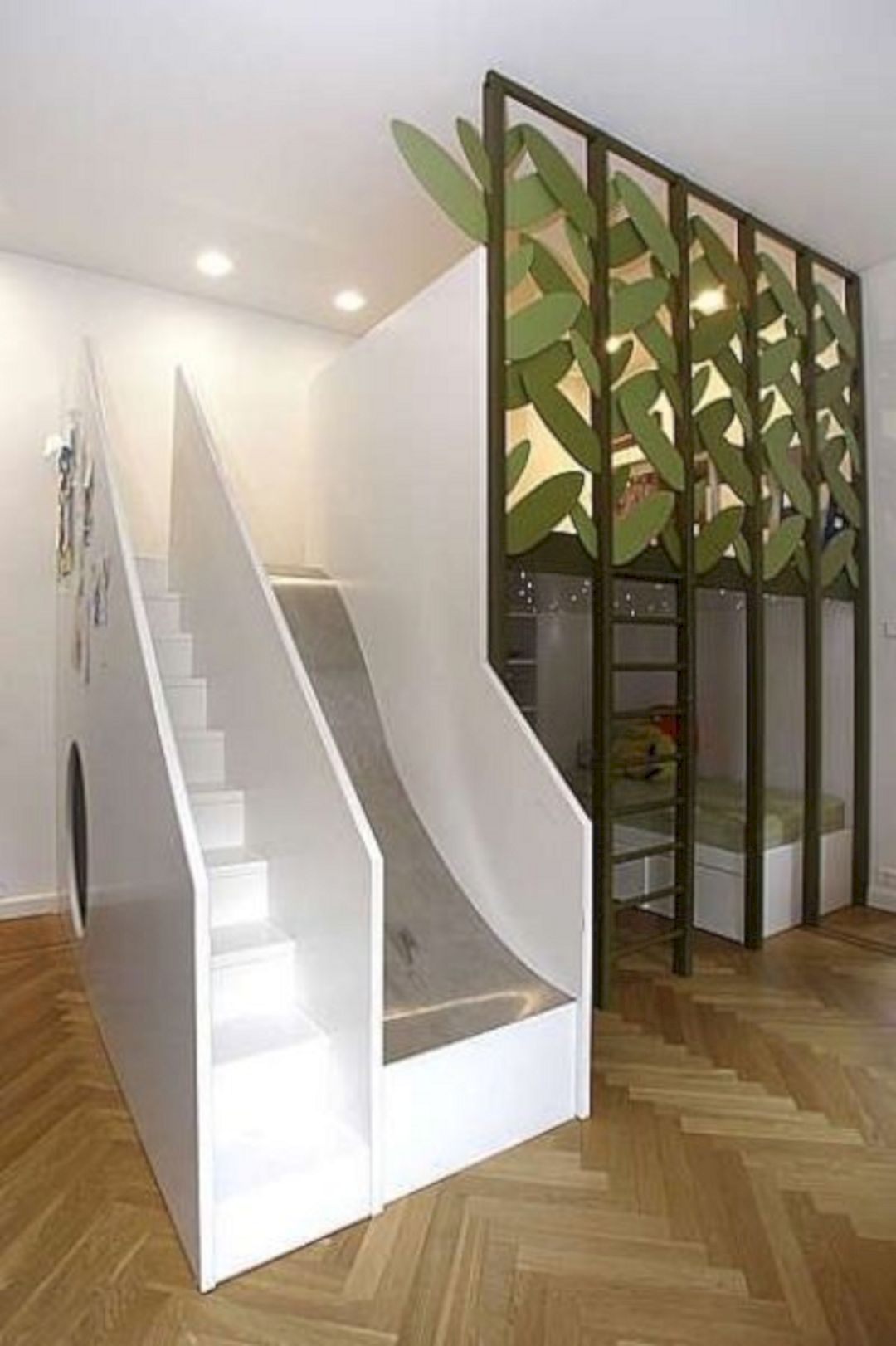 Why not ensure a fun environment for your kids and allow then to have plenty of fun with this amazing piece that combines the normal flight of stairs with a slide for your children to play on for hours.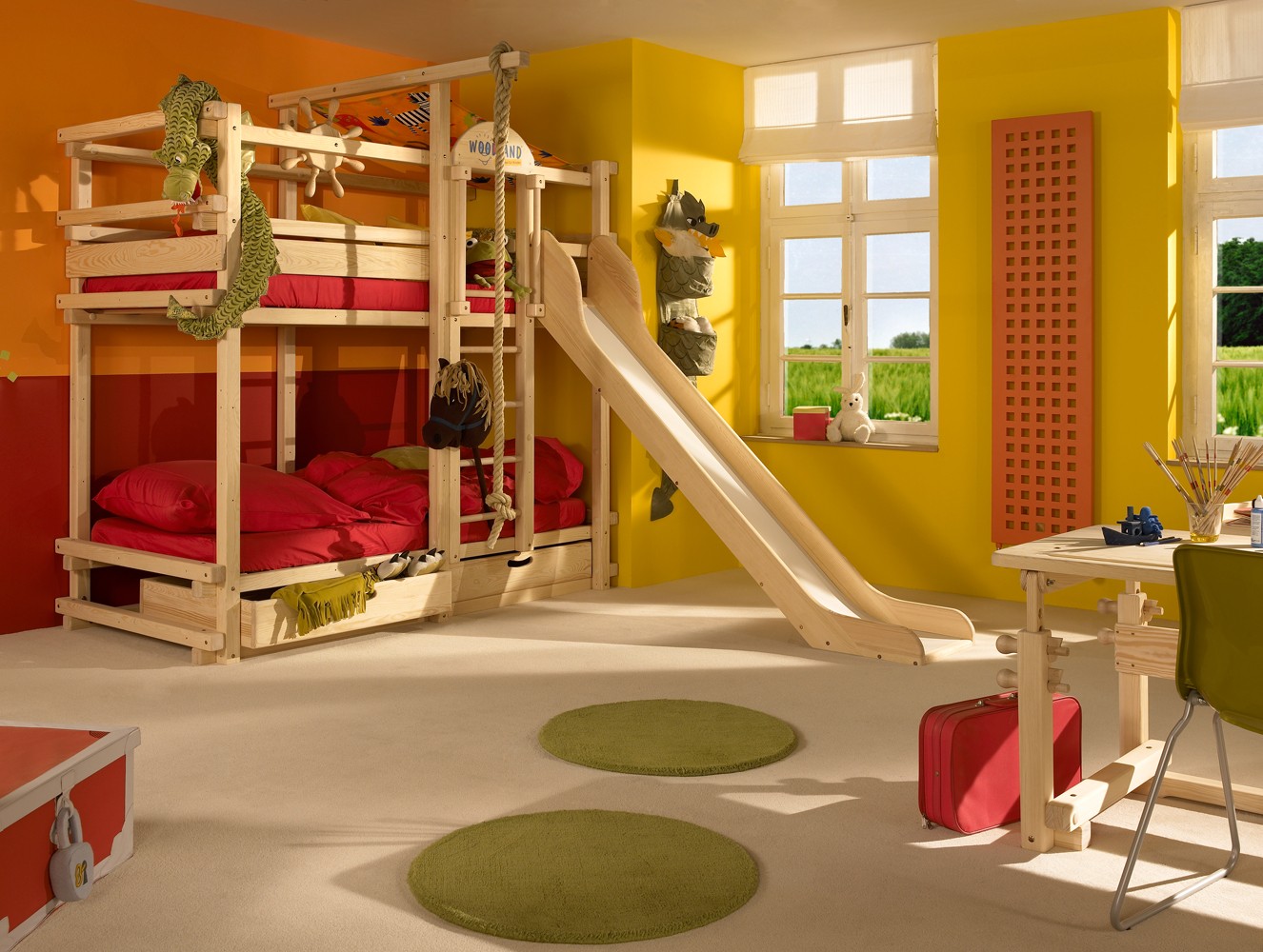 If you want to impress your kids, you may want to check this sturdy, wooden bed with a long slide leading down from the top bunk. The bed has also a lower bunk and a comfy ladder, and it's all designed in the shape of an eye-catching, pirate ship.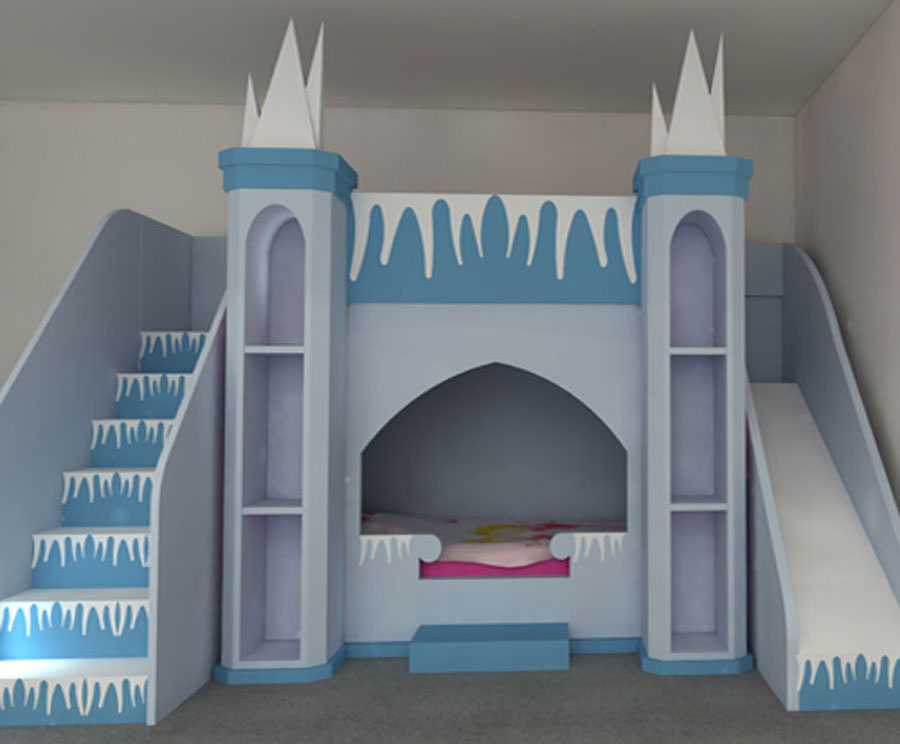 If your kids are a fans of "Frozen", they need to have this princess castle bunk bed. It has the play area above, blue and white color and it's low or high sleep. Your daughters will be delighted how cool this bed is.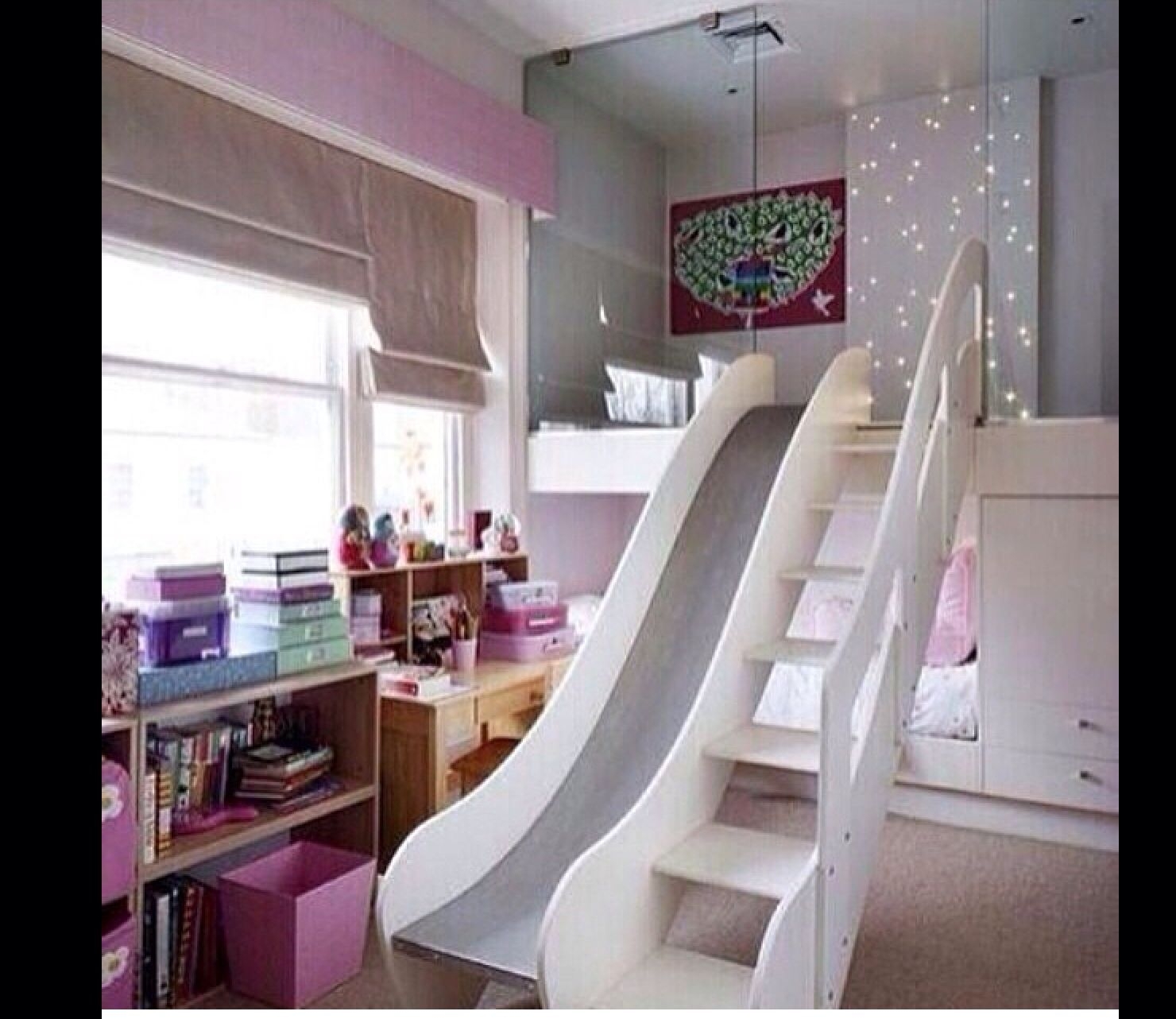 Comfortable and very original bathroom for children. It features a bunk bed with plenty of sleeping space on two levels. The upper bed includes access stairs and a slide. The bed also offers storage compartments and drawers.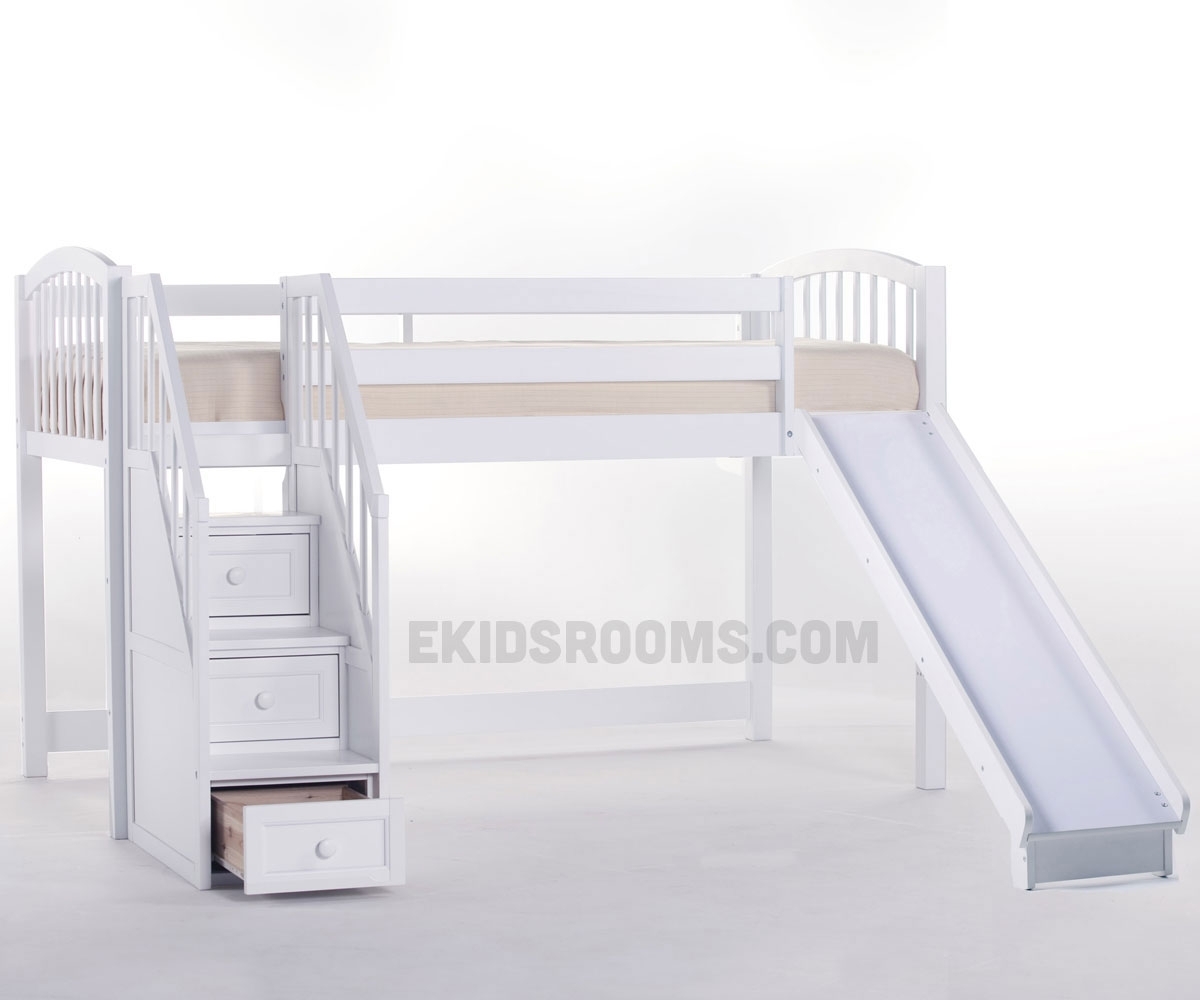 ... bed low loft bunk bed with slide childrens loft beds with slide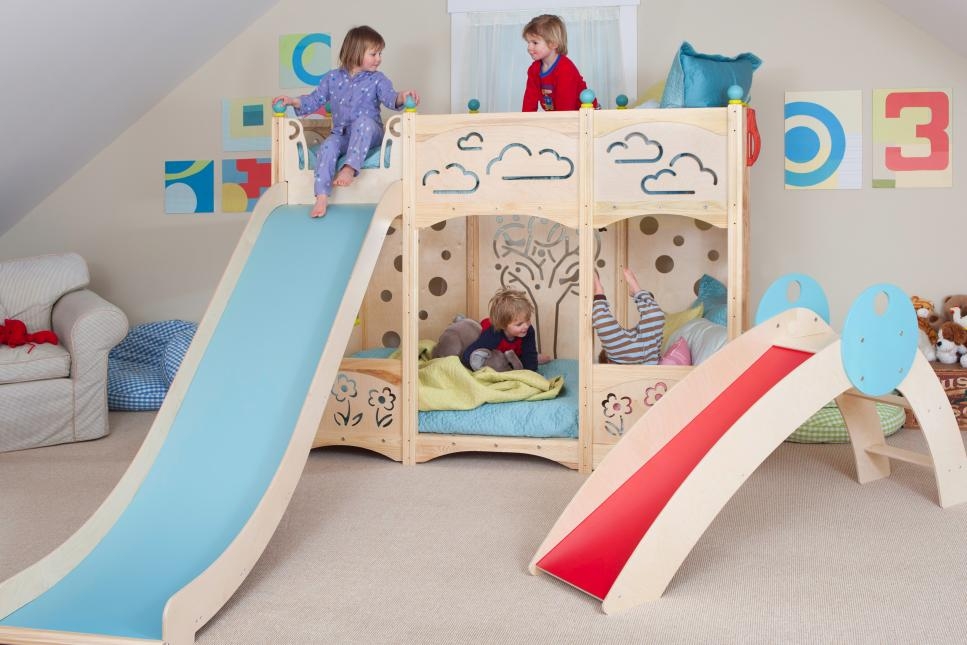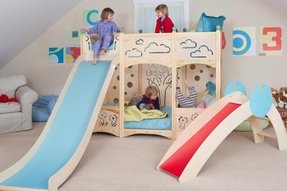 Interesting and creative setup for a spacious children's playroom, furnished with a DIY handmade playset with a built-in second floor with a slide and a lower compartment filled with a mattress to create a cozy sleeping place.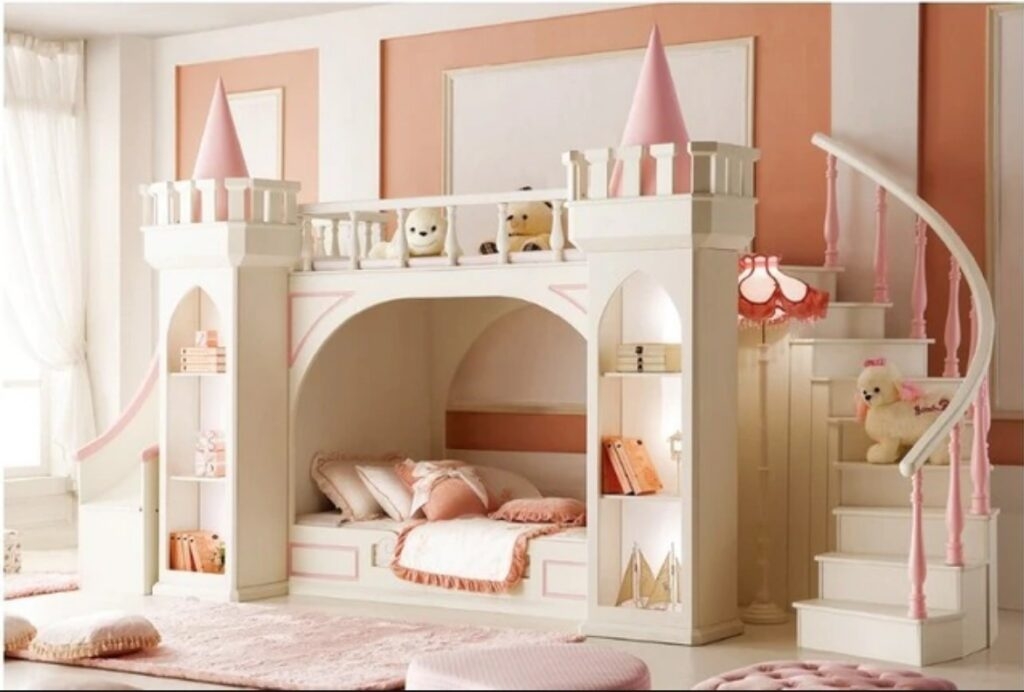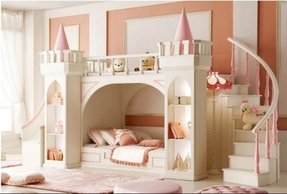 Noble & Vogue Kid's Castle Bunk Bed Set w Slide & Stairs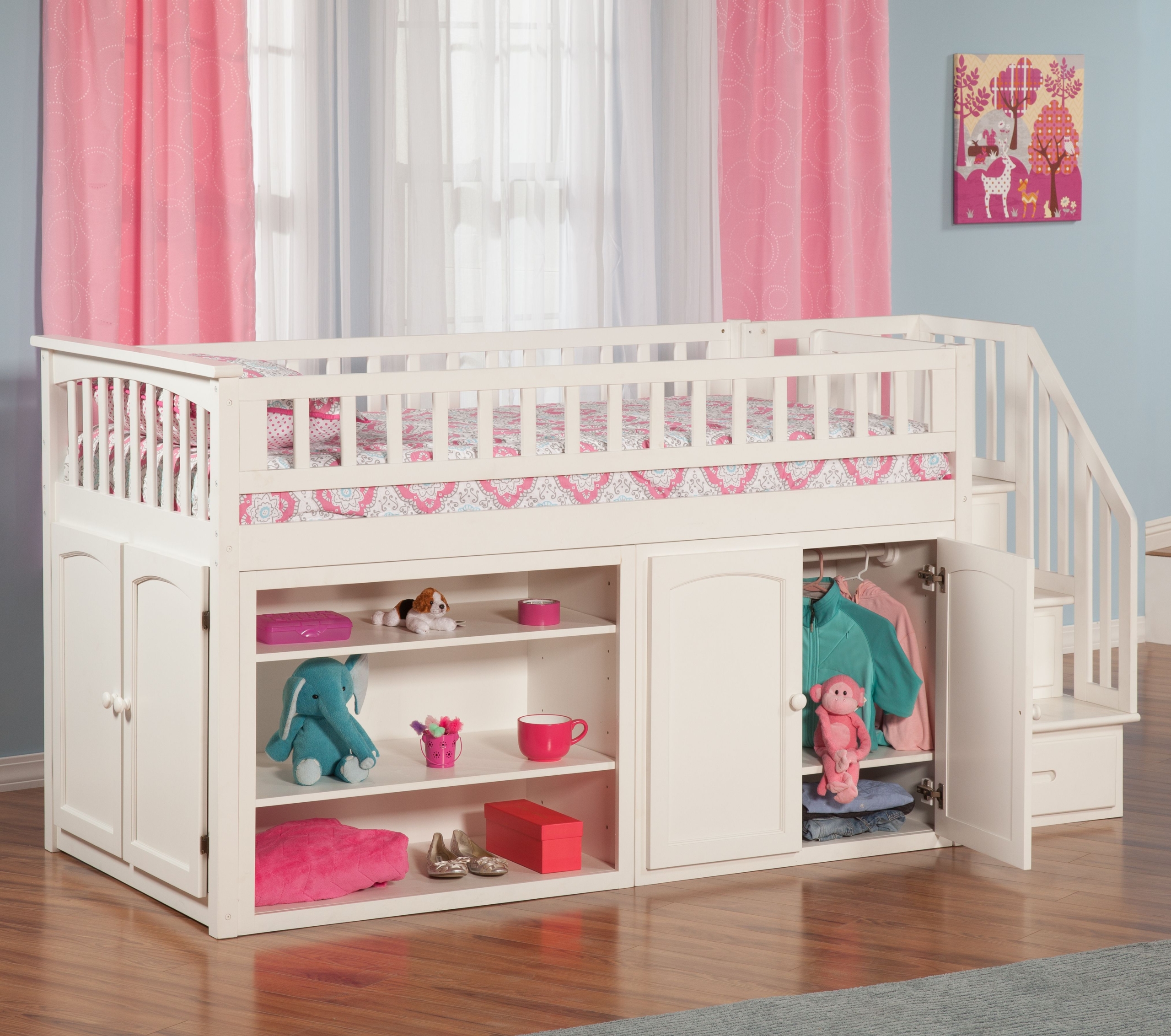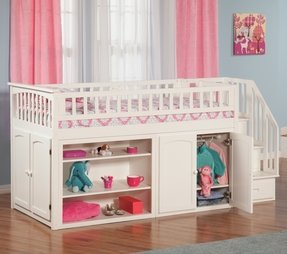 A set of two unique approaches to dollhouse-styled playhouses for children. The leftmost one is made in a vintage style with a yellow coat of paint, and the right one is made in a more traditional style with a tiled roof.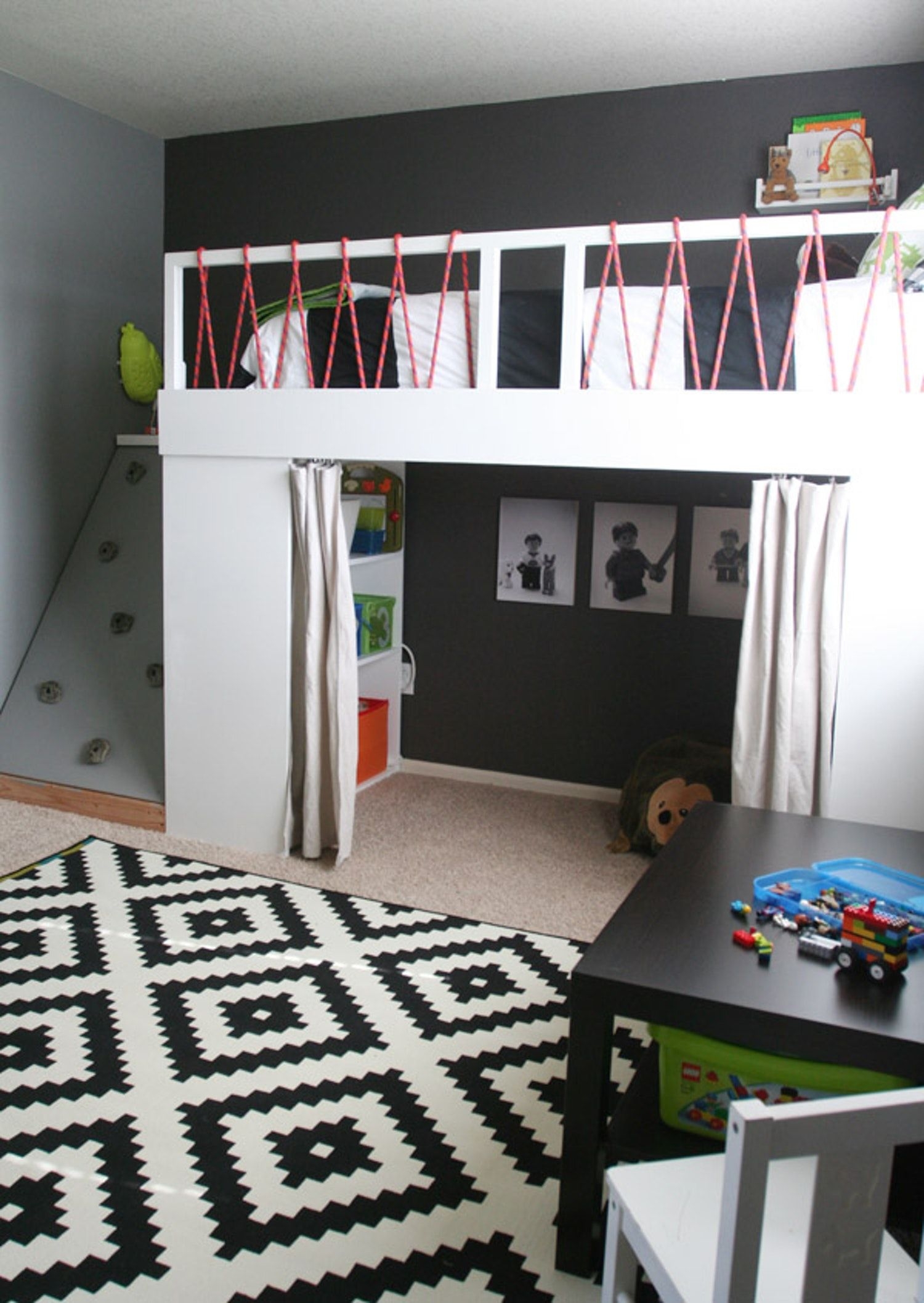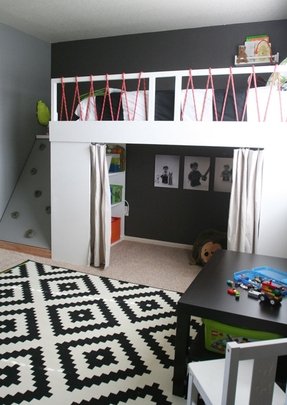 This is one great idea for kids' room. The loft bed is not only stylish but also functional – with the amazing DIY bungee cords, you can be sure your kid won't fall out of it. The colours and decoration are interesting and will keep the brain of your kid stimulated.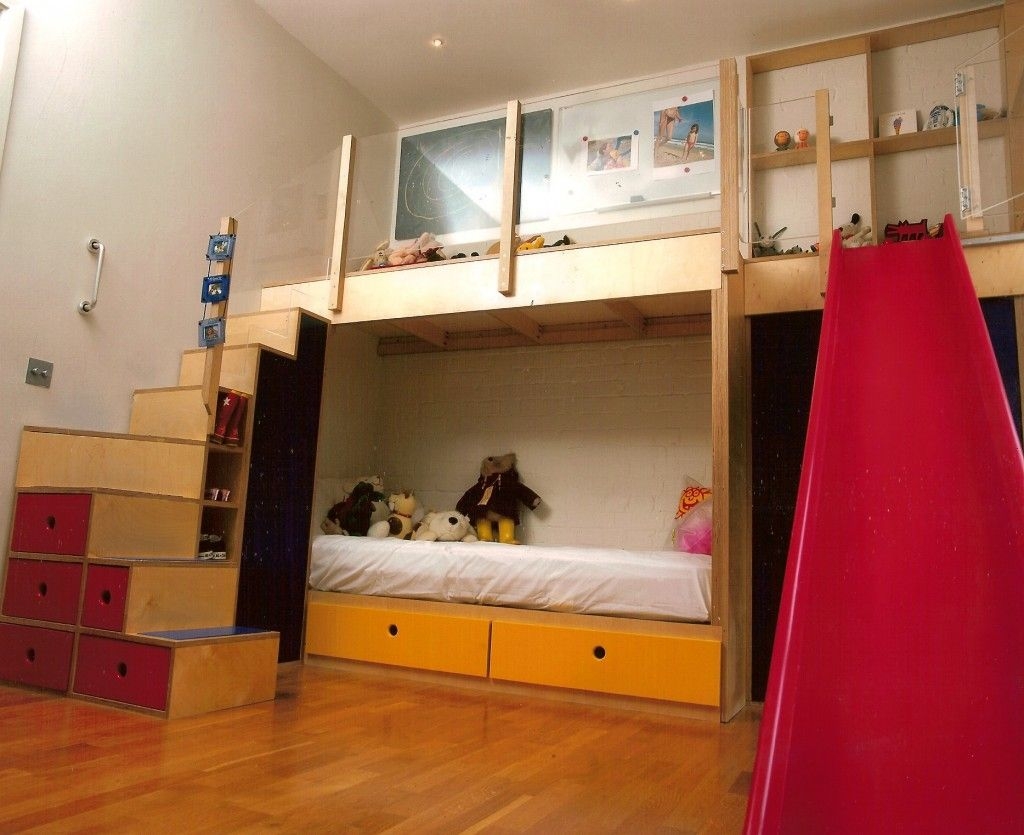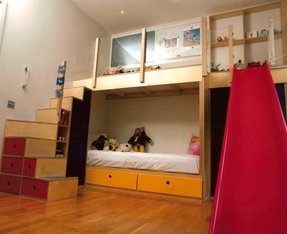 Bunk bed designed for kid's room. Construction is made of wood. It has stairs and railings for added safety. Includes slide and a lot of drawers in various sizes for storing beddings, clothes, toys and more.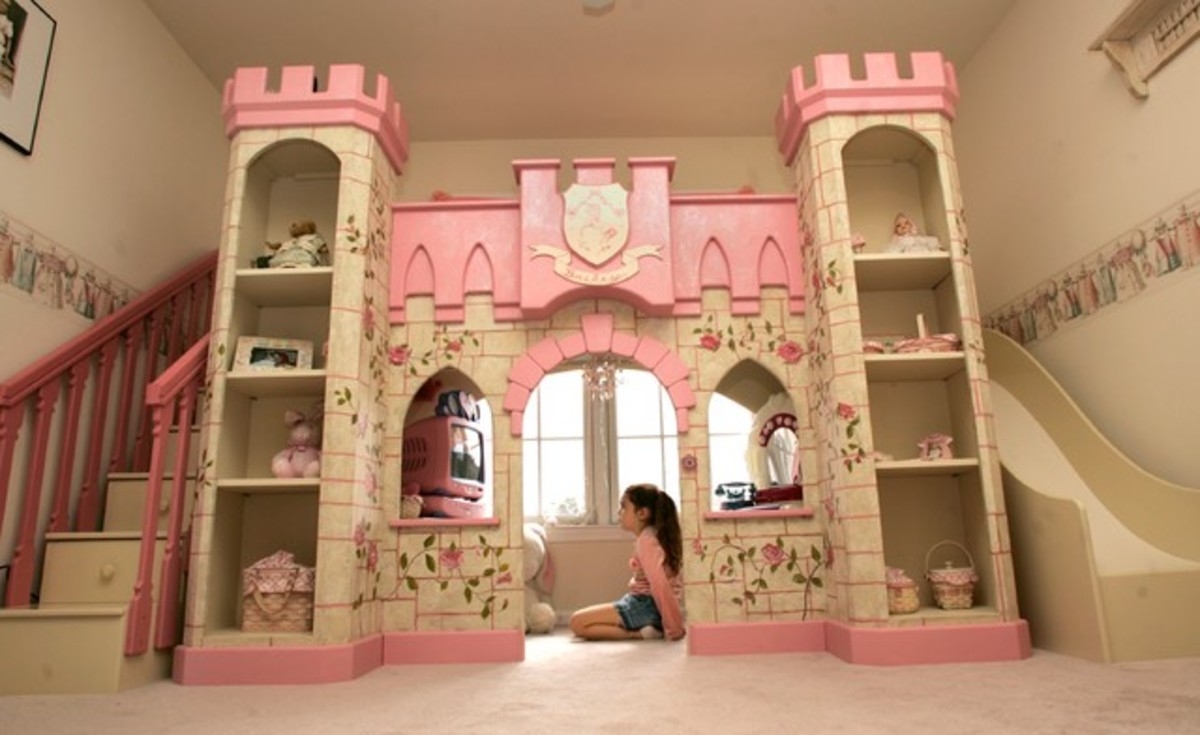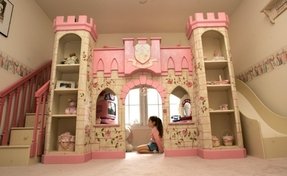 Girls Princess Playhouse Bed With Slide Steps Beds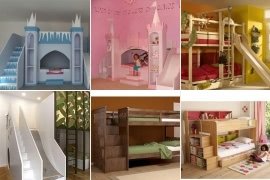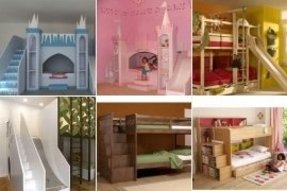 Bunk bed made of wood. It includes wide drawer for storing beddings and many open shelves in various sizes. It provides space saving in the kid's room, a teenager's room and others interiors as needed.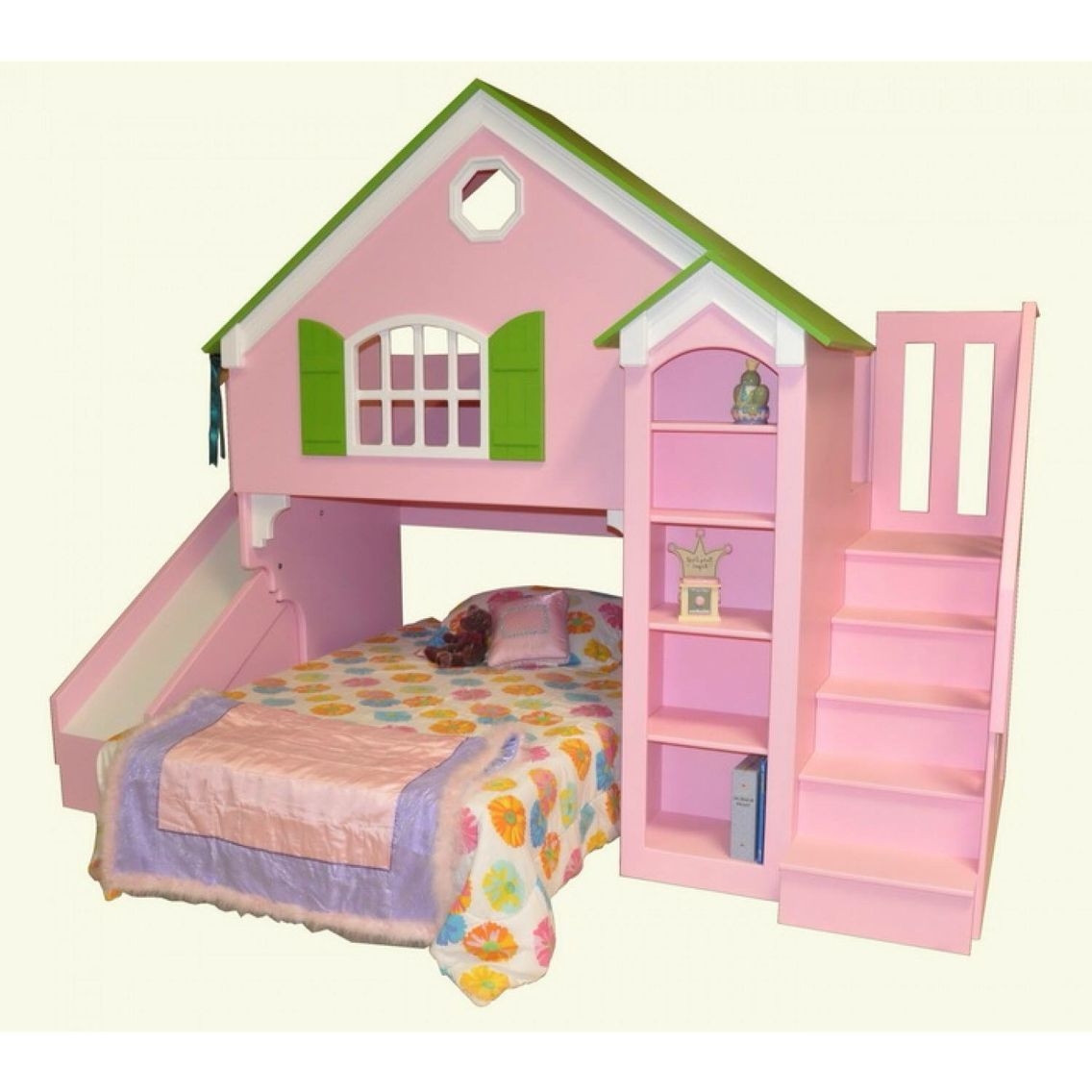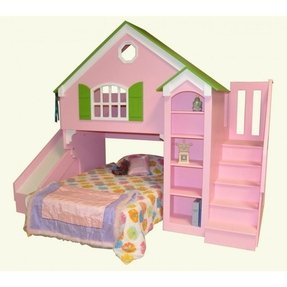 The dream of every Little Princess,an exclusive pink, with white and green elements,made from safe plastic dollhouse.Bunk bed with stairs and slide it's not an usual solution to creats a dollhouses.In this case it symbolizes the potential life of the owner.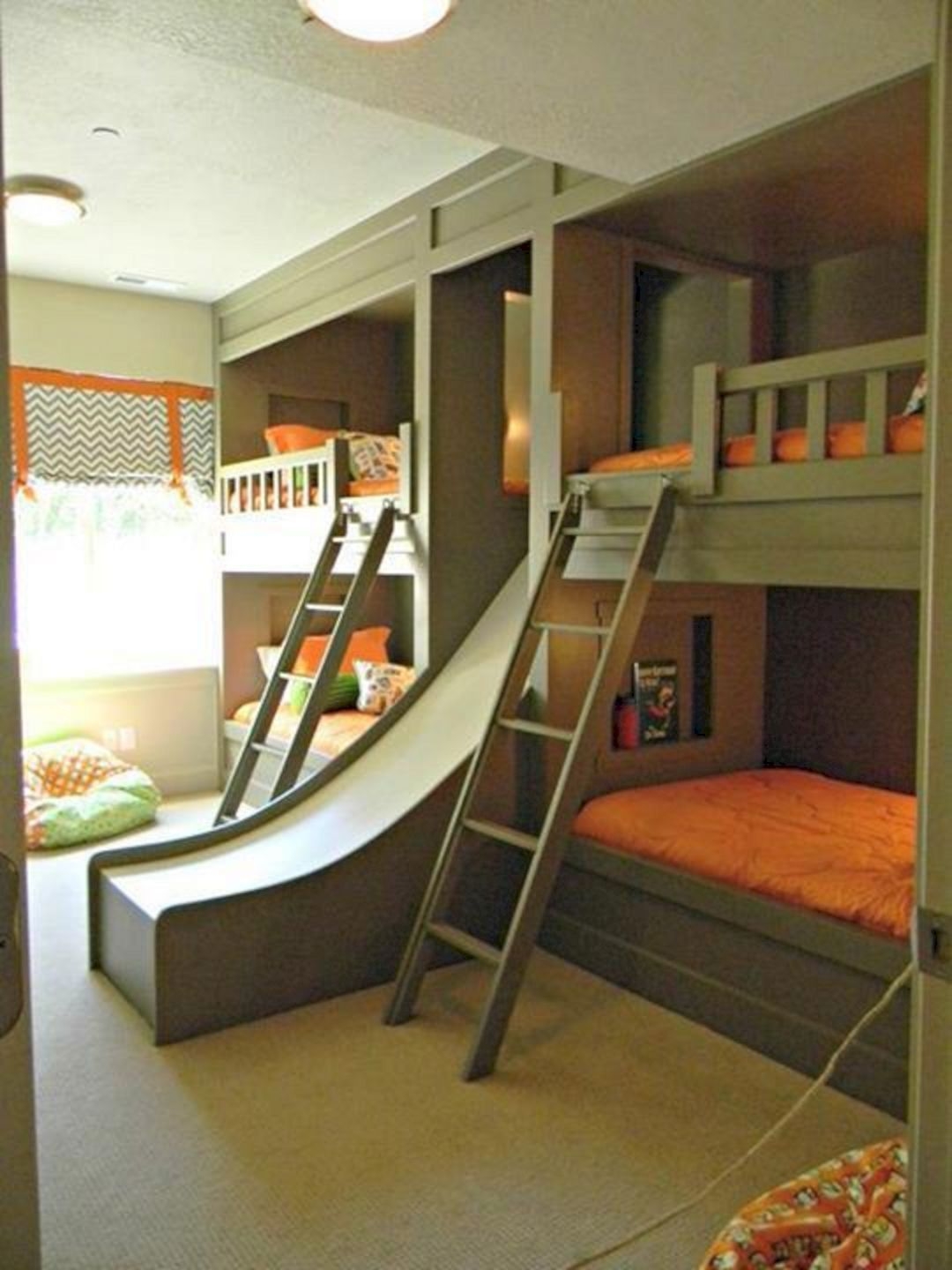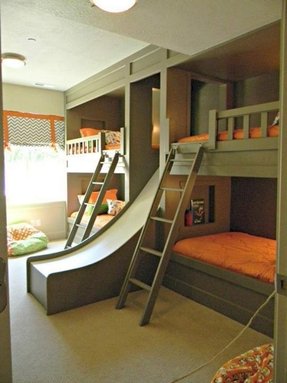 Forget about boredom, about trips to the playground - now you and your siblings bed are an amusement park. A bunk bed with four parts is made of wood and wooden boards and has an interesting greenish color but most importantly, besides the ladder has a slide!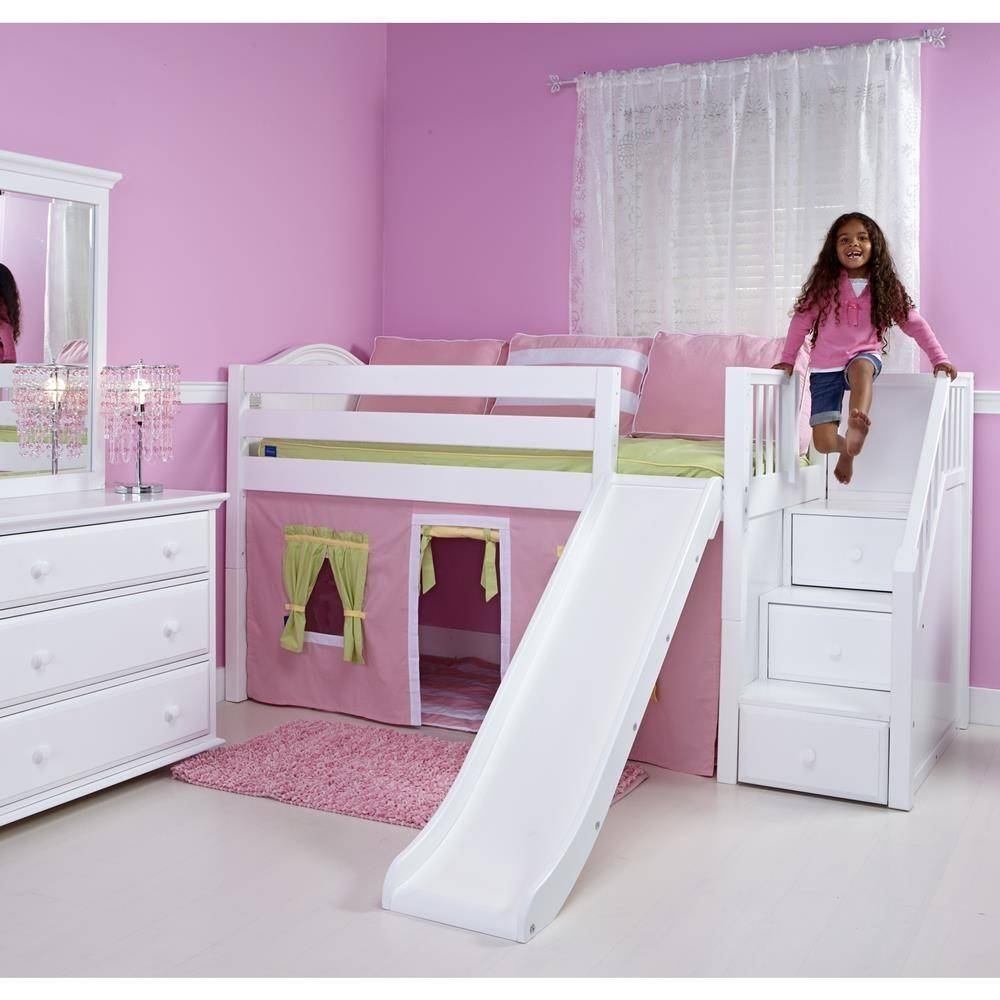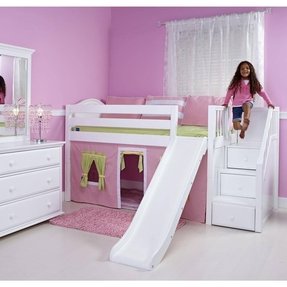 Girls Loft with stairs and slide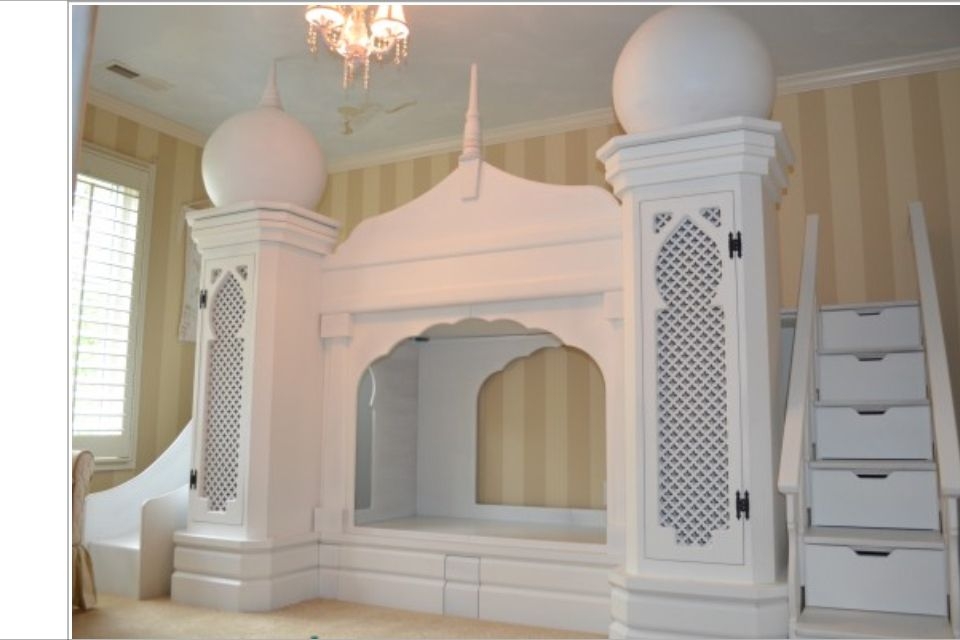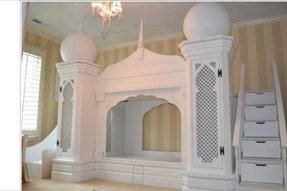 Are we moved to the former Byzantine Empire? Where did the Arabs delight with architecture? The Byzantine palace became a white childrens bunk bed with storage and stairs, and a slide on the other side. Presents a unique Middle Eastern character.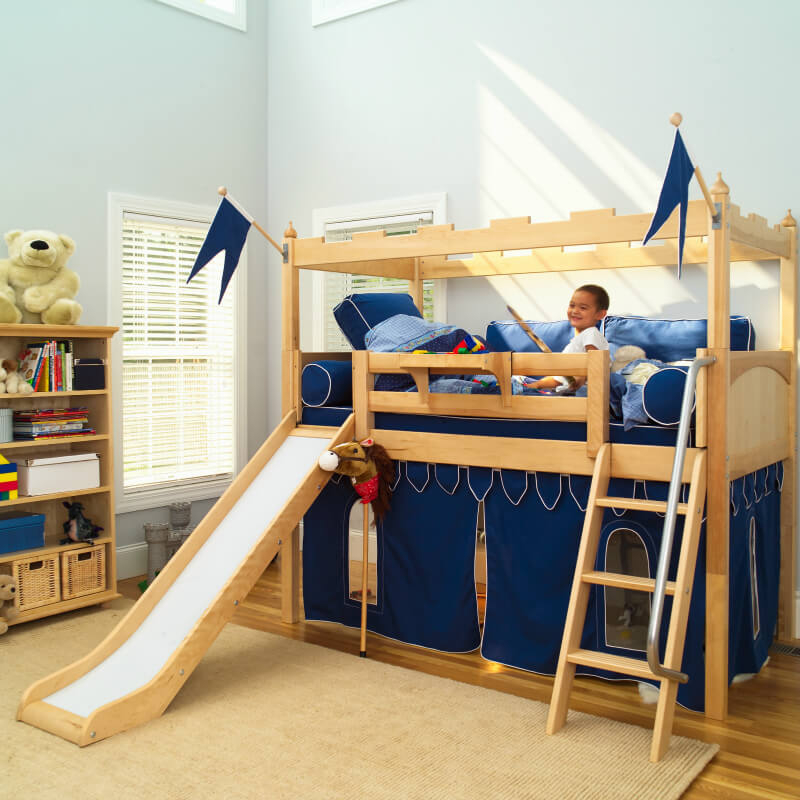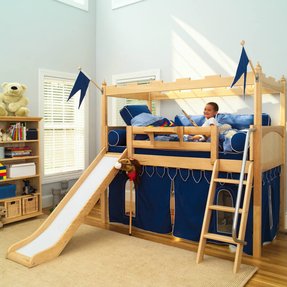 The beautiful design of this bunk bed with a ladder and a rider makes the place perfect for a perfect holiday combined with a unique fun place. The whole is stylishly combined in unusual colors and on a solid construction.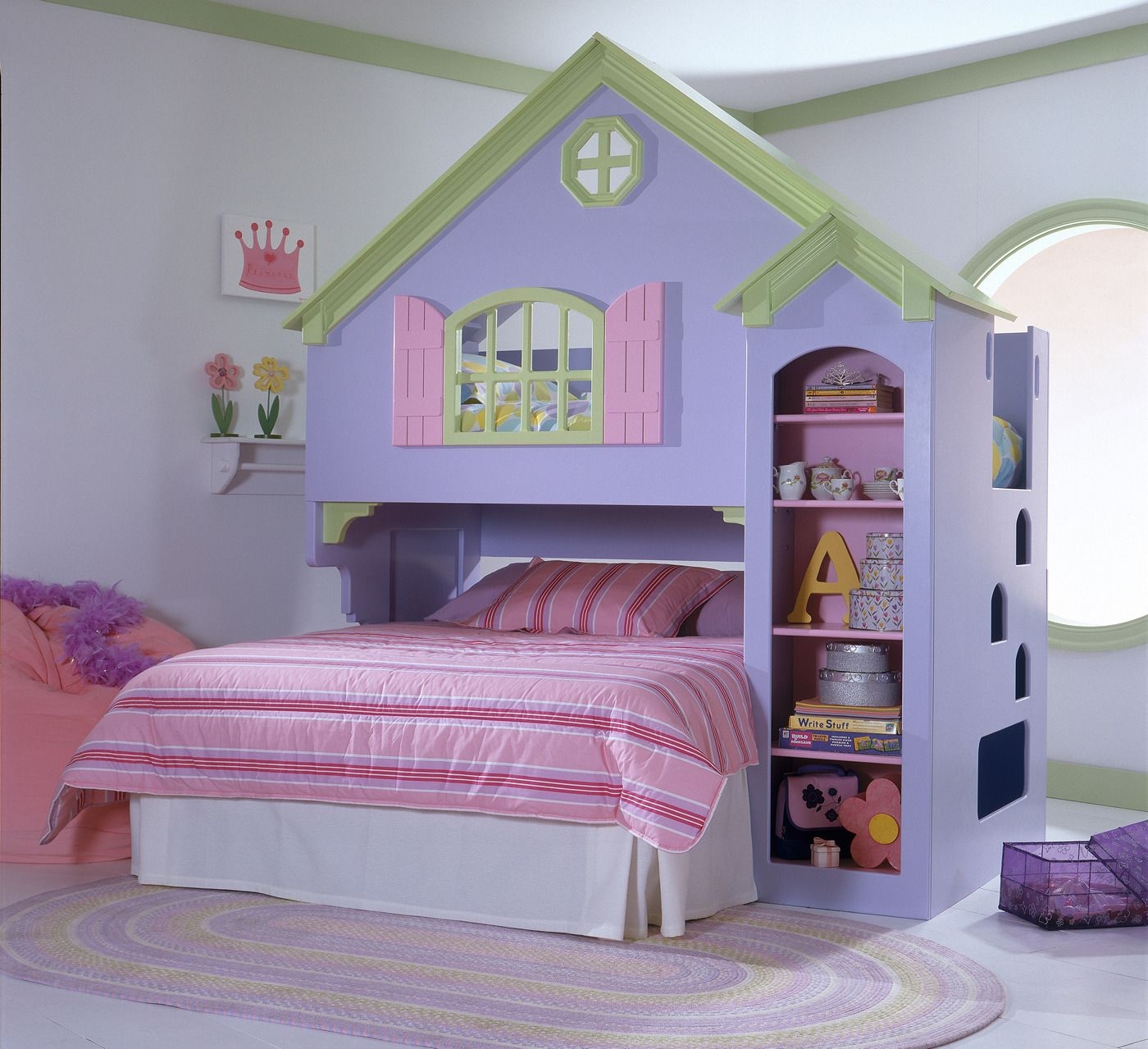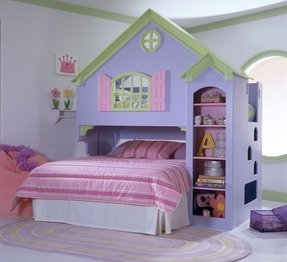 love this. book nook up top, just doesn't quite fit with A's room layout unless against far wall??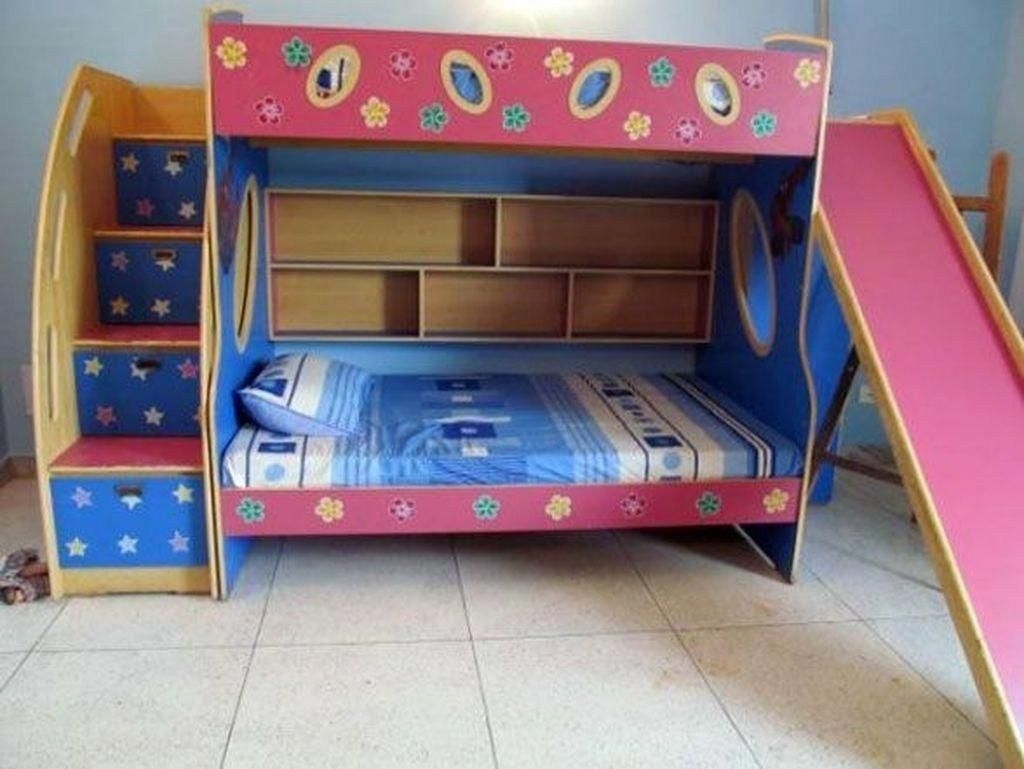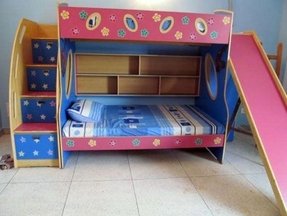 Bunk bed with slide and drawers for storing toys and others needed items. Includes stairs and railings for added safety. Construction is made of wood and finished with pastel colors. Perfect for space saving in any kid's room.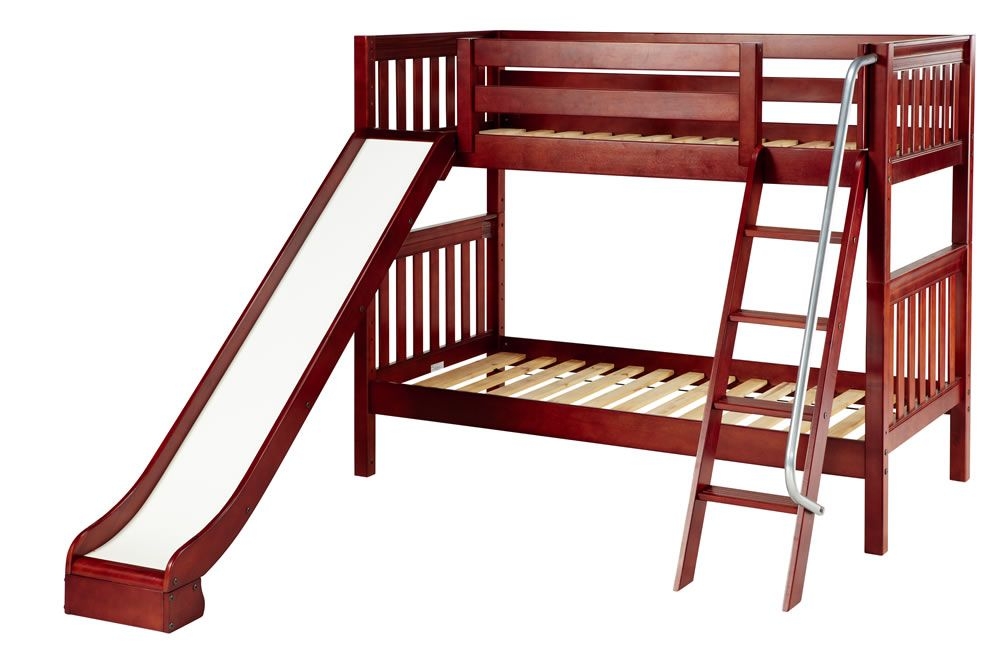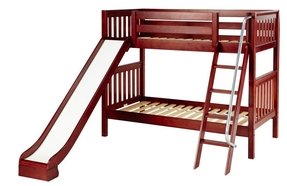 Medium Bunk Bed with Straight Ladder and Slide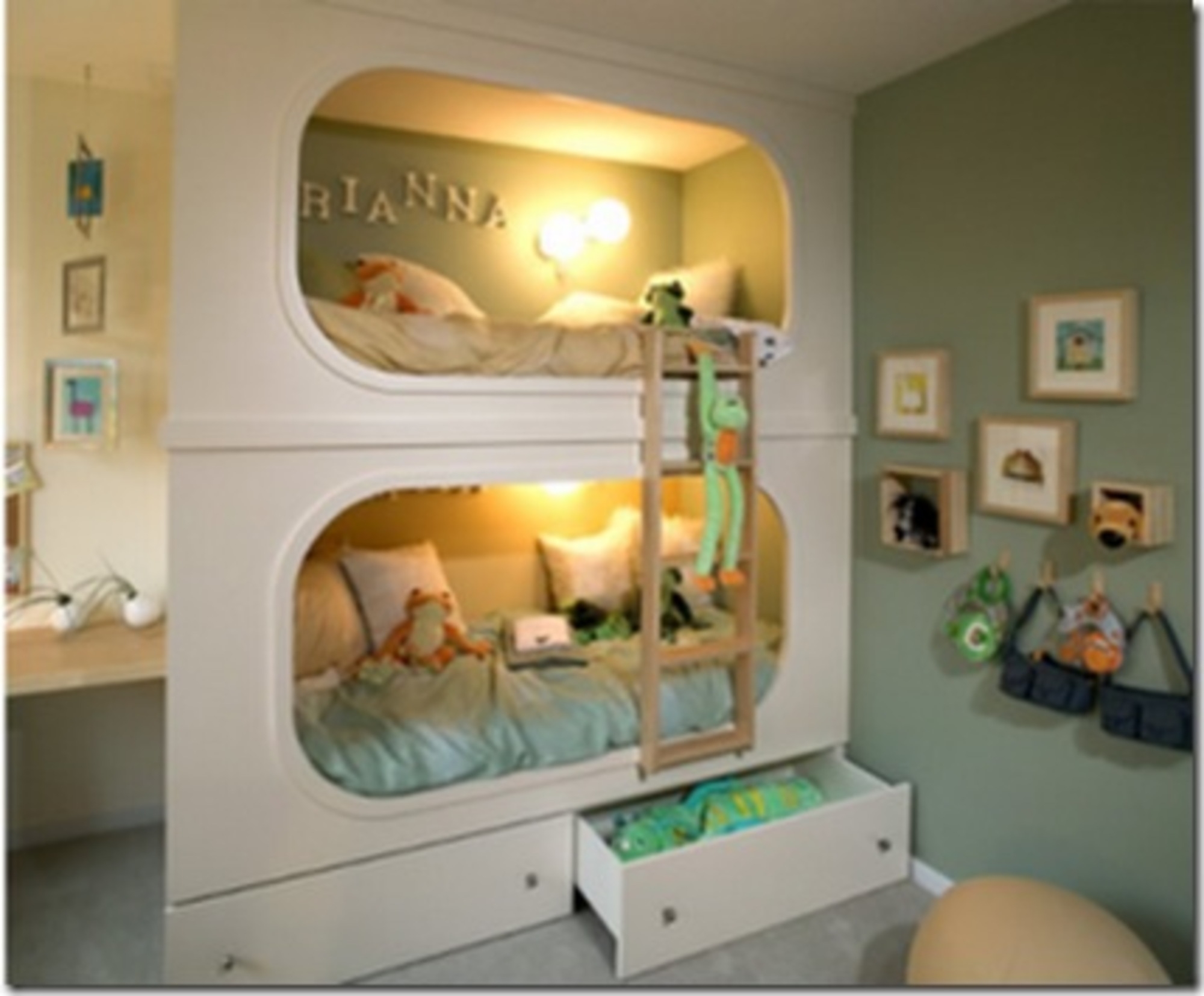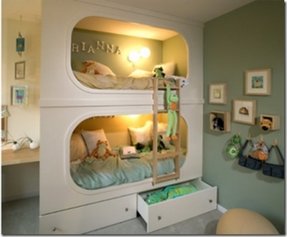 An awesome sleeping set for a children's bedroom. This contemporary looking wooden twin bed with an egg couch on the bottom and a twin bed upstairs evokes associations with the capsule-like design from the future.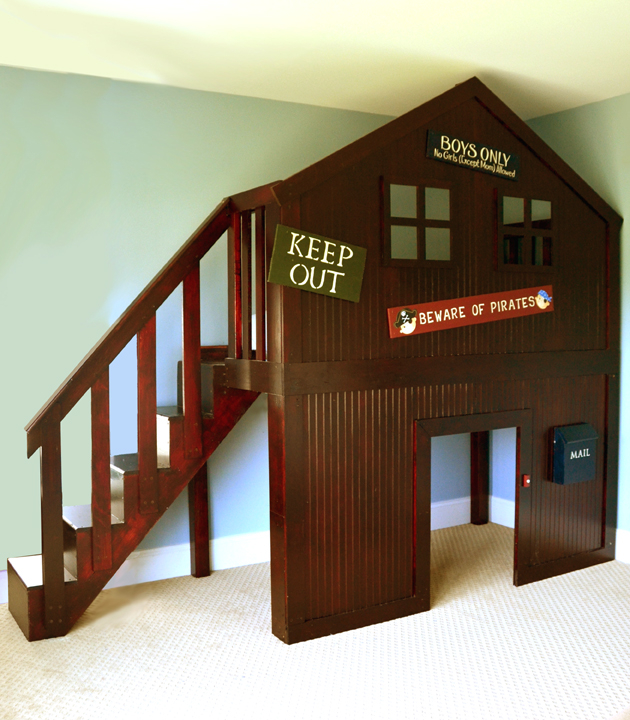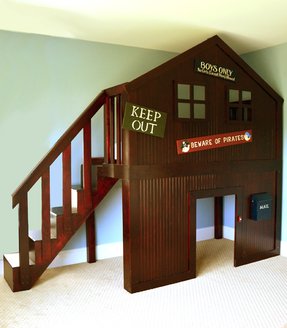 A treehouse bed that looks like a wooden house. Its lower part includes an entrance to the "house" and a mailbox. Upper, comfortable bed area is accessible via stairs. The whole construction is comfortable, ergonomic, solid and safe.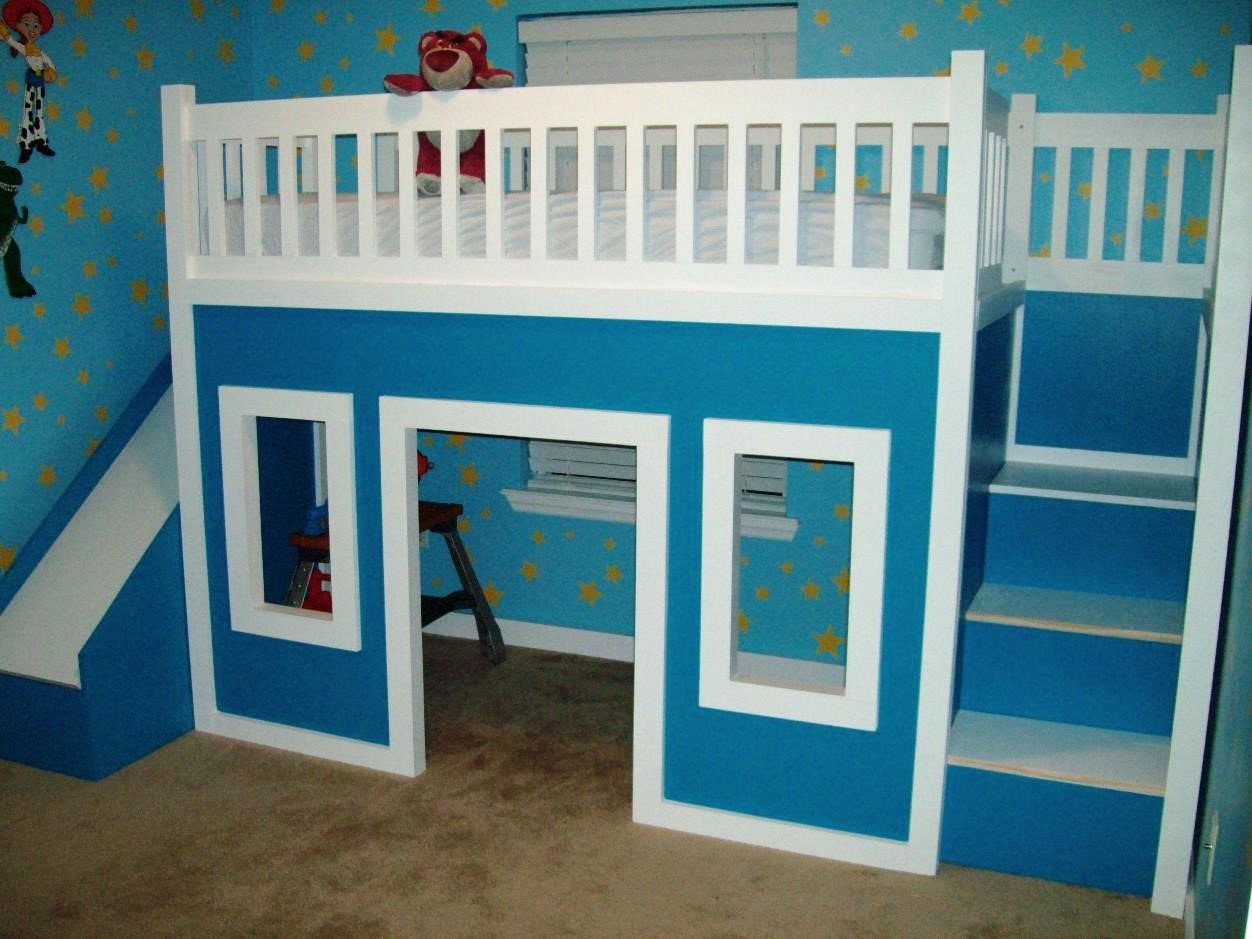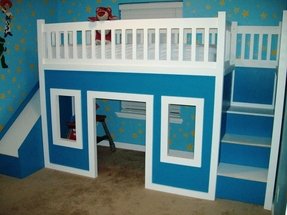 If you want to make your children very happy, you can always put in their room this amazing, white and blue, bunk bed. The bed is properly secured, and it is situated on the upper part of the whole set, playing the role of the roof for the house that is underneath it. There's also a classic staircase and a slide.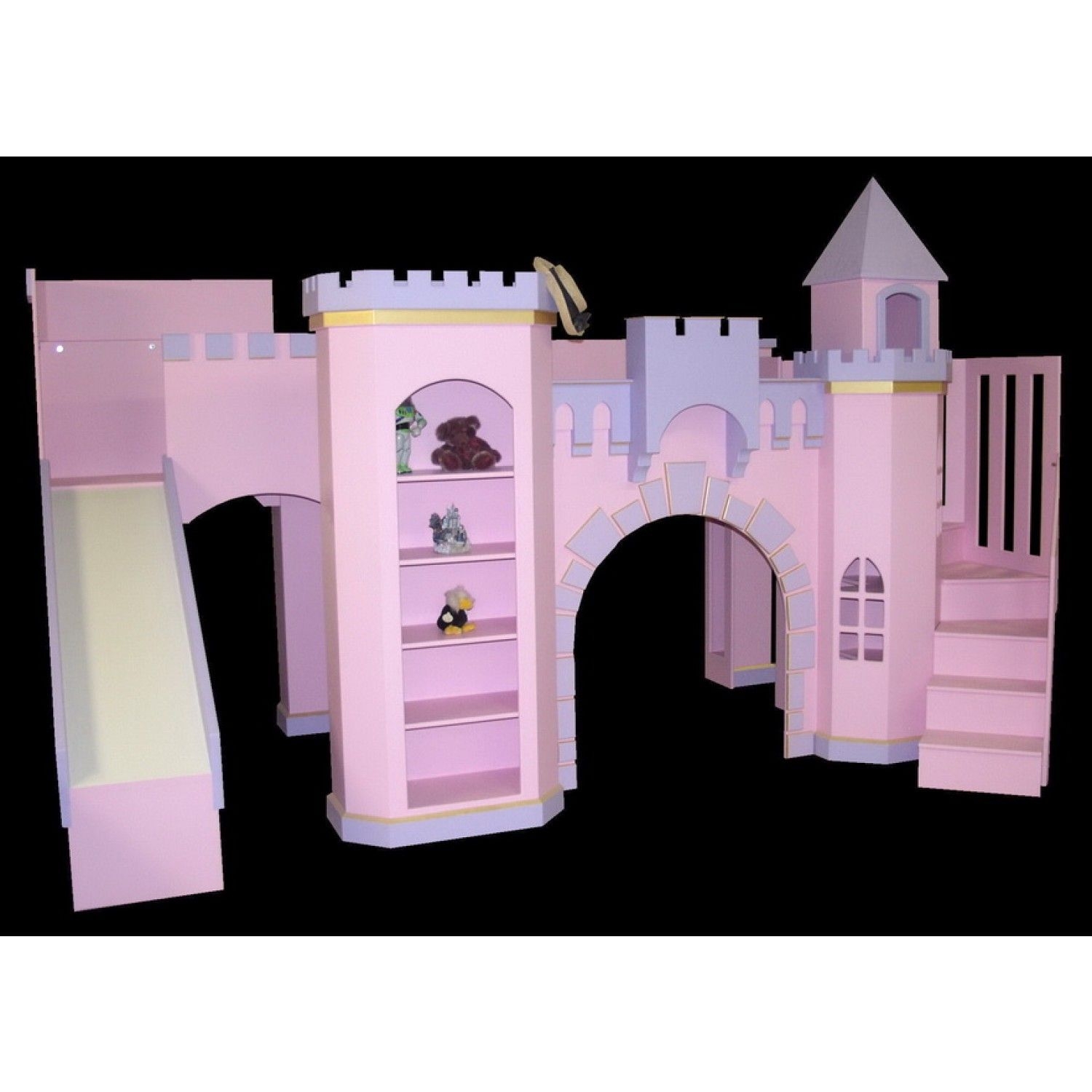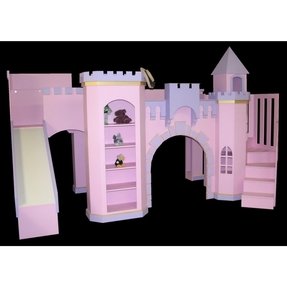 Build a princess castle bunk bed with optional slide and wrap around stairs.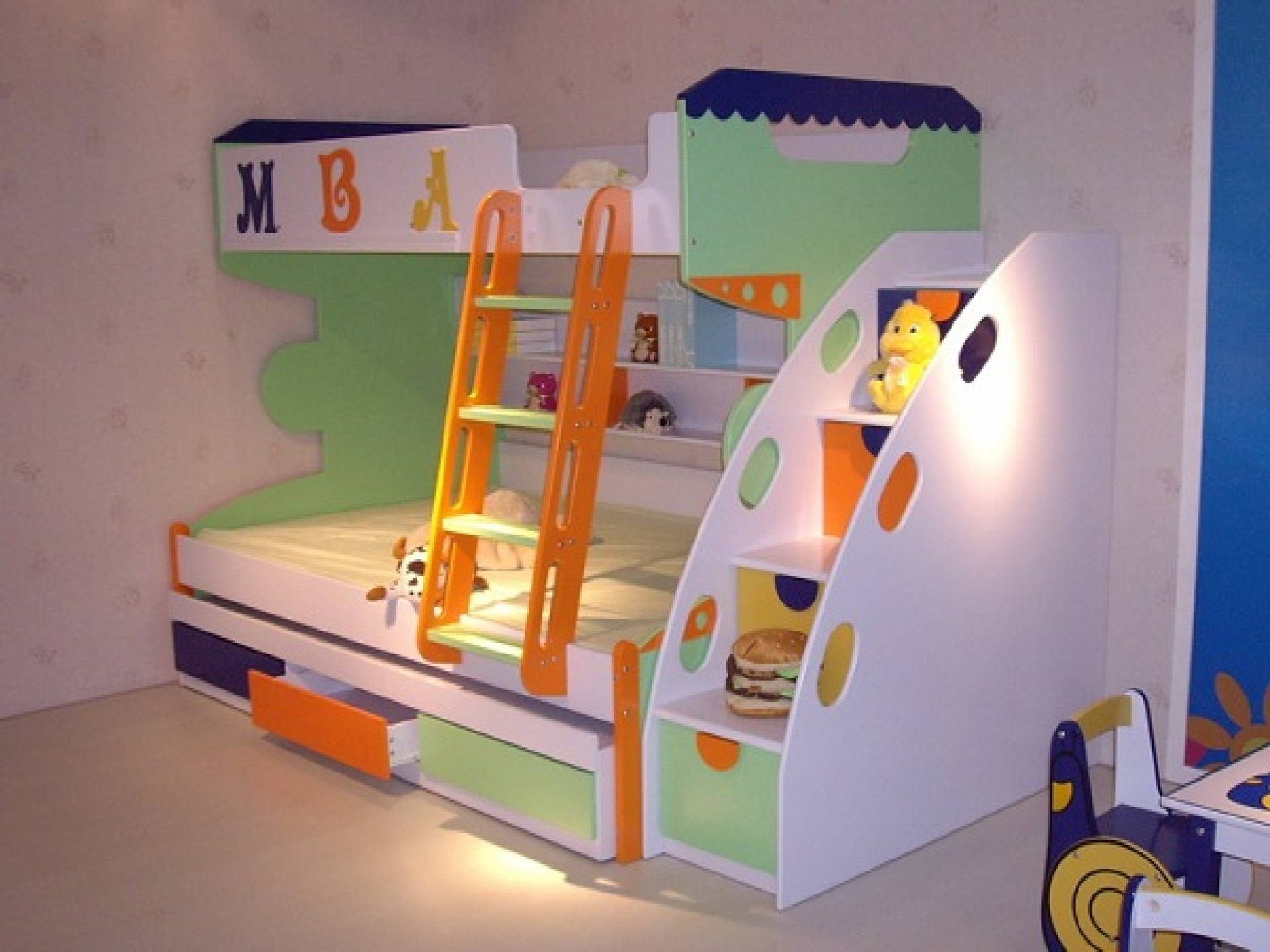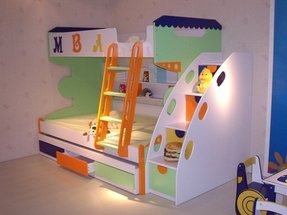 Funny and Colorful Kids Bunk Beds with Stairs and Slide for Small Kids Bedroom Furniture Sets Design Ideas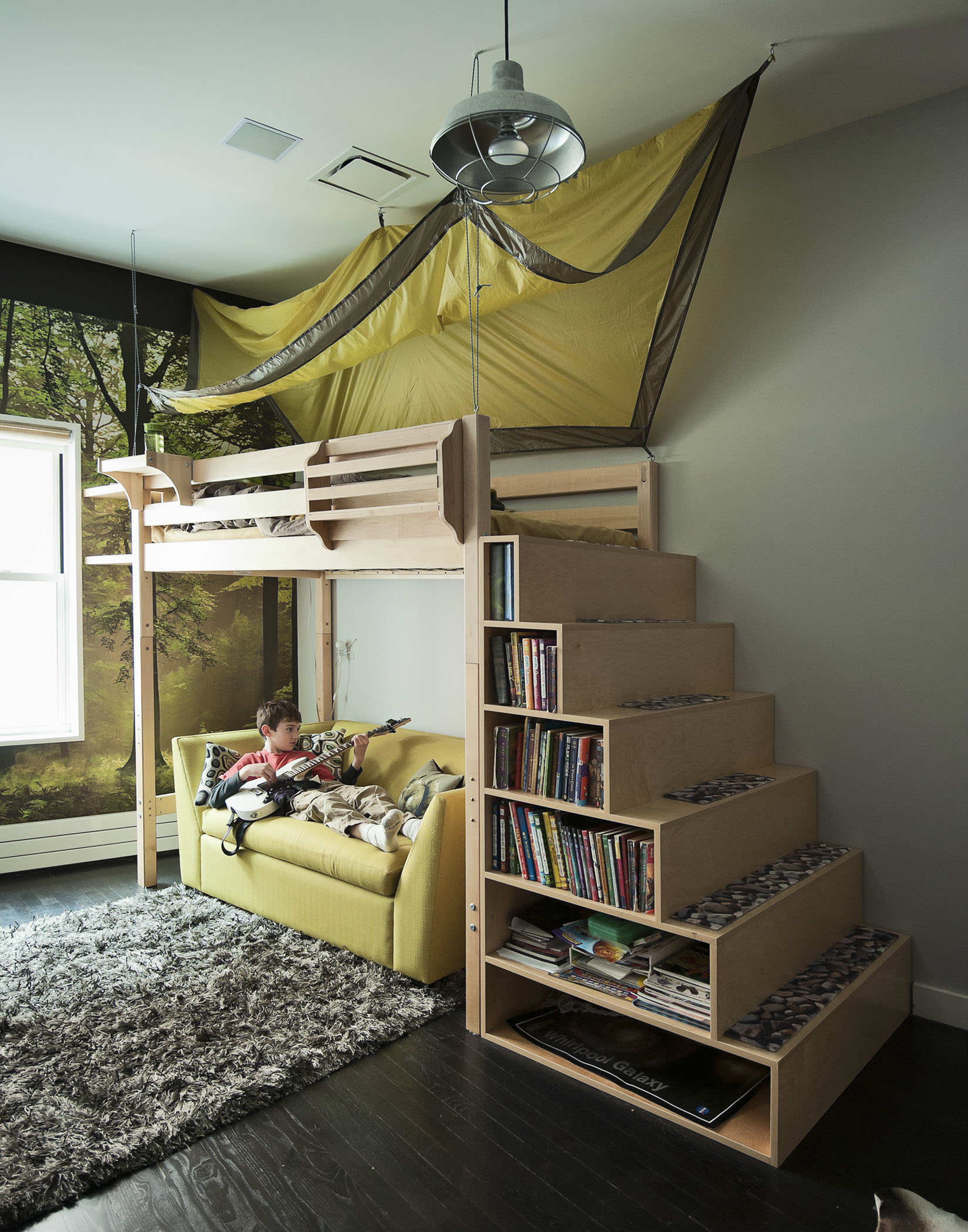 This bunk bed is a very functional idea that includes a lower sofa and stairs that provide access to the upper bed. These stairs also assure storage space for books, magazines, etc. The whole wooden construction is solid and stable.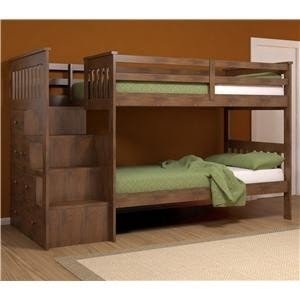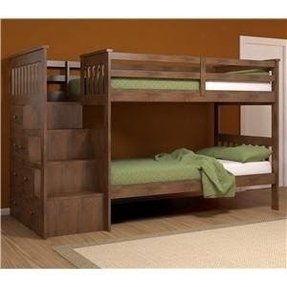 Practical and exceptionally robust storage bunk bed storage is a great solution for children's rooms. Wooden construction, two sleeping areas, and numerous drawers in the steps provide many opportunities for development.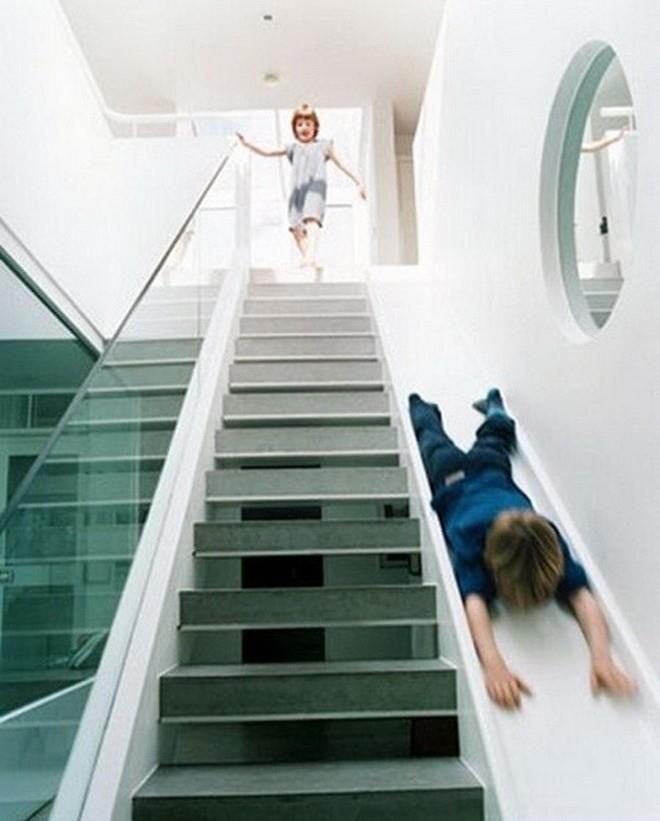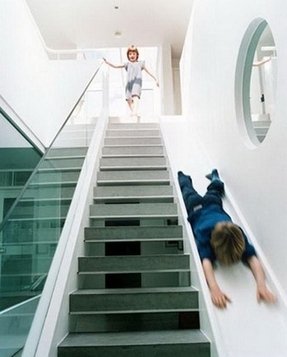 I've seen this with a spiral staircase and was wondering if anyone did this with a straightforward staircase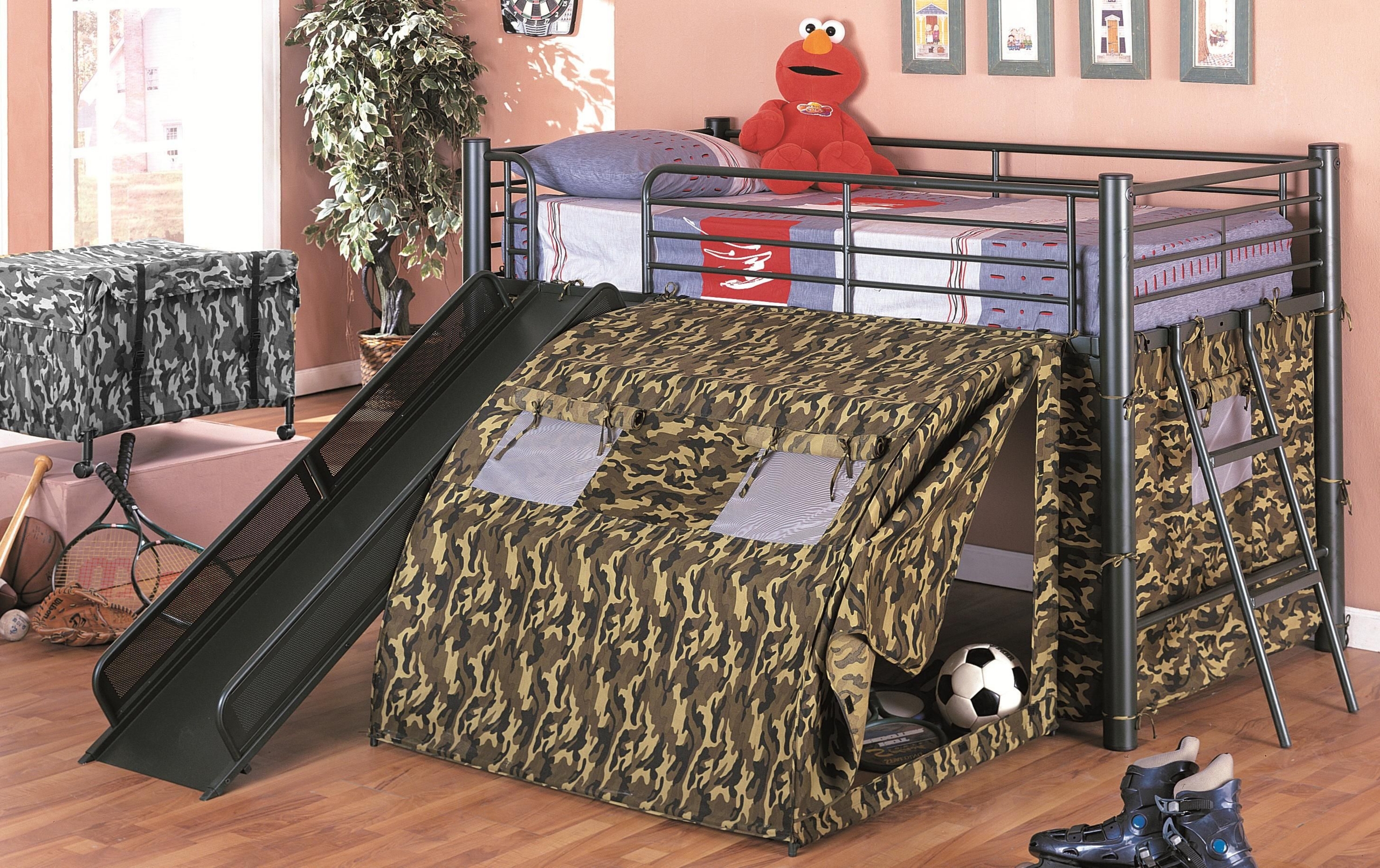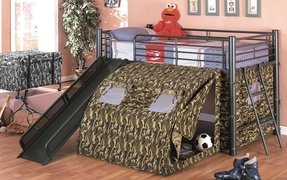 A funny and attractive set including a 2-person bunk bed, a slide and a tent. Metal construction is styled to an army theme. A vinyl slide and a cloth tent in army-green colour. Designed for boy bedrooms, can be excellent for childish war games.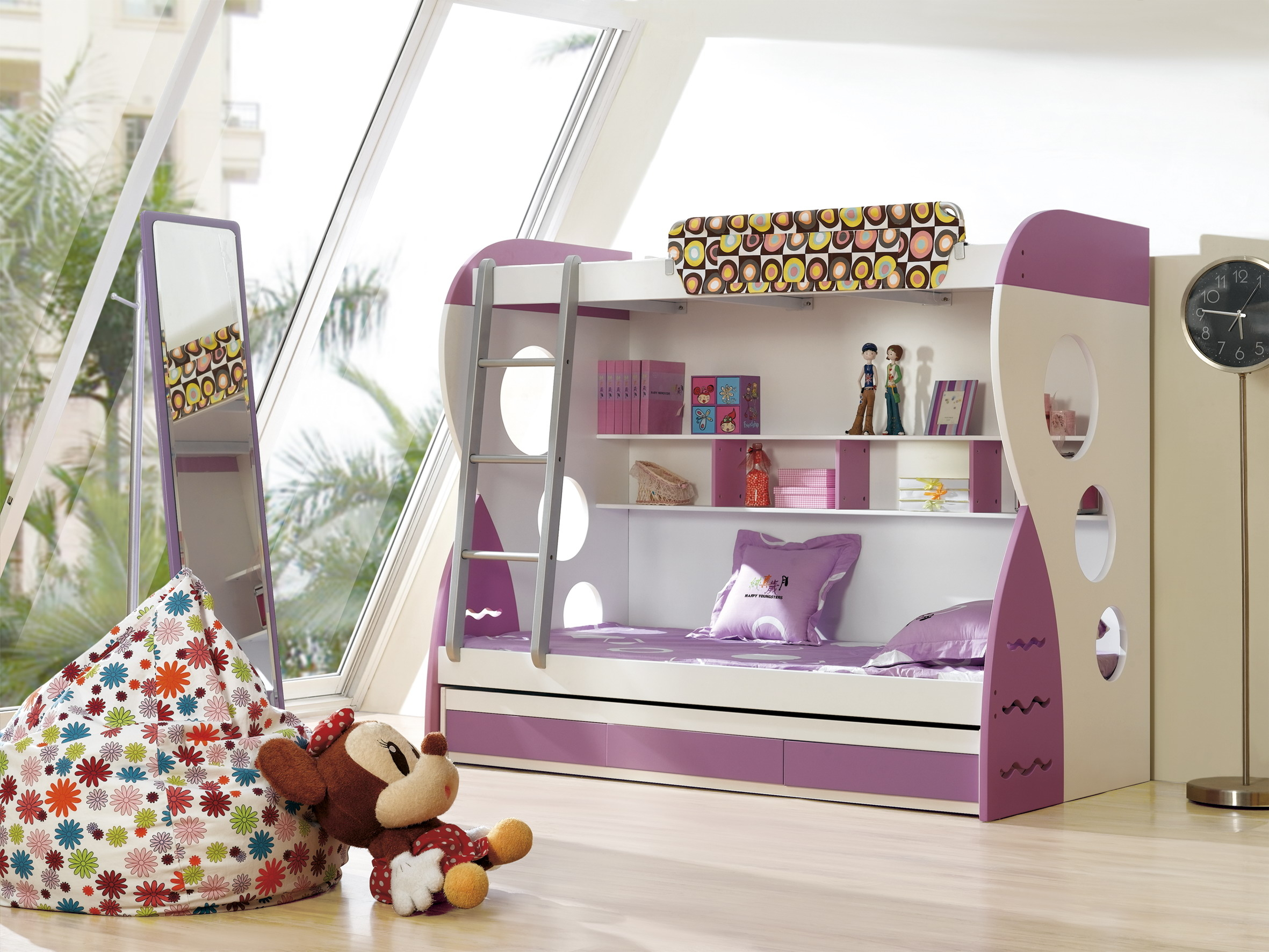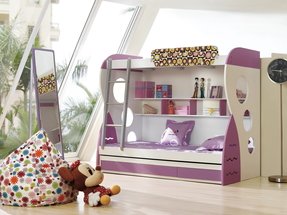 girls bunk beds with slide | Purple Kids Bunk Beds with Stairs and Slide for Small Kids Bedroom ...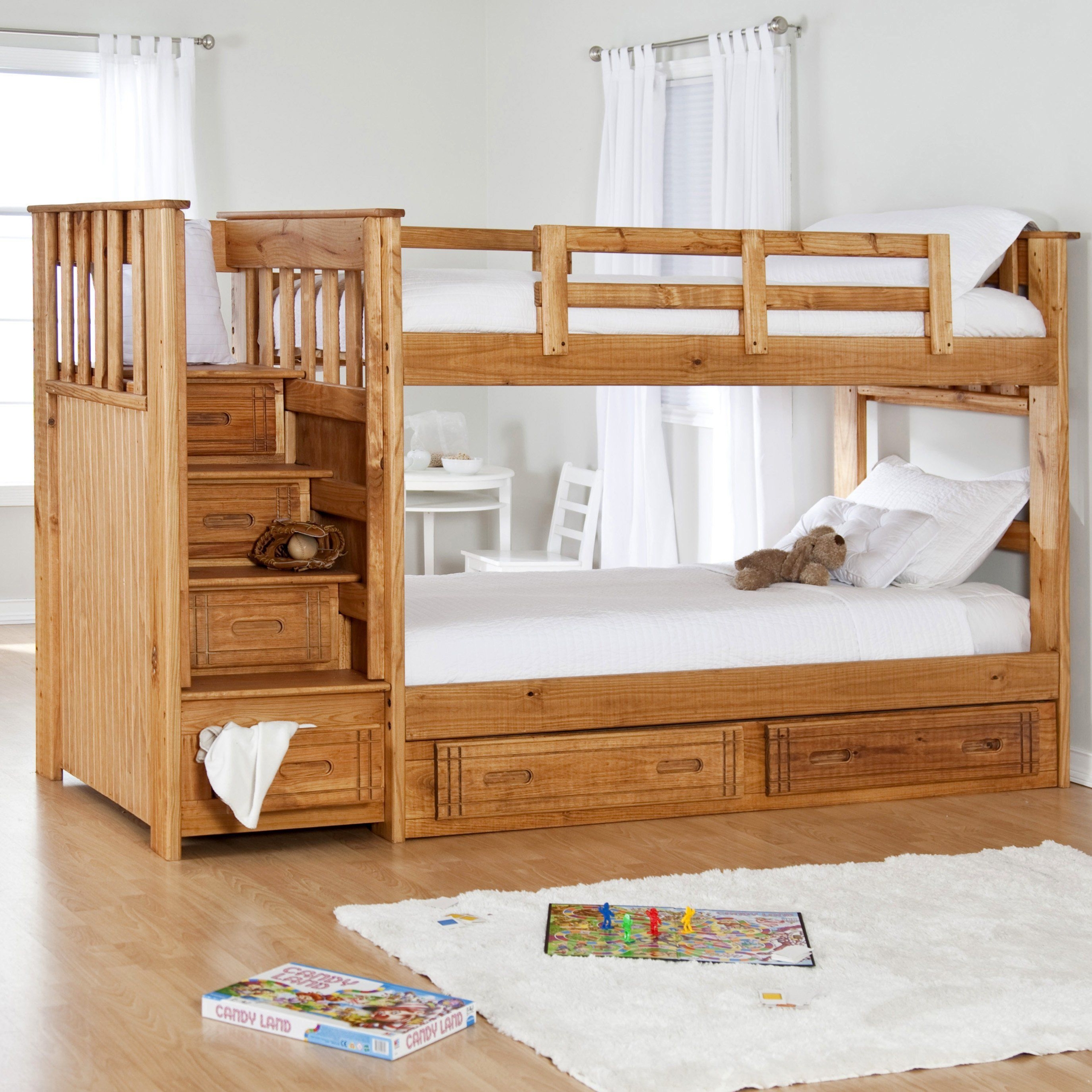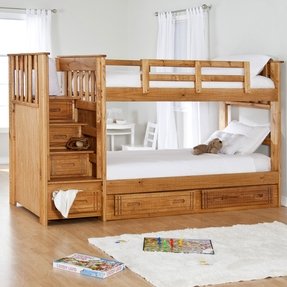 Practical Twin Bunk Beds for Two Kids in a Small Room : Awesome Twin Bunk Beds Wooden Style With Storage Organiszation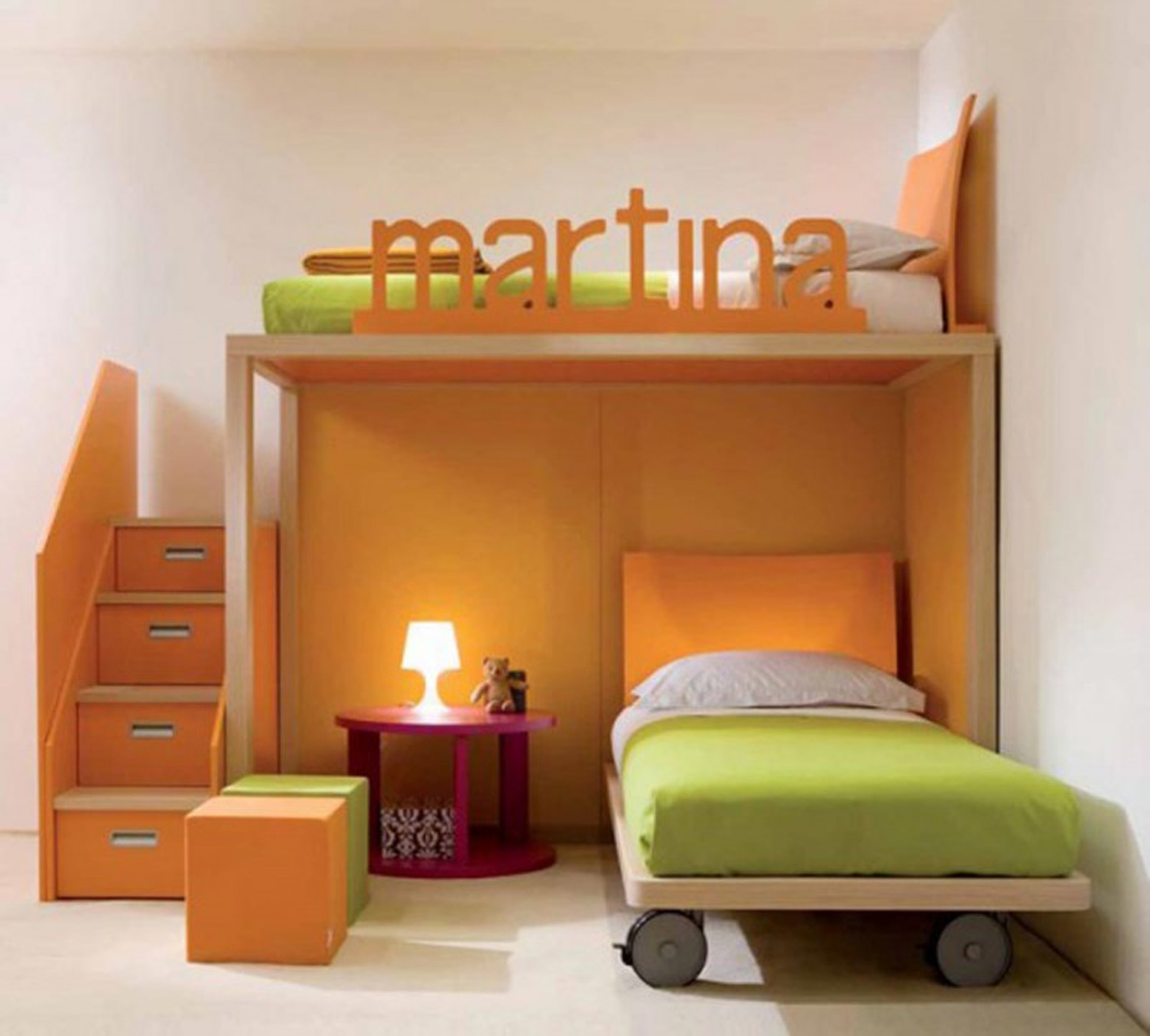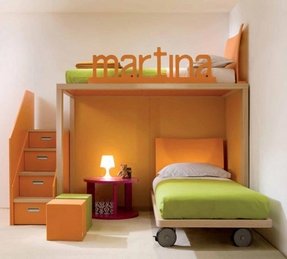 Cool and Ergonomic Bedroom Ideas for Two Children by DearKids | DigsDigs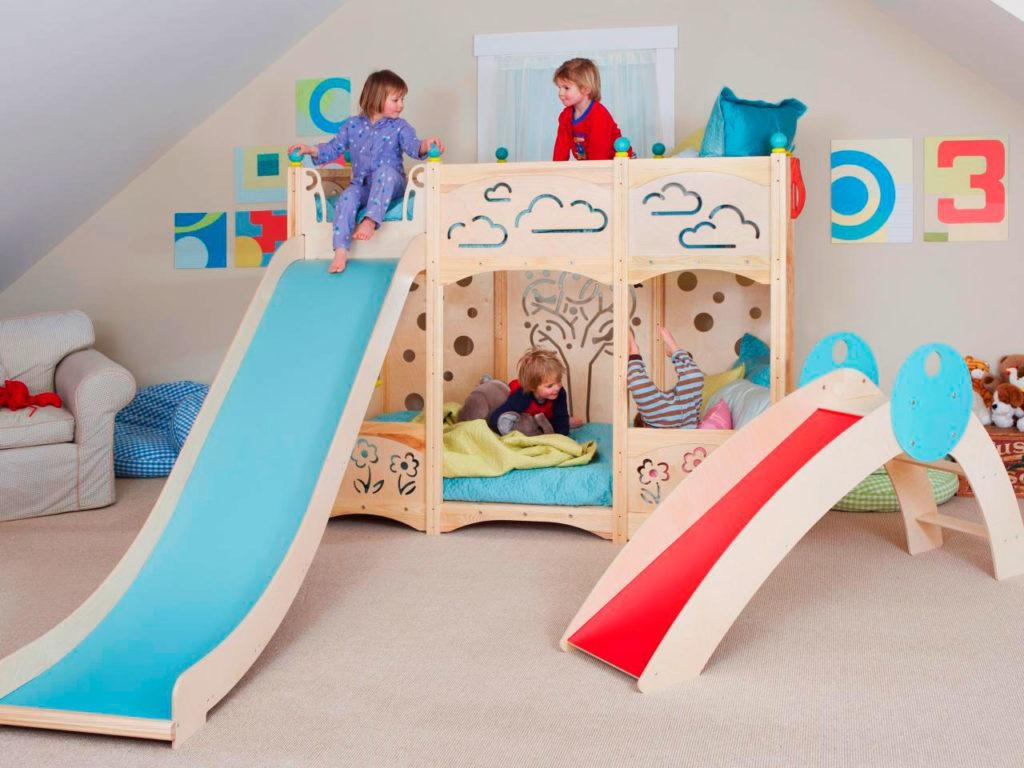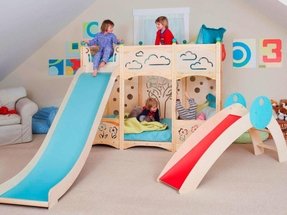 Featured Products in This Gallery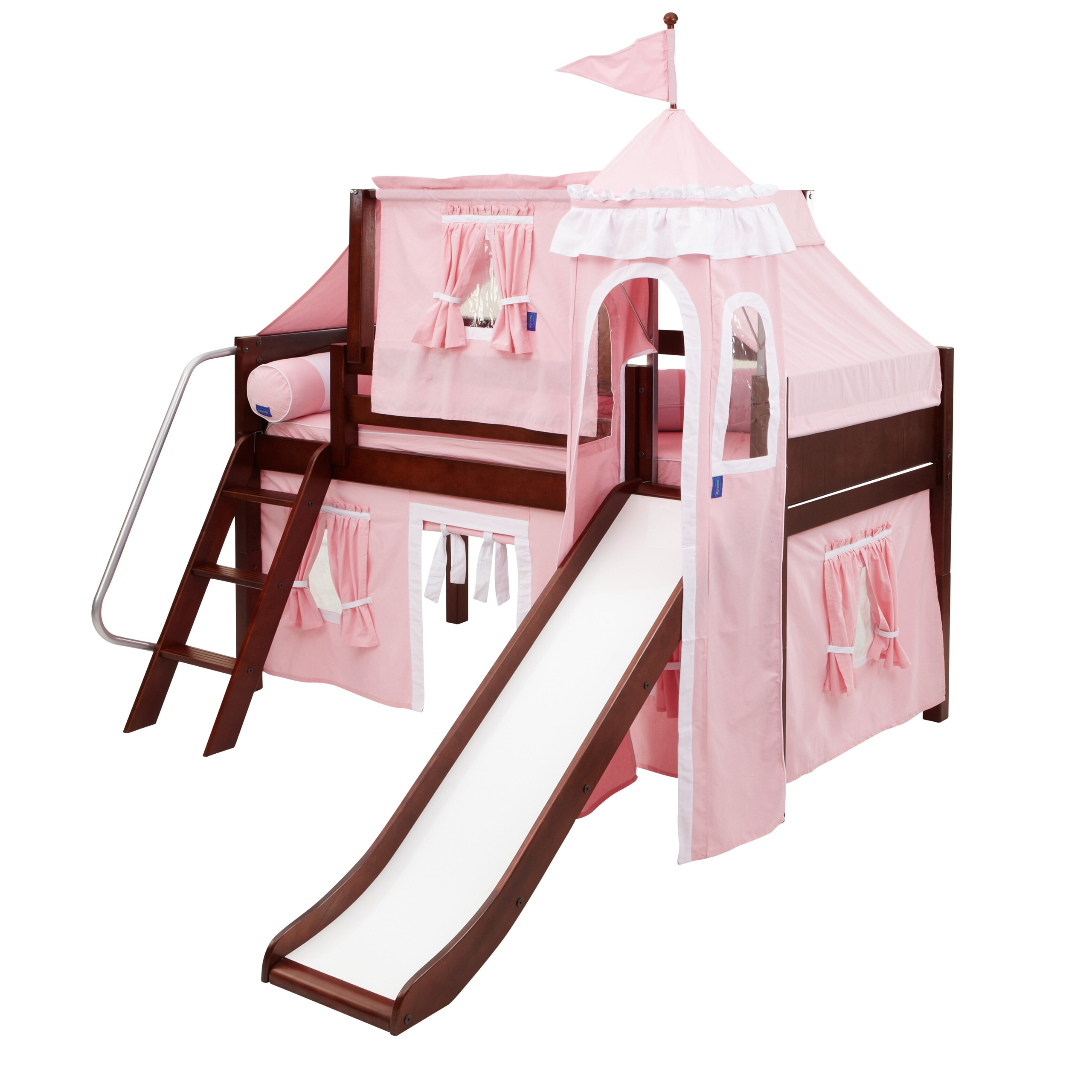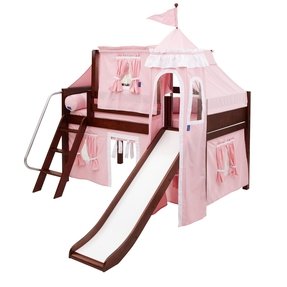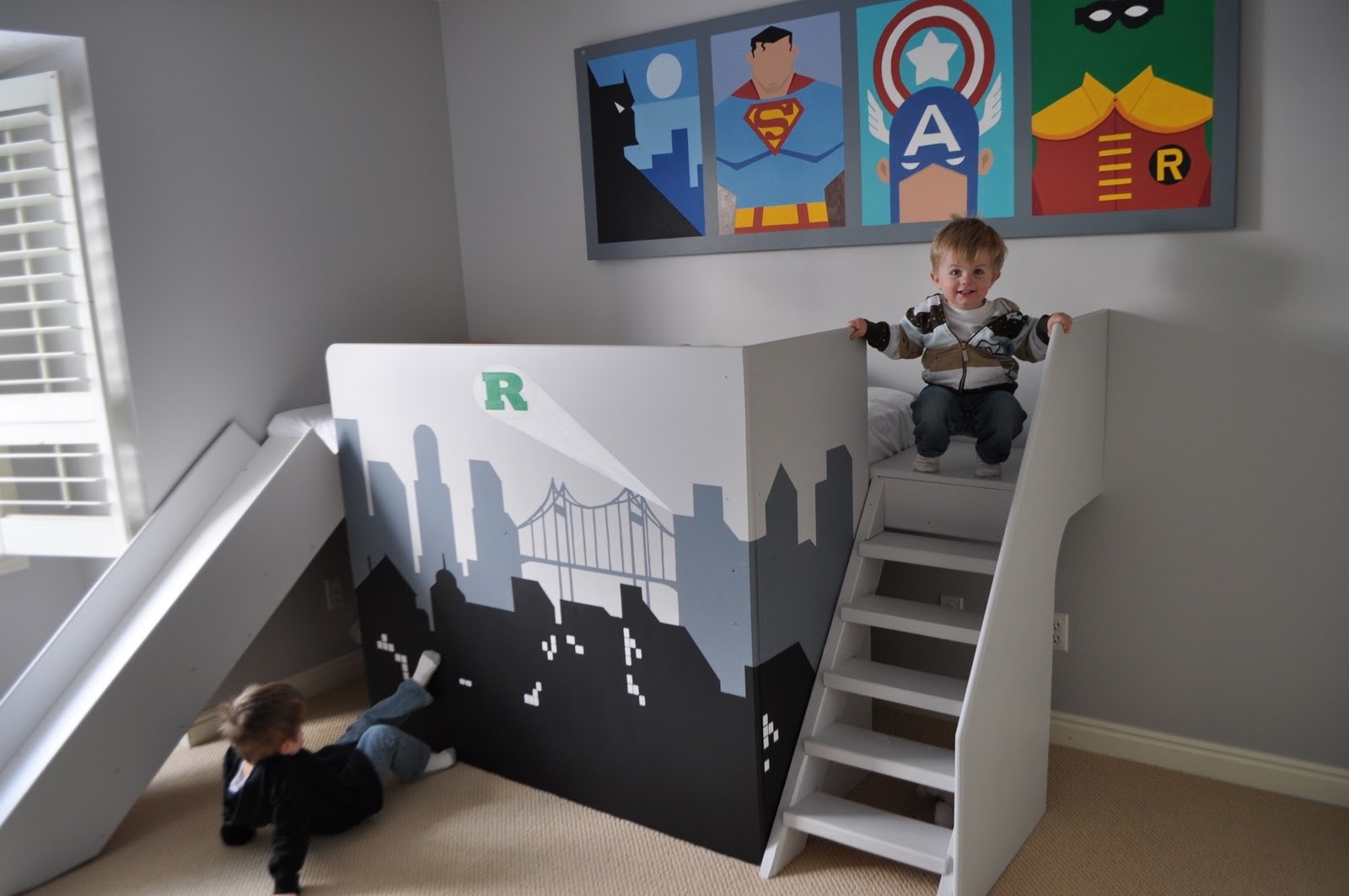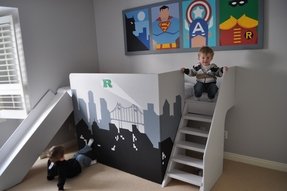 A very attractive bunk bed with a superhero theme. It includes an upper bed that is accessible with solid stairs. The bed is solid and it features a slide that provides good and safe fun for the children.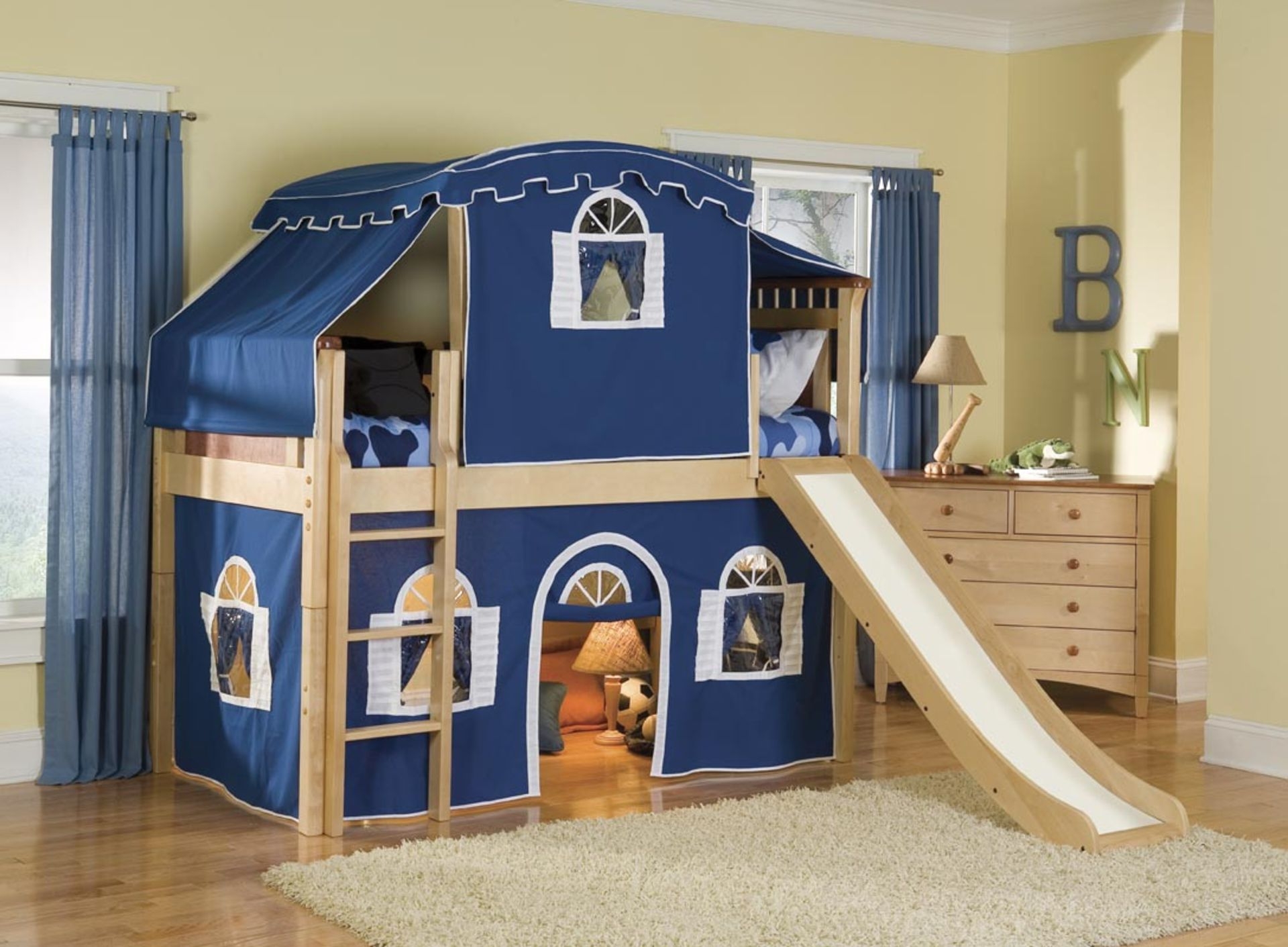 A fabulous bunk bed which is also a playhouse for kids. The top of it is a twin bed with a castle-like canopy in a blue color. The bottom part might also be used as a bed or just a comfort zone. The unit features a slide too.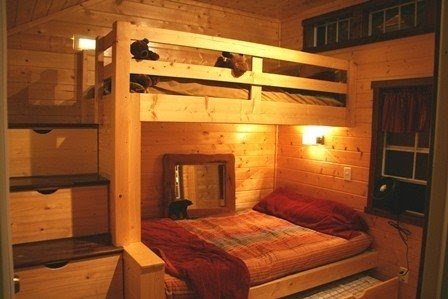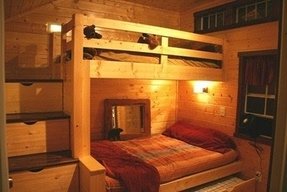 upper bunk with storage stairs could be the way to save space and still have room for guests. Slide out bed under the bed means that Lacey and family could visit, and we would still have room to move during the day ~ this would work well!!!!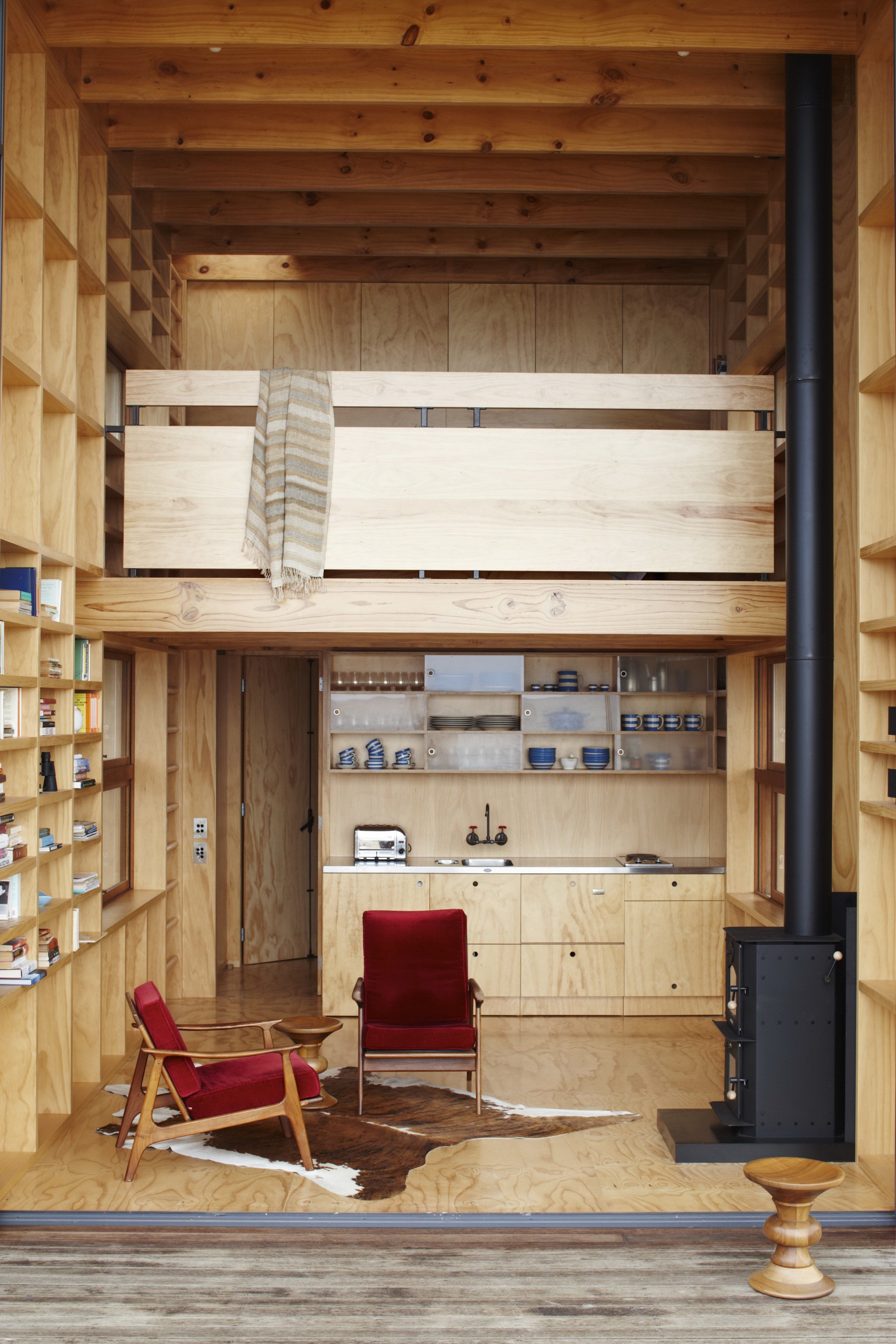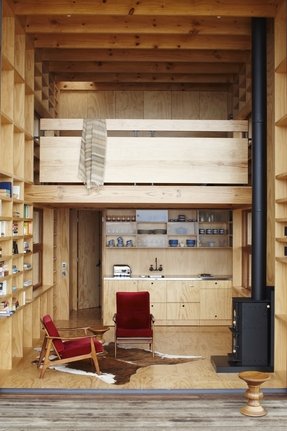 Beach house that can be slid across the sand via built-in slides in Coromandel Peninsula, New Zealand: The living area of the hut with a loft above. The hut also featured three bunk beds, one above the other in the rear of the dwelling.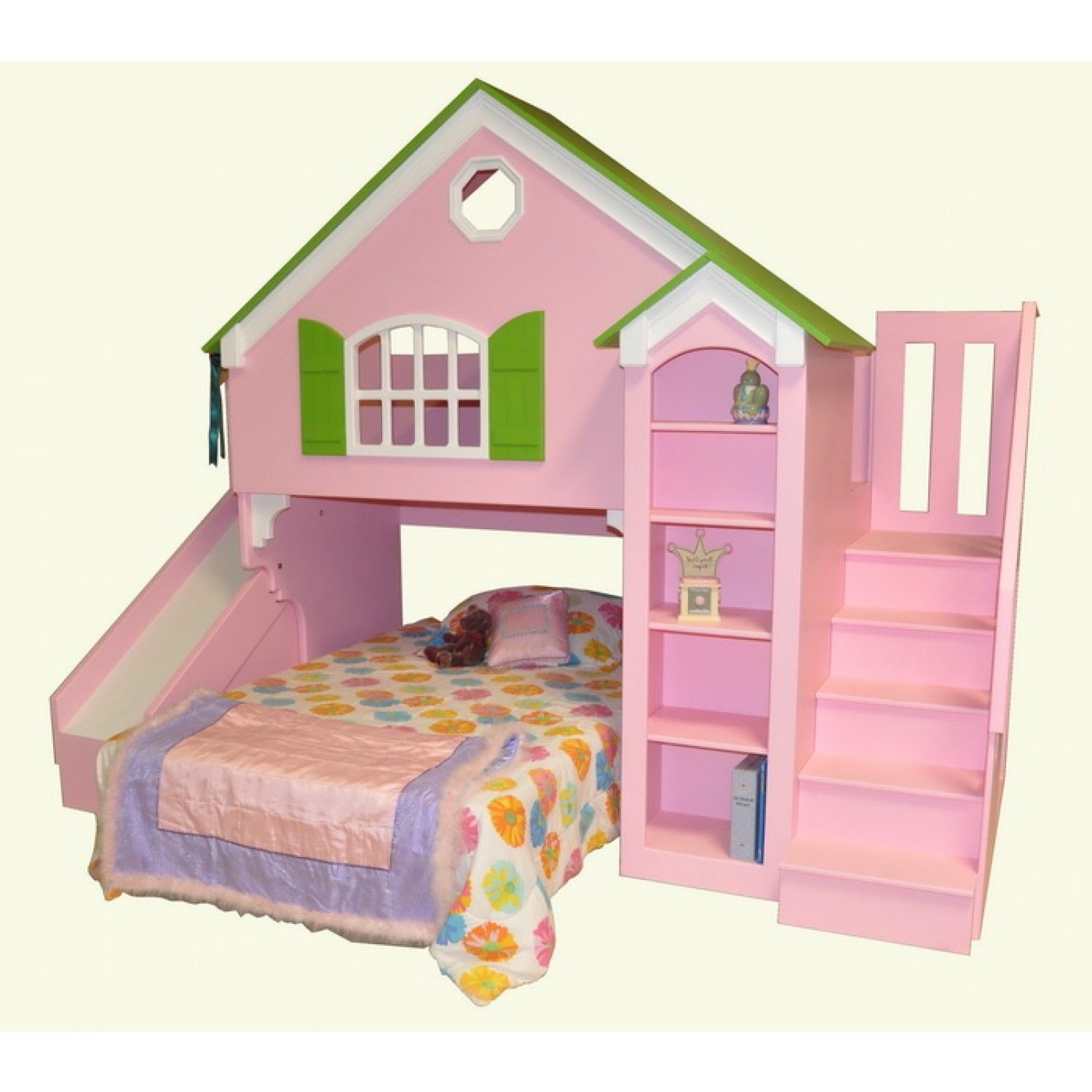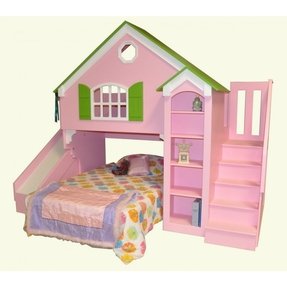 Dollhouse Bunk Bed Shown With Optional Slide and Staircase - Base ...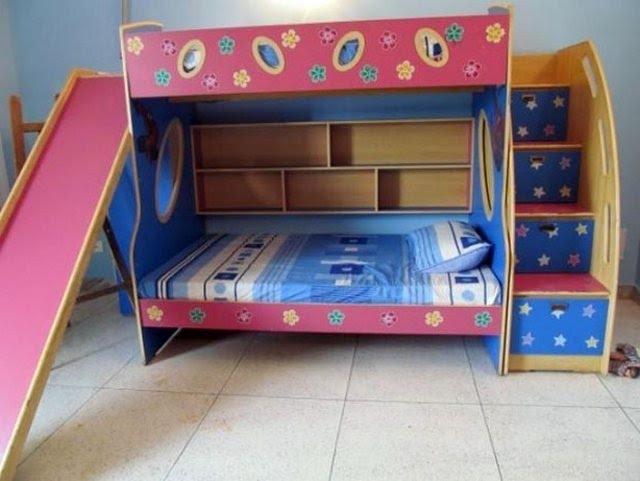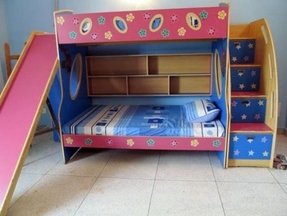 What can be cooler than a bunk bed with a slide? A great proposition for your small, sweet troublemakers. Solid, wooden construction will guarantee safety and long-lasting durability.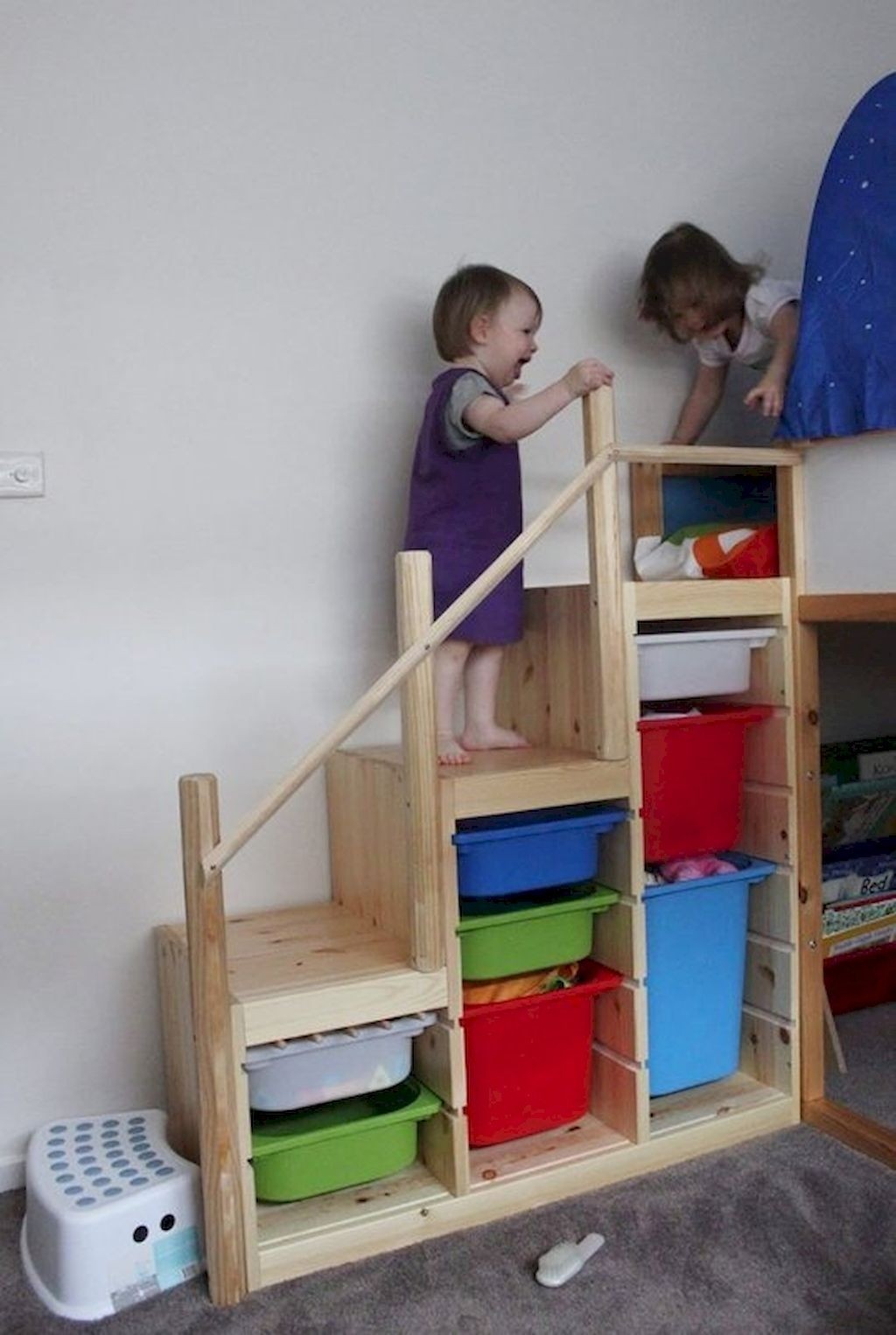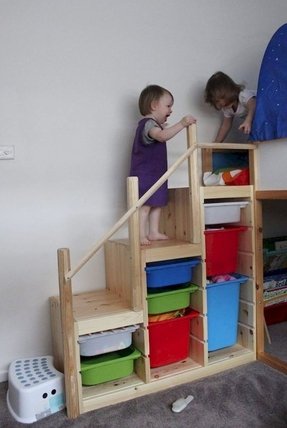 Practical stable contemporary storage unit consisting of 3 height-varied open niches for toys (niches can be screened). This unit can also serve as stairs to a bunk bed. There's also additional side railing to make stairs safer for babies.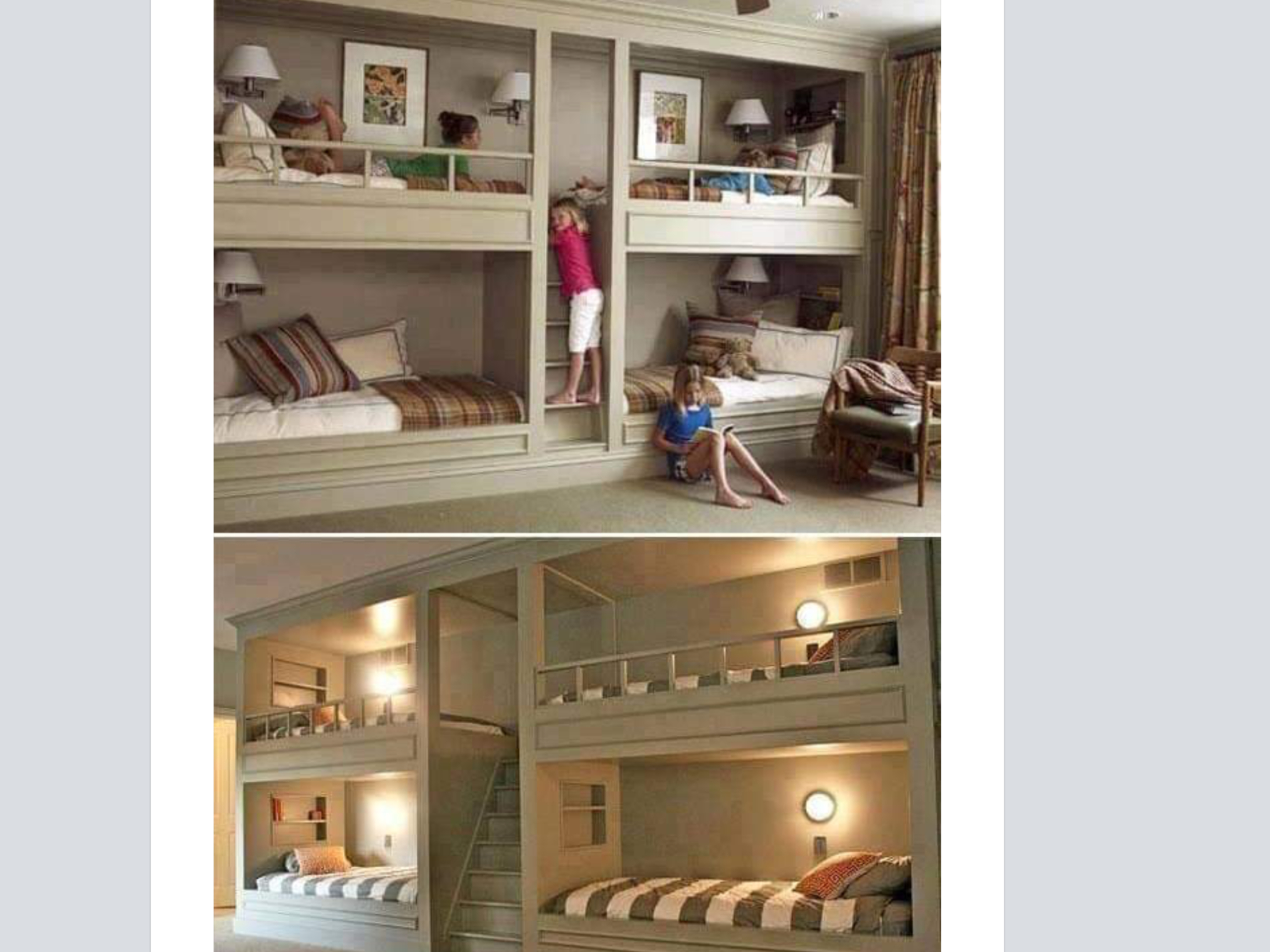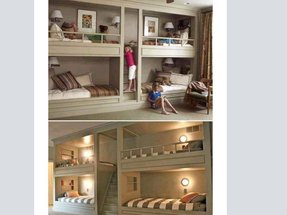 A bunk bed is a classic children's room. It works great as a piece of furniture for siblings living in one room. As you know, white wooden buildings will reduce the room optically less - hence a segment of 4 connecting bunk beds with massive stairs and slide.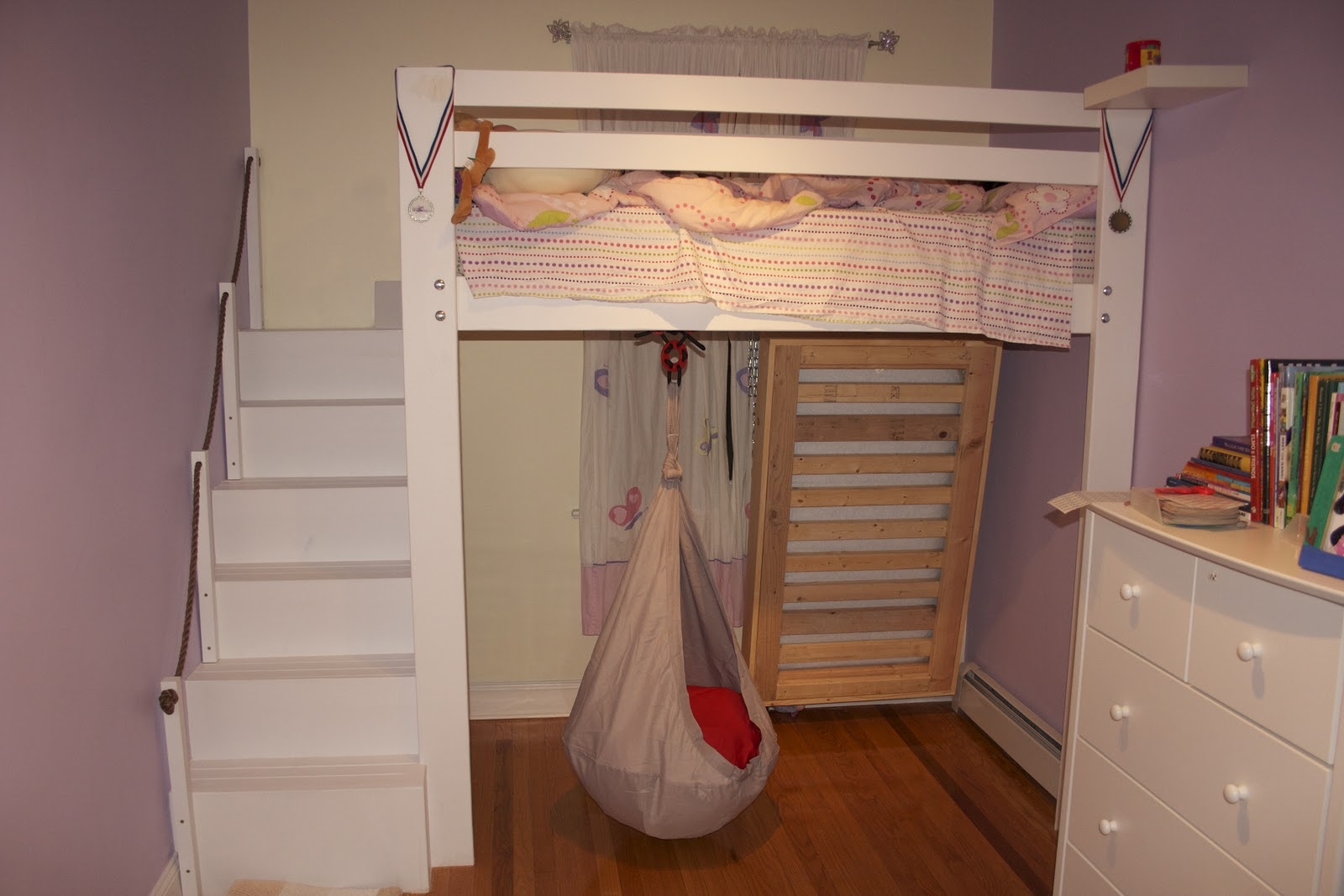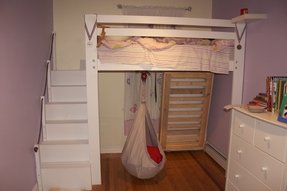 Kids Space: Loft bed, bunk bed build with hanging toddler bed and swing!