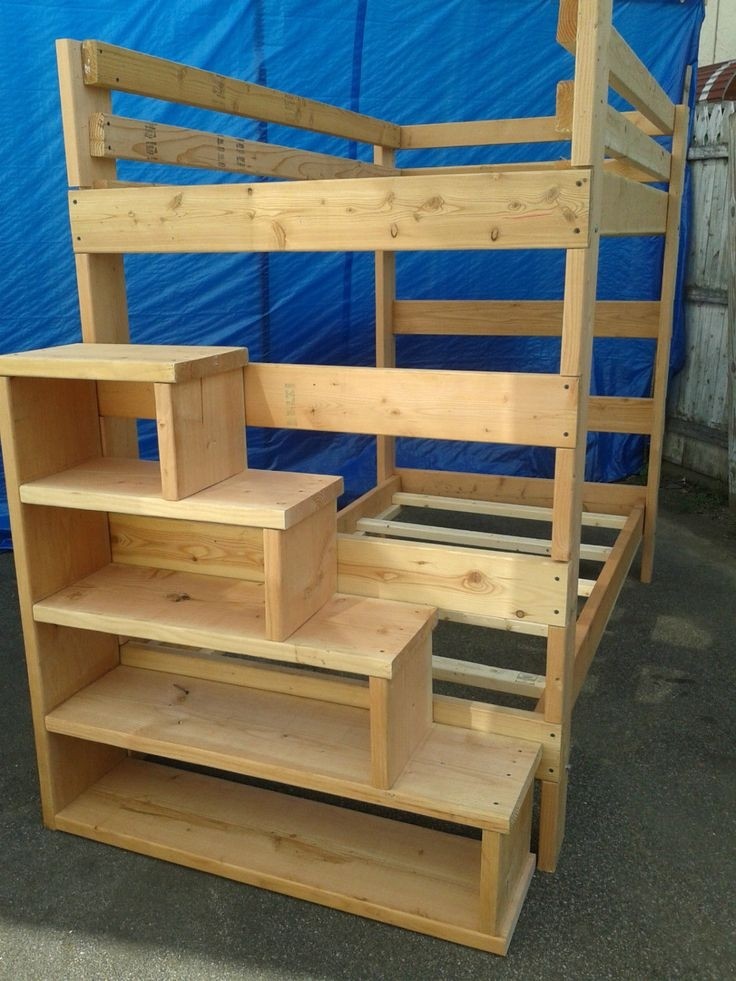 Super heavy duty loft bed with stair
A nice, comfortable and solid loft bed designed for heavy-duty applications. Its wooden construction holds the weight of two people. The upper area is accessible thanks to stairs with storage and display shelves.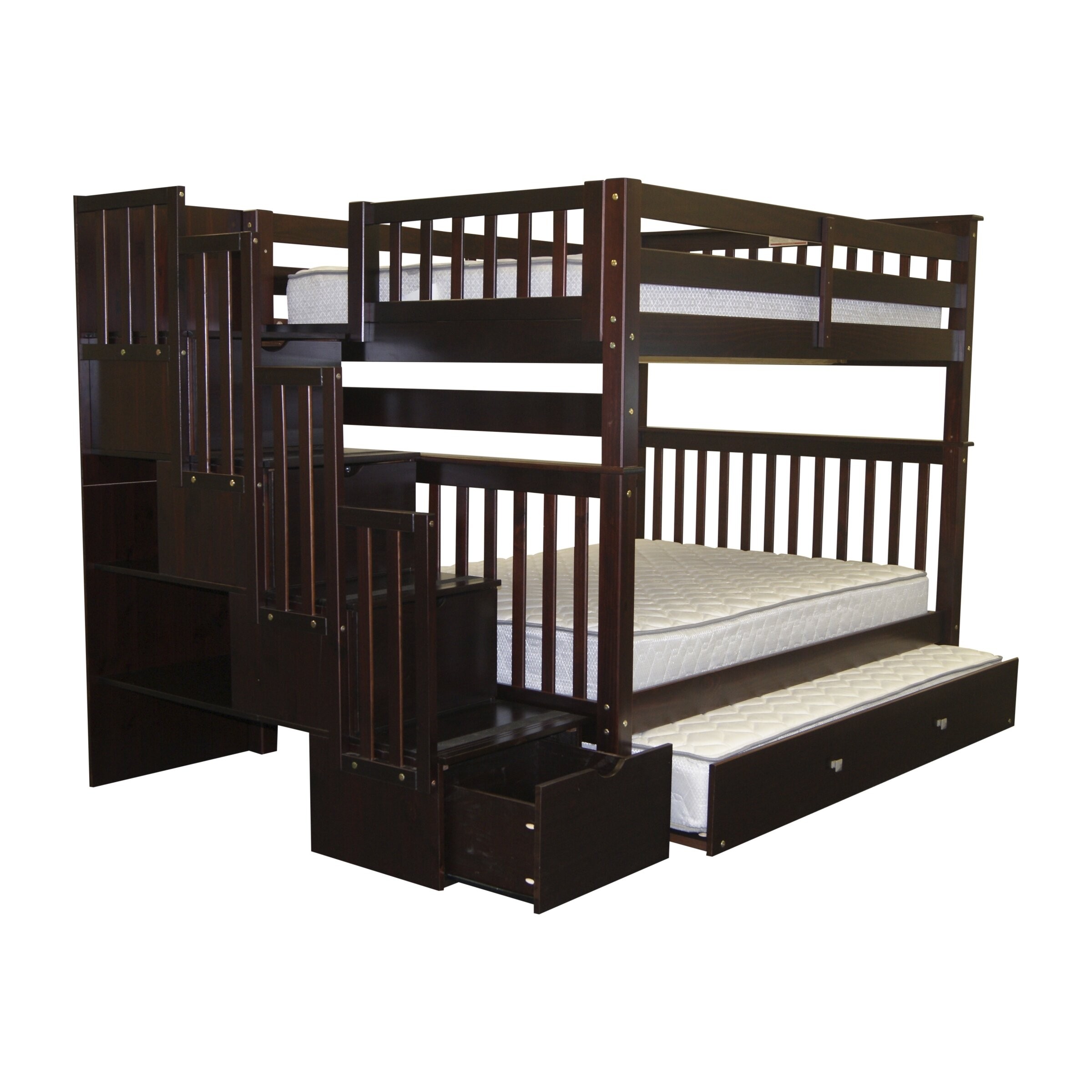 Full Over Full Bunk Bed with Full Trundle
This comprehensive bunk bed made in the mission style is extremely practical and eye-catching piece of furniture. Can accommodate up to three people, and the practical steps of drawers, it can fit in them all the little things.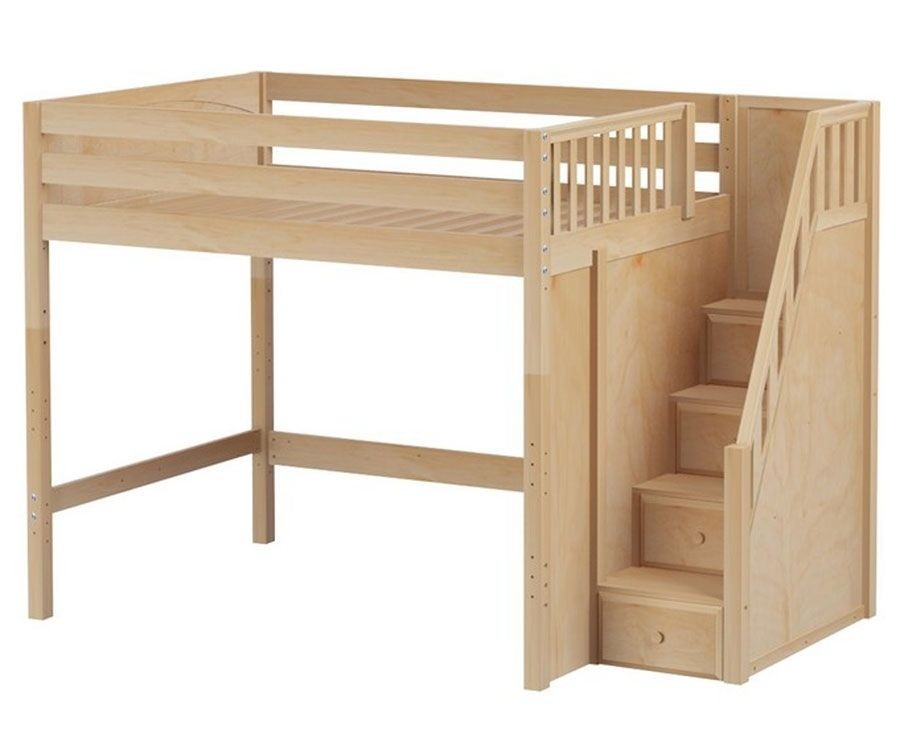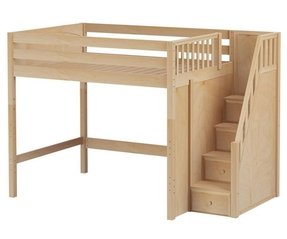 Entirely crafted from natural wood, this full size high loft bed makes a great addition for kids' rooms. It features a staircase with built-in drawers, a top bunk bed with fixed railings, and a lot of free space in the lower part, which you can accommodate as you please.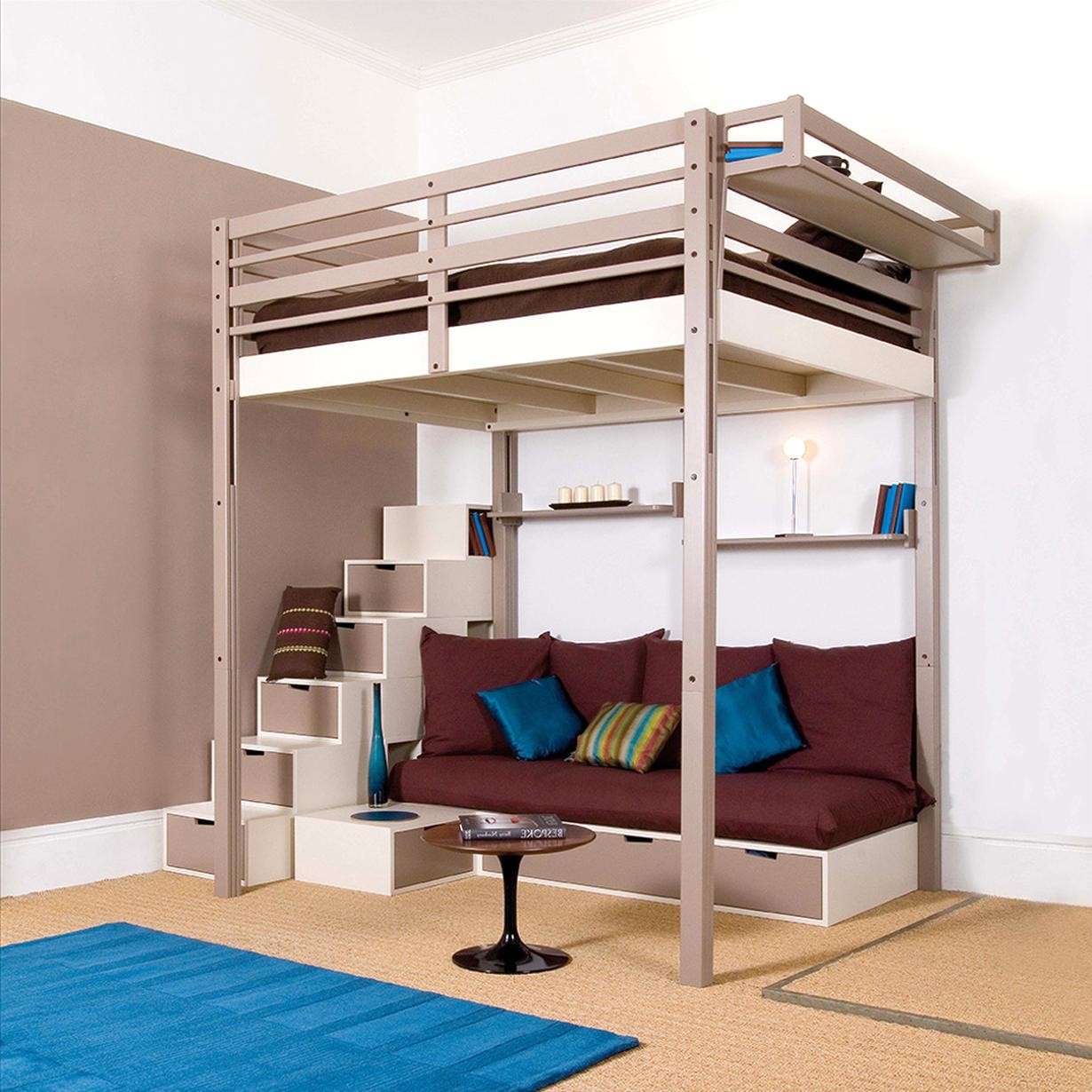 This full size loft bed with stairs is as functional as it is eye-catching. Includes a top bunk with fixed railings, a staircase with built-in storage drawers, a bottom bed with storage compartments, and few open shelves.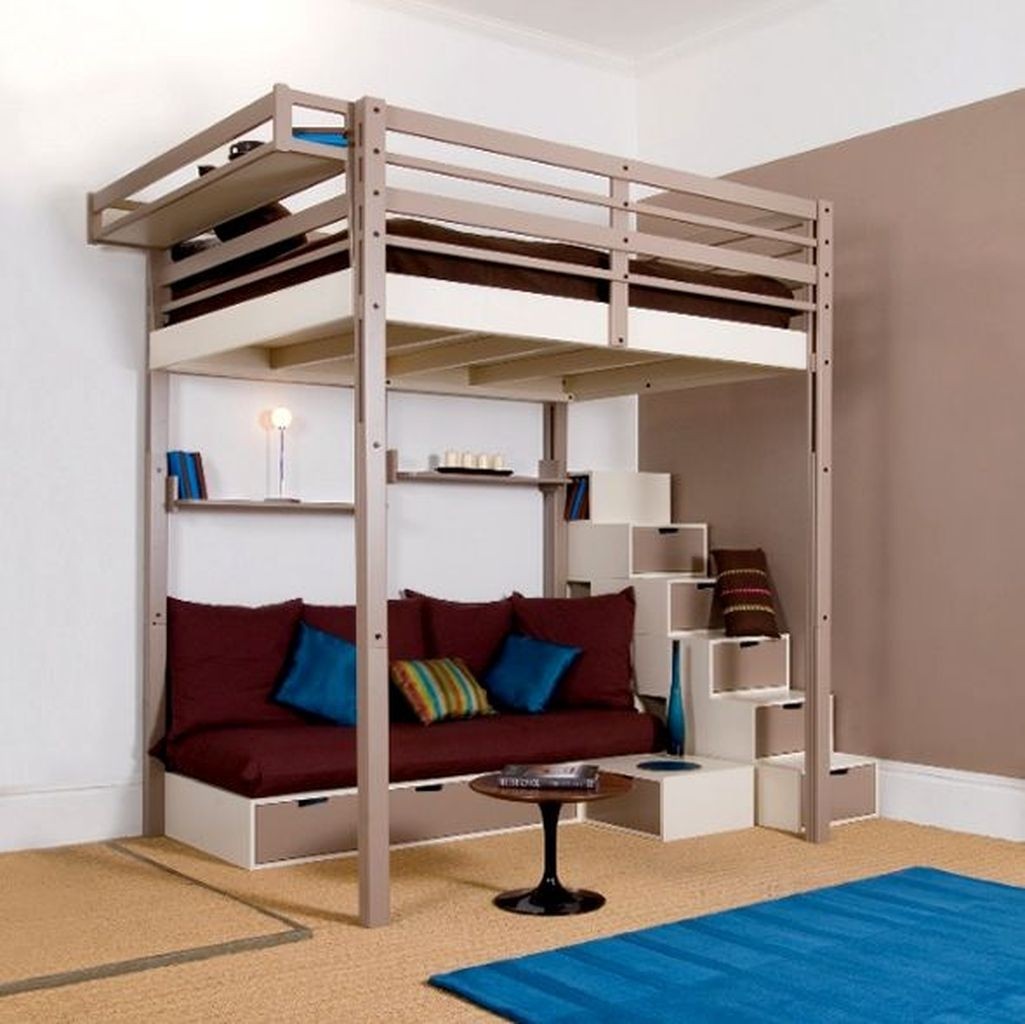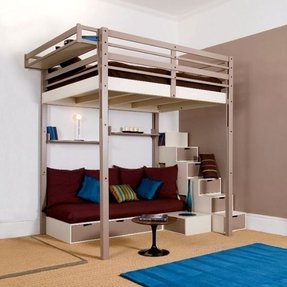 Loft bed with a comfortable sleeping space upstairs and downstairs. The lower bed can also be used as a sofa. This construction includes storage shelves and practical drawers in access stairs. The upper bed includes horizontal rails for protection.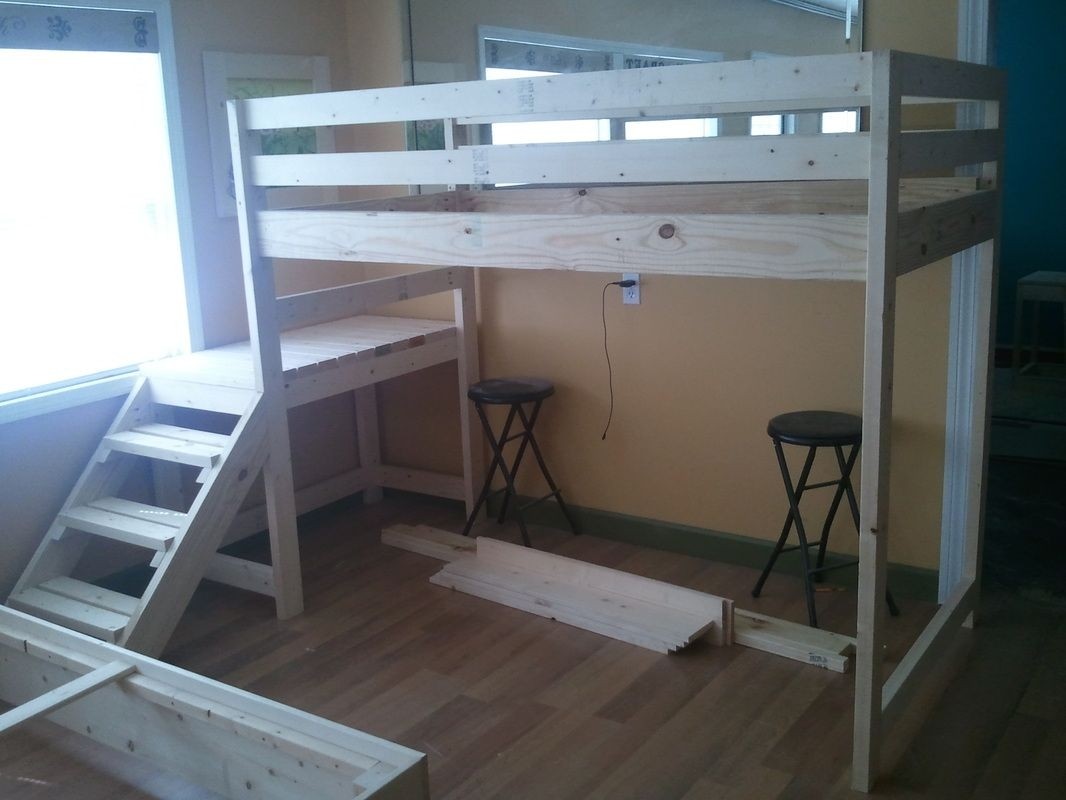 Are you looking for nicely finished, high quality and stylish loft bunk bed with stairs? We've got something special for you! It's a fantastic wooden option to any bedroom.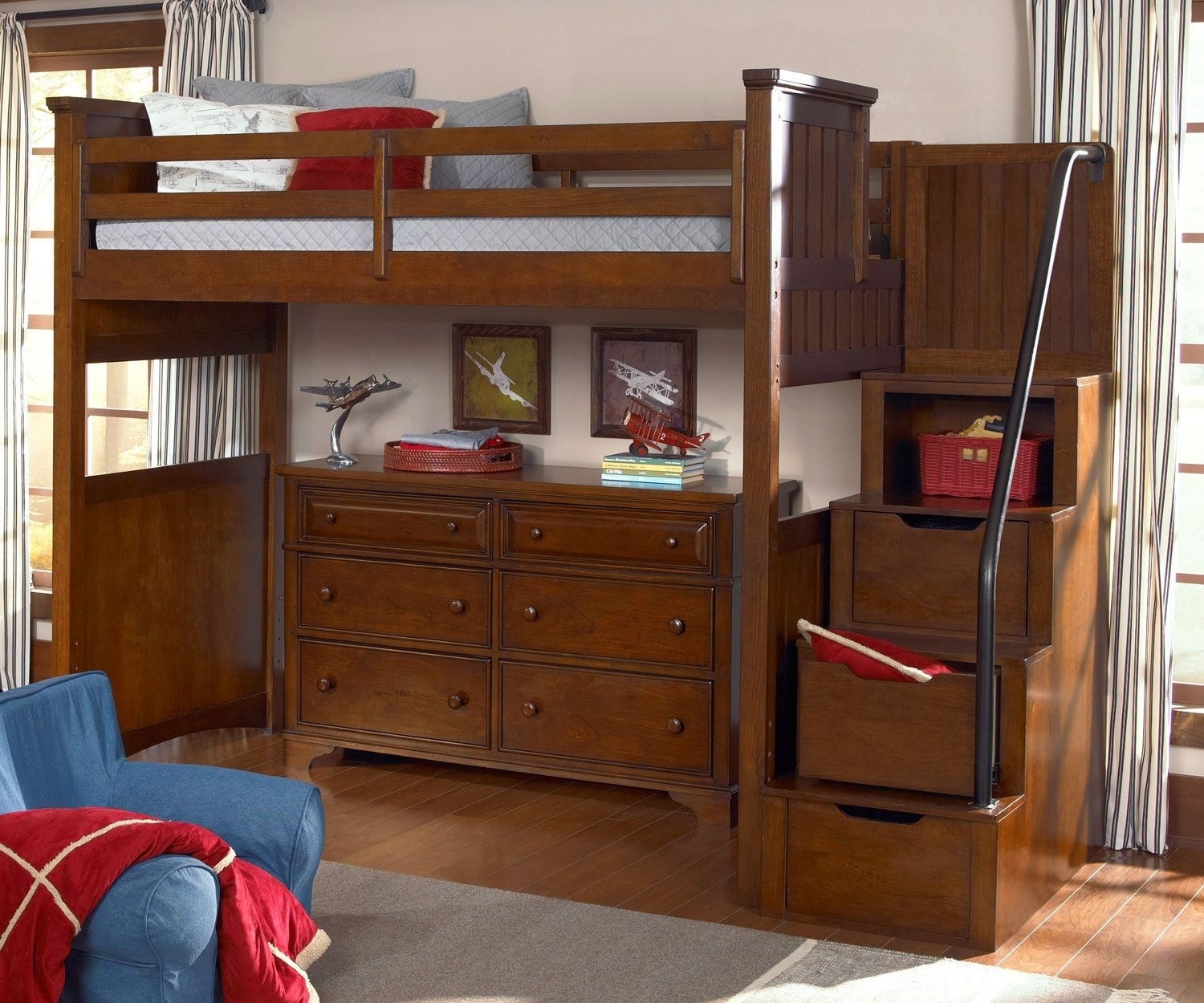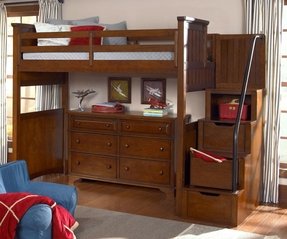 Furnish the bedroom with the full size loft bed, which has got the stairs, wooden construction and enough storage spaces for clothes or books. It's an excellent option to the teens room.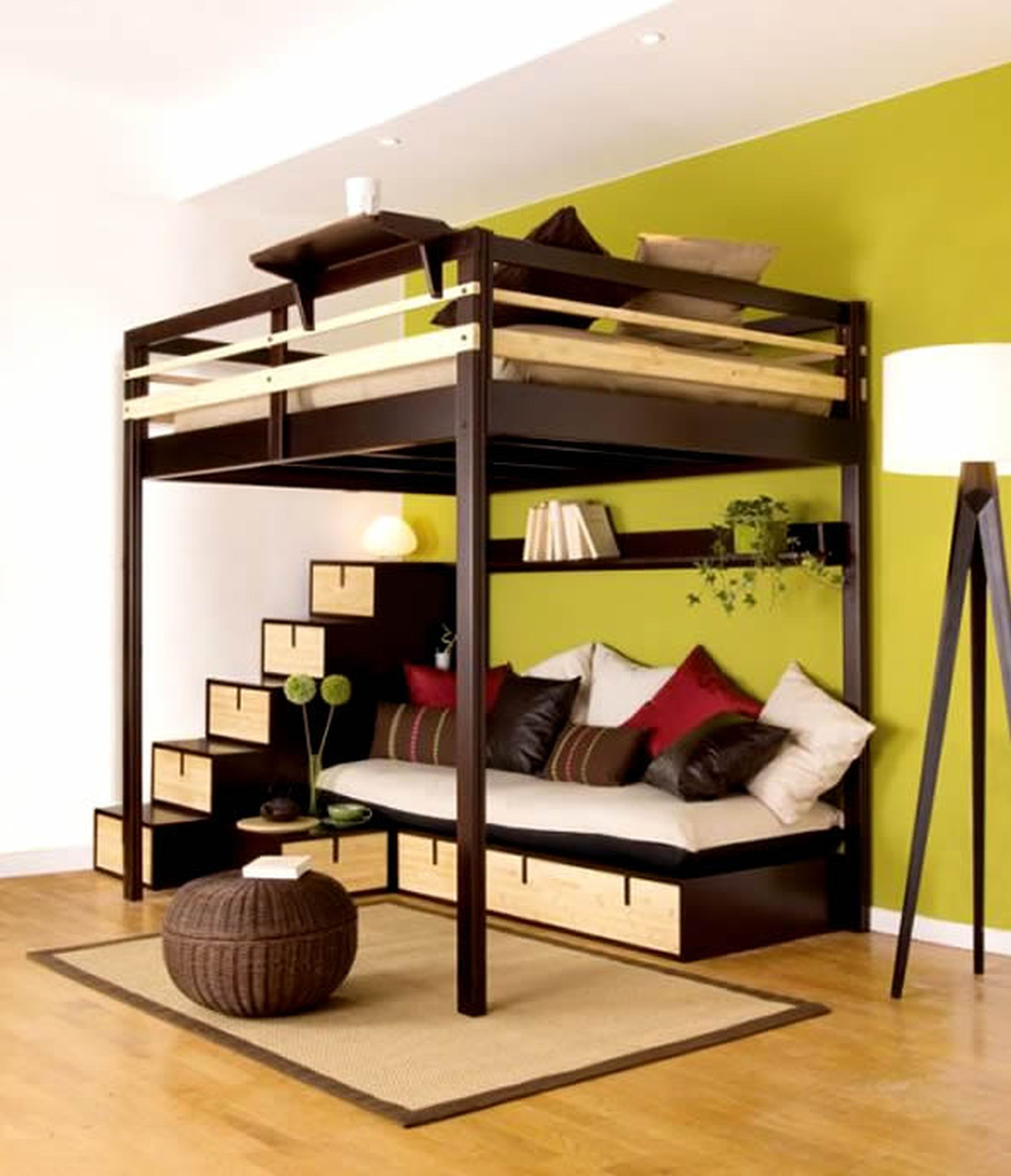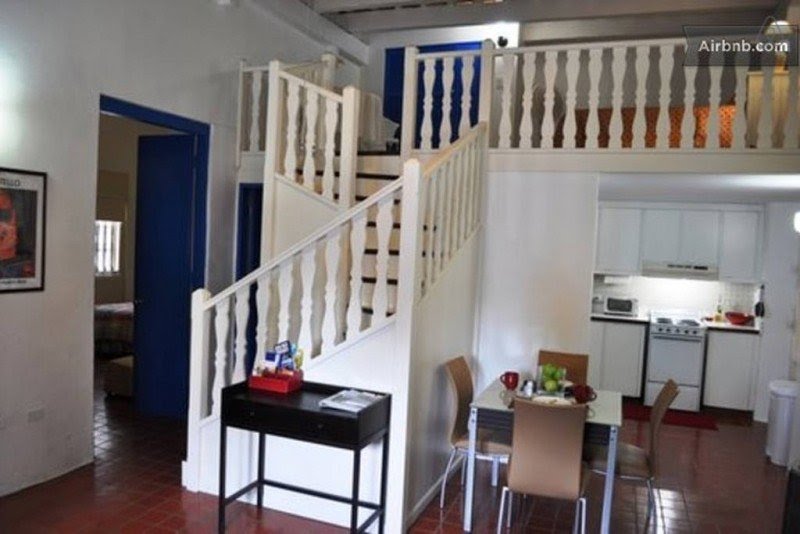 A quite large loft bedroom that includes solid stairs. White color of this construction perfectly suits different interior stylizations. Upper area provides a comfortable place to sleep and the lower one provides some living space.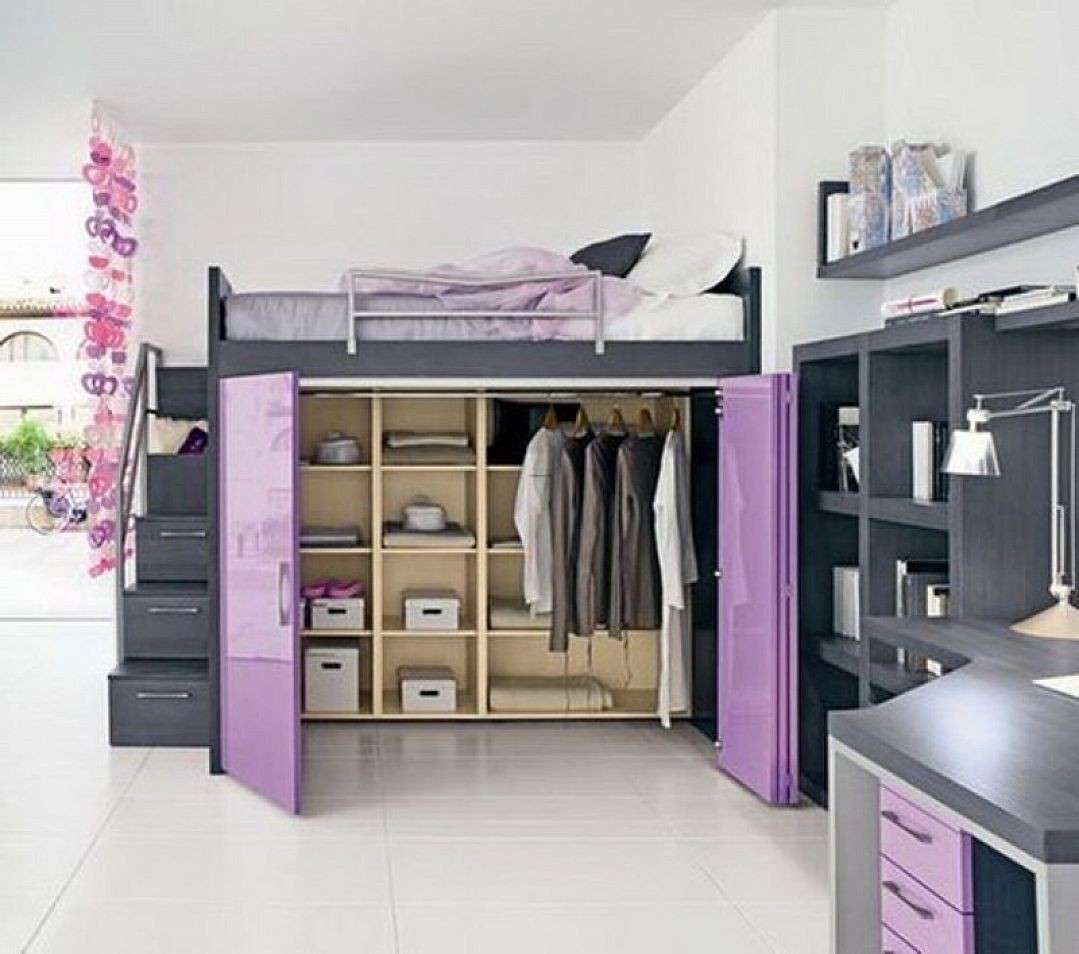 A functional loft bed in a modern design. It's an ideal solution for a small room as it includes a fabulous walk-in closet that was arranged under the bed. The whole unit is also an elegant combination of grey and light violet colors.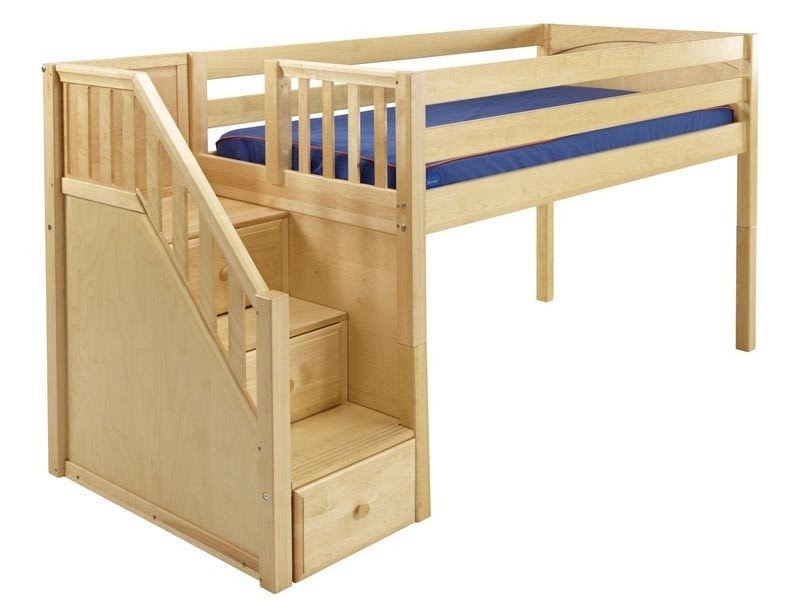 Loft bed with stairs and drawers for storing needed items. Construction is made of wood and reinforced with solid supports. Includes railings for added safety. Traditional form and neutral design.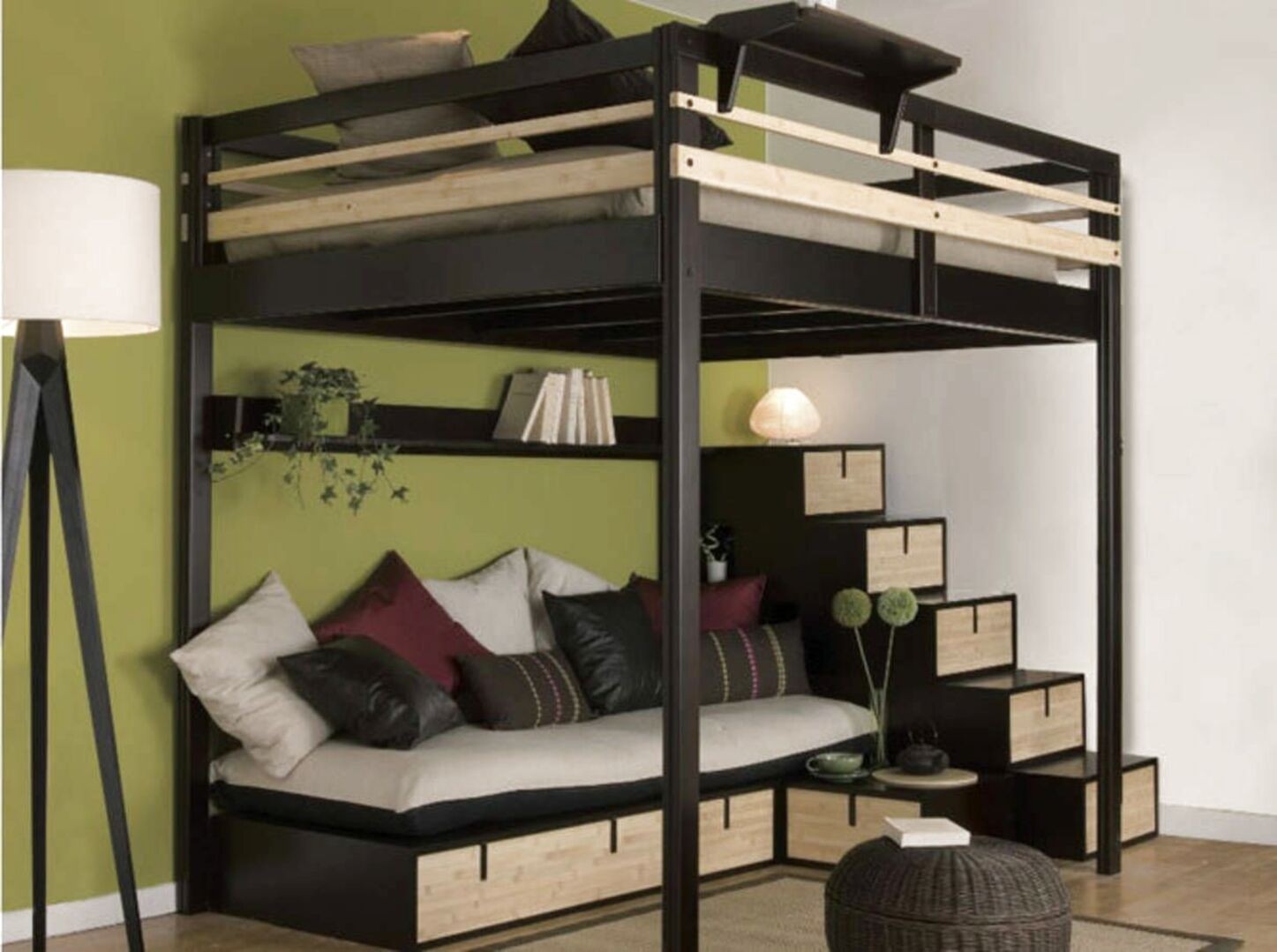 This loft bed includes a comfortable lower bed and a relaxing upper bed with stairs. These stairs include storage drawers. Solid wooden construction includes stairs, posts and protections finished in black color.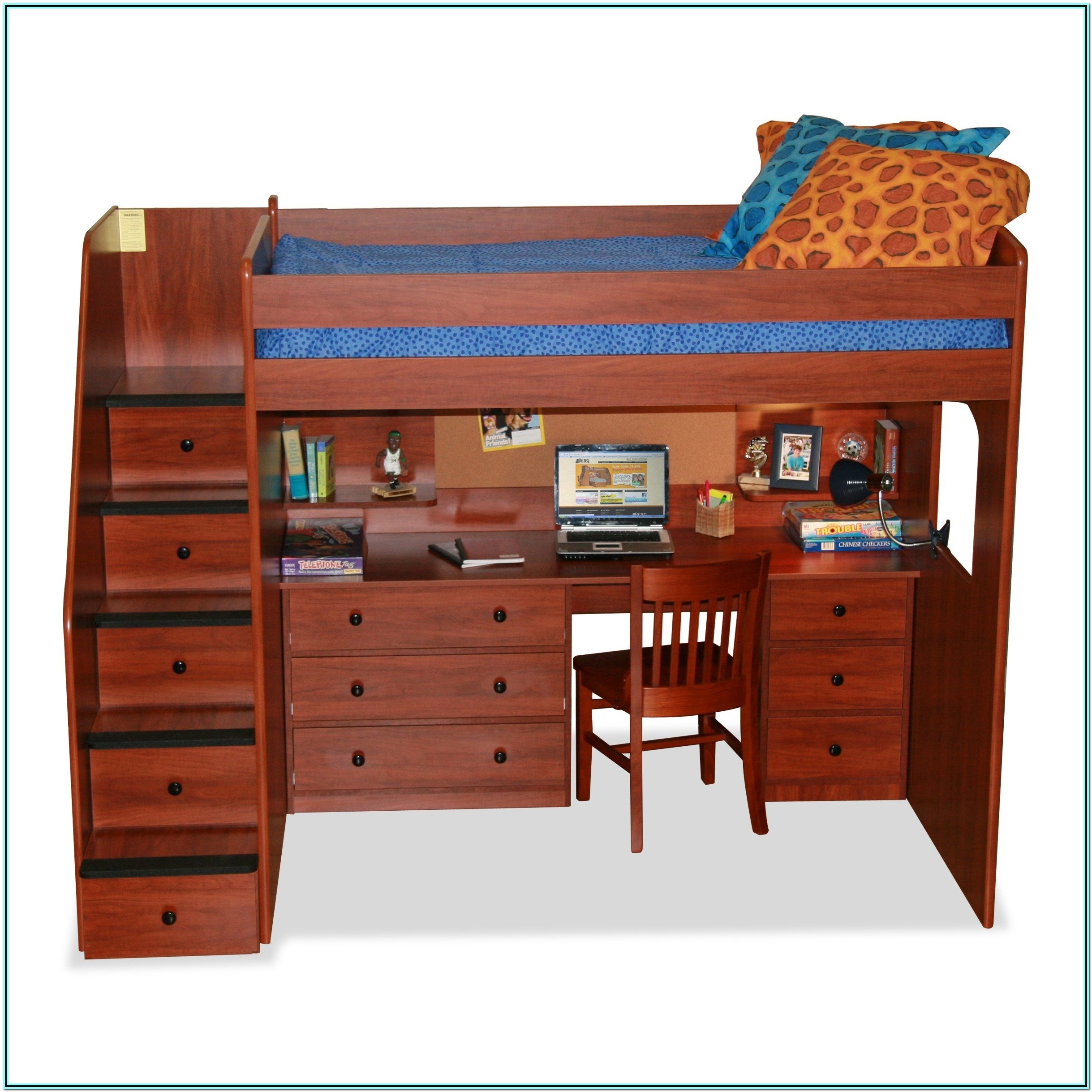 A very interesting stylization that saves space in small rooms. This loft bed features a staircase with five storage drawers. The upped bed includes a soft space with side protection. Lower area includes a small desk suitable for young students.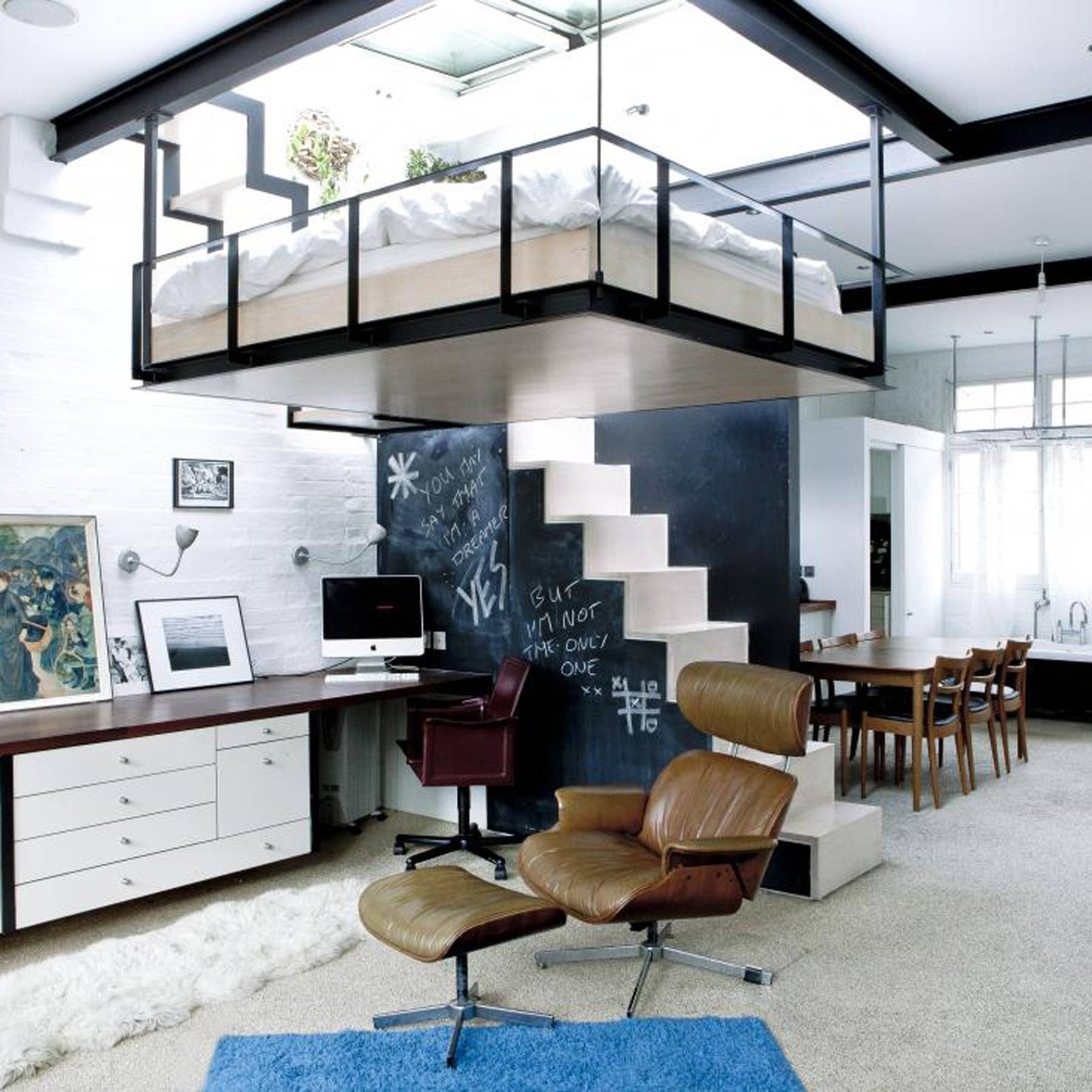 A creative setup for a modern living room with a gorgeous loft bed with a set of stairs that have a blackboard on the side, which gives this room a personalized look. The combination of different styles makes this room have an avant-garde look.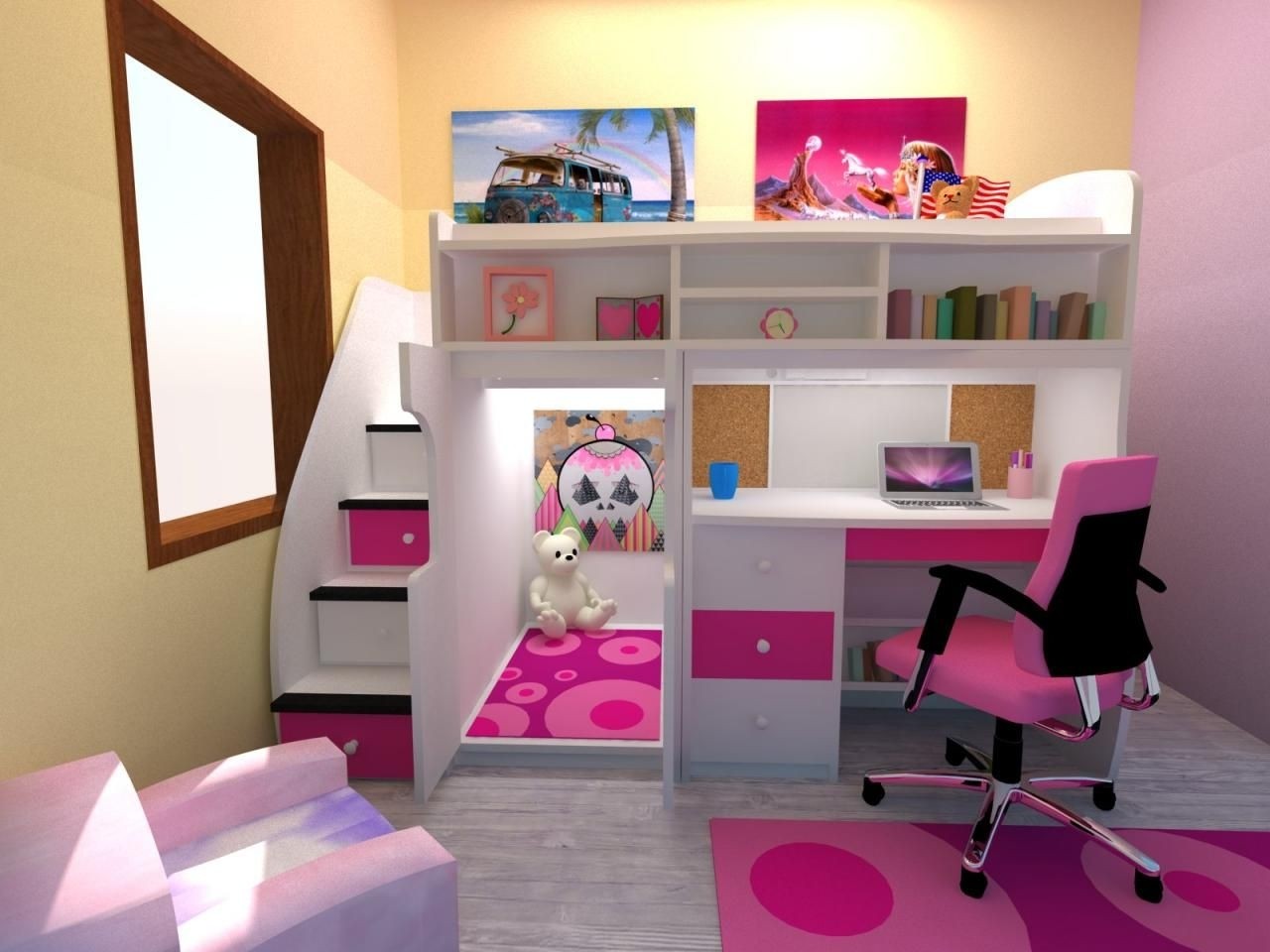 Being a combination of white and vibrant pink, this loft bed is a set designed to enhance any girl's bedroom. It features a bunk bed, entered by side stairs, a desk and small cabinet hidden below the bed.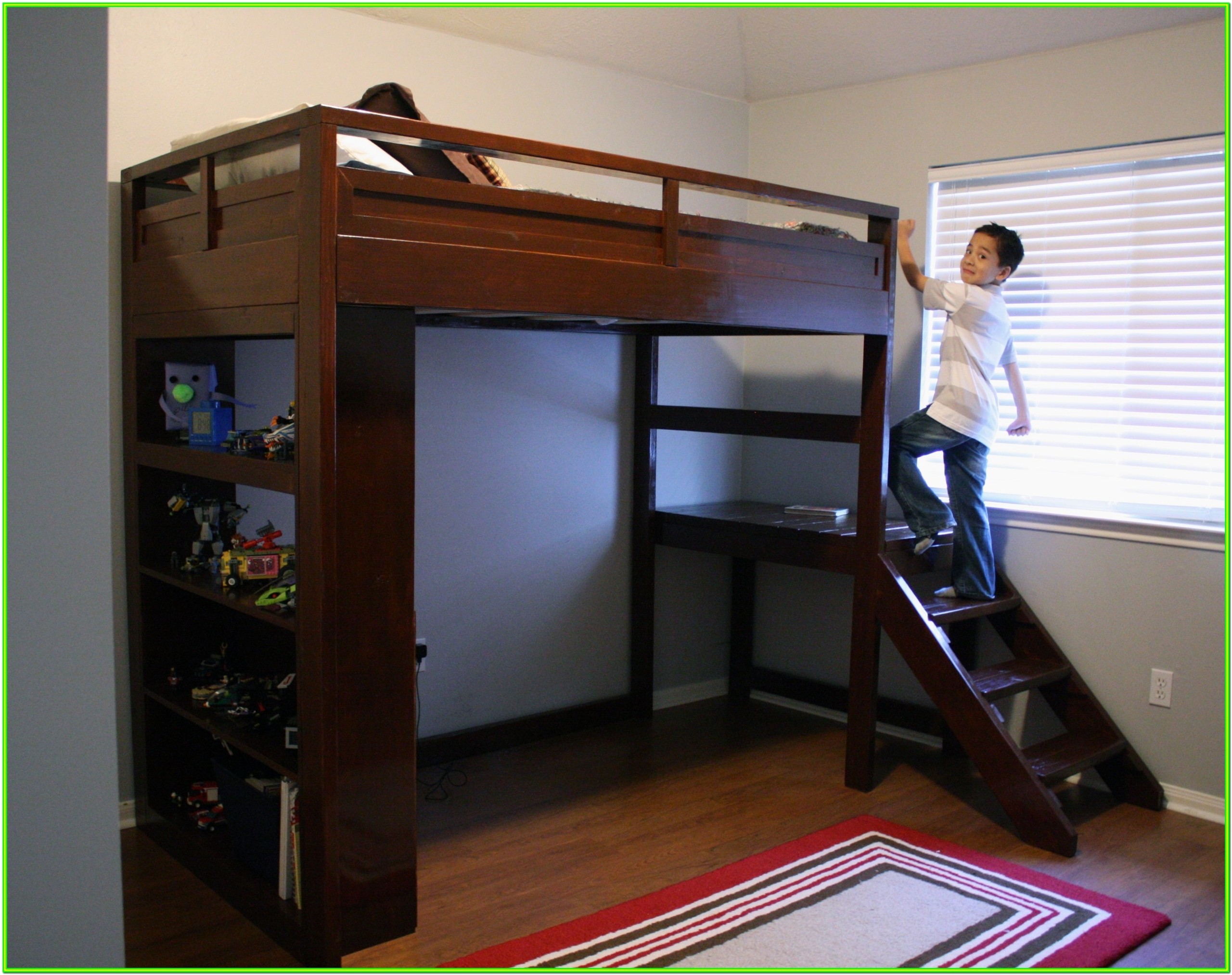 Classic dark wood loft bed with stairs. The stairs platform prevents the construction from blocking the access to the window. A bookcase is incorporated in the design; the bottom space awaits to set a desk within.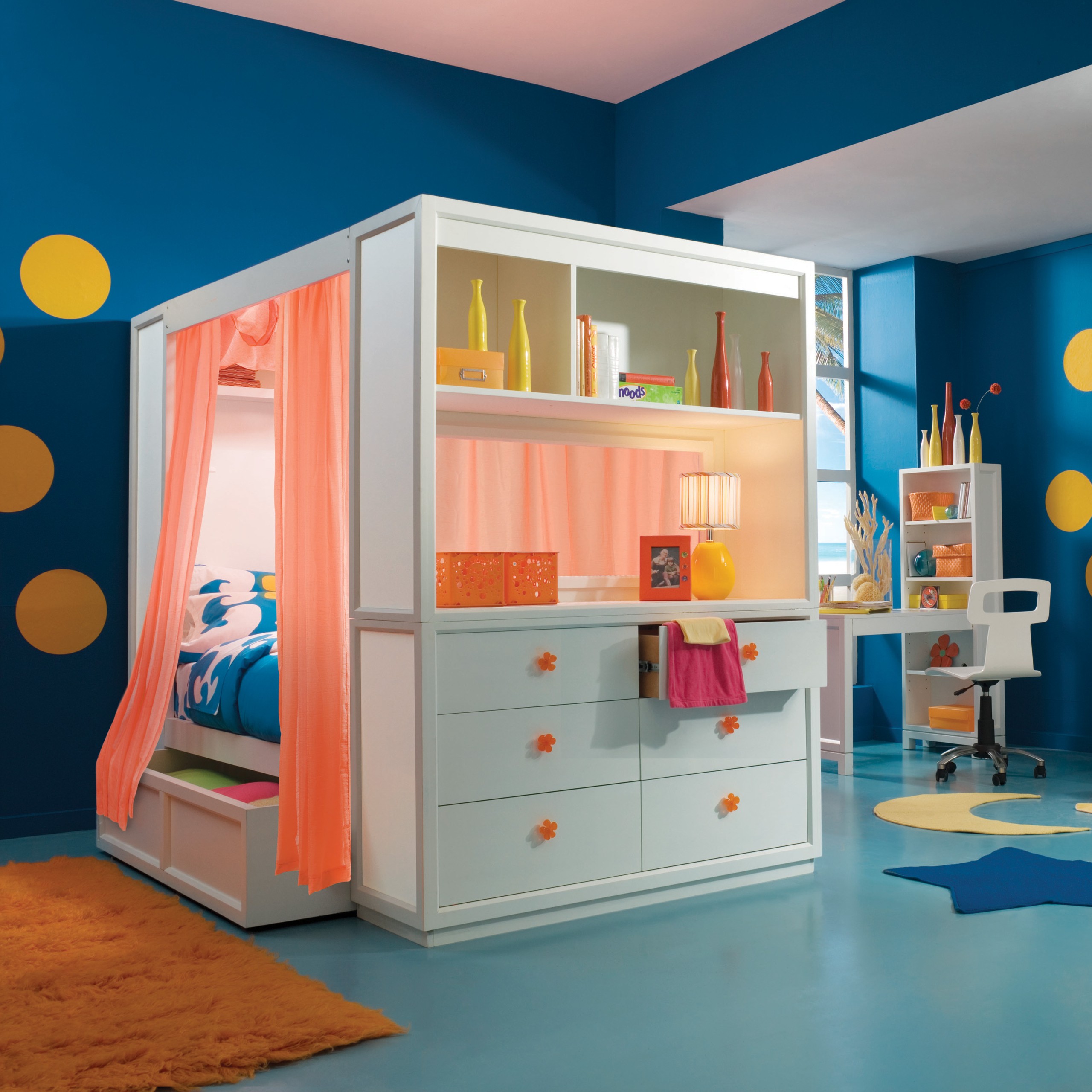 This product is a dream of every kid and teenager! The functional TweenNick The Retreat Canopy Bed features full size, drawers, hutch and magnetic dry-erase side panels.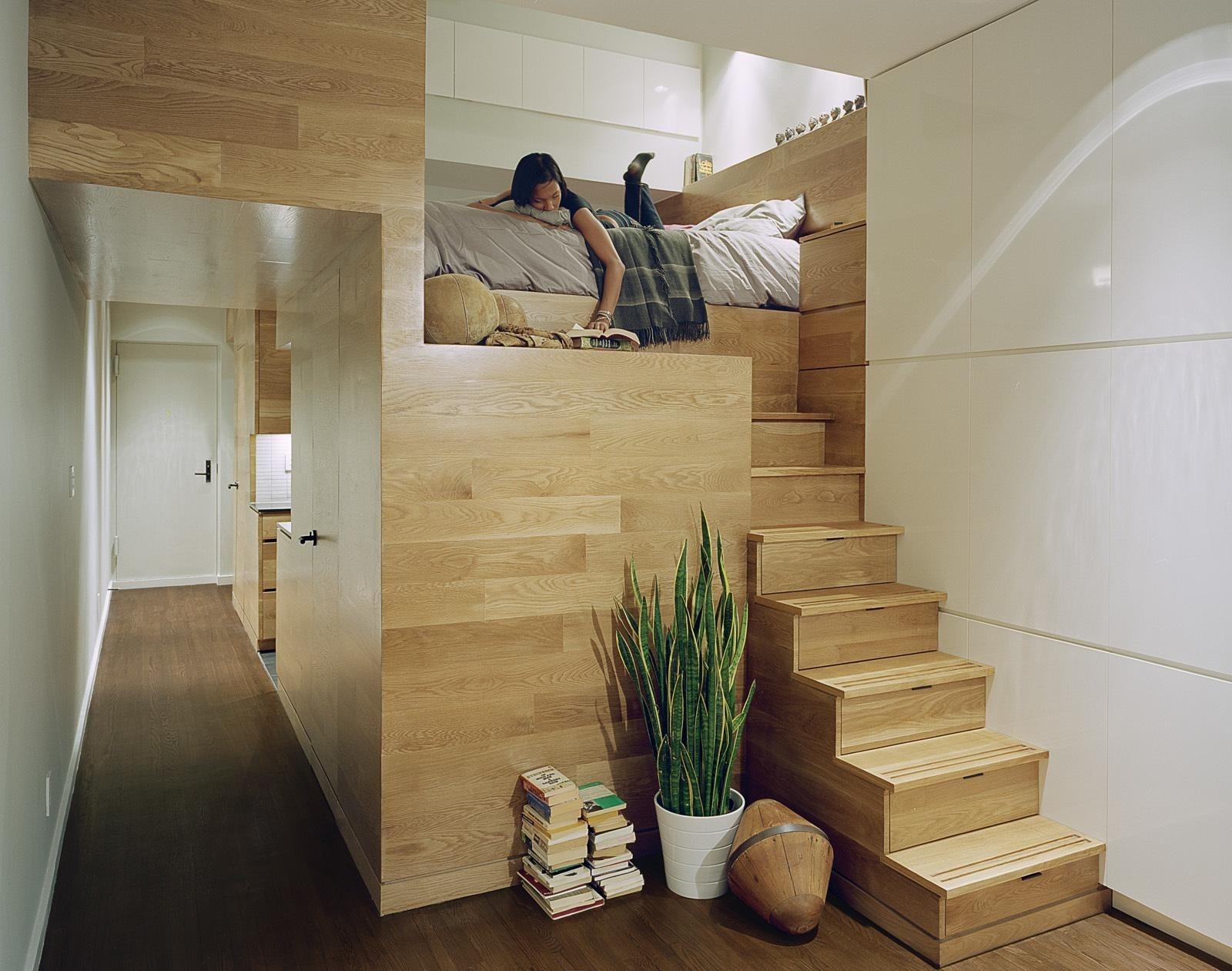 Great way to make extra sleeping space. elegant nogal.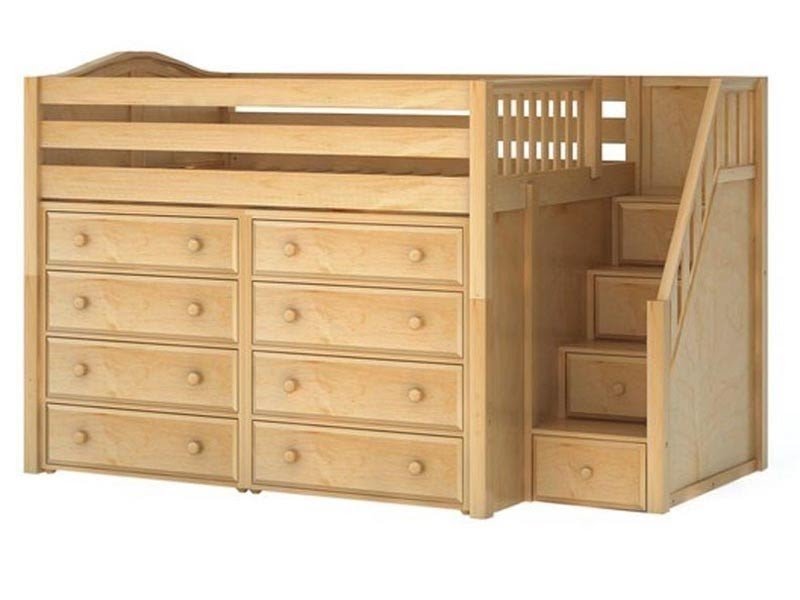 Traditional styled loft bed with durable wooden construction. This element of furniture includes a full size bed with stairs that are equipped with drawers. The lower part of this bed includes eight wide drawers for clothes.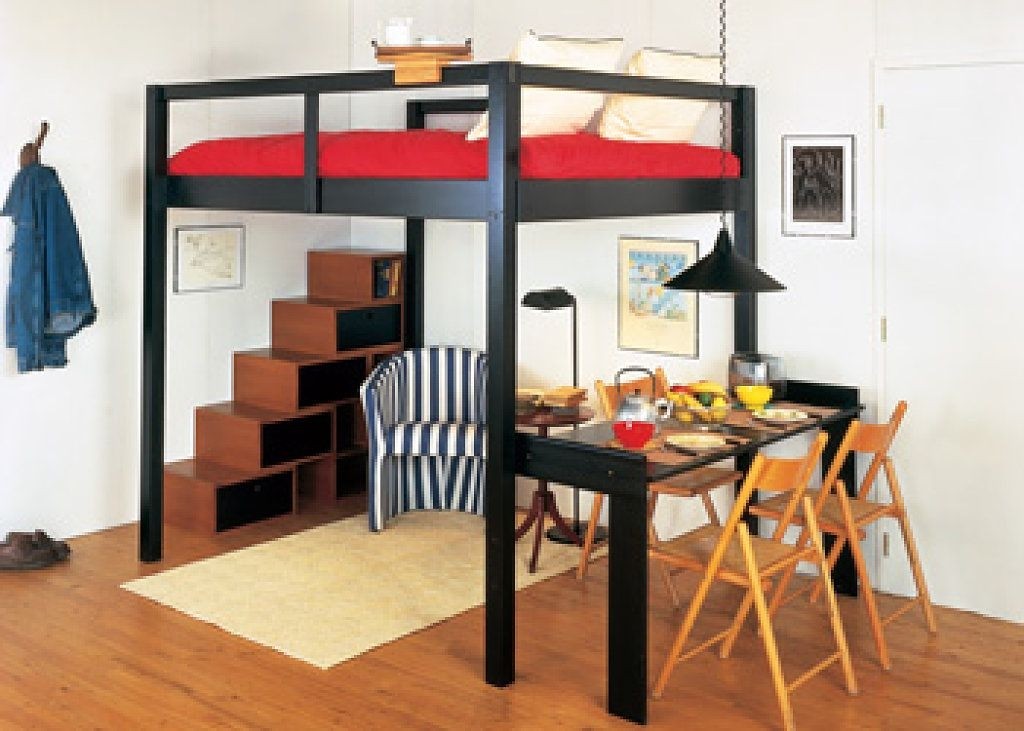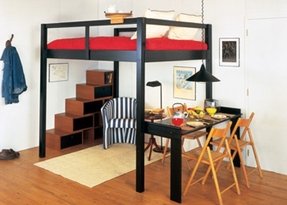 Compact and space-efficient setup for a dining room with a loft bed above the dining area. The loft bed is placed on tall, wooden legs with a set of stairs that double as a handy bookshelf, providing additional storage.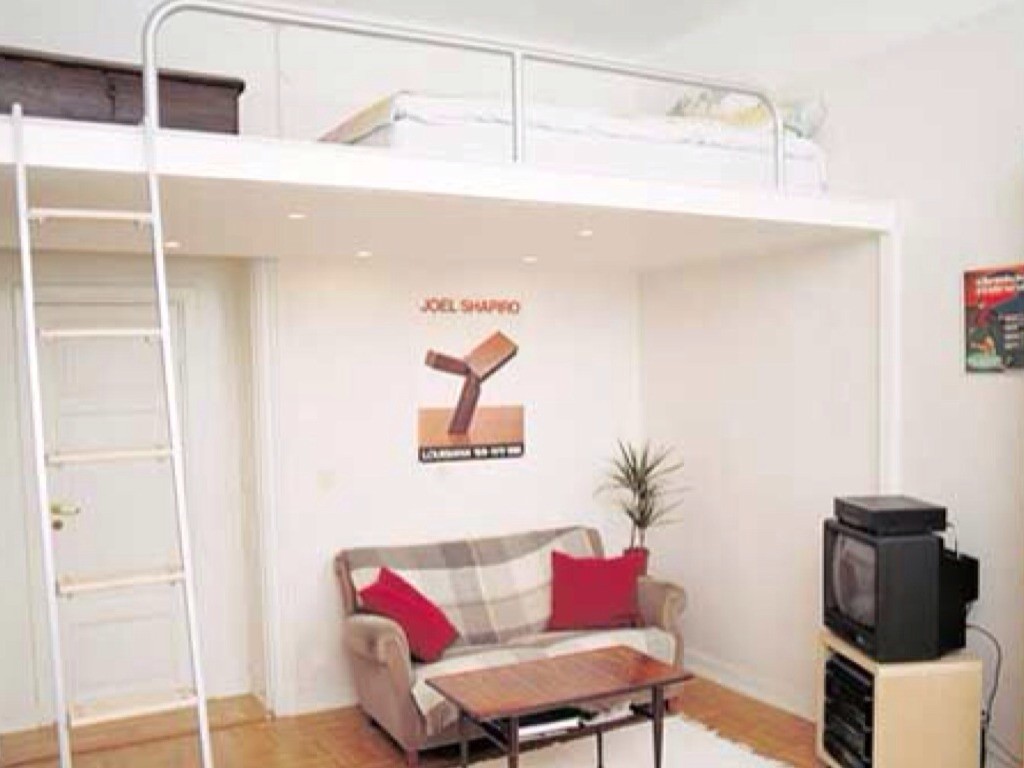 Trying to find the excellent, nicely finished and high quality full size loft bed with stairs? We suggest you to choose this great piece of furniture. It is very simple, so it fits perfectly to any style and decor.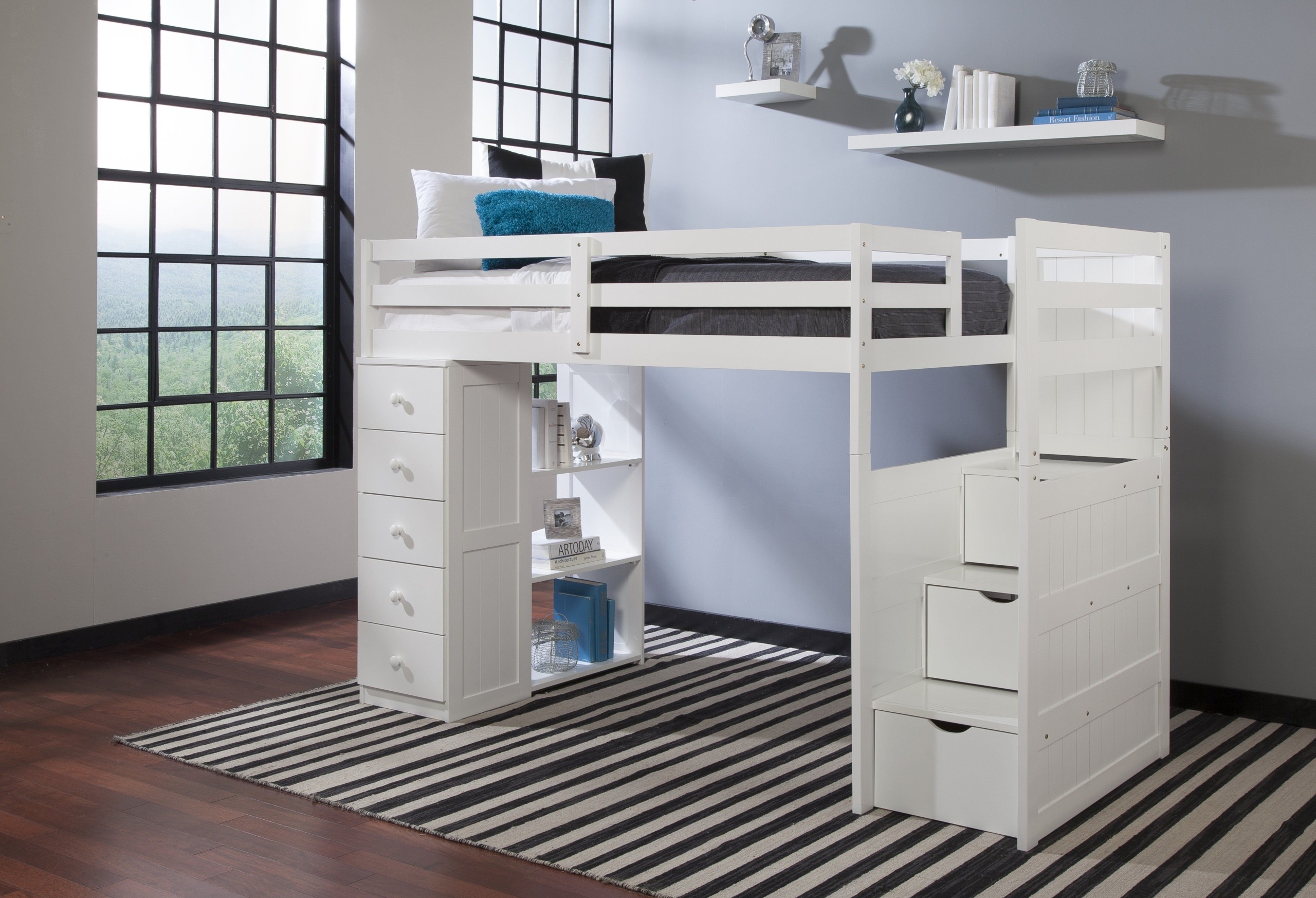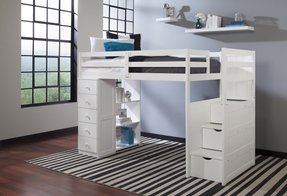 This kind of product is very original. It is a loft bed that matches any twin-sized mattress. This construction includes many storage shelves, drawers and stairs with drawers that assure access to the upper area.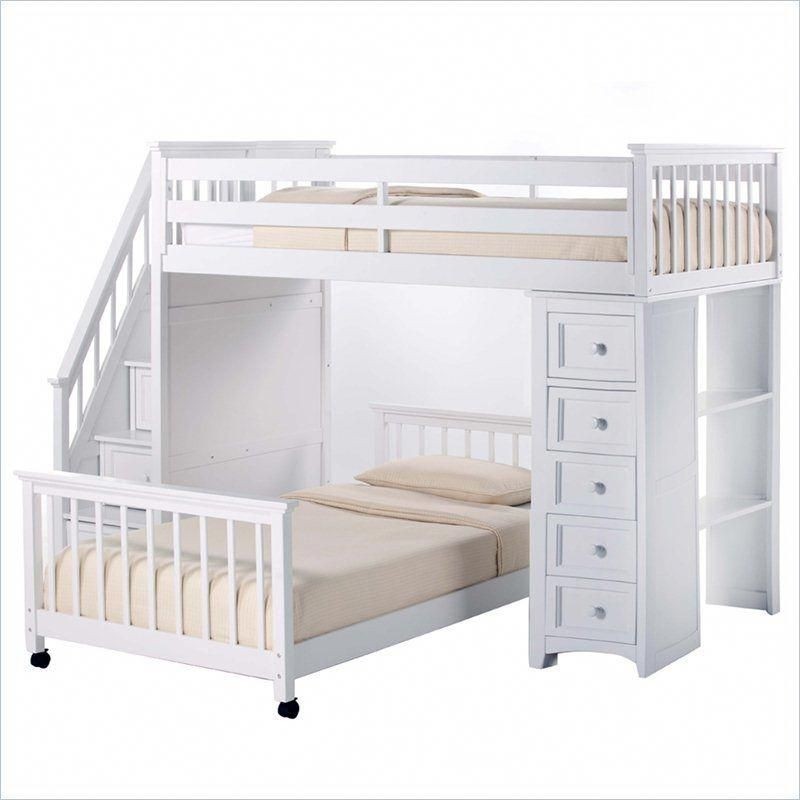 Loft bed with stairs and railings for added safety. It is made of wood and reinforced with solid supports. Includes a lot of open shelves and drawers in various sizes for storing clothes and others needed items.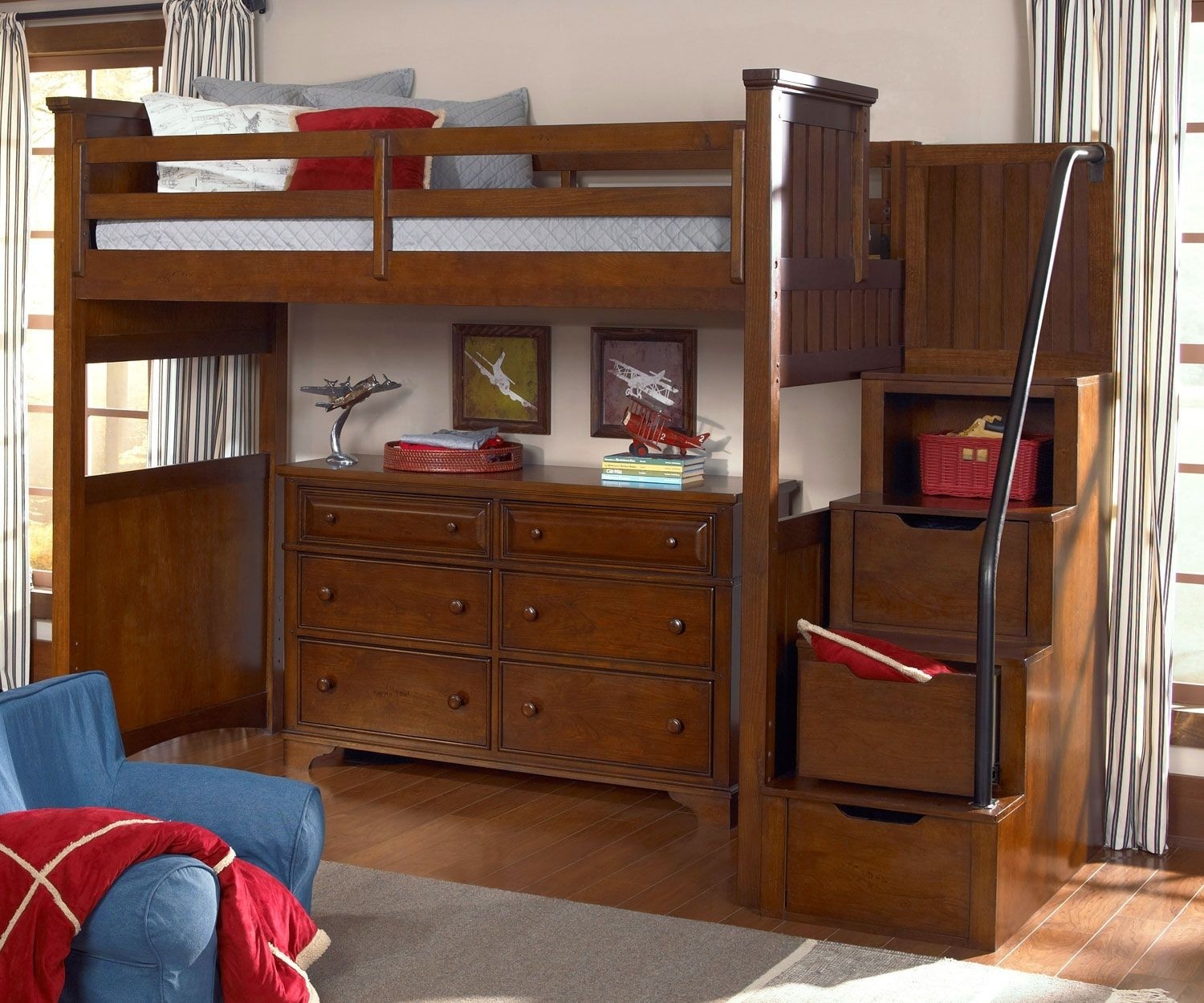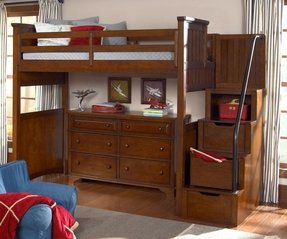 Finished with stylish dark wood, this full-size loft bed with stairs constitutes a great way to add a practical, yet refined accent in your bedroom. It creates an impressive working space underneath, ideal for a desk.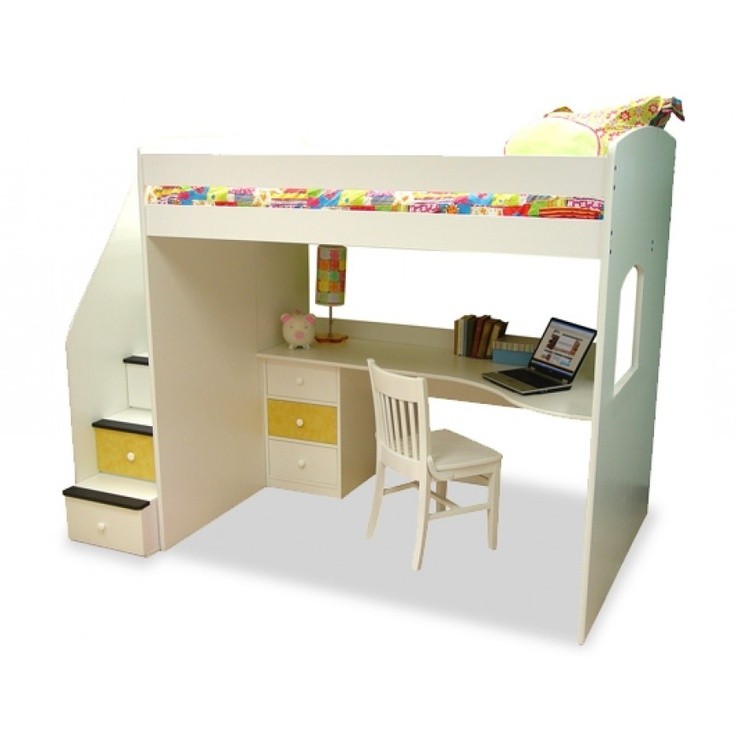 How much fun and space you can afford thanks to a loft bed. You can insert to a girlish bedroom - a white wooden copy of full loft bed with the stairs based on the yellow drawers and the center of scientific leadership of the ambitious little woman below.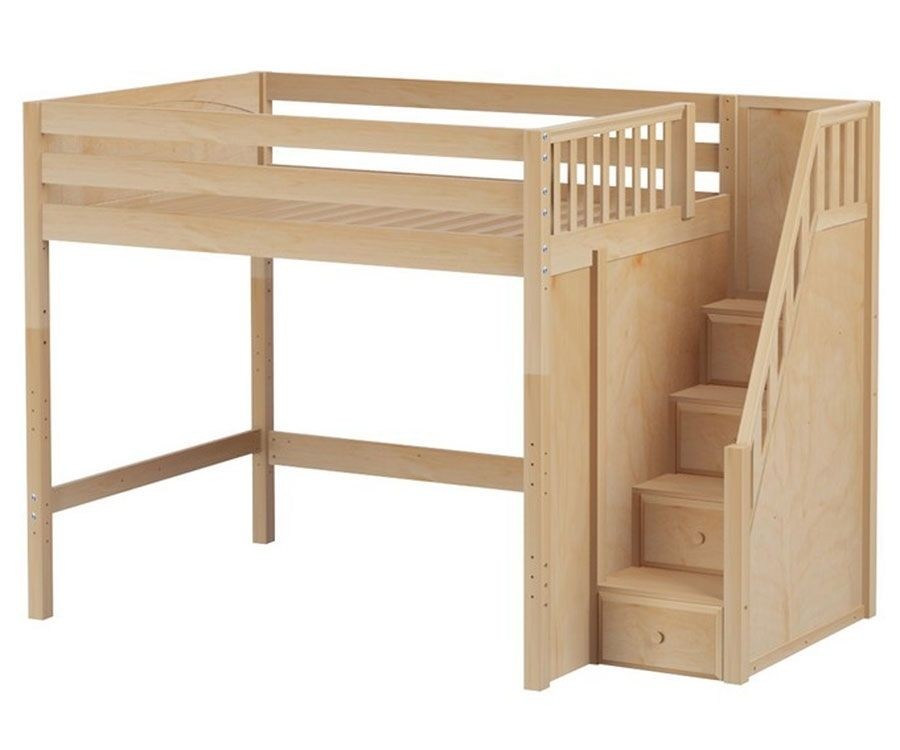 full size loft bed with stairs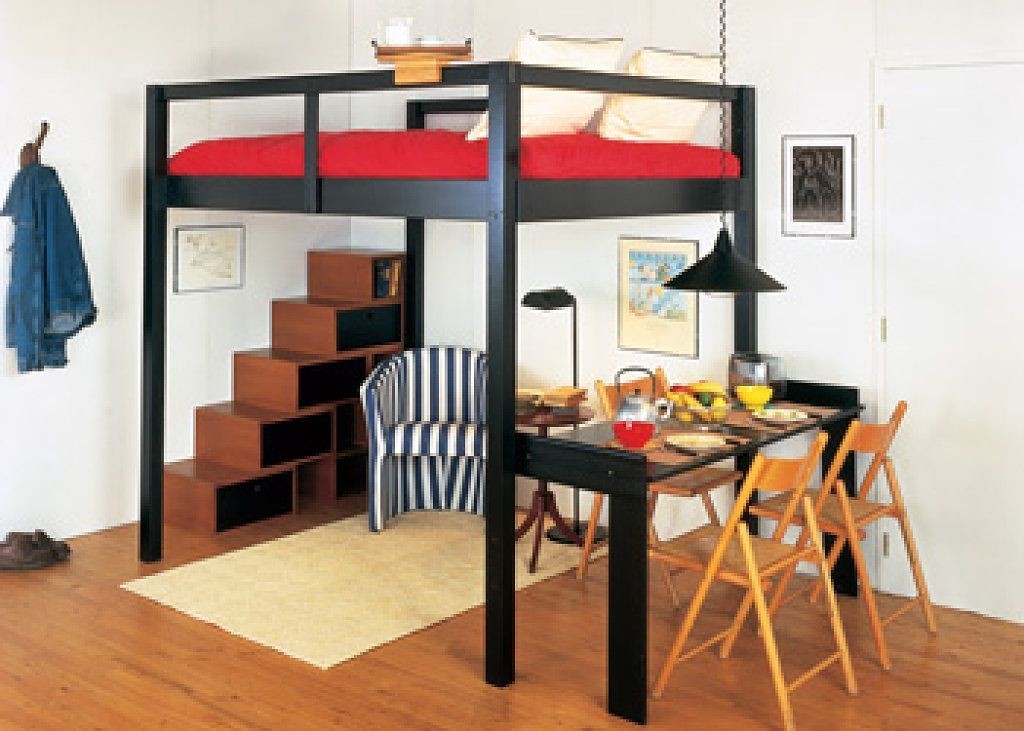 Comfortable and durable wooden loft bed finished in black color. Its upper area features a full size bed with protective rails and stairs. The lower area features a desk and provides some space for an armchair or other pieces of furniture.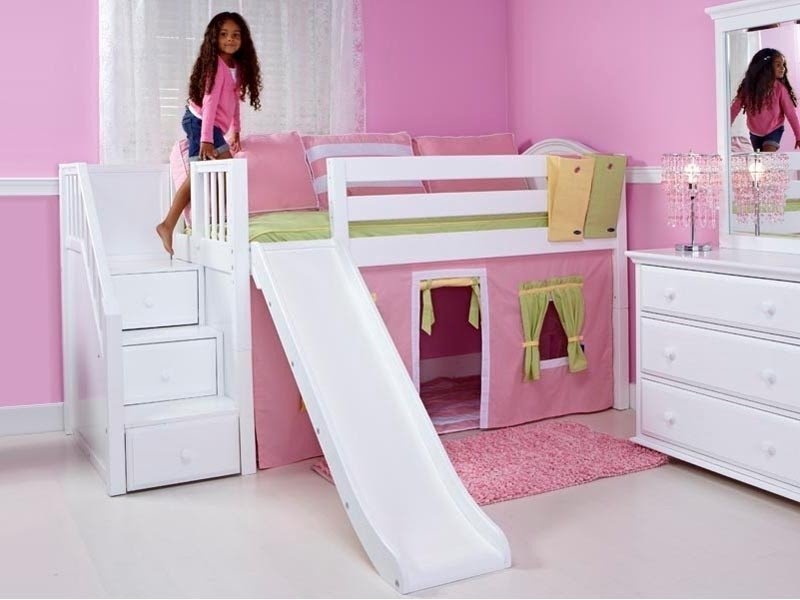 Trying to find the adorable loft bed for your little princess bedroom? We suggest you to choose this one! It features the full size, stairs, pink and white colors and enough space for storing items and playing.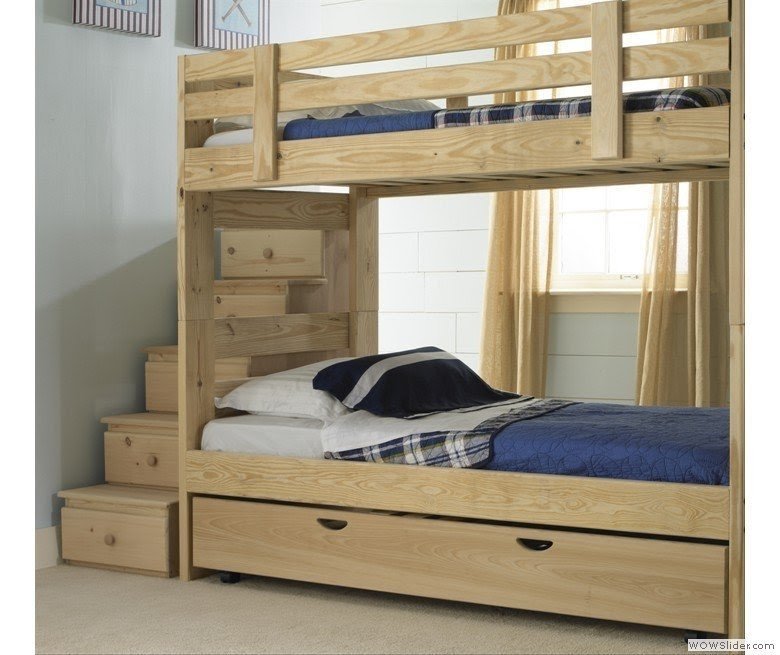 Stackable Bunk Bed with Storage Stairs and Trundle Bed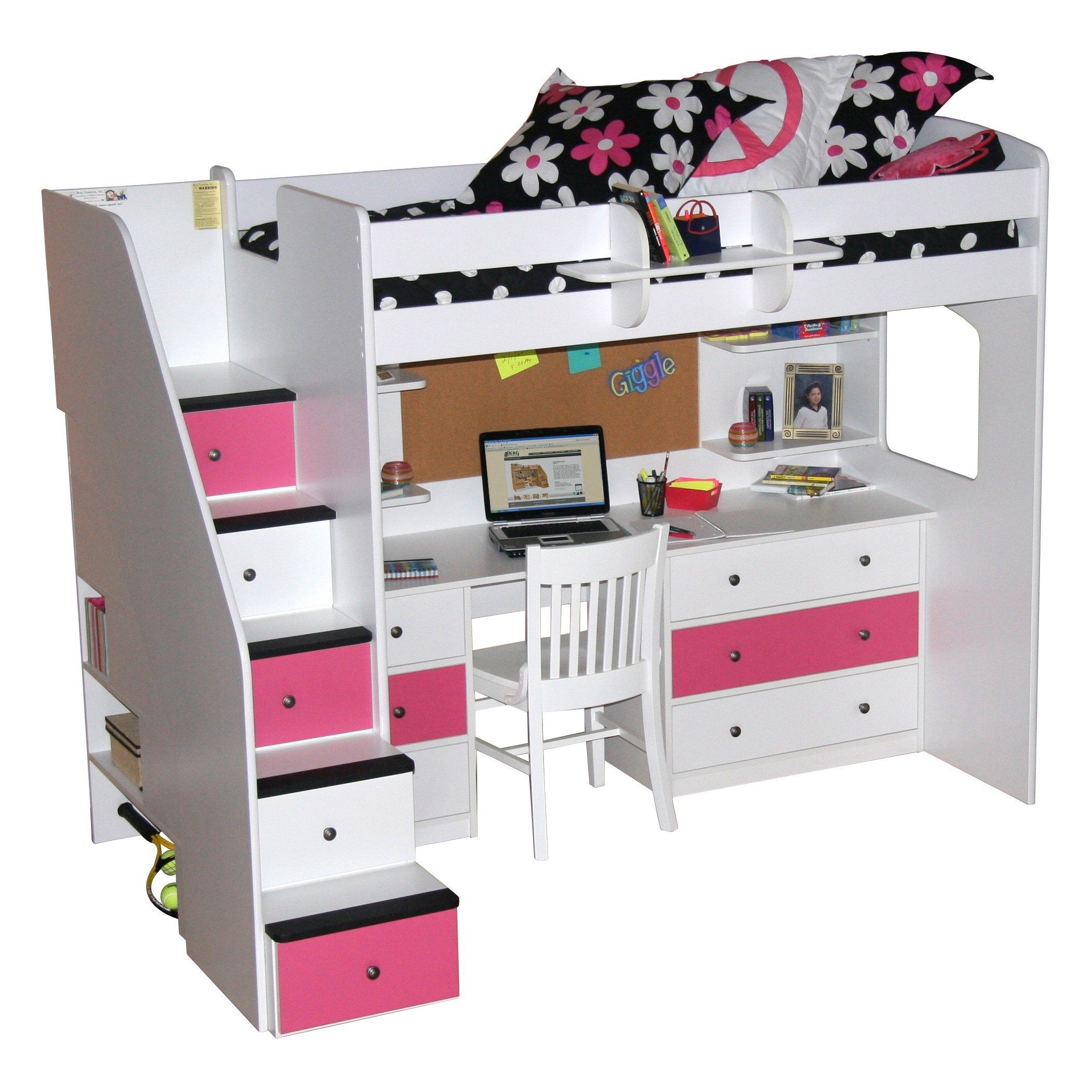 Build a Camp Loft Bed with Stair, Junior Height | Free and ...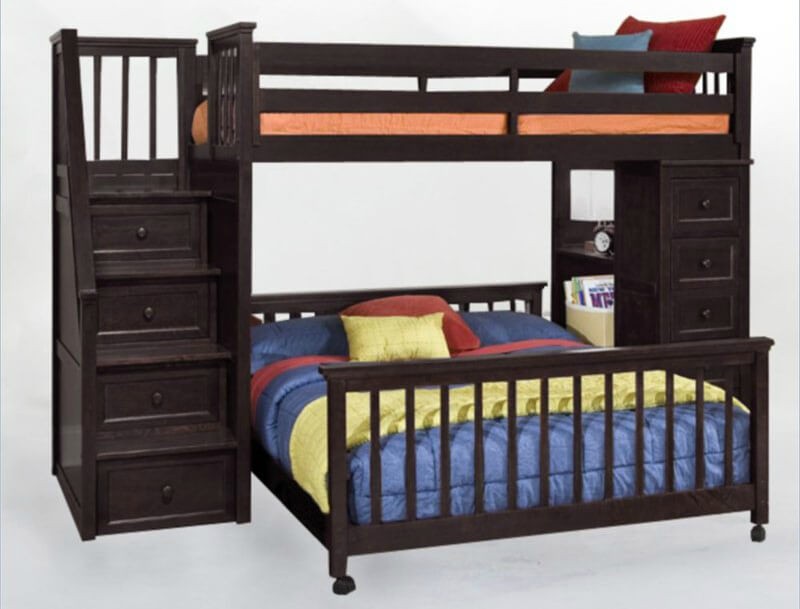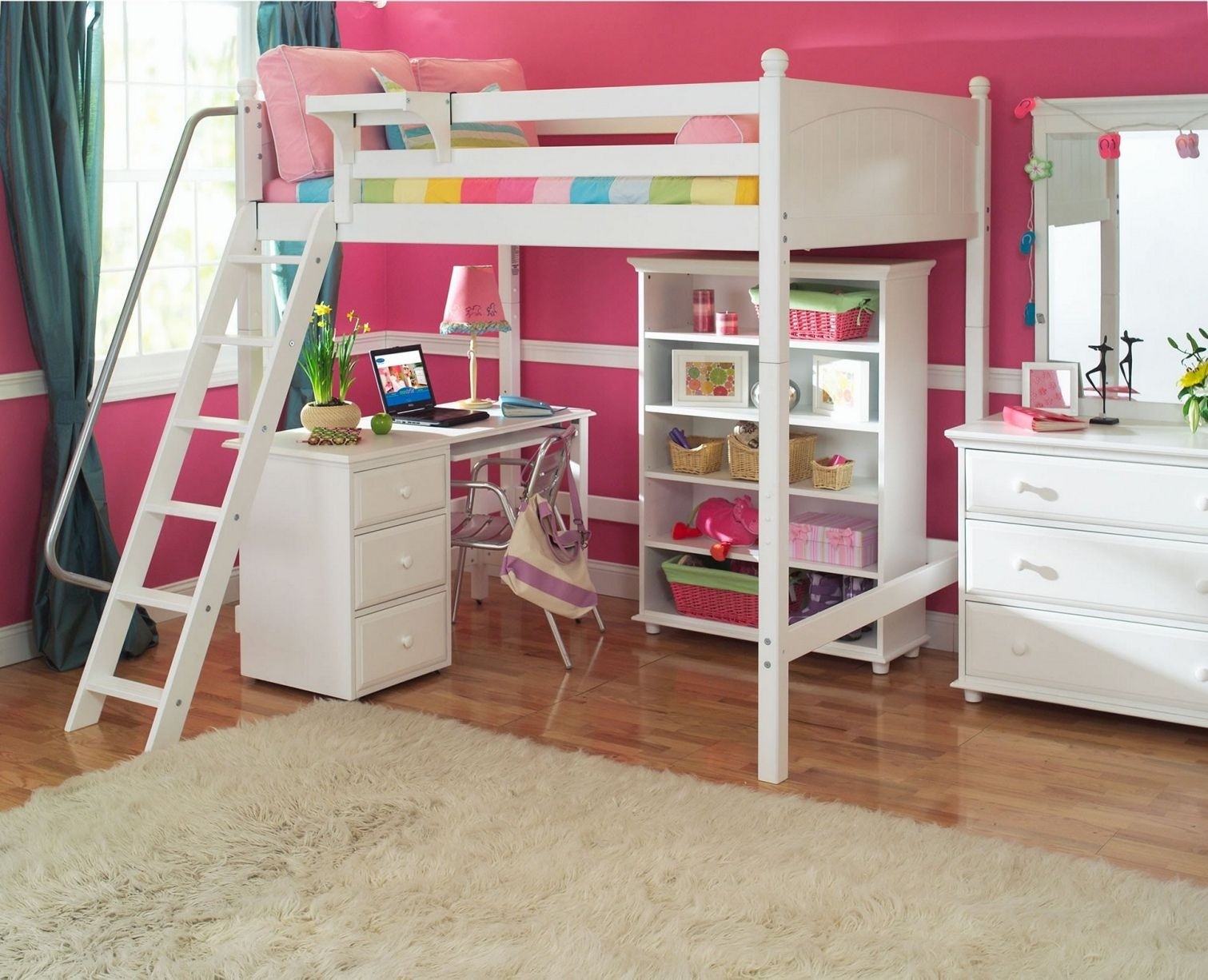 Woodworking full size loft beds PDF Free Download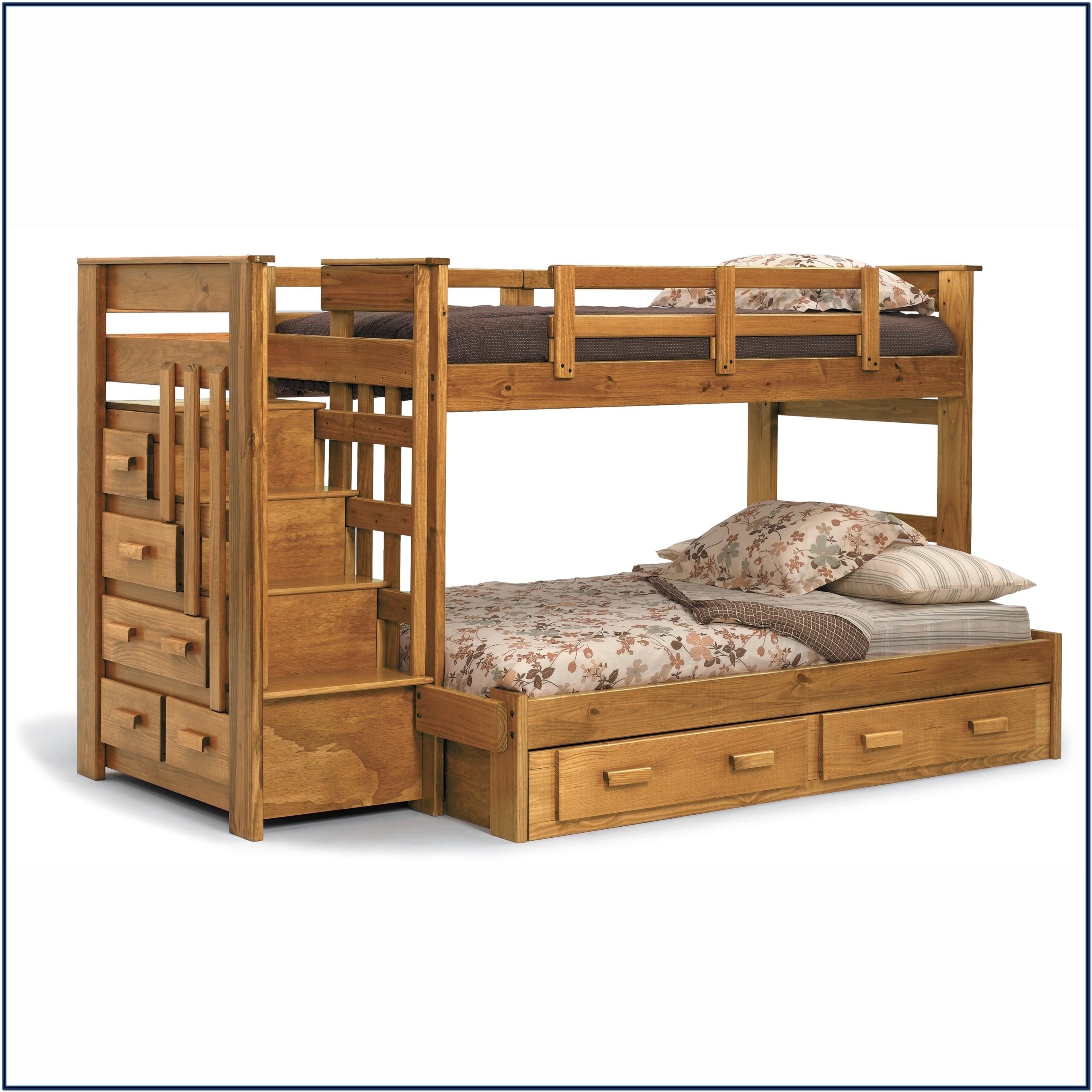 Heartland Full Size Stair Kids Bunk Bed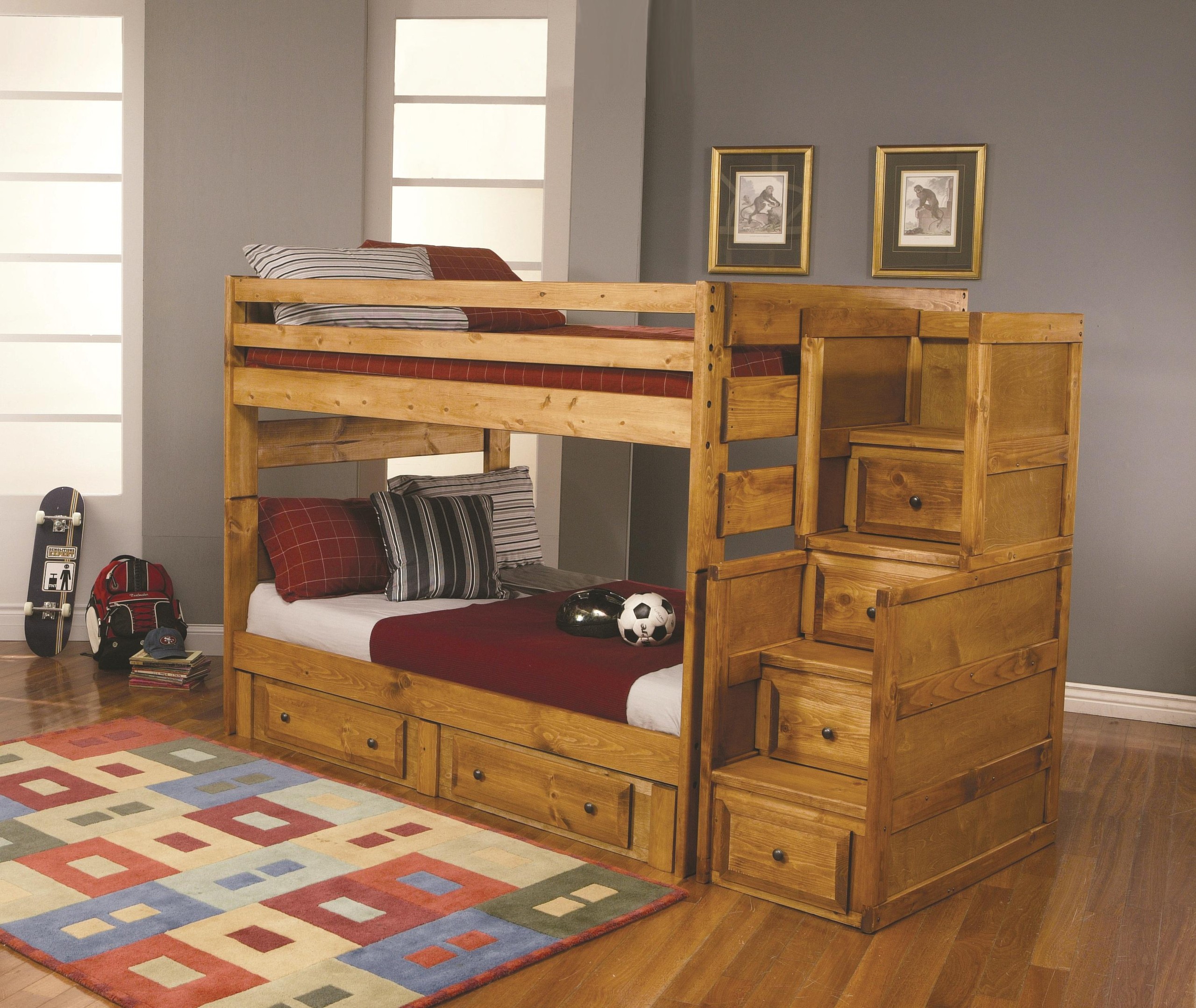 Magnificent Bunk Bed with Stairway Chest constructed from hardwood and covered in natural oak finish. The bed has few storage compartments consisted of a stairway chest with 4 drawers, and under dresser with two drawers.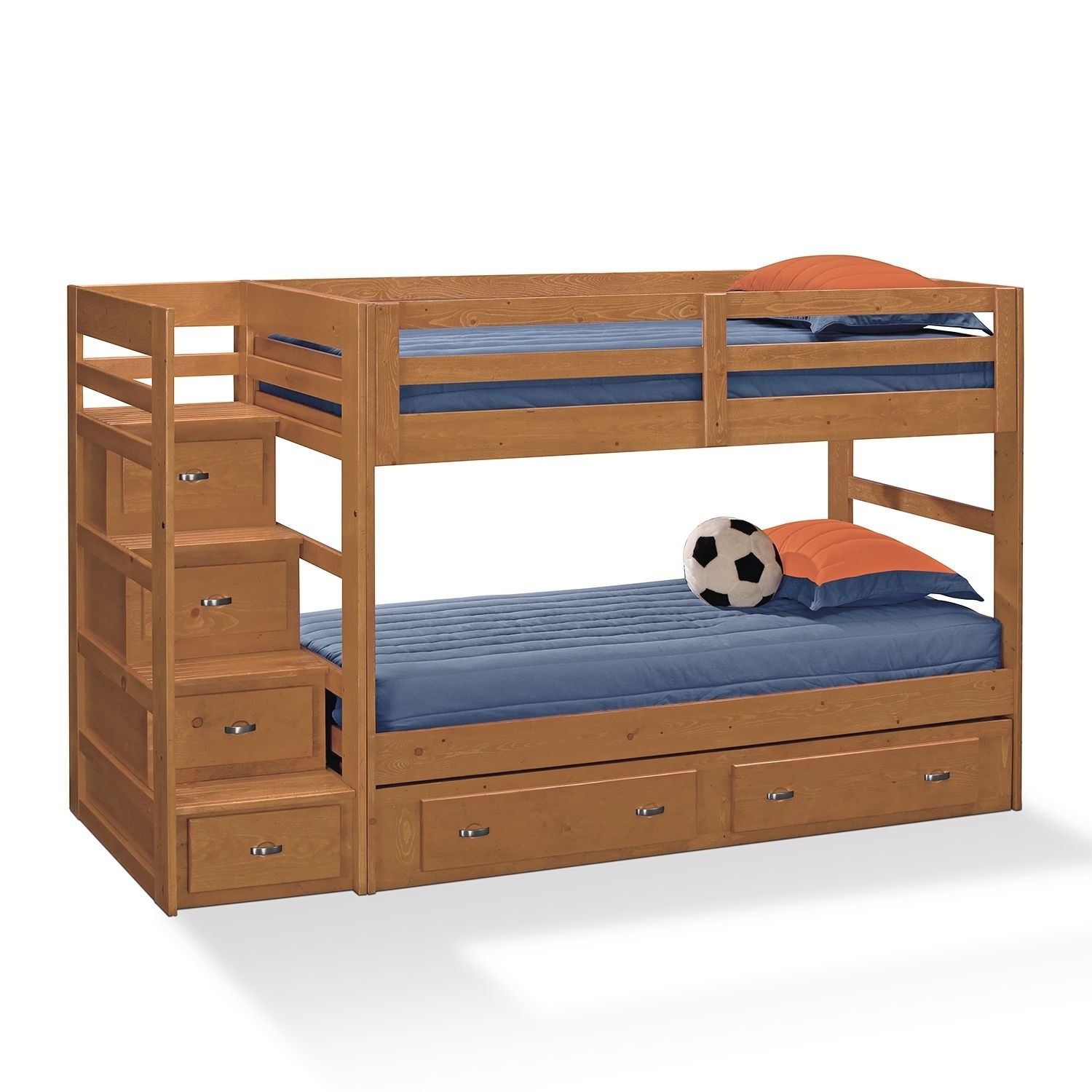 This functional and attractive element is suitable for small bedrooms for kids. Upper bed is accessible thanks to stairs with storage drawers. Wooden construction provides support and safety of sleep.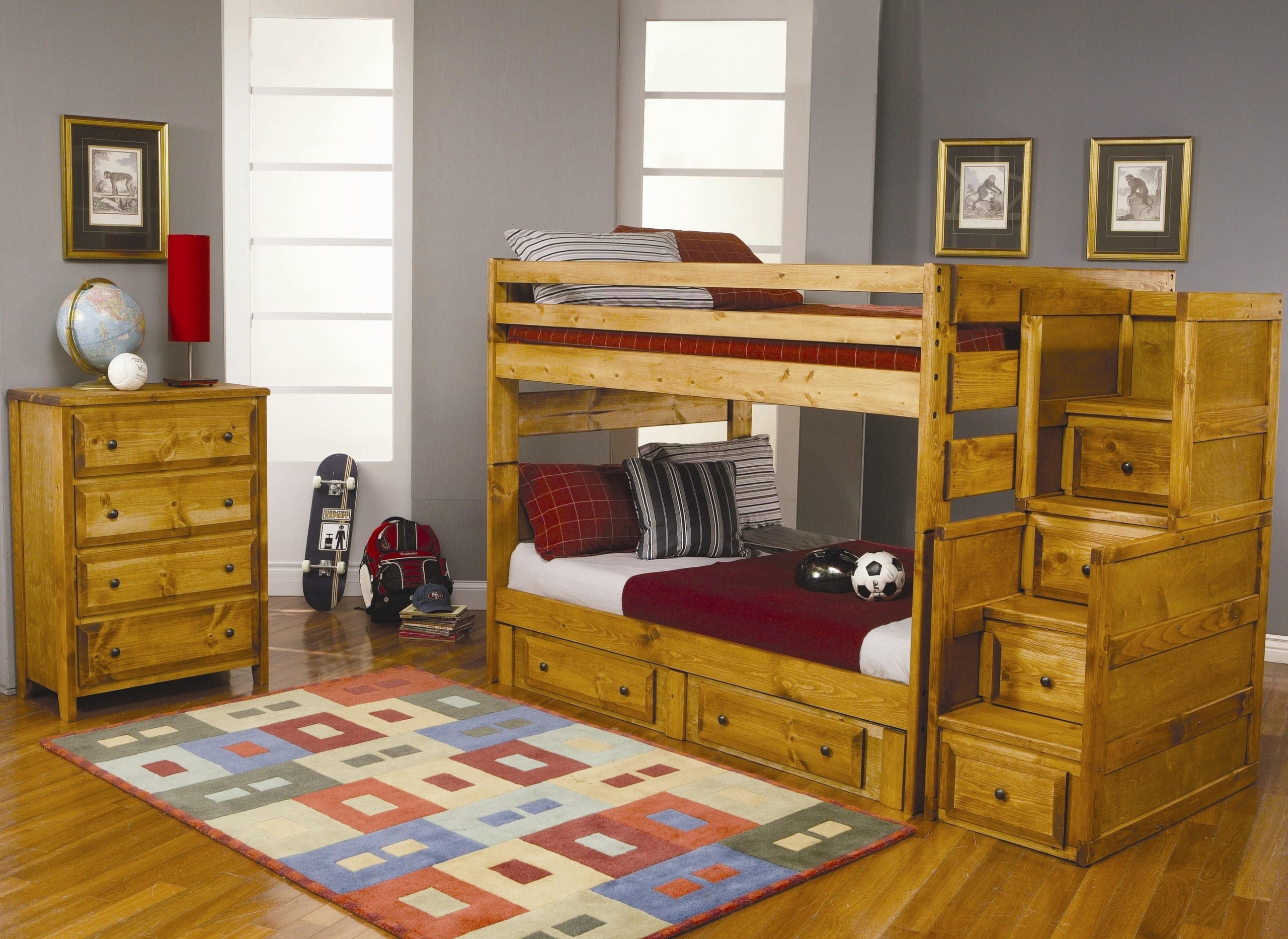 Pine Full Over Full Bunk Bed in Amber Wash with Optional Stairs at | Rustic Classics Coupon code: csave100 (price: 550)

This loft bed provides a comfortable sleeping space in the upper bed. This wooden construction includes stairs with storage drawers. The lower part includes a desk with additional space for a computer and other accessories.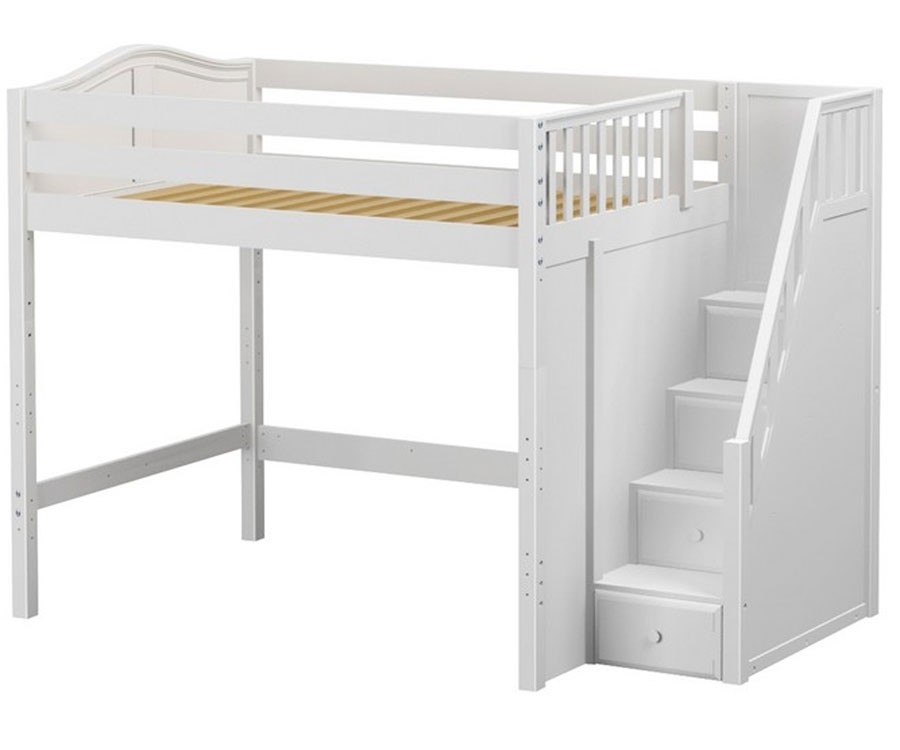 Maxtrix ENORMOUS High Loft Bed with Stairs | Matrix Kids ...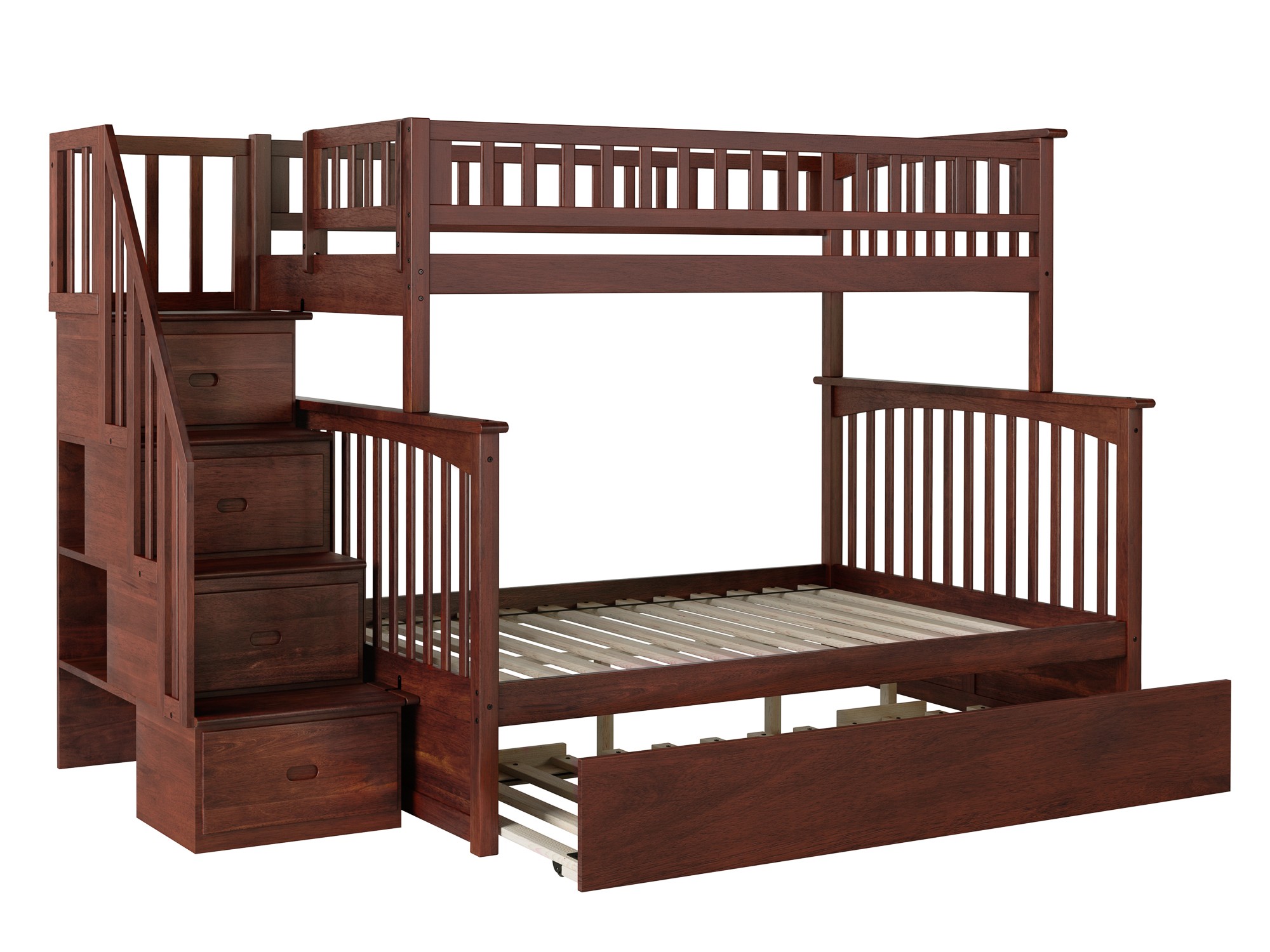 Columbia Staircase Bunk Bed Twin over Full with Full Size ...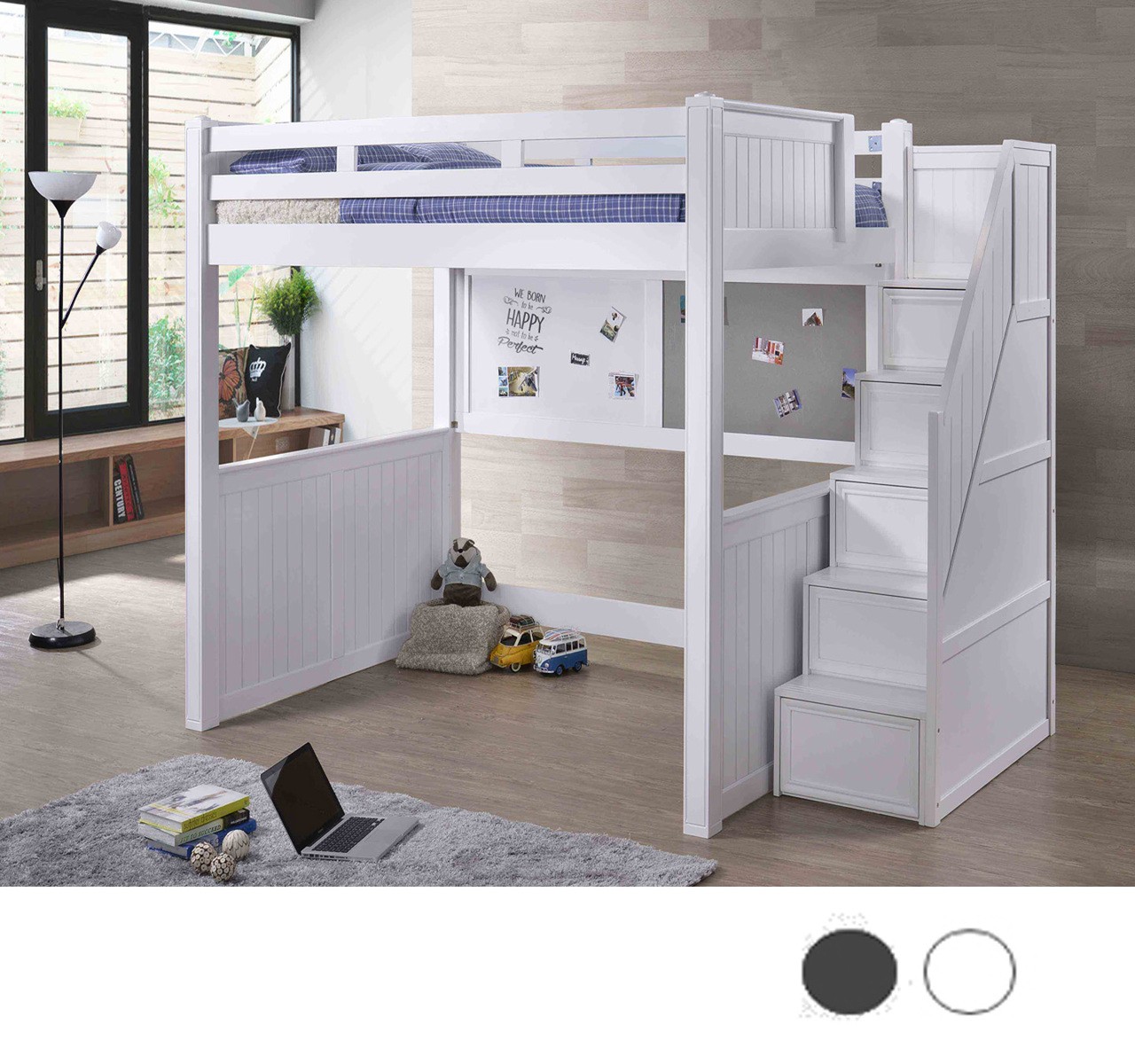 Dillon White Full Size Loft Bed with Steps | Loft Beds for ...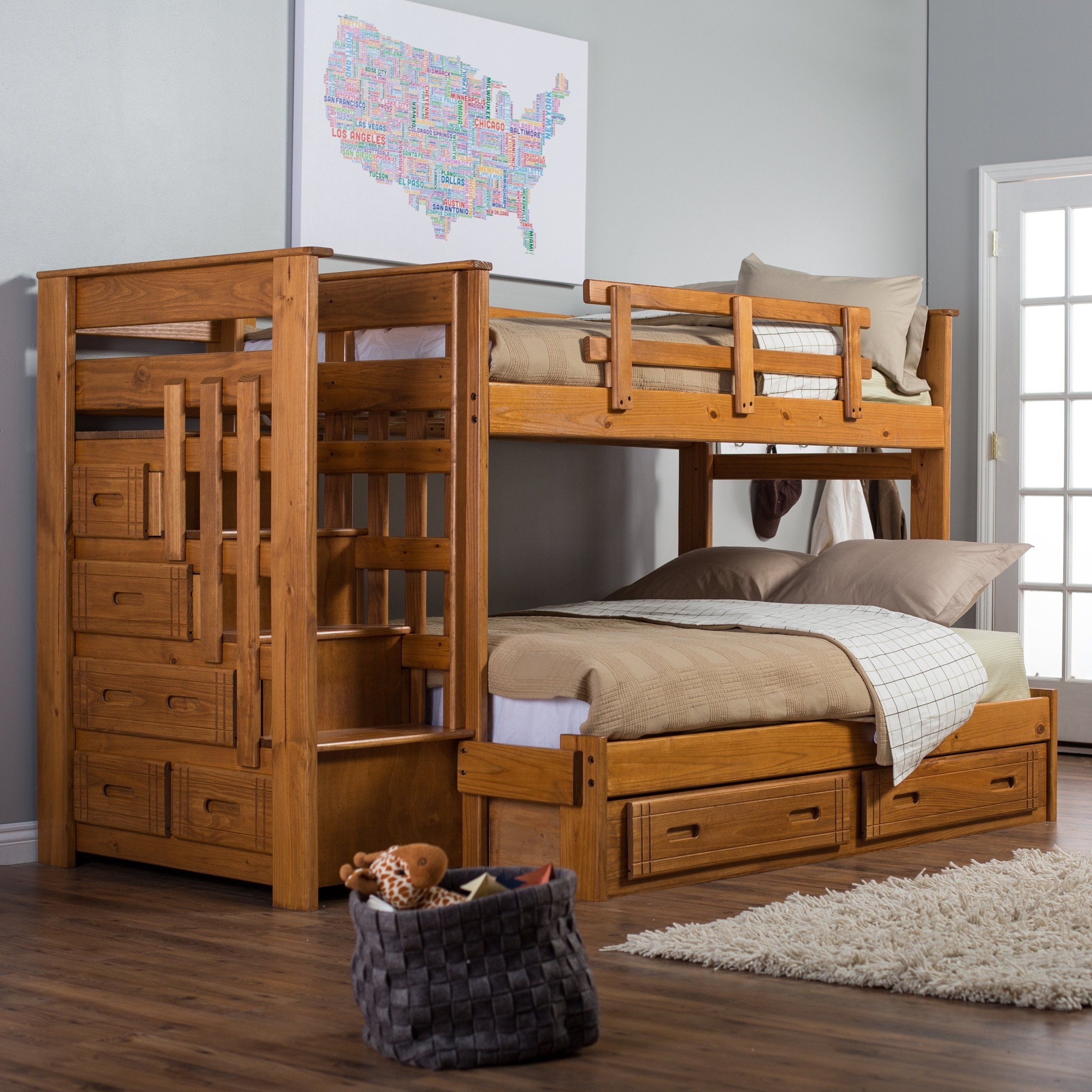 Stairway II Twin over Full Bunk Bed with Stairs - Storage ...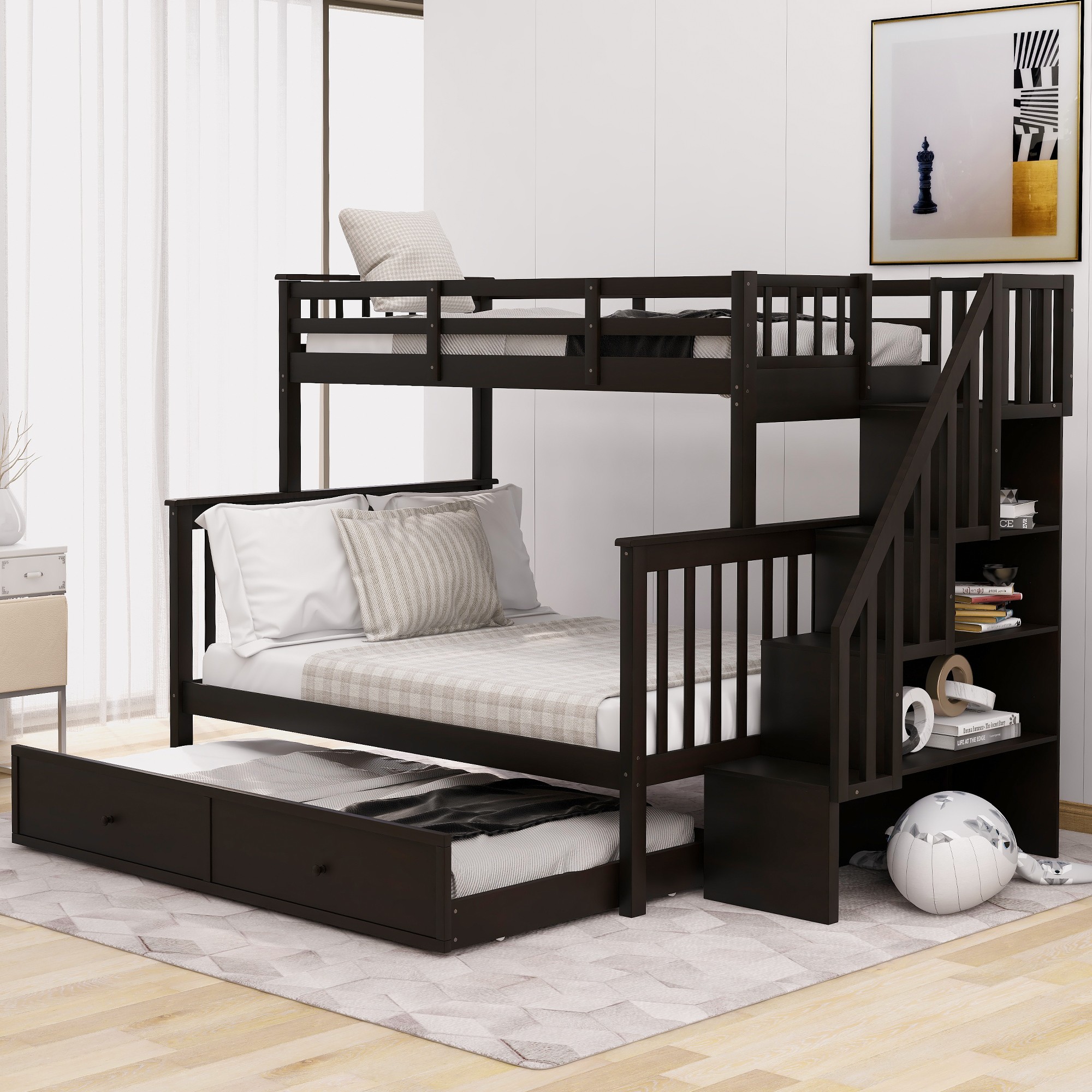 Suzicca Stairway Twin-Over-Full Bunk Bed with Twin size ...