Our Choice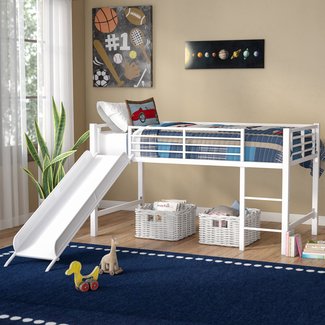 Whitbeck Twin Bed
There is never enough room in a child's bedroom, but a twin-sized loft bed with a white metal frame can go a long way toward fixing this problem. Add a climbing ladder at one end and a slide at the other, accompanied by sturdy safety rails, and you not only have a space-saving solution that gives your child more floor space, but also an indoor playground. Colorful bedspreads or rugs help transform a room into a play area.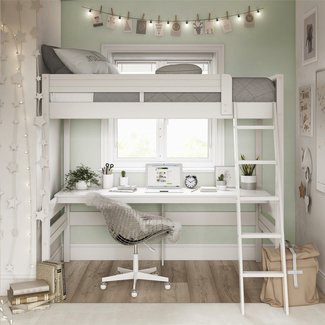 Alfred Twin Loft Bed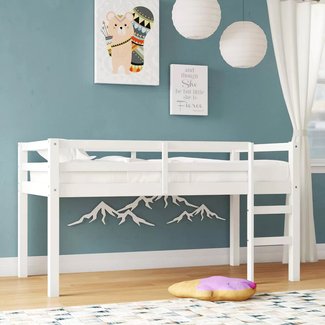 Schlemmer Junior Twin Loft Bed
A simple loft bed made of real wood in combination with manufactured wood presents, and inexpensive but practical solution to making more room in a child's bedroom. Painted white, the simple, clean lines of this loft bed leave plenty of room for you and your child to select bedspreads and room decorations. The space beneath the bed can become a play area or mini-office space. It could even have a trundle bed added.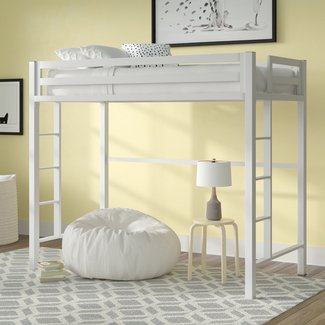 Giusti Twin Loft Bed
Perfect for rooms with a small floor area but a tall ceiling, this leggy twin-sized loft bed offers ample room beneath it for a desk area or even a miniature sitting room space. If your youngster is on the tall side, this loft bed will still create an added space solution. The bed is accessed by two ladders, one on either end. Sturdy guard rails help prevent tumbles. It has a solid metal frame with a white finish.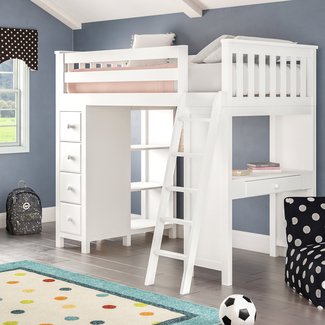 Ayres Twin Loft Bed with Drawers and Shelves
Get the most out of the space in your child's room with this versatile white framed, twin-sized loft bed with built-in drawers and desk shelf, as well as built-in shelves. All solid pine wood construction, available in maple, dark brown or white finish. Built to support up to 800 pounds, it can also serve as a spare bed in a guest room. The bed is accessed by a ladder at the end of the desk.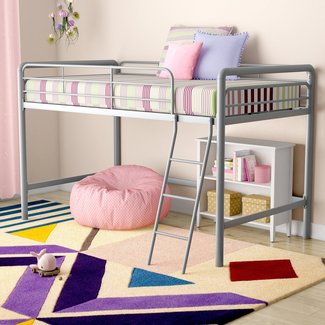 Charla Junior Twin Low Loft Bed
Classic twin loft bed constructed from tubular metal. The lower height of this loft makes it ideal for younger children. The safety railing extends well above a standard mattress. The entrance area is 9.5 inches wide. The simple design will blend well with any décor, the silver-gray paint suitable for nearly any child of any age. The maximum weight limit is 200 pounds, the clearance under the bed is 36 inches.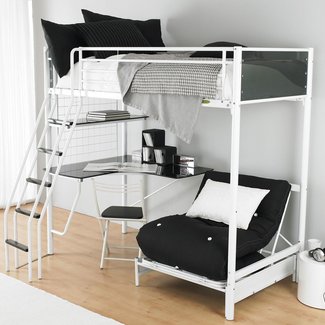 Joplin Twin Loft Bed
A tall loft bed made with white tubular steel provides an ideal haven for your teen while increasing the amount of space available to your youngster. The tall legs almost make the bed seem as if it is floating, especially if the walls are white. It is an ideal solution to small rooms with high ceilings. Safety rails fence in the entire mattress area, which is reached by a ladder on either end.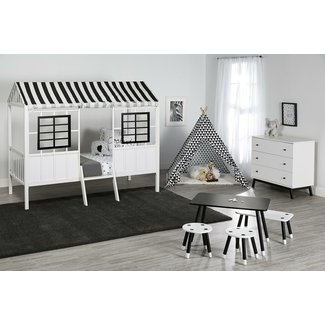 Rowan Valley Forest Low Twin Loft Bed
Even the littlest children love loft beds. Your toddler will love having a little house of his or her own that can be reached by a small, two-step ladder. The twin-sized youth bed is raised only a few inches higher than a standard toddler bed, but it still looks like a "bunk bed" to someone who is less than three feet tall and still working on coordination. The safety railing assists with the transition from crib to bed.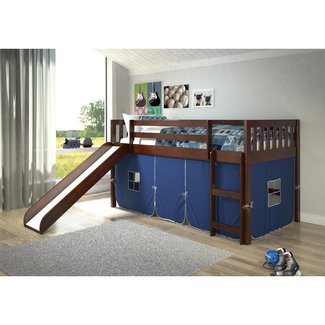 Selzer Mission Twin Low Loft Bed
Preschool children will love the "pretend" potential in this low loft bed. The bottom clearance is 27 inches, which is the perfect height for a cloth surround that turns it into a little house. The two-step ladder leads up to a mattress area that is protected by a sturdy rail, and can be exited by making use of the attached slide. Plenty of room underneath to conceal a table and chair, and a box or shelf for toys.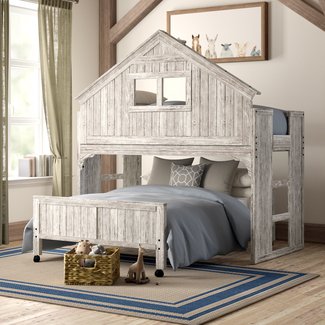 Twin Over Full Loft Bed
This is the Taj Mahal of twin-sized loft beds. Positioned over a full-size bed, the "safety rail" is a false front made of pine, distressed to simulate aged wood. The juxtaposition makes the perfect platform not only for two or three children to sleep, but also to play make-believe. The upper bunk can be reached by ladders positioned on either end. The frame for the full bed is on wheels, making for easy cleaning.