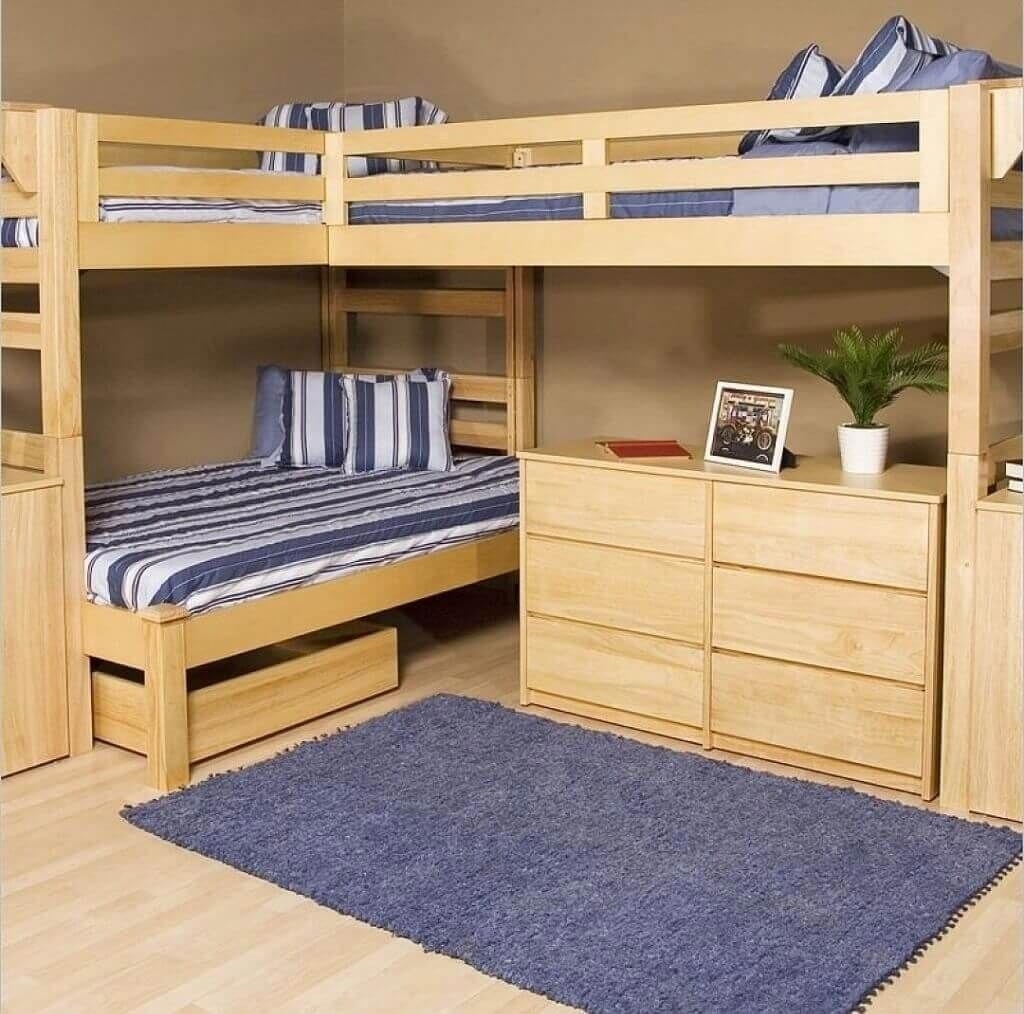 Constructed of sturdy wood, this triple bunk bed set is an efficient way to accommodate your little ones, and at the same time save as much space as it is possible. The upper beds are secured by railings, and the bottom part features 1 comfy bed, and 1 cabinet with 6 storage drawers.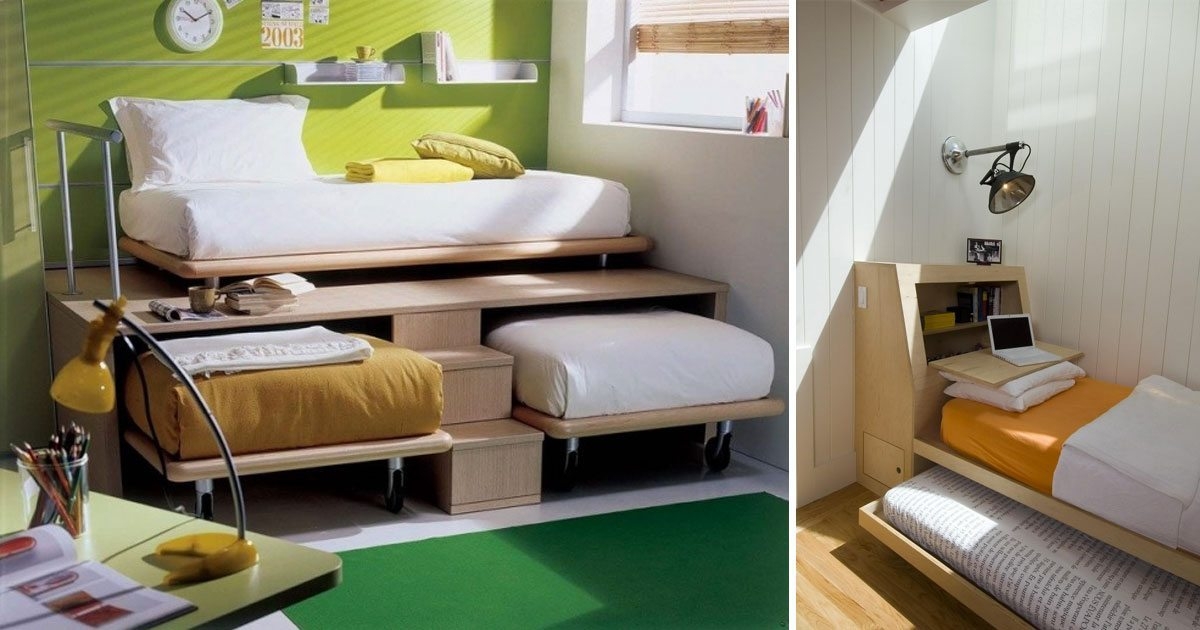 Save some space in kids room and add the three twin beds in the space of one. No more sleeping bags all over the living room when guests visit or kids have a sleep over!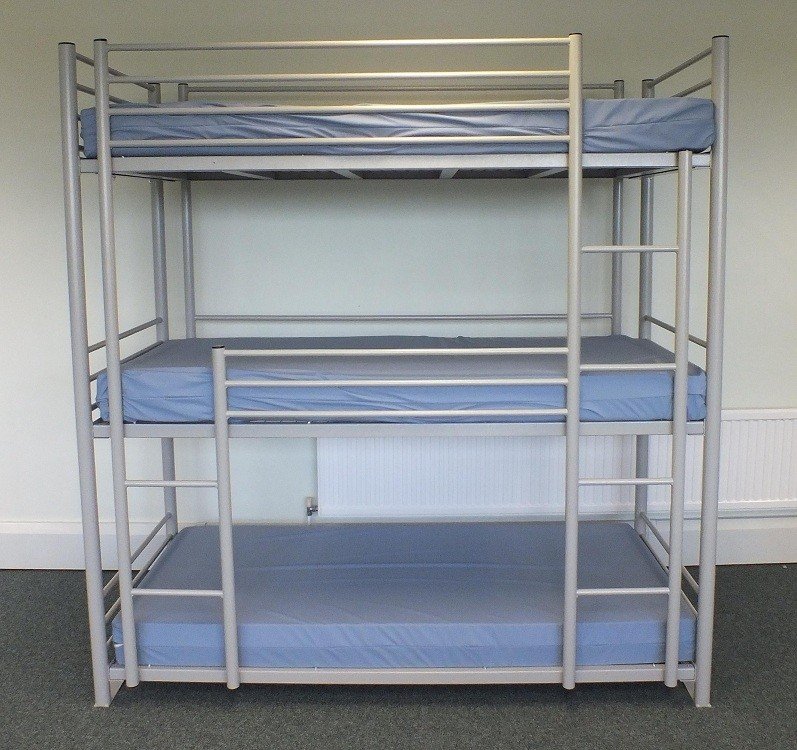 Minimalistic, three-store bunk bed. It is composed of metal frame with ladder and three mattress. It looks a little bit like from prison, but it is very comfortable and useful - it is must-have in every cramped children's bedroom.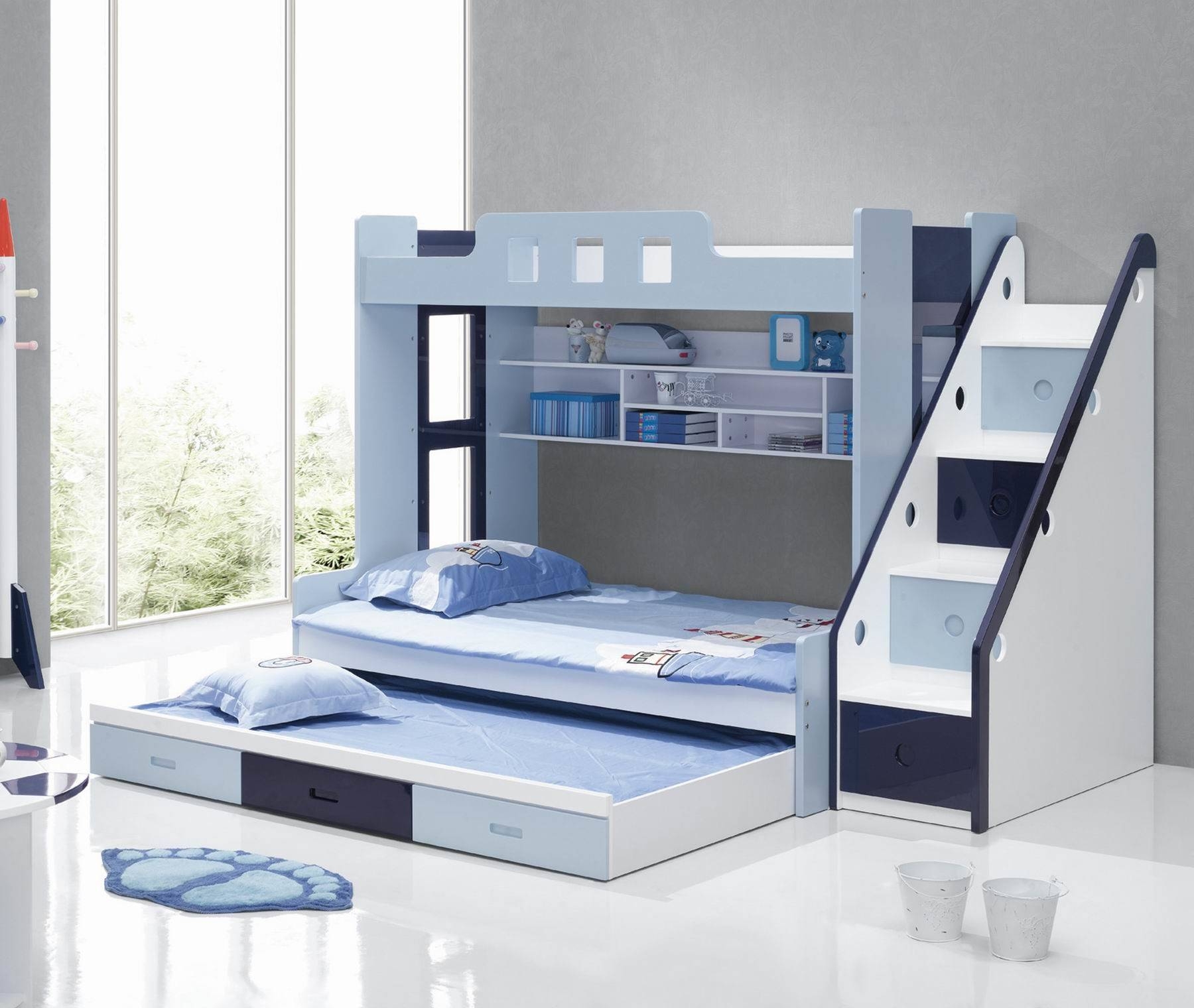 This unique example of loft bed is designed to embellish contemporary children bedrooms with its modern character. Its construction is equipped with convenient stairs, being totally safe for the kids.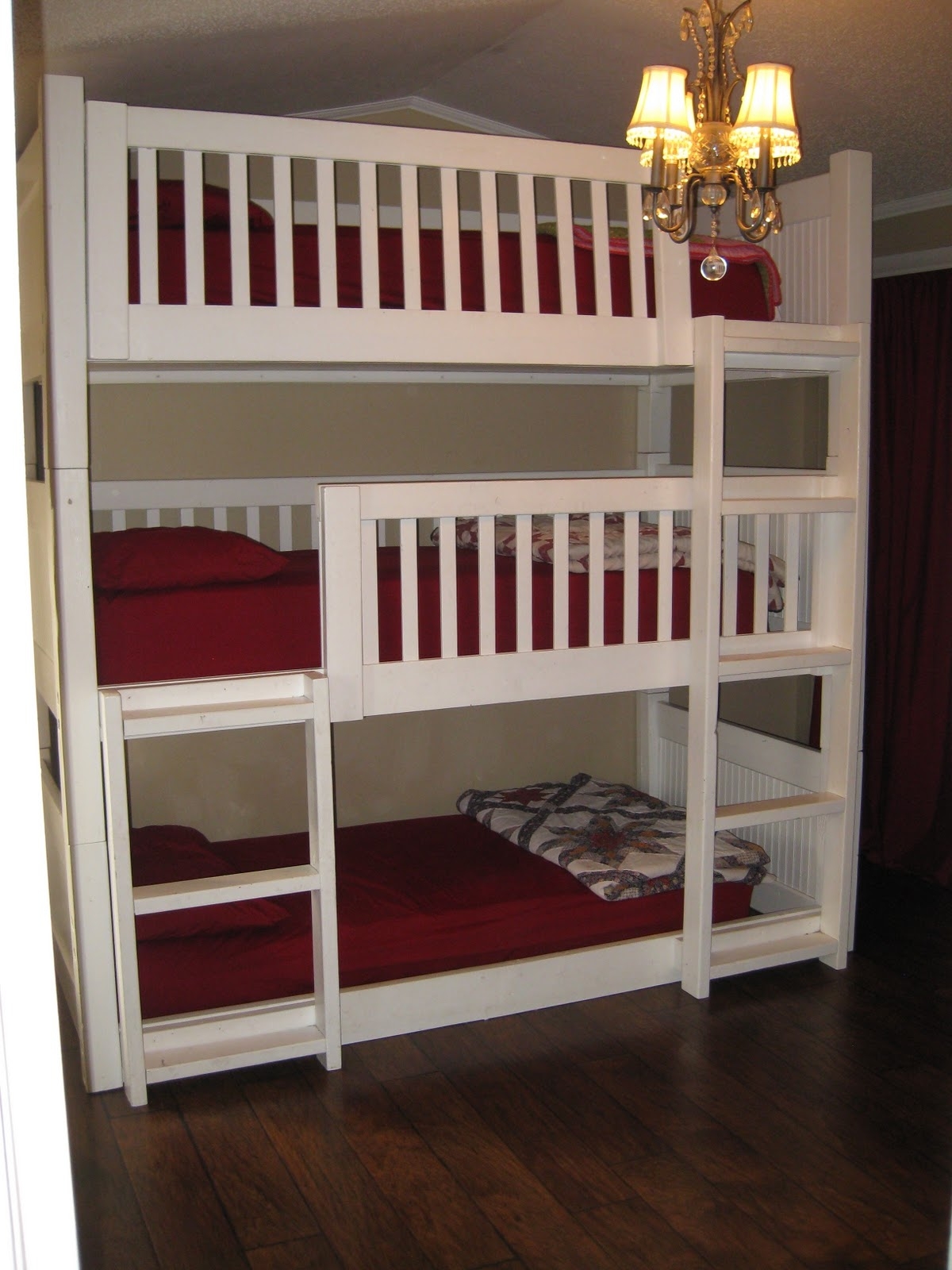 This triple bunk bed is a nice way to accommodate all of your children in comfortable beds. The combo is made of wood, painted in white, and features 2 built-in ladders, and fixed railings for protection.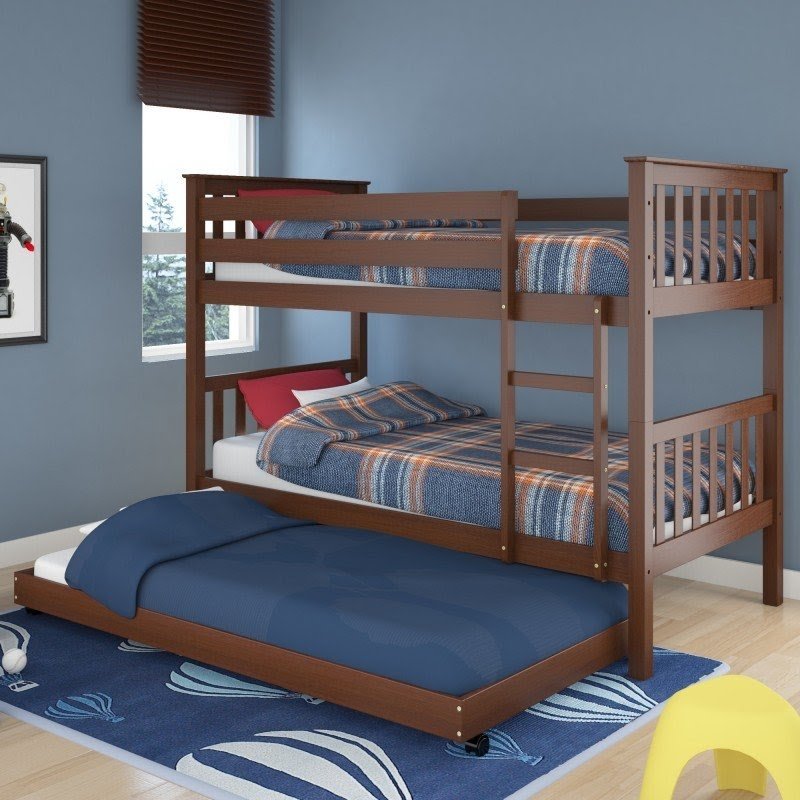 Monterey Twin Bunk Bed
Functional bunk bed with secure railing and built-in ladder. Made from painted solid pine wood that ensures the sturdiness of the construction. Suitable for contemporary and traditional decor, exuding simple elegance.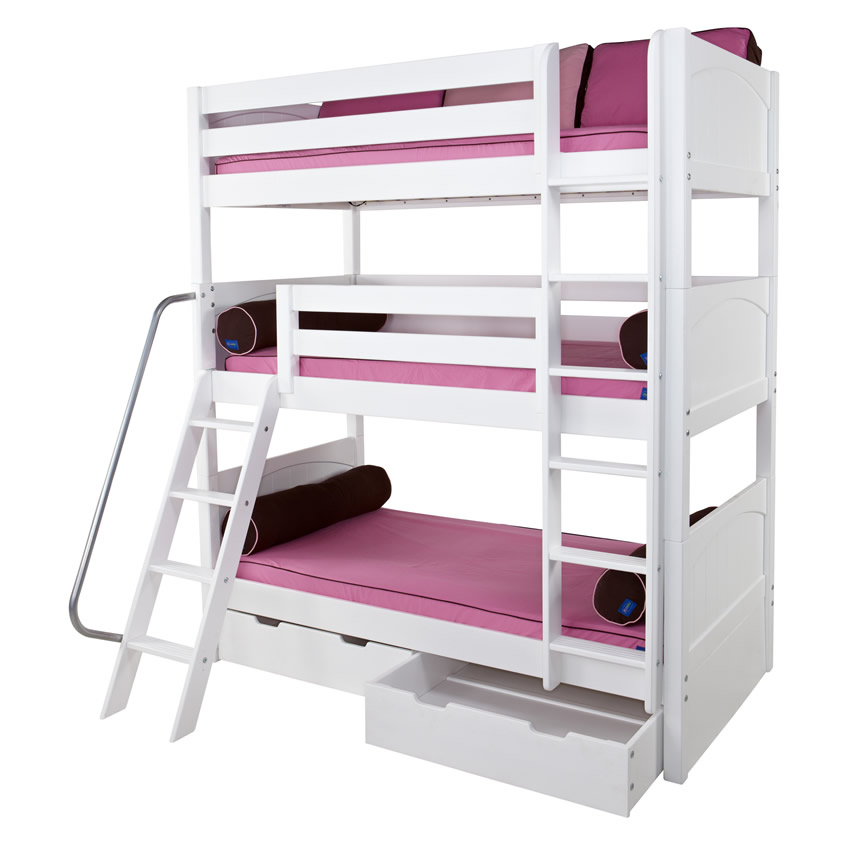 Triple bunk bed made of wood and reinforced with solid supports. It has ladders and railings for added safety. Perfect solution for kid's room, teenager's room and others interiors as needed.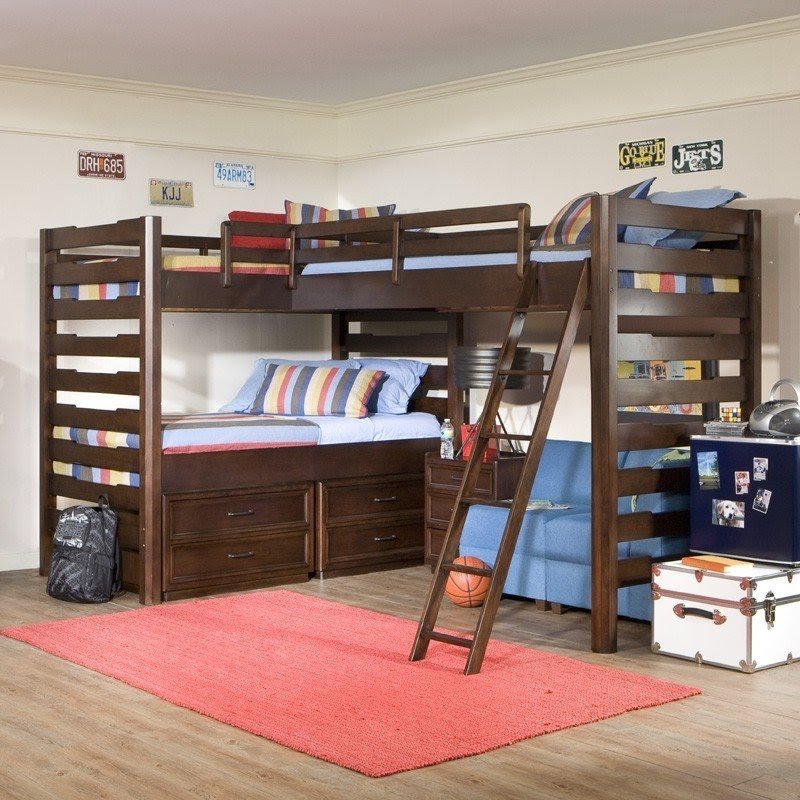 Triple bunk bed for space saving in each home as needed. Construction is made of wood and reinforced with solid supports. Traditional form and functional design.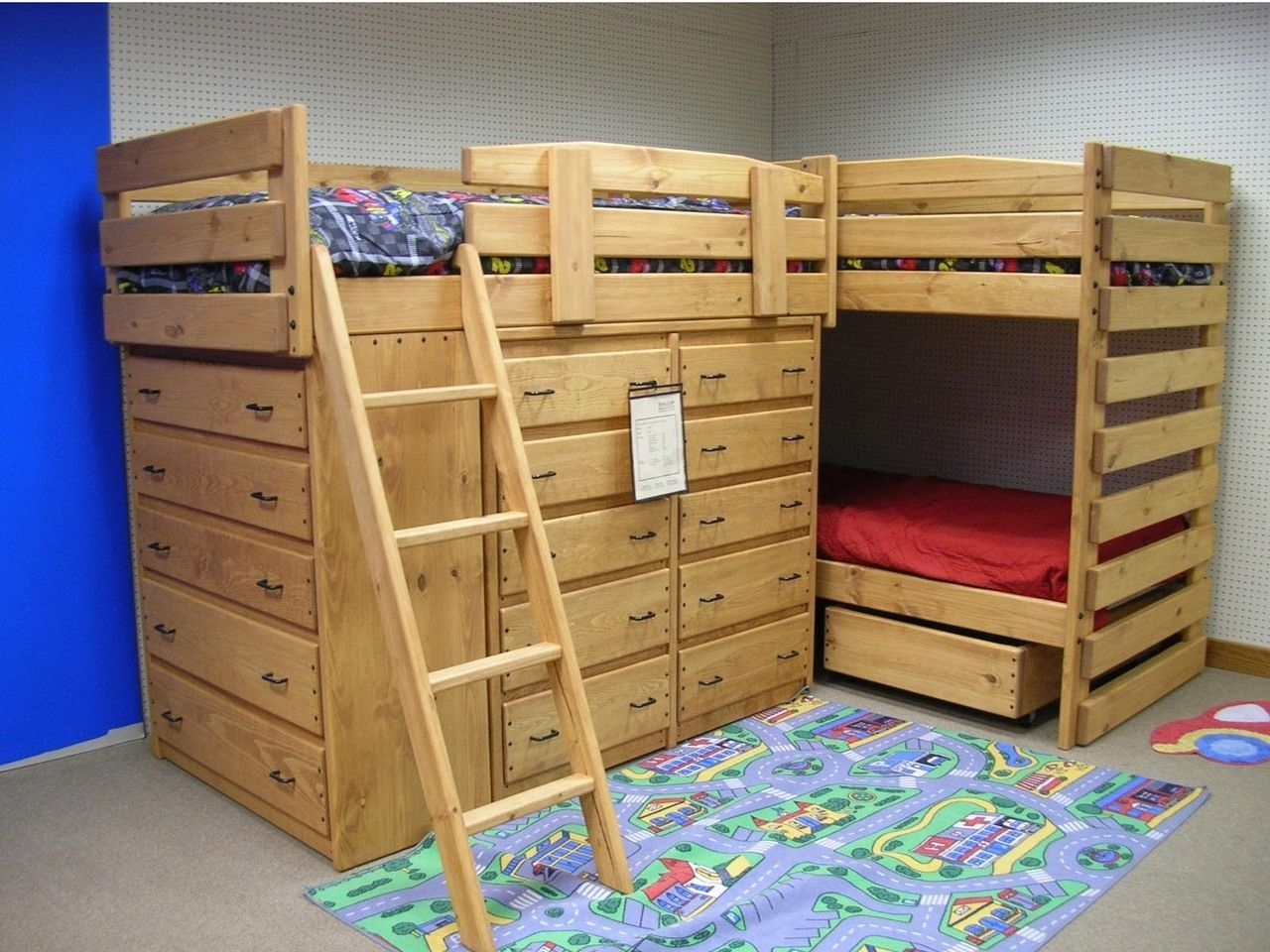 Triple Bunk Bed Design Ideas
Twin Convertible Toddler Customizable Bedroom Set
Extremely practical and sturdy, this Twin Convertible Toddler Customizable Bedroom Set in Honey Finish provides reliable Pinewood craftsmanship with a 3-step hand-finish. The set also features multiple drawers for convenient storage.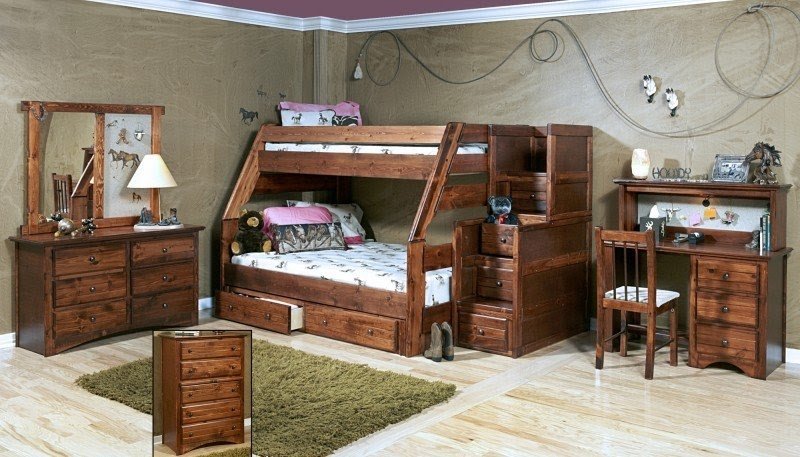 Twin Over Full Standard Bunk Bed with Stairway Chest and Storage
Traditional style bunk bed with a touch of rustic vibe. Constructed of solid pine wood frame with coco finish. Features practical, large storage drawers on bottom. Stairway chest hides drawers that provide extra storage space.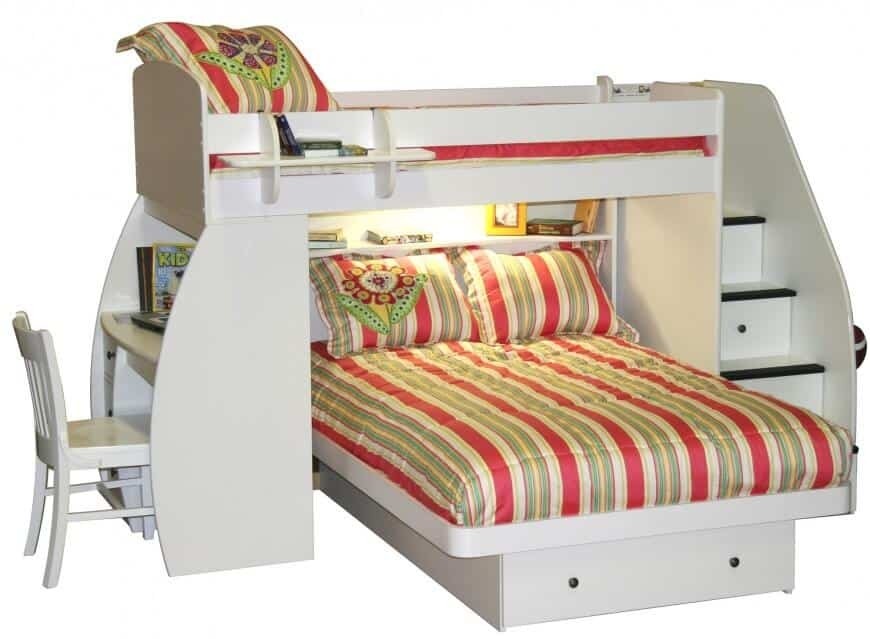 Berg Furniture Sierra Twin Over Full L Shaped Bunk Bed With Desk And Storage
This amazing bed with desk in modern as well as contemporary style gives a whole range of use. There is also a large drawer underneath. Its metal hardware makes it long lasting and its perfect solution for tiny spaces.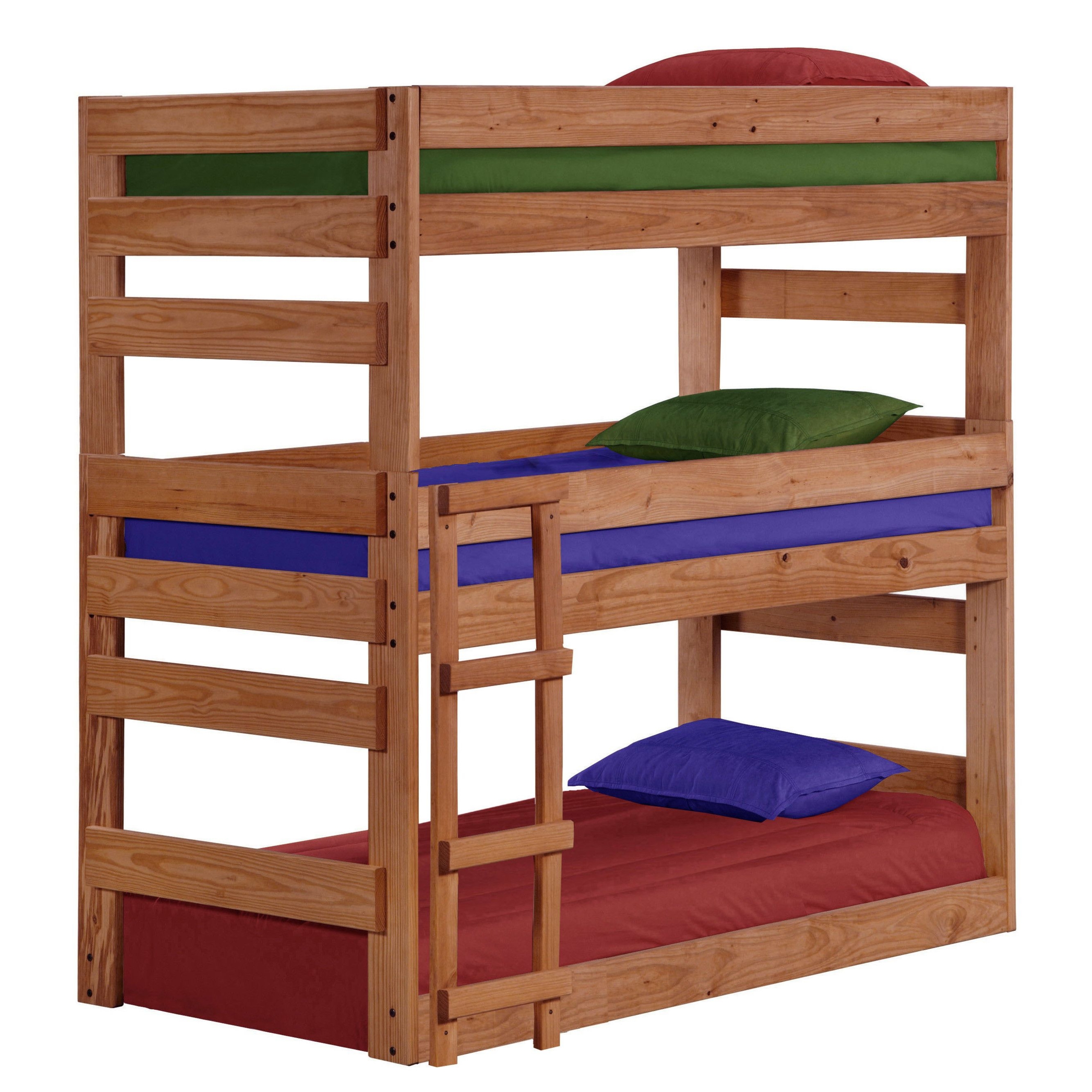 Kids%e2%80%99 Beds For Small Spaces Twin Triple Bunk Bed
Add comfort and save some space in kids room with the twin triple bunk bed. It's nicely finished, high quality, wooden and excellent for your adorable children.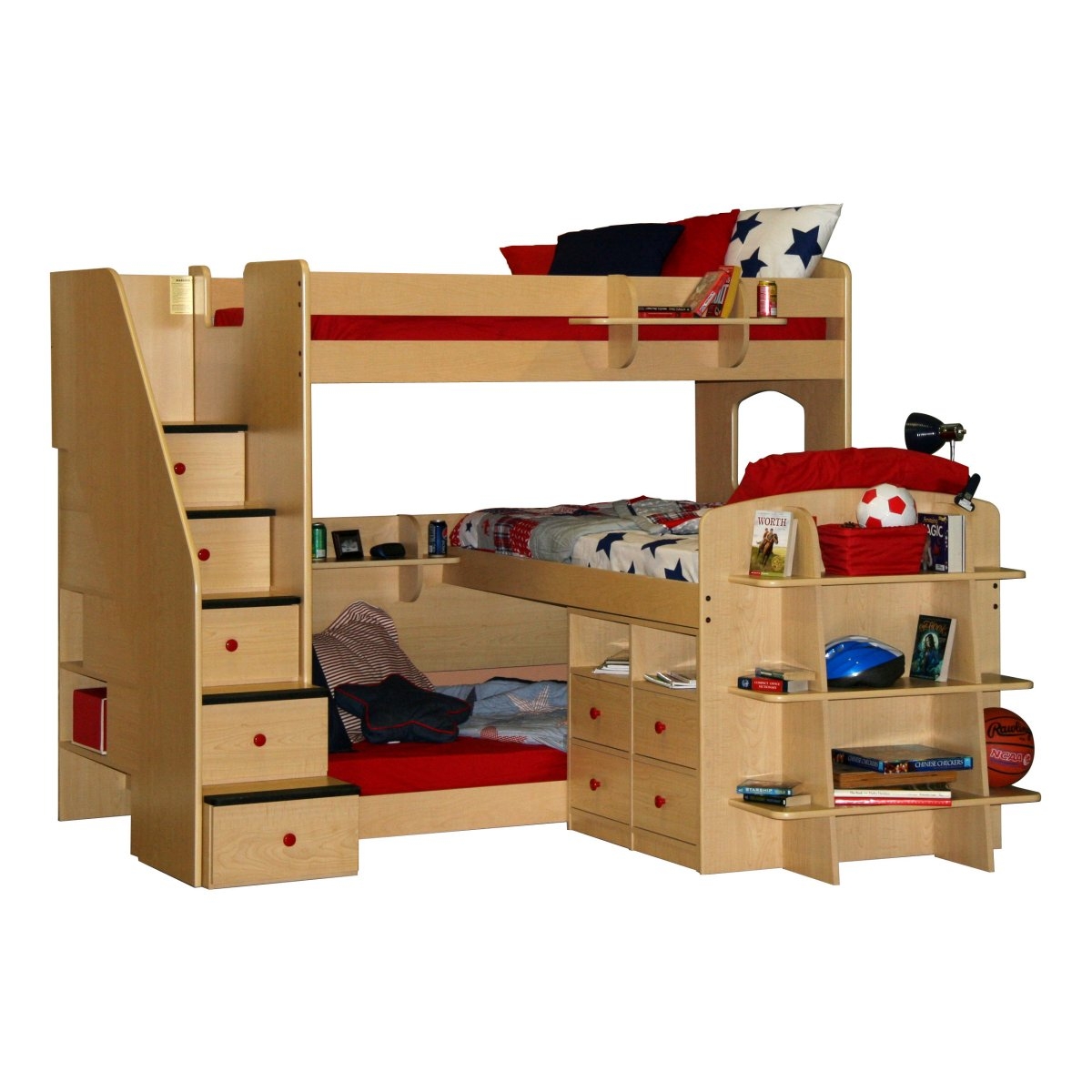 Utica Twin over Twin Trifecta Loft 3 Beds with Storage and Stairs
Add not only a comfortable sleeping option but also a nice storage solution with this twin over twin three loft beds, so perfect for your kids with the warm, medium color wood finish and the extra drawers for more functionality.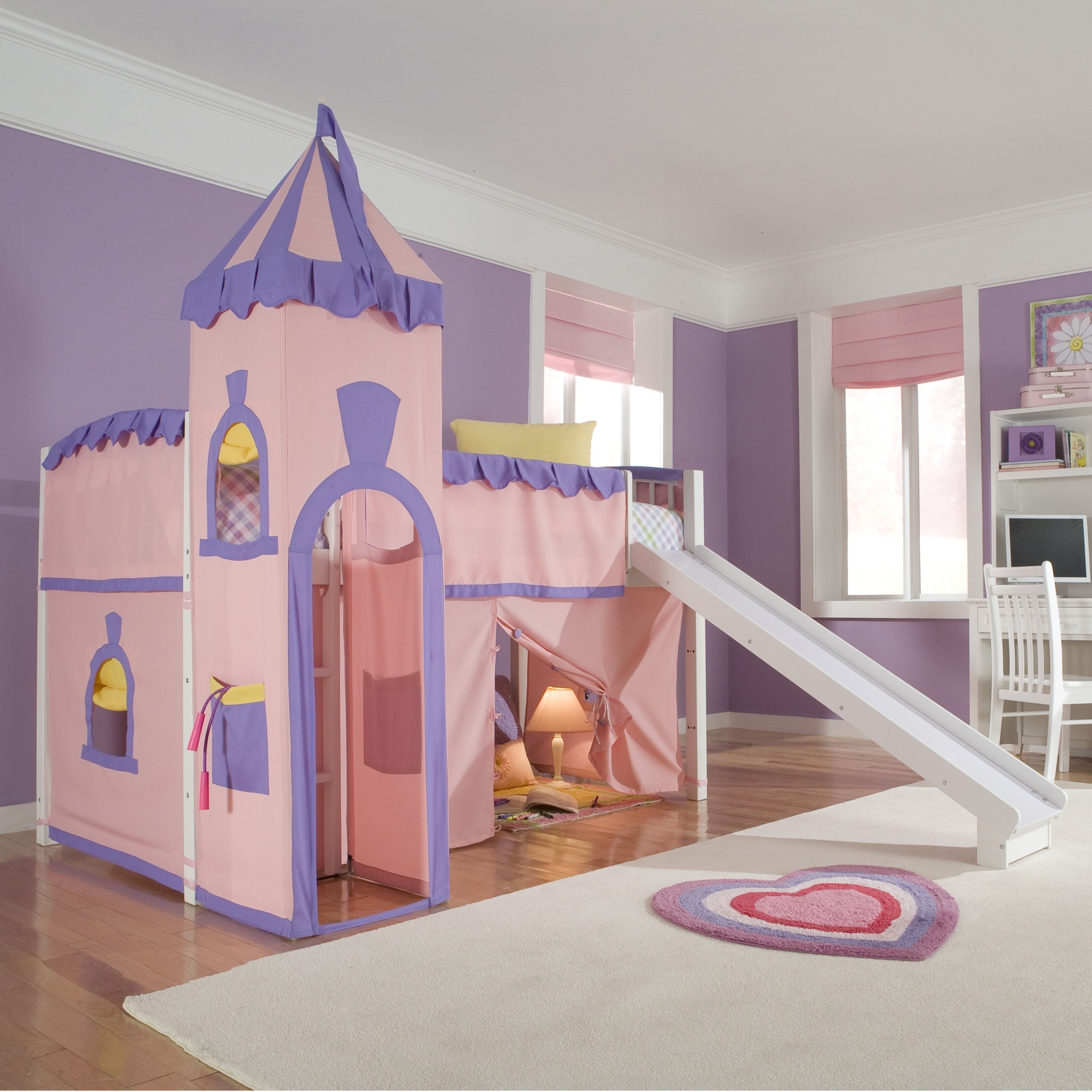 School House Twin Princess Low Loft Bed with Slide
A princess low loft bed with the amazing slide - the design will allow your daughter hours of fun and let you add a stunning sleeping solution for your child. The pink and purple finish look charming and beautiful.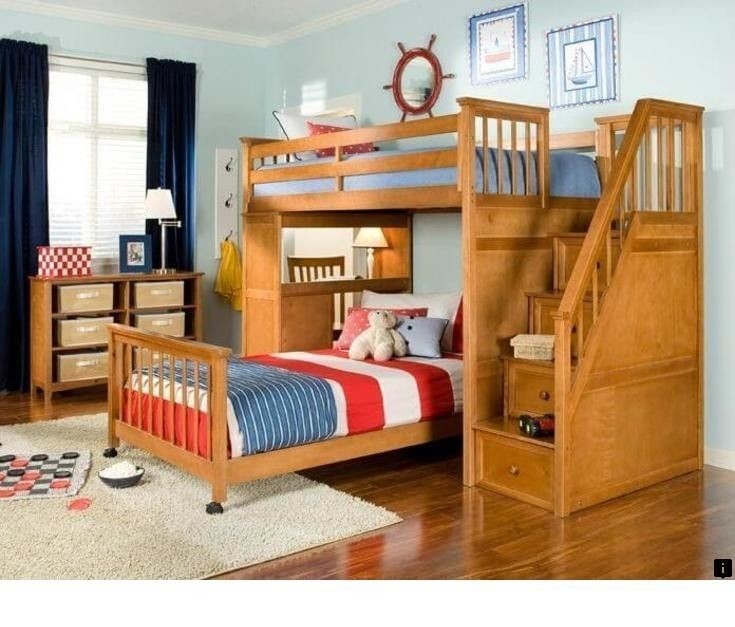 School House Stair Loft Bed with Desk End
This multi-task bed set with a practical desk and degrees of drawers is a wonderful way have a lot of things in a small space. Operably and thoughtful as to the details set allows kids find a place for play, study and rest.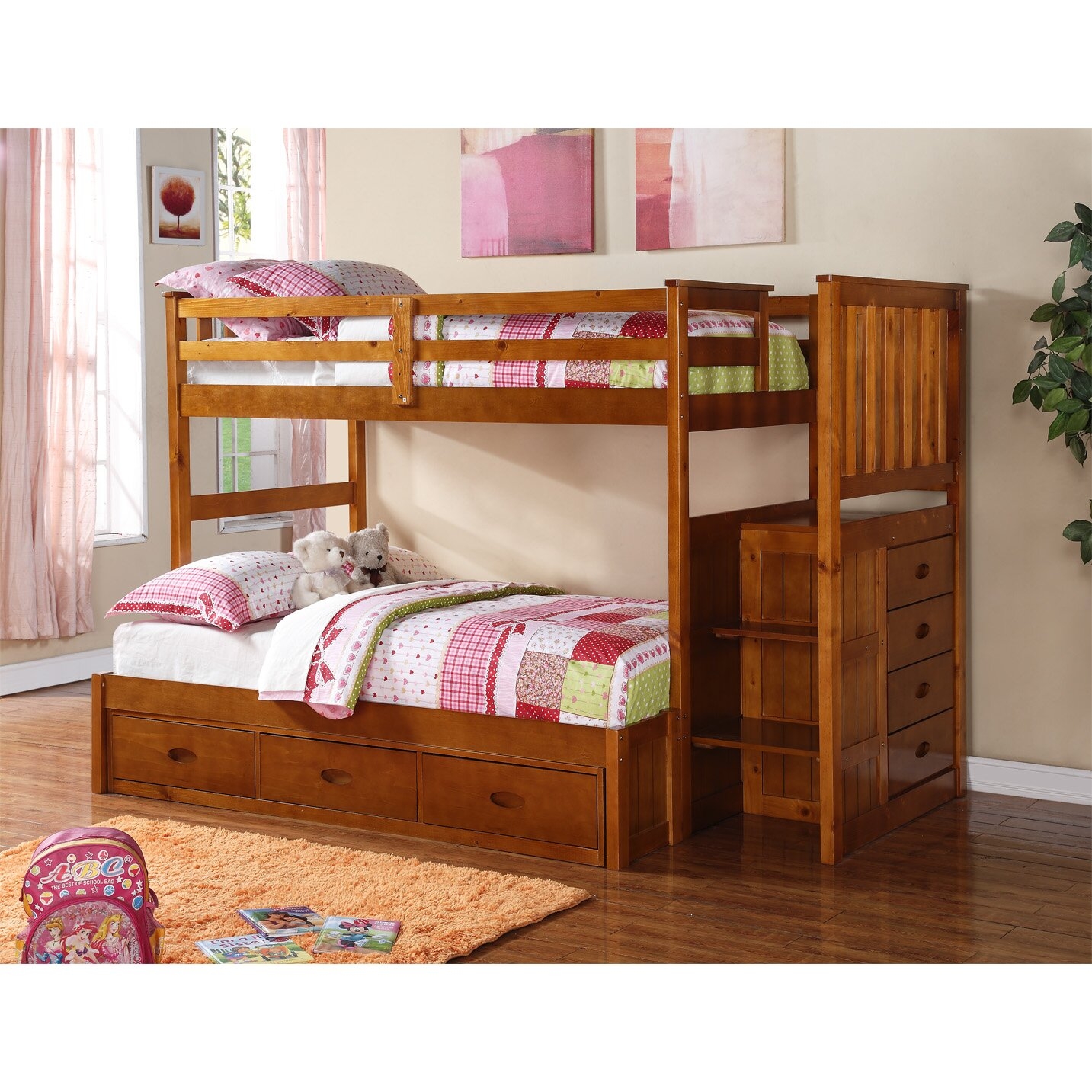 Twin Over Full Bunk Bed
Twin bed made of durable wood. Side panel contains additional drawers for storage. Designed for kids over 6 years. It has positive recommendations from satisfied customers.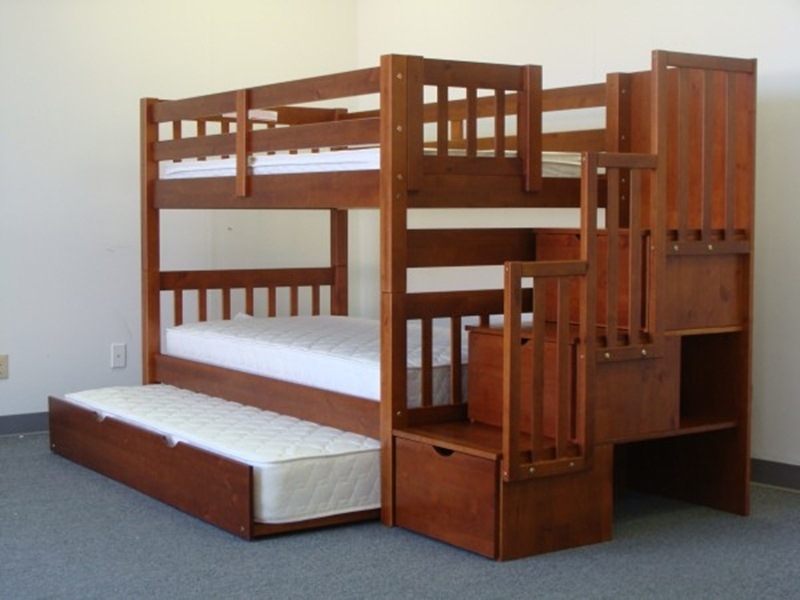 Improve your level of comfort on your kids room and choose the triple bunk bed with storage spaces and solid, wooden construction. Your kids will be impressed how cool this bed is.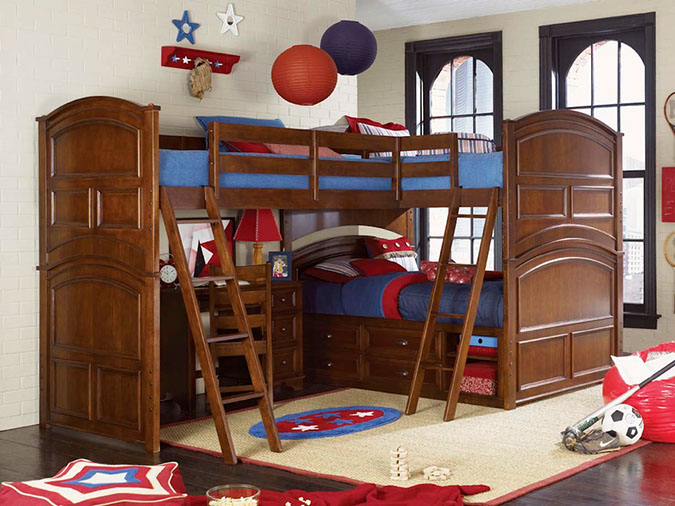 Bunk Beds > Triple Bunk Beds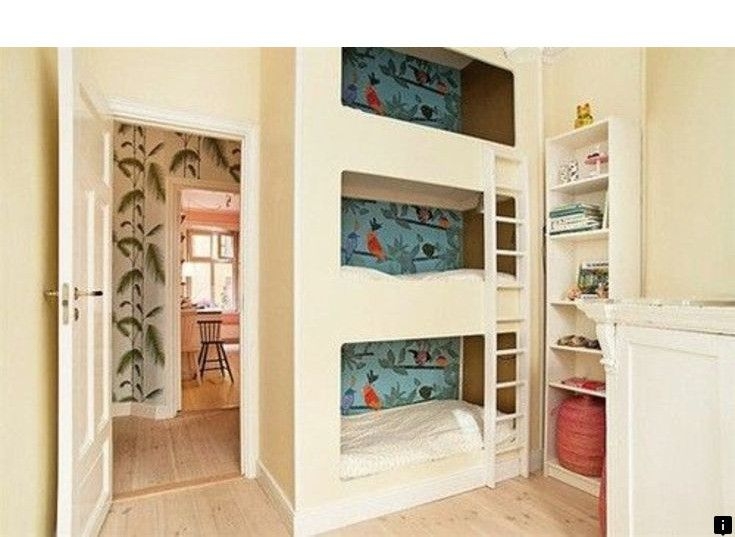 Bunk bed designs ideas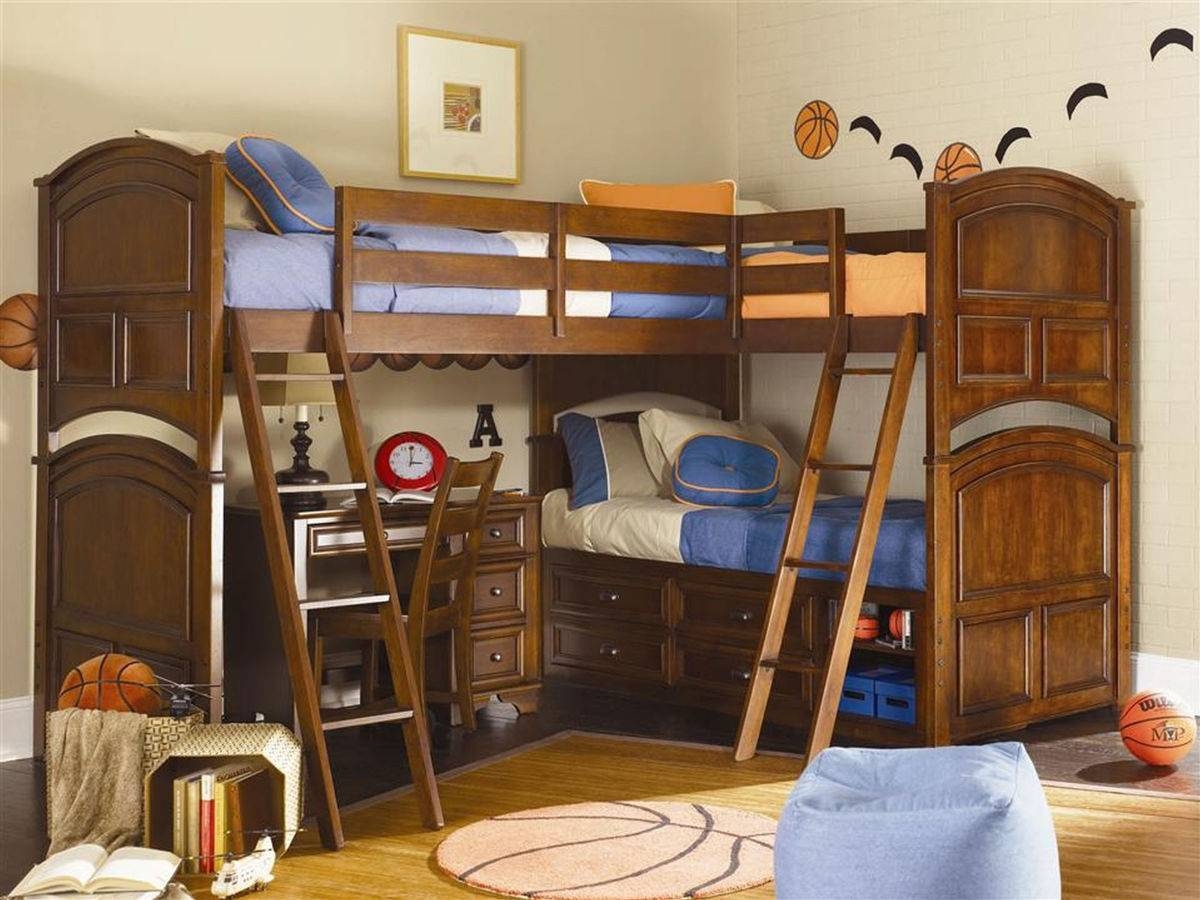 A nice solution for small bedrooms for kids. This triple bunk bed features a durable frame finished in dark brown color. It includes two upper and one lower bed that assure comfort. The lower part also includes a desk and storage drawers.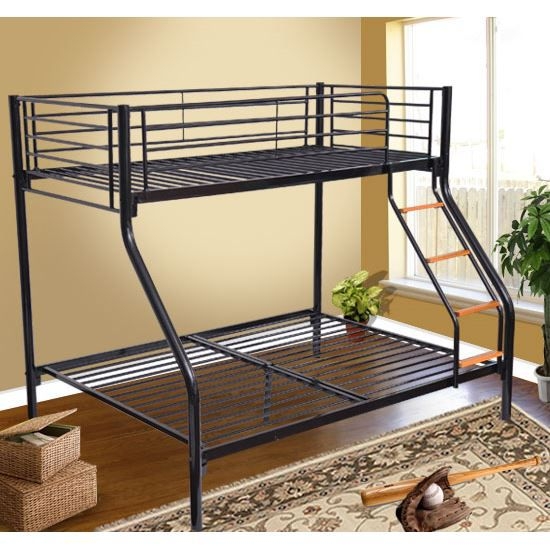 NEW TRIPLE SLEEPER BUNK BED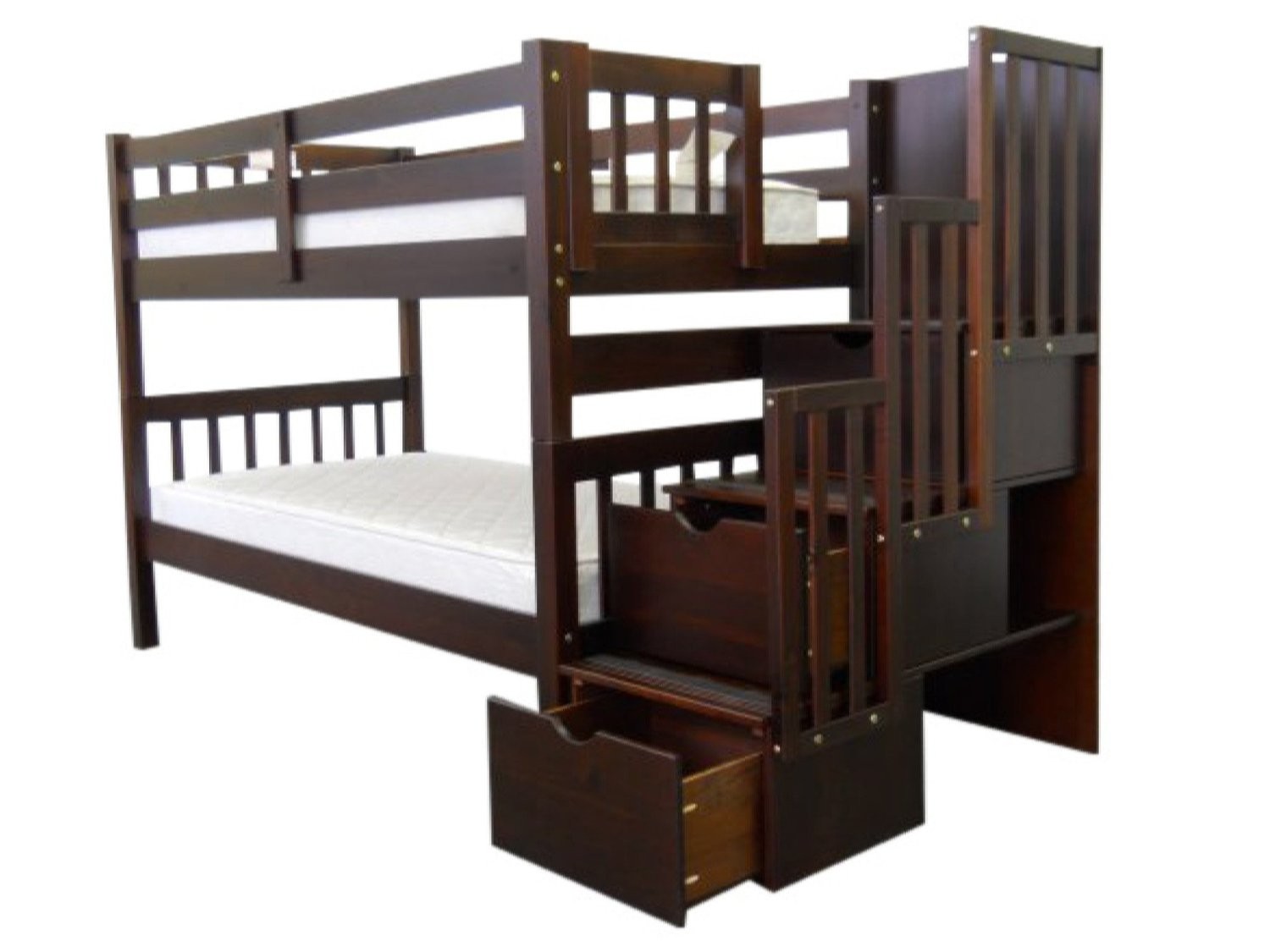 This twin bed has a king size and features a storage space in three large drawers hidden in stairway. This bed has a durable construction with ladder back, made of solid pine wood in cappuccino finish.