Triple Bunk Beds For Sale
Been blessed with a sweet bunch of 3 kids? Here's a solution for you. Triple bunk beds blend functionality with comfort. They're extremely useful where there is a need for space saving, too. Check what triple bunk beds for sale we've found.
Style: Contemporary, Eclectic, Modern, Rustic, Traditional, Vintage
Color: Beige, Black, Blue, Brown, Gray, Green, Orange, Pink, Red
Eliza Bush
Interior Design Expert
Our choice Best Products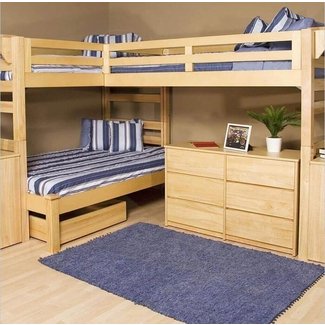 Constructed of sturdy wood, this triple bunk bed set is an efficient way to accommodate your little ones, and at the same time save as much space as it is possible. The upper beds are secured by railings, and the bottom part features 1 comfy bed, and 1 cabinet with 6 storage drawers.
Save some space in kids room and add the three twin beds in the space of one. No more sleeping bags all over the living room when guests visit or kids have a sleep over!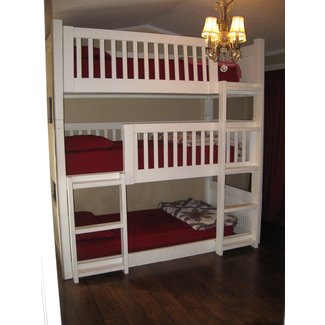 This triple bunk bed is a nice way to accommodate all of your children in comfortable beds. The combo is made of wood, painted in white, and features 2 built-in ladders, and fixed railings for protection.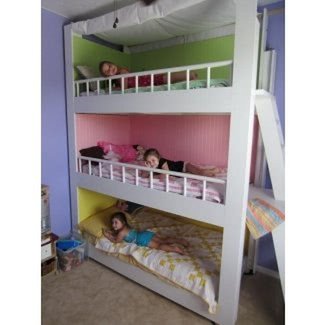 Triple bunk bed with very comfortable sleeping spaces for children. Durable wooden construction is finished in white color. The central and upper beds include protective rails and they also feature a safe access ladder.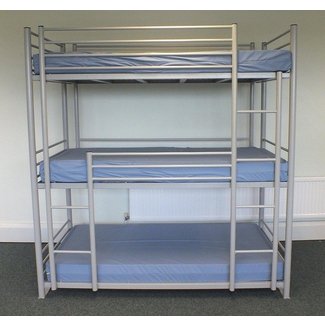 Minimalistic, three-store bunk bed. It is composed of metal frame with ladder and three mattress. It looks a little bit like from prison, but it is very comfortable and useful - it is must-have in every cramped children's bedroom.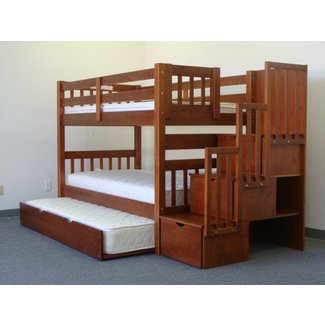 Improve your level of comfort on your kids room and choose the triple bunk bed with storage spaces and solid, wooden construction. Your kids will be impressed how cool this bed is.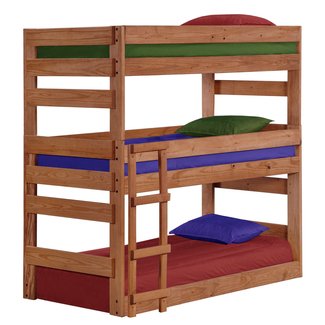 Kids%e2%80%99 Beds For Small Spaces Twin Triple Bunk Bed
Add comfort and save some space in kids room with the twin triple bunk bed. It's nicely finished, high quality, wooden and excellent for your adorable children.
PRODUCTS & IDEAS Best Ideas