Our Choice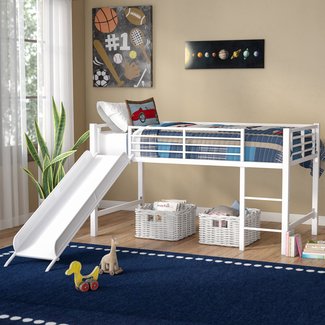 Whitbeck Twin Bed
The open concept of this twin bed mixes slumber with fun. Plenty of space for toys and play, plus a quiet loft for a good night's sleep. Choose from white, gray or silver finish to compliment the walls and floors of your child's room.  The metal frame meets all requirements of CPSIA and required certifications. Sturdy and dependable, both girls and boys will love the layout. A great backdrop for creating a theme of animals, sports or fairy tale adventures.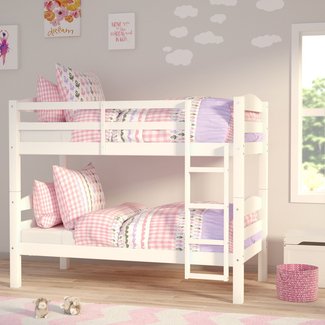 Abby Twin over Twin Bunk Bed
This contemporary bunk bed has a permanent ladder and safe railings along the top. Your child will be able to have overnight guests and still have plenty of floor space for activities. The clean lines provide many options in decorating. Cheerful pink and green flowers against a gingham pattern can make bedspreads sing against light lavender walls with floating clouds. An espresso frame would be just right for little boys with light brown spreads and a wall filled with tall grass and prehistoric animals peeking through.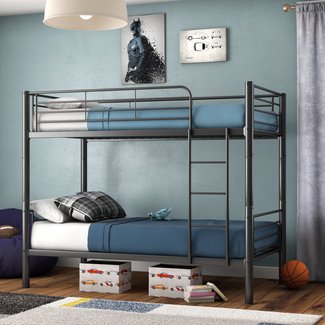 Koffler Twin over Twin Bunk Bed
Teenagers love the modern look and feel of steel. This bunk bed makes the perfect statement of streamlined shiny chrome and an urban industrial feel.  Guardrails are detachable and beds can be adapted sit side by side. A shaggy area rug and two-toned walls of light and dark will welcome your teens into the 21st century with a room they can call home. Choose wide slat blinds as a way to have plenty of light or complete darkness on demand.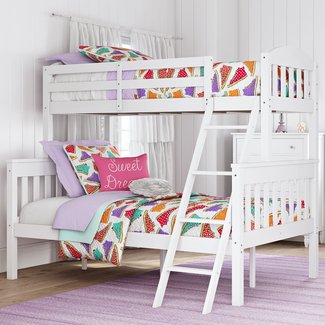 Suzanne Twin over Full Bunk Bed
This quality bunk bed is made from solid wood and has a twin over full bed. Slats on the headboard and footboard give a conventional presence and highlights the fine design. The two beds can be separated to rest side by side or to move one to another room. This layout is perfect for sleepovers and having extra space with friends. Pastels or neutrals of your child's choosing will make them feel comfortable and make the bed look grand.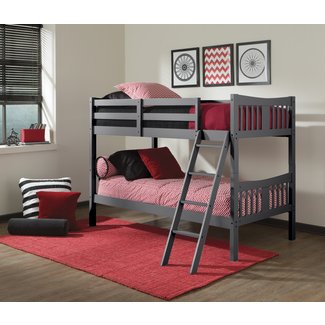 Zipporah Twin over Twin Bunk Bed
Simple and traditional, this twin bunk bed opens doors to different designs for a growing child. Because the quality is high and the finishes non-toxic, this piece of furniture will last for years to come. From farm animals and cartoon characters to geometric art and sports paraphernalia, your child will feel at home with the bed that grew up with them. Slat kit and product warranty enclosed.
Tena Tall Stairway Twin Over Twin Bunk Bed with Drawers And Shelves
Solid Brazilian wood makes a timeless statement with this high-end bunk bed. Convenient bookshelves and stairway storage will have your room cleaned up in minutes. There are also 2 extra drawers under the lower bunk for larger items. Sharing a room with your sibling will be easy with so much storage available. The sleek rails give a stately look to this slumber area, allowing you to dress it up in your favorite style.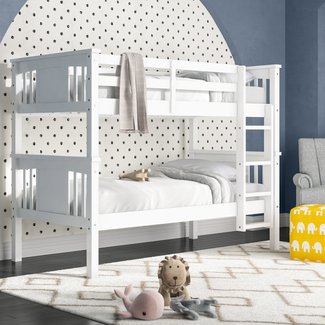 Alimi Twin over Twin Bunk Bed
Place this white twin bunk bed against a wall of soothing dark gray and puffs of white clouds. The crisp and balanced lines of this bed's square outline with slats will make it feel open and inviting.  White and a pale sunny yellow will work well on comforters with patterned sea-foam throw pillows add highlight. The single straight ladder that heads up to the high bunk is surrounded by a protective guardrail and will not feel scary at all.  A great bed to introduce to your child just beginning school.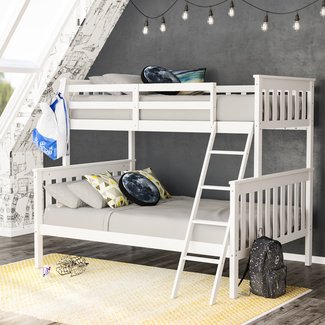 Rowley Twin Over Full Bunk Bed
This twin over double bed makes a dynamic setting with its solid wood frame and clean white finish. A great way to have guests overnight without taking up floor space.Memory foam mattresses will fit perfectly on these beds for an even better night's sleep. The design is traditional with trimmed accents along the top rails. However, with the right bedding and color tones, modern and beach side will also look amazing.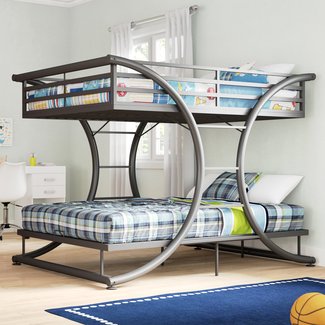 Valerie Full Over Full Bunk Bed
If you are looking for a change from the ordinary, this twin over double bed is it. Curved metal tubes make a theatrical 90-degree angle down both sides of the beds. In addition, the ladders have been designed to fit into the curve. Measuring 65.25'' H x 60.75'' W x 82'' L, its presence will dominate the room. Guard rails surround the upper bunk and the weight capacity for the twin bed is a whopping 400 pounds. This model is the perfect fit for active teens.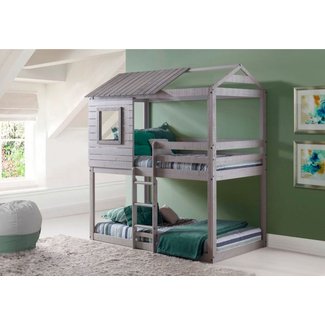 Beadnell Twin over Twin Bunk Bed
For the outdoor enthusiast, this rough and tough bunk bed resembles a tree house in the wild. Rustic gray boards gives the impression of a hand-built piece. A half roof and even a window complete this bunk bed where dreams of the nighttime stars will float overhead. CPSIA Compliant and completely safe, this rugged looking structure will provide your outdoor lovers with quality sleep.