When you're short on space in your home, there is always a creative way to make more. If you have three kids sharing one bedroom or even one child with friends who like to sleepover frequently, a 3 bunk bed might be the answer.
Not only is this an ergonomic solution that saves space, but they are an asset that can enrich the lives of kids and bring them closer together. Sharing a multi-level bunk bed can be a fun experience for siblings and friends.
Here you'll find various options for triple bunk bed setups that you can use to maximize the play space in your kids' room. Choosing the right spot for this elaborate bed is vital to making the area visually appealing and practical.
Wall Space
The amount of wall space in your kid's room is likely a contributing factor to the decision to choose the triple bunk bed because it takes up the length of one bed against the wall while sleeping three. Make sure you have enough room to directly position one side of the ground against the wall so that only one side faces the center of the room.
Security is essential when your kids are sleeping at a height, so the bed placement against the wall is essential for safety. Ensure you select a bed with sturdy railings on all sides, even if one side is positioned against the wall.
Opting for a wooden or metal frame is the safest in terms of durability and strength. If you select a bunk bed where one of the top two levels is not positioned against a wall, ensure it has adequate rails to prevent your child from falling.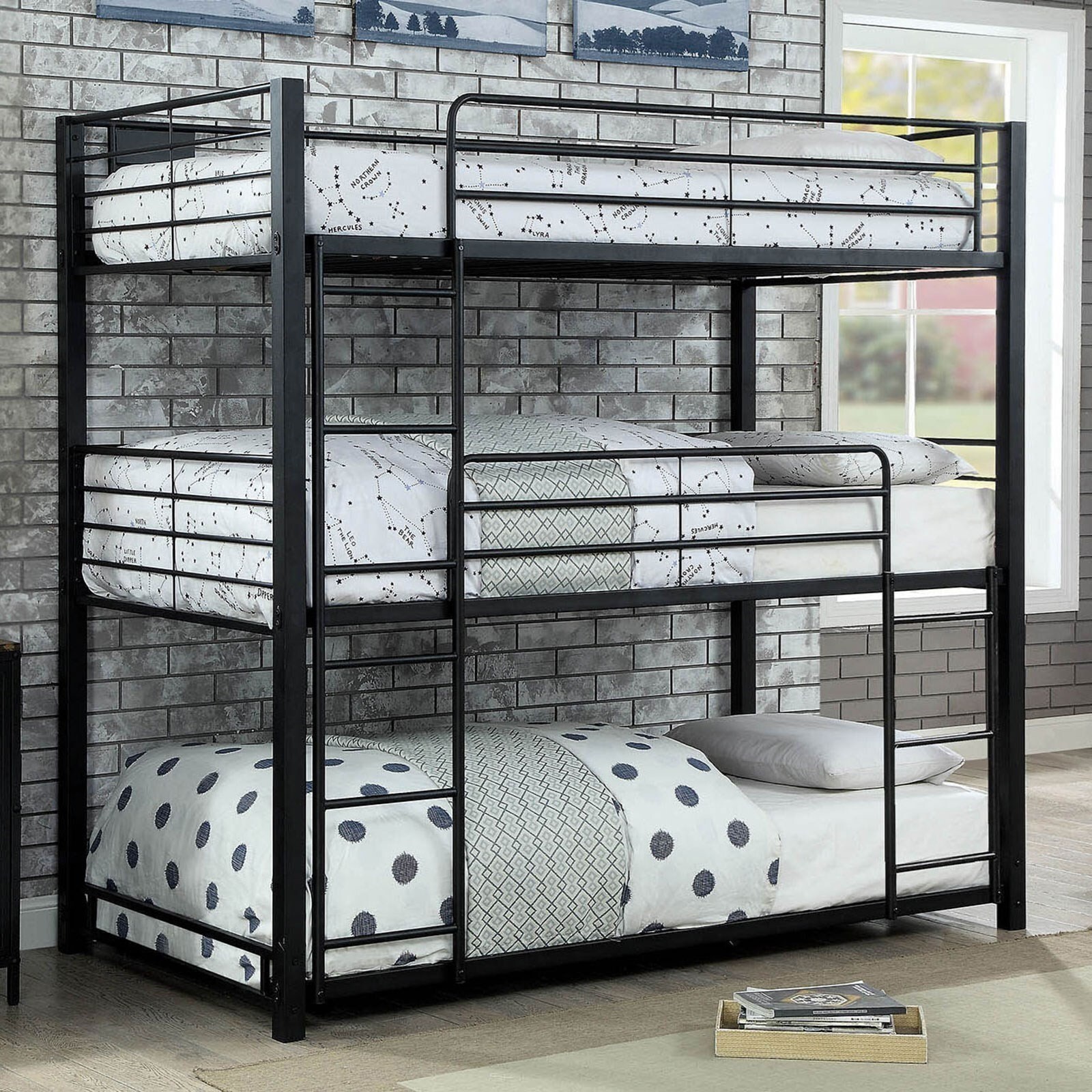 Don't Place a Bunk Bed Against a Window
For safety reasons, you must never place a bunk bed against a window. Windows are a natural fire escape, and a bunk bed can block them in an emergency. A window is also indented further into the wall, so this can create a dangerous space where a child could become trapped if they were to fall from a top-level bunk.
Since the top bunks will either be in the way of the window or above the window, this makes the room darker and prevents natural light from coming in.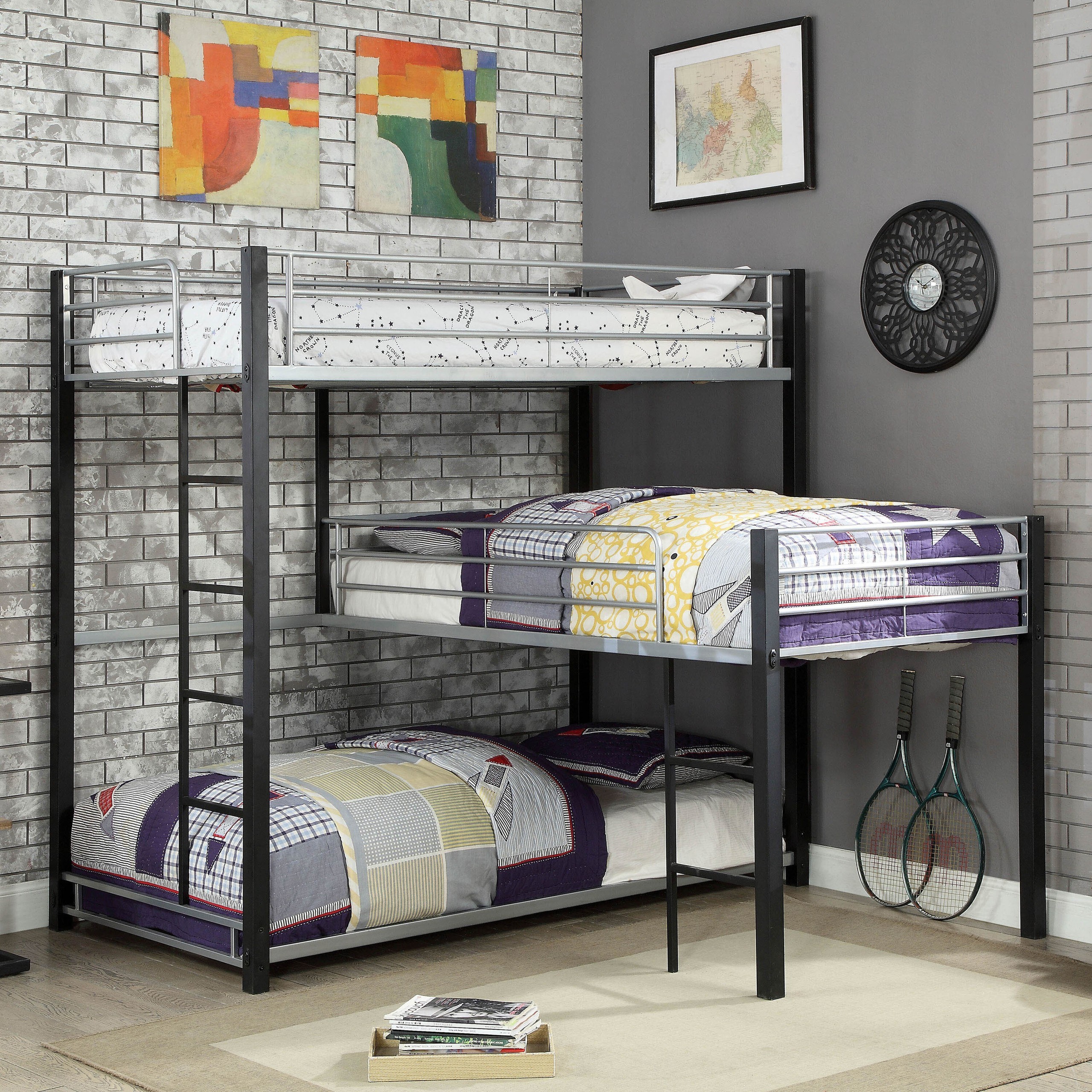 L-shaped Bunk Beds
A fantastic way to make the most of your space is to select an L-shaped bunk bed for your kid's room. Incorporating the corner into the bed's design allows you to position the bed against the wall while keeping the room's center clear for play space. The L-shape is a good option if you're hesitant to have a 3 bunk bed that is three stories high. You can choose to have two adjacent top bunks and one bottom bunk in this configuration, keeping the bed's height to two levels.
Since the L-shape lends itself to having room for a fourth bed (two bottoms, two top), you can choose to forgo the fourth bed and use this space for a desk instead. This corner unit's layout creates a comfortable space for three to sleep, plus a workspace for homework while still keeping the rest of the room open for activities.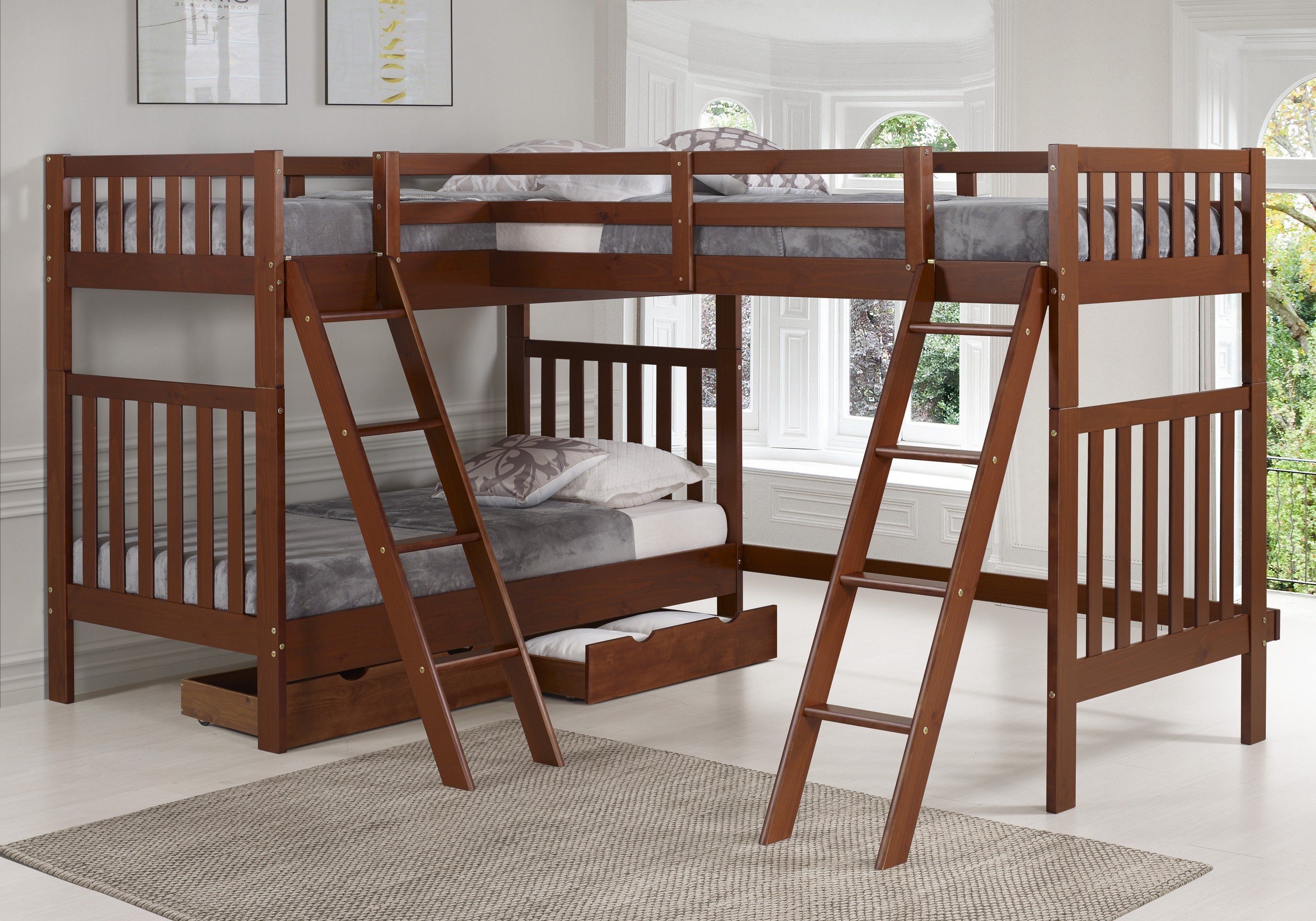 Creating a Den or Play Space
The configuration of your triple bunk bed might lend itself to a fun den or play space for your kids as well. Many three-level beds, particularly the corner L-shaped ones, leave an area under one of the top bunks that can be used for something other than sleeping.
This space can be transformed into a cozy nook for kids to read or play by adding bean bag chairs, shelving, or toys. You could also choose to maximize the room's space by placing a desk and study space in this area. Adding some lamps and seating space invites the kids to use this part of the room so you can avoid wasted space in an already tight household.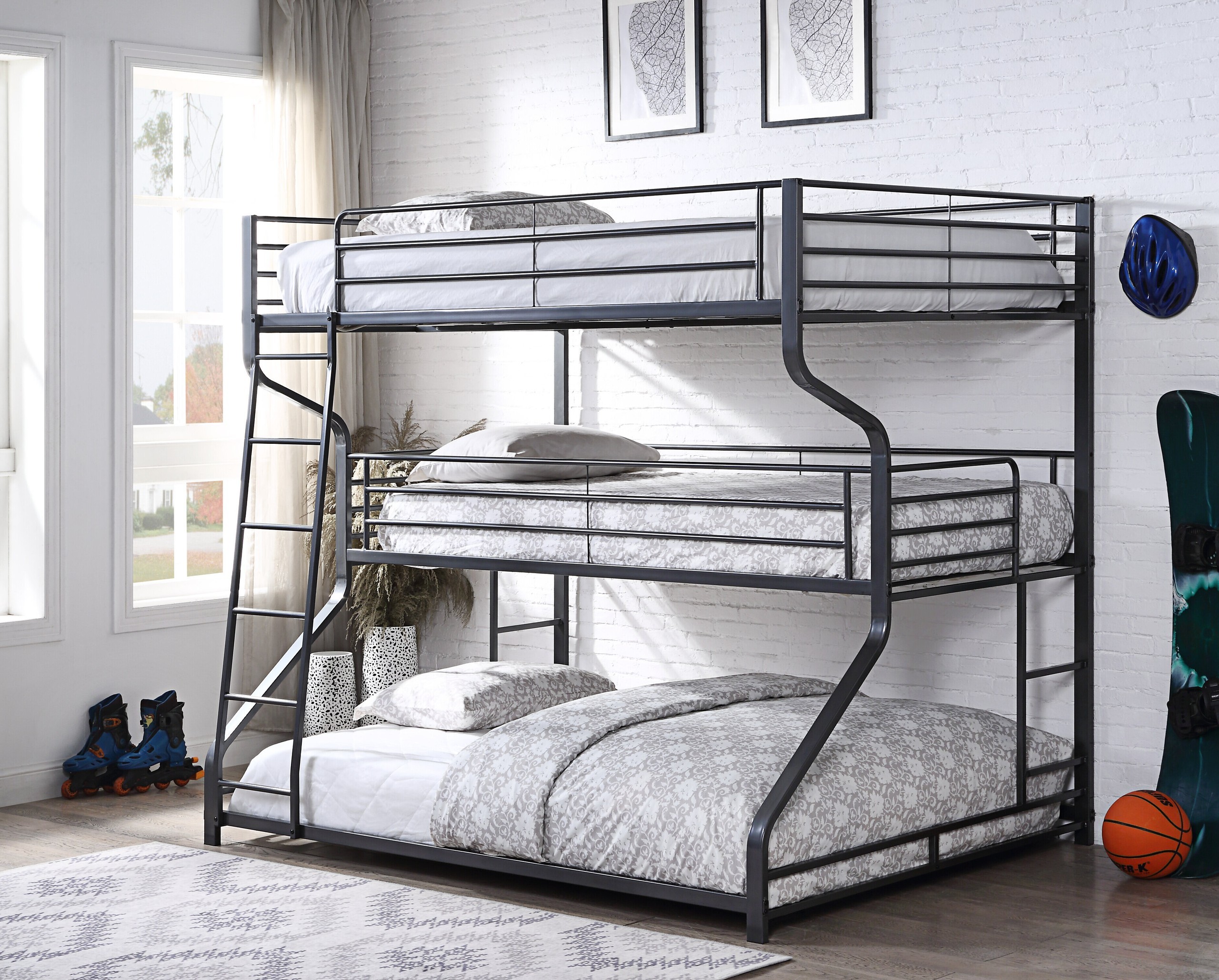 Maximize Storage
A triple bunk bed is also an excellent opportunity to incorporate more storage into your kid's bedroom. If they're fighting over closet space, select a bunk bed model that offers additional room for them to put their clothes or shoes.
There are options available with a staircase up to the third bunk where drawers are designed as part of the stairs. You can also install shelving or choose incorporated shelving as part of the top two bunks so that the kids sleeping up there have somewhere to put personal items they would typically store on a bedside table.
Consider a model with drawers under the lowest level bunk to store toys to get them off the floor and declutter a crowded bedroom.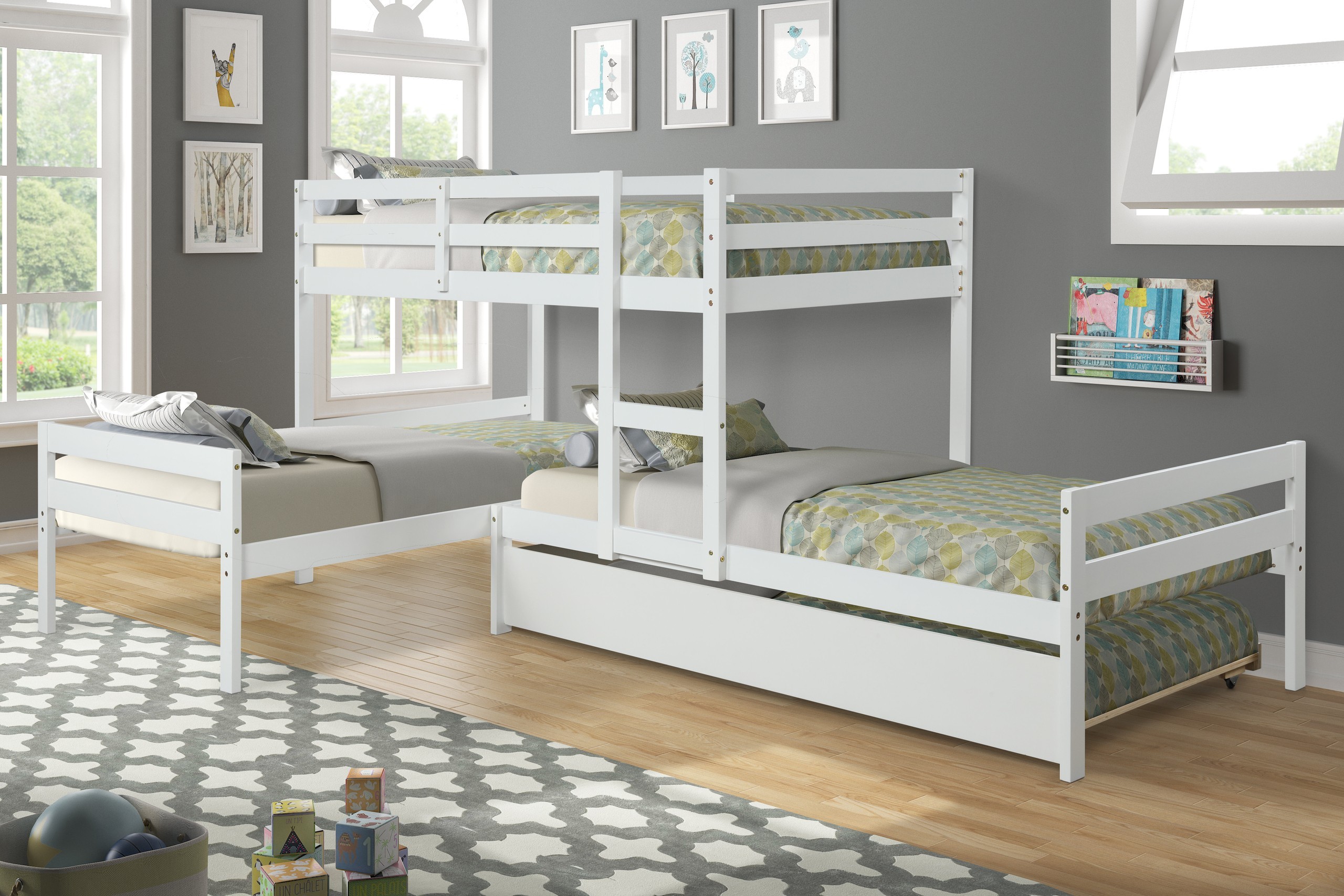 A Built-in Triple Bunk Bed
If you're already in the process of redoing the bedroom entirely, you may consider building in a bunk bed system yourself or hiring someone to do it custom for you. The security of a bunk bed is critical, so do not attempt to build a unit yourself if you are not educated on how to do so safely.
The advantage here is getting a layout that works best for you and your kids with adequate headroom, depending on how tall they are. You can play with the bottom bunk's height to give storage underneath or lower it to provide more headroom to the bunks above.
Consider if the bed you are designing is readily available to purchase. If so, it might be simpler to buy one, especially as your kids grow older, and the whole set eventually needs to be reworked. If the design is built-in permanently, this could be a more laborious process down the road.
Final Thoughts
A triple-tier bunk bed is ideal for maximizing the space in a household where you have only one bedroom for three children. It can give them each a sense of their private area on their level and create opportunities to add storage space to their room.