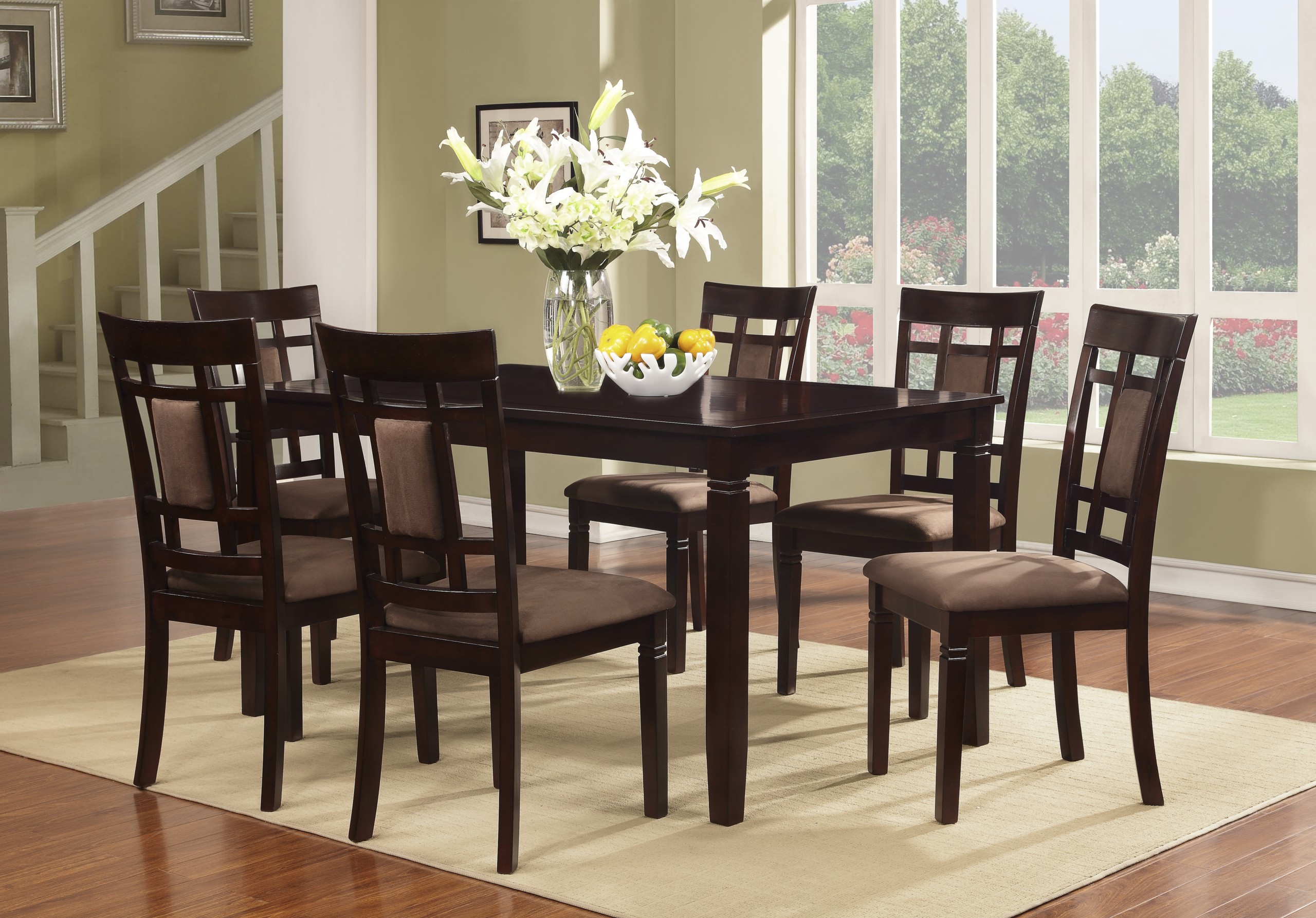 Elegant classic set for 6 persons. Wooden frames are darker brown, seat cushions and back insets are lighter. A rectangular table has straight square legs with 2 grooves up and tapered ends. A chair features grooved front legs and a tall grid back.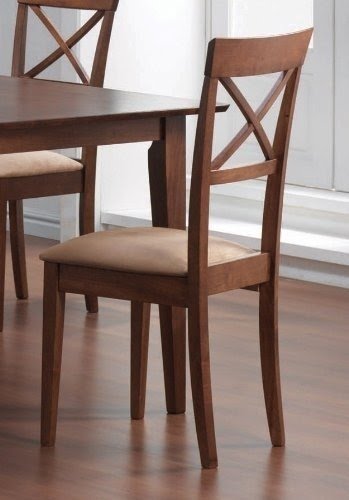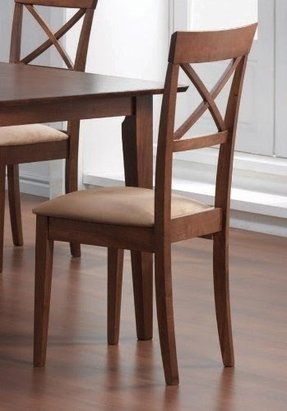 A high quality dining chair that offers a comfortable, padded seat and a solid backrest with a cross-back design. This comfortable and solid wooden chair measures 20"L x 24"W x 39"H, so it is good for an adult user.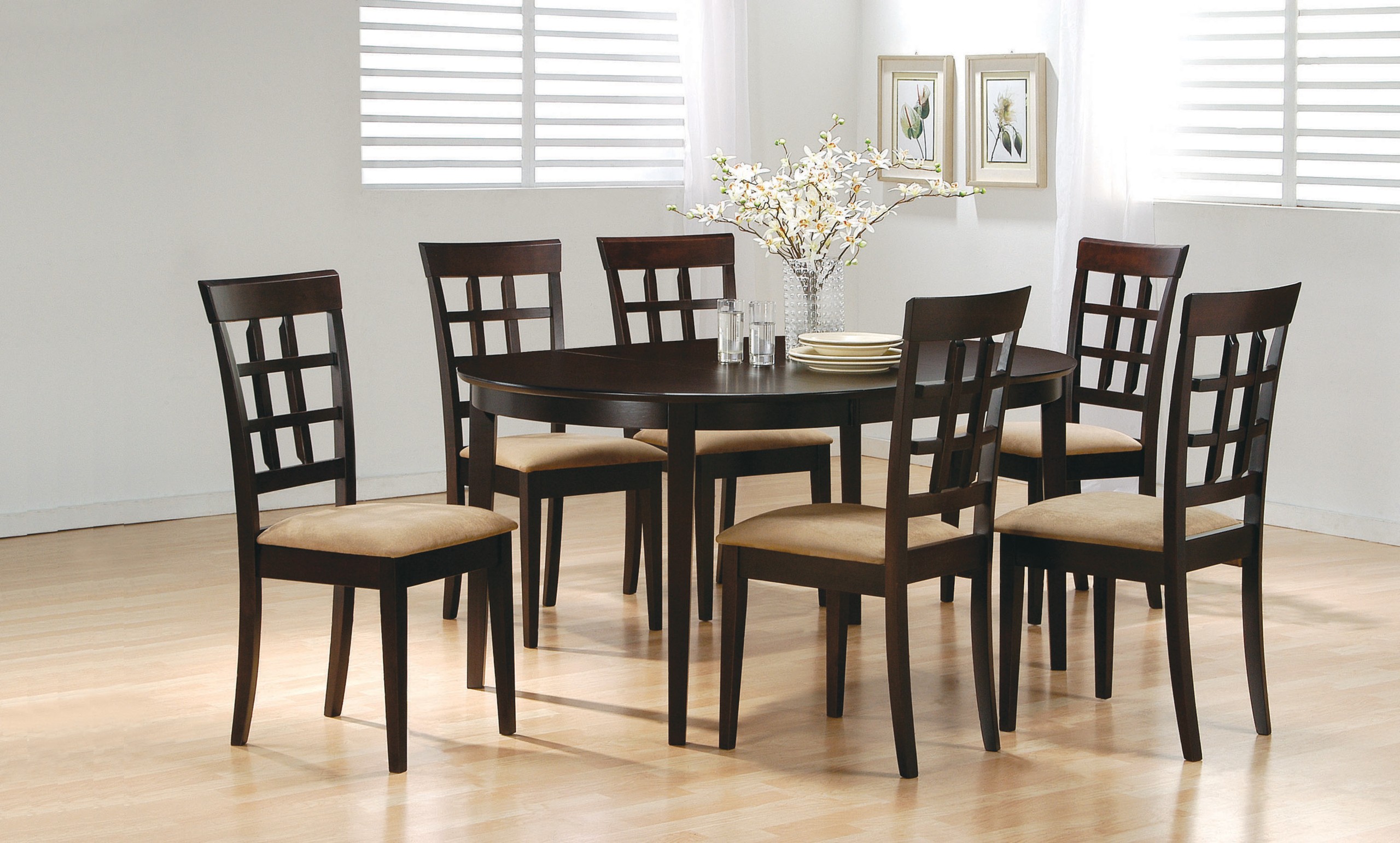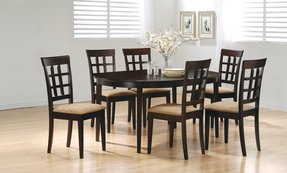 This awesome and unique dining chairs set is gonna perfectly match every kind of space, no matter if you prefer modern or traditional solutions. Check it out now and enjoy an amazing comfort and design!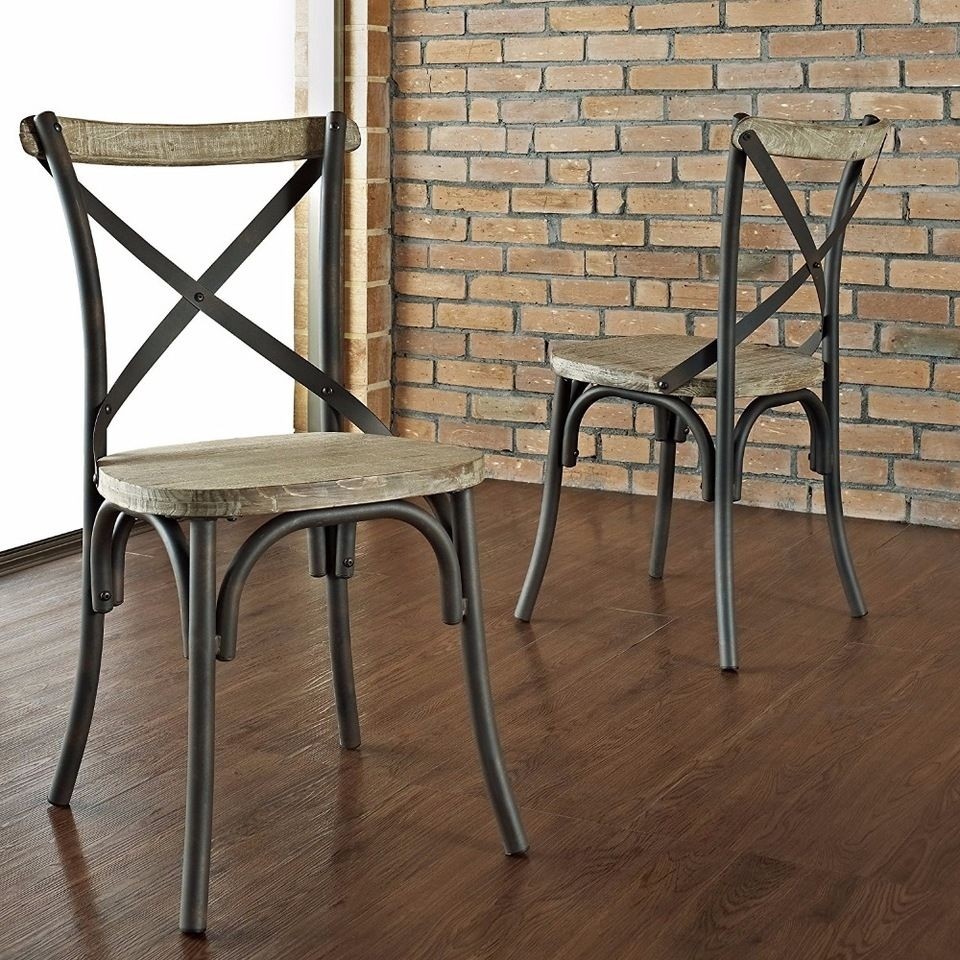 If you're a fan of extraordinary stylish and original solutions, you're gonna fall in love with this simple and charming chair. Check it out now and bring some incredible design and functionality to your dining room!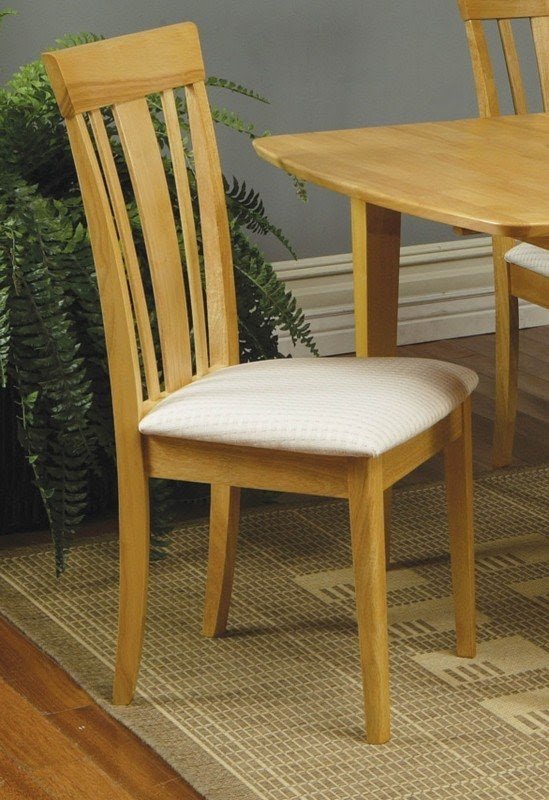 This set of 2 dining chairs in a natural finish features an oak wood frame, with vertical splat and slats, and gently arched rear legs. The seat is upholstered in fashionable fabric, and padded for extra comfort.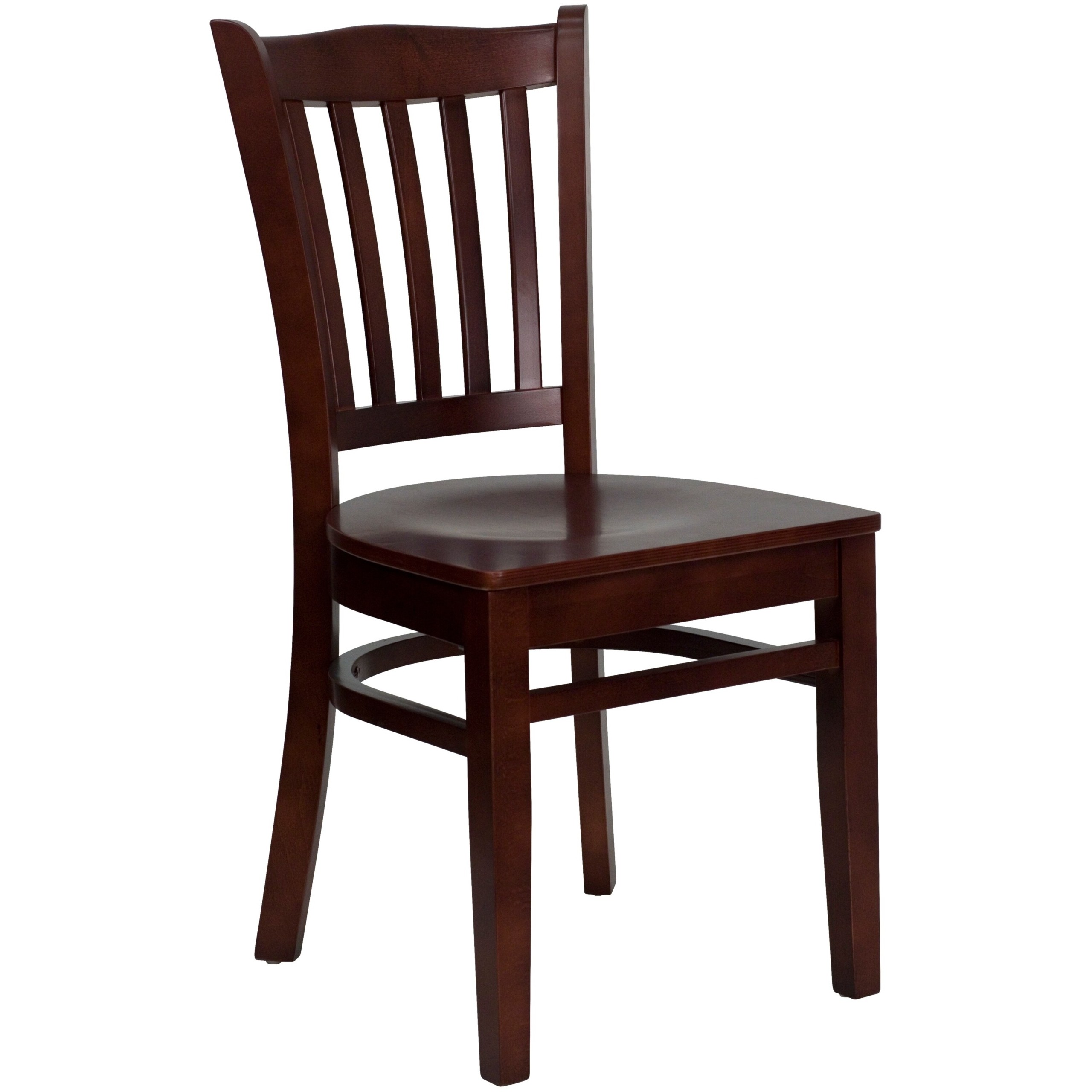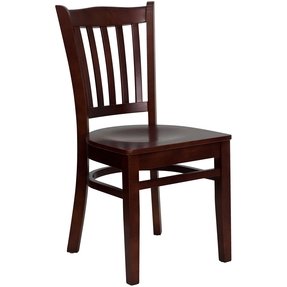 This heavy duty chair was constructed with varied application in mind such as restaurant, bars, stors, hotels and others. It's a traditional style chair made of solid beech wood., with durable vinyl upholstery.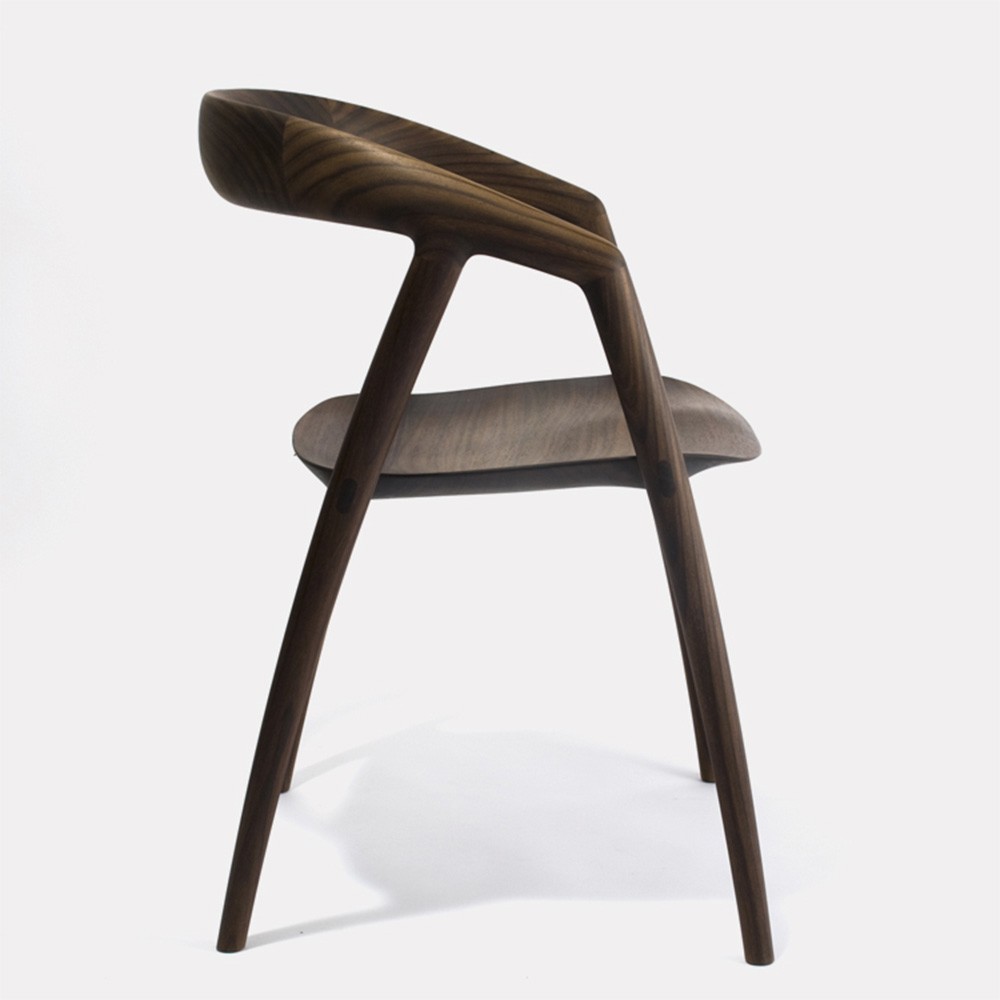 Unique dining hall chair made from sturdy Indonesian rosewood. The chair comes in a standard counter height and offers nontraditional and comfortable seating in any space. The piece also offers a distressed stain that should match up to your dining room furniture.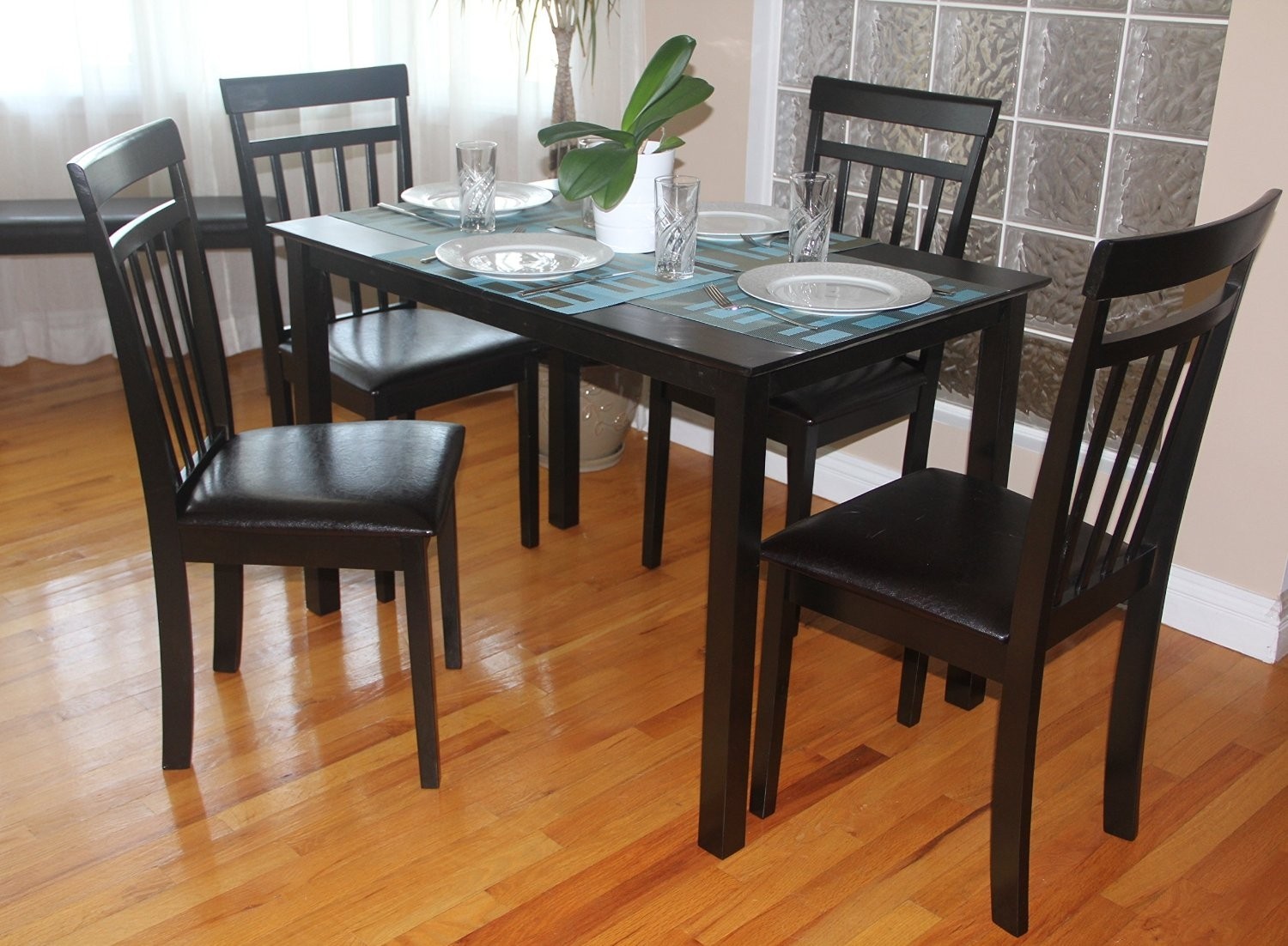 This set of 4 dining room chairs is crafted from solid hardwood and covered in a black finish. Each chair includes a slat-style back, tapered legs, and a square seat upholstered in durable black faux leather.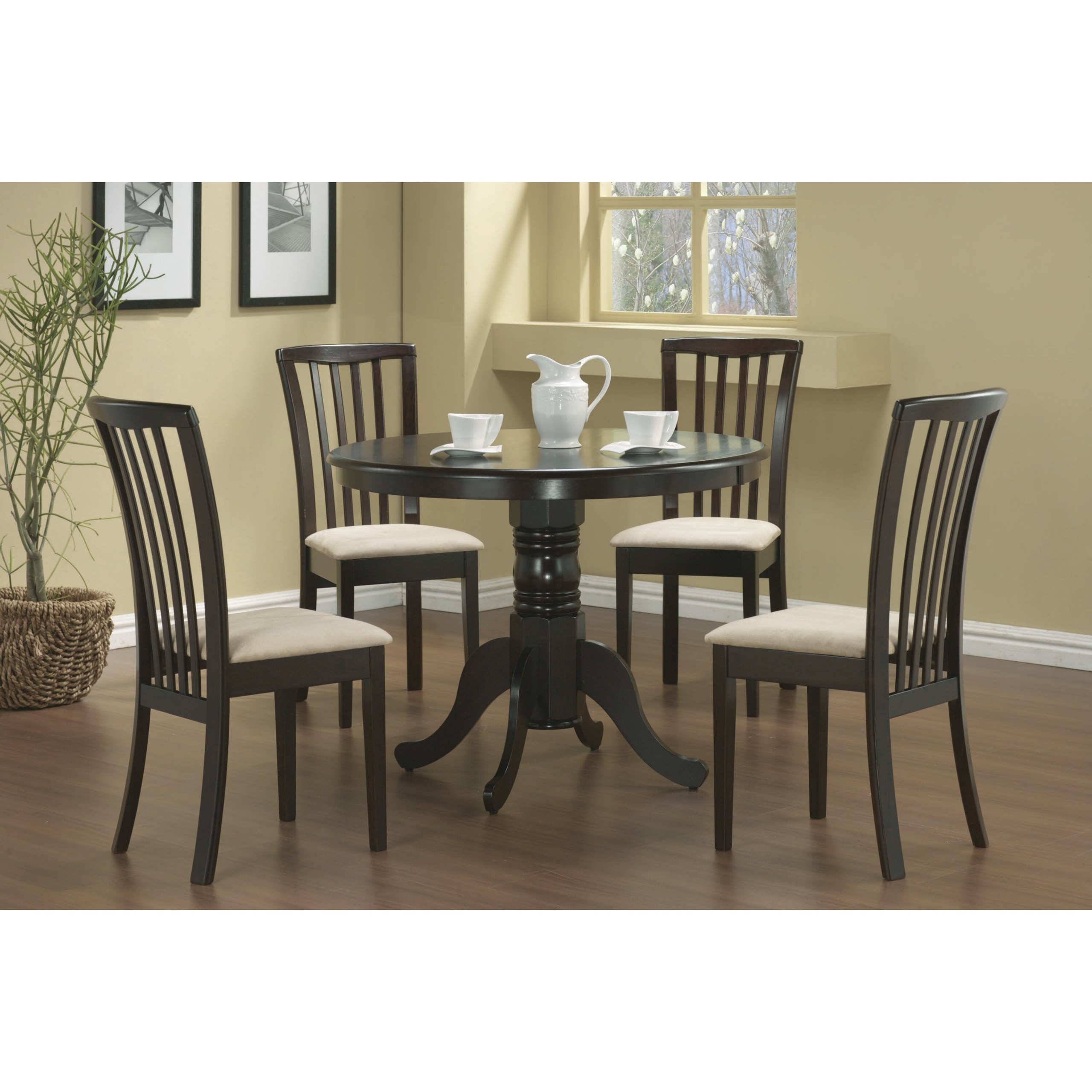 This set includes two dining chairs with cappuccino finish, rubber wood construction and microfiber upholstery. They are classic and fit to any style and décor. You will be impressed how comfortable these chairs are.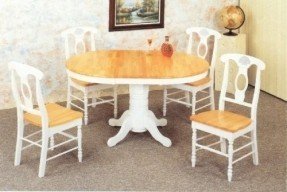 A set of two dining chairs in chic Napoleon style. The seats are crafted of solid wood that showcases natural finish. This contrasts nicely with a white coluring of the rest of the chair. The piece has many details that please the eye.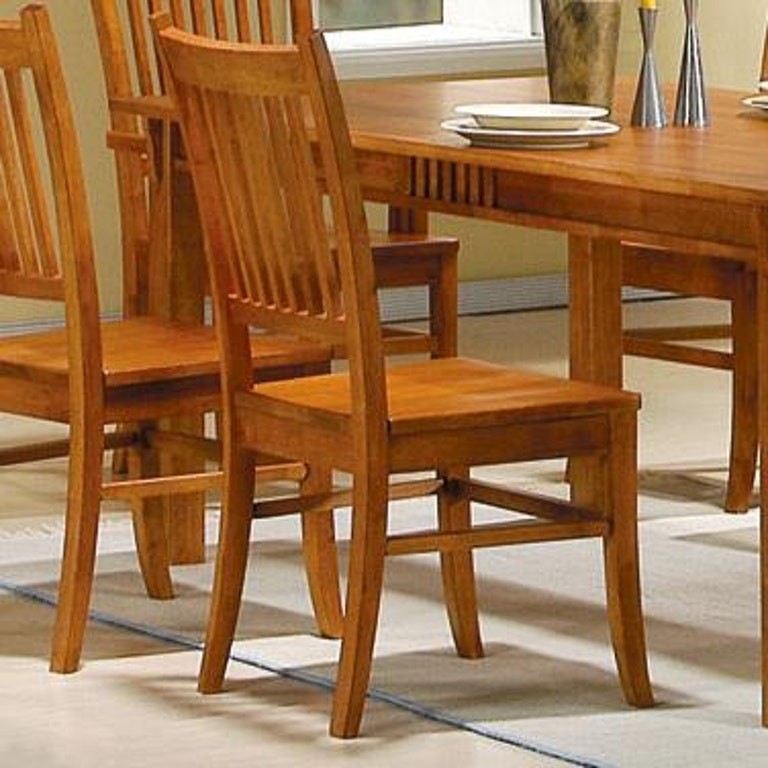 If you're looking for some stylish and convenient equipment for your house, check out this simple and unique chair! It's gonna bring a huge dose of an incredible style and comfort to every kind of dining room.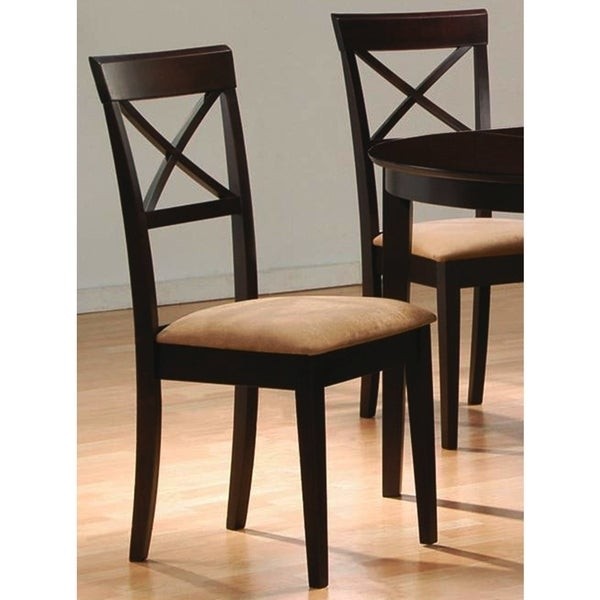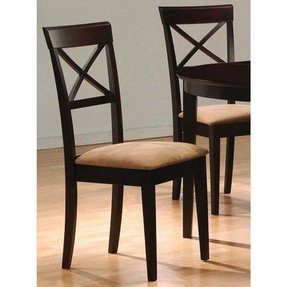 A drop of classic elegance is what is brought to a dining room decor when a set of these chairs is around! Each chair (sold in a set of 2) has a wooden frame with dark cappuccino laminate. The seat is padded beige. Cross-back design provides a distinctive style element.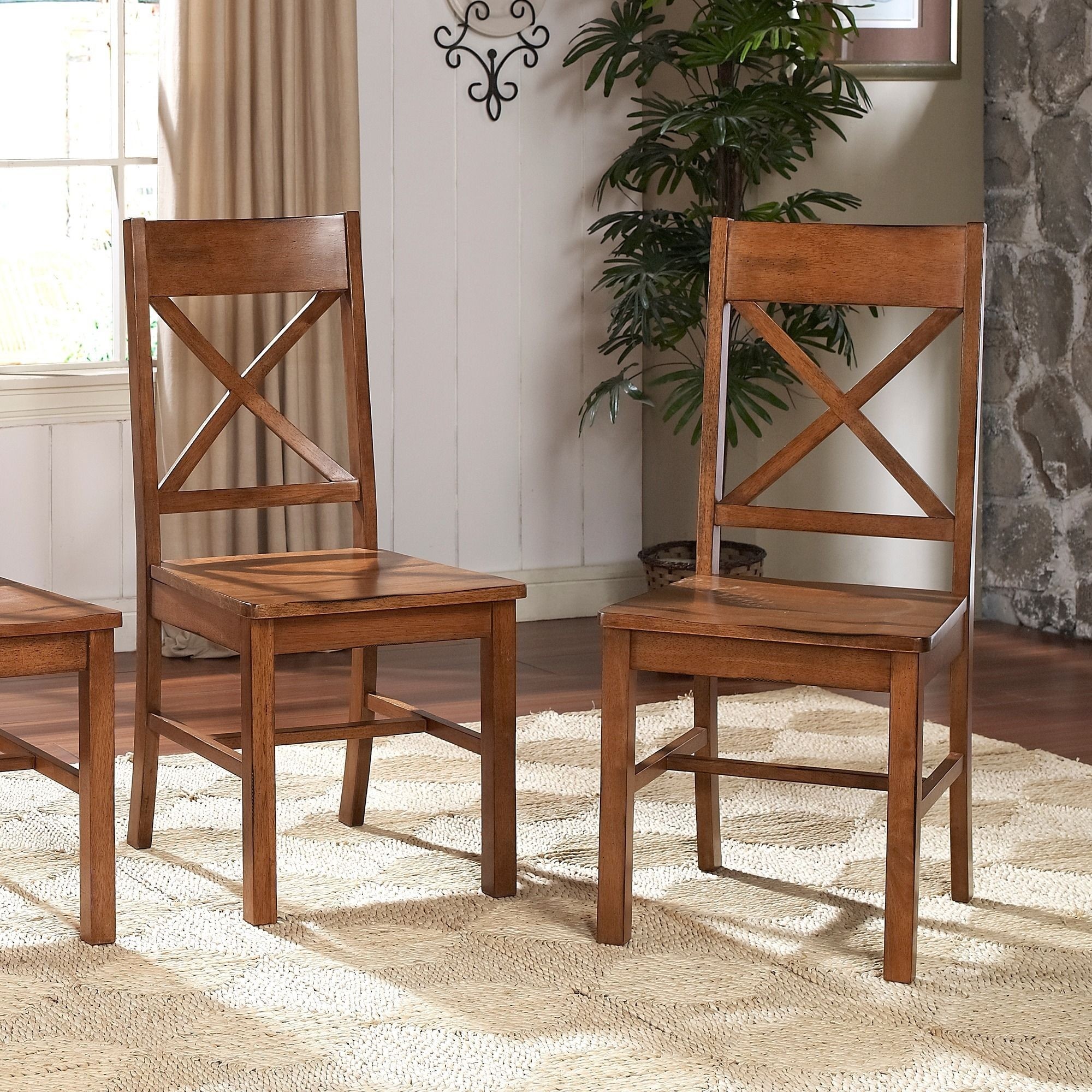 It is a set that includes two dining chairs with solid wood construction, rich antique brown finish and traditional design. They fit to any style and décor in dining room and kitchen area.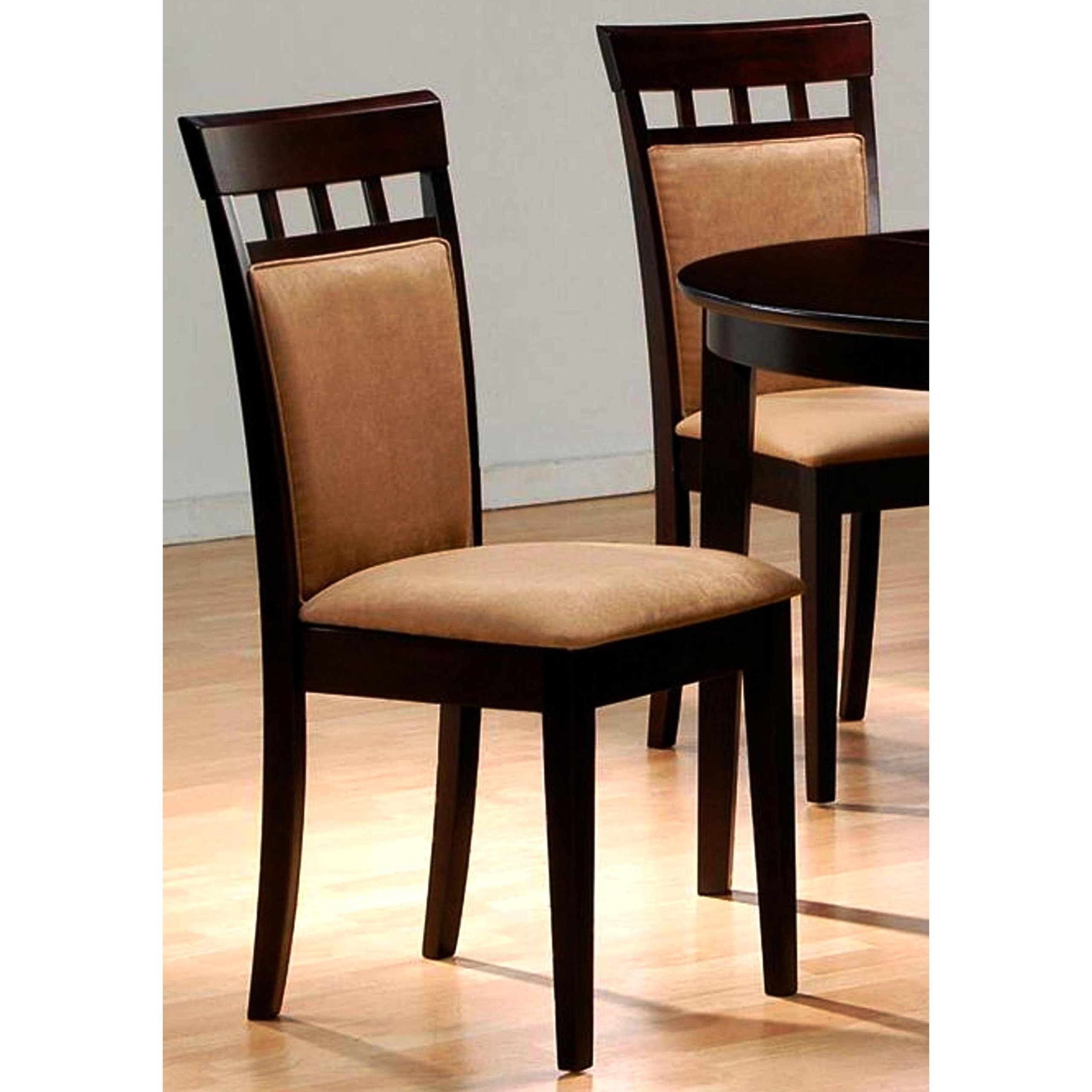 This piece of furniture is a high quality chair designed for use in a dining room. It has got a frame made of durable hardwood with a cappucino finish. The overall size of this chair is 17 3/4"W X 21 3/4"D 39"H.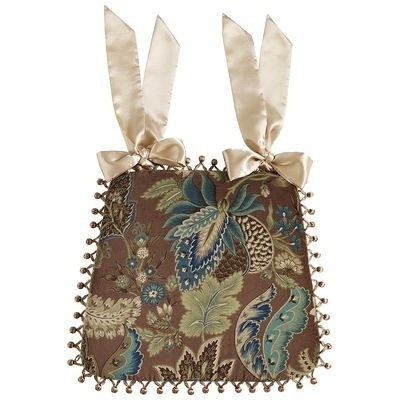 A stylish look for a traditional dining chair cushion with a floral pattern made out of a variety of blue and green colors with a brown background and a decorative seam around finished off by two velvet bows in a cream color.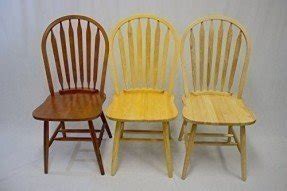 This set includes two classic dining chairs with solid wood construction and heritage oak finish. They are perfect for any style and décor in dining room and kitchen area. You need to have this set.