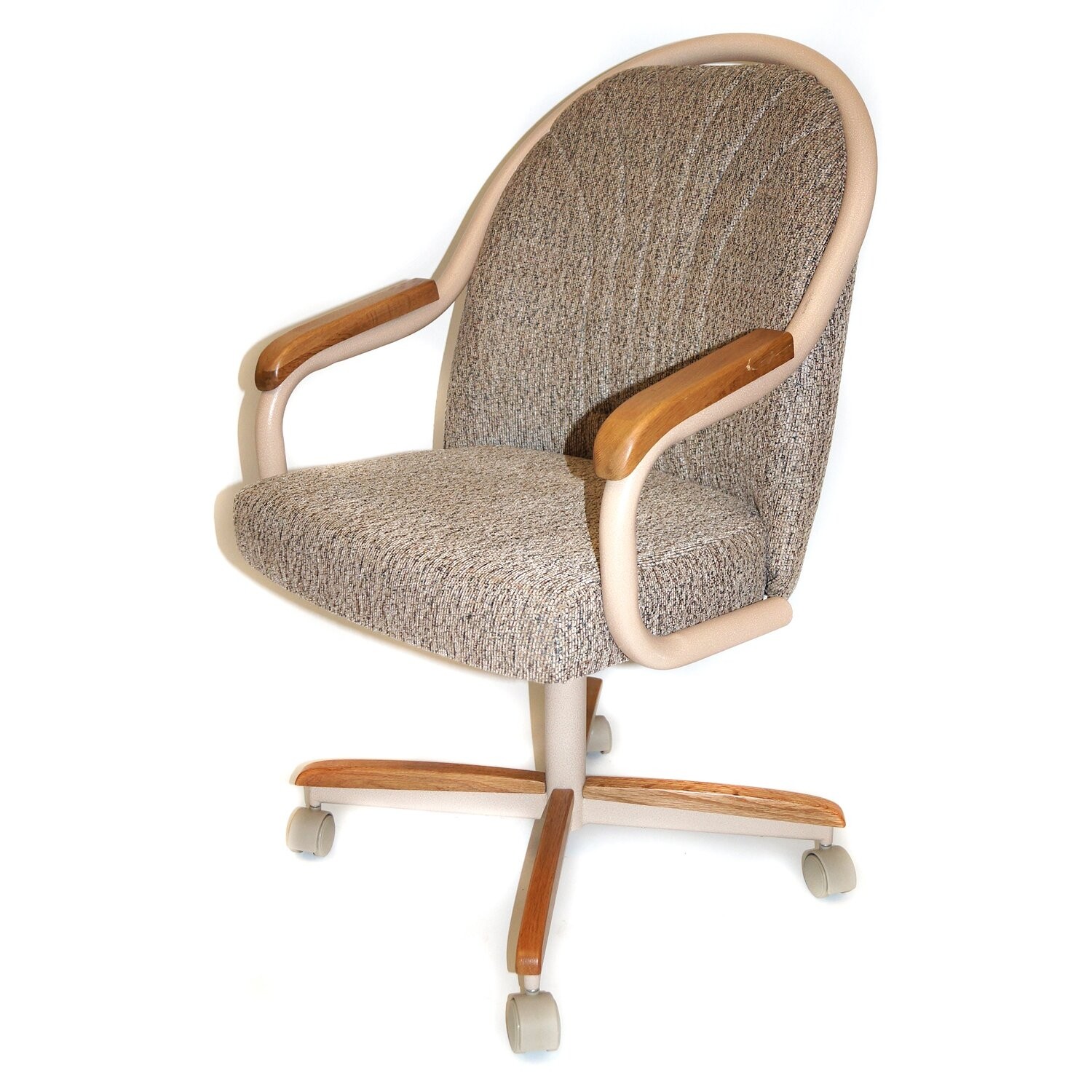 Mid-Back Dining Caster Chair with Arms
It is a very interesting chair that can perform a variety of functions. It is very convenient and comfortable. It has a soft seat and backrest. For this, the legs attached has wheels for easy transport.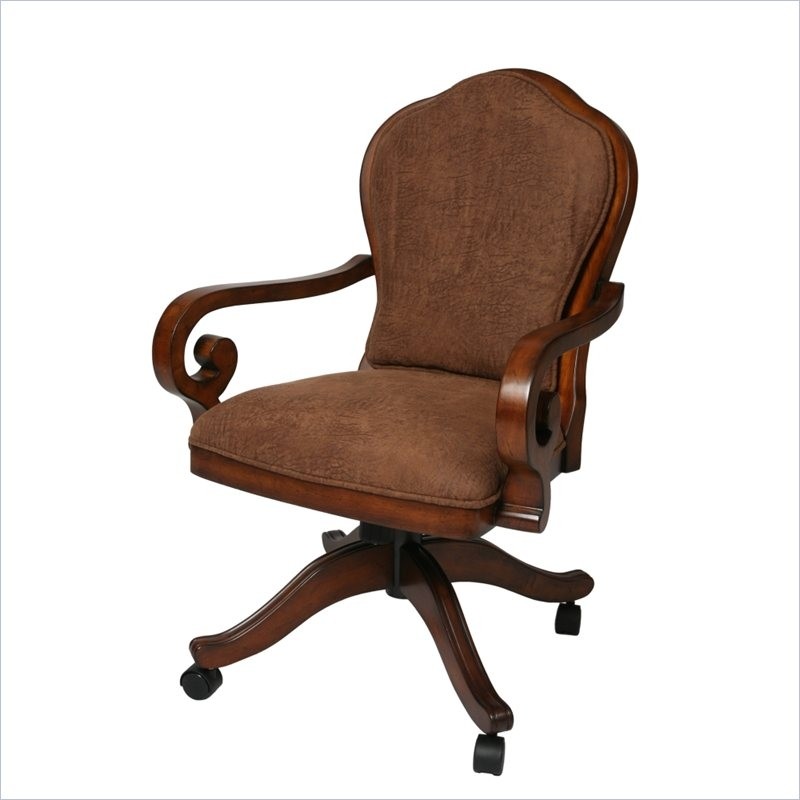 Carmel Caster Dining Chair
This kind of chair is a high quality piece of furniture with solid and reliable caster wheels for enhanced mobility. This chair features a very solid wooden construction, strong arms and a supportive backrest.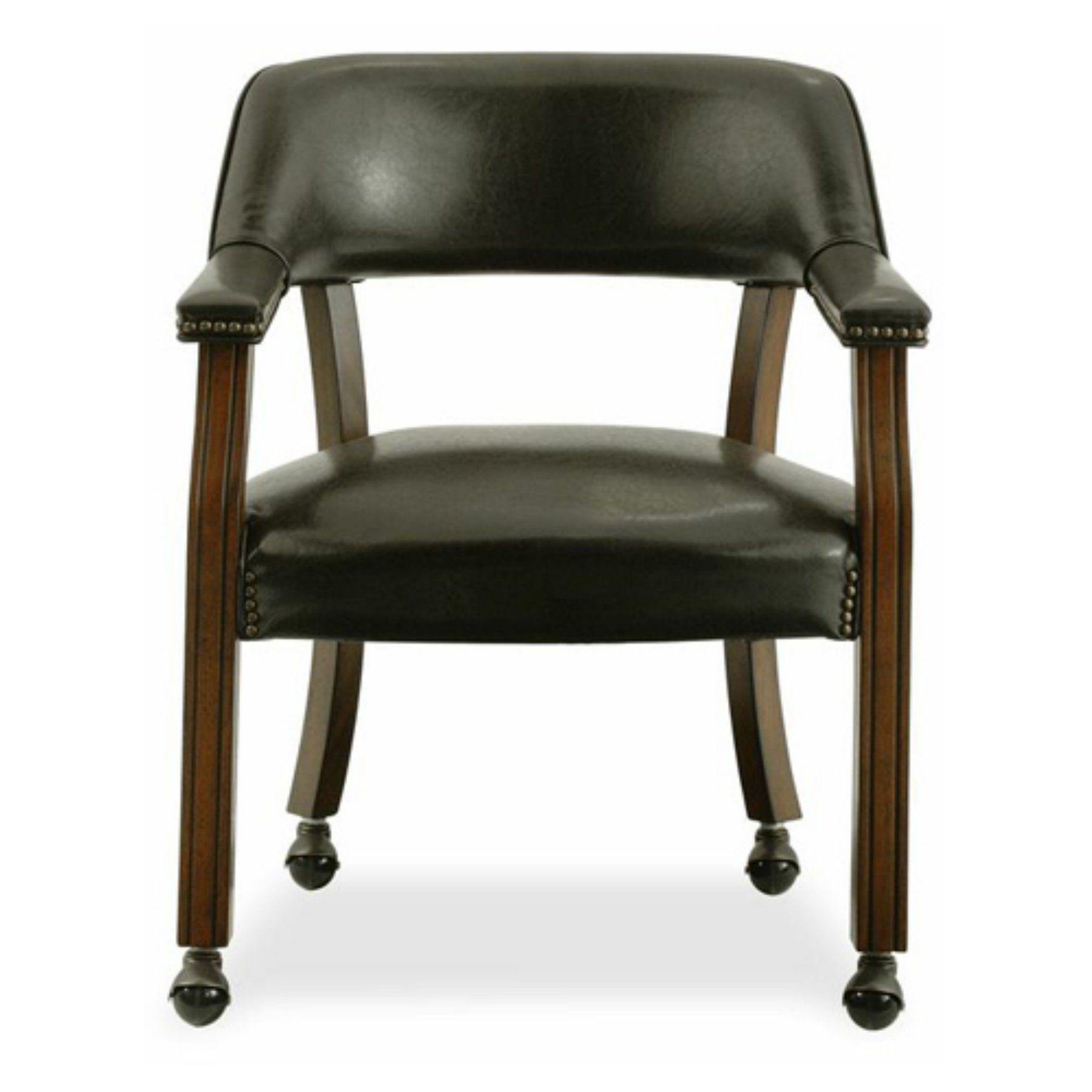 Dark brown vinyl upholstered caster chair
This piece of furniture is a stylish and comfortable chair that has got a solid wooden construction. This chair has got rolling casters and it features a padded, comfortable seat with a supportive backrest.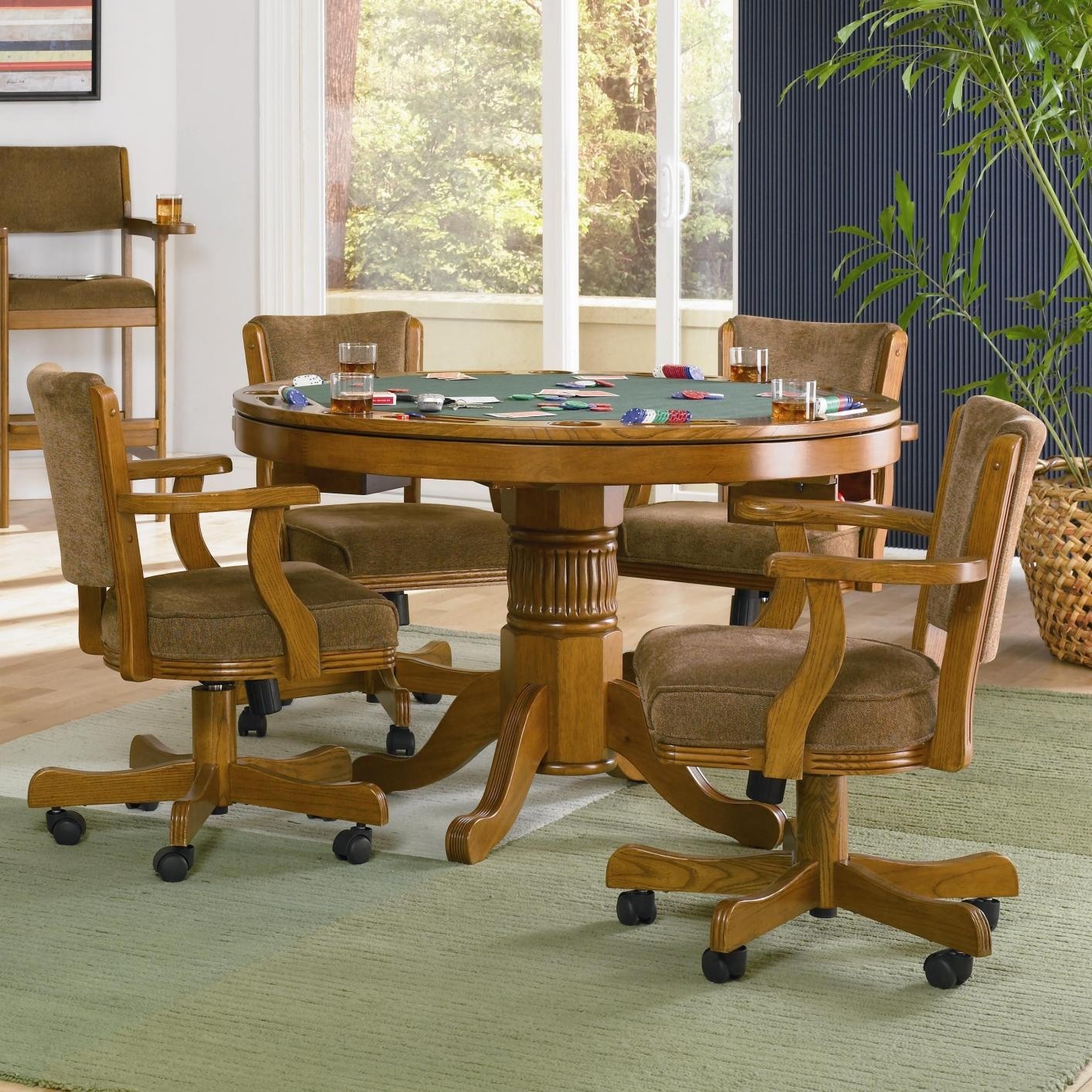 Create an inviting nook for your friends with the Coaster Home Furnishings casual game chair. It features the oak finish, coasters and swivel mechanism, for enhanced comfort of use.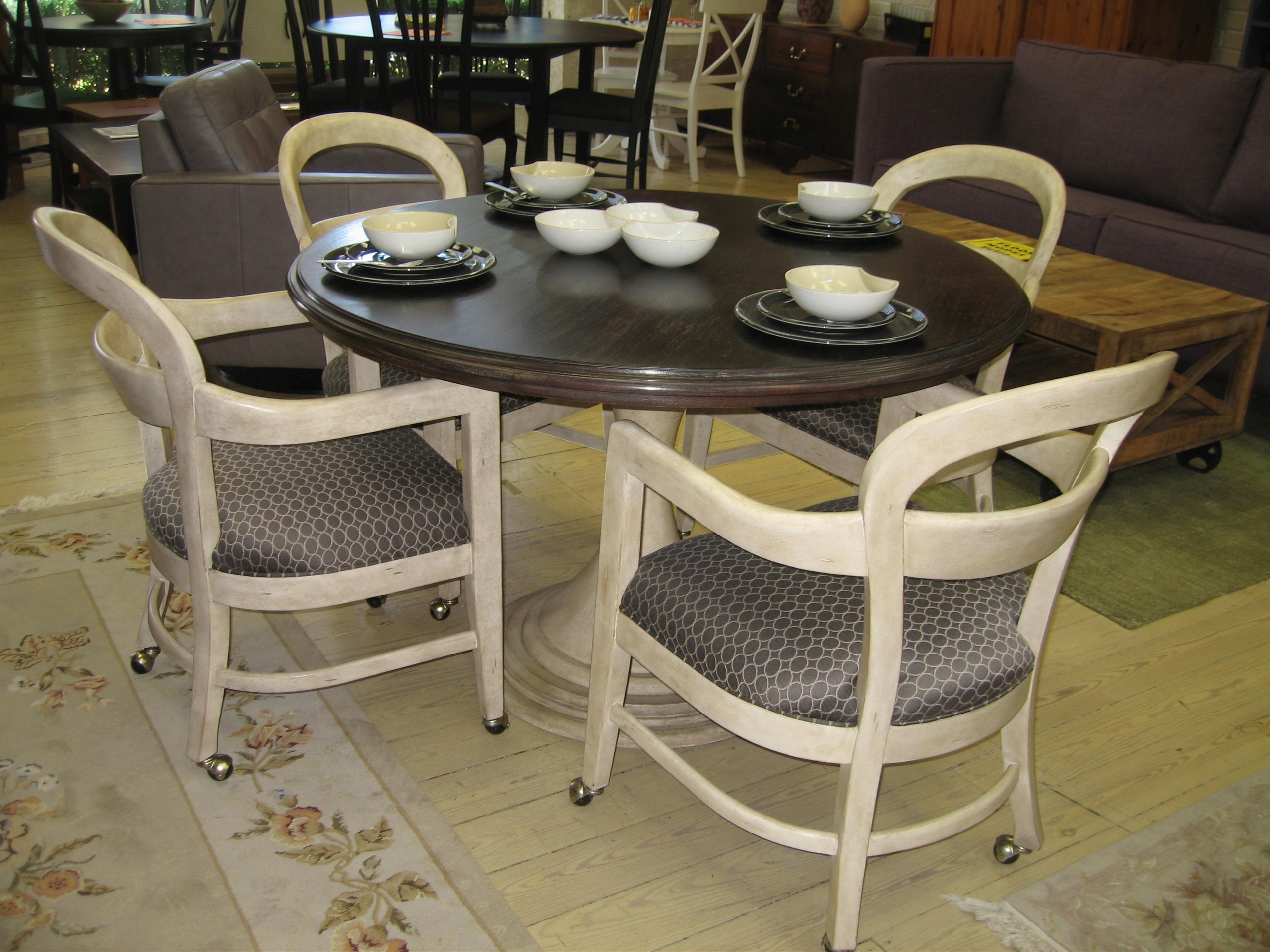 Home › Clearance › Stanley Dining Table & Caster Chairs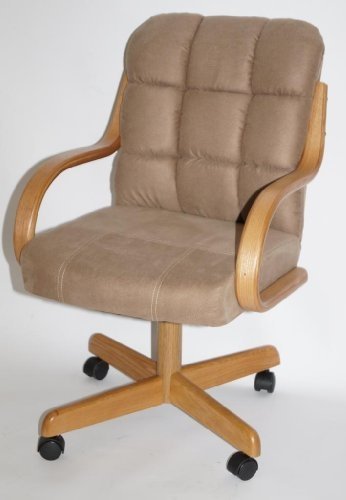 A stunning casual dining cushion swivel and tilt chair with casters for easier mobility and the charming two-tone finish of the honey frame and the beige upholstery of the seat and back that is both durable and soft.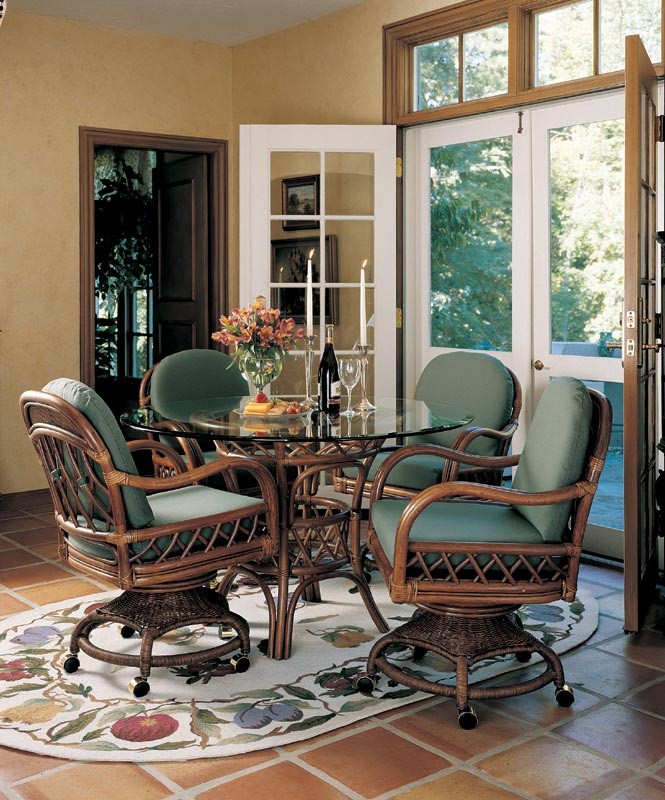 A great solution for gaming rooms, this compact-size dining set offers a lovely round table, and 4 swivel-tilt chairs with mobile casters. Each chairs features comfy cushions, ergonomic arms, and a well-balanced base. The table includes a clear glass top, and a neatly designed wooden base.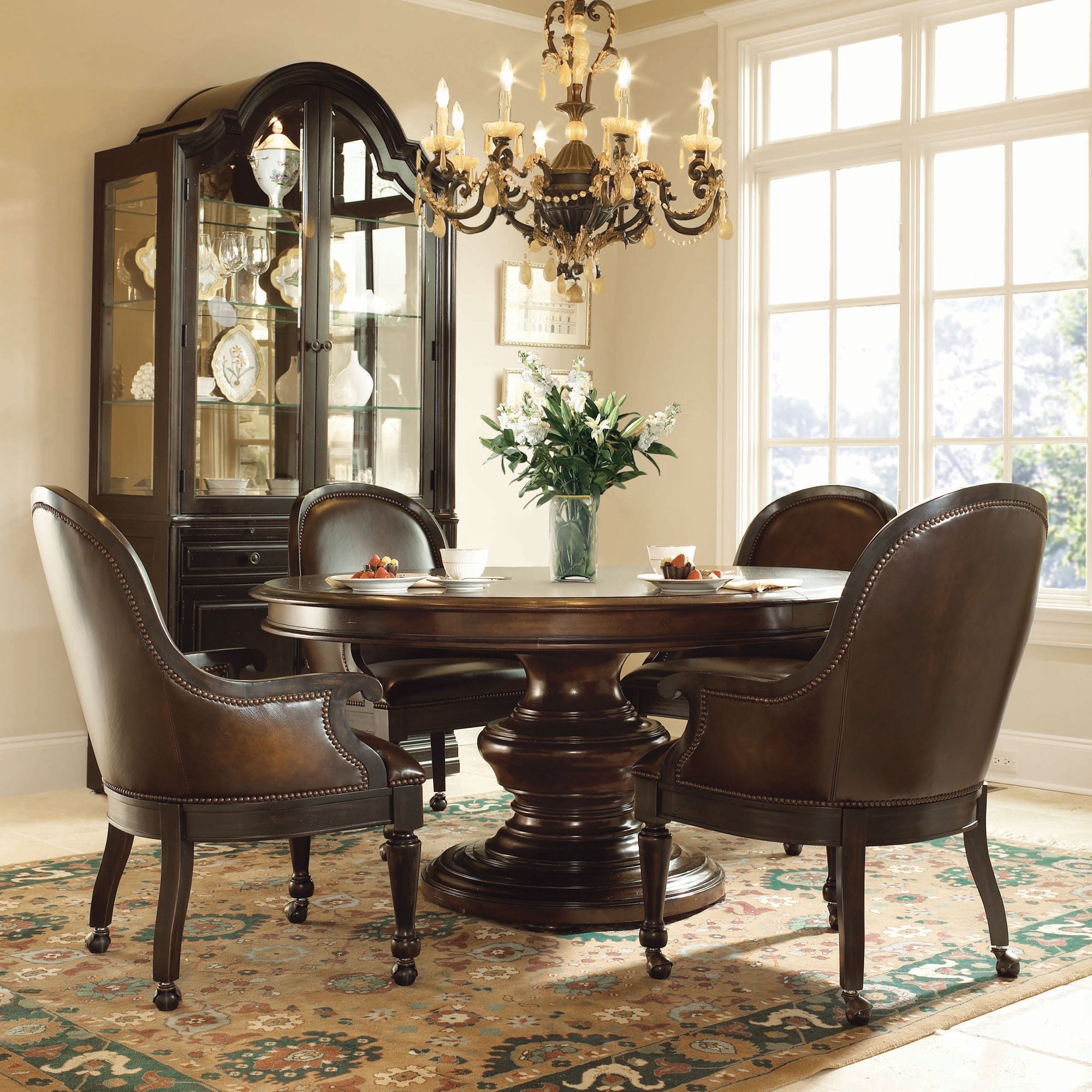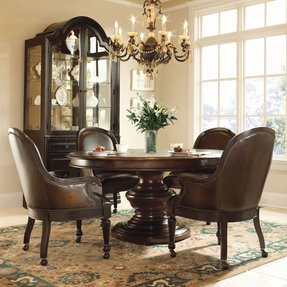 Hillsdale Grand Bay 5 Piece Round Dining Room Chairs With Casters Sets ...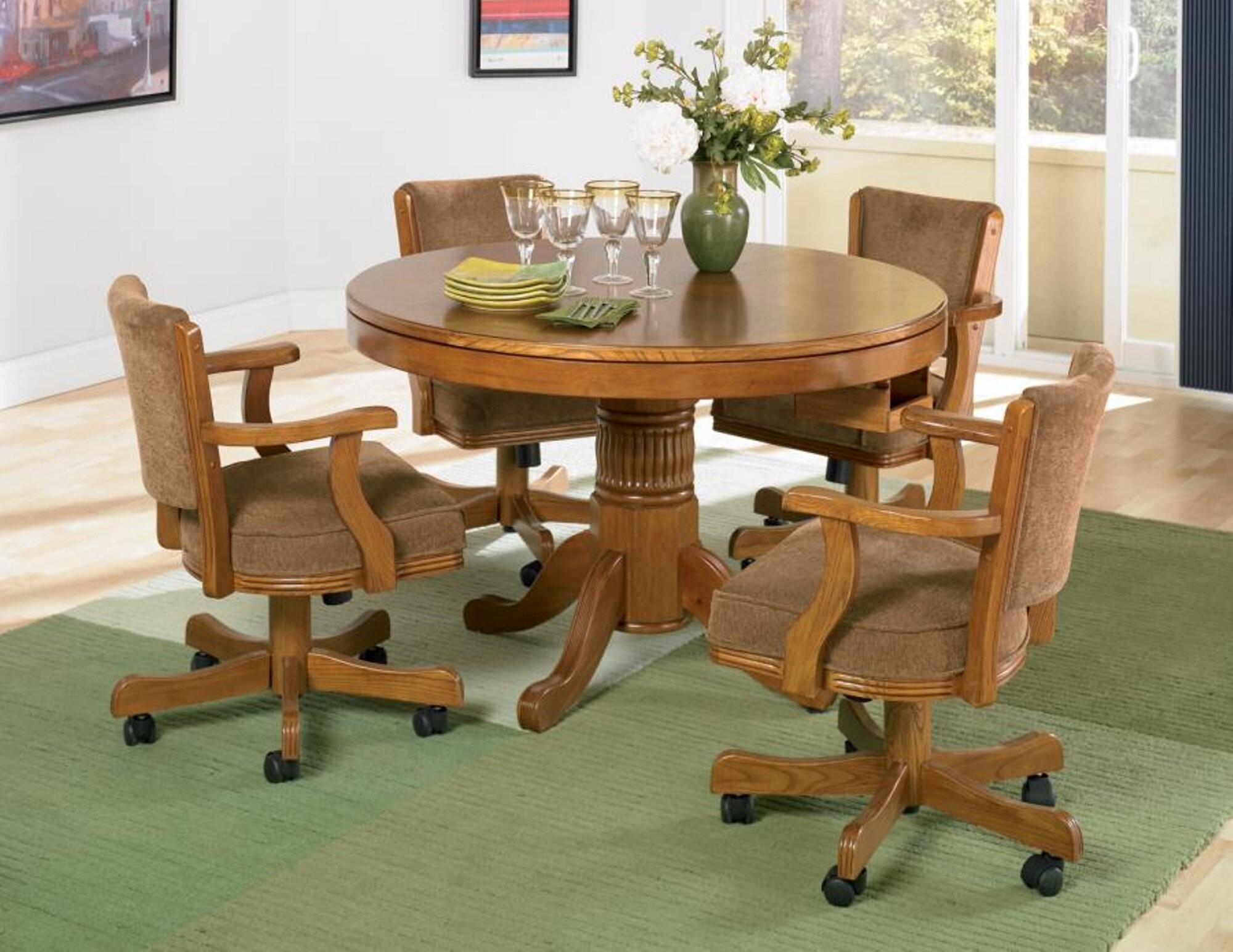 Classic game table design, complemented decently by four drafting chairs, allows to create a stylish setting for gaming and enjoying friends gathering. Oak finish with beige padding matches the style.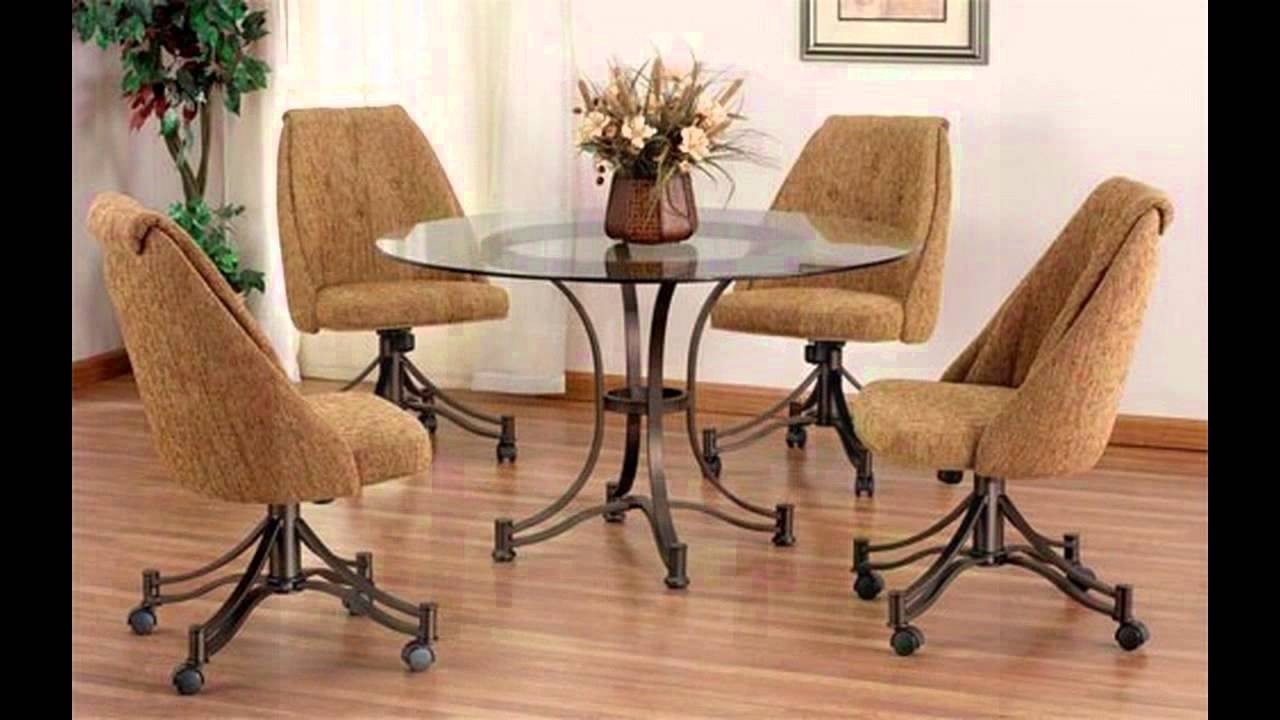 Dining chairs mounted on wheels for easy movement. Base is made of metal. It is upholstered with durable material and reinforced with solid seams. Suitable for residential and commercial premises.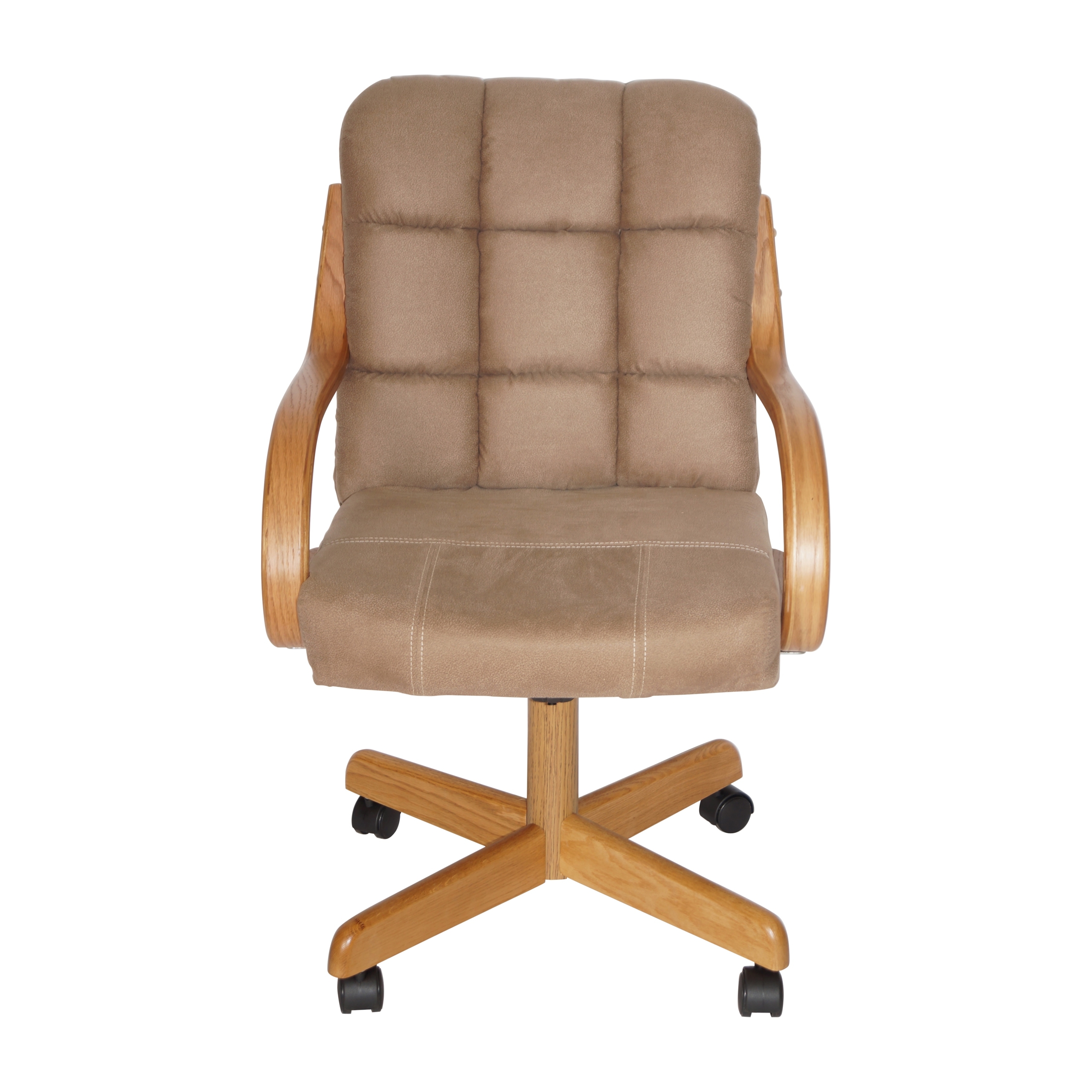 This kind of chair is a very comfortable, original and attractive piece of furniture. It has got a base with rolling casters. The seat is ergonomic and it is equipped with a soft cushion, solid backrest and supportive arms.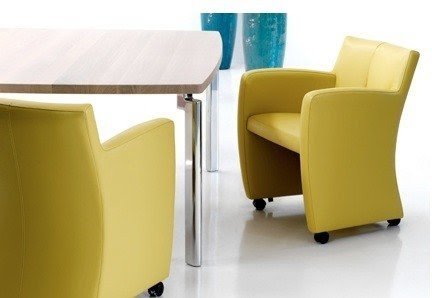 Freely drafting dining chairs define a dining area that meets the most demanding modern expectations! These practical armchairs on wheels are wrapped up in banana yellow vinyl, easy to wipe clean when stained.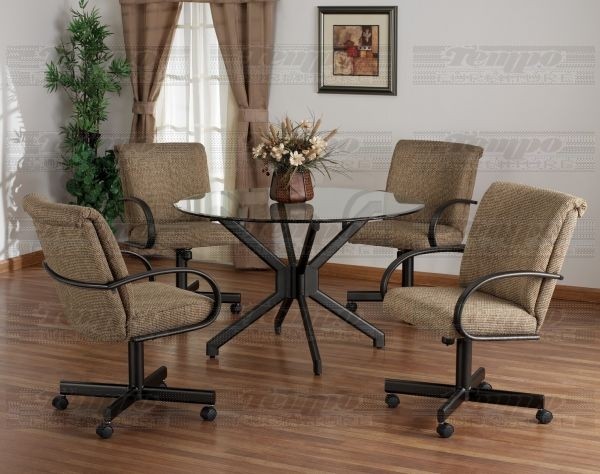 I've no idea if this dining set is more contemporary or modern (in 50s or 60s way) but it's undoubtedly stylish. Four armchairs on rolling casters-equipped bases surround the round table with tempered glass top.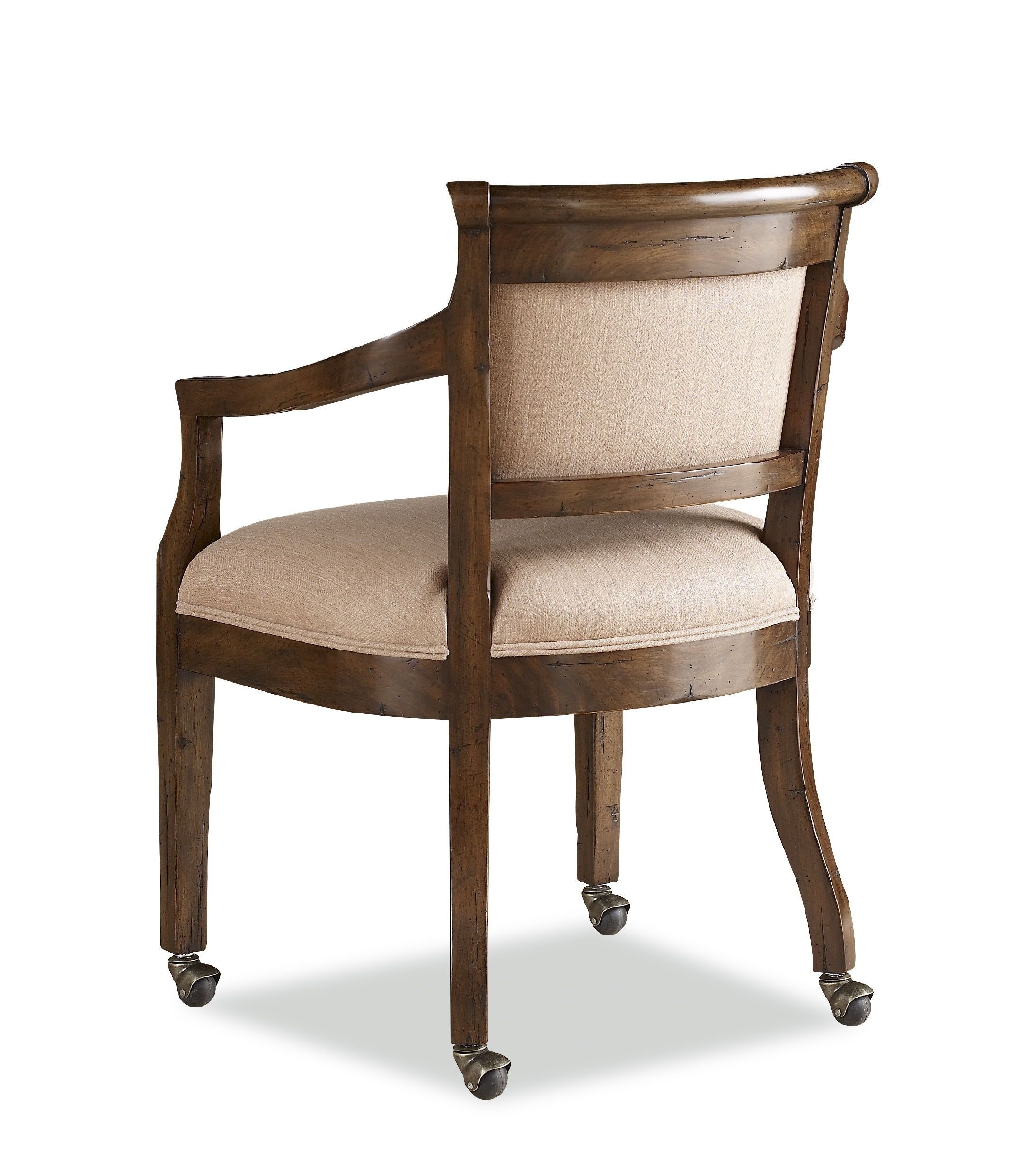 ... Dining Room Chairs With Casters And Arms Sweeten Your House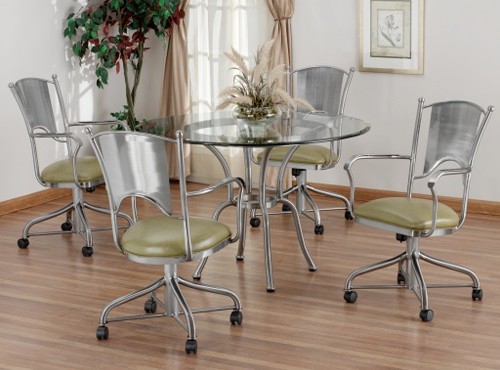 Comfortable dining chairs with wheels for enhanced movement. These elements of dining room design include metal frames in neutral gray finish. Their light green leather seats are paired with solid backrests and supportive arms.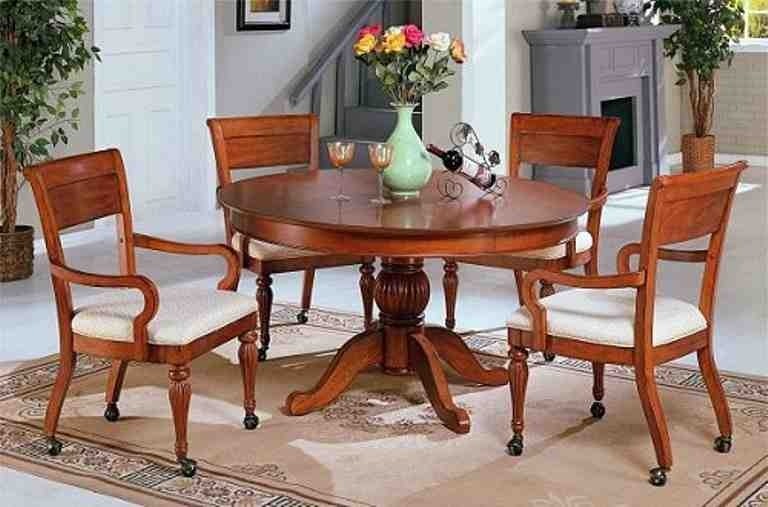 Dining Chair Casters With New Style Design / Pictures Photos and ...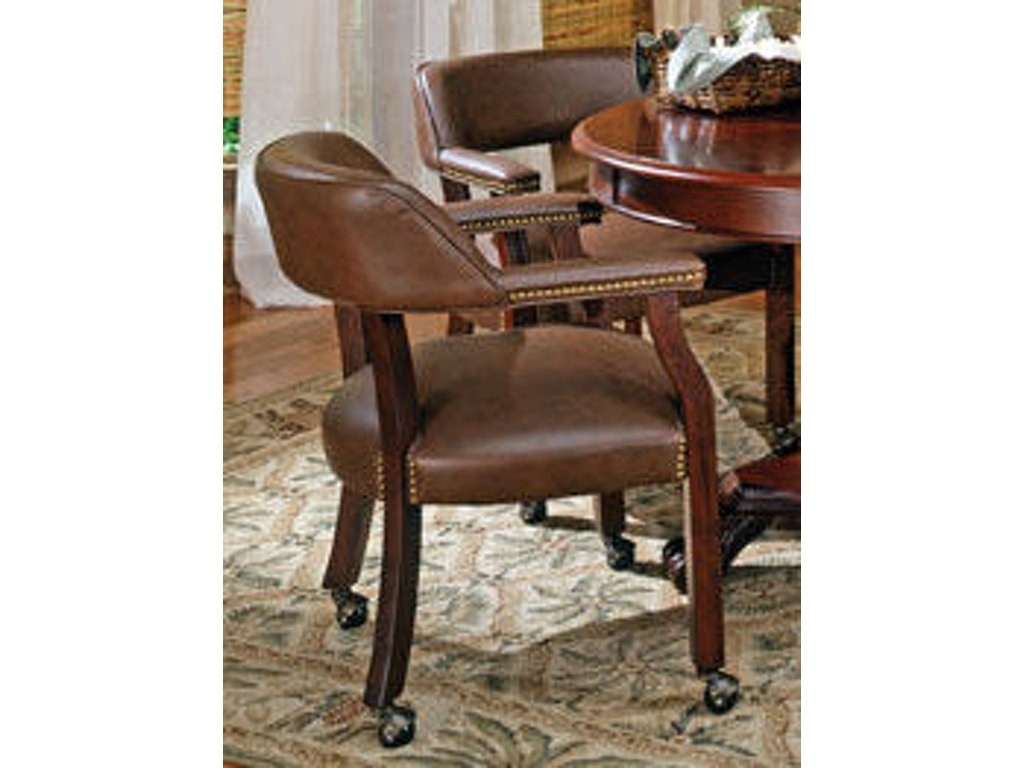 Tournament chair with traditional design, casters for better mobility and multi-step rich cherry finish. Seat of the chair is 18 inch high and the chair has durable and strong construction. It's a great addition to all interiors furnished in classic style.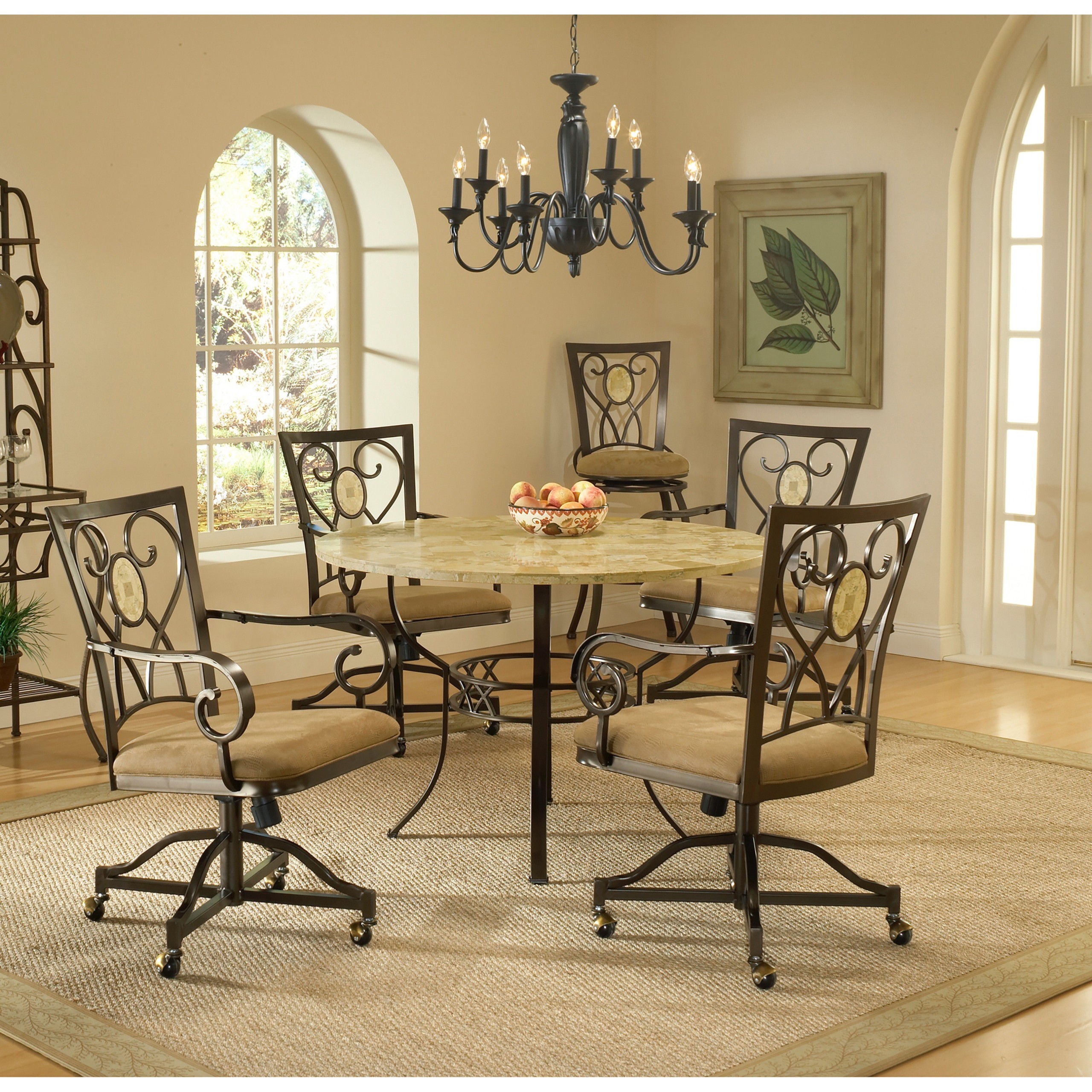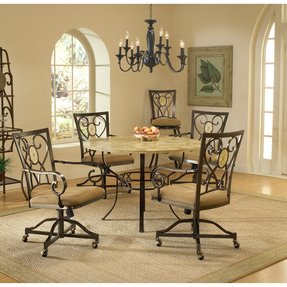 This set includes solid, attractive and very comfortable dining chairs. Each product of this type has got a metal frame with a brown powder coated finish. The chair size is 26 in. W x 26 in. D x 38 in. H.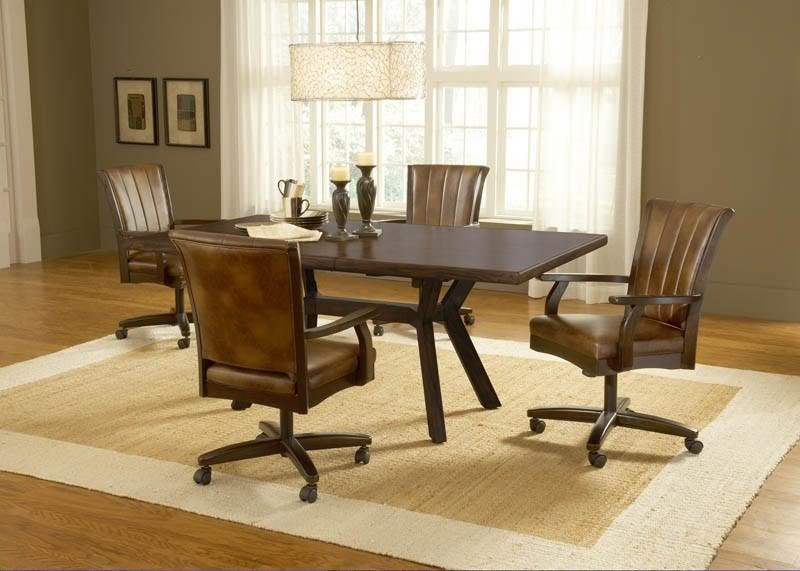 Attractive, comfortable and ergonomic dining chairs with swivel seats and casters for enhanced mobility. These chairs include cushioned seats and backs covered with light brown leather. Durable arms improve support and comfort.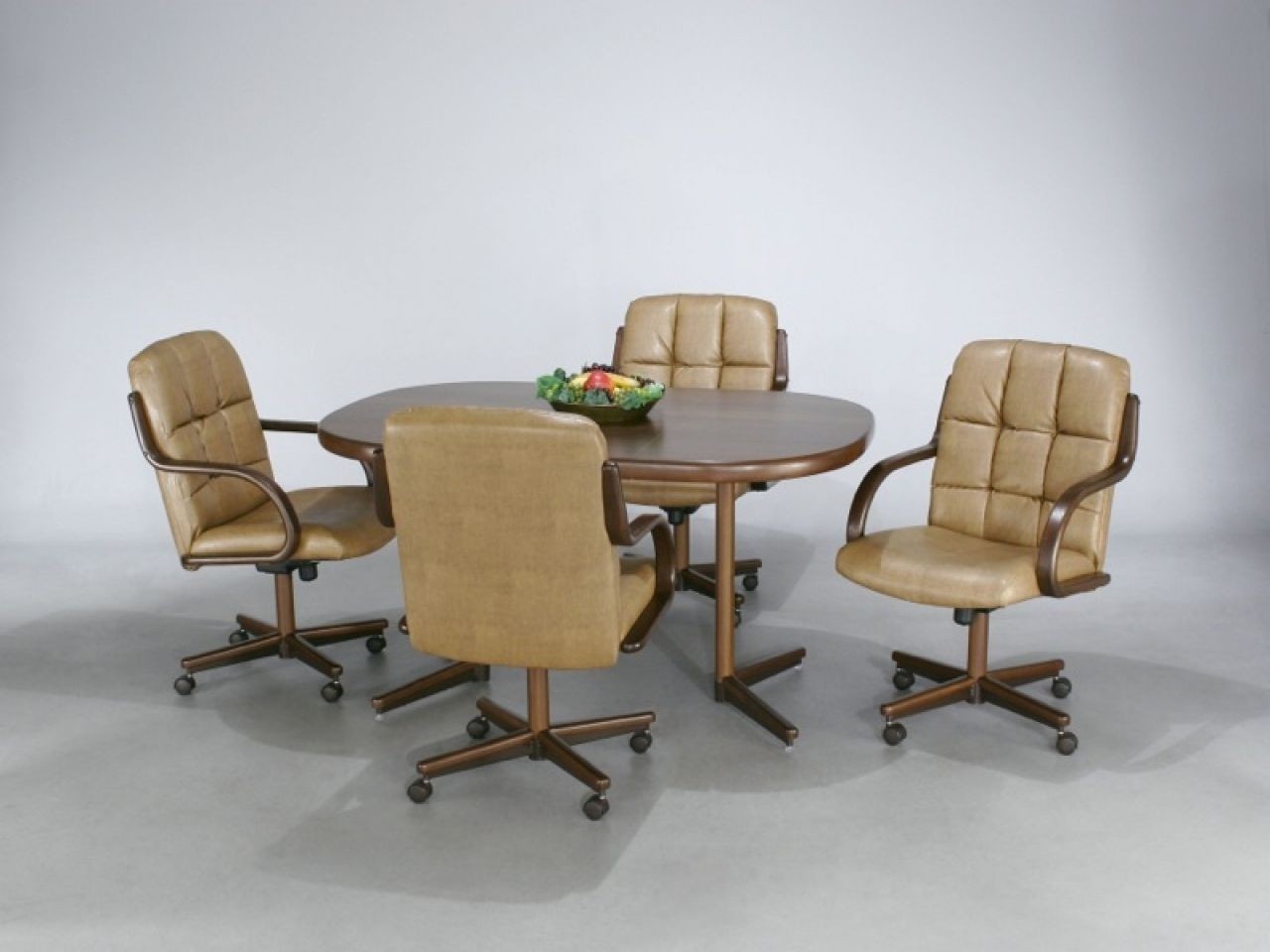 I do not understand why the dining room set should be on casters. The oldschool vinyl cover on office style chairs and the lackluster shade of wood. No,it is definitely not my favourite one, even if it plays its functional role well.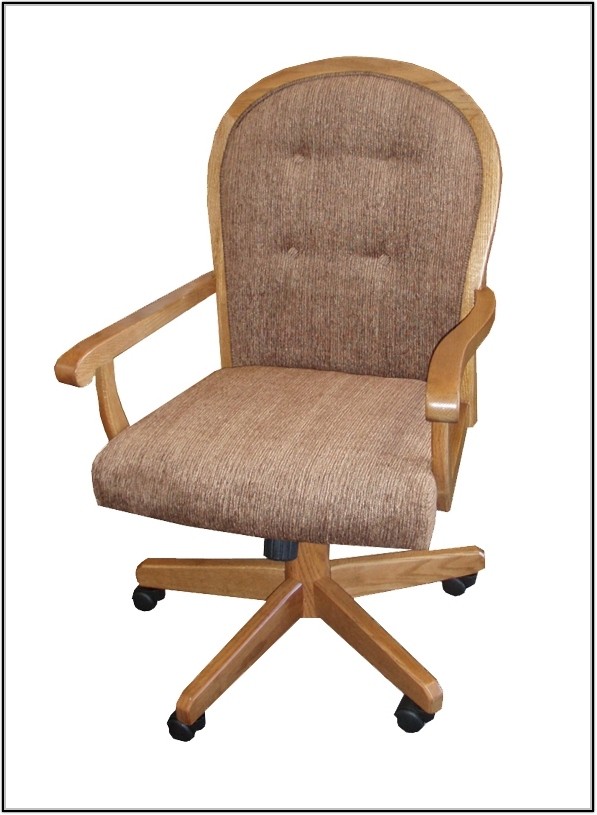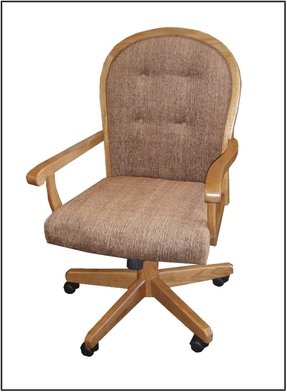 GS-CL106F04C - Classic Oak Dining Chair with Casters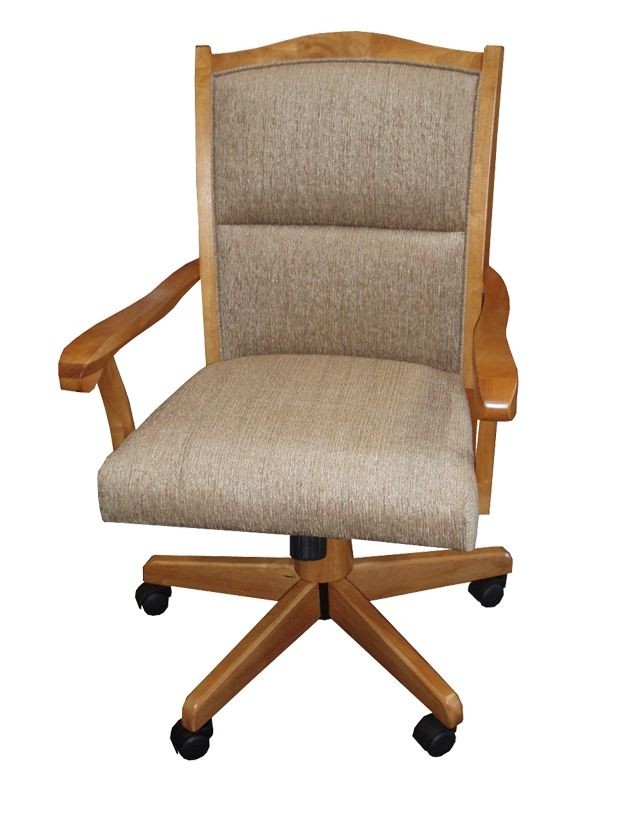 GS-CH106F04C - Casual Home Dining Chair with Casters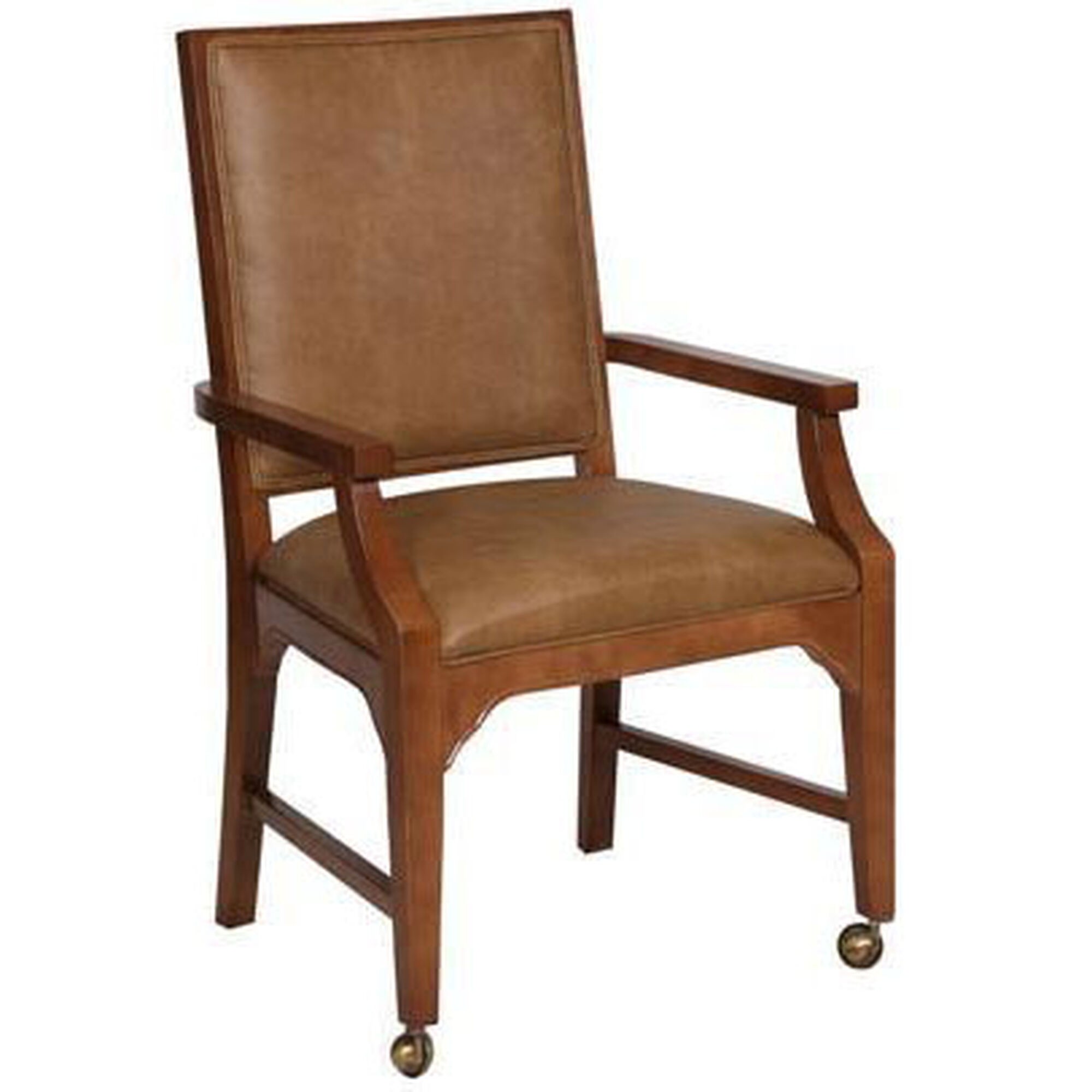 AC Furniture 4473 Arm Chair with Casters by AC Furniture. $357.99. Traditional wood-framed arm chair Casters on front legs for easy mobility Upholstered seat and back Optional Scotchguard™ Protection Several Wood Finishes Available Fabric and Vinyl Uphols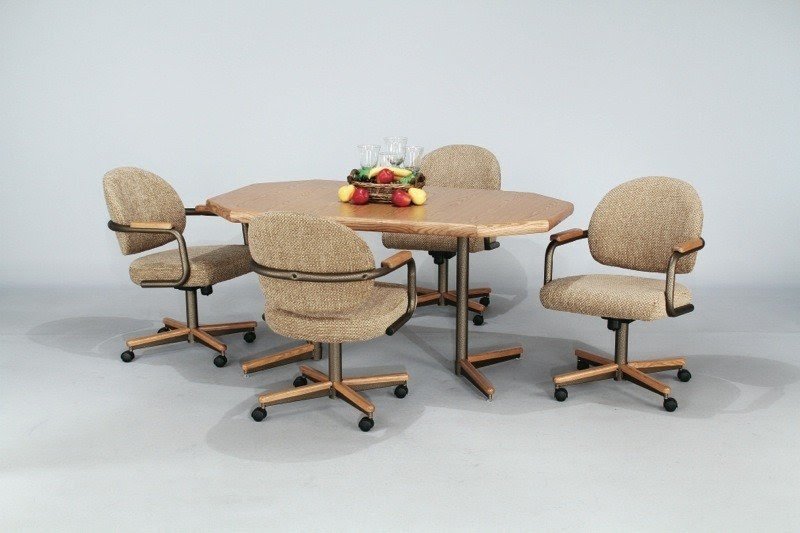 Wood Topped Dining Room Table with round-backed caster chairs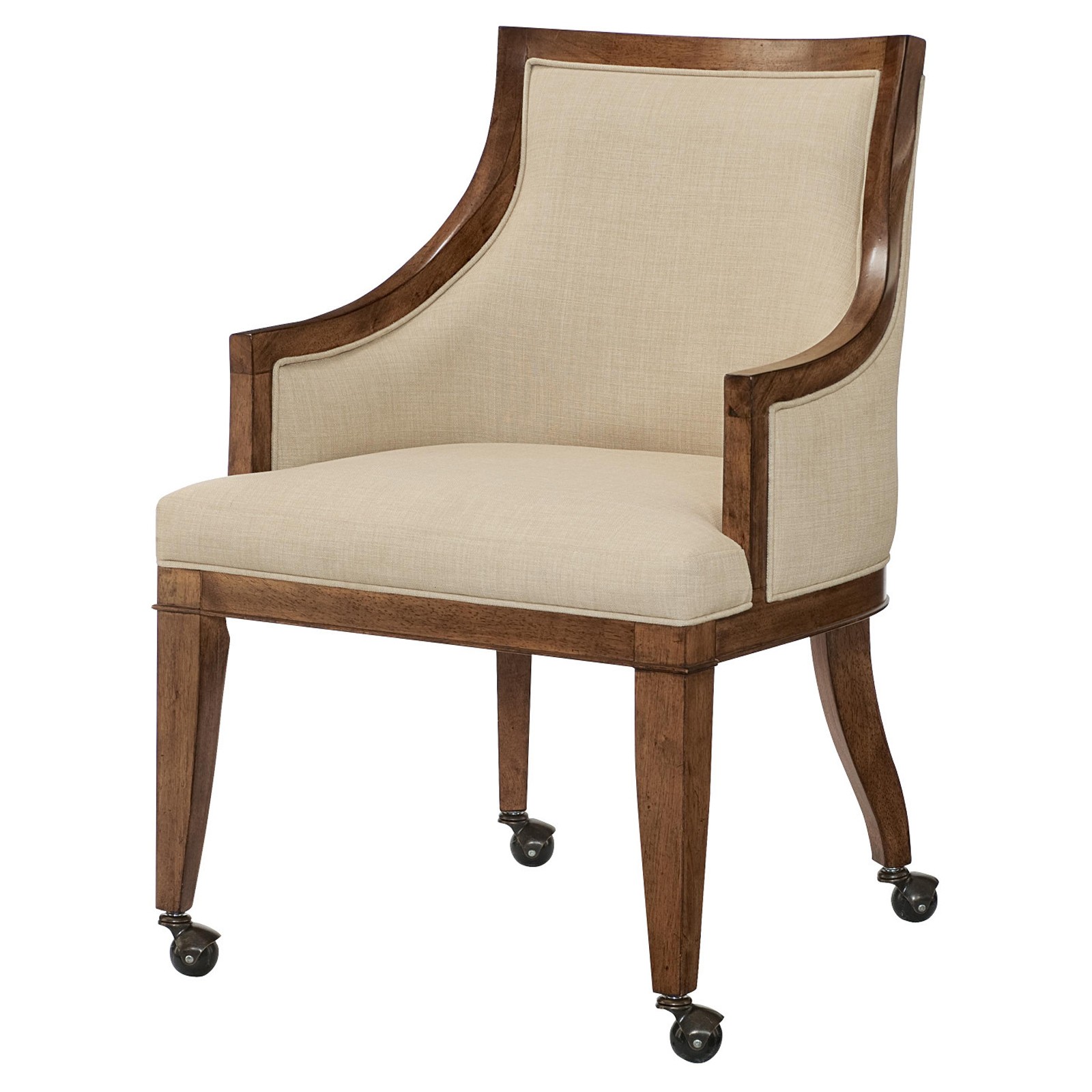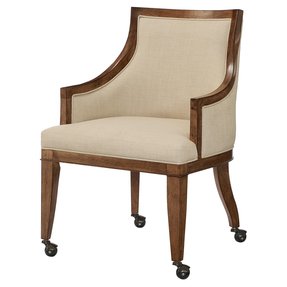 Grove Point Upholstered Dining Arm Chair with Casters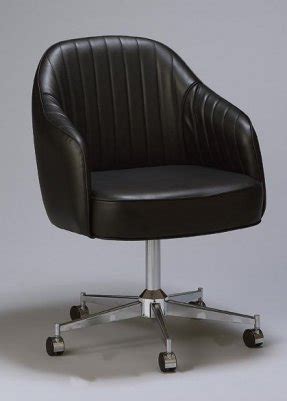 Vintage design for the 50s, retro dining room swivel chair on wheels with an aluminum frame made with a chromed finish. The top of the chair is made out of black faux leather and perfectly fits office rooms as well.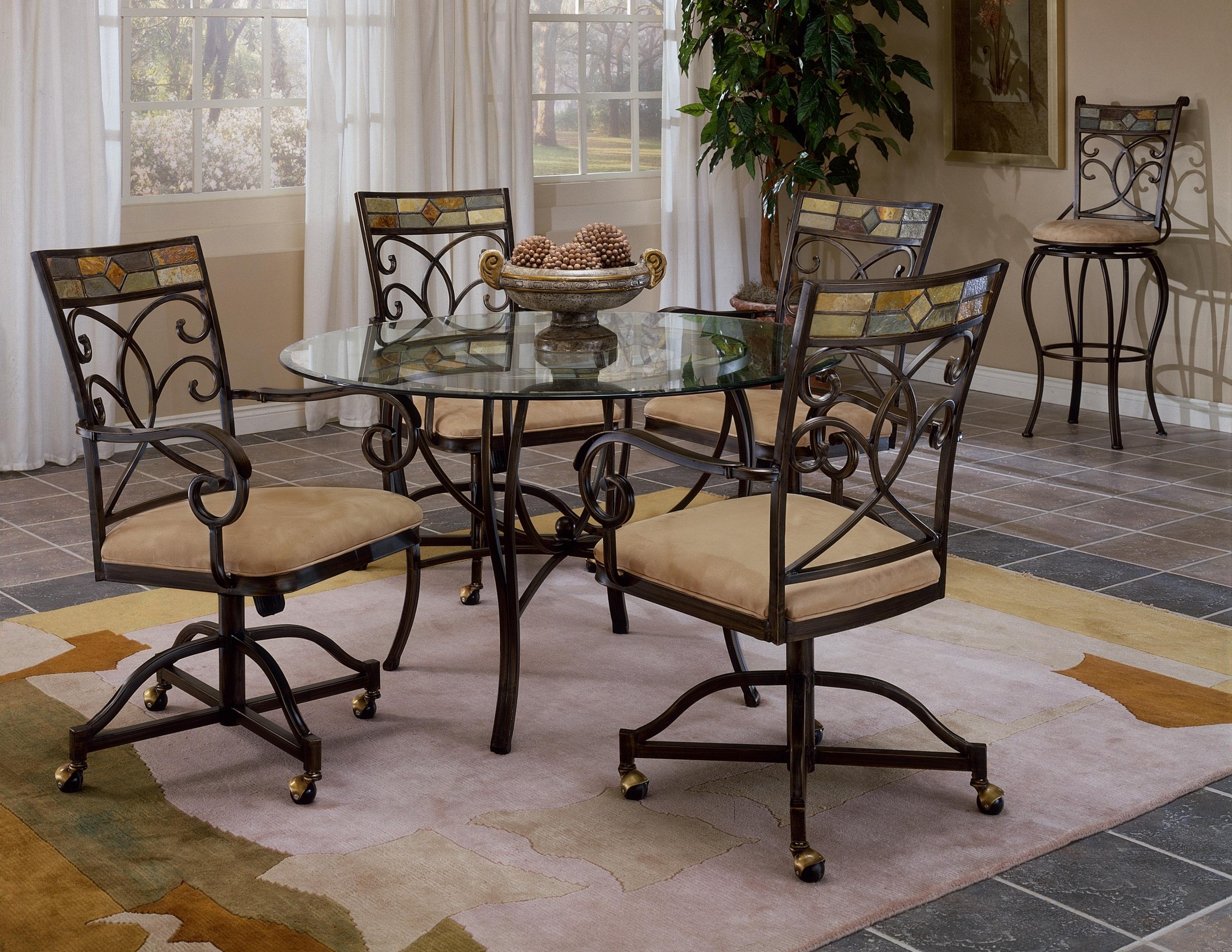 The set includes 2 unique dining chairs. These beautiful chair have amazing slate finish and an eye-catching mosaic trim on the back. Metal frame ensures longevity and durability for many years. Perfect choice for your dining room or kitchen.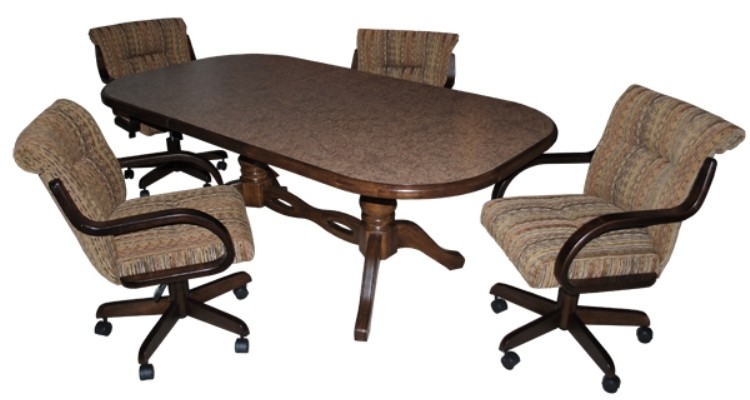 Commercial Dining Chairs with Casters | Dinette Sets: Dining Room Furniture, Dinettes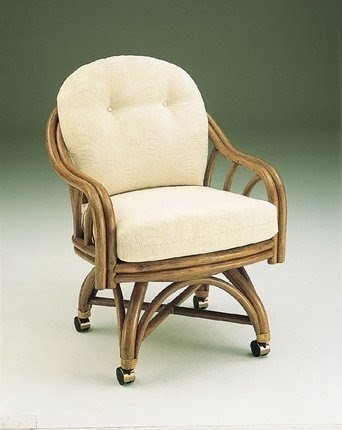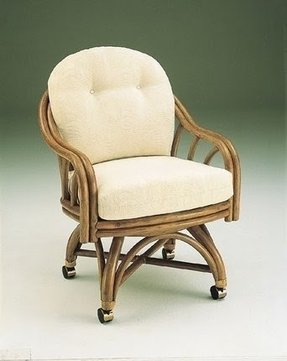 Captiva Rattan Dining Chair - Rattan displays its wonderful style capabilities with Captiva dining chairs. Steamed and bent cane provides exceptionally sturdy framing that blends a casual seating design with modern accents. Arching stretchers reinforce ci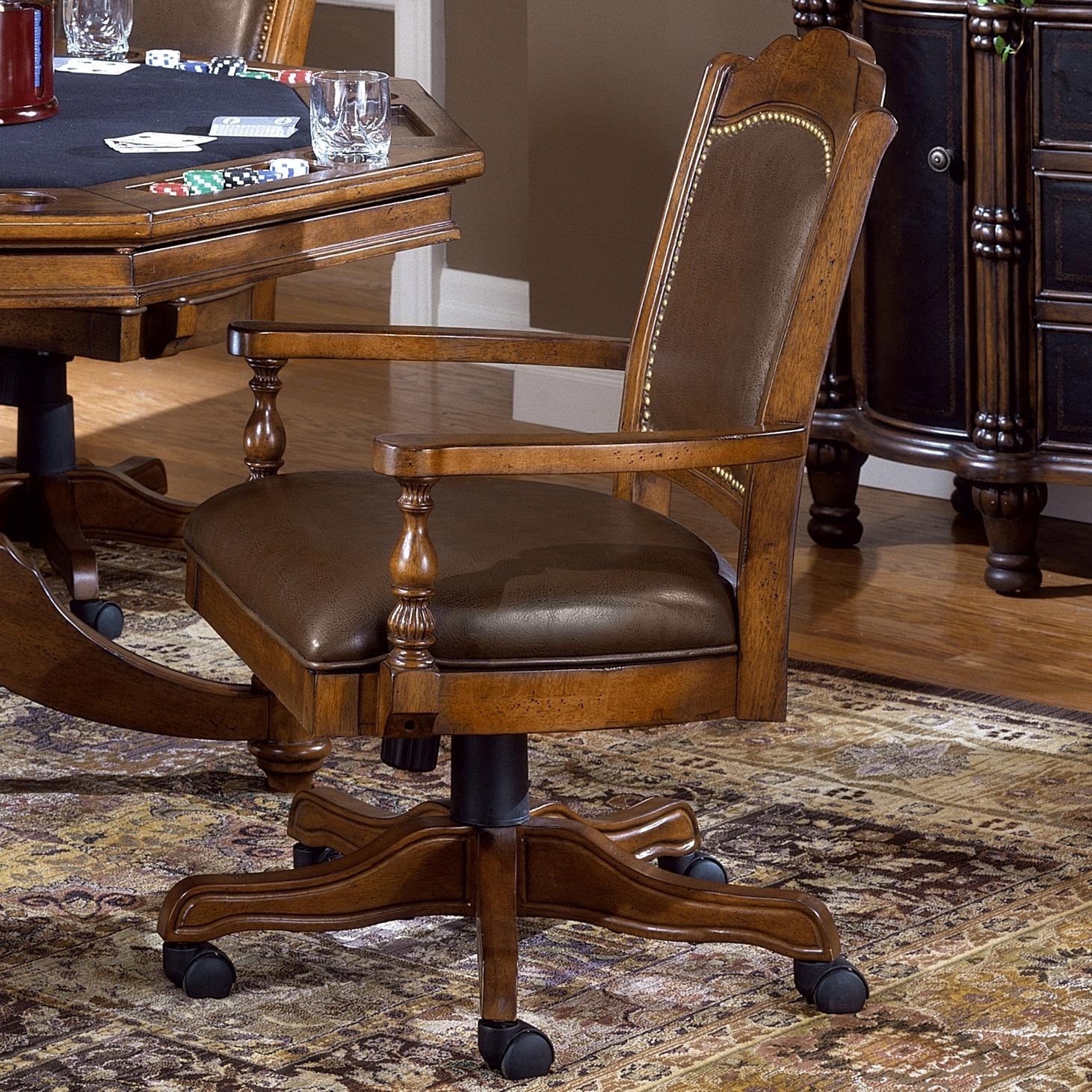 To lend a traditional feel to your gain room while maintaining modern functionality, take a closer look at this game chair. It moves freely around on rolling casters, but its design was inspired by traditional findings.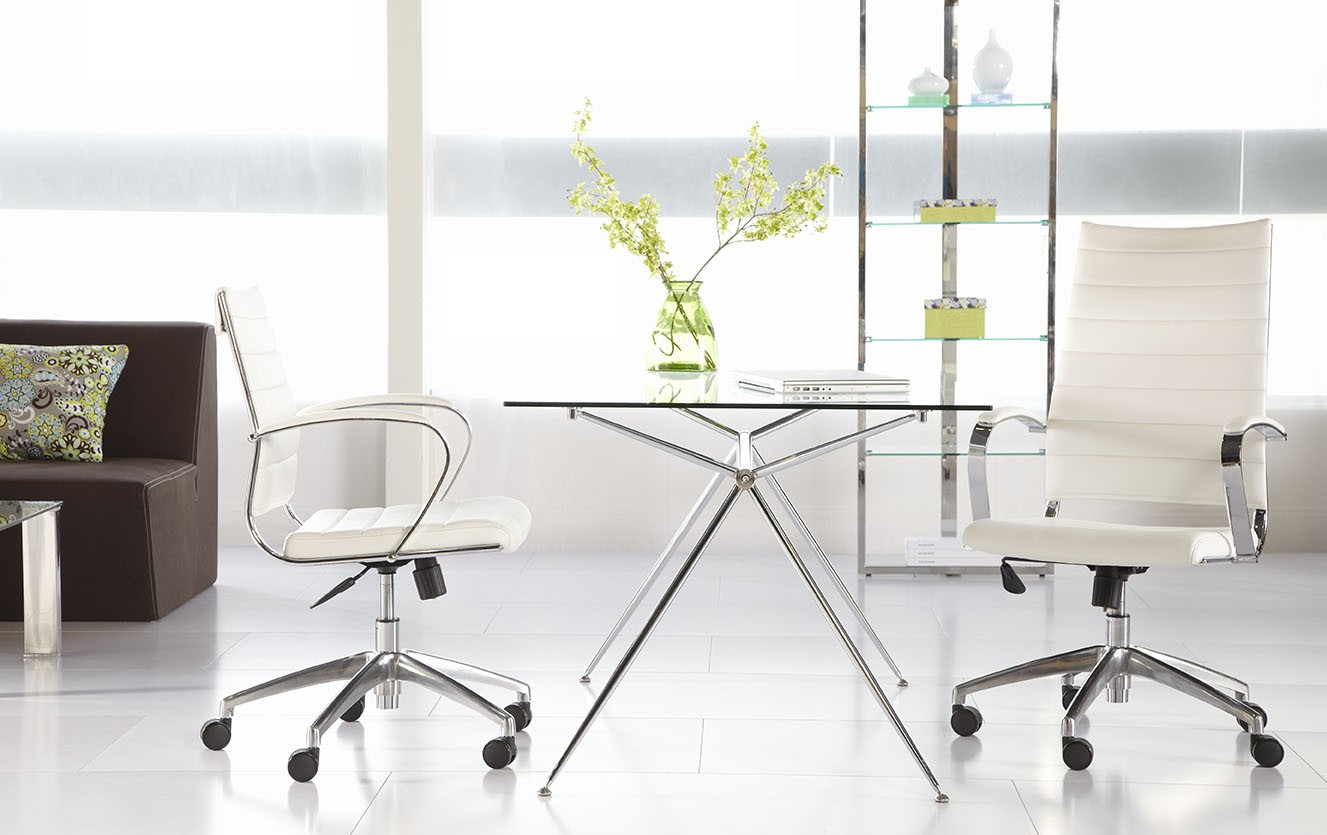 It is a low back office chair that is very elegant and has got a easy to clean leather upholstery, adjustable height and swivel function. This chair is available in two color options to choose: gray with aluminum and white with aluminum.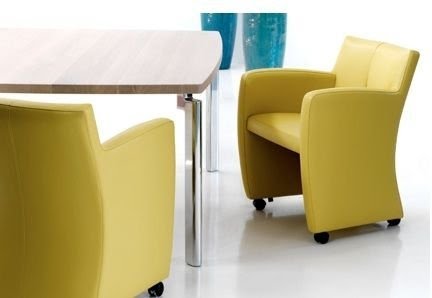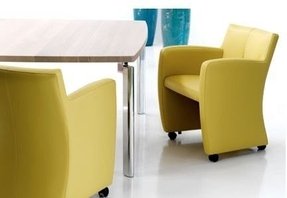 Mid-century composition of contemporary furniture, with a modern dining table with aluminum, chromed legs and a smooth, walnut surface on the top which nicely fits in with the retro, yellow dining chairs on wheels.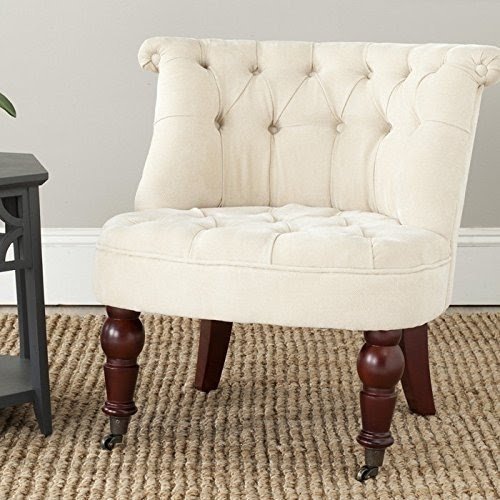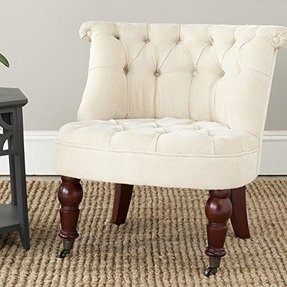 Tufted chair merging traditional vibe with contemporary convenience. Front legs are turned for style, but they are also equipped with casters - this feature makes the chair more mobile. Chocolate brown base contrasts with ivory body padding.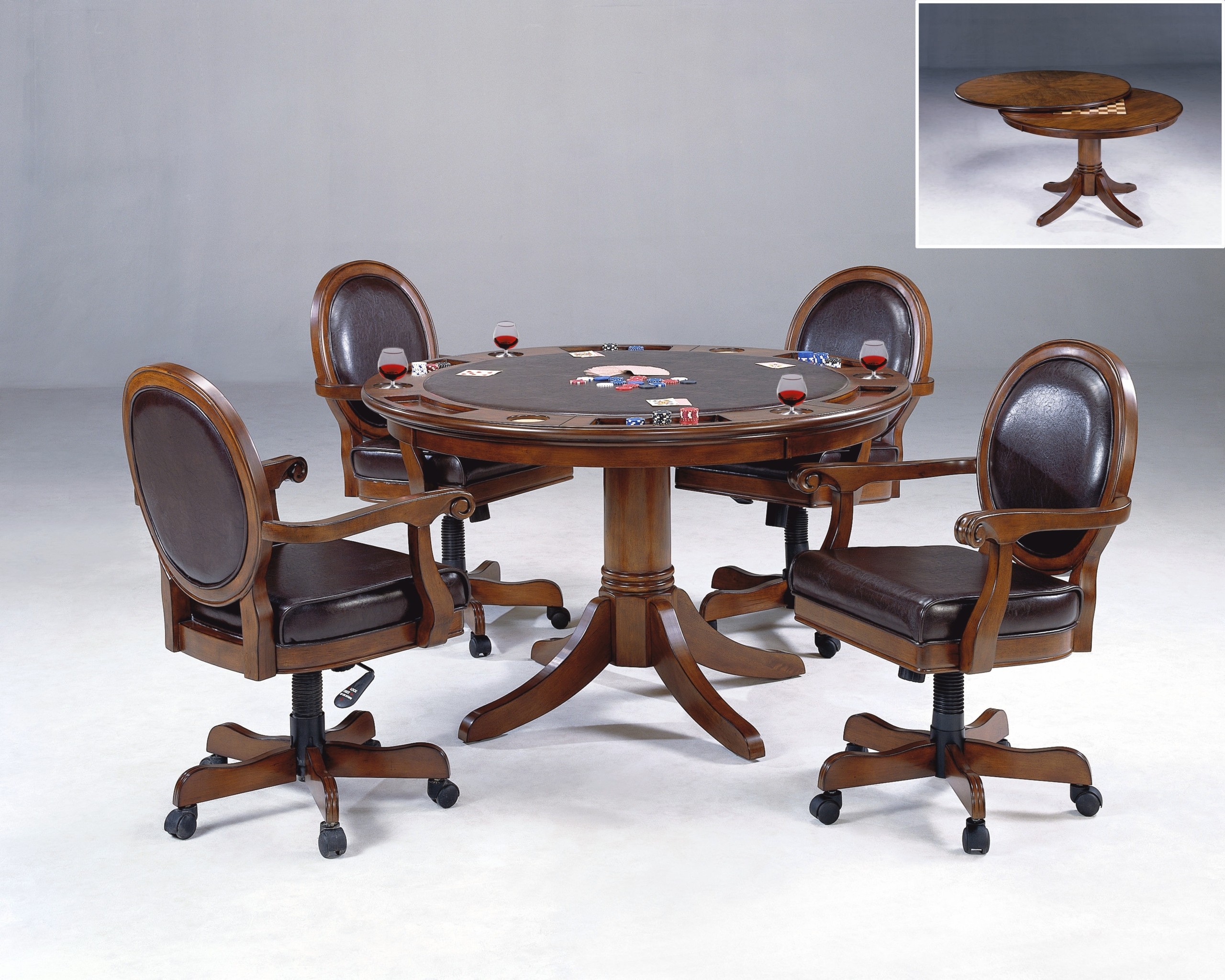 This kind of chair is a very convenient piece of furniture that has got a height and tilt regulation for personalized seating. The frame is made of durable wood with an attractive cherry finish and its size is 26W x 25.5D x 37H inches.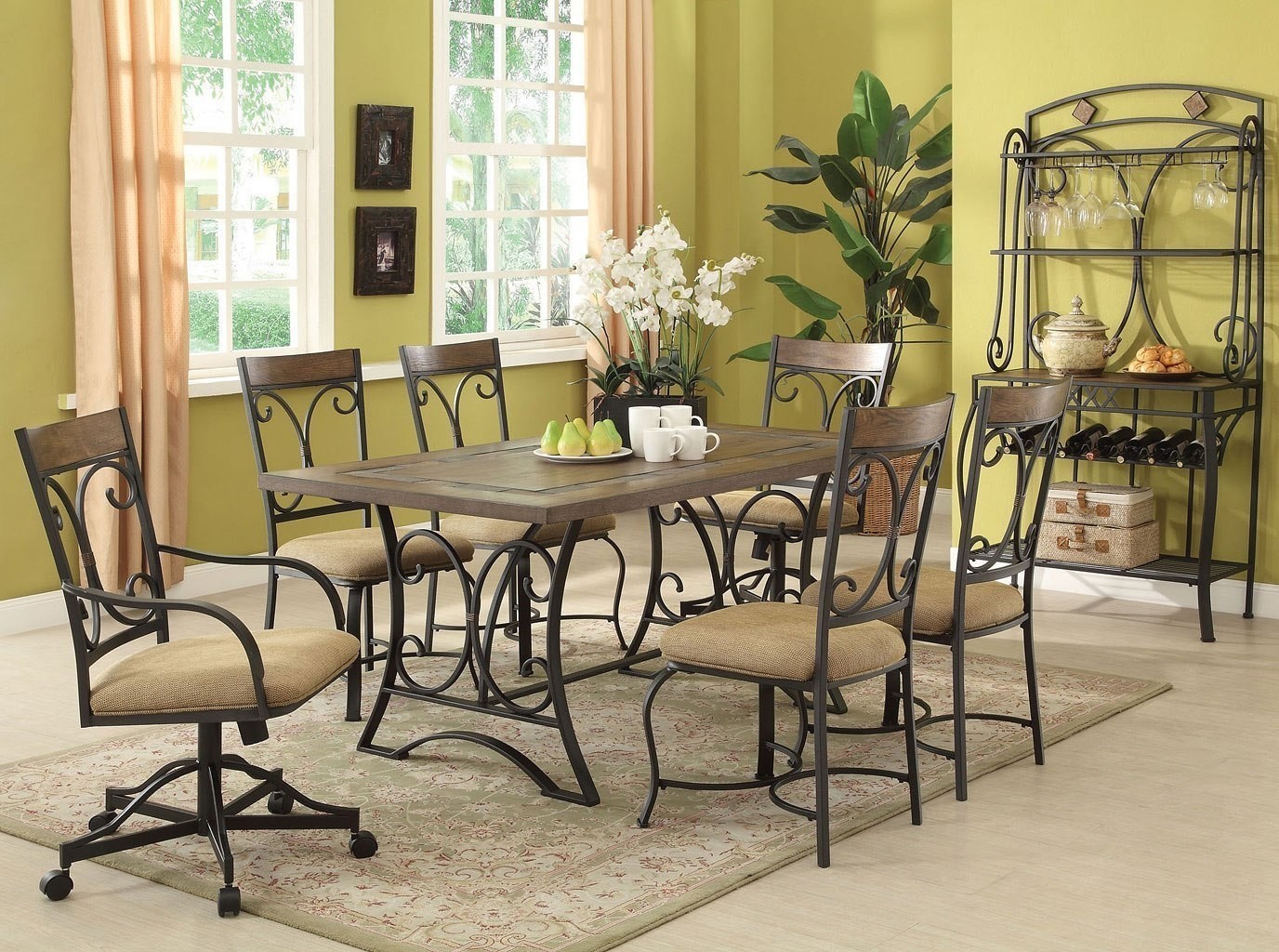 The rectangular table, two caster arm chairs and four side chairs are a perfect addition to your dining room. They have got a black finish and classic design. You need to have it.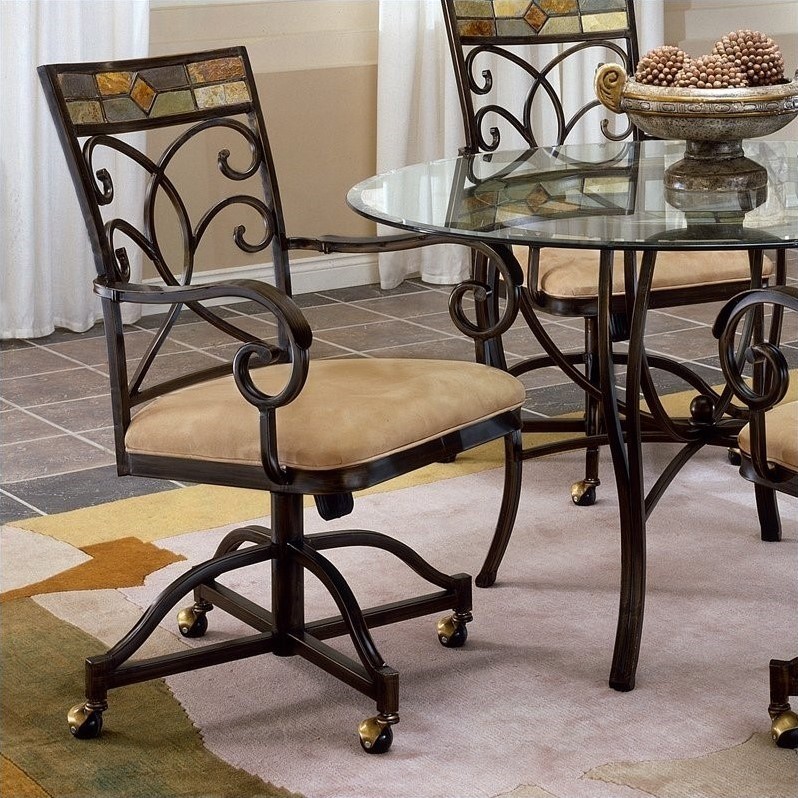 A very interesting piece of furniture that has got a functional and decorative role. It is a dining chair that has got a durable metal frame. Its seat has got a soft cushion and it is supported by arms and backrest.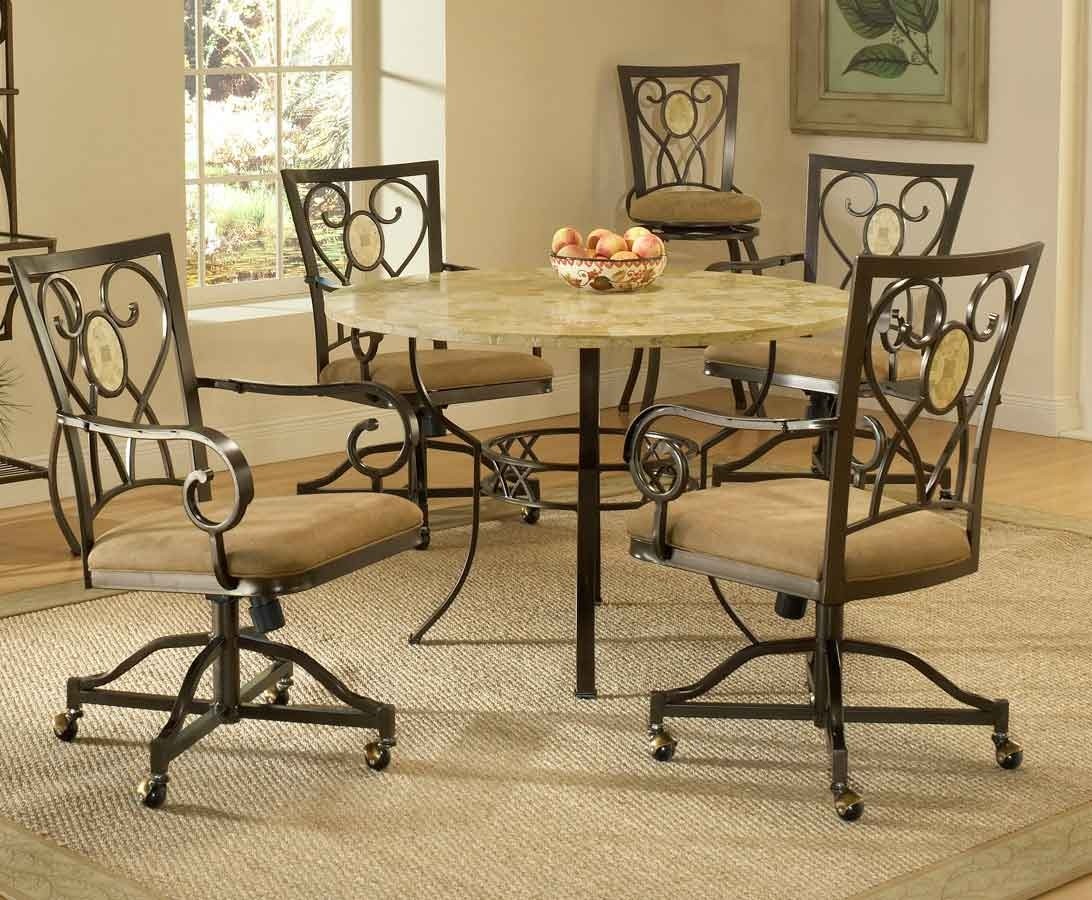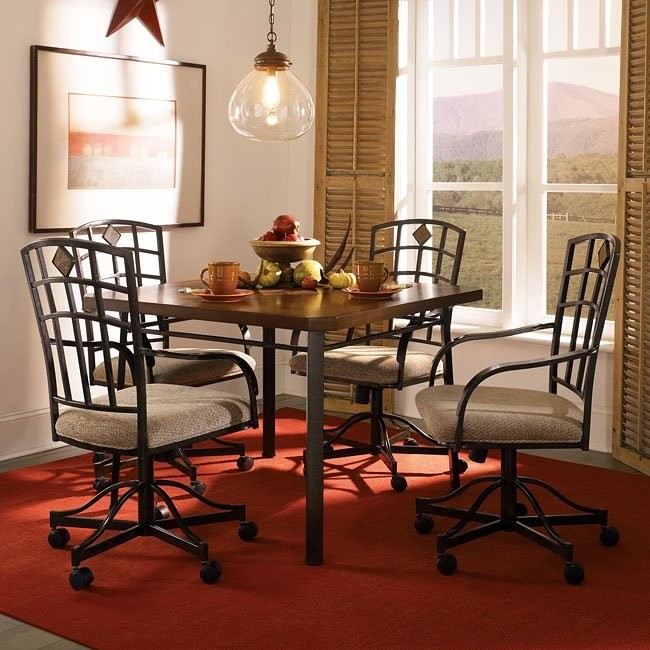 It is a 5-piece dining set that includes dining table and four arm chairs with casters. They have got a chocolate bronze crackle finish and soft tan fabric upholstery. This set is perfect for your everyday meals.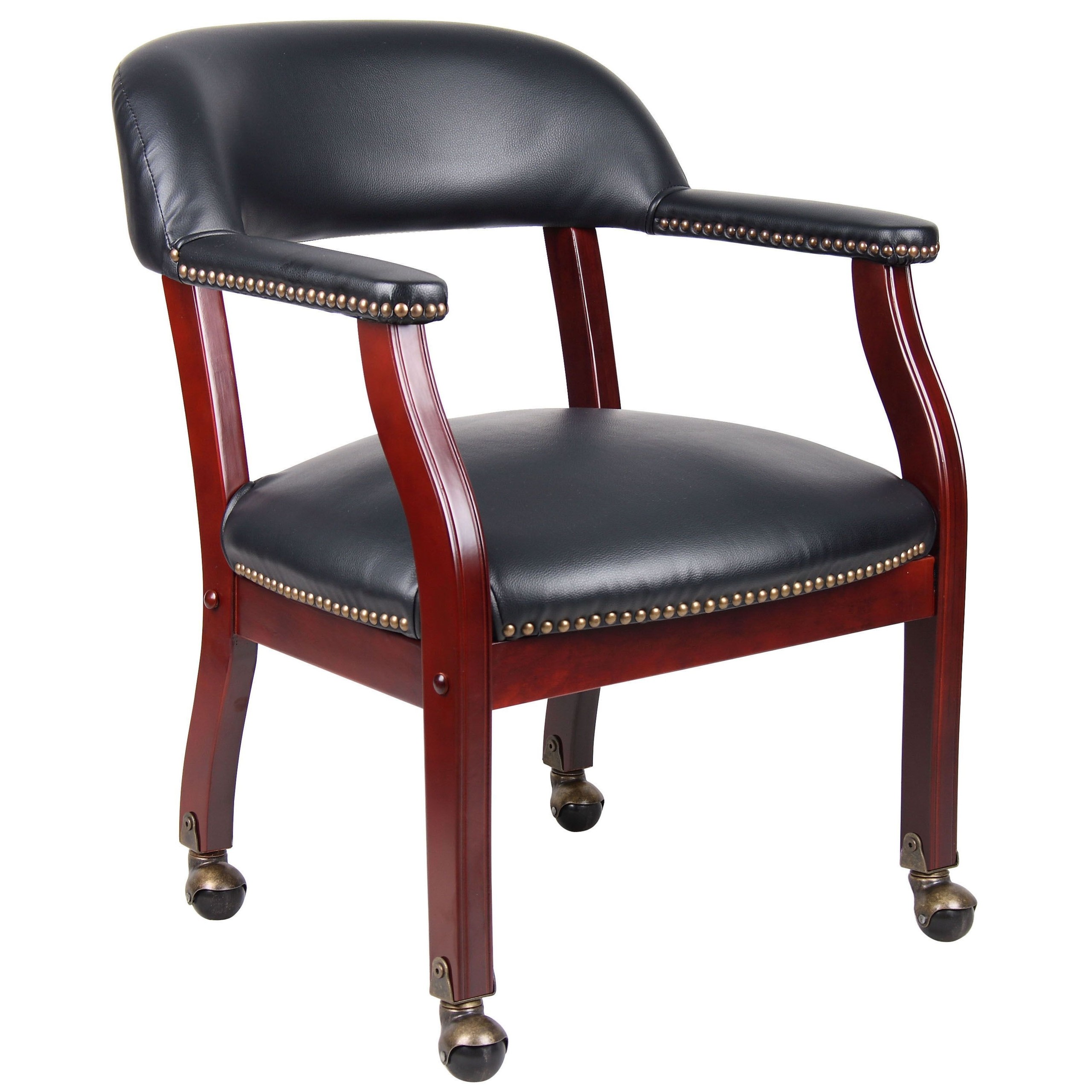 This astonishing captain's chair has a comfortable, padded seat and backrest upholstered with black vinyl and finished with decorative nails. Solid frame has a beautiful, mahogany finish and sturdy, hardwood construction.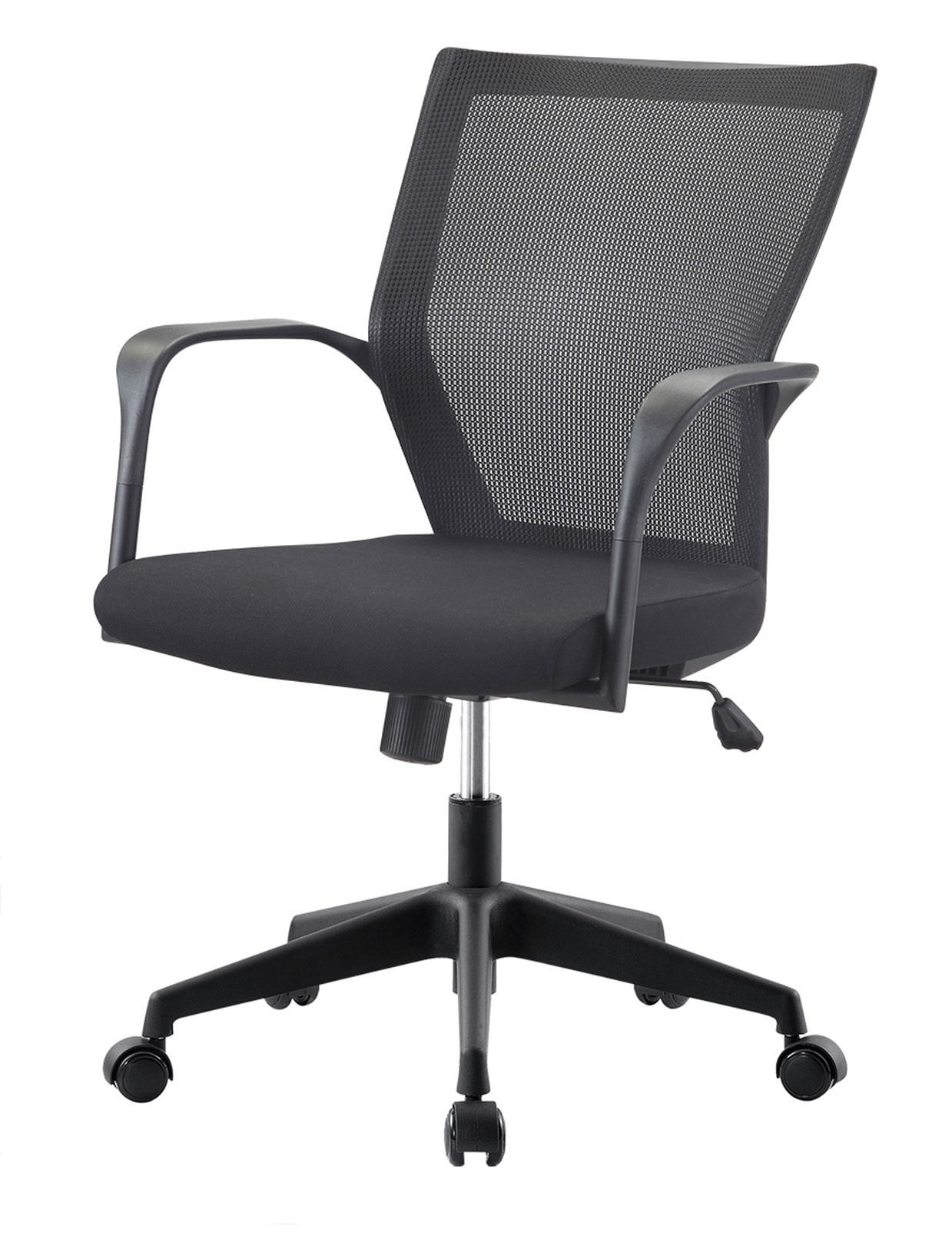 This type of product is a high quality office chair that has got a durable frame. It features a soft orange seat and a supportive backrest. The product is also equipped with a very convenient height regulation.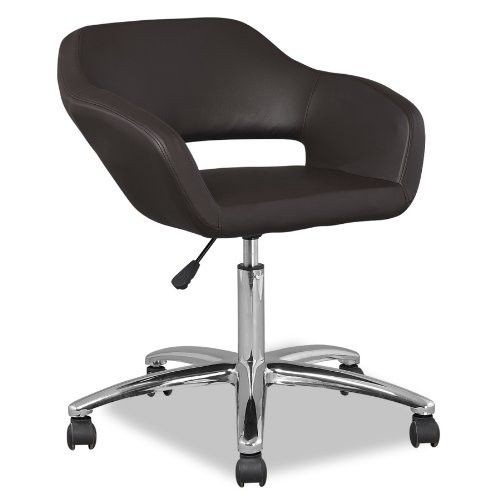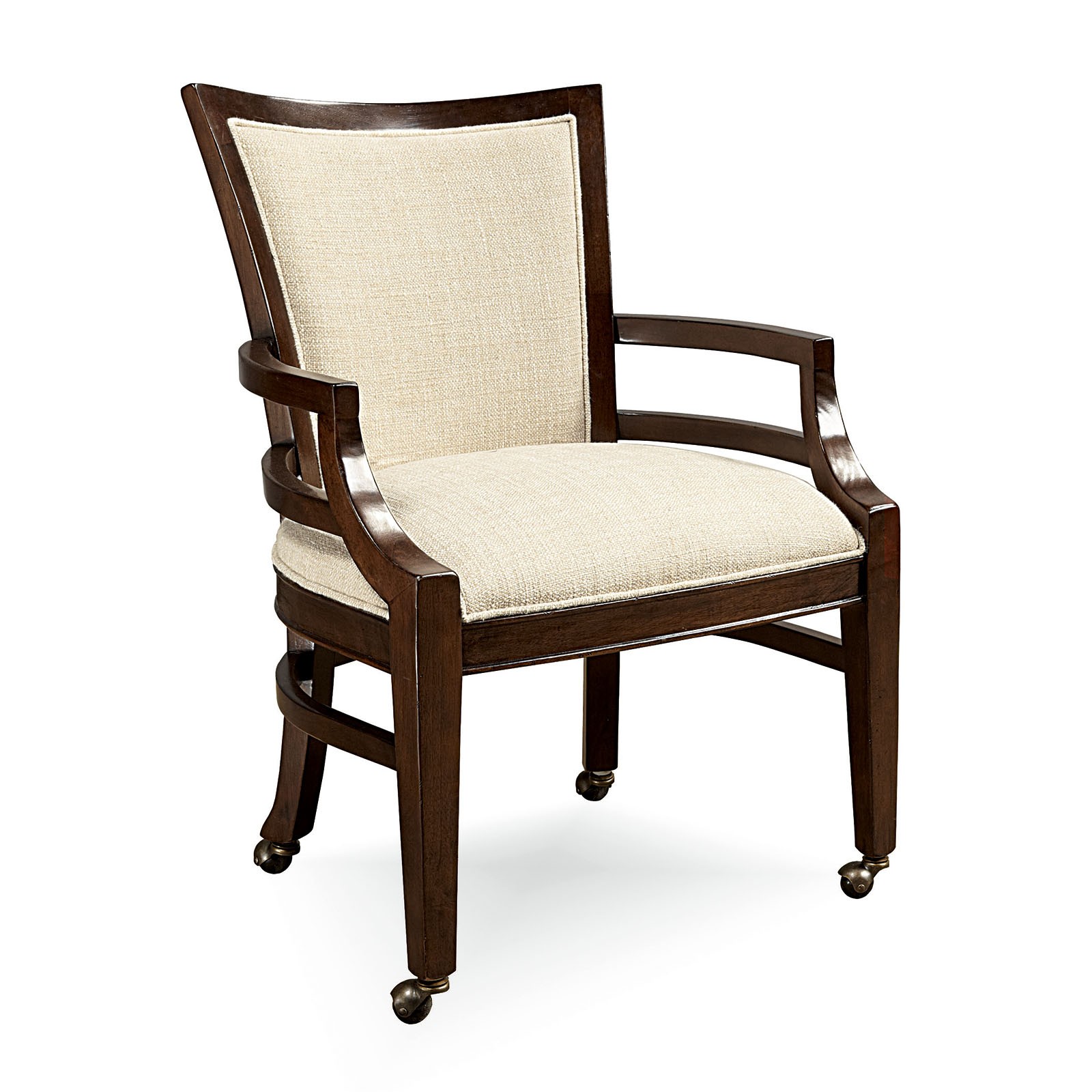 Latitudes Dining Chair with Casters at Hayneedle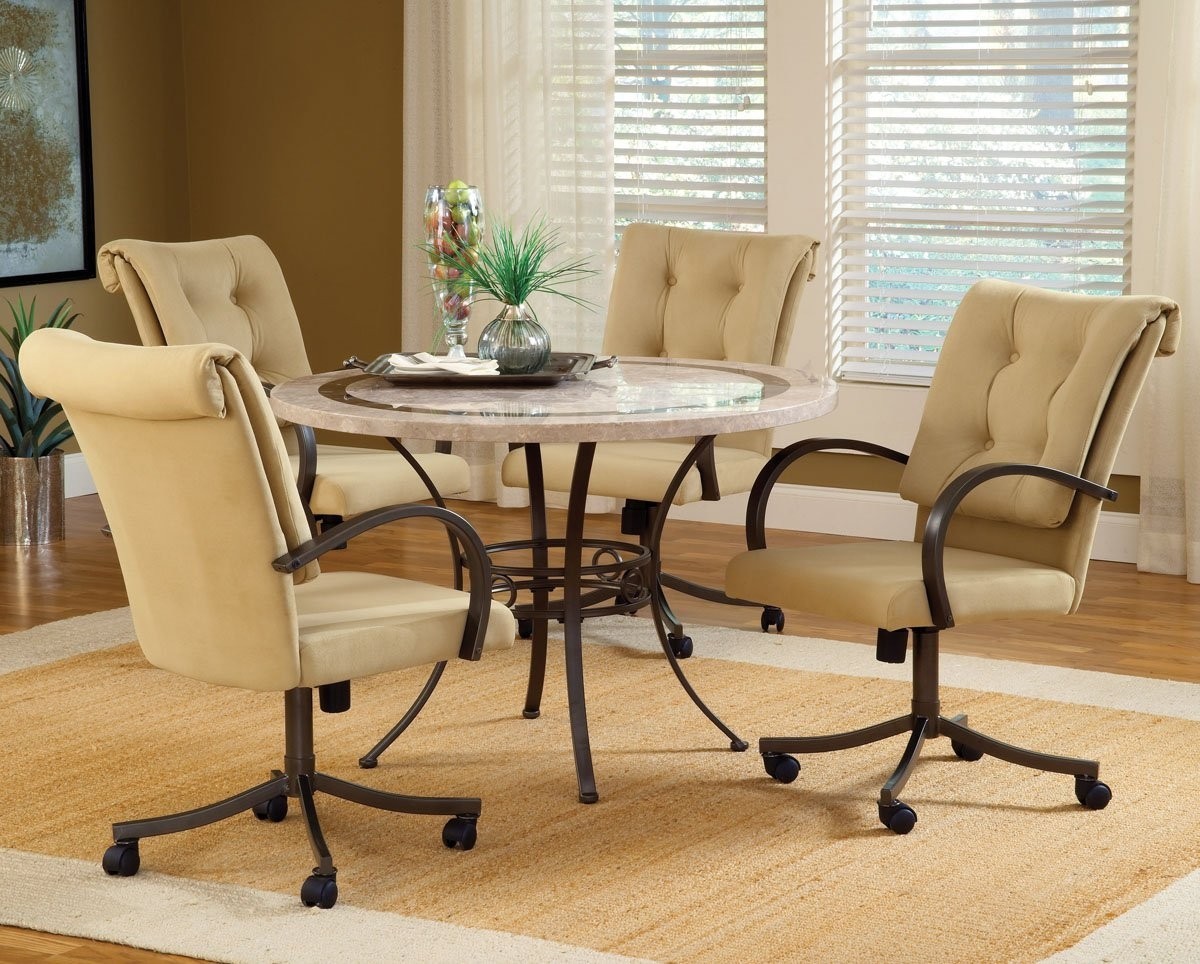 Dining Room Sets with Upholstered Chairs with Casters ...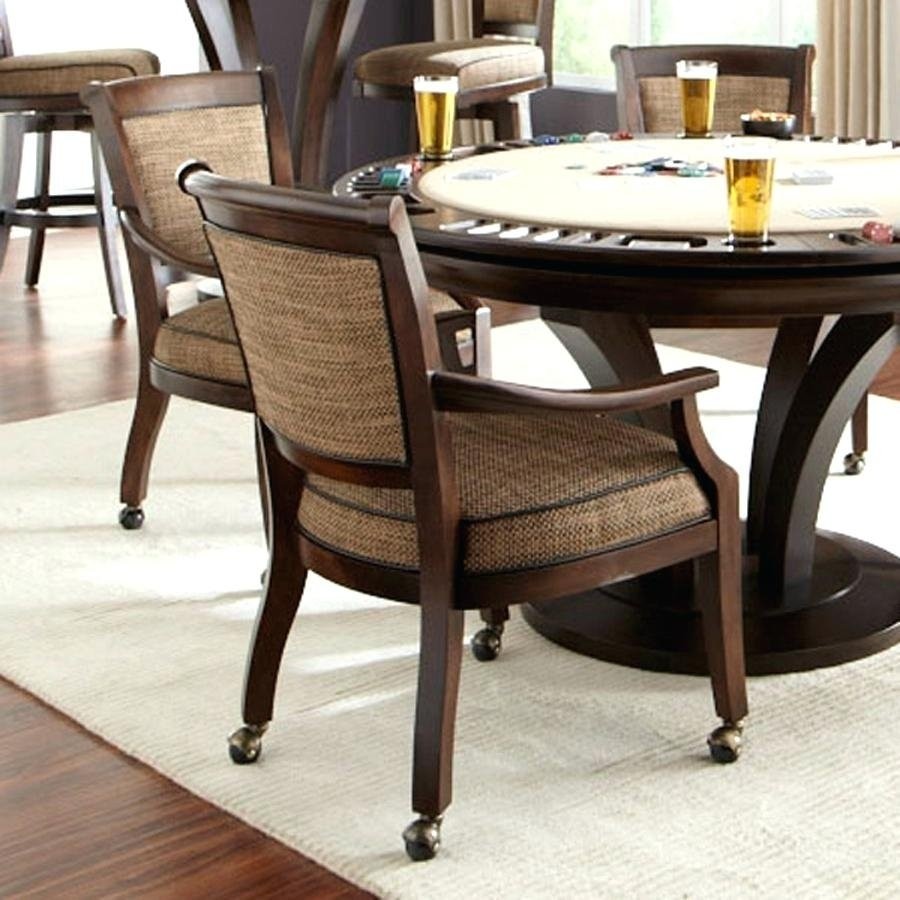 Dining Room Chairs With Wheels –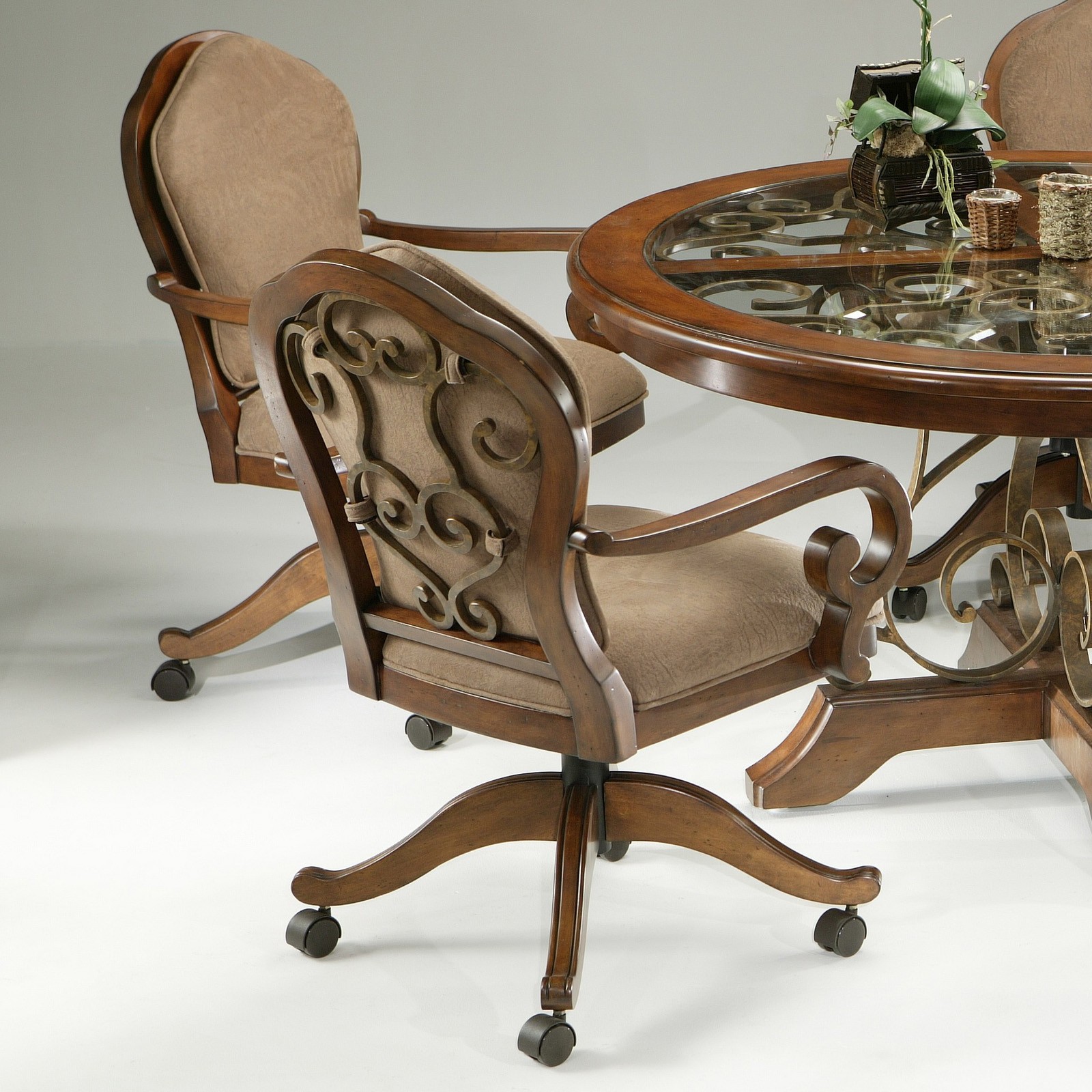 Pastel Carmel Caster Dining Chair at Hayneedle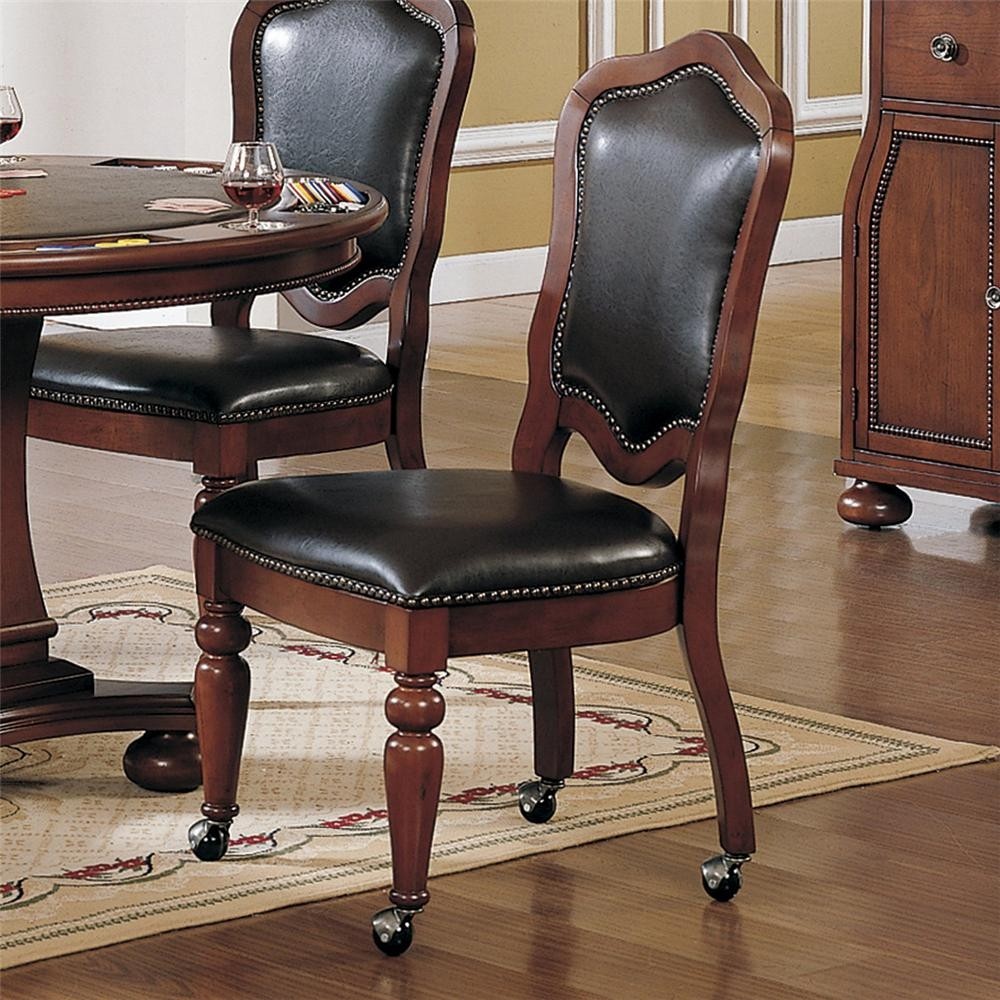 Cramco, Inc Timber Lane - Faran Brown Cherry Finish ...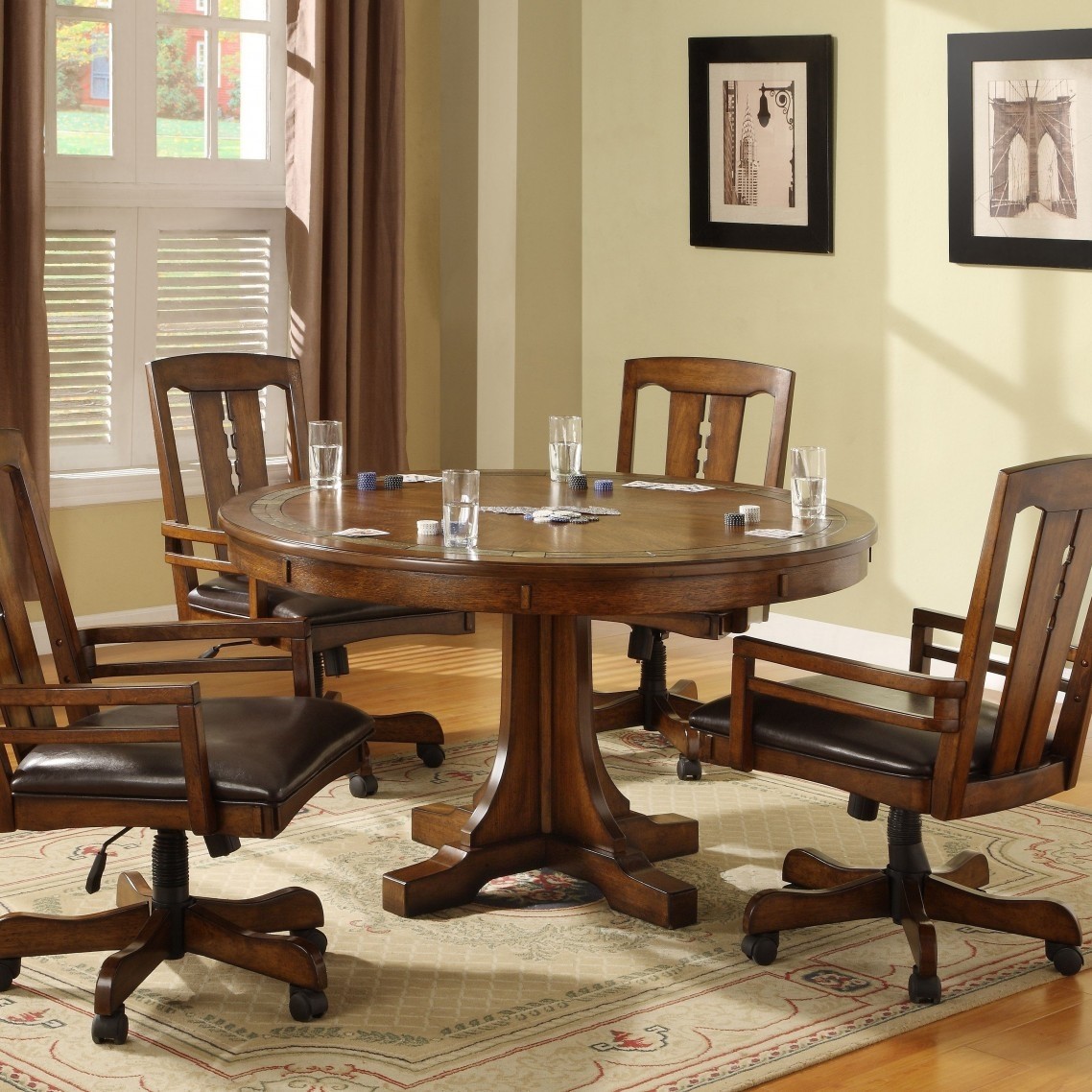 Kitchen Chairs With Wheels Images, Where to Buy? » Kitchen ...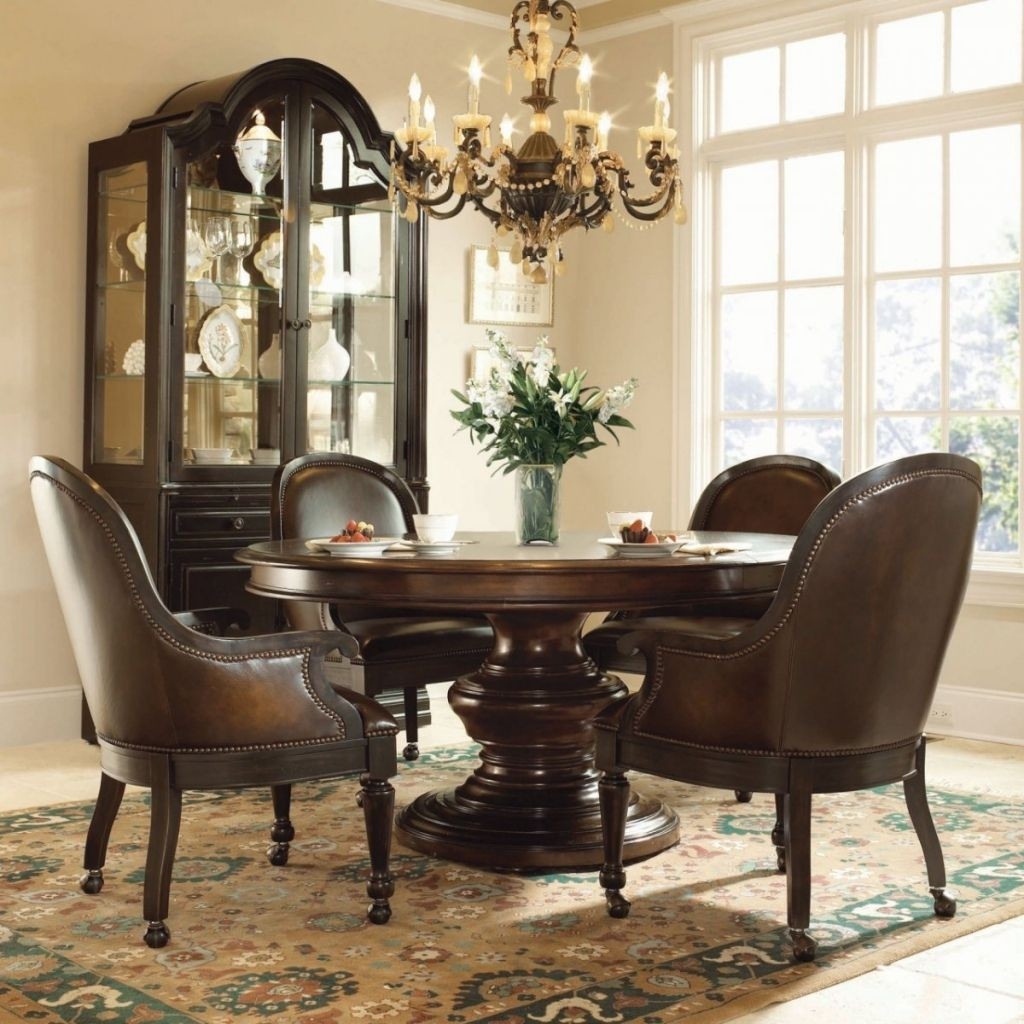 Best Dining Room Chairs With Leather Chair Casters ...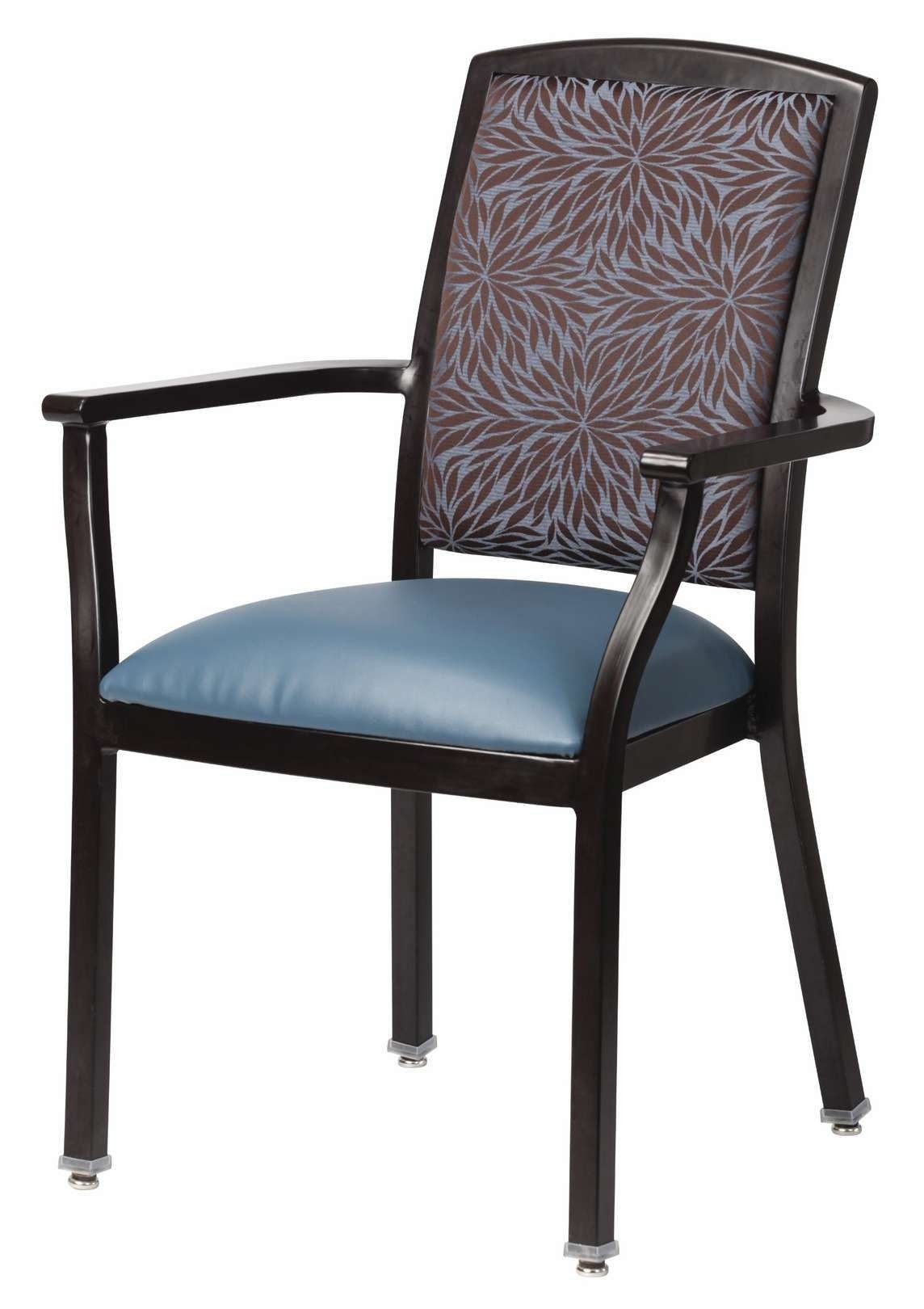 Elkhart Dining Chair with Front Casters | Maxwell Thomas ...