Dining Room Chairs With Casters
Whether you host often or your dining room is a multipurpose space, having dining room chairs with casters that are easy and effortless to move when needed can make a huge difference in your life. (It can also make a huge difference to your floors—no more unsightly scratches in your hardwood!)
For flexible dining spaces that can adapt to the events on your calendar and your home projects, look no further than dining chairs on wheels. These smart, stylish options can help you transform your room, rearrange seating, clean without obstructions, and more!
If you're worried that a dining chair with wheels might look unsightly, we've got news for you. These pieces of furniture are widely available with subtle wheels that will blend in with your preferred aesthetic.
Want to see what we mean? Here are 15 kitchen table chairs with wheels to choose from...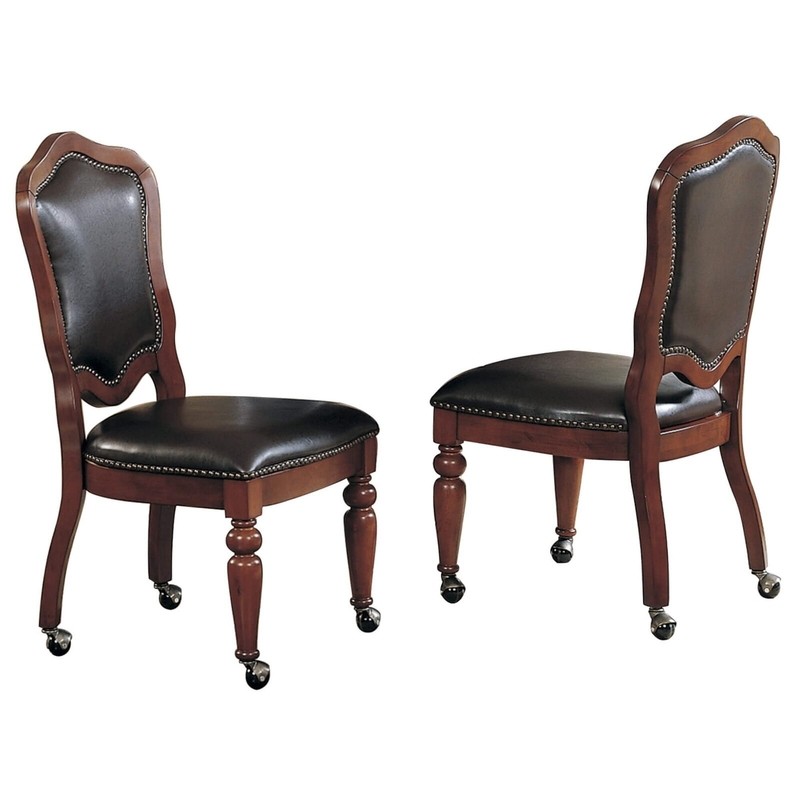 Set of 2 kitchen chairs with casters

It's rare that you only need one kitchen or dining room chair. Yet, somehow, it can also be hard to find matching sets of specific pieces like these.
Worry no more—you can find high-quality wheeled kitchen chairs in sets of 2, 4, and more. Even better, when you buy a set, you're usually going to save money per chair.
$465 $1914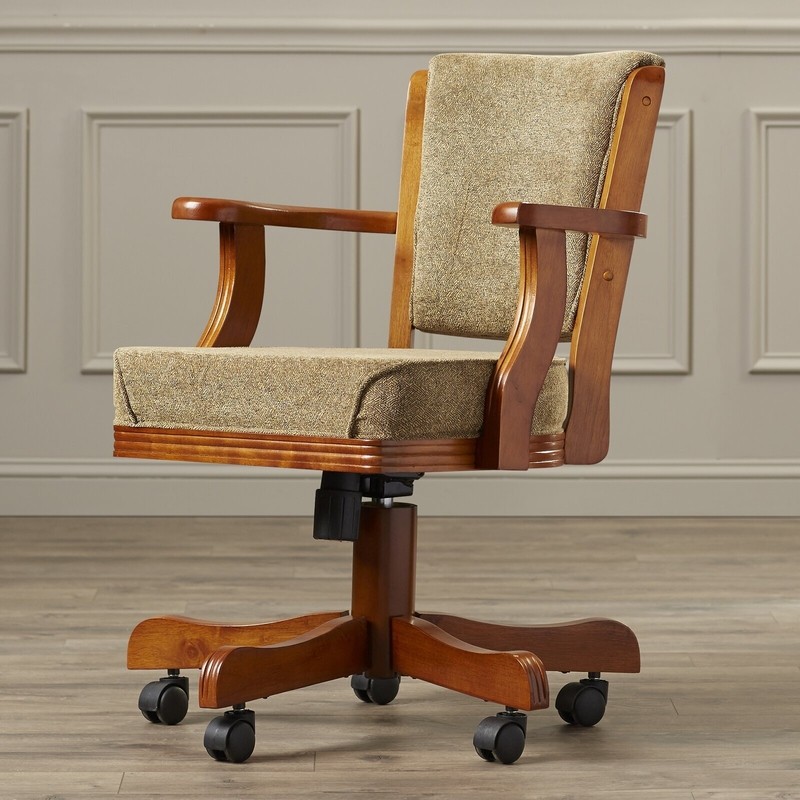 Upholstered, wooden dining chairs on rollers

Traditional chairs, just on wheels: that's the best of both worlds, right?
There's a whole market of vintage, comfortable, hardwood chairs that have simply been upgraded with a smooth set of casters. These are an excellent choice if you're looking for versatility in your home…but without losing the antique vibe you've worked hard to establish.
$499.99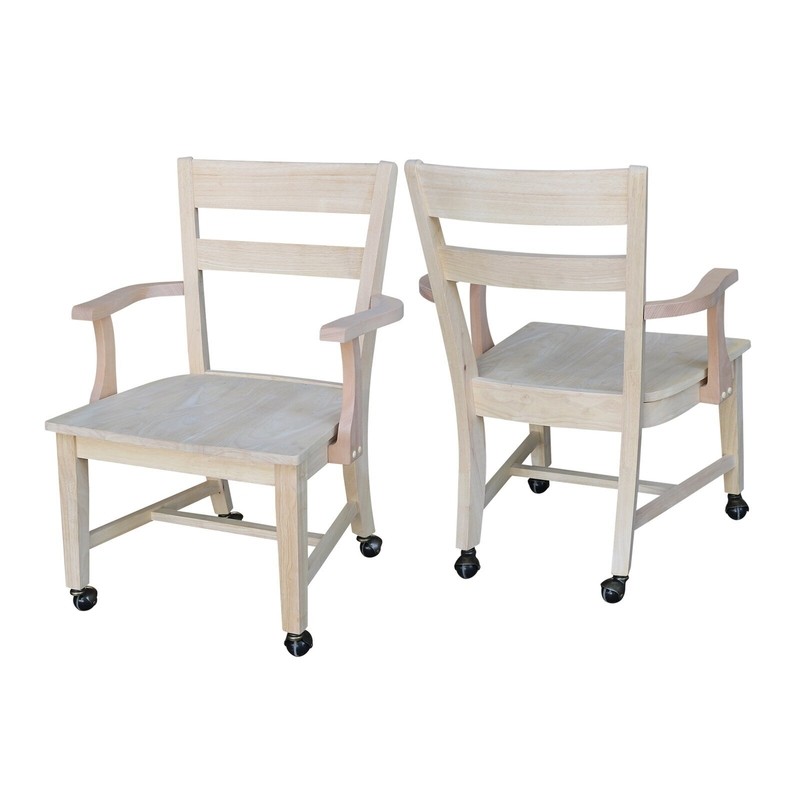 Kitchen table chairs with wheels

Maybe practical minimalism is more your thing. Look for a modern, simple set of hardwood chairs!
These types of wheeled chairs come with a variety of paint washes, and their clean straight lines mean that they can mesh with any type of decor. They're also great for DIY projects—you can think of them as a blank canvas that you can upgrade in any way you want!
$219.99 $299.99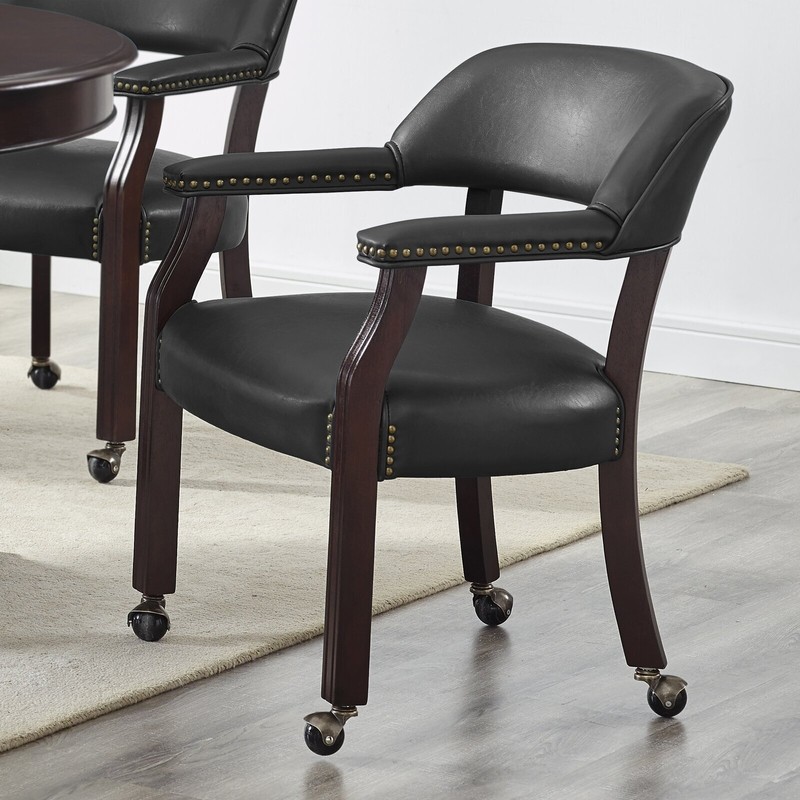 Leather dining chair on casters

Who said rolling chairs had to be utilitarian? With easy-to-clean faux leather upholstery, these dining chairs are easy-to-clean for any drips or spills that may happen around your table.
We like leather chair backs that have a vent at the base, too—this helps add visual interest to your space, as well as comfort on even the hottest of summer days.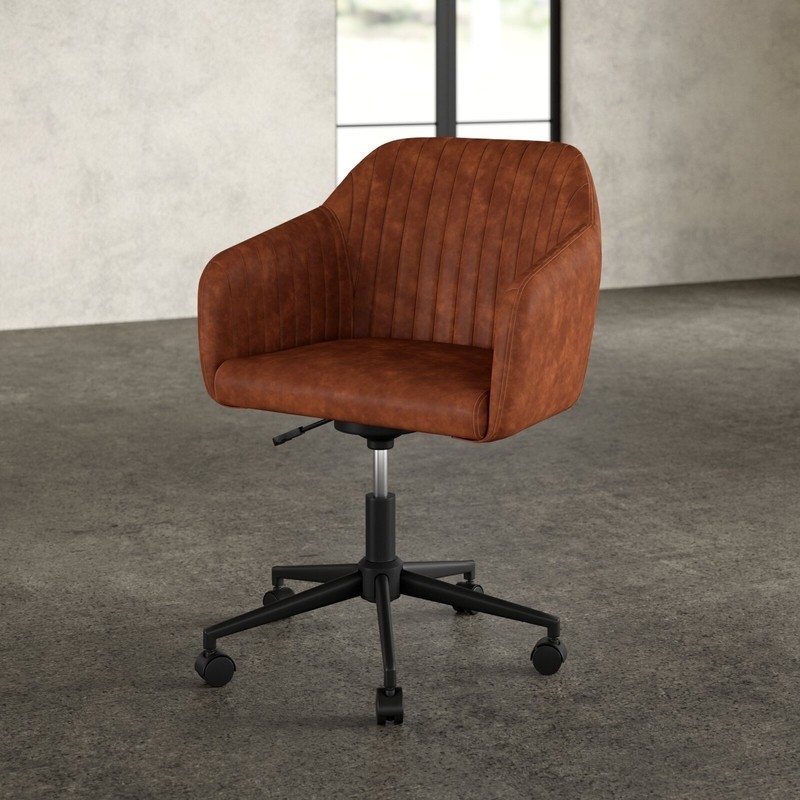 Rolling dining chairs with mid century modern flair

When you want a chair with casters that also looks like a vintage hand-me-down, this type is your best bet.
With soft, supple upholstery material that's stitched into interesting textures and patterns, this type of chair will look high-end but remain very simple to use.
$132.99 $150.99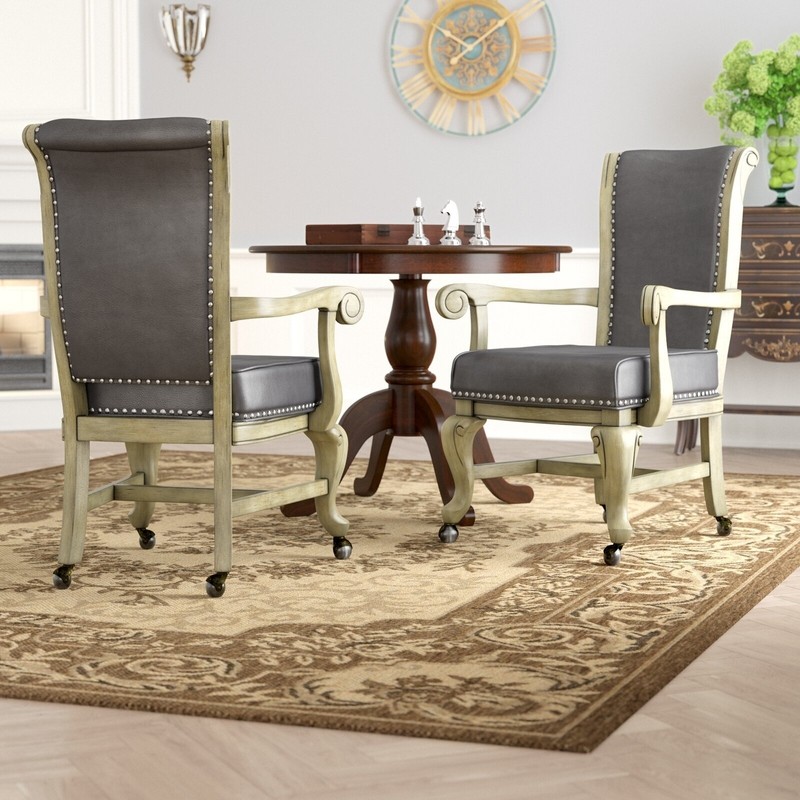 Wheeled dining chairs with arms

If you've found your side chairs—the ones that go along the long sides of a rectangular dining table—you might wonder what to put at the ends of your table.
Wonder no more. With armchairs that have casters on their legs, you can easily select a comfortable, statement-making chair for the ends of your table that can allow you to enjoy meals or work at your table in style.
$410 $819.99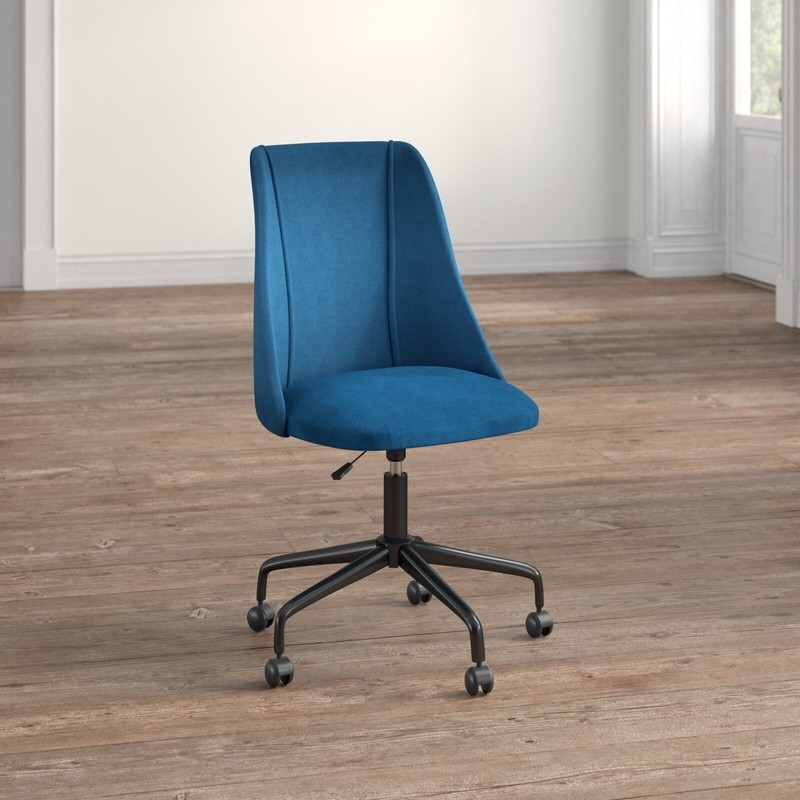 Slim, low profile kitchen chairs on wheels

Want to make sure that your chairs take up as little space as possible?
Wheeled chairs don't have to have a large footprint. In fact, it's possible to make a large style statement with a tiny amount of space.
Enter a kitchen or dining room chair with no arms and a tall but slim back. These types of chairs look great but won't clutter up your home!
$129.99 $169.99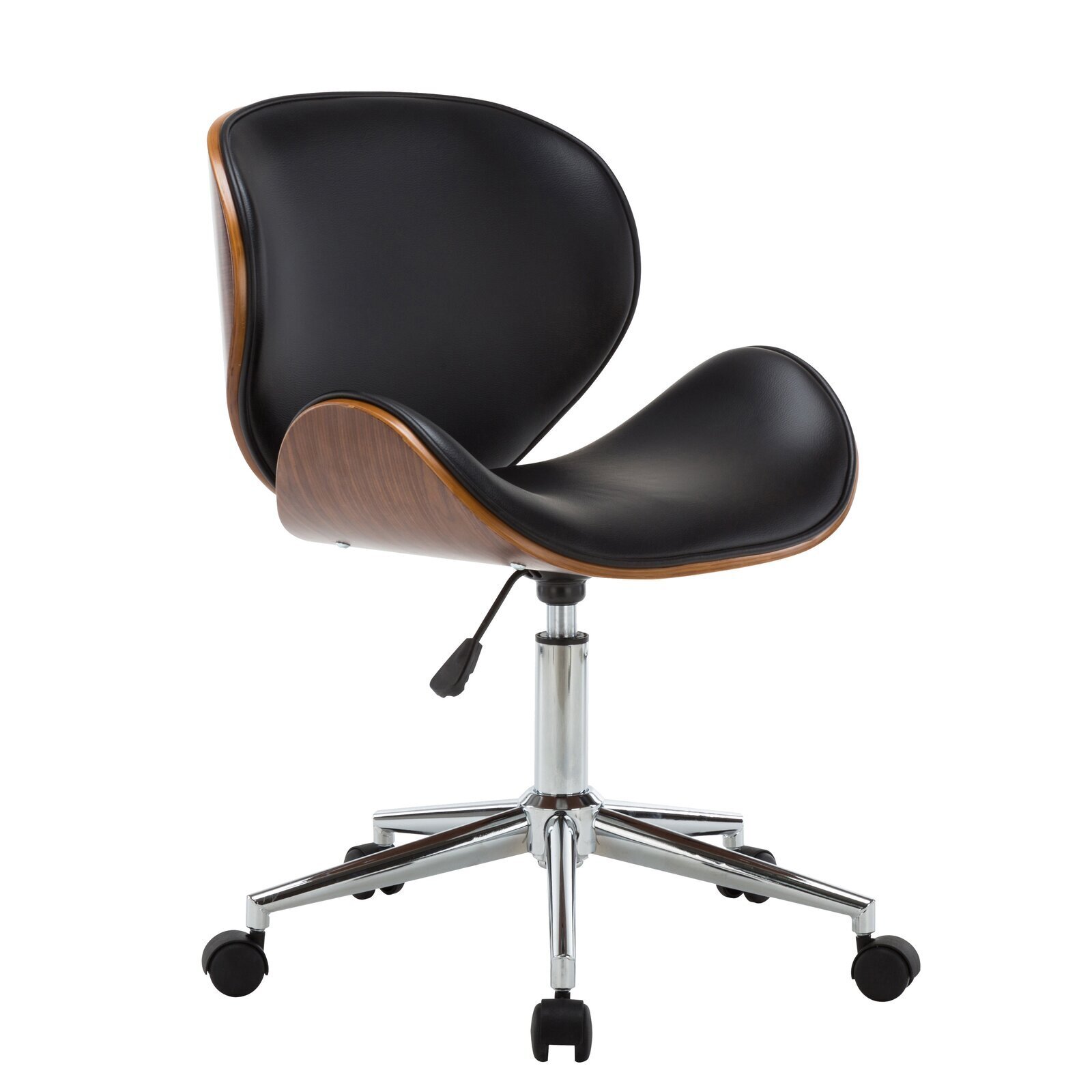 Eames caster dining chairs

Want to recreate the classic Eames-style chair around your dining table? Whether you want white or black upholstery, no matter which type of wood finish you want, there's an Eames-style chair for you.
This artistic style of chair looks great with modern and minimalistic aesthetics, perfect if you're looking for the easy use of a wheeled chair but don't want your home to feel clunky or over cluttered.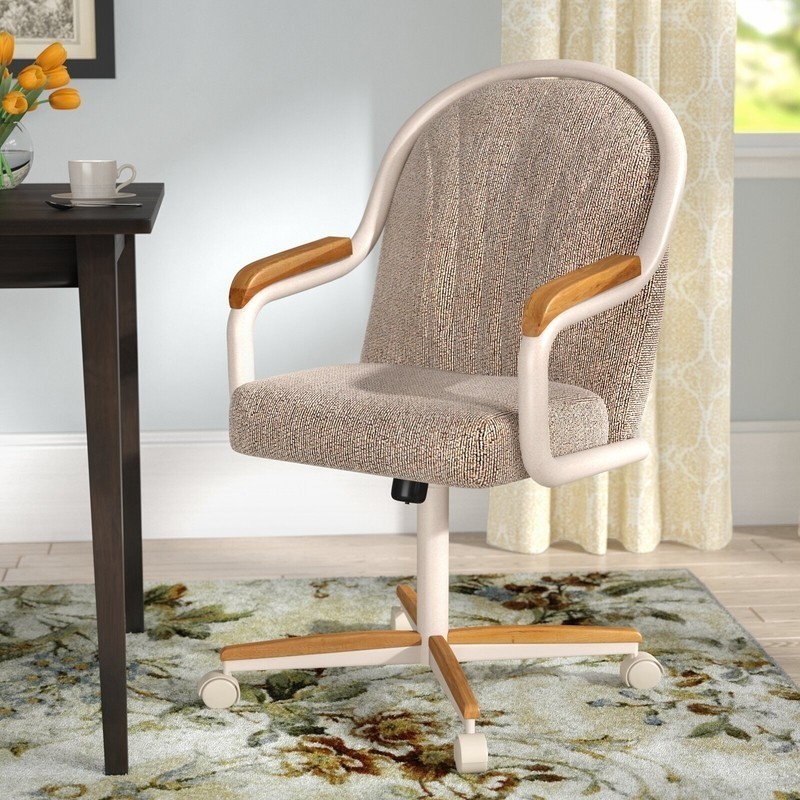 Mixed material kitchen chairs with rollers

Mixed materials, neutral, natural tones, and wooden accents on upholstered pieces: If you want to add a lot of visual interest to your space without making your home look too busy, these mixed-material chairs are the way to go.
Just make sure that the largest block of color or material on your chosen caster chair is also represented in your dining room, just so there's a visual connection. This will help your room look thought-out and cohesive—always a plus.
$246.44 $300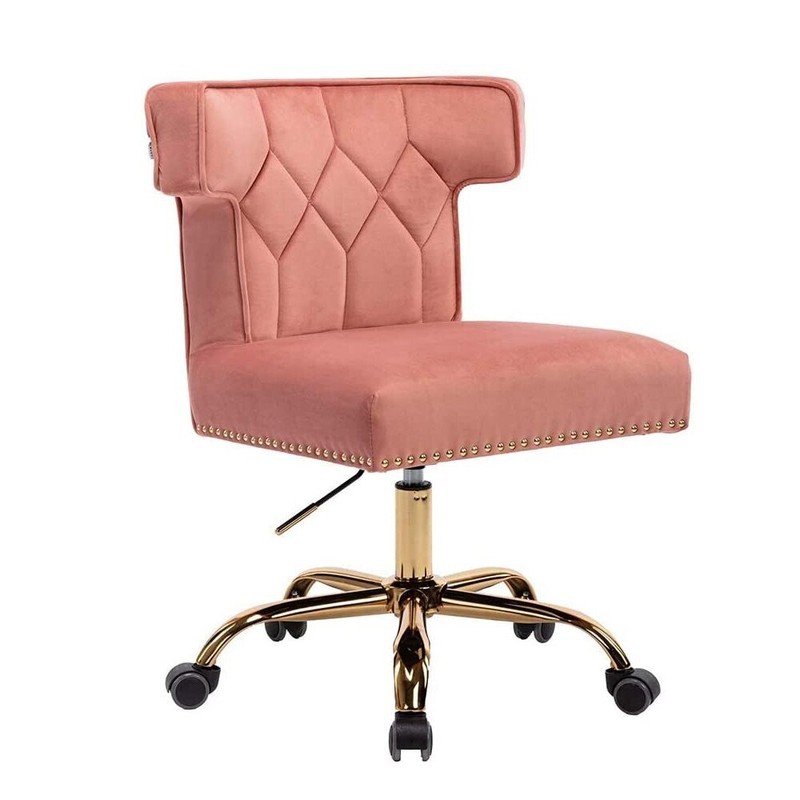 Wingback velvet chairs with casters

We've saved the most extravagant for last! Wheeled chairs don't have to be merely utilitarian.
With these velvet, upholstered, embroidered and tufted chairs, your home can look and feel lush and luxurious while you still enjoy all of the versatile benefits of easy-to-move chairs.
(As a bonus, these types of chairs tend to provide more lumbar support than a more simple chair, too—a win for your back and your aesthetic!)
$299.99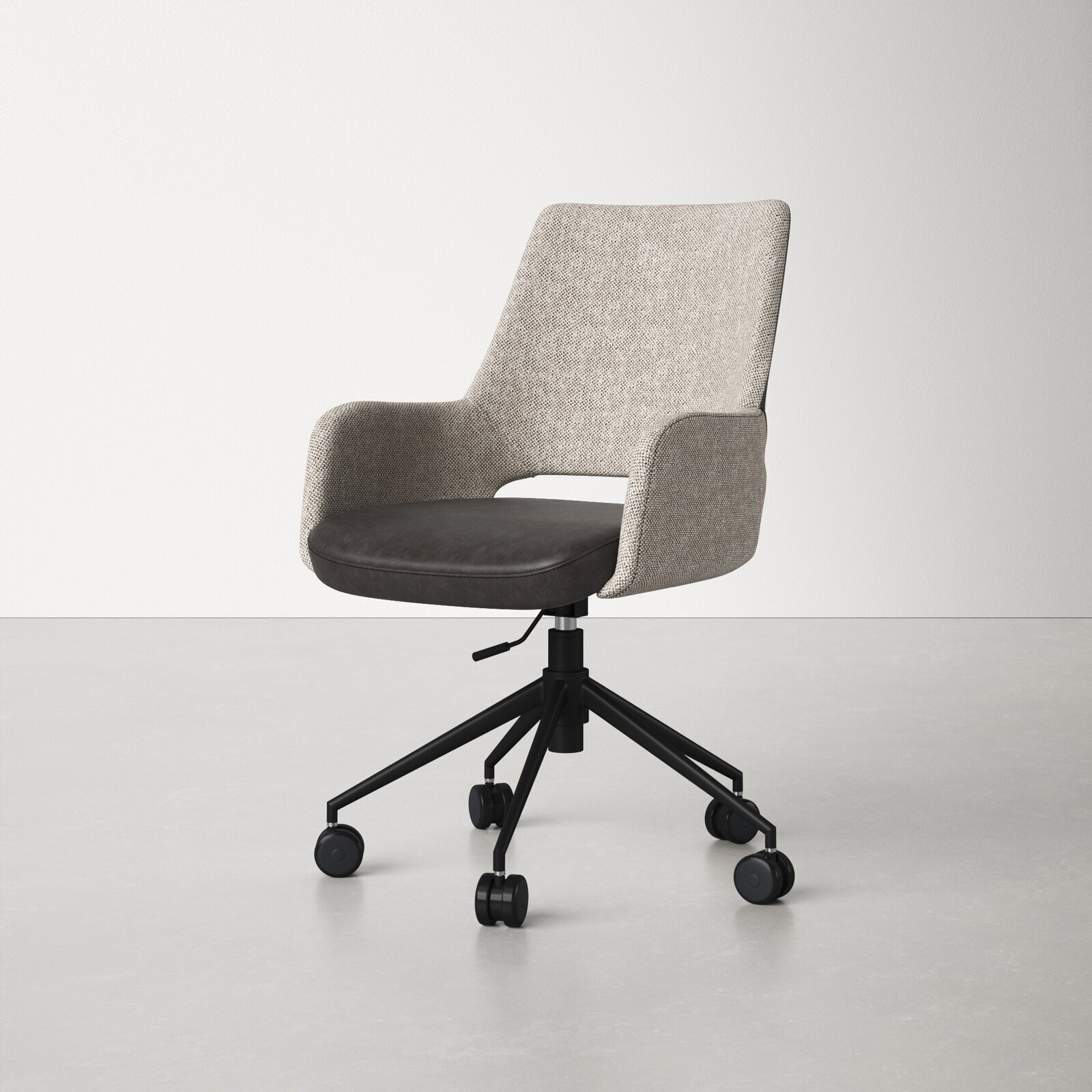 Fabric covered sculptural wheeled dining chairs

Upholstered doesn't have to mean simply vintage. If you're looking for a soft fabric look but don't want inches of plush, select a leather-and-fabric-covered chair that's comfortable and still has a simple, timeless silhouette.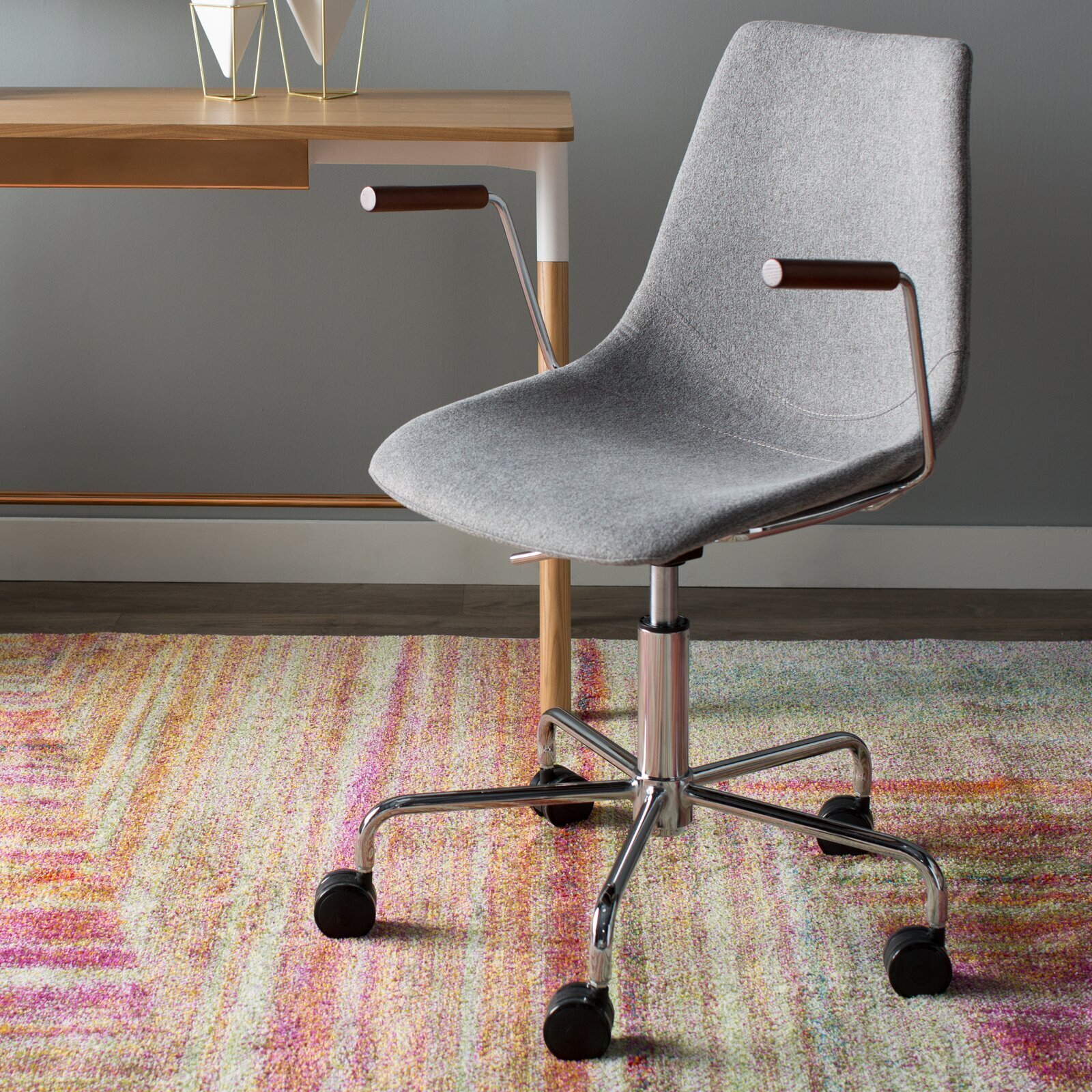 Dining chair on casters with streamlined armrests

Whether you're using your dining table for work, food, or play, you need support to last you through decadent meals and exquisite conversation.
Armrests don't have to be huge, either—we're seeing lots of simpler armrest options that make it easy to relax at the table while still ensuring everyone has adequate elbow room.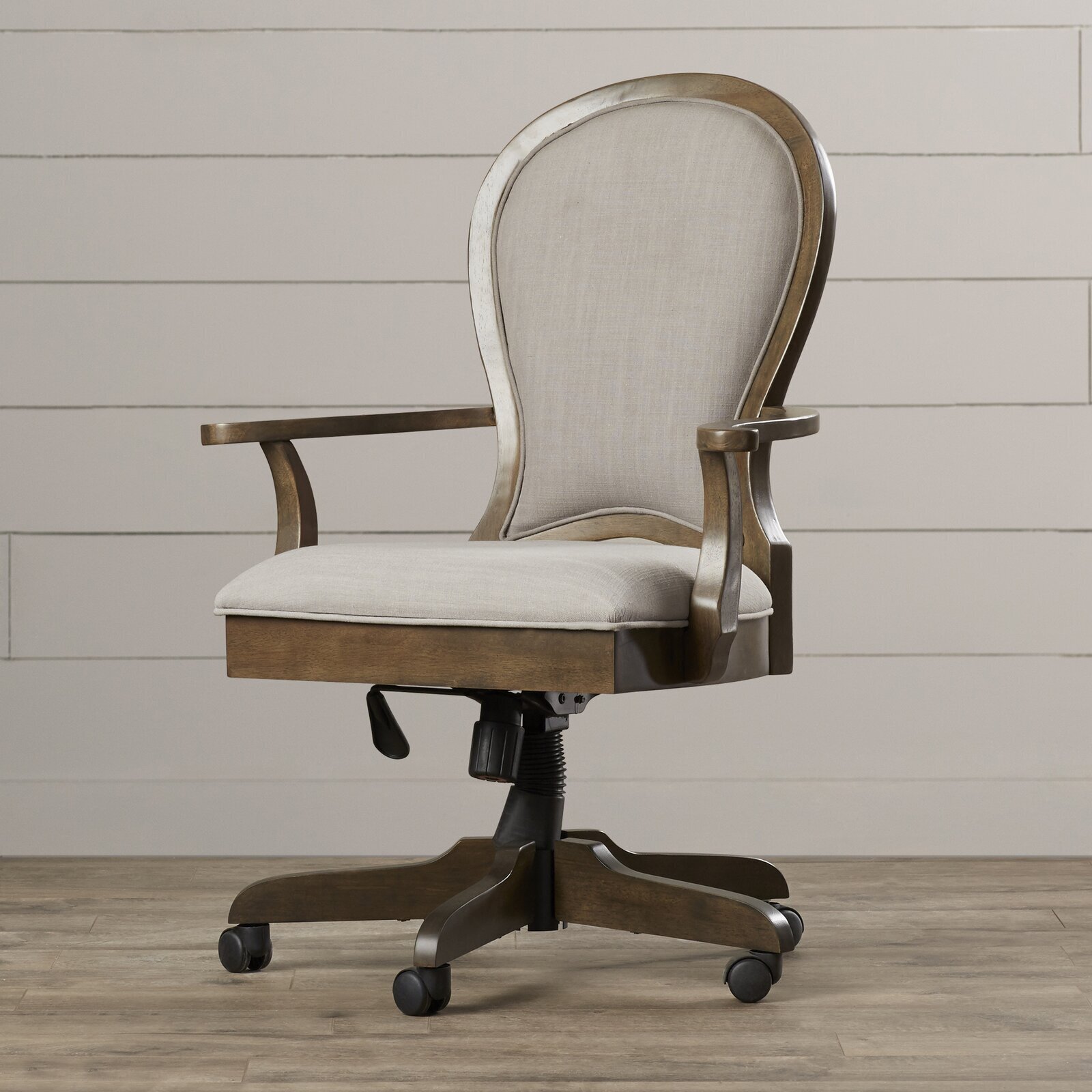 Plush victorian style dining chairs on wheels

Maybe you are looking for that traditional round-backed chair appeal!
Select a dark wood chair with neutral, plush upholstery to add an instant dash of sophistication and antique vibes to your space.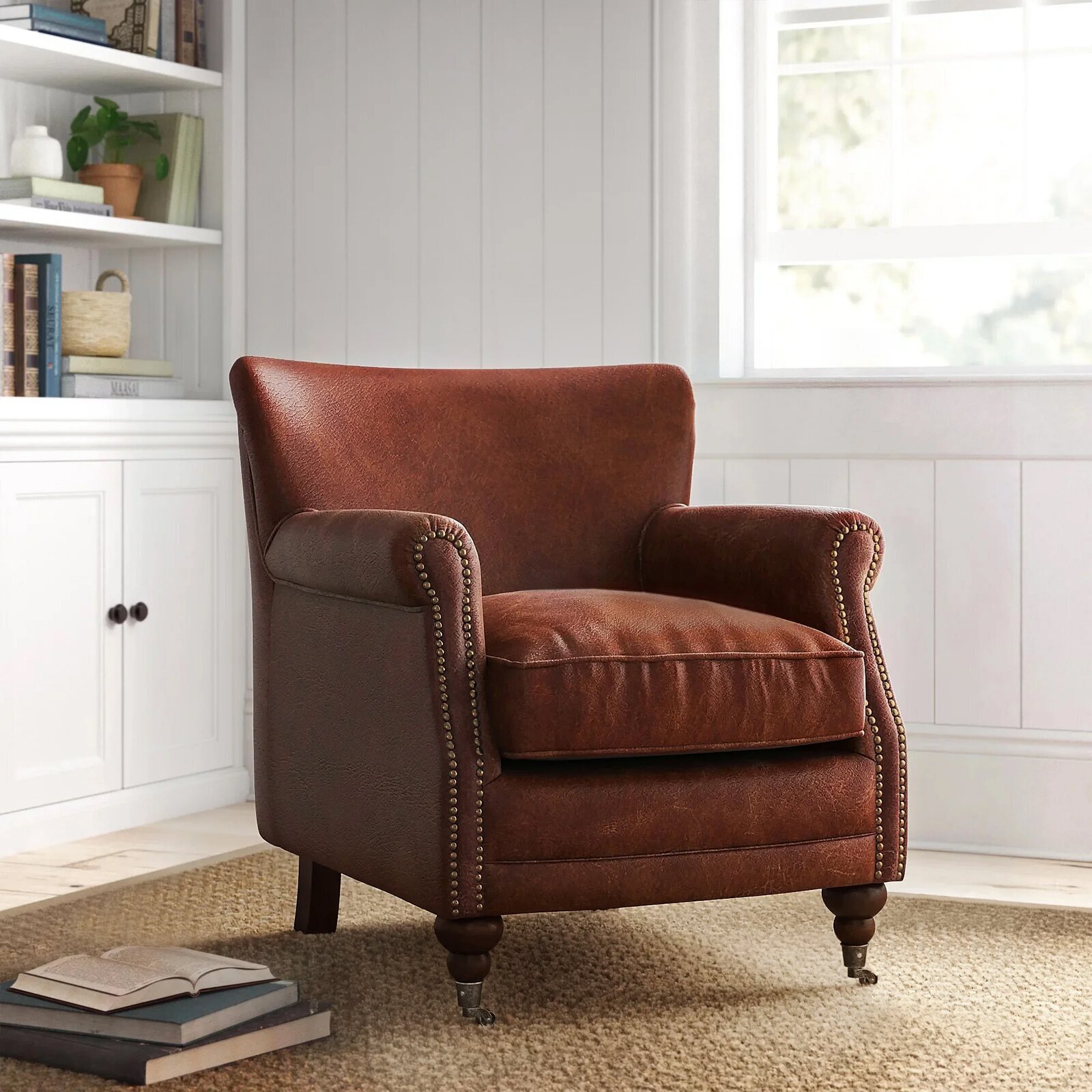 Statement club dining room chair with wheels

Got room for a luxurious, stately dining space? Interested in having a place that you and your guests can lounge in lush splendor?
A club chair evokes classy bars from decades gone by—and offers a seating experience so comfortable you'll never want to get up.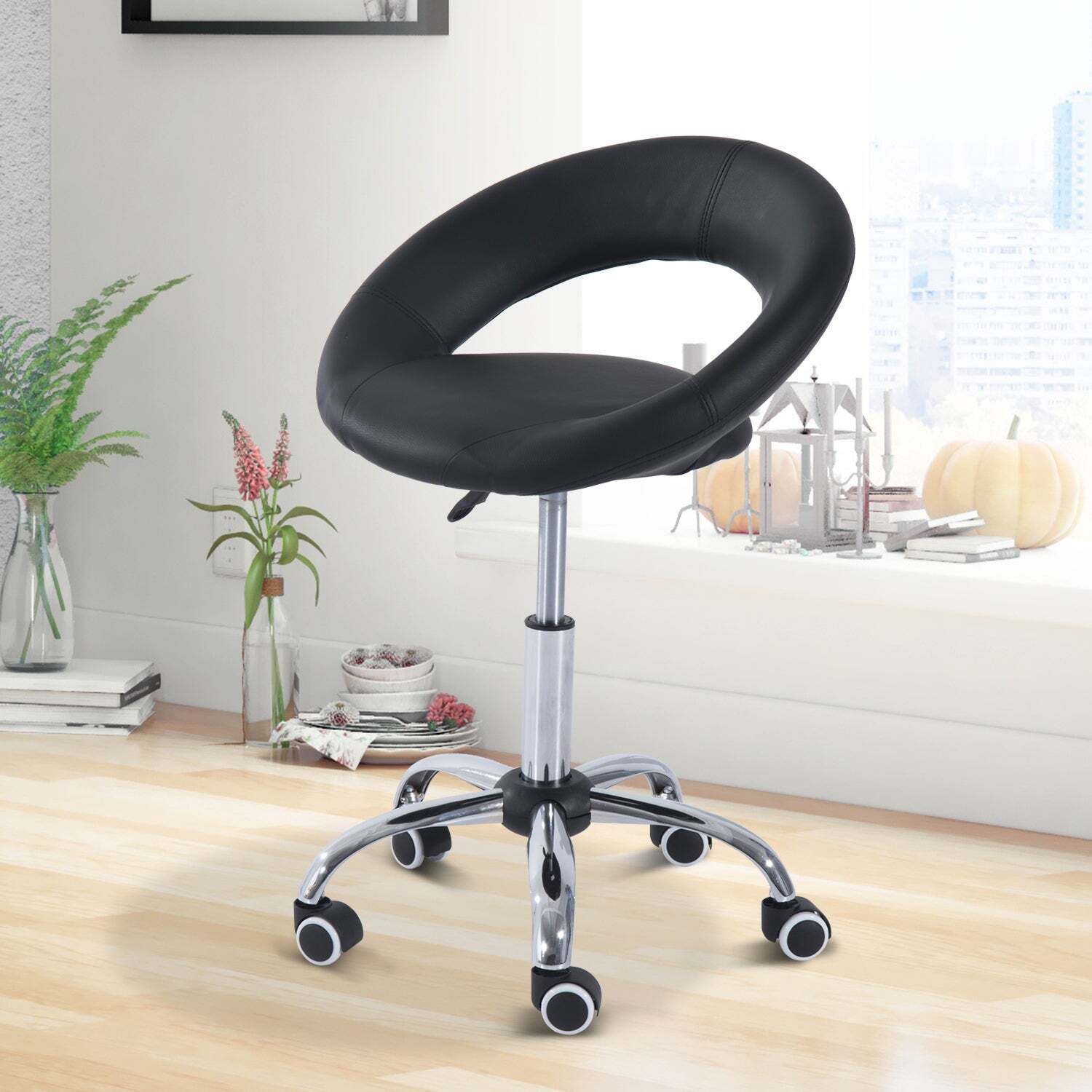 Half back modern kitchen rolling chair

On the other hand, maybe something a little more streamlined is in order. Select a chair with a half-back to ensure that you're enjoying spine support, but your chairs don't stand in the way of the clean lines of your room.