Modern Mailbox Large Walnut And
Modern mailbox. Dependable stainless steel frame (that lends chic contemporary look btw) paired with walnut. Functional design merged with sleek, trendy looks. Handmade item. Nice walnut pattern & dove joints.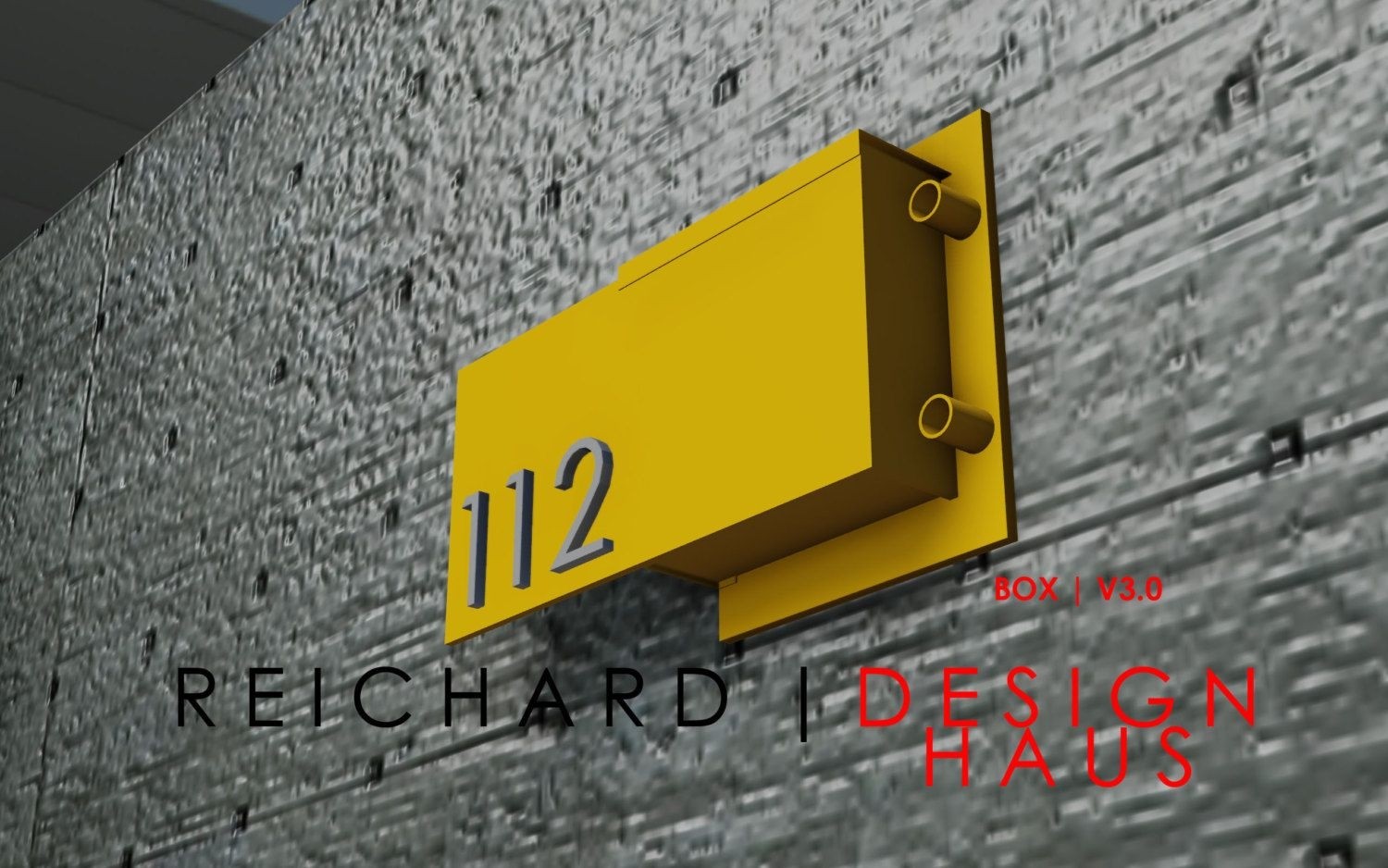 Steel mailbox with address numbers
Reflecting the contemporary, urban style, this industrial mailbox unit will help you distinguish your outdoors. This vibrantly yellow painted unit measures 20" wide by 10" high.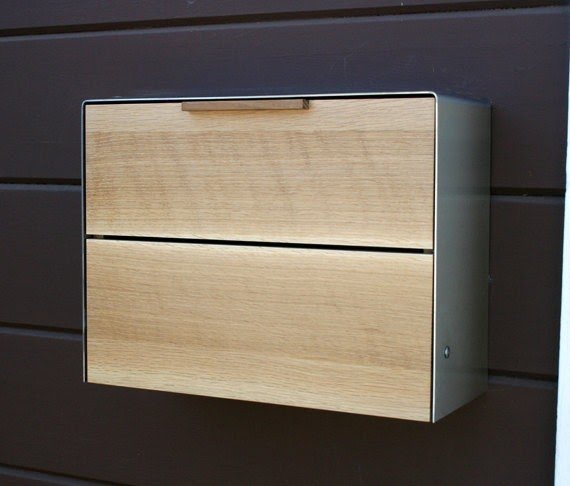 Modern mailbox teak and stainless steel
A contemporary interpretation of a mailbox. Made from brushed and sanded white oak and stainless steel, it gains a smooth, very modern-looking appeal. Its cool and clean design will distinguish your house from the others.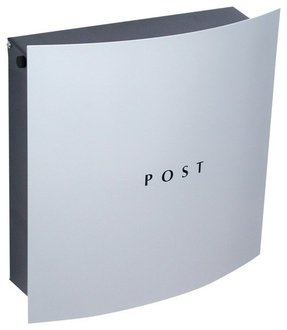 Hollywood grey wall mount mailbox contemporary mailboxes chicago
A perfect mailbox that will grace your setting with its beautiful, modern design and will ensure that all of your post is actually safe and secure until you can collect it. It sports the silver finish and the wall mounted structure for more convenience.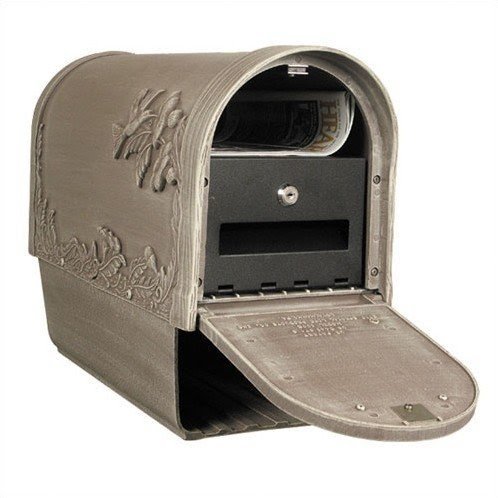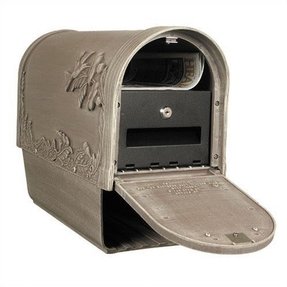 Hummingbird Curbside Post Mounted Mailbox
A post mounted mailbox which is made from high-quality and durable materials in order to be water and weather resistant. It contains two shelves inside. It provides enough space to put a package or letters inside.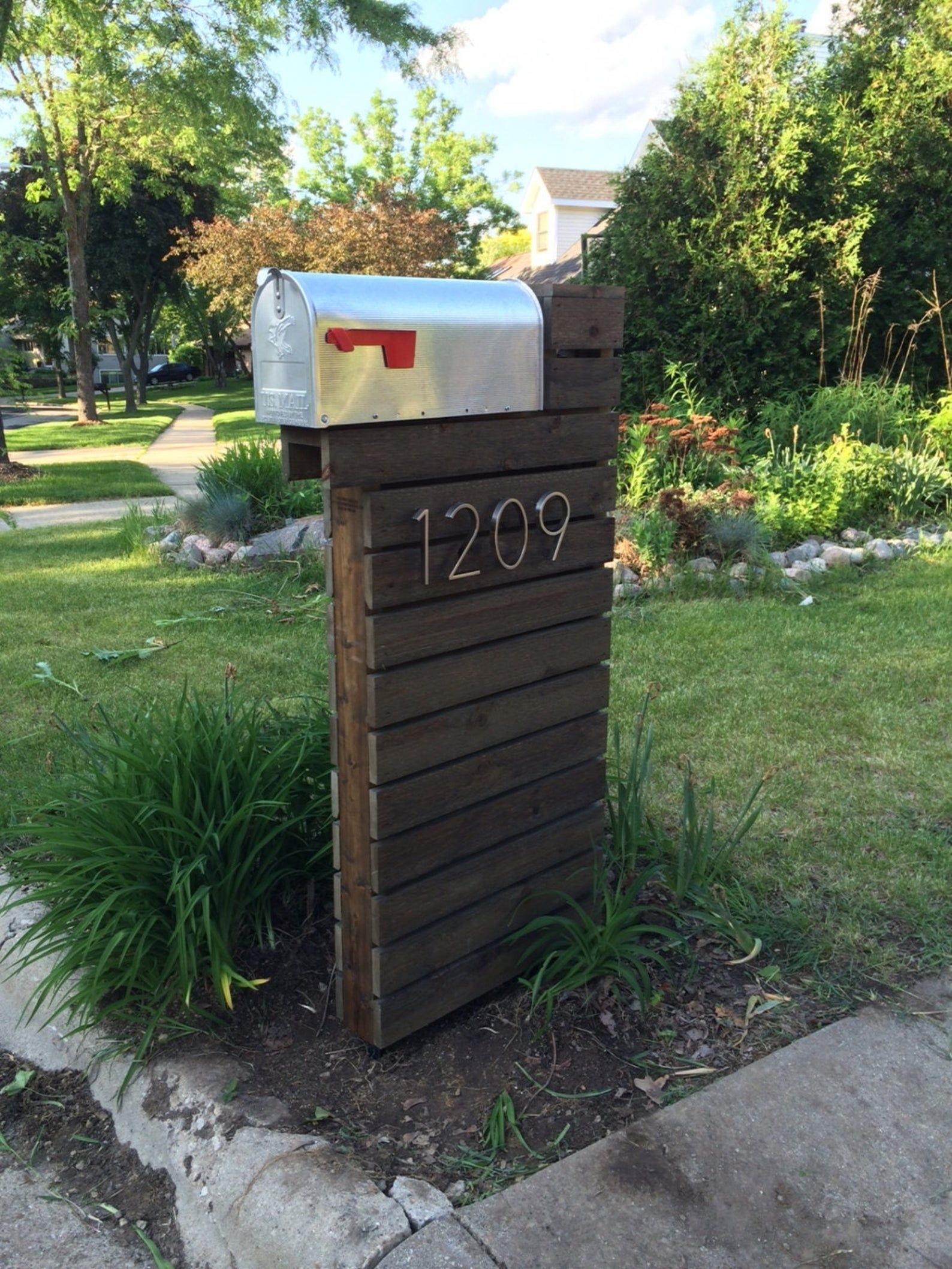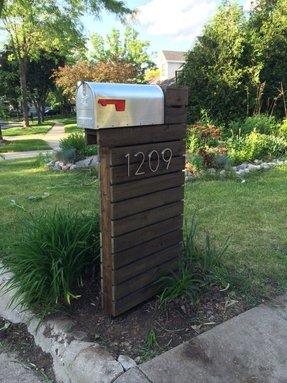 Modern Mailbox
An extraordinary mailbox in a modern design. It features a wooden post in a rustic style with metal address numbers. A simple, aluminum mailbox is attached at the top. The unit will be a nice accent of your front yard.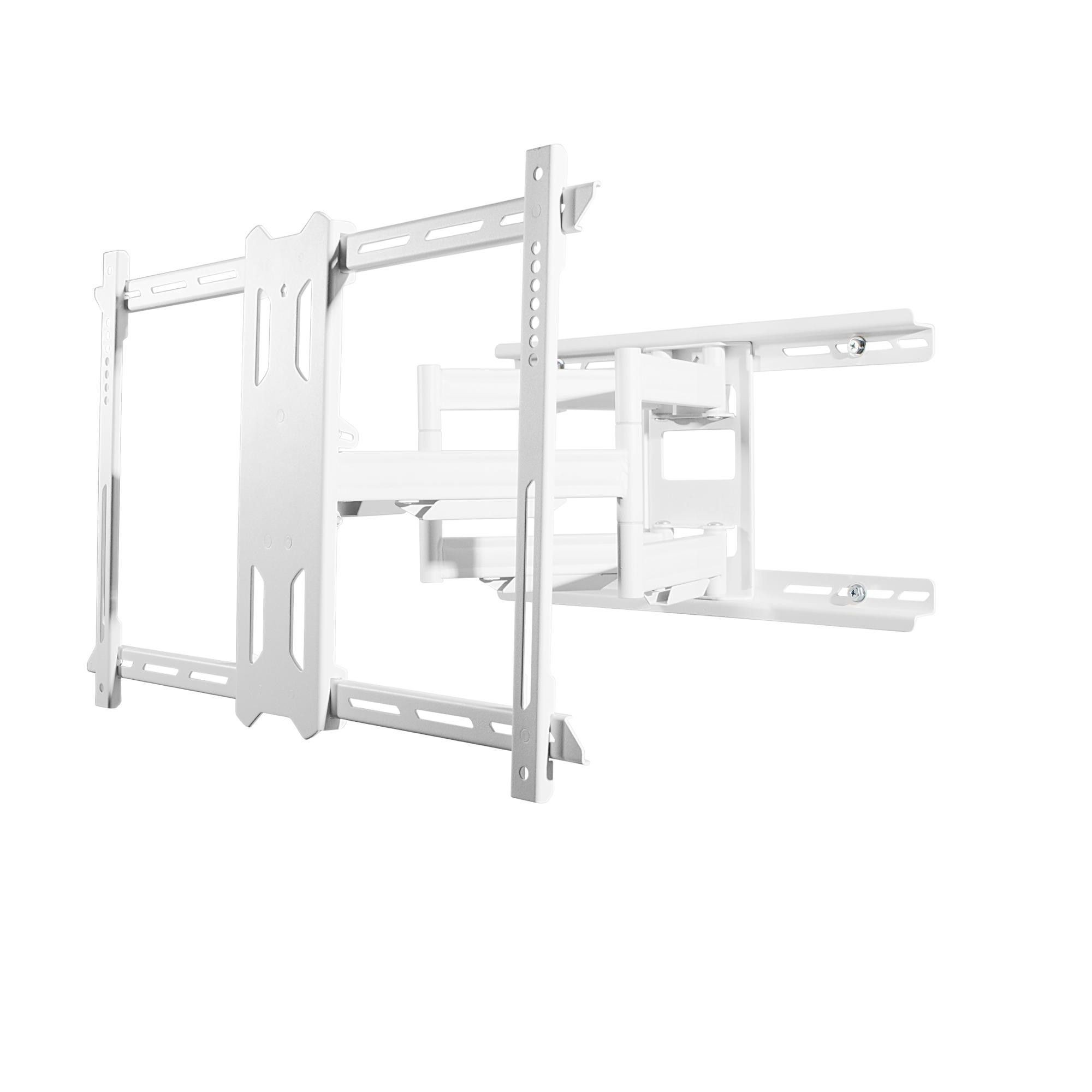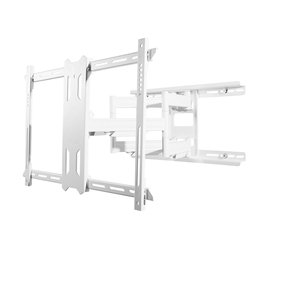 PDX650 Full Motion Mount for 37" to 70" TVs
It is a full motion wall mount for your TV. It is available in two finish options to choose: black and white and has got a swivel function. This product is high quality and nicely finished and great for your TV.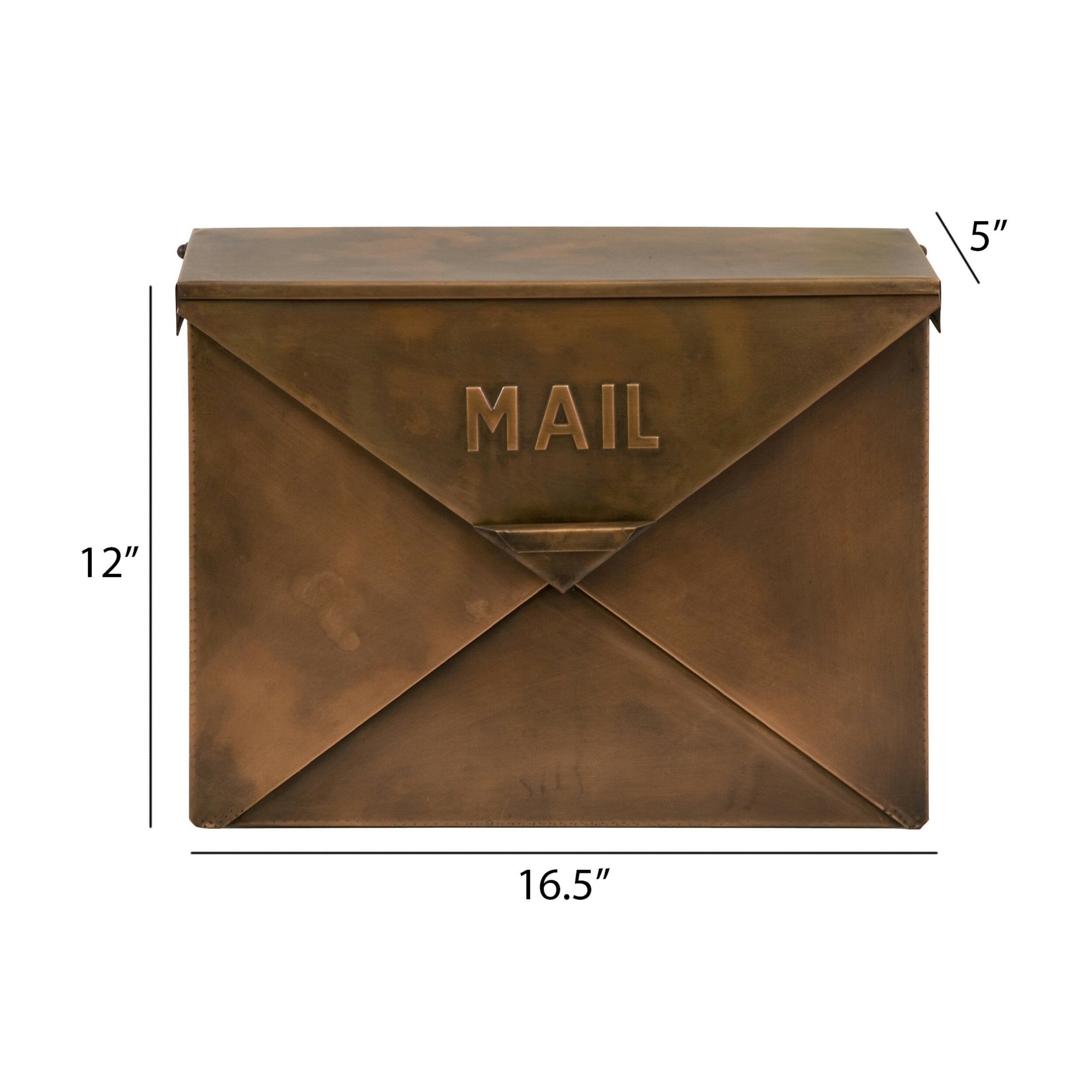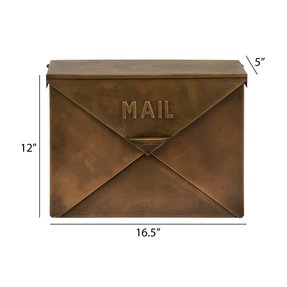 Outdoor Copper Mailbox Antique Vintage Wall Mount Residential Home Letter Box
Antique, old-fashioned copper mailbox with a slightly rusted appearance, which provides a rustic, vintage detail. This one is wall-mounted, which makes it a great addition to your porch, right next to the front door.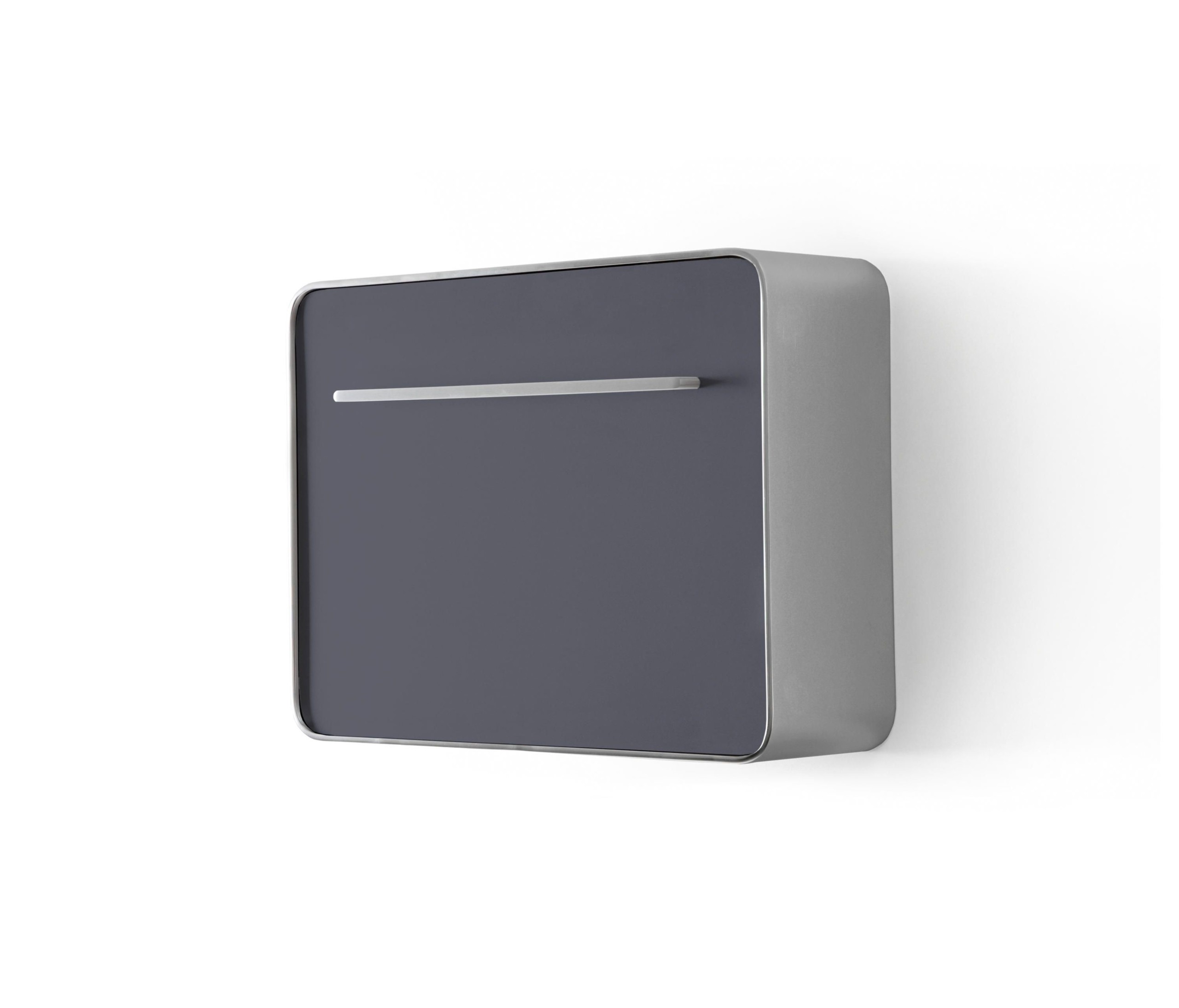 This wall-mounted mailbox emanates with stylish appearance and aesthetic design, giving you a fashionable and durable addition to your modern home. It's made of steel, and has a black front with a handle for easy access.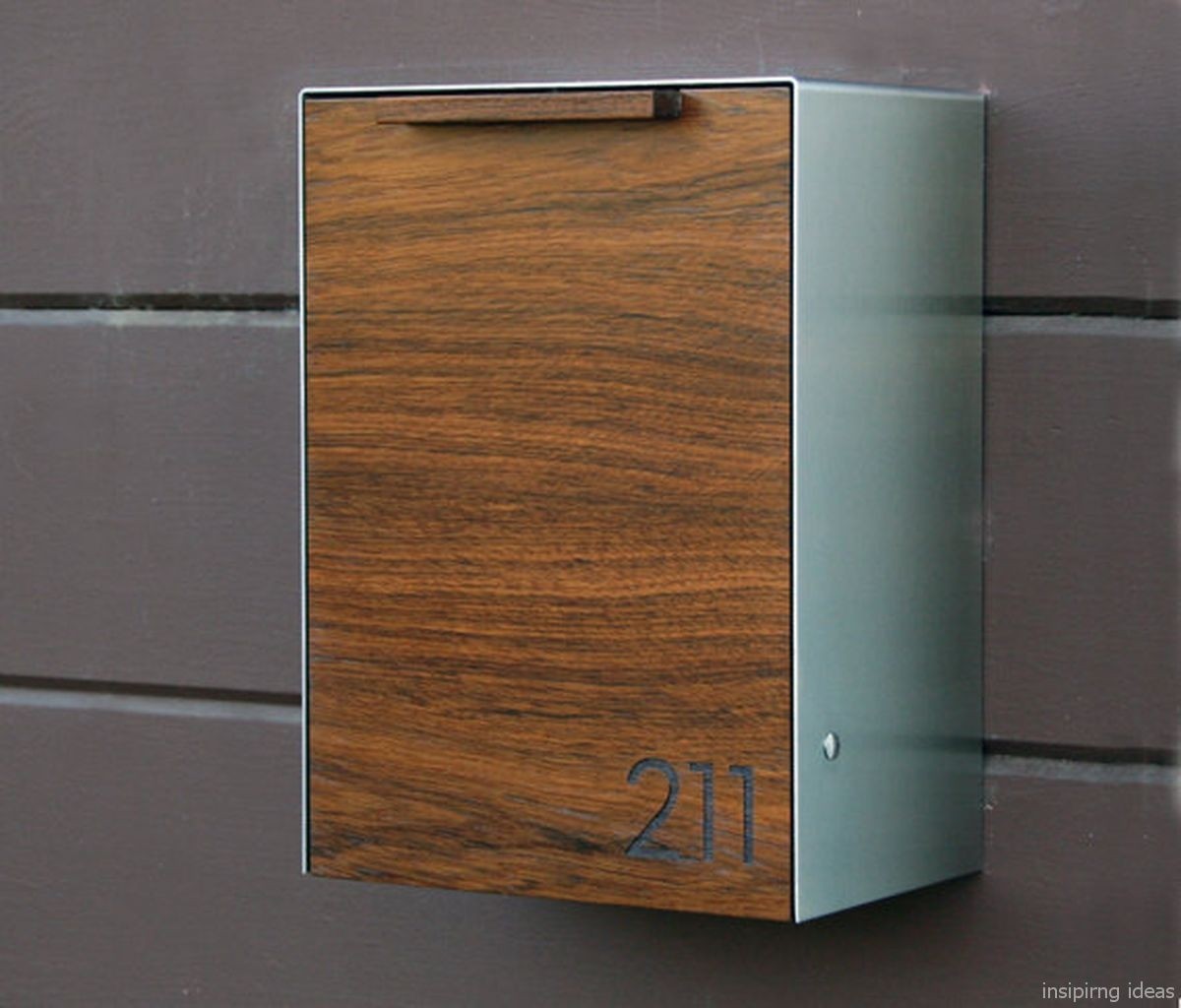 Modern Mailbox Narrow Teak Wall Mounted mailbox by CeCeWorks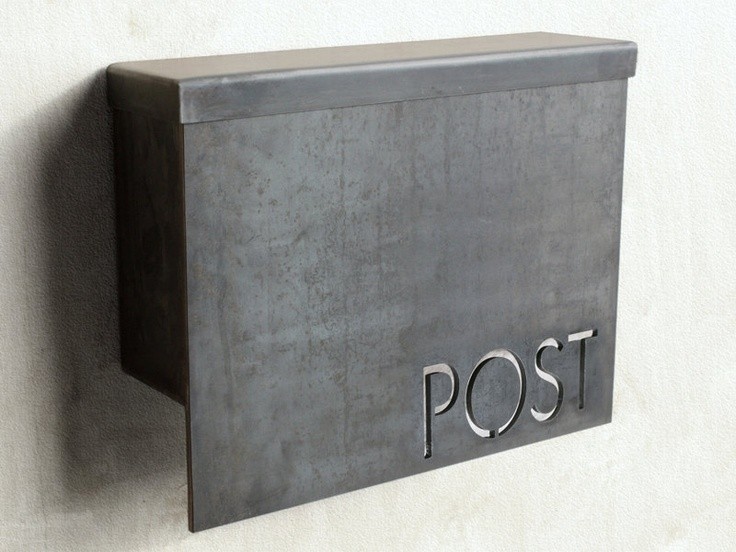 Designed for outdoors, this wall-mount mailbox can withstand almost anything. Constructed of durable metal with stylish cut-outs, the mailbox boasts of slightly worn-out appearance, giving you a long-lasting and easy to maintain piece.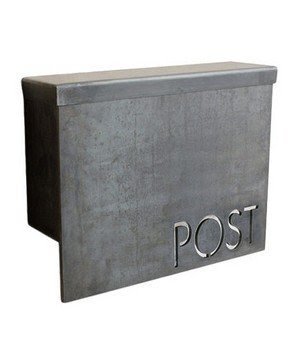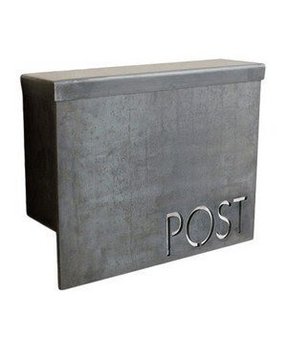 Bring a great mix of rustic accents and modern appearance to the front of your house by using this timeless mailbox. It's made of sturdy metal for long-lasting usage, and it can easily withstand weather conditions.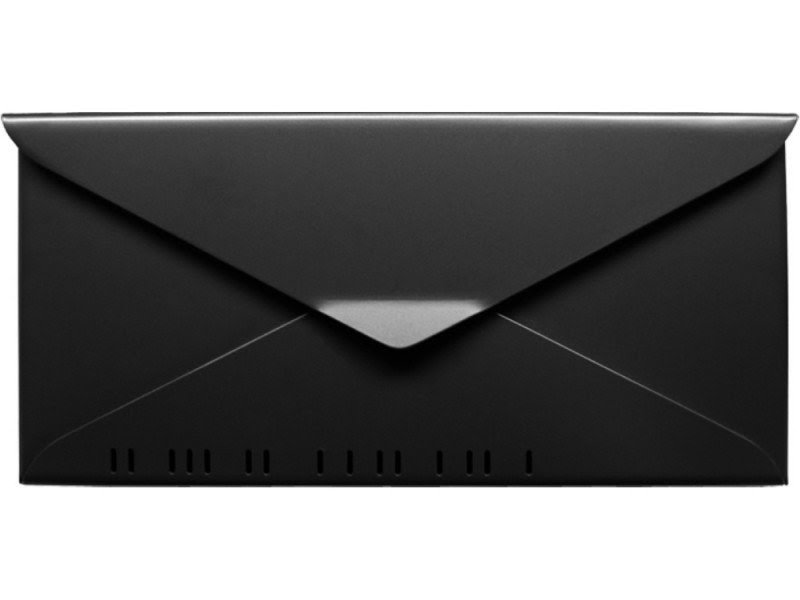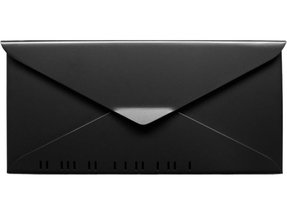 What could be more characteristic for a mailbox shape than a paper letter envelope. This wall mount mailbox nails the essence of cool modern design! Of course it's not paper, it's metal with satin black finish.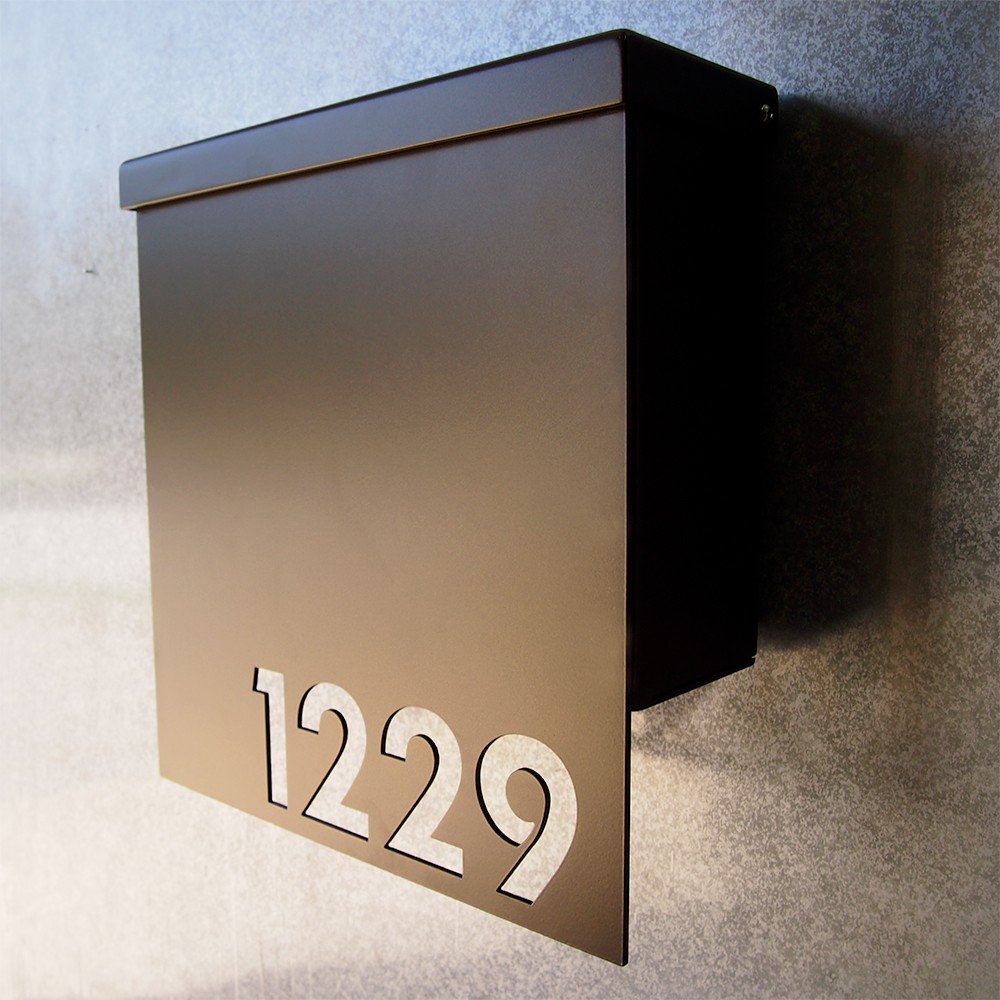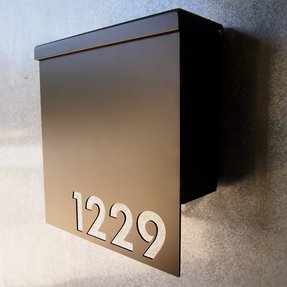 Custom House Number Mailbox No. 1310 Drop Front in Powder Coated Aluminum $279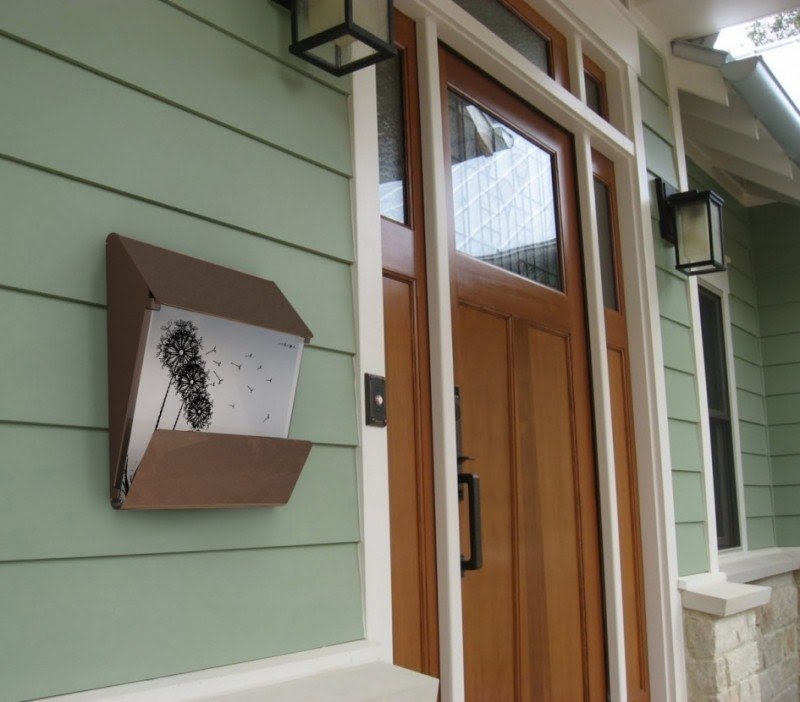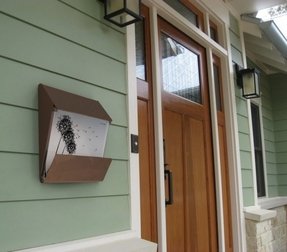 With Contemporary Wall Mount Mailboxes On Cool Green Wooden Panel Wall ...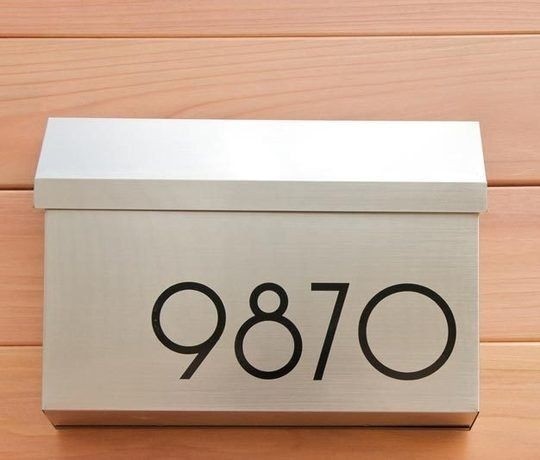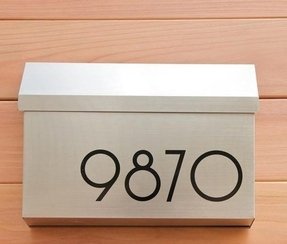 Modern mailbox with house numbers. It is completely made of metal. Designed for mounting on the wall. Includes screw holes for easy installation. Great solution for each freestanding house.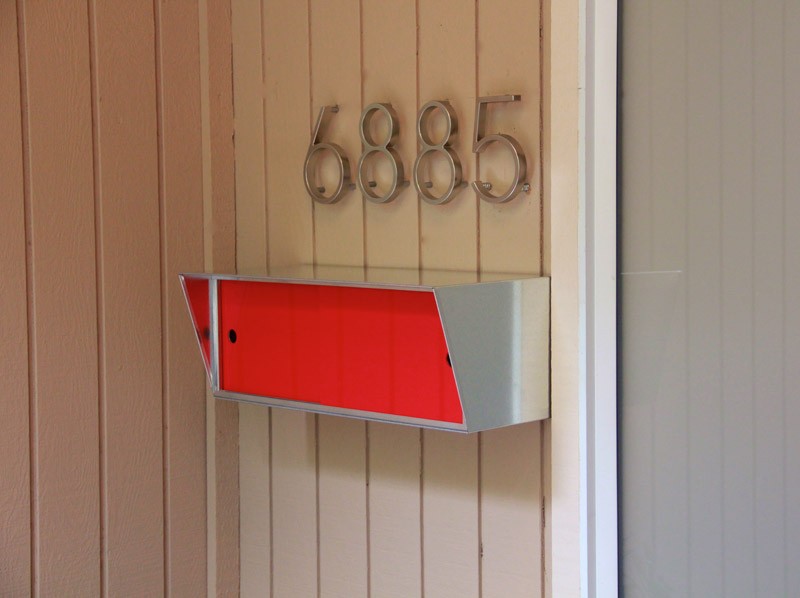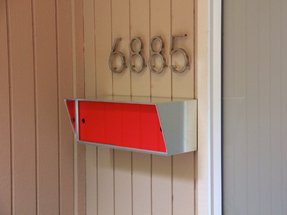 mailbox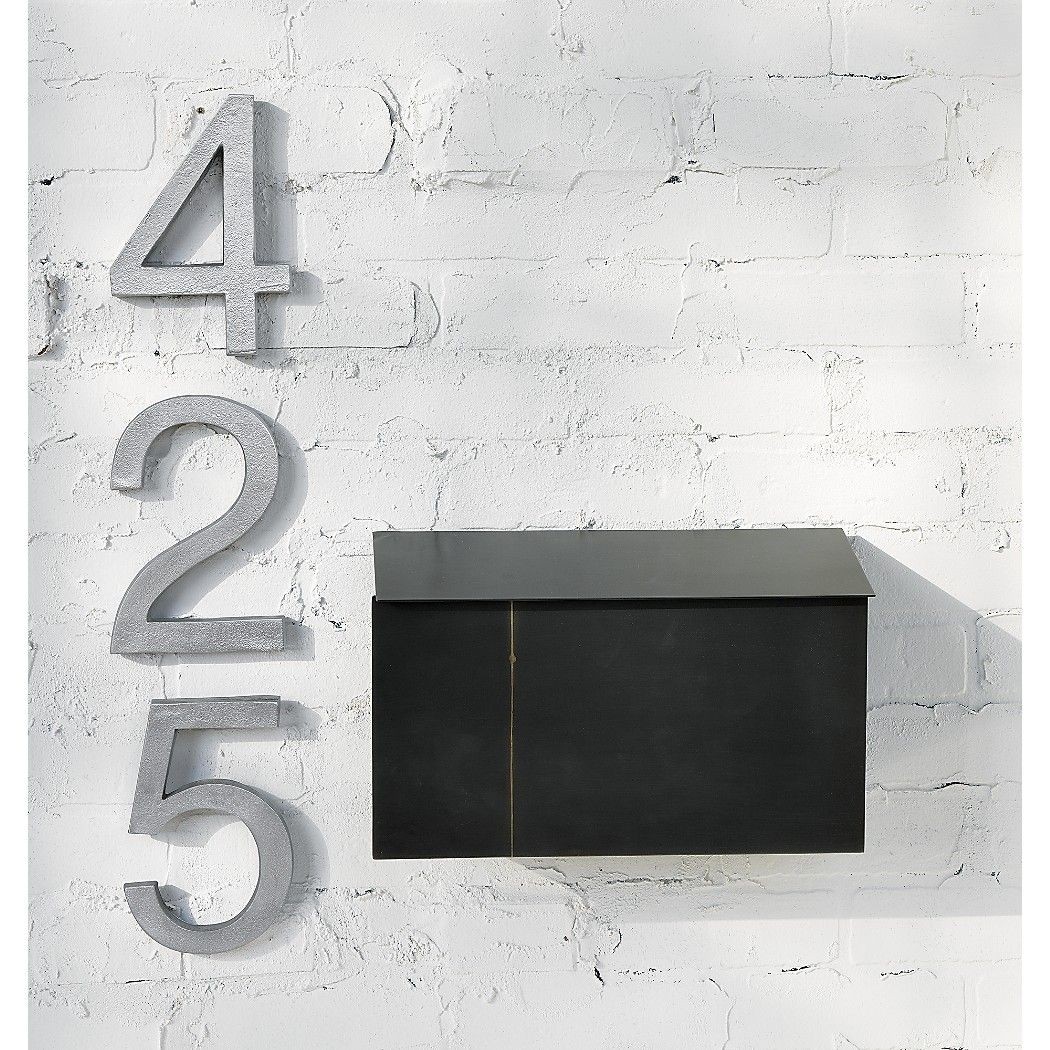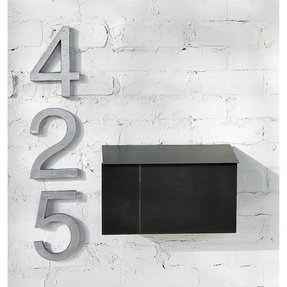 A mailbox suitable for modern houses. This product features a wall-mounted design and a solid construction with simple lines and black color. This kit also includes large house numbers that are attractive and readable from quite large distance.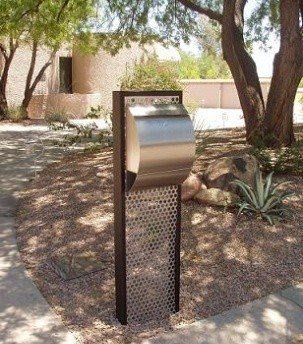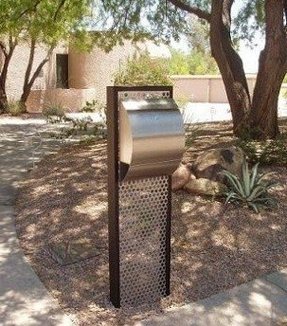 Designed for outdoor use, this modern mailbox will be looking very pretty in the front of your house. Crafted of stainless steel, the mailbox is weather-resistant and durable, and properly secured from unwanted hands.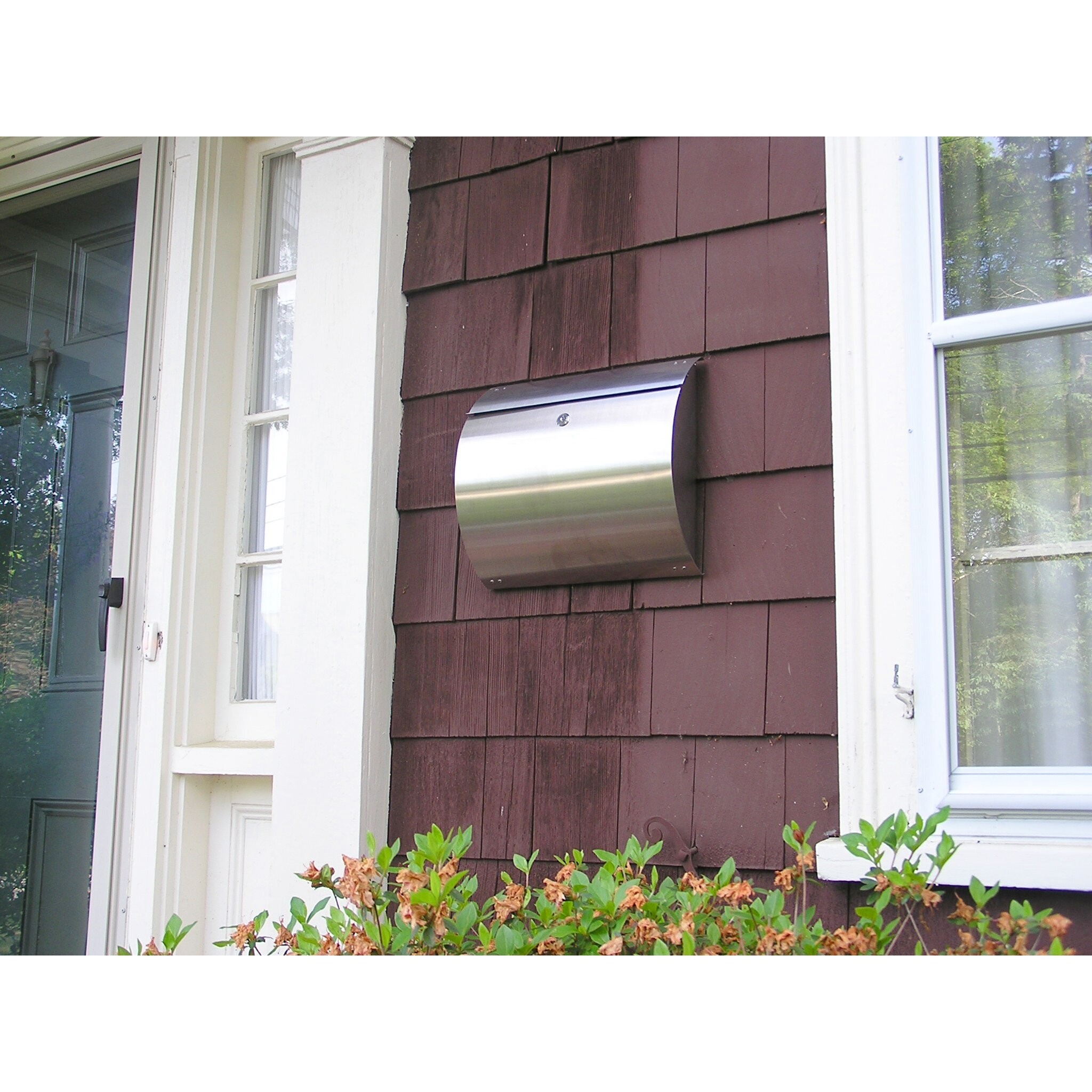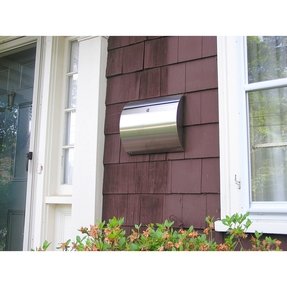 Spira Mailbox Wall Mounted sleek modern Mailbox for your contemporary home. AllModern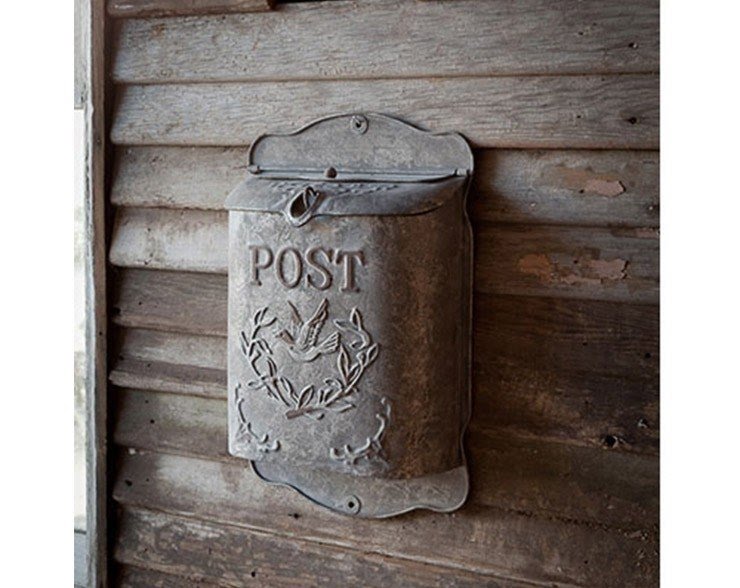 This wall mounted post mailbox sports a charming design that simply screams vintage and offers a beautiful, decorative front with the distressed finish of the metal structure that ensures extreme durability.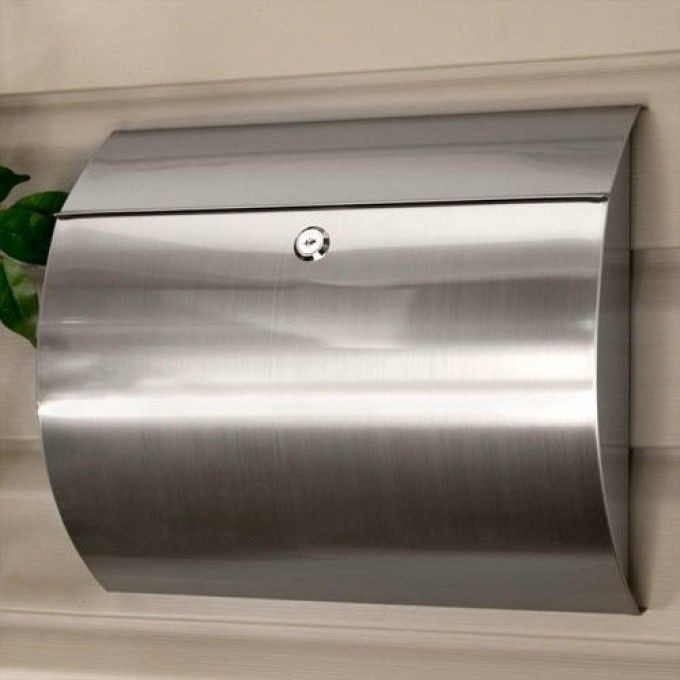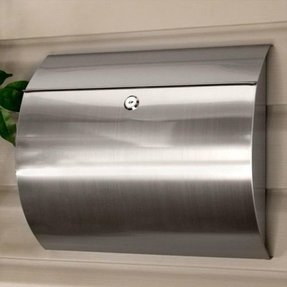 ORDNING stainless steel breadbox to modern mailbox - IKEA Hack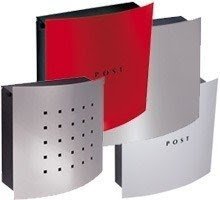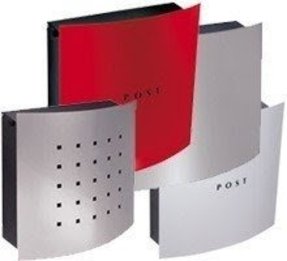 wallmount-contemporaryknobloch-cat.jpg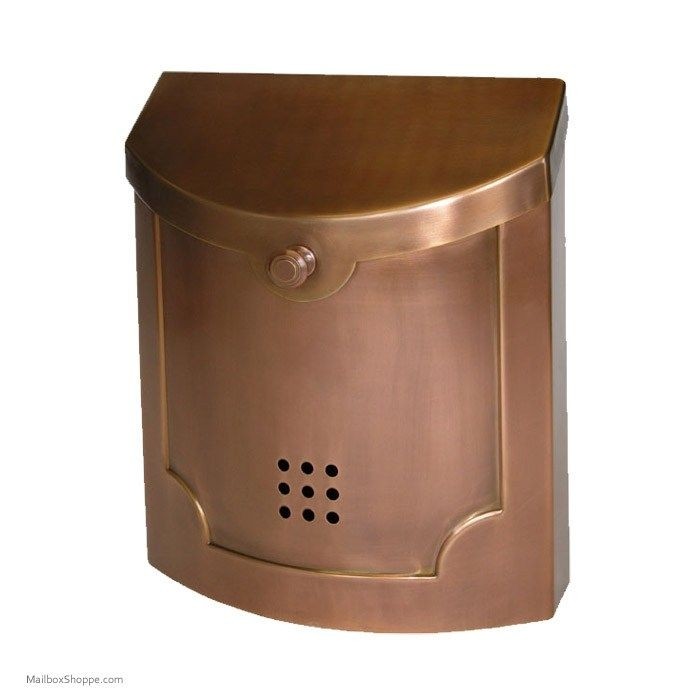 Instantly increase your home's curb appeal with these outside-the-box wall-mounted mailboxes.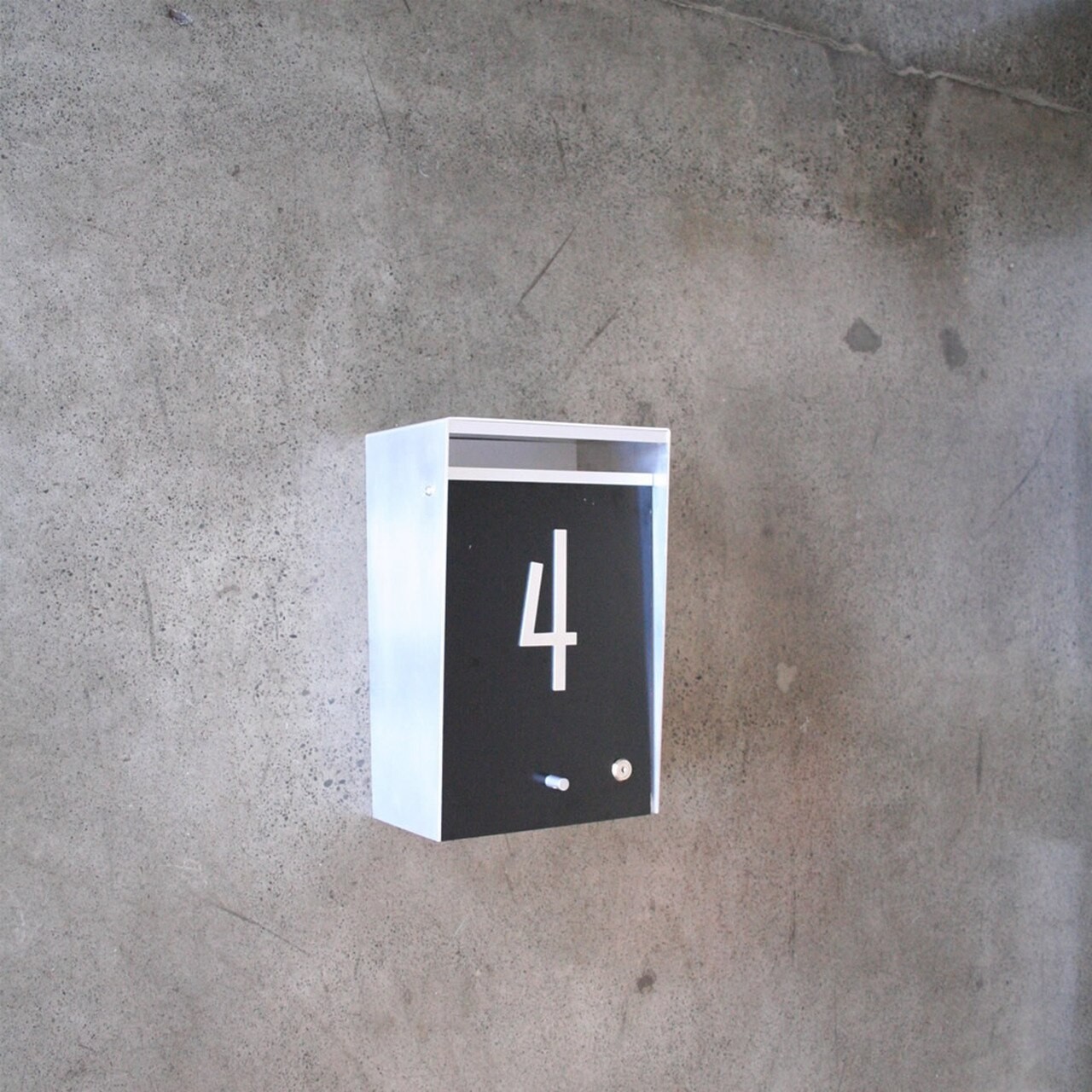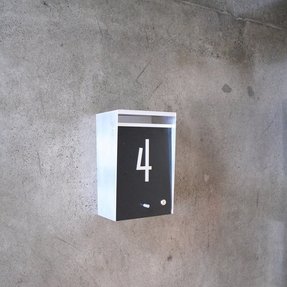 Even if we send nowadays more e-mails than we talk with each other, maybe some of us still receive love letters ( or bills) so the modern wall mount mailbox is needed! A decorative metal box was designed in white and graphite front, with a white number.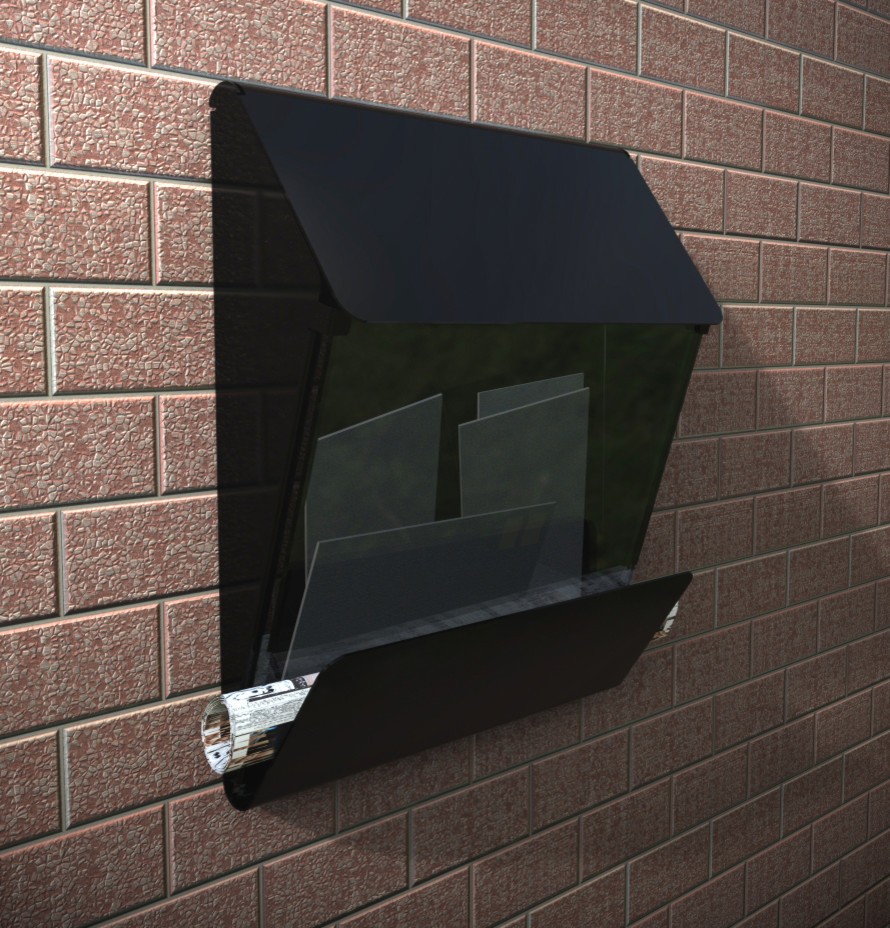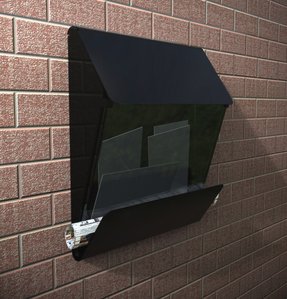 Decorpro X Press Wall Mounted Mailbox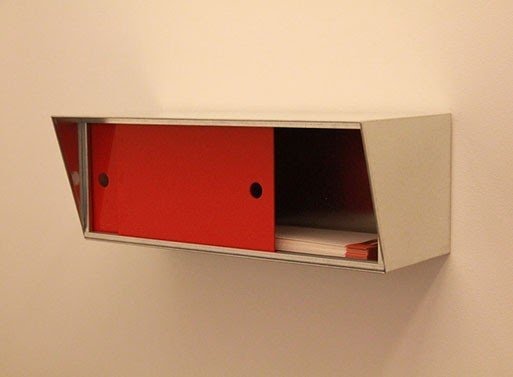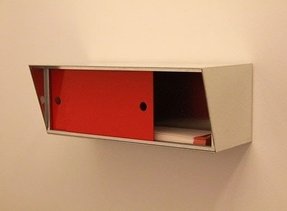 Modern Mailboxes — ACCESSORIES -- Better Living Through Design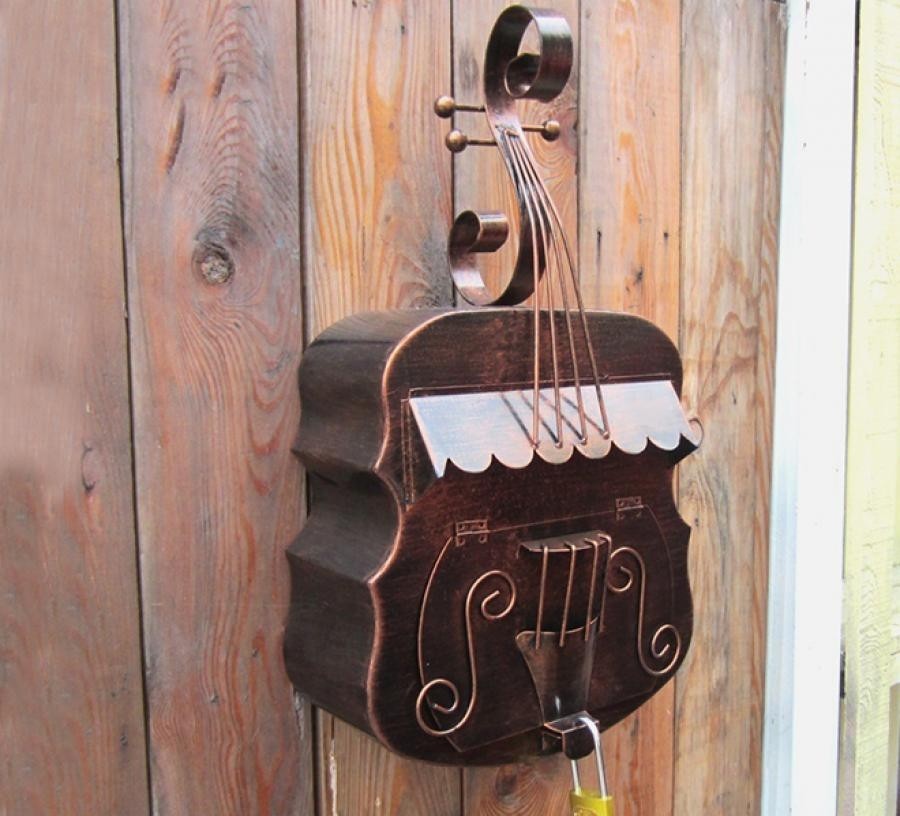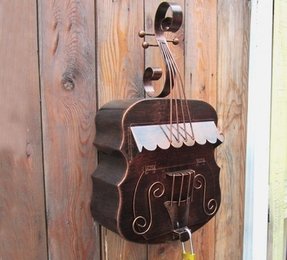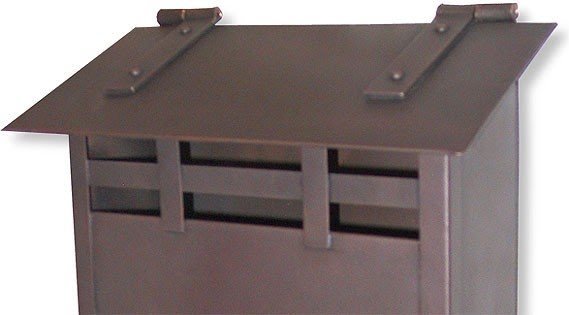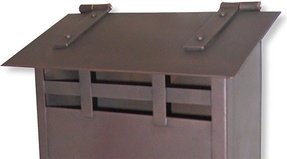 Residential mailbox idea. It is wall mounted, made from old fashioned brass, in dark brown color. I love this tiny tittle roof over thw hole. Cool to have one next to your entrance roor or on the entrance veranda's wall.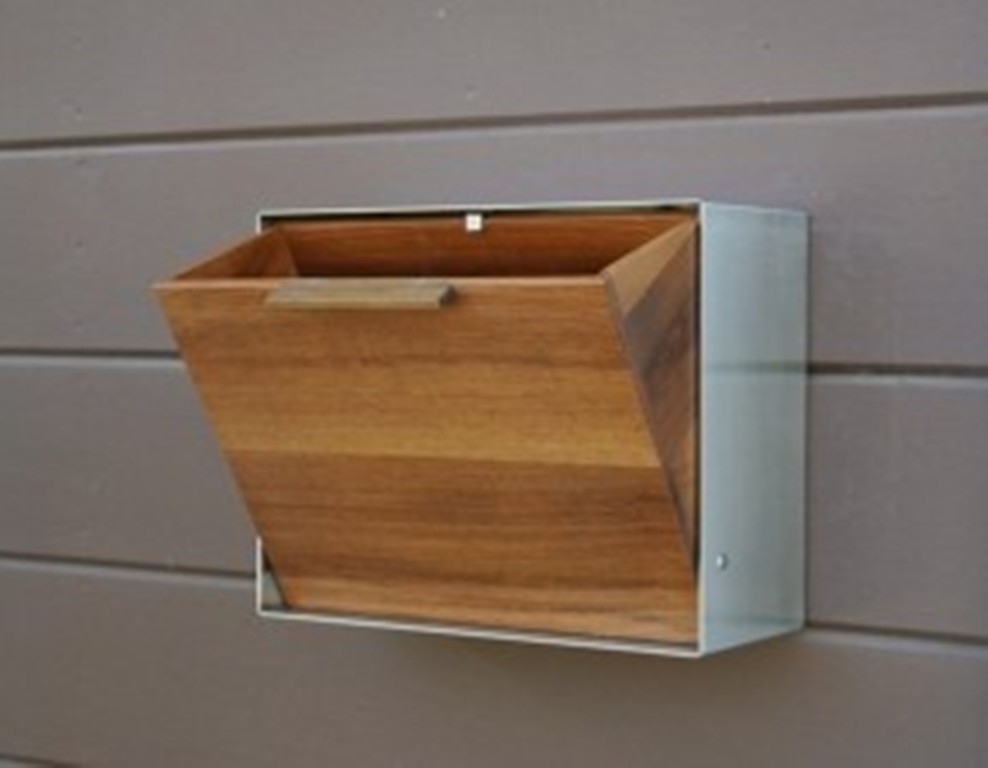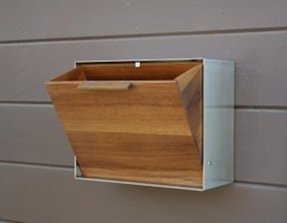 Modern Post Mounted Mailbox, Teak and Stainless Steel Mailbox, Post or ...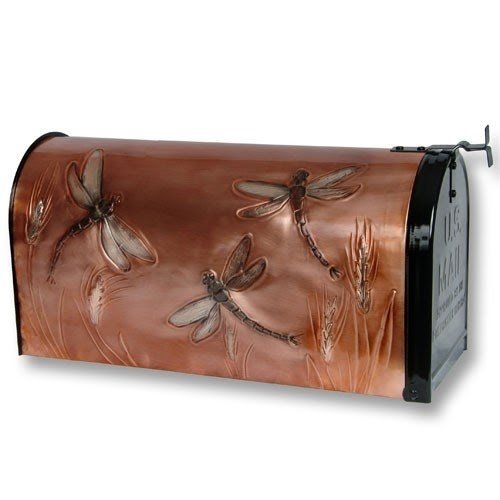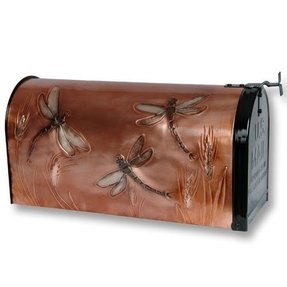 Vintage mailbox with dragonflies will be perfect addition to your patio. Made from solid metal will serve you for years. You can also use it as a decoration on your patio to add some touch of retro times.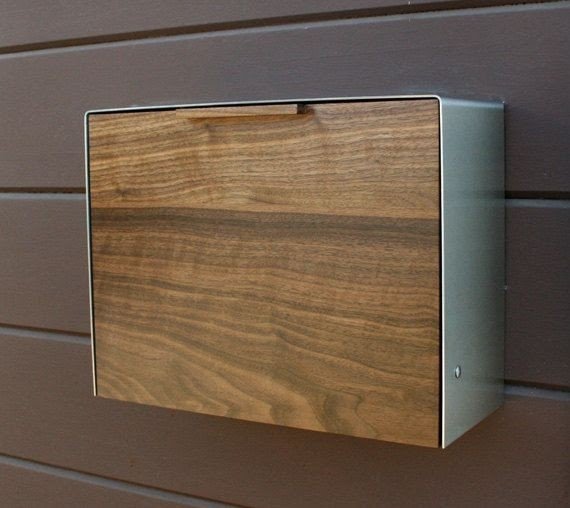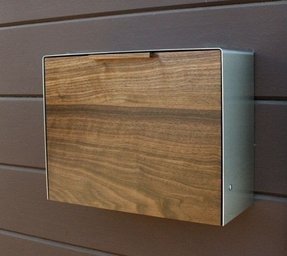 Modern Mailbox Large, Walnut and Stainless Steel Mailbox, Wall Mounted ...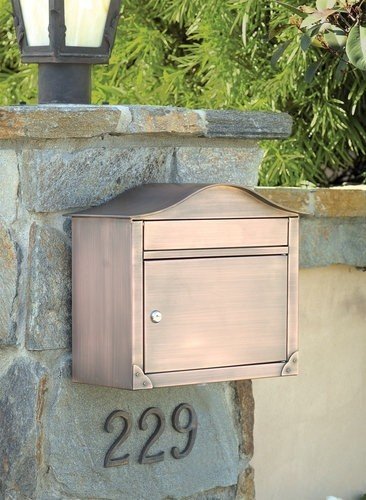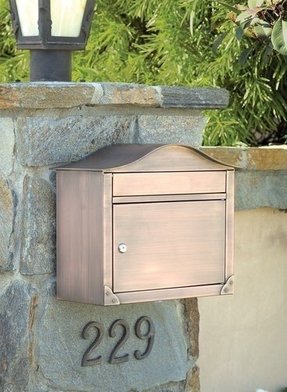 Antique Copper Peninsula Locking Wall Mount Mailbox with Plain Door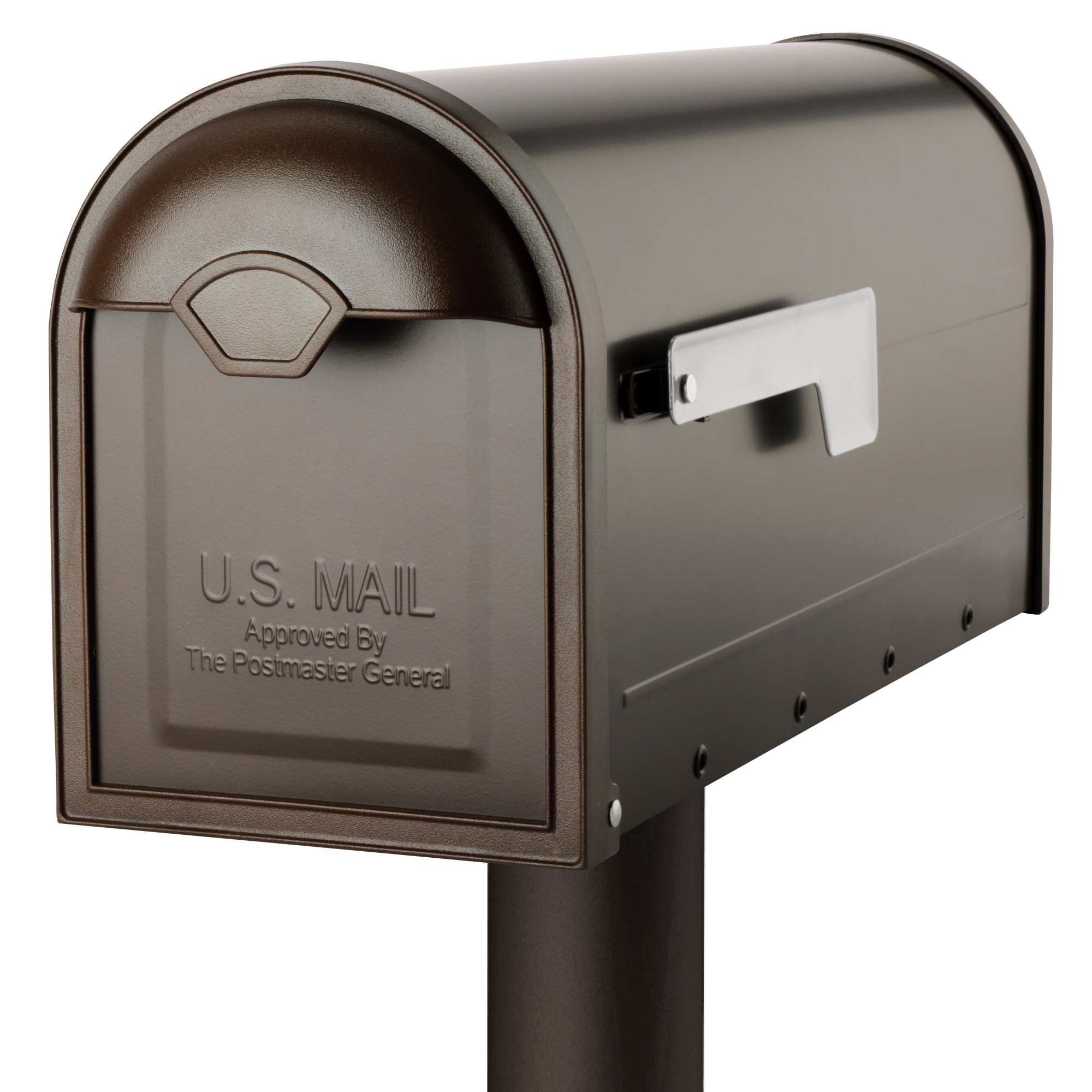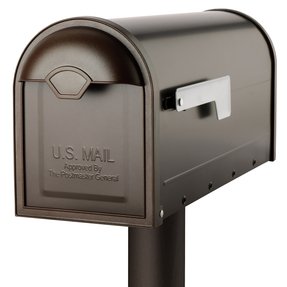 Architectural mailboxes are really adorable. This metal oil-rubbed bronze post mount mailbox with gravered letters on its side looks very fashionable, even though its got very simple finish. Opened from both sides.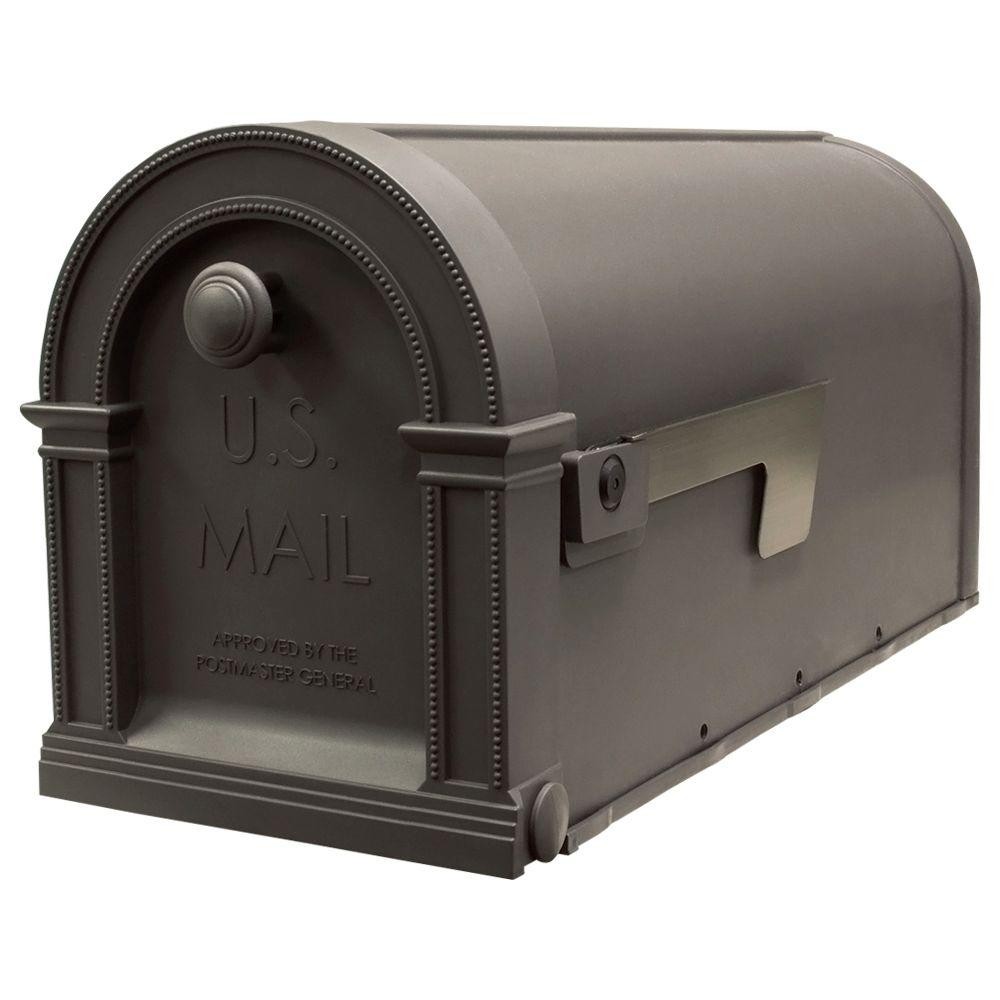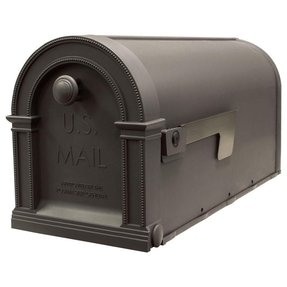 The advantage of a plastic mailbox is that it will never rust.Post mount mailboxes are not only your secrets keeper,but also a decorative item of your lawn.That's why this plastic mocha latte post box in very dark brown shades could be your choice.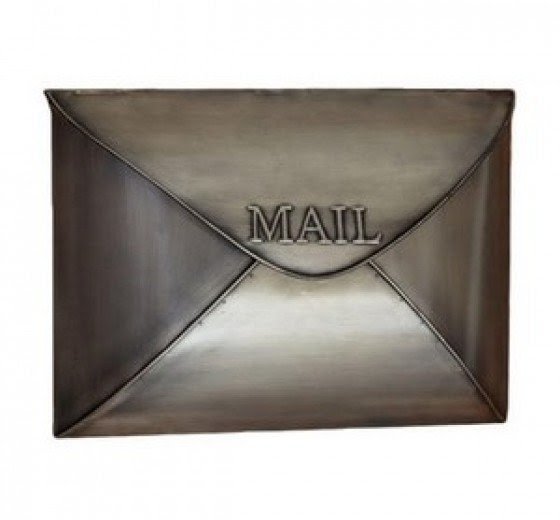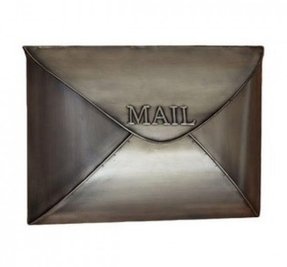 Upgrade your front door with one of these mailboxes.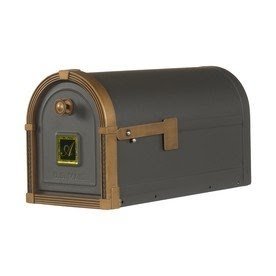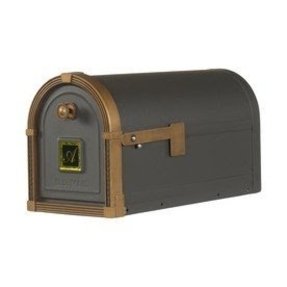 Mailboxes allow you to collect multiple letters.The product has a durable construction and aesthetic bronze finish.Thanks to that it will be nicely presented in your yard.The special shapeeffectively protect the accumulated letters from bed wather.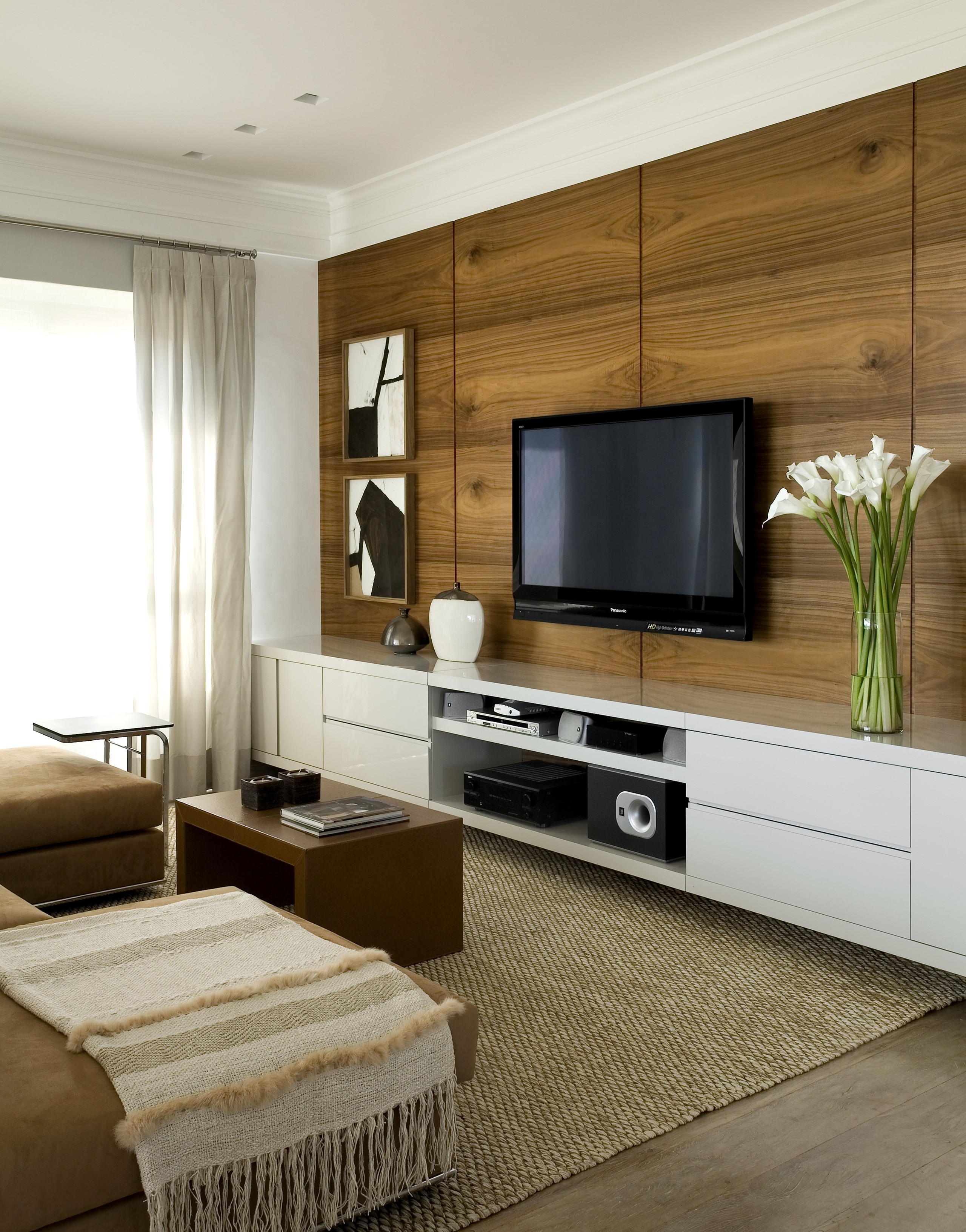 The living room interior design binding the classic style represented by the natural lacquered walnut wood and modern one connected with glass and plastic elements. This stylization is very slick and will win approval of many people.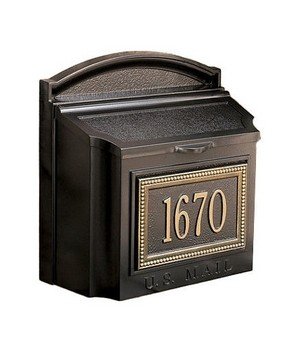 Instantly increase your home's curb appeal with these outside-the-box wall-mounted mailboxes.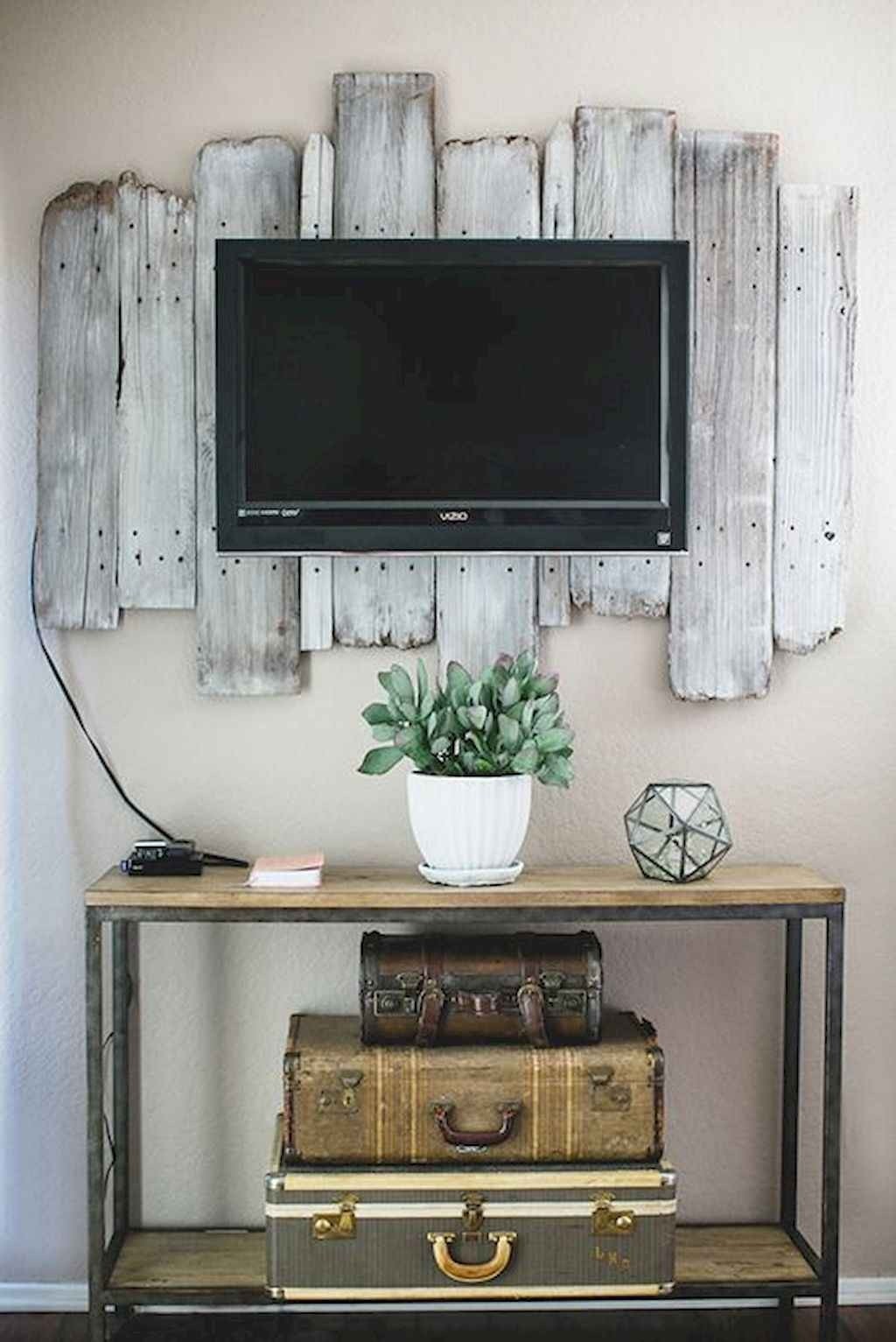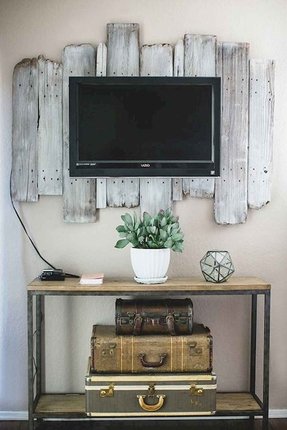 An extraordinary wall mount for your tv set. It's a primitive arrangement of wooden planks, which feature a cool, weathered finish. It looks natural and makes a great contrast with a modern tv set. A simple console table perfectly matches.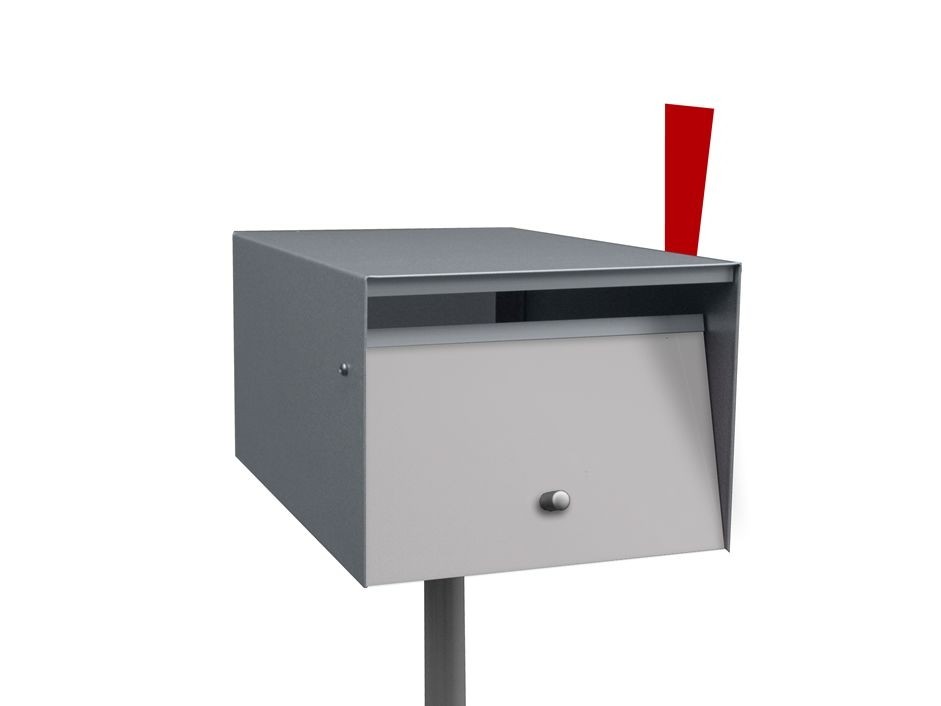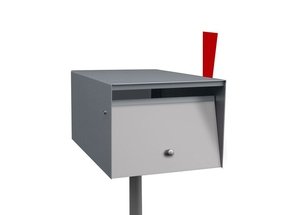 An excellent piece of modern design that is as gorgeous as functional. Suitable for outdoors, the mailbox includes durable metal construction in two-tone gray and yellow finish, and a working red flag.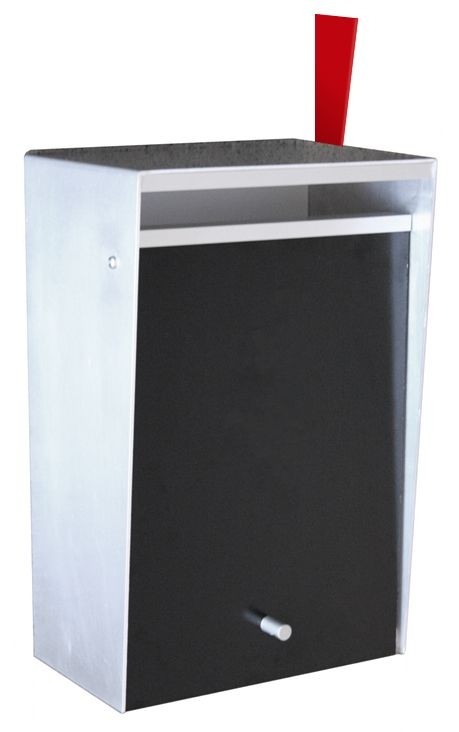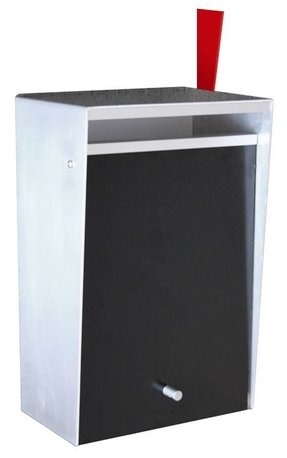 Box Design Wall Mount Modern Mailbox New | eBay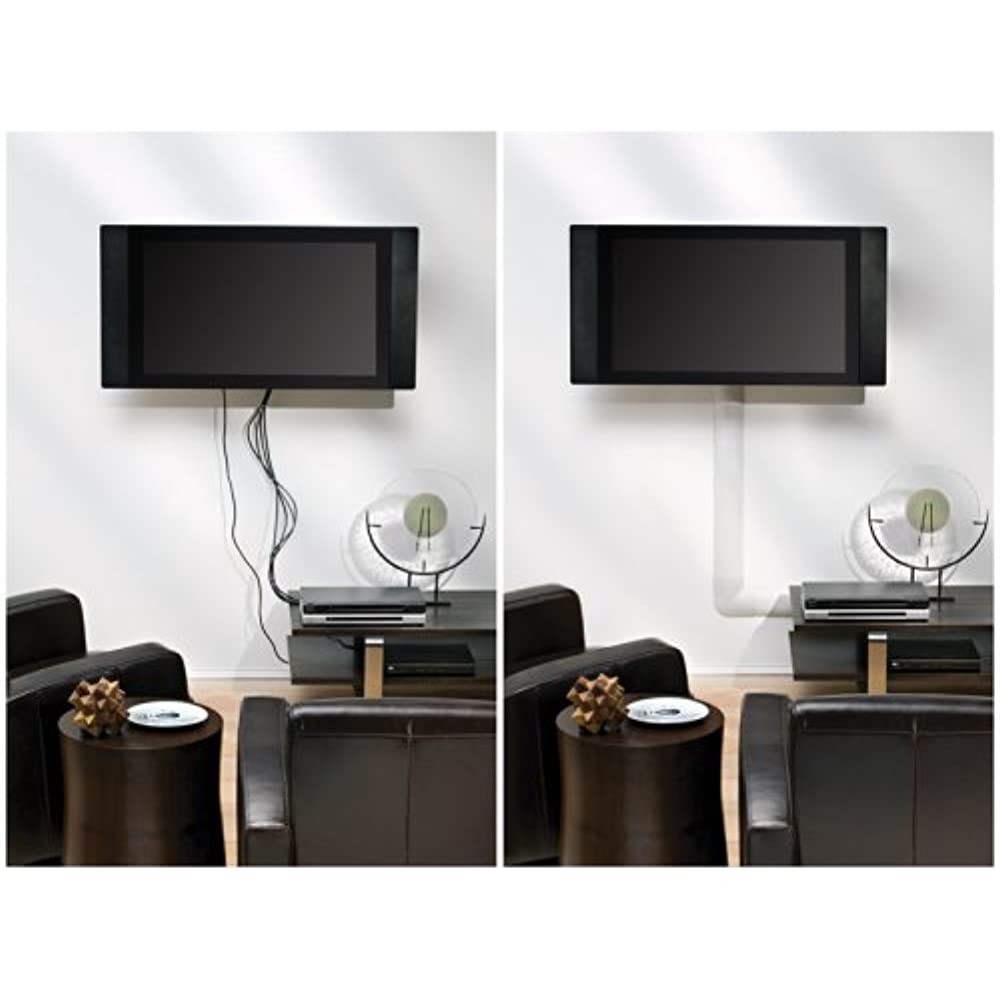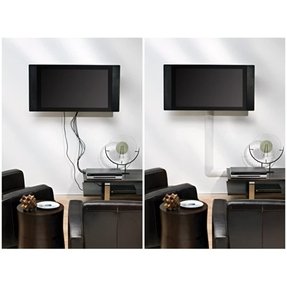 Cable management cover featuring modular design, which allows variety of configurations. Additionally, the cover can be cut in order to get desired length. The set also includes mount screws and double sided adhesive tape.