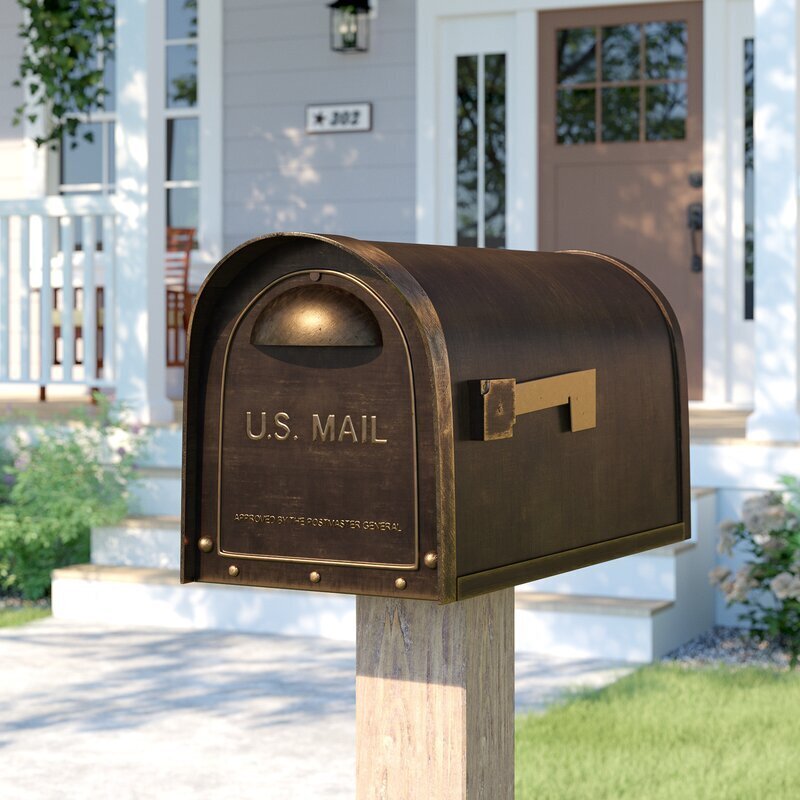 Attractive Bronze Mailbox
Red Barrel Studio®
With an attractive traditional design featuring a curved silhouette and a neutral bronze metallic finish, this mailbox is as stylish as it is functional. The classic 'U.S. MAIL' words embossed on the front complete its vintage look.
$159.99 $161.99
Designer Advice:
Add effortless charm and style to your front yard with this bronzed mailbox. We love the attention to detail it has, with the expertly embossed letters on the front, giving it a classic finish that won't go out of style. Created with weather-resistant aluminum with an overhang on the front of the box to ensure its interior is kept dry.
Merchant links are sponsored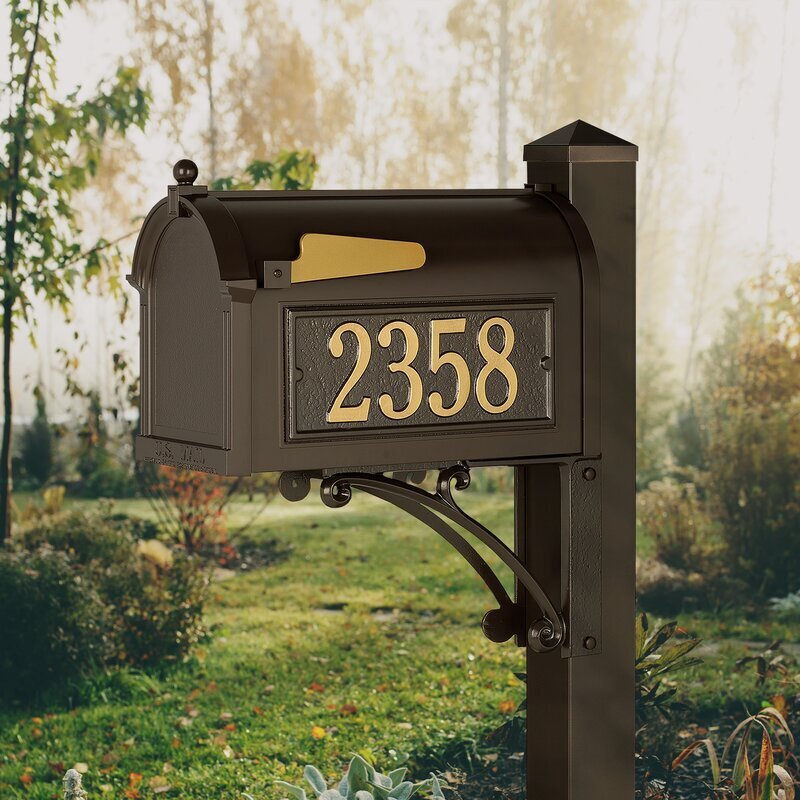 Regal Antique Style Bronze Mailbox
Whitehall Products
With its beautiful bronzed finish and cap on the top of the mailbox. It oozes regal elegance and will be sure to impress all passers by, while keeping your mail safe. Created from strong aluminium to withstand any type of weather.
$409.99 $591.99
Designer Advice:
A beautiful antique style mailbox is stylish and a must have investment for your home, it's practical but will also give your yard that rich designer touch. You can complete the regal look by adding personalized address plaques to the sides of the mailbox, which will be sure to catch your posties eye and leave your neighbours green with envy.
Merchant links are sponsored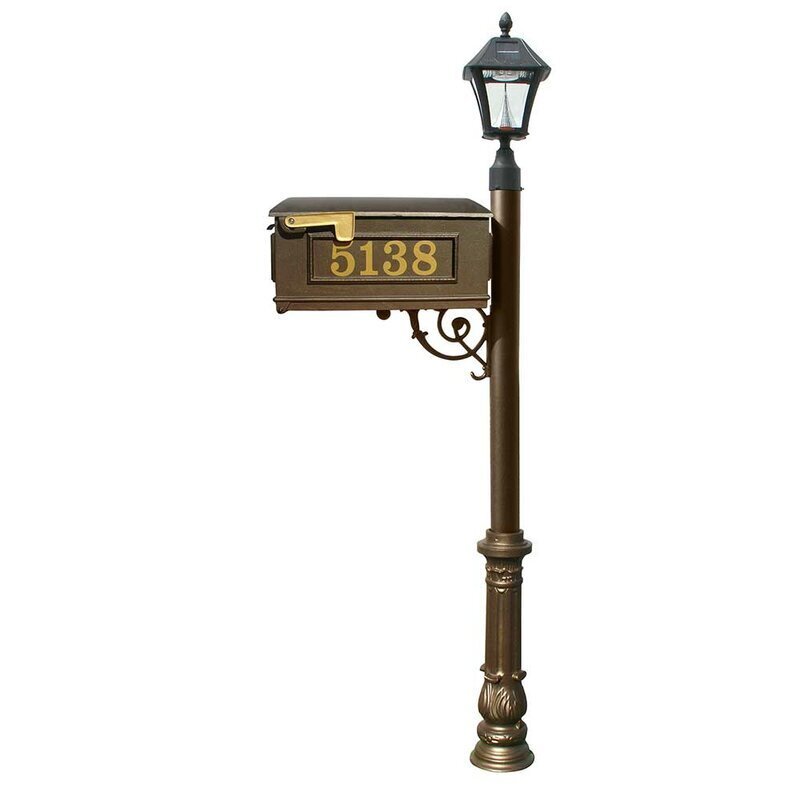 Decorative Bronze Mailbox With Post
Qualarc
Expertly made from rust-free cast aluminium with durable weather-resistant finish, this decorative mailbox and post will keep looking fabulous whatever the weather. Featuring a classic gas-light design with real glass panes completes its antique look and gives a charming feel.
Designer Advice:
A classic and decorative bronze mailbox and post is the perfect accent piece for your front yard. We love the traditional gas-light lamp design on top of the post, which is powered by Solar-powered technology, will keep your yard shining bright and looking beautiful, no maintenance required. Gold vinyl numbers on the sides of the mailbox complete the classic look.
Merchant links are sponsored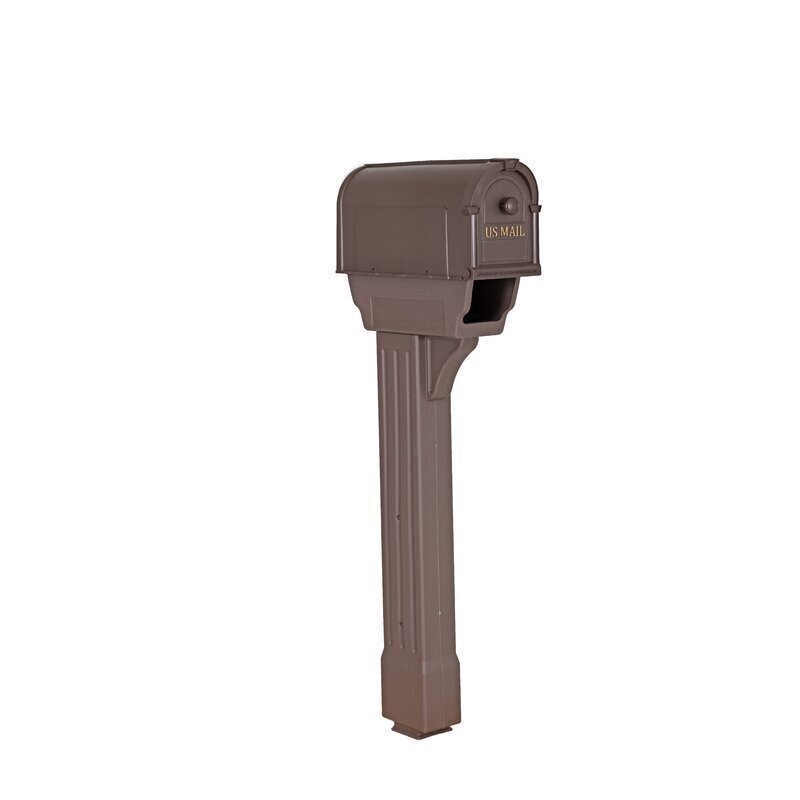 Traditional Bronze Mailbox With Post
Postal Pro Mailboxes
Manufactured from a durable non-break resin material this traditional bronzed mailbox will stand the test of time, while making sure your mail is kept safe while giving your lawn a touch of rustic vintage appeal.
$49.98 $69
Designer Advice:
This traditional yet charming mailbox with post is a practical and appealing accent piece to add to your front yard. The simple classic design is charming yet stylish. It would look great making a bold statement outside any home or business which won't go out of style.
Merchant links are sponsored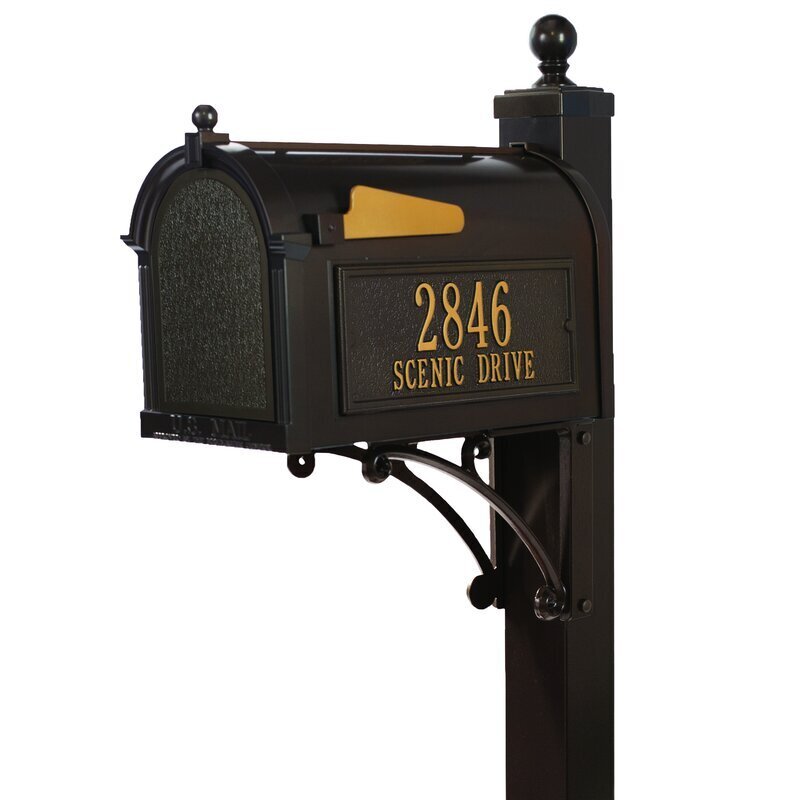 Elegant Bronze Mailbox Post
Whitehall Products
Complete your garden entrance with this elegant bronze mailbox post. It has been created with lightweight aluminum, which ensures its strength and durability. The classic lines and decorative finishes will give a charming and sophisticated touch to your home.
$464.69 $585.99
Designer Advice:
This distinguished mailbox is the perfect accent piece to add to your front yard. The package comes complete with personalized address plaques for both sides of the mailbox to give the perfect finishing touches to its design. It is hand-painted with a weather-resistant finish, which will keep it looking magnificent for years to come.
Merchant links are sponsored