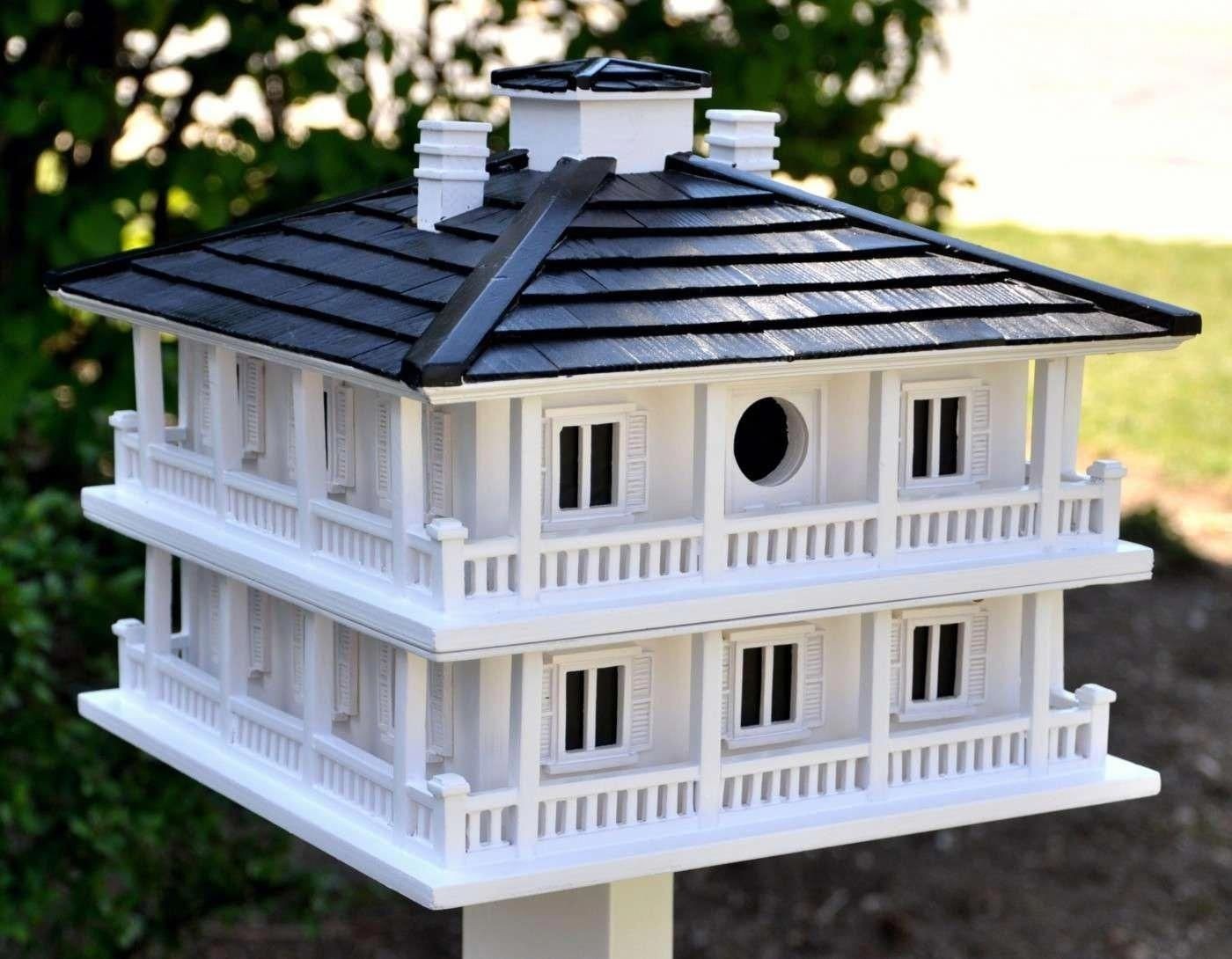 White Post-Mounted Hardwood Birdhouse
The interior of this birdhouse is impressively spacious, leaving room for a number of birds to come and eat at one time. You will undoubtedly be impressed by the thorough exterior detailing that resembles a dollhouse more than a birdhouse. The slanted roof and fencing around the perimeter are just two of the amazing details this birdhouse has to offer.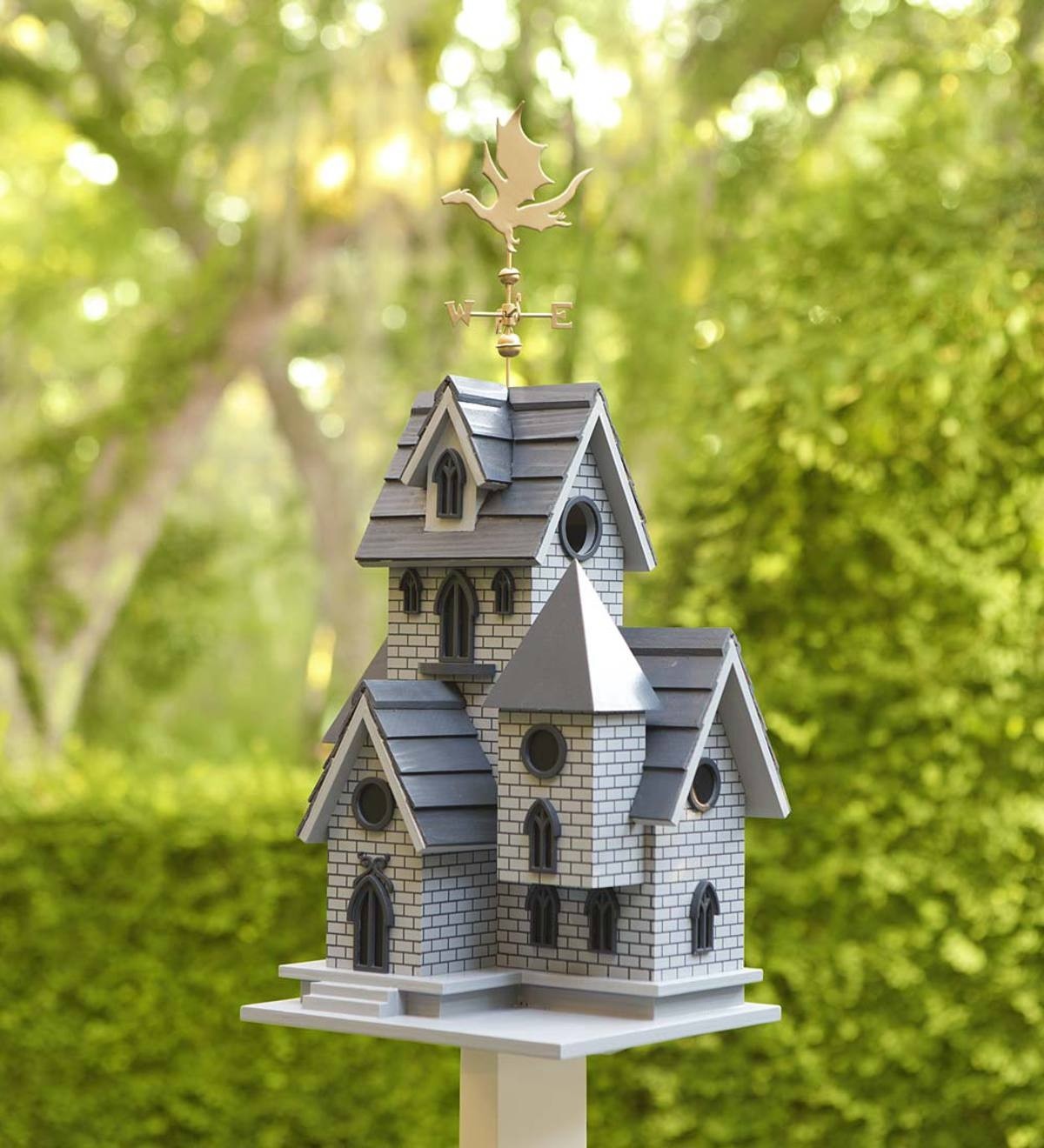 Castle Style Wood Post-Mounted Birdhouse
The elegant castle themed design of this birdhouse is truly unique in every sense. It can accommodate many different birds at once, allowing them to make a nest without any space restrictions. There are multiple roofs and even a charming little weathervane on top, making this birdhouse one-of-a-kind. The level of detail here is truly impressive by anyone's standards.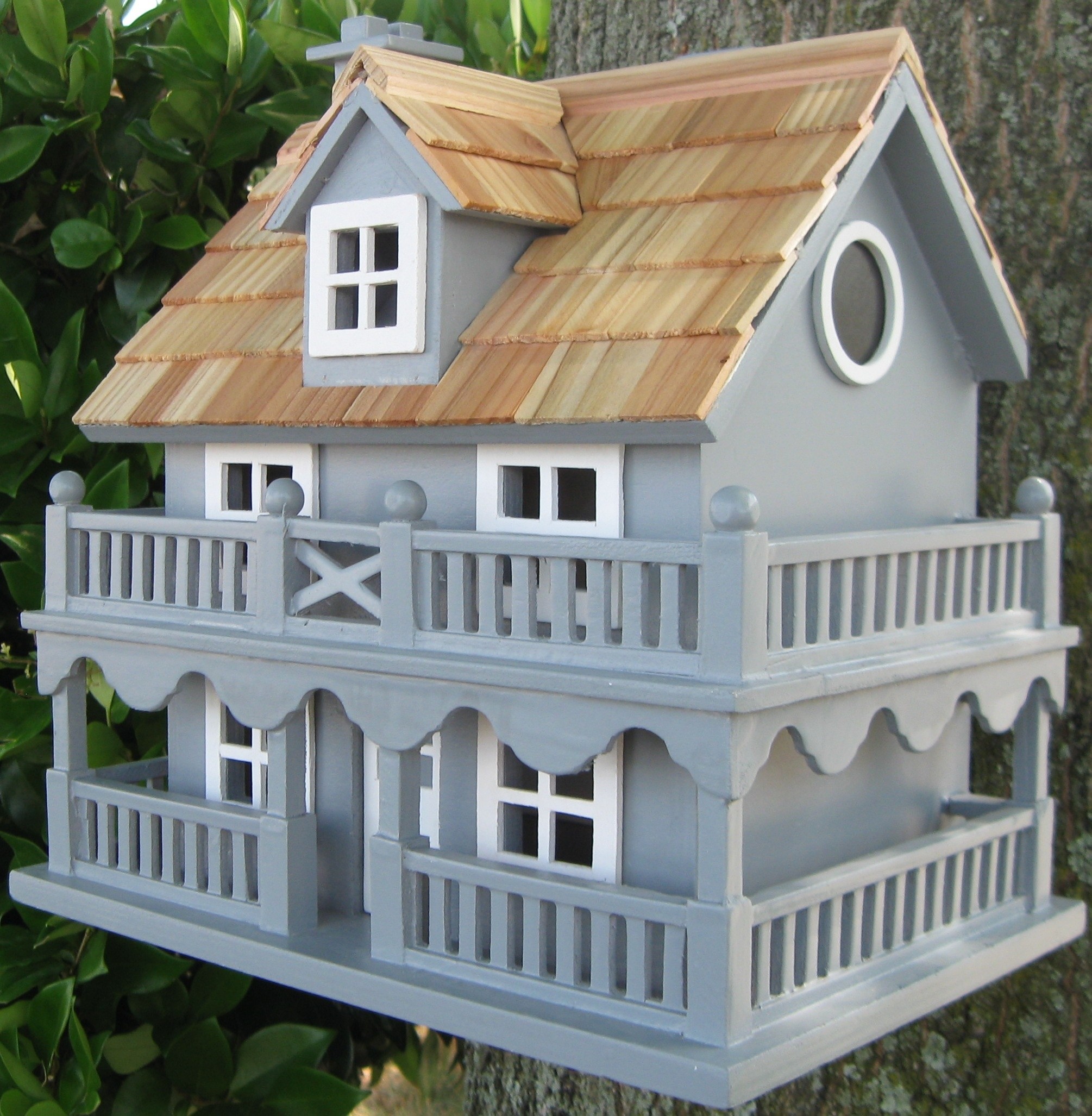 Blue Wall-Mounted Novelty Cottage Birdhouse
The cozy charm of this cottage-style birdhouse will almost make you wish you could visit yourself. Its solid hardwood design is made to withstand the harsh elements, so you can count on it to last. It is made from premium high-quality materials with a detailed paint job that will have all of your guests and neighbors commenting on its overall beauty.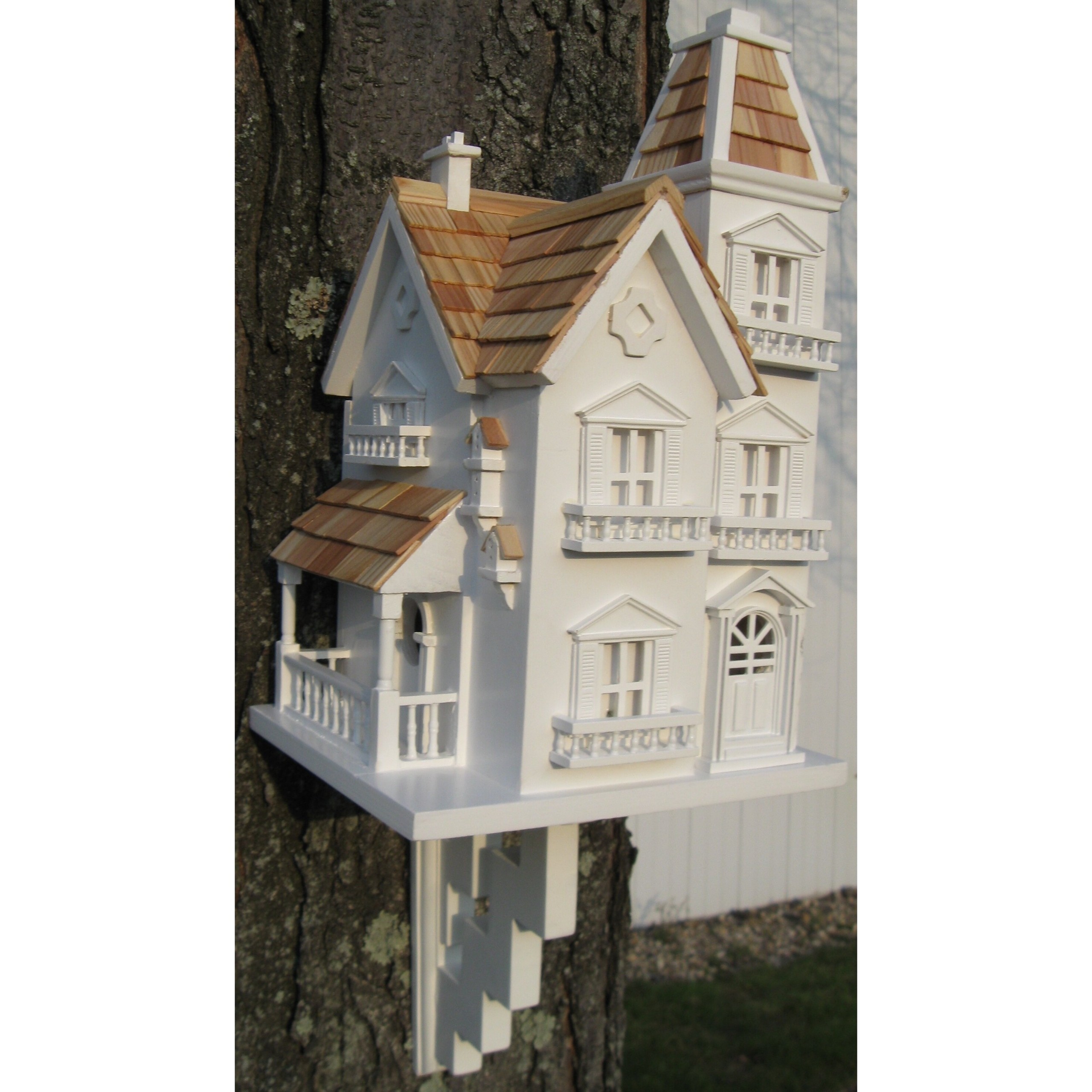 White Victorian-Style Wood Birdhouse
This intricately-designed birdhouse allows even the smallest birds to get through, and it can lend a truly beautiful aesthetic to the outside of your home. The windows on this birdhouse allow for good air circulation, and the built-in drainage will keep it clean at all times. The sheer details of this bird house is quite impressive to say the least.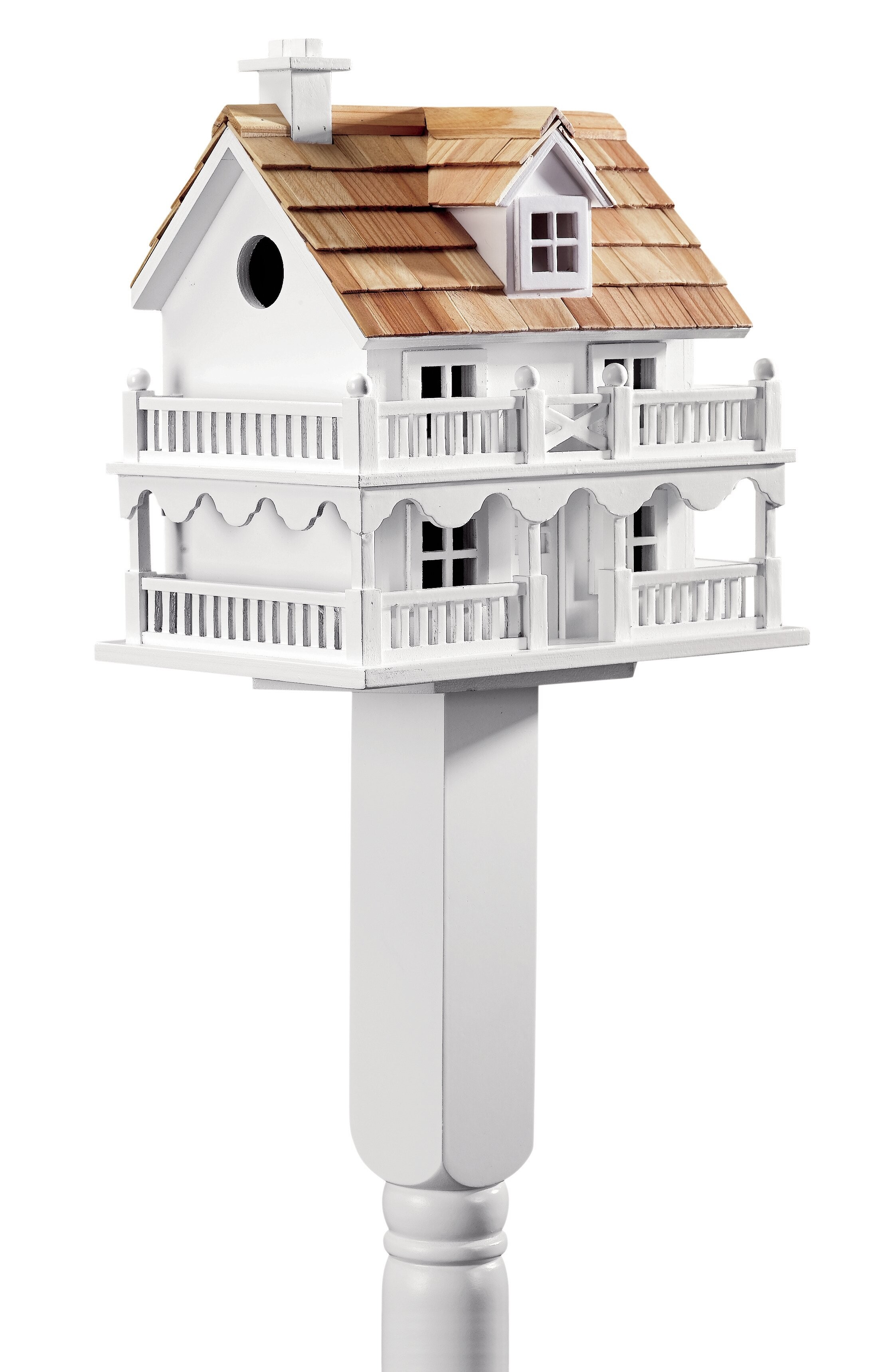 White Cape Cod Post-Mounted Birdhouse
This Cape Cod themed birdhouse has a very playful design and remarkable detail that you have never seen before. This two-story birdhouse will be sure to attract finches, wrens and many other types of birds almost immediately. There is ample space for birds to come and nest, and it's very easy to clean due to the removable back.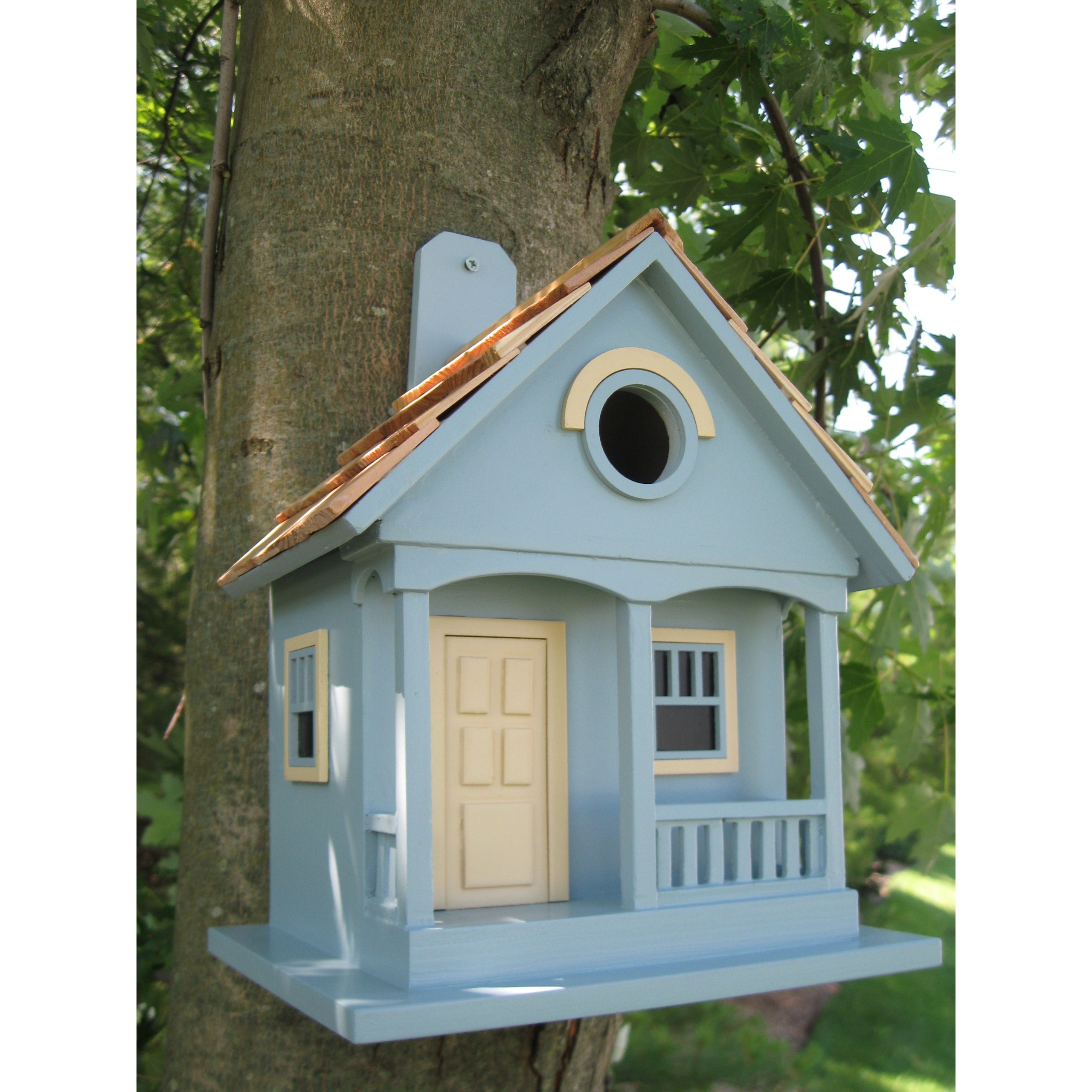 Blue MDF Wood Wall-Mounted Birdhouse
This birdhouse has a uniquely charming appeal that you will certainly be glad to have in your front or backyard. It has a smooth and finely detailed architecture with a slanted roof and multiple windows. If you are looking for a cute birdhouse that will make your home's exterior look a little nicer, this is definitely a good choice.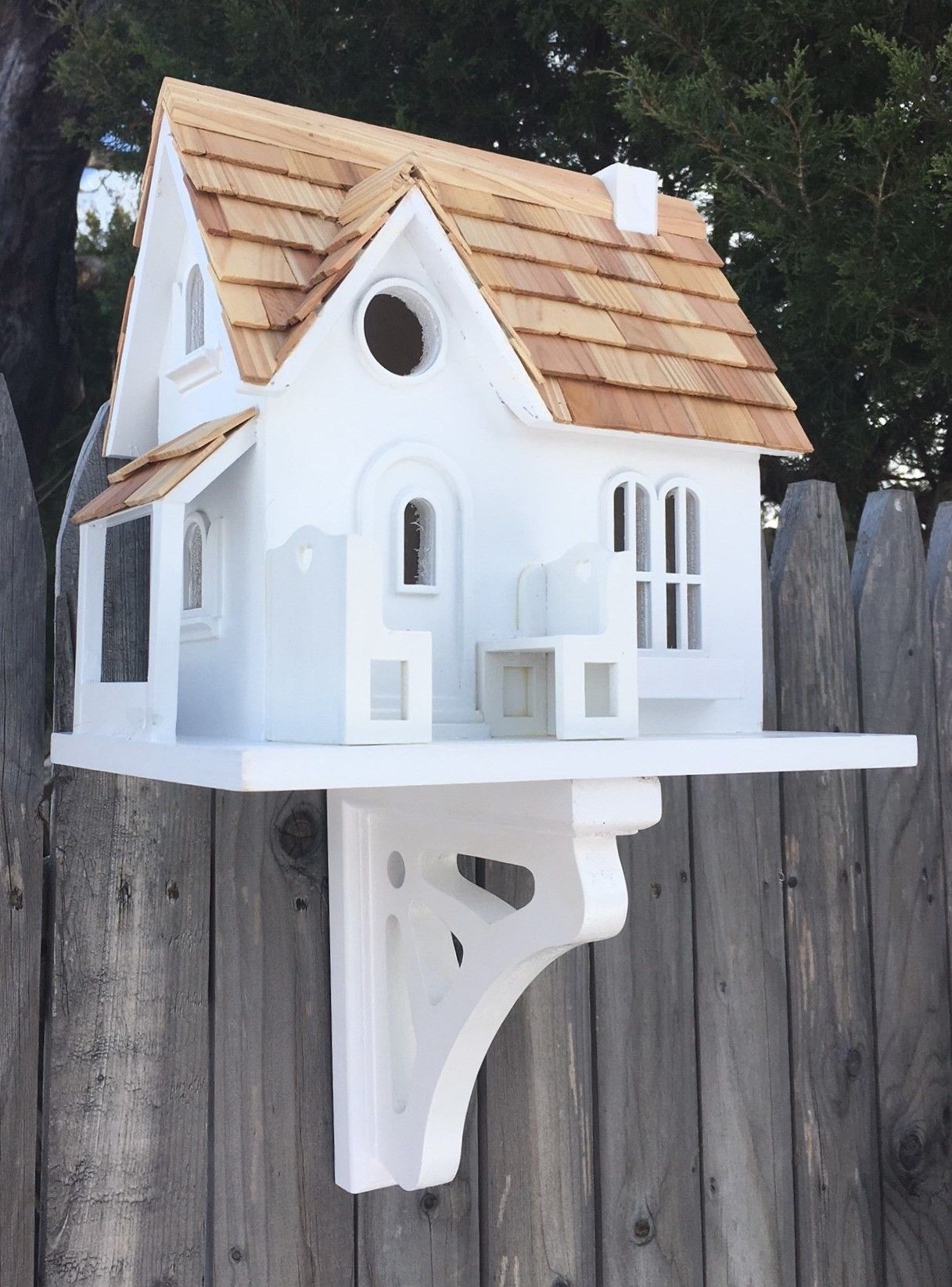 White Cottage-Style Wall-Mounted Birdhouse
With a quaint cottage-style design, this birdhouse will be sure to attract all sorts of beautiful local birds looking to get a bite to eat and make a nest. The wall-mounted design means that you can make this birdhouse on pretty much any tree in your yard with ease. There are some impressive details with this birdhouse that make it a wonderful decorative piece.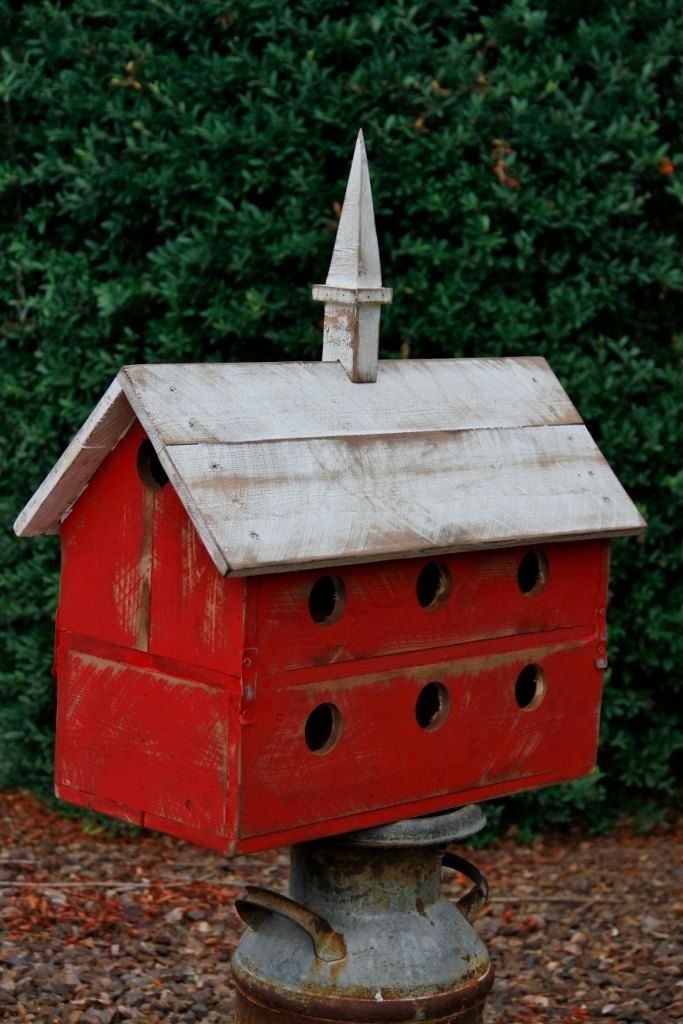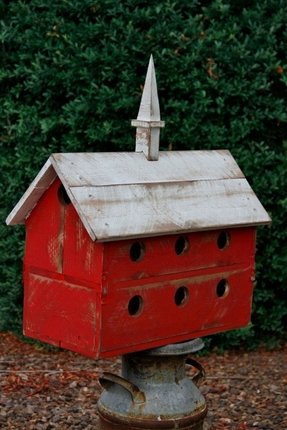 Large Purple Martin House Vintage Purple Martin Birdhouse Barn Bird House
A charming rustic style post-mounted birdhouse handmade of wood. It looks like a barn with a span roof and a spindle finial. Walls are painted in weathered red, the roof - in distressed white. There are lots of round entrance holes in walls.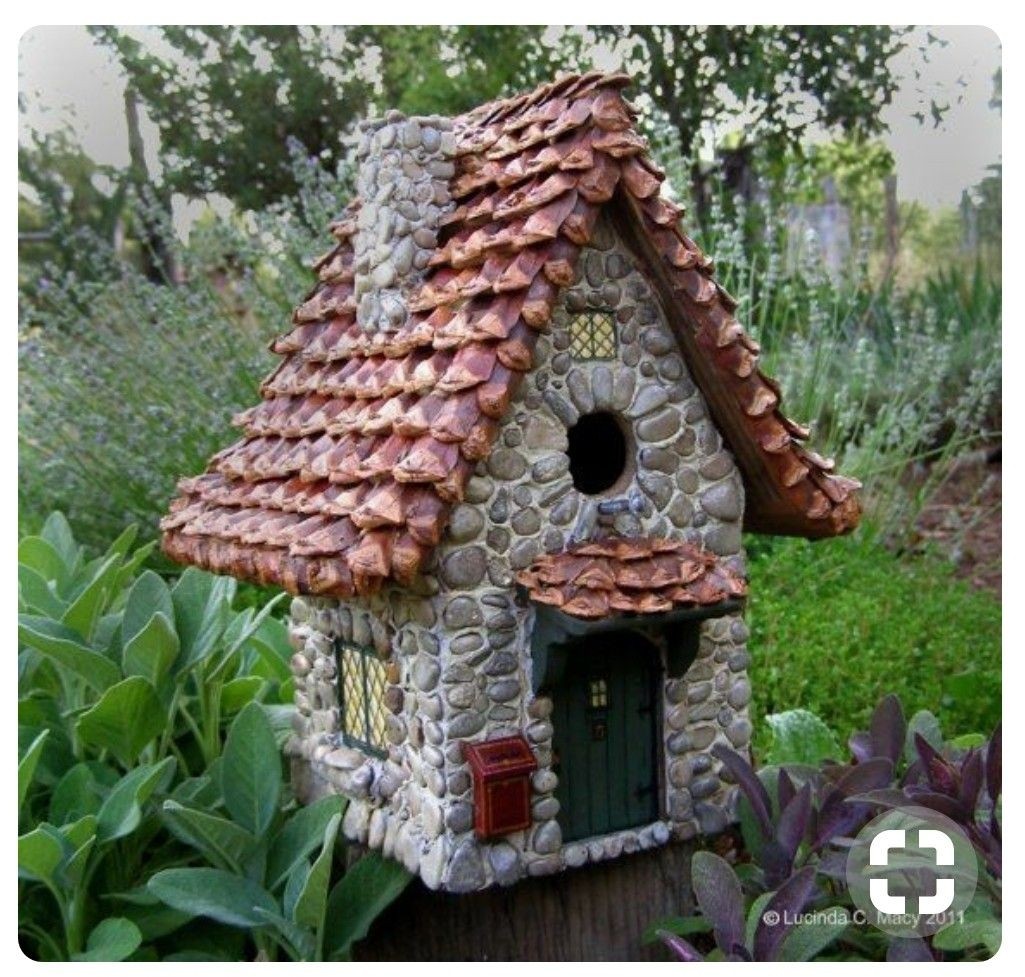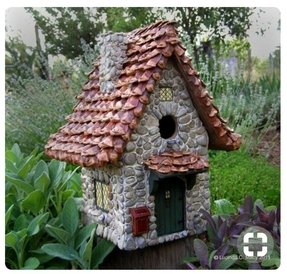 Little stone cottage songbird house
Decorative bird house shaped as stone cottage, with all the details. Lacking a stone fairy house in the garden? Probably this offer can end your search. The stone lodge features green doors, windows and red slates covered gabled roof.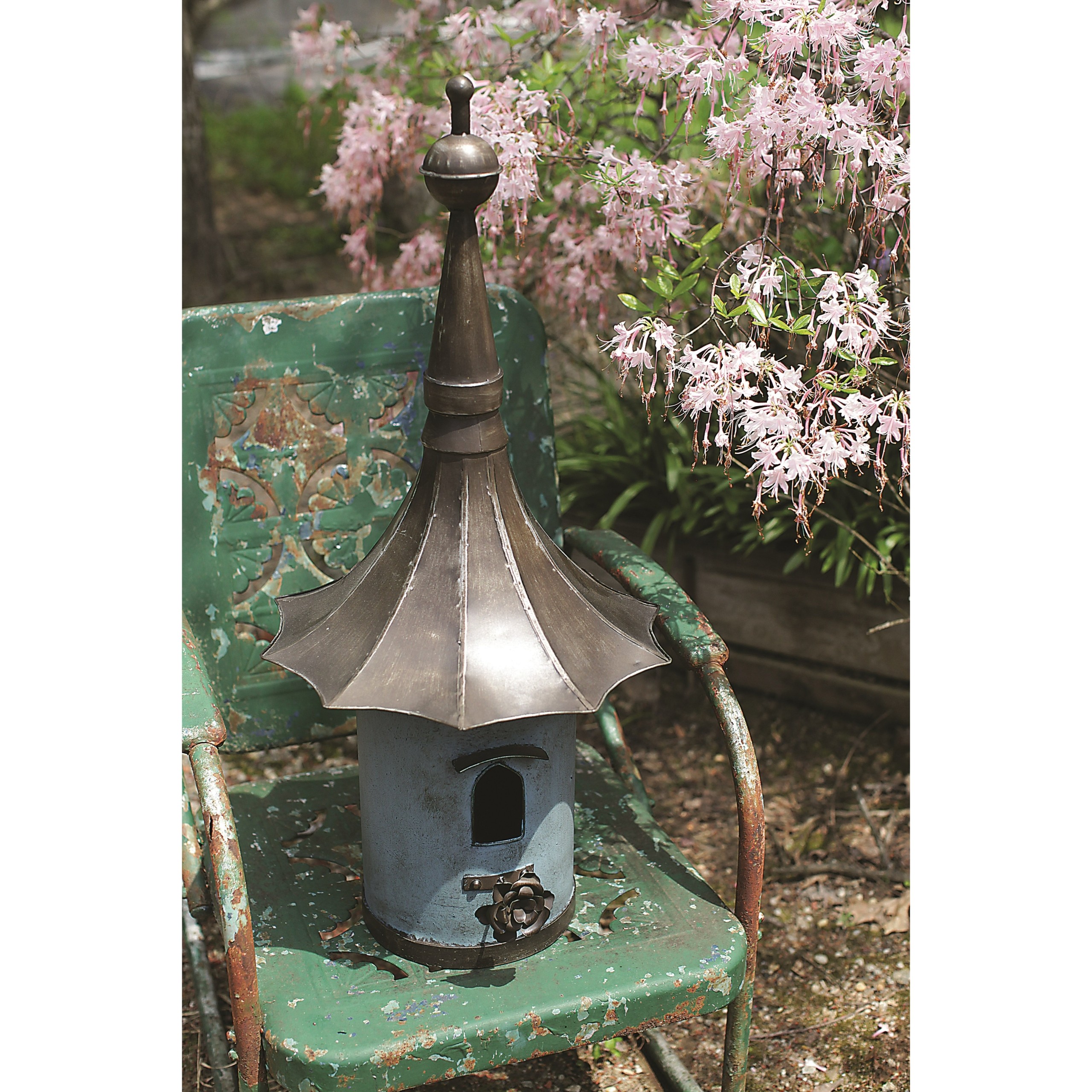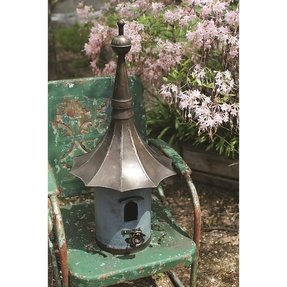 Secret Garden Freestanding Bird House
This stylish and charming freestanding bird house would be a perfect decoration for every kind of garden! Check it out and enjoy and amazing design at your place together with being close to the nature.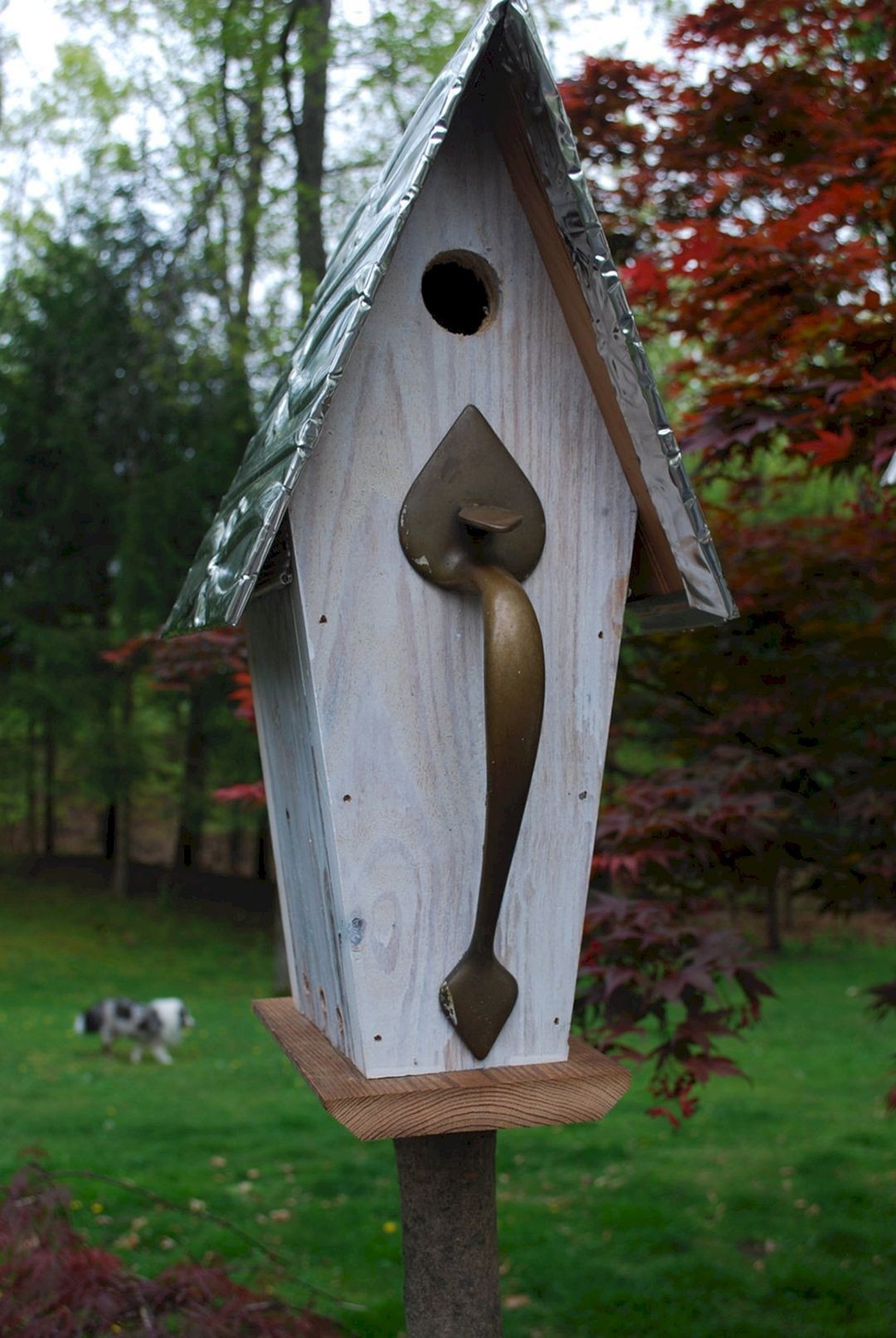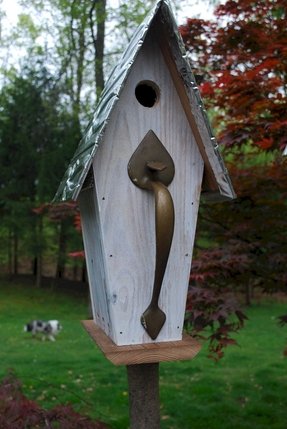 Grand brass doorpull birdhouse
This lovely wooden bird house will embellish every backyard or garden. It has a notice worthy antique brass door handle. Mounts on a post (not included). 1 ½" opening. Easy to clean. Has the size of 18"x6"x6.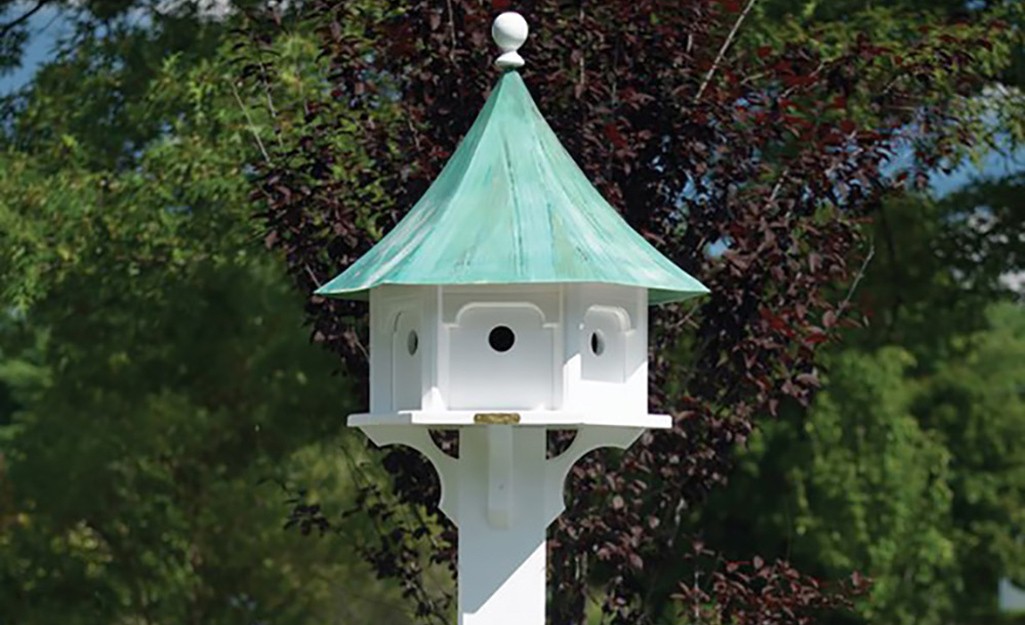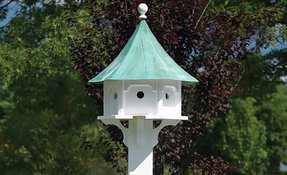 Lazy Hill Farm Carousel Bird House
Lovely carousel bird house that will be a wonderful accent in any garden. It is crafted of solid celurar vinyl and copper on a rooftop. Sturdy cedar posts give an unstained, rustic look. Each of the 6 compartments may be accessed by lifting up on the holes.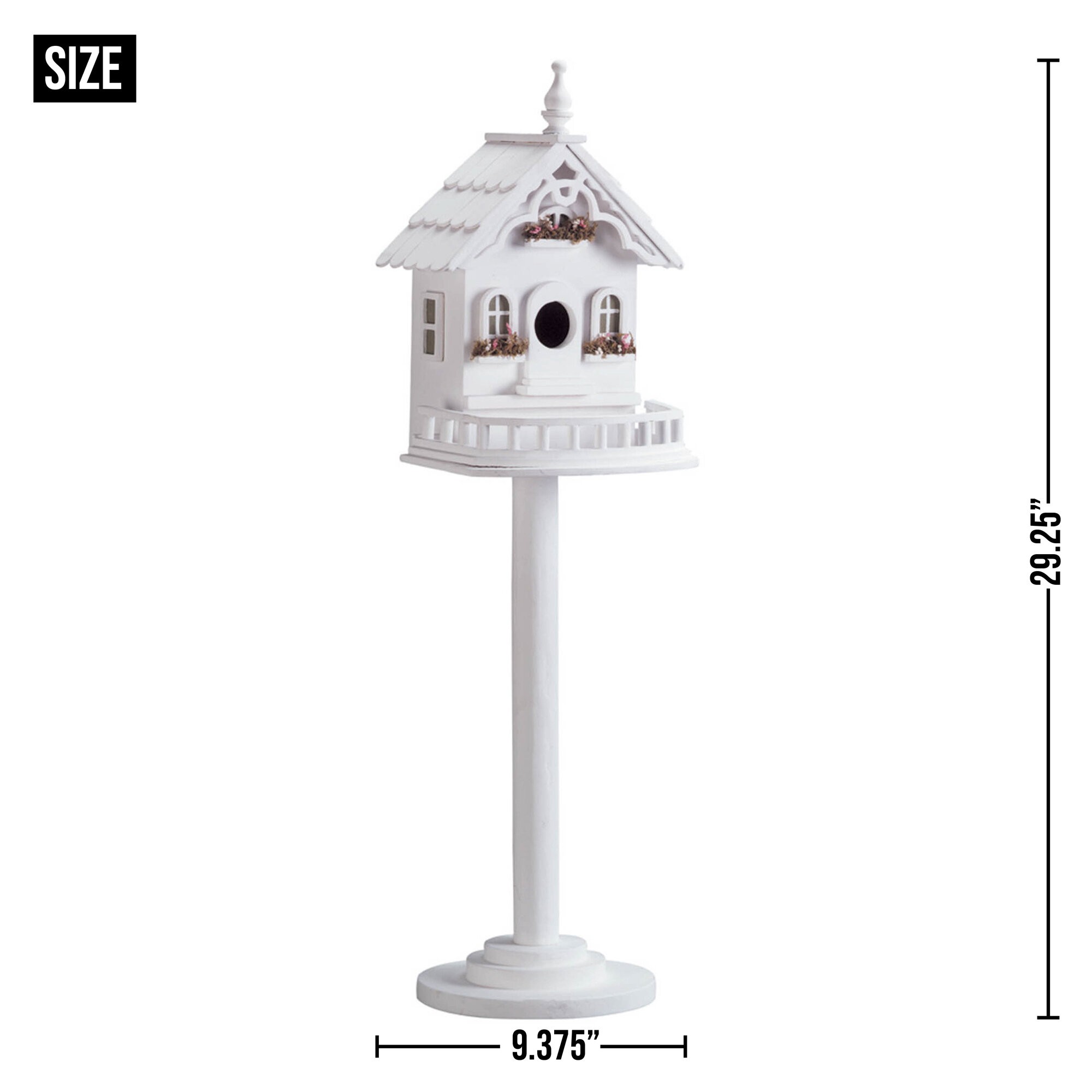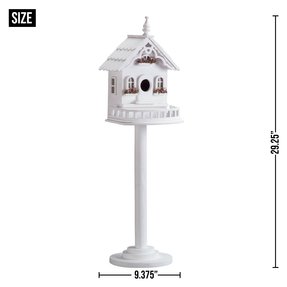 Cape Cod Pedestal Birdhouse
This is an extremely charming with a delicate birdhouse. It is built on a rack. The cottage has the shape of a real family house with the design details. It is all white. Not only will serve the birds as shelter but also as a garden decoration.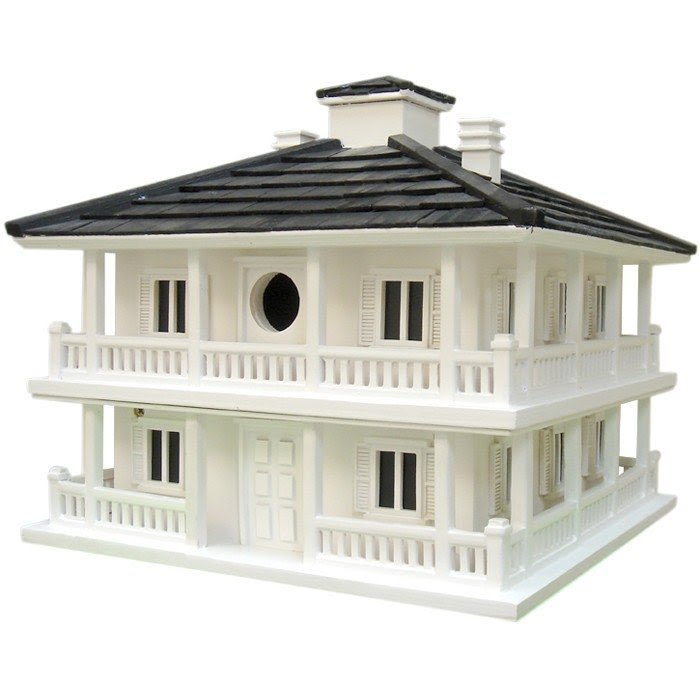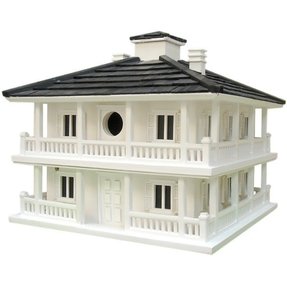 Signature Series Club Birdhouse
This birdhouse is a true mansion! It is appropriate for small birds thanks to multiple entrance holes and shelves ('balconies' with 'balustrades') of matching size. It has lots of cute details and a massive, sturdy roof.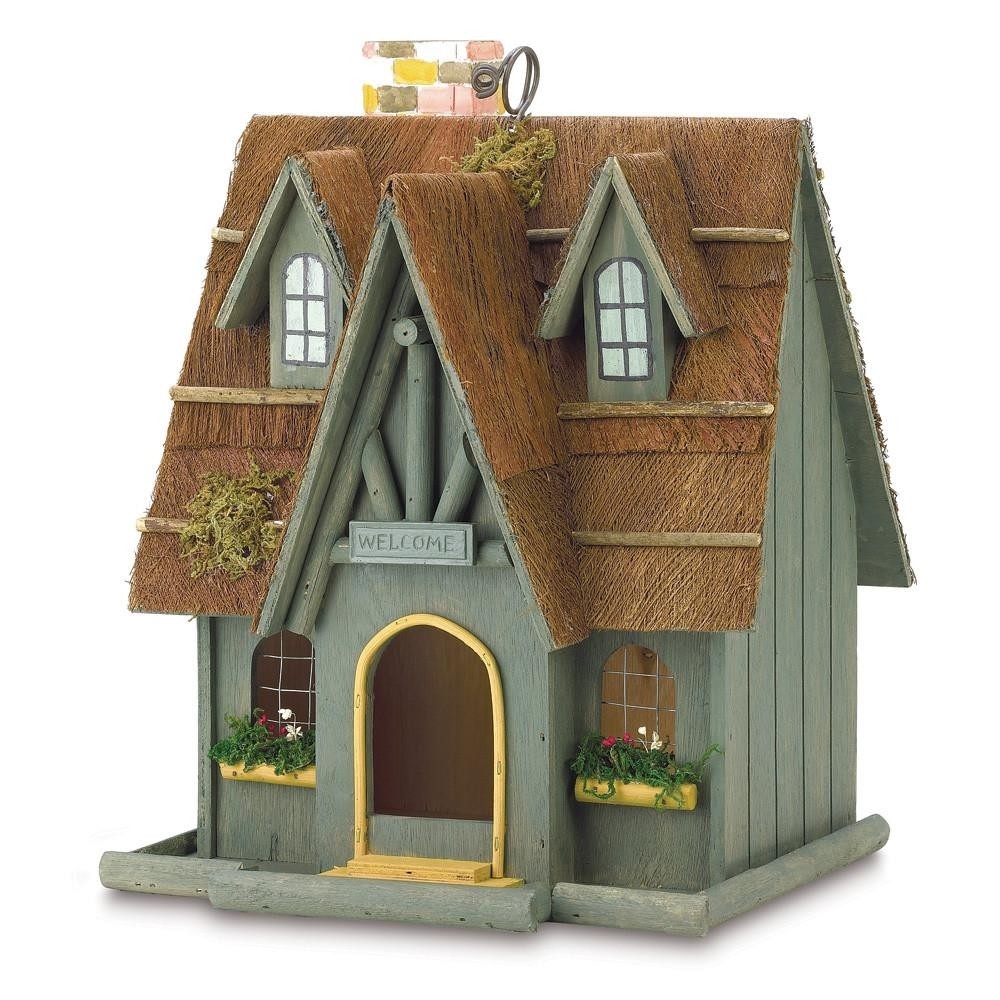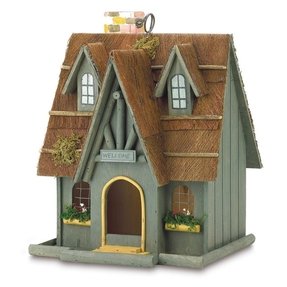 Fairytale Cottage Hanging Bird House
Introduce a magical mood to your outdoor decor with this charming wooden bird house, ready to be immediately hanged at your window. The house features front door, spacious enough for a bird to enter. Its design and detailed finish is really lovely!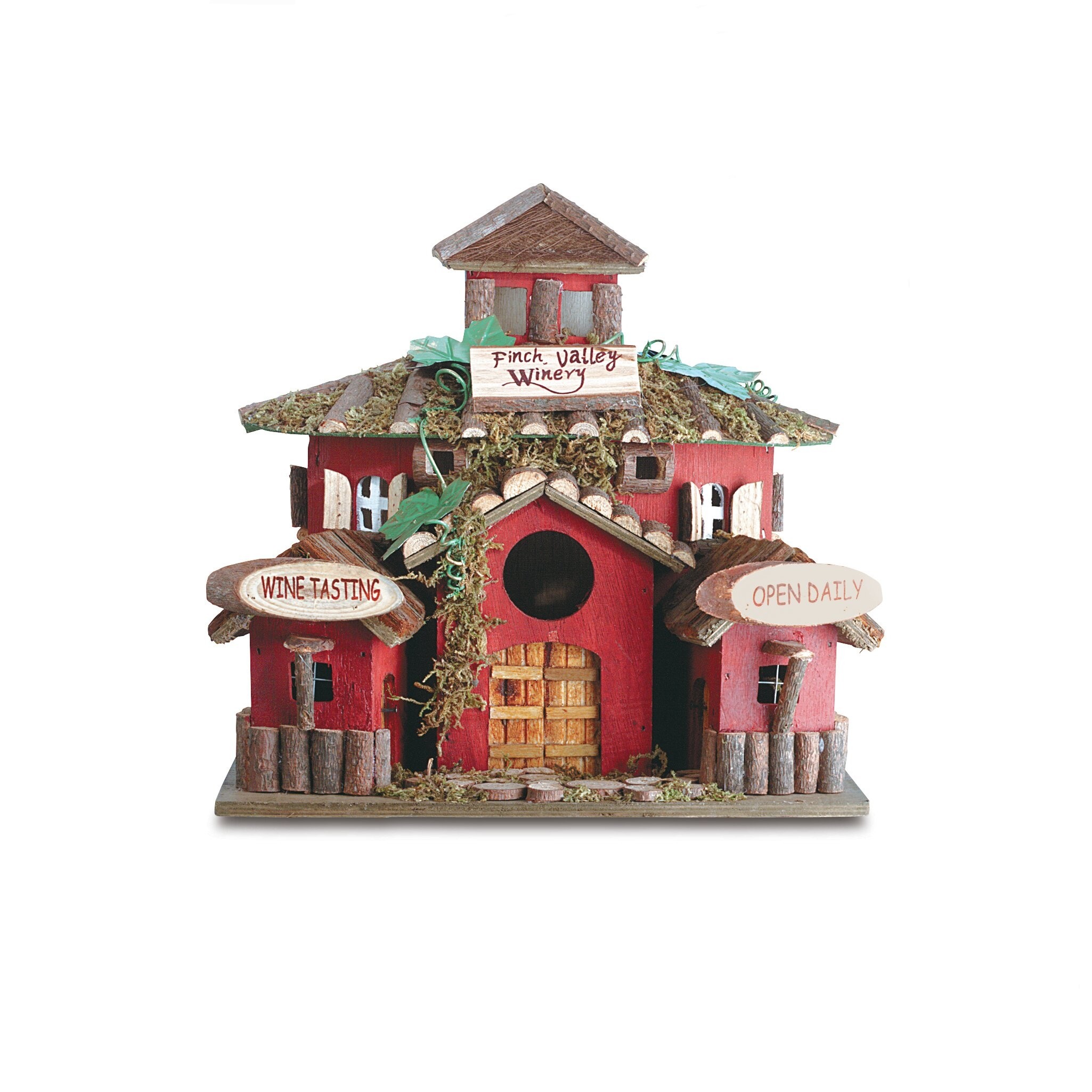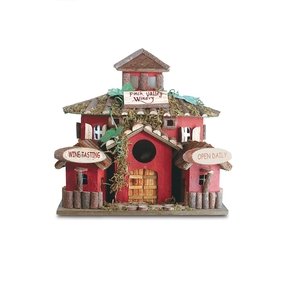 Finch Valley Winery Freestanding Bird House
This beautiful freestanding bird house will be a perfect addition to any outdoor area. It was crafted with pay a lot of attention to details from a highest quality materials, so it's very durable and solid.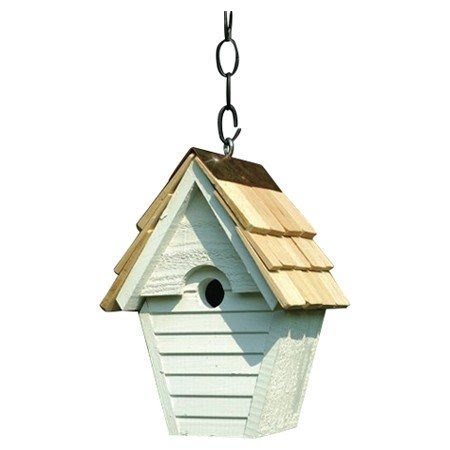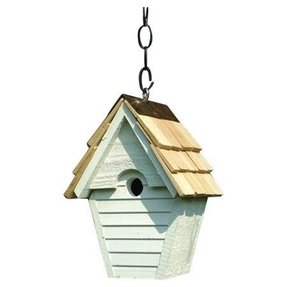 Wren-in-the-wind Birdhouse
It is a lovely and pretty birdhouse that is available in many color options to choose. It is handcrafted and has got a solid wood construction. It is a great addition to your garden.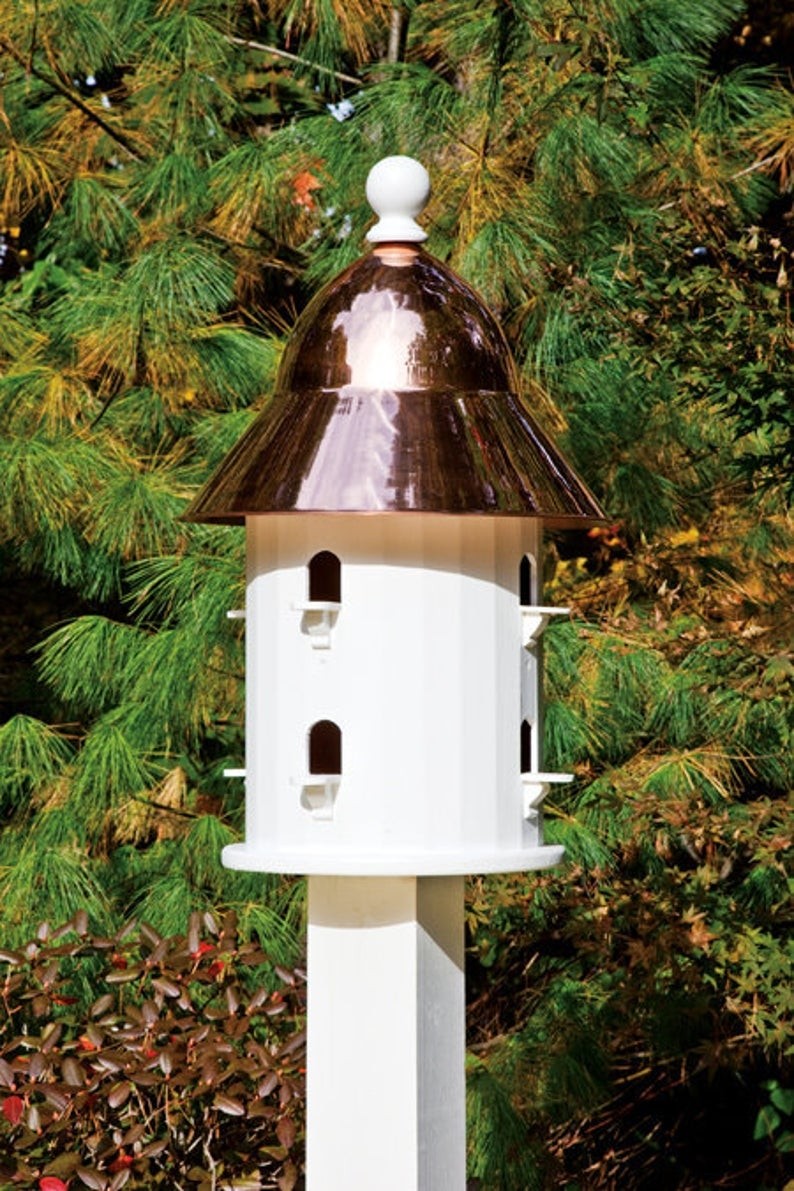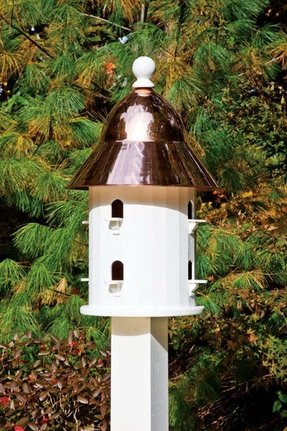 Lazy Hill Farm Bell Birdhouse
A lovely bell birdhouse. Made of white vinyl and adorned with a copper roof. The post is made of natural wood. The birhouse, apart from being really pretty, is also freestandig, rust and fade resistant.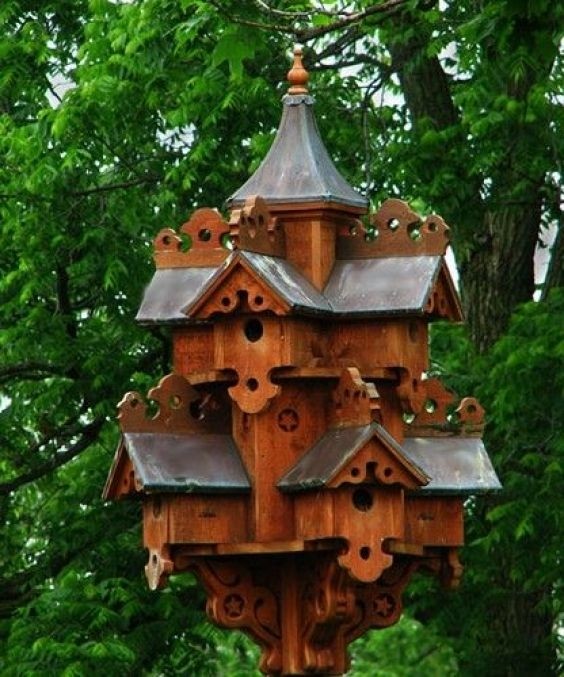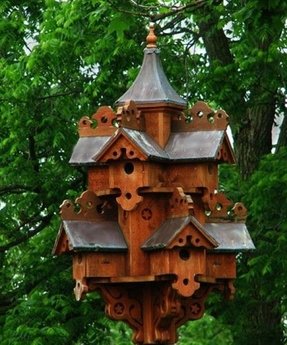 Bird house in Victorian style. Construction is made of wood. It is resistant to rust and harmful weather conditions. Stylish addition to the garden or patio.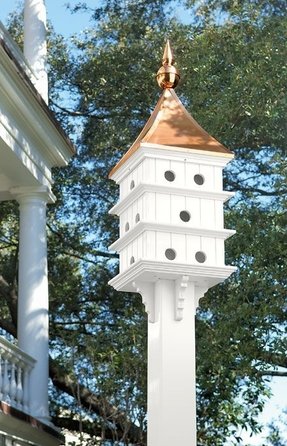 Purple Martin House | Birdbaths, Birdfeeders and Birdhouses,Birdfeeders and Birdhouses | Charleston Gardens® - Home and Garden Collection Classic outdoor and garden furnishings, urns & planters and garden-related gifts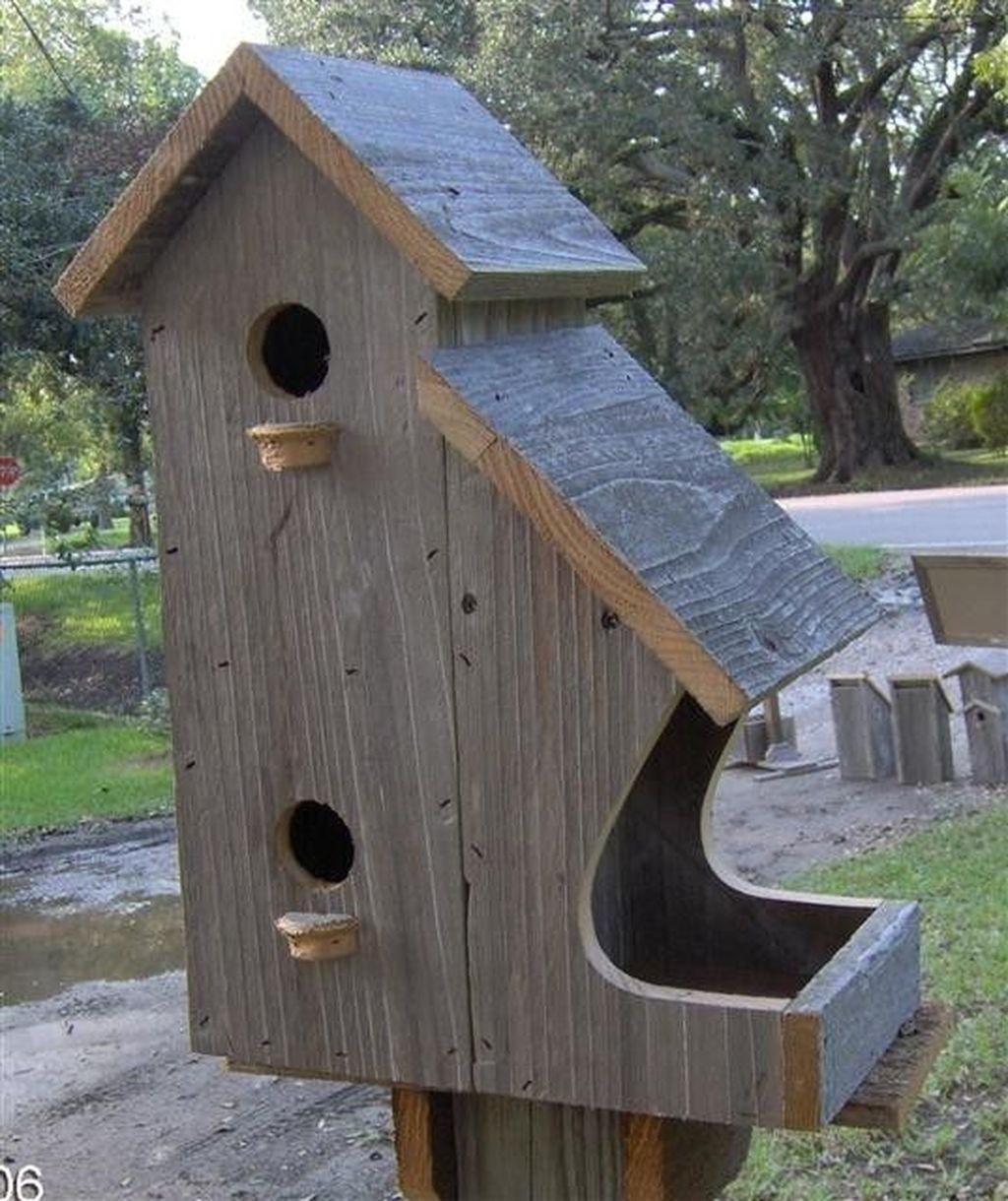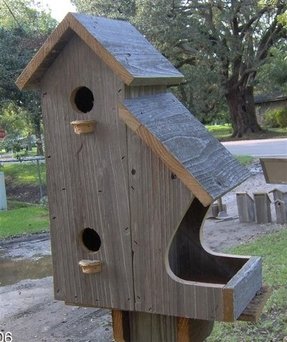 This handcrafted, rustic bird house is a great way to decorate your garden. Beautiful design, plenty of space for bird friends and an eye-catchy look captures the details. The whole is perfectly presented among the trees.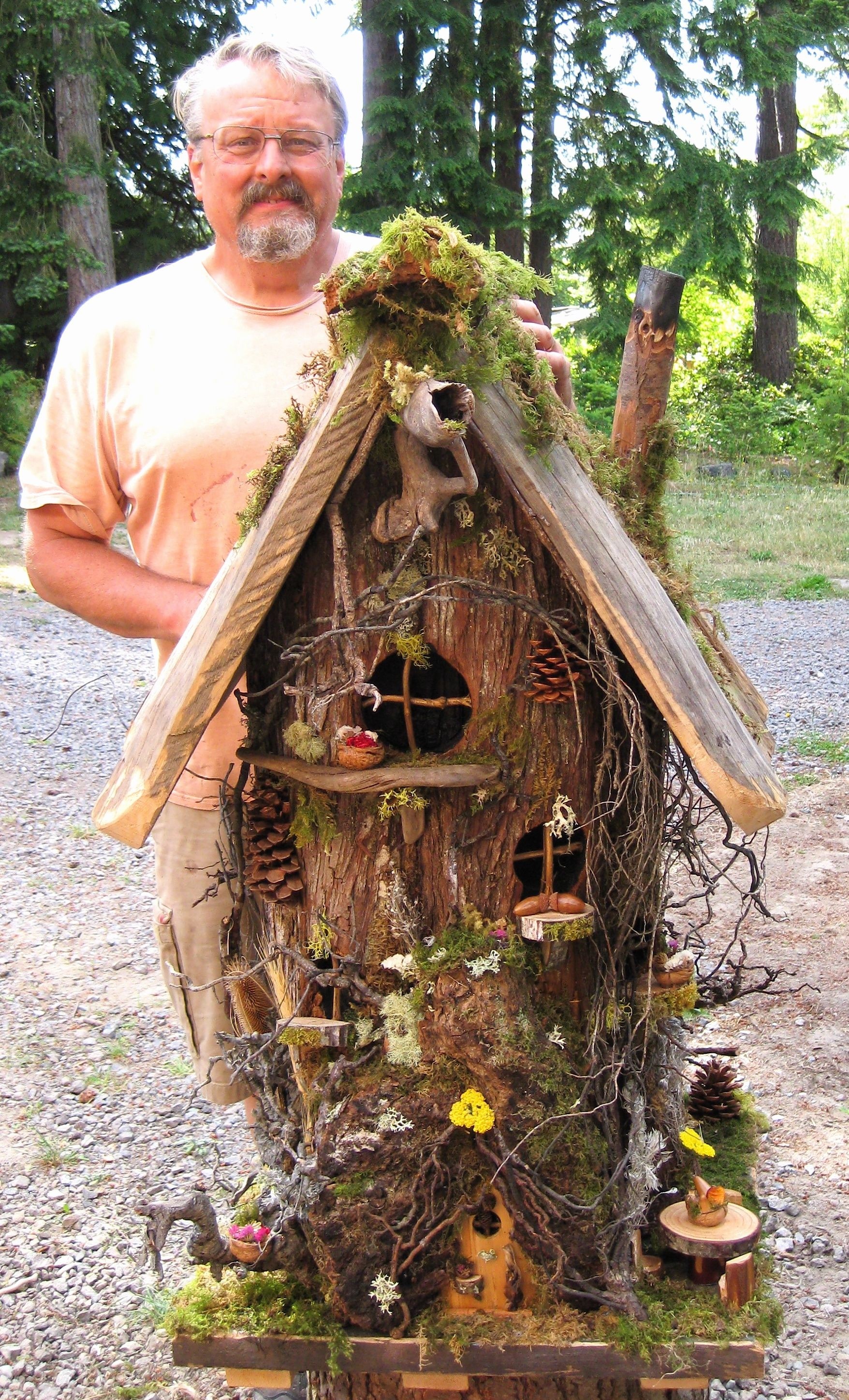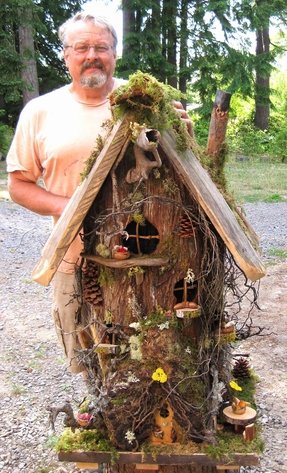 Original garden decoration made of wood seek, branches, cones, moss and leaves. It look like little house of gnomes. It can be used just like a decoration, but it can be wonderful and one of a kind bird's house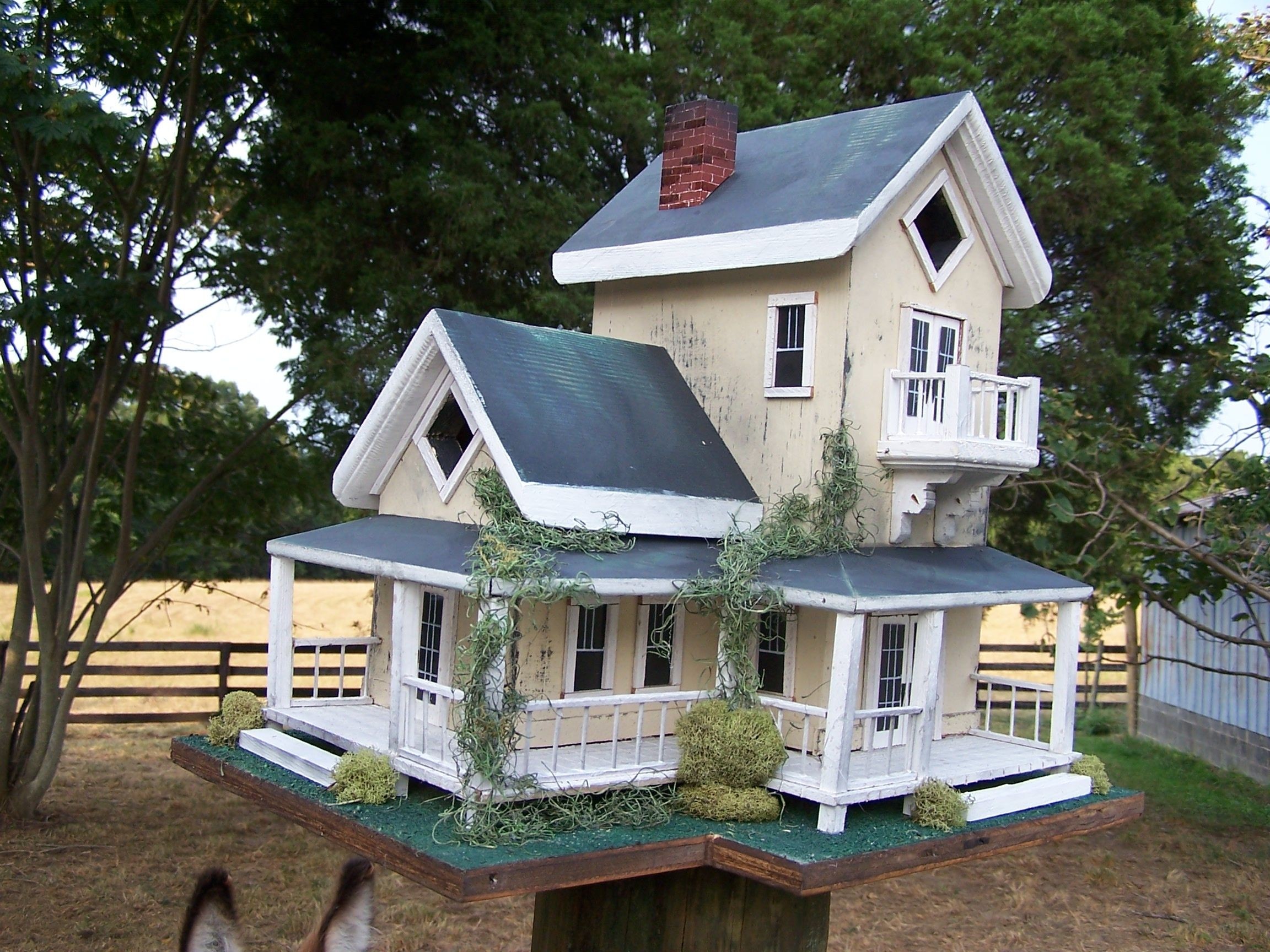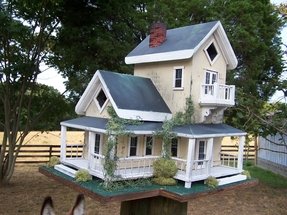 ... inexpensive decor options!cheap prices at hq opening victorian bird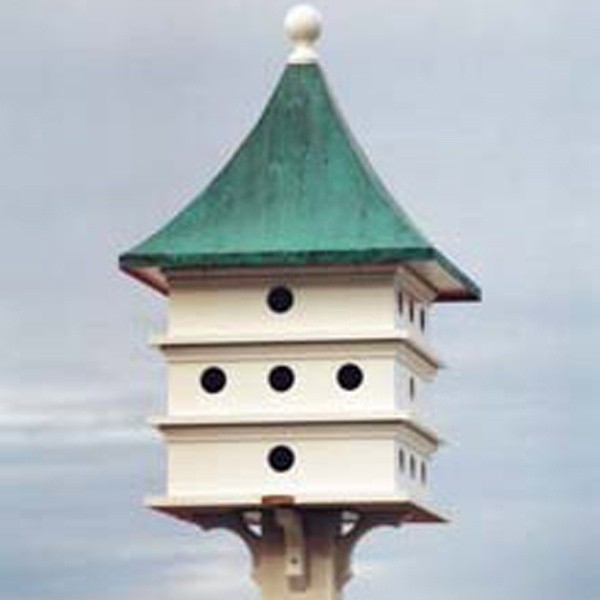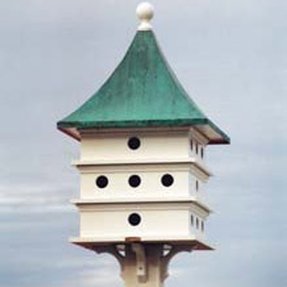 Bird Houses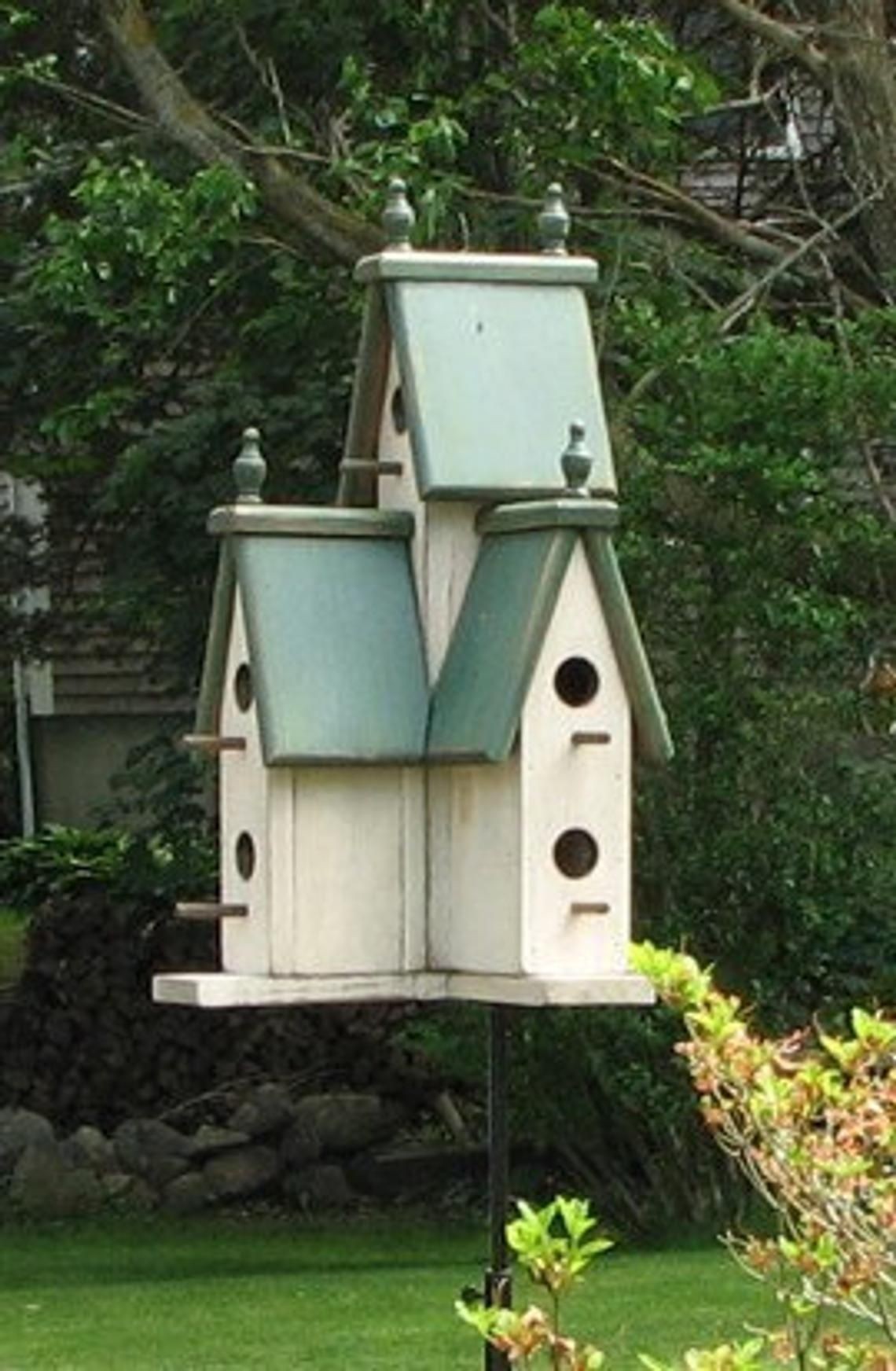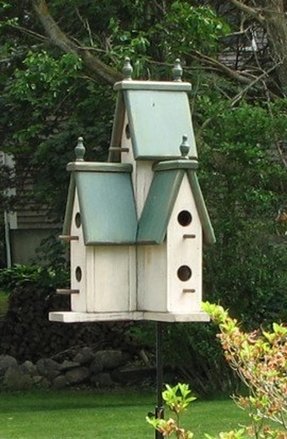 This fantastic bird house is a real castle in your garden. The beautiful combination of solid wood construction and subtle shades of green and white will perfectly match the garden, and the birds will have plenty of space for themselves.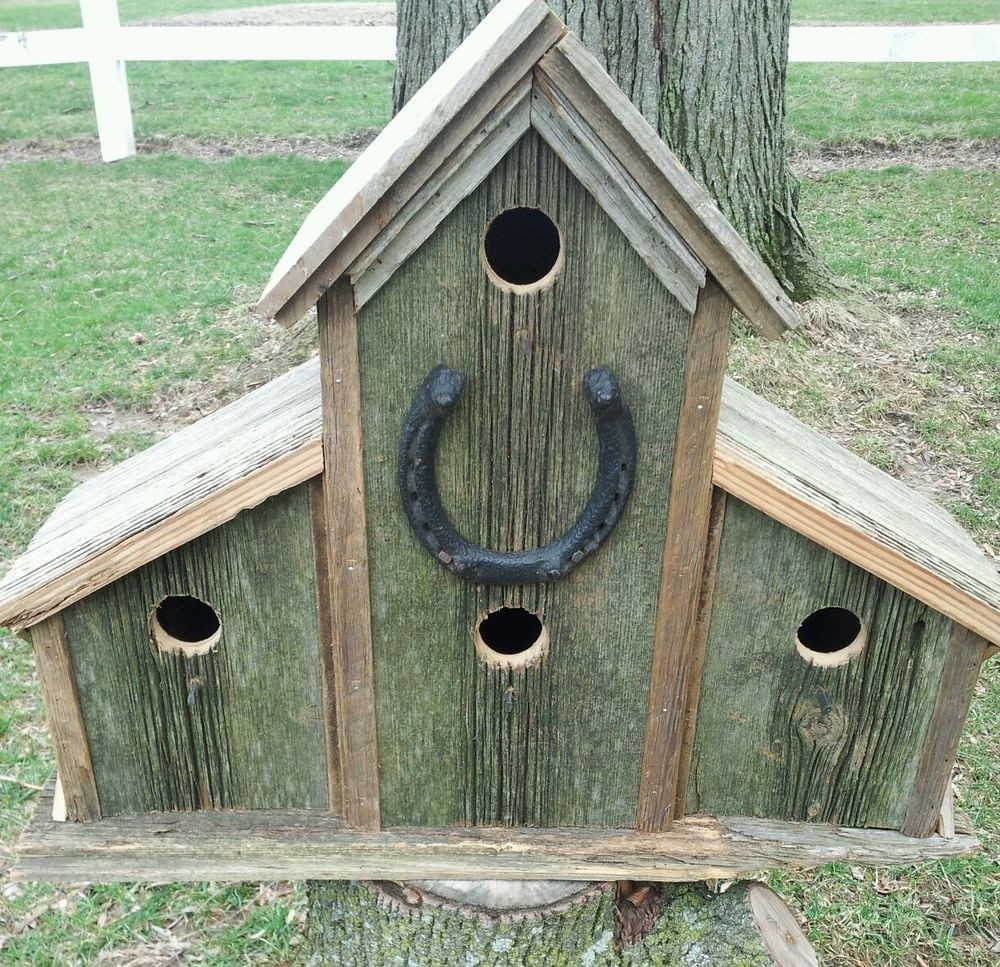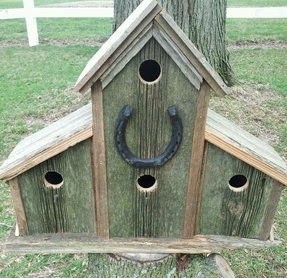 If you have birds flying over your backyard, you may want to fix them a nice house. With this large, rustic birdhouse, made of reclaimed barn wood, your singing friends will have enough space to make of this fine structure a permanent home for themselves.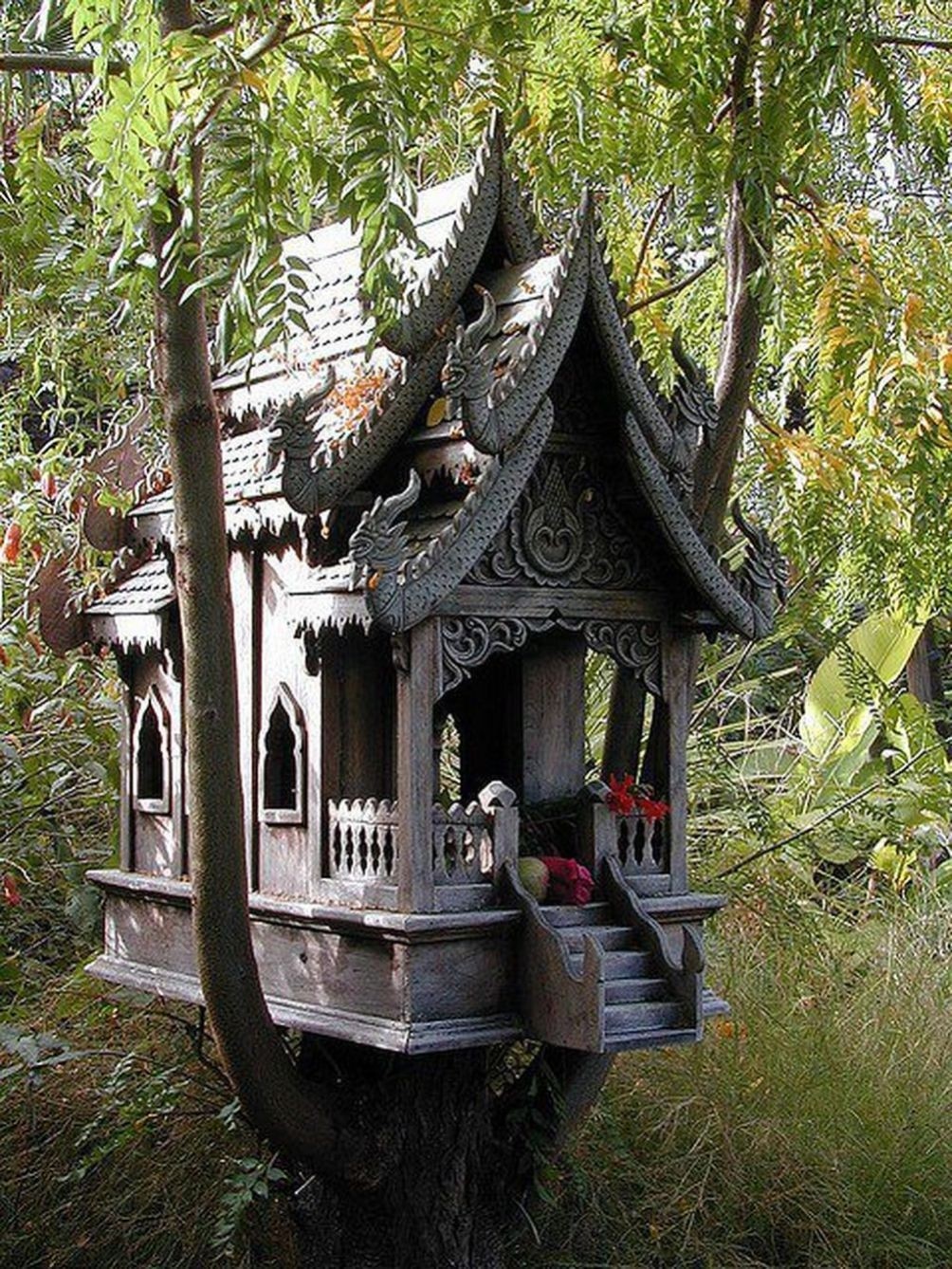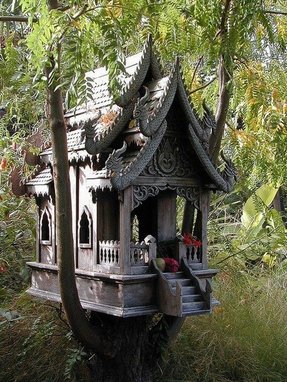 Richly decorated bird house in Victorian style. It is made of wood and finished with carefully made carvings. Elegant accent for the garden, patio and more.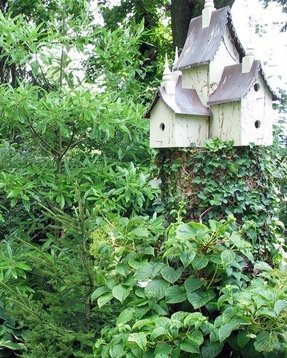 Birdhouse in Victorian style. Construction is made of wood and designed for mounting on the tree. Great addition to the garden and others outdoor places according to taste and need.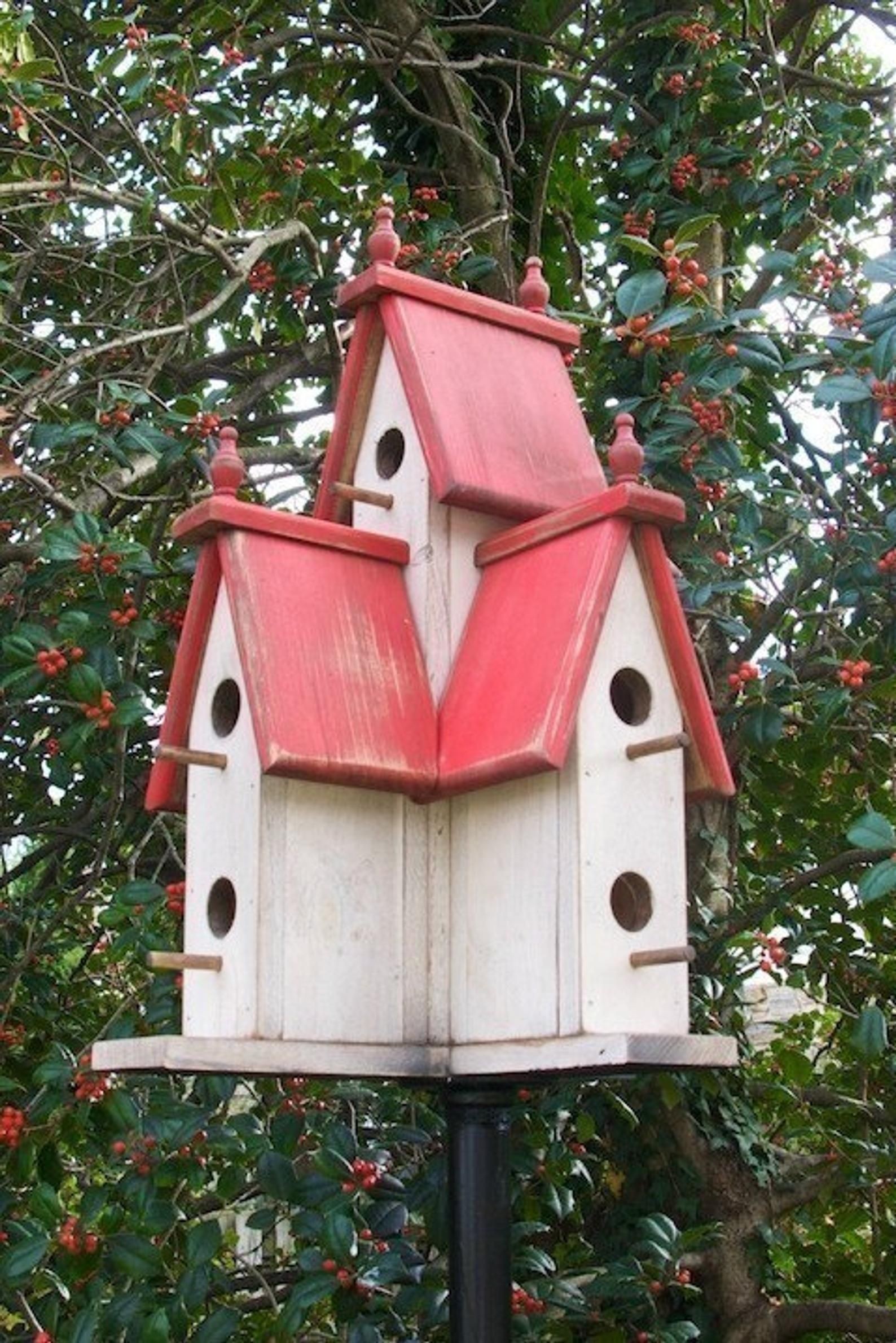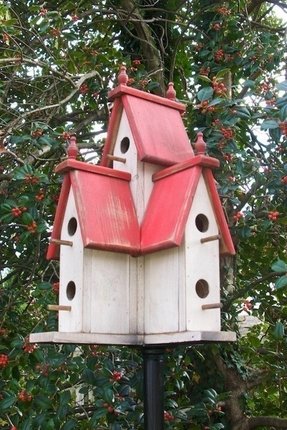 Large Victorian birdhouse constructed from solid wood and painted. The house has many entrances on various levels and a gabled roof painted red, with decorous finials on top. It stands on turned black post.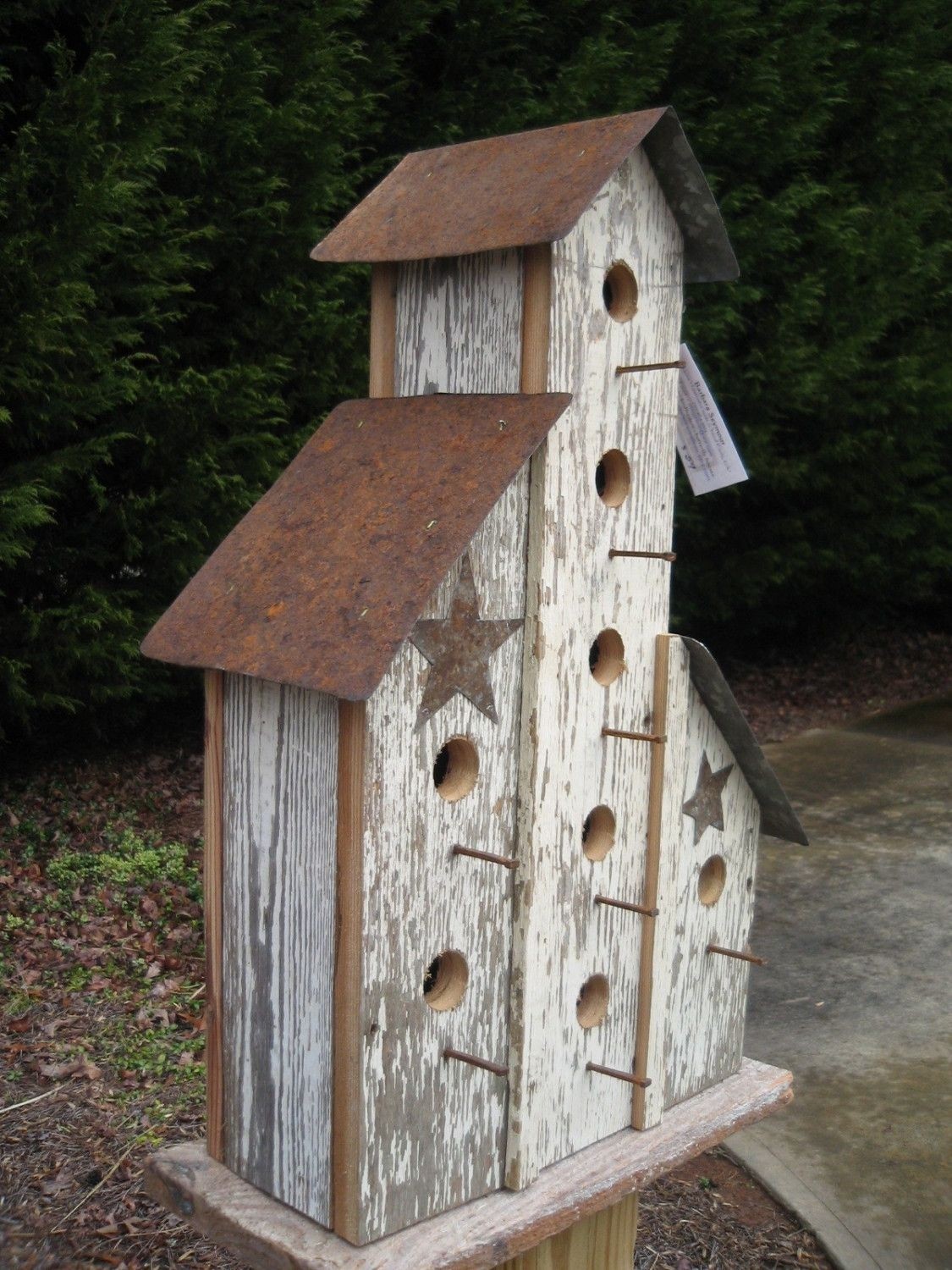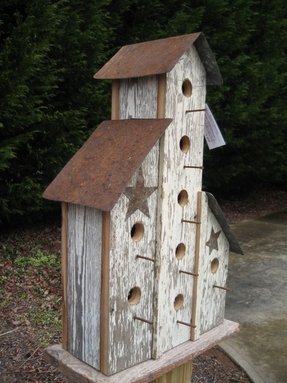 Birdhouse made of wood with antique finish. Designed for small birds. It has 9 holes and branches. Stylish addition in Vintage style for each outdoor place.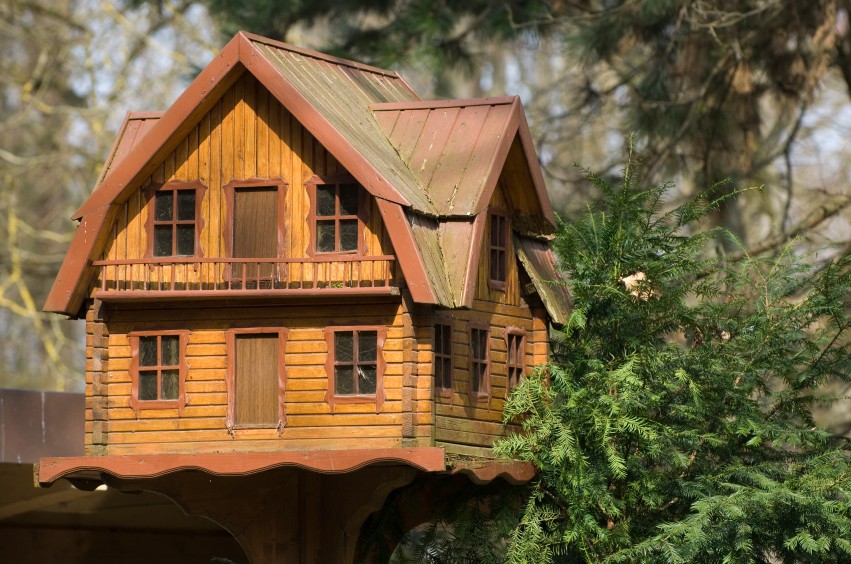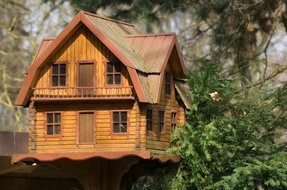 78 Decorative, Painted, Outdoor & Wooden Bird Houses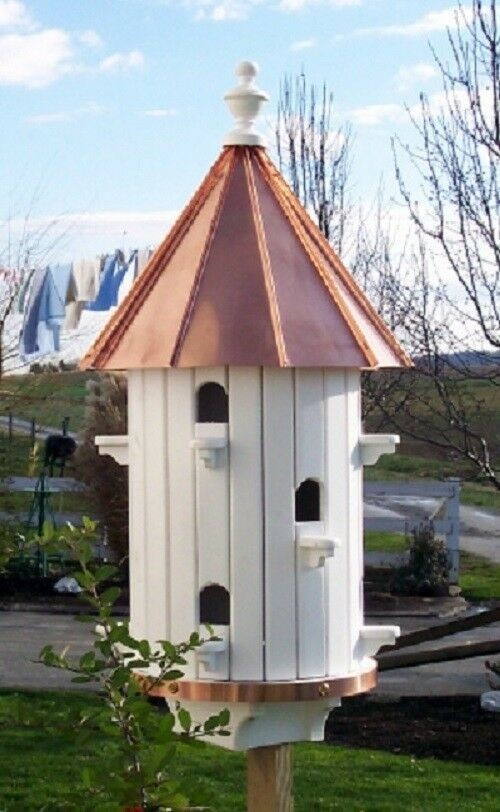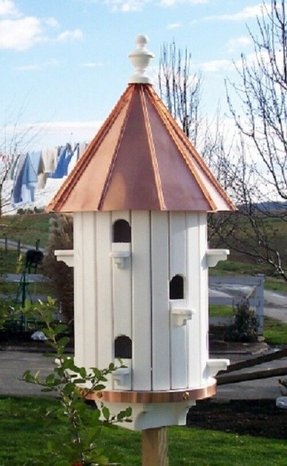 Beautiful stylish table is must-have in every house. This unique sophisticated table plays its role perfectly as a coffee table, but you can use it as bedside table. It has sculptural incredible kickstands and desktop made of marble.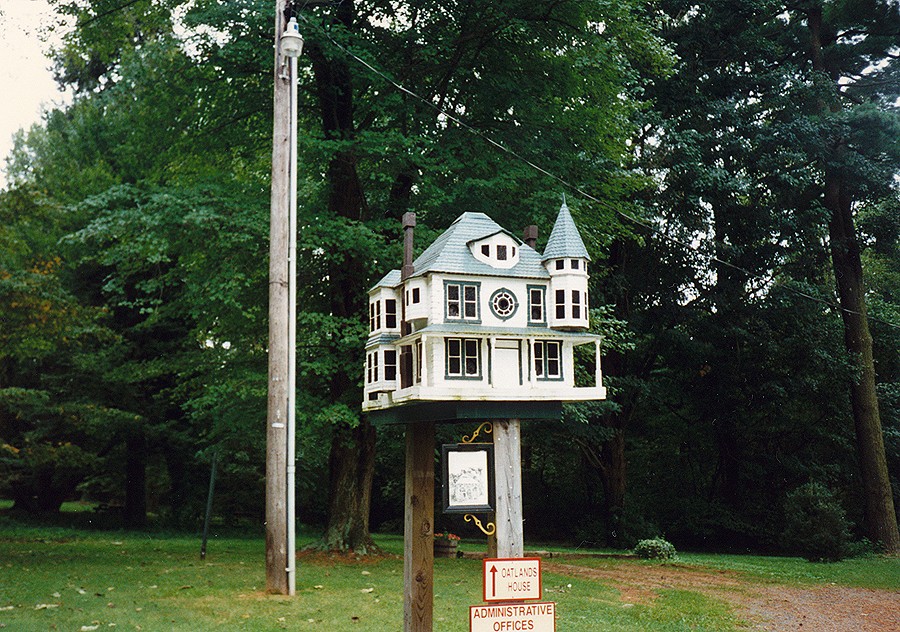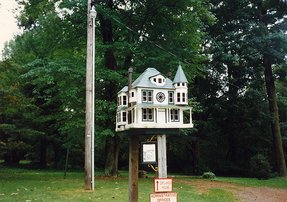 ... Collection Galleries World Map App Garden Camera Finder Flickr Blog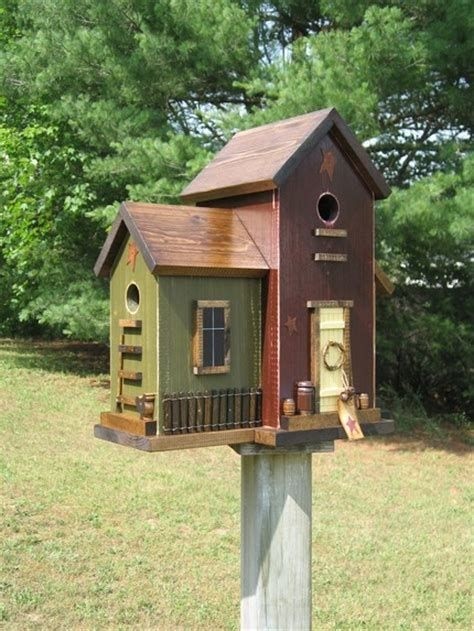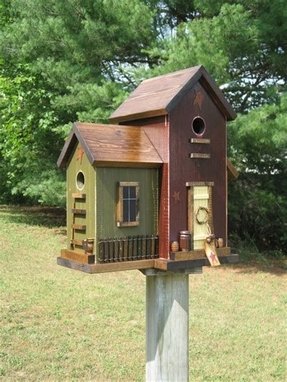 Lovely bird house for the garden and others outdoor places according to taste and need. Construction is made of wood. It is resistant to rust and harmful weather conditions.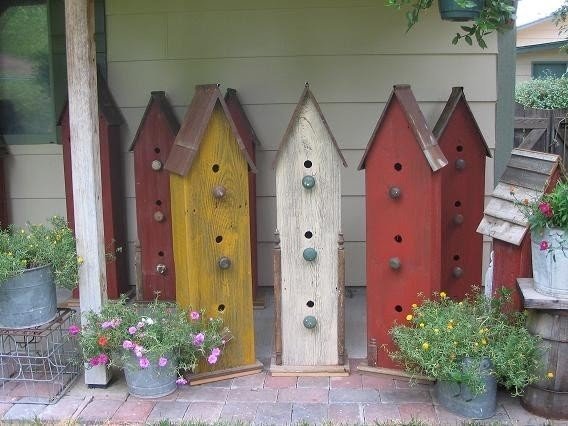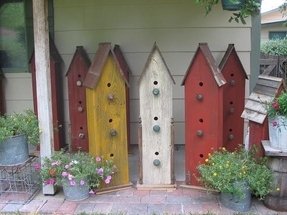 Those large birdhouses can be a nice solution not only for your small singing friends, but also for decorating your outdoor area. Each of those is built of sturdy wood, has a high-pitched roof, 3 stories to accommodate, and 3 cutout holes for entrances.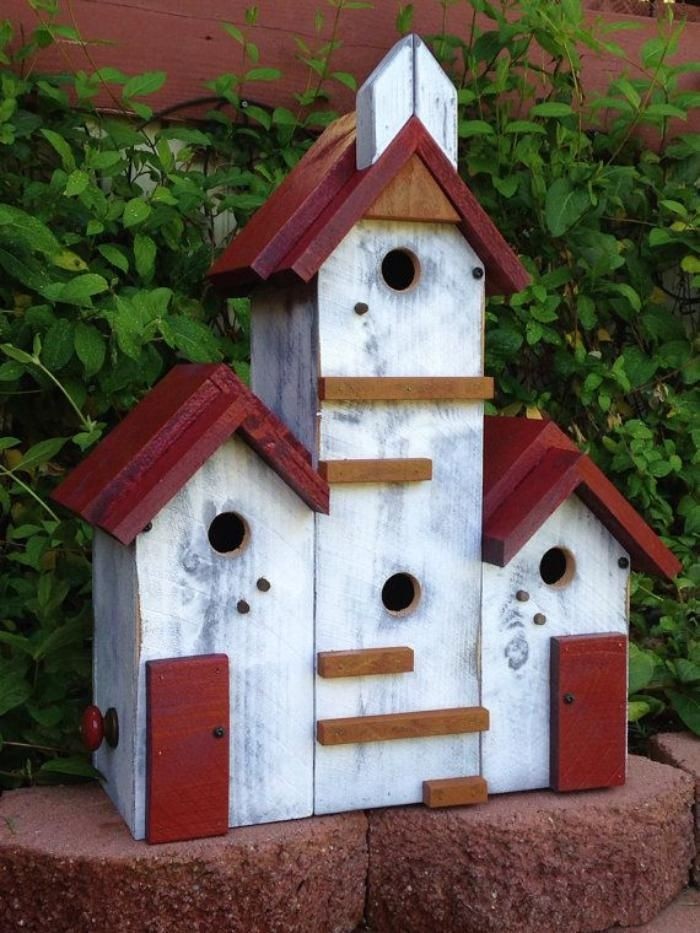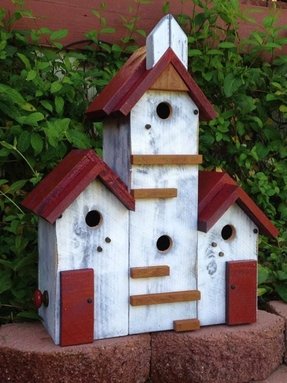 Hey, I found this really awesome Etsy listing at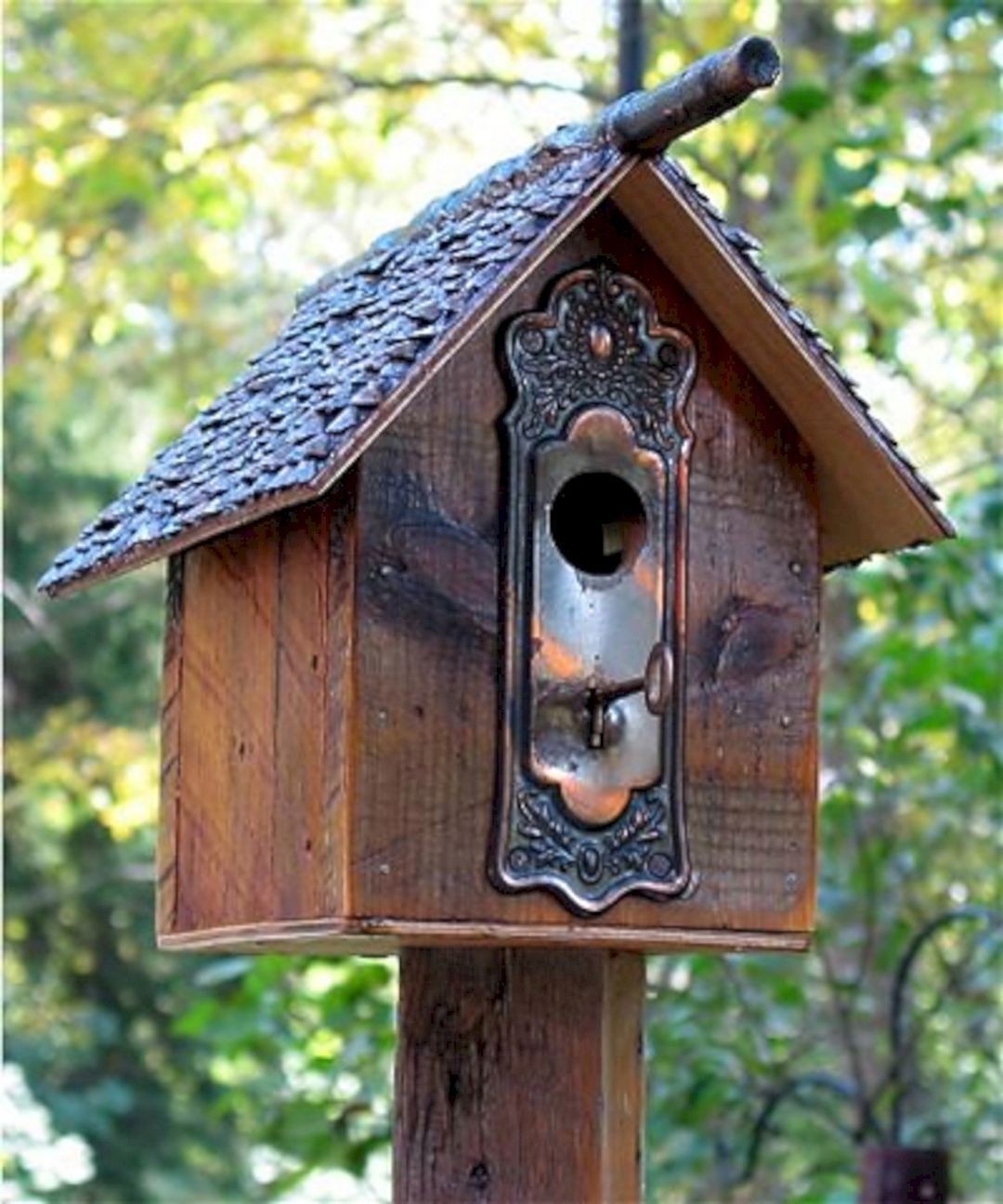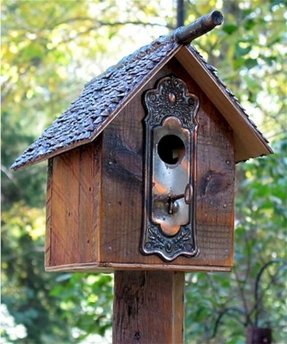 Bird house with antique finish. Construction is made of wood and metal. It is resistant to rust and harmful weather conditions. Stylish accent for each outdoor place.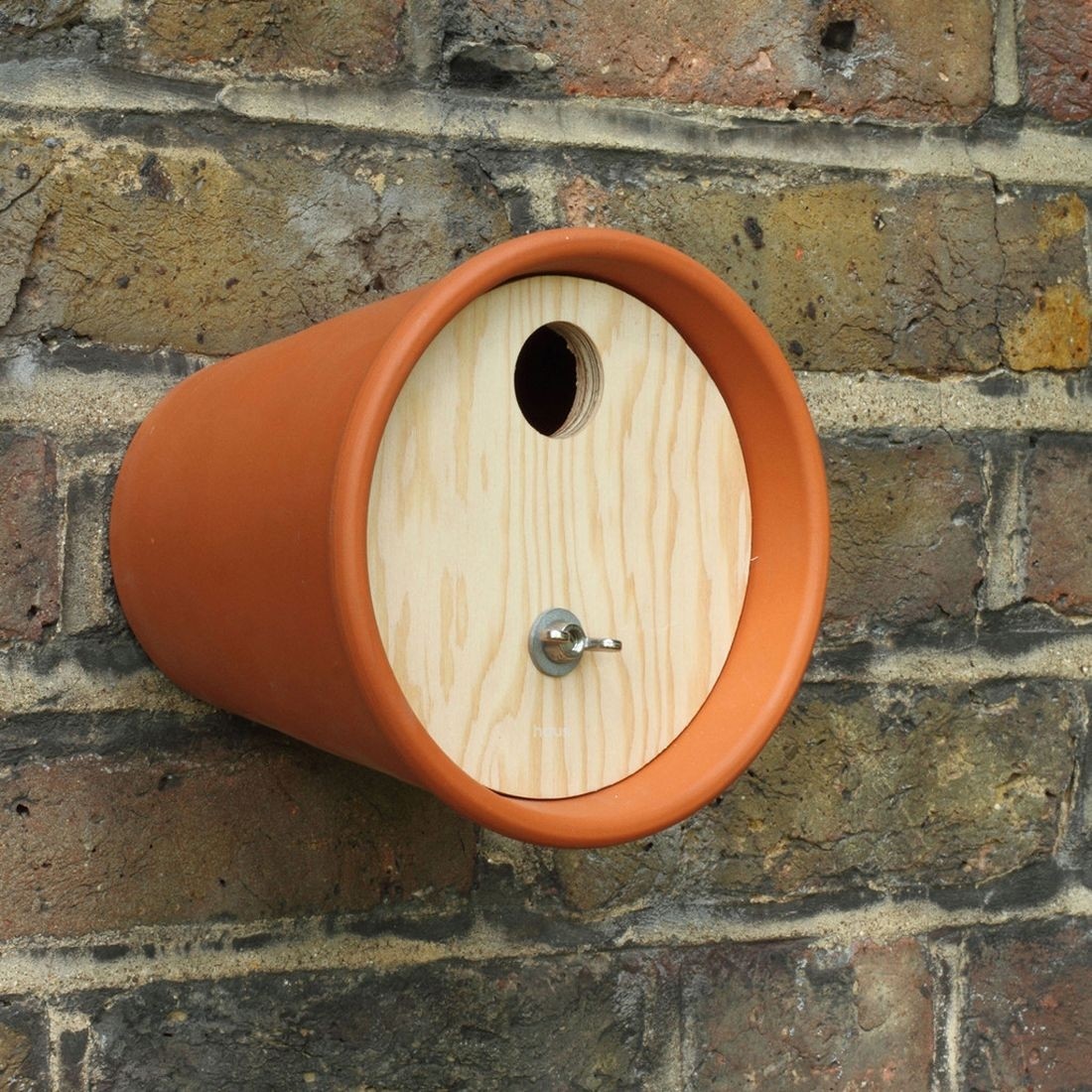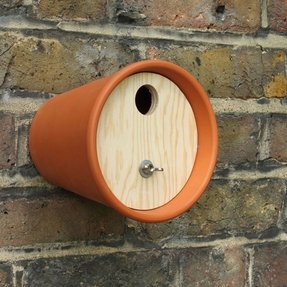 Recycled bird feeder. It is made of ceramic flowerpot and round piece of wood with little hole. It is destined for small birds, for example - sparrows. Tou can attached it to wall in the garden or on terrace.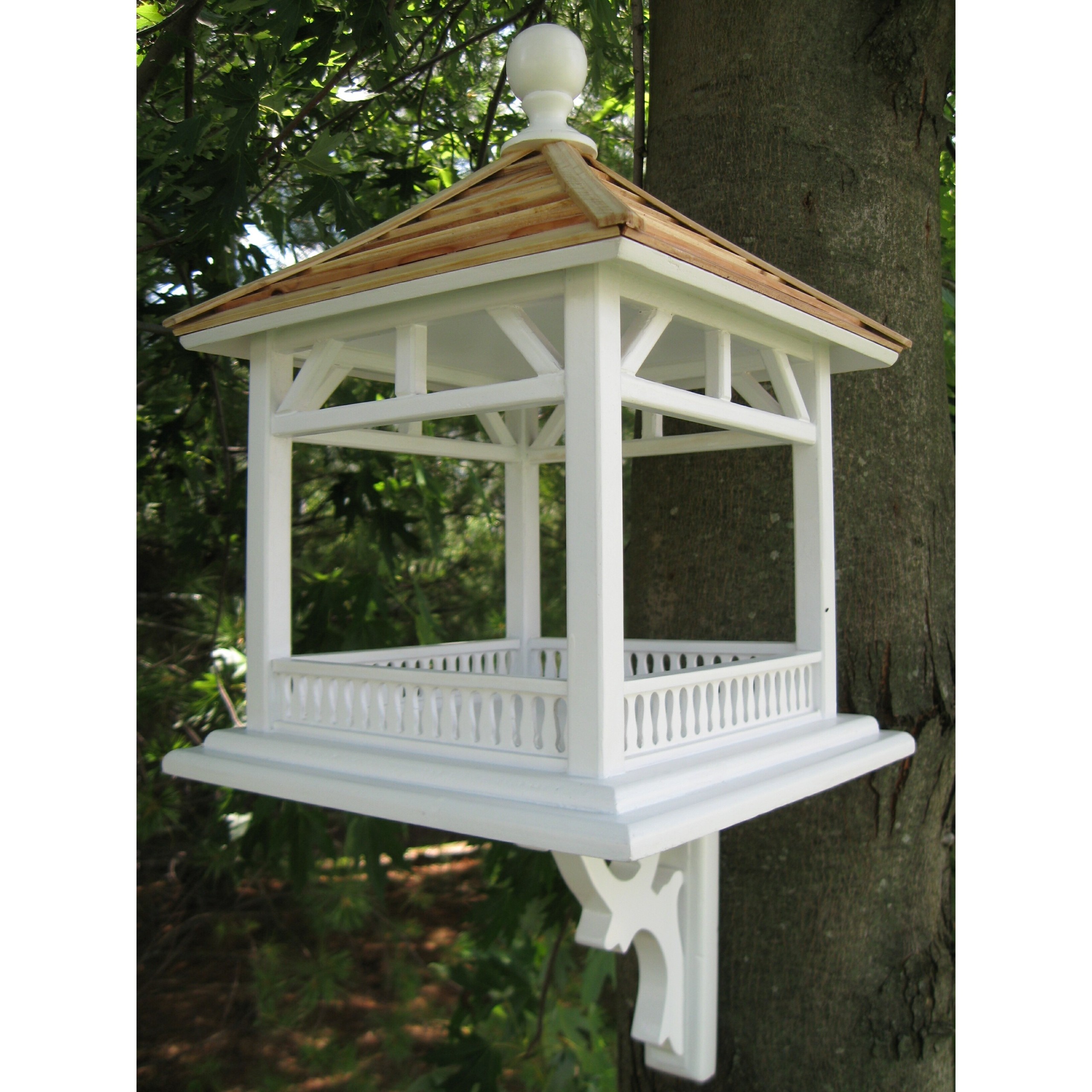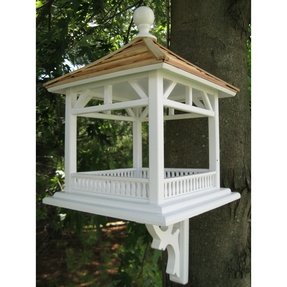 Who doesn't like a stylish gazebo feeder? It's great for your garden and will not only draw the attention of all the birds, but also make your garden look like straight from a fairy tale. Exterior grade ply-board makes it weather resistant and durable.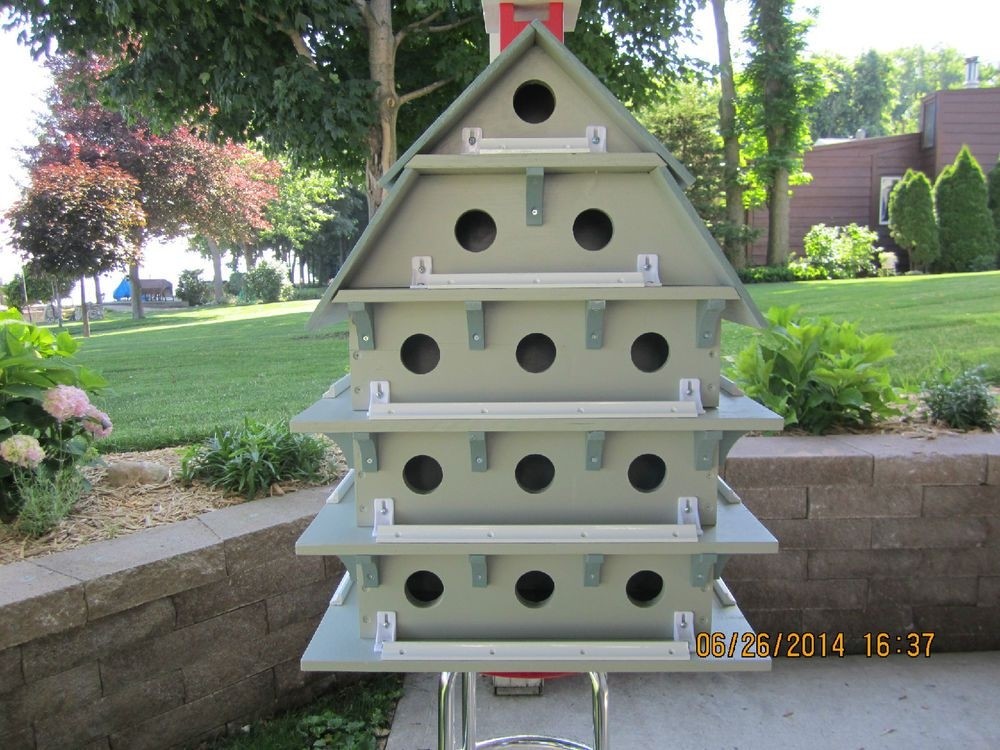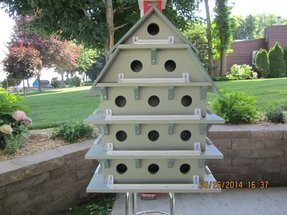 Home & Garden > Yard, Garden & Outdoor Living > Bird & Wildlife ...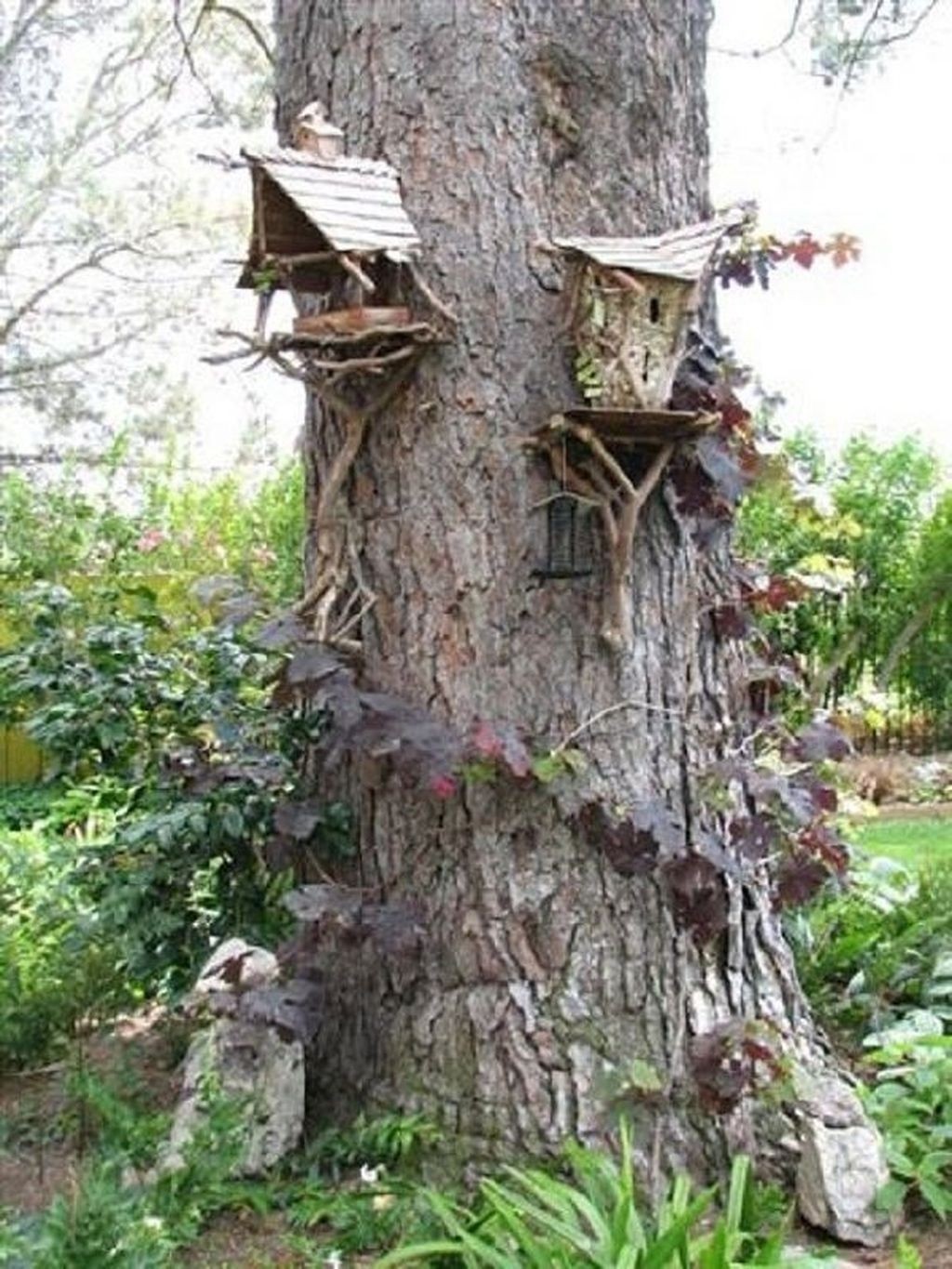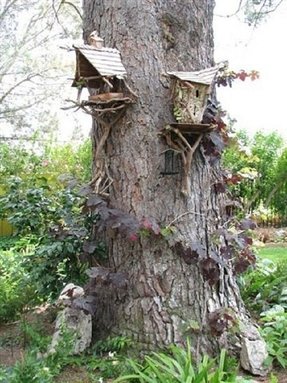 These outdoor bird houses will enhance every garden or backyard with its lovely, subtle wooden construction. They create a charming addition, that will embellish the space immediately.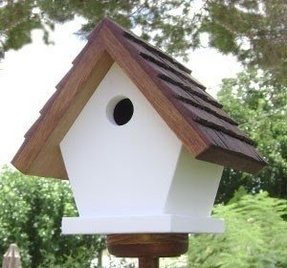 Large Bird Houses On Poles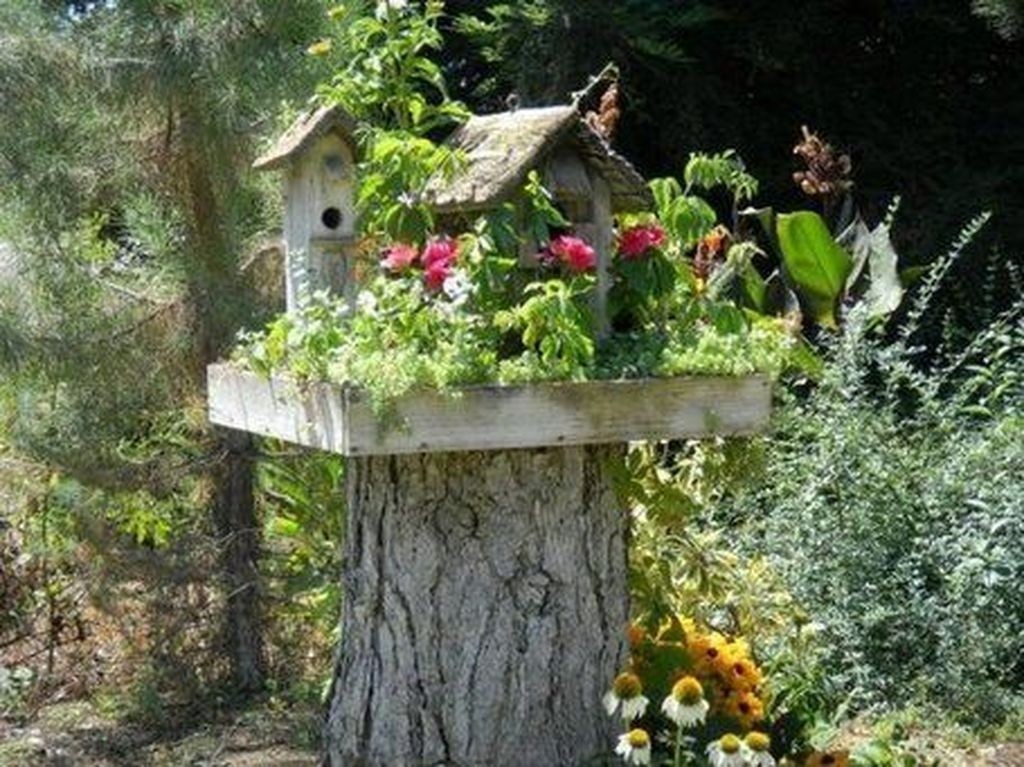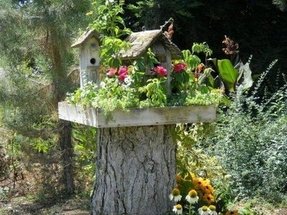 Bird house in Victorian style. It is completely made of wood. It is resistant to rust and harmful weather conditions. Elegant accent for the garden, patio and more.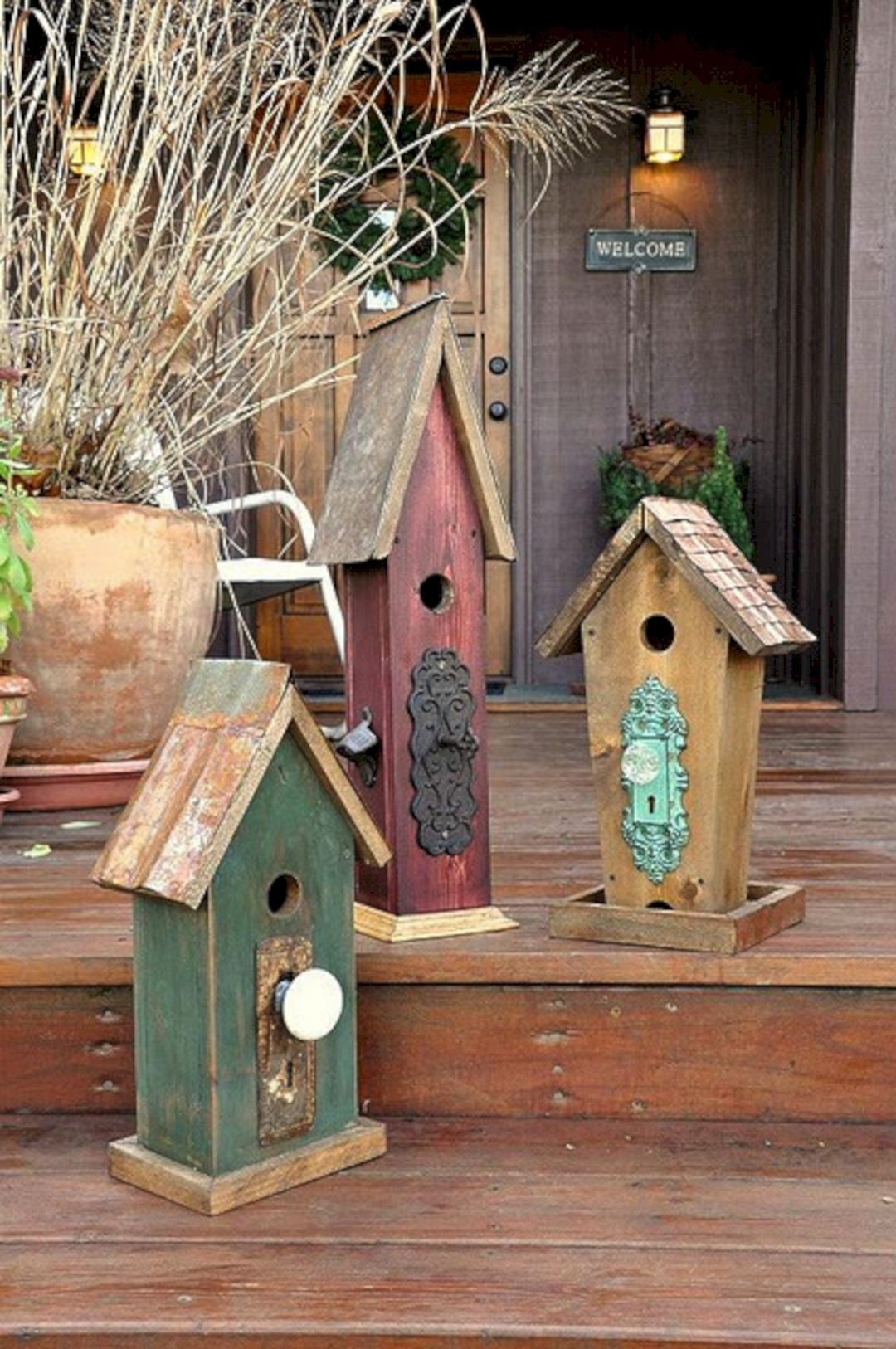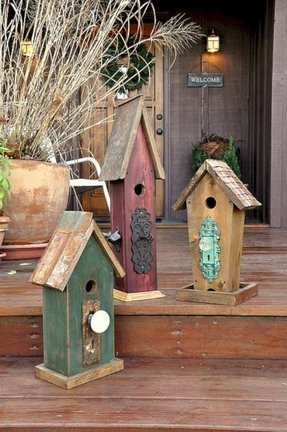 Who would have thought that unnecessary door knobs can be recycled to construct fancy outdoor bird houses. They are so cute with their multicolor distressed finishes, and they provide a subtle rustic feel.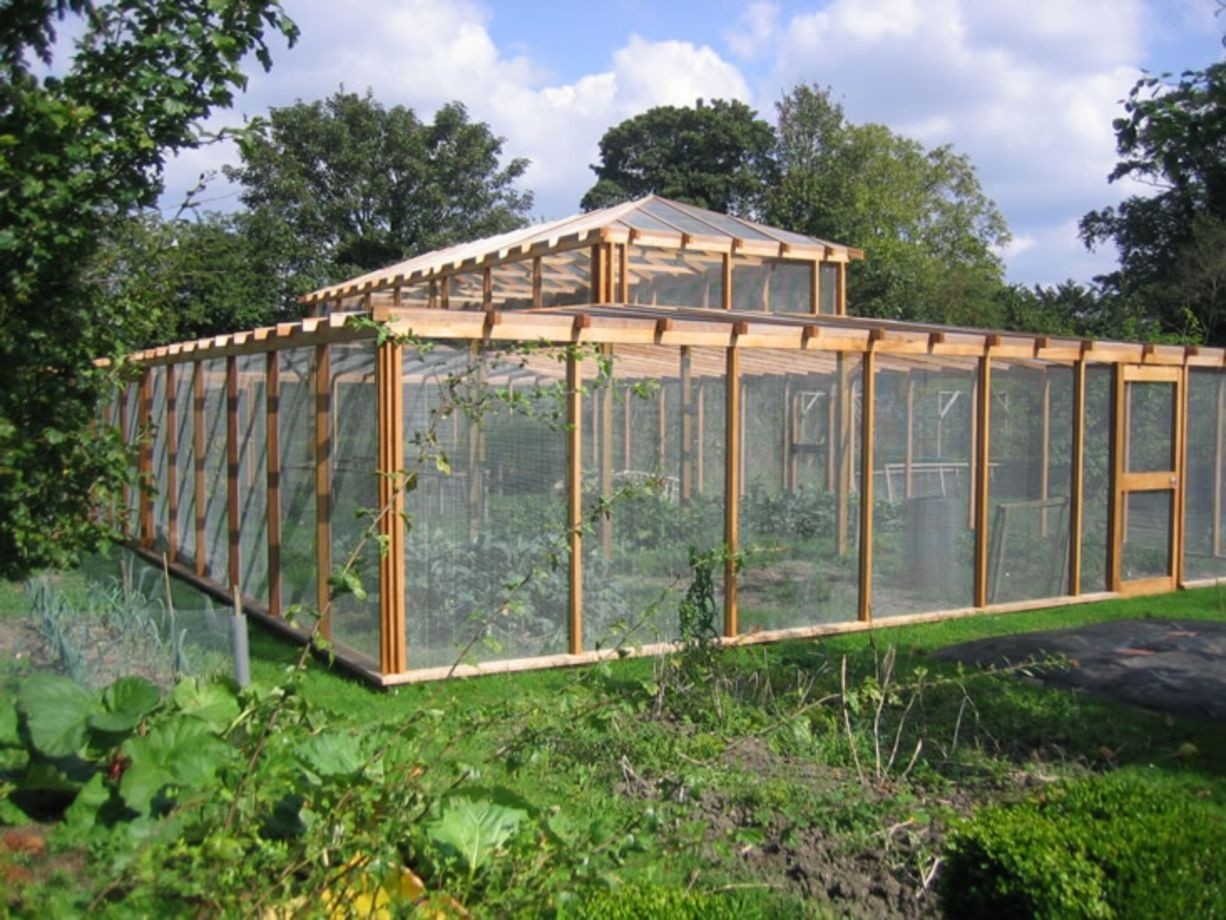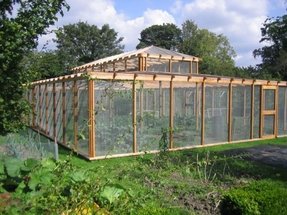 The Garden of Eaden: HOW TO PROTECT FRUIT FROM BIRDS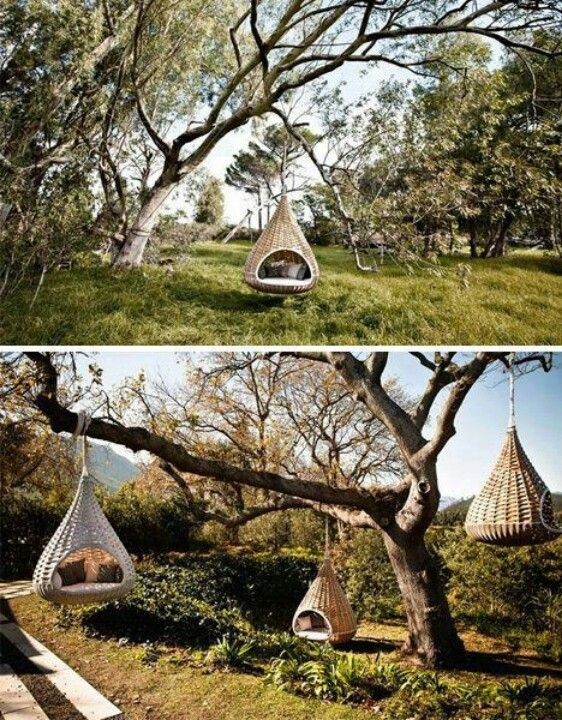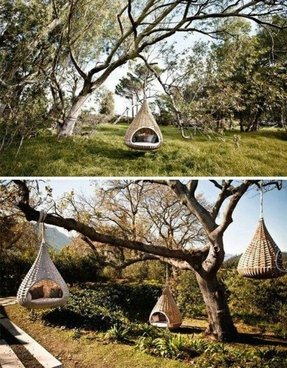 Tree house meets bird house, with a dash of hammock thrown into the mix. While it is not large enough to house the amenities of a true tree home, it is certainly a step up from a simple outdoor couch or recliner – and can be hung at a variety of heights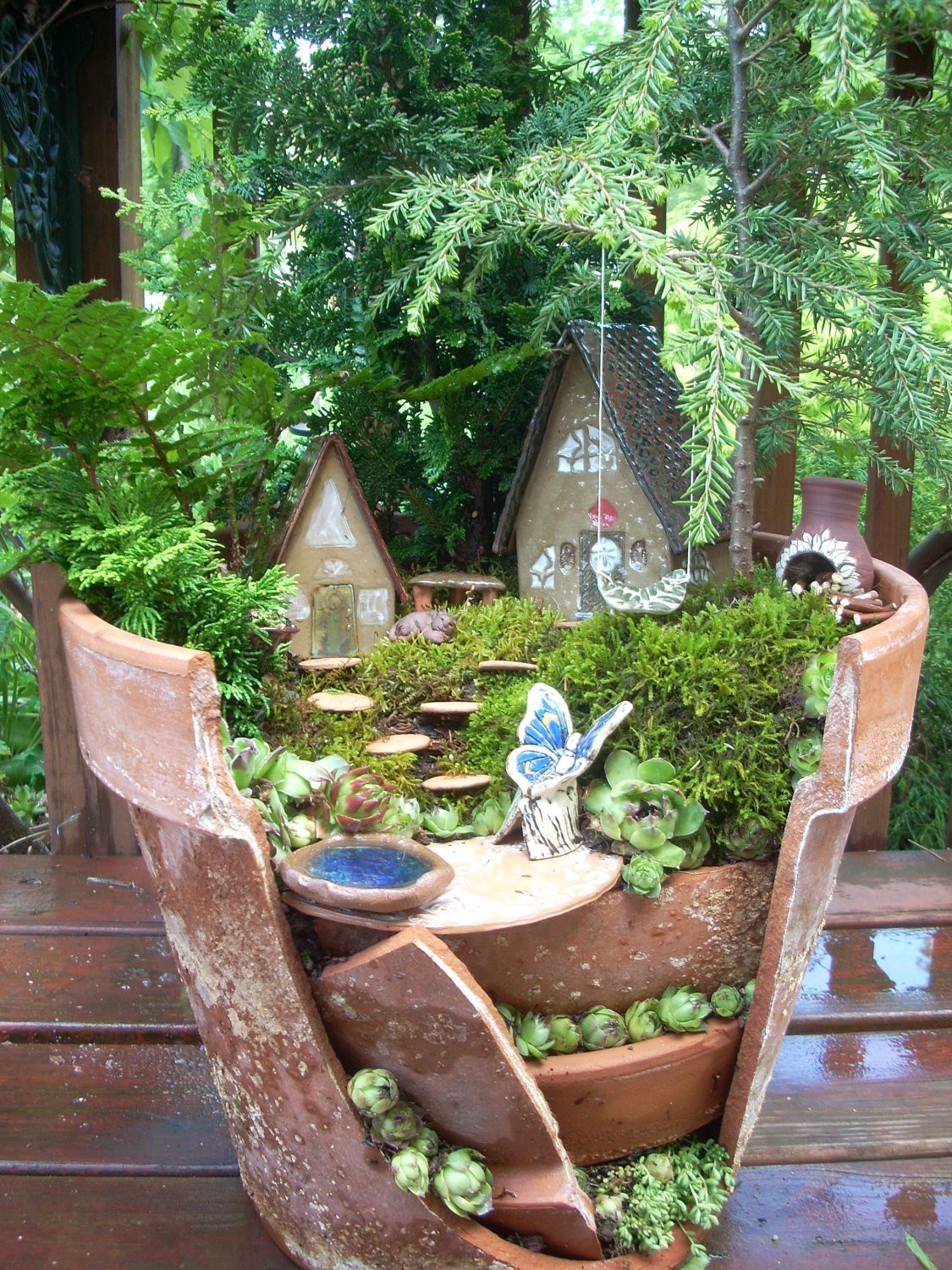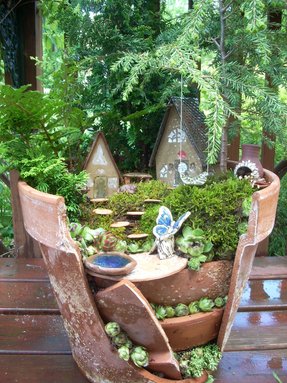 FAIRY GARDEN IN A BROKEN POT This garden contains: 1-Large house 1-Small house 12 stepping stones 1 butterfly chair 1- chiminea 1- bench 1- wishing pond 1-swing with string 2- mini urn planters 1 sleeping cat 1- Patio rug 1- birdbath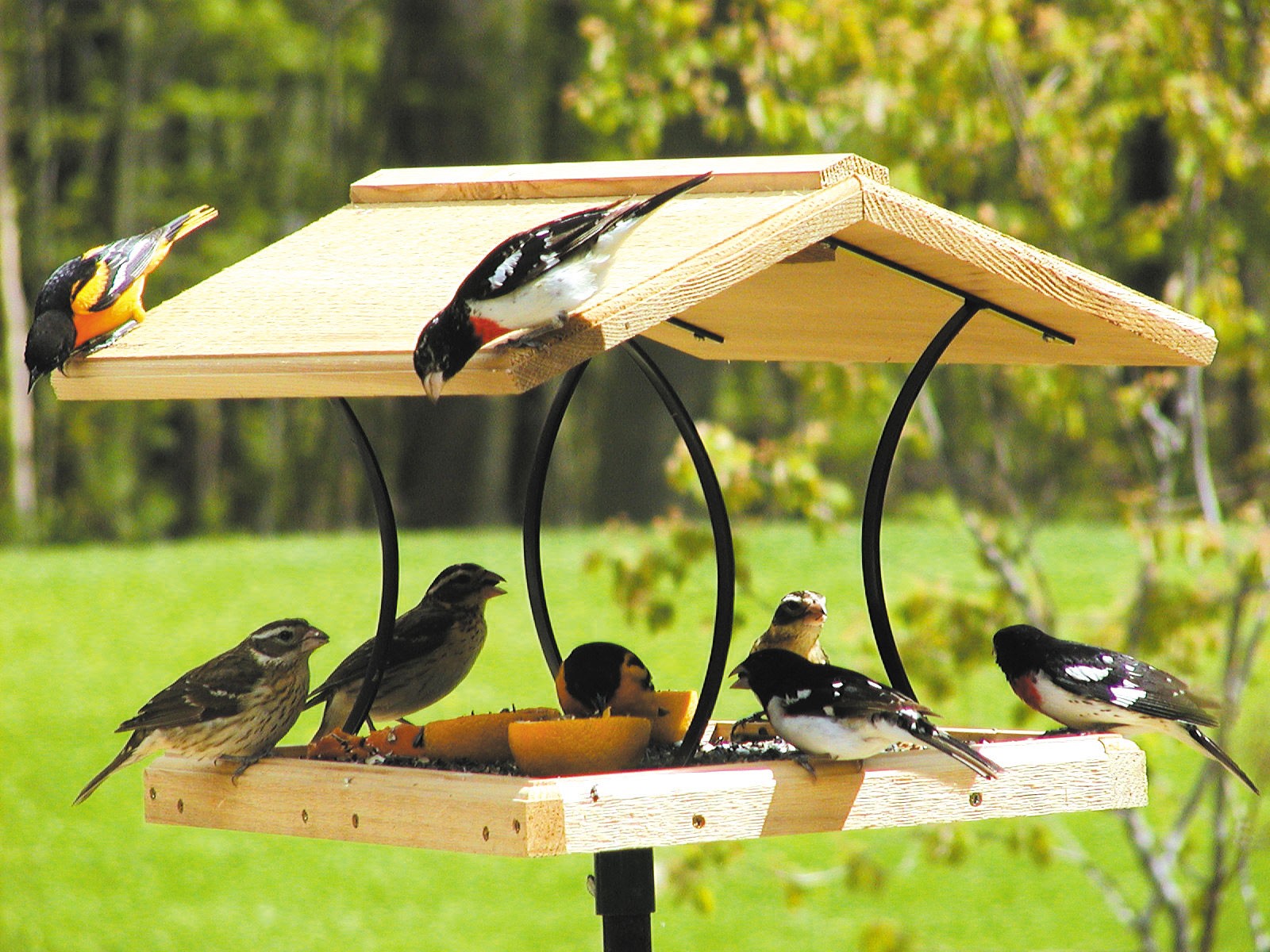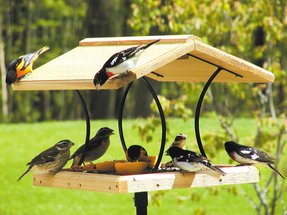 Large Fly-Through Platform Feeder w/Removable Tray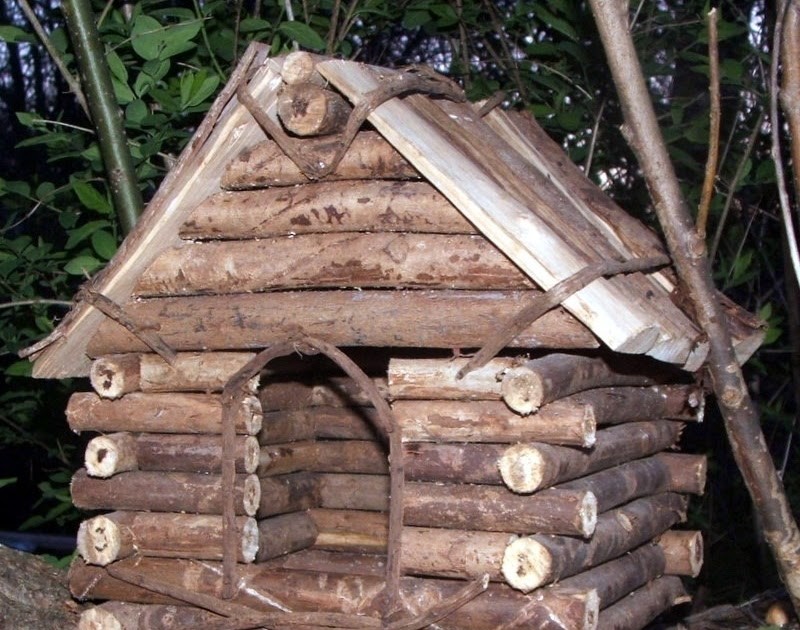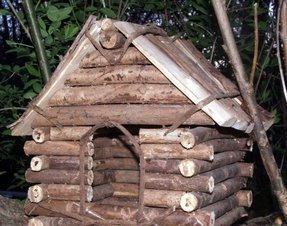 Wordless Wednesday - For The Birds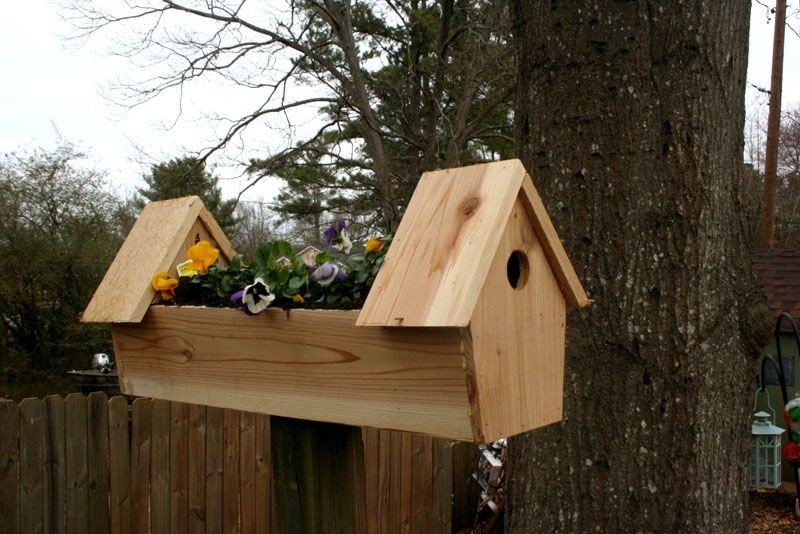 Bird feeder refers to the history of the dovecote, which after the war inhabited the ruins of a destroyed tenement house. You can have your own decorative outdoor bird house, made of raw pine wood, with slim roofs, as a pot for flowers in your garden.