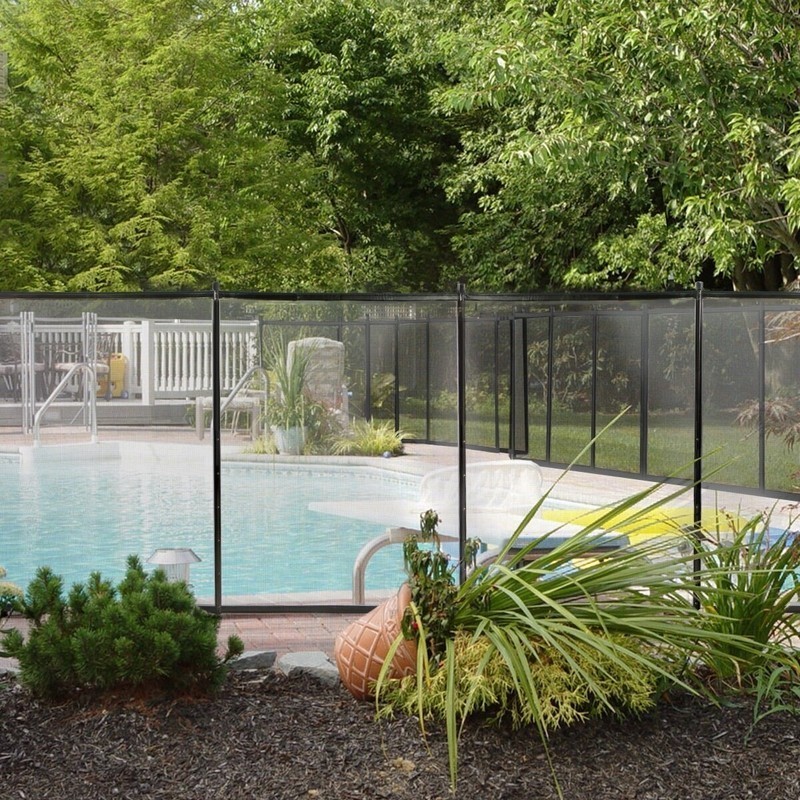 XtremepowerUS Outdoor Safety Mesh Fencing

What we like: The clear see-through mesh
What we don't like: Not as stable as anchored fencing
This retractable fencing is ideal for an outdoor pool due to the see-through mesh, which allows for full visibility of anyone inside the pool from outside the gate. There are two designs for this outdoor retractable fence: a sleek black metal-framed design and a beige design.
This fence is easy to install and comes with all the tools required to put it together. However, the surface mount installation style may be unsuitable for keeping out large, energetic pets.
The Xtremepower fence can be removed easily at the end of the swimming season, and it comes with plastic covers to insert into the post holes, ensuring they are ready for the next year.
$112.27 $399.95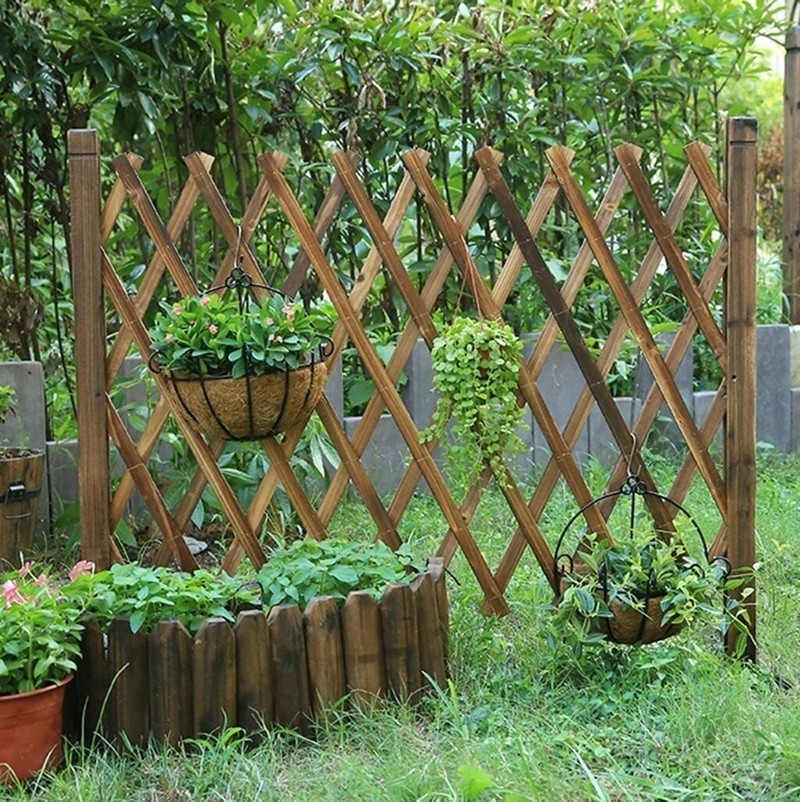 MYOYAY Expandable Garden Fence

What we like: That it's handmade
What we don't like: The higher than average price tag
This attractive handmade wooden fence is the perfect outdoor accessory. What's great about this retractable fence is the design. The traditional criss-cross pattern and brown finish help it blend in with the natural surroundings, and the accordion-style collapsing mechanism allows for easy opening and closing.
The high-quality corrosion-resistant paint means this product will remain in great condition for years, regardless of your location's climate or the irrigation system.
What makes this fence unique for gardening is that it perfectly suits ivy, vines, roses, and other climbing plants, allowing you to transform it into a chic natural decorative feature.
$112.99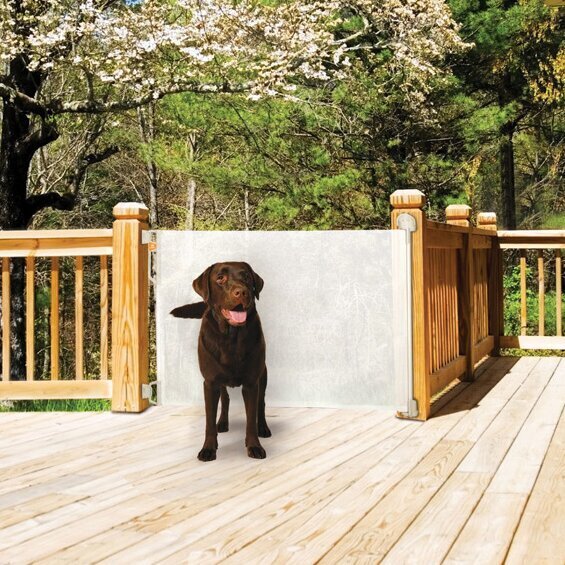 Bindaboo Retractable Pet Gate

What we like: That it's highly portable for either indoor or outdoor use
What we don't like: There is a gap at the bottom where smaller pets may be able to escape
If you're looking for just the gate to keep a dog contained within a patio and are also looking for something that can be used in an indoor setting, then this is the perfect retractable dog fence for you.
While this is a great retractable fence for dogs, this can also be useful to keep small children in a safe enclosed area.
The design features two sturdy brackets that are mounted to the wall, and the panel is white mesh for easy visibility. Since it is retractable, it will fit almost any entryway size.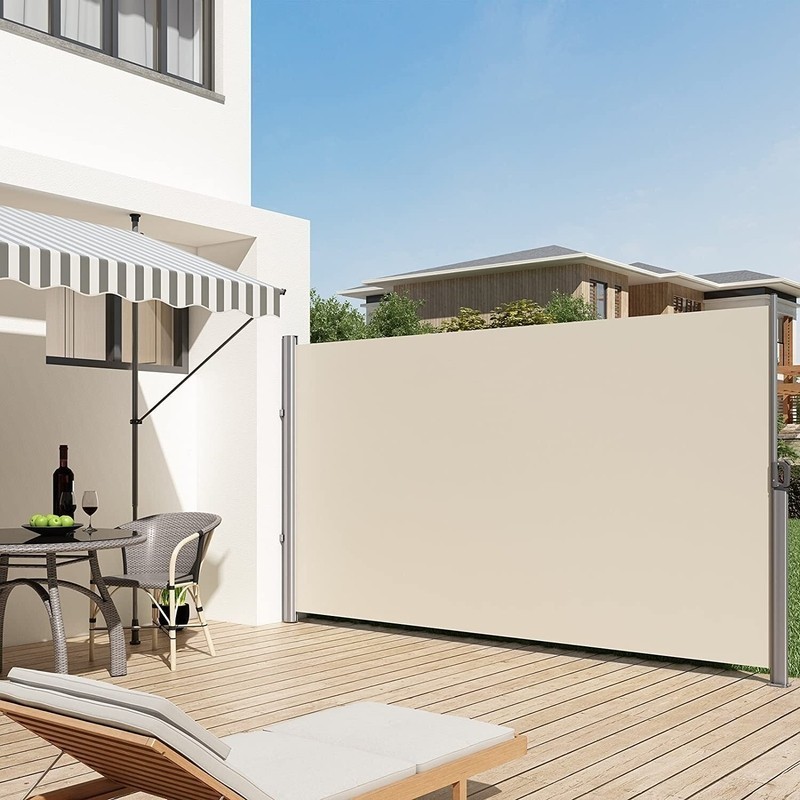 SONGMICS Retractable Side Screen

What we like: The height of the screen
What we don't like: Not suitable for windy locations
No need to worry about onlooking neighbors with this 63" tall retractable side screen. This is perfect for hosting private outdoor parties on a patio or for your daily privacy needs. The UV-resistant breathable polyester material is ideal for blocking your patio from the sun without trapping in heat.
The fence comes in black and beige and is long enough to cover one side of a patio at 118" long. It comes with screws to attach it to a patio or anchor it into the grass. Due to its height and fabric construction, you may need to take the screen down on windy days.
$109.99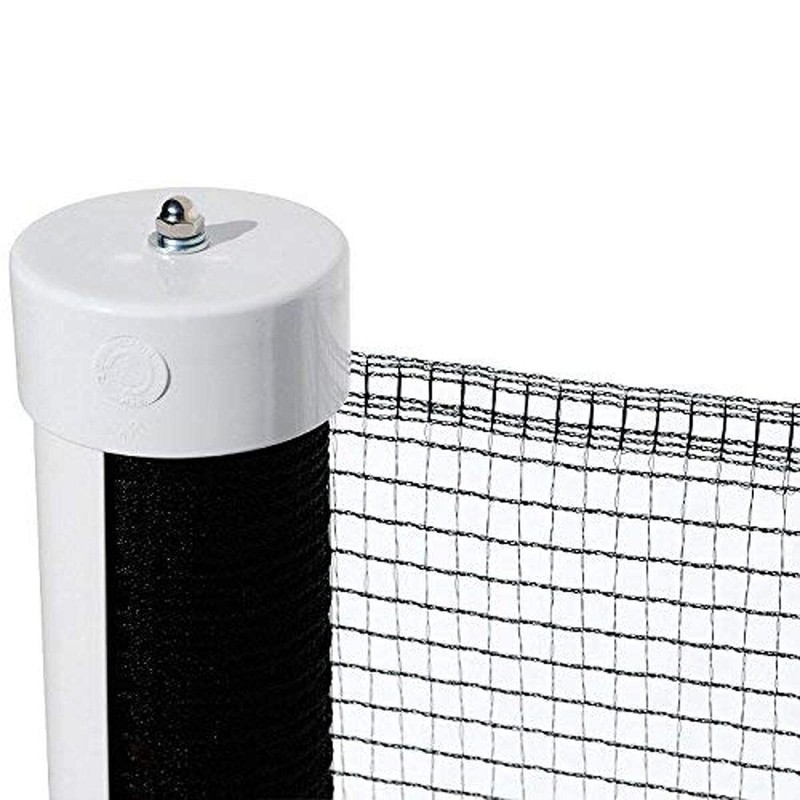 Kidkusion Retractable Driveway Guard

What we like: That it comes in a visible orange color
What we don't like: Block of wood and a hammer are needed to install
Give your kids the freedom to play games anywhere in your yard, including the driveway. A guard between your children and neighborhood traffic is crucial for independent outdoor play, and you can keep your kids safe with a retractable fence for the driveway.
This product is made in the USA, comes in bright orange and black. It stands at 36" high, the ideal height to keep your children inside the gate and to stop a car from accidentally coming into the driveway. The product in orange is the perfect color for visibility and safety. Choose black for a more muted appearance.
The product is easy to install, set up, and take down. The only downside is that you must have your own hammer and wooden piece to install this retractable fence.
$139.99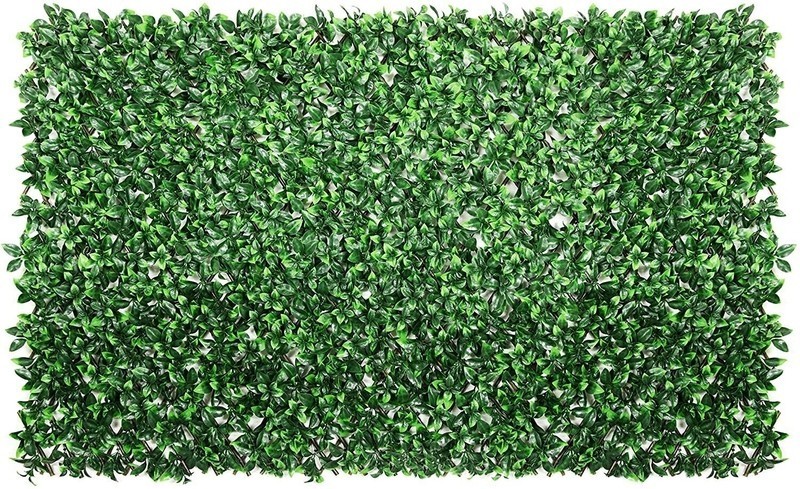 Retractable Ivy Screen

What we like: That it's multipurpose
What we don't like: The higher price point
This ivy screen is great for privacy on a balcony or patio because of the non-see-through vines, which have 90% high-density blockage.
Not only is this retractable outdoor fence great for privacy, but it is also very attractive. The vines look natural, and no one would guess they are made out of polyethylene. The vines have a UV stabilization coating so that they will stay green forever. The greatest thing about this is that no trimming is necessary!
This fence could also be used as a backdrop for parties because the fence can be displayed horizontally and vertically. The only downside is the price point which is higher than similar products.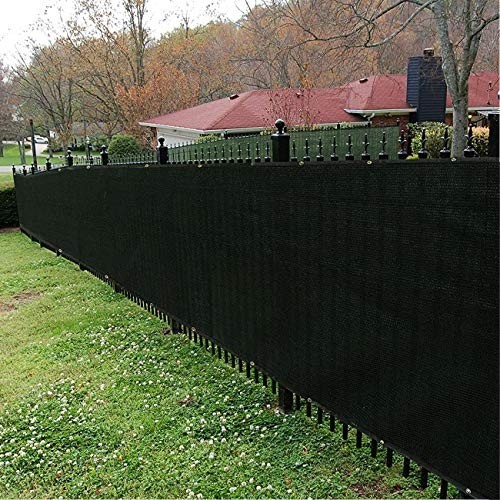 Sunnyglade Privacy Screen

What we like: It serves as a privacy screen to put on top of a fence
What we don't like: Cannot function without a fence for support
This 6' x 50' privacy screen can be wrapped around your outdoor fence or patio. It is highly durable, has fine stitching, and reinforced brass grommets on each side. It is made of sun-protected fabric, so the color won't fade. The screen comes with 80 straps to hold the screen in place.
You can assemble the screen in three easy steps. The assembly is easier than with other retractable fences because there is no need to screw holes in the ground. The first step in assembly is to measure the size of the fence, next attach the panel to the fence surface with zip ties, and finally adjust and tighten the zip ties.
This privacy screen is an economical way to add privacy and to block wind gusts. The only downside is that you must already have a fence for support.
$49.99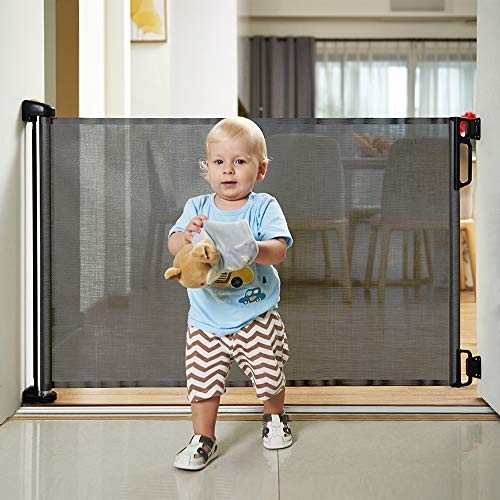 EasyBaby Retractable Pet and Baby Gate

What we like: The sturdy design
What we don't like: Requires measuring and a screwdriver
This retractable gate for pets and babies can be installed indoors and outdoors. It can be installed at the top or bottom of a staircase, too, to ensure that your home is safe for all members of your family.
It comes in three shades: black, white, and grey. The mesh can be completely retracted when not in use, so it won't disrupt the visual flow of the space. As the mesh is partially see-through, babies and pets won't feel as though they are separated from the rest of the family.
The only downside to this product is that it must be drilled into your wall or patio. This makes it impractical for renters.
$45.83 $69.97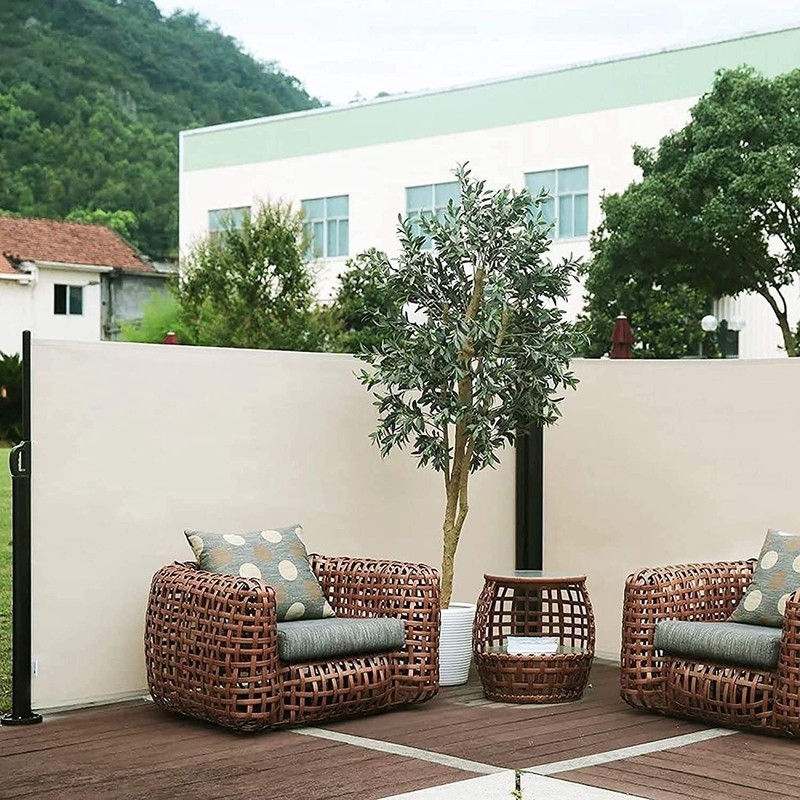 Corner Retractable Folding Screen

What we like: The muted colors
What we don't like: Does not come with instructions
This double-sided outdoor retractable fence is perfect for shade, wind-blocking, and privacy. Unlike a conventional retractable side screen, this offers coverage on two sides.
This fence easily retracts and pulls out manually using an ergonomic handle. The retracting mechanism provides good flexibility for smooth operation. The retractable fence can be rolled back into the house or apartment when not in use. This expandable outdoor gate can extend up to 6' x 20', fitting perfectly alongside an average to tall fence.
This is perfect for any outdoor area such as a patio or balcony. The installation is easy, although it does not come with instructions.
$161.91 $239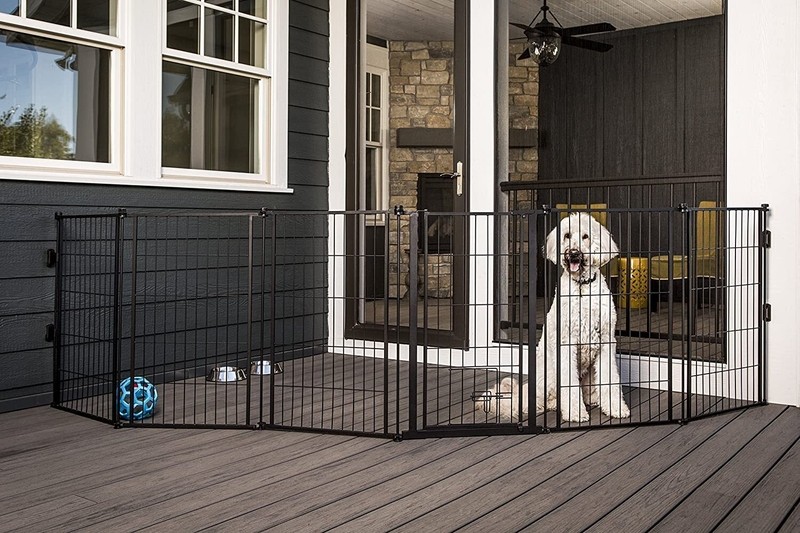 Retractable Pet Pen

What we like: The safety features
What we don't like: Multiple panels means it is less sturdy than many other models and only suitable for smaller pets
This retractable fence gate for pets is portable, opens to 50-144" wide, and stands at 36" tall. It also features a convenient 9" x 8" door for small pets to pass through. This retractable dog gate can convert from a super wide gate to a 6-panel play yard.
Each panel on this retractable gate can be adjusted to fit almost any opening. The gate works well in wide spaces, angled openings, hallways, and doorways. In addition, the gate folds flat for storage.
This retractable dog gate for outdoor use also comes with safety features, such as a locking mechanism and a wall mount for added security and protection.