Our Choice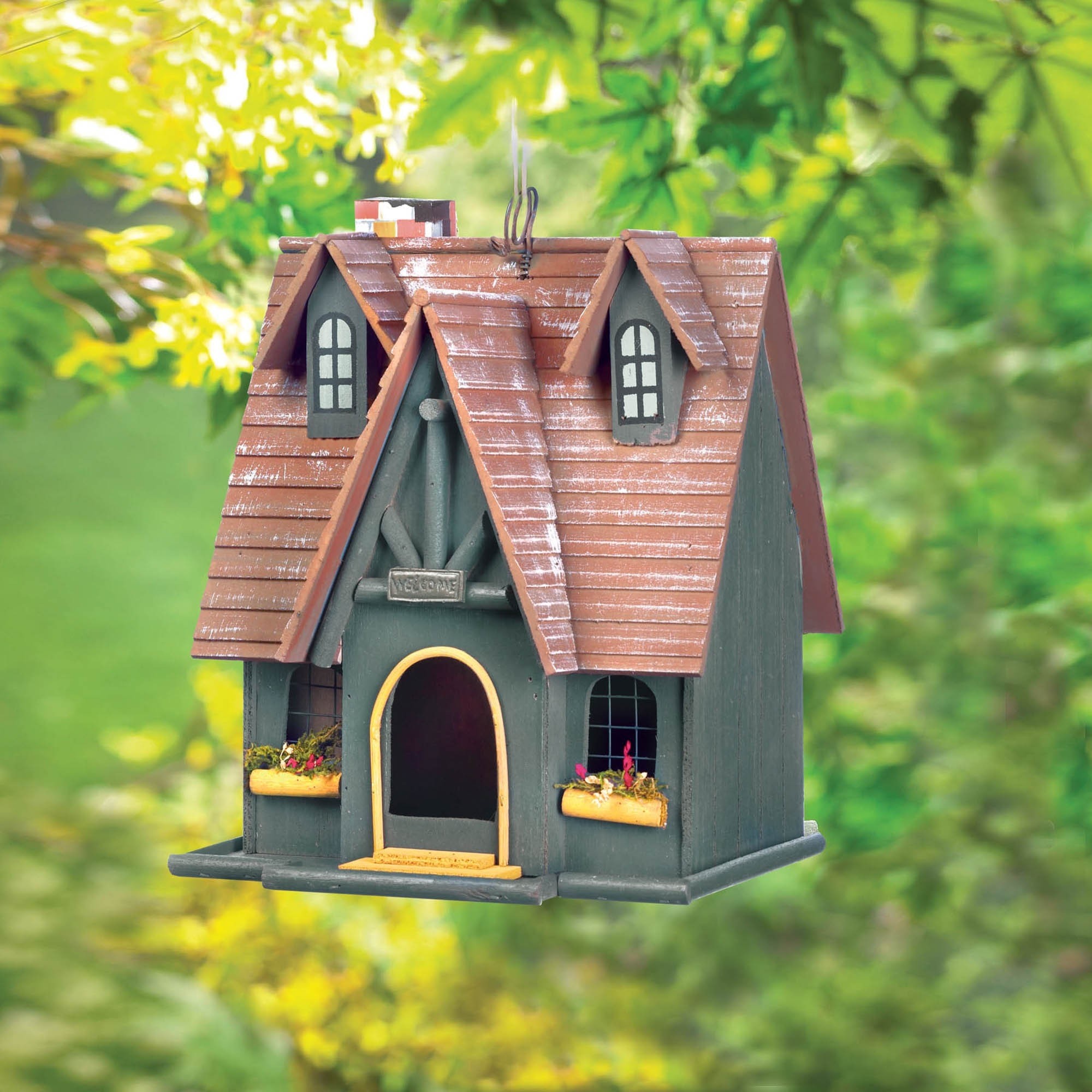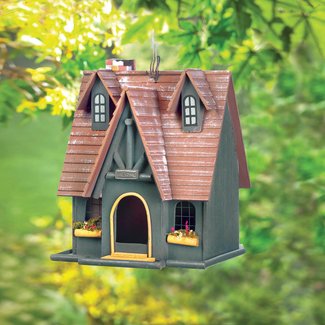 Luetta Fairytale Cottage 13 in x 10 in x 9 in Hanging Birdhouse
Add a fairytale charm to your birdhouse with the clever beam style design that features a metallic loop hanger, wooden cottage with two-floor levels, and a large door and window for easy entry as well as air circulation for your bird. Its charming, brown and green finished look complement the thatched roof which makes the birdhouse more charming and perfectly ready for hanging in the garden or by your window as you feel nature and watch your bird's family grow.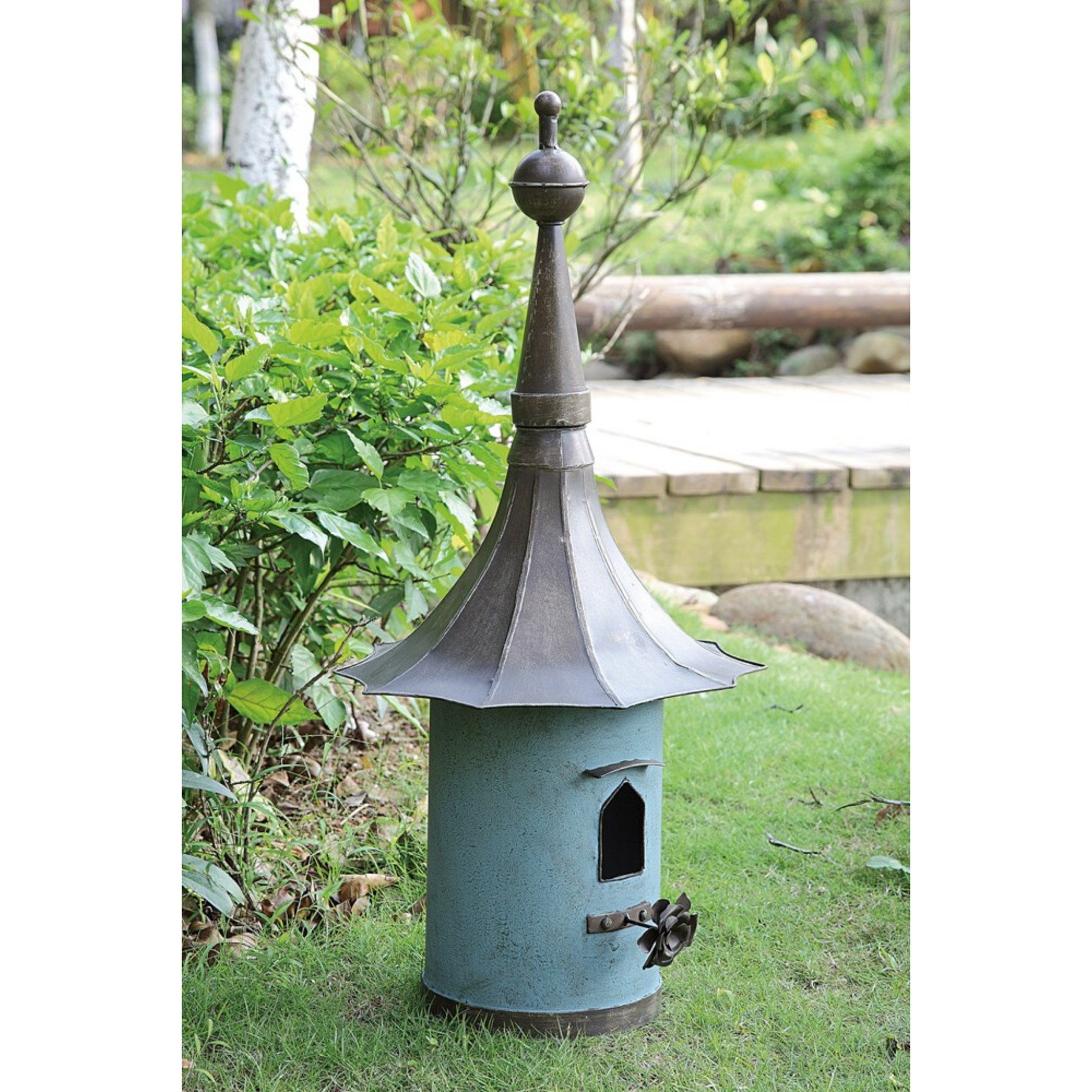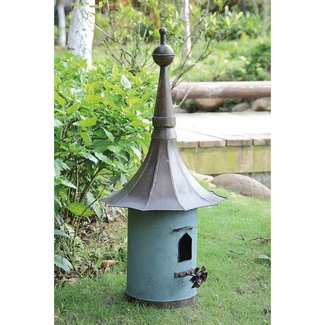 Secret Garden 34 in x 15.5 in x 15.5 in Birdhouse
Decorate your home with this beautiful birdhouse that is made from a metallic material to ensure durability and portability. The freestanding birdhouse has an extended and slated roof which adds charm to your environment and it's perfect for a post in the backyard, garden, or on the tabletop. It requires no assembling, clean up, and tends to resist rust due to the metallic material used. A beautiful addition to outdoor accessories that birds and visitors will enjoy!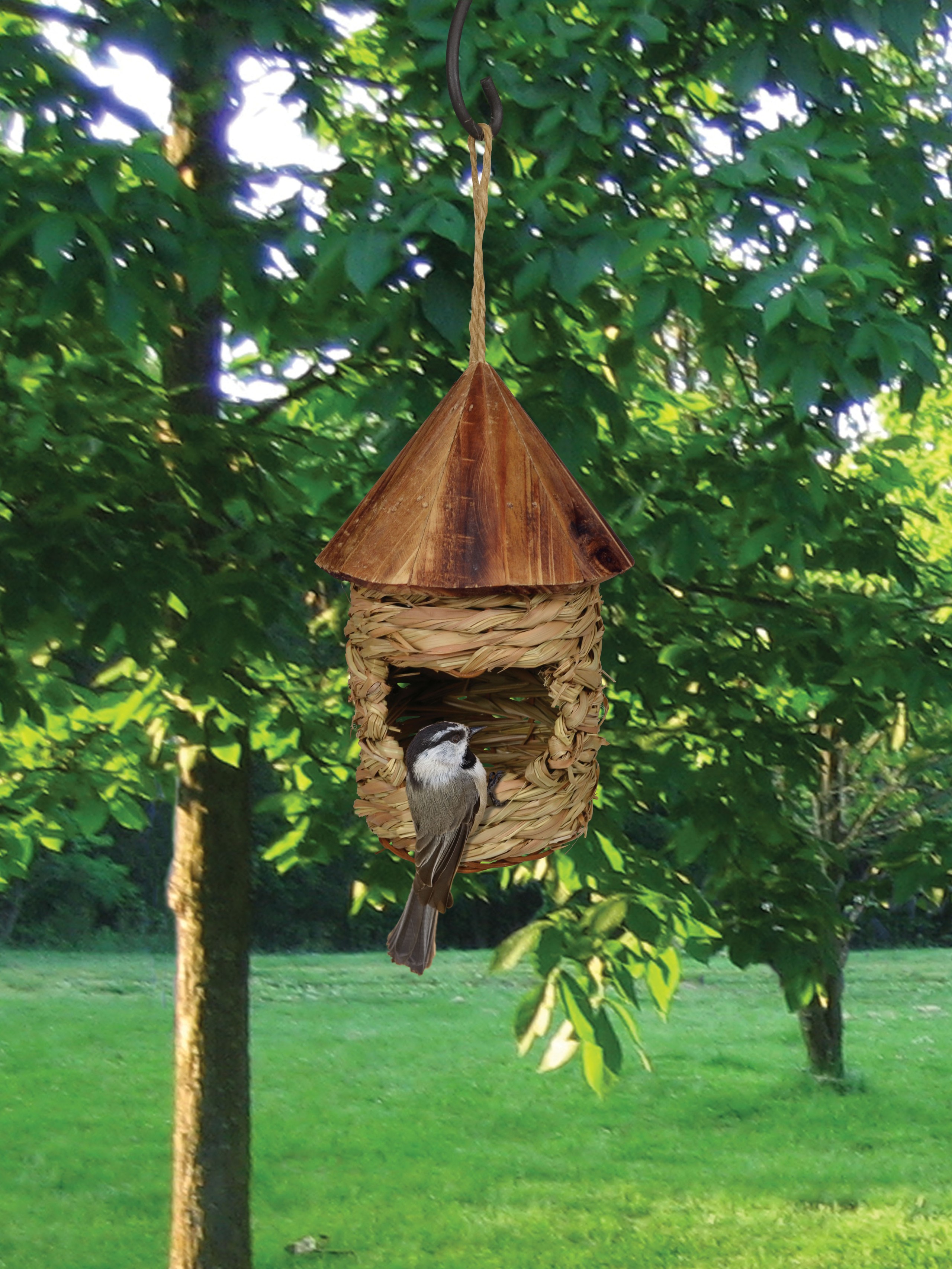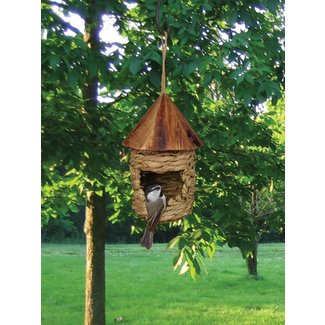 7 in x 4 in x 4 in Birdhouse
Provide shelter to different species of birds with this portable and gorgeous grass twine birdhouse that features ventilated holes and a built-in drainage system that enhances the durability of the birdhouse. It's water-resistant and the beautiful brown wooden roof serves as protection from the sun to the bird. It comes with a large door and a hanging rope to give you a great view of your bird's activity from the comfort of your home, office, or garden.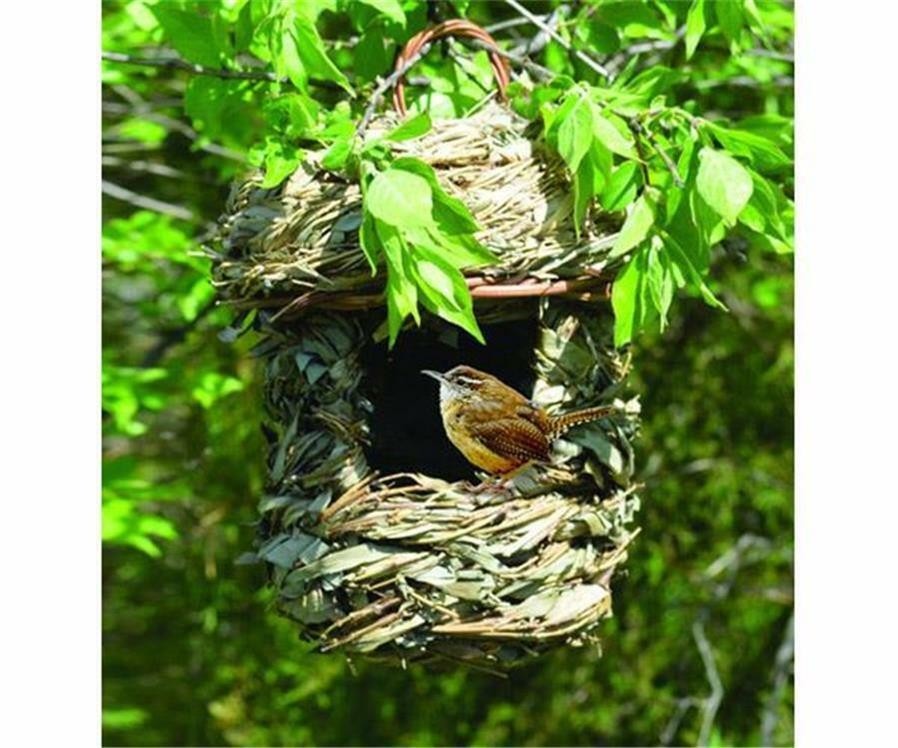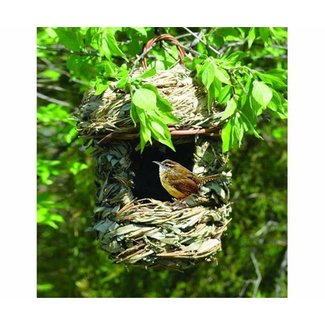 Acorn 8 in x 6 in x 6 in Birdhouse
A big advantage of the naturally crafted birdhouse is that it attracts a variety of birds. This birdhouse is designed with 100 percent organic materials which makes it resistant to premature decay and is easy to clean by simply hand wiping it. Its natural character makes it weather resistant and perfect for use during winter. It can be easily hung in the garden or on a dead tree.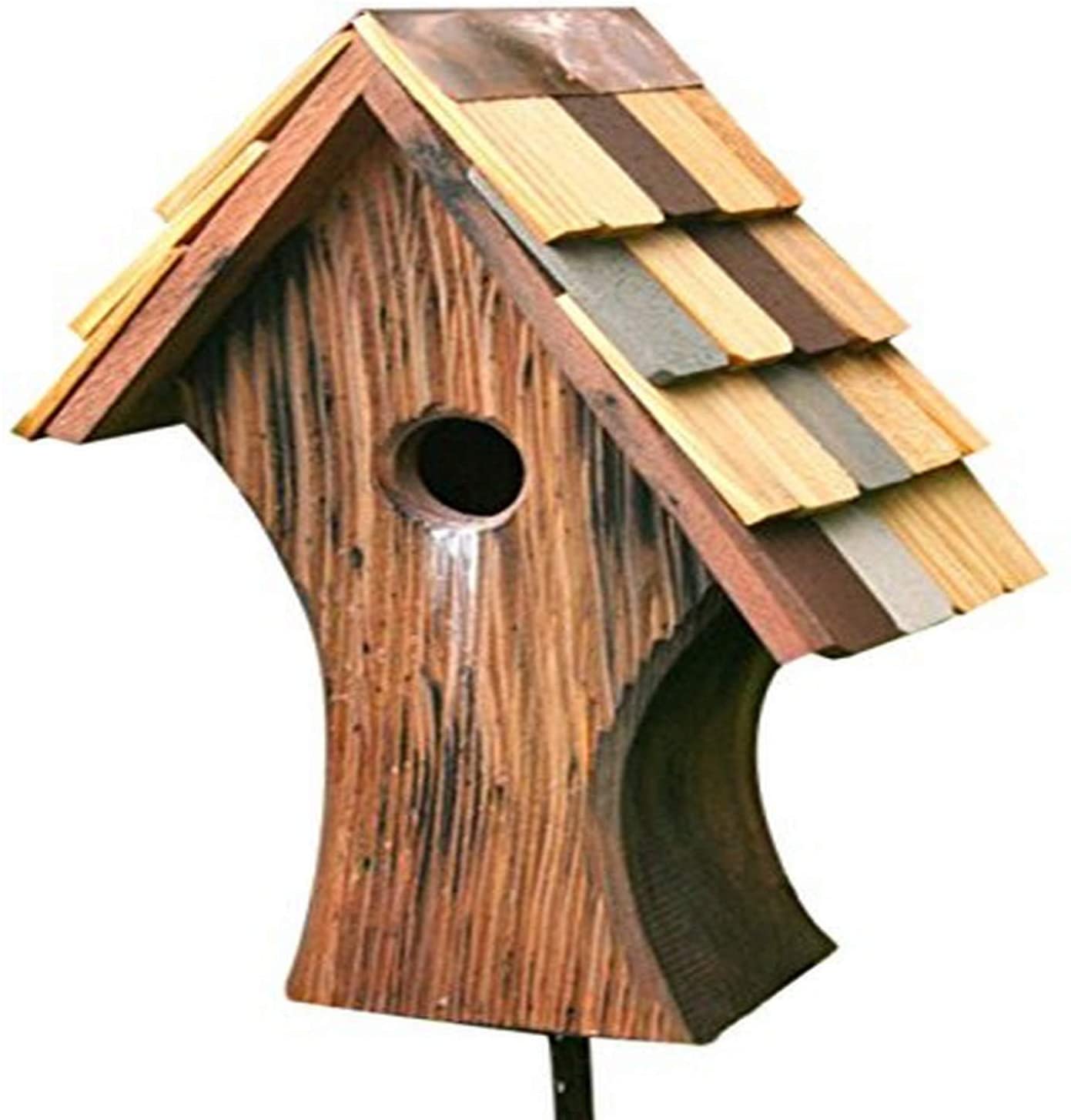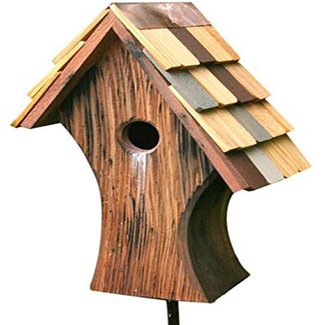 Nottingham 15 in x 10 in x 6 in Birdhouse
Handcrafted with the finest cypress that is resistant to water, this beautiful rustic birdhouse features a removable cleanout panel for easy cleanup. Its asymmetrical curving design has a slanted and shingled roof which is perfect for post mounting in the garden, yard, or tree. It also includes a built-in drainage spot and boasts weather-resistance to ensure longevity. Mount on a post in the garden and watch how birds get attracted to this nice design.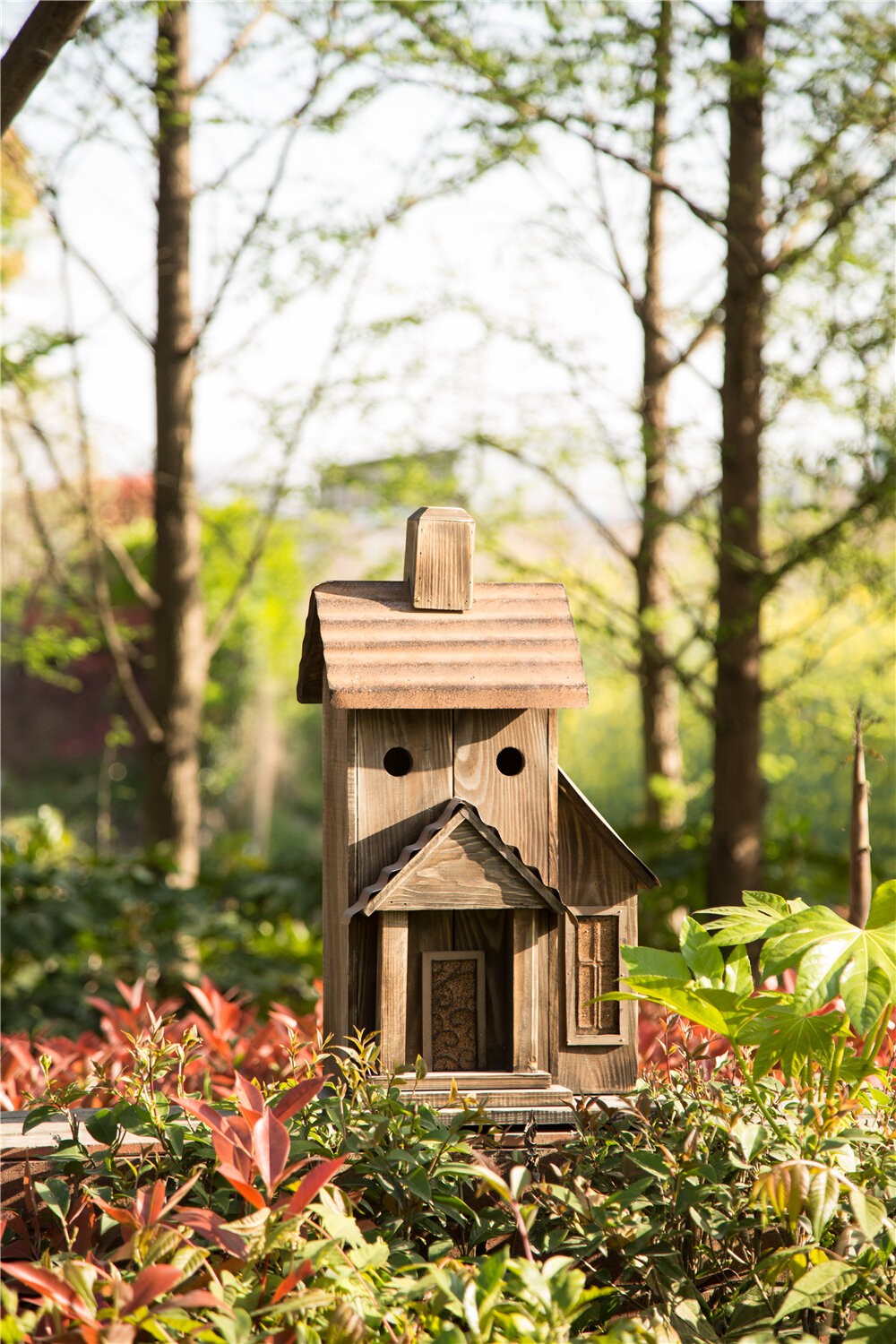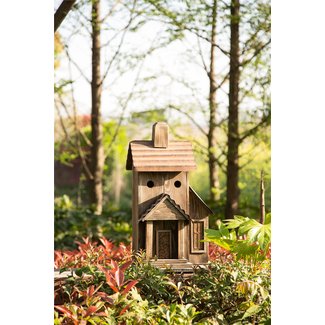 24 in x 14 in x 9 in Birdhouse
This freestanding birdhouse that is handcrafted with durable wood and metal has an intentionally distressed finish look and a back entrance for easy cleaning and maintenance. It features a shingled slanted roof that is covered by a chevron-shaped metal with ventilation holes and drainage spots. This birdhouse adds charm to your lawn or garden and ensures years of usage without rust or spoilage.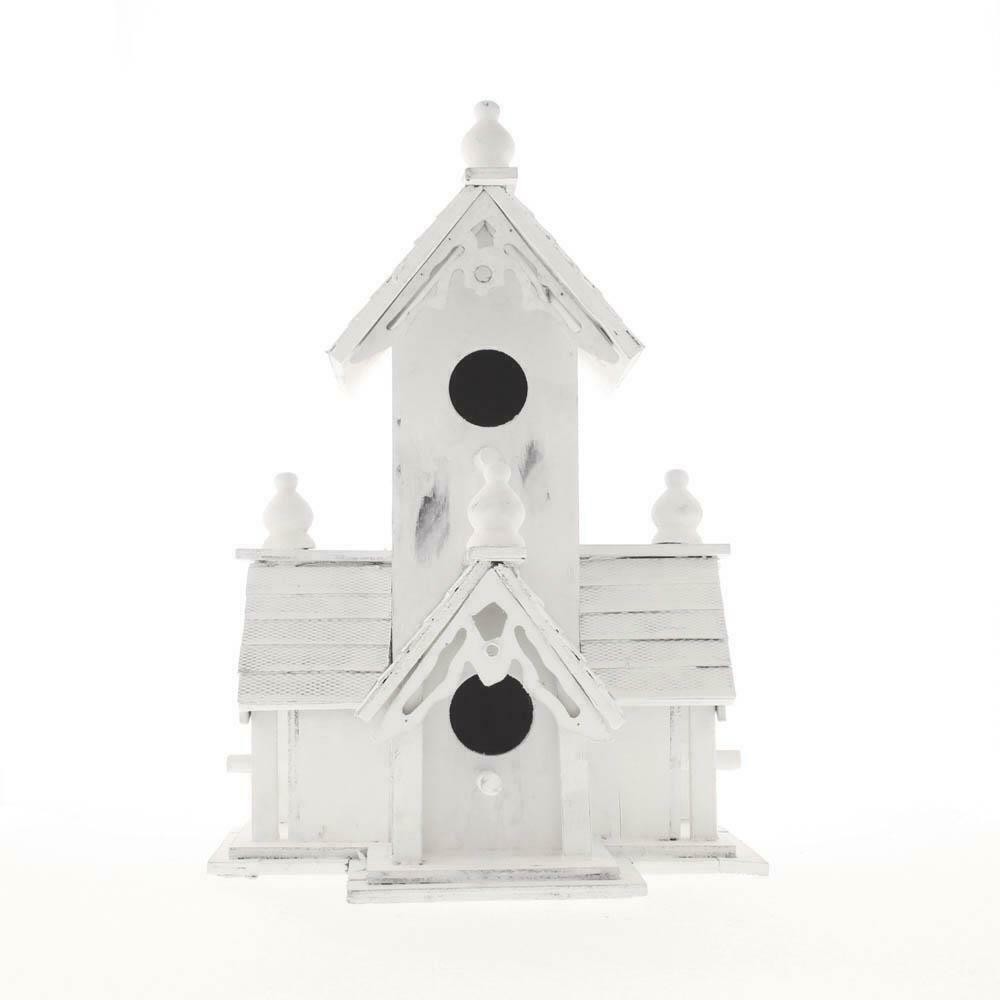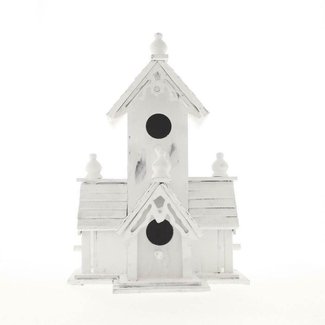 Historic Manor 13 in x 9 in x 7 in Birdhouse
This portable birdhouse is made and polished with the finest plywood which features a dual opening for easy access and airflow. It features dual floor levels and four compartments with perches to give your little bird access to roam around in the birdhouse. It is designed with class and charm to add beauty to your home, garden, or backyard.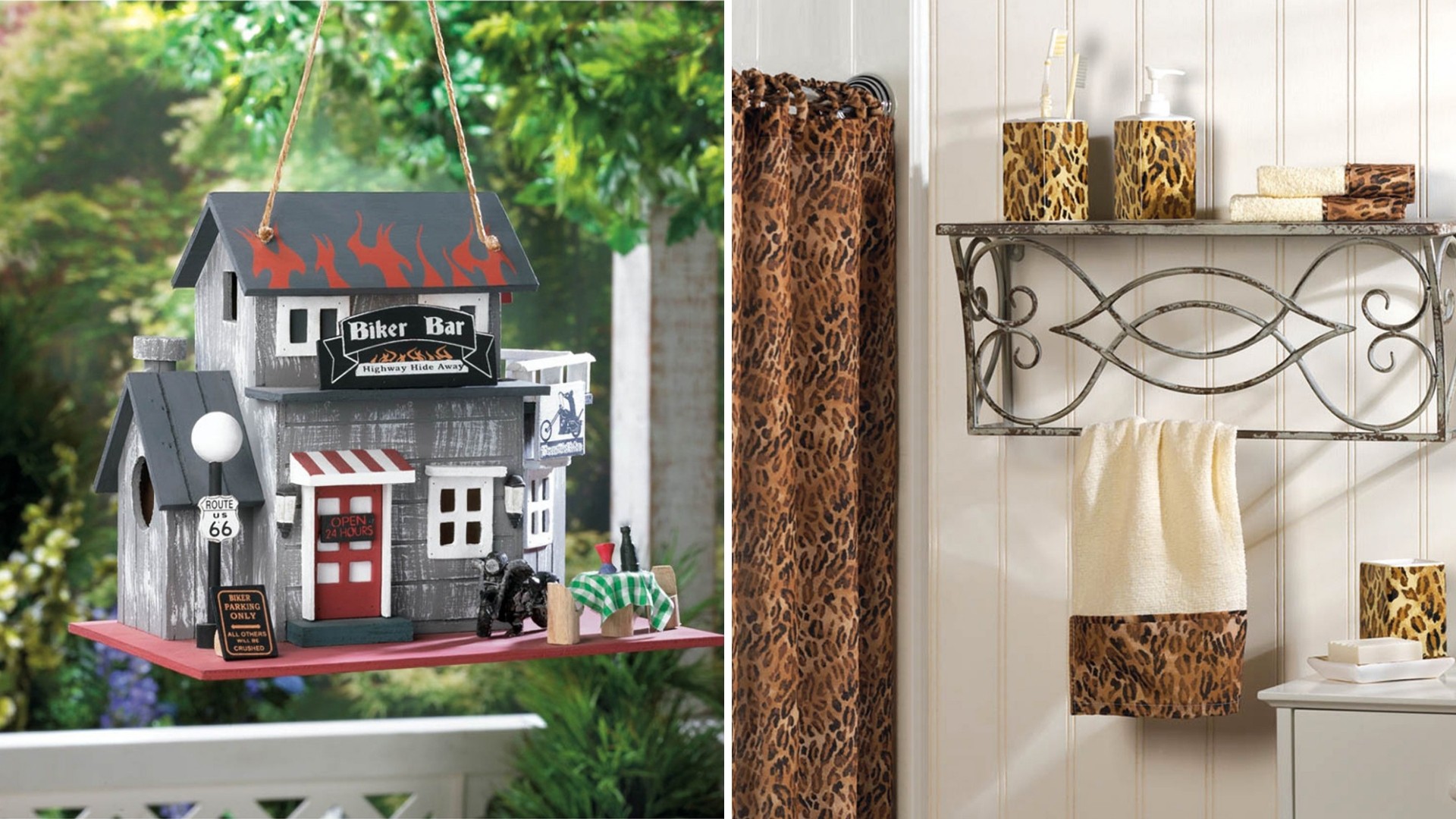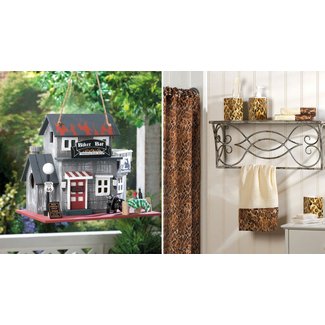 Biker Bar 9 in x 10 in x 8 in Birdhouse
Add a touch of class and charm to that little feathered friend with this gorgeous birdhouse. This whimsical birdhouse is constructed with solid timber wood and it features three beautiful cottages, two floors levels, a hanging rope, a removable clean out panel with an opening behind, and a classic slanted roof. The piece does not require assembling after purchase and is perfectly made to add more beauty to your garden and home and also make your bird feel at home.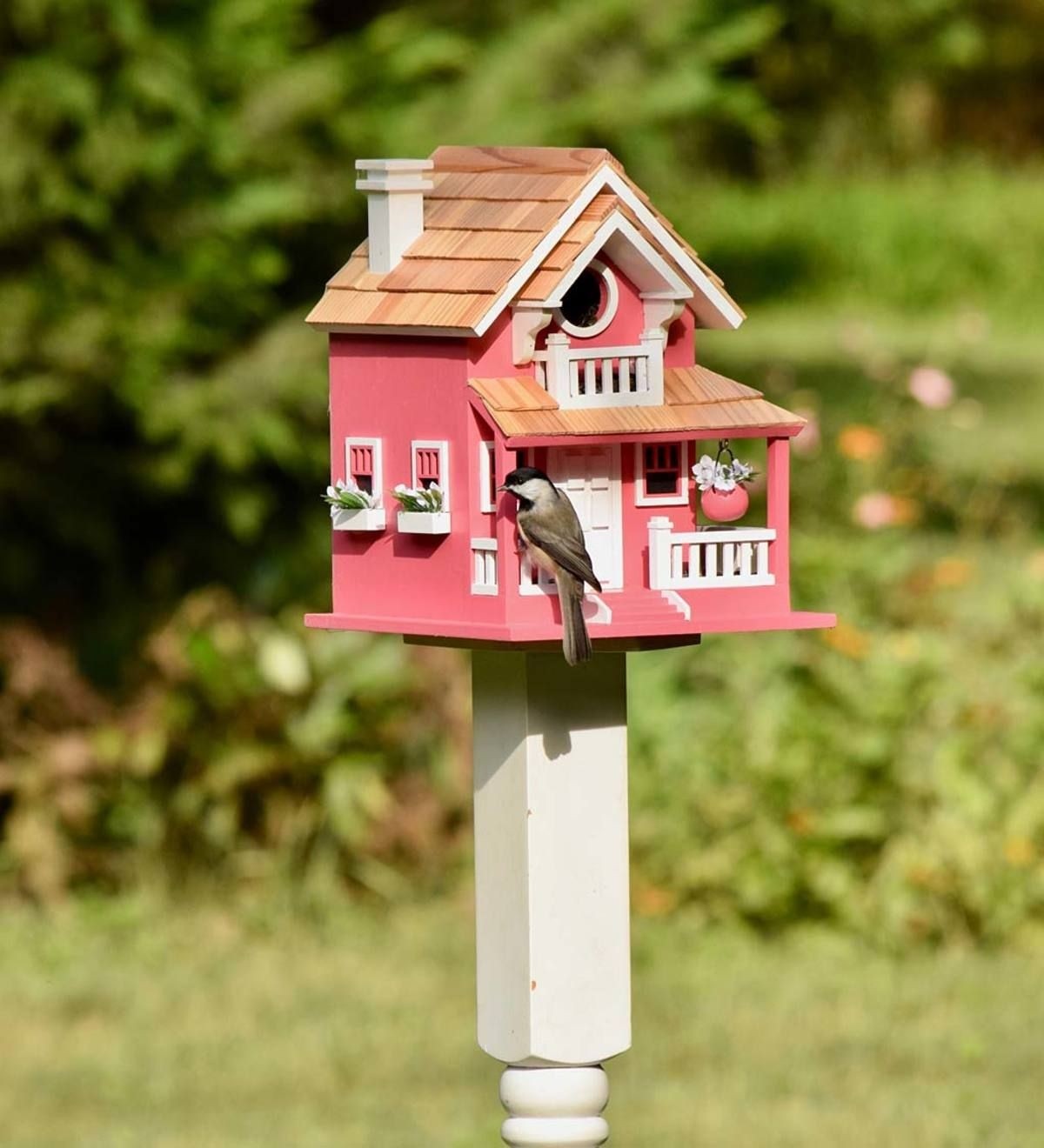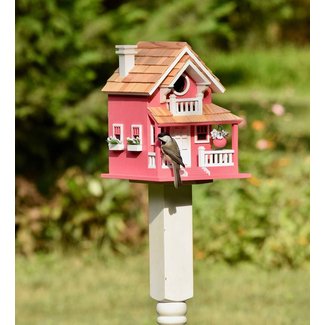 Cottage 11 in x 8 in x 9 in Birdhouse
This lovely bridhouse is made with solid pine and plywood that is beautifully colored with white and pink to add color and beauty to your home. It has a professional touch that features a gable covered balcony, with more windows for excellent ventilation, hanging flower baskets, a wrap-around porch, an unpainted inner and a non-toxic exterior finished with a ventilator and removable back panel for easy cleanup. It is perfect for a backyard or garden setting when mounted on a post.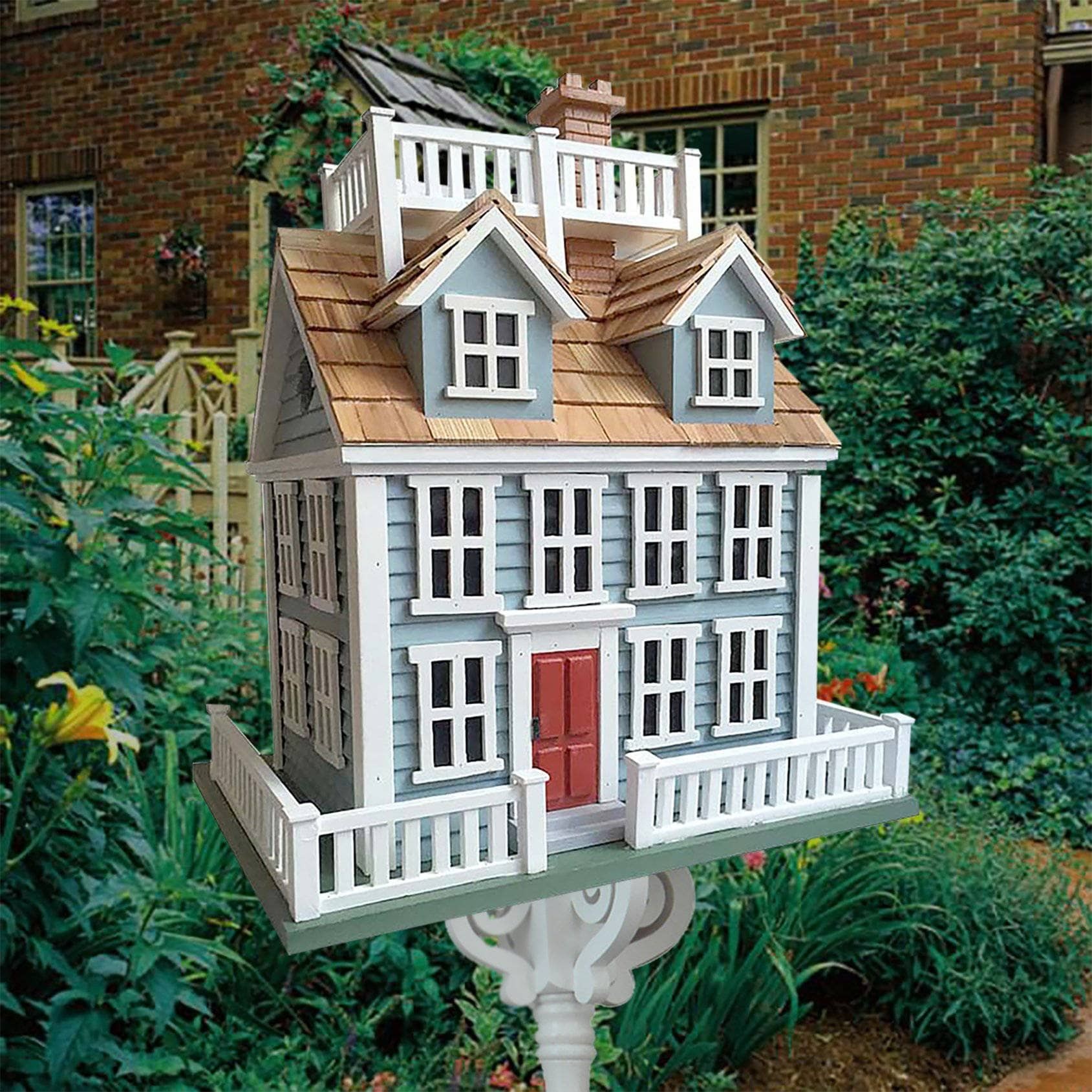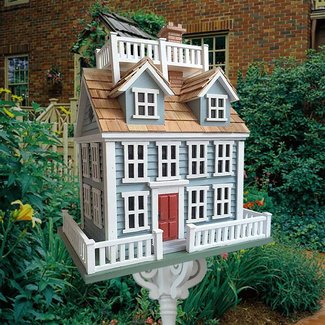 Signature Series Nantucket Colonial 16 in x 16 x 11 in Birdhouse
The creative and classy birdhouse is designed with lots of windows to give your bird a commanding view. The three-story masterpiece is big and perfect for post mounting. It is constructed with quality material to beautifully decorate your birdhouse and to ensure durability and portability. It also features ventilating holes, built-in drainage, and a removable clean out panel for easy maintenance and care of the birdhouse.