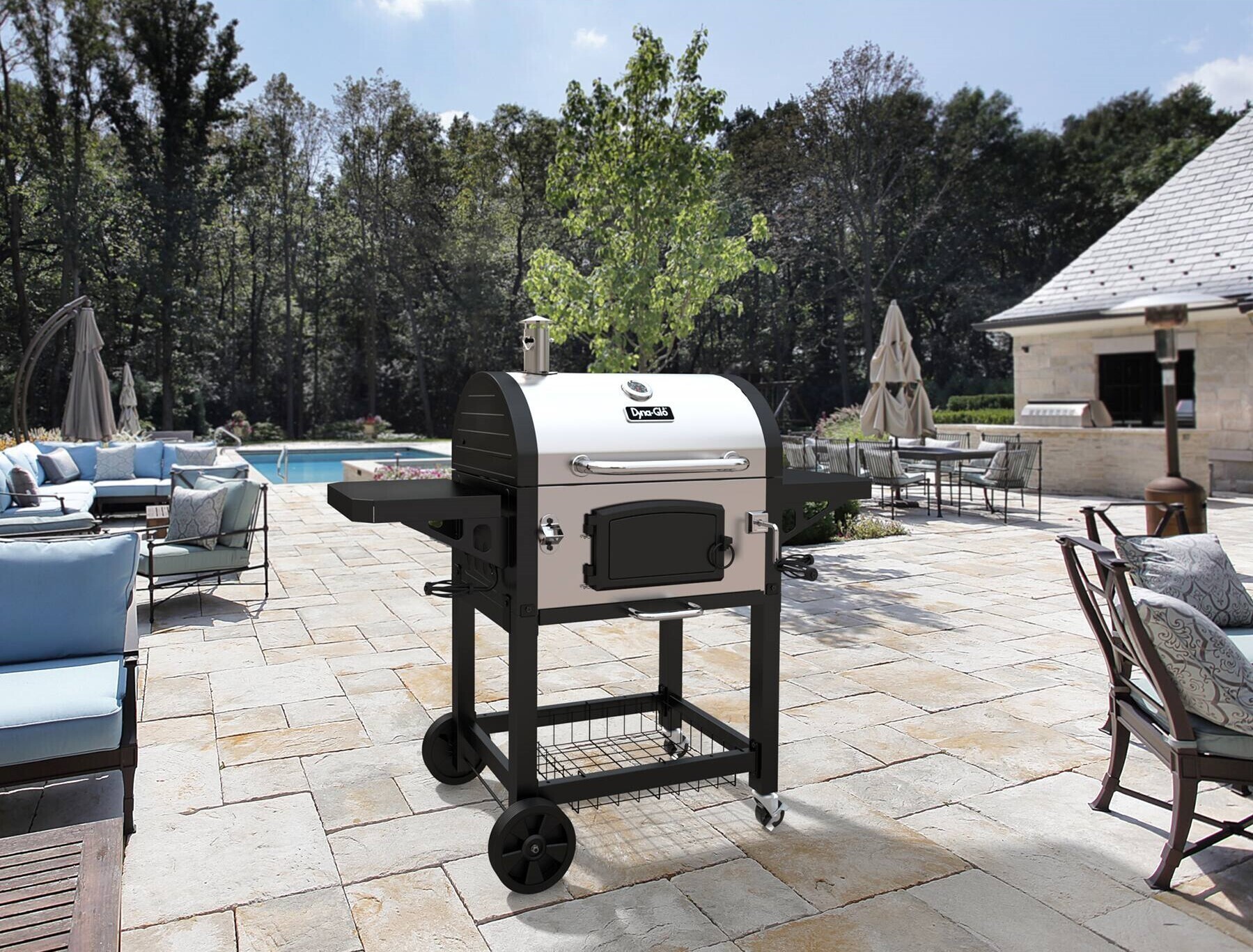 Large Charcoal Grill

Earn the title of King of the Grill with the help of this large premium charcoal barbecue. As well as looking effortlessly cool, it makes grilling a breeze thanks to its functional design. Each cooking grate is made from porcelain enameled cast iron for maximum heat transfer and searing, and the double-walled lid and front firebox minimize heat loss, improving the charcoal's burn efficiency. Keep an eye on the temperature with the gauge and customize the cooking temperatures using the adjustable flue and the crank to raise and lower the charcoal tray as needed.
What we like:
● Plenty of cooking space
● Wheels for easy portability
● Two useful shelves
● Front access door makes it easy to reload and stoke the charcoal
What we don't like:
● There's nothing we don't like about this large charcoal grill!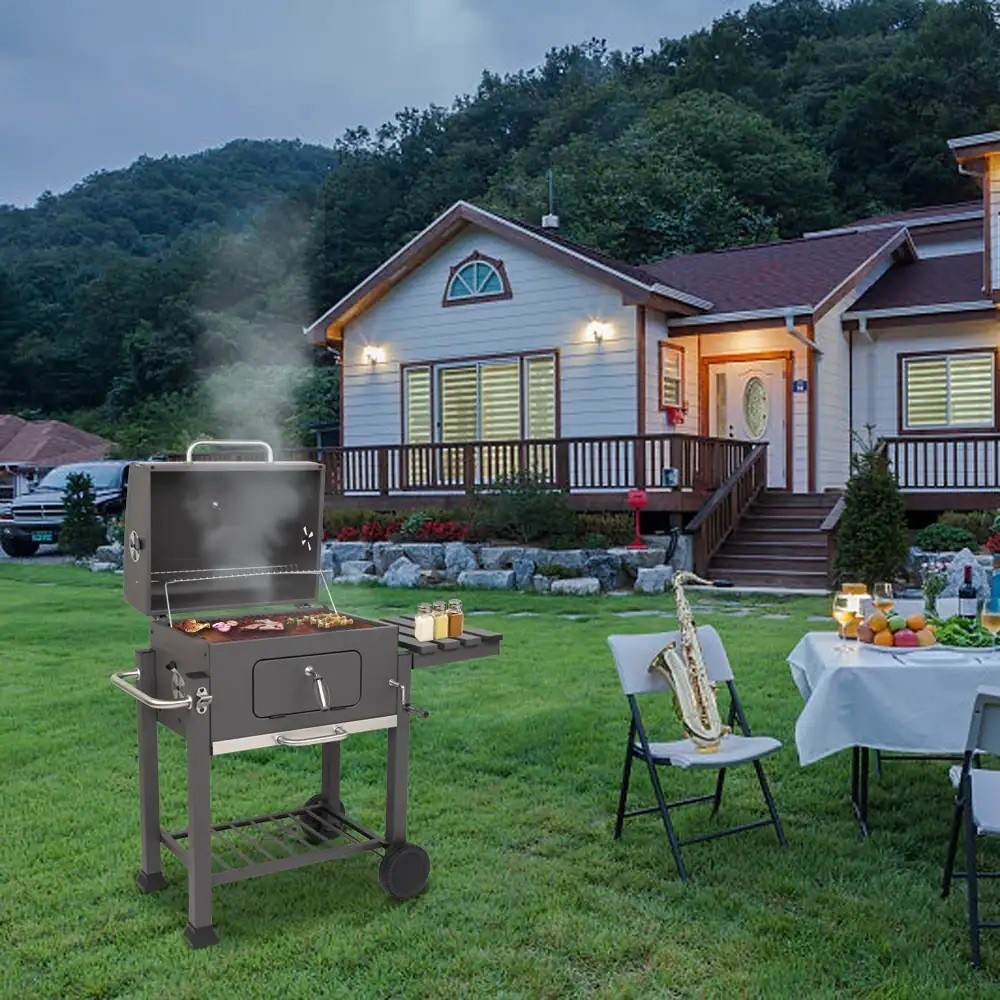 Square Oven Charcoal BBQ

Guarantee you and your family a smokin' summer with this big charcoal barbecue! As well as the heavy-duty porcelain enameled cast iron cooking grates, this grill has several additional features that make it stand out. Starting with the all-important built-in bottle opener so you can enjoy a refreshing beer as you grill, followed by the air vents and adjustable damper to help you control the heat without having to lift the lid. The foldable side shelf comes with four hanging hooks, providing plenty of space for your BBQ tools and seasonings, as well as the bottom shelf for extra storage. Plus, the removable ash tray makes it quick and easy to clean up afterwards!
What we like:
● Temperature gauge on lid
● Wheels for easy portability
● Large cooking surface
● Handy warming grid
What we don't like:
● Not the easiest to assemble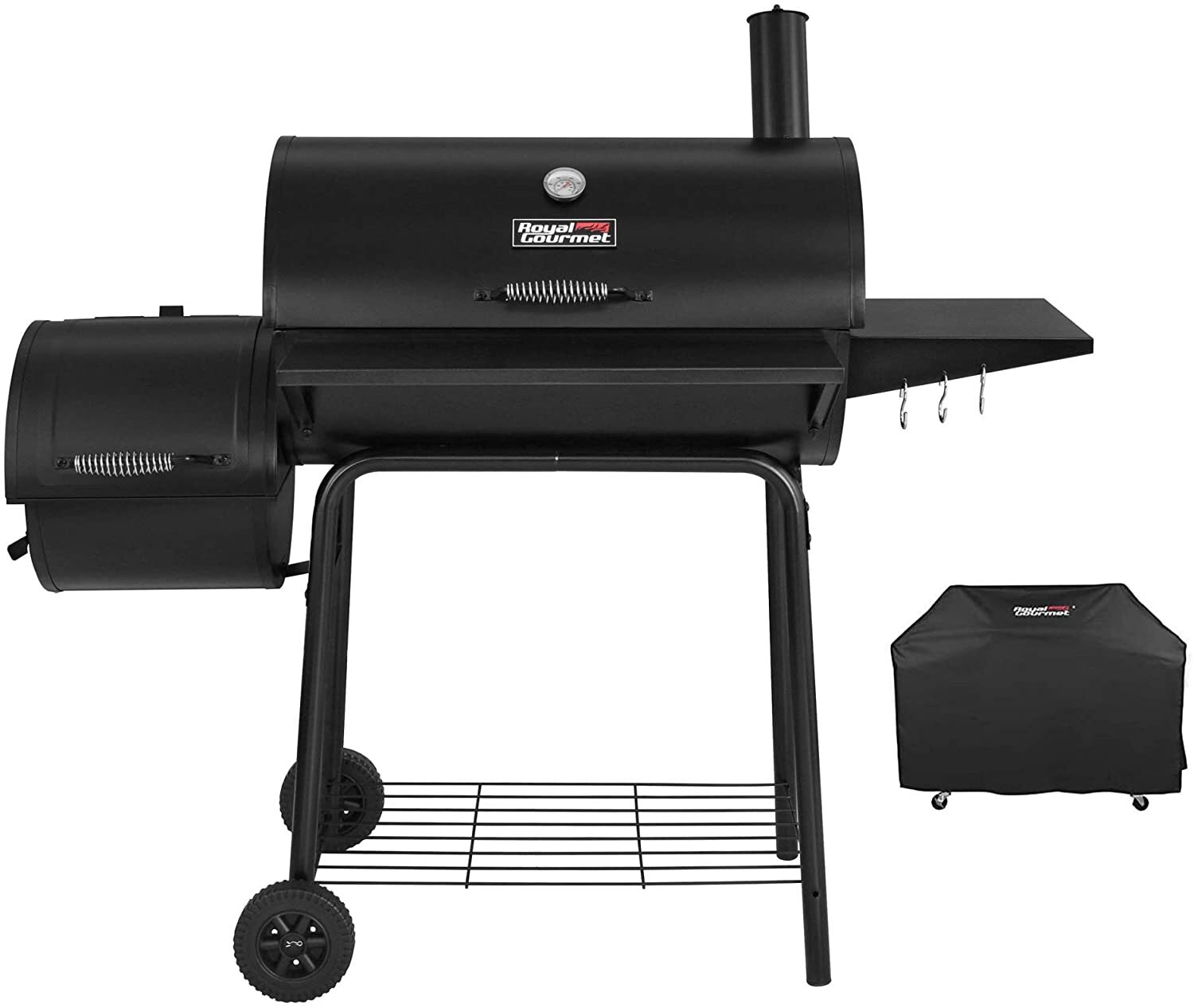 Large Charcoal BBQ with Smoker

Get fired up for some fun in the sun with this large charcoal barbecue with an offset smoker. If you're looking to satisfy both your grilling and smoking taste buds, this is the perfect choice as it provides you the versatility to do either or, or both at the same time! Featuring double split porcelain enameled cooking grates, you can top up the charcoal with ease, whilst two lifting handles allow you to adjust the heat by raising and lowering the charcoal pan. The offset smoker has an easy to open side door to add, remove and stoke the coal, and an air vent to control the heat and smoke levels.
What we like:
● Ample storage space
● Wheels for easy portability
● Easy-to-read temperature gauge
● Comes with a free cover
What we don't like:
● Lid not very secure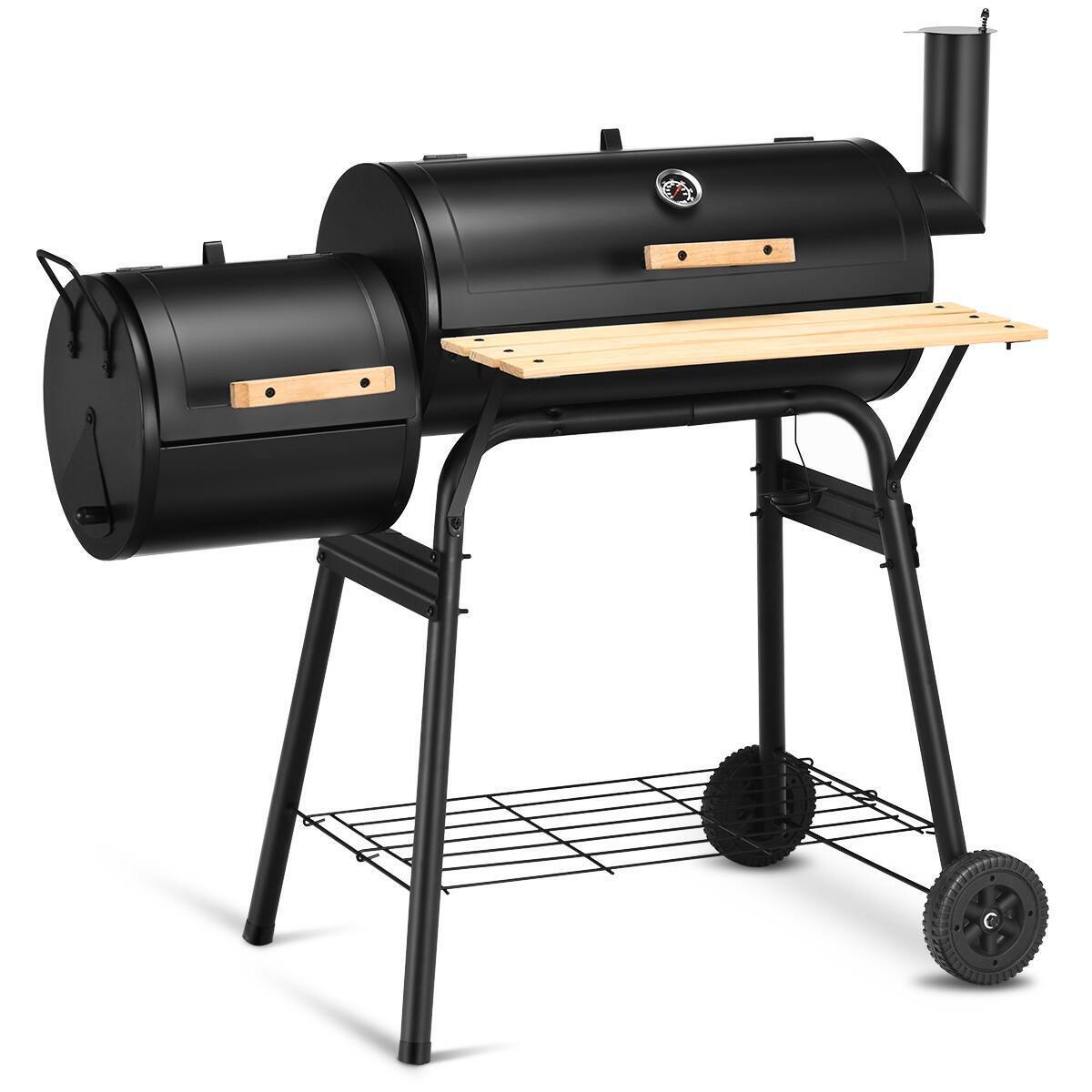 Outdoor Big Charcoal Grill

Relish the warm weather with delicious char-grilled food cooked to perfection in a large charcoal barbecue. Made of durable, anti-rust steel this grill will keep you fed for many summers to come. The temperature gauge provides perfect heat control with real-time monitoring of internal temperature at a glance. Featuring a multi-functional off-set barrel-shaped furnace, you can choose whether to grill or smoke your delicacies, whilst the adjustable vent helps you both control the smoking and offset heat where necessary. Not to mention, the wooden heat-resistant handles and handy oil catcher features!
What we like:
● Wheels for easy portability
● Exhaust chimney for smoke control
● User-friendly storage space
What we don't like:
● Unclear assembly instructions
● Doors on the grill don't close flush, allowing smoke and heat to escape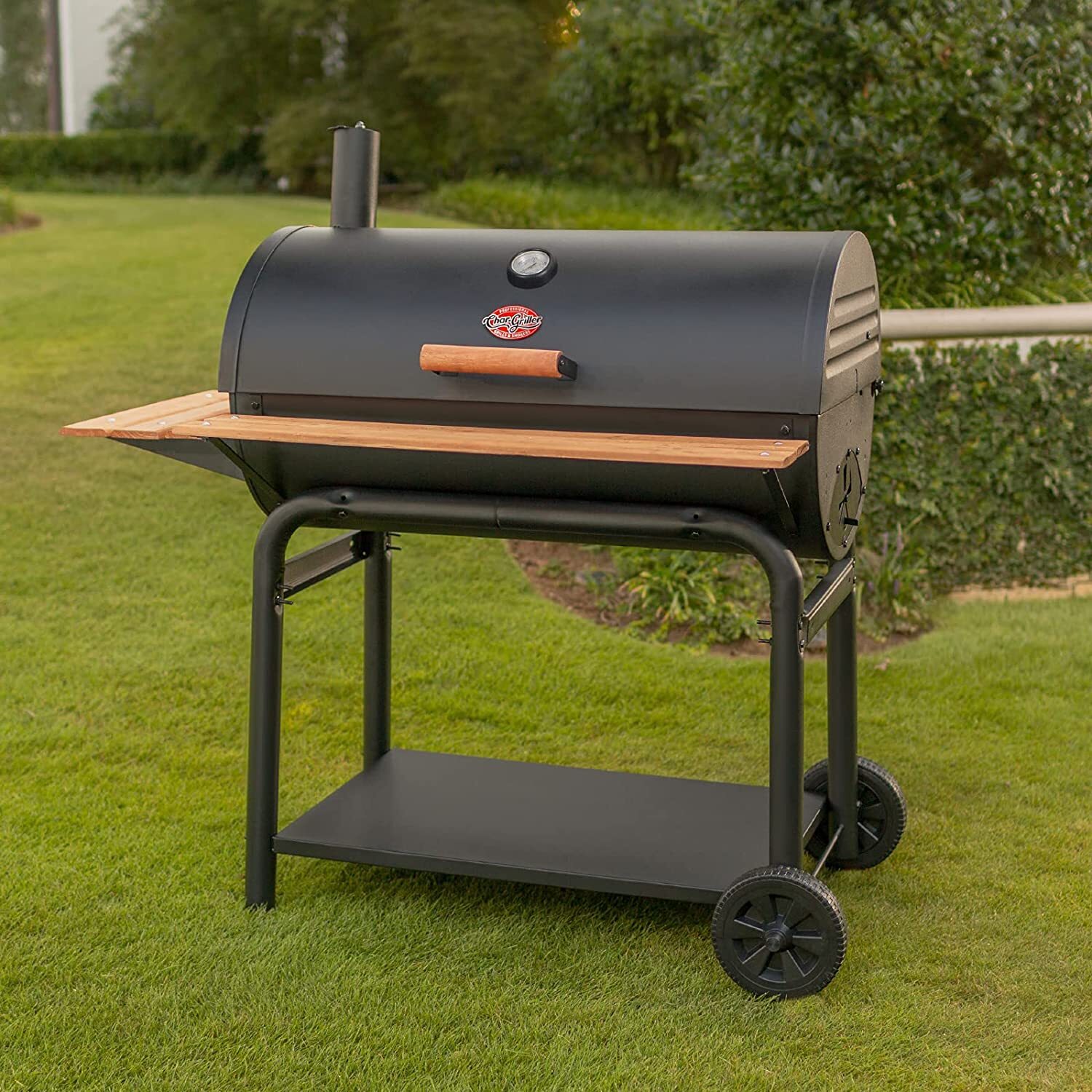 Large Garden Char Griller

Make way for an un-grill-ievable summer shared with friends and family with a big charcoal barbecue. With 725 square inches of cooking space, plus the warming rack, you'll have no shortage of space for numerous burgers, sausages and veggies. A heat gauge and dual dampers allow for precise temperature control and an adjustable fire grate provides flexibility for your cooking methods. Plus, the removable ash pan means cleaning up is quick and effortless. Although this model does not come with a smoker, it can be bought separately and easily attached.
What we like:
● Wheels for easy portability
● Solid and durable steel construction
● Easy to assemble
● User-friendly storage space
What we don't like:
● Unclear assembly instructions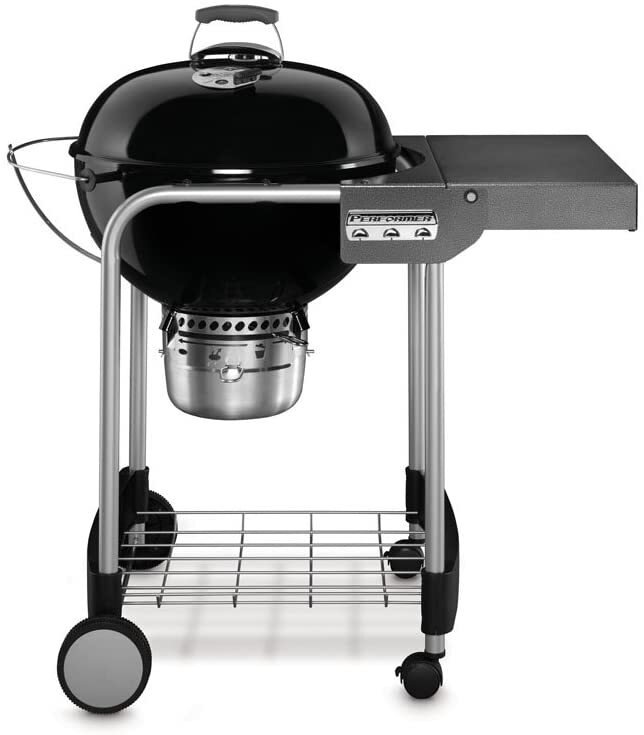 Big Charcoal Grill Kettle Style

It may surprise you to hear that this nifty kettle charcoal grill holds up to 13 burgers! Ideal for smaller decks, the large grill is stylish and practical and has a surprisingly small footprint. Ready to start cooking? Fold up the work table and start prepping your food. Keep your grilling tools to hand, but out of the way, with the hooks and keep extra supplies down below! Check up on the temperature at a glimpse with the built-in thermometer display. And, once you're done cooking and guzzling, clear up with ease with the one-touch cleaning system!
What we like:
● Convenient lid holder
● Wheels for easy portability
● Rust-resistant and heat retaining porcelain-enameled lid and bowl
● Easy to assemble with 3D interactive instructions
What we don't like:
● No cart handle
● Small front wheels could be better quality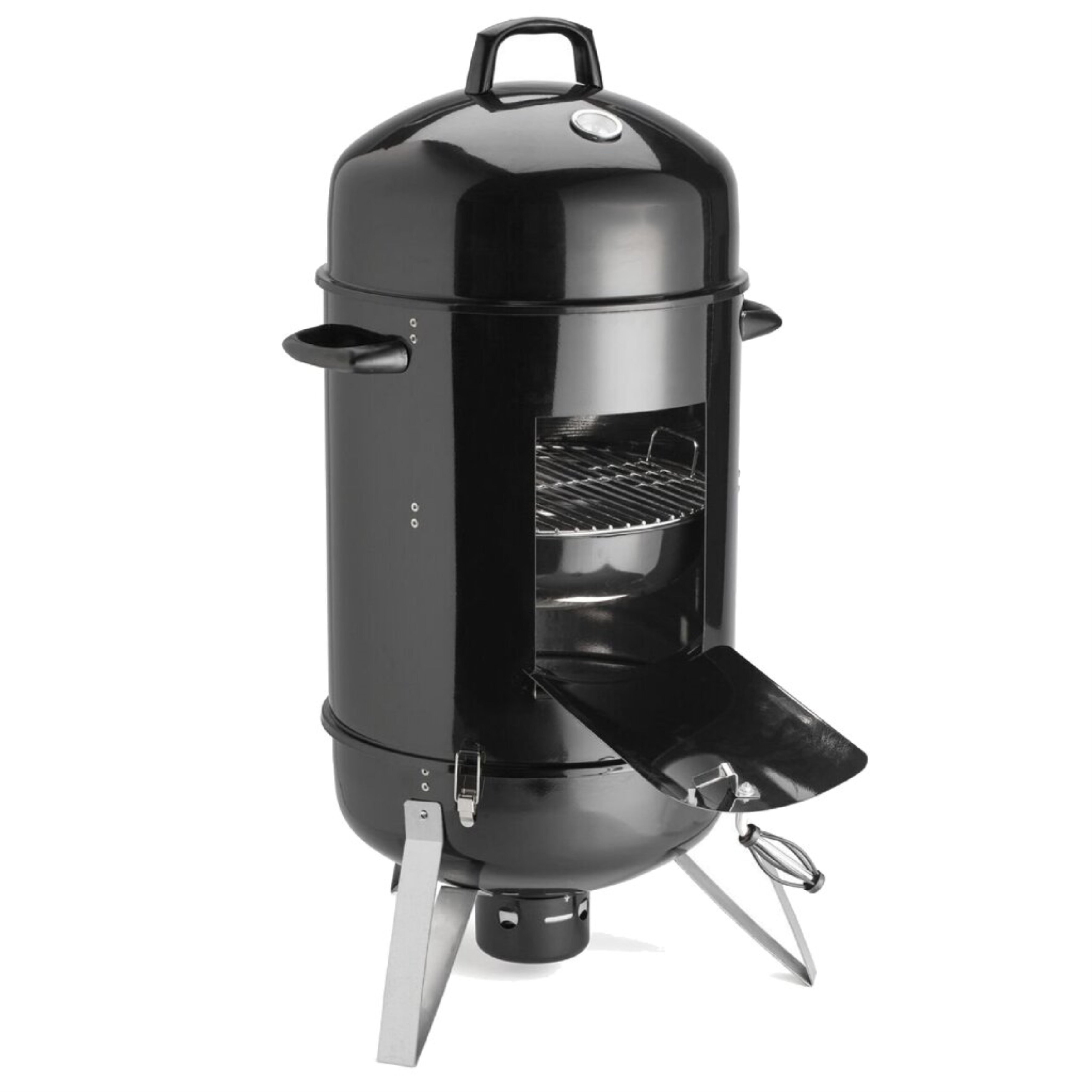 Big BBQ Grill and Smoker

Another great option for a small garden balcony or patio, this large grill makes the most of vertical space. Its clever, multi-purpose design brings flexibility to outdoor eating as it can be used for smoking, grilling, steaming, baking, braising, roasting, and more! As well as being space-saving, the vertical design maximizes interior cooking space and helps evenly distribute heat throughout the chamber. The lid is strategically equipped with an air vent and a built-in thermometer so you can easily monitor the internal temperature.
What we like:
● Its small size, light weight and separable parts make it easily portable
● Low-maintenance and easy to clean
● Weather-resistant powder coated metal
● 2-in-1 grill and smoke function
What we don't like:
● No convenient storage or work space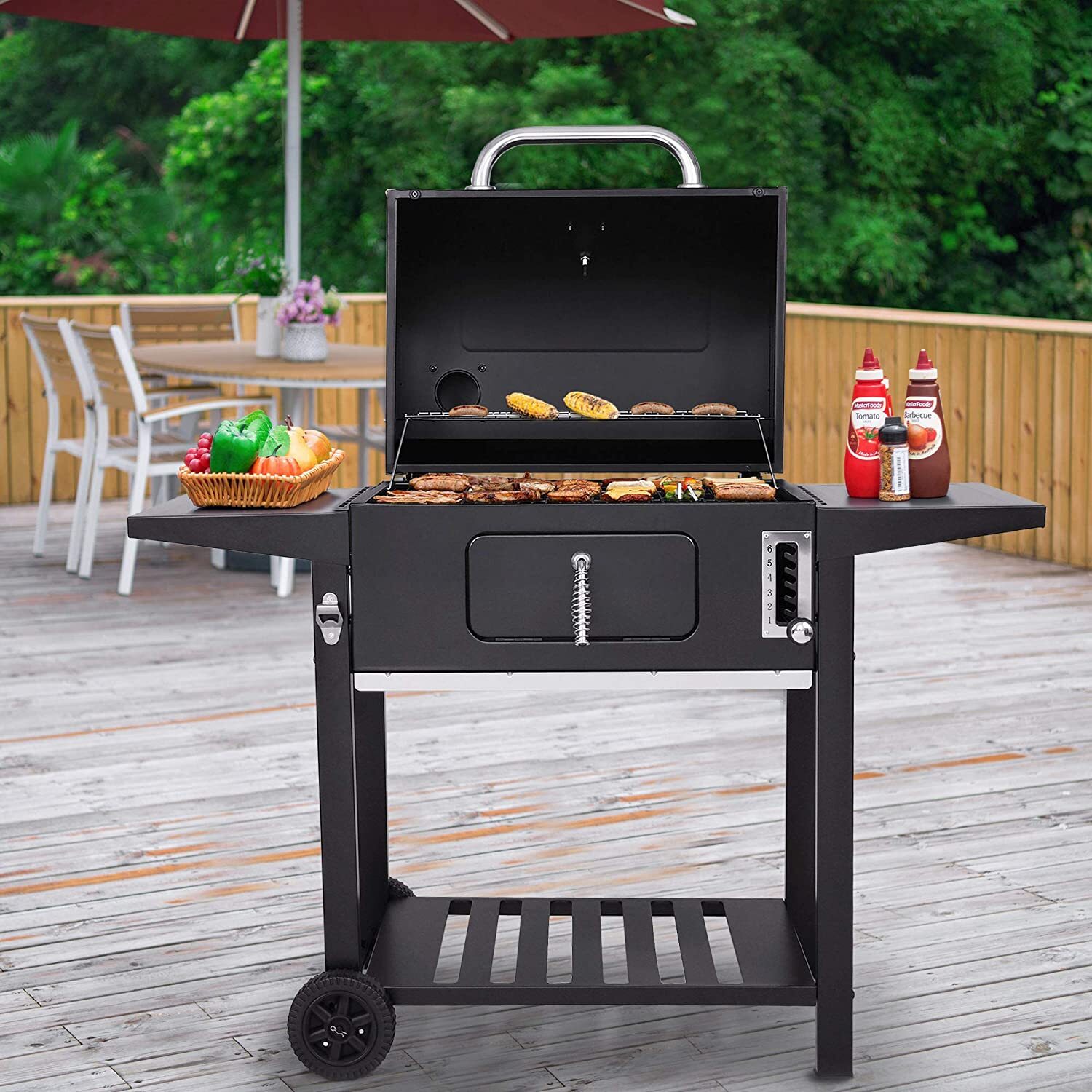 Black Large Charcoal Grill

Cook up a storm and impress all the family with this large charcoal barbecue grill! Providing enough space to feed up to ten hungry people, cooking for your visitors will feel easy-peasy. The height-adjustable charcoal pan can be raised and lowered between six different levels for better heat control. Unique to this design, the charcoal pan has holes in it to allow air to circulate more thoroughly, burning the coals faster and therefore enhancing grilling efficiency. Other handy features include the removable ash tray for a hassle-free cleanup, two fixed side tables and a bottom shelf for ample storage, and a built-in temperature gauge.
What we like:
● Wheels for easy portability
● Adjustable damper on each side panel enhance airflow
● Front access door makes it easy to reload and stoke the charcoal
● Good quality, sturdy construction
What we don't like:
● Not the easiest to assemble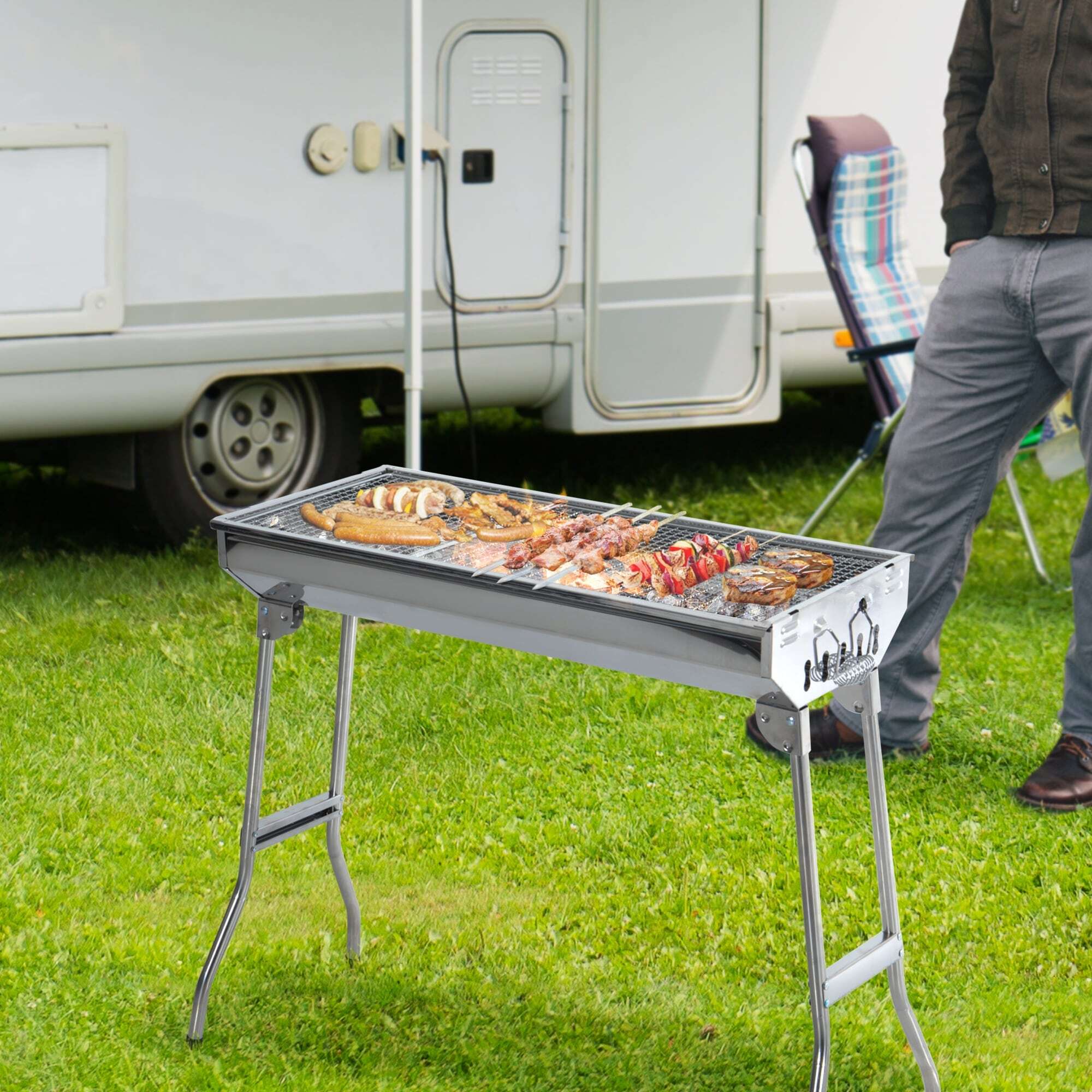 Portable Large Charcoal Grill

Looking for a large charcoal barbecue to accompany you on your outdoor weekend adventures? We may have just the thing! This grill is big yet lightweight and portable with a foldable leg design that also provides easy storage, perfect for lake-side camping expeditions or occasional events. Made from rust-resistant stainless steel, it's both sturdy and durable. The design features vents on both sides of the grill for better airflow control and heat distribution and the anti-scalding handles help prevent accidents!
What we like:
● Large cooking surface
● Easy to assemble
● Unbeatable portability
● Stable
What we don't like:
● Doesn't have a cover or lid