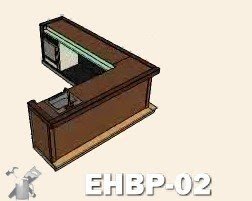 Incorporate a bit of the cool, summer vibe straight into your garden or backyard with this wooden L-shaped bar. Handmade, it can be an easy and inexpensive way to start your DIY adventure.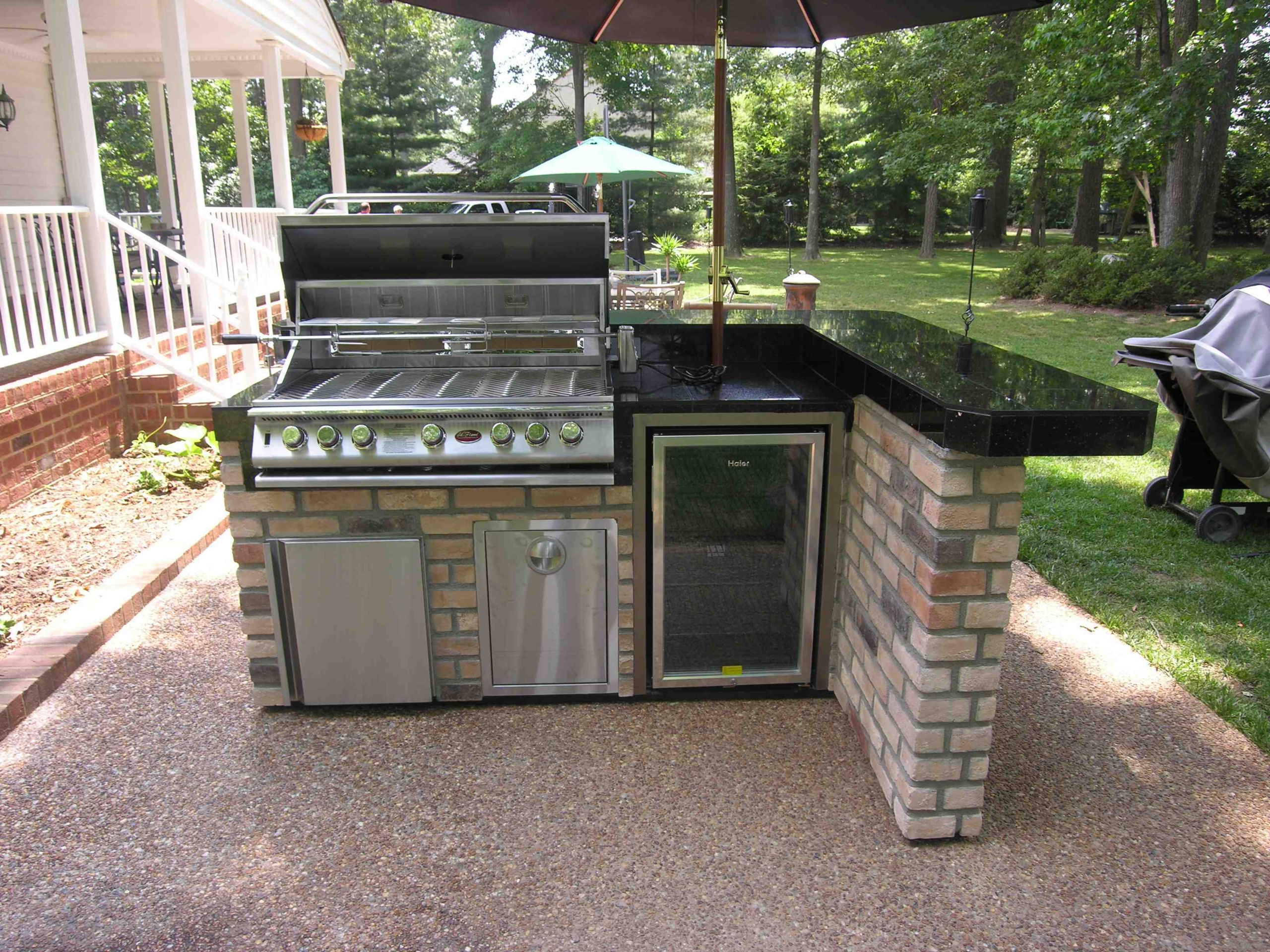 The outdoor bar that doesn't take much space at all. L-shape makes it perfect for throwing garden parties. From one side, you're able to cook, while the other with a bar counter is perfect for your guests to lean against.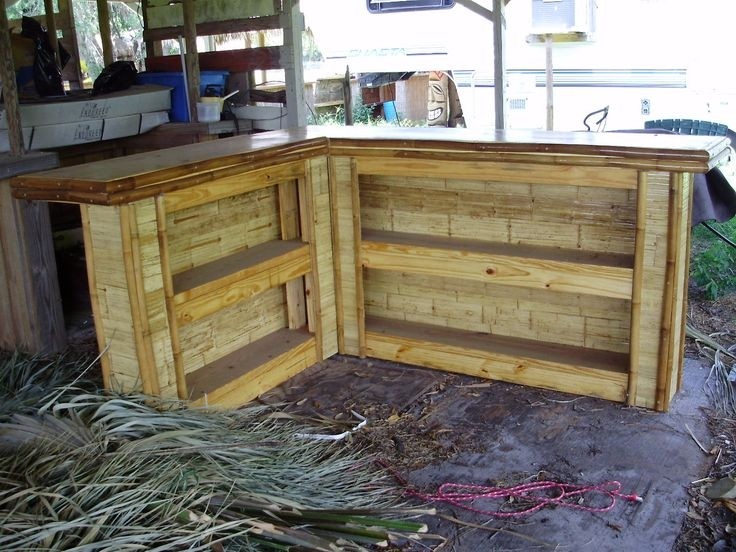 Joyful Outdoor Patio Bars Plans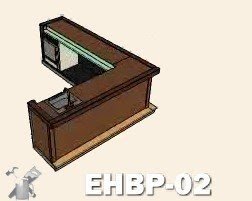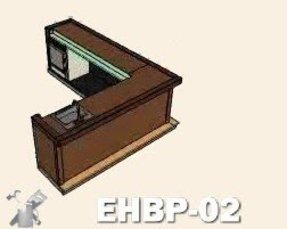 The simple design of this L-shaped outdoor bar is a perfect combination of beautiful bamboo construction and functionality. The whole is fascinating; it has plenty of storage space, a sink, and a solid countertop.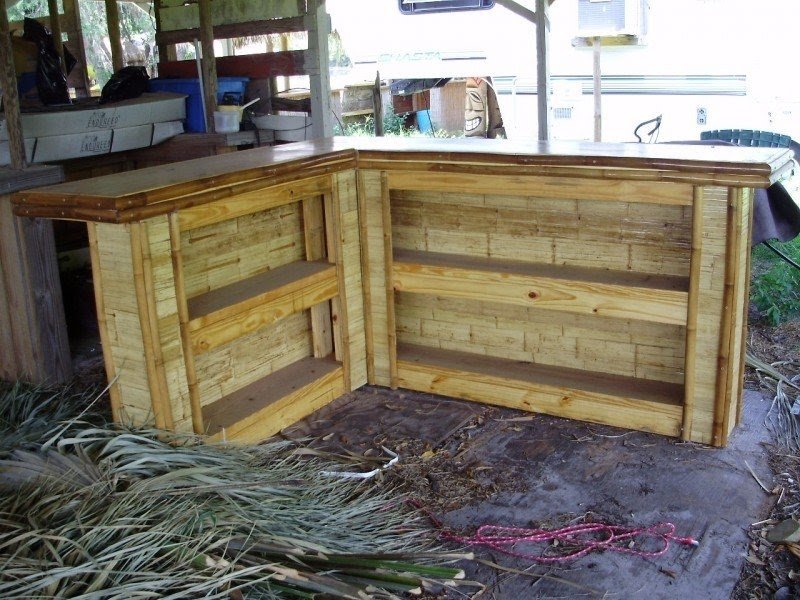 This L-shaped tiki bar has no roof it is 6' x 7', and can be used ...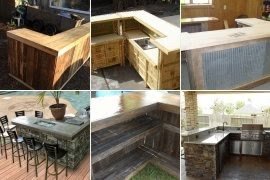 L-shaped patio bar counter with glass top. Hand-woven by craftsmen from Indonesia that used the highest quality HDPE (High Density Polyethylene) material (German technology) wrapped over a powder-coated aluminum frame.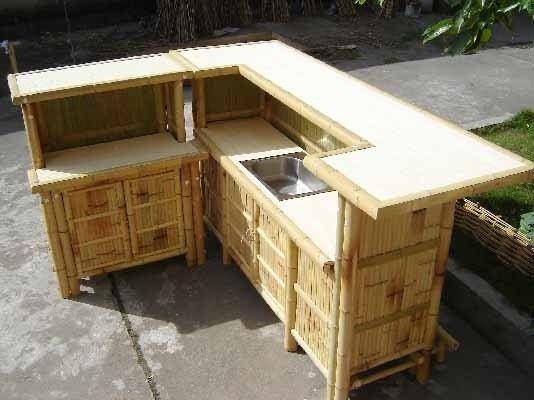 ... shape bar click for large image this expandable bamboo bar features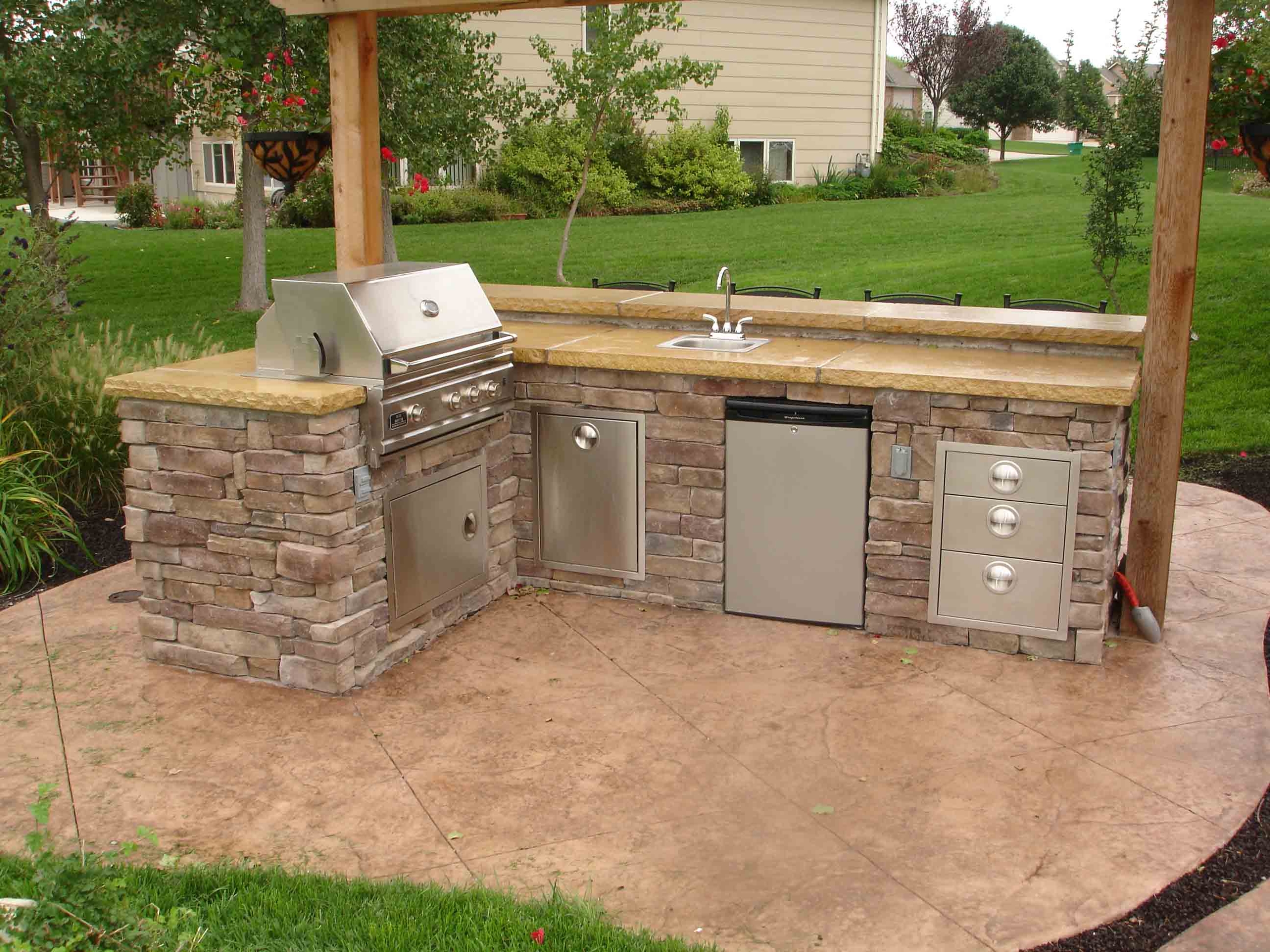 Kitchen island with barbecue is a perfect solution for a great venue for parties and family meetings outdoors. I shaped bar looks perfectly built of bricks and connected to an awesome bar. Ideal for the garden.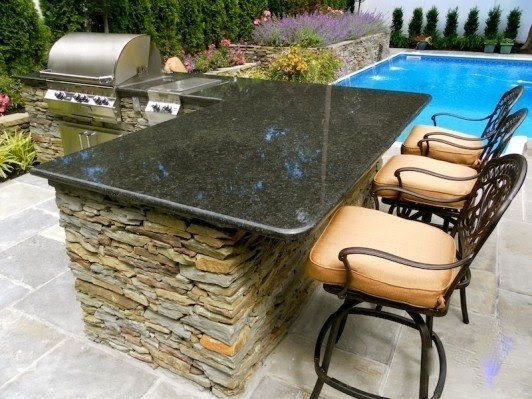 In most of the cases, L-shaped means practical, but this outdoor bar proves that L-shaped mean also stylish. Finished with a granite counter over a stone base. One of its ends is reserved for a built-in grill.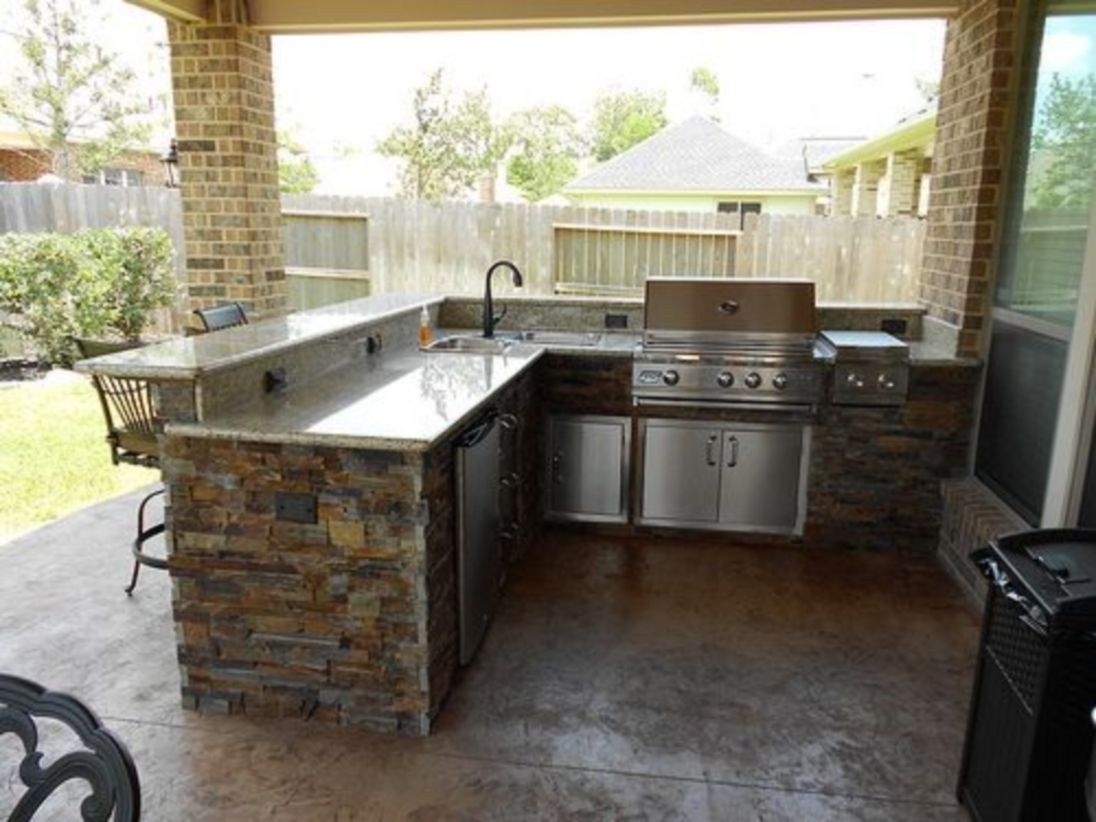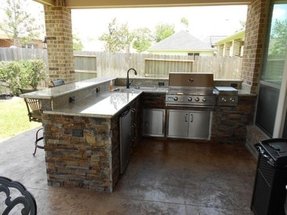 Fully functional outdoor bar, L-shaped. It has everything you need – a sink, running water, oven and even a small fridge underneath. Stainless steel finish guarantees it doesn't get damaged by the harsh outdoor weather conditions.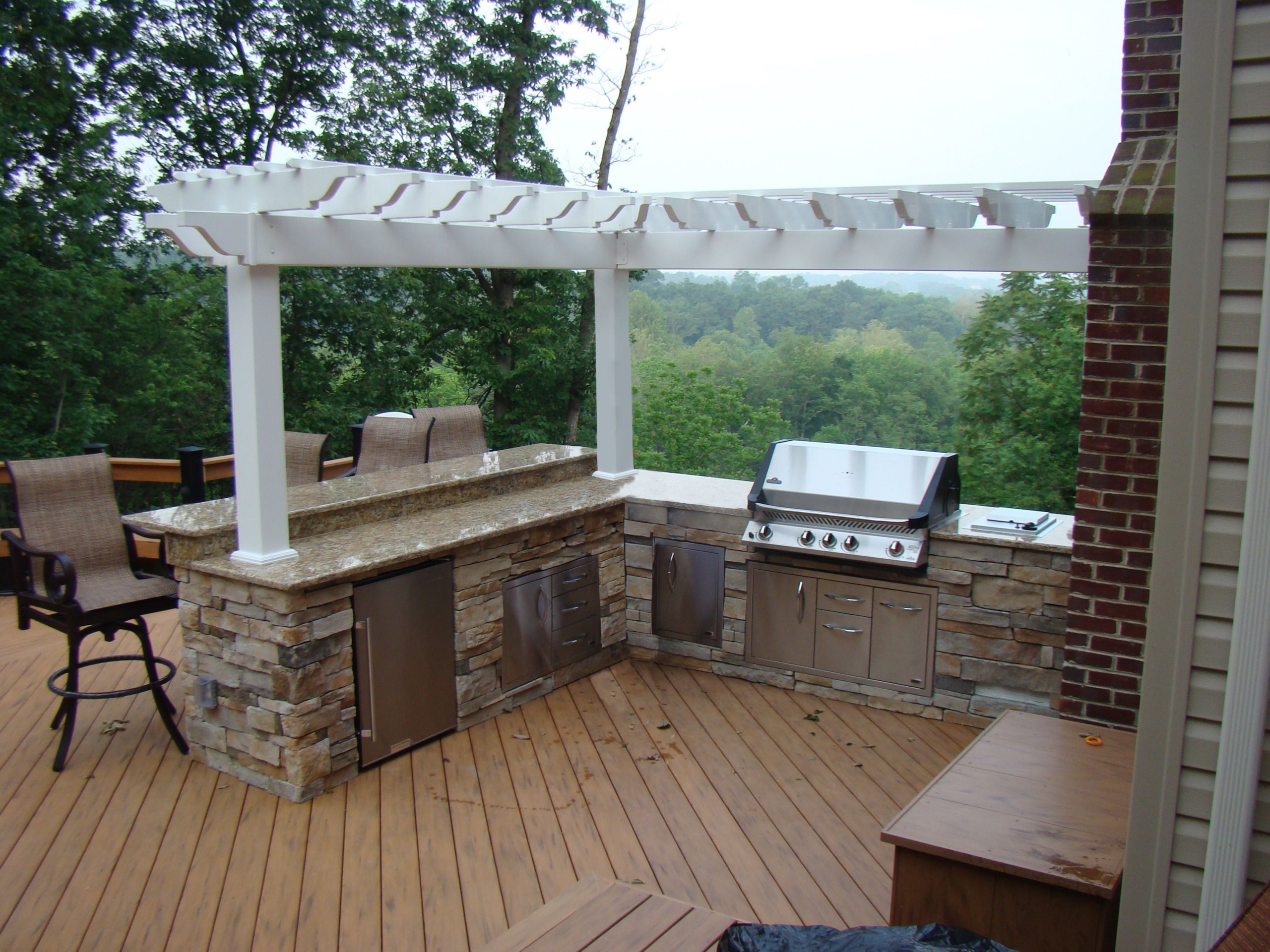 A great addition to outdoor areas such as sun decks, backyards, and patios. The L-shaped bar is made of geometrically placed stone bricks, with a granite top, stainless steel compartments, a grill and a built-in pergola trellis.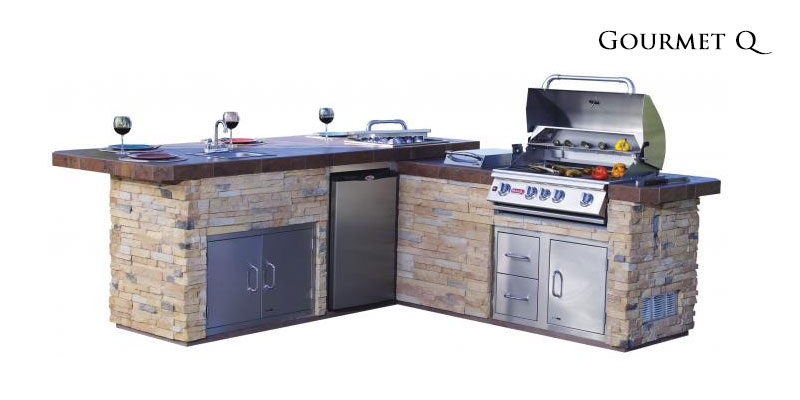 Kitchen island intended to you garden or terrace. This spacious bar area is perfect for a luxurious outdoor dining experience and ideal for entertaining. With its ample space for seating you can serve up your favorite grilling recipes in style.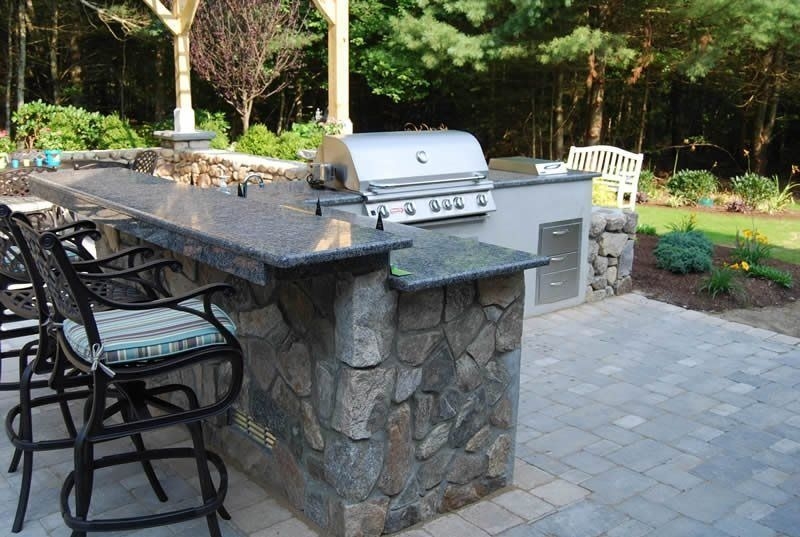 Outdoor kitchen with bar. Granite countertop sits over a stone bar, and there are some metal bar stools for company. The whole employs traditional inspiration blended with relaxed French bistro ambiance.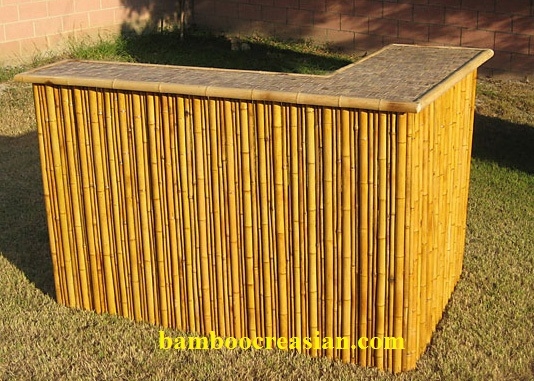 ... Tiki Bar L shape, Custom Bamboo tiki bar, Bamboo bars set outdoor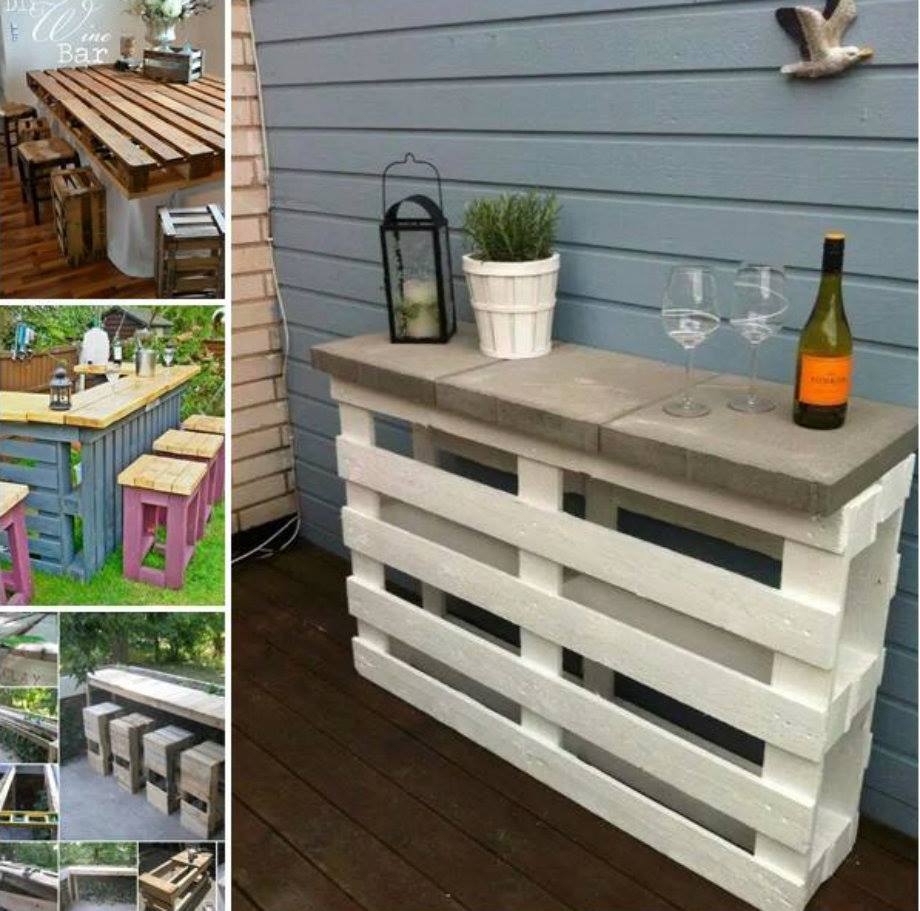 Two pallets plus three stepping stones makes perfect bar for deck or patio, Oooh you could add more to make it an L shape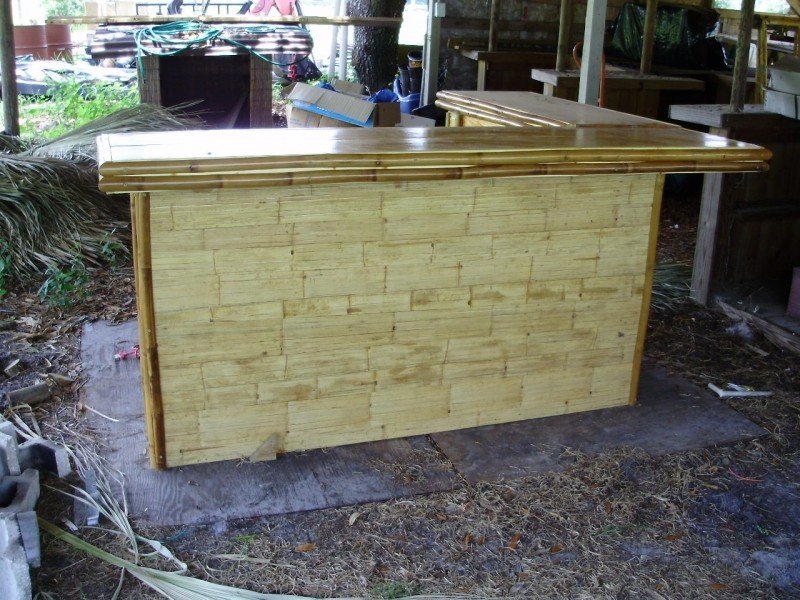 small l shaped flattened bamboo board tiki bar with no roof outside ...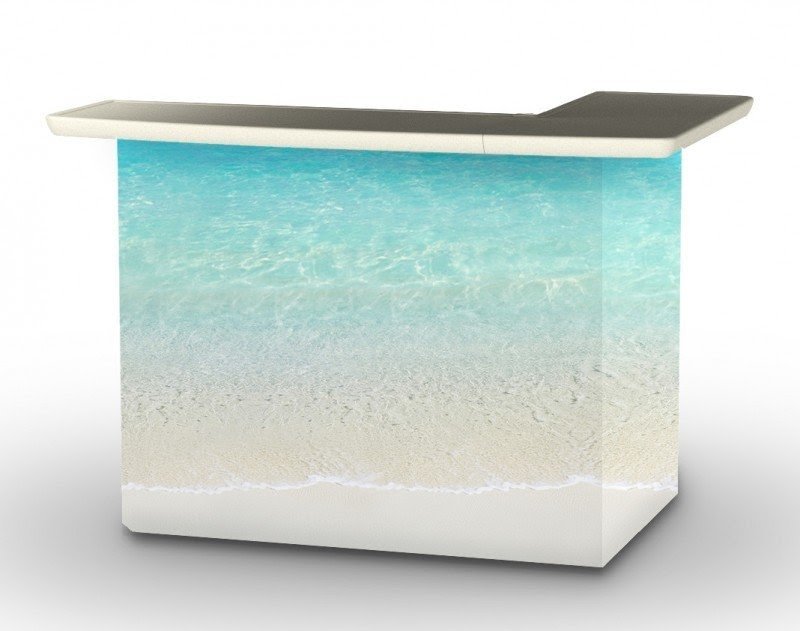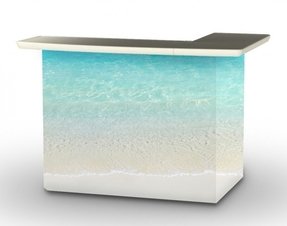 5 Piece Patio Bar Set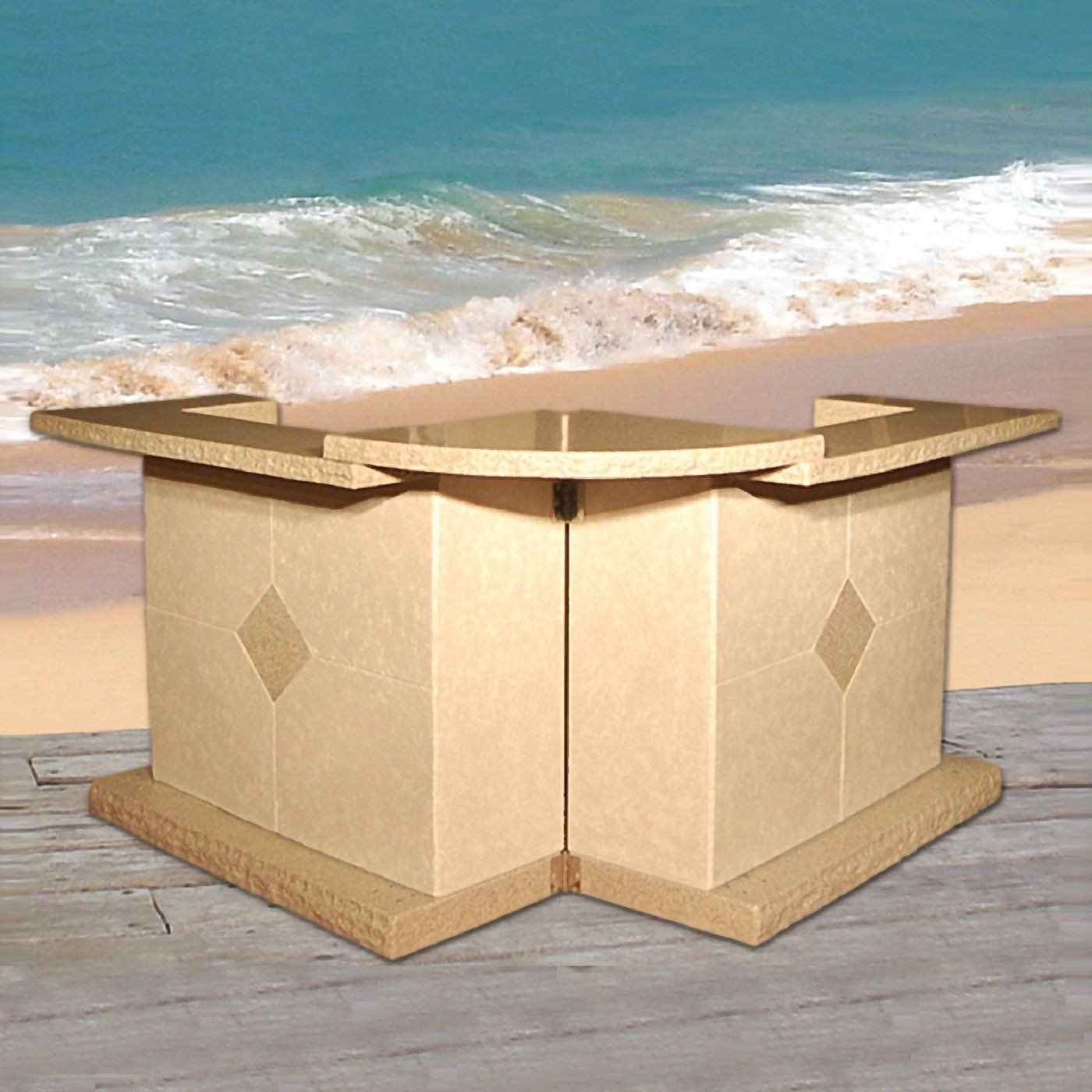 Maui Galley Home Bar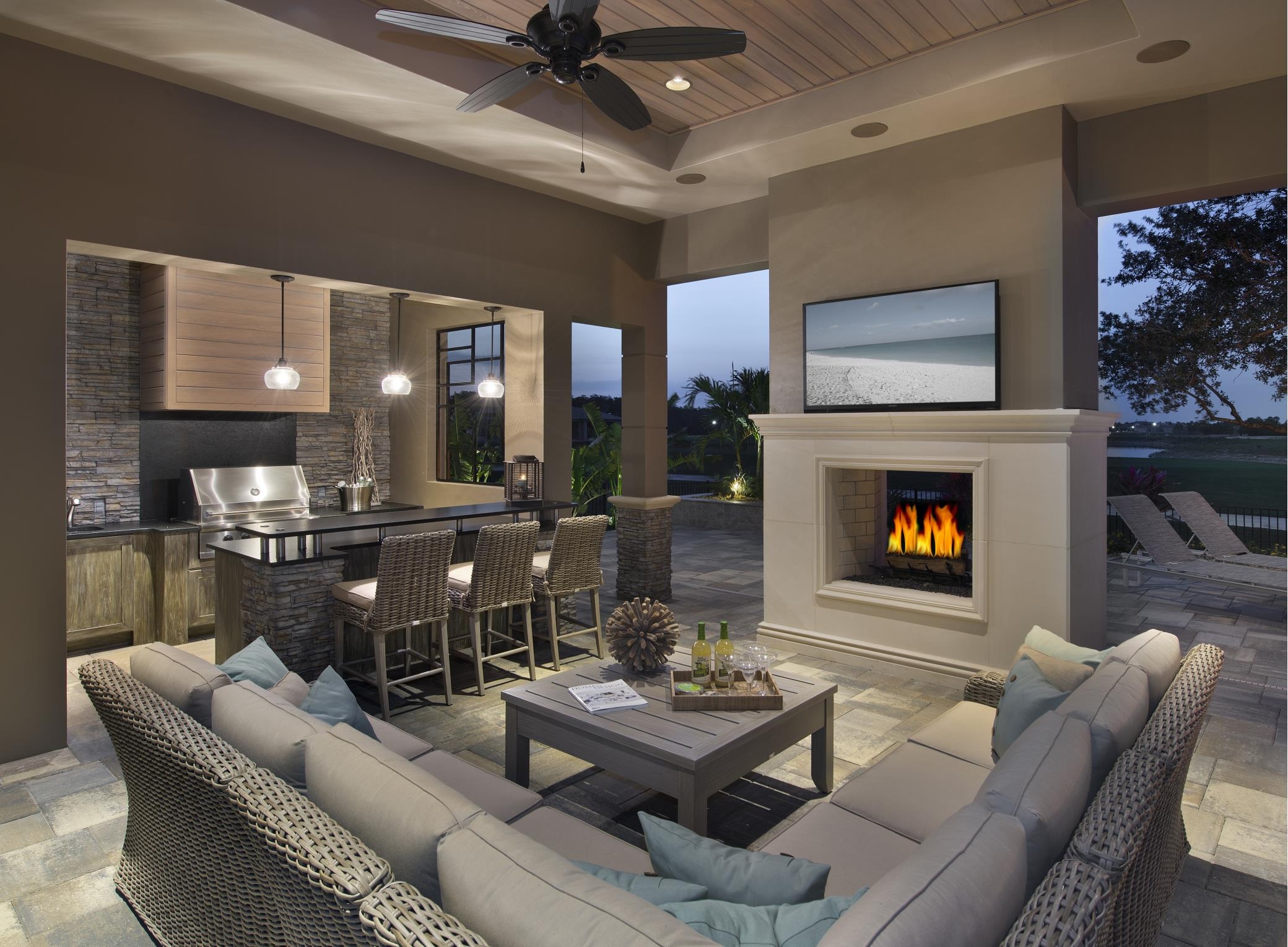 What's more cosy and comfy from an afternoon with family, spent around a fireplace? Exquisitely stylish, modern living room proposition with an L-shaped couch and the electric fireplace as the focal points.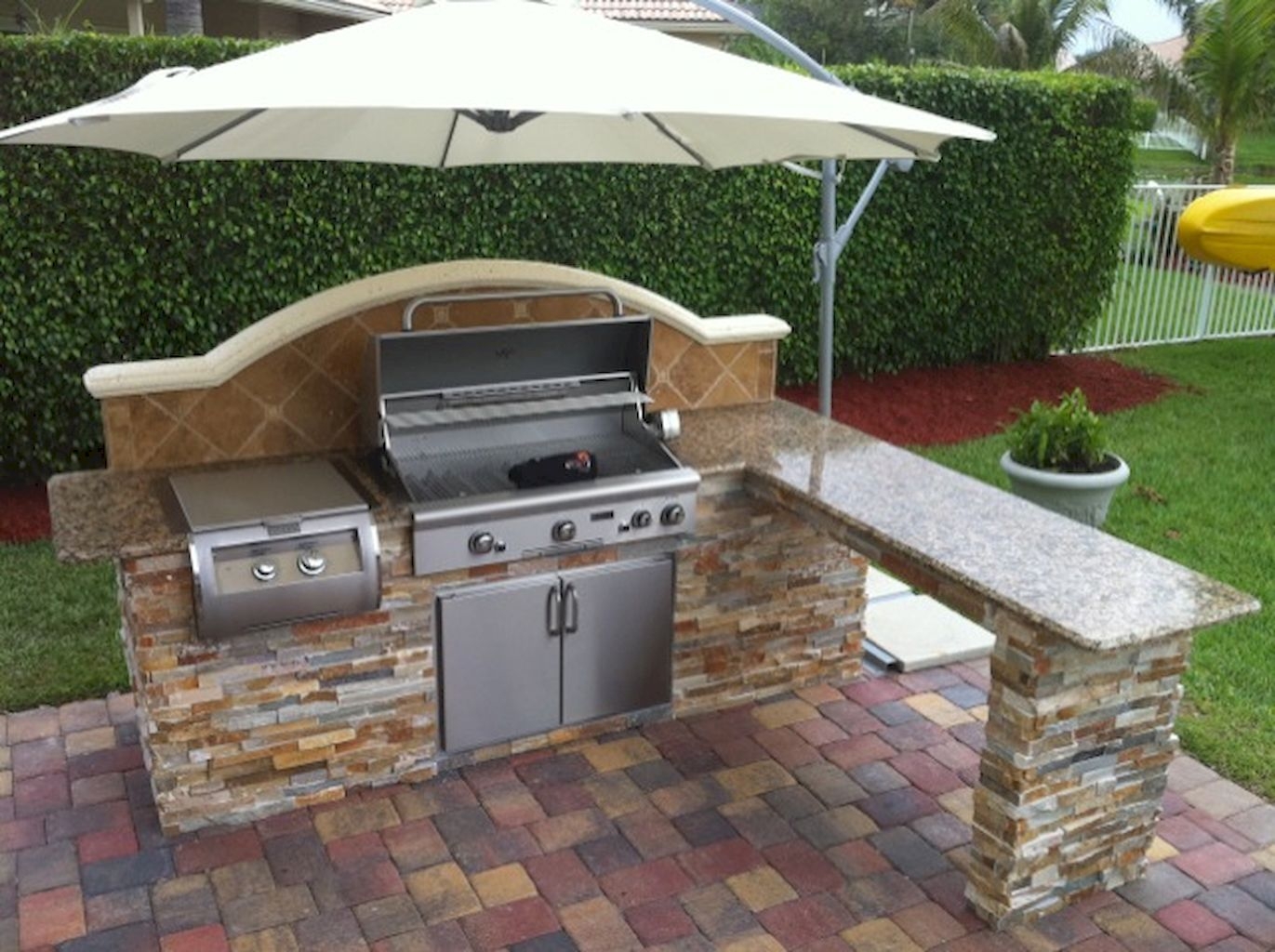 Apart from its functional L-shape design, this outdoor bar catches the attention also with its refined appeal. resulting from the use of granite counters and beautiful stone base.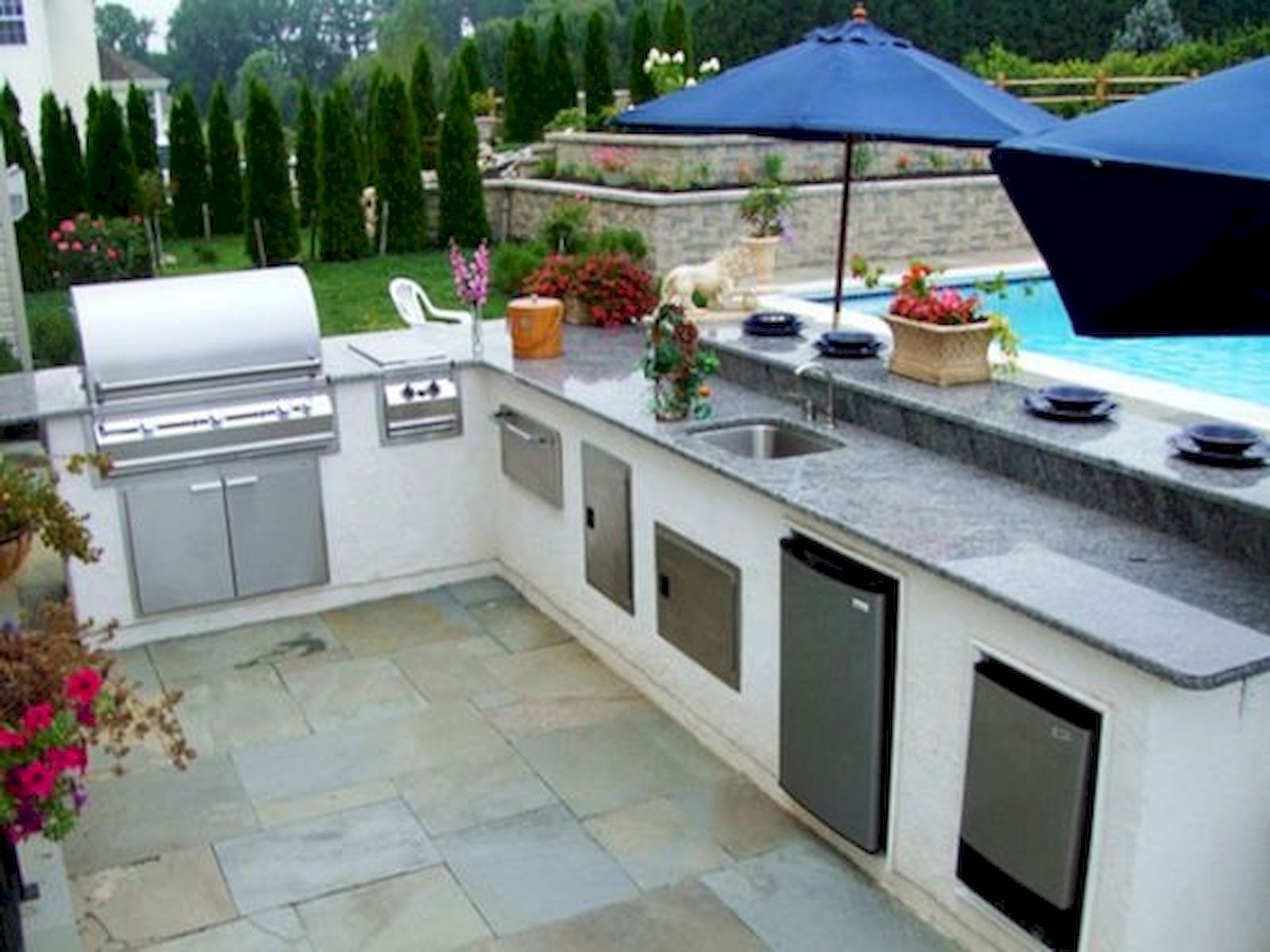 Addition of bar to grill area, but usenatural stone. Semi circle rather than 'L' shaped to not block access to pool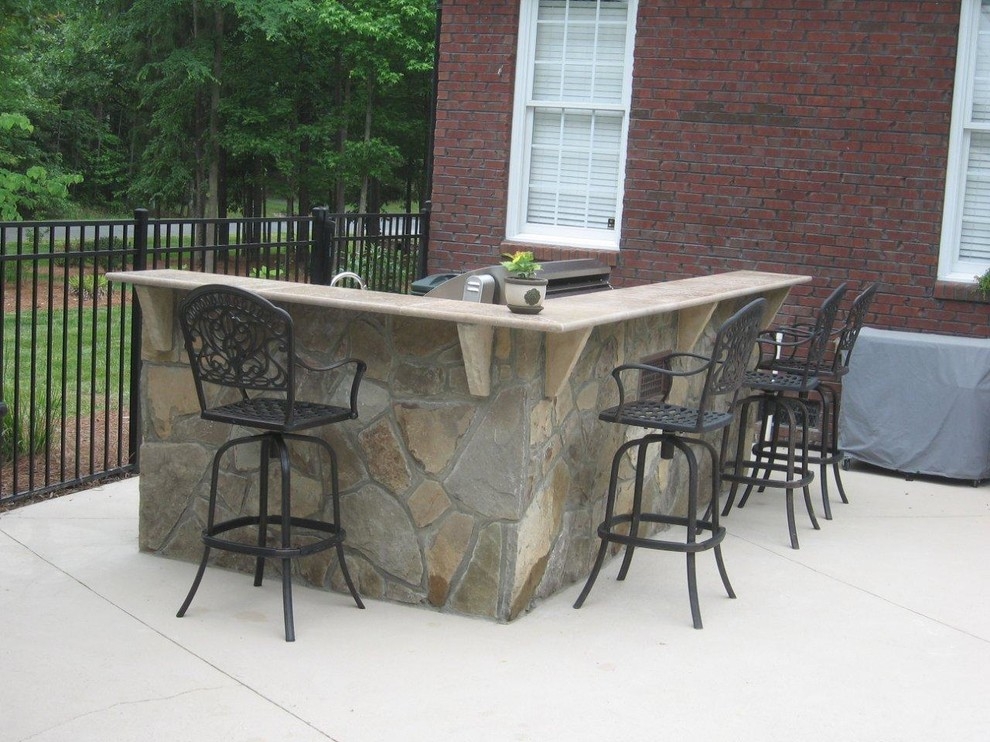 Outdoor L-shaped bar and kitchen Charlotte - Traditional - Exterior ...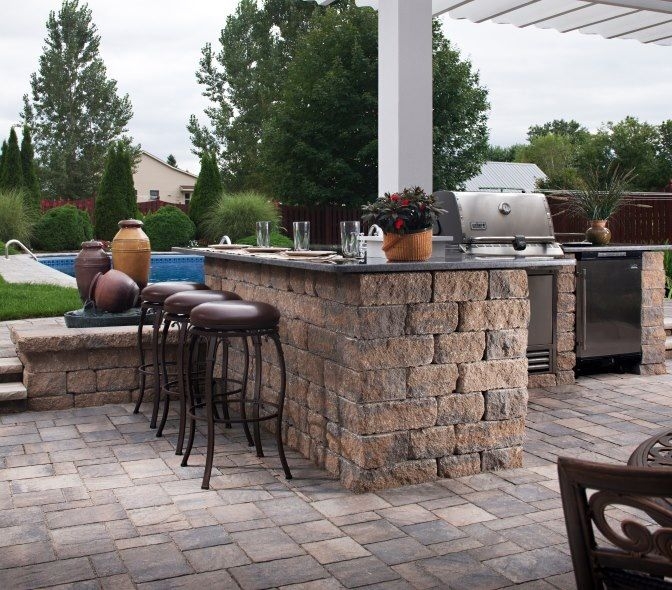 100s of Patio & Pool Design Ideas. Thanks to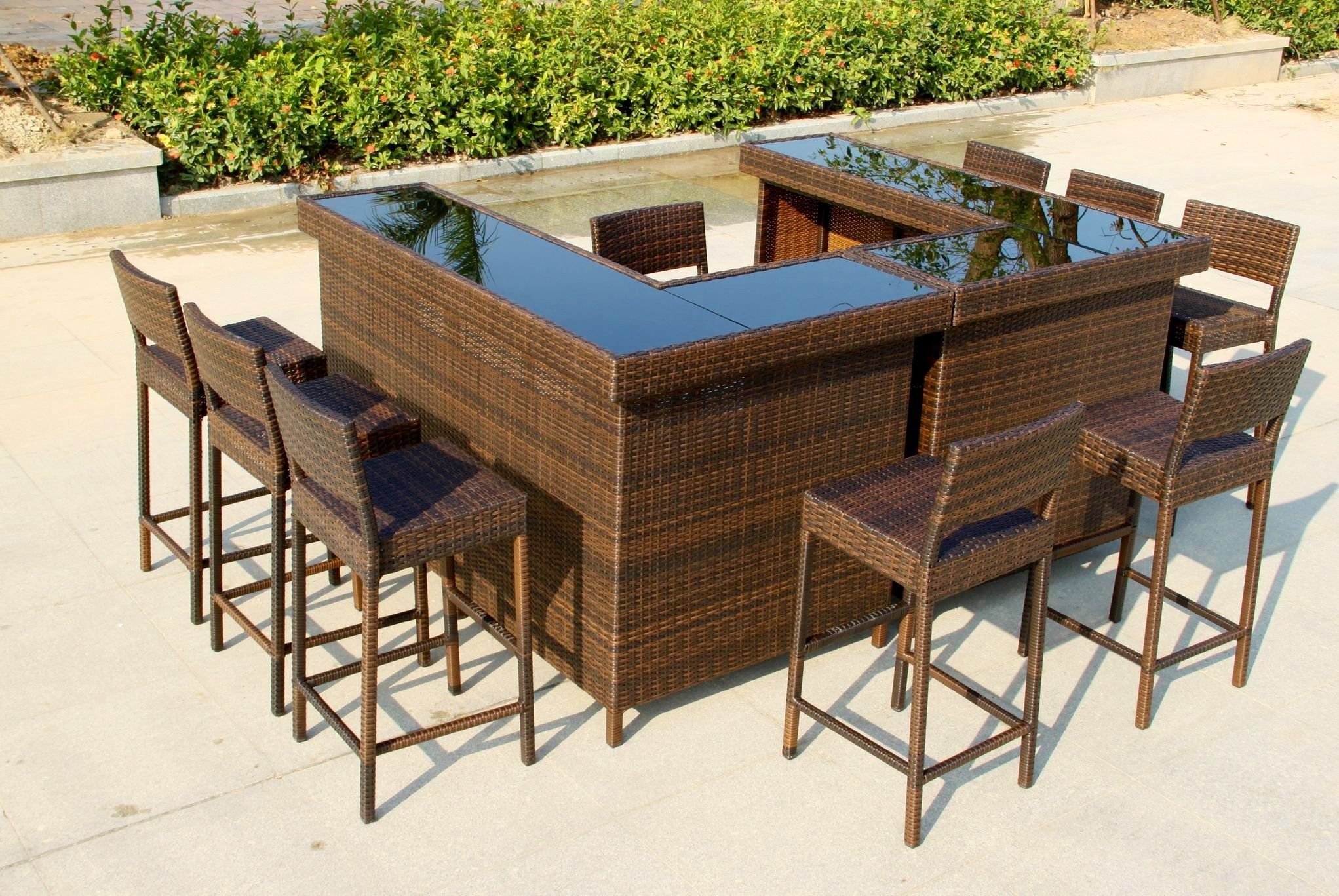 Outdoor bar setting - picture comprises 2 bar settings joined to make a u shape. Original bar setting is L-shaped. FALSODS19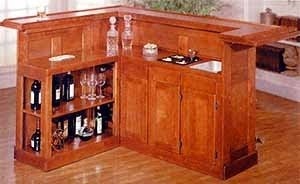 Furniture : Bar Stools, Bars and Tables : Bars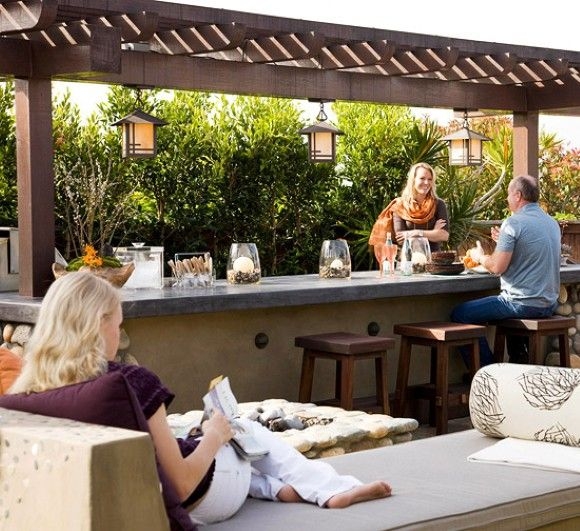 Splendid addition to summer outdoor parties in your garden or backyard. This L-shaped bar has a concrete body with space-saving under-the-counter appliances, along with a trash collector, several drawers, a refrigerator and an icemaker.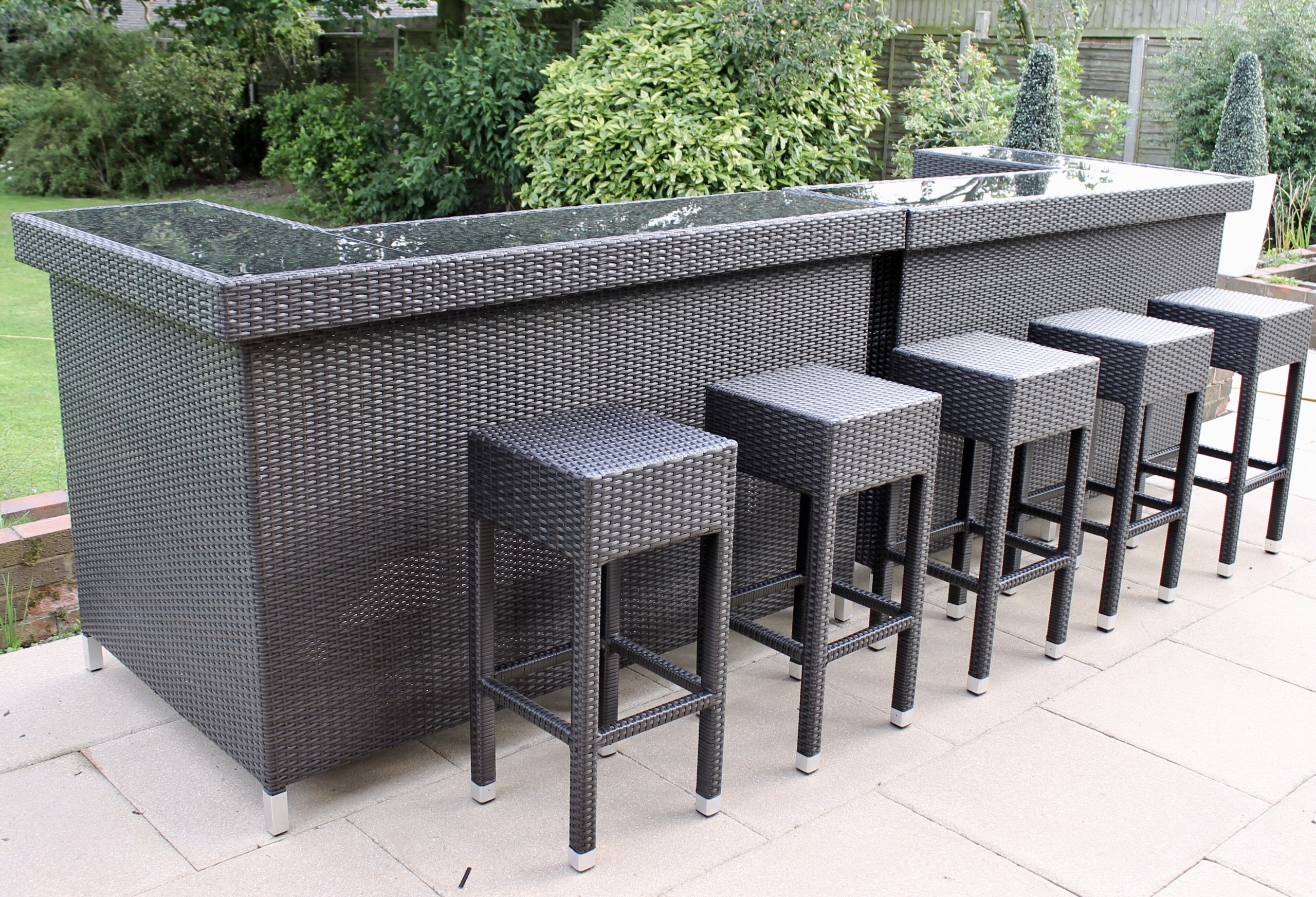 Alfresco Trends - stylish rattan furniture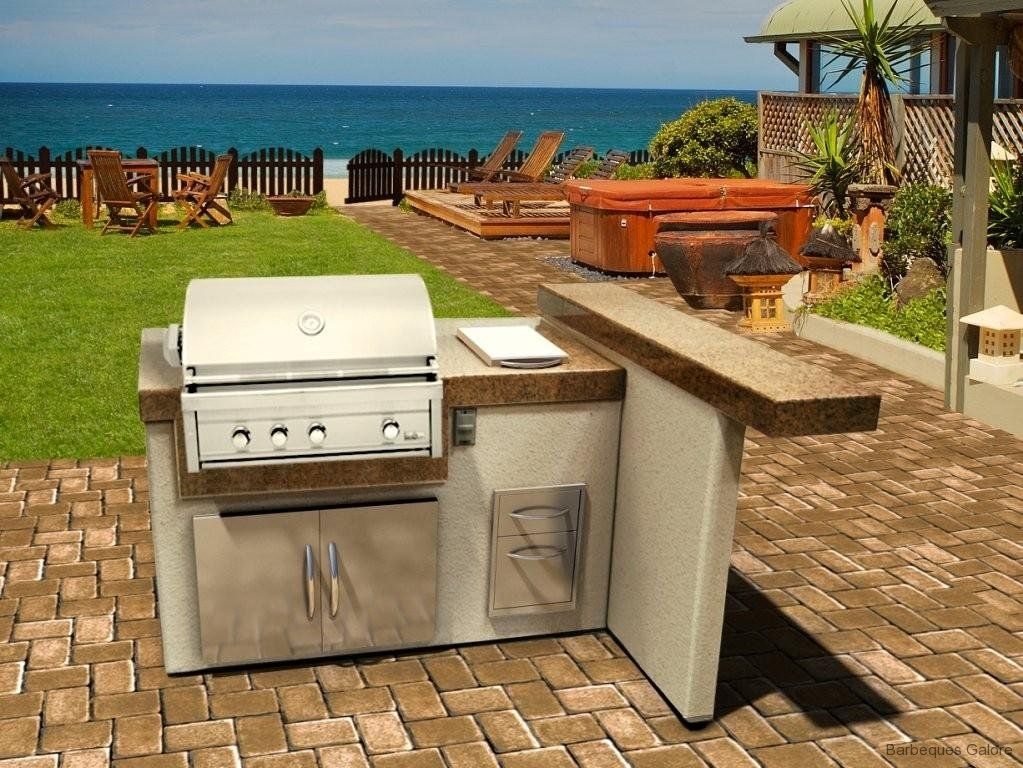 L shaped outdoor bar & barbecue area & galvanized steel kitchen. It's rather small in size, but still provides surface (concrete board) to serve a decent amount of freshly grilled food. The manfacturer offers custom counter and base finishes.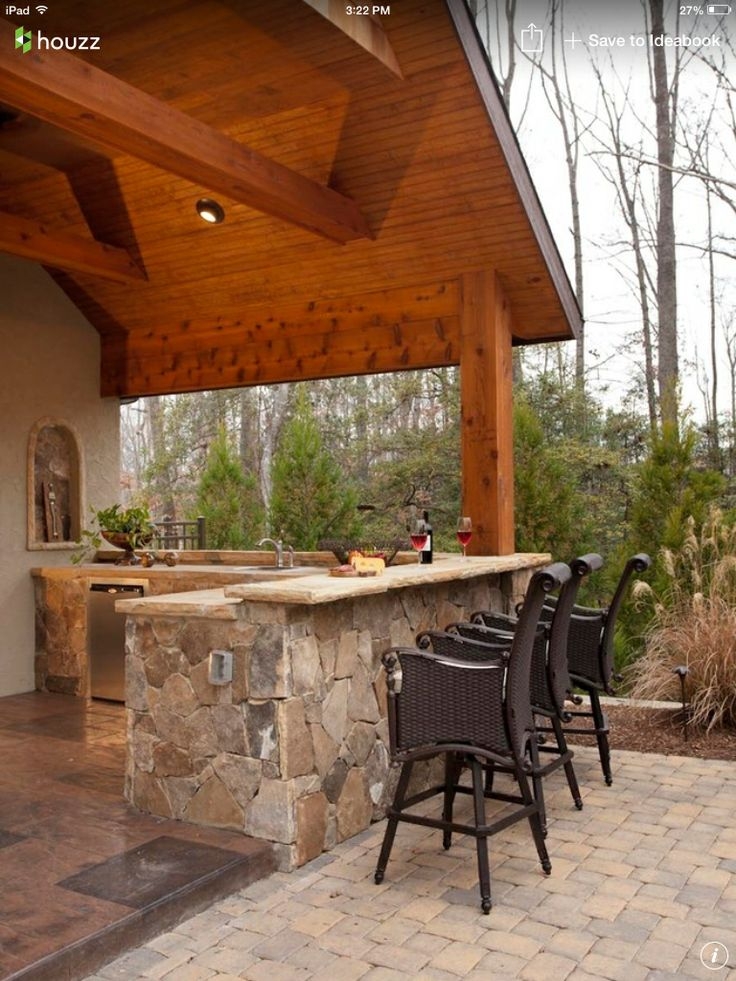 Home Design Ideas, Pictures, Remodel and Decor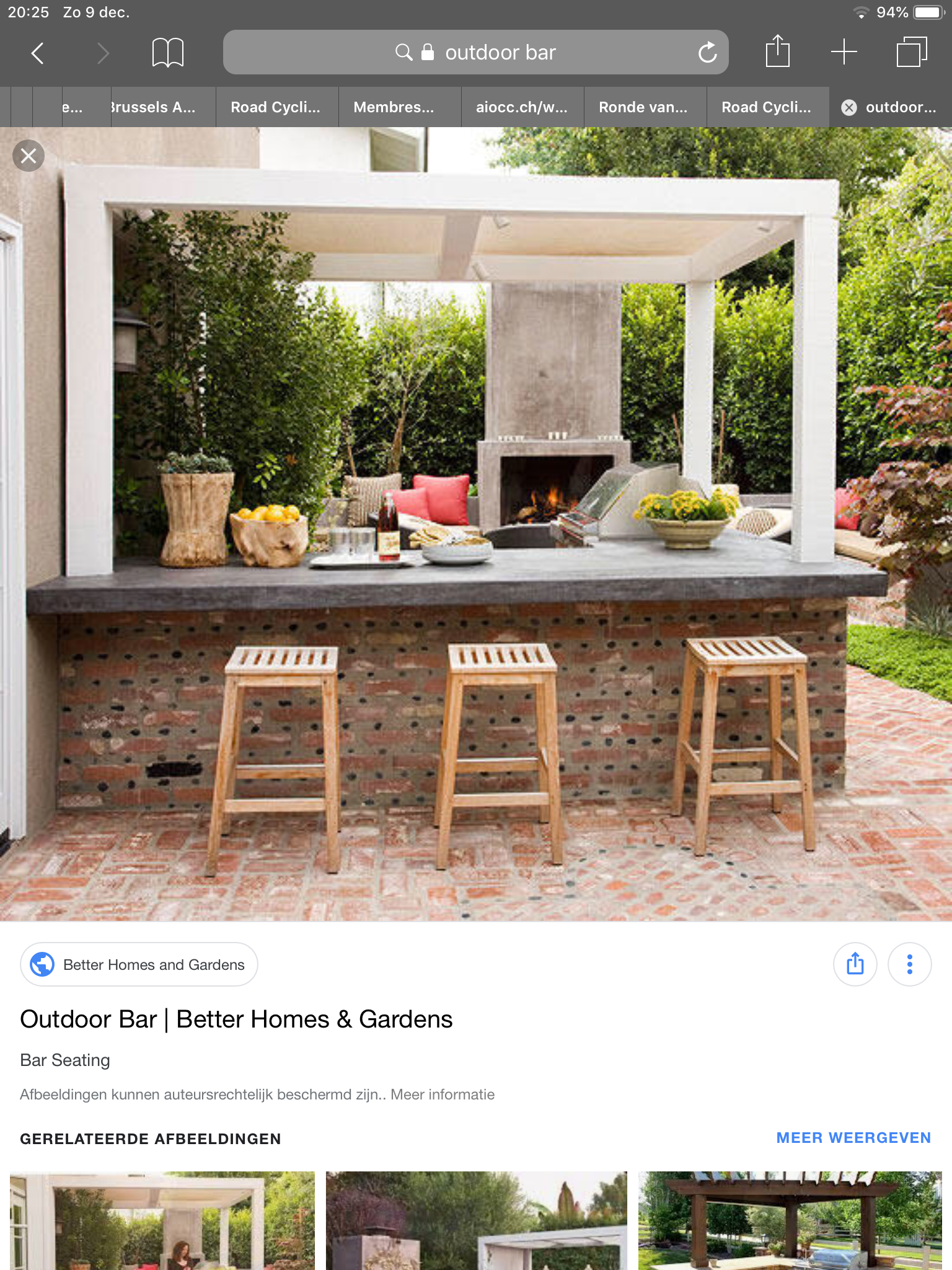 Pretty casual backless barstools made of wood with a natural finish. A barstool has quite tall square gently splayed legs, simple footrests and stretchers. It features a grate-like square slatted seat.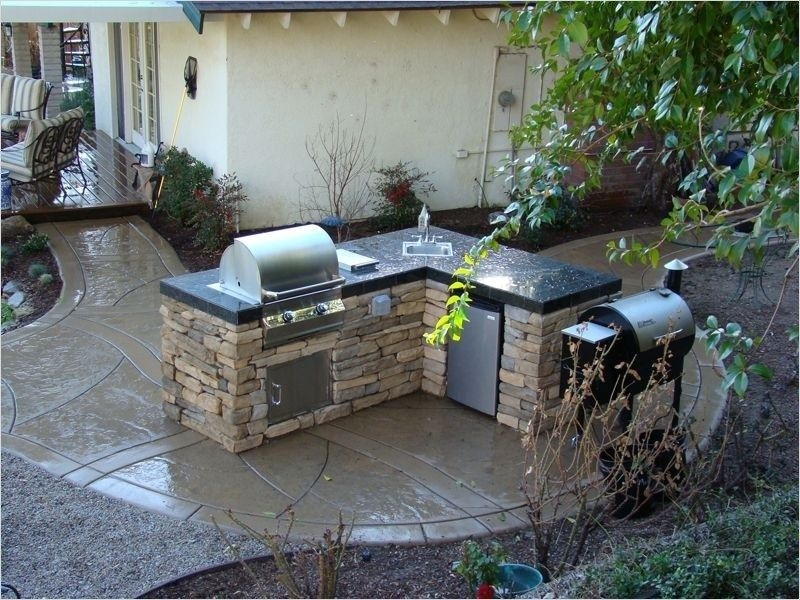 grilling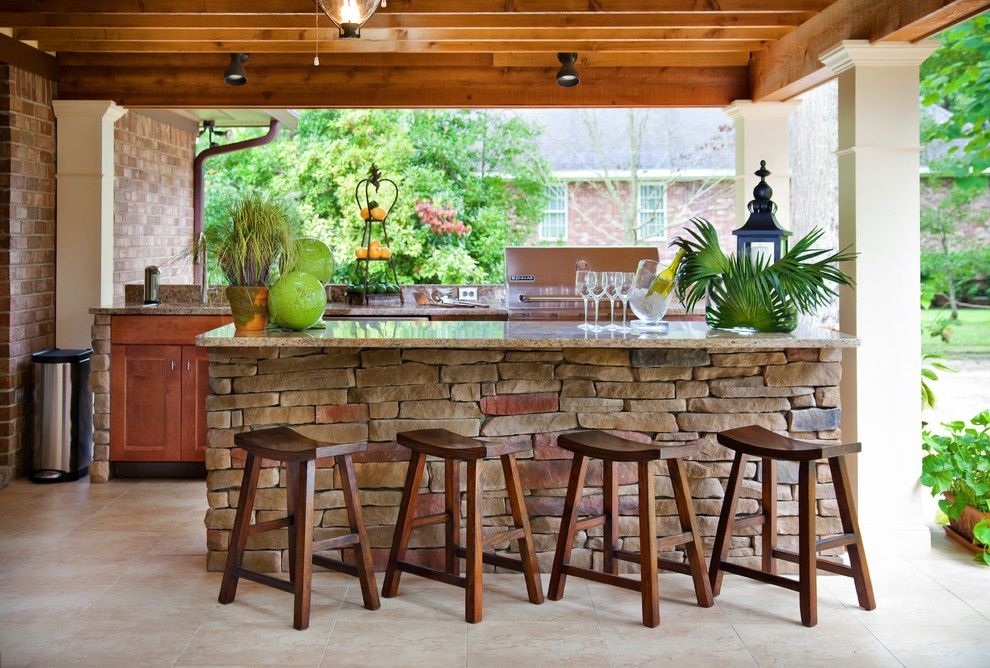 Other Metros Patio Bar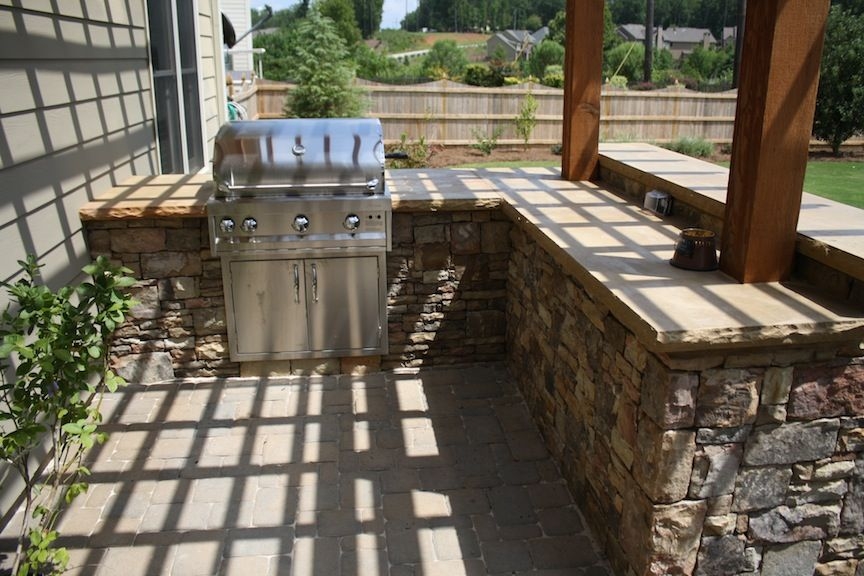 Stacked Stone "L" Shaped Outdoor Kitchen with Attached Pergola and Raised Bar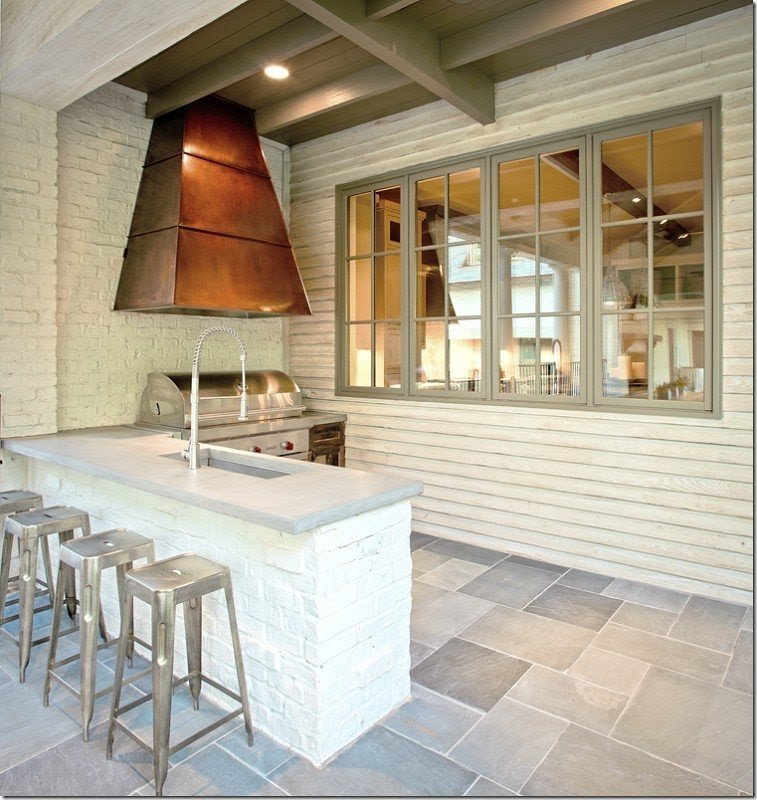 Tami Owen & Thompson Custom Homes: outdoor kitchen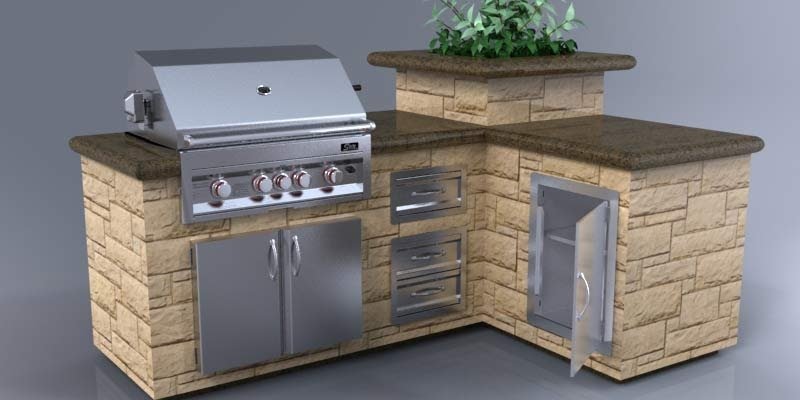 Improve your barbeque skills with this stunning outdoor kitchen with a spot to plant your greens. The L-shaped bbq island is made of stone bricks, with granite tops, and a stainless steel grill with 1 matching cabinet and 3 drawers.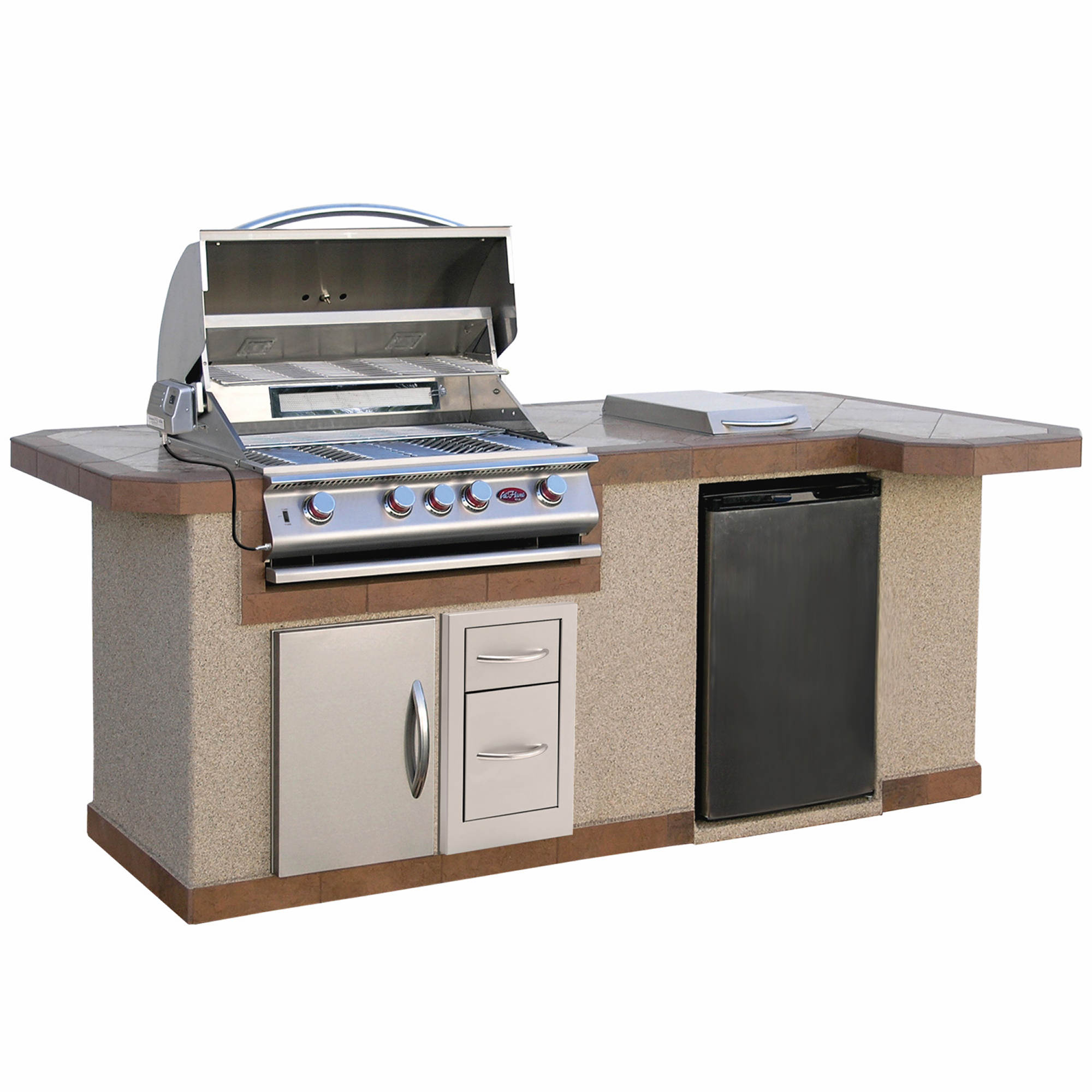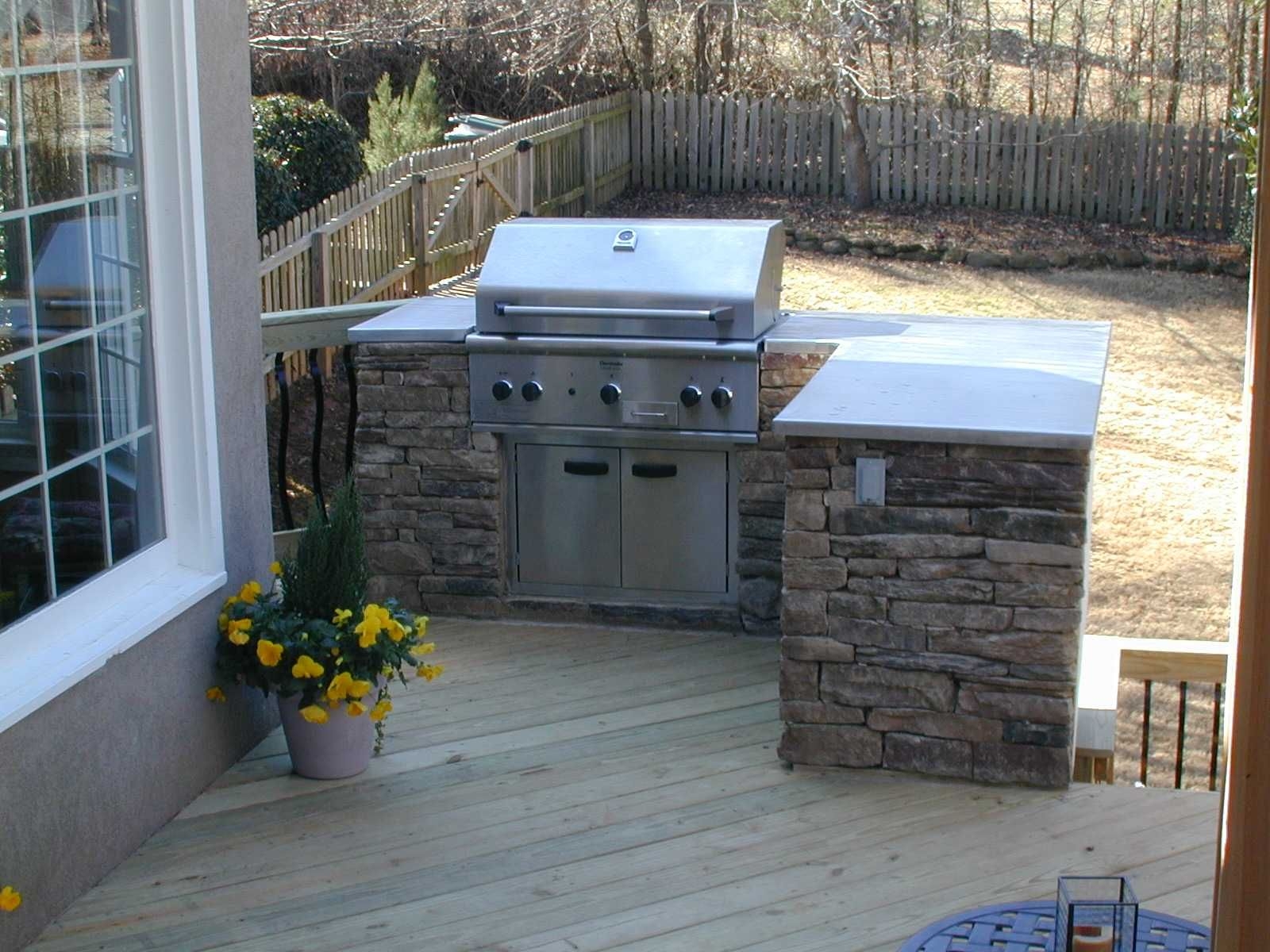 Unfortunately, loud and stuffy pubs are not conducive to rest, so make yourself your own stone l shapped outdoor bar. Combined with a metal grille with a cover, it has an "L" shape, which saves space and isolates the space for preparing meals and drinks.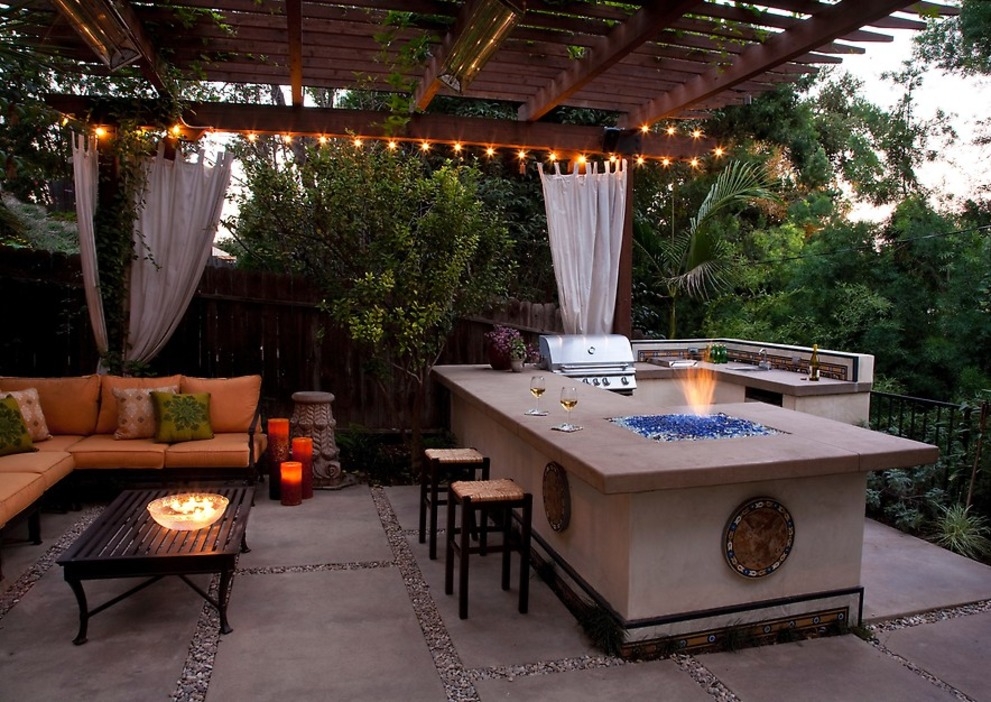 Amazing outdoor kitchen space. Future outdoor party zone <3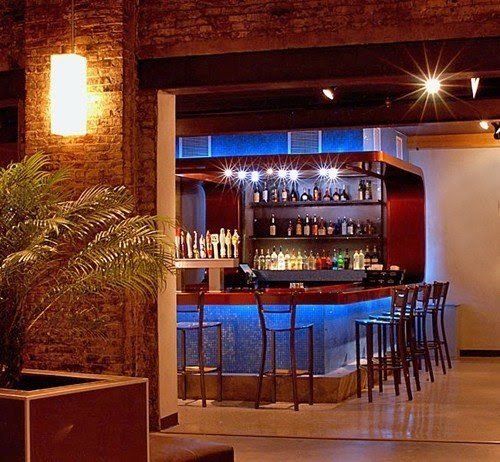 i want an outdoor bar with blue tiles someday when im rich ;)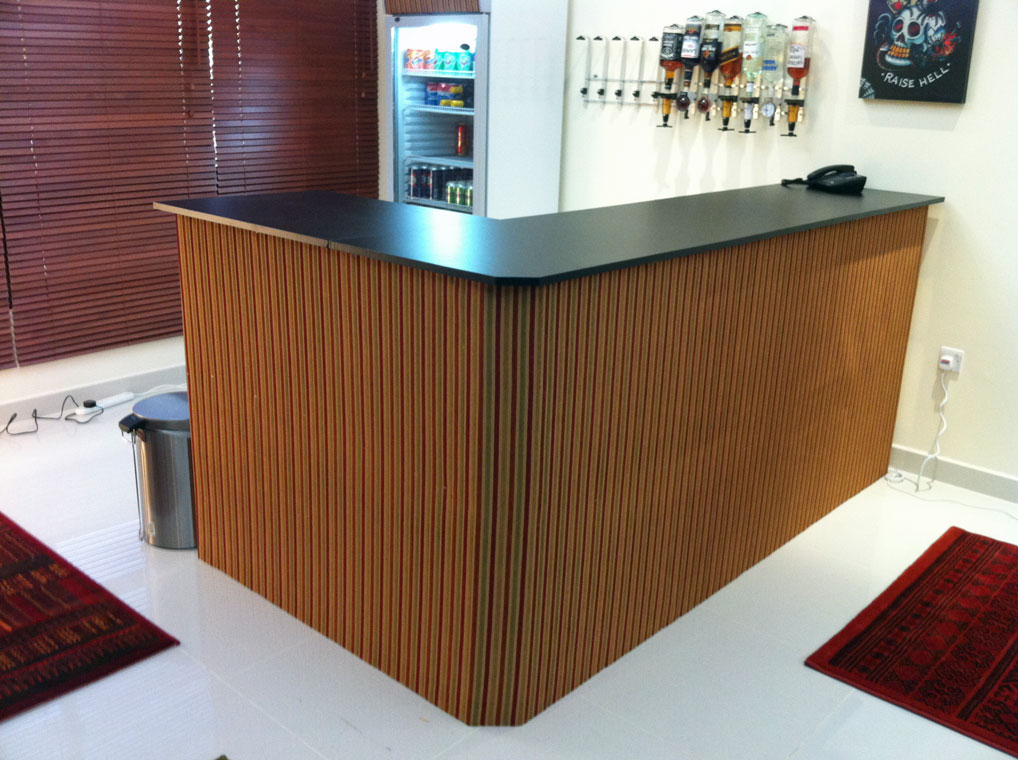 second picture shows a home bar with warmer atmosphere the home bar ...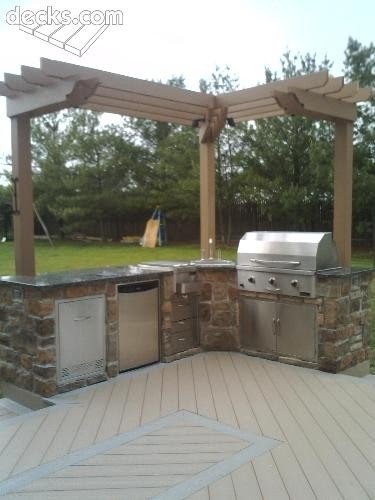 Outdoor Kitchen #DriscollsSweepstakes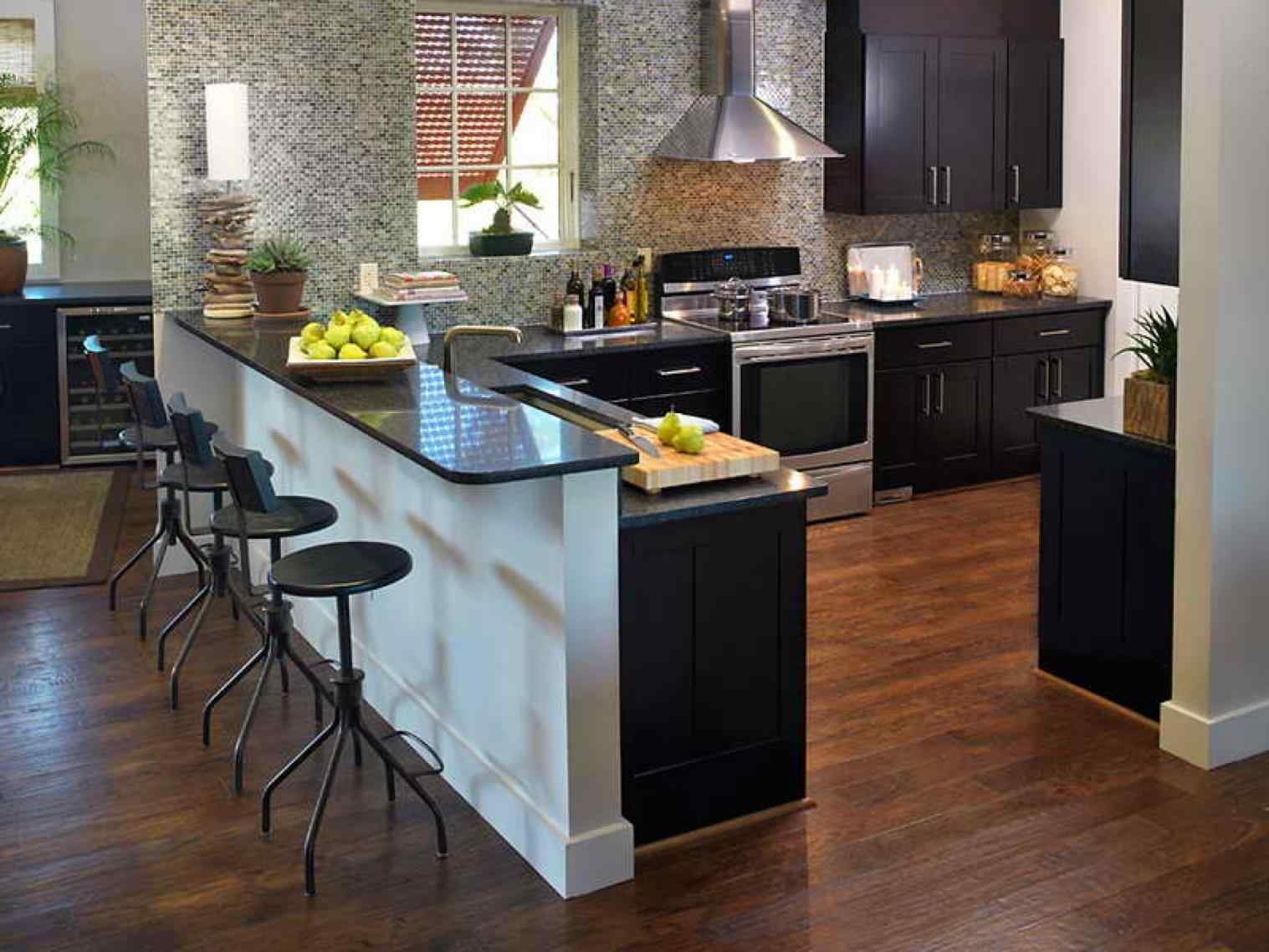 Awesome Colorful Kitchen Ideas Made Stylish with the Last Trends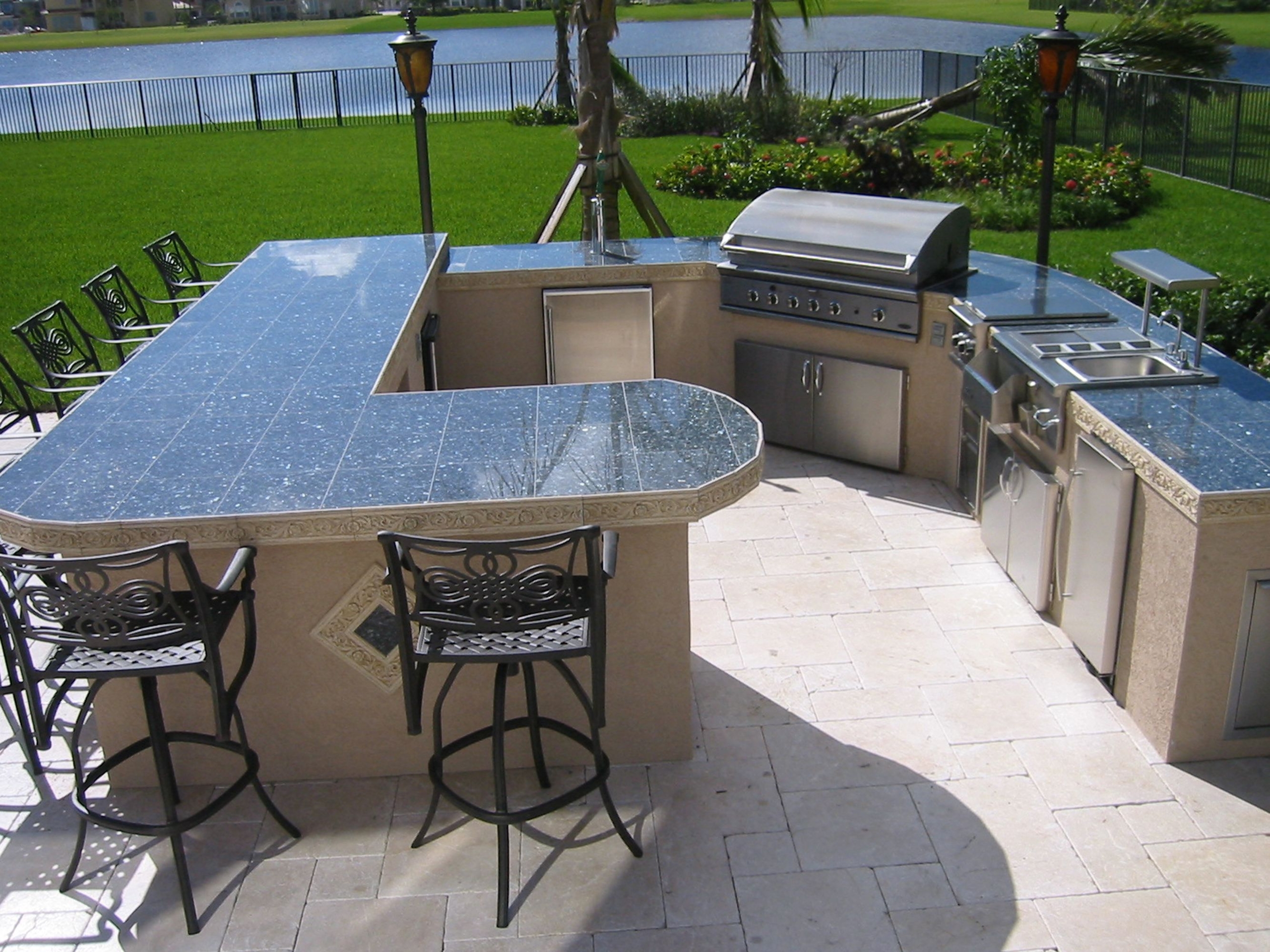 Backyard Bar Plans | Huge! custom outdoor kitchen with built in dcs gas bbq grill and keg ...