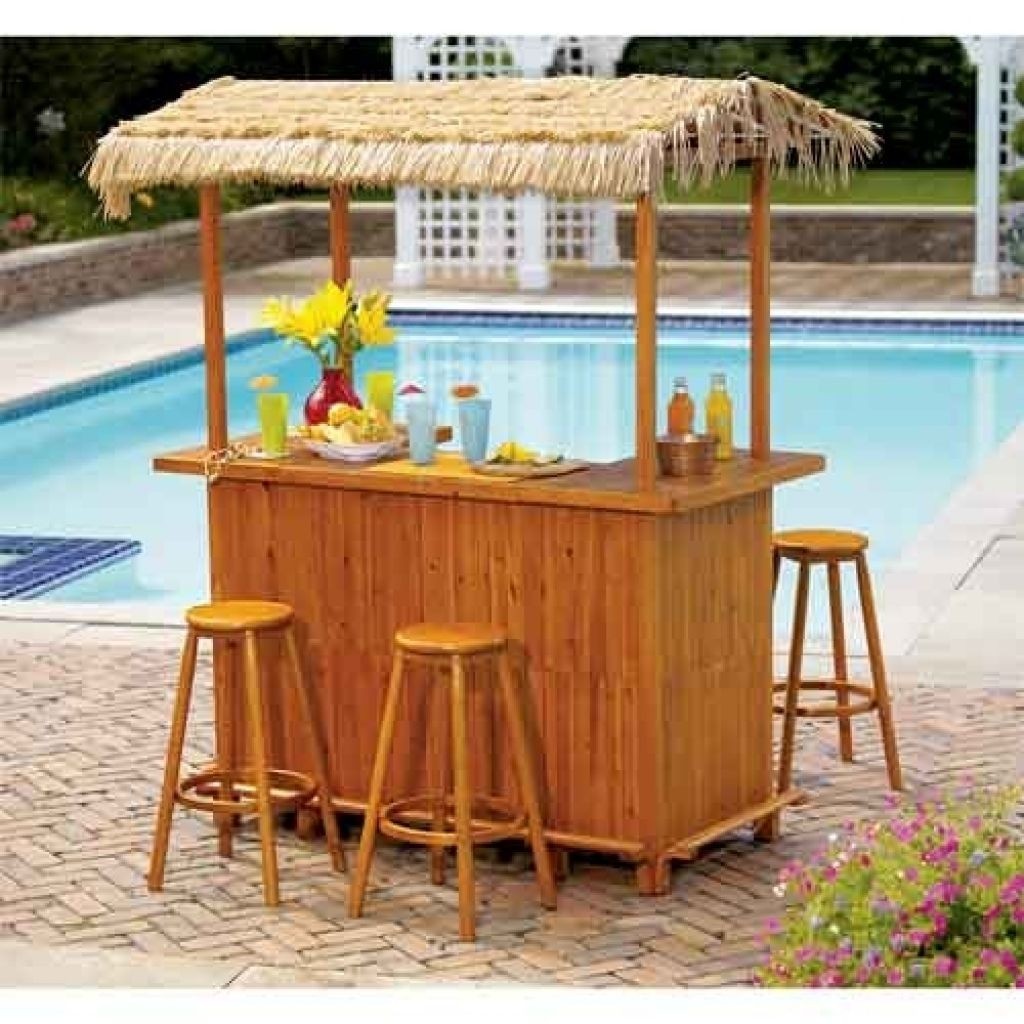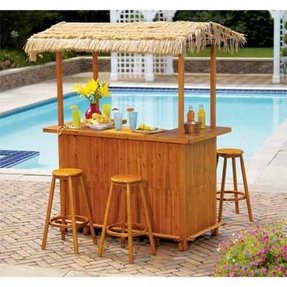 If you want to incorporate a bit of the Hawaiian style atmosphere into your house, check out this Tiki outdoor bar for sale. Sturdy bamboo set comprising also 3 complimenting bar stools.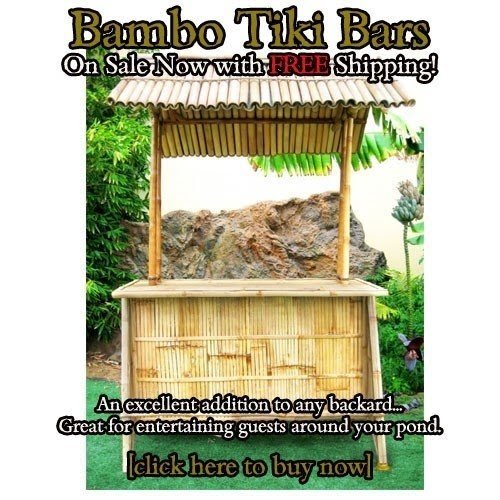 Back Yard Bars For Sale ...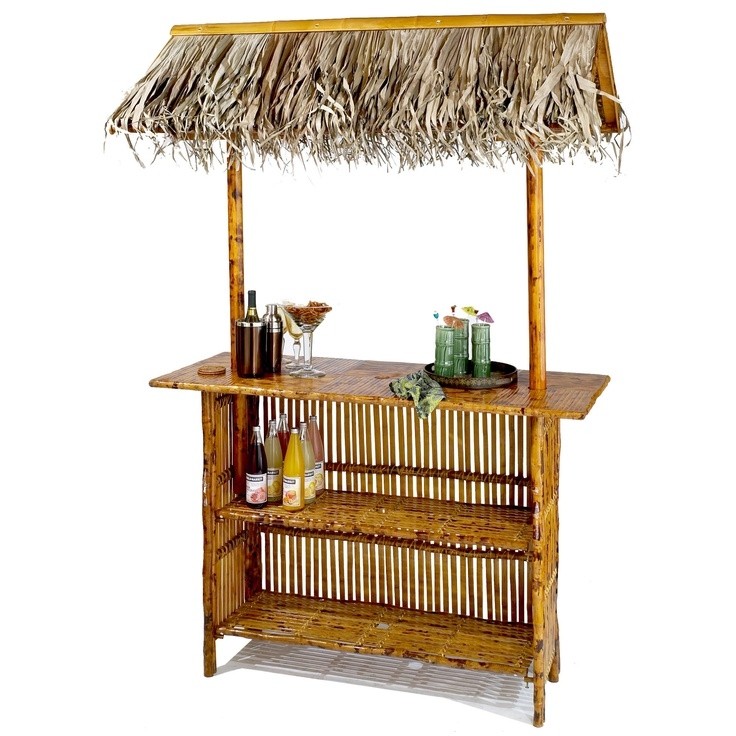 Outdoor bar in Hawaiian style. It is fitted with rectangular top and 2 open shelves for storing bar accessories. It is resistant to rust and harmful weather conditions. Suitable for residential and commercial use.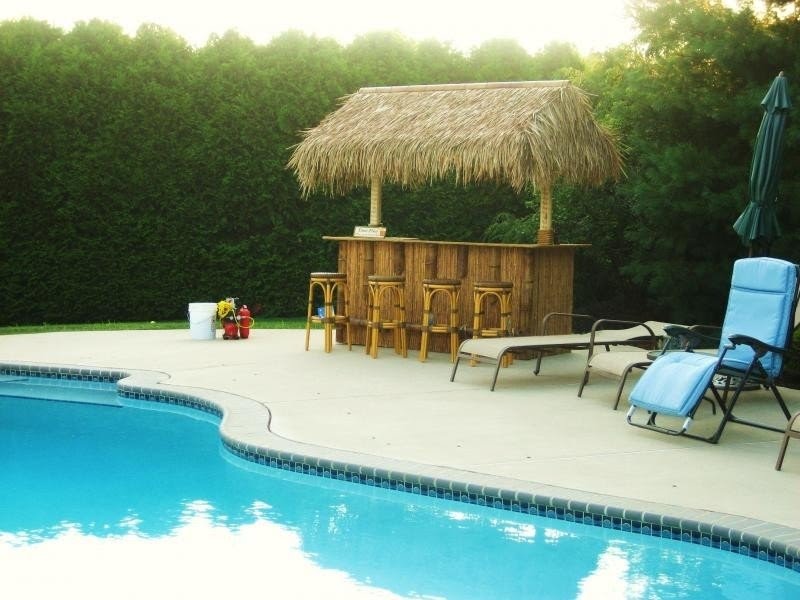 The outdoor patio bar in a Hawaii style. The base was constructed of the solid teak wood and bamboo elements. The bar is equipped with the additional roof protecting against sun, which was made of palm leaves.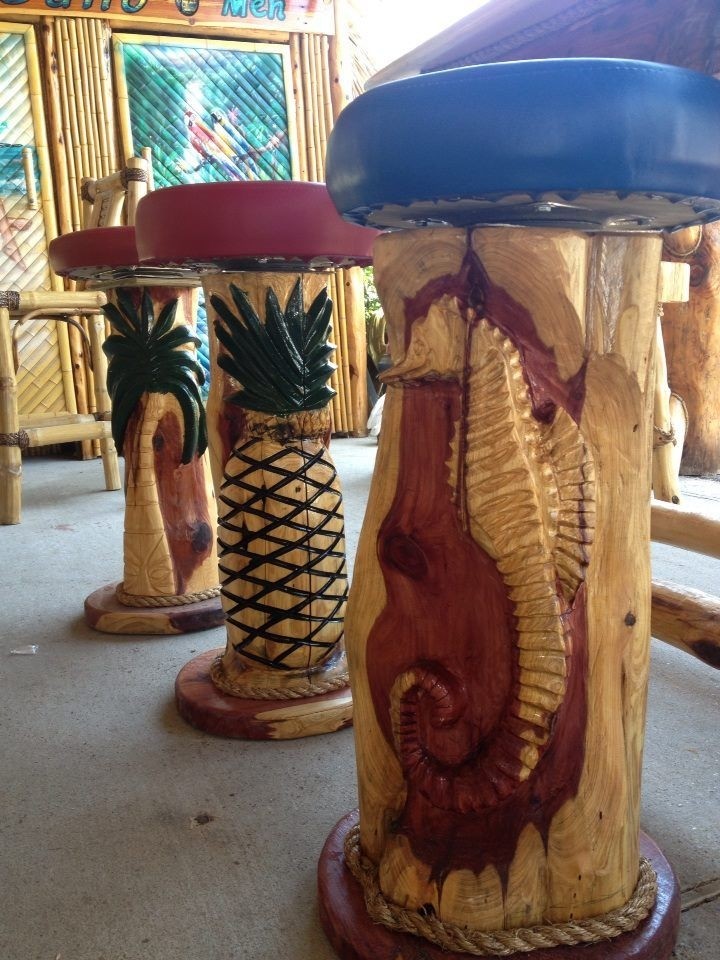 Great gift items on sale now!!! Bamboo Furniture, Cedar Furniture,Tiki Bars, Portable Tiki Bars, Tiki Supplies, Tropical Artwork for your Palapa outdoor paradise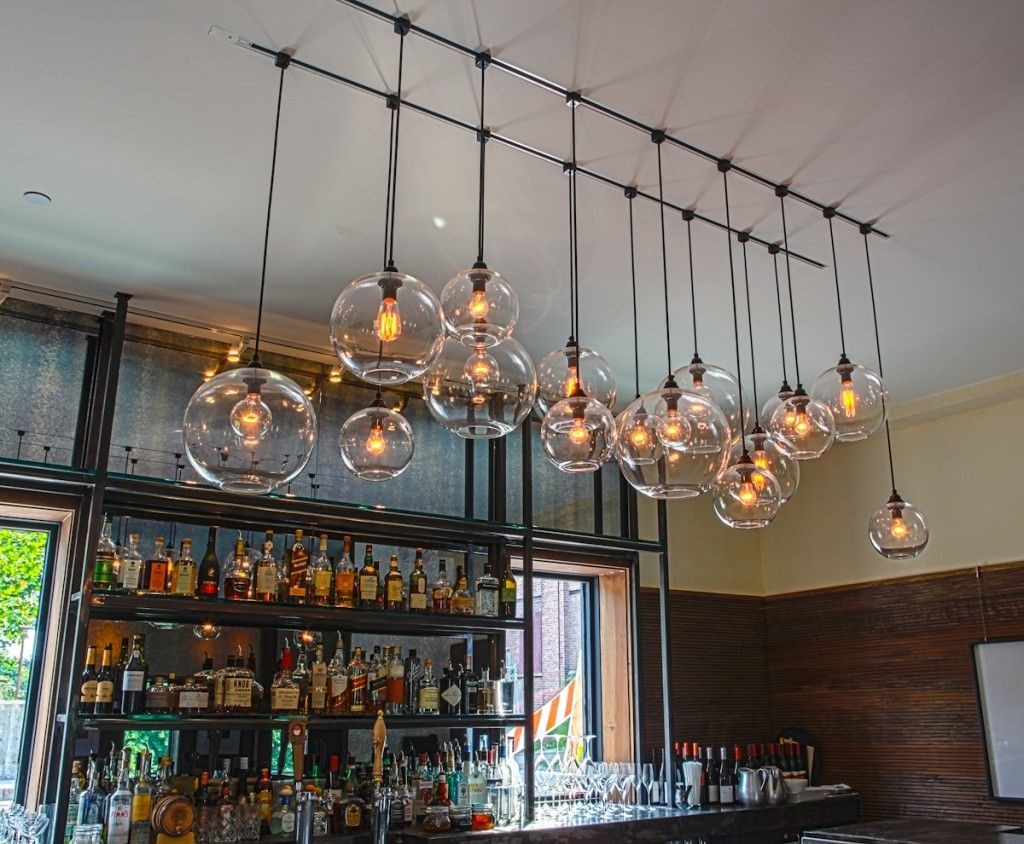 Interesting illumination isn't only light - it is a very good way to decorate your interior. This chandelier is composed of bulbs hanged on long and short cables. Every light bulb is inserted in glazed ball lampshade.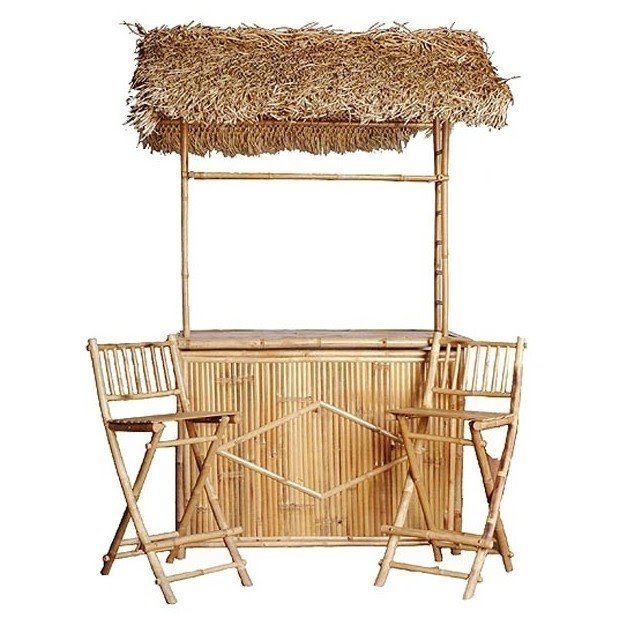 Bamboo 3 Piece Tiki Bar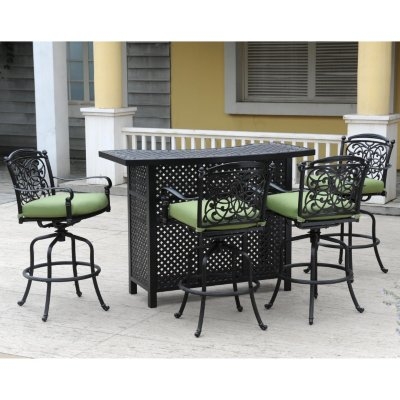 This beautiful outdoor bar constitutes a great way to embellish your garden space or patio. Wrought iron crafting enables to create magnificent intricate, visible for example in the barstools' backrests.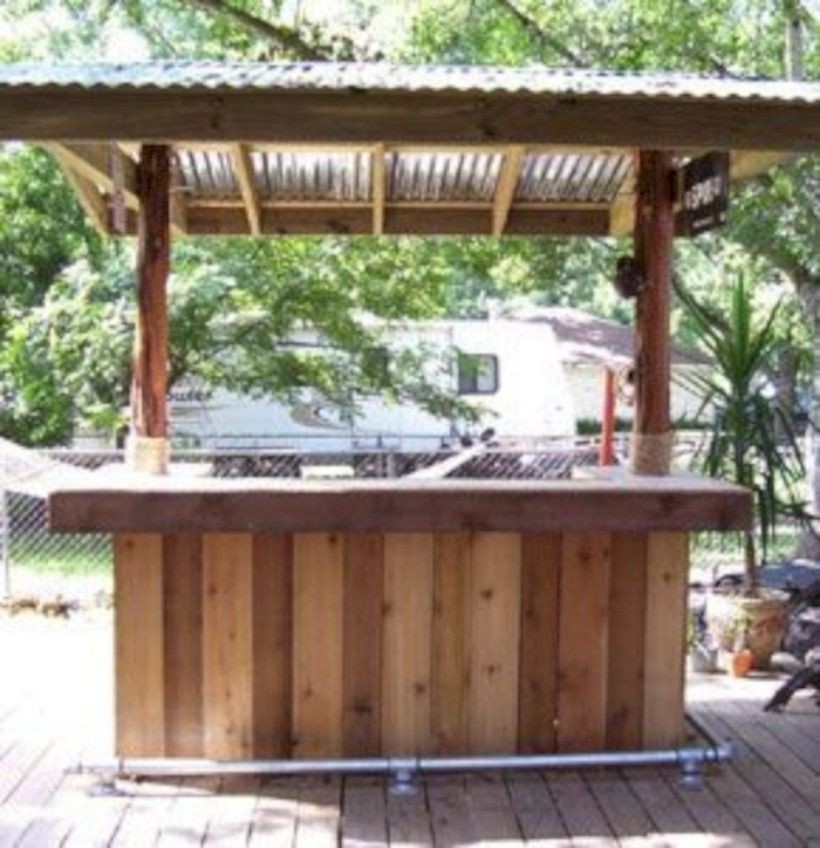 Outdoor bar for residential and commercial use. Construction is made of wood and fitted with metal canopy. It has a lot of open shelves on the base for storing needed stuff. Classic form and modern design.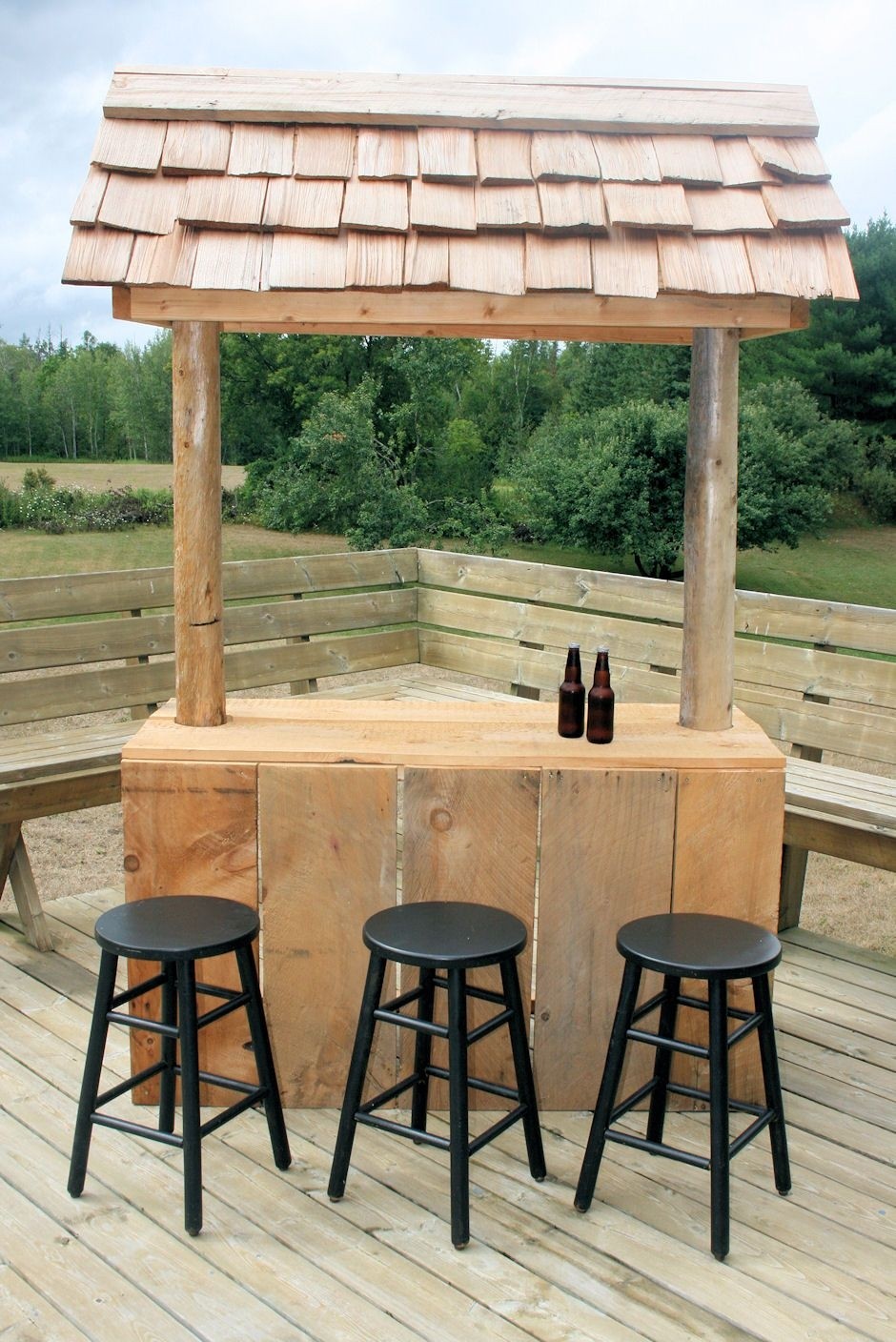 With a such an attractive barn-board bar any decor can be elevated into another level. It is an excellent product for use at the porch. It features the cedar shake roof and natural finish.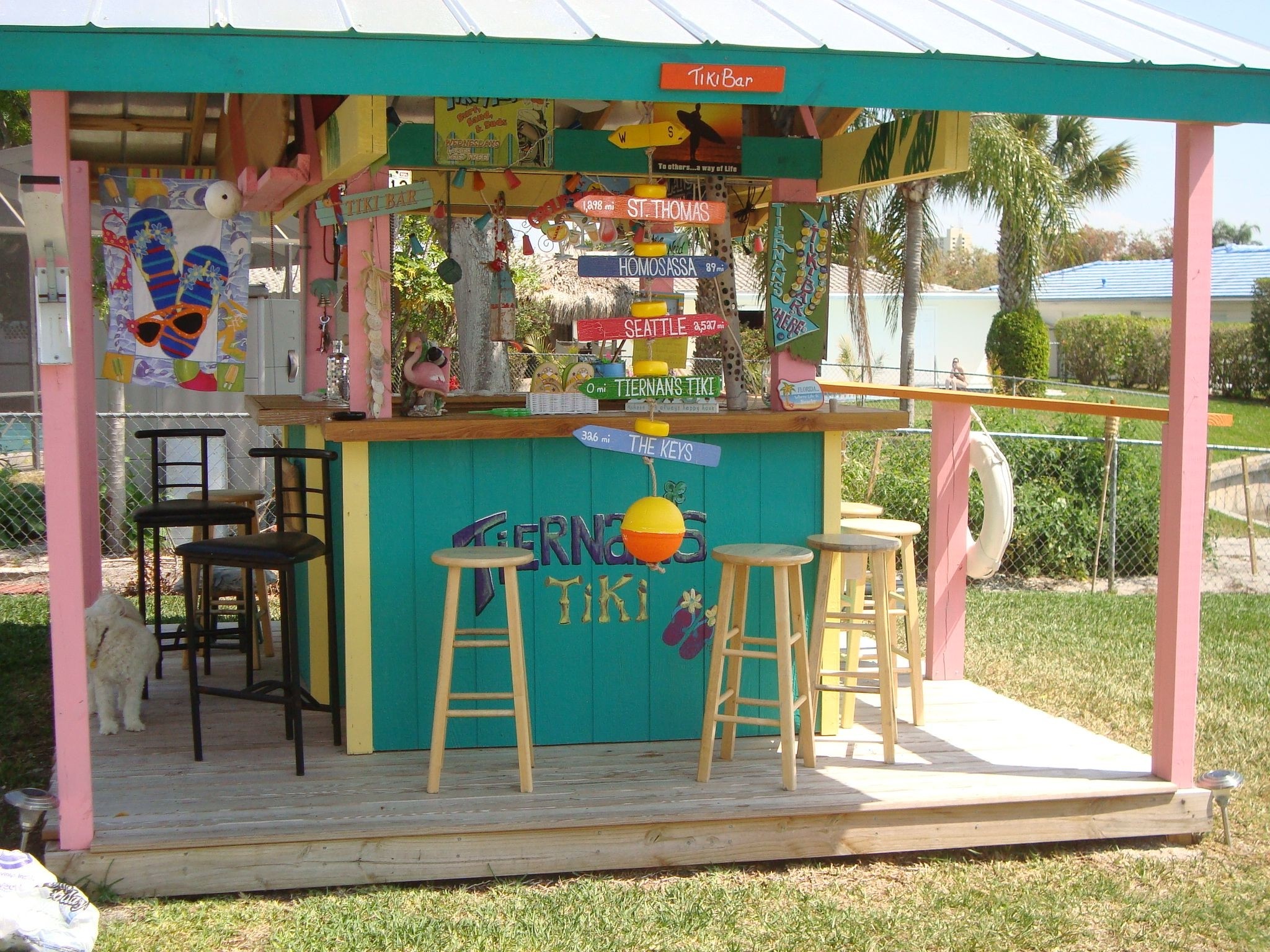 A fantastic idea to surprise your friends with this exotic bar for outdoor areas. Made in shape of a lovely Tiki hut, the bar rests on a large platform for stability, with a bunch of barstools, thick wood countertops, and enough shelves to store glassware and bottles of liquor.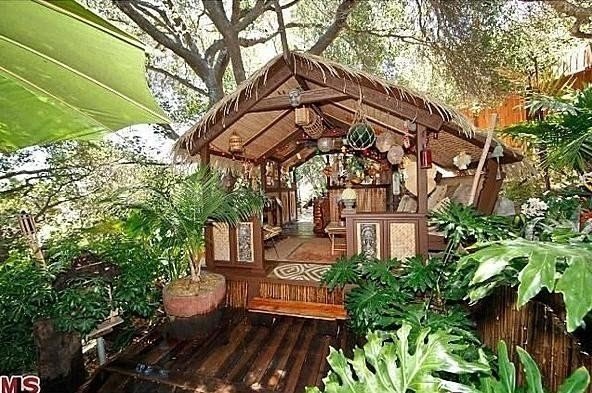 A cool traditional outdoor bar of wood in browns and beiges, grass, leaves, rattan. It has an open frame, thick square posts, a gable roof, a raised floor. Front panels and an interior feature traditional Hawaiian furniture and decorative motifs.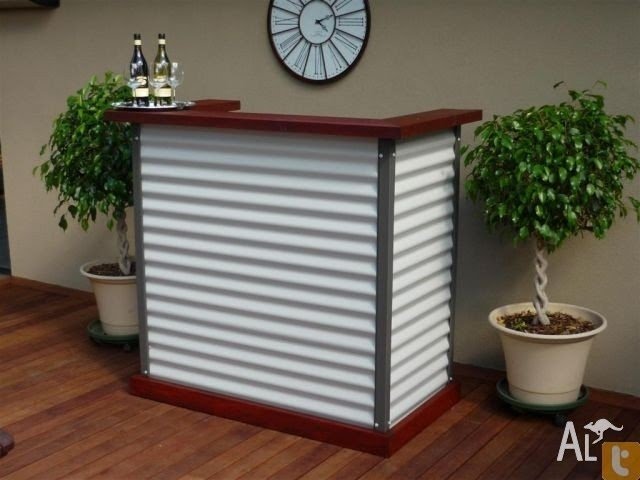 With its characteristic louvred construction, combining dark wooden framing and white body, this bar will be an awesome decor proposition for one's outdoors. Supported by metal structure, it constitutes a solid, durable construction.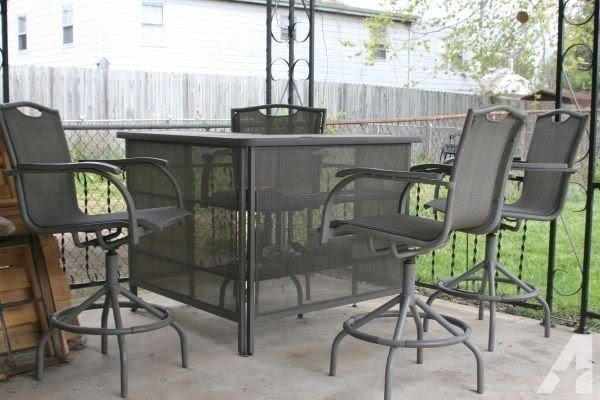 Outdoor Bars For Sale ...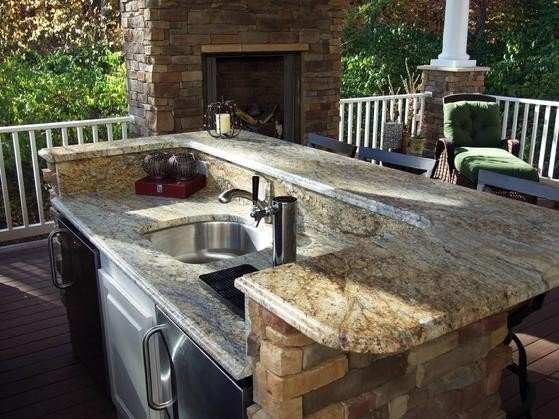 The Build It Network"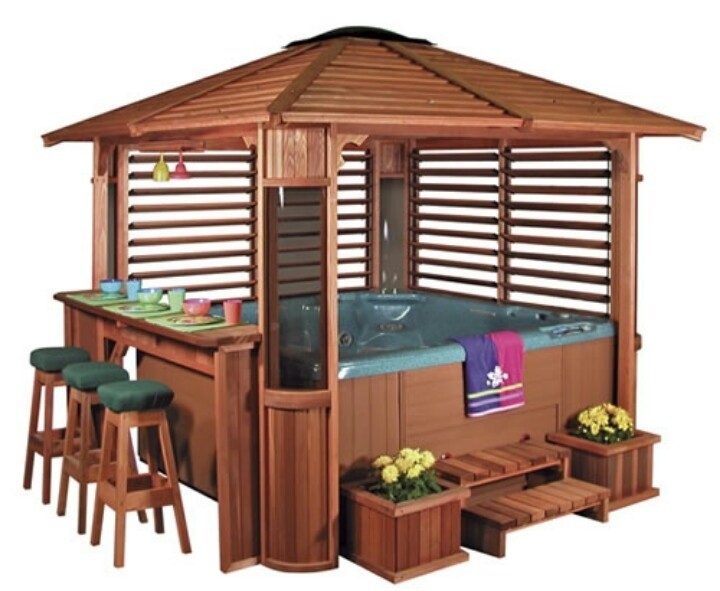 An outdoors bar set, made out of cherry wood, which gives it a nice, red tint. The set hides a big Jacuzzi tub inside, which makes for a great addition to your backyard, creating a cozy relaxation spot for you and your guests.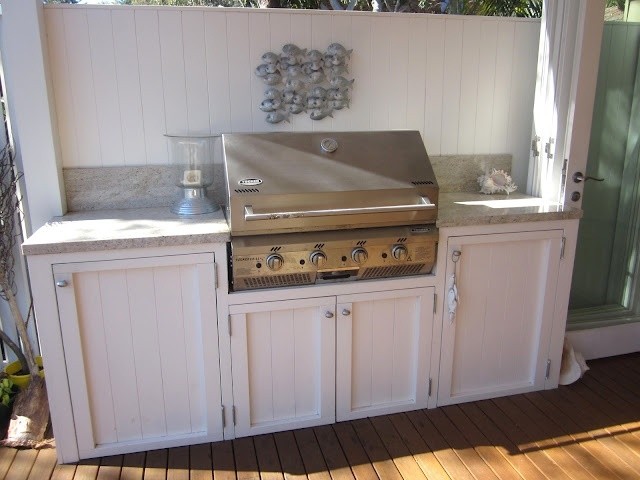 Beach House Decor Styling Your Home For Sale | Desire Empire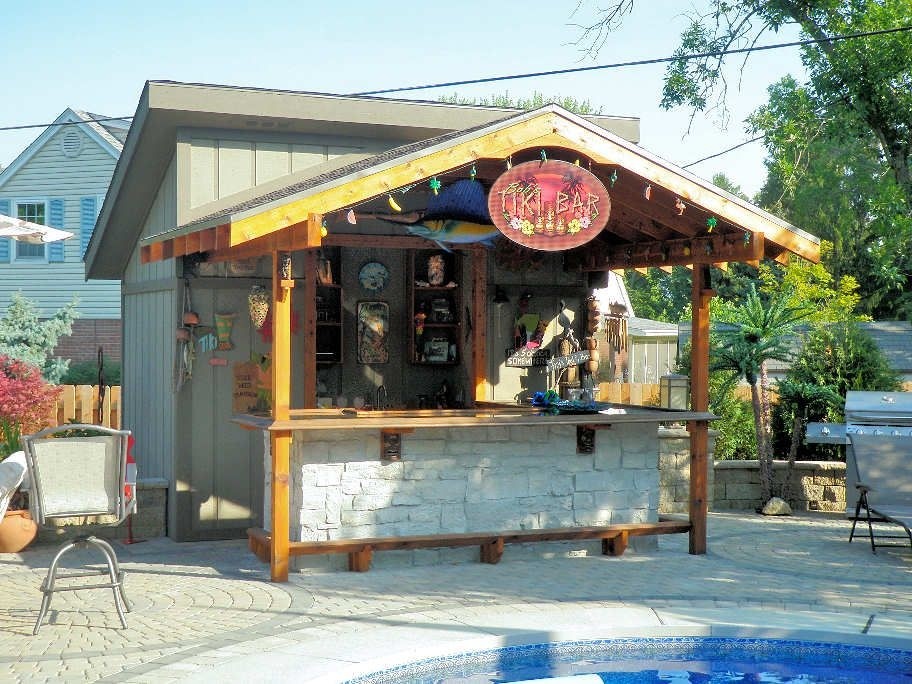 Outdoor Bars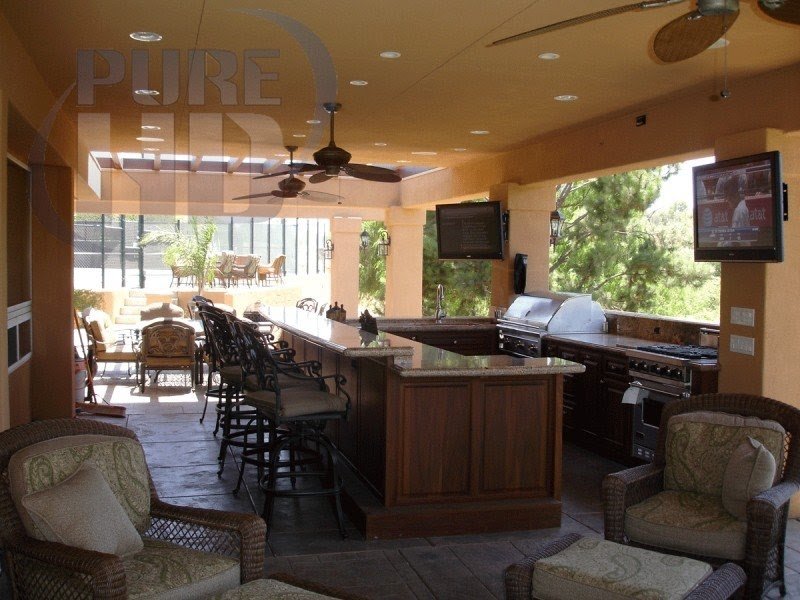 Outdoor Bar/Patio with double LCD Installation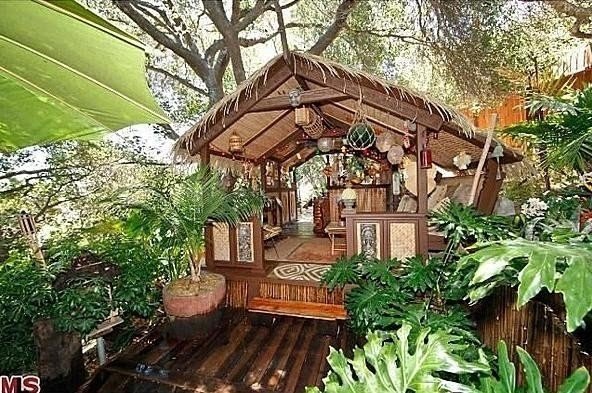 Ideas Outdoor Bars for Sale - : #HomeBar Sellers fairs are an excellent way to make your name or your business are known in the community and show people what you are selling. Most of these shows consist o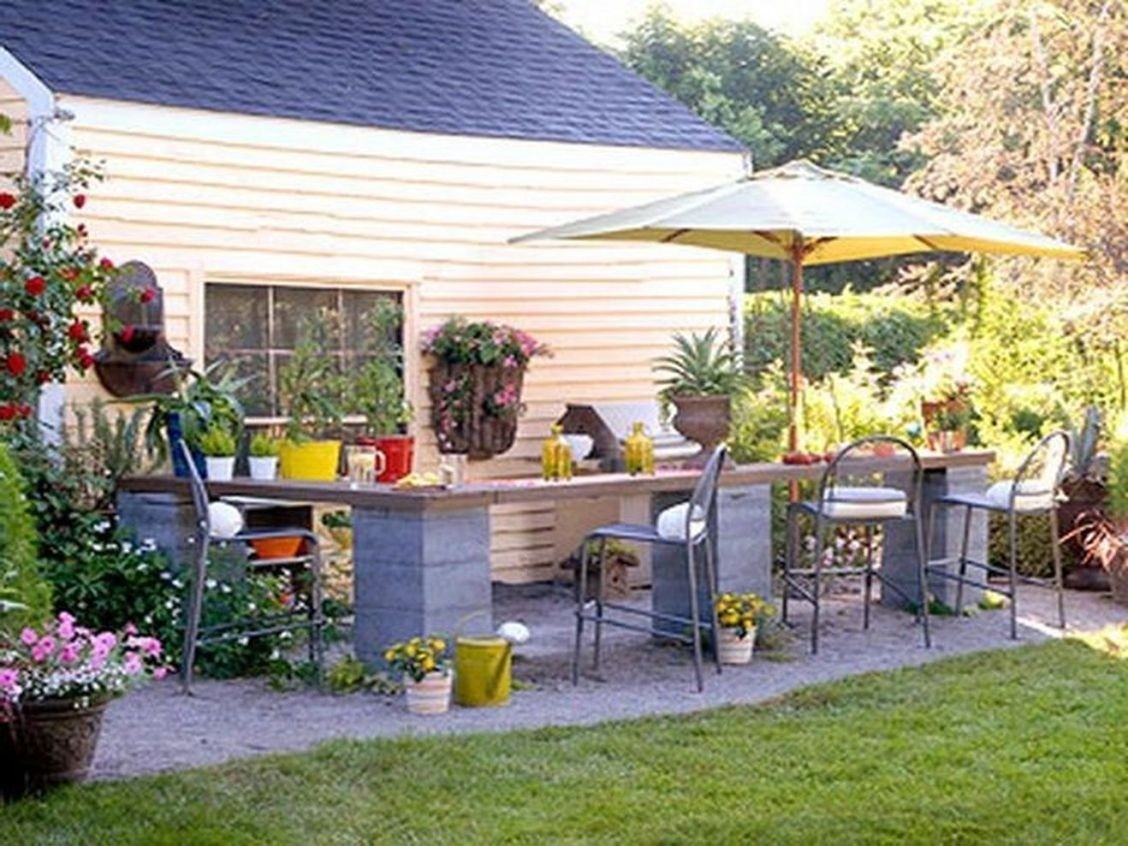 Cool, easy & super cheap outdoor kitchen - what's not to love? We wil definitely have this as our next outdoor project!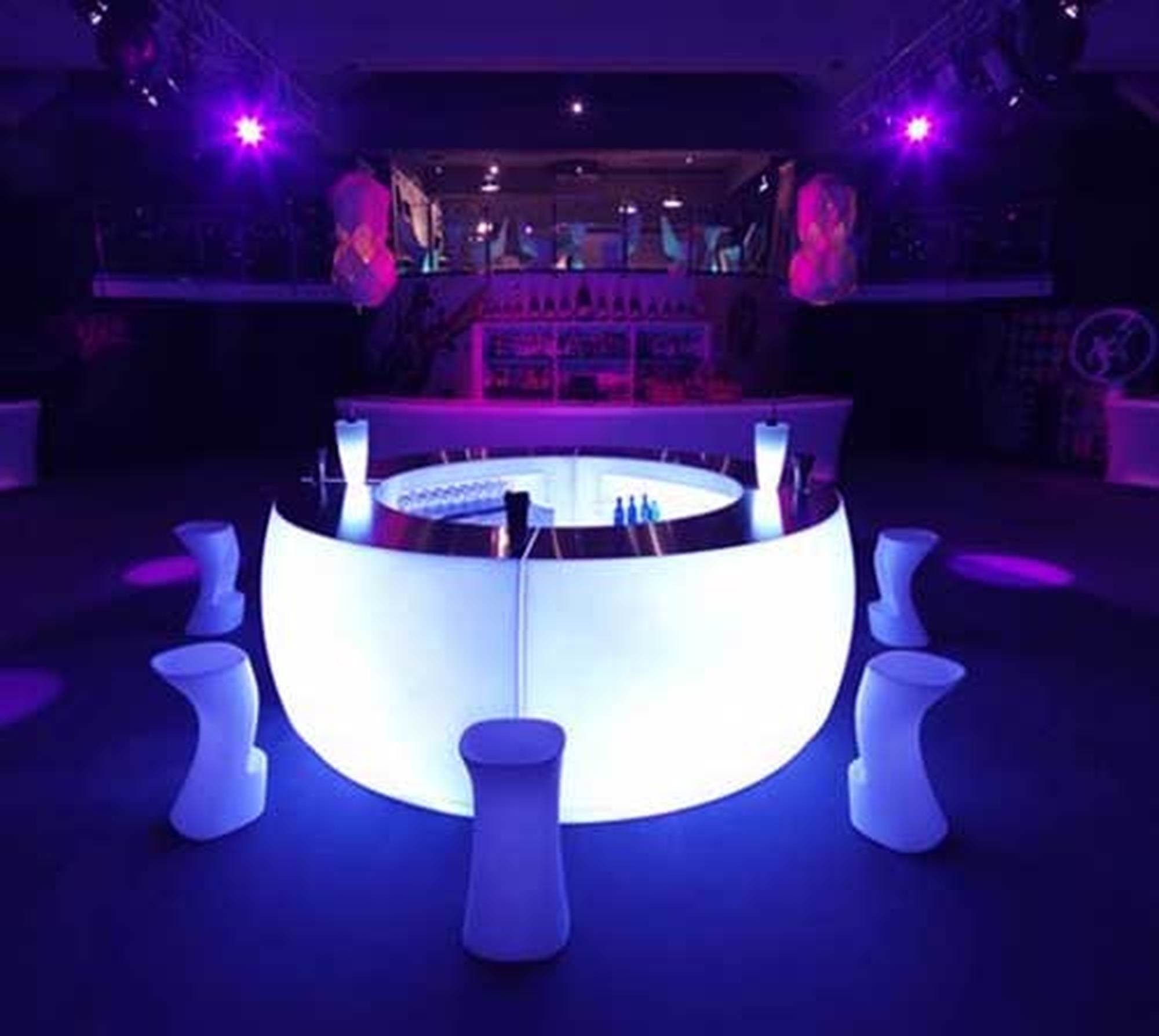 Modern elements of furniture for home bar applications. These items are made of durable materials resistant to weather conditions, so they can be used outdoors. Original round bar with the light looks nice with white backless stools.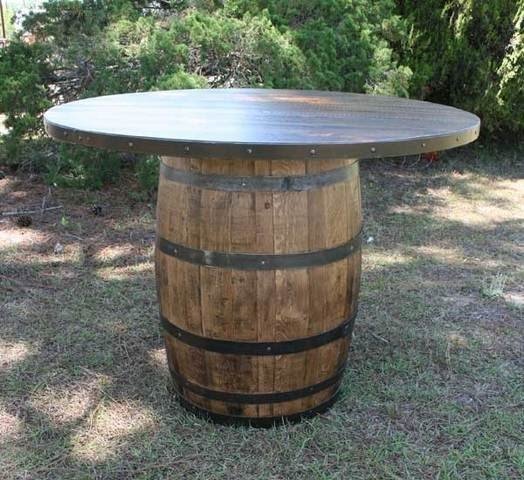 The table straight from the Vikings! Stable base in the shape of an oak wooden barrel, with metal elements. Ideal outdoor table, for small and big garden-partys. The large metal top, round shape can hold all the delicacies at the vikings bbq.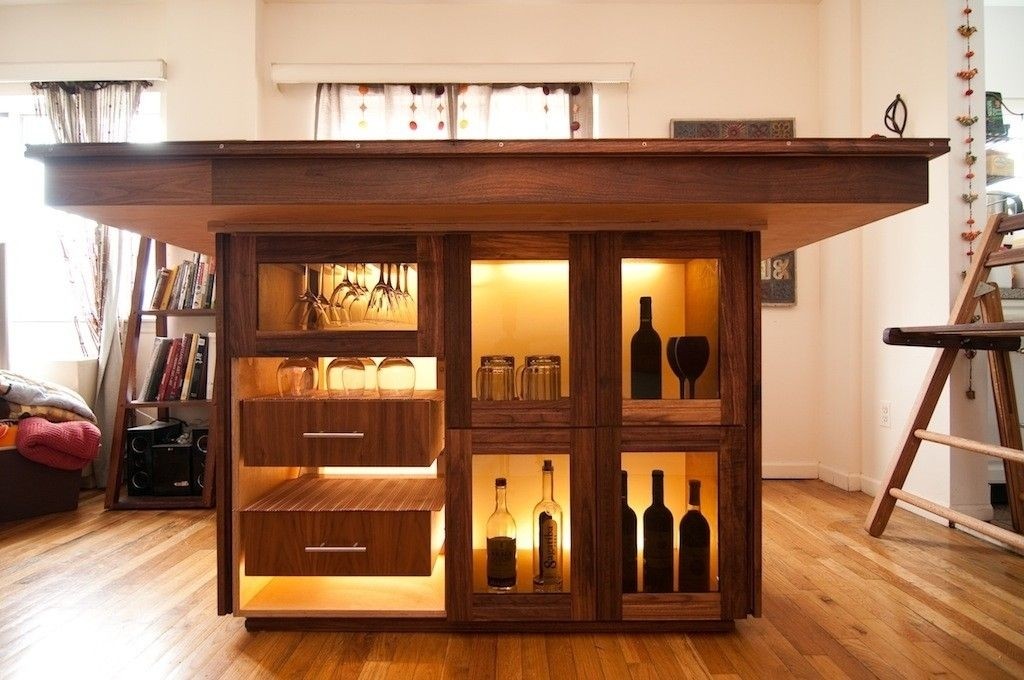 I really really like this, so if anyone out there just wants to get it for me...I'd be so grateful! :-) ON SALE Bar with Extension Table Was by GreenFurnitureDesign, $5200.00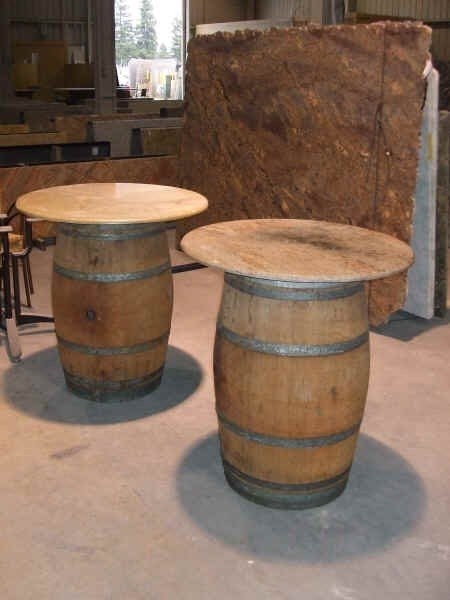 These italian wine barrel table is a stylish way to serve your favorite wine. Handmade, has a oak wooden and iron finish. Just like good aiged wine, will bring sophisticated ans vintage character to any outdoor space.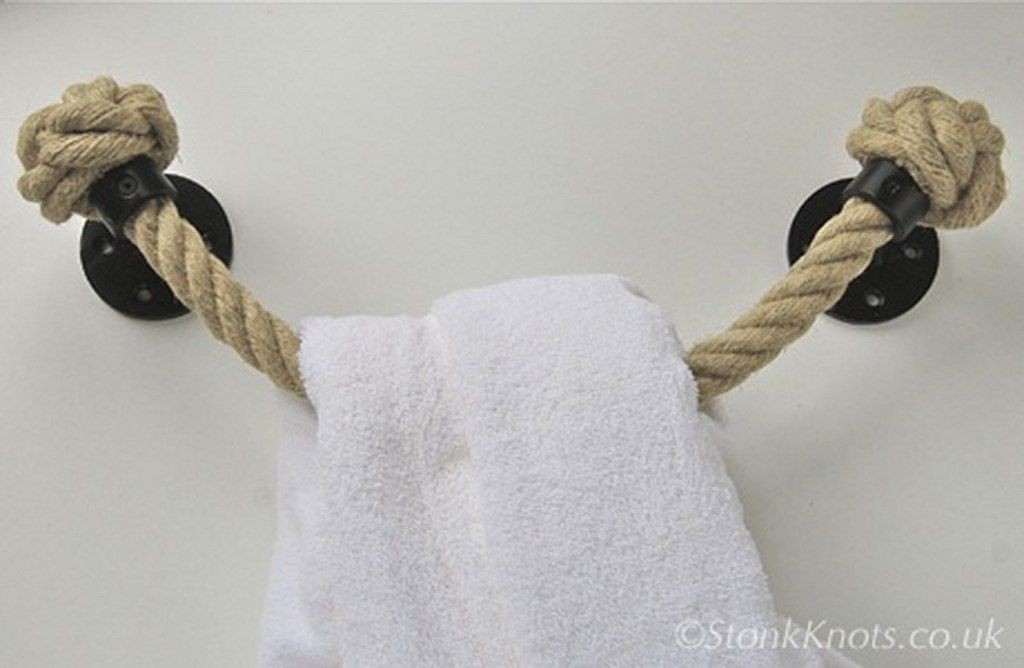 I'll probably never do this because I don't live anywhere near the water but it's such a cute idea!!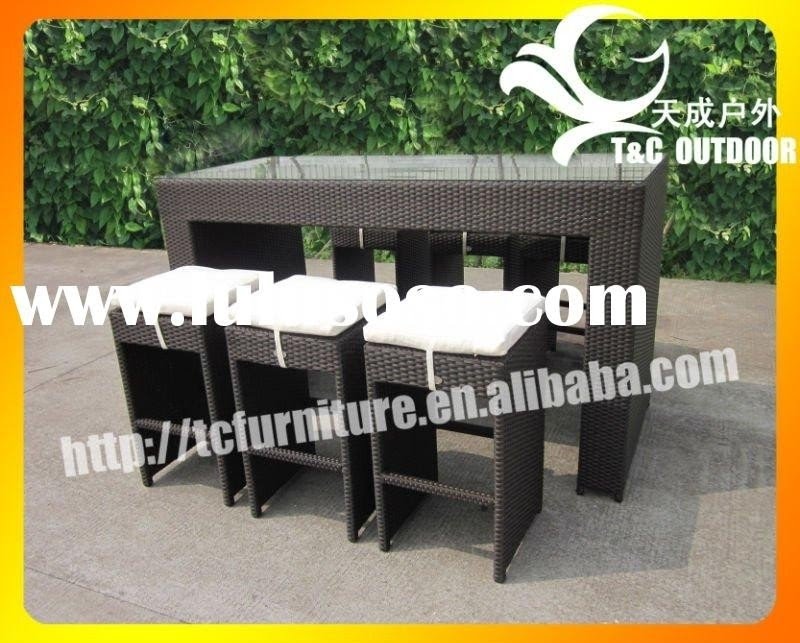 outdoor bar sale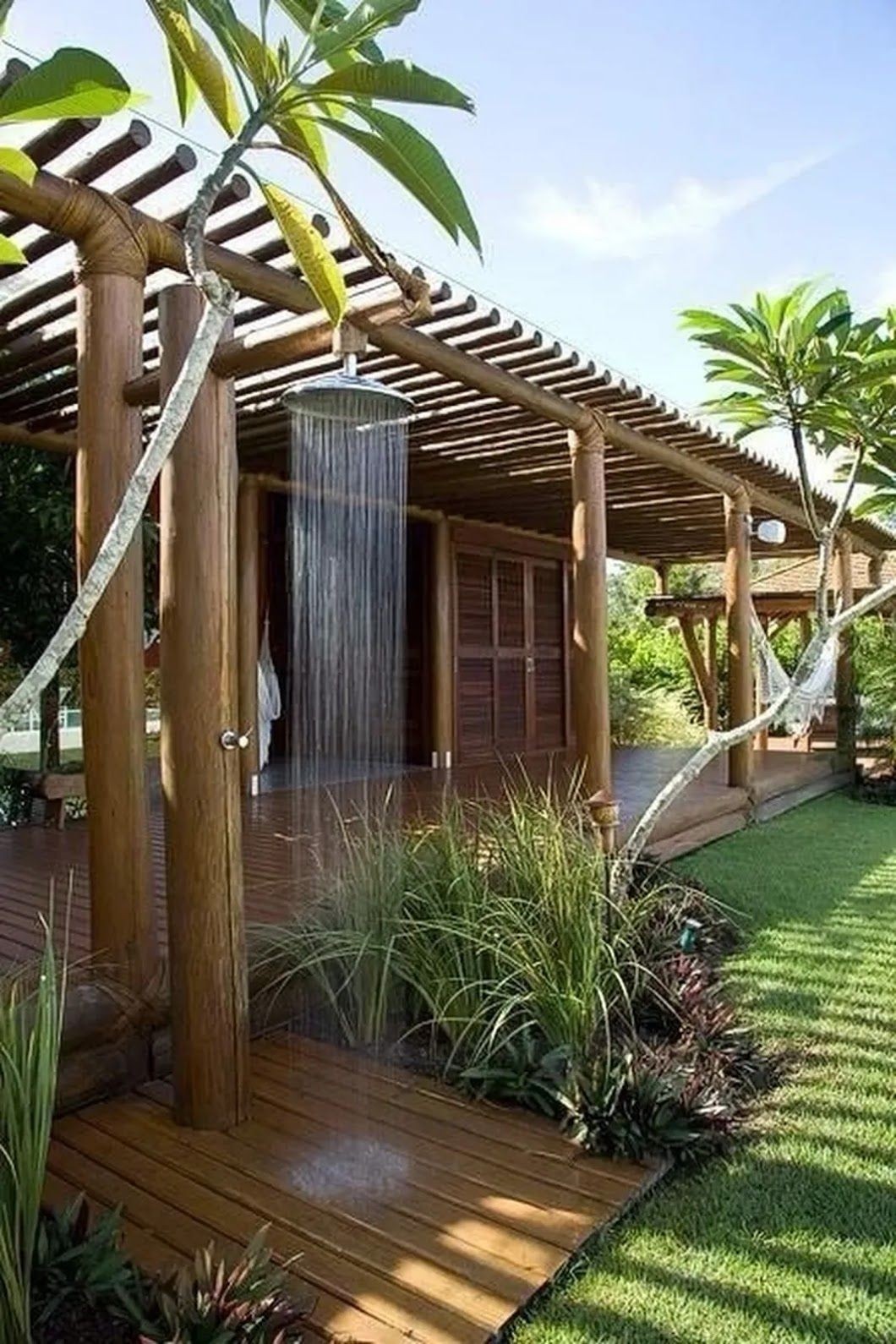 Yes please, house on the beach! Swim, shower, hammock. Swim, shower, hammock.
Great gift items on sale now!!! Bamboo Furniture, Cedar Furniture,Tiki Bars, Portable Tiki Bars, Tiki Supplies, Tropical Artwork for your Palapa outdoor paradise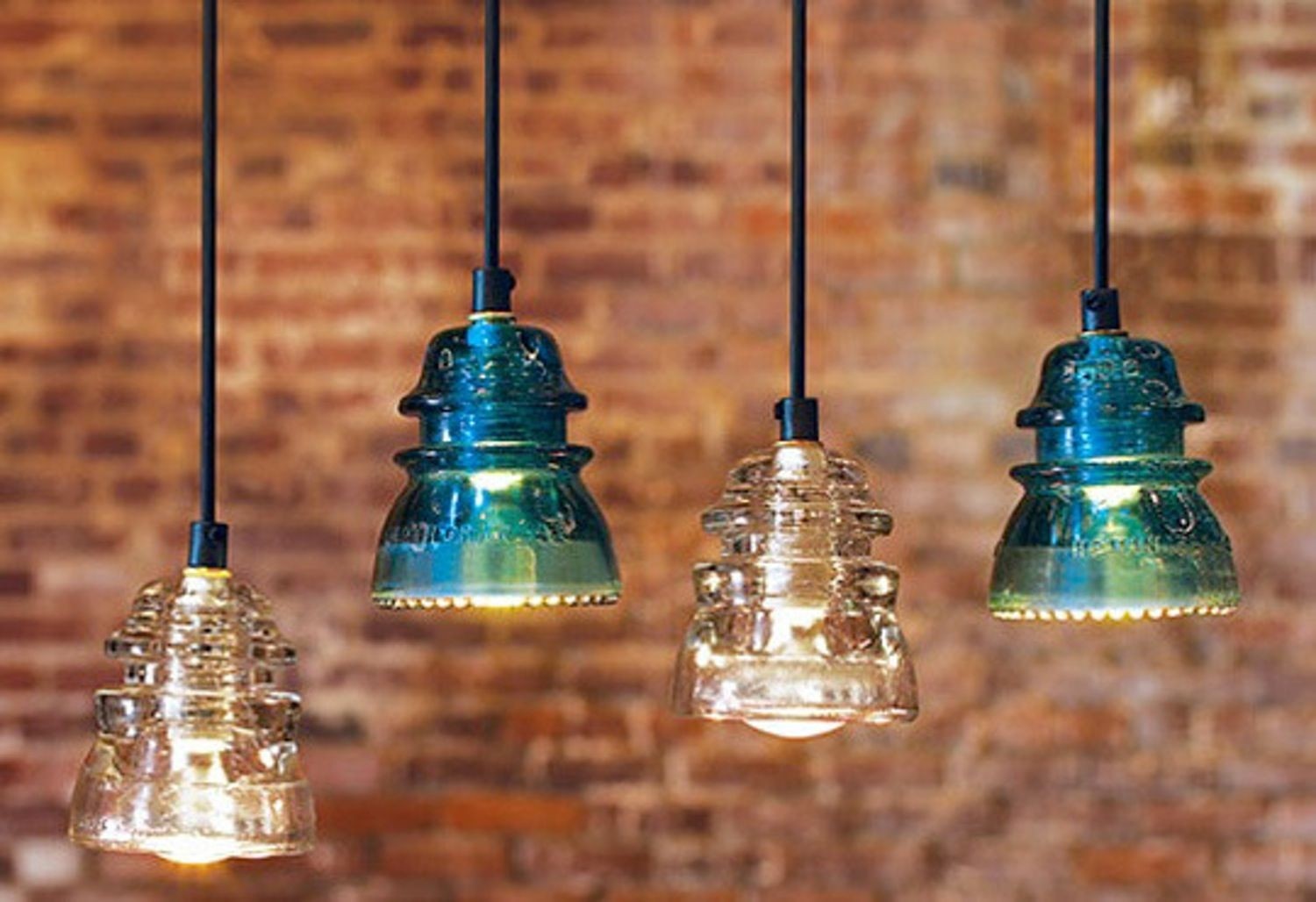 Pendant lights for home and commercial applications. These ceiling-mounted devices assure the appropriate level of illumination. Their durable frames are also very simple and they represent an attractive industrial style in any house.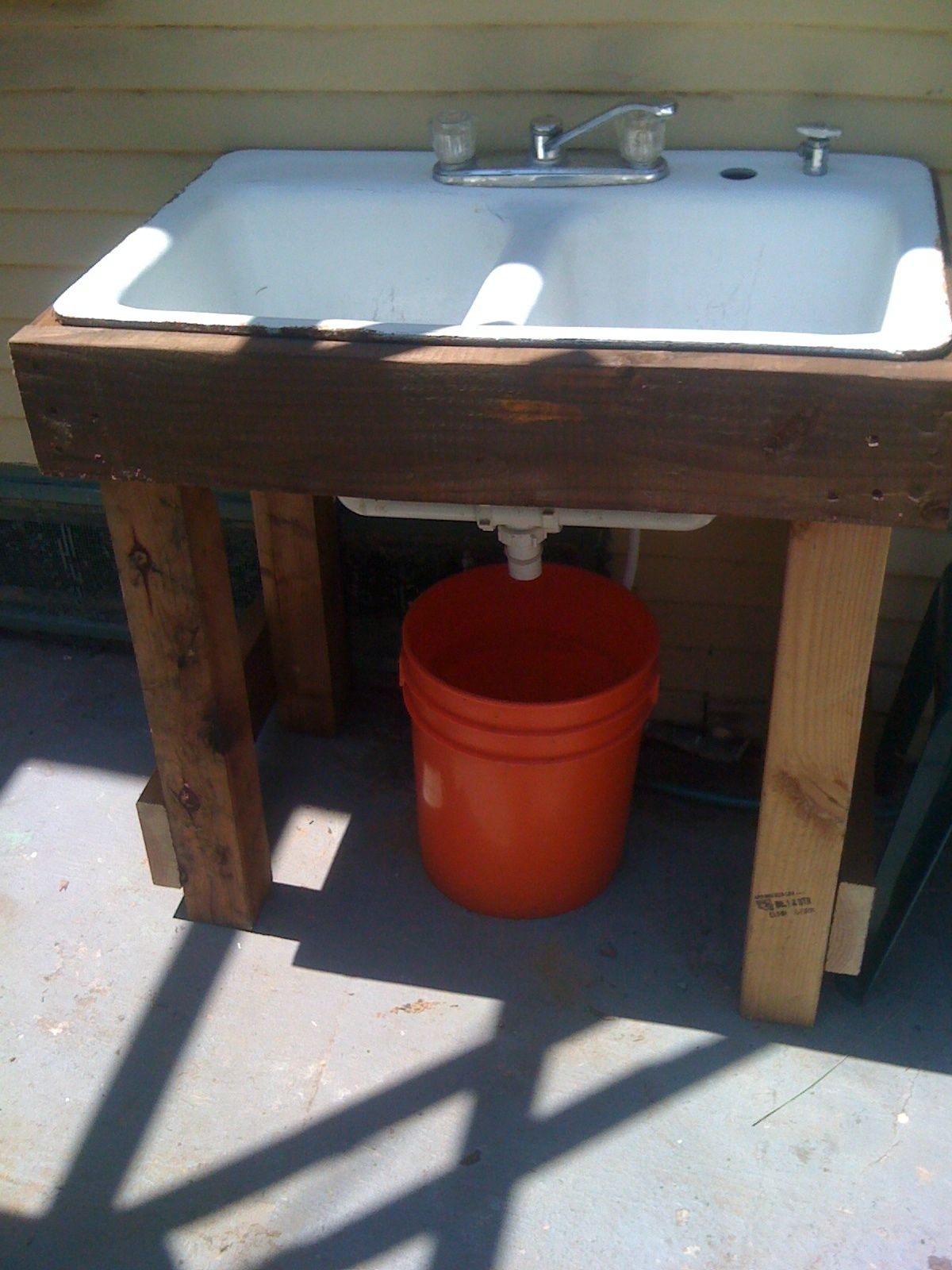 Outdoor garden sink, fish cleaning sink, etc.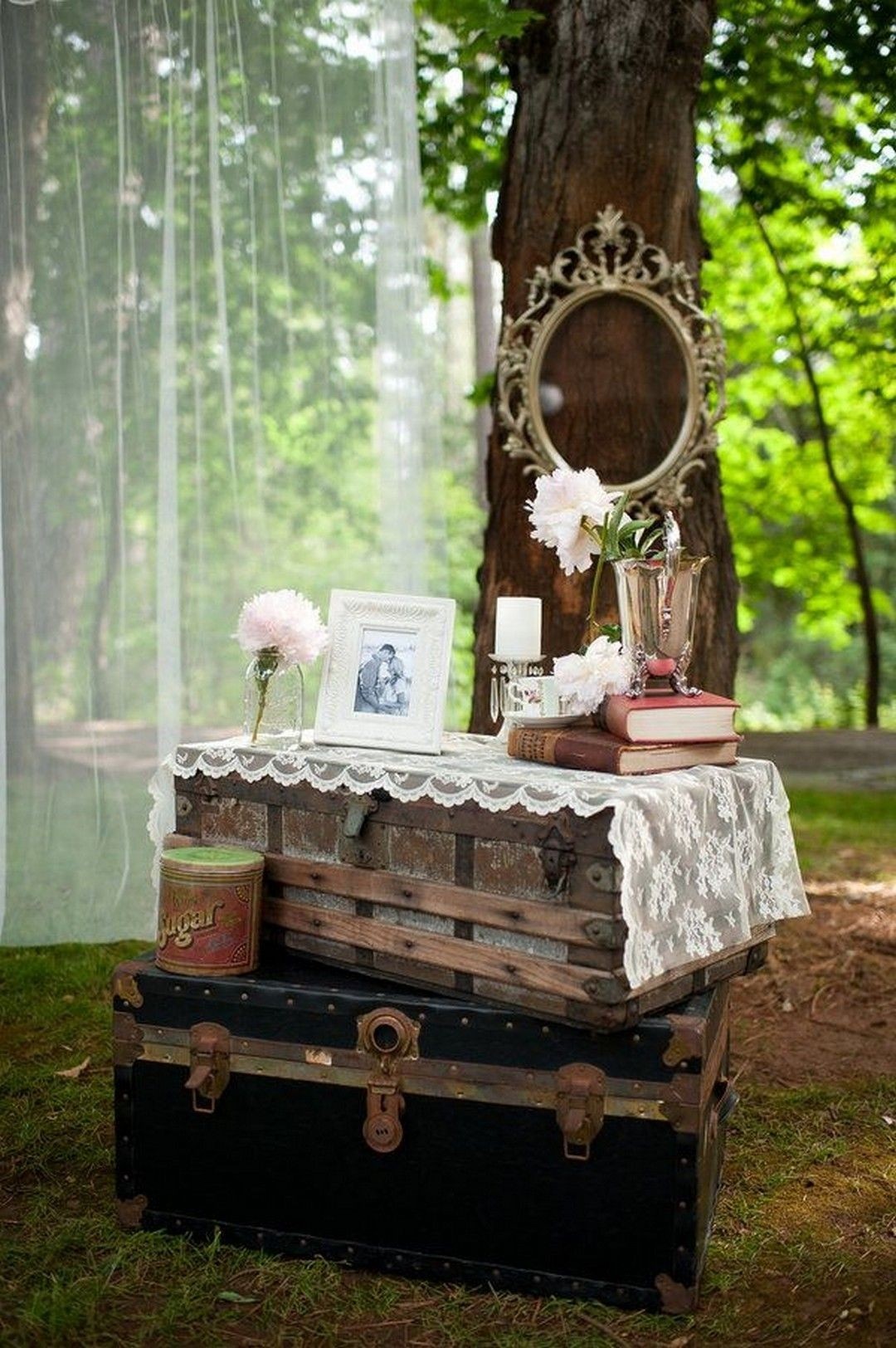 Antique trunks create a vintage-themed display table for an outdoor wedding. #VintageWedding #WeddingDecor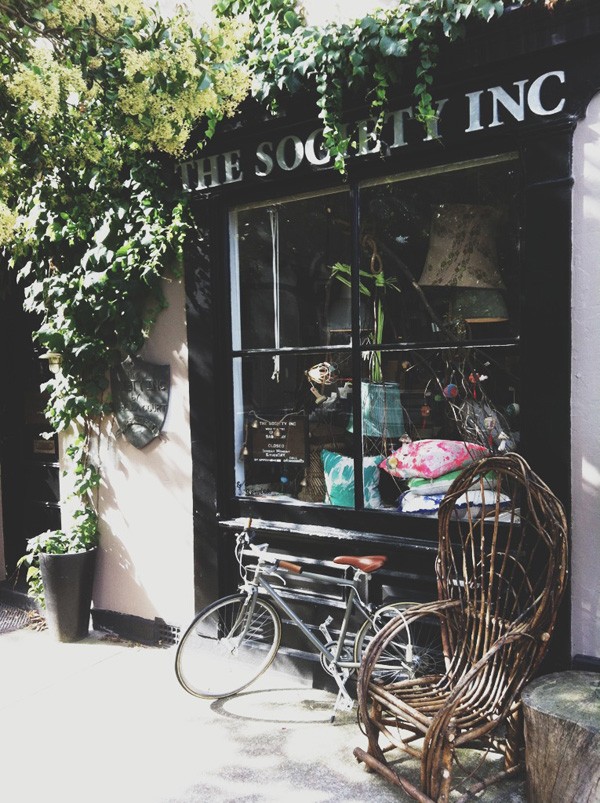 Cafe, Sydney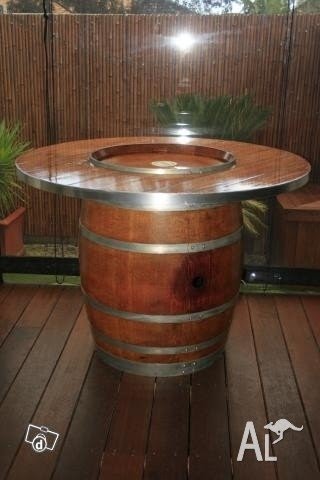 Wine Barrel Bar | Wine barrel bar/beer table for Sale in BERWICK, Victoria Classified ...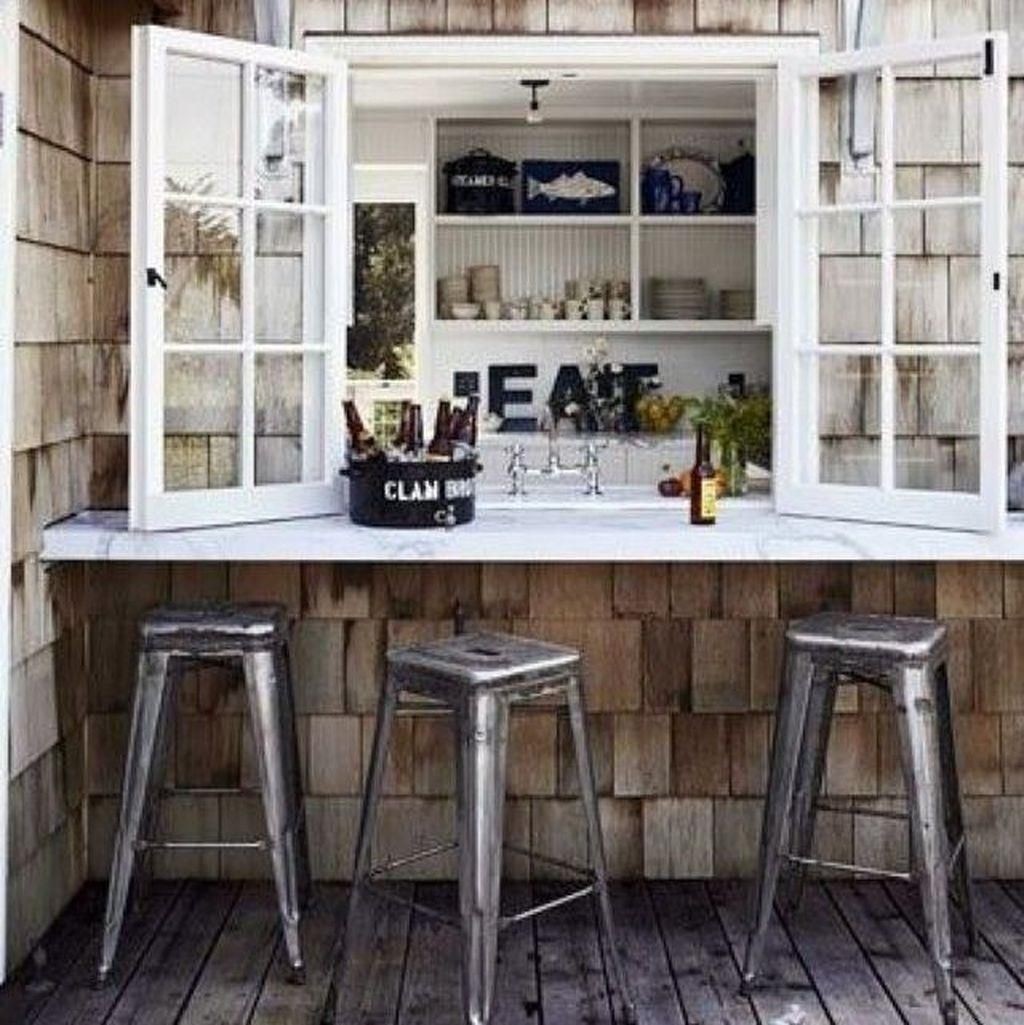 A trio of long-lasting barstools that emanate with industrial accents and distressed finish. Each barstool is made of durable metal, including an X-shaped stretcher underneath the square seat, and widened legs with a fixed footrest and non-marring caps.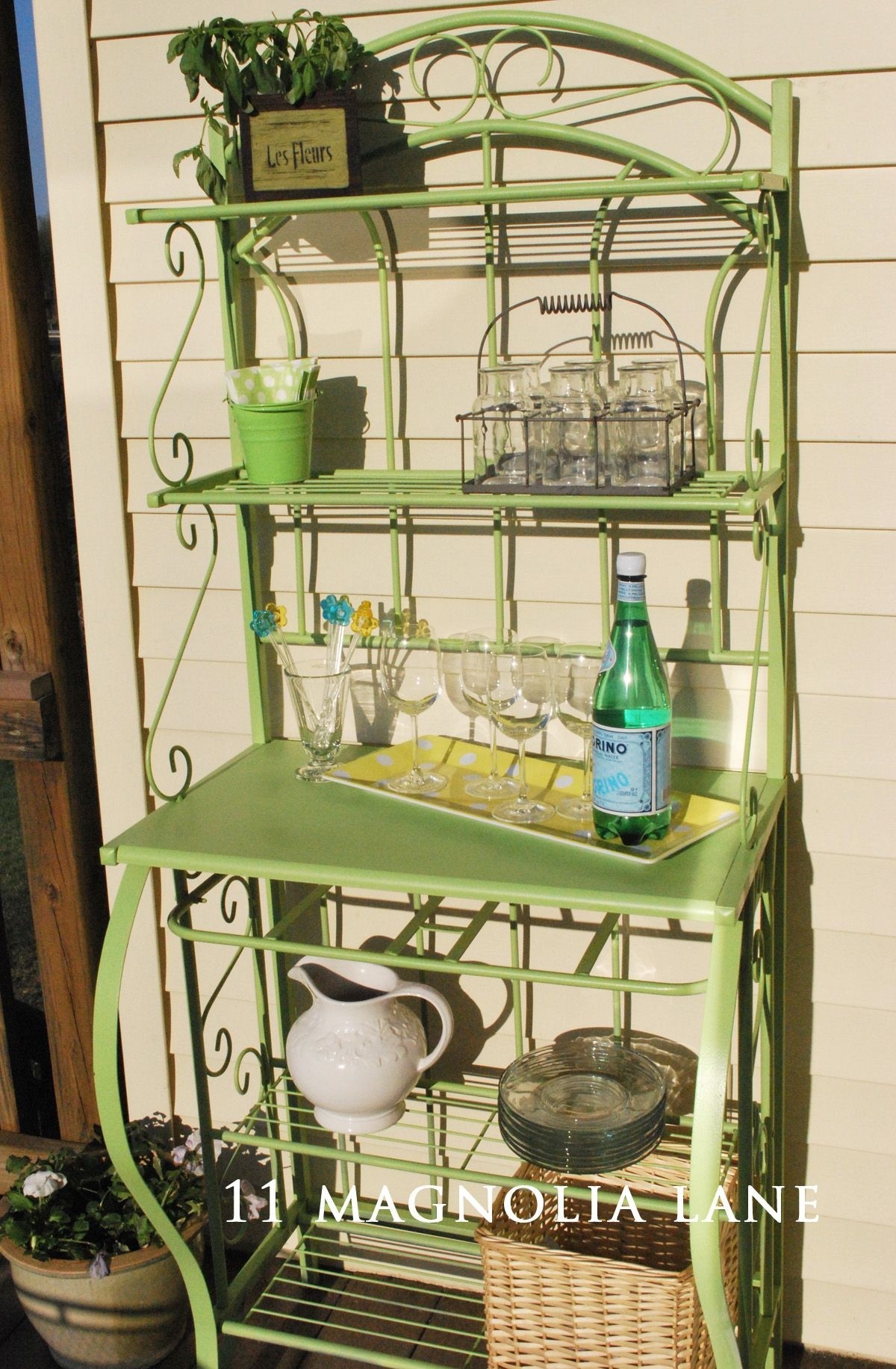 Vintage design for an old-fashioned baker's rack repurposed to act as an outdoor picnic cutlery storage. The rack is made out of wrought iron with a light green coat of paint and has three shelves on top and another three underneath.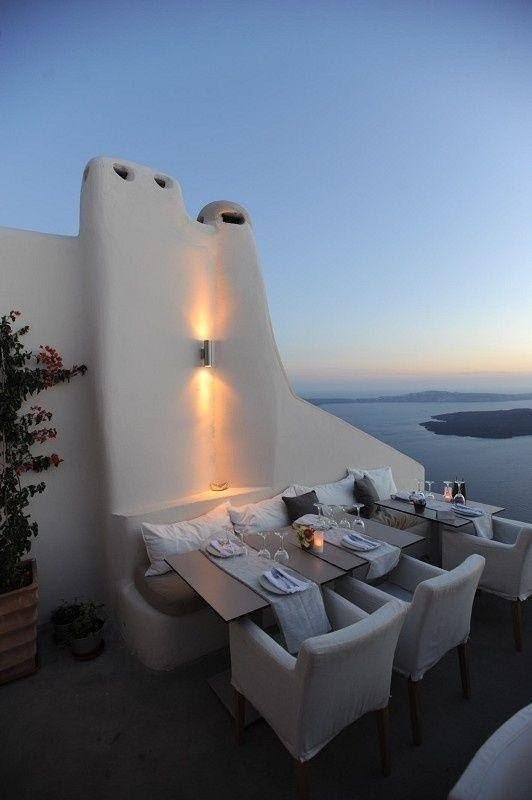 Bathed by the Mediterranean Sea... ΠΩΛΗΣΕΙΣ ΕΠΙΧΕΙΡΗΣΕΩΝ ΔΩΡΕΑΝ ΑΓΓΕΛΙΕΣ ΠΩΛΗΣΗΣ ΕΠΙΧΕΙΡΗΣΗΣ BUSINESS FOR SALE FREE OF CHARGE PUBLICATION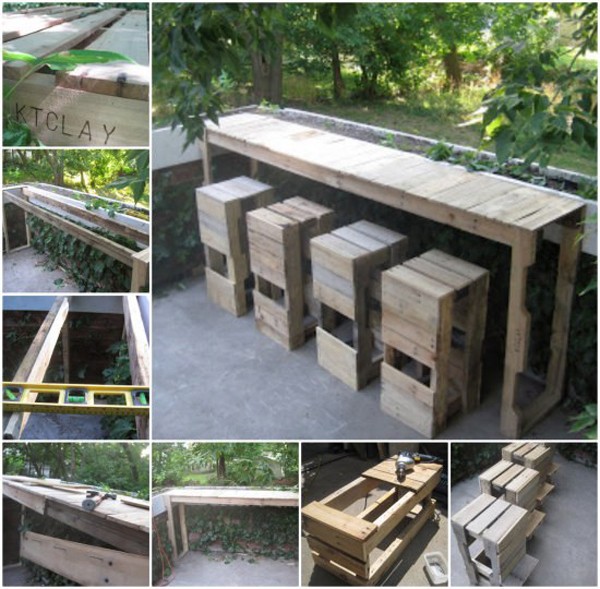 Made entirely from pallets, this DIY project features an outdoor bar, which will be a brilliant addition to one's patio or backyard. Constructed along with accompanying stools.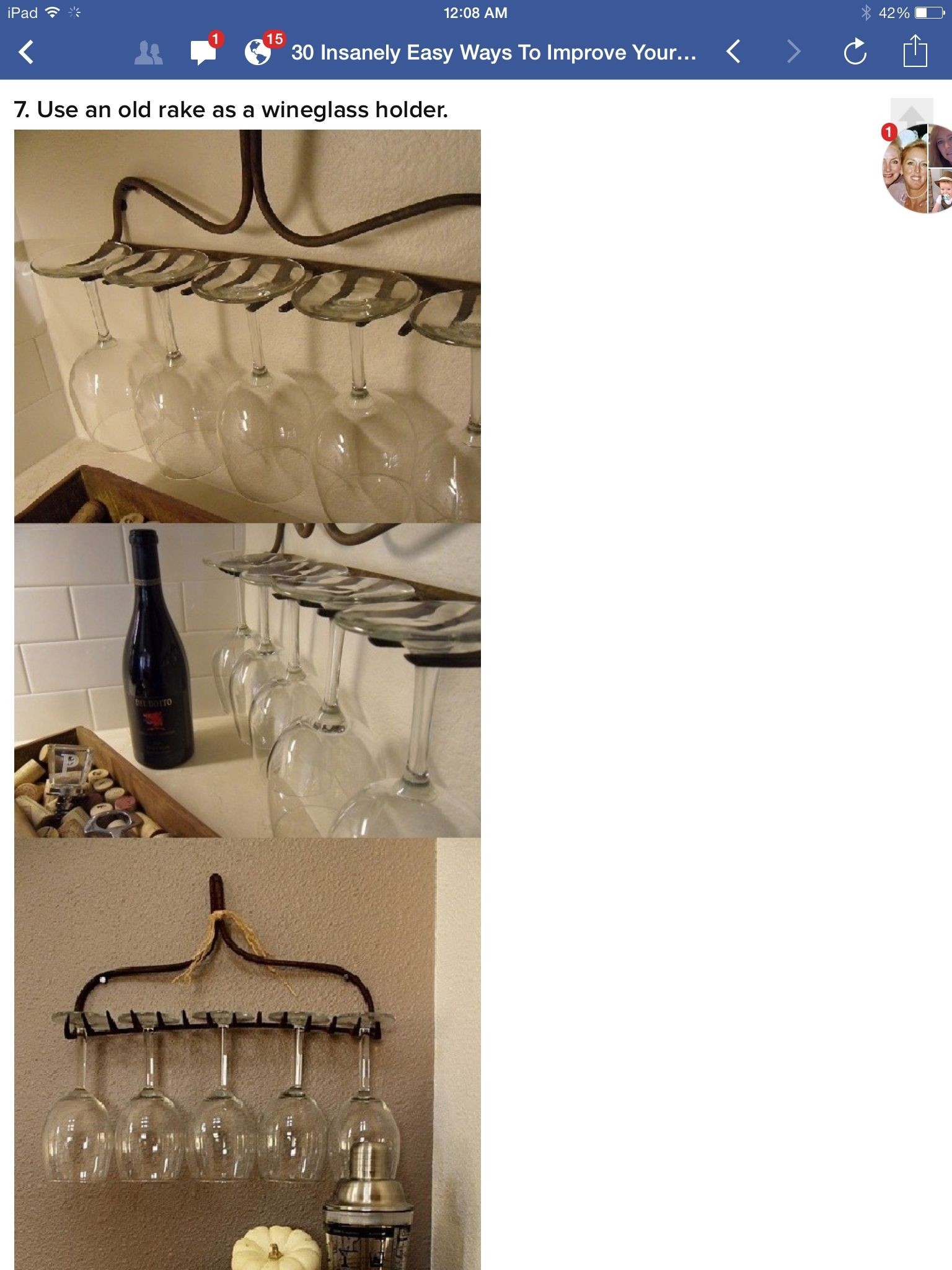 From old rake to wine glass holder = awesome! Especially for those of us w/small spaces! LOVE.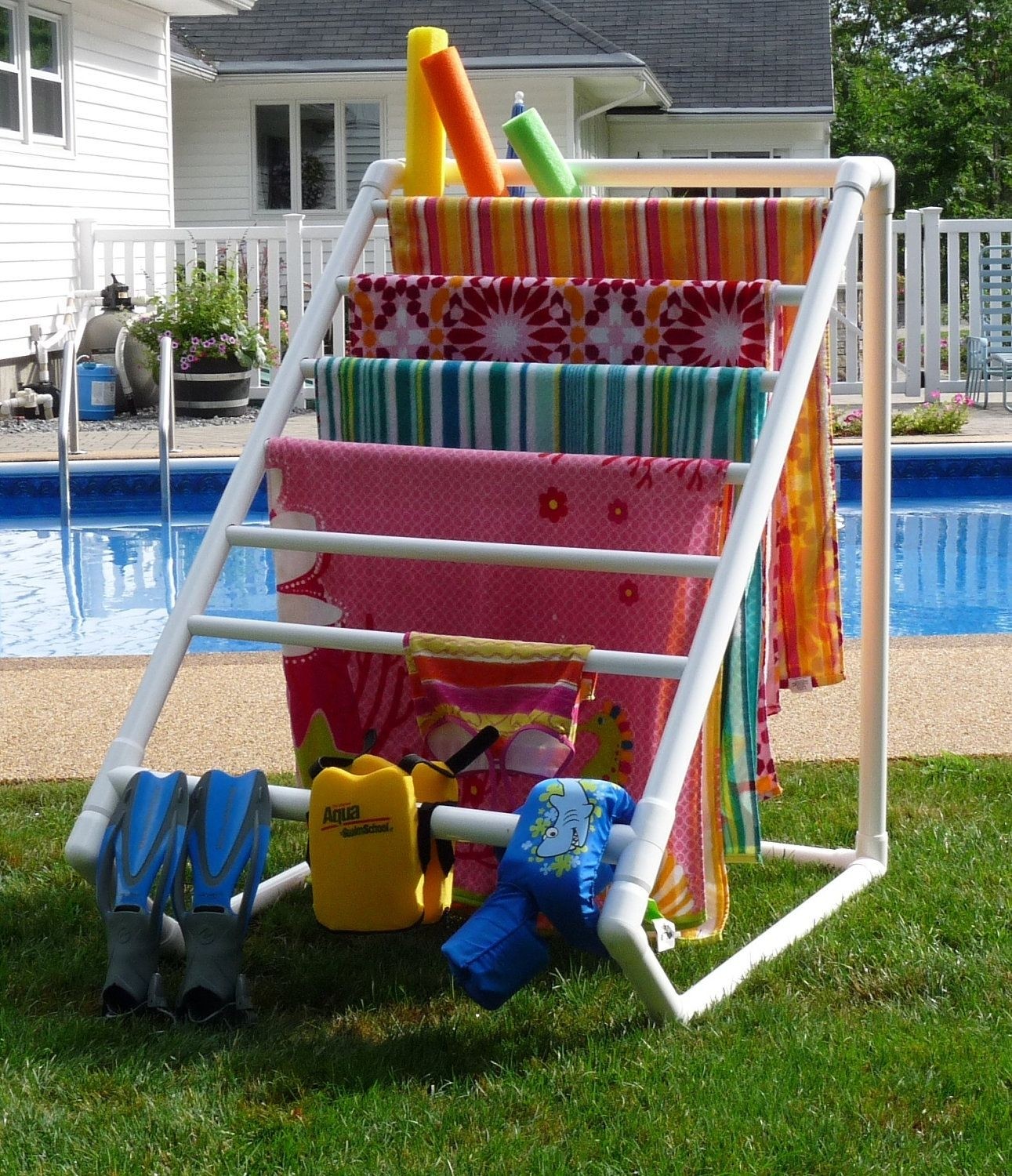 Towel rack for the summer using pvc piping! GREAT idea! Could use to dry heavy items instead of using the dryer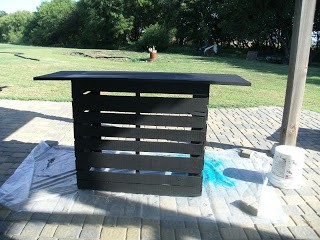 Creative DIY design for an outdoors' bar table, made entirely out of pallet wood with a long surface on the top. The table is made out of rough, unpolished wood with a dark coat of paint, giving it a contemporary look.