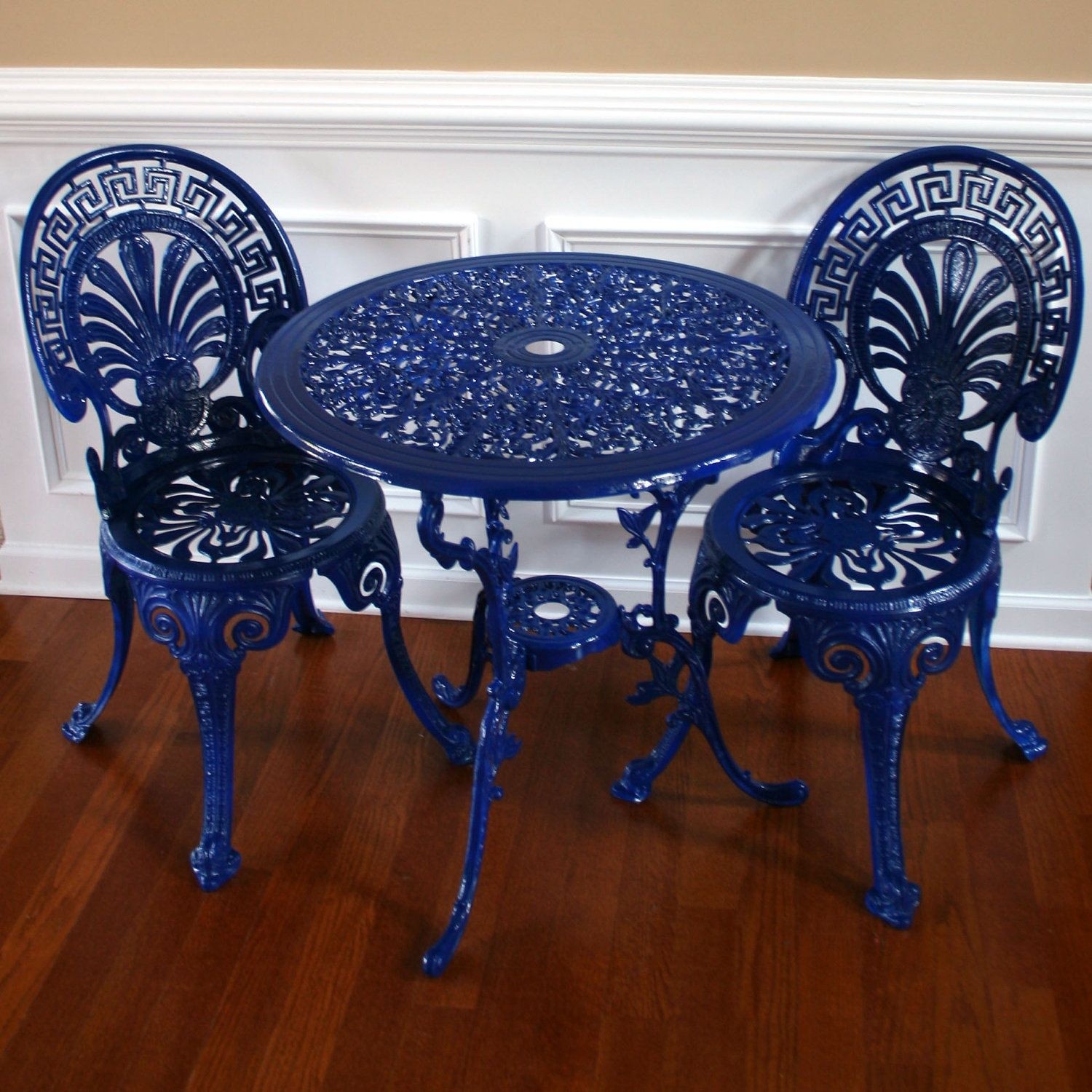 Chinoiserie blue vintage patio table and
If you love Mediterranean style, this set of furniture inspired of peacock will be perfect for you. This Greek set of furniture is composed of circle table and two chairs. Both elements are made of carved wood and covered with navy blue paint.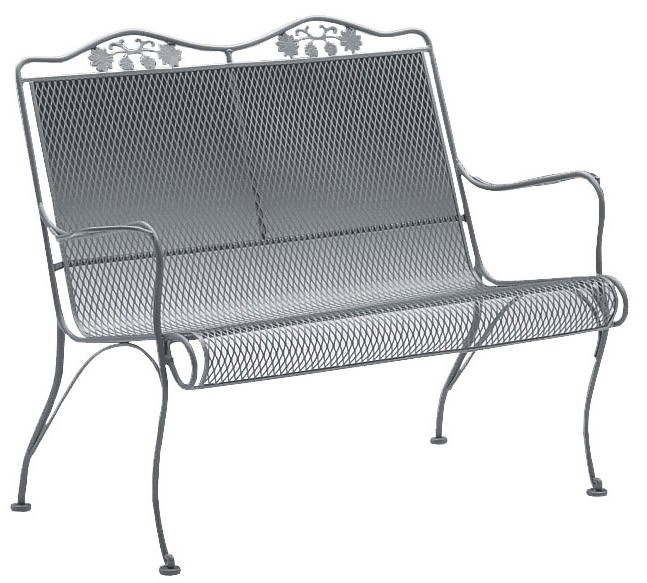 Briarwood Wrought Iron Garden Bench
Beautiful traditional 2-seat garden bench. It's entirely hand-formed of grey-coated wrought iron. It has meshy both a back with 2 gently arches and intricate details in as well as a rolled down seat. Legs and arms are very thin and subtly curved.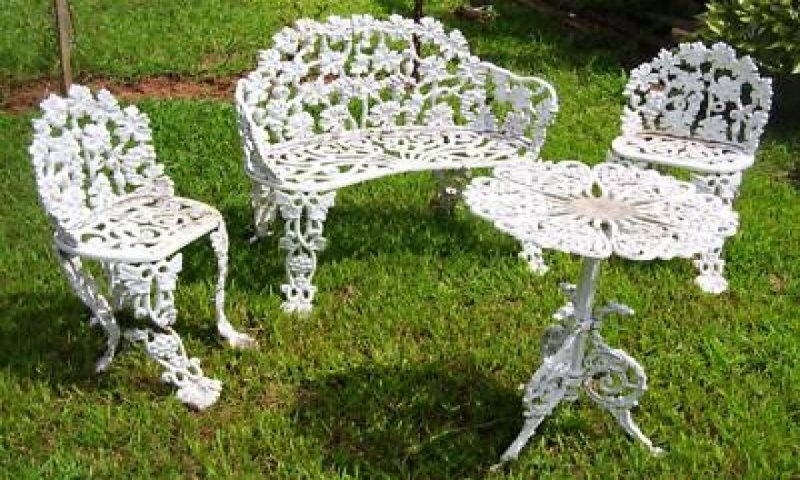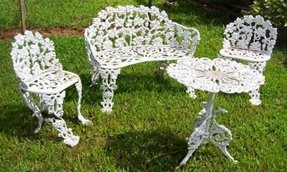 A stunning set for your patio made from wrought iron and sports the charming and delicate structure with the ornate accents. It will seat up to four people comfortably on your patio or in your garden.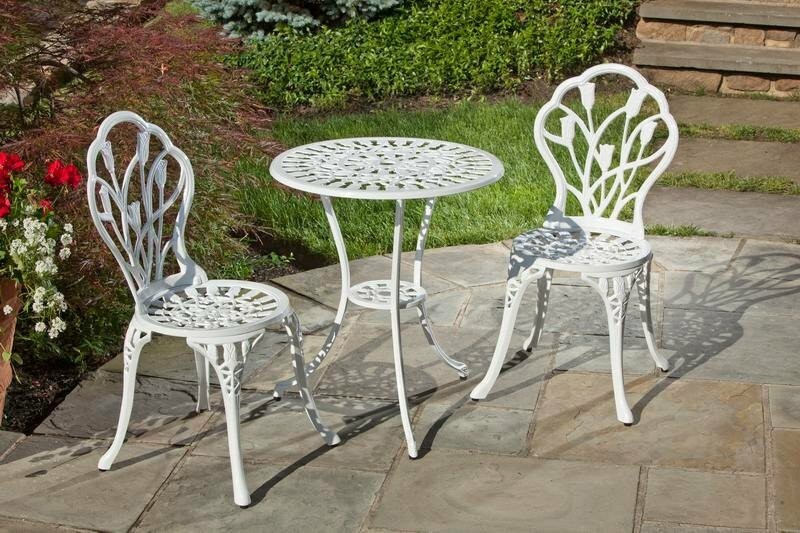 This charming set on the patio, terrace or garden is a beautiful combination of solid construction and lovely tulip motifs. The white tint of tables and chairs is beautifully presented in every decor.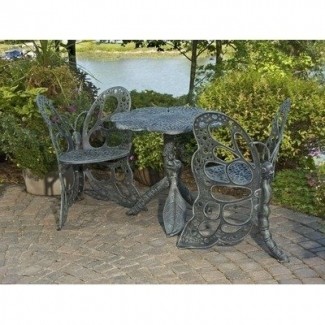 Bistro set with antique finish. It consists of round table and 2 chairs in the shape of butterfly. It is made of cast aluminum. Designed for outdoor use. Suitable for residential and commercial use.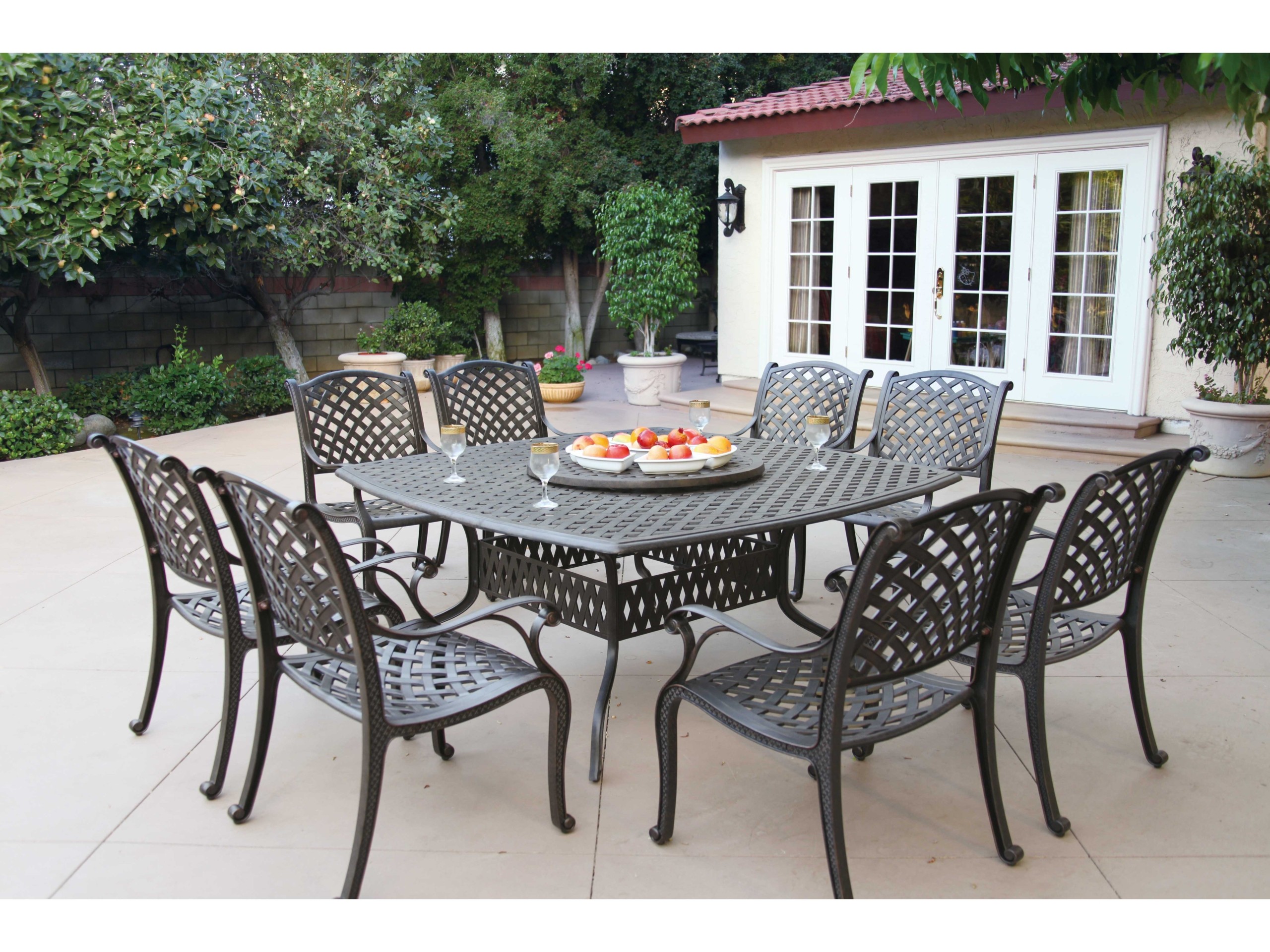 Set of patio furniture made of aluminum. It includes square table and 4 dining chairs. It is resistant to rust and harmful weather conditions. Received a lot of top ratings from customers.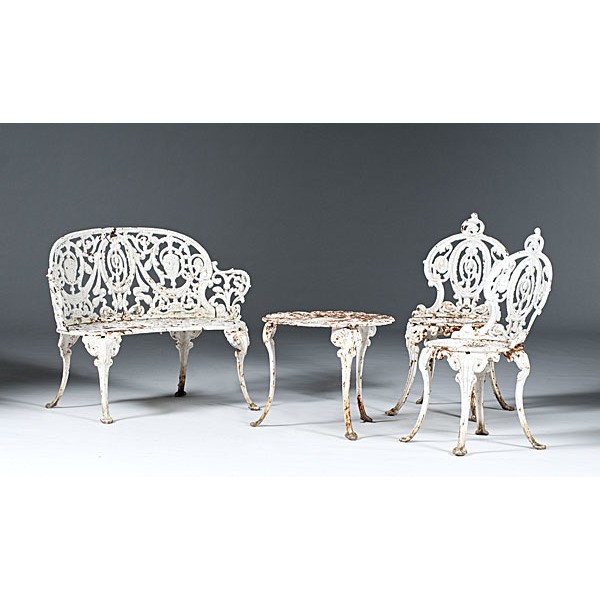 Set of patio furniture in the French style. Construction is made of cast iron and finished with sophisticated pattern. Includes bench, round table and 2 chairs. Suitable for residential and commercial use.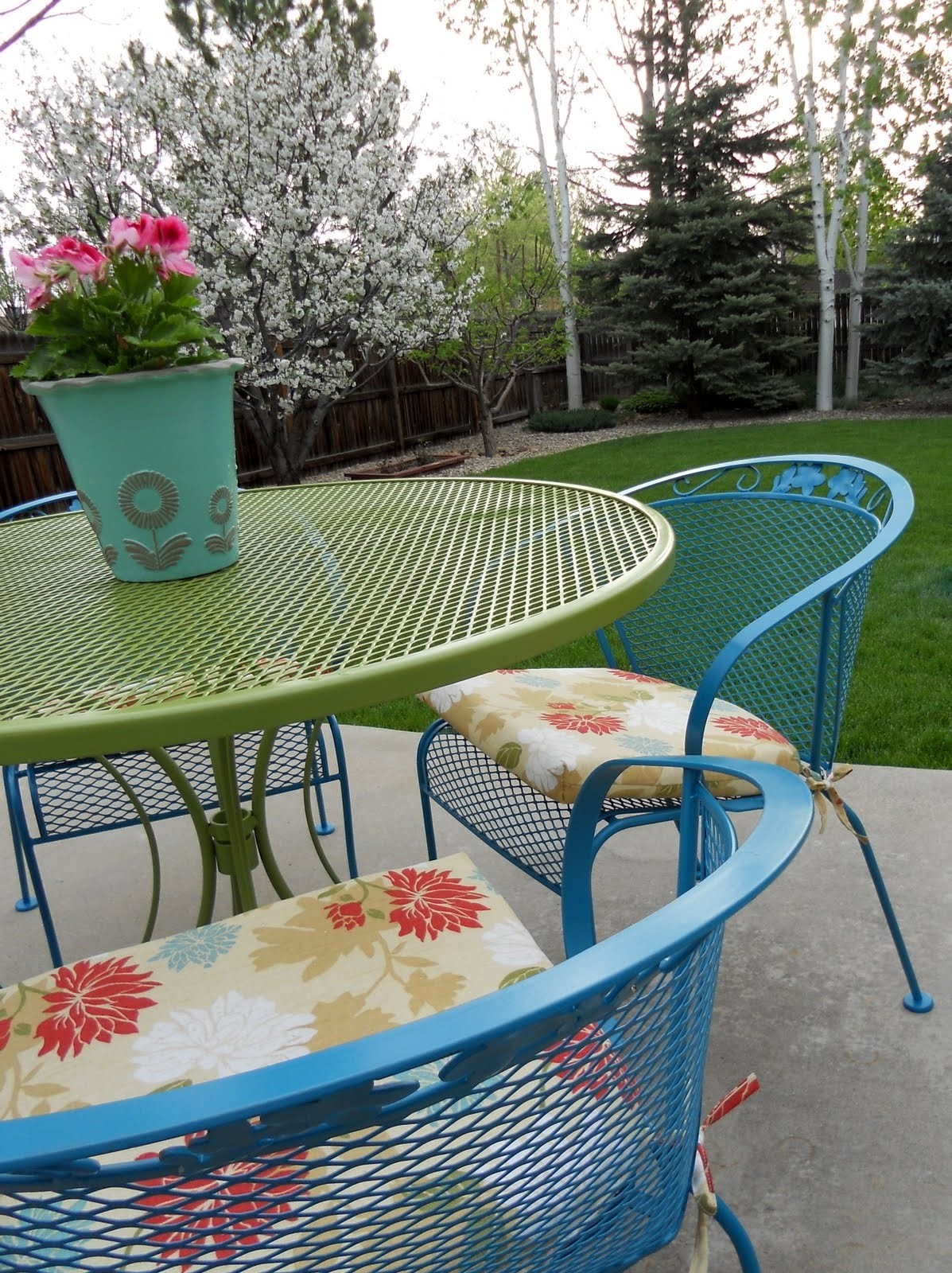 Looking for reliable and comfy additions for your garden or backyard? You won't have to, anymore, thanks to this wrought iron 1 table and 4 chairs set. Each piece is resistant to weather conditions, and has a nice, lattice design with curved legs.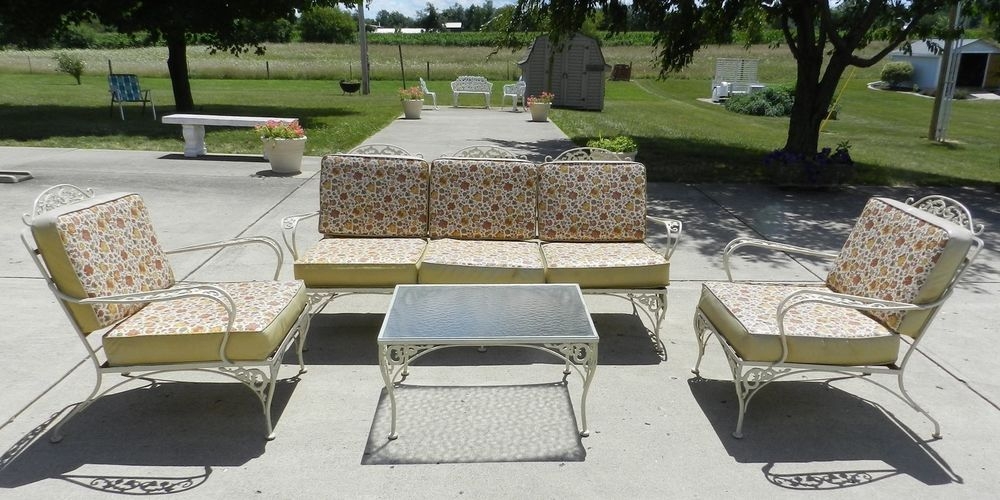 Mid-Century-Wrought-Iron-Patio-Furniture-Set-Woodard-4pc-Sofa-2-Chairs ...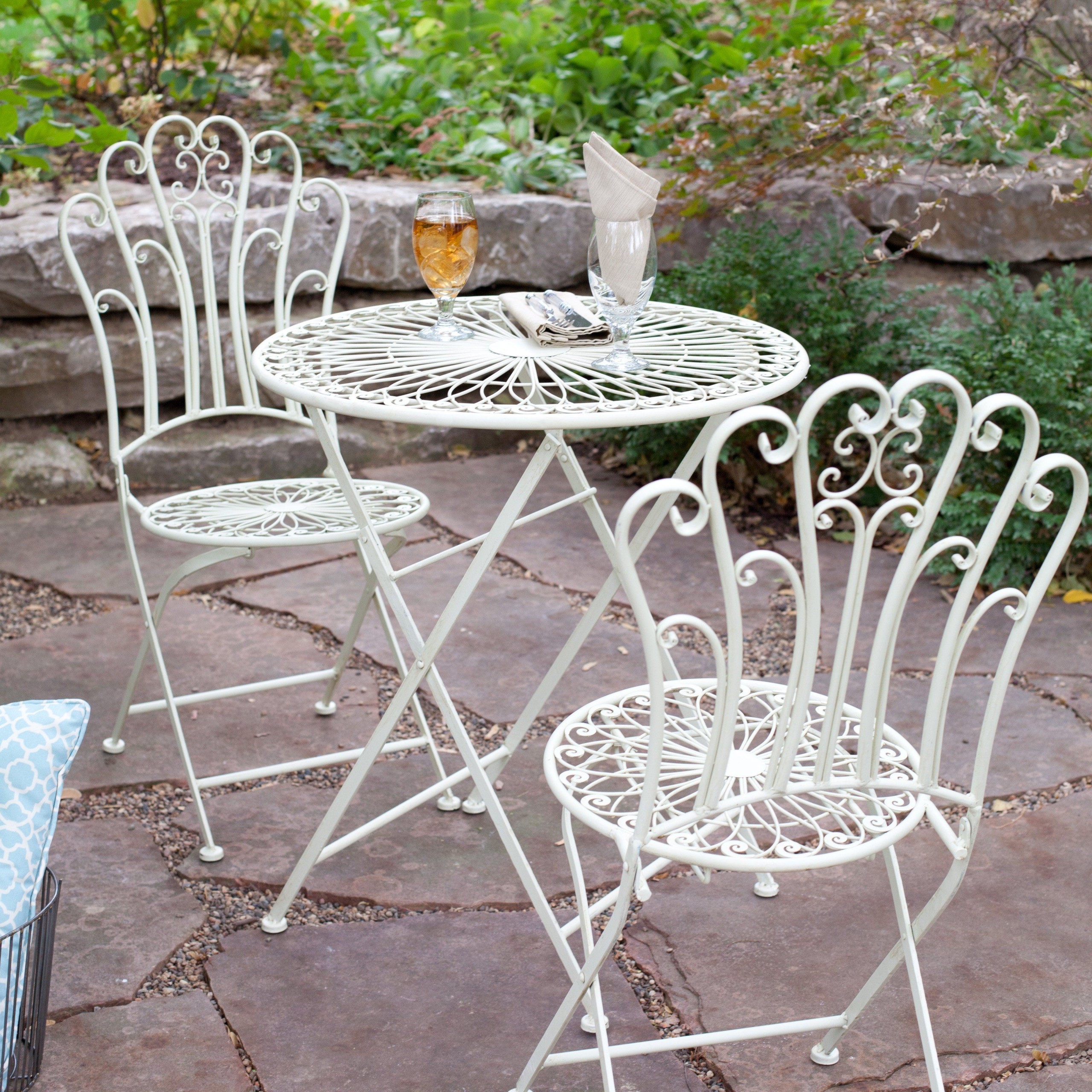 This 3 piece bistro set can constitute a great proposition for your backyard or garden. Elegant spiraling design on table top and seats and decoratively scrolled chairs' backrests add class and chic to this furniture.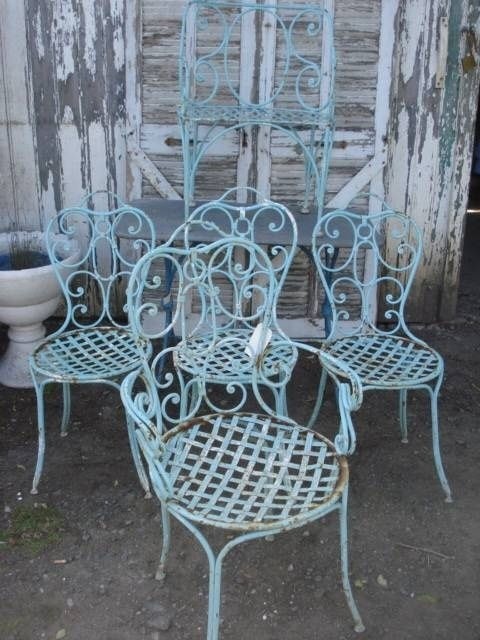 Set of garden chairs from the '30s +Would love to find some like these for my kitchen.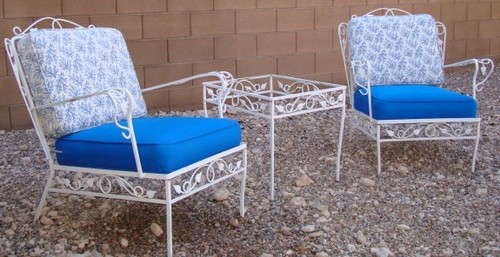 Salterini Classic 1960's 9 piece set including couch, 2 chairs, table, dining table 4 dining chairs offered on eBay for $2,500.00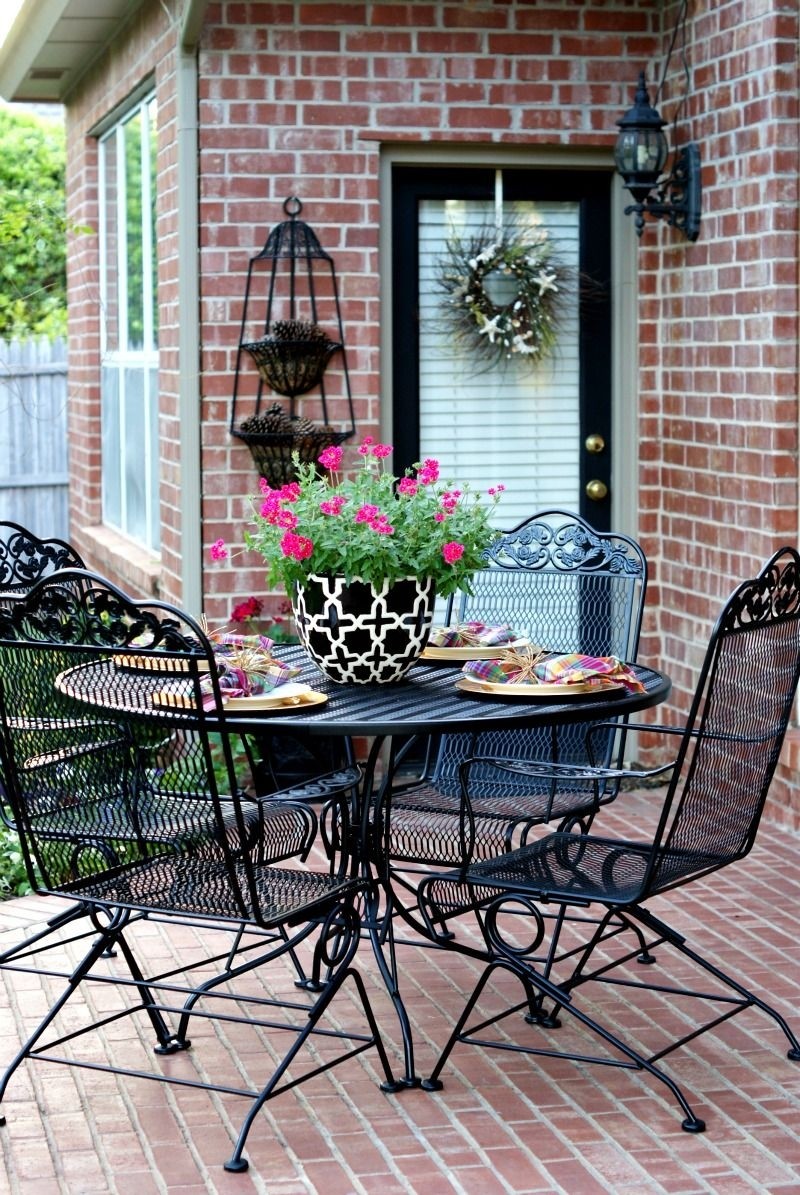 Place this elegant set on your patio, and have a quality time with your loved ones. The set includes 1 round table and 4 chairs - each constructed of wrought iron and painted black. Plus, the lattice design perfectly matches the eye-catching curvature.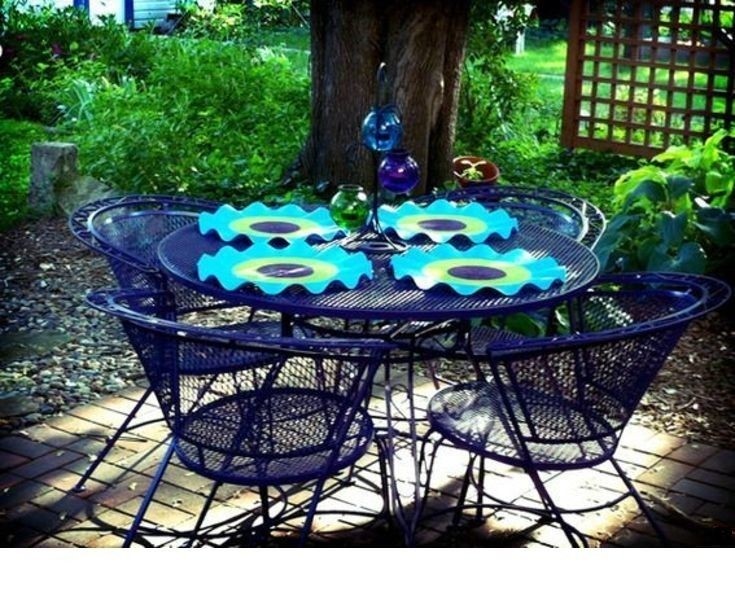 An eye-catching set for outdoor areas, especially, patios, gardens and backyards. Made of wrought iron and bathed in a dark blue finish, the set features 1 round table, and 4 chairs with a lovely lattice design.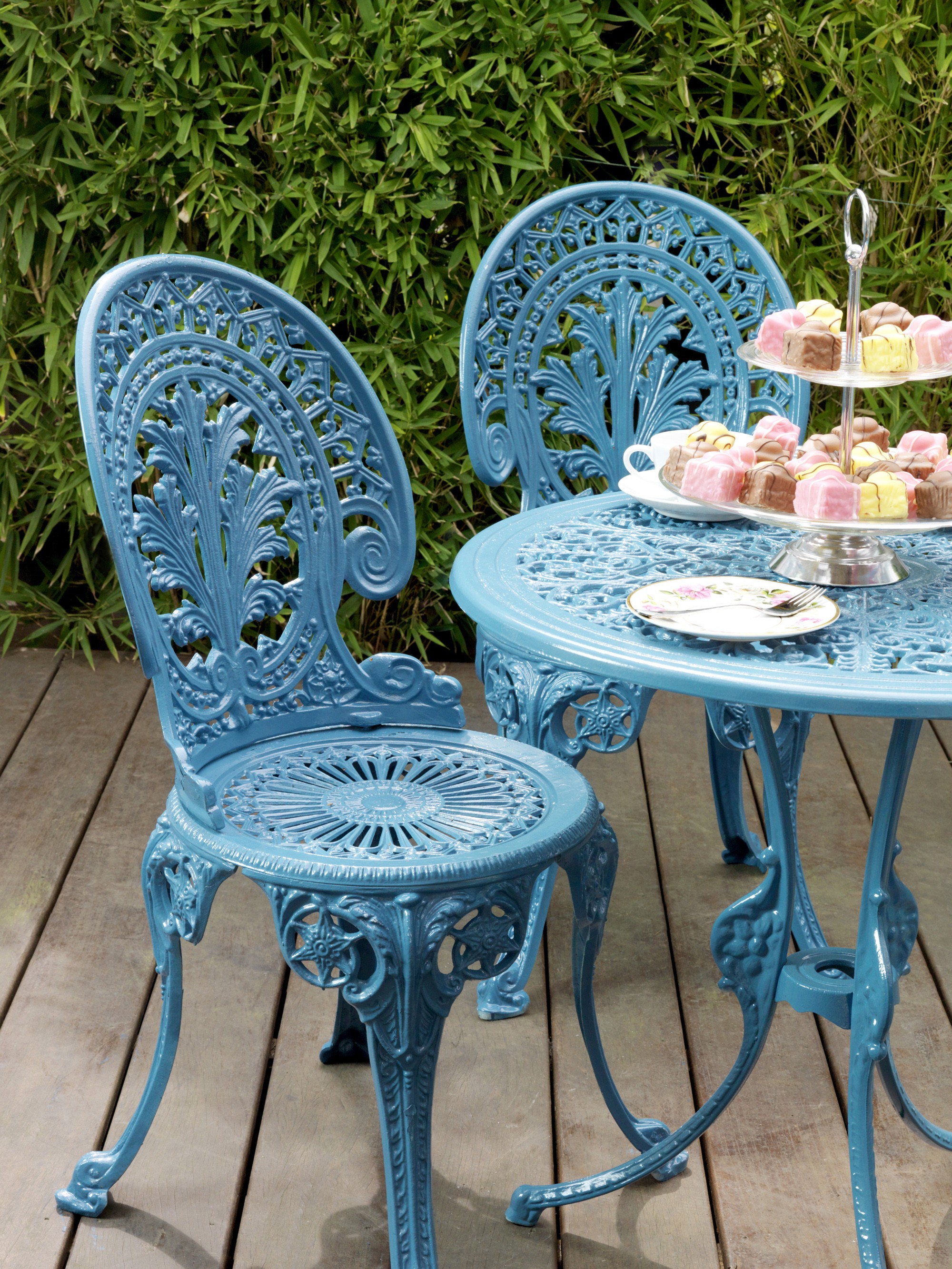 A vintage arrangement of handmade chairs made out of painted iron with a variety of different shapes and patterns. The wrought iron chairs make for a nice addition to a backyard patio, providing a colorful vibe.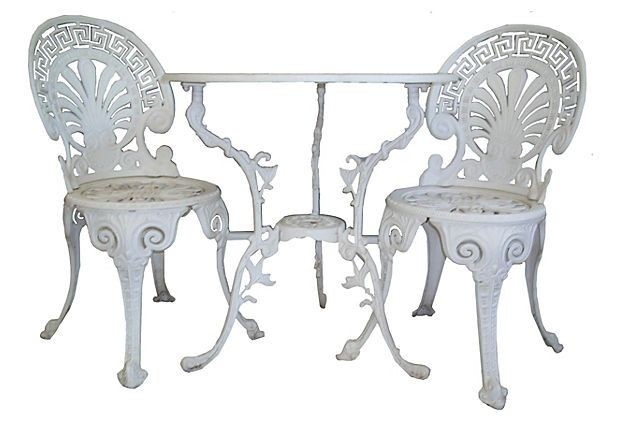 A solid table with a round top and durable, decorative frame. It is available with twoo solid and decorative chairs. These three iron elements assure solidity and their white color looks nice in any stylization.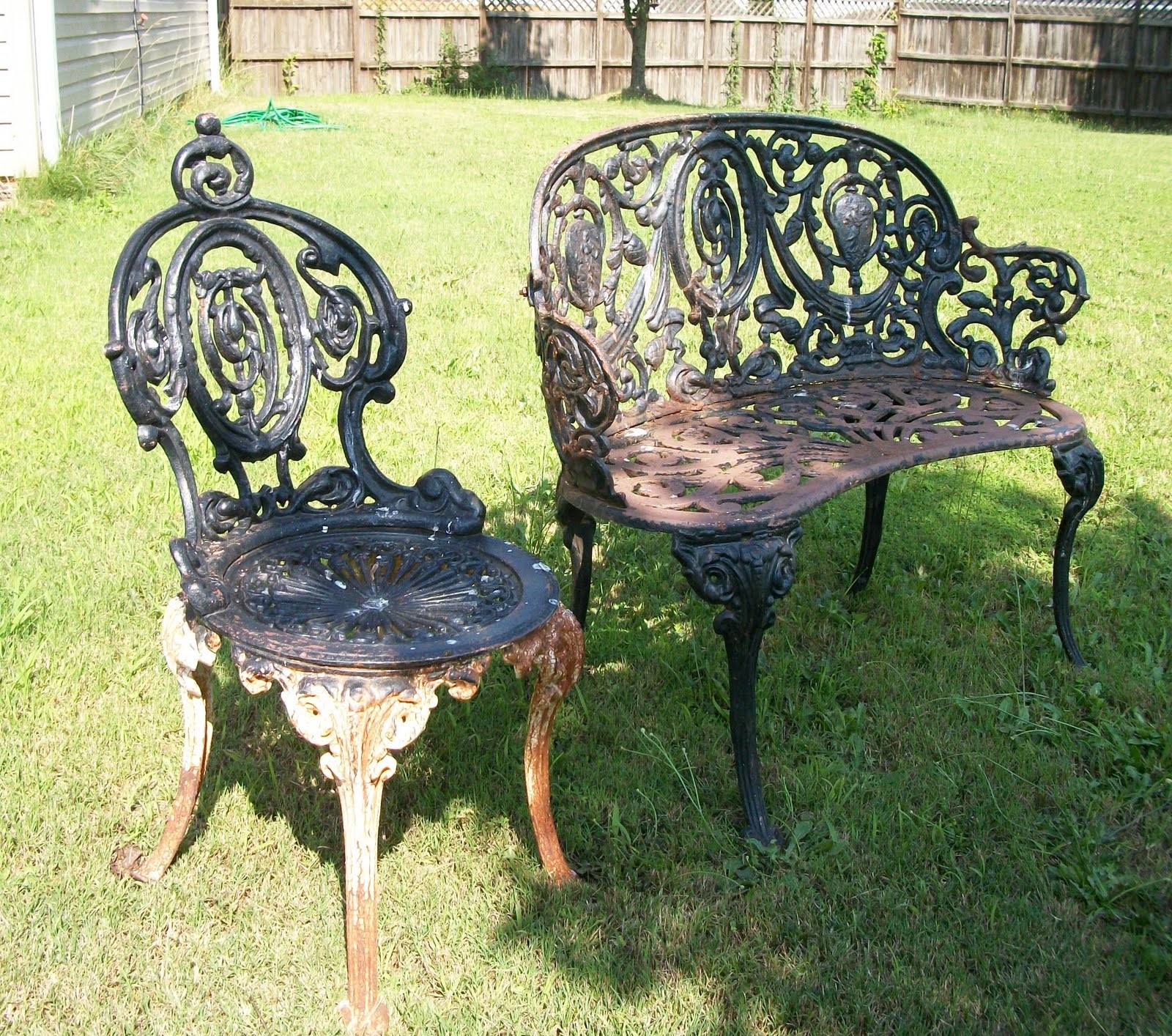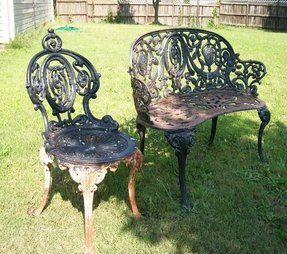 A very original set that consists of a loveseat and chair. Both items feature cast iron frames that are solid and very attractive. They include many decorative items and their solid constructions are weather resistant.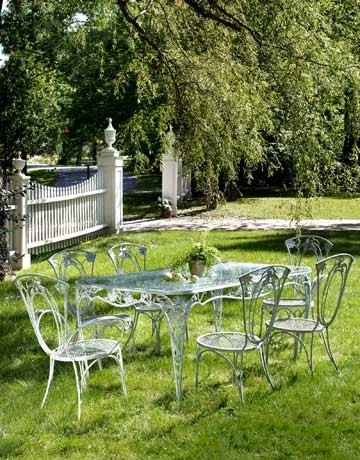 vintage wrought iron lawn furniture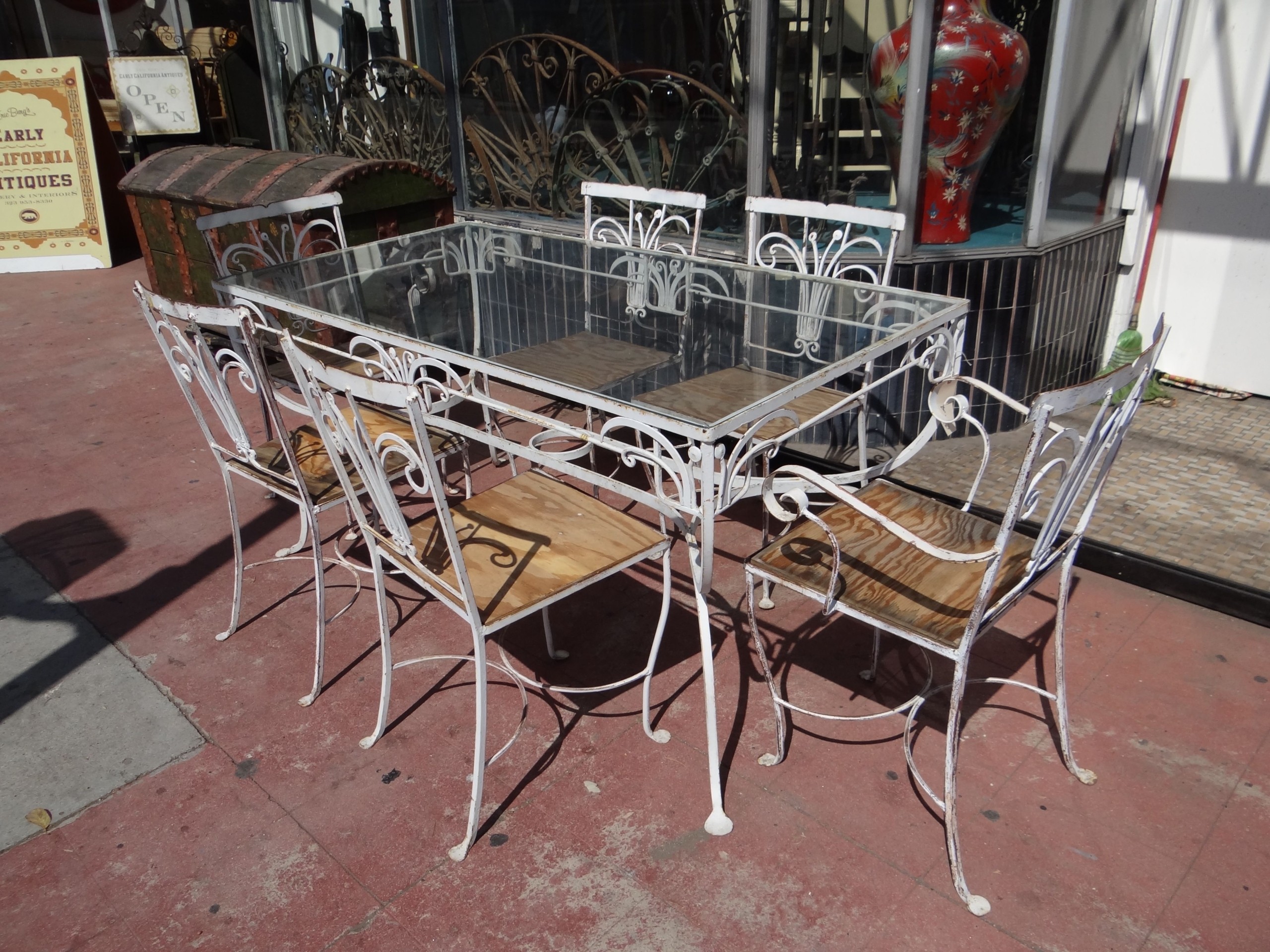 1940s Salterini [1928-1953] Wrought Iron Outdoor Patio Furniture ...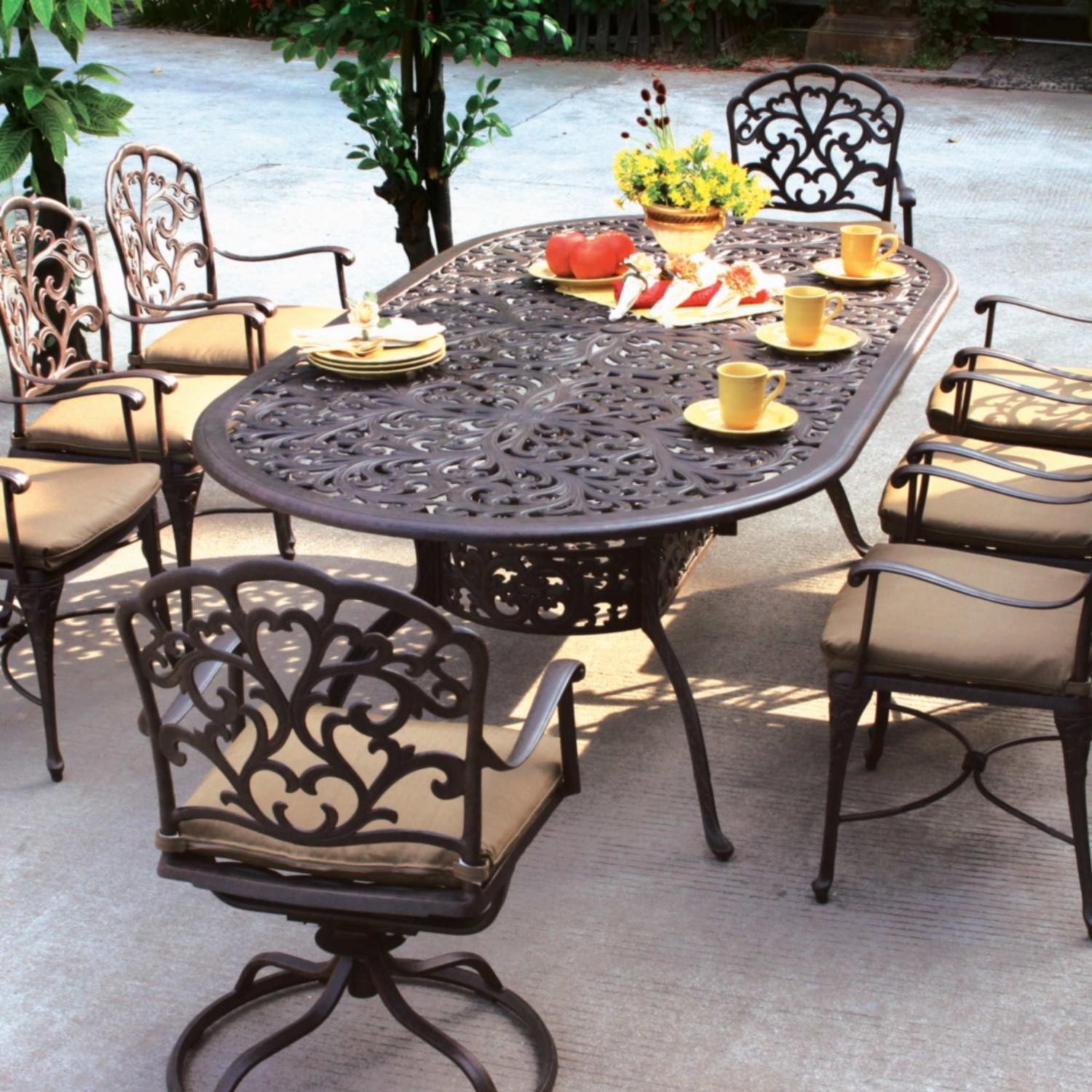 Set of patio furniture made of wrought iron and finished with sophisticated ornamentation. It consists of oval table and 8 chairs. Elegant design for the garden, patio, porch and others outdoor places according to taste.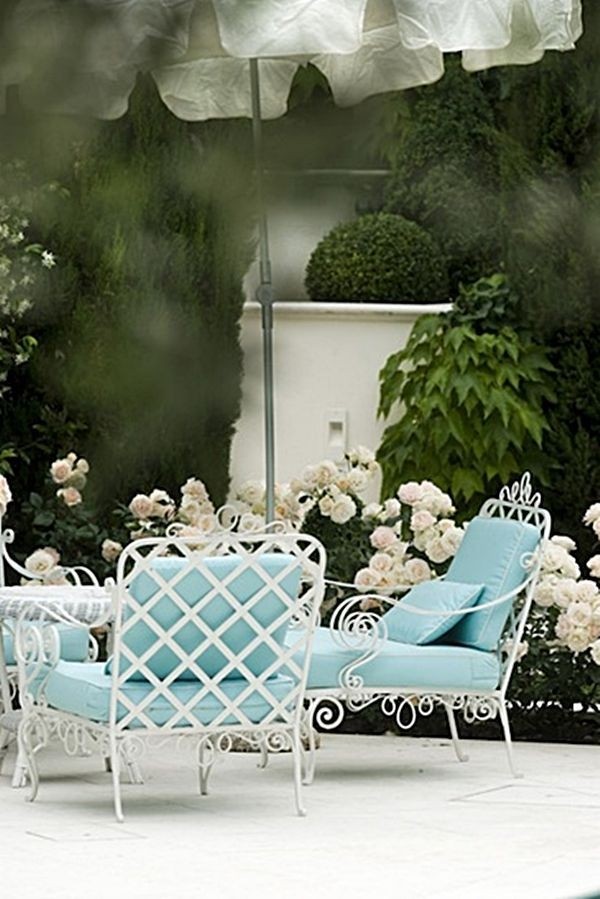 Made of formable wrought iron, this patio furniture set creates an intricate decor, ideal for the poolside or garden. The gentle, white silhouettes enchant with their curves and volutes.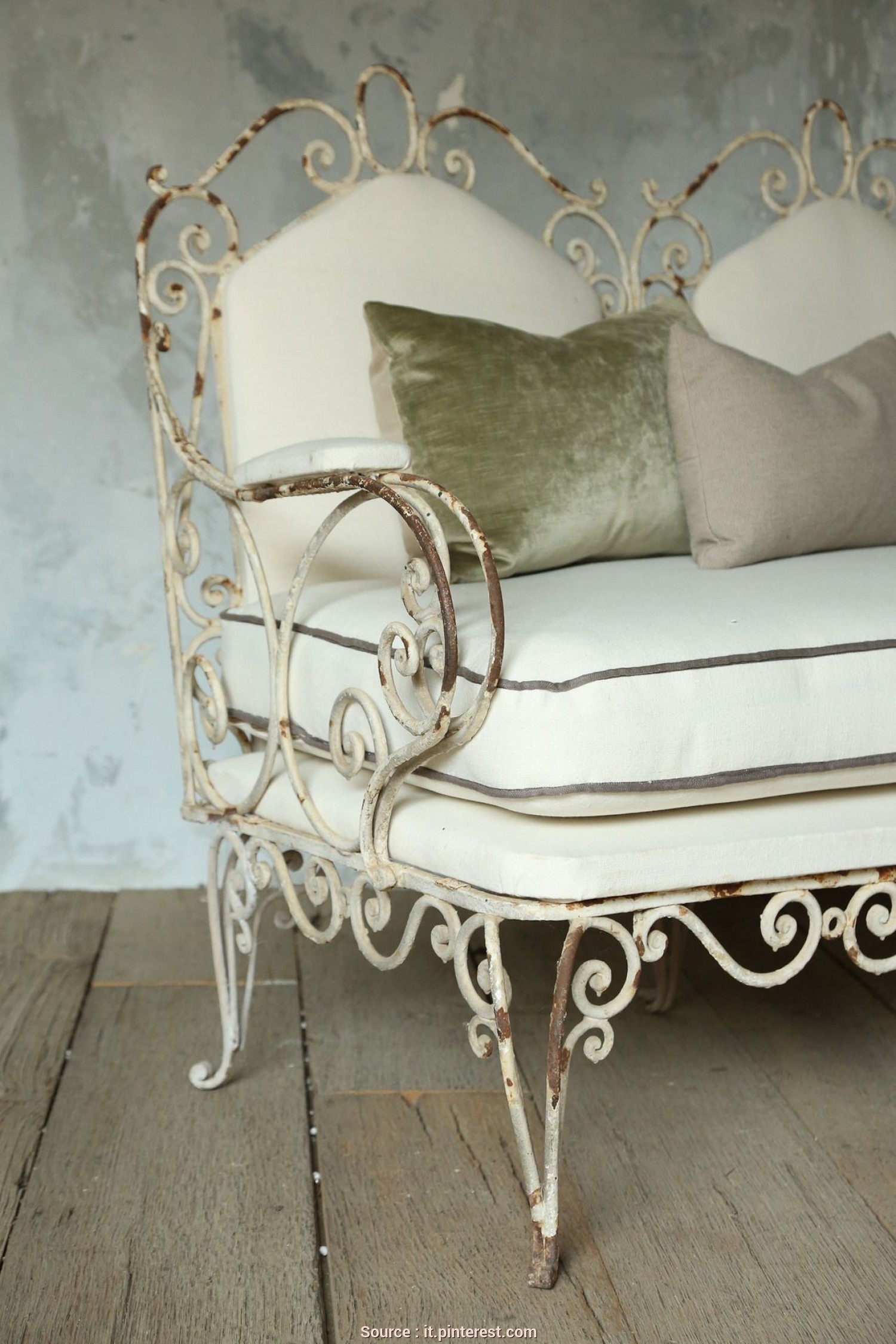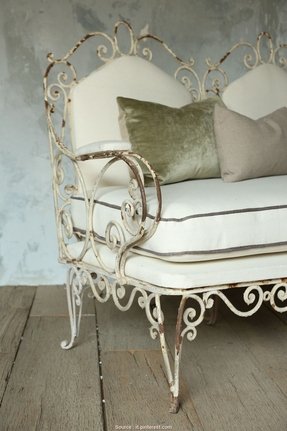 220/5000

Romanticism is often seen in the example of metal hand-built wrought iron patio benches - although iron is not at all associated with light romanticism. White metal bendable - create a bench full of flourishes and twigs.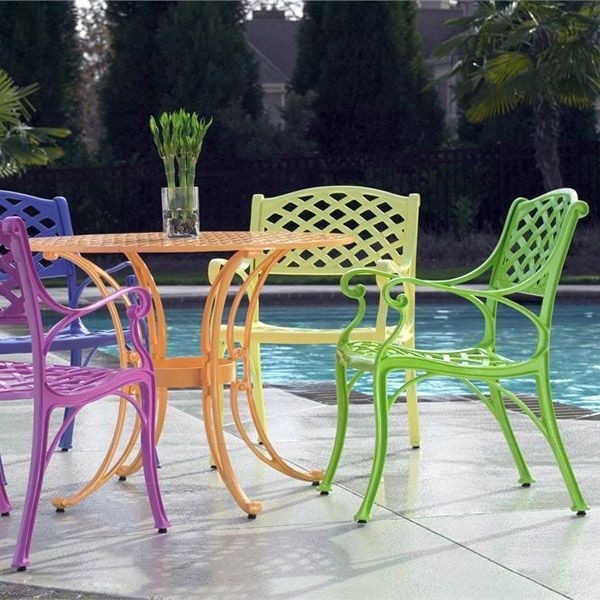 Vintage patio furniture of iron repainted in various vivid colours. A round tabletop, chairs' squarish seats and arched halfbacks feature openwork diamond design. A table has 4 bowed inwards legs. Chairs have curved splayed legs and scroll arms.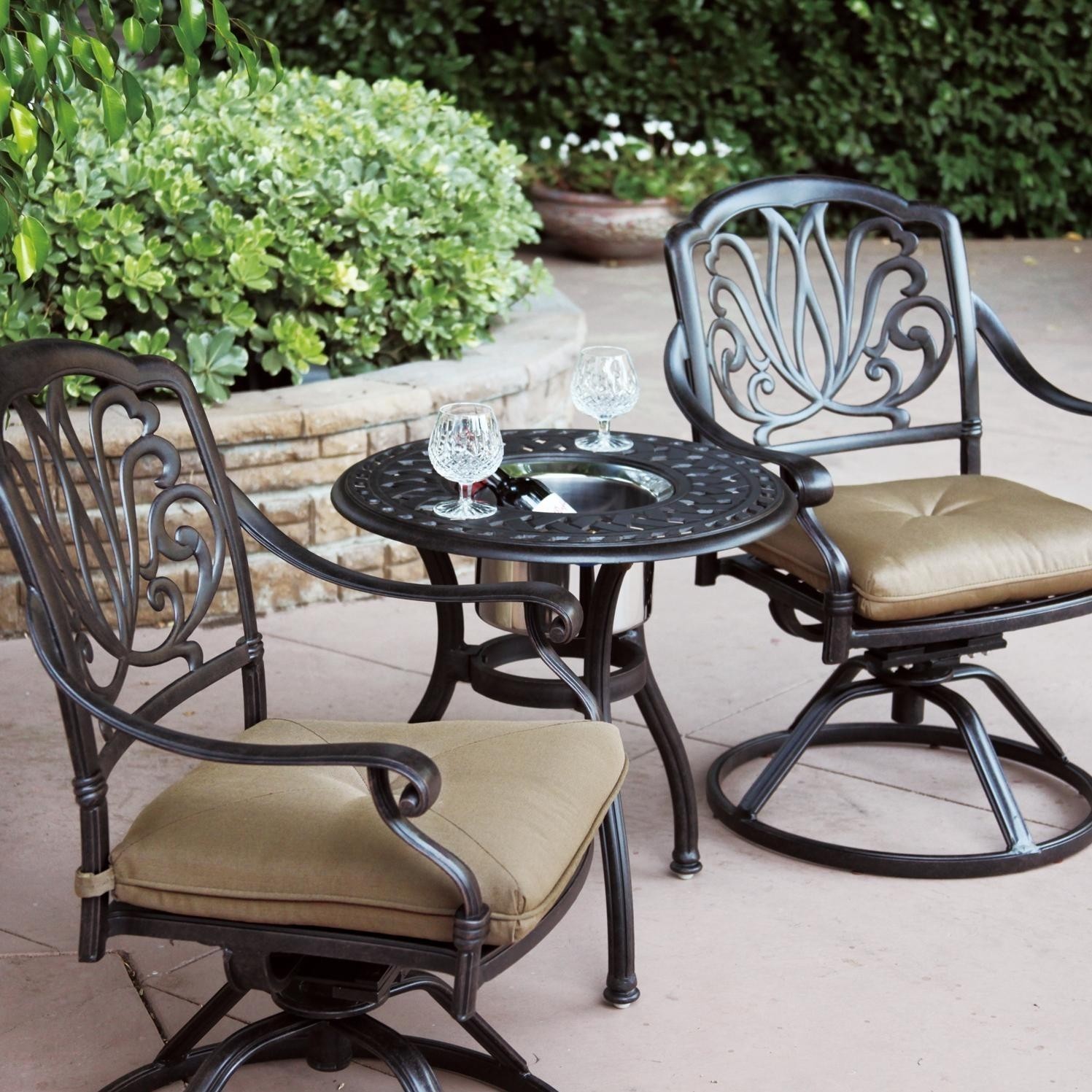 An elegant set of bronze-coated cast aluminium. Reclined swivel chairs have circular bases, square seats, sloped arms, arched backs with floral scroll. A round table has 3 S-like legs and an ice bucket for chilling drinks. Cushions are of polyester.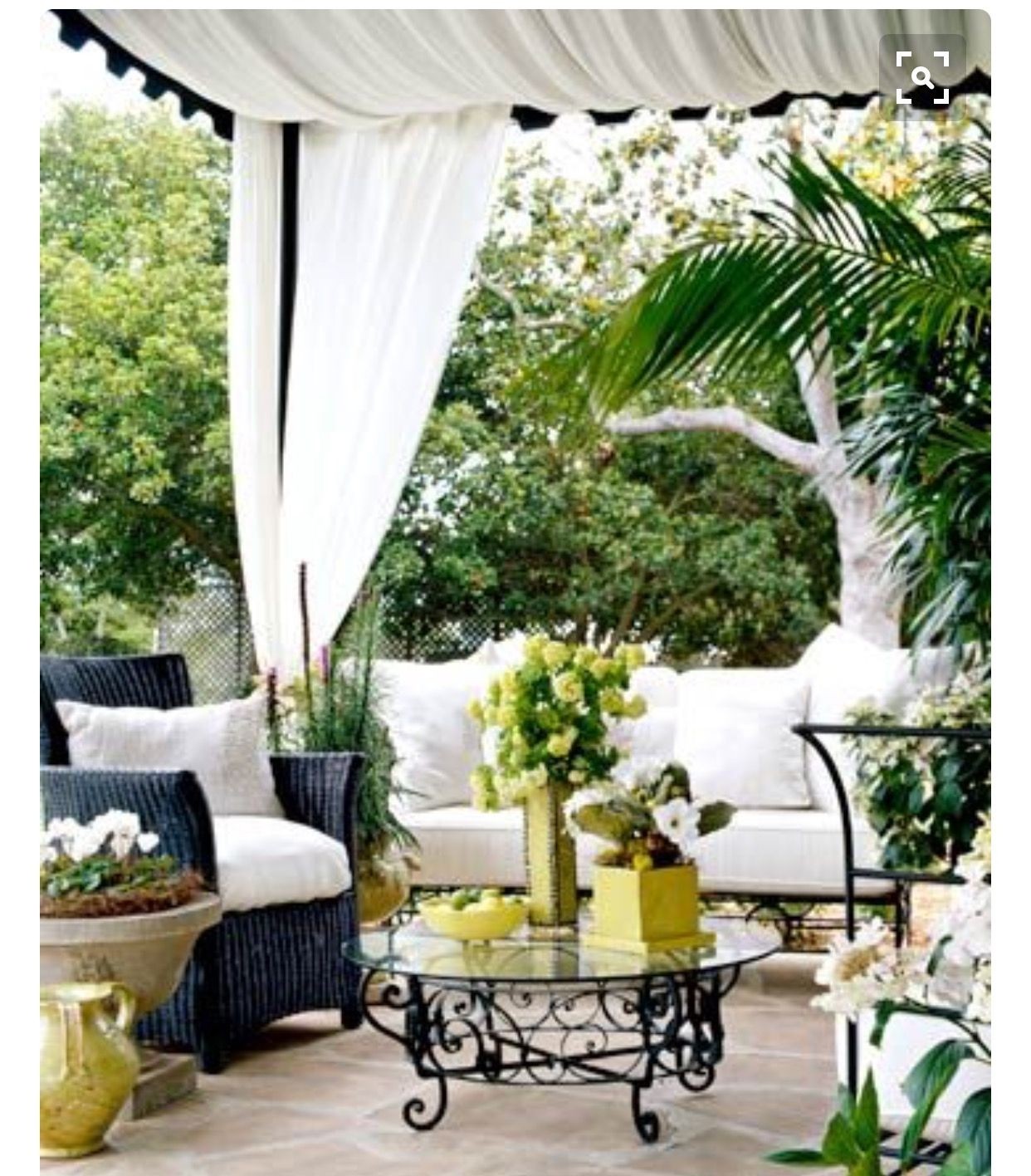 Feel like you are in a Tuscan garden full of flowers, flowers and strong solid garden furniture made of wrought iron. In this case, in the black color, they emphasize the patio, where the main iron coffee table set plays a major role.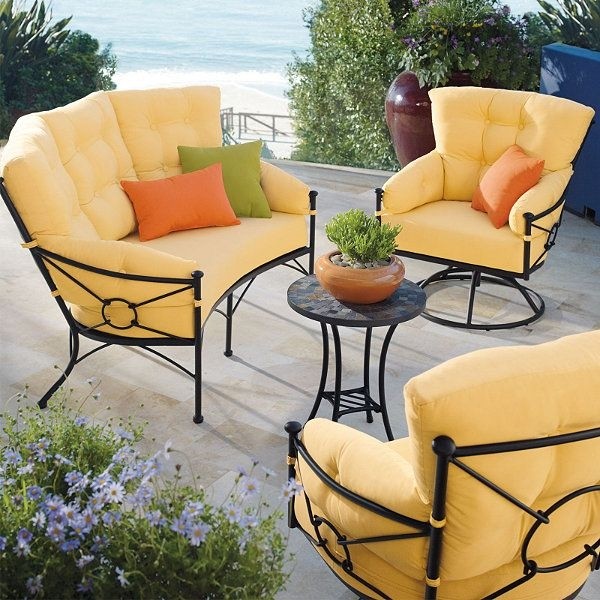 Kennedy Outdoor Seating in Cornsilk, the color of the sunshine. Solid wrought-iron furniture with indulgent cushioning - perfect for an afternoon with friends on the patio.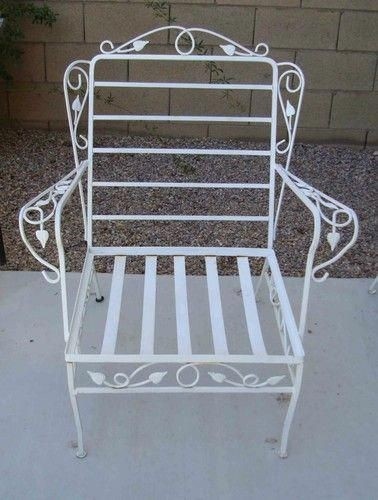 Outdoor chair with a nice classic design inspired by 1960s. This element of outdoor furniture is made of solid wrought iron finished in neutral white color. The chair is durable and includes some decorative accents.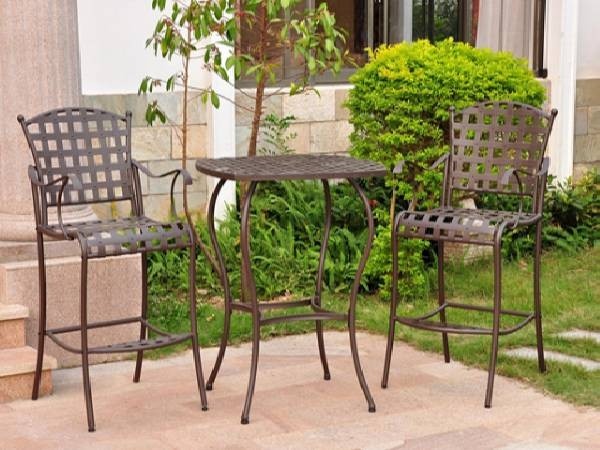 This set includes high quality pieces of furniture designed for an outdoor application. The table and two chairs feature metal frames with a matte brown finish. They are resistant to many negative factors.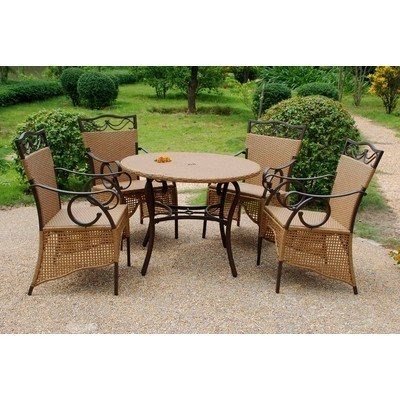 Wicker design is never out of fashion, and this handsome dining set is a beautifying outdoor accent. Taupe wicker elements are fine, but curly detailing is even better - the whole is more visually interesting.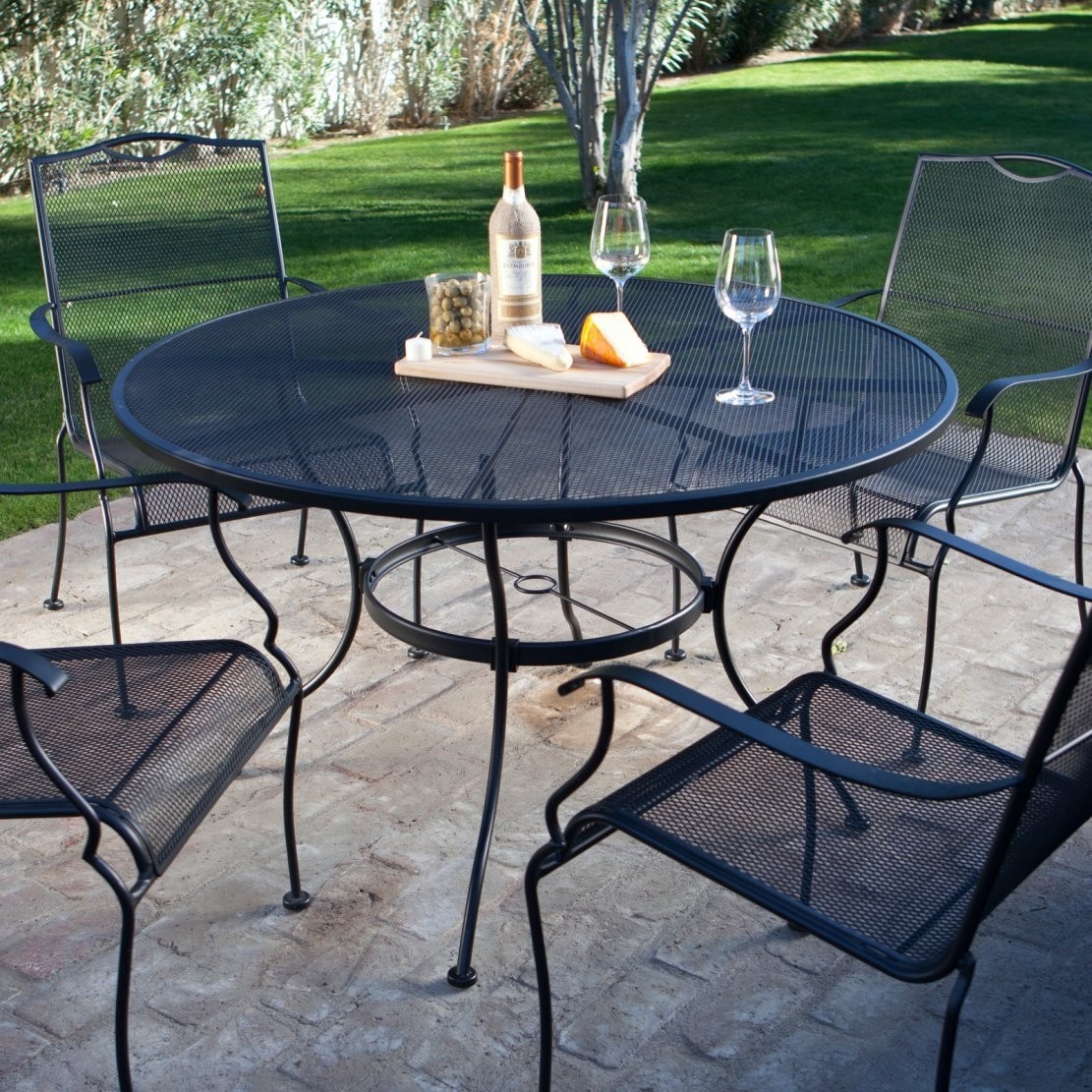 5-Piece Wrought Iron Patio Furniture Dining Set - Seats 4 ...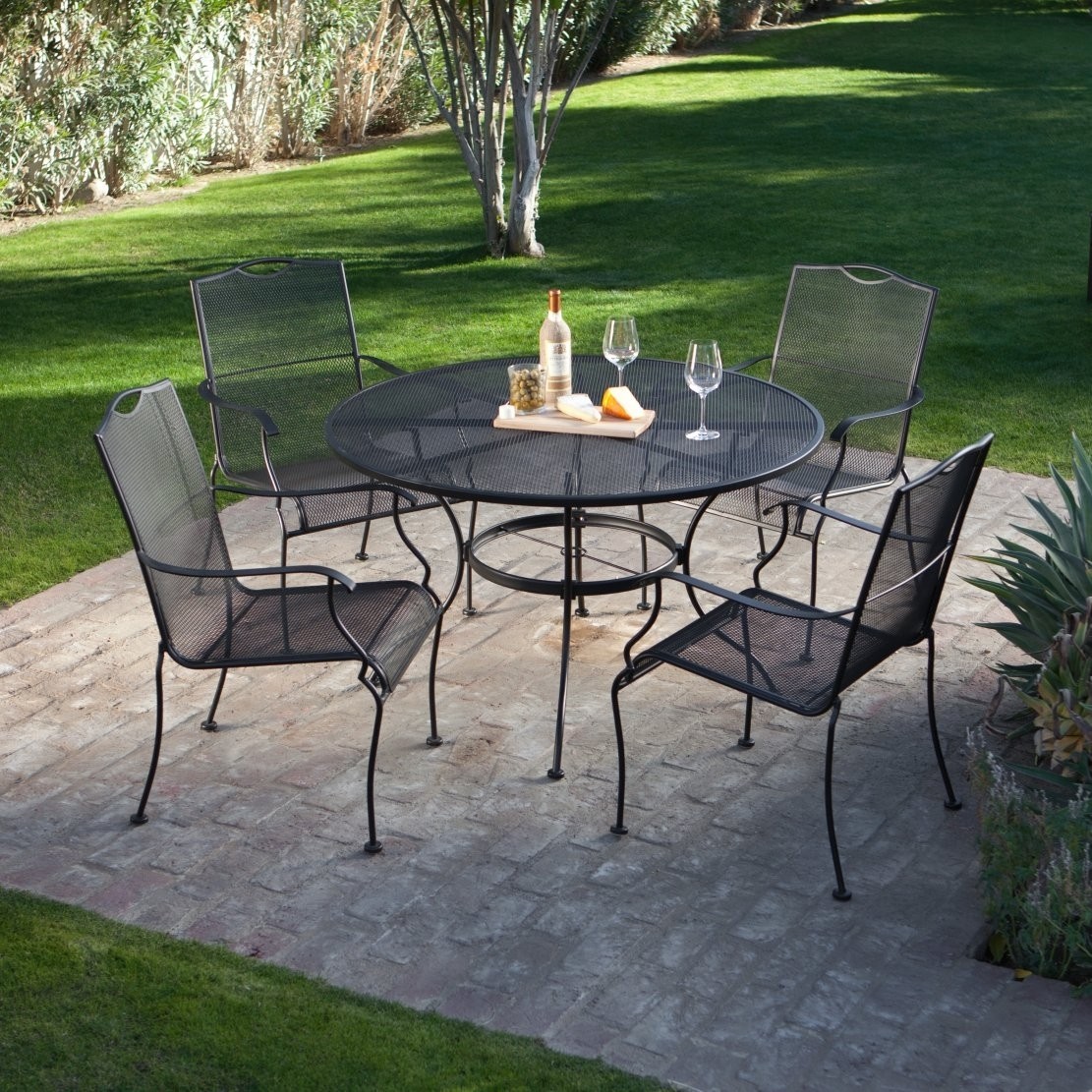 5-Piece Wrought Iron Patio Furniture Dining Set - Seats 4 ...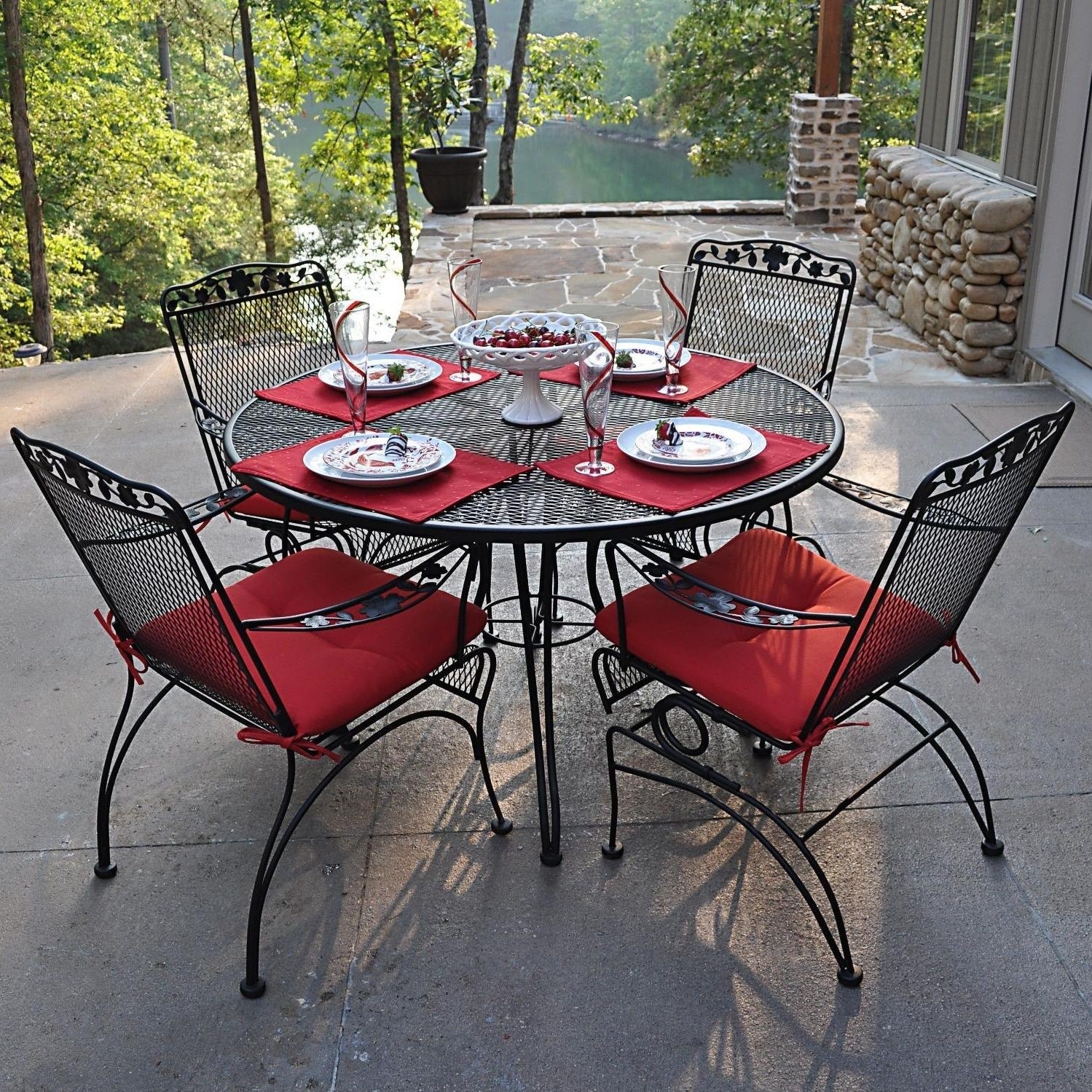 Awesome Wrought Iron Patio Furniture | Iron patio ...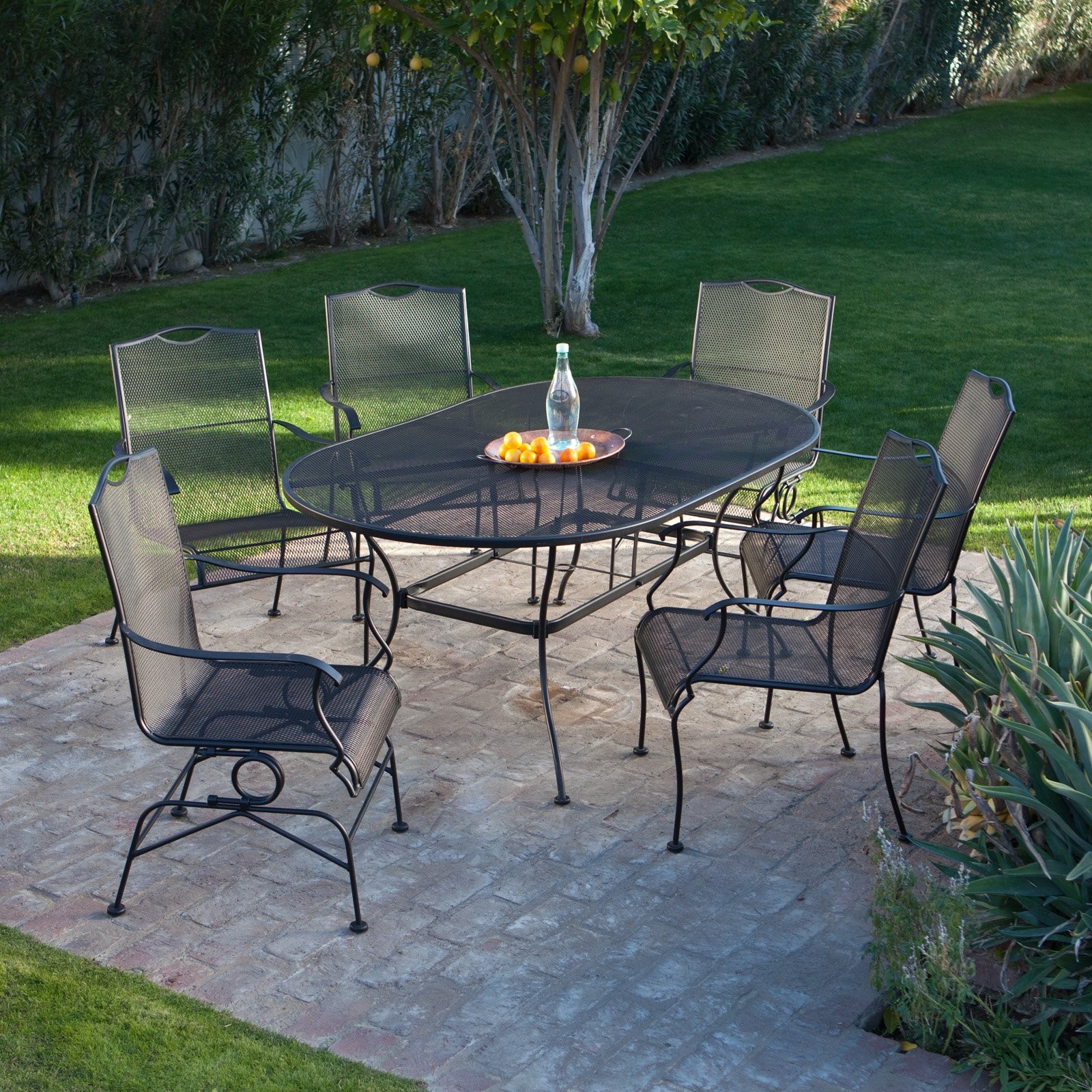 Meadowcraft Dogwood Wrought Iron Chaise Lounge Patio ...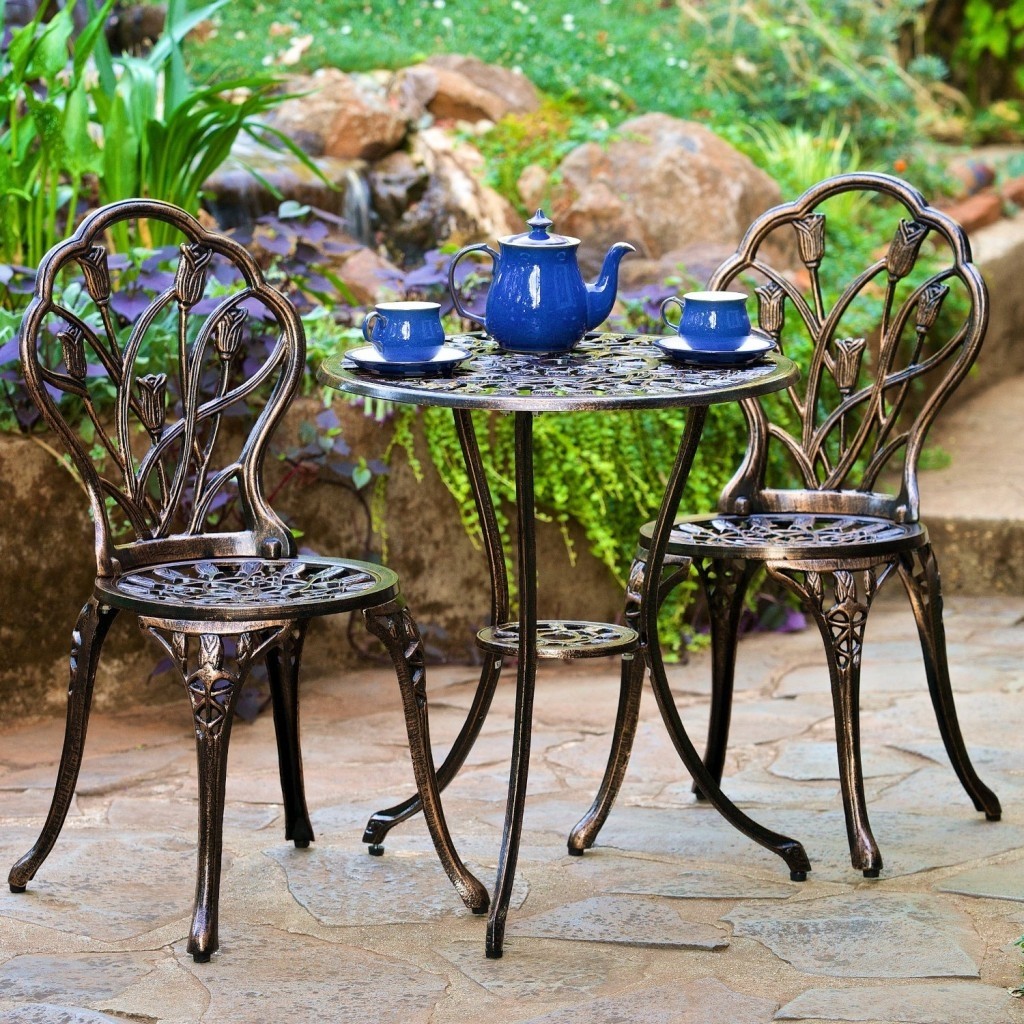 Wrought Iron Patio Furniture | The Garden and Patio Home Guide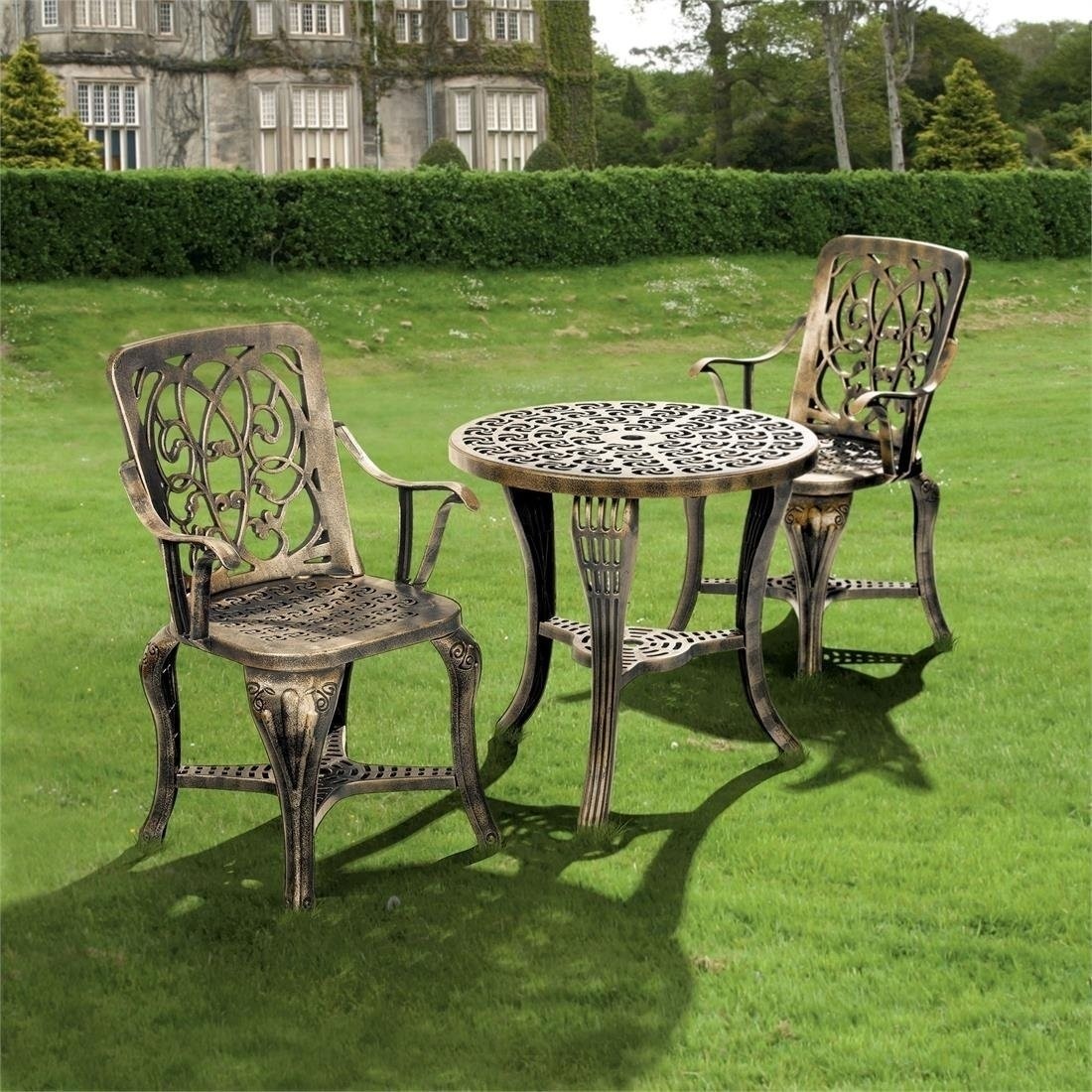 Wrought Iron Patio Set In Sophisticated Look The Black ...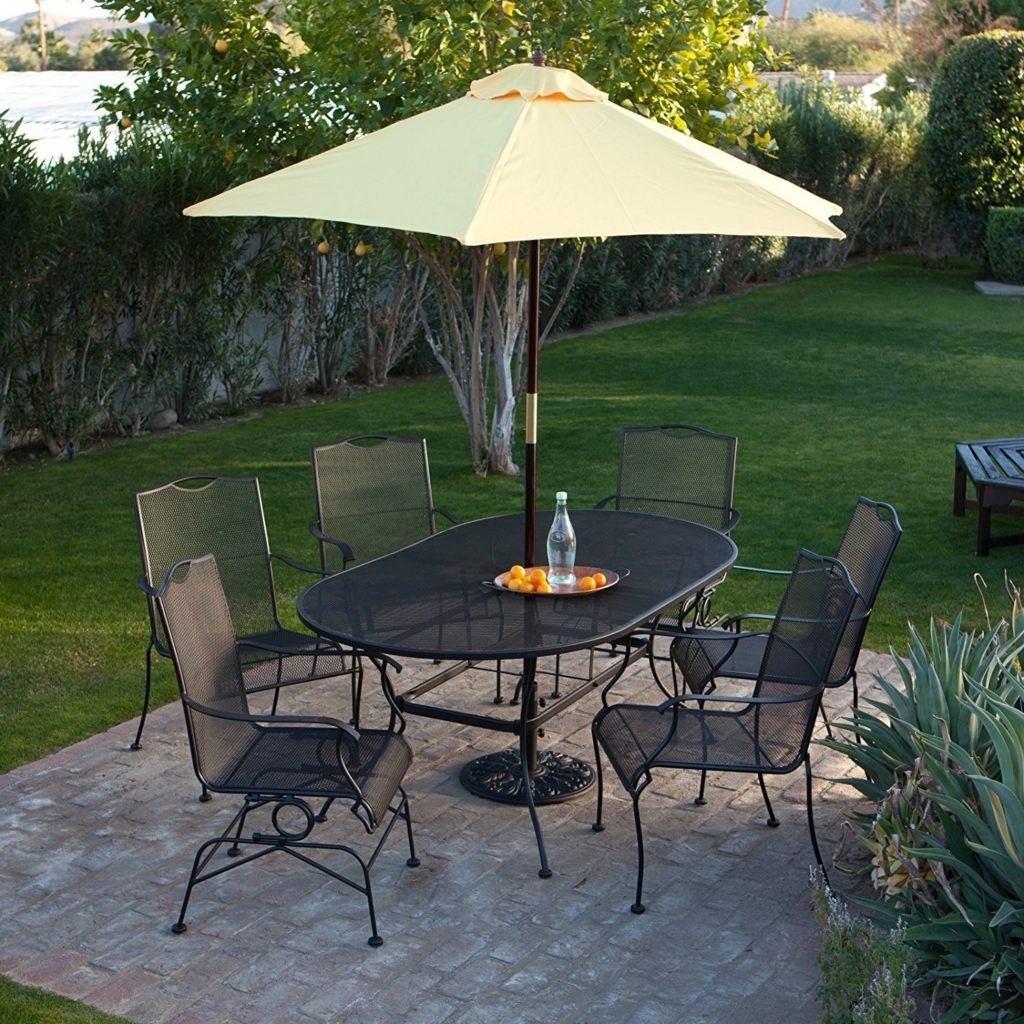 Wrought Iron Patio Furniture | The Garden and Patio Home Guide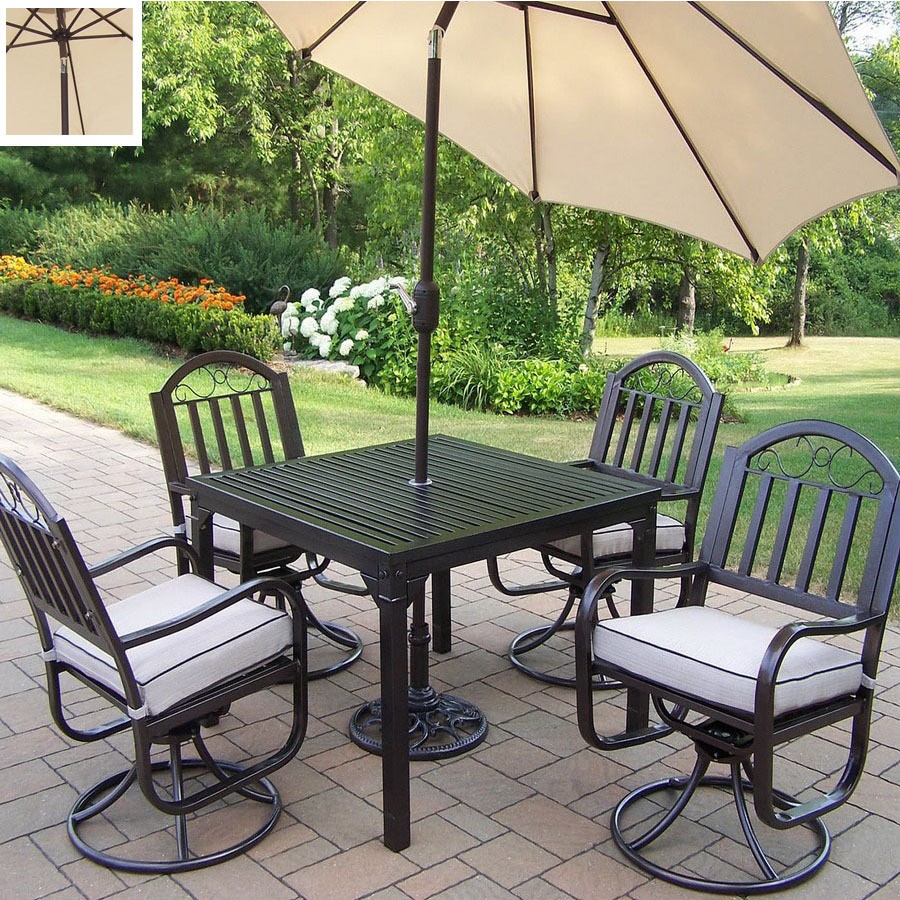 Shop Oakland Living 5-Piece Cushioned Wrought Iron Patio ...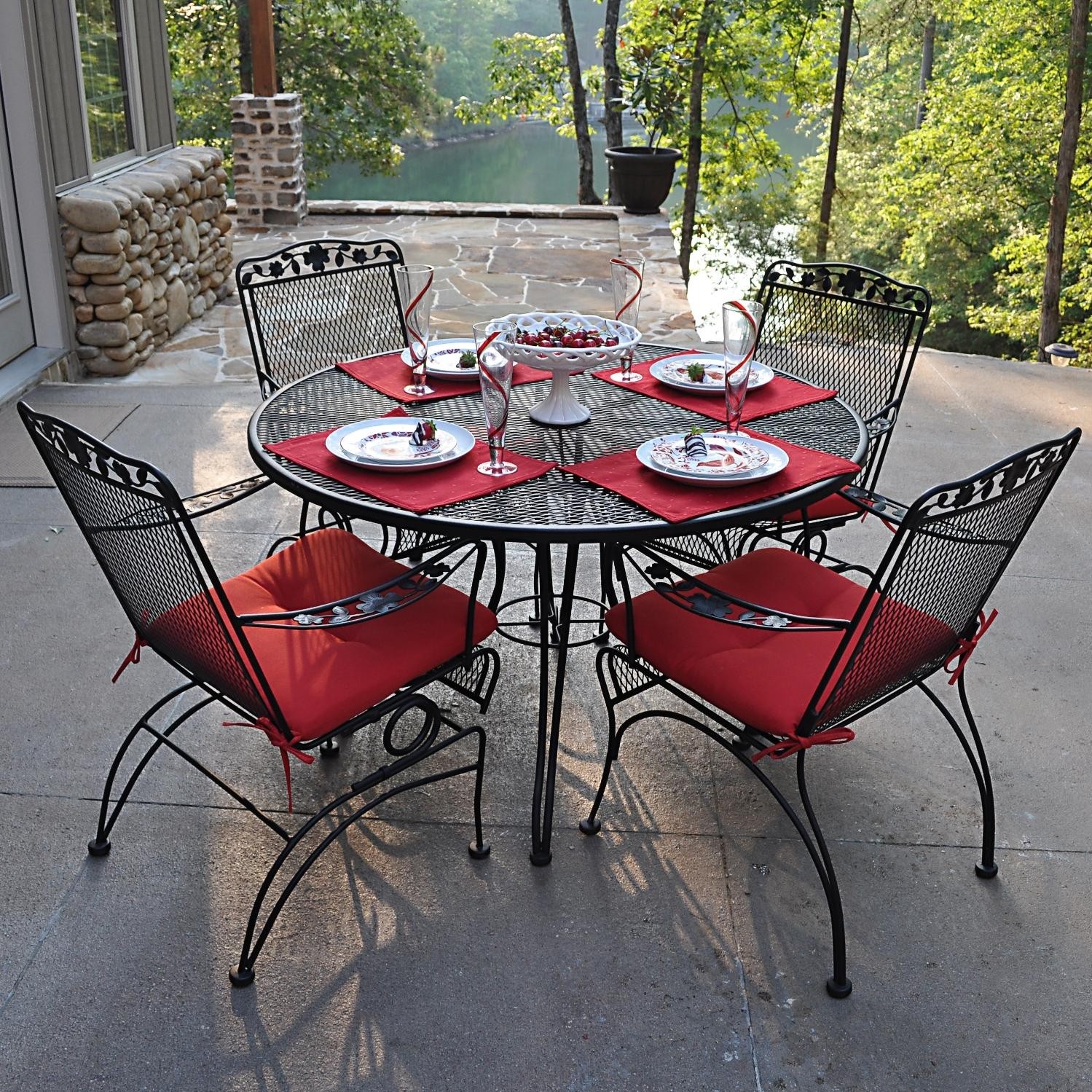 Rod Iron Patio Set |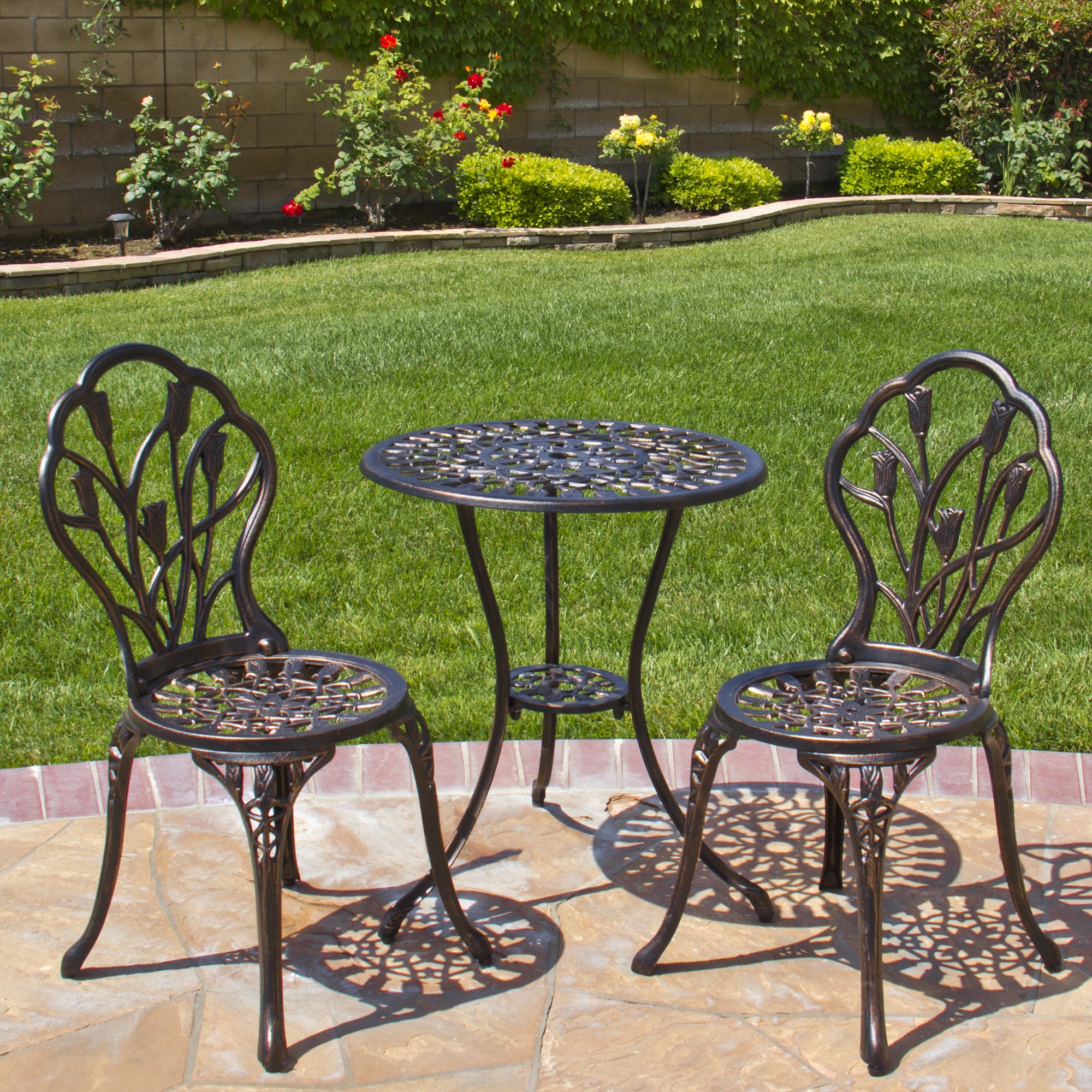 Furniture Cheap Wrought Iron Patio Sets Black Dining ...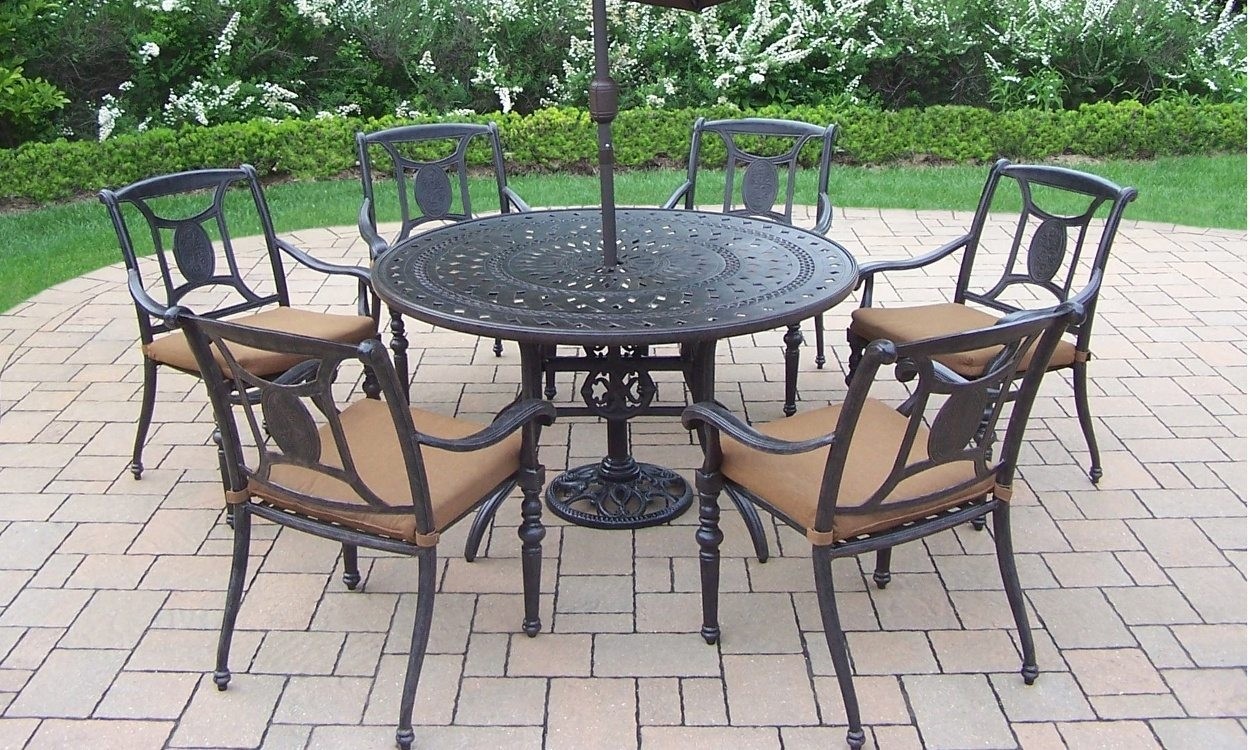 How to Clean Wrought-Iron Patio Furniture -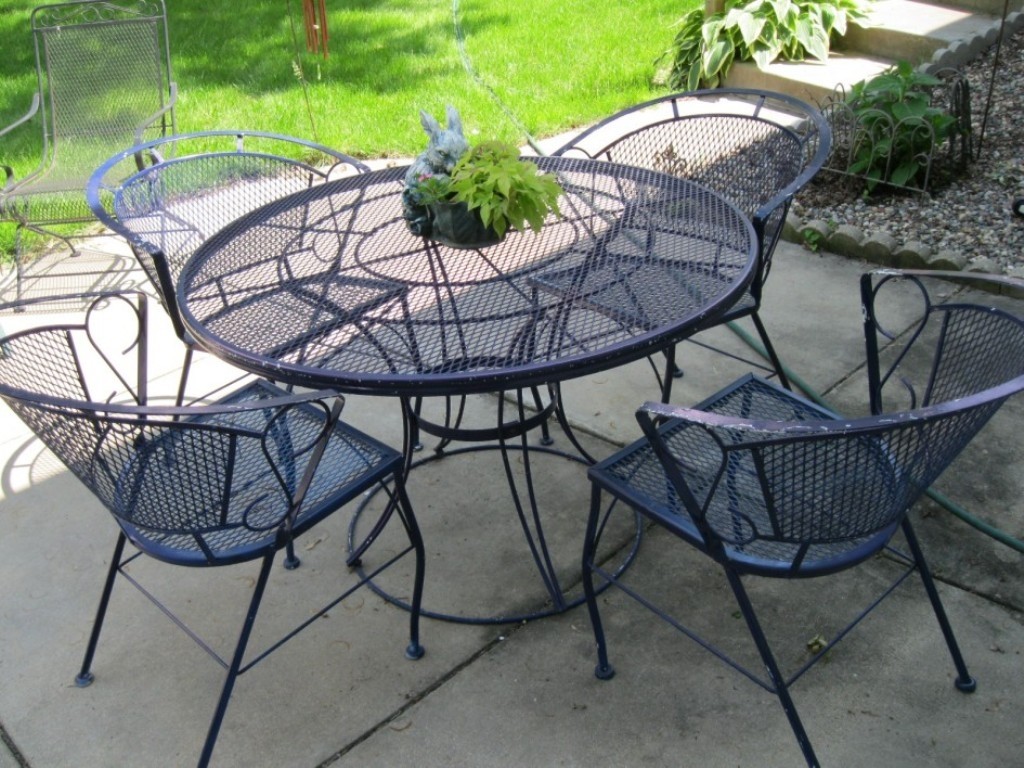 Black Wrought Iron Patio Furniture Sets | Belezaa ...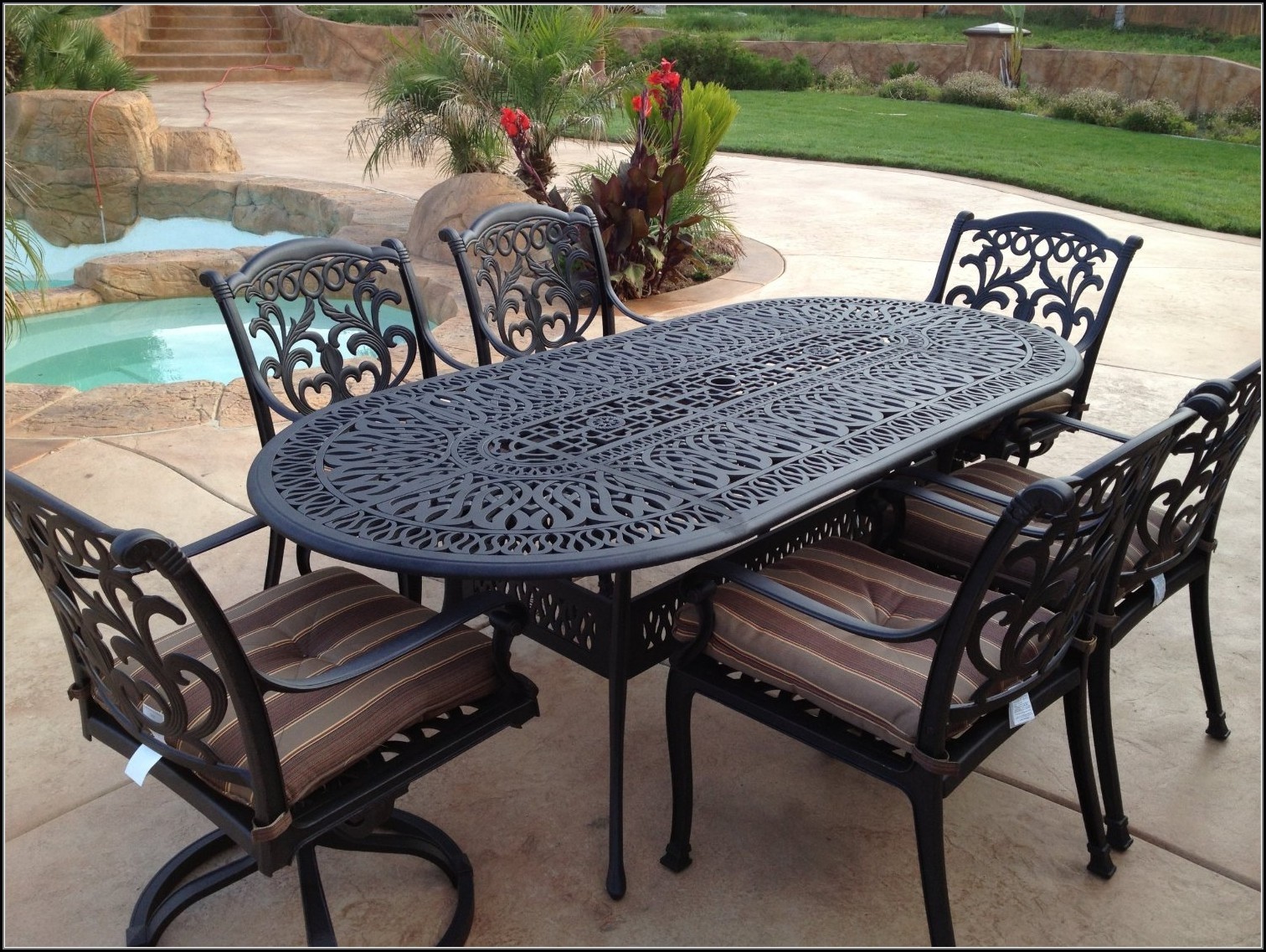 Vintage Salterini Wrought Iron Table And Chairs In Powder ...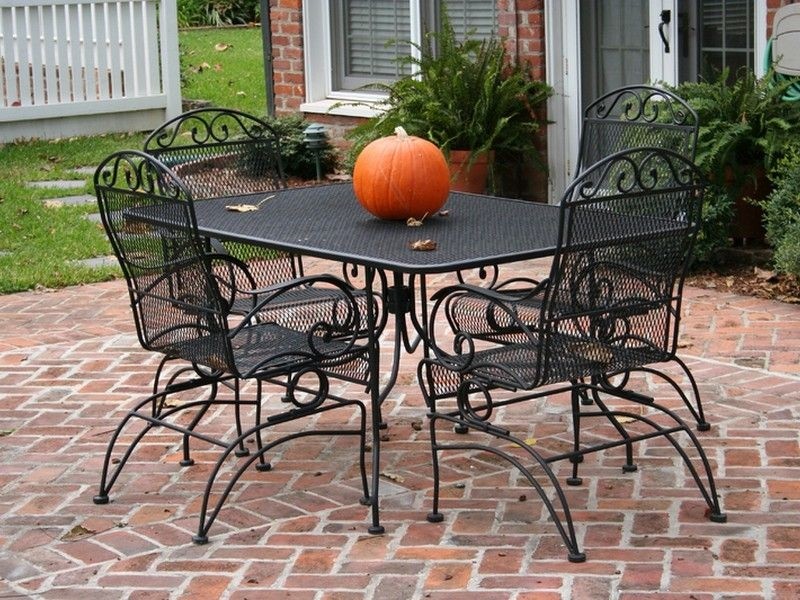 Wrought Iron Patio Furniture Lowes | Iron patio furniture ...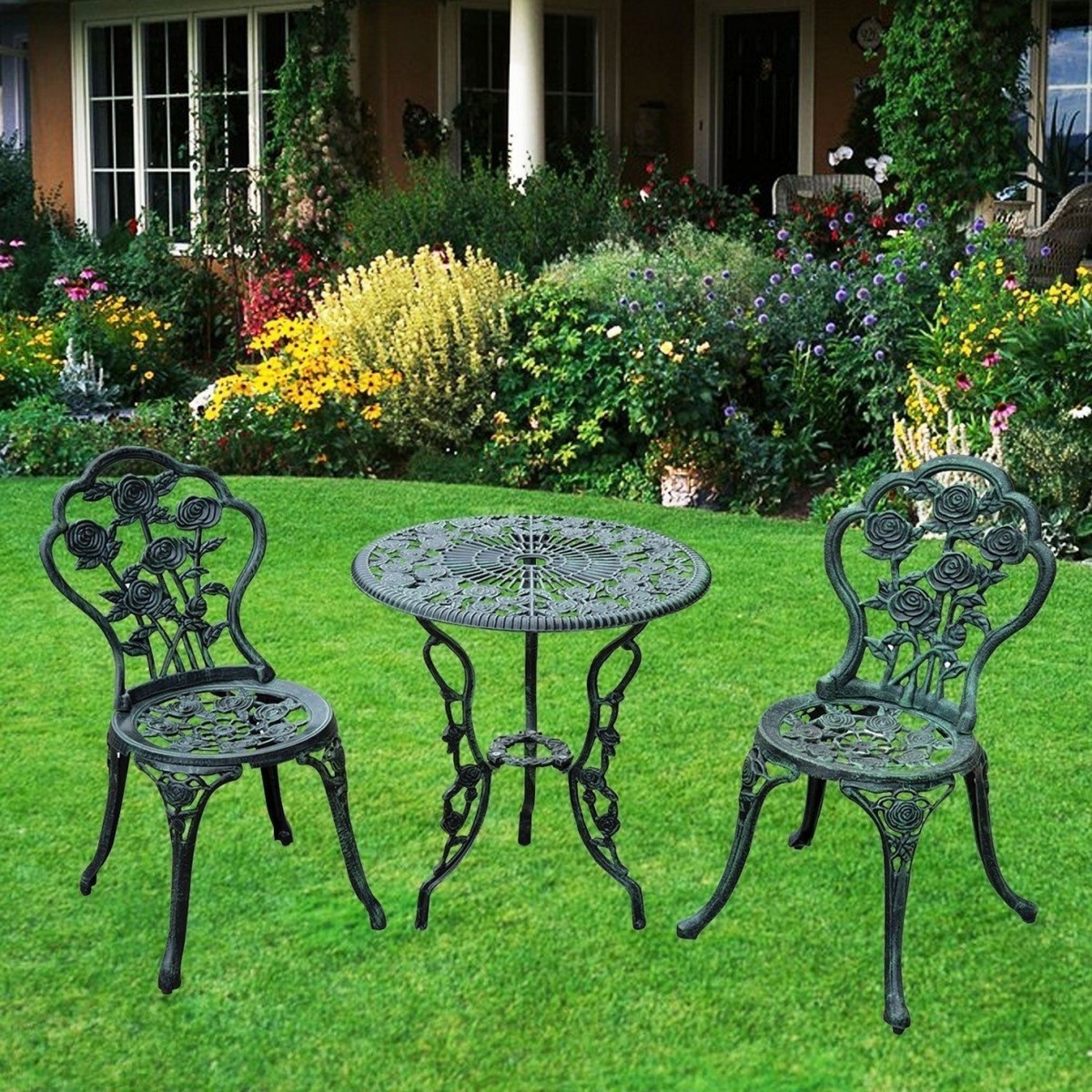 Vintage Wrought Iron Patio Furniture Sets Designs Ideas ...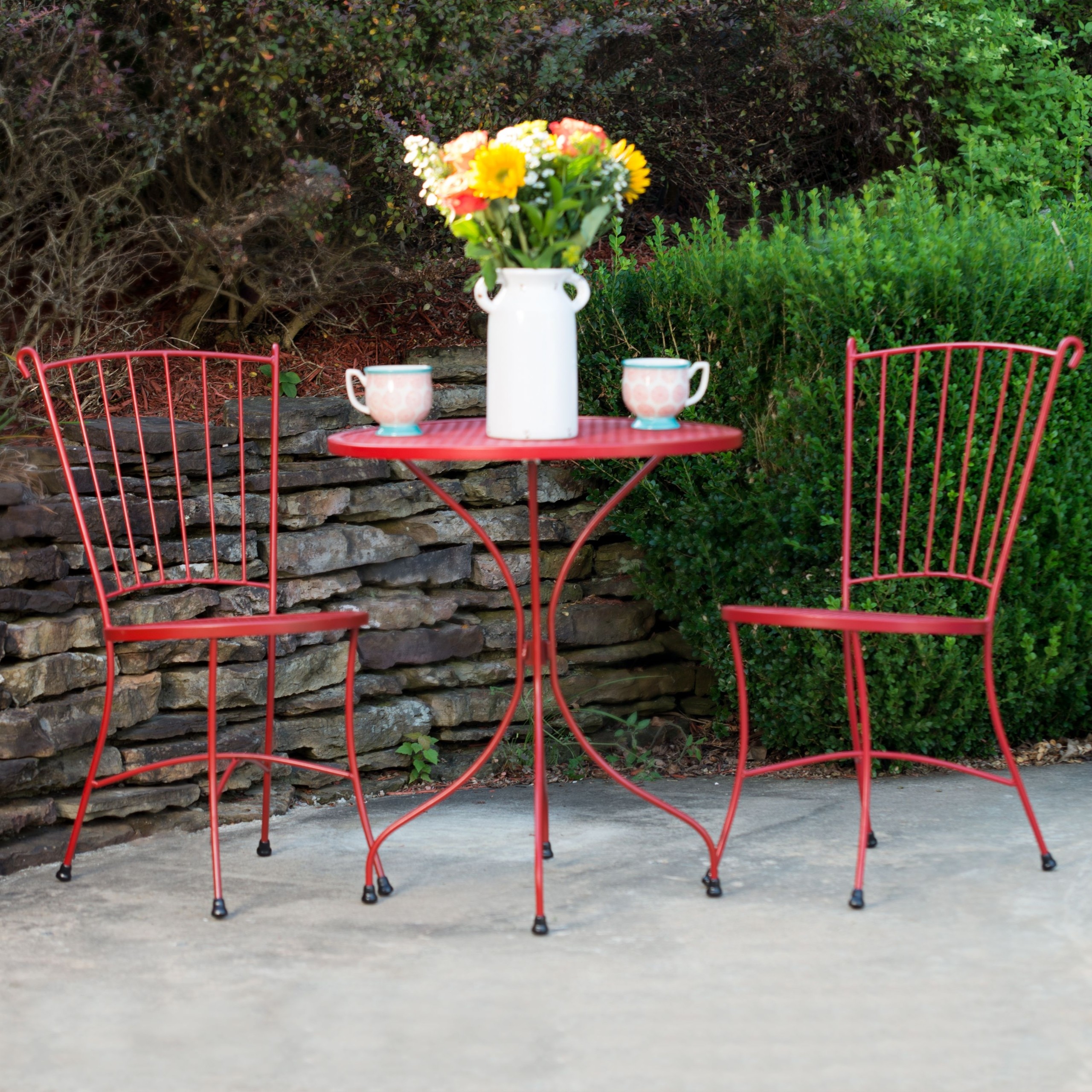 Arlington House Wrought Iron Outdoor 3 Pc Bistro Set, Red ...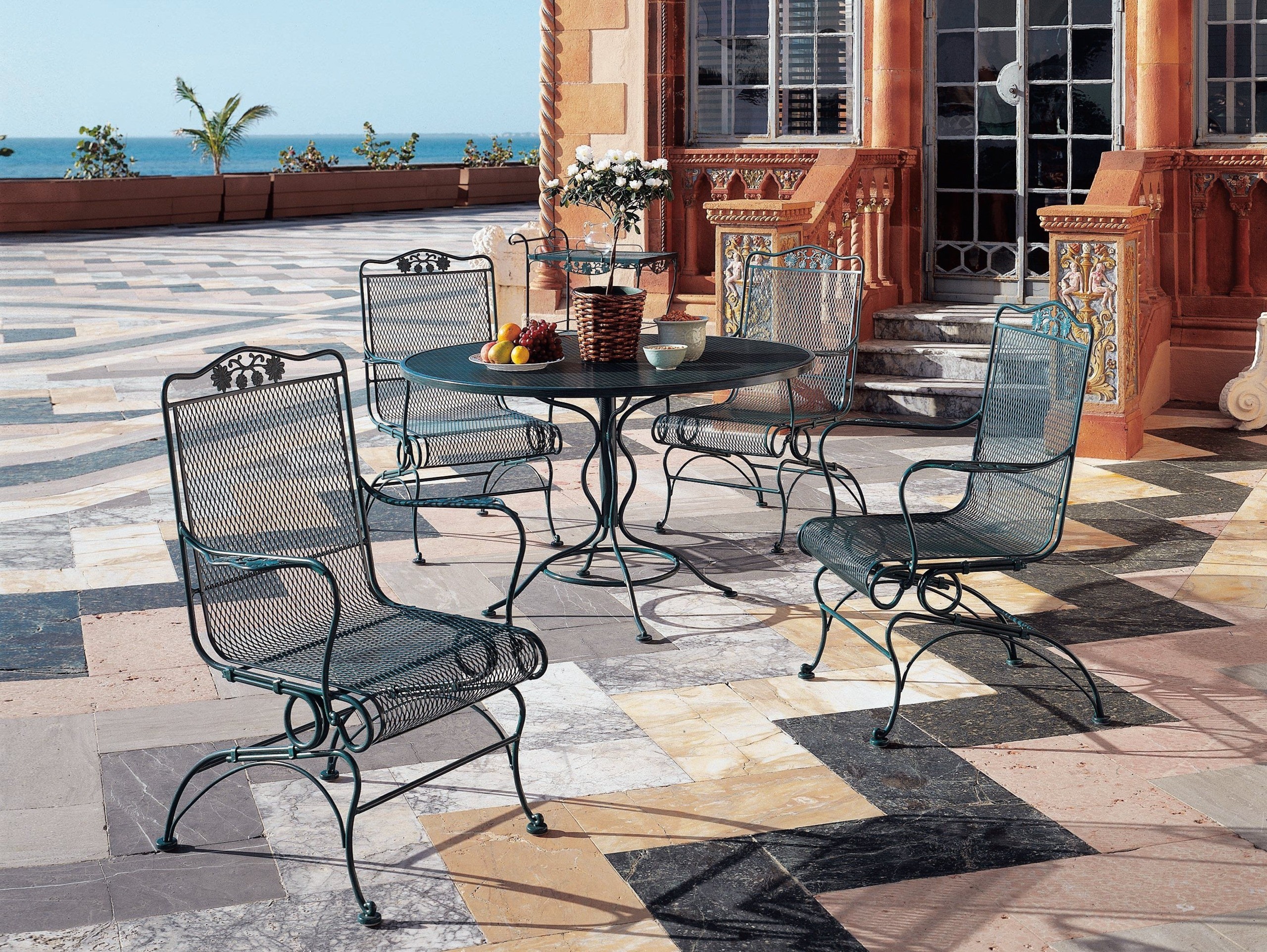 Woodard Briarwood Wrought Iron Dining Set | Patio, Patio ...