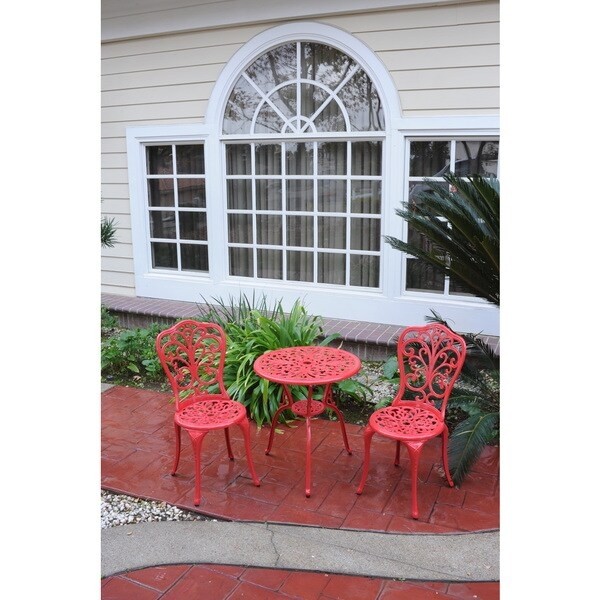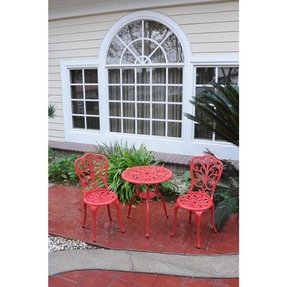 Somette red daisy cast aluminum outdoor 3 piece bistro set
Bistro set for indoor and outdoor use. It consists of round table and 2 chairs. It is made of cast aluminum and finished with elegant pattern. Suitable for residential and commercial use.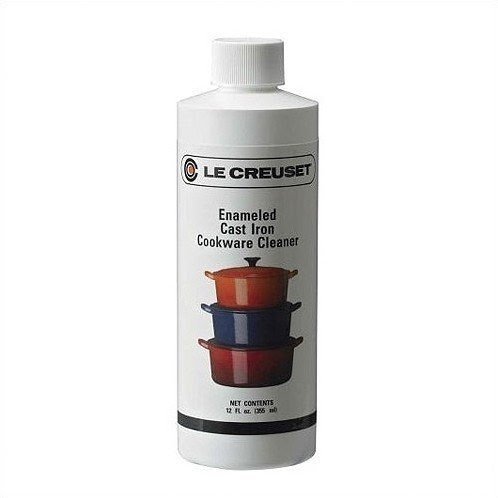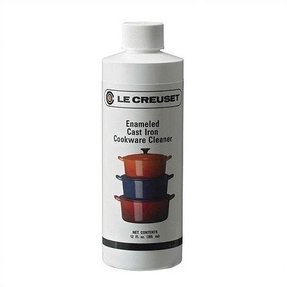 Cast Iron Cookware Cleaner
Cleaner dedicated to enamelled cookware made of cast iron. Convenient and liquid forumla allows to easy cleaning. It consists of fully biodegradable components.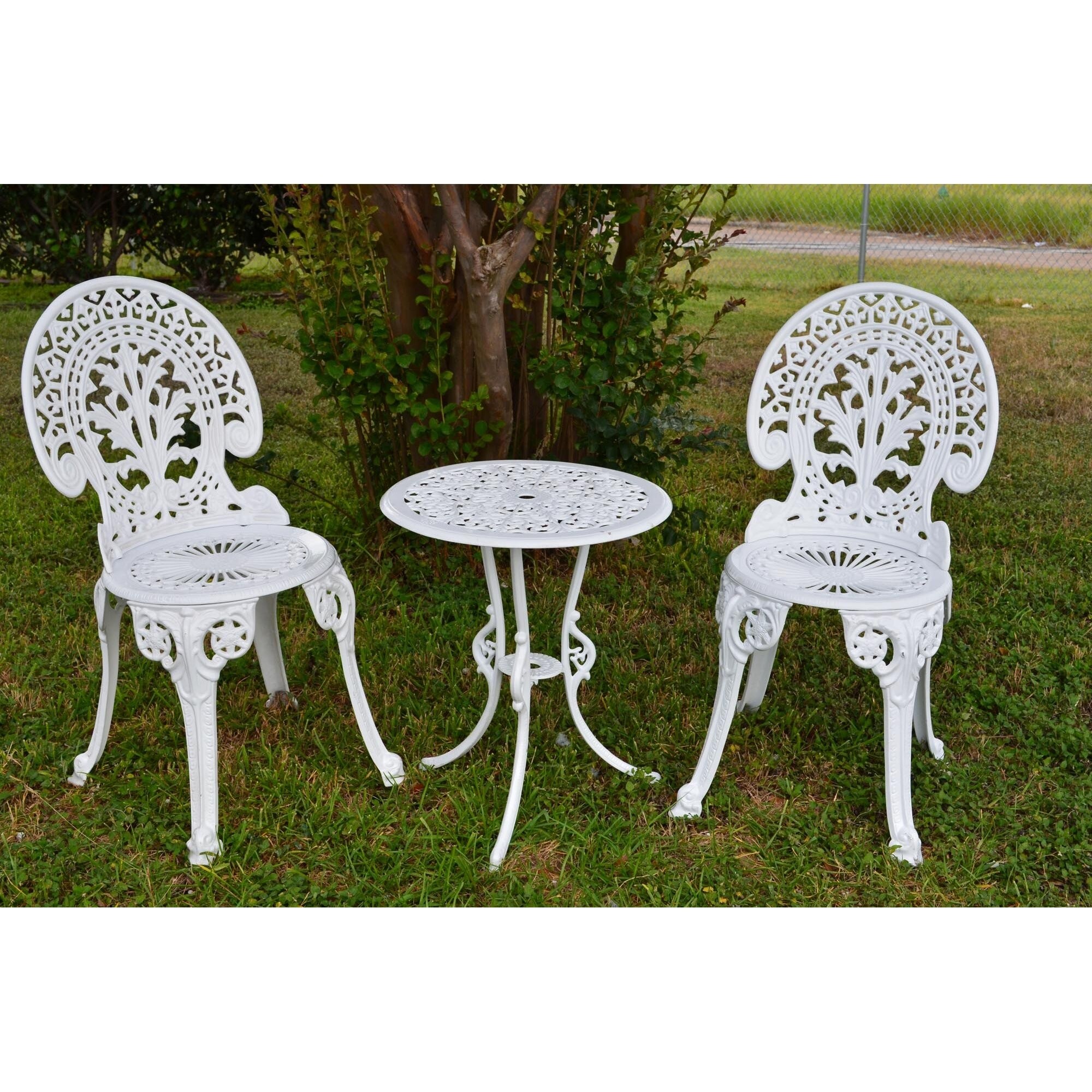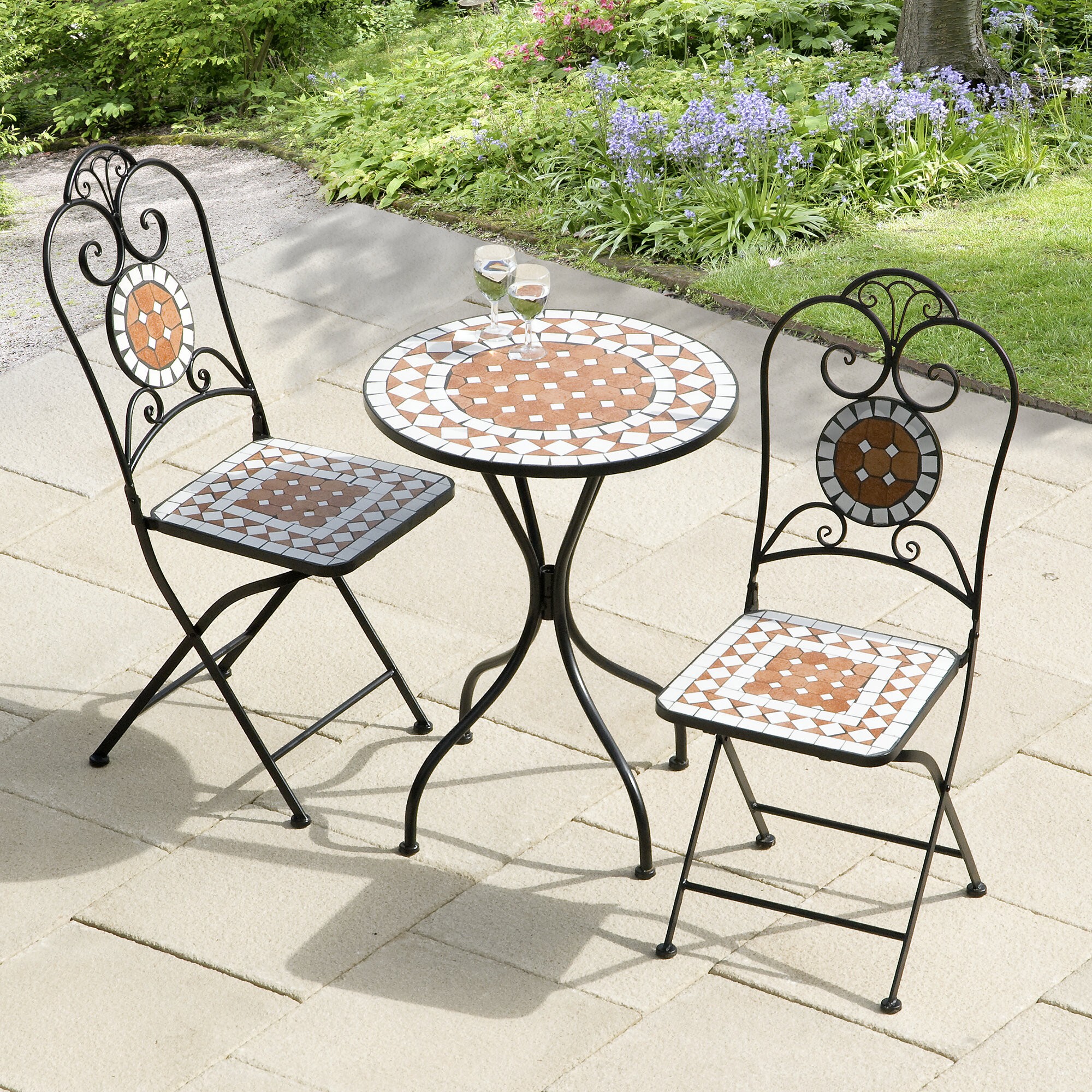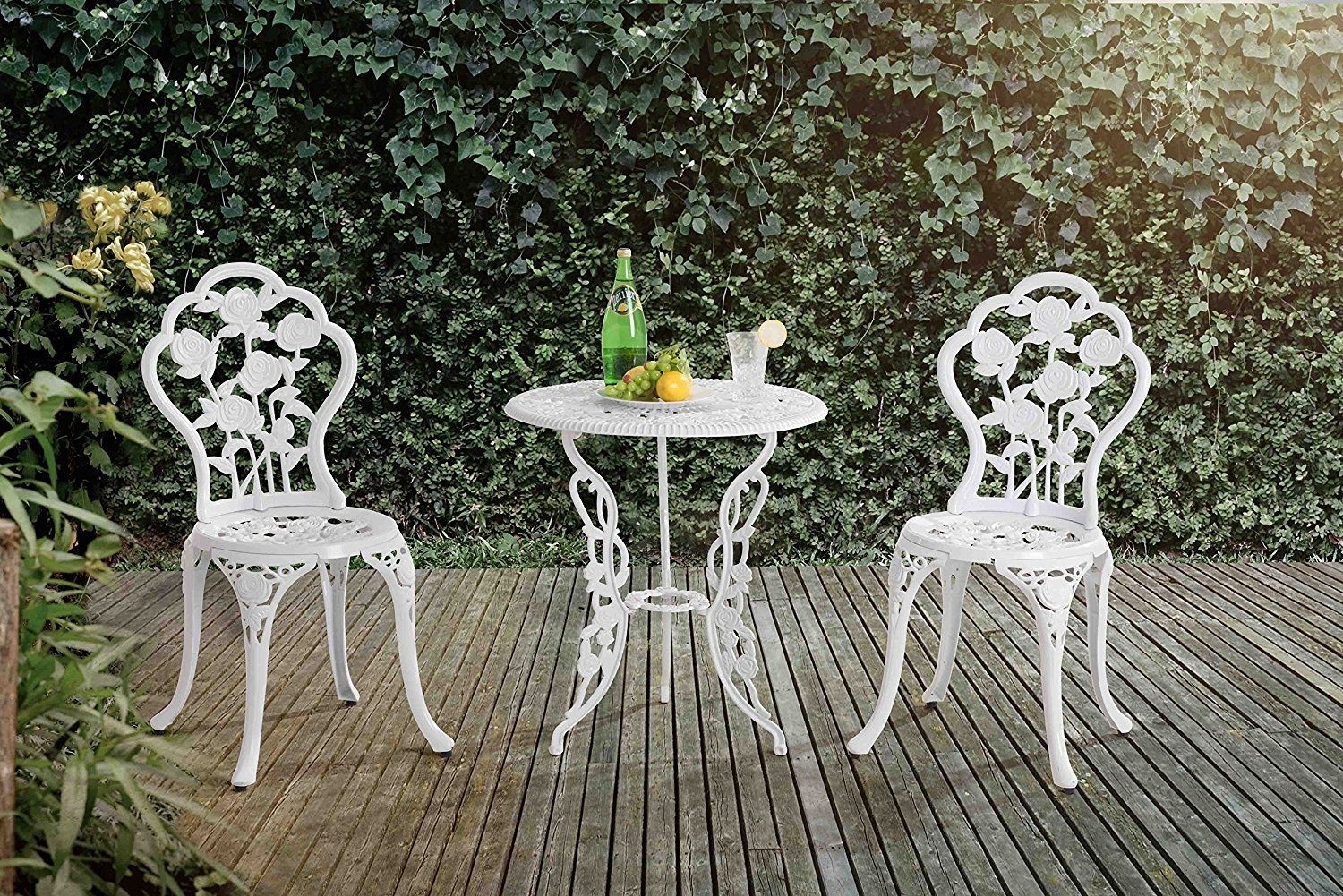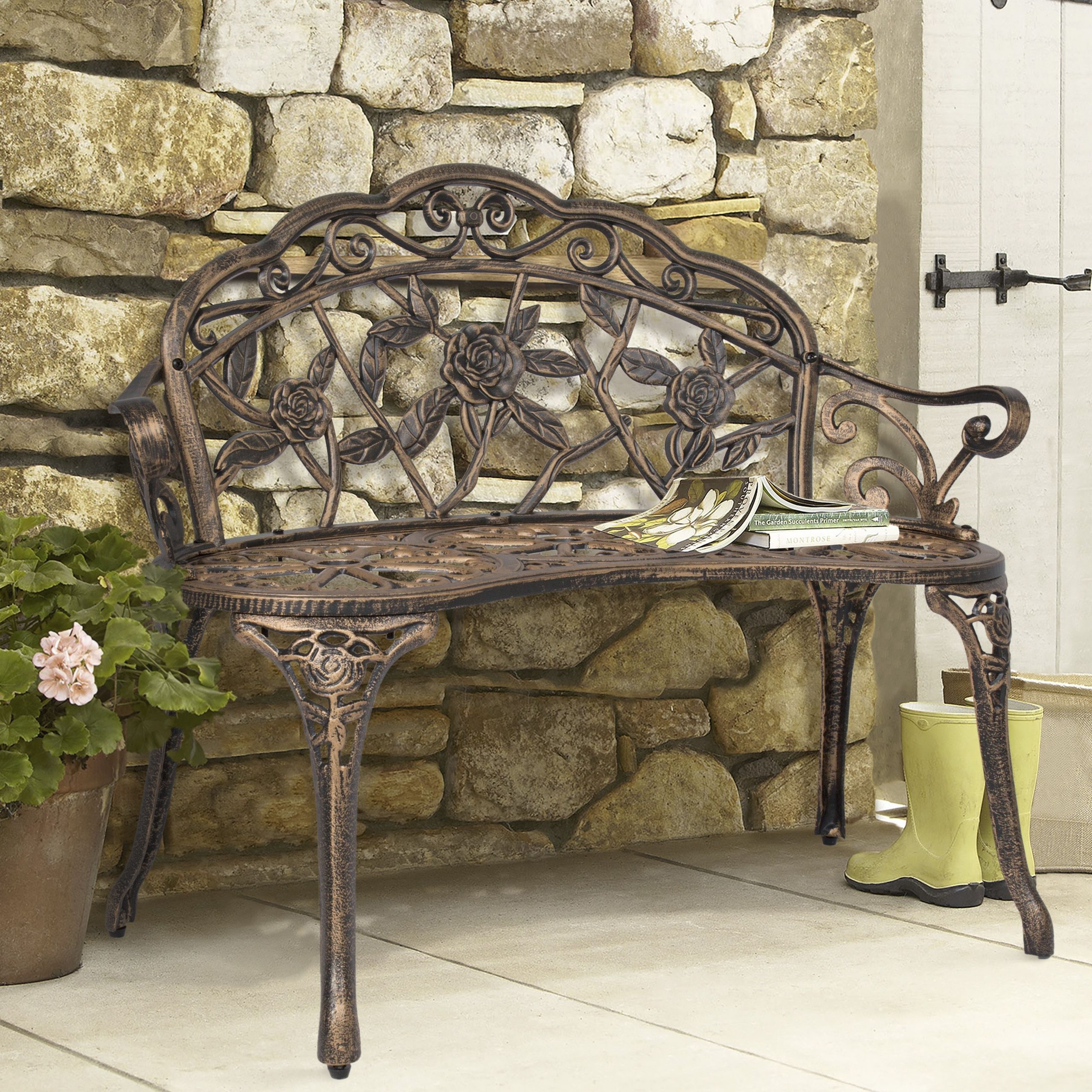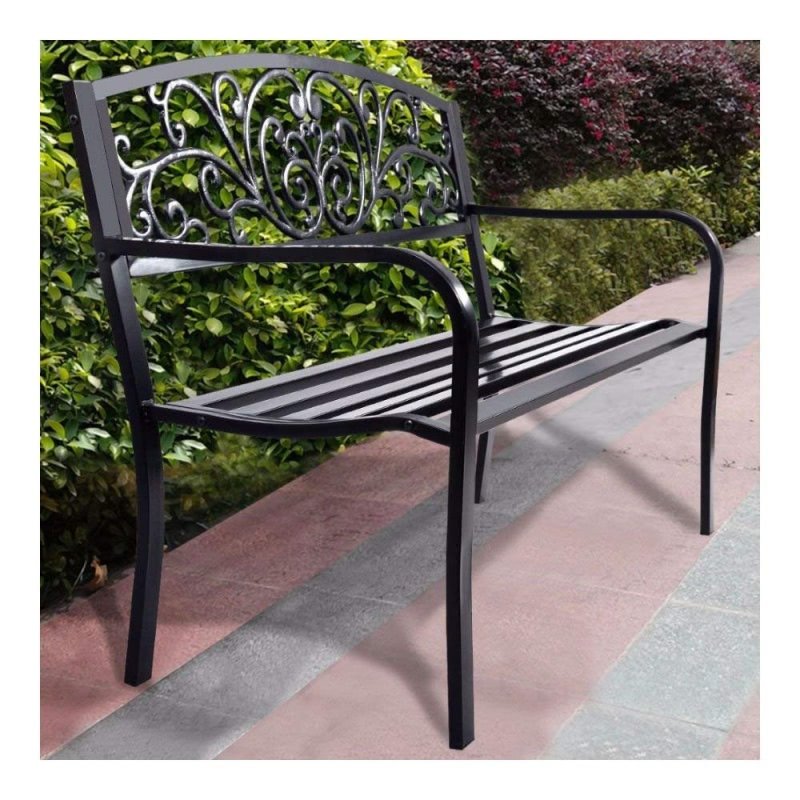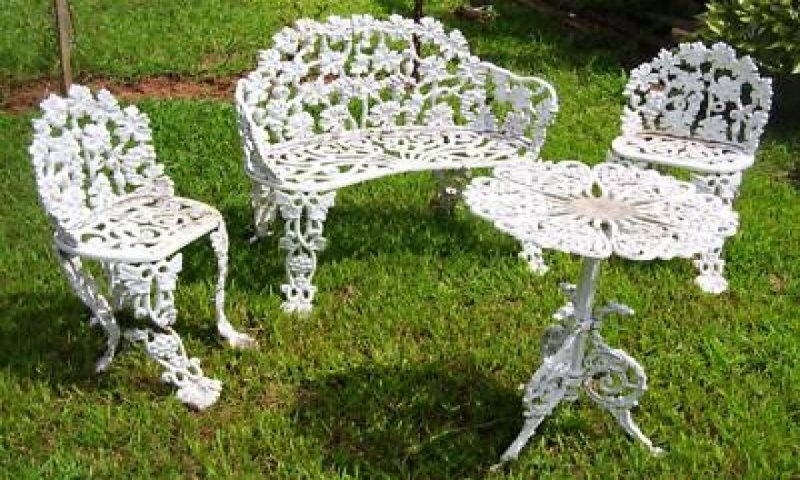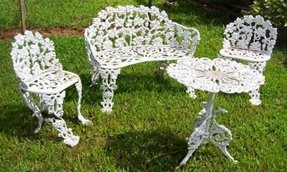 A stunning set for your patio made from wrought iron and sports the charming and delicate structure with the ornate accents. It will seat up to four people comfortably on your patio or in your garden.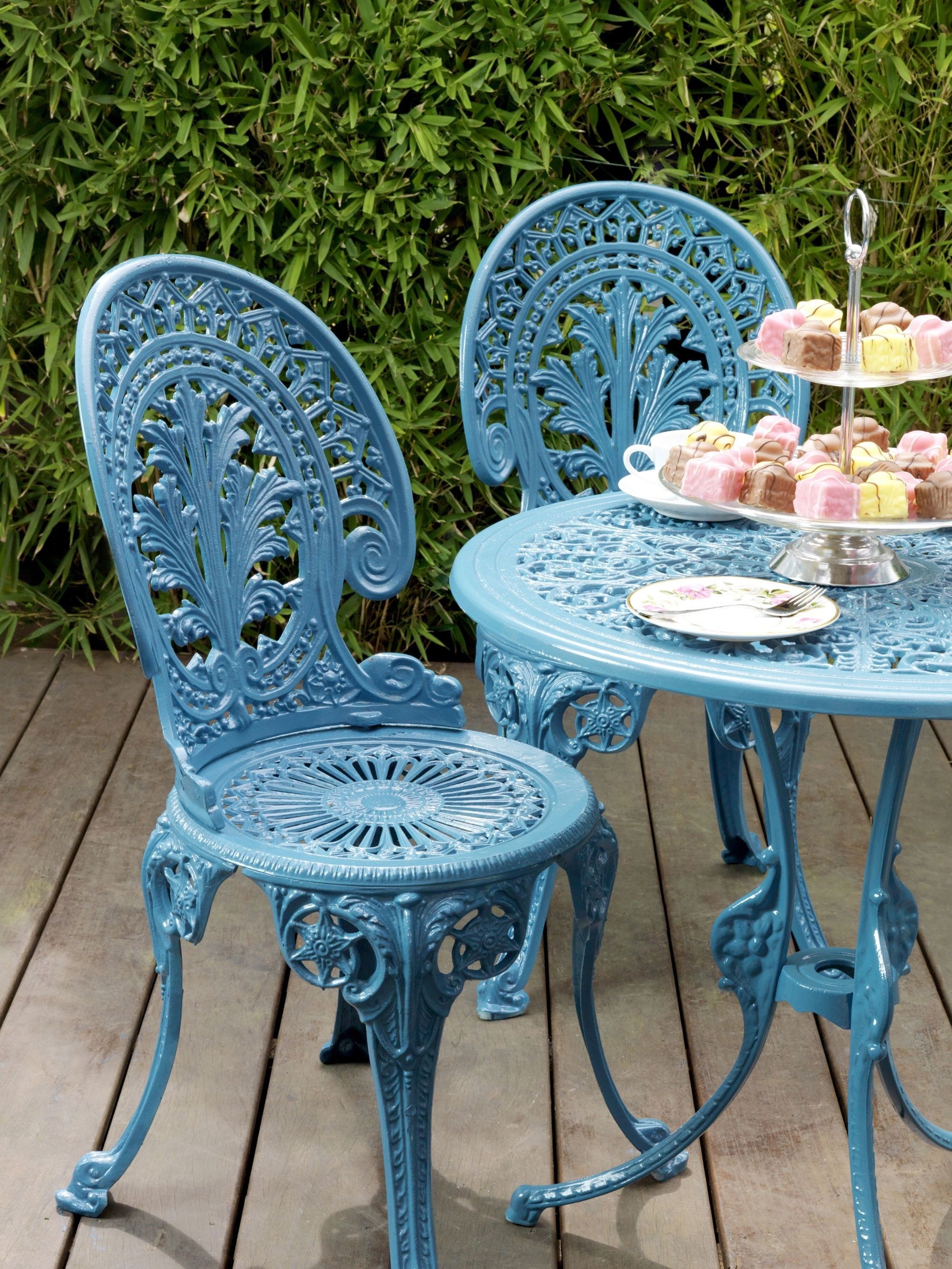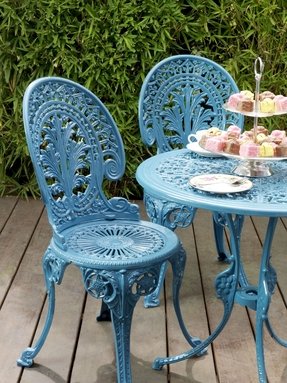 The garden chair, which is made of solid and high quality cast iron. The blue color creates the interesting seating place. Try it at the porch with blue or gray table, and enjoy fantastic outdoor place to eat.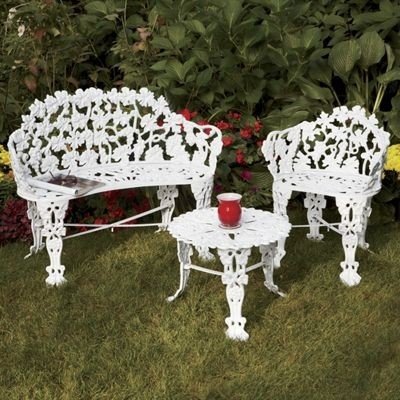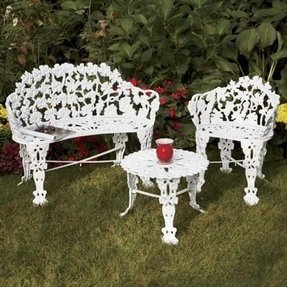 Enrich your outdoor area with a romantic vibe: this cast iron outdoor set with a loveseat, armchair and small round table draws eyes with floral pattern and lucid white finish. Due to metal construction and resistant coating, it's maintenance free.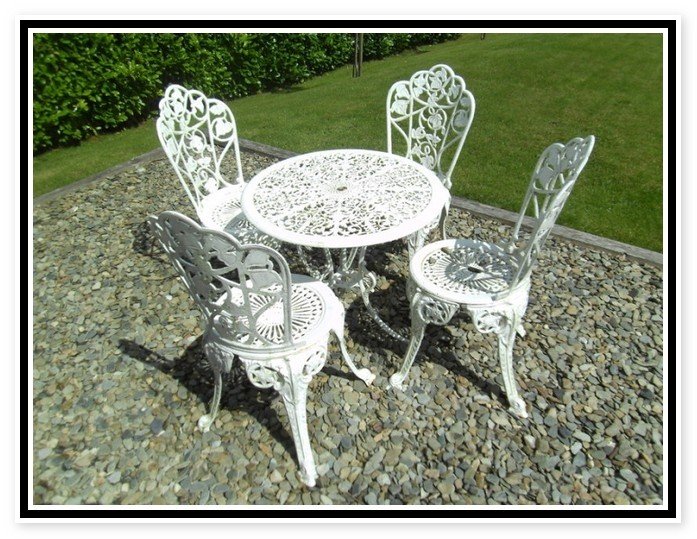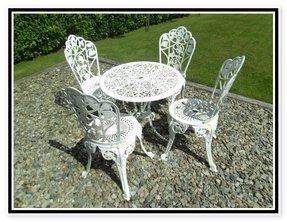 Patio dining set with a durable table made of solid cast iron. The table is available with four chairs. Construction of all these elements includes many decorative floral accents and scrolls. White color looks great in any outdoor stylization.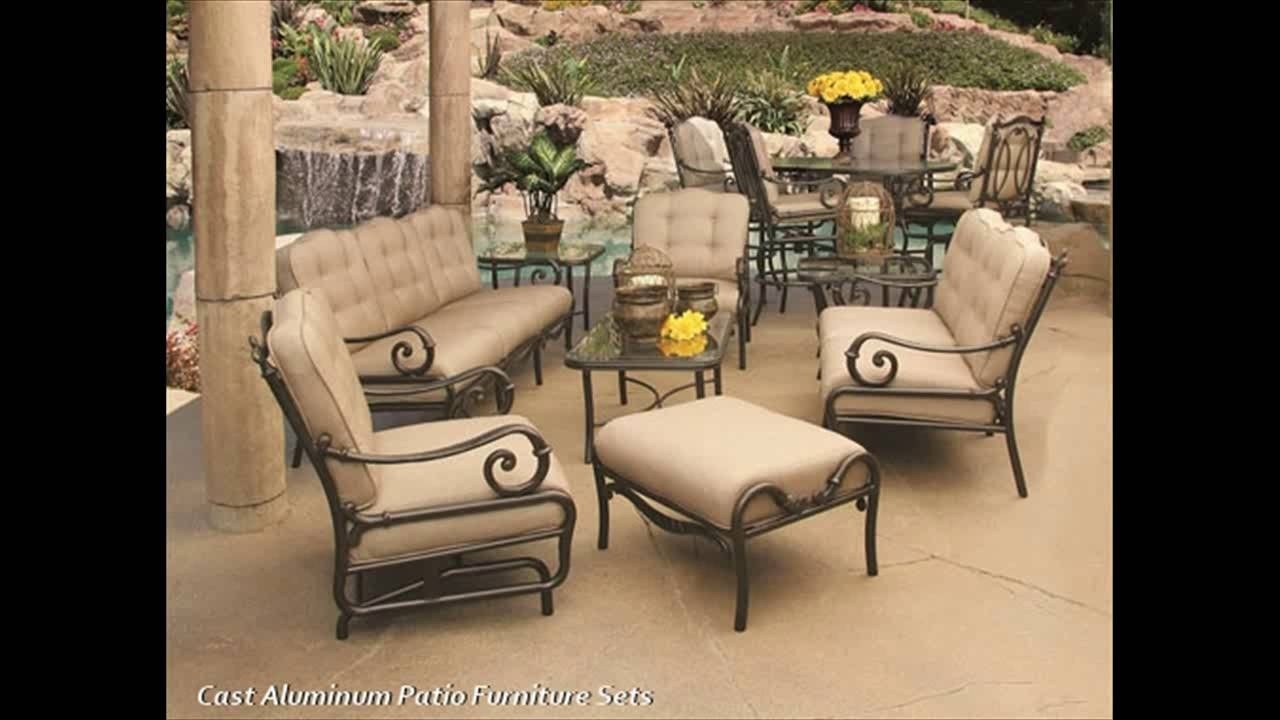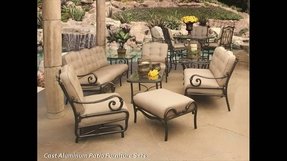 This beautiful set of patio furniture made from cast aluminum is a perfect combination of functionality and attractive appearance. Charming decorative details, soft cushions of seat chairs, benches and ottomans and a practical table make up the complete unit.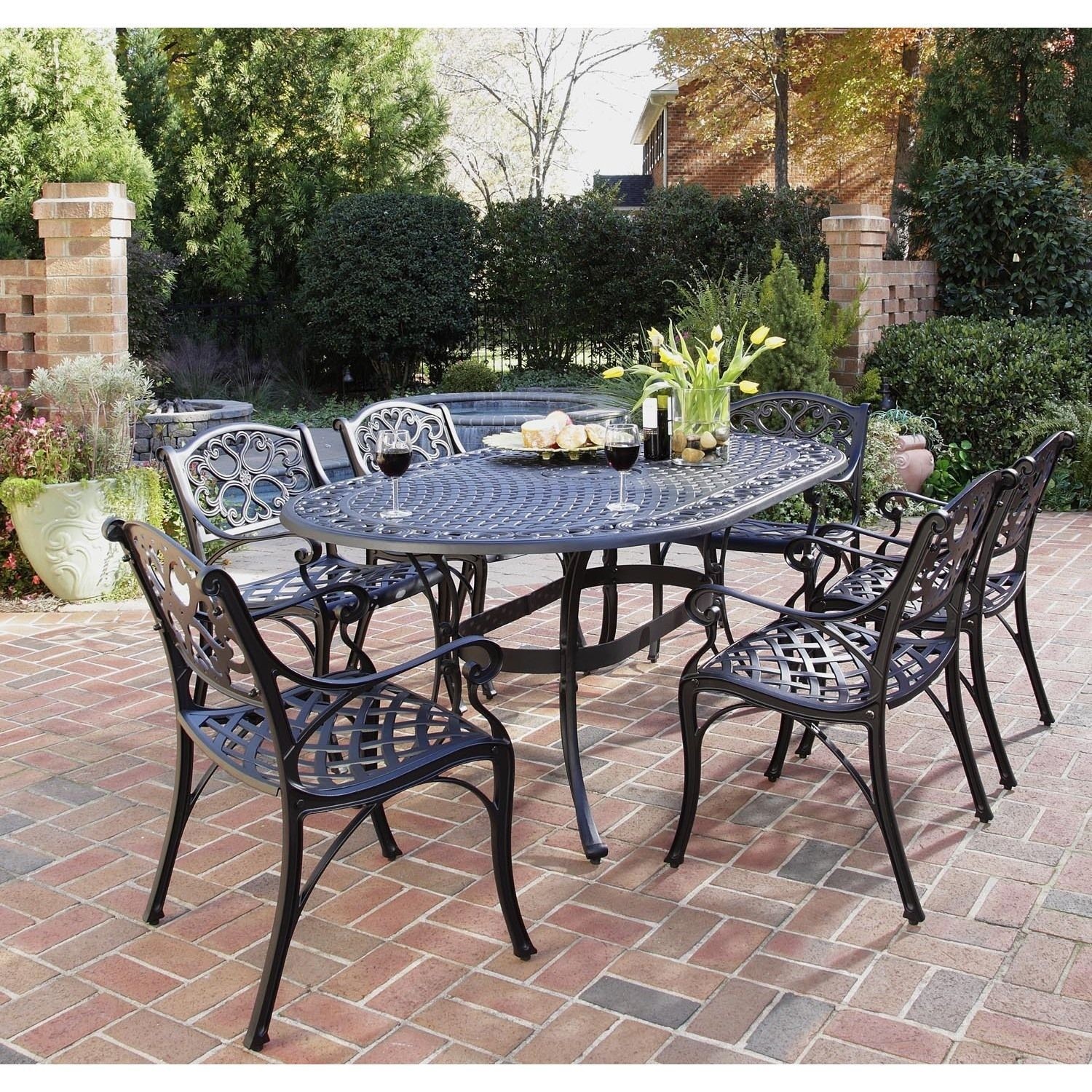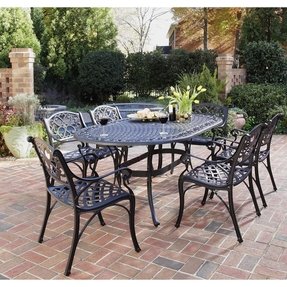 An outdoor dining set that includes elements resistant to weather conditions like rain or low temperatures. An oval table is available with six armchairs in neutral black color so the whole set looks attractive anywhere.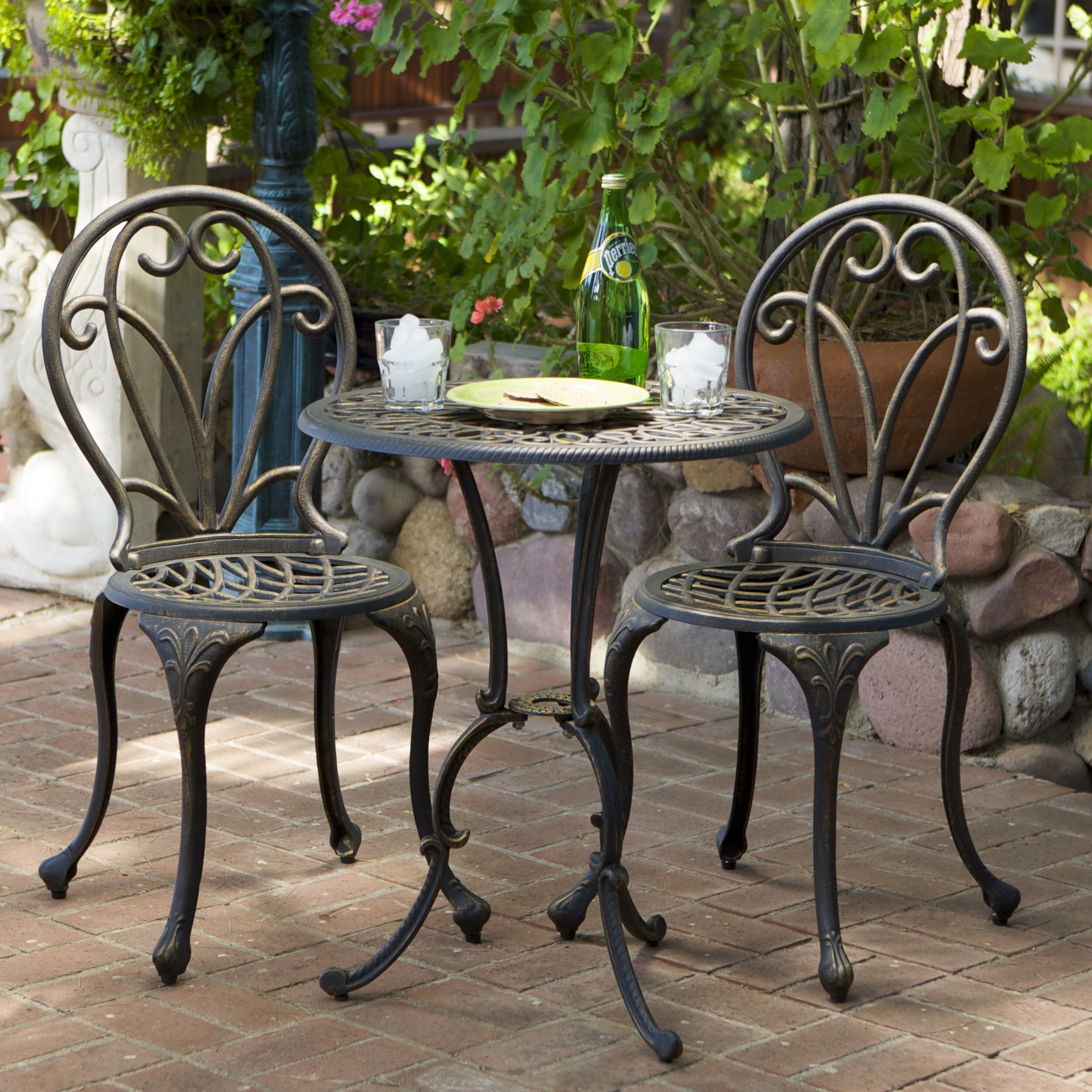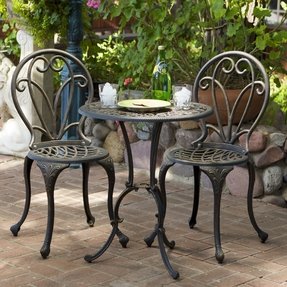 Aluminium bistro set, perfect for your garden. Weather resistant and durable, this set will drop your guests dead with envy. Dark gold colour gives it a noble, luxurious vibe. The rich finish and detailed ornamentation create a really high-quality look.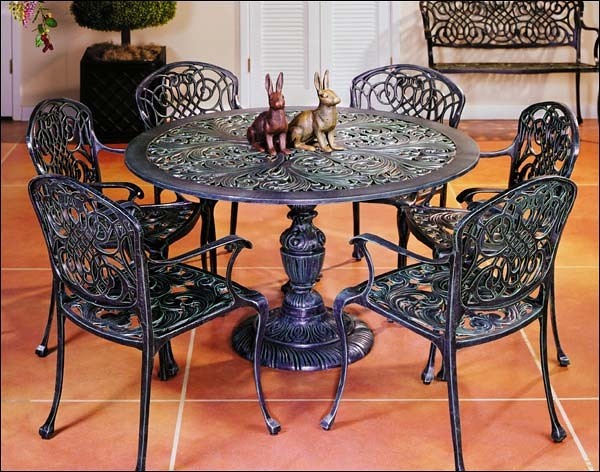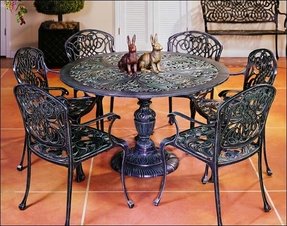 Lawn Ornament Outdoor Furniture Cast Iron - Cast Aluminum Sea Island Patio Table - with pedestal - 28in H x 51in D |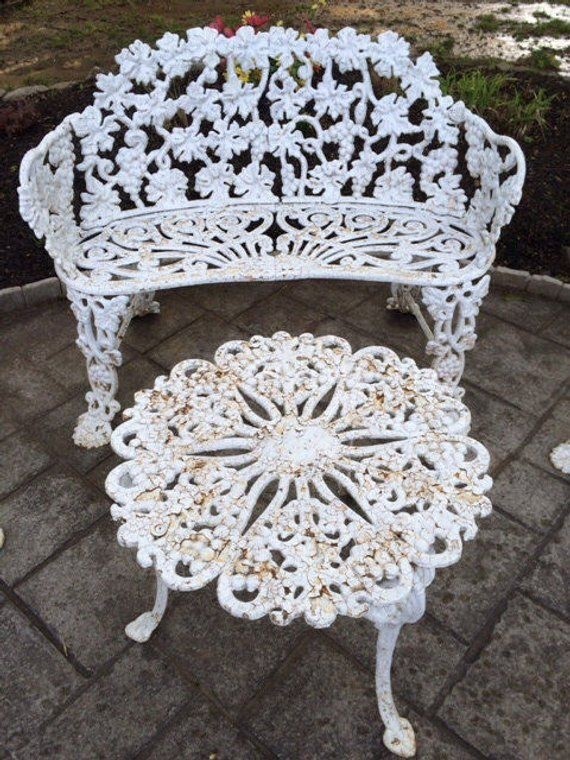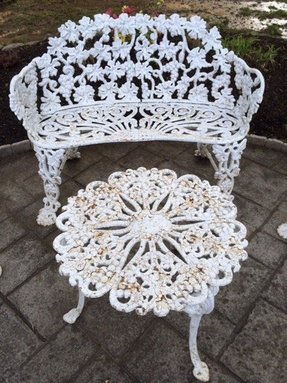 19th Century ornate Italian botanic arboretum solarium cast iron paired 4 piece garden patio furniture set loveseat settee two chairs table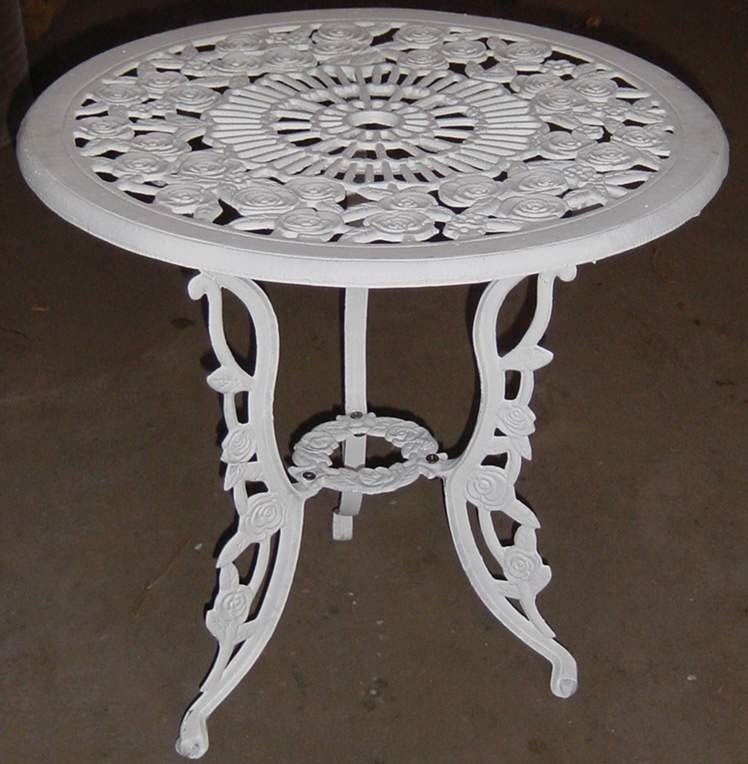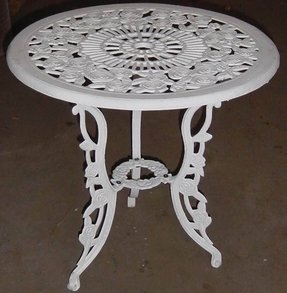 cast iron outdoor furniture 4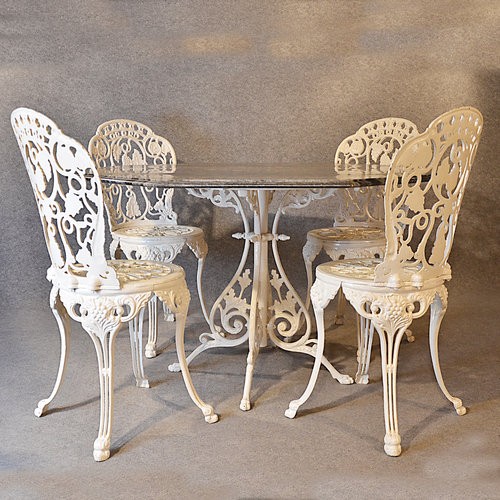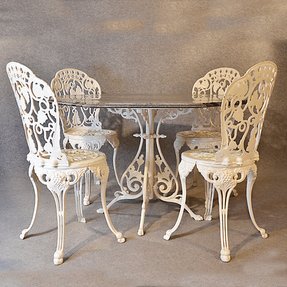 Cast Iron & Marble Table Four 4 Chairs Vintage Garden Conservatory ...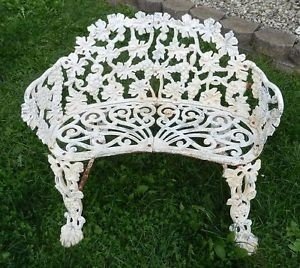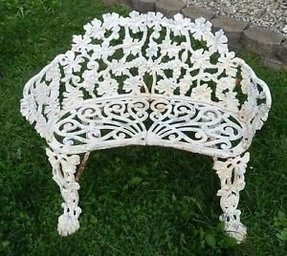 ... Cast Iron Grape & Vine Bench Lawn Yard Patio 33" long ~ will ship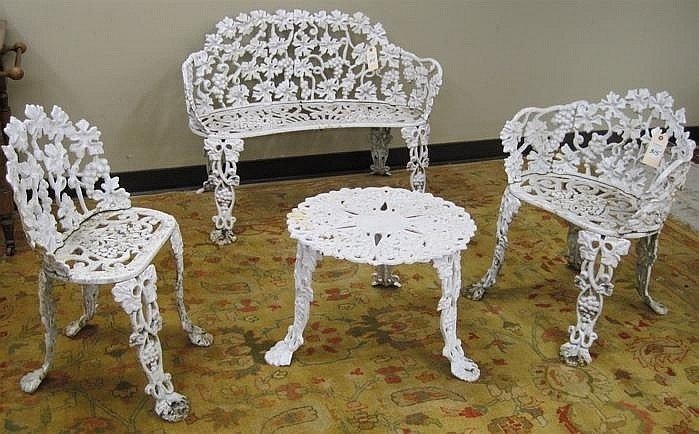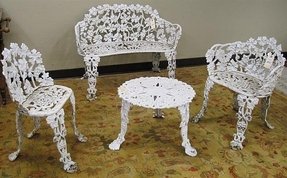 Lot 315: FOUR-PIECE CAST IRON GARDEN FURNITURE SET: settee,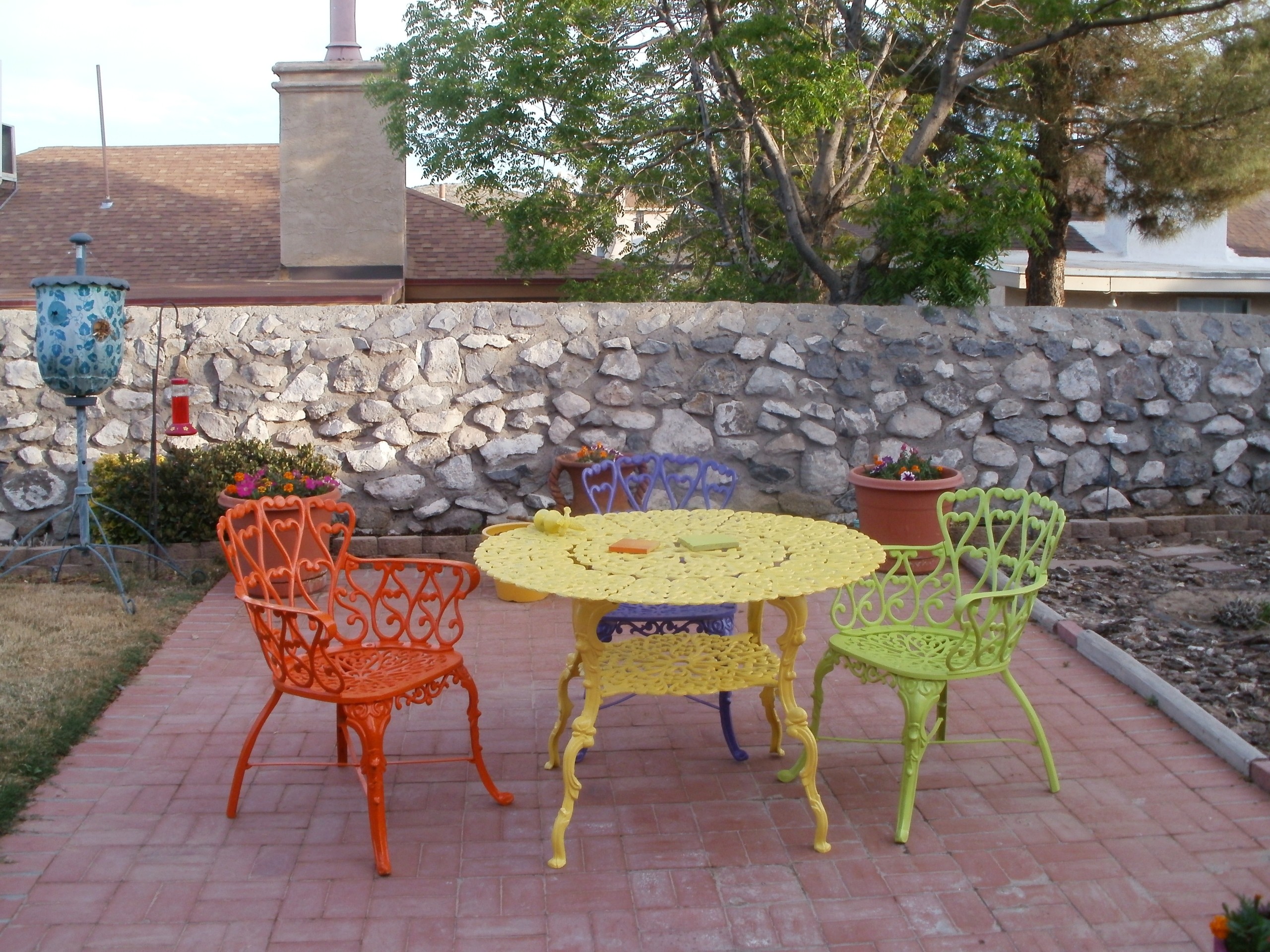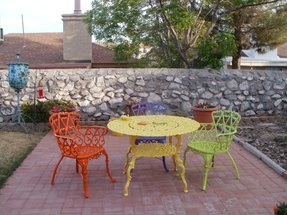 Set of patio furniture in vintage style. It consists of round table and 3 chairs. Construction is made of cast iron and decorated with openwork pattern. Elegant accent for the garden, patio, restaurant and more.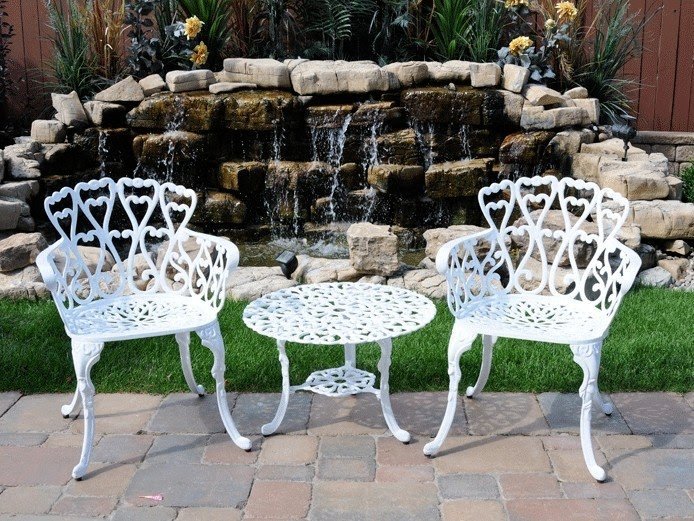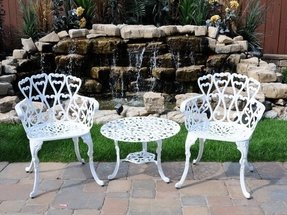 Traditional and classic set of patio furniture, consisting of a low coffee table with a hexagonal shelf underneath and two matching chairs with unique backs, all made out of painted cast aluminum giving them a classy look.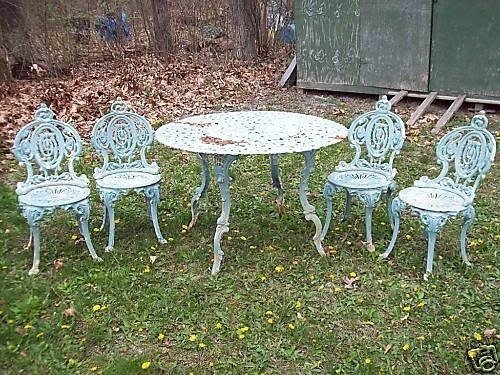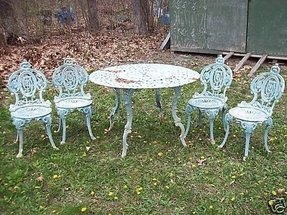 Antique set of furniture intended to garden- they are modern, but is is stylised on old-fashioned, Victorian style. Set is composed of round coffee table and four sculptural chairs. Both elements are made of iron.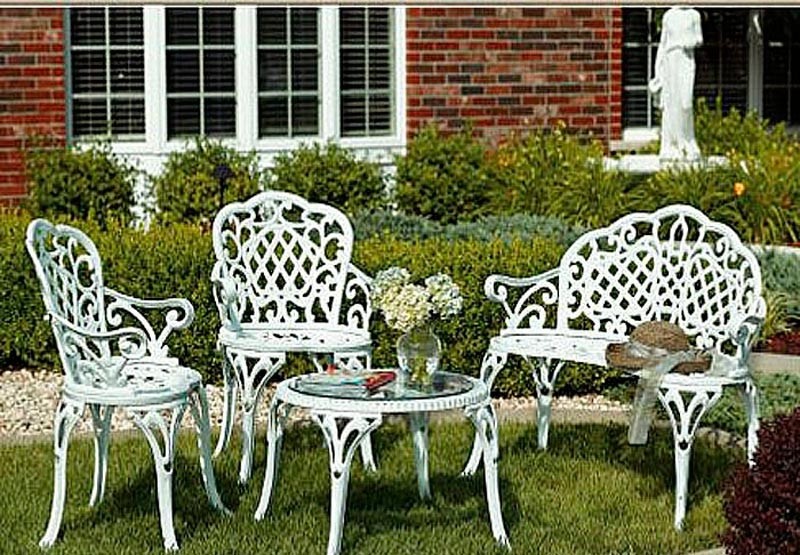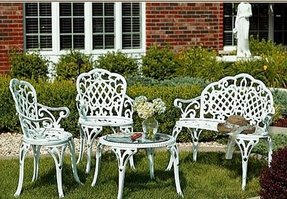 Traditional setup for a vintage conversational area in a backyard garden, furnished with a low coffee table with a glass top and a set of furniture made out of white-painted cast iron, consisting of two chairs and a bench.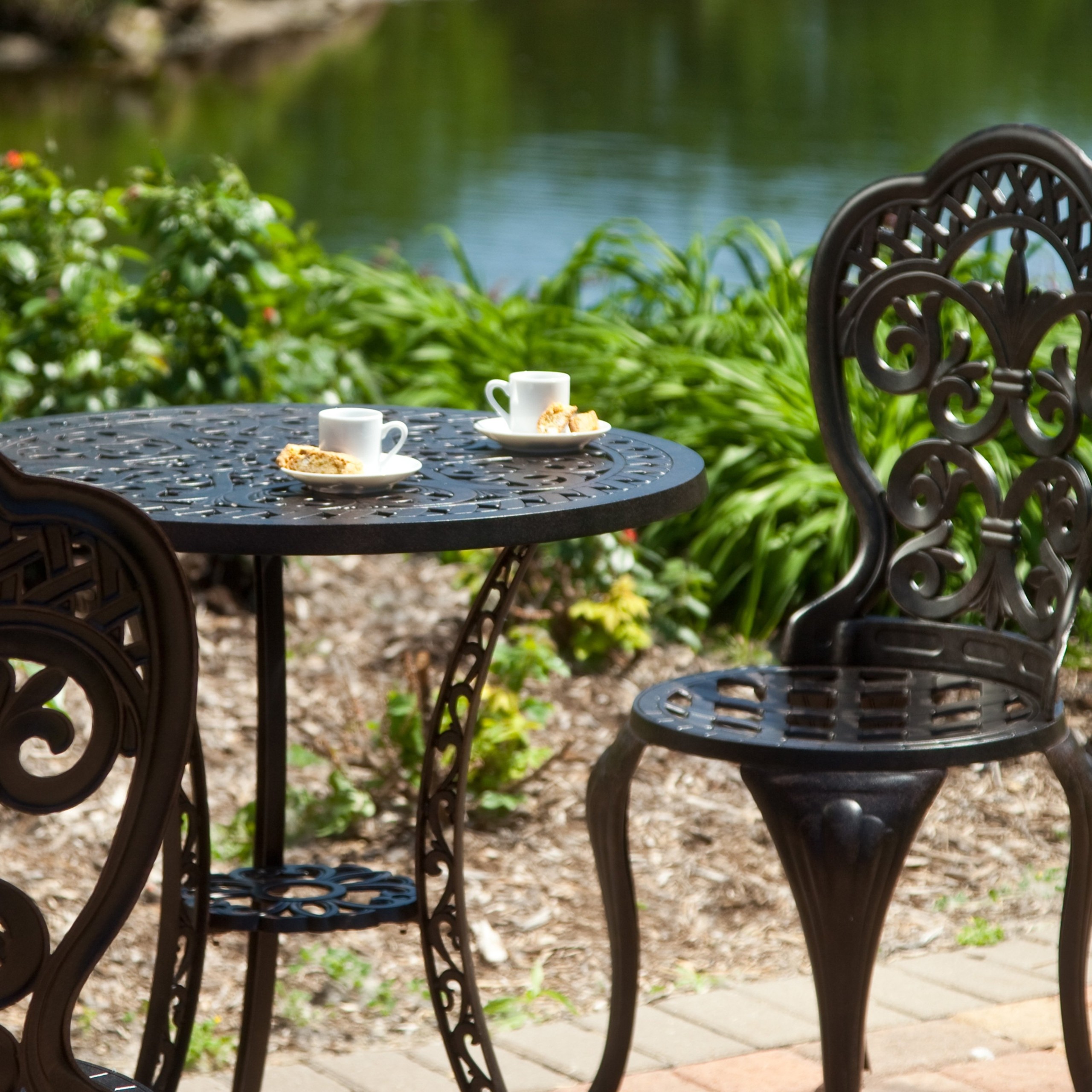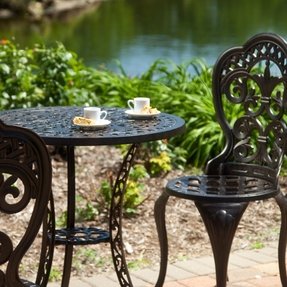 Add a whimsical touch outside while getting a few extra seats and a nice round table to serve cold drinks - the filigree design of this outdoor bistro set obviously enriches its vicinity with a huge drop of romance. Cast aluminium, finished bronze.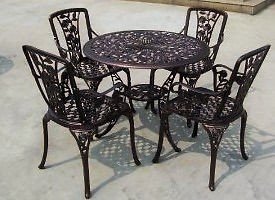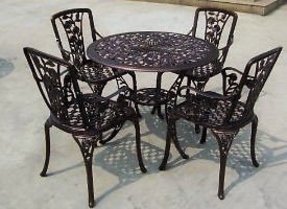 Cast iron outdoor garden patio furniture sets benches chairs tables ...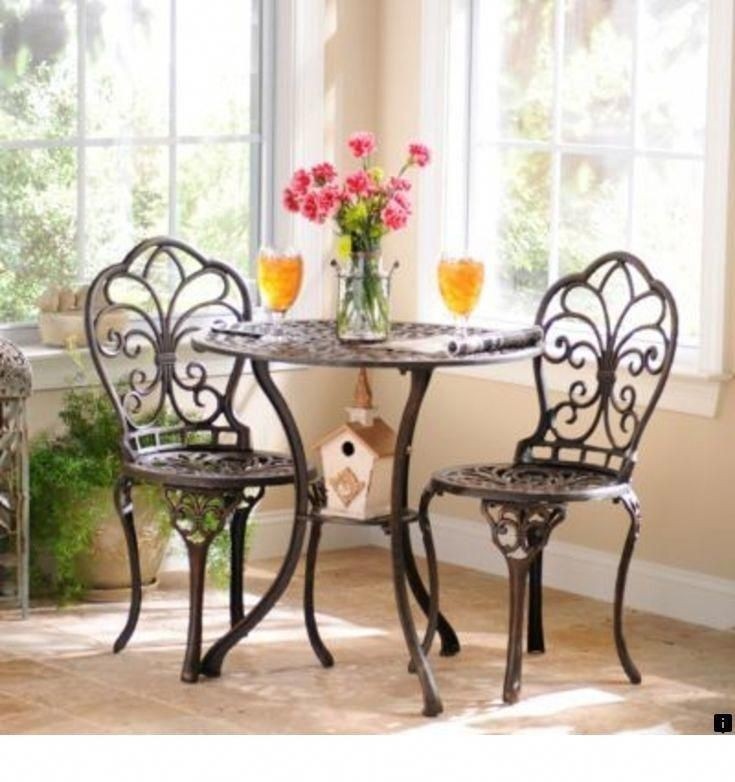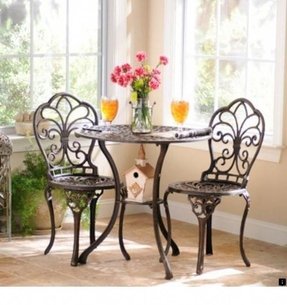 Fleur-de-Lis Cast Iron Bistro, Set of 3 | Kirkland's Love love love!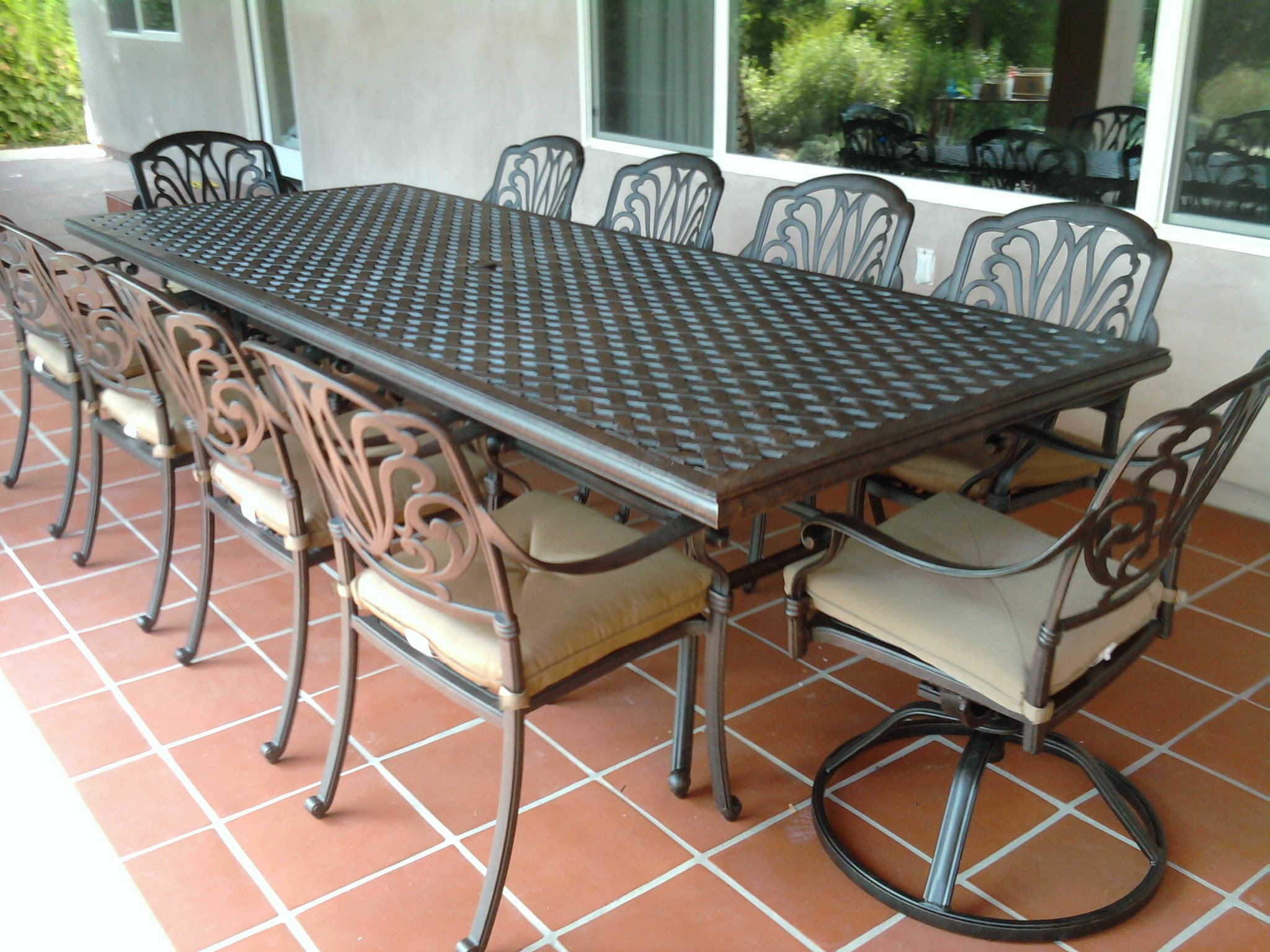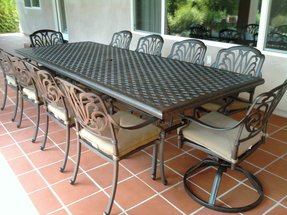 It is a very large outdoor patio dining set created for large families and groups of people. The table and chairs feature solid metal frame with an antique bronze finish. The cast aluminum frame is rust free.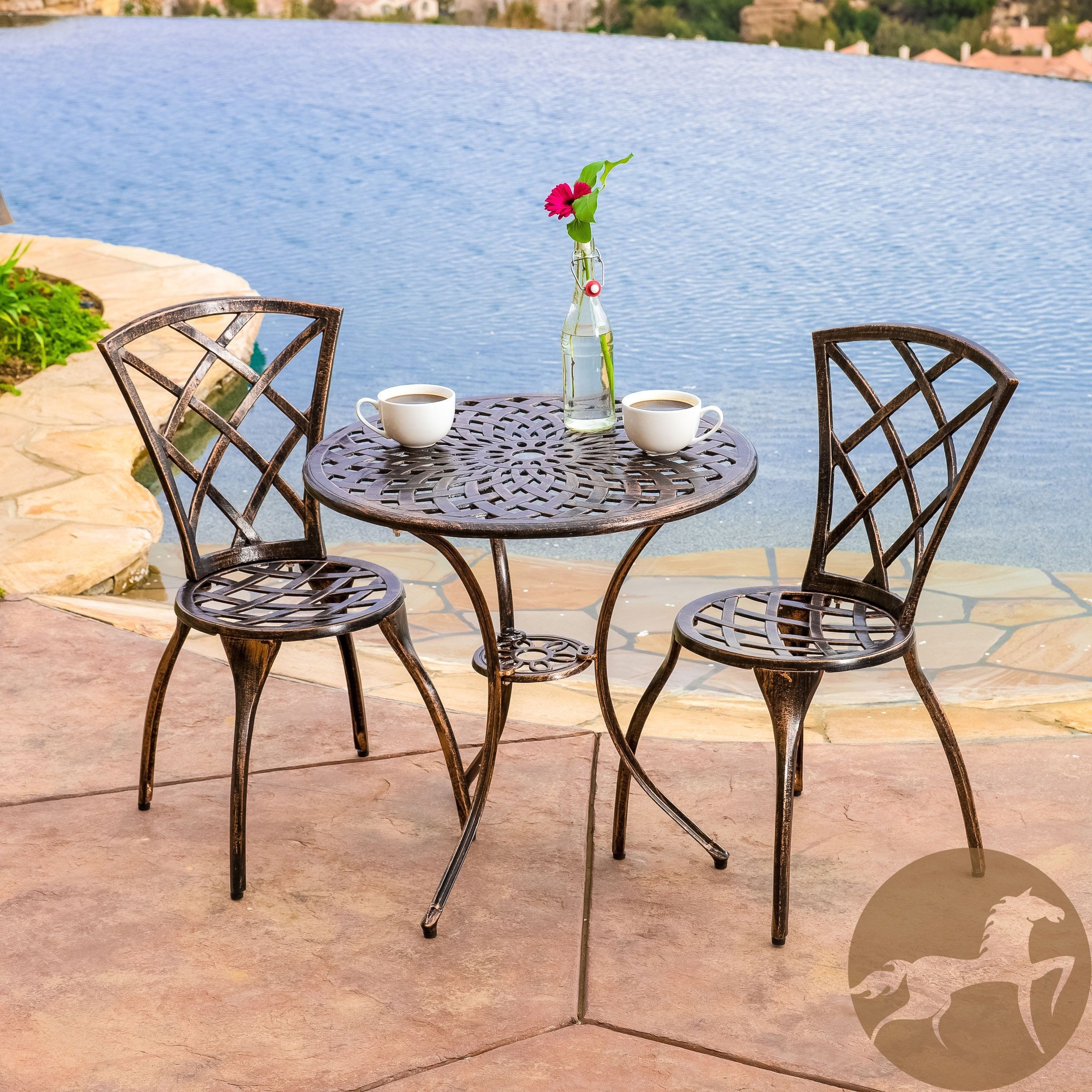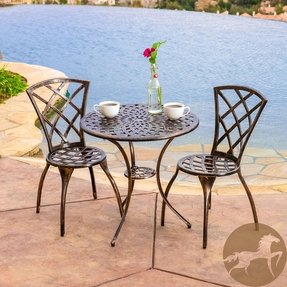 Cast from aluminium, this sophisticated bistro set is designed to last for many years. Your floors are also safe with it: note the rubber feet tips. 2 chairs with openwork lattice seats and flaring backrests accompany three-legged round table.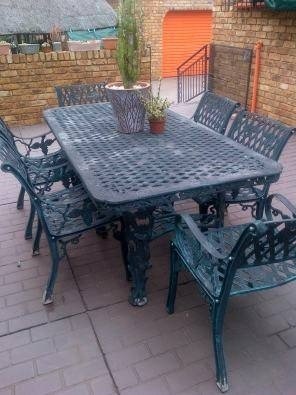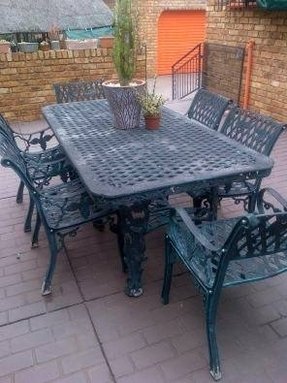 seater cast iron patio set / garden set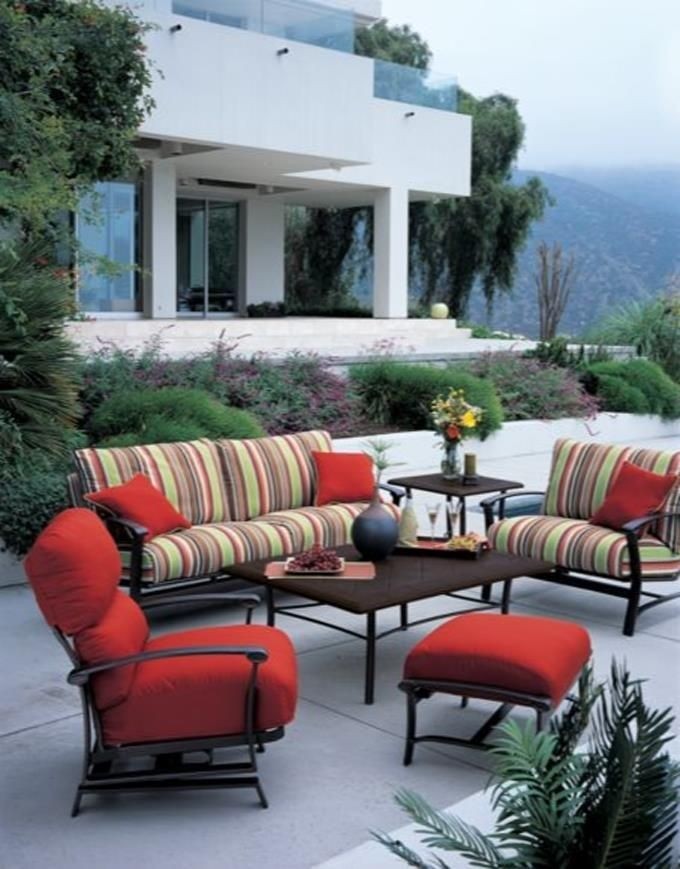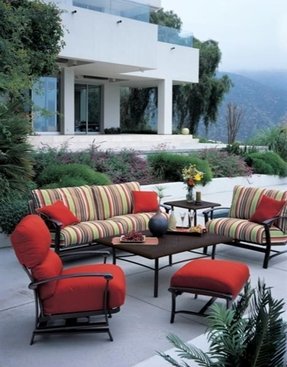 This Tropitone patio furniture will make you feel like on holidays. This set of deep seating outdoor furniture including patio dining sets, deep seating sofas, gliders and chaise lounges. It features a 4 mil Powdercoat finish and full circumference welds.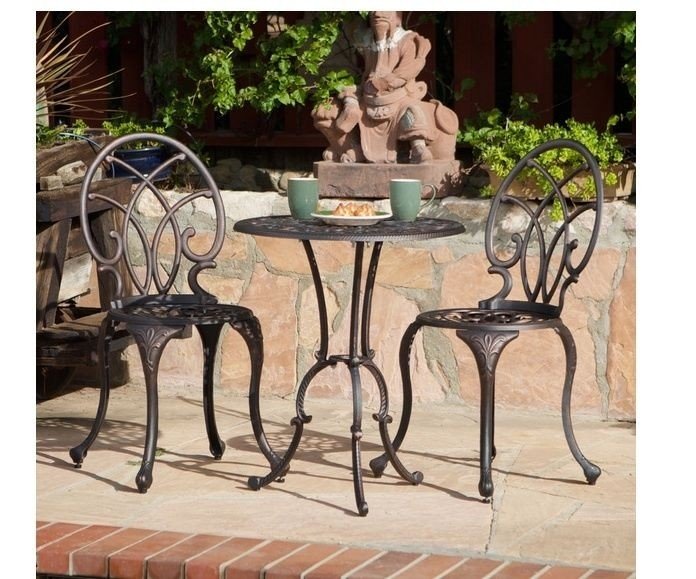 Outdoor Bistro Set Patio Porch Garden Deck Furniture Chairs Picnic Table Metal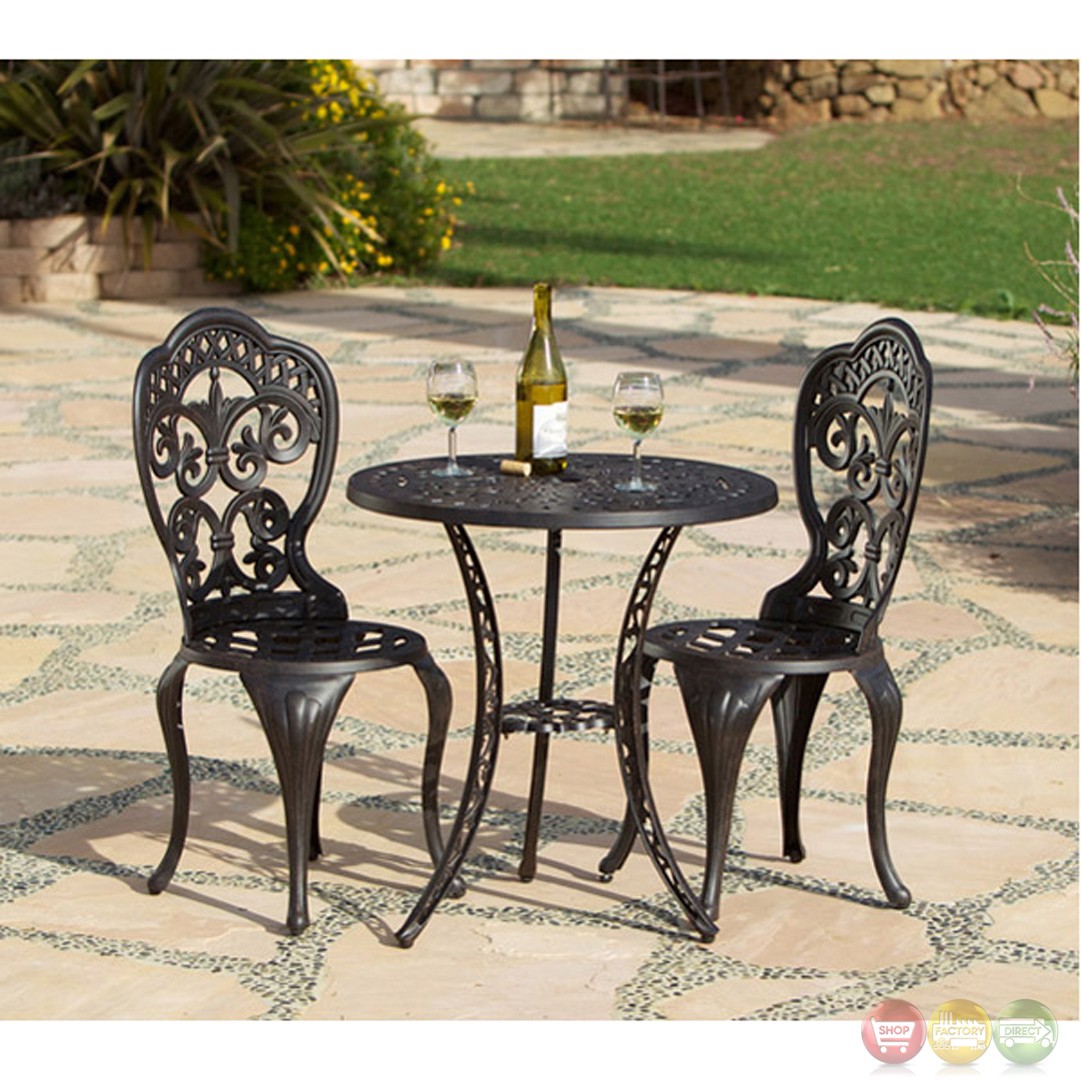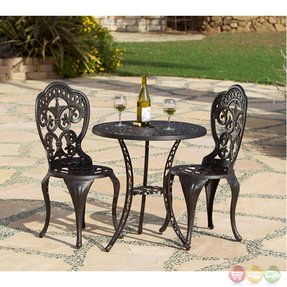 The whole set was cast in colorless aluminum and constructed from a durable black cast iron construction. The natural brown finish adds antique character and florist motifs bring this bistro set of 2 chairs and a round table into a romantic dimension.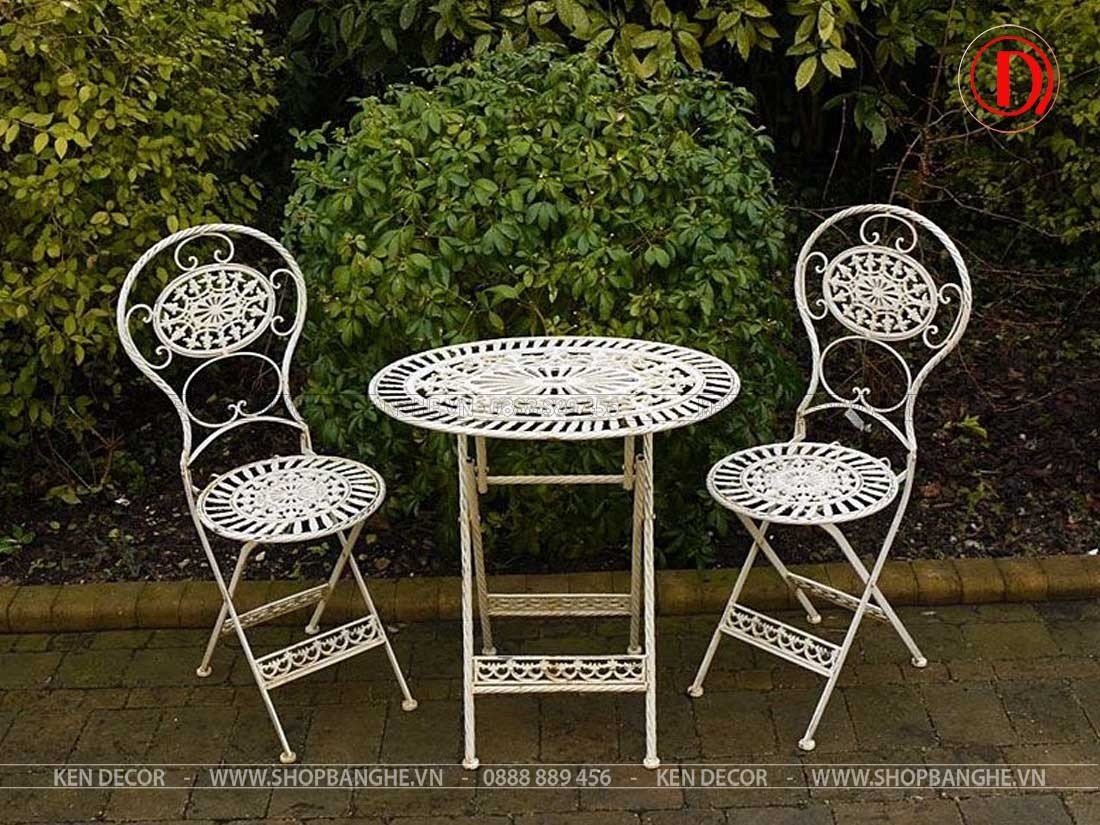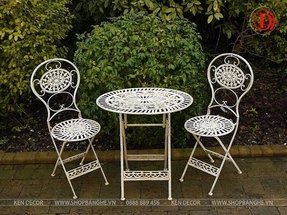 Small Bistro Table and Chairs wrought iron white | Garden & Patio > Garden & Patio Furniture > Furniture Sets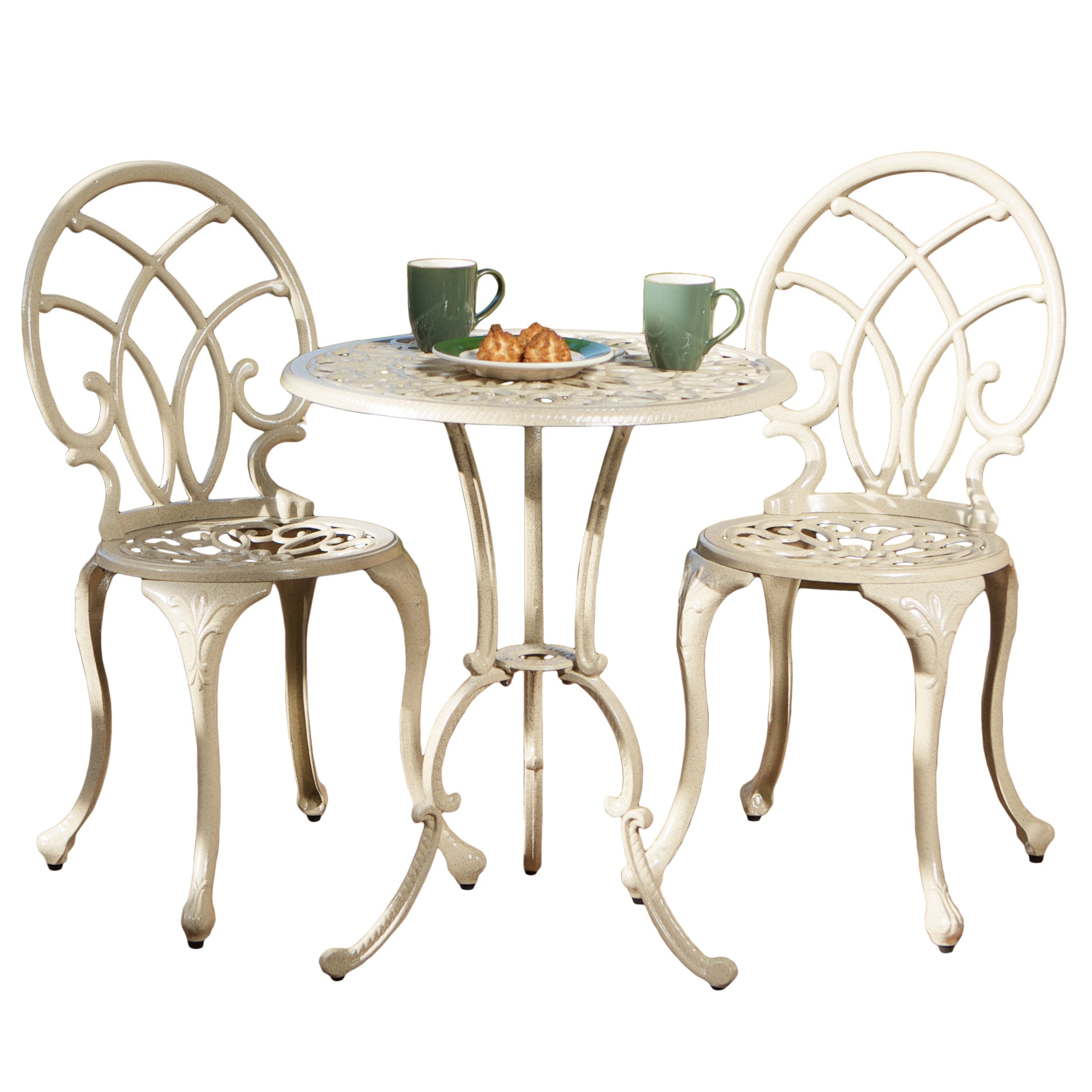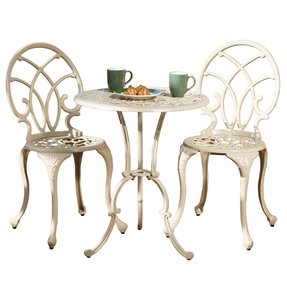 Charming, elegant set of a bistro table and 2 chairs. Sturdy, made of cast aluminum finished in sand. Decorative delicate openwork design of a round tabletop, chairs' oval backs and round seats. Legs are S-curved. Ideal for outdoor use.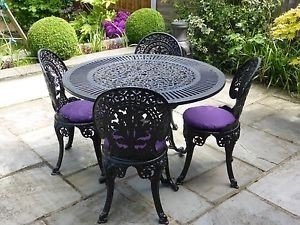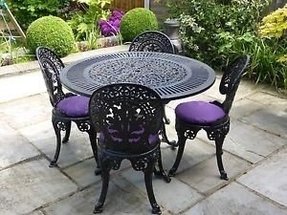 Garden & Patio > Garden & Patio Furniture > Furniture Sets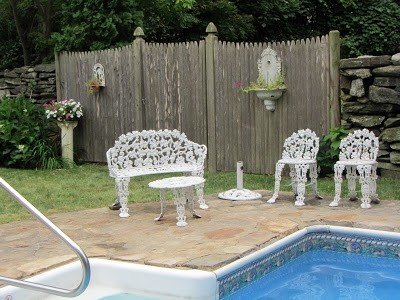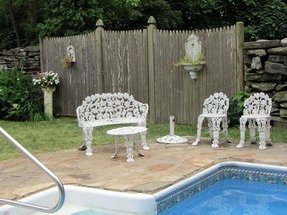 ... Furniture on At The Near End Of The Pool Is This Victorian Cast Iron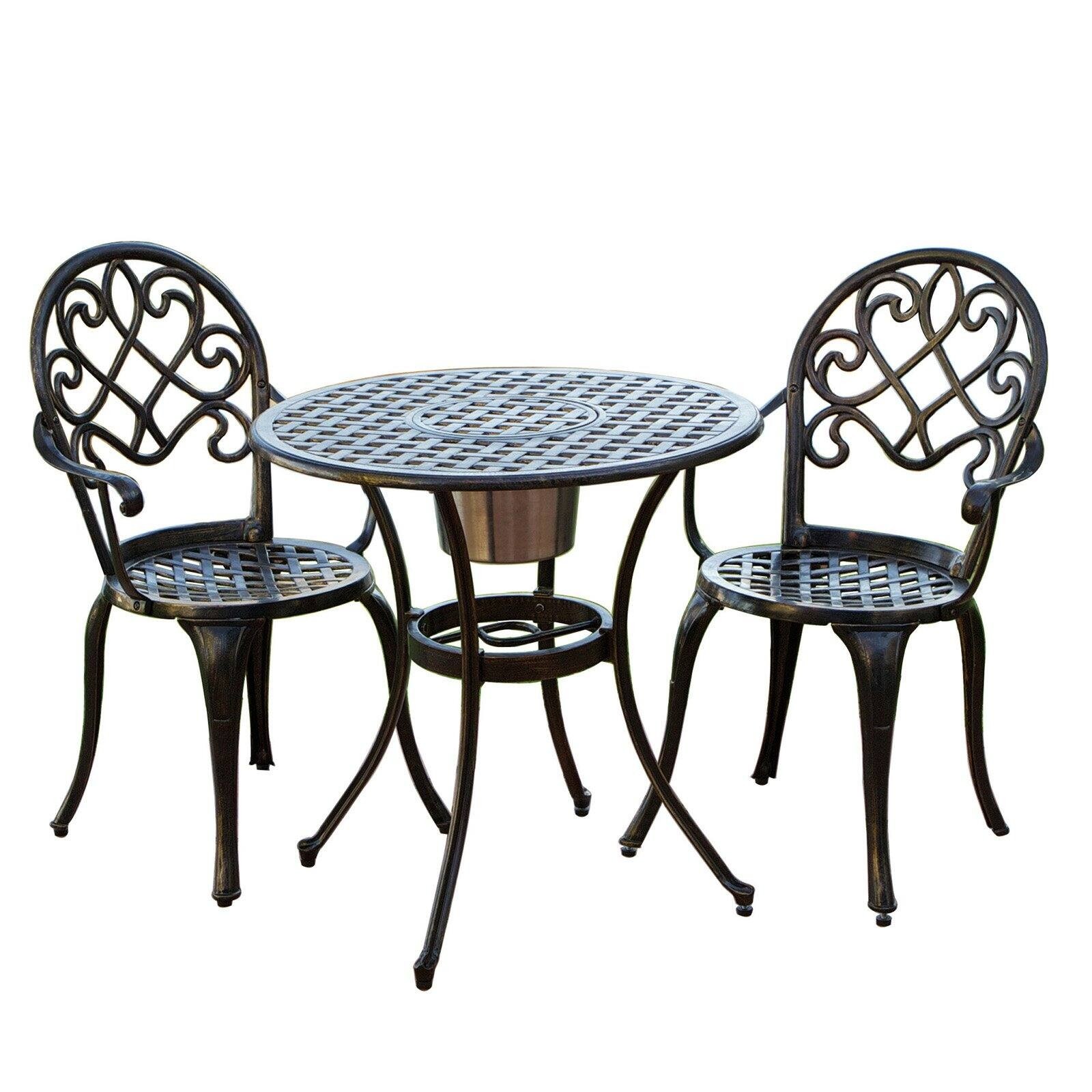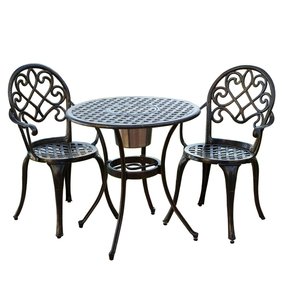 This set includes solid and attractive pieces of furniture created for use in outdoor bistro areas. The table has got a round top and a solid frame. Two chairs feature arms and durable backrests that assure comfort and stability.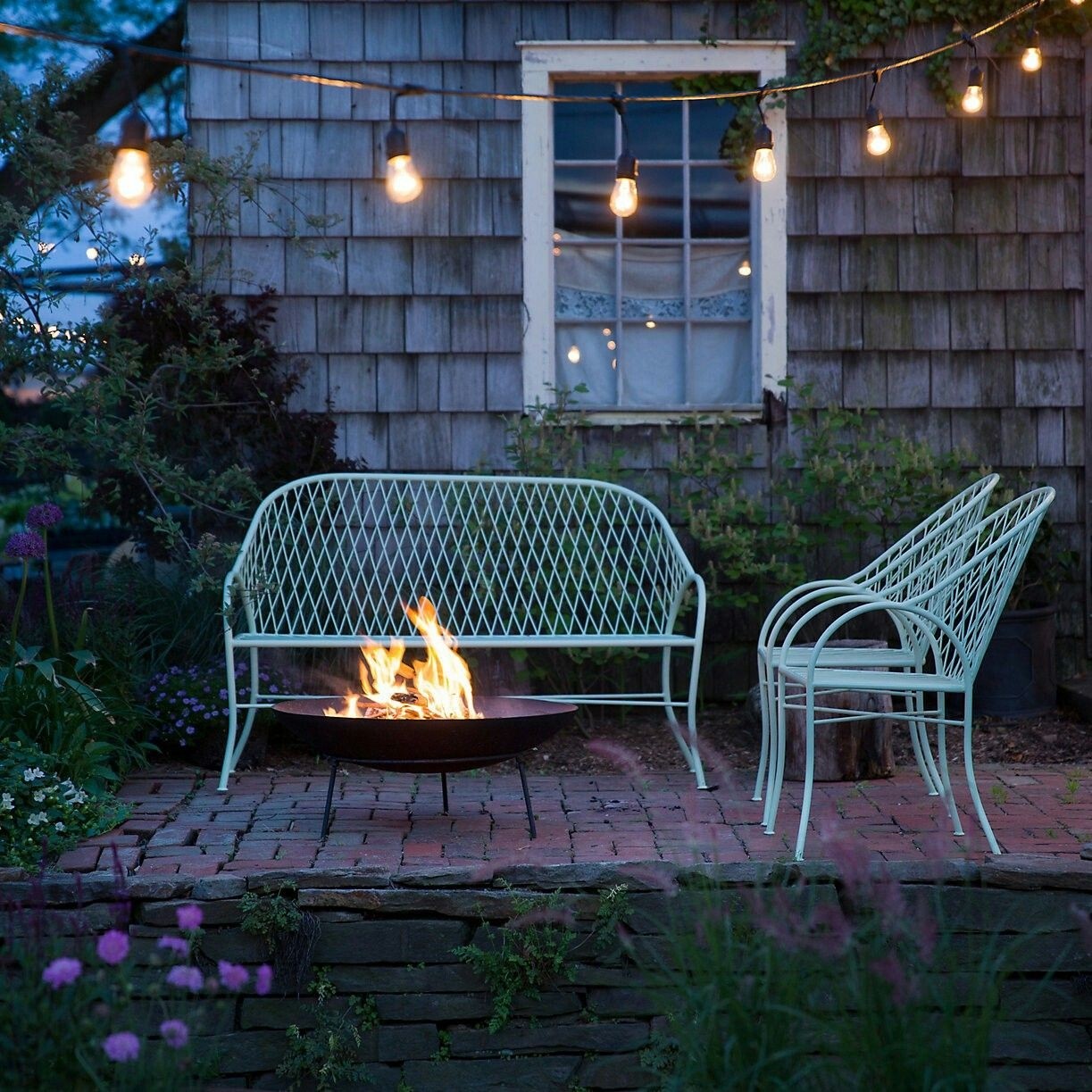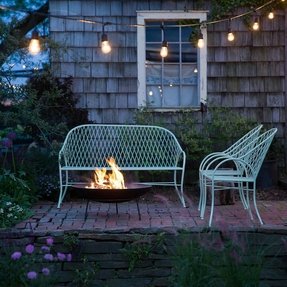 Rugby Stripe Outdoor Rug in Outdoor Living FURNITURE + ACCENTS Pillows + Rugs at Terrain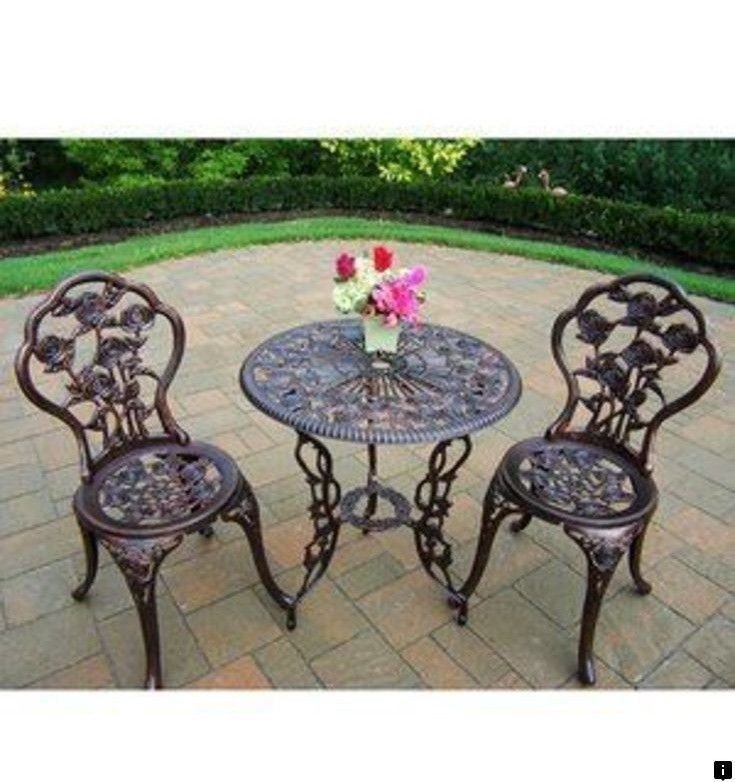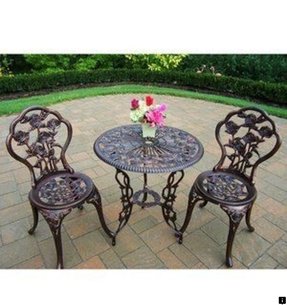 BISTRO SET OUTDOOR PATIO FURNITURE 3 PIECE ROSE PATTERN BROWN ANTIQUE BRONZE FINISH CAST IRON & ALUMINUM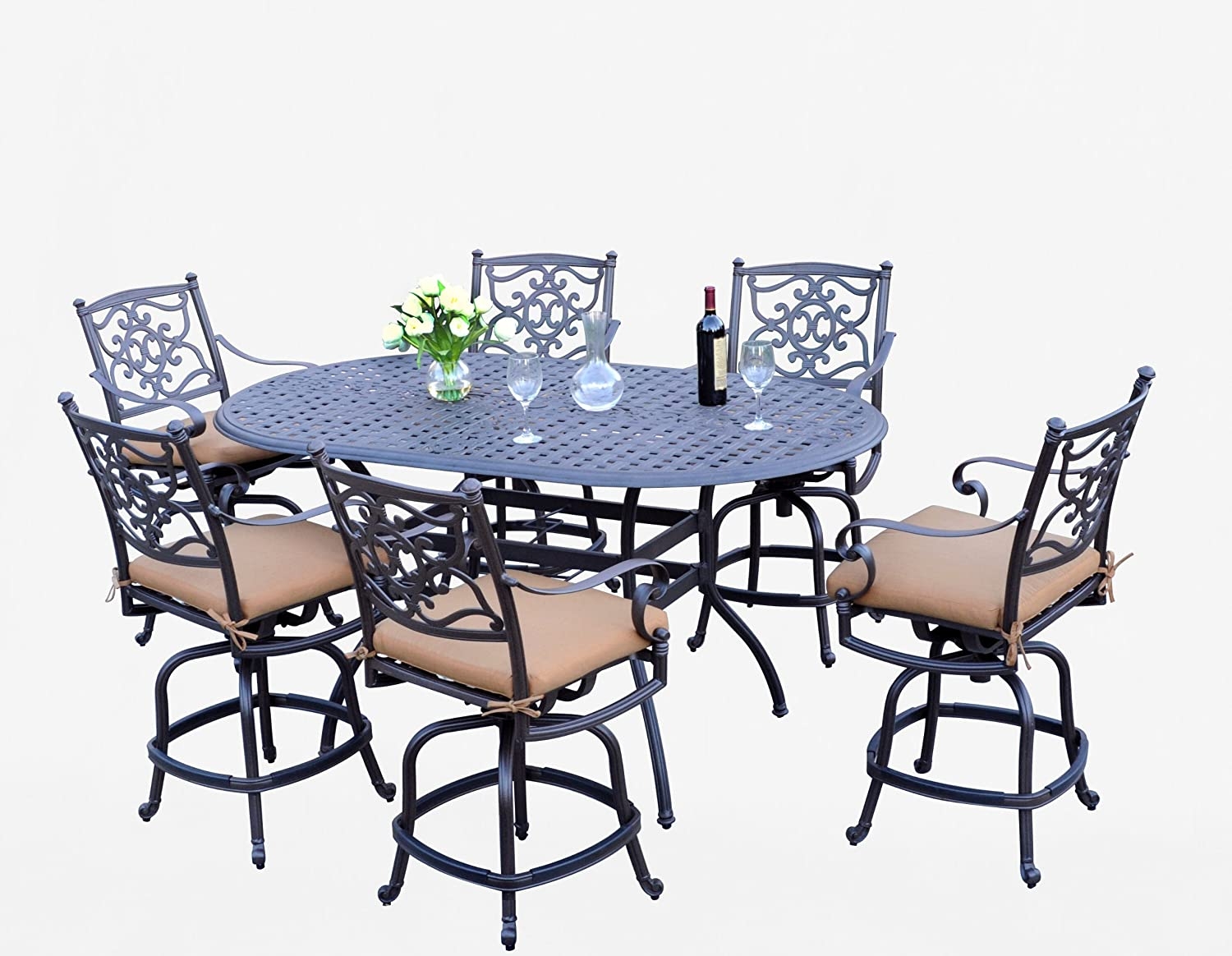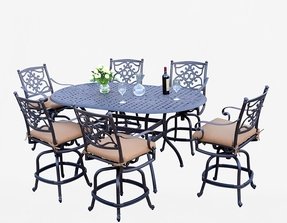 This dining set includes a table and six chairs based on welded cast aluminum frames. Each chair is equipped with a soft seat cushion and solid, decorative backrest. Each chair also provides support thanks to its arms.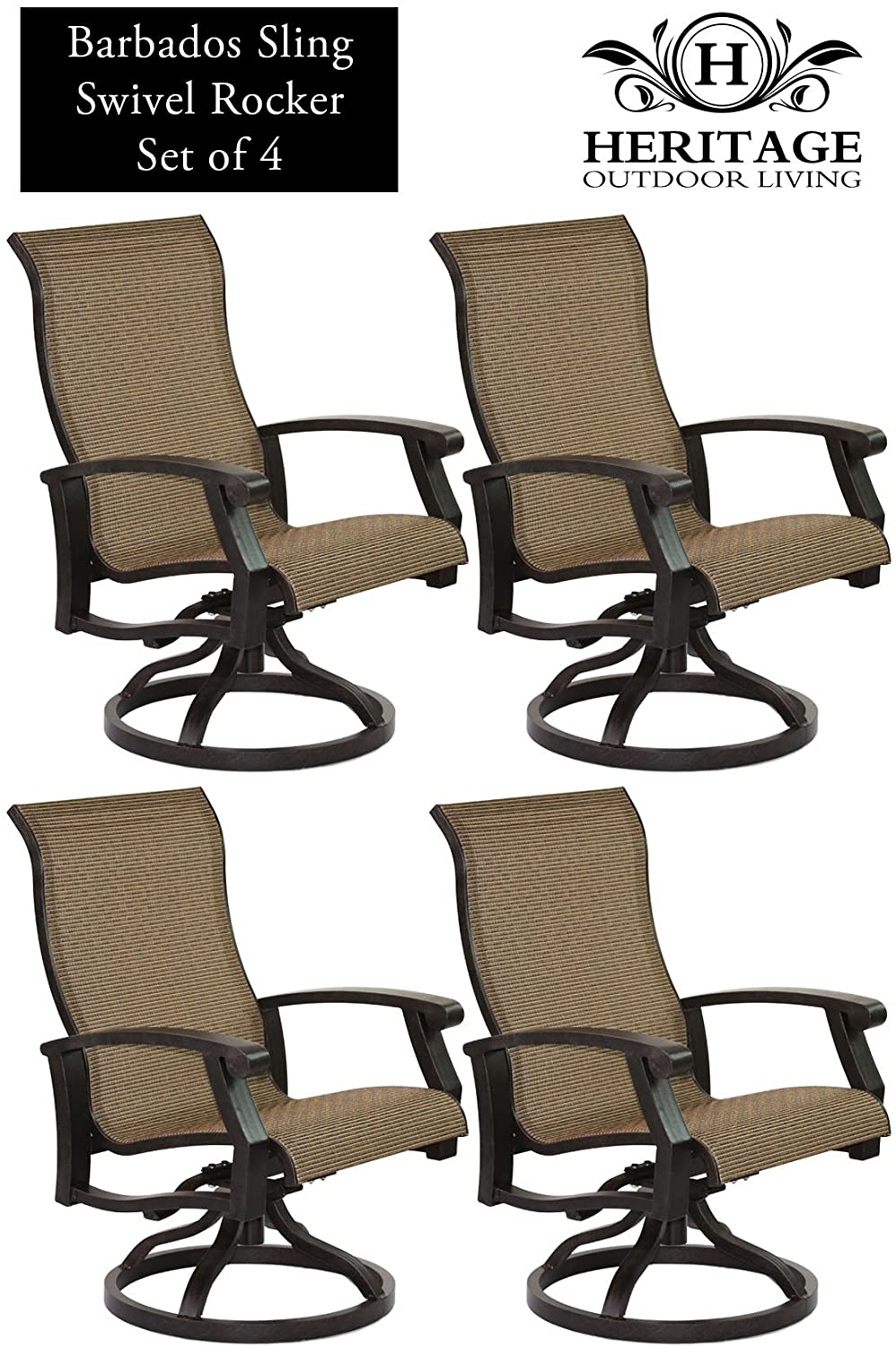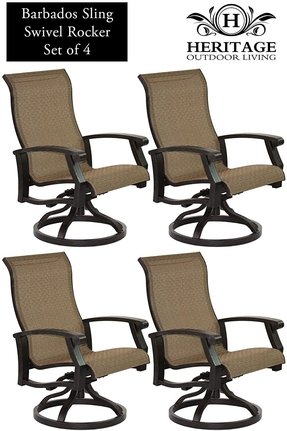 Lots of work, many hours spent in the office in front of the computer. This requires a cohesive tropitone patio furniture chair with aluminum frame and good design. The seat is padded with a five-level powder coated in an antique brown color.