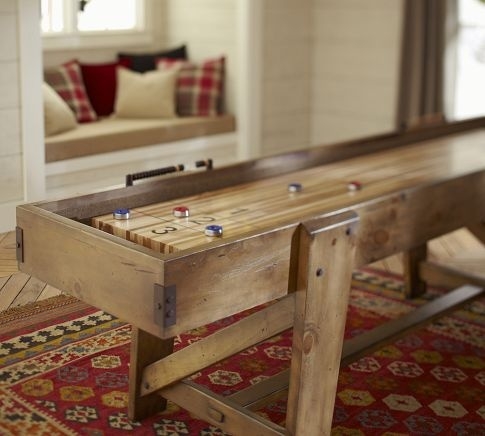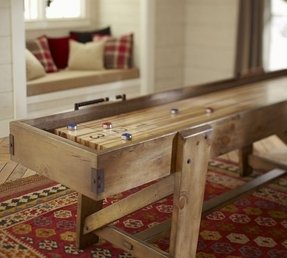 Shuffleboard Table
Rustic shuffleboard table made out of unpainted but polished oak wood which gives it a traditional vibe. Perfect addition to a home bar, makes for a great piece to entertain your guests with instead of watching TV.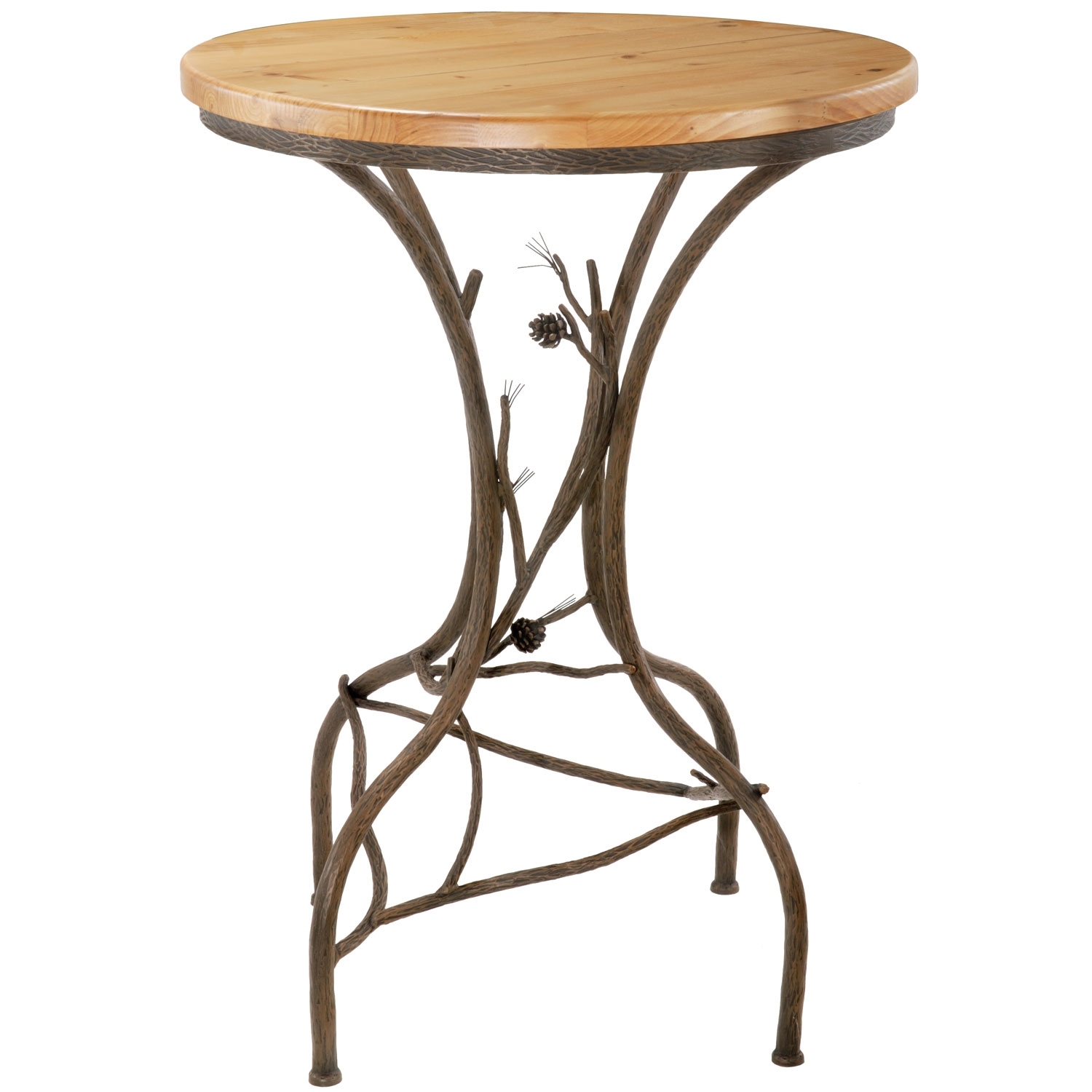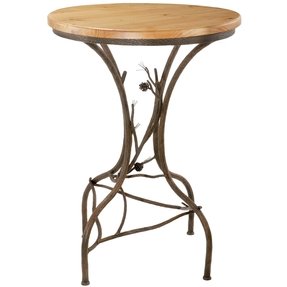 Pine Counter Height Pub Table
Sophisticated pub table with decorative elements design tree branch. Made in USA. The construction is made of wood. Designed for any interior according to personal taste and imagination.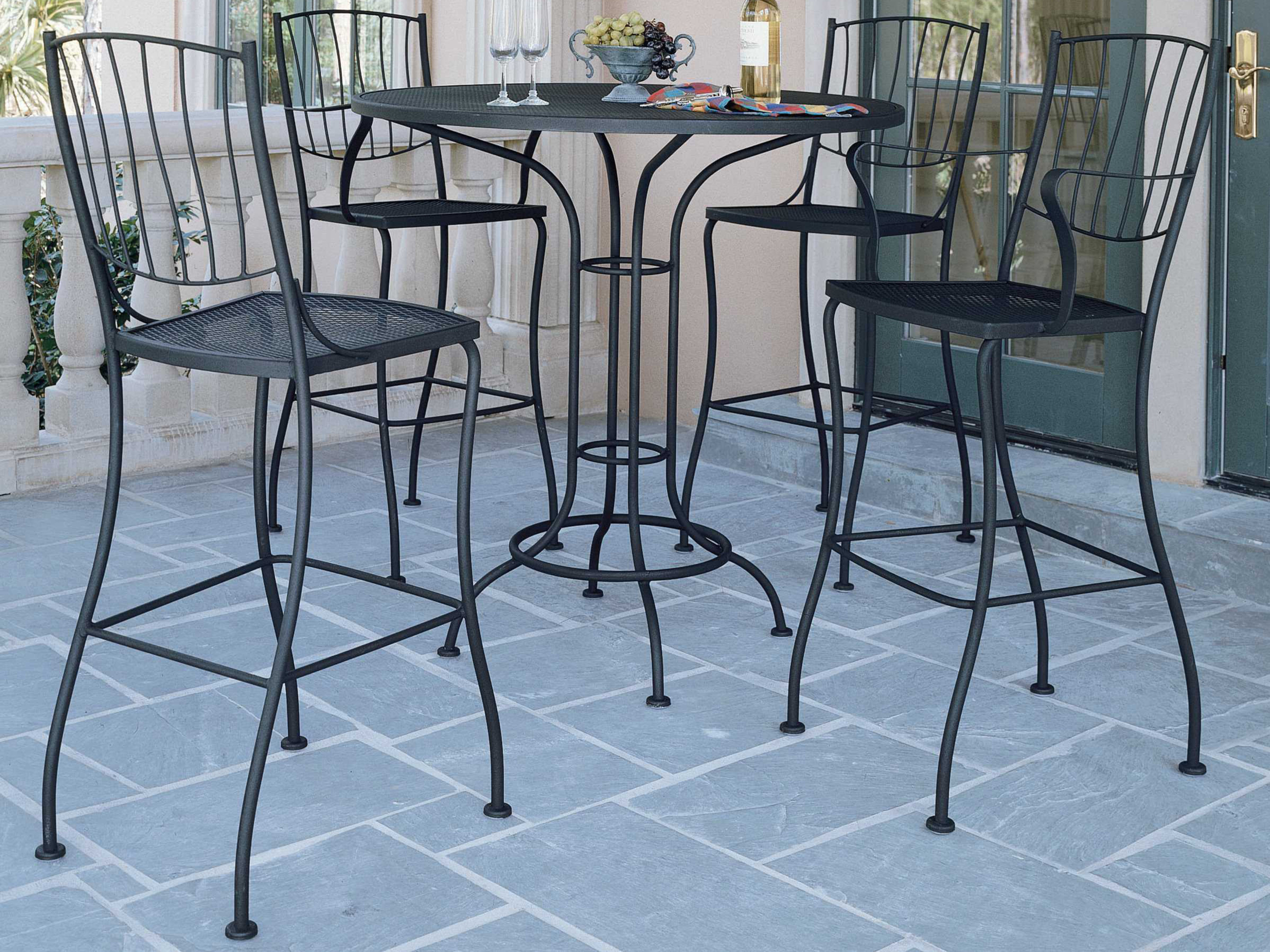 A stylish set of 1 bar height table and 4 matching bar stools, designed for outdoor areas such as patios, gardens, and swimming pools. It's all made of powder-coated wrought iron with lovely curves and durable construction.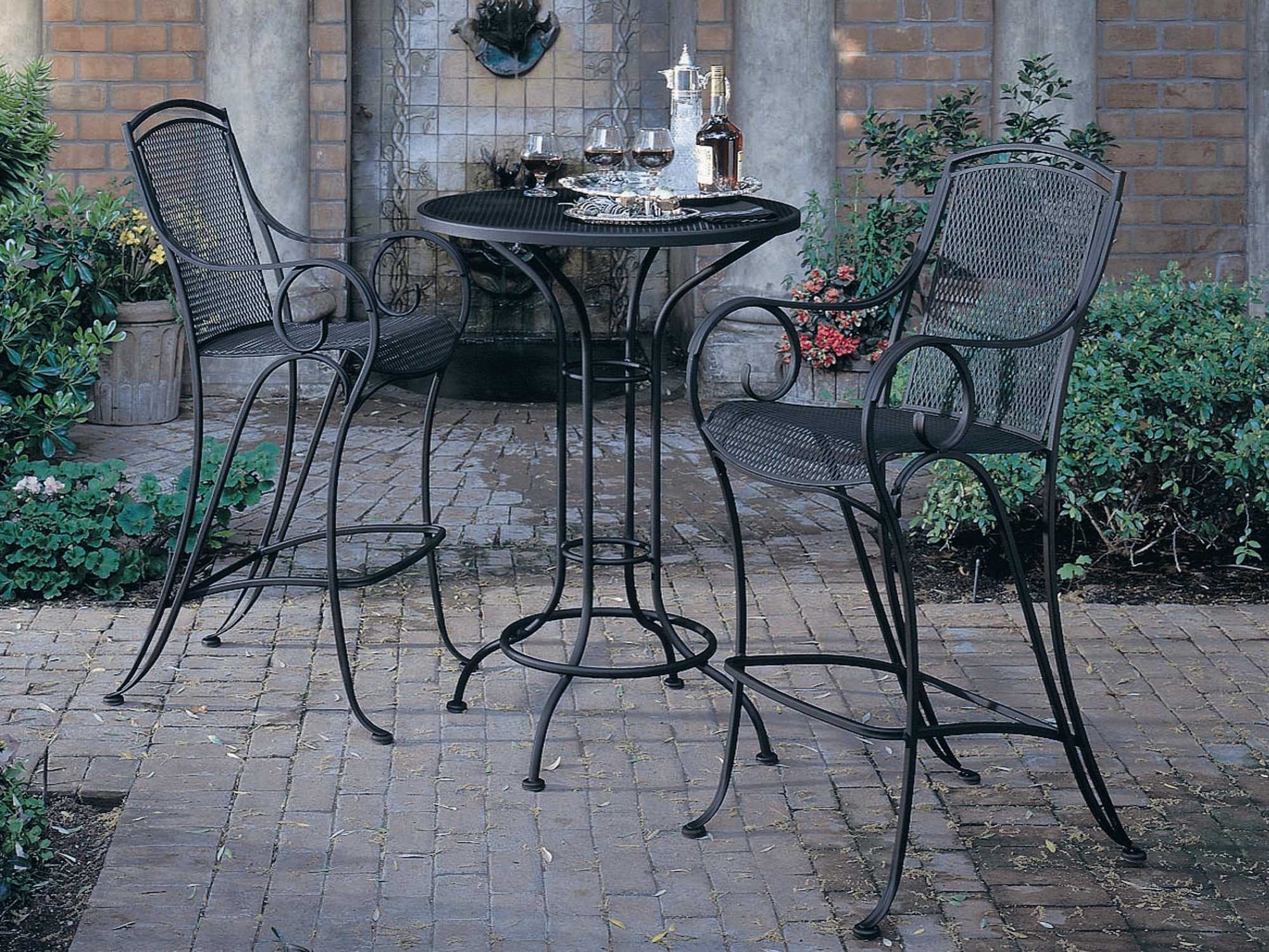 The beautiful and robust high bar chair is a perfect combination of wrought iron construction and cute elements. Nice details fascinate and create a functional and elegant whole. Comfortable seat with backrest and armrests.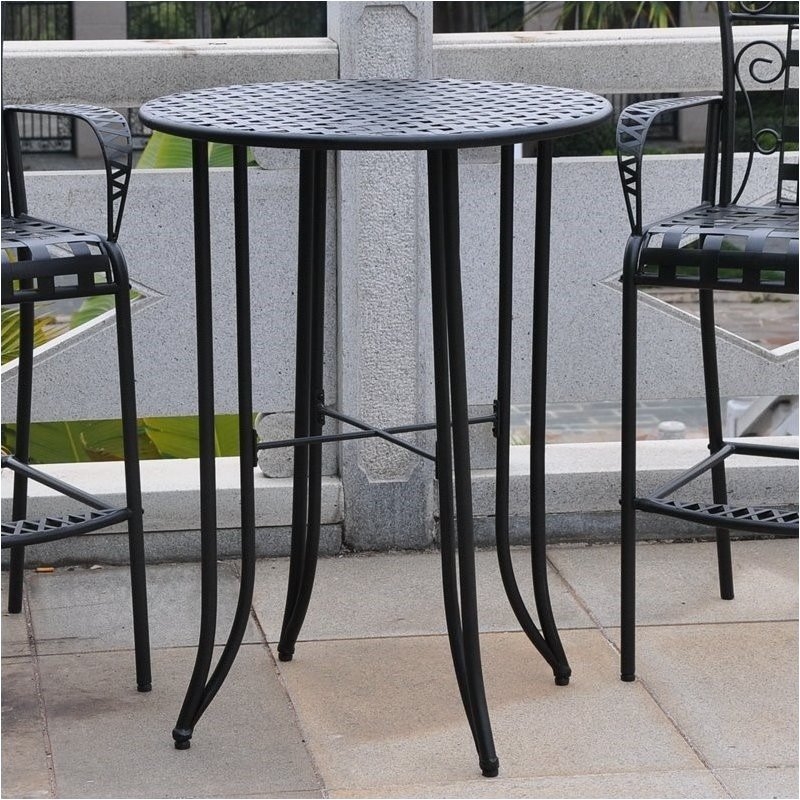 Versatile bistro table of bar height, crafted from premium wrought iron ready to stand up for everyday outdoor use thanks to water- and UV-resistant coating. Antique black distressed finish provides the right style.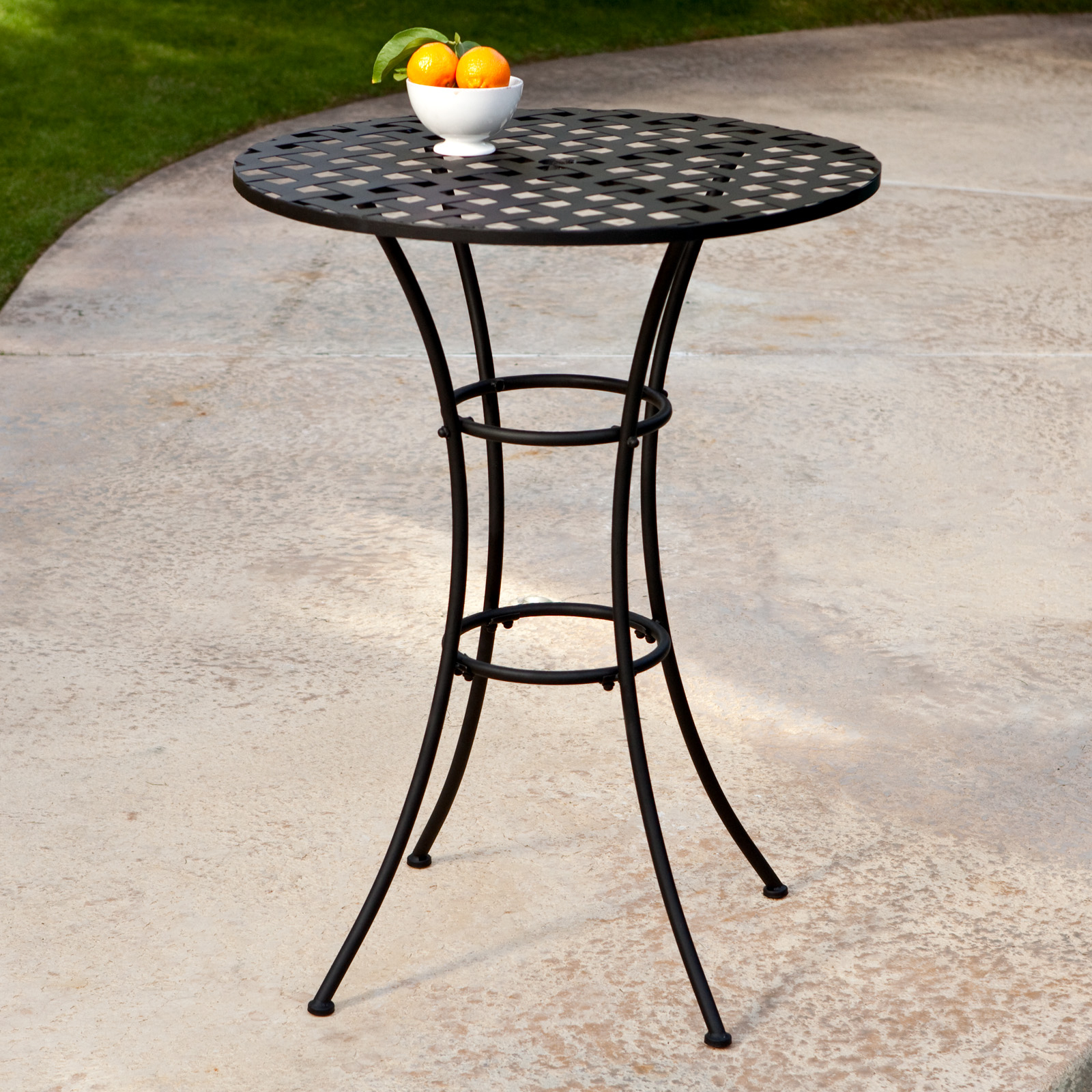 A bar table for commercial applications. It features a solid wrought iron construction finished in classic black powder-coated finish. The frame includes two supportive ring. Round top of this table features a nice woven pattern.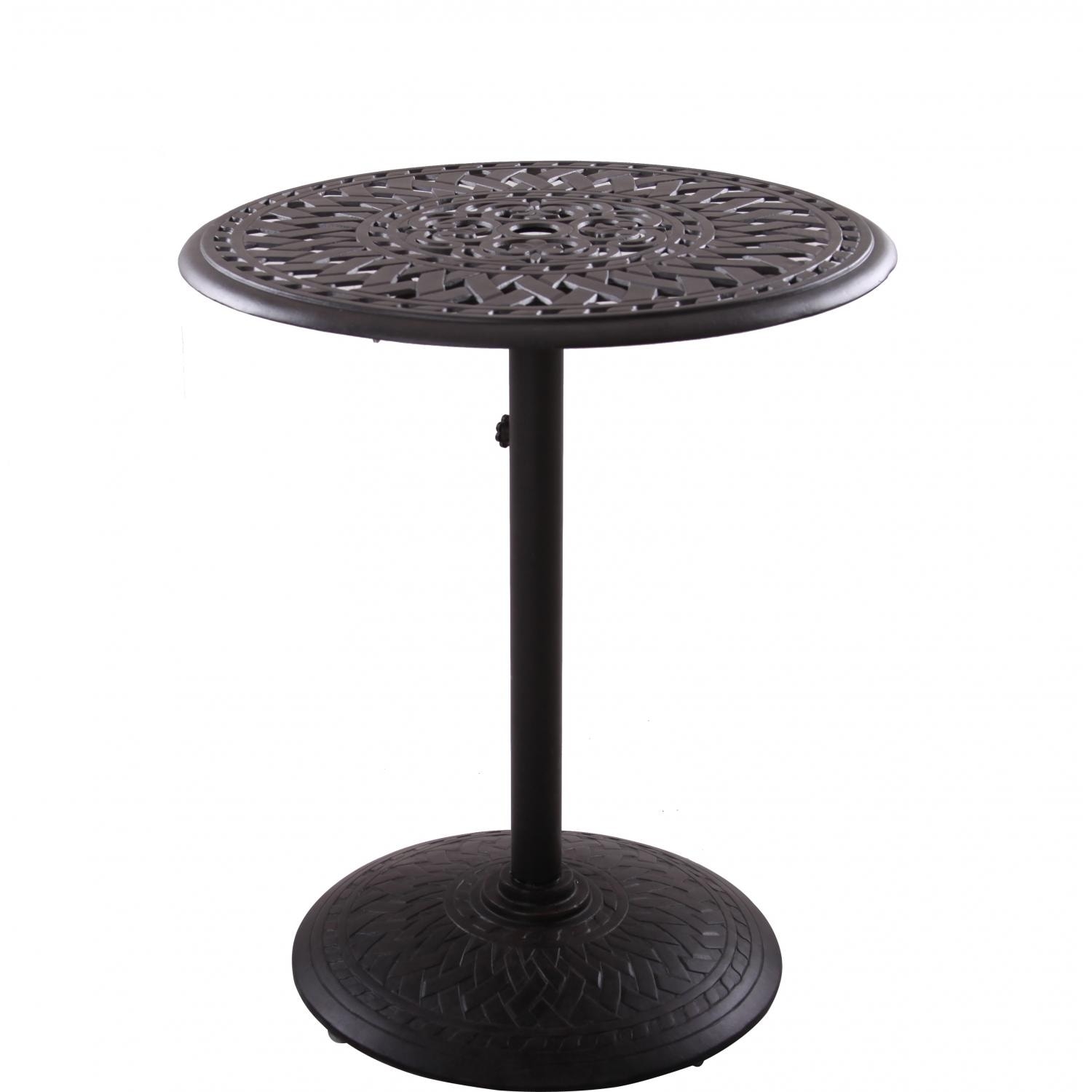 An elegant contemporary bar table of weatherproof cast aluminium with a dark bronze finish. The table has a round convex foot with embossed geometric designs, a sleek round column with adjustable height, a round openwork top with a braided pattern.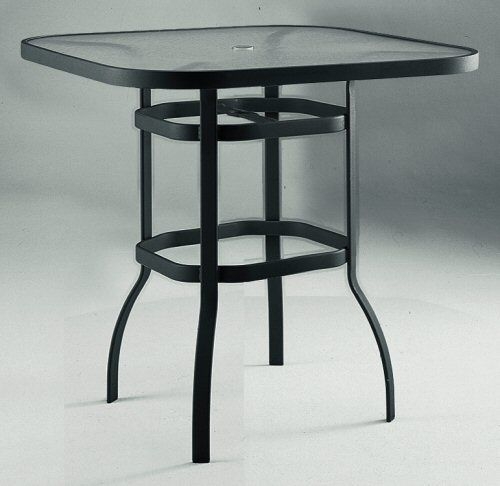 The perfect wrought iron table for both indoor and outdoor use. It comes in typical bar height for use with tall stools or chairs. The square-shaped table is made of strong and durable wrought iron materials and is a perfect addition to your patio furniture.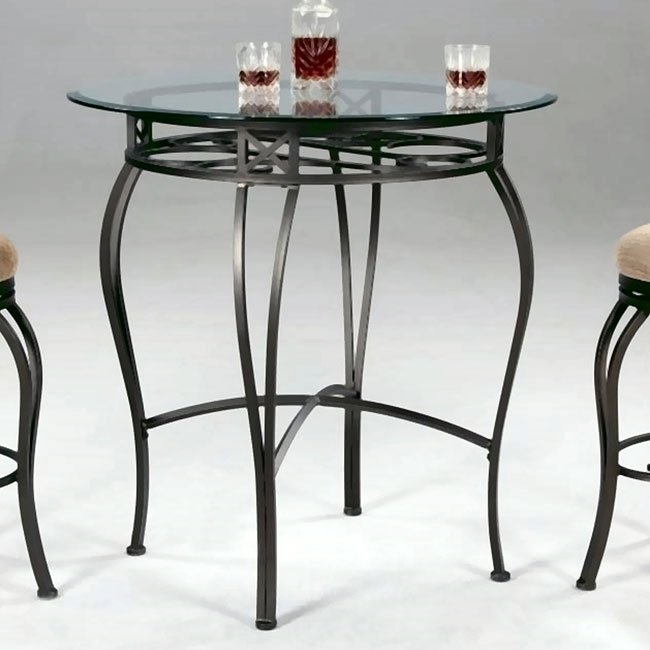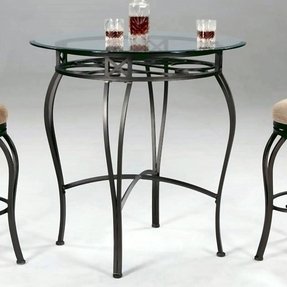 Wrought Iron Round Glass Counter Height Table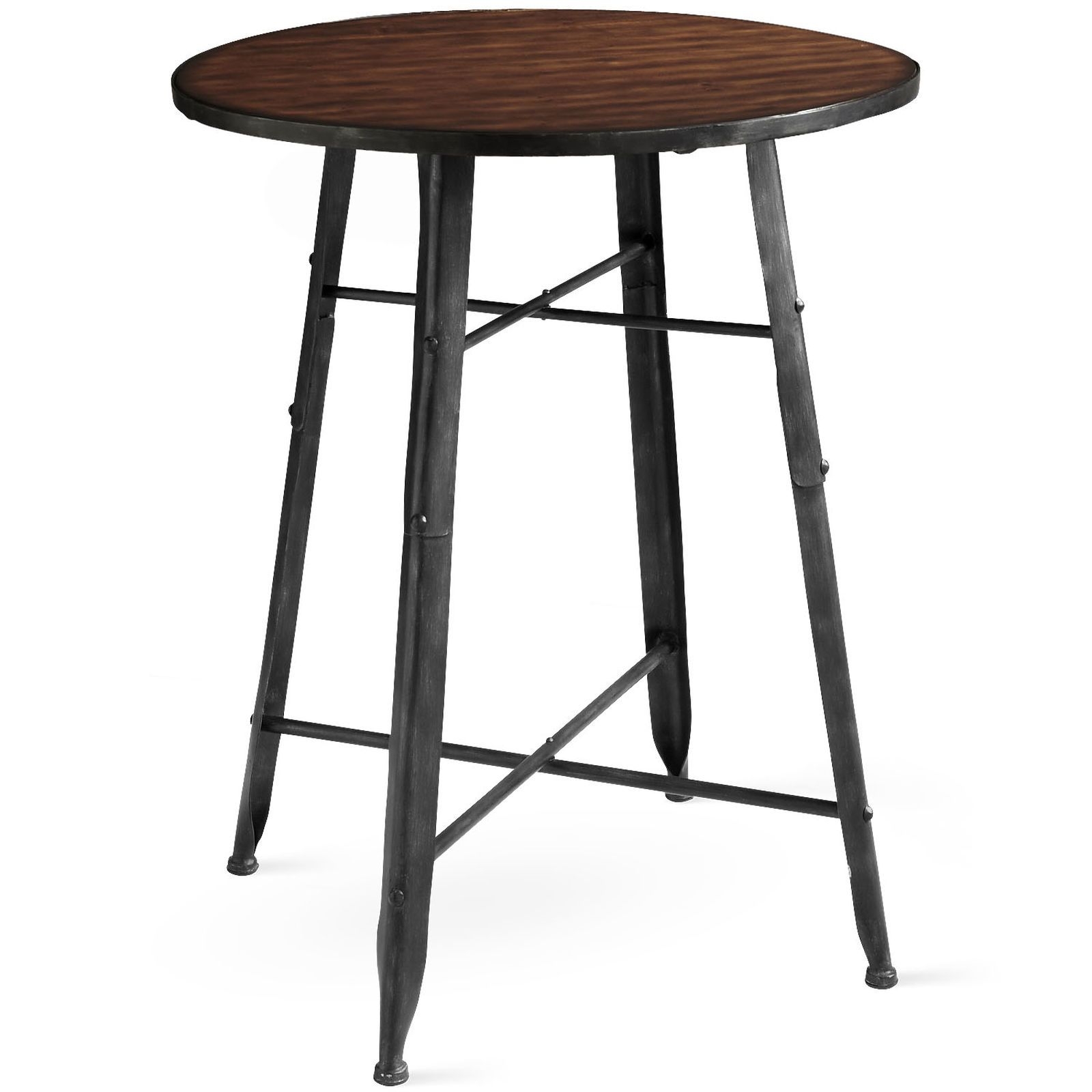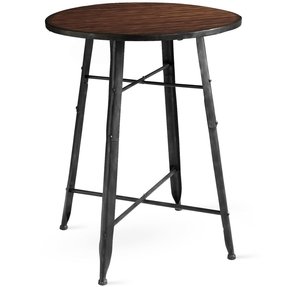 An aesthetic contemporary dining table made of wrought iron with a weatherproof black finish. It has 4 thin legs with curved out top and bottom ends, a footring and 2 smaller circular stretchers. Its round openwork top features a finely meshy design.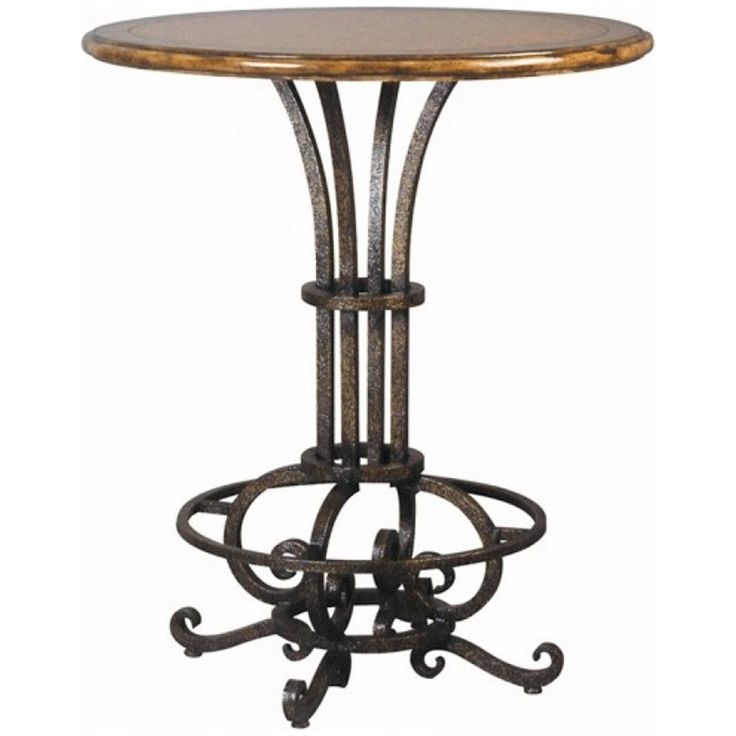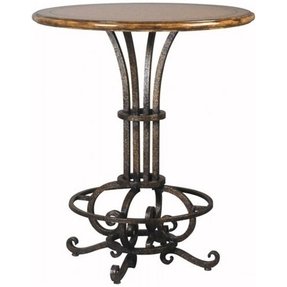 An industrial take on an antique bar table with a frame made out of wrought iron with a rough texture and a subtle coat of gold spray paint. The top of the table is made out of wood in a round shape with a polished finish.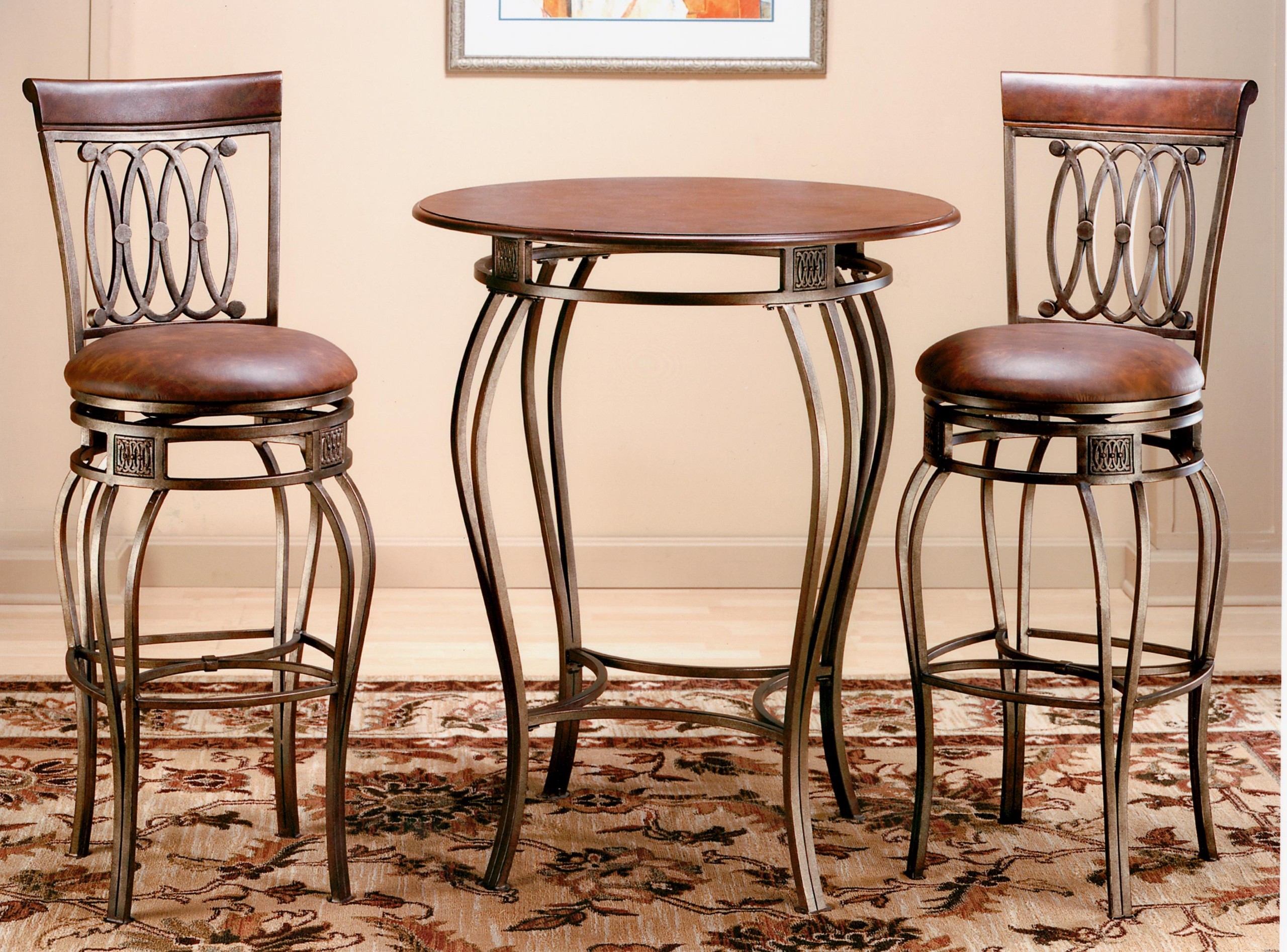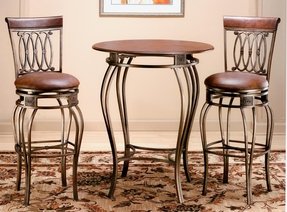 Consisted of 1 pub table and 2 matching barstools, the whole set is supported by an elegantly curved, wrought iron frame with stretchers. The wood top is round, and finished in walnut, while the barstools are padded, and upholstered in a top matching leather.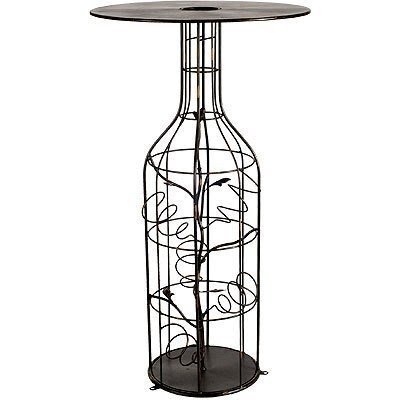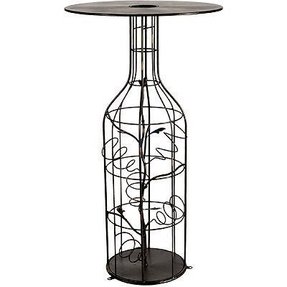 Pub set in vintage style. It consists of pub table and 2 bar stools. It is mounted on the base made of wrought iron and finished with openwork pattern. Suitable for residential and commercial premises.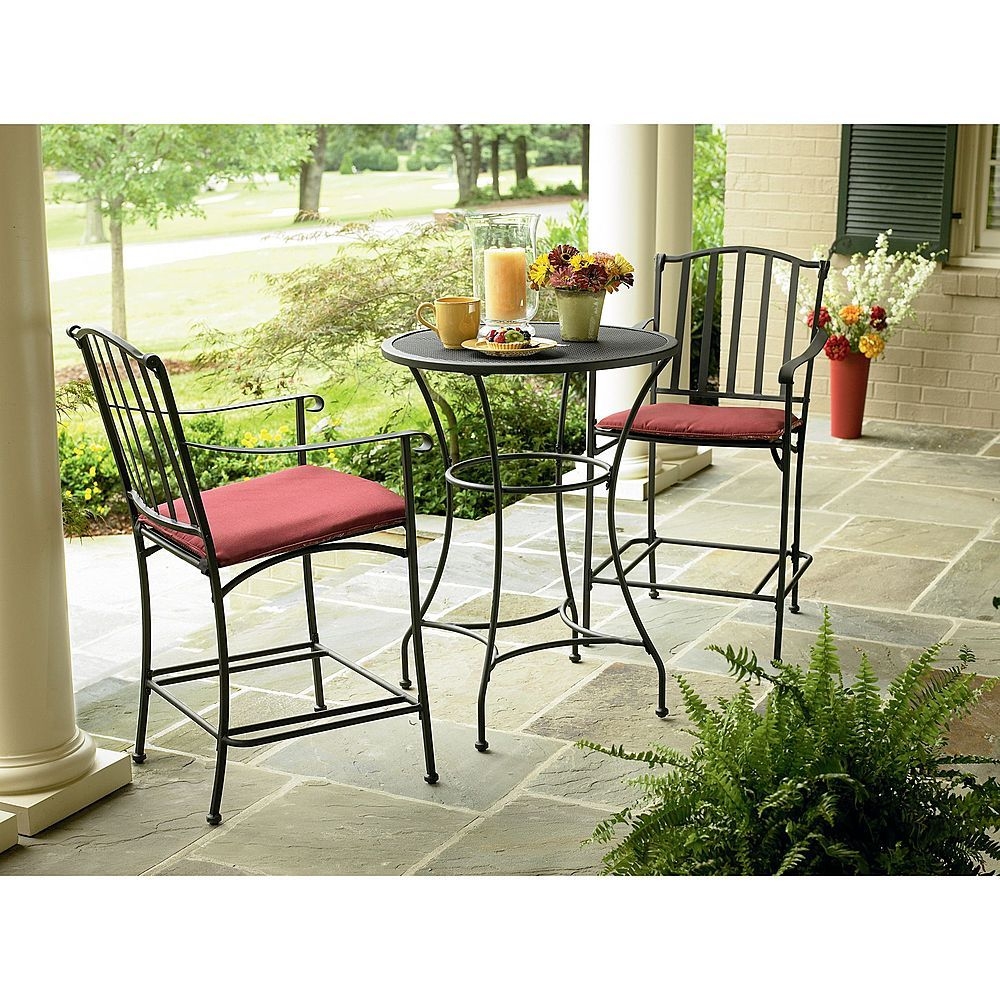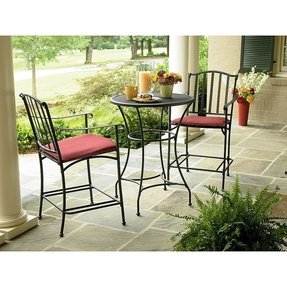 Furniture on the patio or garden should be neat. Especially if they are made of wrought iron. The round table and two elevated chairs have a lot of potential.You can decorate them with flowers, and interesting fabrics. Or simply - small pillows.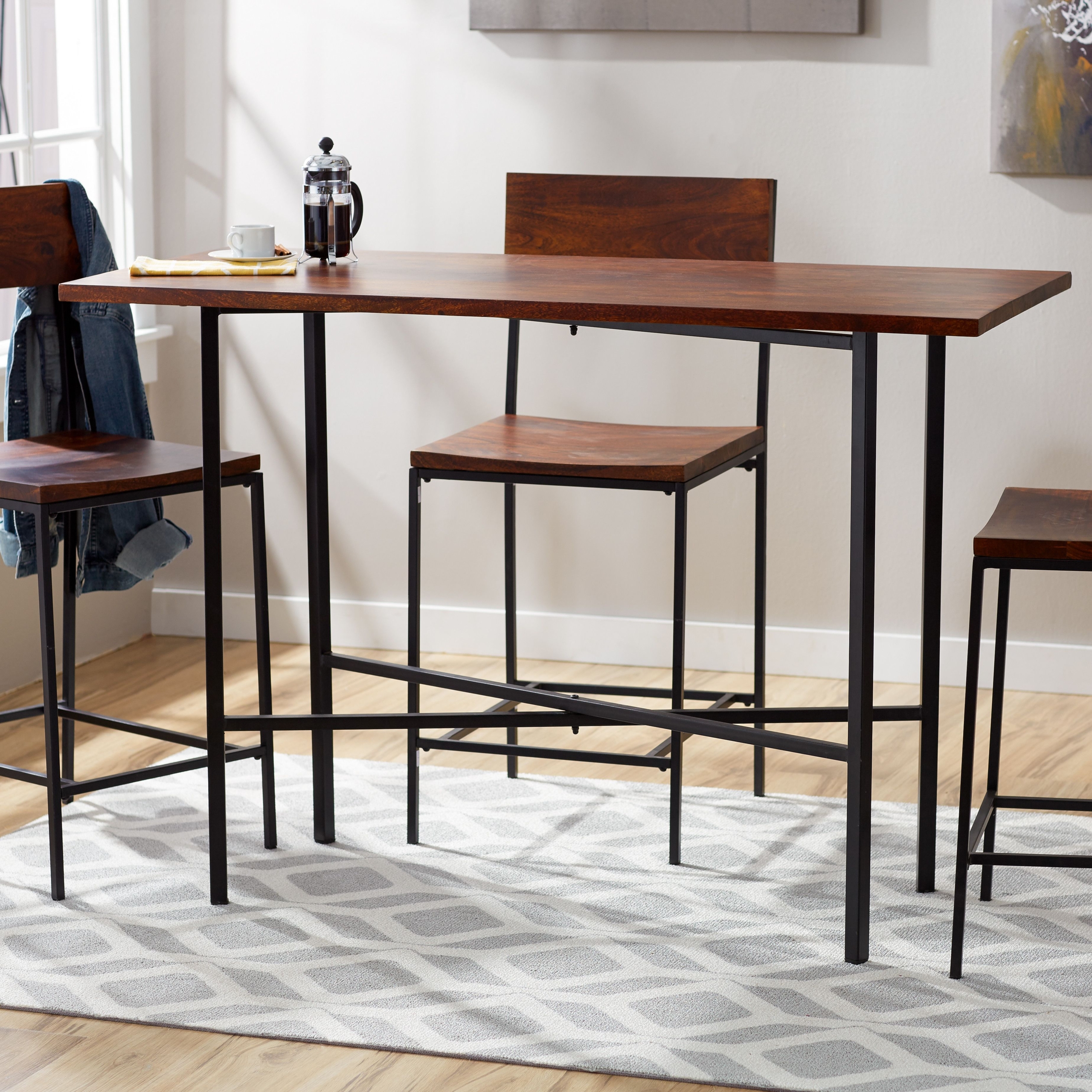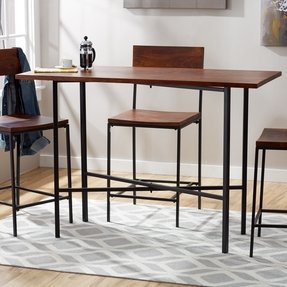 Counter Height Pub Table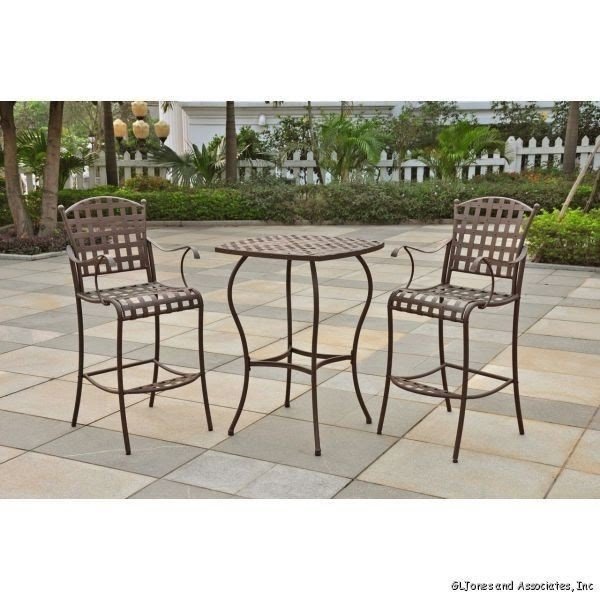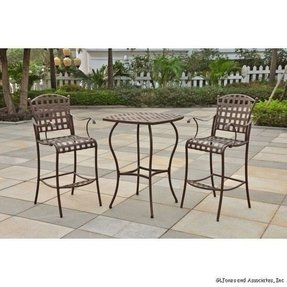 It is not easy to find garden furniture that stands out from the others. These wrought iron patio furnitures are perfect for public garden,or a small individual patio. Chairs are high. They are decorated with cut squares.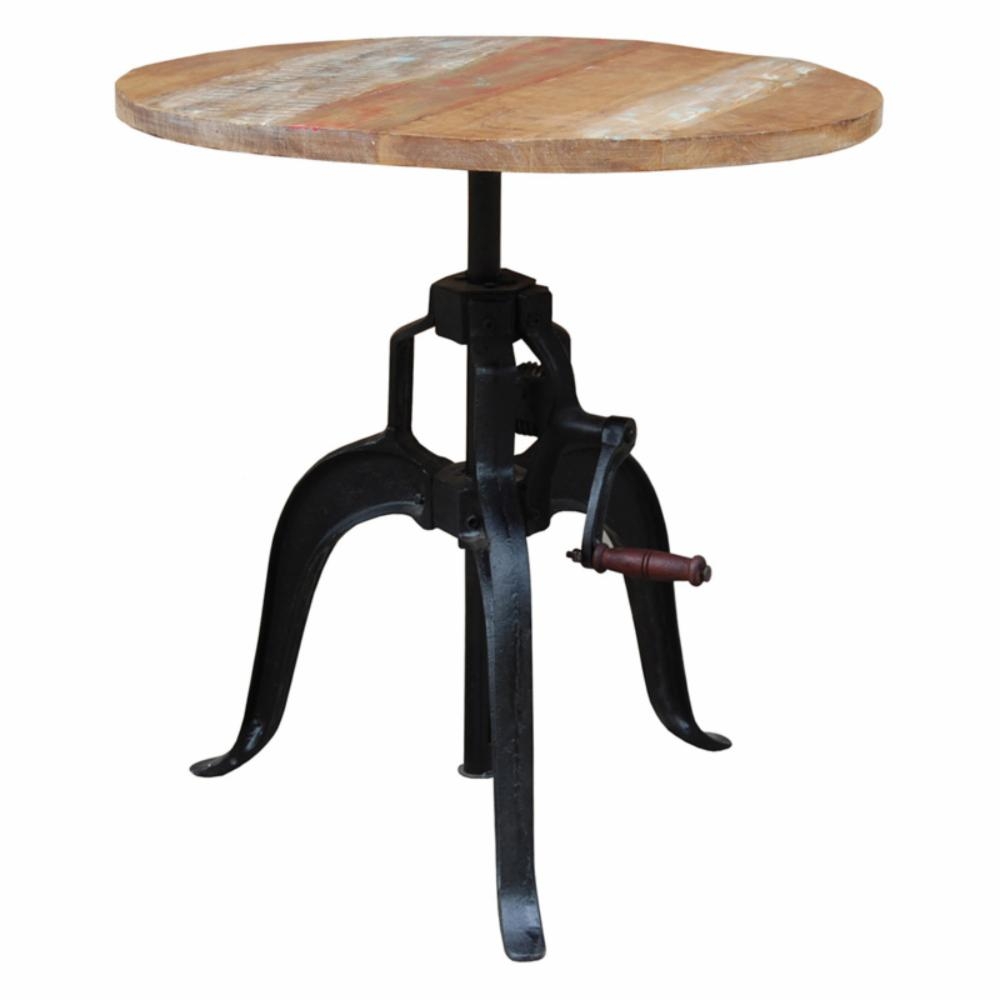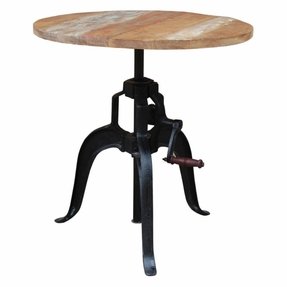 Adjustable Height Pub Table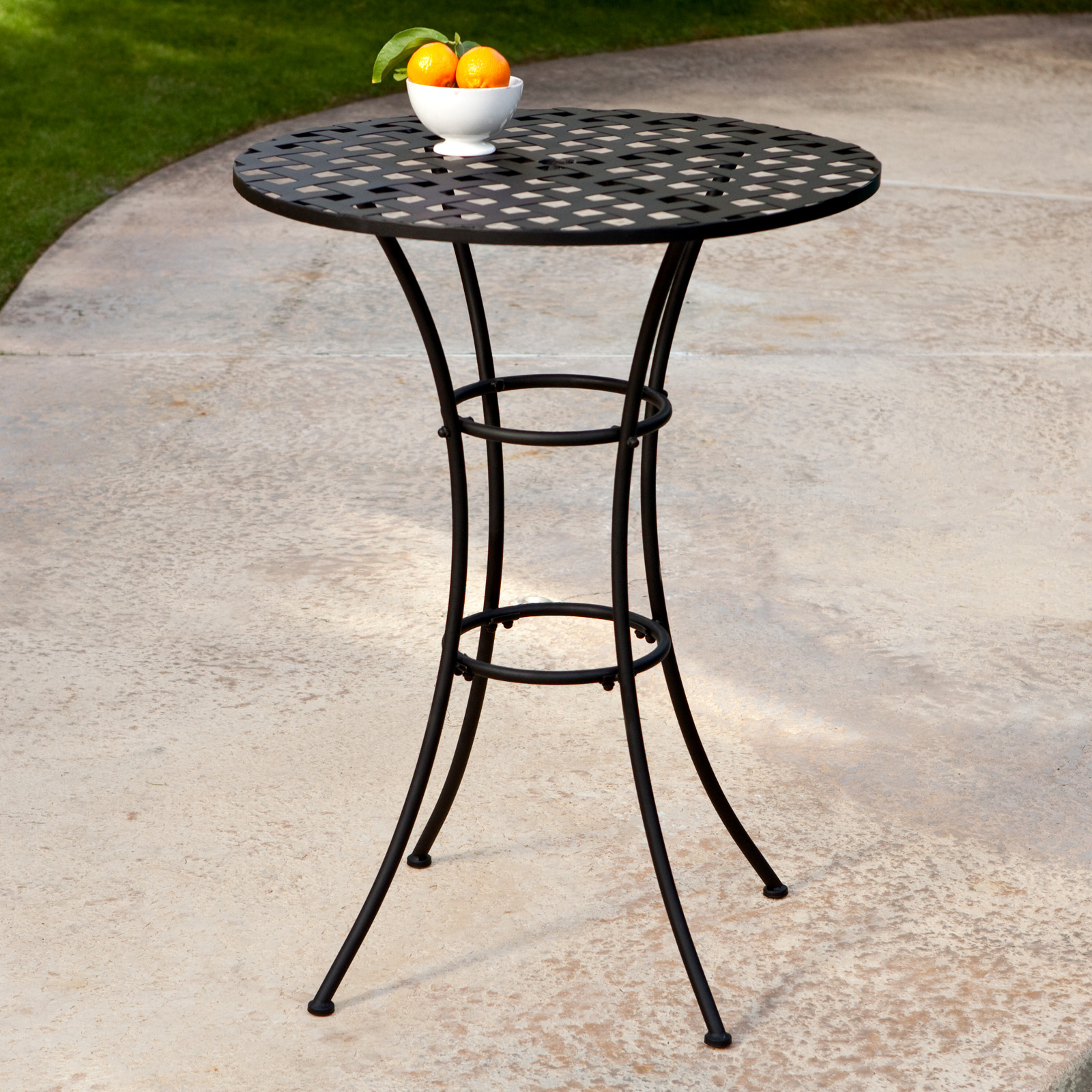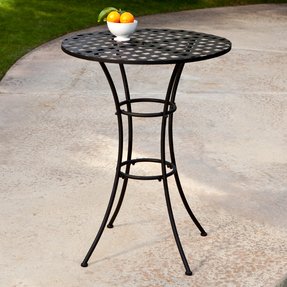 An aesthetic classic bistro table crafted of wrought iron with a weatherproof black coating. It has 4 thin gently bowed out legs joined by 2 circular stretchers. Its round openwork top features a square lattice design.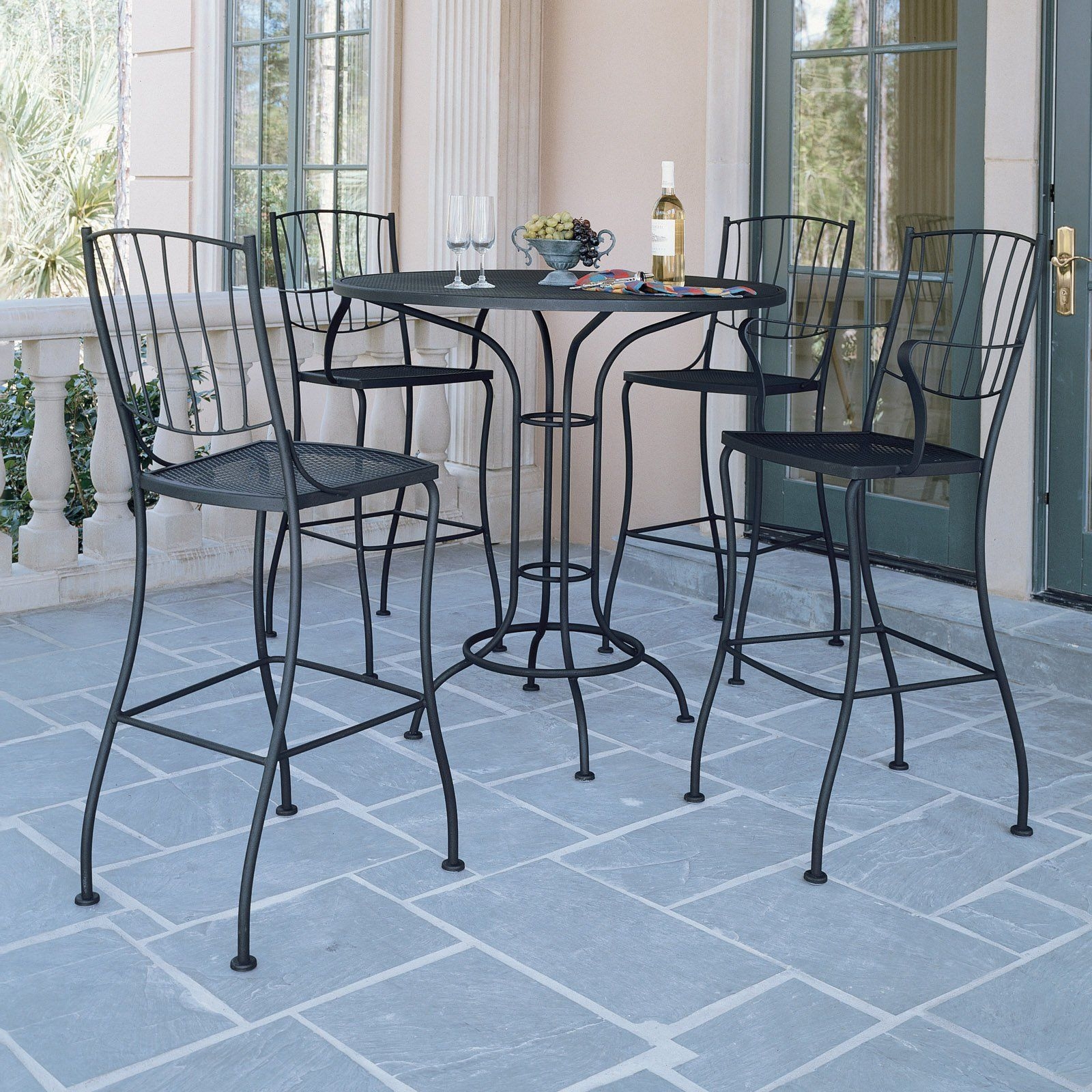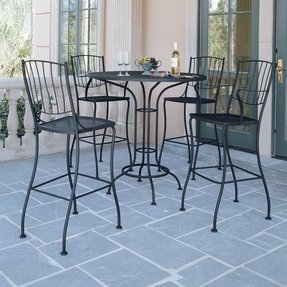 Aurora Wrought Iron Bar-Height Bistro Set - Includes Table & 2+ Side ...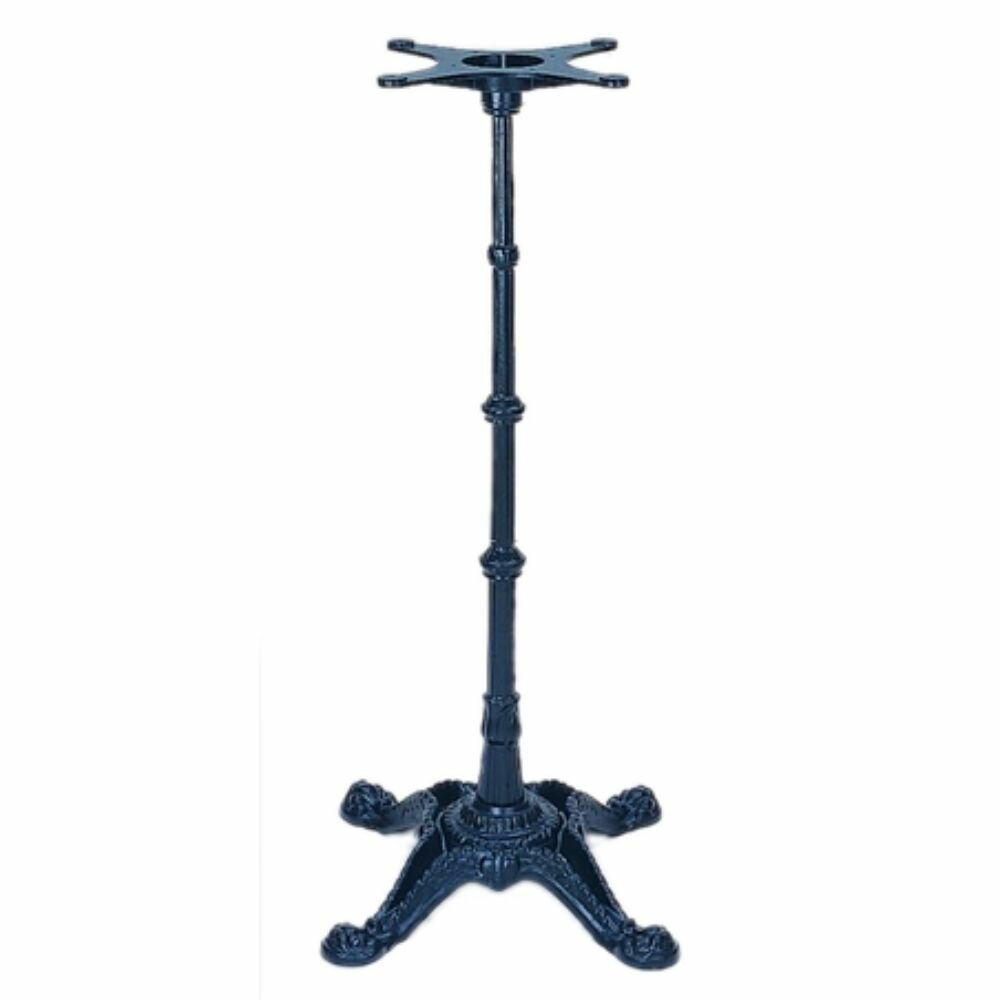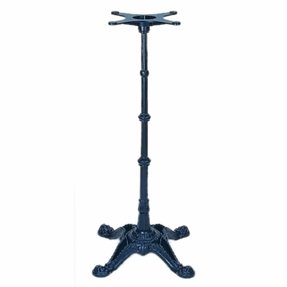 ... color bar multi use table height bar durability and base diameter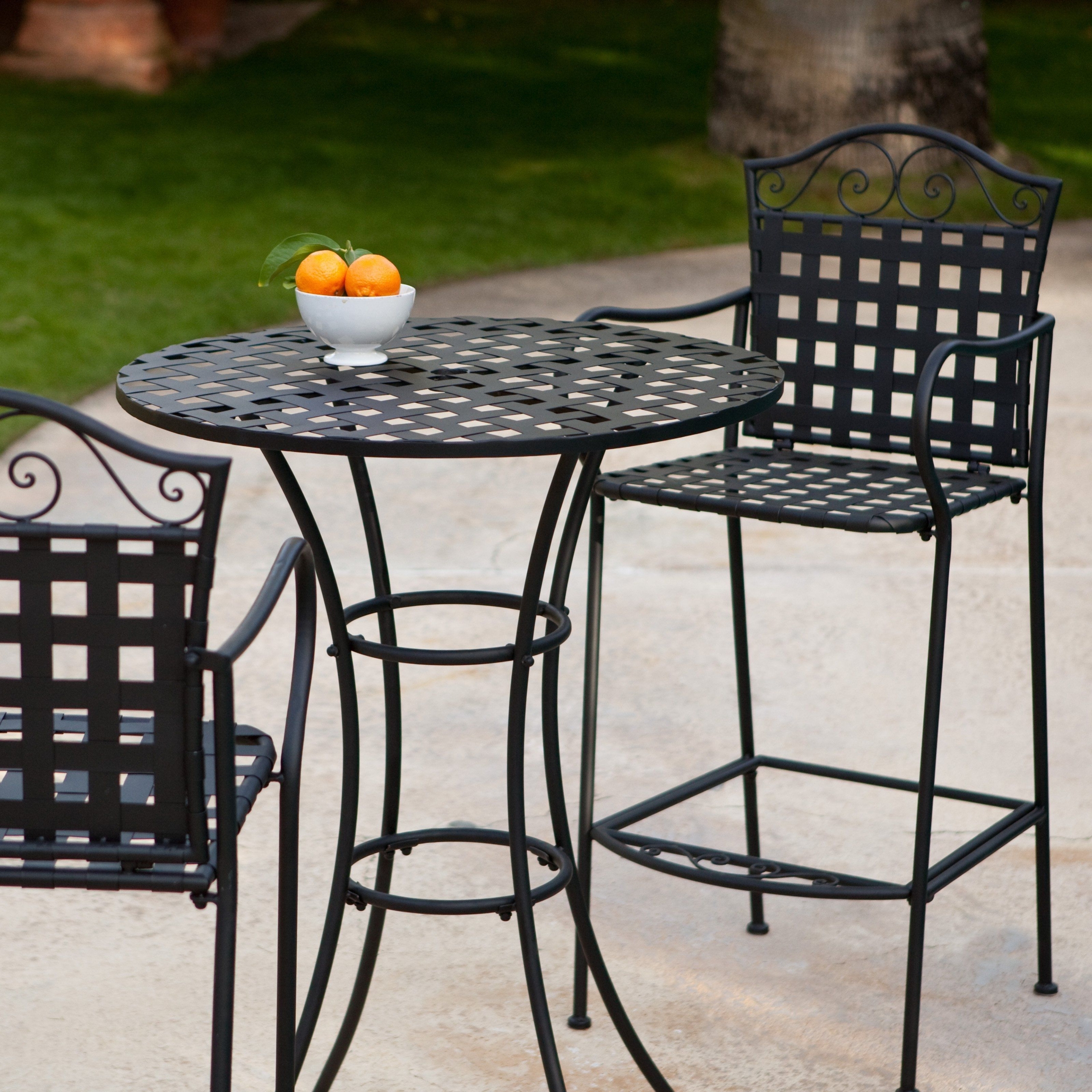 Capri Woven Wrought Iron Bar Height Bistro Set by 4 Seasons Global Inc. $249.98. Additional features:Bar stools: 18.5W x 16.9D x 46.8H inches (ea)Bar stools have foot rest for comfort and easy in-and-outBistro table: 30 diam. x 39.4H inchesTable features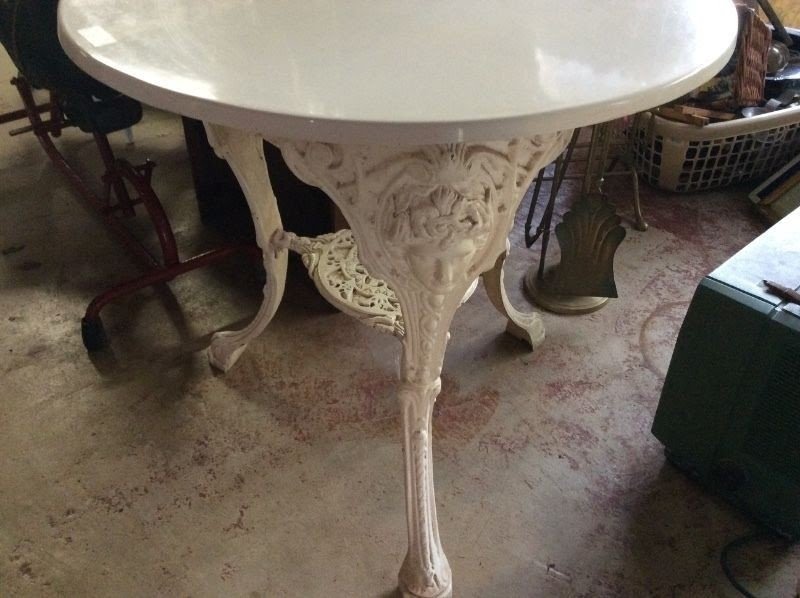 Double click on above image to view full picture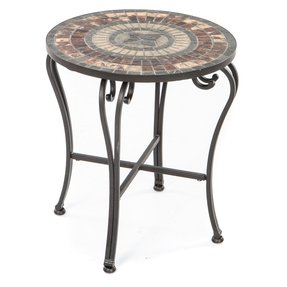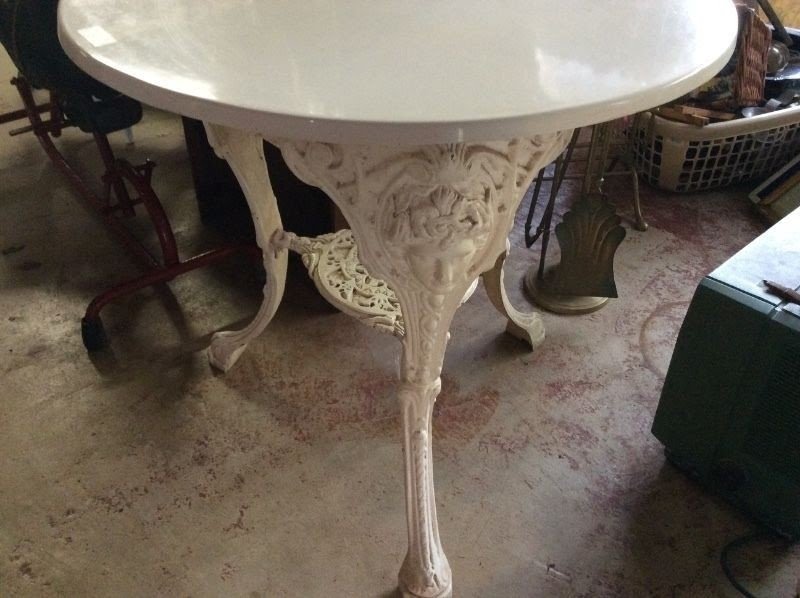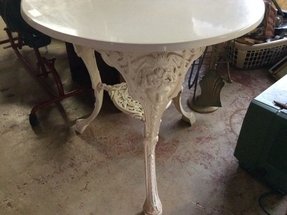 An aesthetic contemporary patio table of wrought iron with a weatherproof antiqued black finish. It has 4 straight legs of 2 thin rods each with curved bottom parts and a simple X-stretcher. Its round top features an openwork square lattice pattern.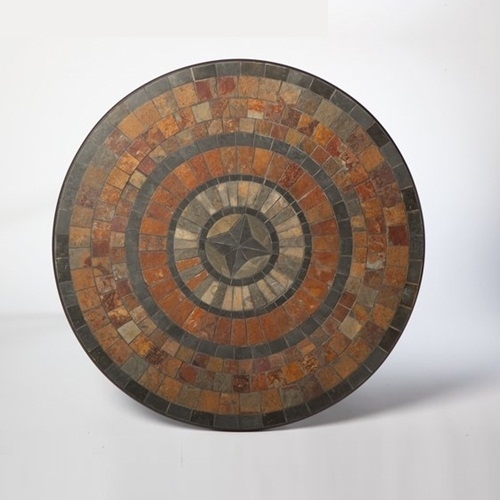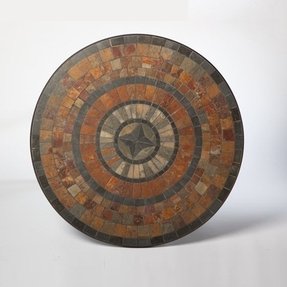 click photos to enlarge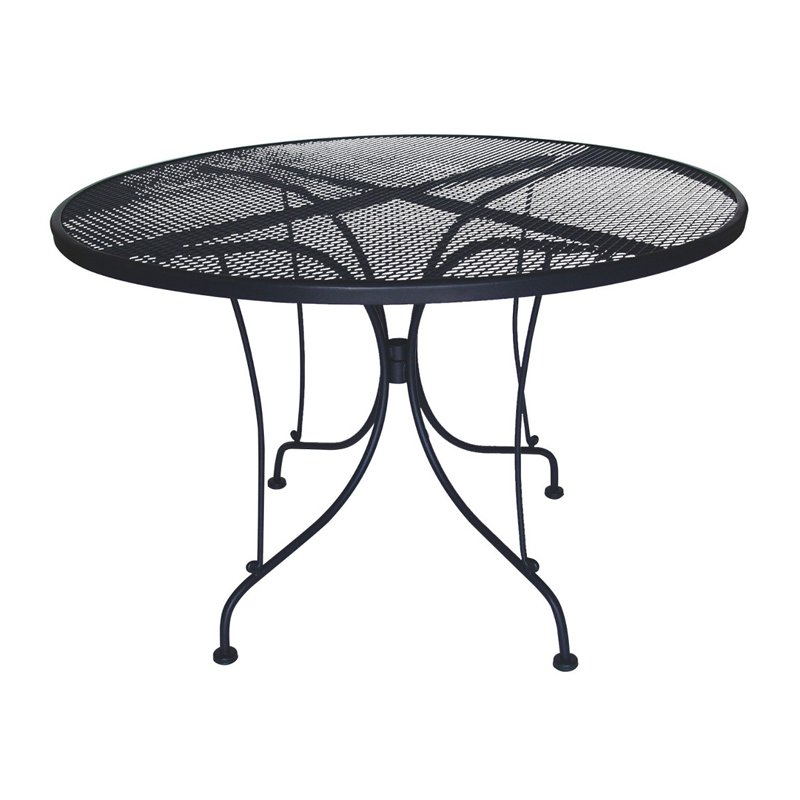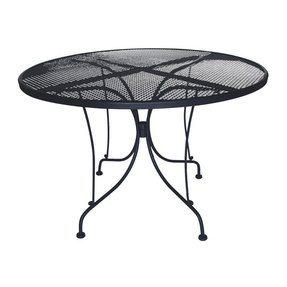 A wrought black iron table with large, round (48'' diameter) top placed on tiny but stable feet that make it possible to put many chairs around. Simple but decorative. Powder coated, resistant to rusting. Suitable for outdoor use.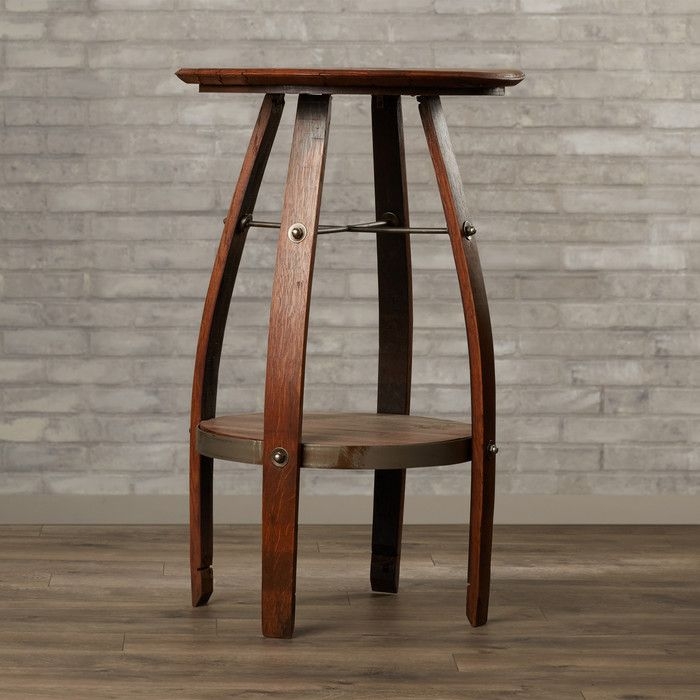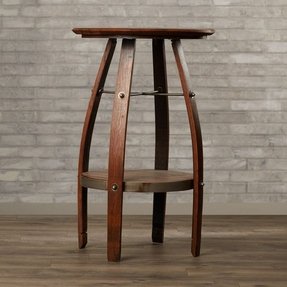 Butterfield Pub Table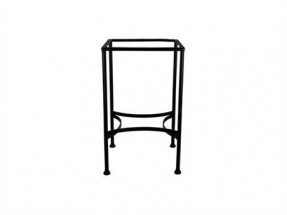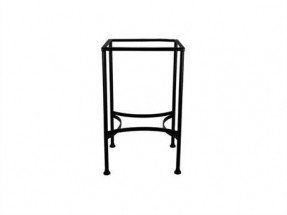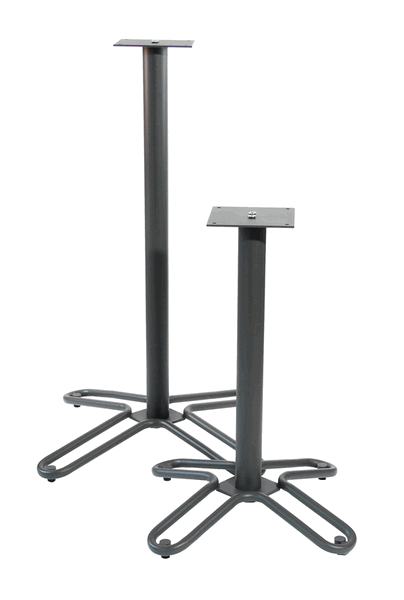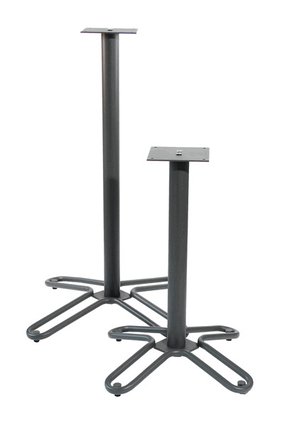 Outdoor Wrought Iron Anthracite Fabia Bar Height Table Base For 24 ...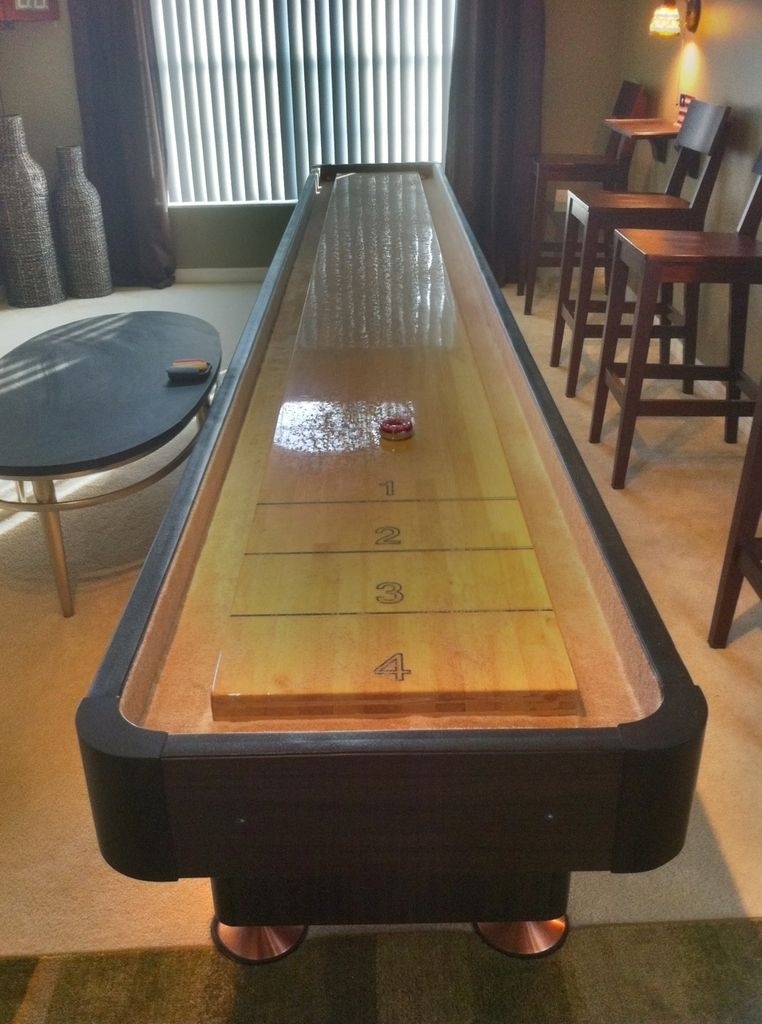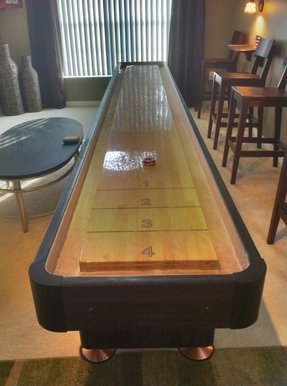 Table with wooden top. Base is made of metal and reinforced with solid supports. Suitable for residential and commercial premises. Simple form and modern design.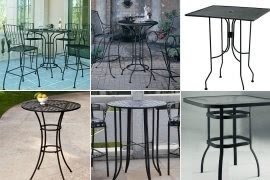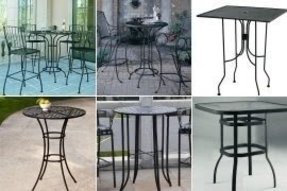 This wrought iron framing constitutes the chassis for a cool outdoor bar height table. The construction catches the attention with ornamental, intricately shaped legs with multiple swirls and volutes.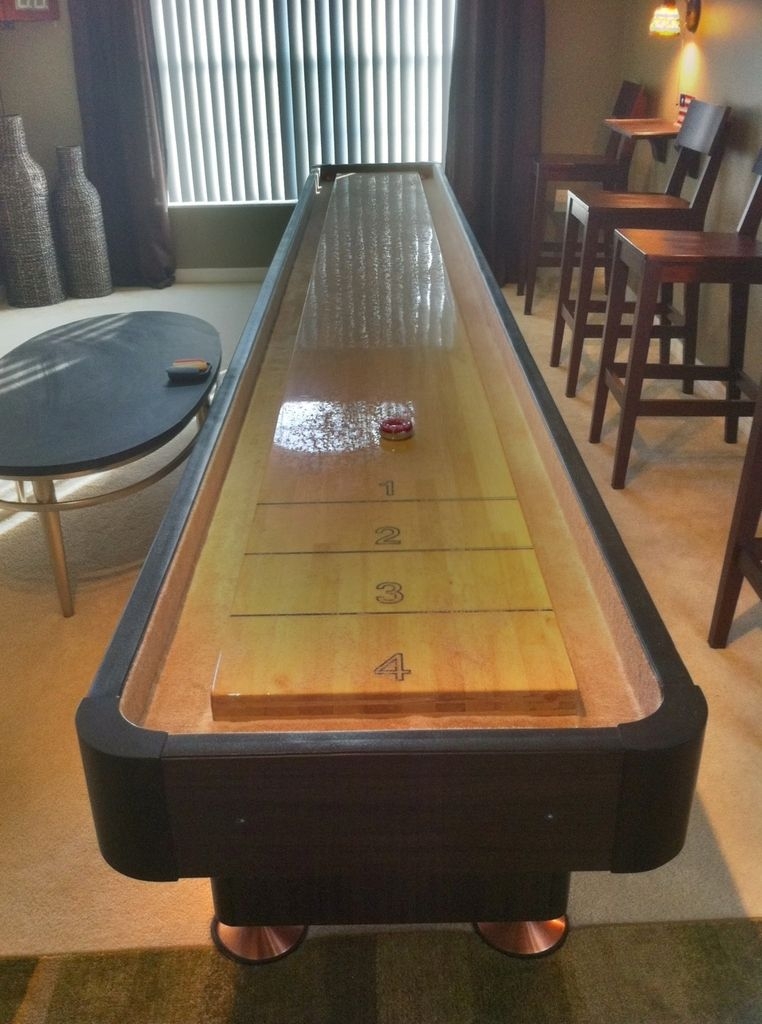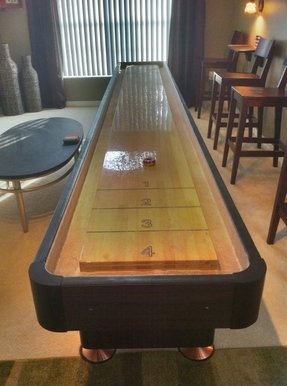 Shuffleboard table with a rectangular top made of reclaimed wood. It is suitable for commercial bar indoors. Durable frame is resistant to wear and different forms of damage. Simple lines look great in any decor.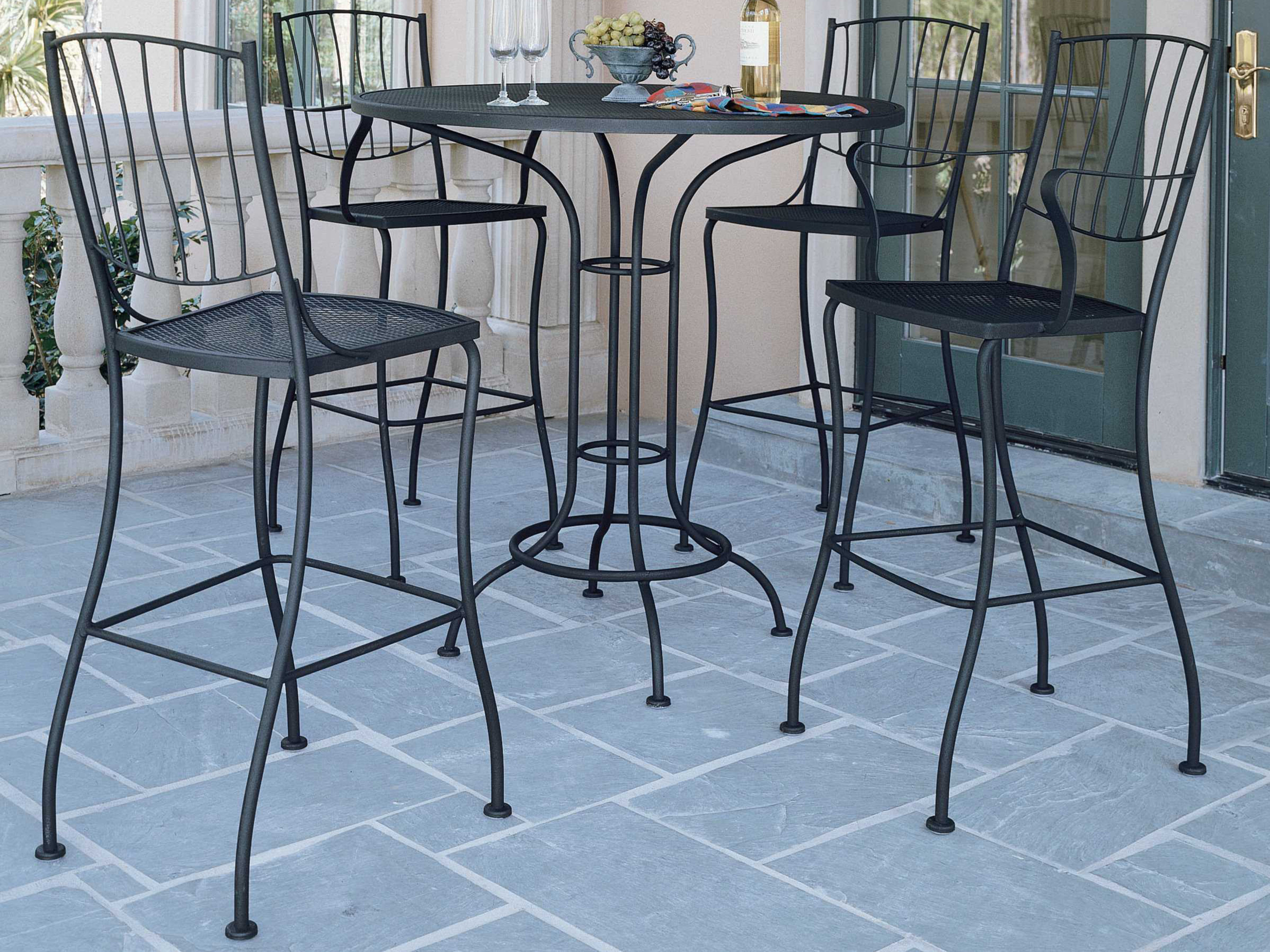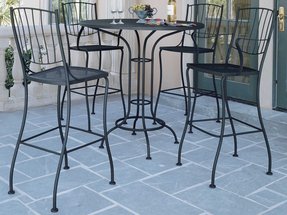 TWI-MC-70-271-Base-3.jpg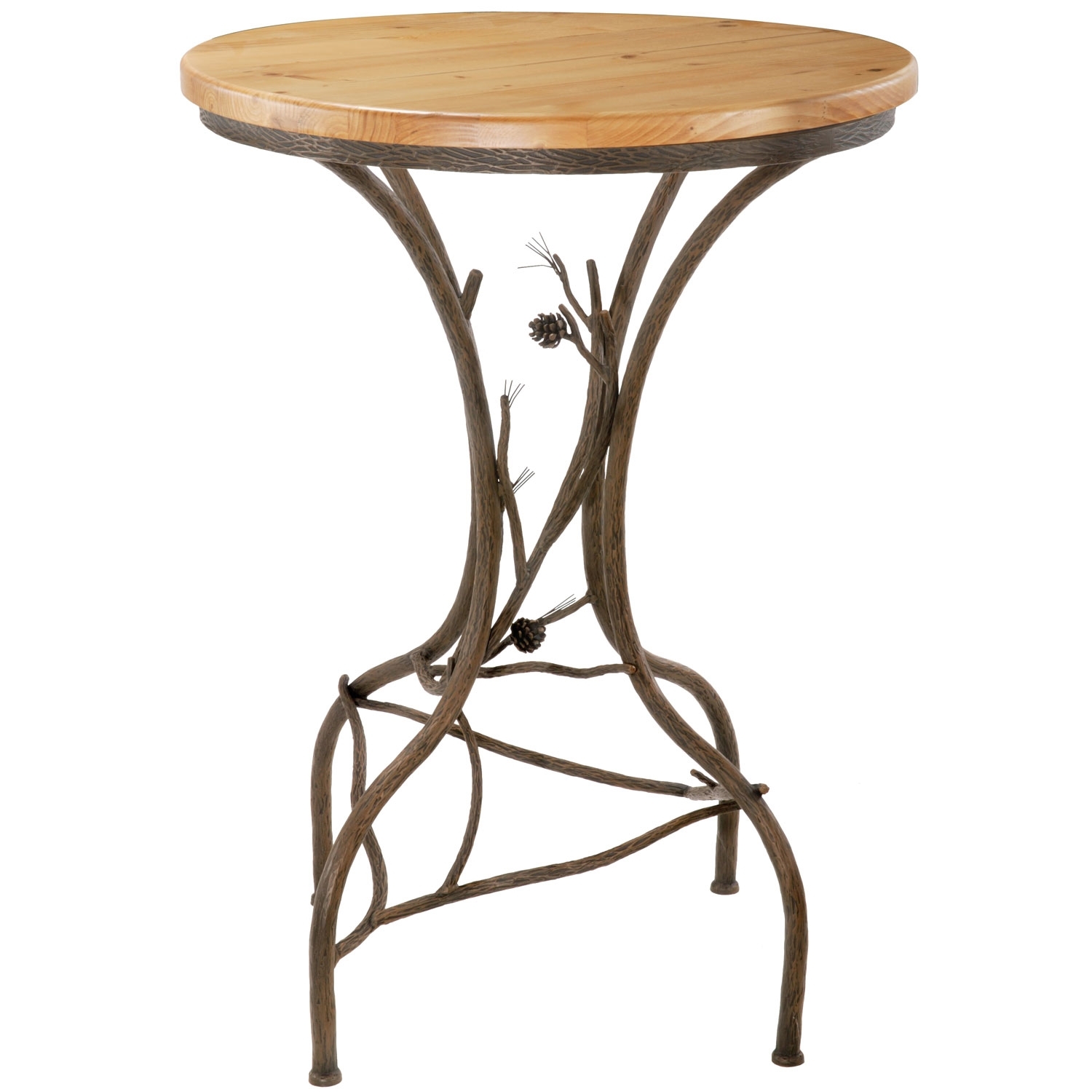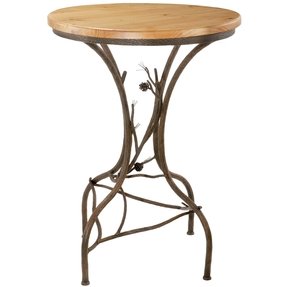 Pine Wrought Iron Pub/Bar Height Table by Stone County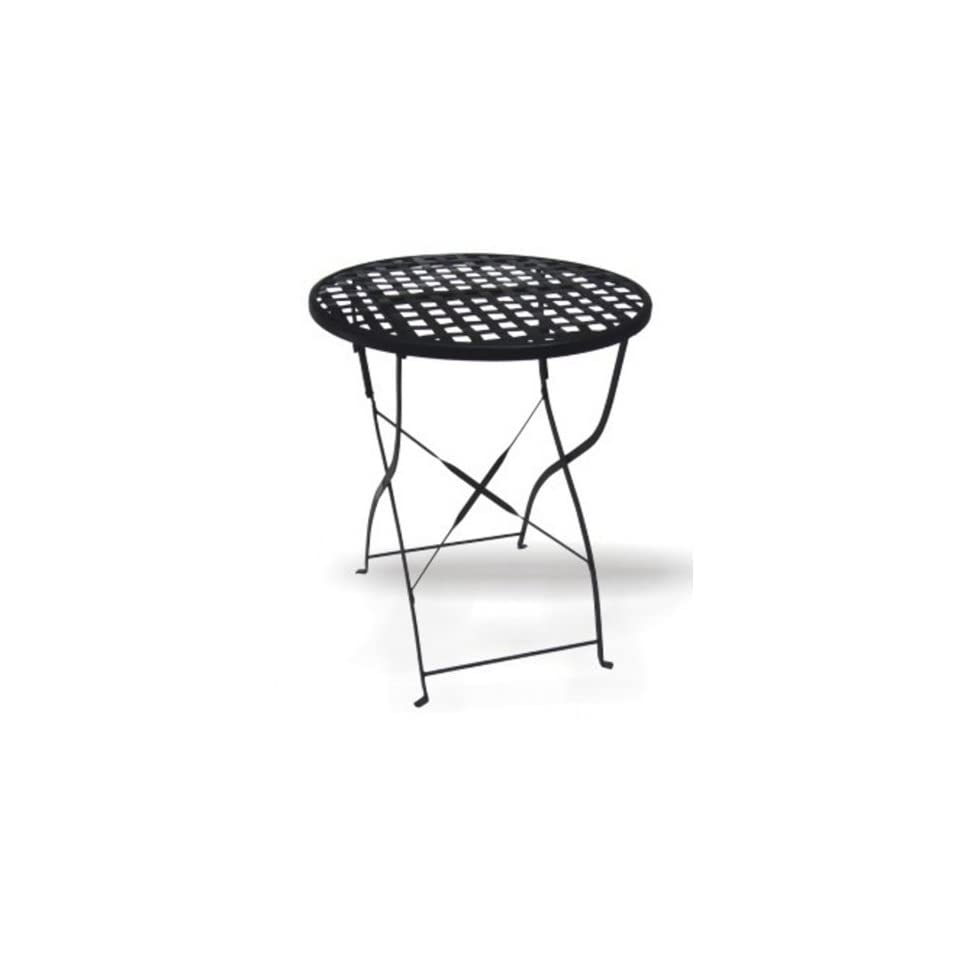 Round side table. Made of wrought iron with mesh top. Very solid and durable frame, yet the table looks elegantly slim. Easy to move and can be painted any color you like and if you like. Useful as a side table on your patio or near grill.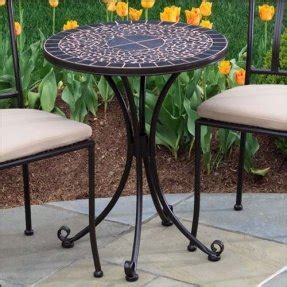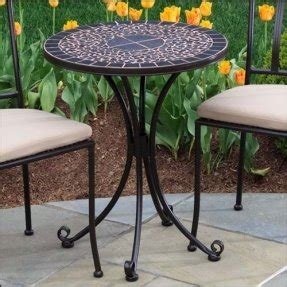 Outfitted with antiquate mosaic design, this outdoor table appears to be very stylish element of any exterior ambiance. It has black base with C-shaped legs ended with scrolled tips. The top is round.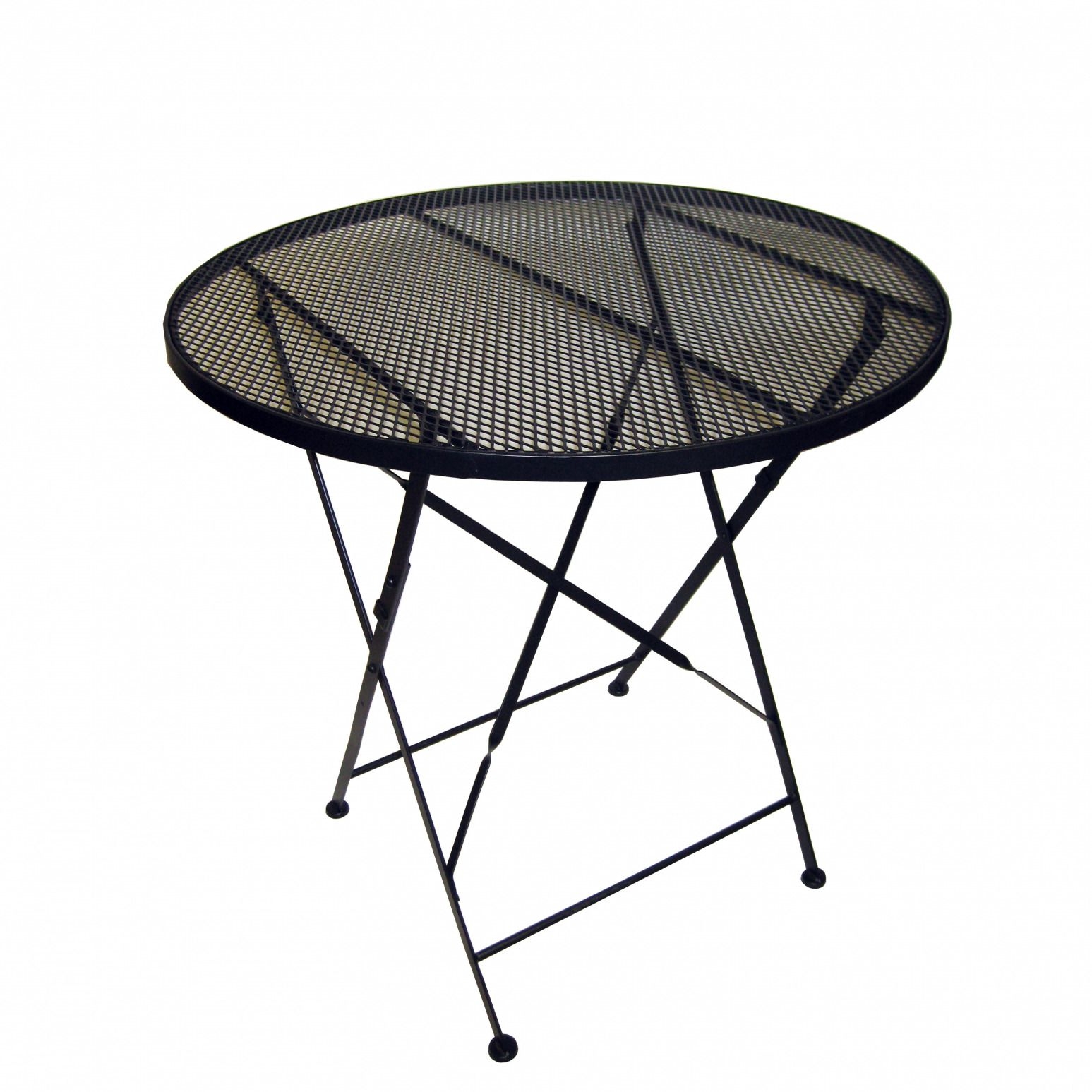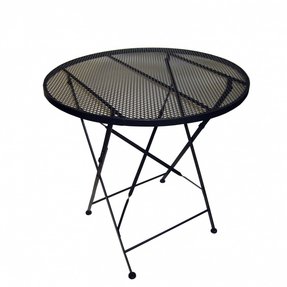 This kind of table is an element that has got a folding construction and a mesh iron top. The product is perfect for a patio or garden use. Its top is spacious and it has got a round shape. The whole construction is not very heavy.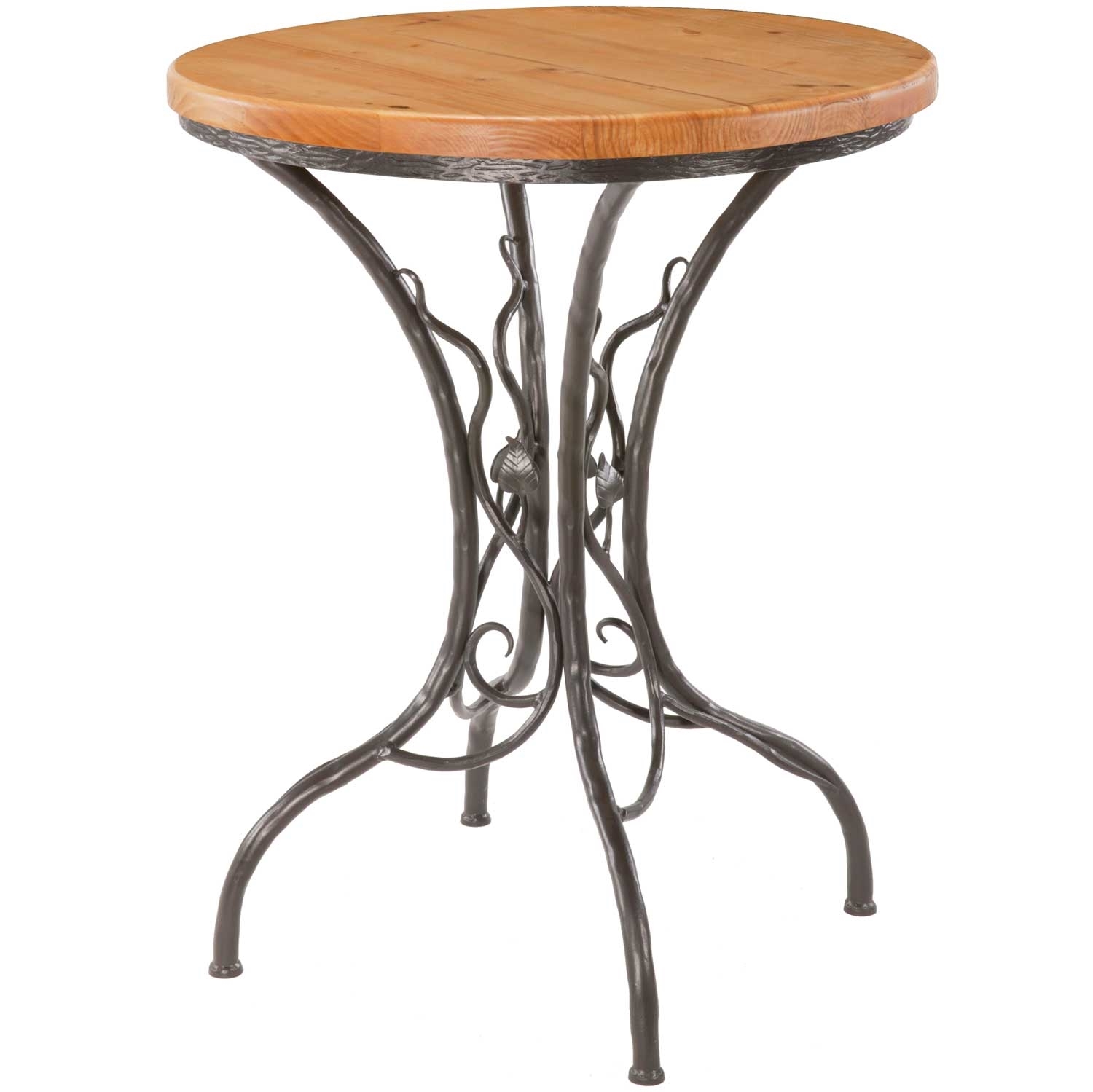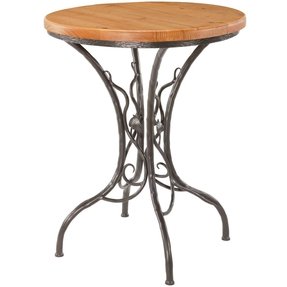 sassafras-bar-table-903-243-4.jpg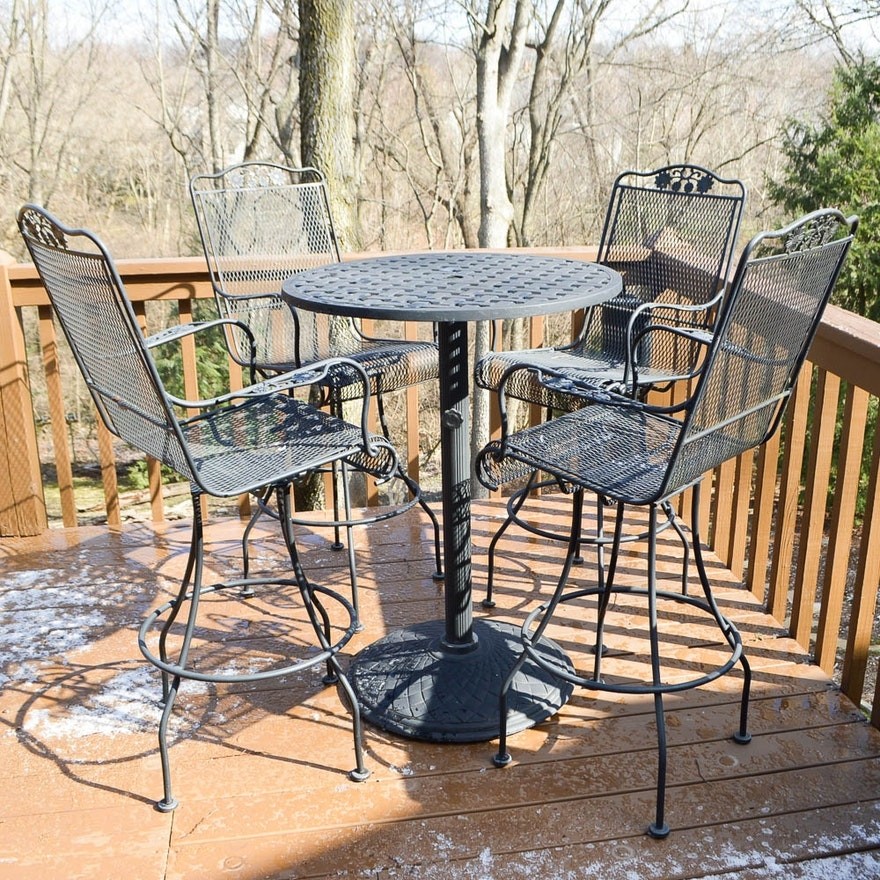 Five Piece Wrought Iron Bar Height Table and Chairs : EBTH