Iron Dish Racks
If you're looking for a dish rack that will last for years, an iron dish rack may be exactly right for you and your dishes. The most durable material, iron, can support a heavy load and still keep its shape. These six iron dish racks come with various holders, so you can choose the one that fits whatever dishes, utensils, and pots and pans you often dry on the countertop.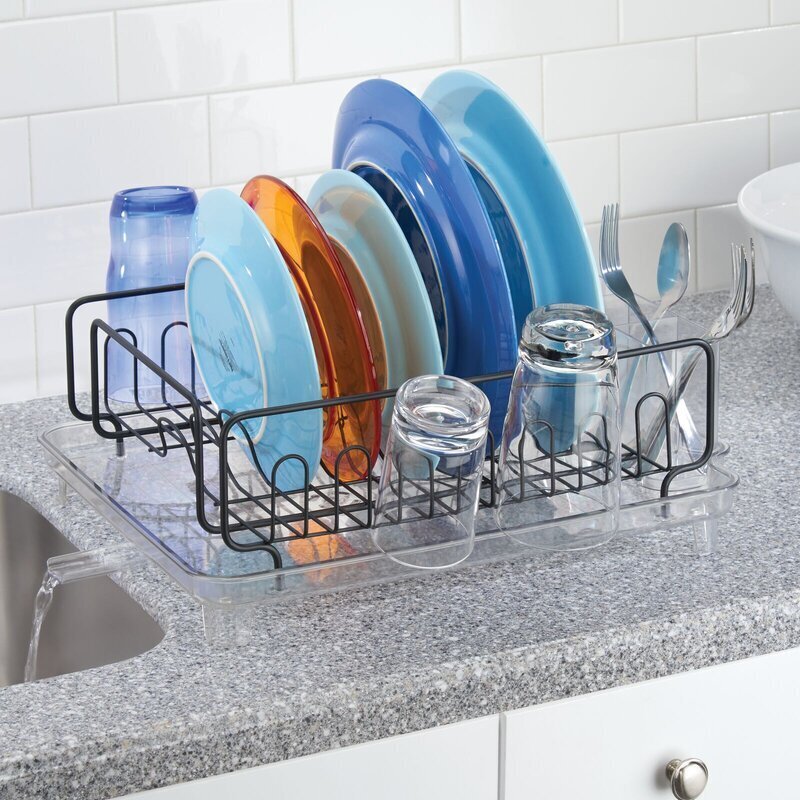 Iron Dish Rack with Drain Tray
$67.34 $64.6
Iron Dish Rack with Drain Tray
mDesign
$67.34 $64.6
At 17" long by 13.38" wide and 6" high, this iron dish tray has 13 slots in the metal rack for dishes. It also has seven hooks on each side to hold cups and glasses and comes with a removable plastic cutlery caddy. The adjustable water spout moves 360 degrees and can be positioned on three sides of the drainboard to send water directly into the sink.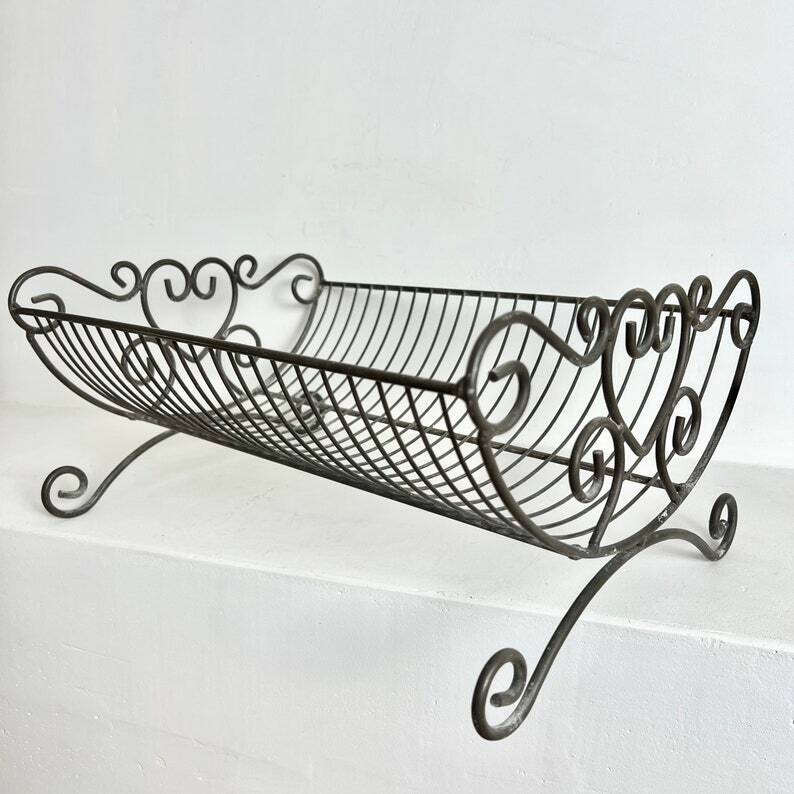 Vintage Iron Dish Rack
Vintage Iron Dish Rack
Vintage from before 1999, this decorative iron dish rack is 7.5" tall by 16.14" long and 11.8" wide. It features heart-shaped details and is intended to hold plates and bowls. It stands off the counter on two scrolled feet.
Designer Advice:
This vintage iron dish rack has a dusty, worn finish with a few spots of calcium deposits around the base and feet. To clean the rack before using, scrub the affected areas with a nylon scouring pad and rinse. Mix a one-to-one baking soda and white vinegar ratio and spread on the calcium spots. Leave for at least 30 minutes. Scrub clean until the white scale is completely removed.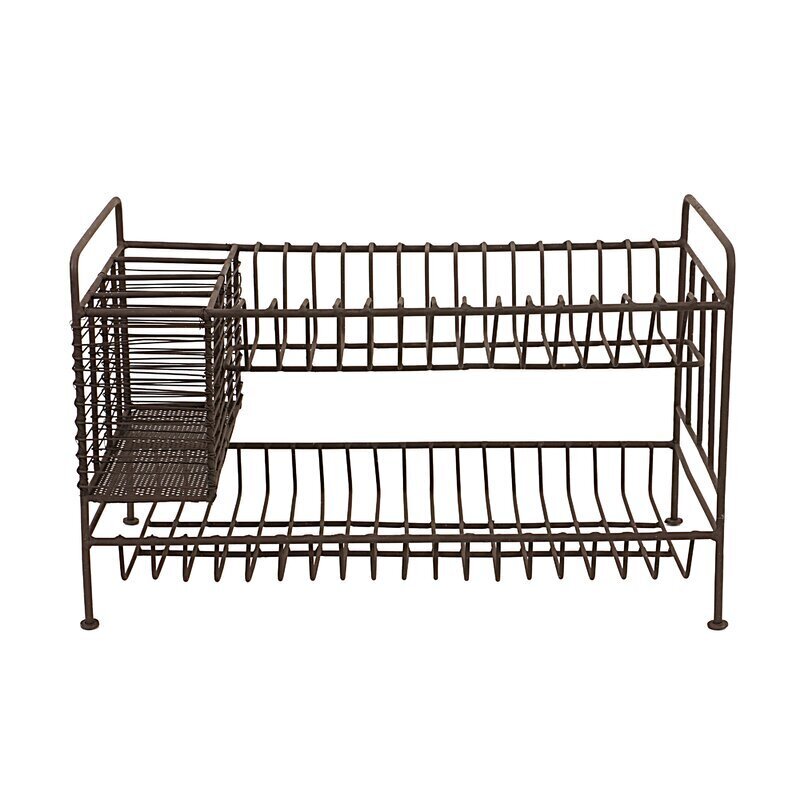 Two Tier Cast Iron Dish Rack
Two Tier Cast Iron Dish Rack
Creative Co-Op
With double the amount of storage, this two-tier wrought iron dish drainer takes up 18" by 9.75" of counter space. The metal is powder-coated rust brown and requires hand washing. It comes with rubber feet to protect your laminate or solid surface counters.
Designer Advice:
The advantage of this cast iron dish rack is that it holds a good amount of dishes and has a built-in cutlery holder. While the rack isn't rust-resistant or rust-proof, the color is already warm rust that will disguise any discoloration. To prevent any rusting, just make sure to wipe the rack dry after use. You'll want to buy a separate drain tray to fit underneath the rack.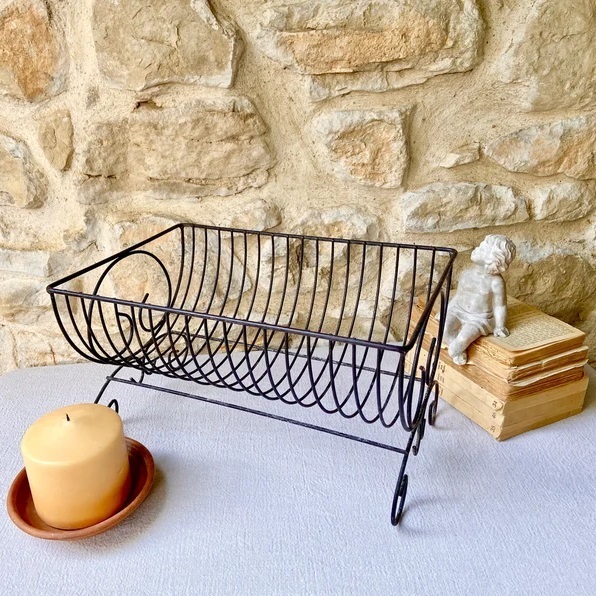 Rustic Wrought Iron Dish Rack
Rustic Wrought Iron Dish Rack
Originally from Provence, France, this rustic wrought iron dish rack has a beautiful aged patina. It measures 8.26" high, 15.39" long and 10.62" wide. The bowl-shaped rack sits on two scrolled legs. It can hold up to 17 large dinner plates.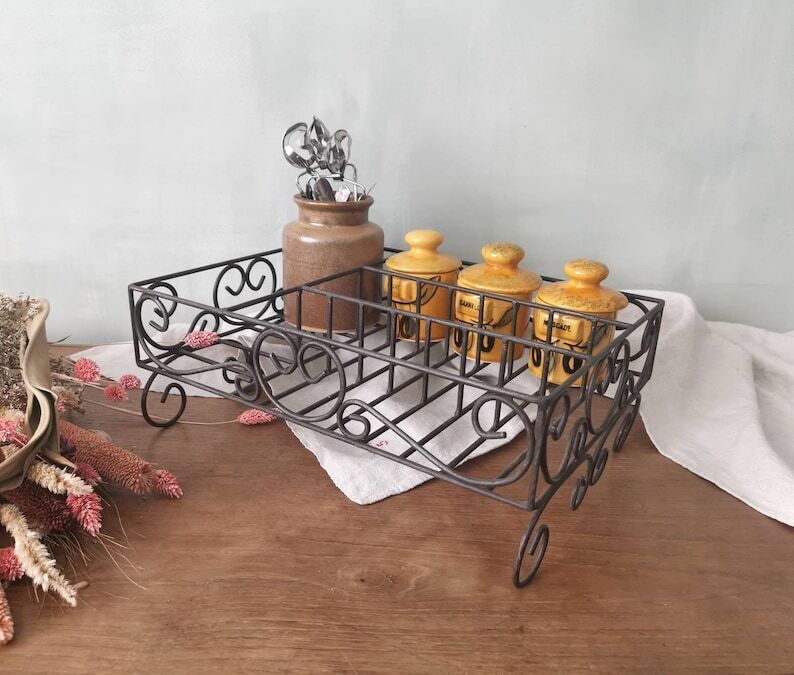 Iron Wire Dish Drainer
Iron Wire Dish Drainer
The scrollwork on this iron wire dish drainer gives it a Farmhouse look. The rack measures 5.12" tall by 14" long and 9.84" wide. It weighs under three pounds and is nice and sturdy for holding dishes and containers. Shows some minor signs of use and patina.
Designer Advice:
We love the idea of permanently placing this iron dish rack on your counter, island or dining buffet. Its four separate compartments can hold old-fashioned pottery, ceramic or glass containers you can fill with a variety of cutlery, rolled napkins, and various condiments. Mix and match the container materials and finish colors to suit your palette. Moves easily to and from the dinner table.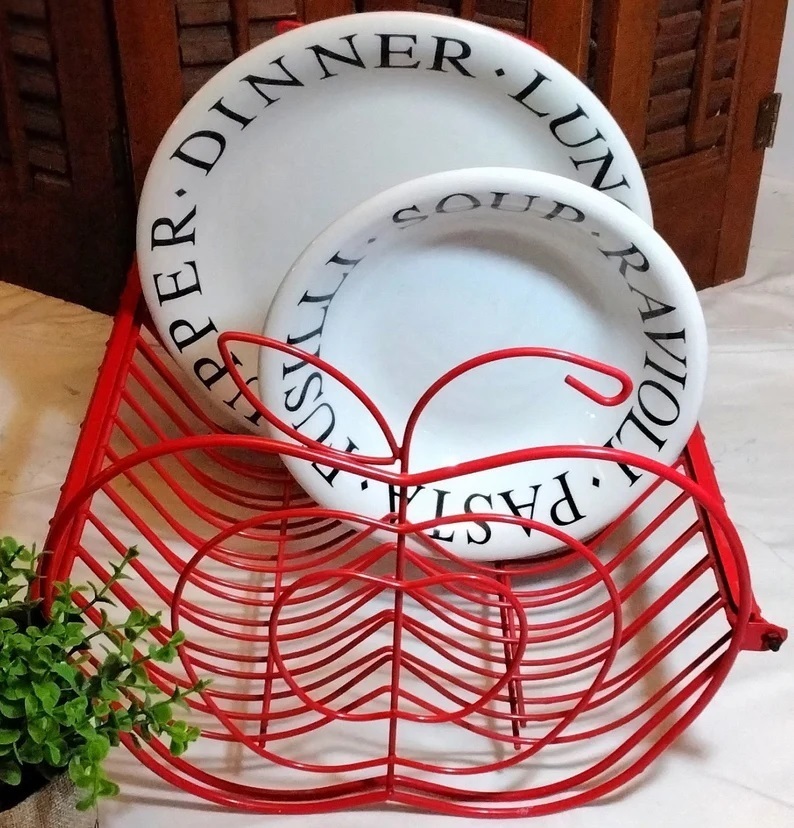 Old Farmhouse Iron Dish Rack
Old Farmhouse Iron Dish Rack
Original from the 1970s, this iron dish drainer is expandable. Set to the smallest size, it measures 14" long by 12" wide and holds up to 12 plates. When fully extended, it measures 26" long and holds up to 24 plates.
Designer Advice:
The red finish on this unique iron dish rack creates such a bright pop of color you'll want to leave it on your counter as a display rack. It features end caps shaped like apples and would fit right with red and white dish towels and cloths. Keep the apple theme going with a bowl full of green apples.