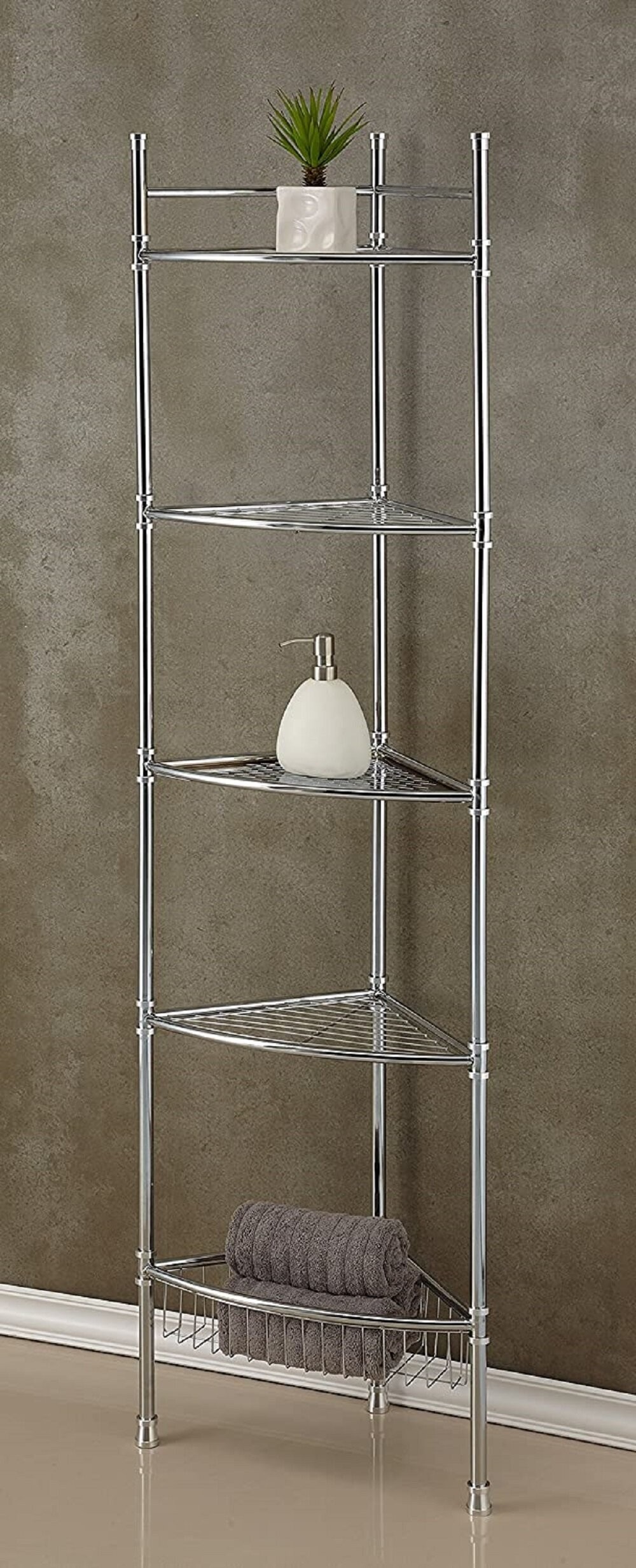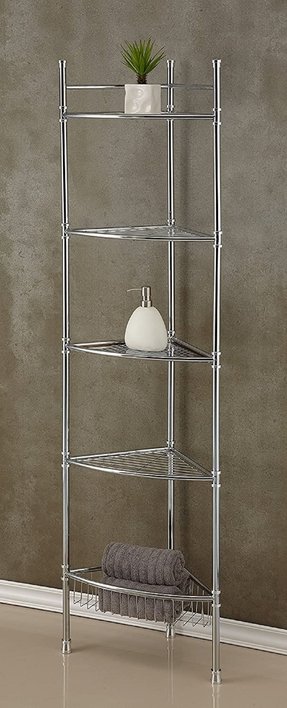 13" x 63" 5 Tier Corner Shelf
With its chrome finish, this 5 tier corner shelf will compliment any contemporary decor. It features an adjustable base leveler and durable metal tube frame. It has the dimensions of 63'' H x 13.5'' W x 13.5'' D.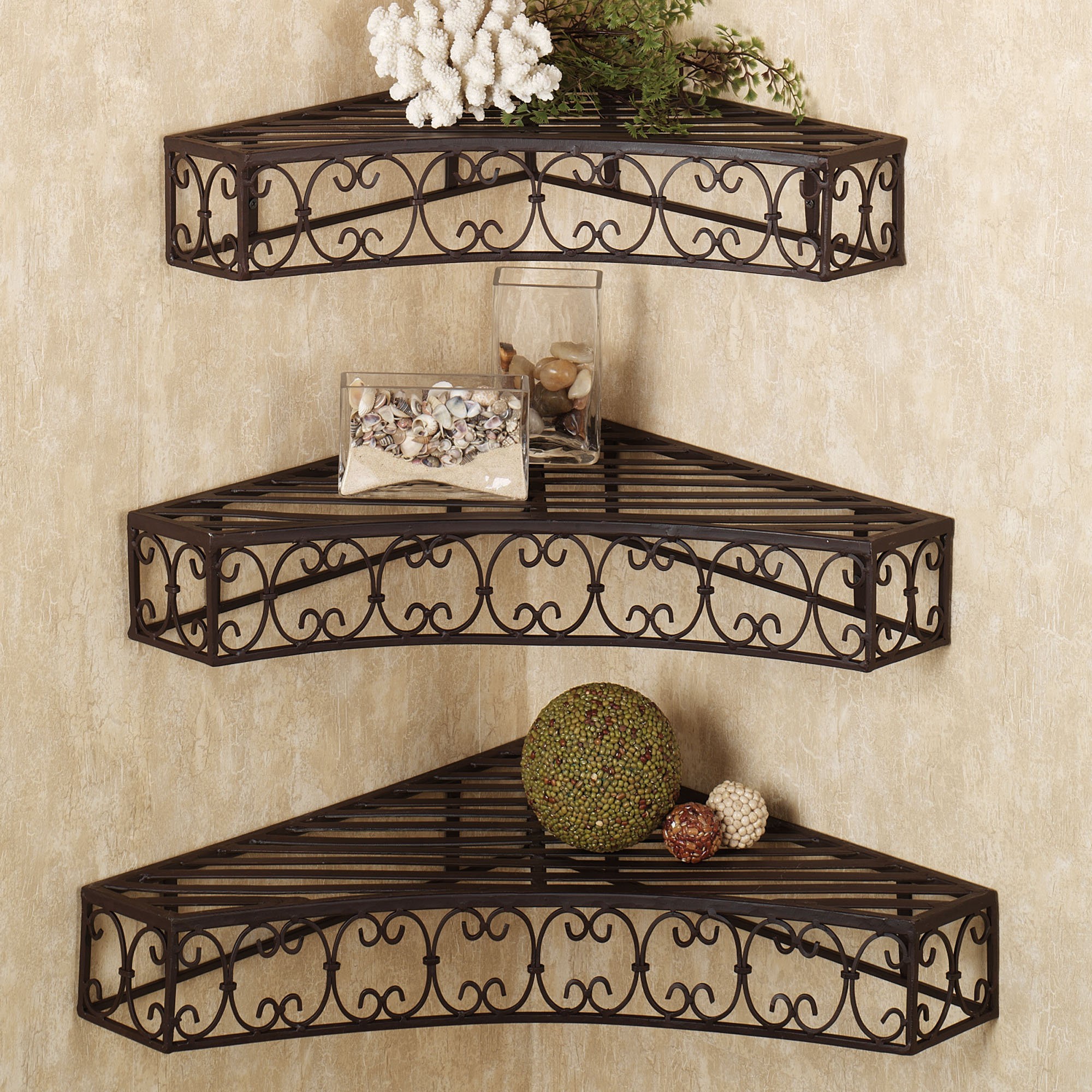 These wrought iron corner wall shelves are an interesting decorative and functional element. They will perfectly work in the living room, kitchen or bedroom, adding a new dimension. Simple yet impressive decor delights.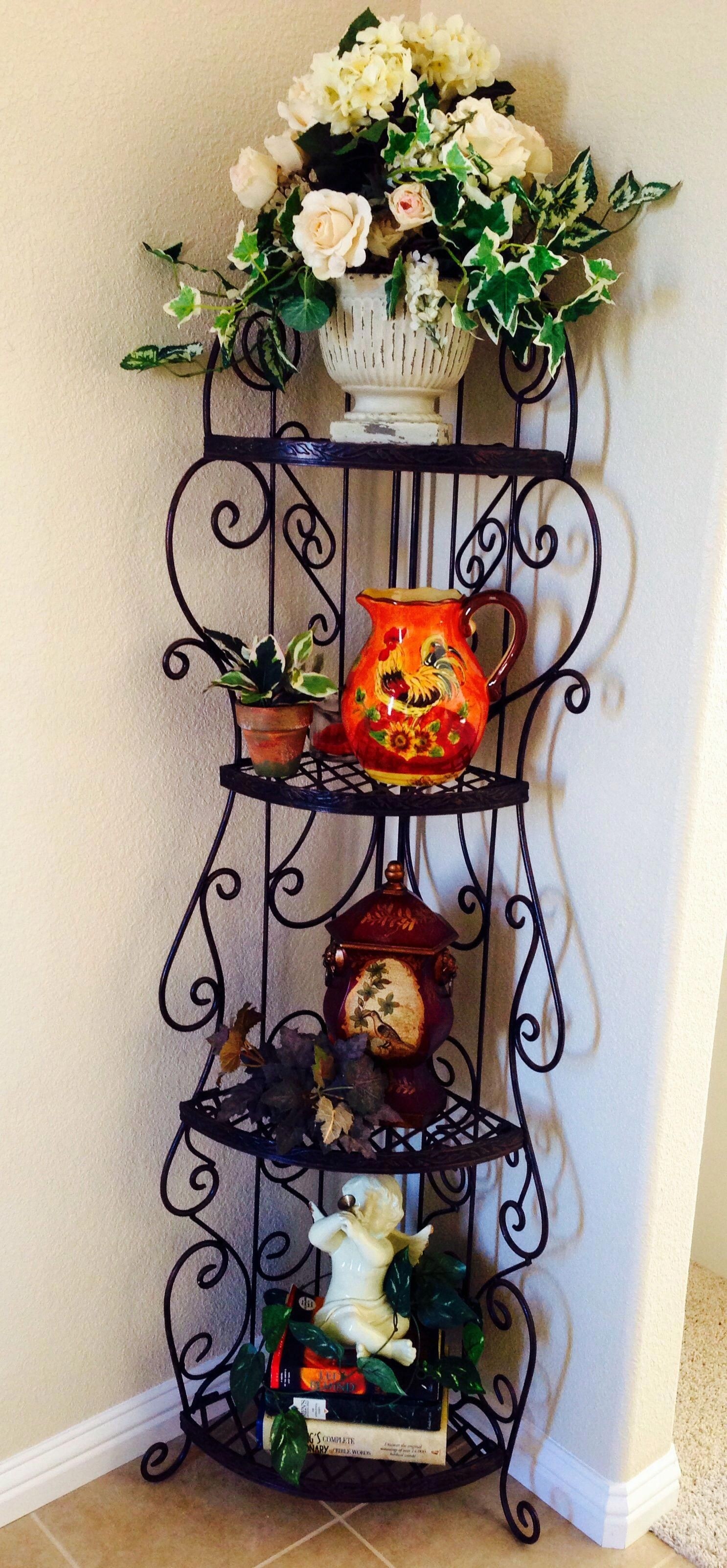 Thanks to this corner shelf, you will be able to properly display your decorations, while also saving space in your small room. Made of durable metal, the unit is bathed in a black finish, has eye-catchy scrollwork and 4 open shelves.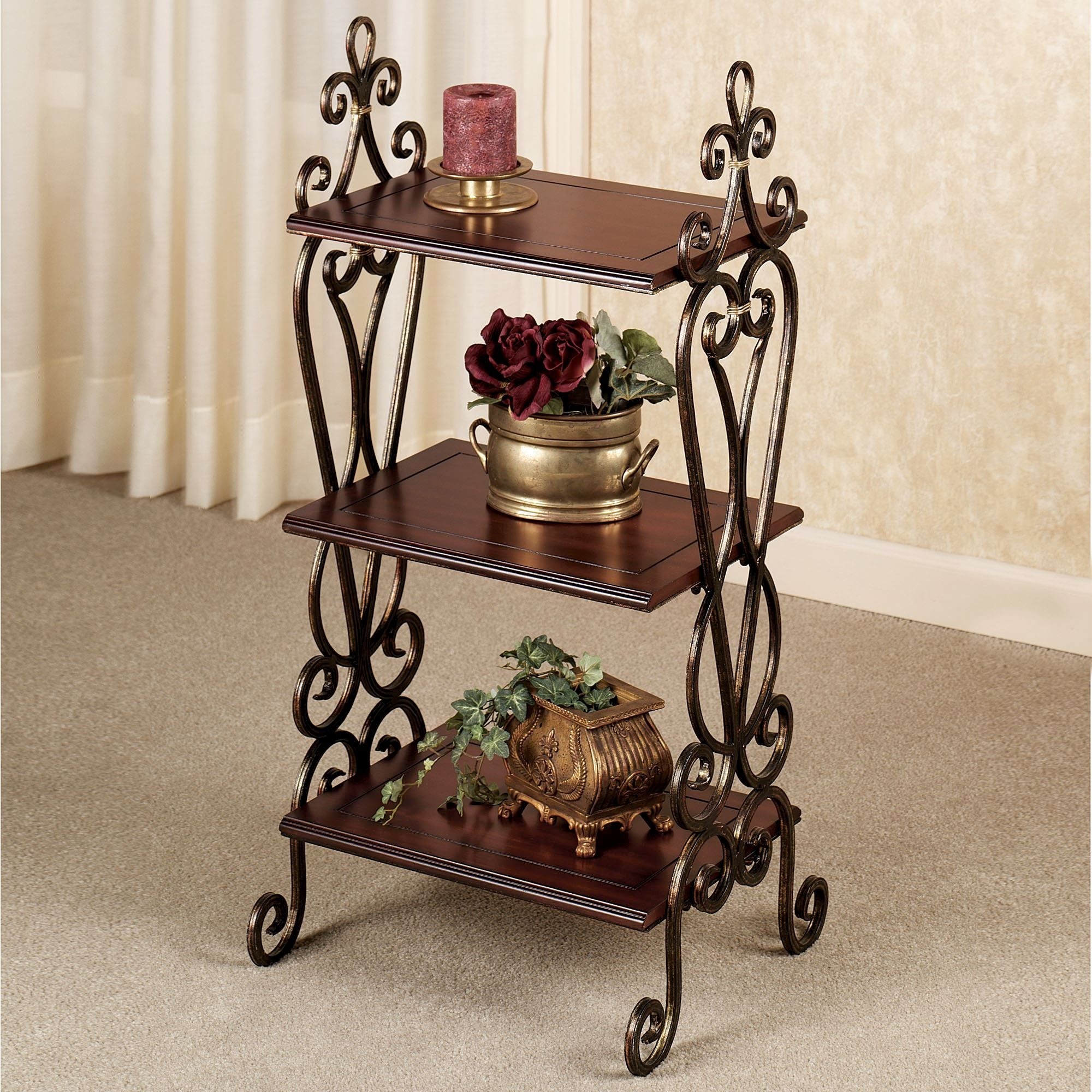 Rack mounted on wrought iron frame and finished with decorative curves. It consists of 3 wooden shelves arranged vertically. Great for storing books, display decorations and more.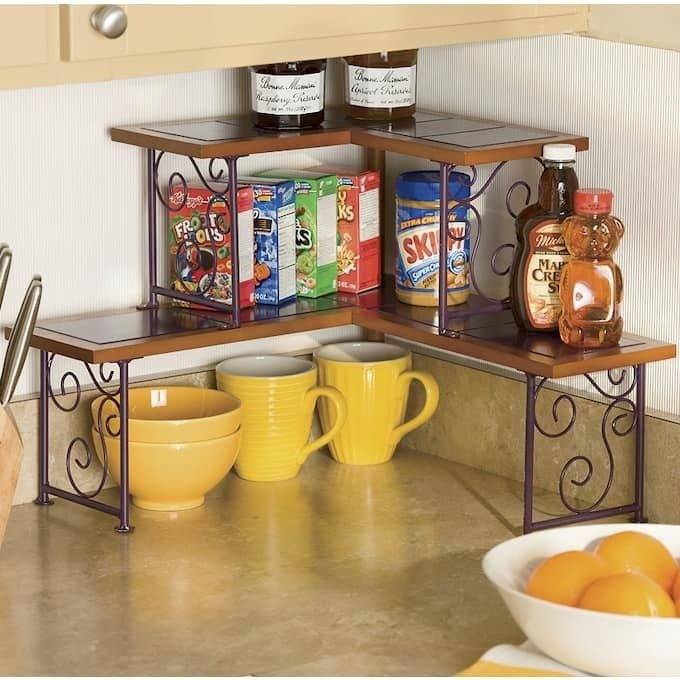 An elegant traditional 2-tier corner open shelving unit with frames of bronze finished metal adorned with scrolls on shorter sides. Size-varied L-shaped tops are made of wood with a beautiful finish in mid brown.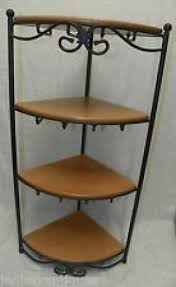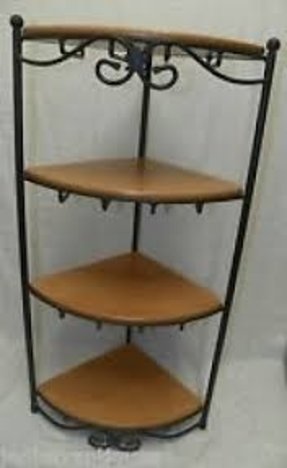 This wrought iron corner stand combines metal framing with 4 woodcraft shelves, creating an exquisitely durable and stylish piece of furniture, that will serve its role for years.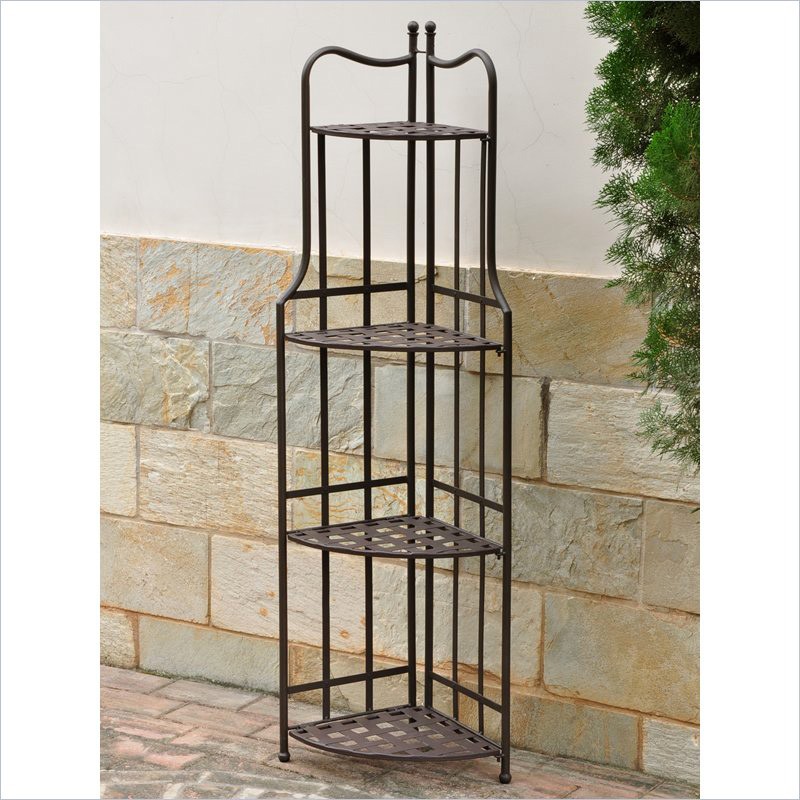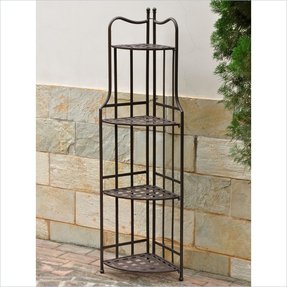 This 4-tier outdoor Bakers rack will perfectly in one's corner. Easy to assemble, needing only 3 screws. Made from wrought iron, ensures stability, durability and ornamental design.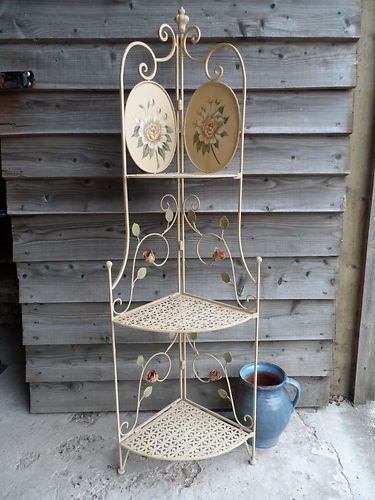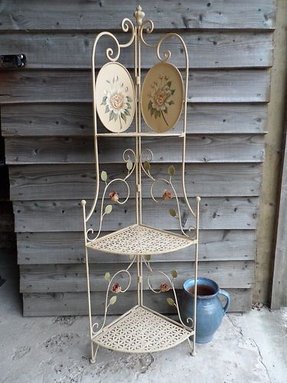 Corner shelf with a durable wrought iron construction that includes some stylish floral accents. Durable shelves provide good support for different items. The upper part features two oval elements with painted flowers.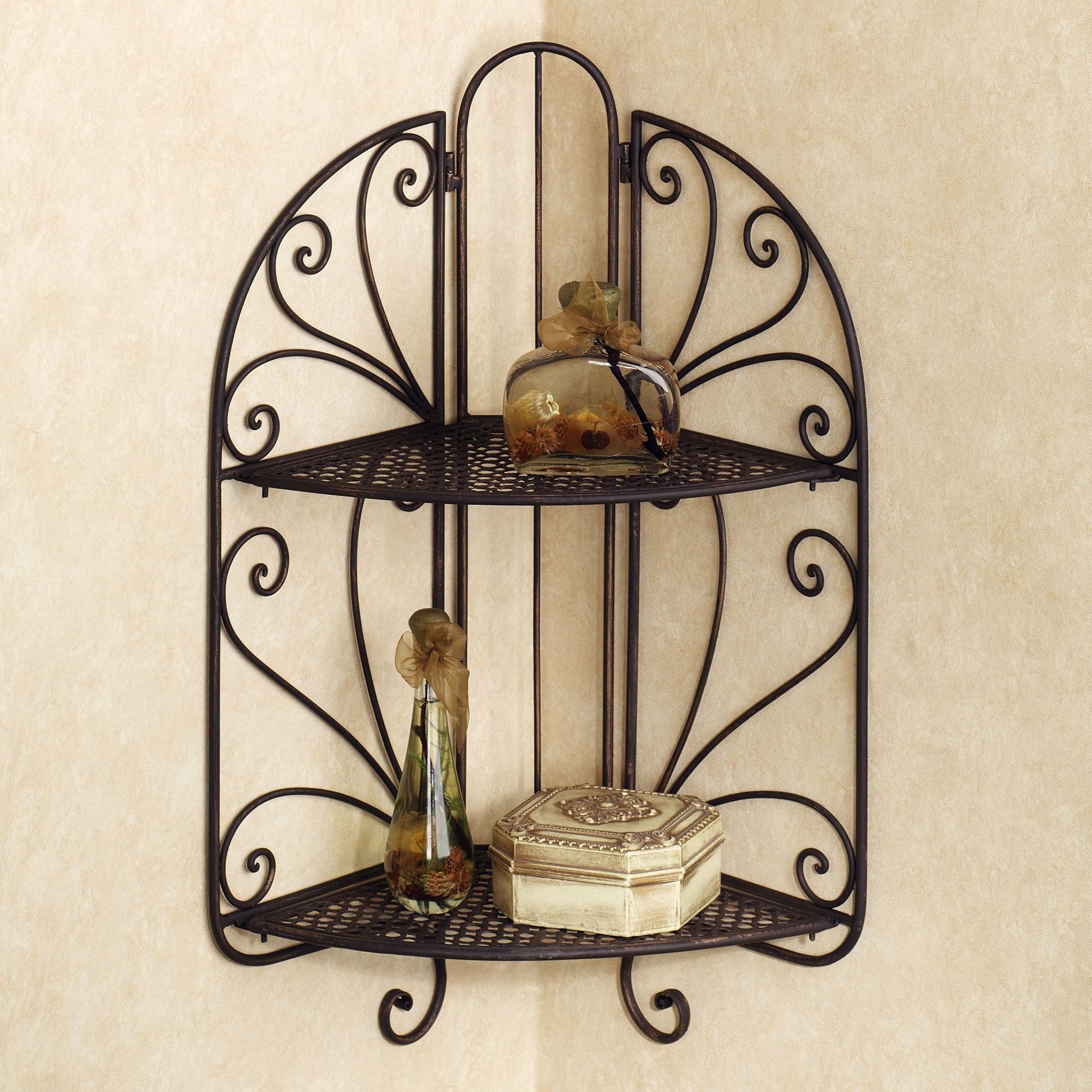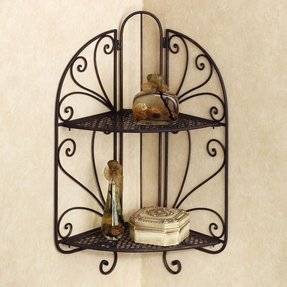 Wrought iron corner shelf inspired of vintage style. It has carved, fancy elements and it looks very elegant. It will play its role perfectly in bathroom (to storage cosmetics) or in bedroom (to inserted candles or storage frippery).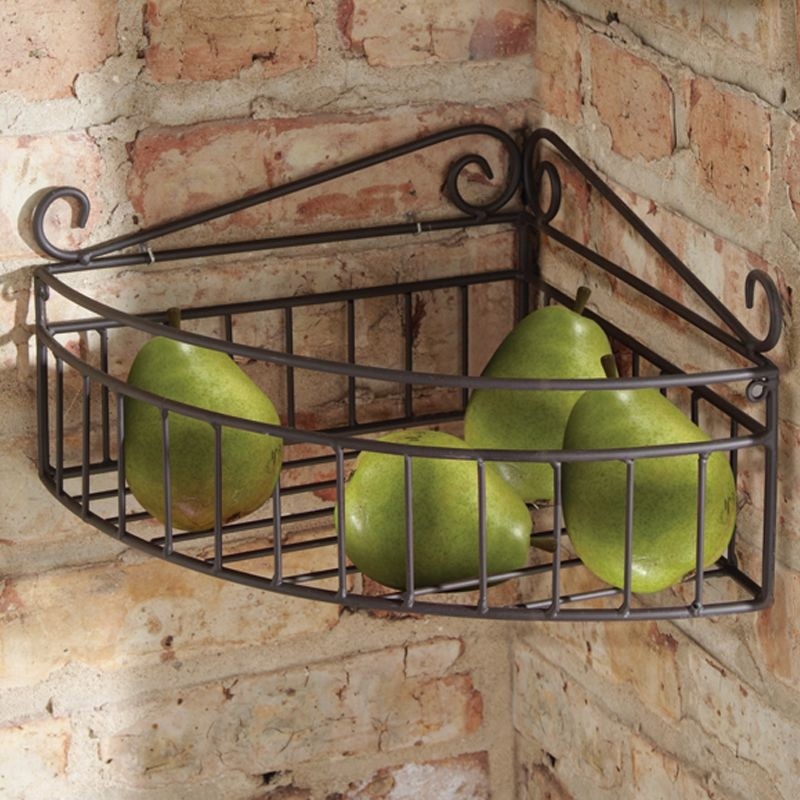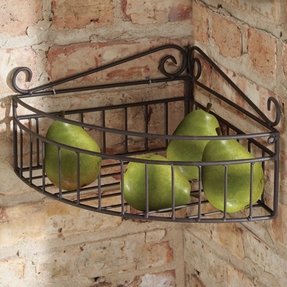 Romantic stylization with Provencal, a rustic note is possible thanks to corner wrought iron hanging shelves. Traditional flourishes of Provence will be great in the kitchen. For example, as a place for storing fresh fruit.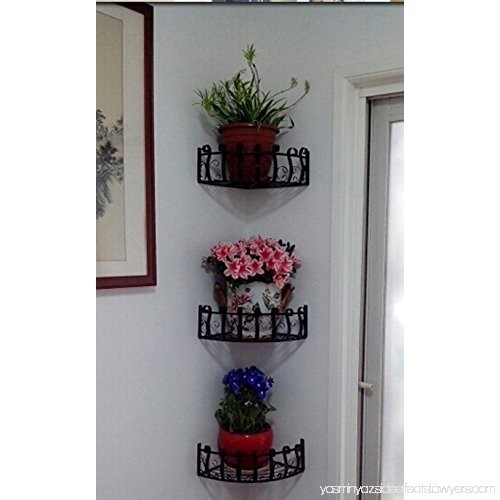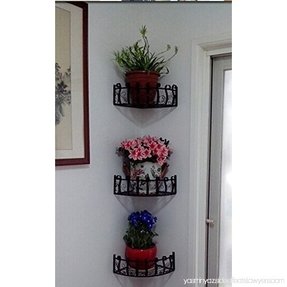 This set will allow you to finally display your plants beautifully in your household with its high toughness iron structure and the retro appeal that it has to offer. The shelves can be easily mounted in the corner and can even help organizing your shed.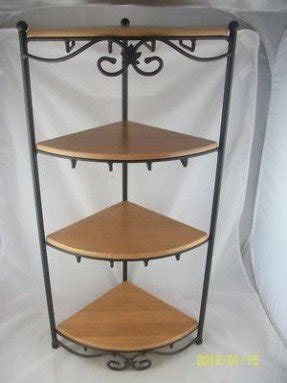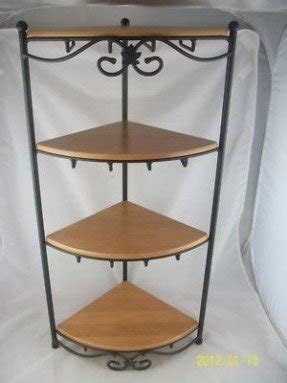 Longaberger Wrought Iron Large Corner Stand w 4 Shelves Shelf NIB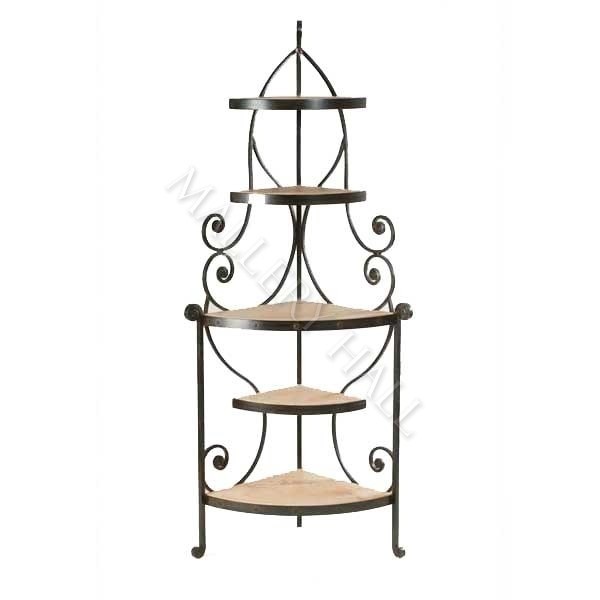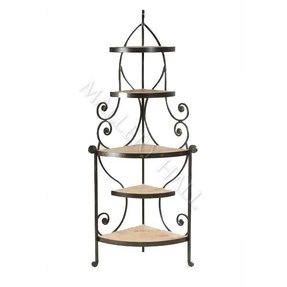 The hallmark of interiors decorated in the Provencal style is light and elegant furniture with a somewhat "romantic" design. This wrought iron corner shelf was made of wrought dark iron, 5 corner shelves will be a great setting for home porcelain collection.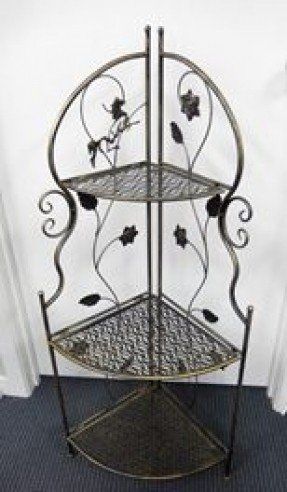 What an elegant, 4 tier book shelf with a black, metal frame that also nicely acts as a curio display case. The glass shelves give it a nice, contemporary touch, and the stacking shelves give a plenty of space to place your photos and souvenirs.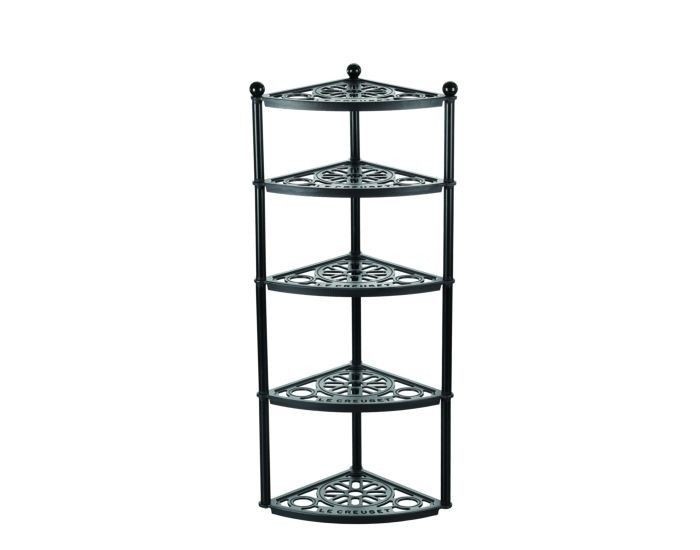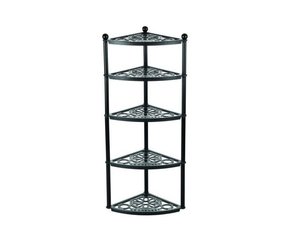 Corner shelf made of cast iron and finished with sophisticated ornamentation. Includes 5 shelves arranged vertically. Suitable for storing books or display decorations. Received many positive recommendations from clients.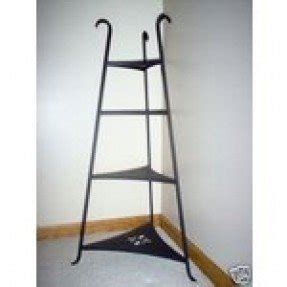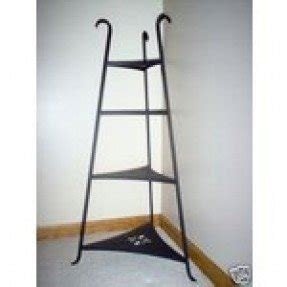 eBay Image 1 Longaberger Corner Wrought Iron Bowl Stand-Excel. Cond.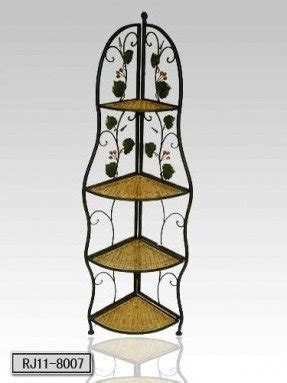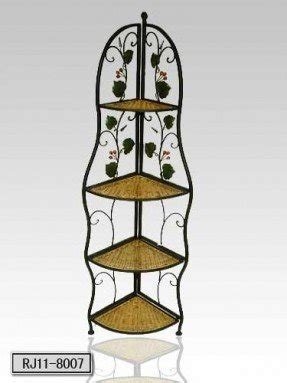 corner etagera Supplier From China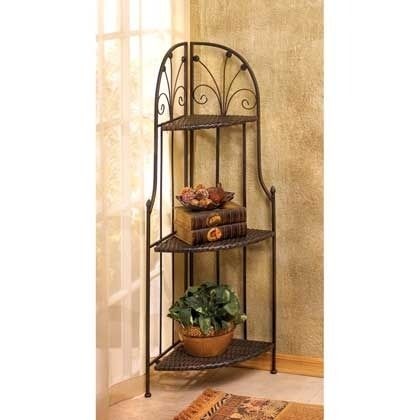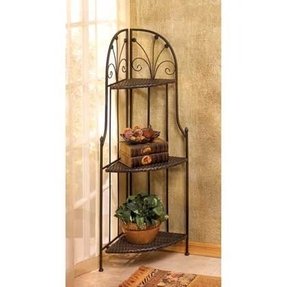 Durable wrought iron rack that includes three shelves for flowers and other decorations. This construction is suitable for corner placement. Its wrought iron frame provides stability and includes some decorative accents.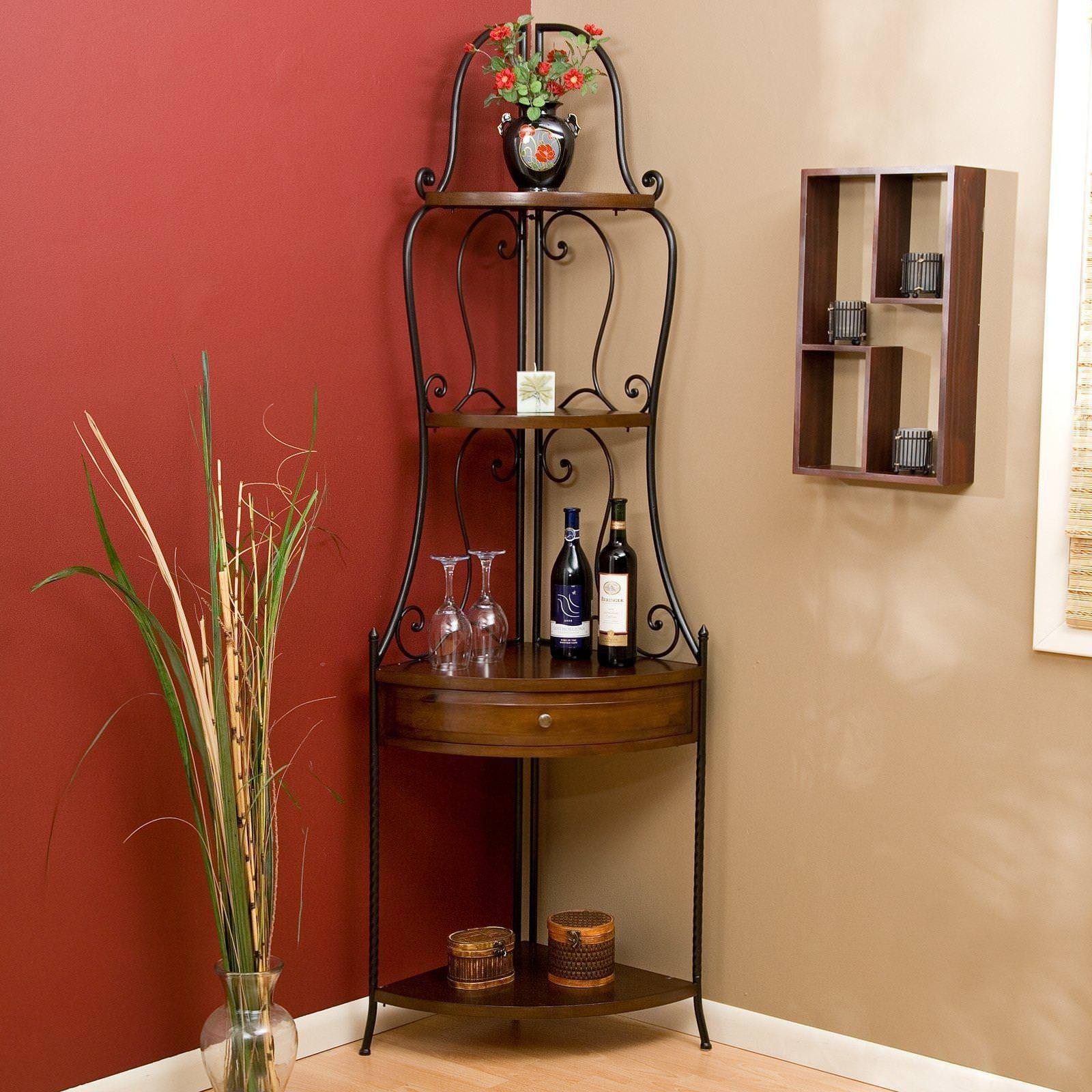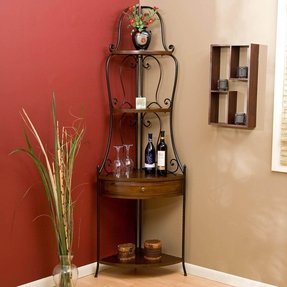 Attractive corner standing rack. Its sleek, tapered towards the top, frame is made of iron with a black finish. It features decorative gentle scrolls and curves. A rack has quarter-round both 4 shelves and 1 drawer of pine wood finished in brown.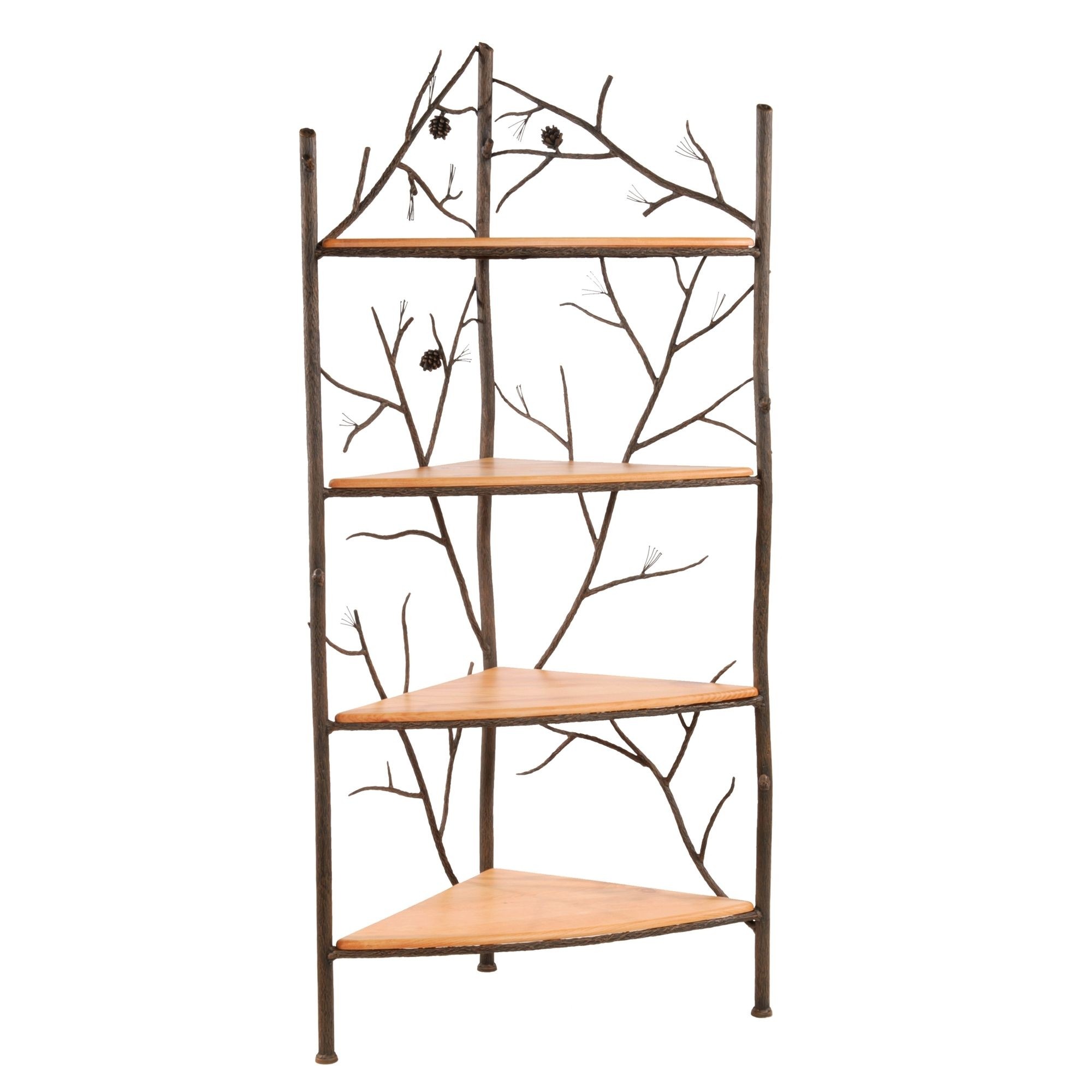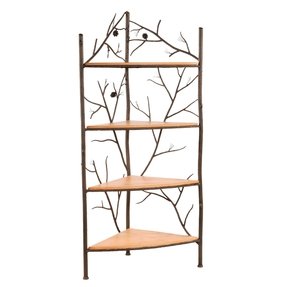 Rustic Pine Corner Bakers Rack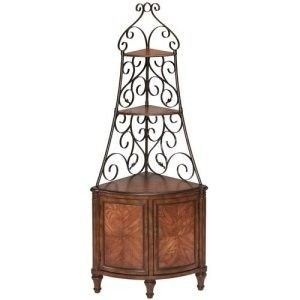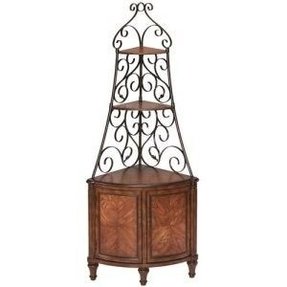 An old-fashion barker's rack that you can easily place in the corner, saving the space in your vintage kitchen. Build of sturdy wood and beautified with gorgeous, metal srcollwork, the rack includes 3 open shelves and 1 capacious cabinet.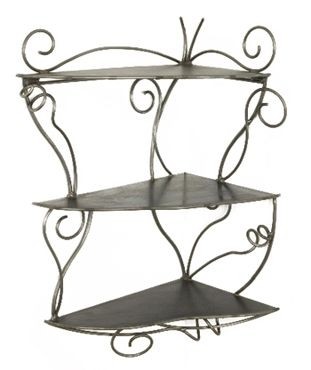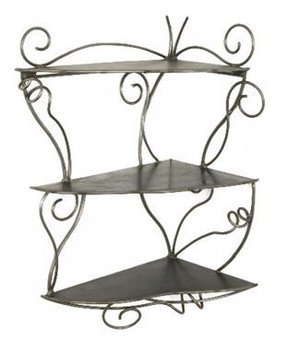 This stunning Corner Shelf, from #Delia is perfect for tight spaces! When space is limited here is a way to squeeze out a little more.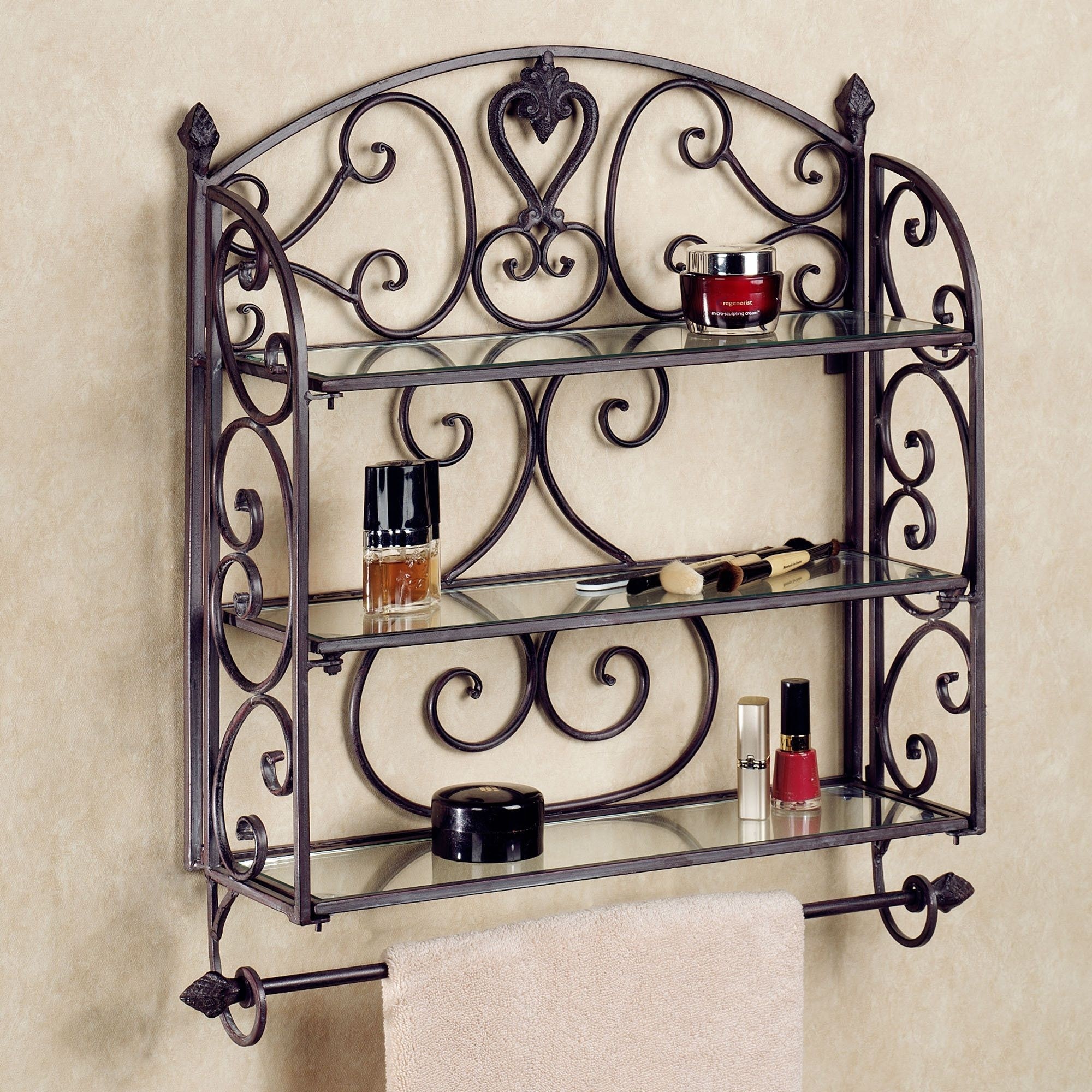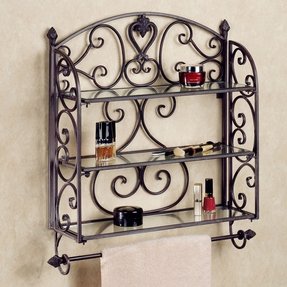 This slate wall shelf towel bar is a great idea for designing your bathroom without overwhelming it. The open style will make every bathroom seem larger and more spacious. Made from iron and richly finished, it's a real gem.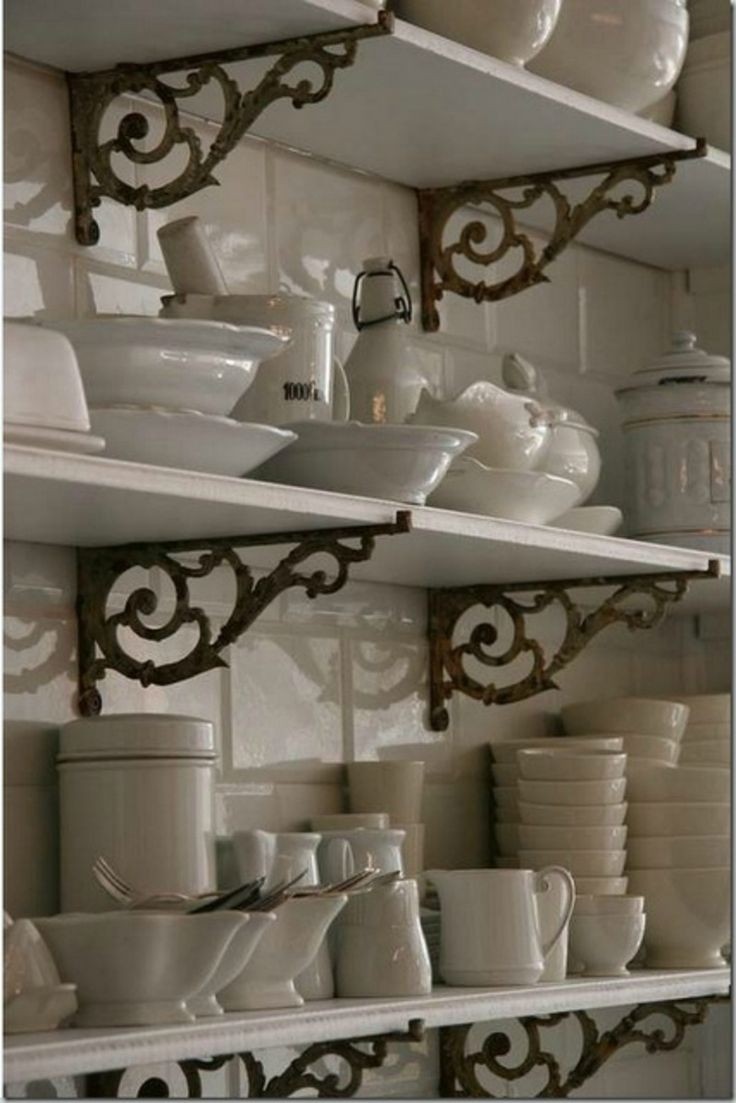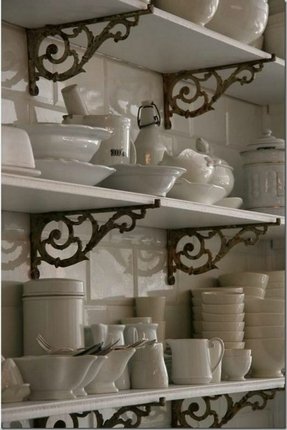 Thought hard about doing this above an great old dresser/buffet.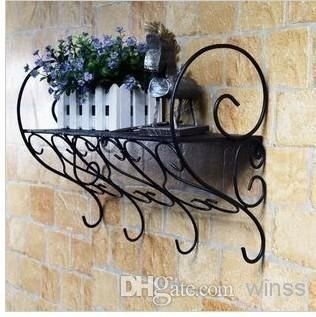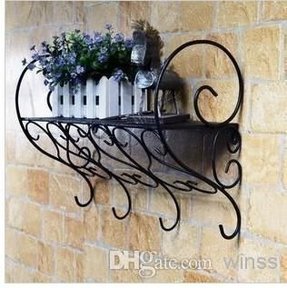 The Incredibly Stylish Bathroom Shelf with Wall Mount Bracket in Black Finish, designed from quality wrought iron. With beautifully curved frame and great durability, this piece fits perfectly for bathrooms with any type of interior décor.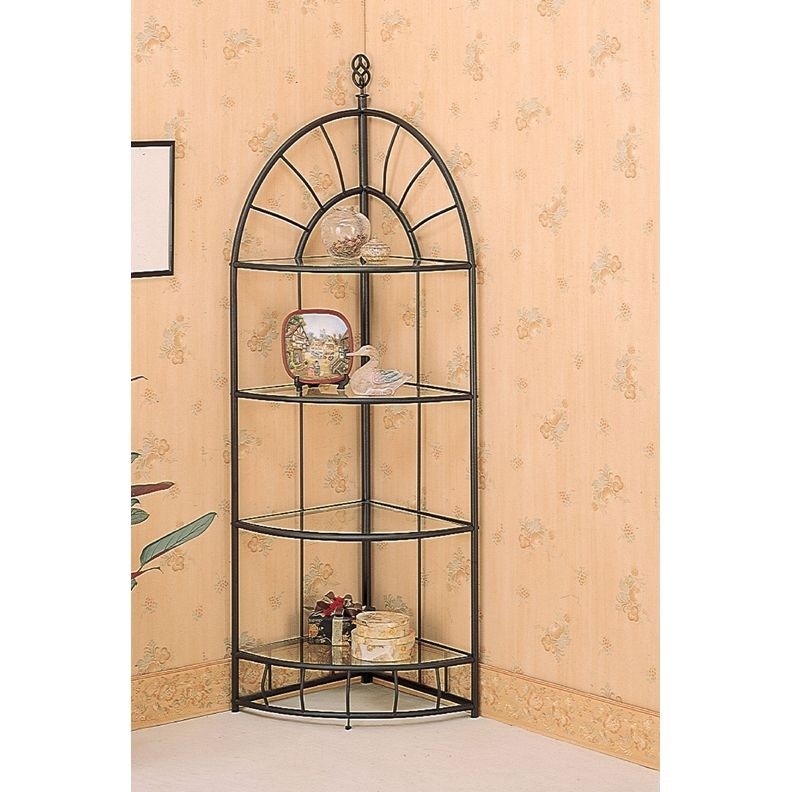 A chic space-saving antique style corner rack of black-finished metal. It features an openwork frame with a geometric design, an arched top, a back post with a finial. It has 3 thin straight round posts and 4 quarter-circle shelves of clear glass.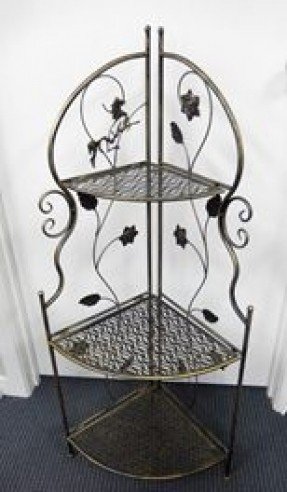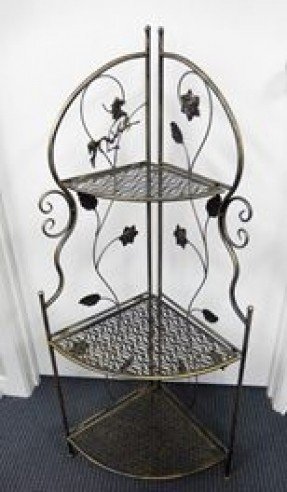 Ornamental wrought iron corner tack with 3 tiers. Classic scroll details are complemented with nature inspired accents of metal foliage and flowers. Arched top. Graceful, filigree design that grabs compliments.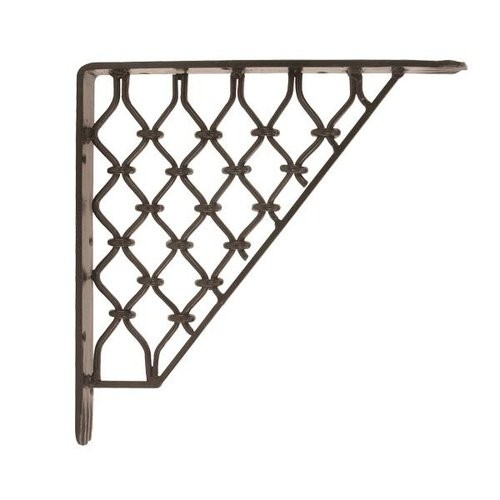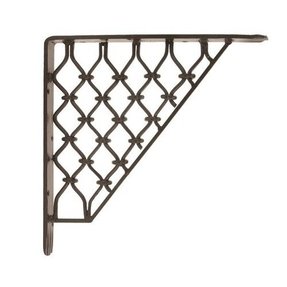 WROUGHT IRON SHELF BRACKET Vandykes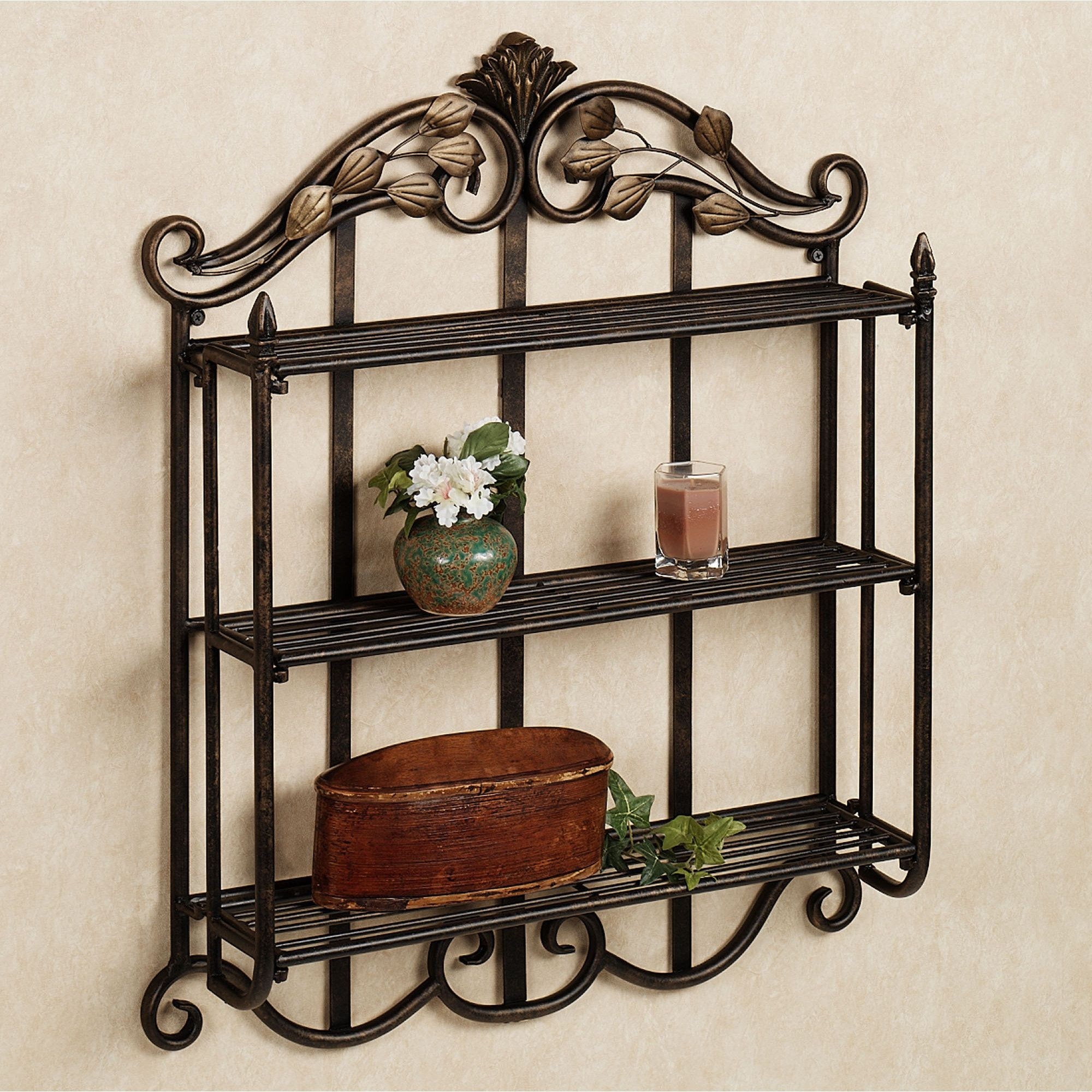 A nice, 3-tier metal wall shelf that comes with charming, ornamental finishes and curves of the molding that ensure a look of adorable and rustic appeal. It will work in either the indoor or outdoor setting of your home.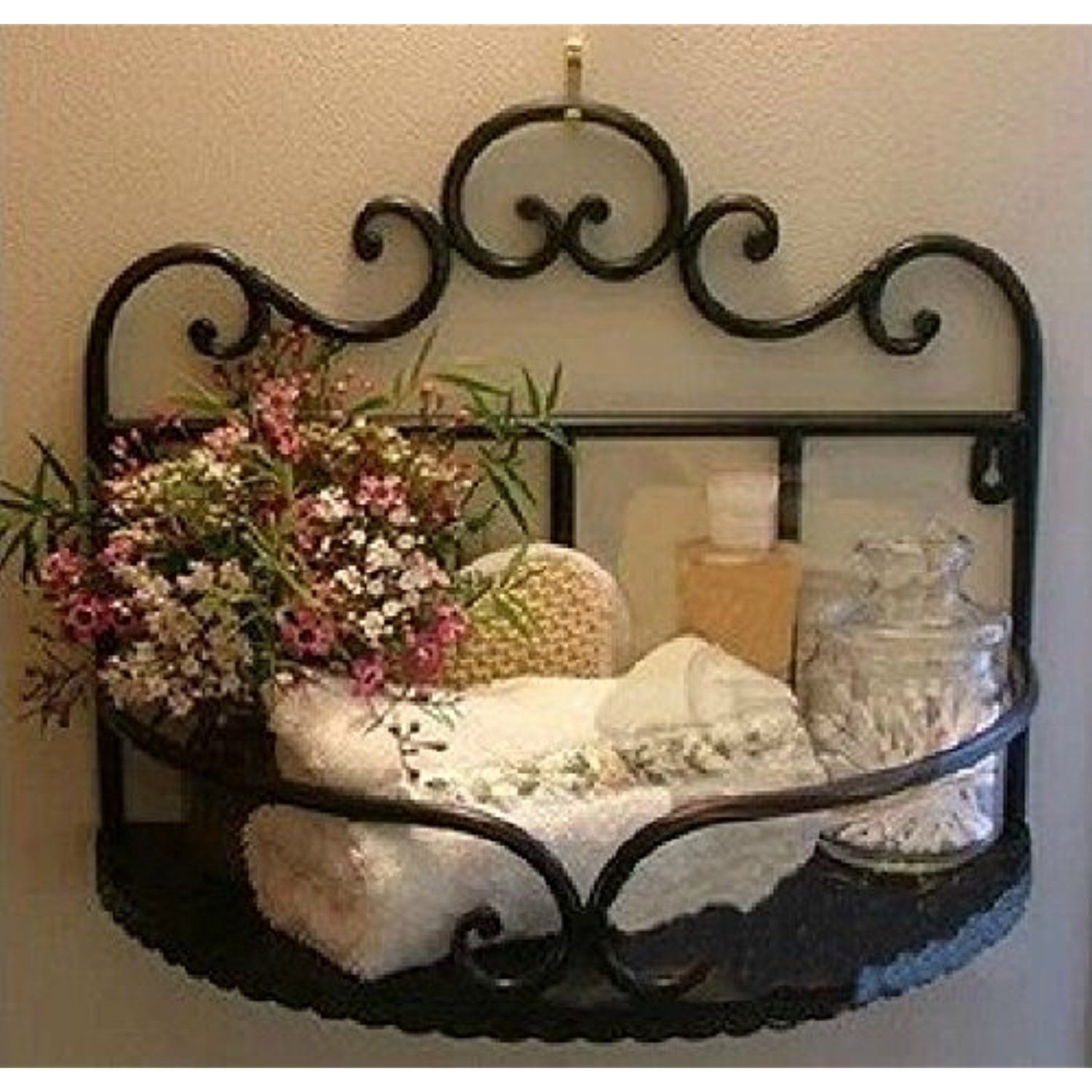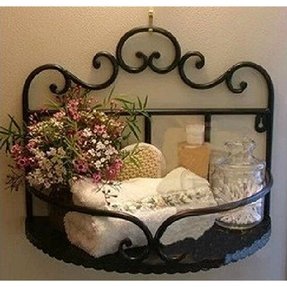 Elegant semicircular shelf. It is made of black marble and mounted to the wall by iron wrought frame in interesting shape. It is intended to storage frippery, it will plays its role the best in the bathroom - you can used to storage cosmetics.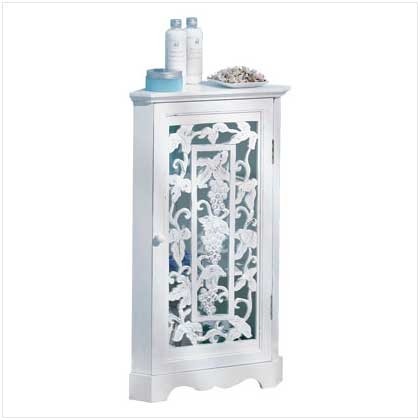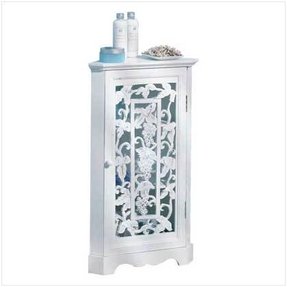 Corner rack designed for the bathroom. It is made of wood and wrought iron. It is finished with openwork pattern on the front. Perfect solution for storing towels, cosmetics, toiletries and more.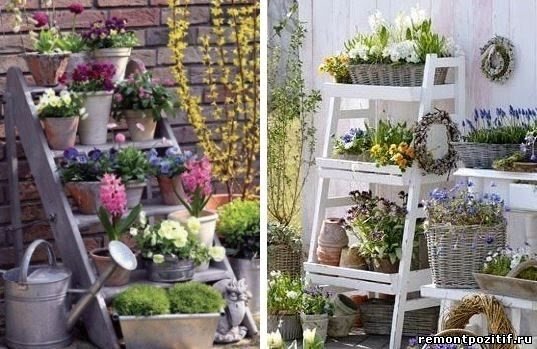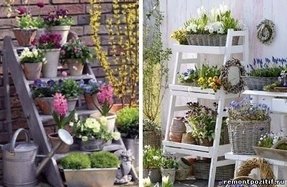 If you want that little boost of extra surface space and wouldn't want to overclutter your interior then this charming and elegant corner wall shelf will be a great choice, ensuring utmost convenience and beautiful style with its moldings.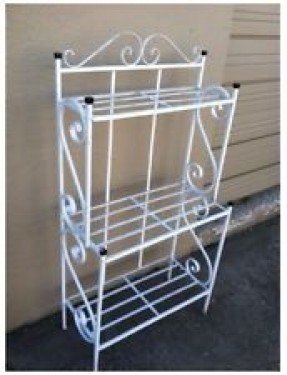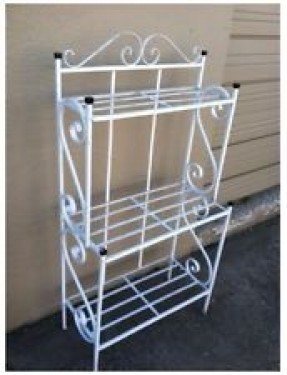 Large Corner Bakers Rack | bakers rack shelves iron made shelf stand dine kitchen lawn