Metal Wall Mounted Coat Racks
Some coats are heavy. And those heavy coats need a metal hook to keep them off the ground. But most metal coat hooks are not visually pleasing. We have a solution. Metal, wall-mounted coat racks that will hang your coats, while still being aesthetically acceptable. They can come in many styles, with different numbers of hooks. See more here.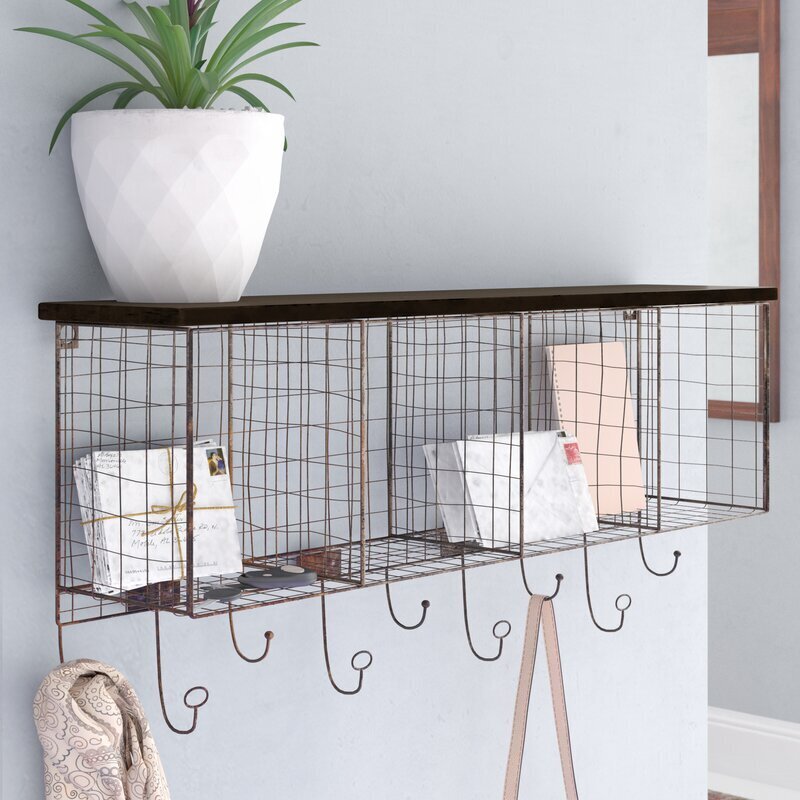 Decorative Wall Mounted Coat Rack
$55.99 $59.99
Decorative Wall Mounted Coat Rack
Trent Austin Design®
$55.99 $59.99
What We Like: Four open bins for storage
Perfect For: Storing keys, wallets, and sunglasses
With a contemporary take on farmhouse-chic, this metal wire and mesh panel coat rack features four cubbies and a top shelf with a 20-lb. weight capacity for storage. The wall-mounted design maximizes vertical space, keeping your floor clutter-free, and provides a functional and stylish solution for daily essentials.
Designer Advice:
Keep smaller items like gloves and hats in the baskets. Add a decorative vase or small potted plant on the top shelf, along with items you need to grab on your way out, like your wallet or keys. Use the hooks to organize jackets, scarves, and bags.
What Users Say:
Nice design and quality. I was looking for a smaller sized coat rack with hooks and bins and this was the best find after a lot of looking. We have a smaller entry way and this is working out really nicely with a storage bench below.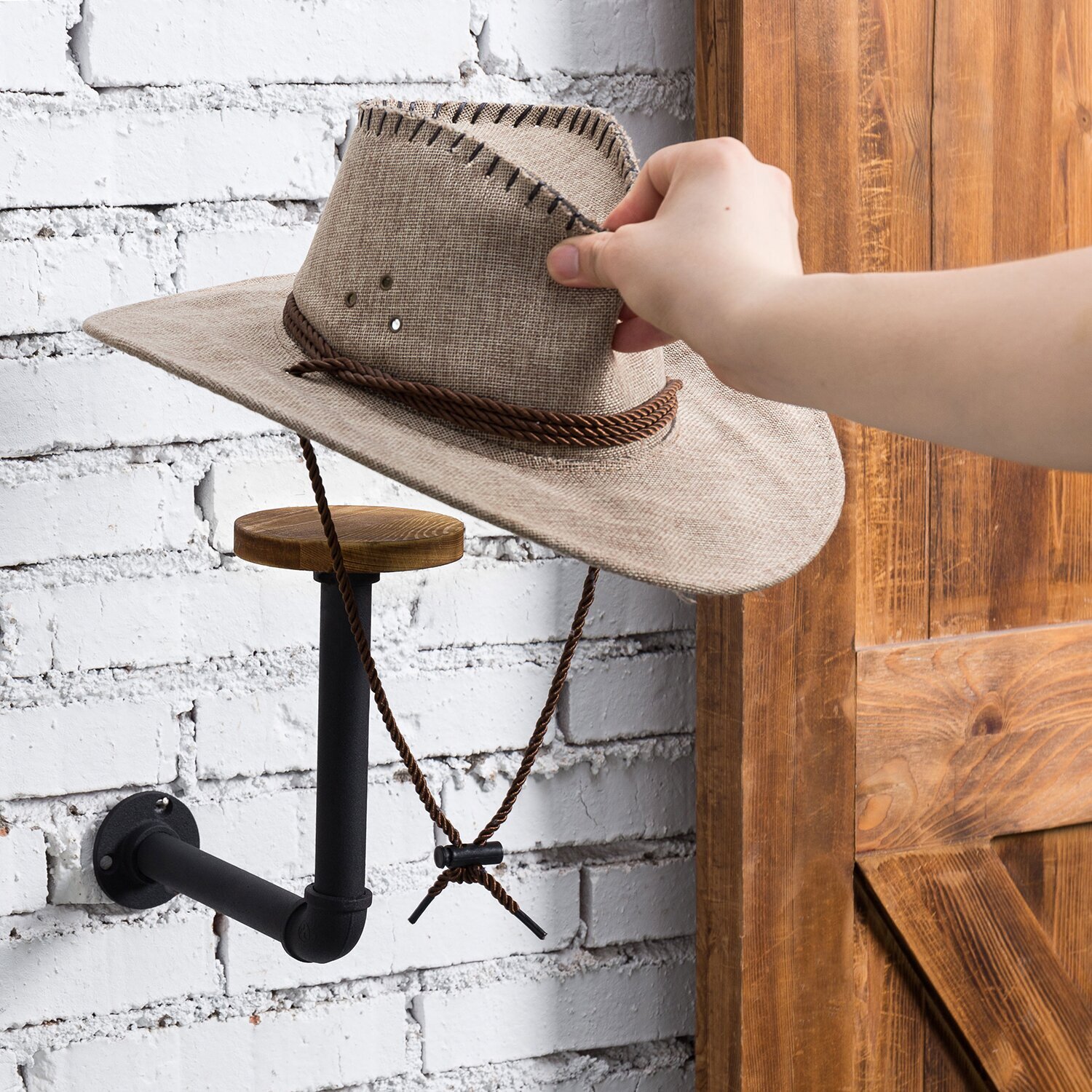 Wrought Iron Coat Rack Wall Mounted Pipe
$25.99 $37.99
Wrought Iron Coat Rack Wall Mounted Pipe
17 Stories
$25.99 $37.99
Yes, the pipe type! This one is built around industrial design. Although these types are labeled hat racks, they make perfect coat and hat racks.
The wide-based tops and long vertical pipe design prevents your coat from falling off your iron wall coat rack. If you prefer multiples hung in a horizontal row, other options can offer you that preference.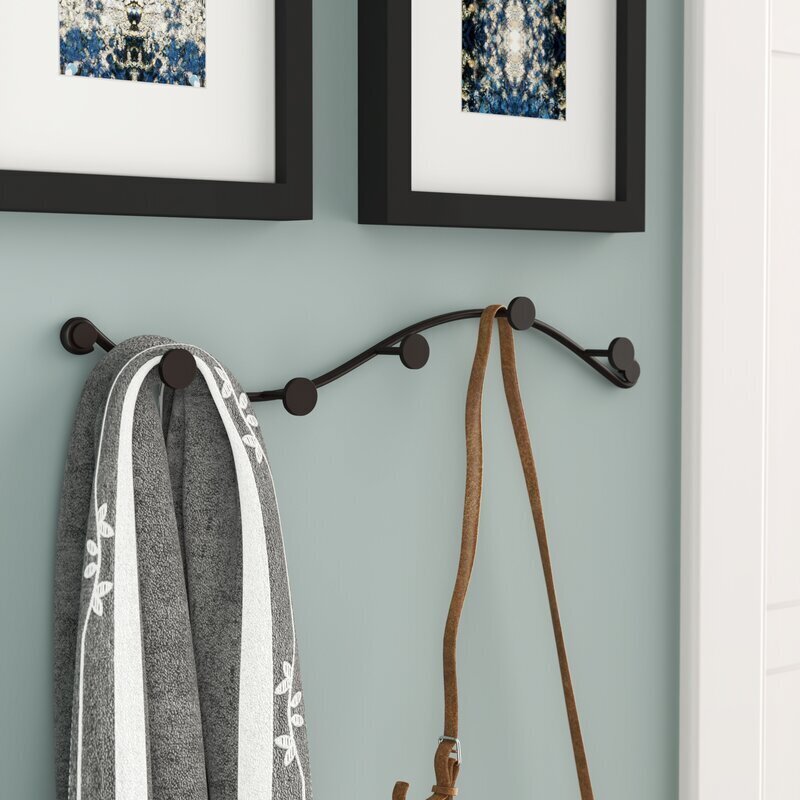 Decorative Steel Coat Rack
$17.99 $19.99
Decorative Steel Coat Rack
Rebrilliant
$17.99 $19.99
What We Like: Sturdy steel construction
Perfect For: Contemporary home decor
This decorative coat rack with five hooks and an undulated shape brings an extra level of detail to your modern space. The coat rack is not only functional but also adds an element of elegance to your home. Its sturdy steel construction ensures durability and longevity, making it a practical solution for any home.
Designer Advice:
Place it above a wooden shoe bench in an easily accessible spot like the entryway to maximize its functionality. For a cohesive look, choose a finish that complements the existing fixtures and hardware in the room. To add a personal touch, hang a few decorative accents like plants or wall art alongside the coat rack.
What Users Say:
Perfect without being boring! Have at our front door for hats and jackets was a tight space, i.e. not enough room for a door tree so this works out great!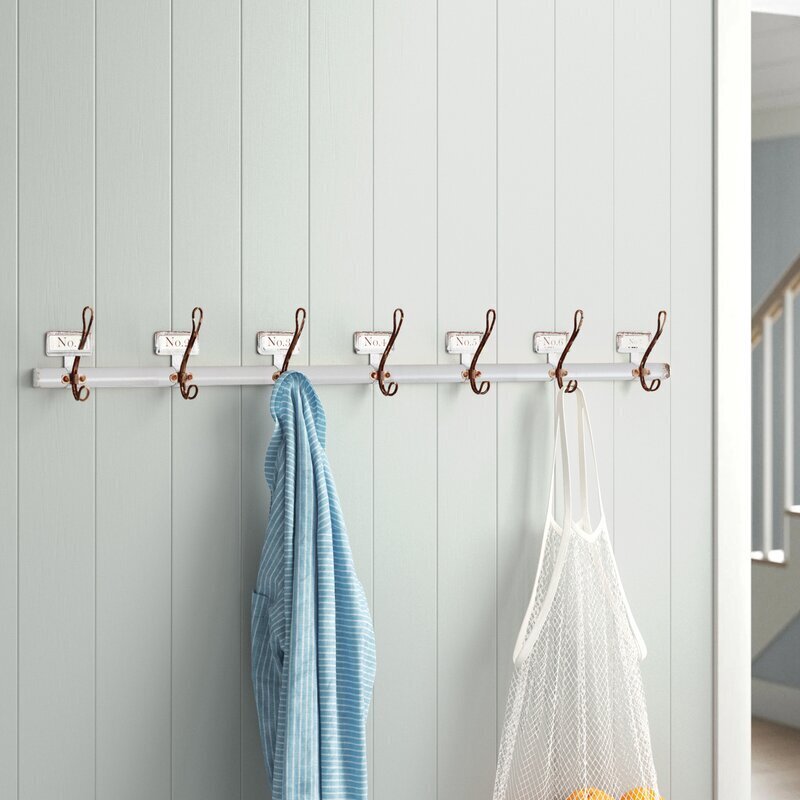 Vintage Hanging Coat Rack
$32.99 $94.99
Vintage Hanging Coat Rack
Beachcrest Home™
$32.99 $94.99
What We Like: Large number of hooks; name plates
Perfect For: Farmhouse-inspired and coastal home decor
This hanging coat rack offers vintage coastal farmhouse-inspired organization to your entryway. Made from sturdy iron with a rustic finish, this 40" wide coat rack has seven hooks to hang jackets, scarves, bags, and more. Labeled numbers above each hook make it easy to keep track of your family's belongings. The distressed finish adds a touch of character, making it a standout piece in any room. Two keyholes in the back make installation a breeze.
Designer Advice:
Hang your most frequently used items on the hooks, from jackets to hats and scarves. Pair it with other vintage-inspired pieces, like distressed wooden furniture and antique accents to enhance the rustic charm. Or, create a coastal-inspired space by incorporating beachy elements like a distressed console table and woven baskets for storing shoes.
What Users Say:
Really cute and solid. Love the number of hooks. Looks great for a mud room.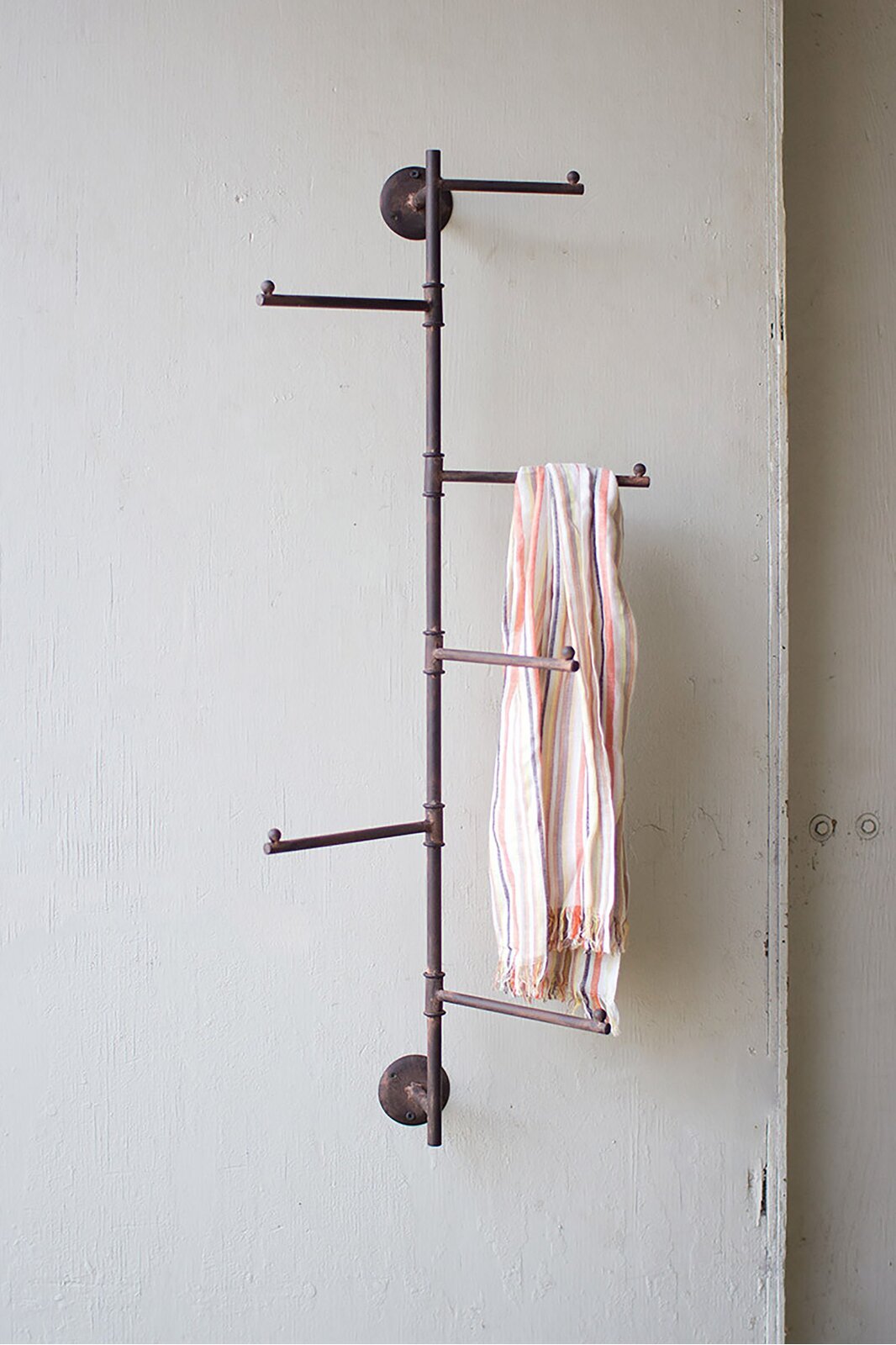 Iron Wall Coat Rack that Swivels
Iron Wall Coat Rack that Swivels
Williston Forge
How about a strong iron wall coat rack that swivels? These are nice to own in large families. Your kids don't need to be too close in proximity to grab their jackets.
The fewer the arguments the better! If you choose this metal wall-mounted coat rack, make sure you have plenty of space behind your doors. You don't want those hard metal racks ruining your gorgeously painted doors.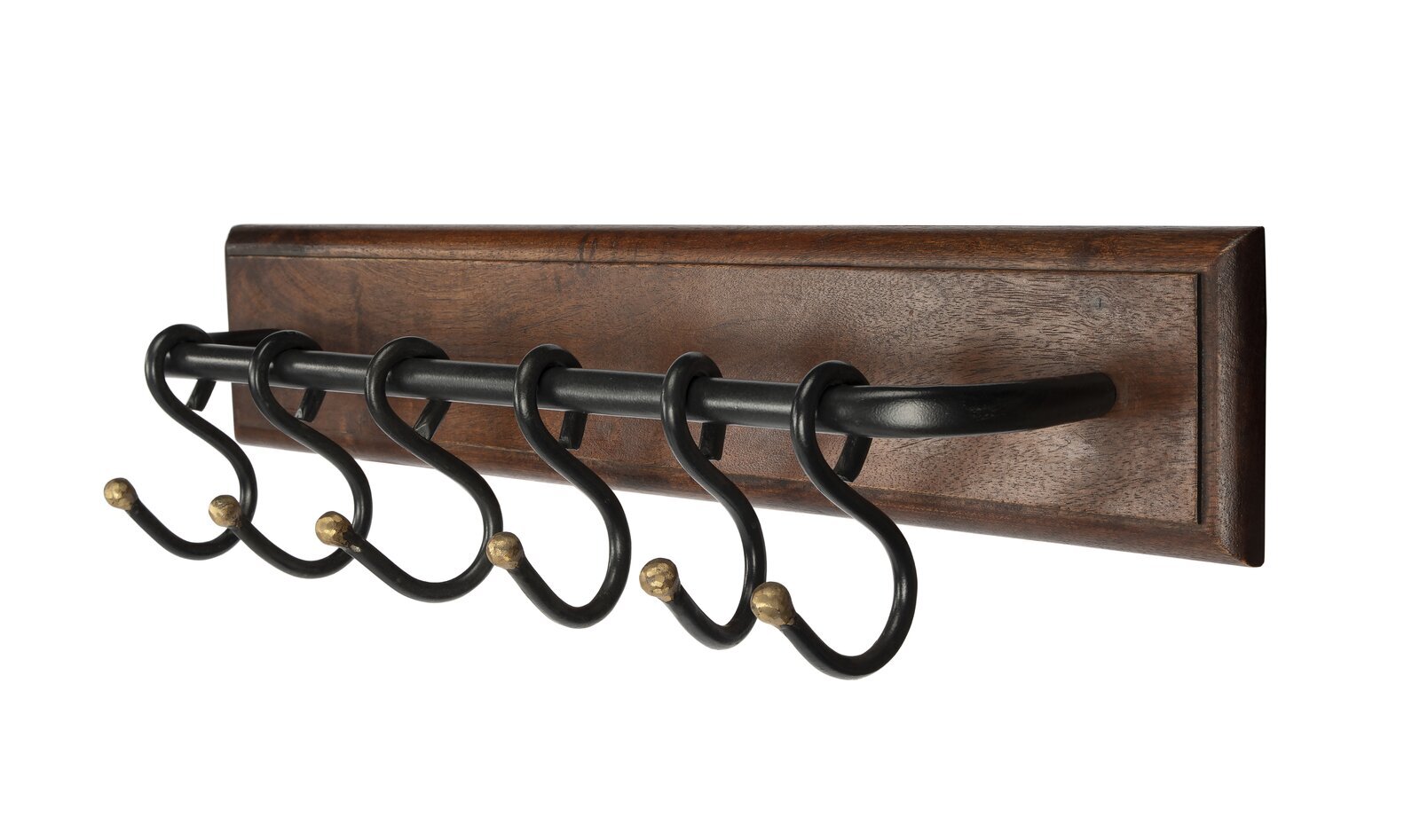 Adjustable Unique Coat Racks Wall Mounted
Adjustable Unique Coat Racks Wall Mounted
Most coat racks are built inflexible. Meaning, you don't get the option to adjust the hooks to allow more space between coats. If you aren't a fan of bundled and cramped jackets, then getting an adjustable coat rack is right for you.
There is unique coat racks wall mounted with hanging hooks that slide on bars. Though, these hooks don't cinch down on the bar, which means the hooks move around frequently.
The other option is metal hooks that wrap around wood. This option lets you adjust your hooks on the backside. These hooks won't be moving around.
Unique Wall Mounted Coat Rack and Rail
Unique Wall Mounted Coat Rack and Rail
The rack and rail type is a unique wall-mounted coat rack that is normally found in bathrooms. Yes, you can hang your towels on them, though they work extremely well for coats, scarves, and hats too.
This type of metal wall coat rack is terrific for people who are trying to steer clear of the usual coat hook design. The knobs on these types also prevent that strange poked-out hook impression on your coats.