Narrow Vintage Hall Tree with Mirror
Design Toscano
Egg-and-dart carvings and rippled crown molding, this six-foot-tall antique hall tree with a mirror is a classical allure. It features a clawfoot bench with armrests and a tufted cushion, and two metal hooks to hang hats and coats.
$1425 $1572.06
Designer Advice:
Behind the hinged mirror are several hooks to hang keys. So, if you own a large property or countless keys, then this hall tree is a practical choice for you. Its intricate and sumptuous style makes it more expensive compared to other hall trees, though it does create a lavish focal point in entranceways.
Merchant links are sponsored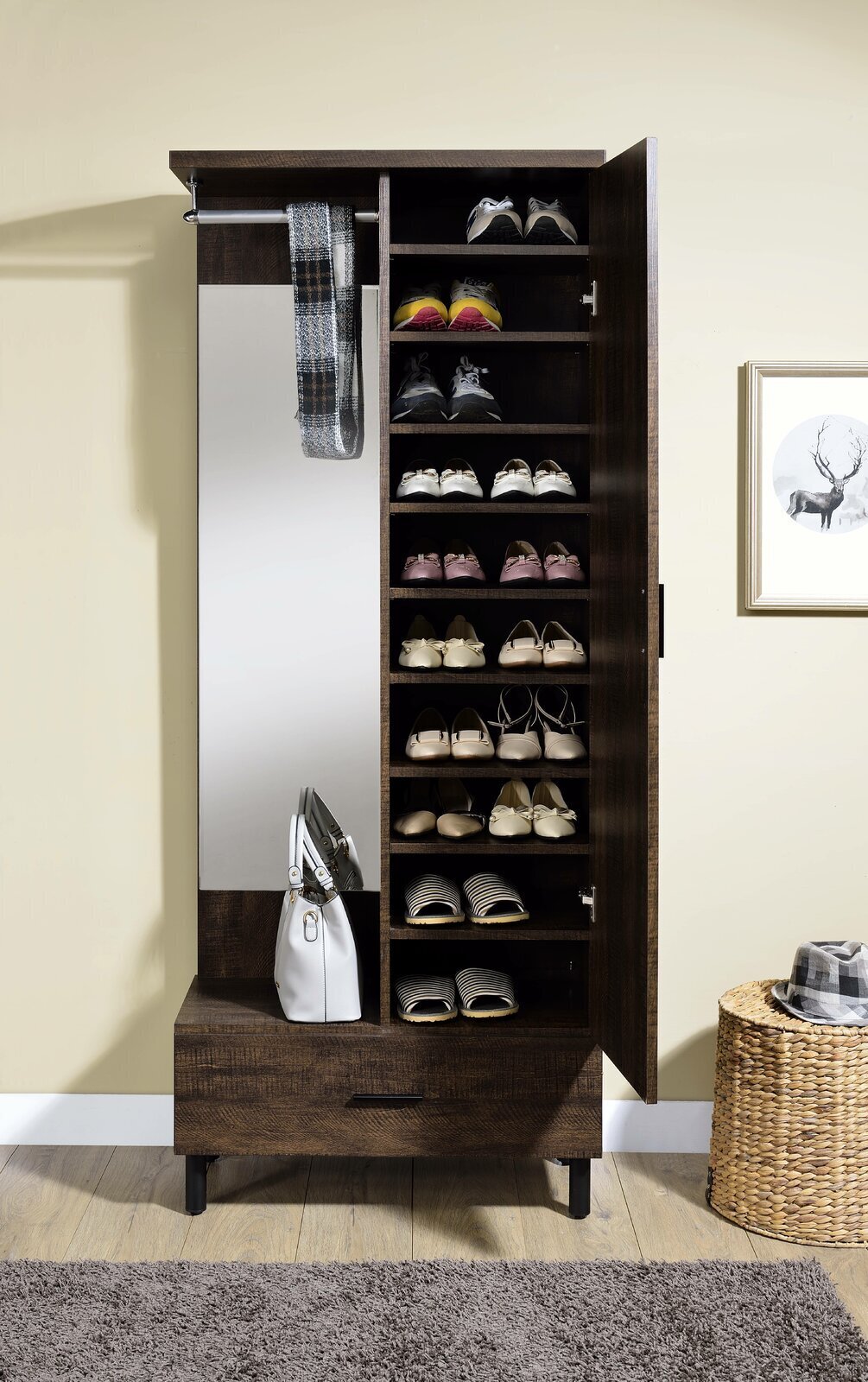 Rustic Walnut Hall Tree with Bench and Shoe Storage
Latitude Run®
This rustic walnut-toned hall tree is every woman's dream, with its ten shoe storage shelves hidden behind a tall cabinet door and a drawer just below the seat. Thin legs reinforce a modern and contemporary interior style.
$369.99 $449.99
Designer Advice:
Its narrow build positions nicely in smaller entryways, though it does have a couple of drawbacks. Because of its build, the bench seat is smaller compared to other hall trees with benches, and the coat rack rests in front of the mirror making it unusable when coats are hanging.
Merchant links are sponsored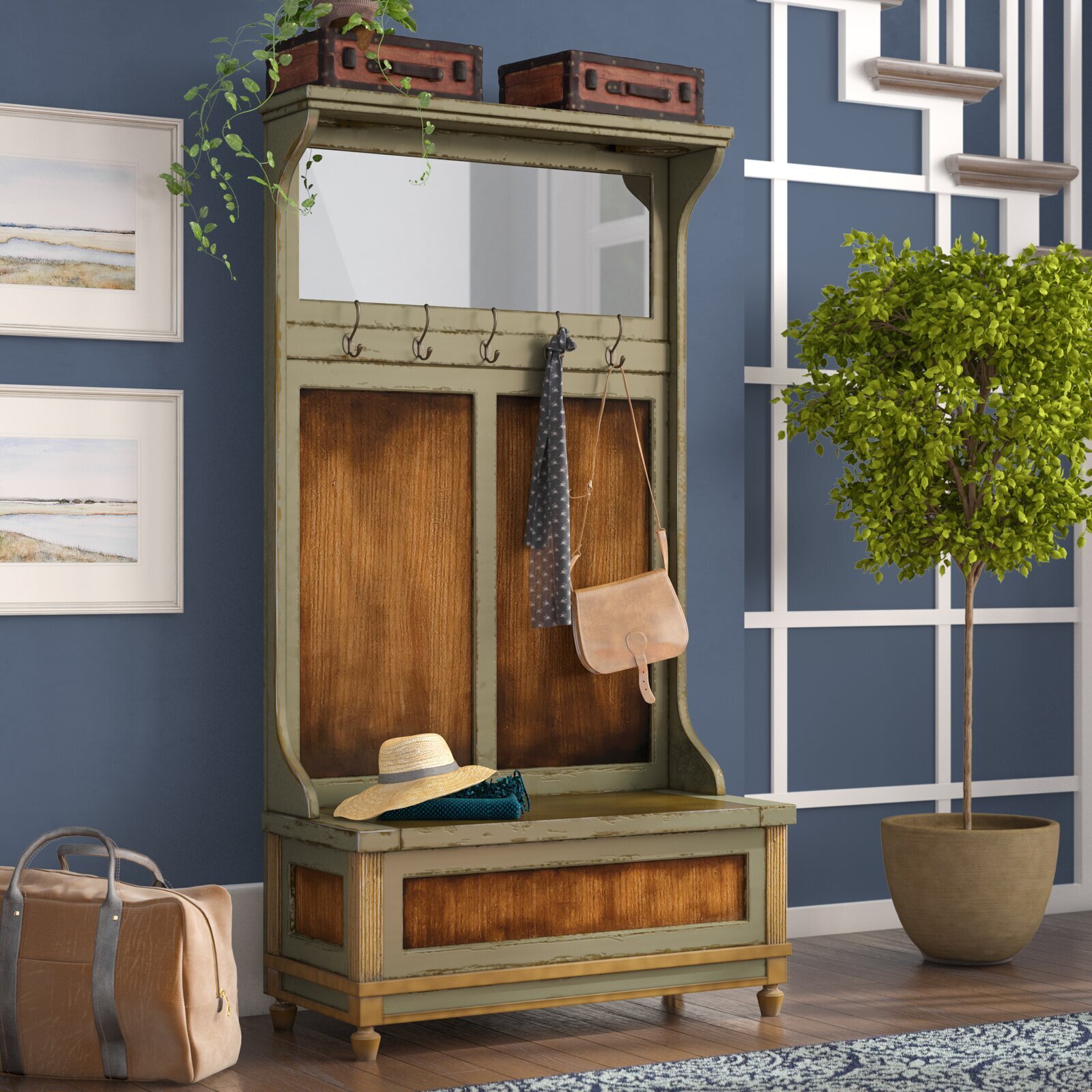 Antique Hall Tree with Mirror and Lift top Bench
Laurel Foundry Modern Farmhouse®
The distressed charcoal gray and honey stain add character. Made in Indonesia with solid mahogany wood, this vintage hall tree with mirror features five metal coat hooks, a two-seater bench, a top-shelf, and a lift-top covered seat.
Designer Advice:
Hidden storage space within the bench creates a tidy space and prevents people from tripping on loose shoes. As a person sits on the bench, someone else can check themselves out in the mirror. The drawback to this mirror is its height, making it a poor choice for short individuals.
Merchant links are sponsored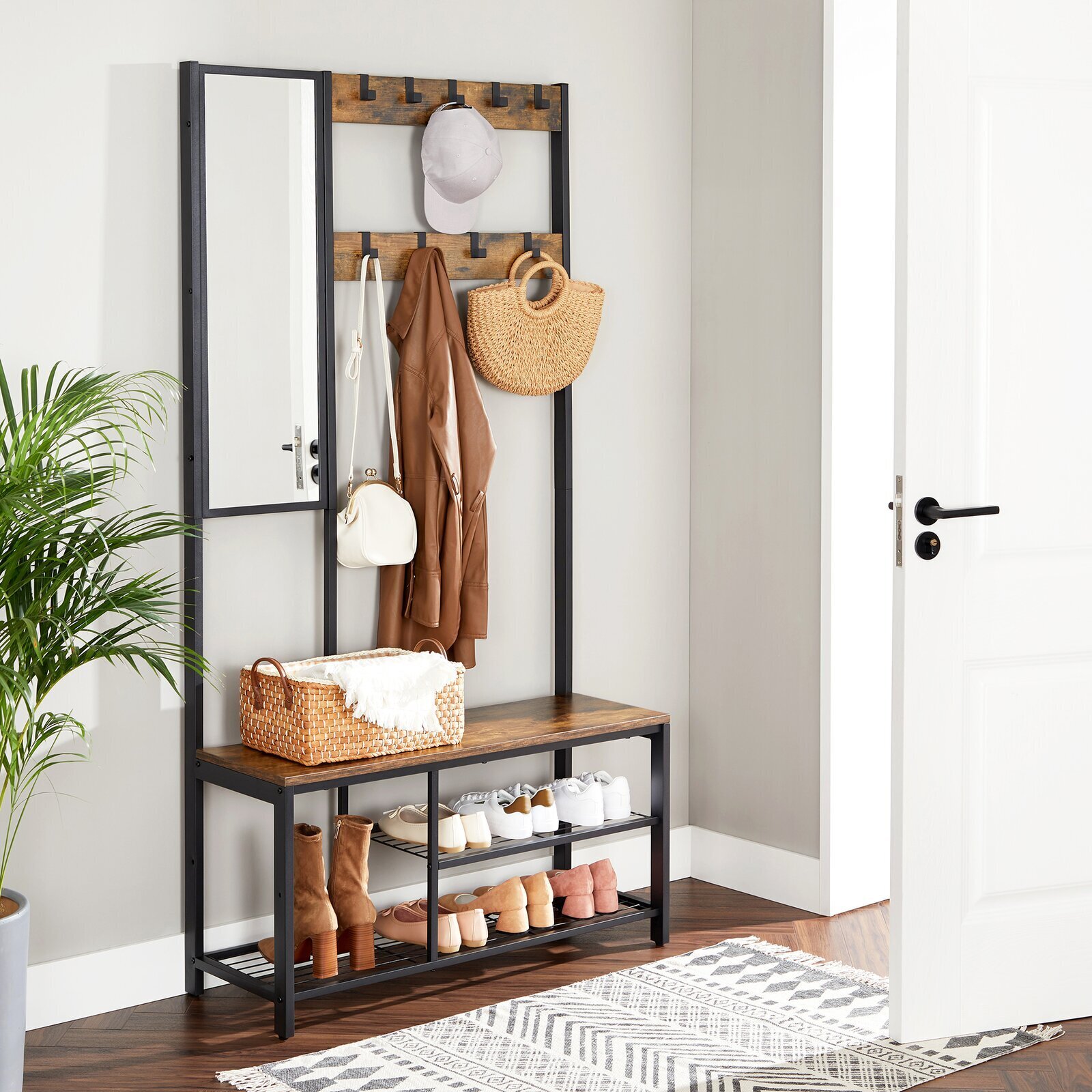 Open Concept style Entryway Bench with Mirror
Steelside™
Lined with nine metal hooks is this gorgeous exposed hall tree with a bench and mirror. Multi-level shelves below the bench seat allow you to store more shoes. It also comes with a tip over-restraint for homes with small children.
Designer Advice:
The flat construction is ideal for long and narrow hallways because it takes up less space and increases visibility. Since the shoe rack on this hall tree has an open shoe rack, it needs more sweeping beneath the bench compared to a hall tree with a cubby hole shoe storage design.
Merchant links are sponsored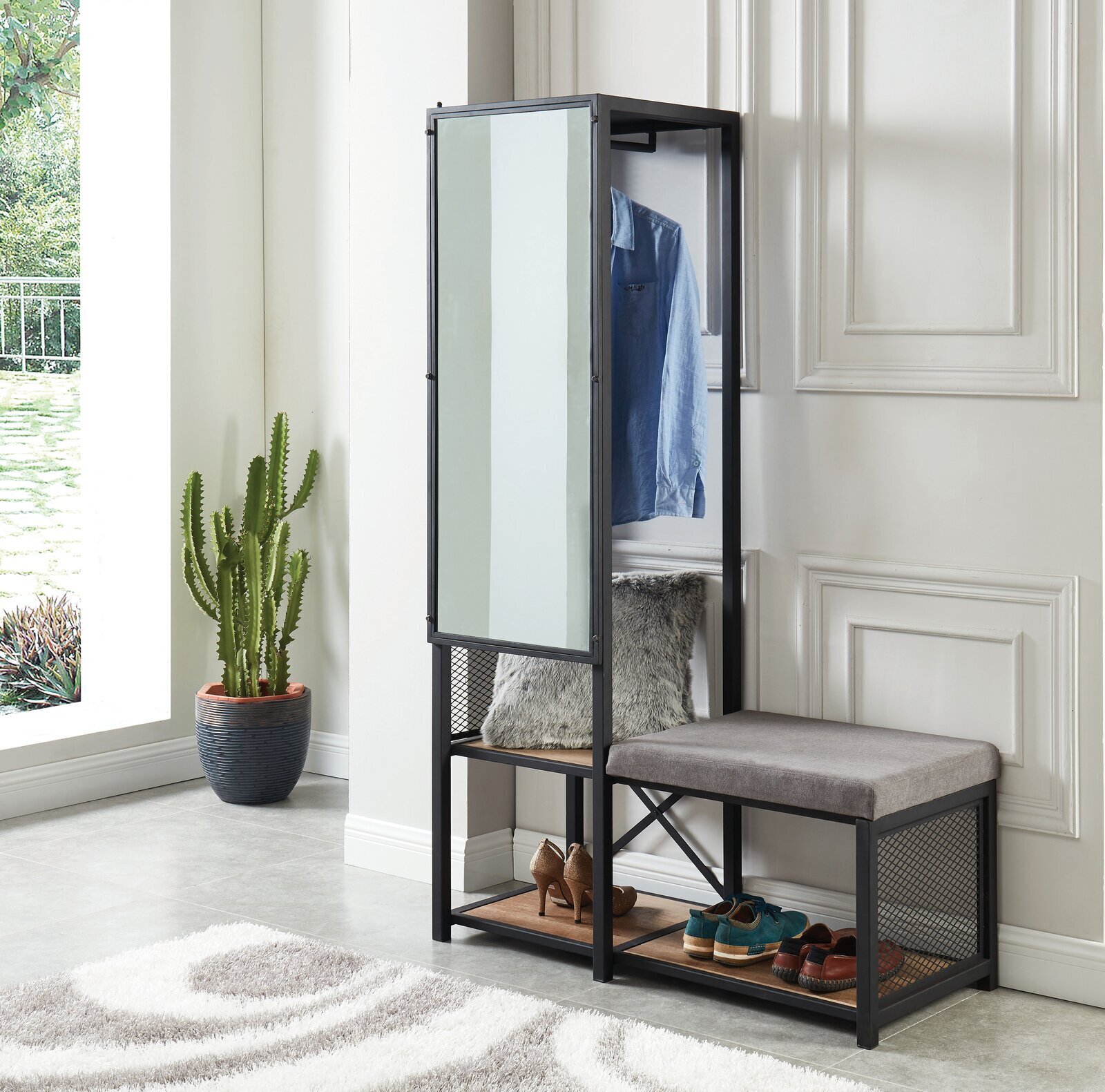 Hall Tree with Mirror and Upholstered Bench
17 Stories
This freestanding steel entryway bench with a mirror comes with three compartments: two shoe compartments and one coat compartment. The bench is stuffed with foam and protected with a soft polyester fabric.
$379.99 $514.33
Designer Advice:
An upholstered bench provides more comfort while putting your shoes on, though it requires more maintenance than a wood-surfaced bench. The front-facing mirror design hides bulky coats behind it making your front entrance a clutter-free zone. Cage-patterned siding adds an industrial charm while the fabricated seat softens this hall tree's design.
Merchant links are sponsored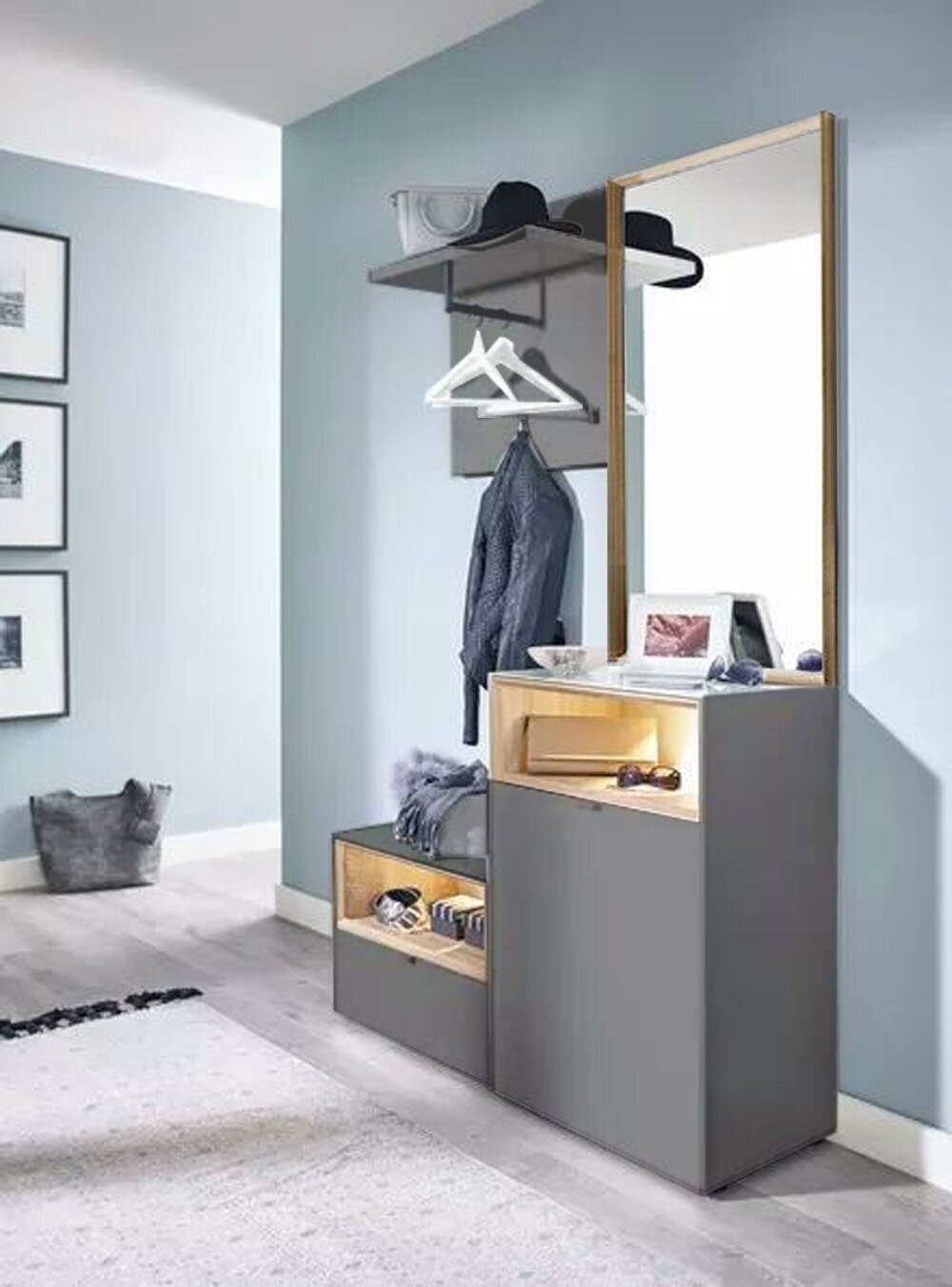 Customizable Coat Rack with Bench and Mirror
Brayden Studio®
This hall tree with a bench and mirror is an ultra-modern attraction. It includes a top shelf for hats and purses, a tabletop for bills and keys, a cabinet to organize shoes, and a drawer for scarves and mittens.
Designer Advice:
People love the adaptability of this hall tree and the ability to choose between two colors: matte graphite grey and eggshell white. The wall-mounted coat rack, shelf, and mirror allow you to mold it to the specific shape of your entryway. Place battery-operated lights inside the cubby shelves to illuminate the space.
Merchant links are sponsored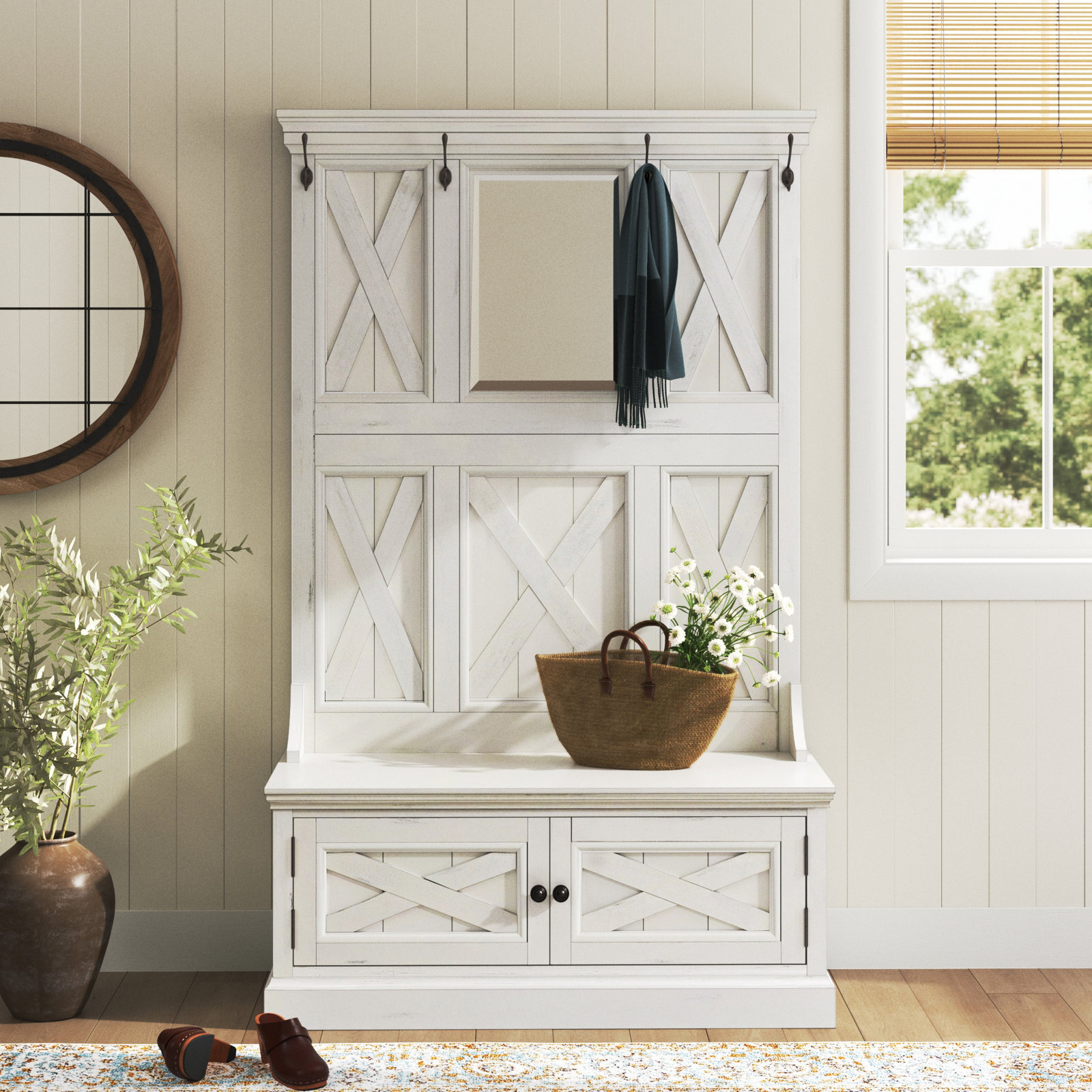 Rustic Farmhouse Hall Tree with Bench and Mirror
Sand & Stable™
What we like: Distressed neutral farmhouse look
Not so great for: Small spaces
This traditional rustic hall tree bench with mirror features a weathered wire-brushed white finish, accented by four antique nickel metal hooks and two round knobs that access the lower double door cabinets. The bench supports 300 pounds with concealed storage underneath.
$599.99 $639.99
Designer Advice:
Wood hall tree racks can look more traditional, with closed doors that help keep your space tidier by hiding your shoes and other items for discreet organization. And the rustic aesthetic with a weathered wood finish can add a warm, homey feel, accented by casual bench seating. Double hooks allow you to hang things like jackets, scarves, and bags.
What Users Say:
The color is a nice off-white rubbed finish. It has a nice-sized mirror on the back, and the hooks for coats/hats are a nice added touch. The 2 door base cabinet is perfect for holding shoes or can hold baskets for gloves/scarves.
Merchant links are sponsored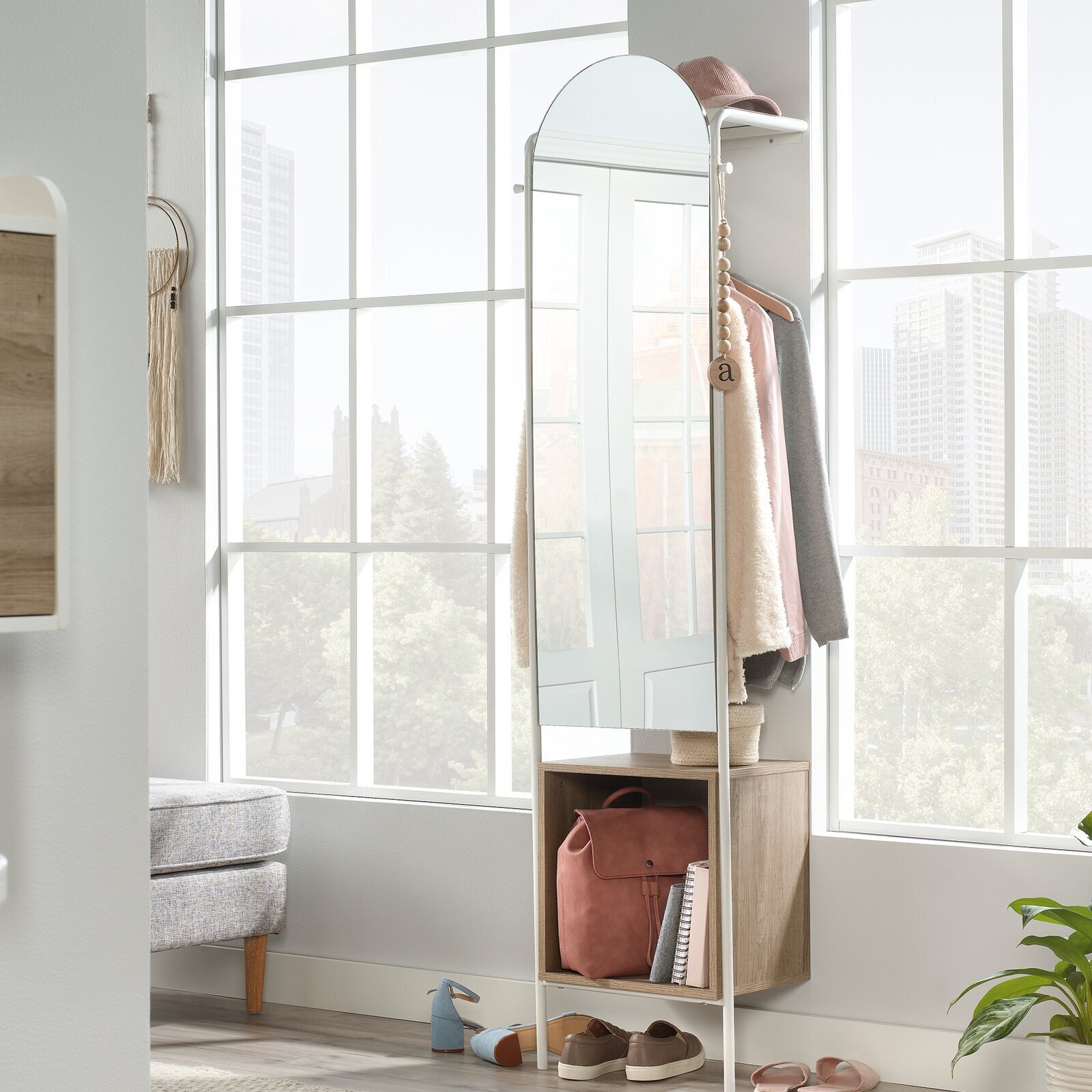 Wall mounted Mirrored Hall Tree
Mercury Row®
This wall-supported hall tree offers a storage solution with a minimal footprint. Integrated with a clothing rod, coats are stashed behind the mirror. A cubby hole on the bottom and shelf on top create storage for shoes and hats.
Designer Advice:
Its powder-coated white metal frame and rounded glass mirror magnify a contemporary flair. The two studs located on both sides of the mirror can be used as hooks to hang a purse, strapped umbrella, or scarf. This hall tree doesn't have a bench, which isn't an issue if you already own one.
Merchant links are sponsored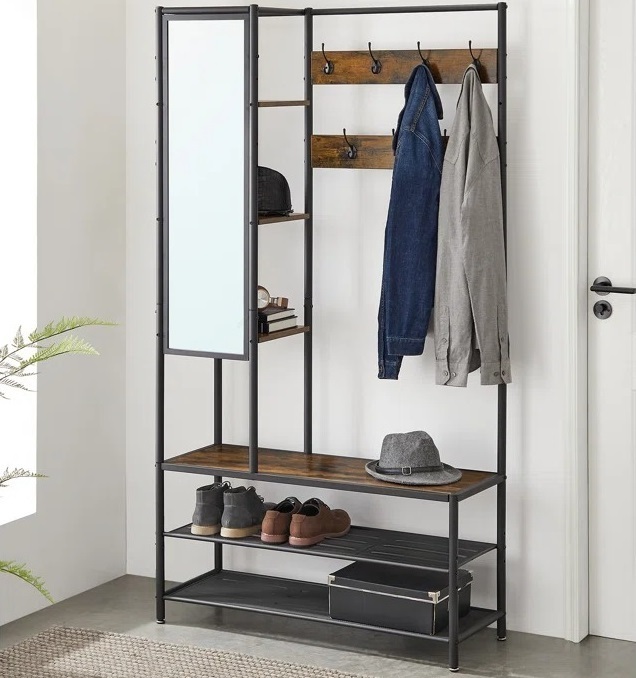 Minimalistic Mixed Material Entryway Hall Tree with Mirror
Trent Austin Design®
What we like: multiple shelves for storage
Not so great for: storing a lot of shoes
This mixed material hall tree offers two rows of wood slats with four double metal hooks. The three mesh shelves behind the mirror support 33lbs, while the bench can hold 220lbs. Under the bench are two shoe rack shelves.
$76.99 $156.99
Designer Advice:
Hall tree units give you the best of all worlds, from a place to sit to the mirror for quick checks of your looks. The mixed material style can fit into most interior decor settings. Extra shelving allows for better organization and storage to keep your entry clean and tidy. Always adhere to all weight limits to prevent damage.
What Users Say:
The mirror is great and can see my whole body if needed. The shoe racks are perfect for boots and sneakers, and the coat hangers are great. I really enjoy the behind the mirror storage for just after I walk into my place.
Merchant links are sponsored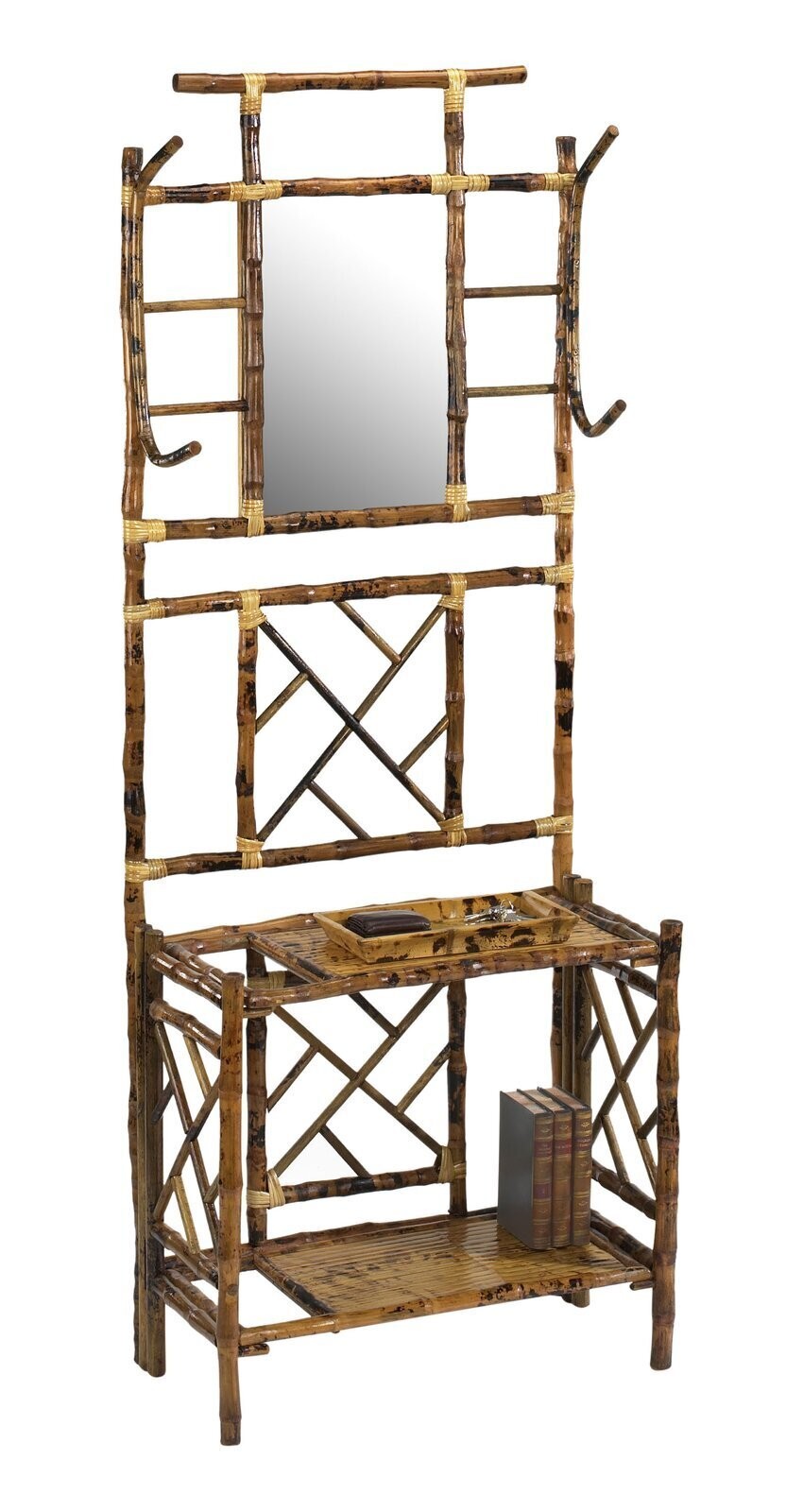 Bamboo styled Hall Tree with Mirror
Kenian
Hand-crafted with the finest rattan, this hall tree with mirror is a unique accent in coastal and bohemian-themed homes. Open bamboo rungs and rectangular patterns strengthen its design. It features two open shelves and two U-shaped coat hooks.
Designer Advice:
Although this timeless mirrored hall tree does not come with a bench, it offers a surface to set your mail, wallet, and keys down on. If slip-on shoes are your preferred foot attire, then a bench-free hall tree is a terrific selection.
Merchant links are sponsored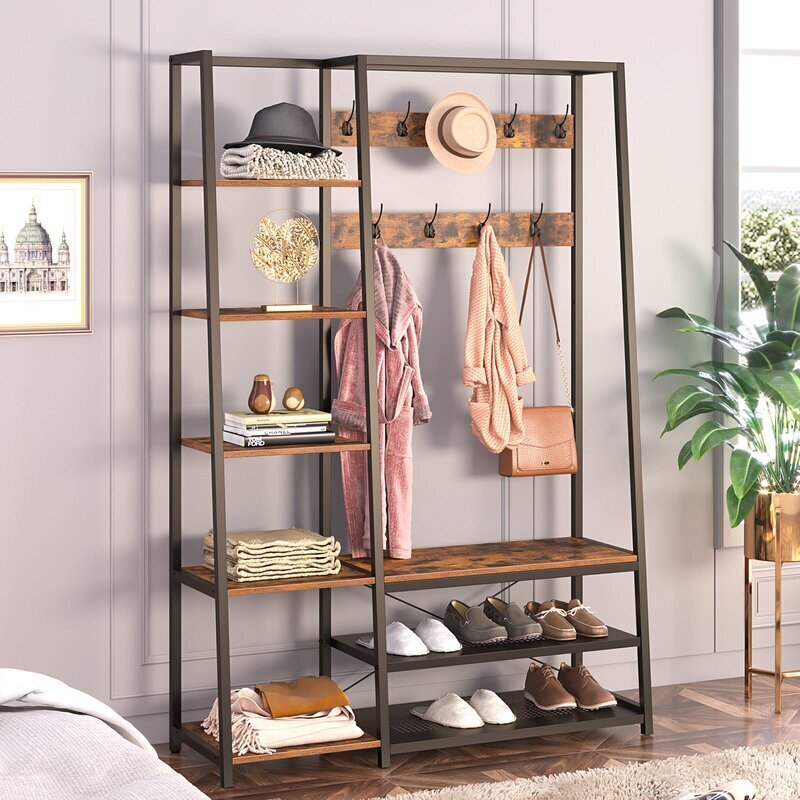 Versatile Mixed Use Narrow Hall Tree with Mirror
What we like: multiple storage purposes
Not so great for: heavy weight
This hall tree store with a mirror has two tiers of bottom shelves for shoes, including boots. On the side is a rack for umbrellas. Above the bench seat are two wood slats with eight hooks, a mirror, and four mesh pockets.
Designer Advice:
When picking a hall tree for your area, you'll want to consider the size of your space concerning the size of your rack. But you also want to consider what you'll store and its size. Storage trees like this model offer greater use with multiple compartments for gloves, umbrellas, and shoes of different heights and widths.
What Users Say:
The mirror is nice as a last check before we head out the door. It easily holds purses, coats and the pockets are perfect for gloves and other accessories.
Merchant links are sponsored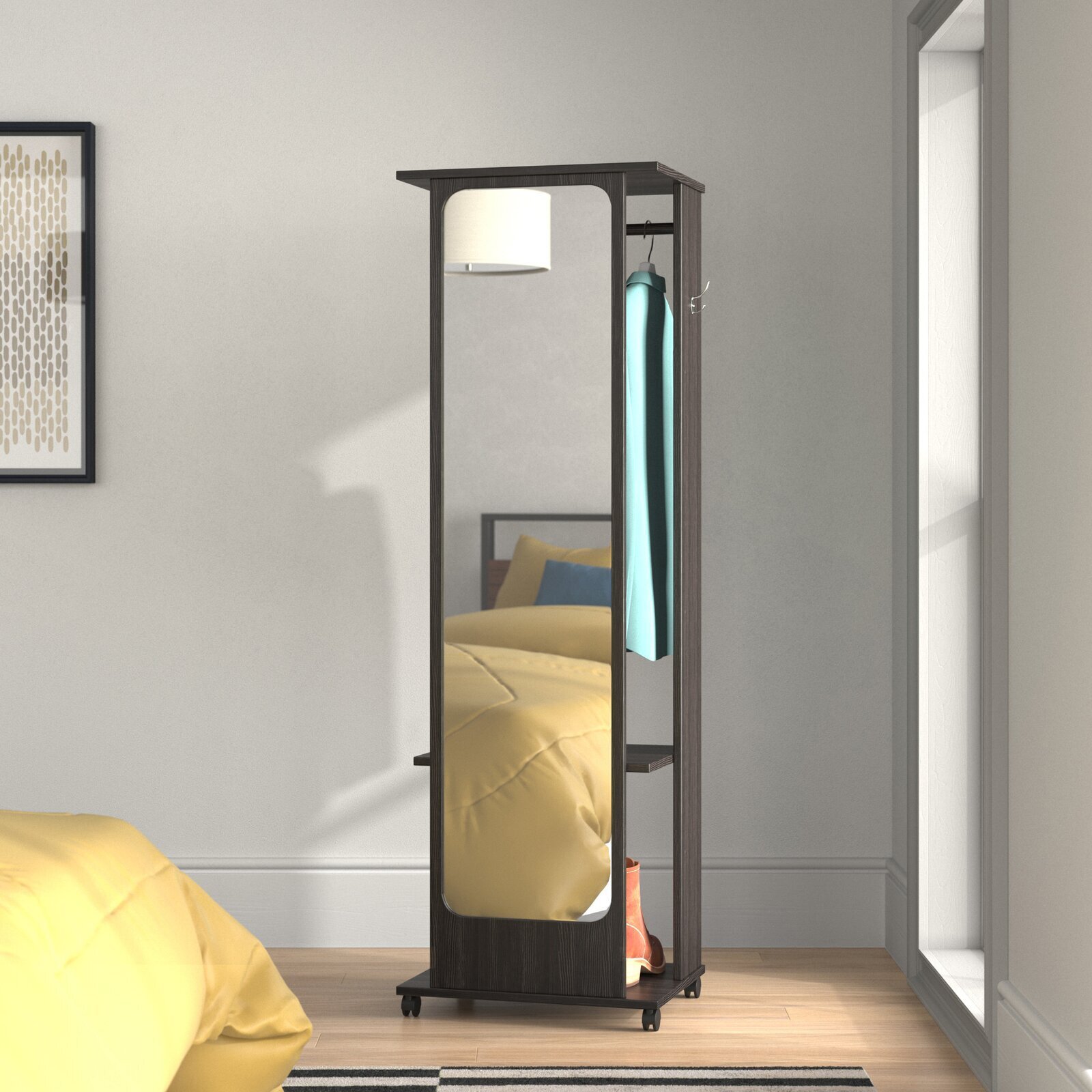 Portable Mirrored Hall Tree on Castor Wheels
Zipcode Design™
This movable brown-polished hall tree is graced with a full-body rounded corner mirror to see yourself from hat to shoes. The mirror conceals a coat rack, shelf, and cubby storage area, with side panel hooks for regularly worn jackets.
$194.99 $324.99
Designer Advice:
A large amount of space between the coat rack and the shelf gives you plenty of space to hang longer coats and scarves. This hall tree doesn't come with a bench, but its portability makes it a fantastic choice for rented and leased condominiums, apartments, and townhomes.
Merchant links are sponsored