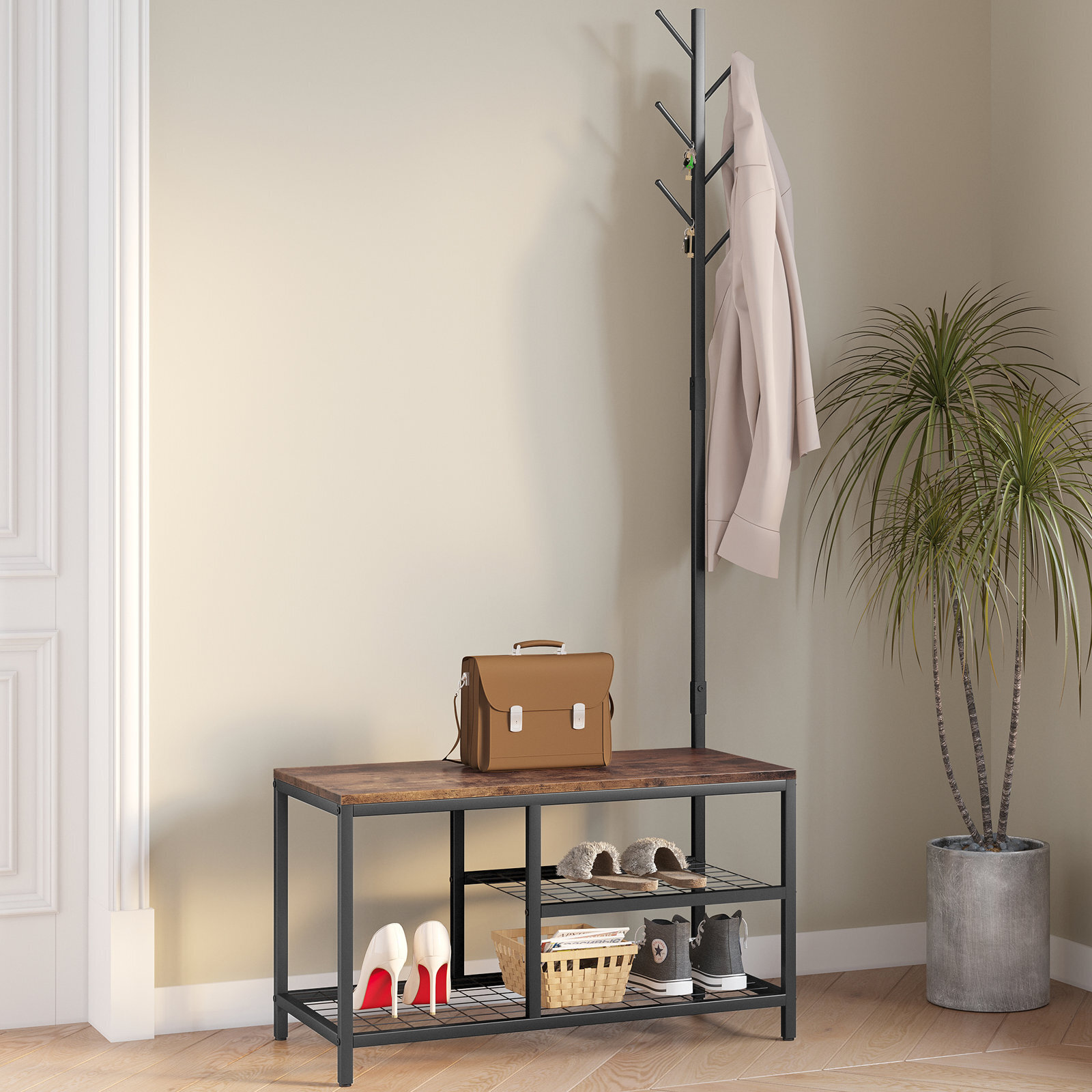 Mixed Material Minimalistic Hallway Coat Rack
This minimalistic coat rack with a storage bench has an open frame, an upright sculptural tree, and six coat hooks with a 3.3 lb capacity. In addition, two open-grid metal shoe shelves sit under a rustic engineered wood 220-pound bench seat for a modern transitional effect.
Designer Advice:
We love the sleek, minimalistic aesthetic of this unique, compact bench set with a coat rack. It's the perfect blend of modern and old-fashioned to fit into any decor theme, whether you want your home to have an updated look or an aged antique feel. And the small size means you can use it for your small entryway or tuck it into the corner of your living room, office, or bedroom to keep all of your clutter contained.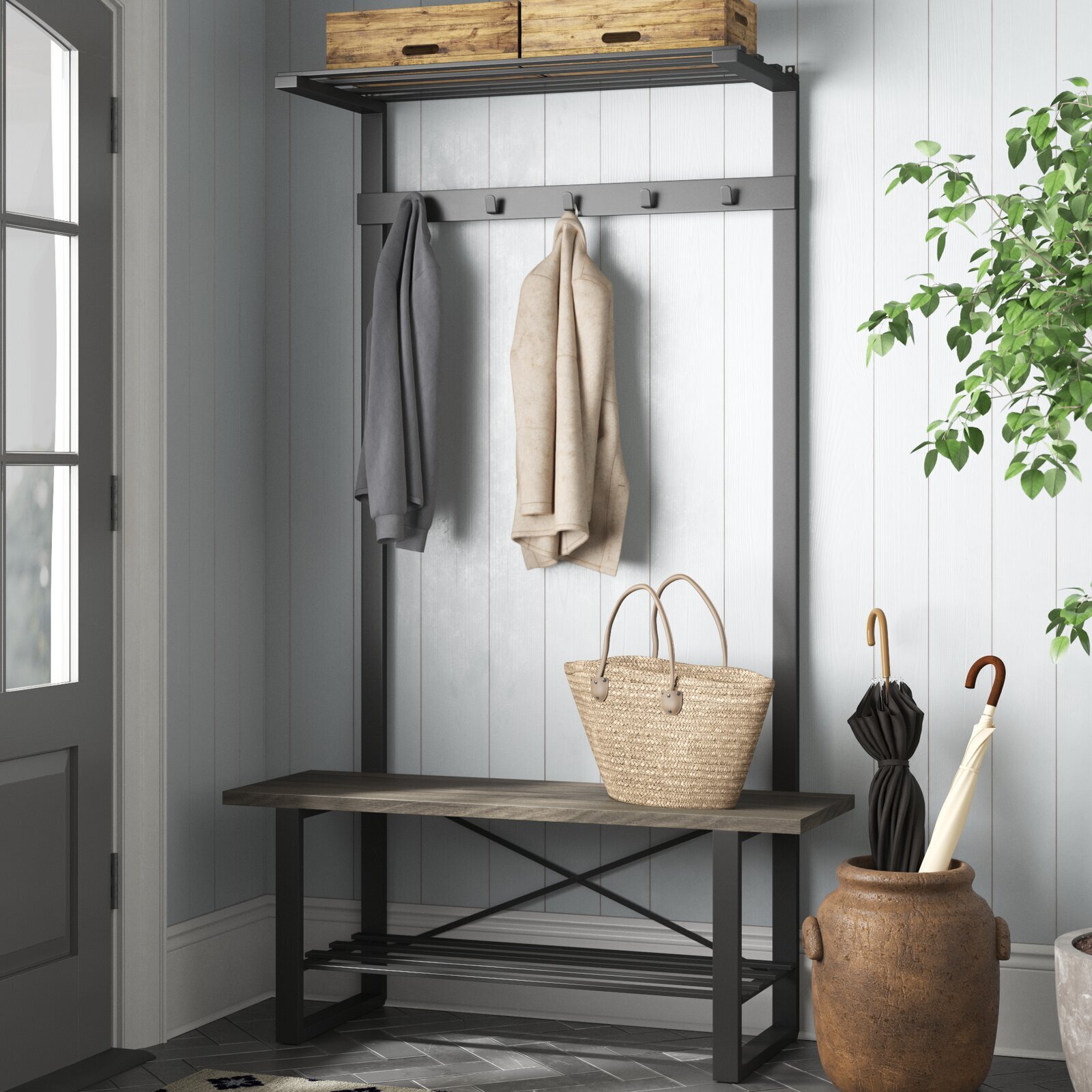 Rustic Minimalistic Bench, Shoe, Coat Rack
This freestanding engineered wood hallway bench seat with coat rack comes in two classic colors with powder-coated steel accents. An open-slat frame extends over five 20-lb metal hooks, a 250-pound wood bench, and a single shoe rack.
All in One Entryway Coat Rack with Bench
This metal and wood entryway coat rack bench has several sections in a gray or rustic finish. There are five wood shelves, two metal shoe racks below the wood bench, and two rows of four hooks, each with a weight capacity of 15lbs. The iron construction of this coat rack makes it a sturdy piece.
Designer Advice:
We love finding hallway bench seats that serve multiple purposes. This rack bench is more than a place to sit while doing your shoes or storage for all your entryway clutter. Elaborate coat racks with a bench can also serve as a way to display decor pieces like photos, flowers, and books in a single piece of furniture. All-in-one units can be the perfect option when you're limited in space.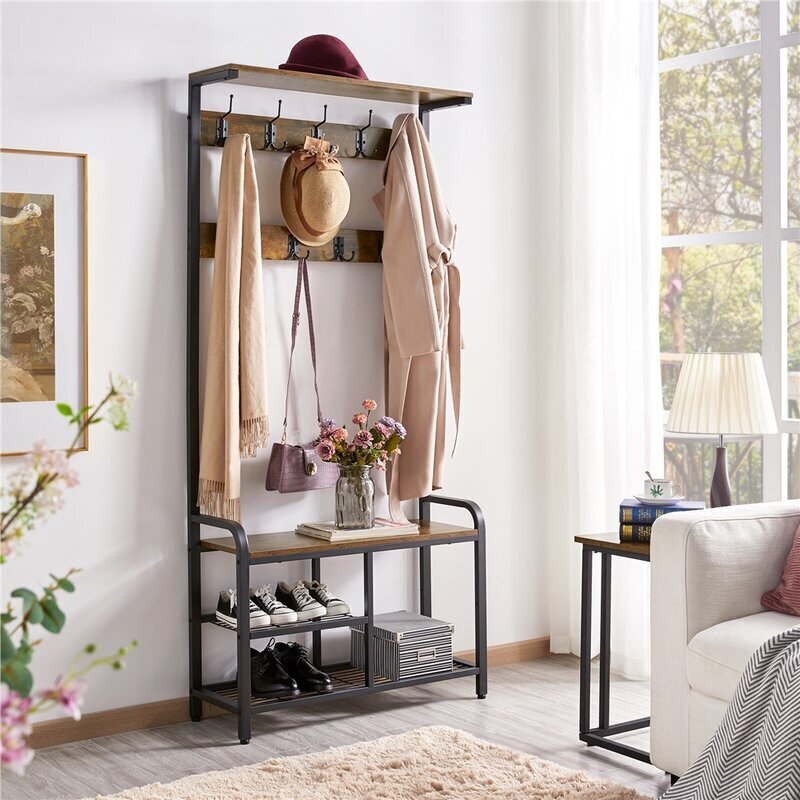 Compact Everything Organized Entryway Coat Rack
This sturdy compact 33" wide 72" tall neutral black rust-resistant metal coat rack with a bench in a rich wood finish supports 265 pounds. It has a manufactured wood top shelf, two levels of 23 ball-end hooks, and two tiers of varied size open-grid bottom metal racks.