Hallway Coat Storage - Coat Cupboard
In need of attractive, useful hallway coat storage? Whether you have an older home that just doesn't have enough coat closets or you're trying to use a smaller space in the most efficient way possible, having a place to hang your jackets and bags can make a huge difference in the way your home feels.
However, some coat cupboards can feel bulky or out of place. Others simply won't match your style. That's where we've got you covered! These coat storage ideas are just what you need to solve your storage and organization problems while strengthening your home's aesthetic. Let's dive in!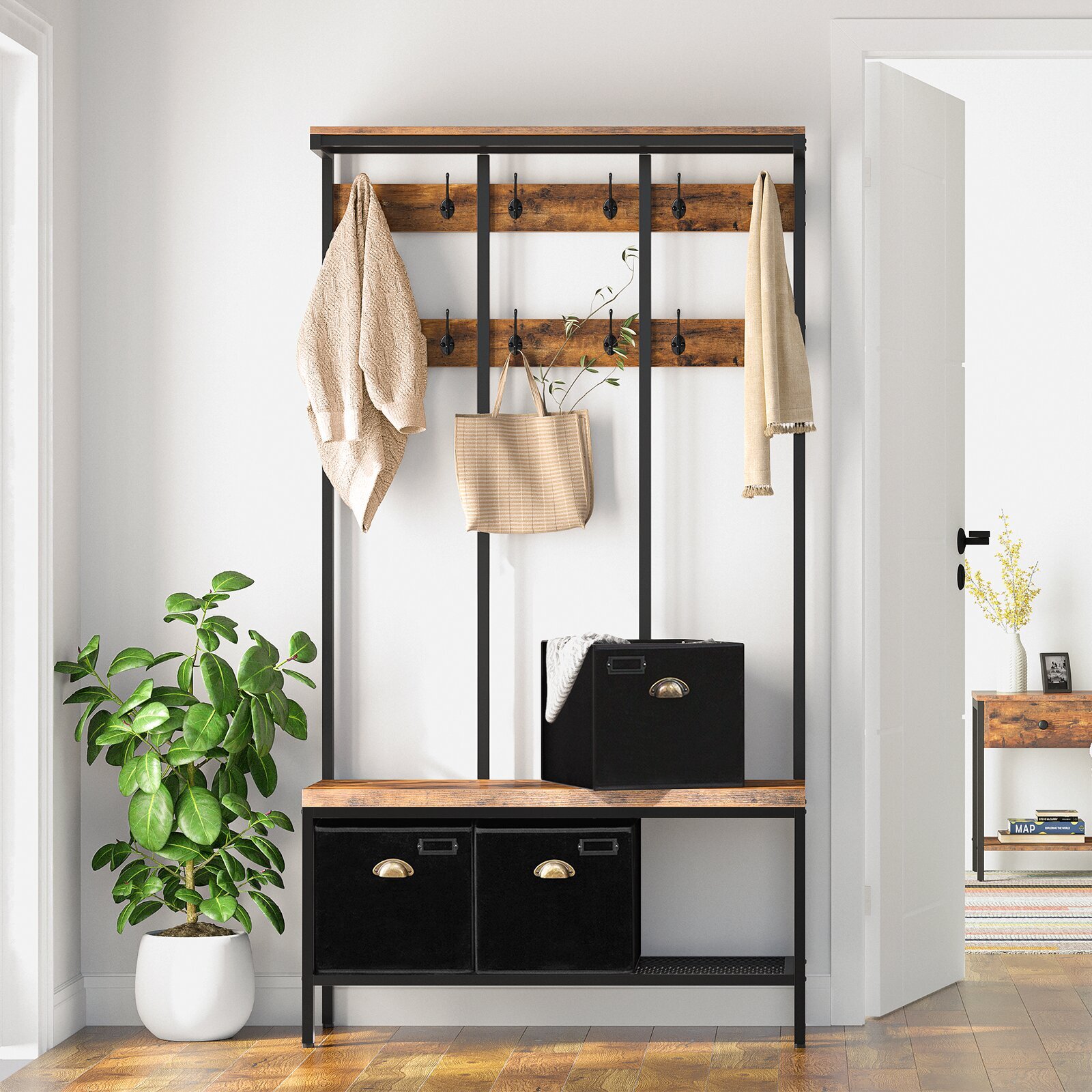 The industrial, open concept hallway coat storage

Hallways can be cramped, and sometimes you don't have room for an entire cupboard. Yet you still want a place to sit down while you take off your shoes! Solve this problem with an attractive bench-and-hook coat-storage solution.
If black-and-white industrial aesthetics are your vibe, you'll love a bench that has built-in drawers, lots of open space, and reclaimed wood for texture and style. These types of pieces add functionality and beauty to small spaces.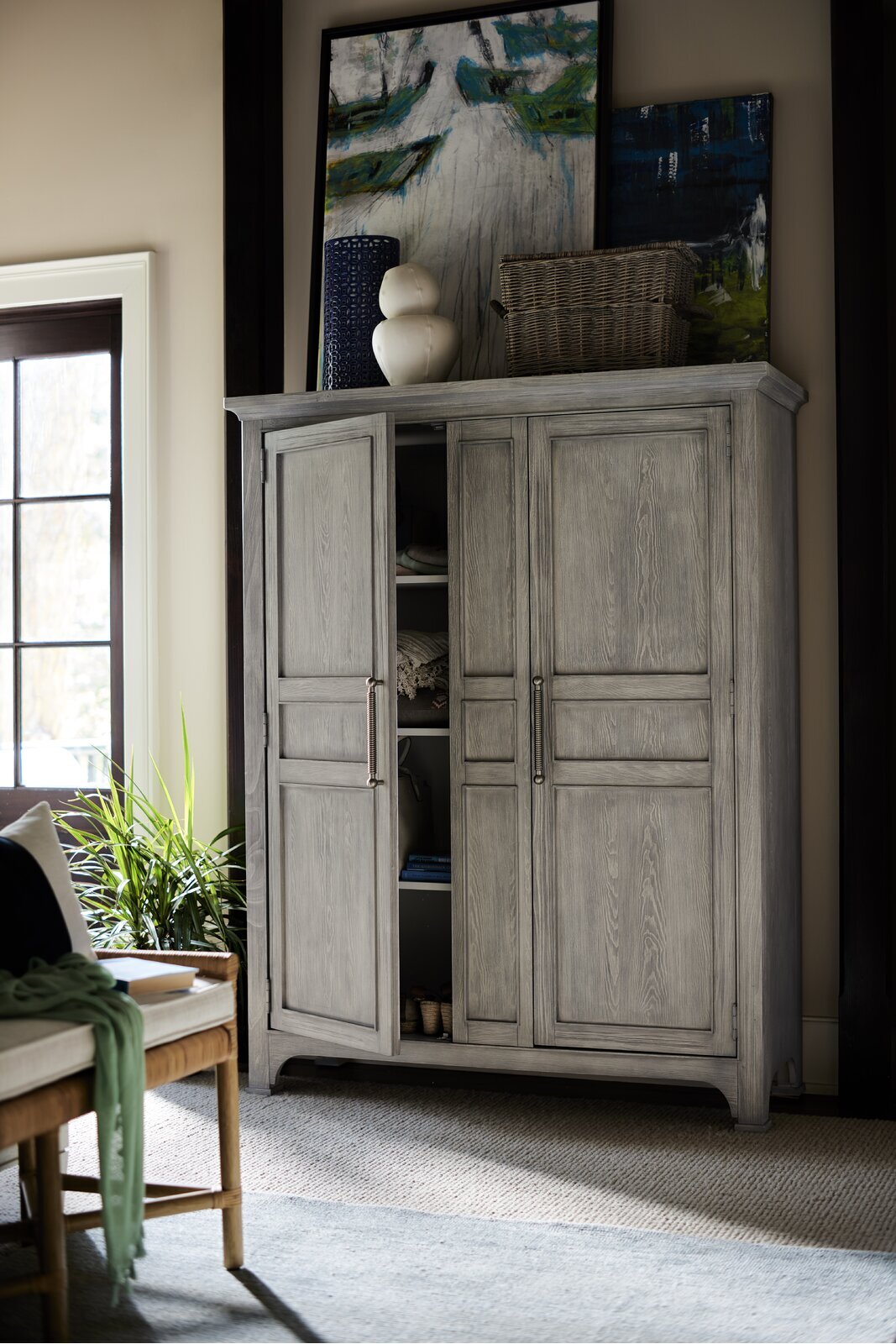 A coastal coat cupboard

With muted blue-grey tones and just enough carving to keep things interesting, a cupboard with closed storage and soothing features is perfect for hallway storage. A large one, in particular, can be a great strategy to keep home clutter corralled.
We love a solid cabinet with stately accessories and an overall neutral feel. Trust us: Even though these types of cabinets may feel big, you'll be thankful for every square inch.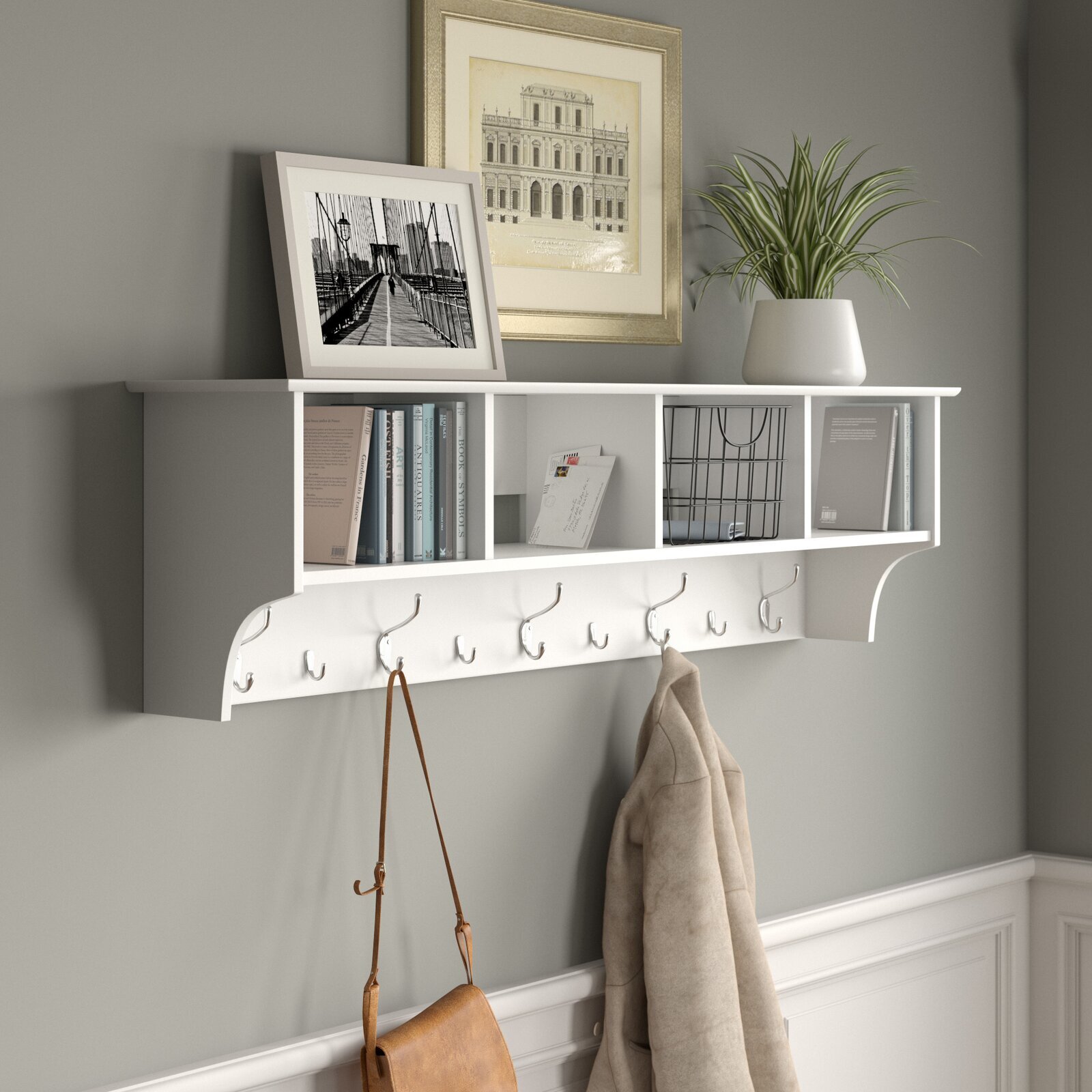 A wall mounted mini hallway coat storage cupboard

On the other hand, maybe you don't have a square inch to spare.
When this is the case, it's time to take advantage of vertical space. Hang a miniature coat storage cabinet on your wall, with little cubbies for keys, accessories, and even plants or other small types of decor.
Then, hang your coat beneath. It'll become part of your muscle memory to take coats on and off these hooks because they're so easily accessible!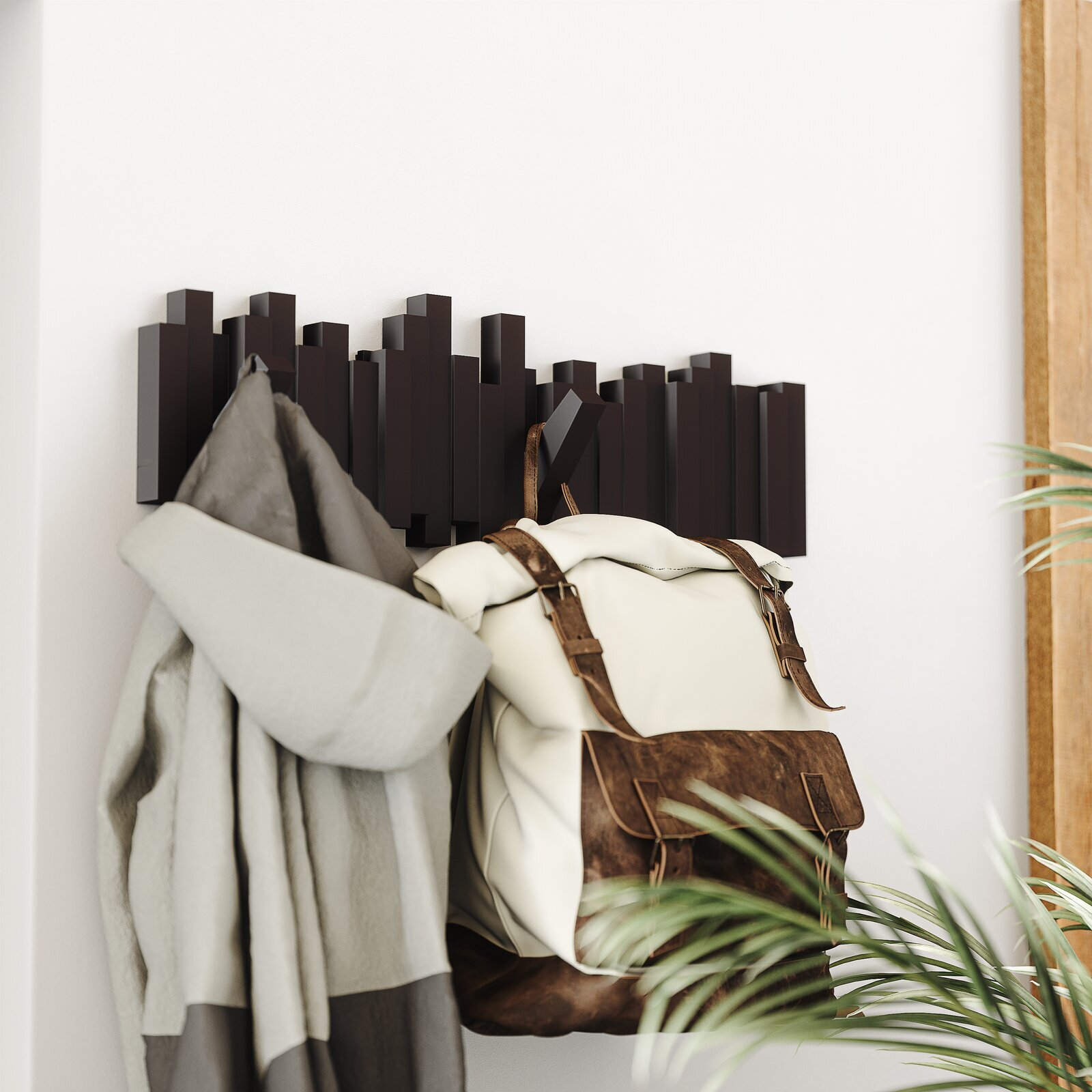 The minimalist modern hallway coat rack of your dreams

Perhaps you don't want anything remotely bulky taking up space in your hallway. Even hooks might take up too much room, or become a safety hazard when they're not being used.
Enter: A coat rack that could easily be confused with a piece of modern art. Individual pieces of wood pull out on this coat rack to form extendable hooks. When not in use, it just looks like a modern, carved art piece. Definitely a win-win in our book!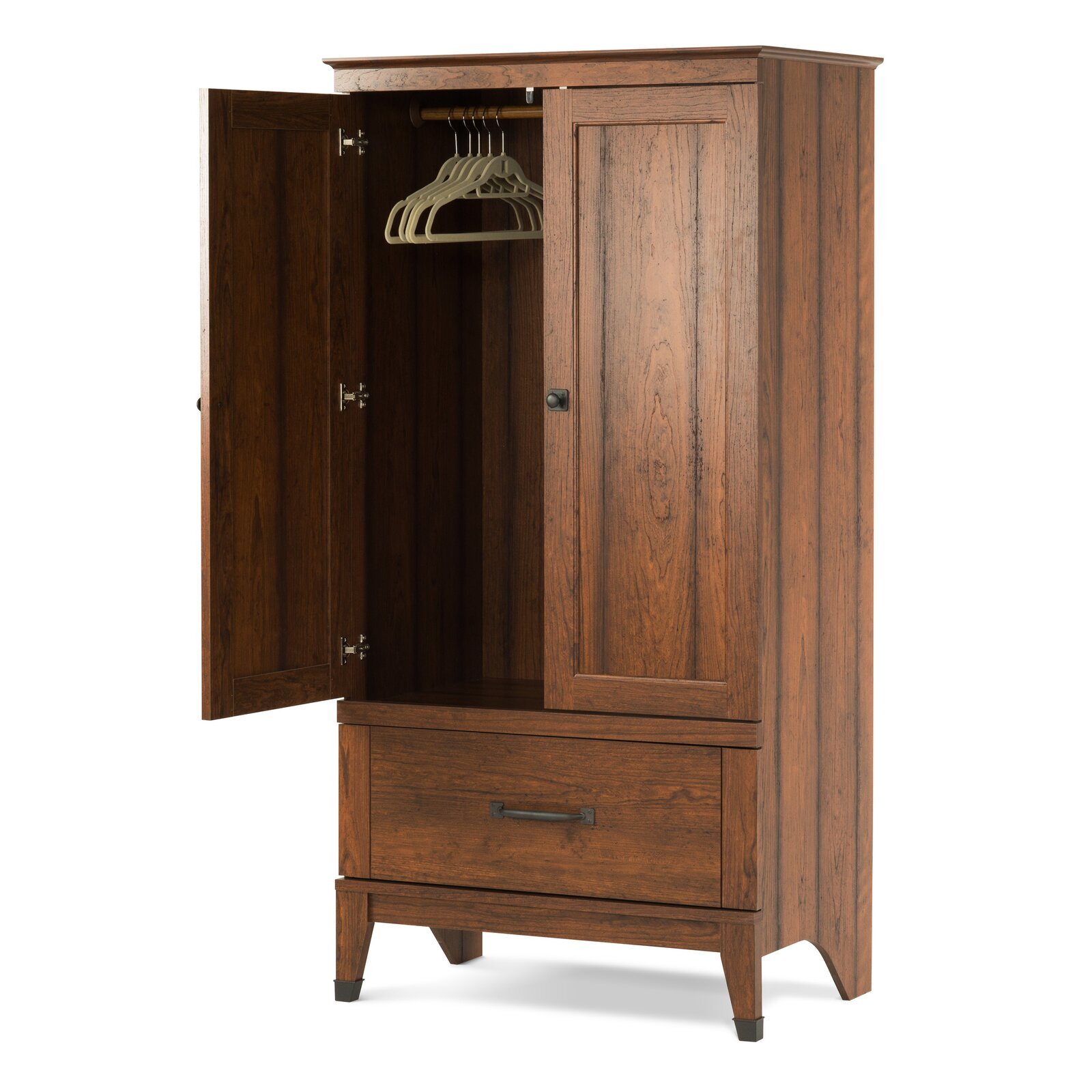 A rustic hallway coat cupboard

If a traditional, vintage look is more your vibe, select an armoire made out of heavy, beautiful wood. Get one with a drawer for shoe storage, and your hallway will rarely be cluttered ever again!
We love the minimal, comforting type of hardware that lets the beauty of the stained wood speak for itself, but the nice thing about coat cupboards like these is that you can switch up the hardware or even paint the wood to give this storage solution a fresh look.
$379.99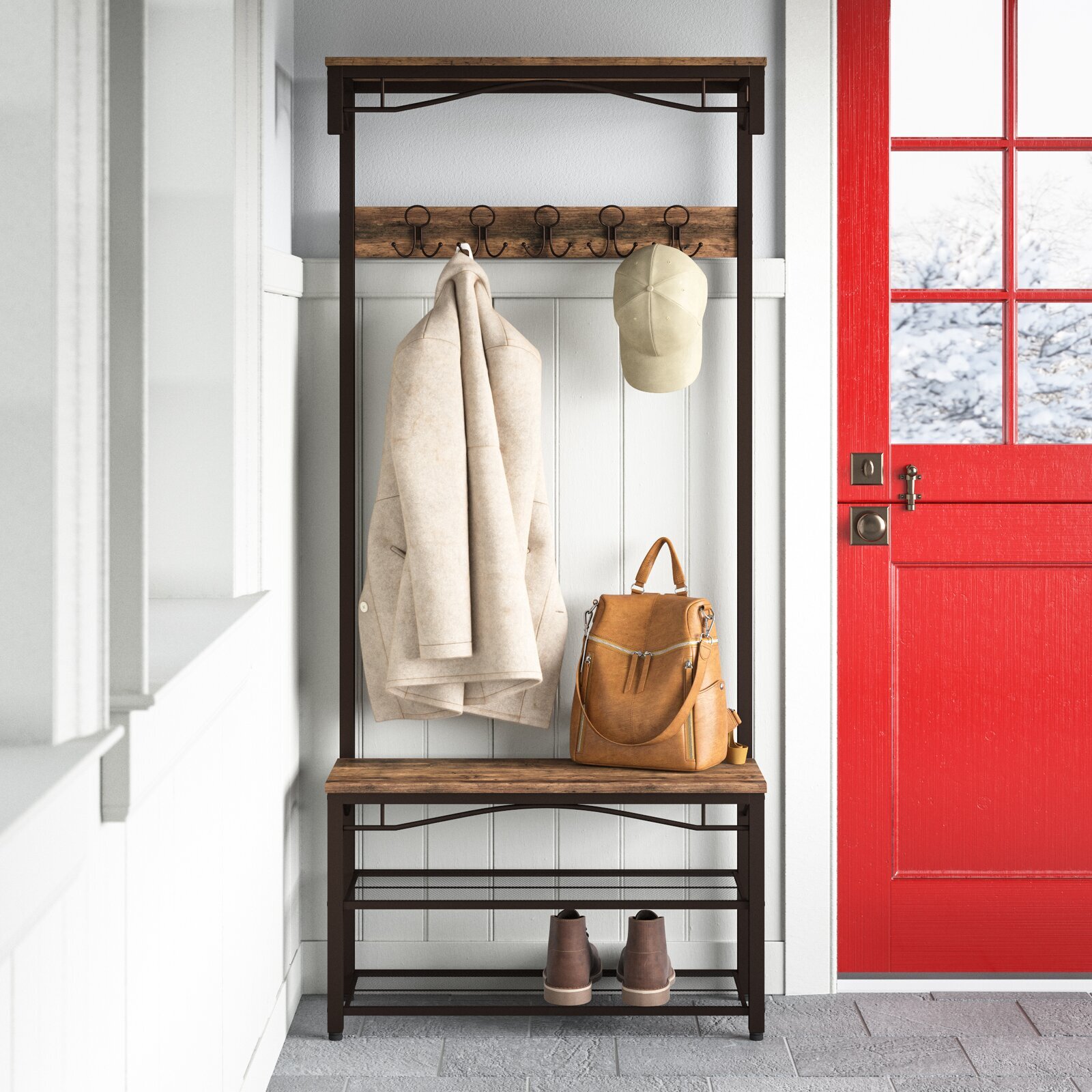 A beautiful mixed materials hallway wardrobe for coats and shoes

In need of a narrow solution for coat storage at home? Perhaps you need to fit your coat cabinet between two doorways or in an awkward corner.
Enter: A type of piece that's slim, but full of functionality. An open-concept design will make your hallway appear larger, not smaller; and close-set hooks will allow you to hang more coats in a smaller space.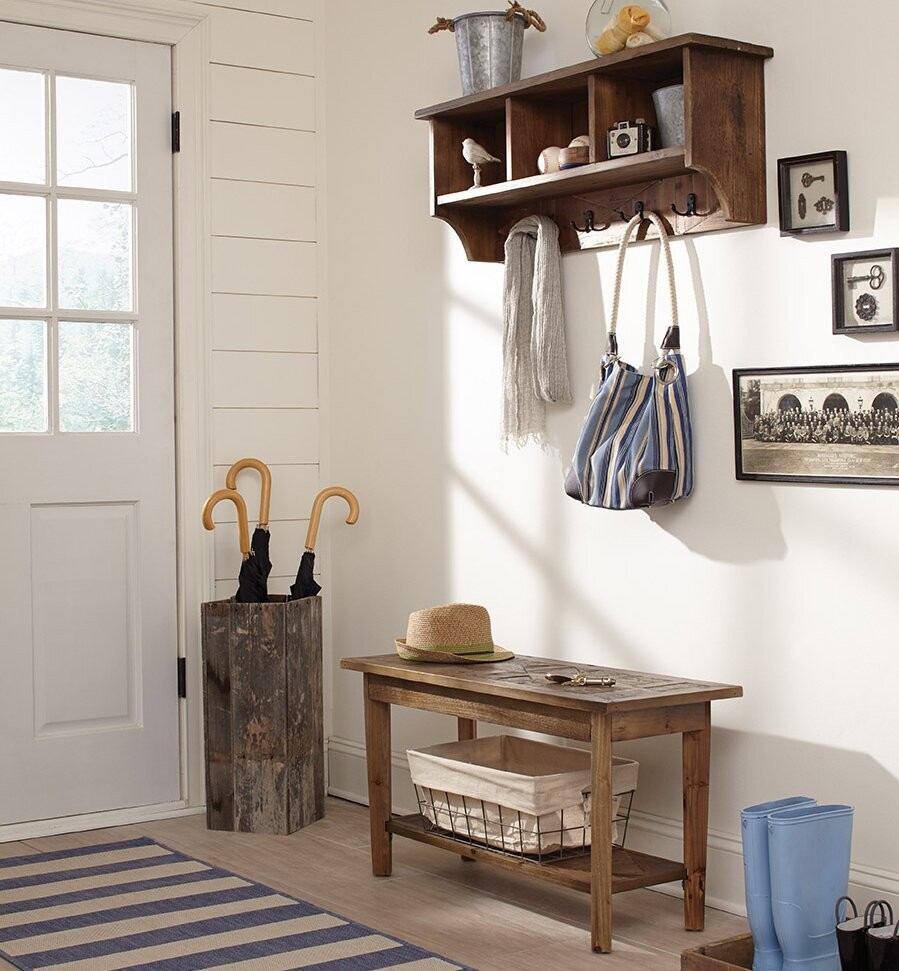 Versatile coat storage with a hallway bench

If you want the flexibility of separate but coordinating pieces and all of the utility of a hallway coat rack with bench, you're in luck: You can find wall-mounted coat cabinets that come with benches that go perfectly together!
We love a grey-toned wood as well for cupboards and benches in a modern style. Pro tip: If you opt for the type of hook that has two hooks in one fixture, you'll double your storage potential!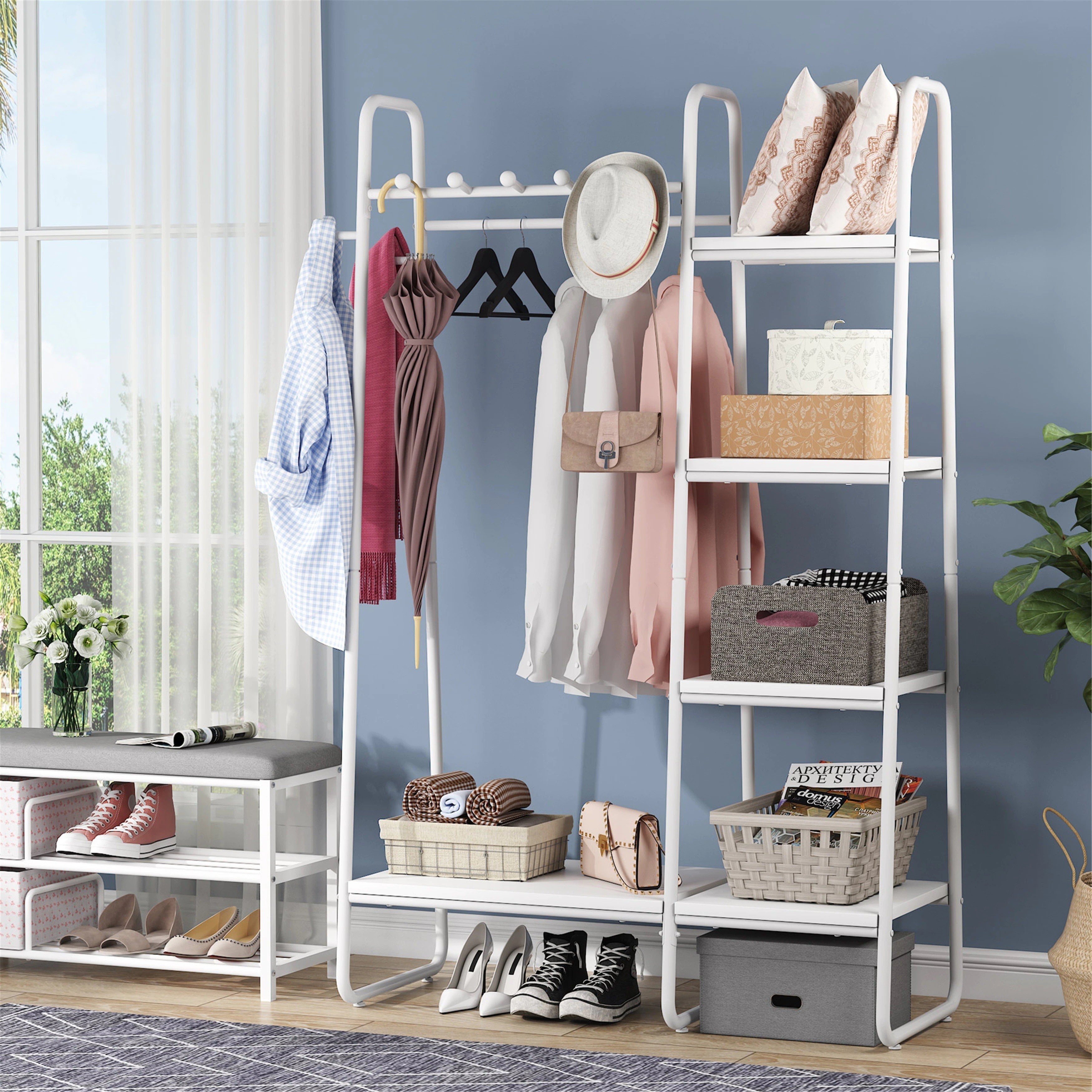 A minimal open coat storage cabinet

Want to hang up more than just coats? If you're hoping for a hallway storage unit that has options for long items, shelving, drawers, a shoe bench and more, you're in luck. Selecting a modular, completely-open type of coat storage can be aesthetic and allow you to store beautiful items in unconventional corners.
We'd recommend selecting coat hangers that are the same color as the rack, if you're going for an overall cohesive look.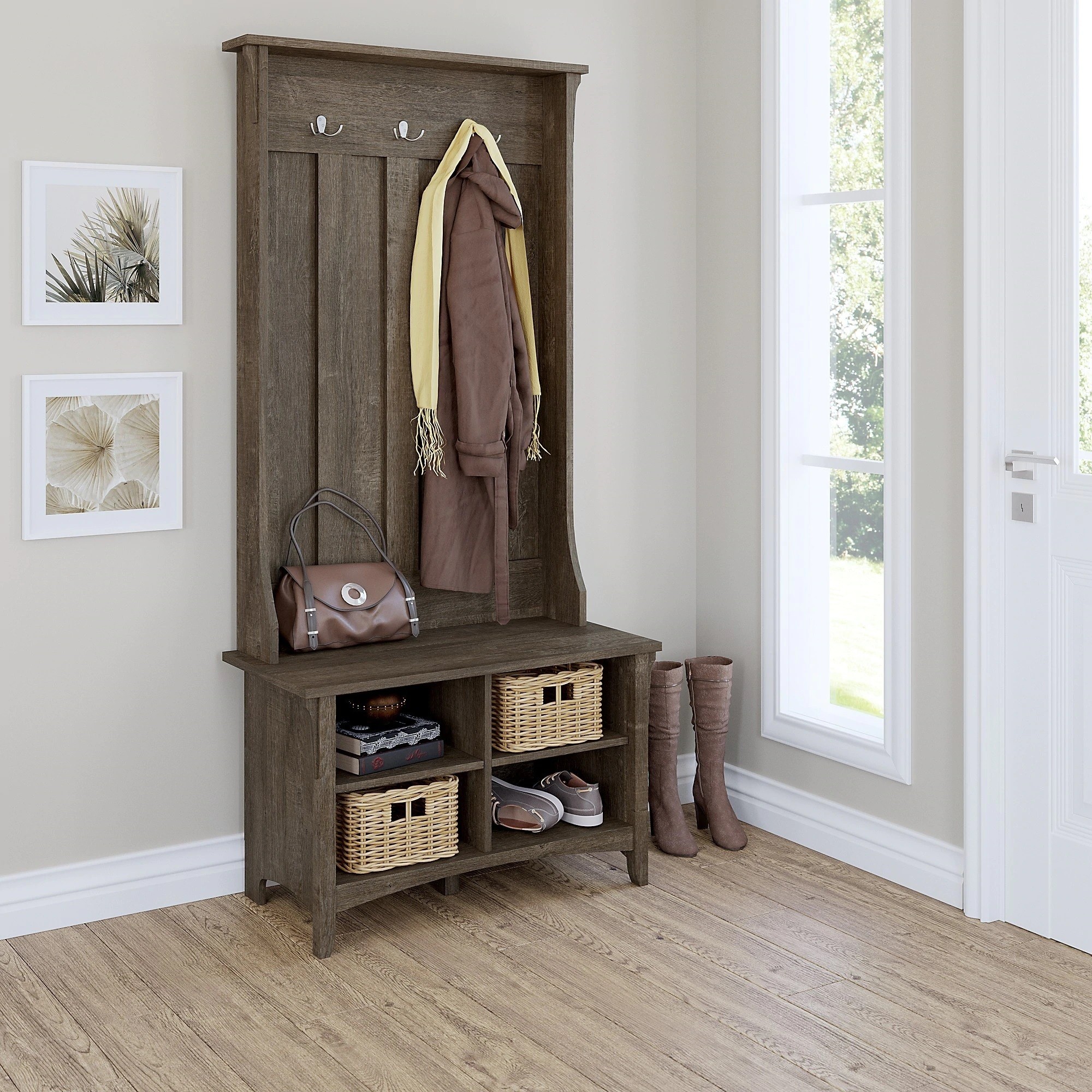 A traditional wood carved hall coat cupboard

If you like the all-wood aesthetic but don't quite have the room for a full, closed-door cabinet, try a bench that has a built-in (e.g., not wall-mounted) coat hanger component. With a backdrop of the same carved wood that decorates the sides of the bench, this type of cabinet is clearly one piece—but not one that will make your hallway feel closed-in.
This is an excellent option for farmhouse styles and smaller spaces.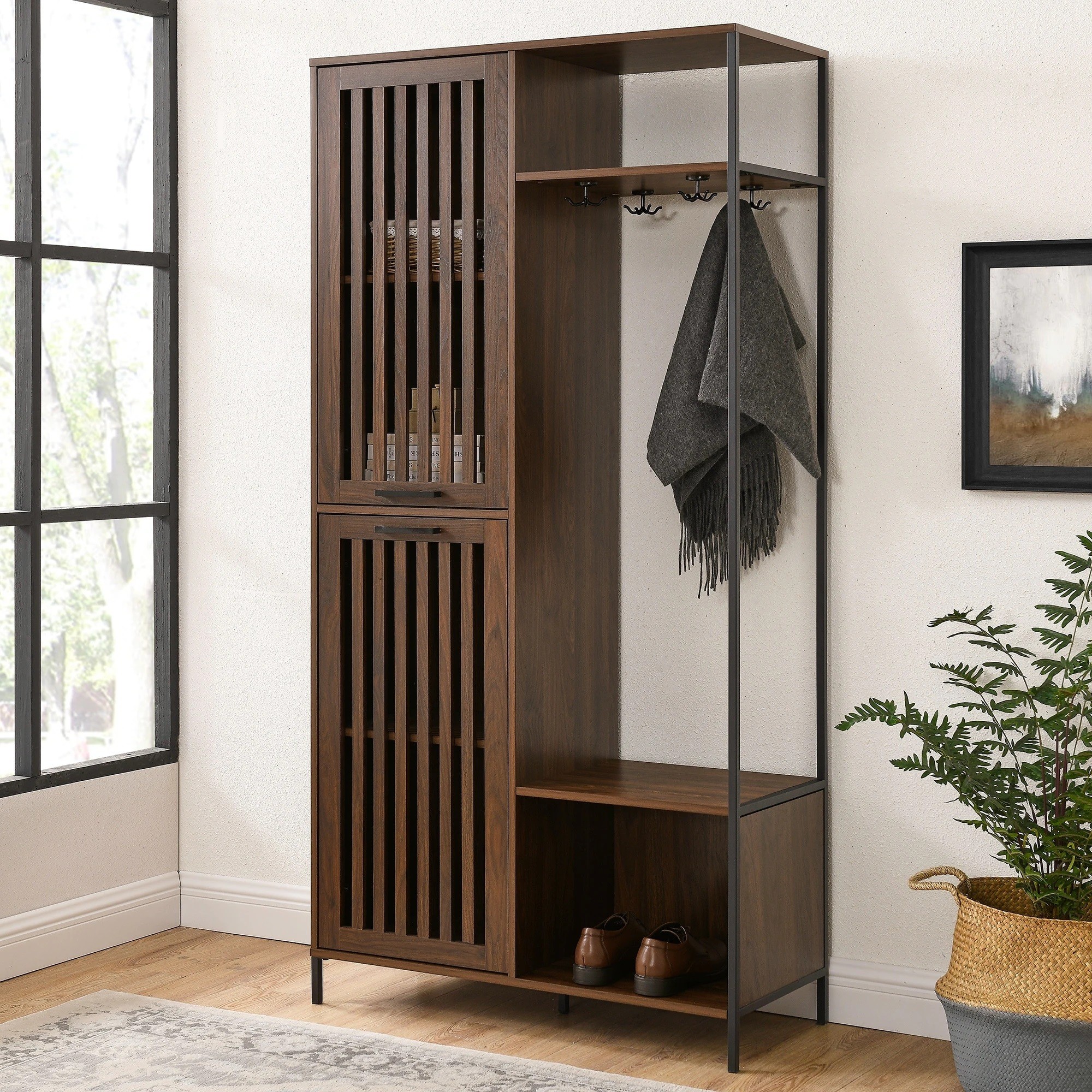 A mid century modern slatted coat and shoe storage cabinet

On the other hand, maybe you want something with lots of parallel lines and '50s flair. In that case, check out a cabinet with beautiful slatted wood, a smaller bench, and metal accents to keep things interesting.
With a raised body, this type of shoe and coat storage cabinet will even feel lighter and airier than alternatives that sit flush to the ground. This can add utility without weighing down your space.