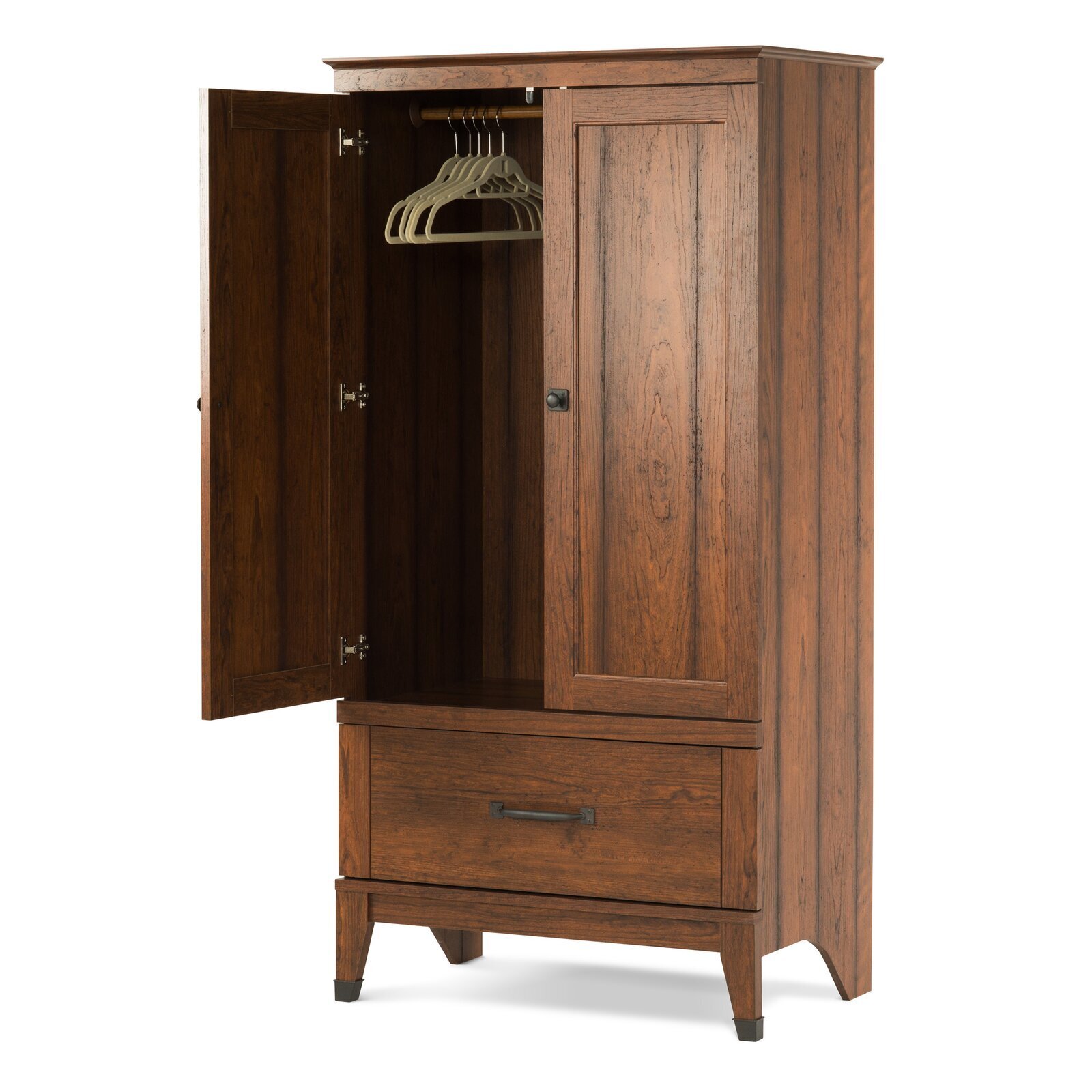 Vintage Rustic Coat Closet With Large Drawer
Child Craft
This vintage piece is perfect for those who love the traditional home elements. It is made from manufactured wood with wrought iron style hardware. It is 65.88'' high and comes complete with a generous sized draw and coat rod inside.
Merchant links are sponsored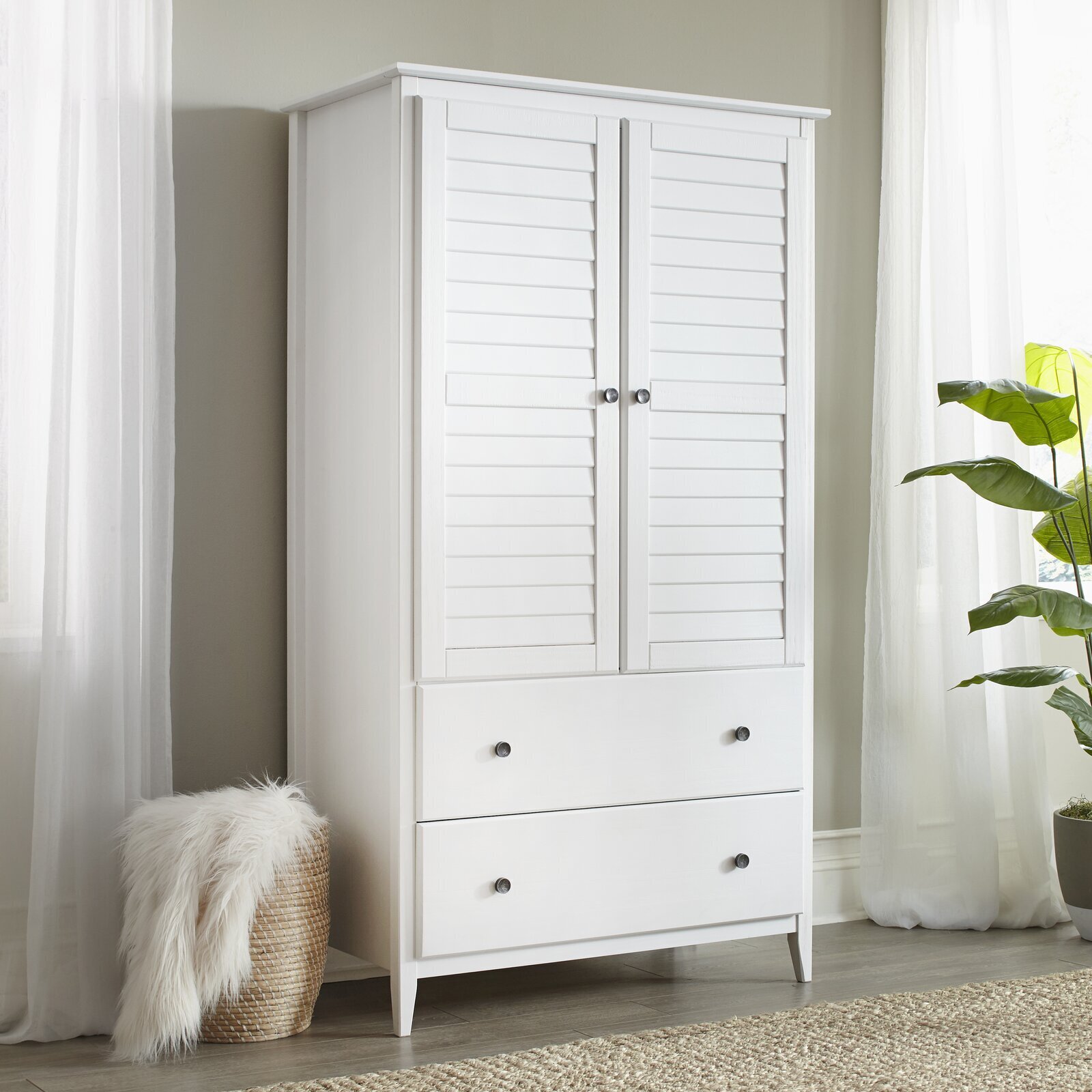 Brushed White Armoire With Louvered Doors
Grain Wood Furniture
This brushed white coat closet is country-house chic, and is great for storage. It is complete with 8 1/4" deep drawers and large louvered doors. Inside it boasts two adjustable shelves. It is crafted from eco-friendly solid wood and is 74'' high.
$679
Designer Advice:
Louvered doors are French chic, but require added maintenance. This is because dust easily gathers in the grooves. A delicate wipe with a damp soapy cloth will suffice. Additionally, its shelf capacity is 30.00 lb, so it is best not to overload this delicate armoire.
Merchant links are sponsored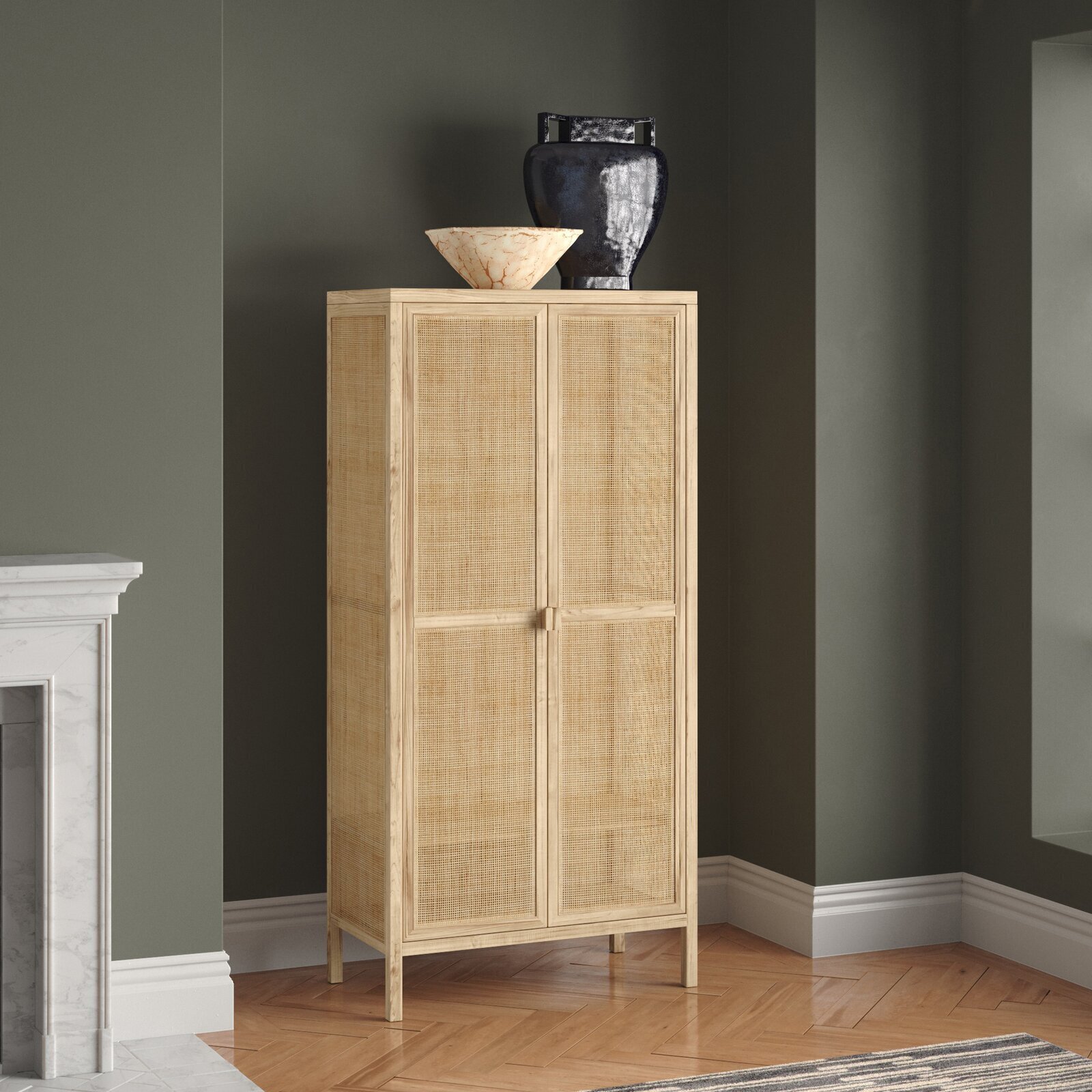 Woven Rattan Armoire In A Light Brown Finish
This coat closet is a delight to the eye if you love woven furniture. Ideal also for bedrooms, it is made from woven rattan and pine wood. It is 71'' high and has a translucent mesh front and four short but sturdy pine legs.
Merchant links are sponsored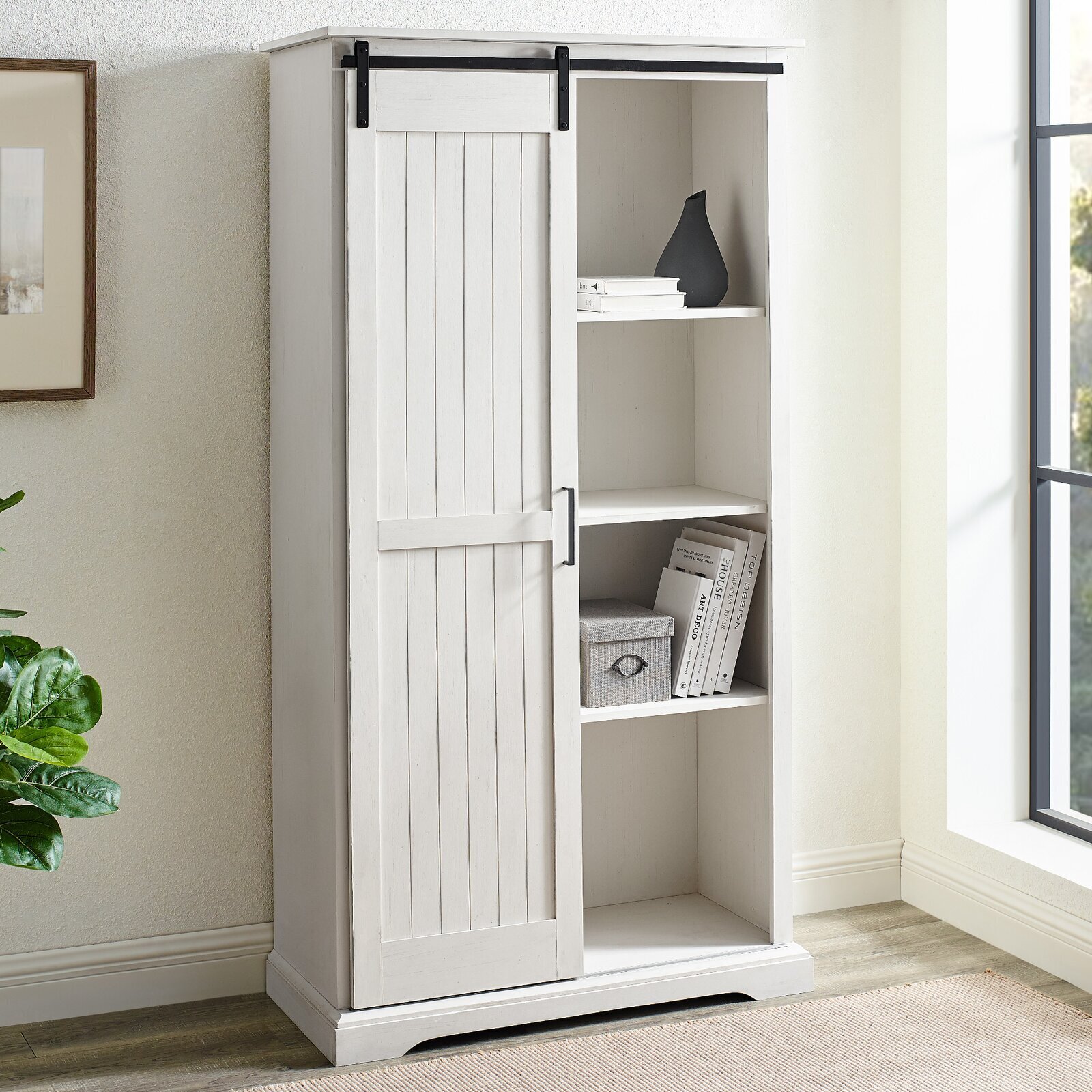 White Farmhouse Chic Armoire With Four Open Cubby Holes
Sand & Stable™
This farmhouse chic coat armoire has four shelves and a slim cupboard, ideal for coats and clothing. It is crafted from manufactured wood and accented with steel. The cubby holes can be used for shoe storage or decorative elements. It is 68'' high.
$313.99 $875
Designer Advice:
This armoire sits close to the floor, so it will work well regardless of carpet or wooden floors. However, in order to maintain its glory, you should consider using a soft, clean, lint-free towel to preserve the paint work and wood to its natural glory.
Merchant links are sponsored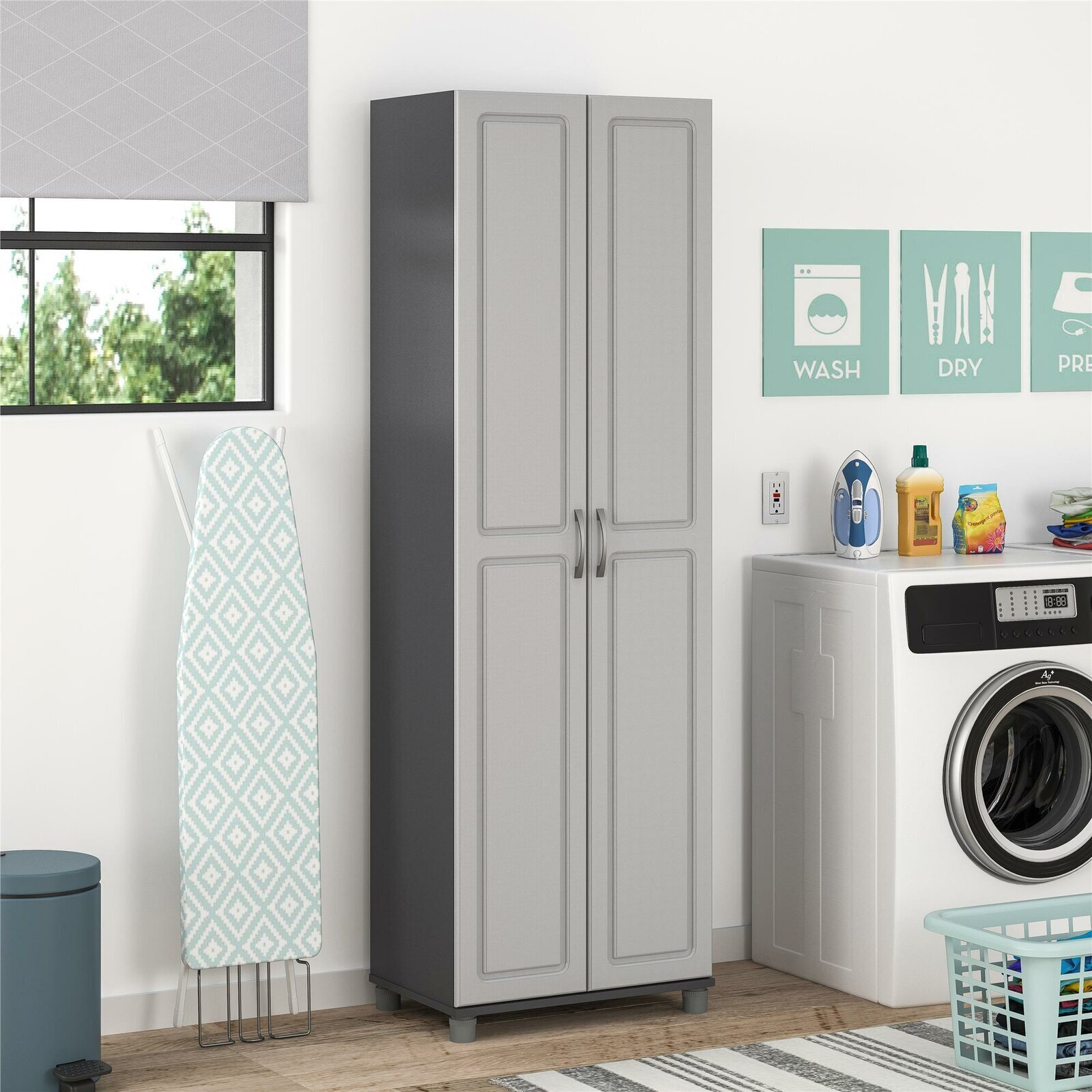 Slim Grey Contemporary Closet Armoire
Red Barrel Studio®
Made from manufactured wood, this grey slim entryway coat closet with doors, is perfect for someone living solo. It is small and will slot just about anywhere. It is available in black and white and is 75'' high. Inside you will find four small adjustable shelves.
$209.99 $446
Merchant links are sponsored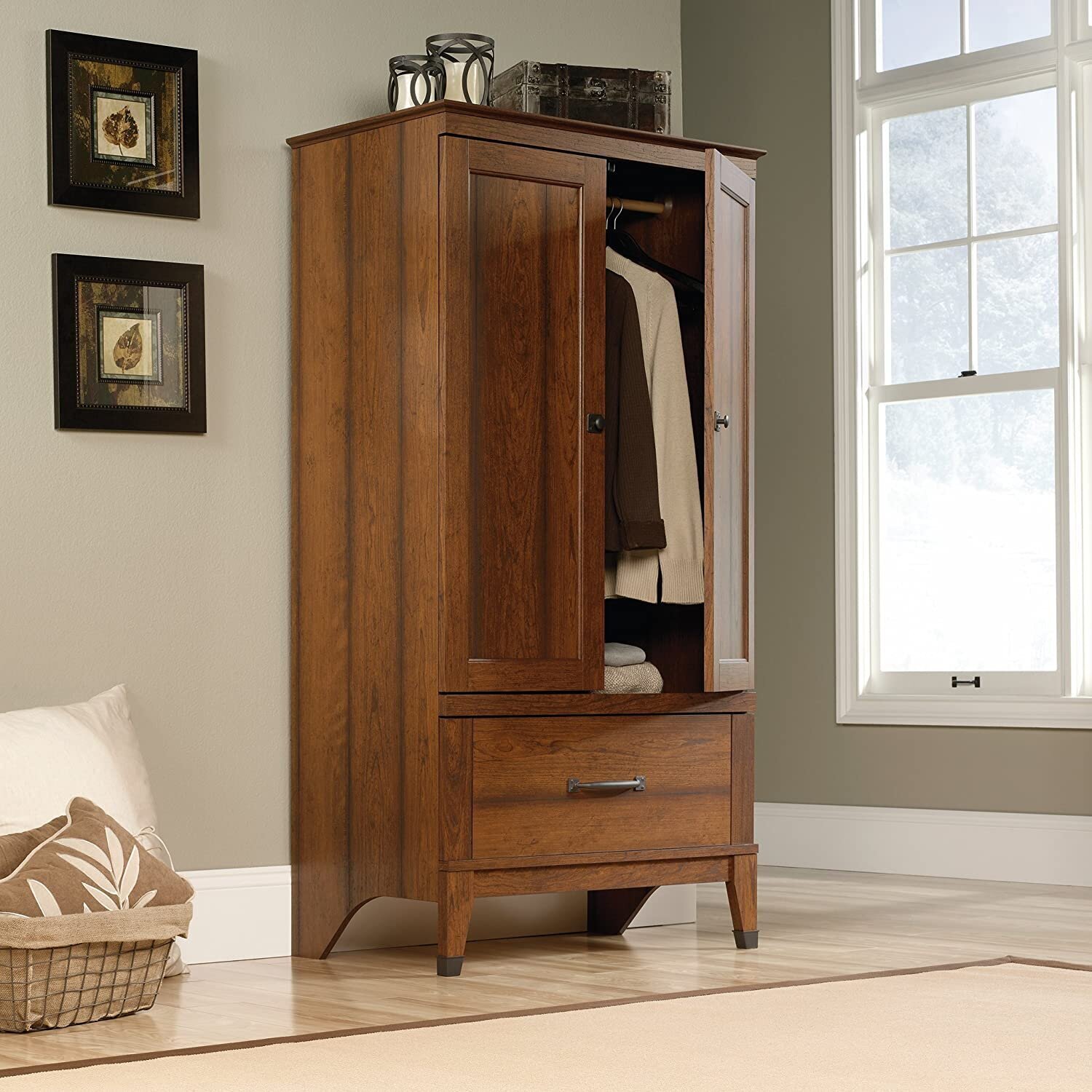 Traditional Cherry Wood Finish Armoire
Red Barrel Studio®
Crafted from manufactured wood in a traditional cherry wood finish, this armoire is spacious and sturdy. It would be great in the home foyer and has a large bottom draw and generous coat hanging space with a rod inside. It is complete with wrought iron style hardware and is 65.87'' high.
Designer Advice:
To make the most out of this delightful home addition, we would recommend adding a drawer divider to make the most of the large cupboard space. For cleaning, a damp soapy cloth is ideal, and a delicate polish for the wrought iron knobs will keep things uniform and stylish.
Merchant links are sponsored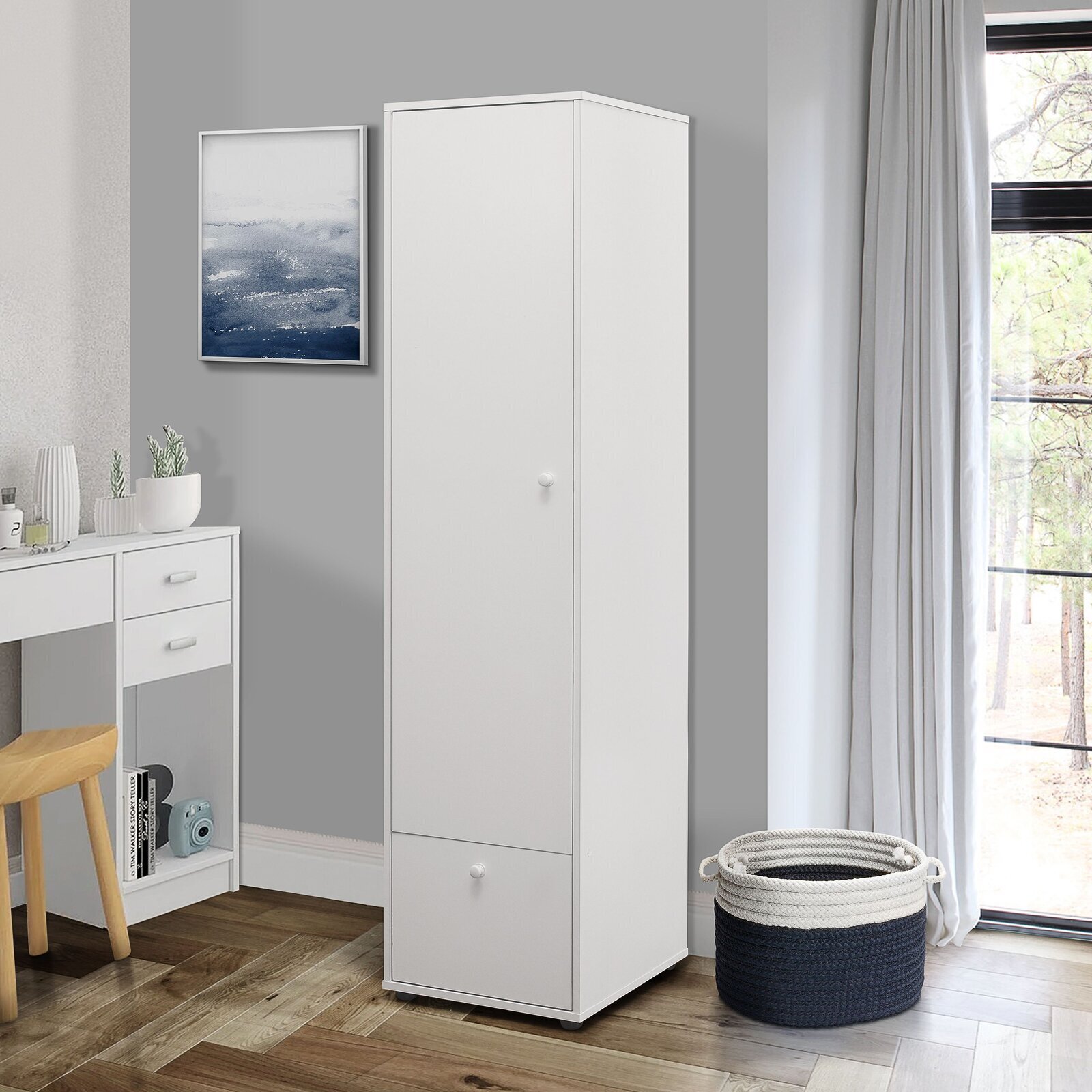 Simple, Slim White Free Standing Armoire
Ebern Designs
Standing at 68.8'' high, this free standing cupboard is slim and convenient for homes with less space. It is crafted from manufactured wood in a white finish, is complete with two adjustable shelves and a small drawer below, ideal for shoes.
$193.99 $239.99
Merchant links are sponsored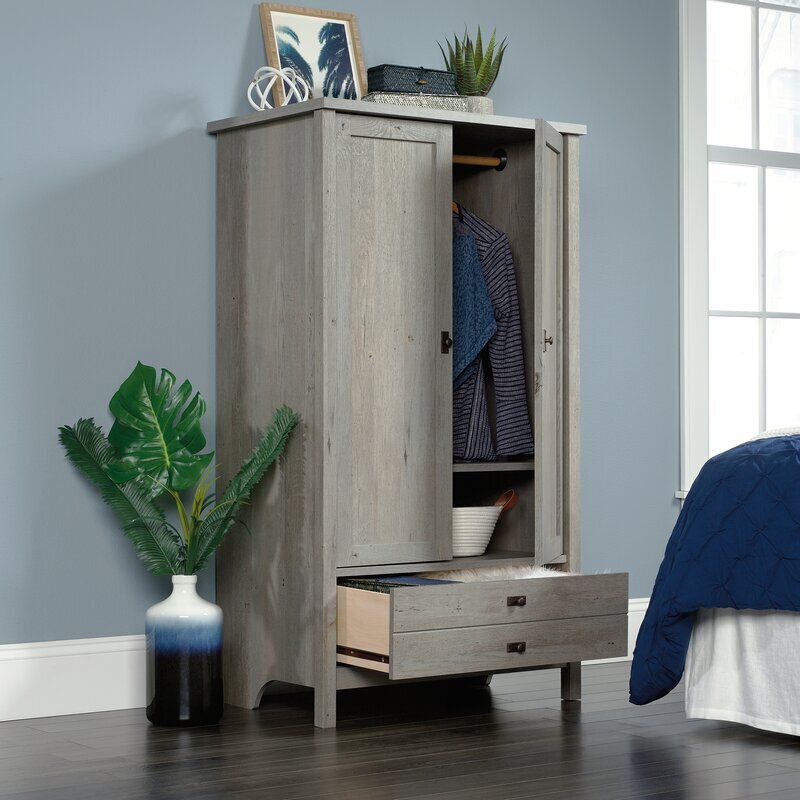 Contemporary Style Entryway Armoire
Highland Dunes
Perfect For: A modern front hallway that's lacking in storage and coat space
What We Like: It also comes in white and deep brown for those going for a slightly different look
Ideal for a modern farmhouse setting, this entryway armoire measures nearly 60 inches tall and is crafted out of manufactured wood in a light gray wash. It contains two paneled doors with antique-style pulls that open up to a handy upper garment rod and a bottom adjustable shelf. There's also a spacious bottom drawer that can be used to store hats, scarves and handbags.
$339.99 $364.99
Designer Advice:
Set up this entryway armoire in the corner of a long hallway positioned beside a lengthy braided jute hallway carpet. Stick all your coats and outerwear on the clothing rack and you could get a few wicker baskets to place under the shelf for easy storage for all of your other daily essentials that cause clutter.
What Users Say:
The armoire is absolutely gorgeous! I ordered it for my granddaughter and she loves it. The product is made of quality materials. We couldn't be happier!
Merchant links are sponsored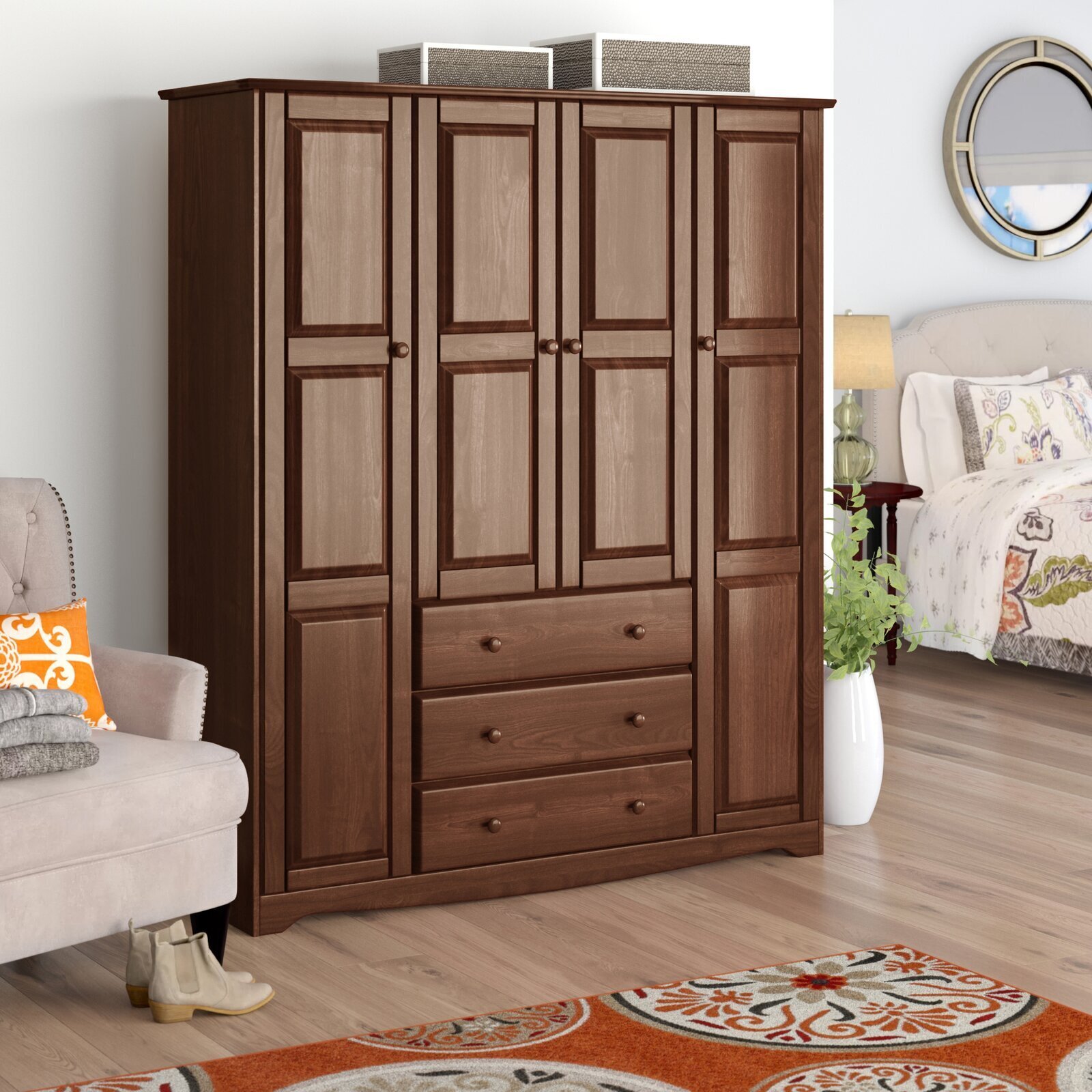 Large Mocha Armoire With Three Drawers
Winston Porter
This large family-sized armoire is perfect for a family with kids. It is complete with its own set of drawers and plenty of cupboard space. It is available in honey pine, mahogany and more. It has three cupboards with generous internal space and its size is 72'' H by 60.25''.
$1089.99 $1069.99
Merchant links are sponsored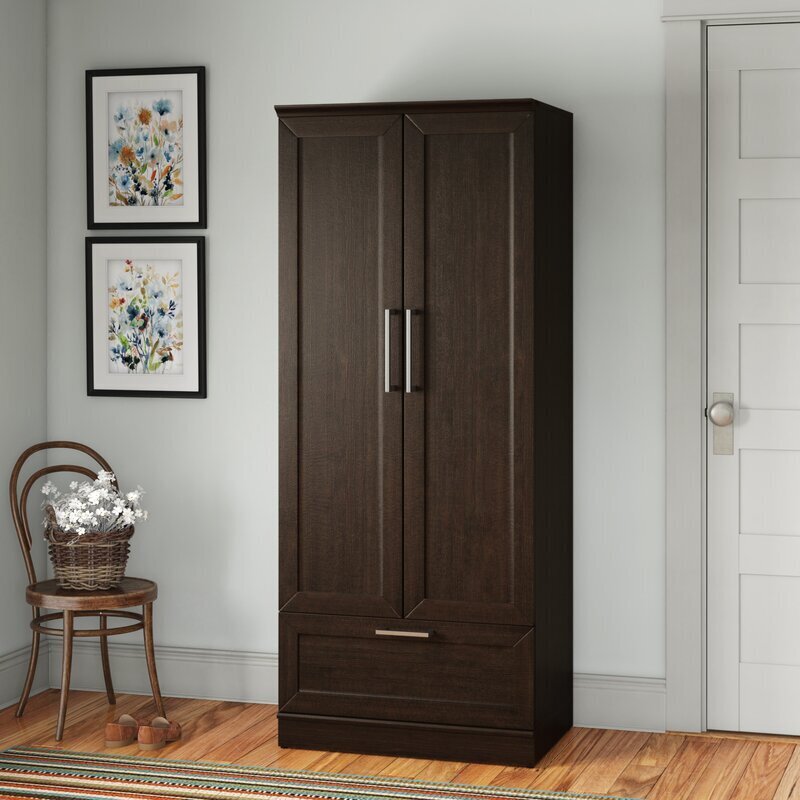 Dark Oak Coat Armoire
Andover Mills™
Perfect For: An apartment hallway or even loft space without a lot of extra room
What We Like: The adjustable levelers on the bottom ensure a sturdy and stabilized unit
Understated and simple, this coat armoire is made out of manufactured wood with two framed panel doors with vertical bar-style pulls. It comes with a sturdy hanging rod that can accommodate up to 25 pounds. There's also an interior adjustable shelf and a large bottom drawer with metal runners and safety stops for little hands.
$243.99
Designer Advice:
Also available in a white finish and sienna oak, this dark oak coat armoire has been safety tested to ensure there will be minimal accidents in terms of the unit tipping over. In case your needs ever change, the armoire is also equipped with a back panel that has cord access if you ever want to switch things up and use it to house your television.
What Users Say:
Great for a small space! I've used it in several rooms over the years.
Merchant links are sponsored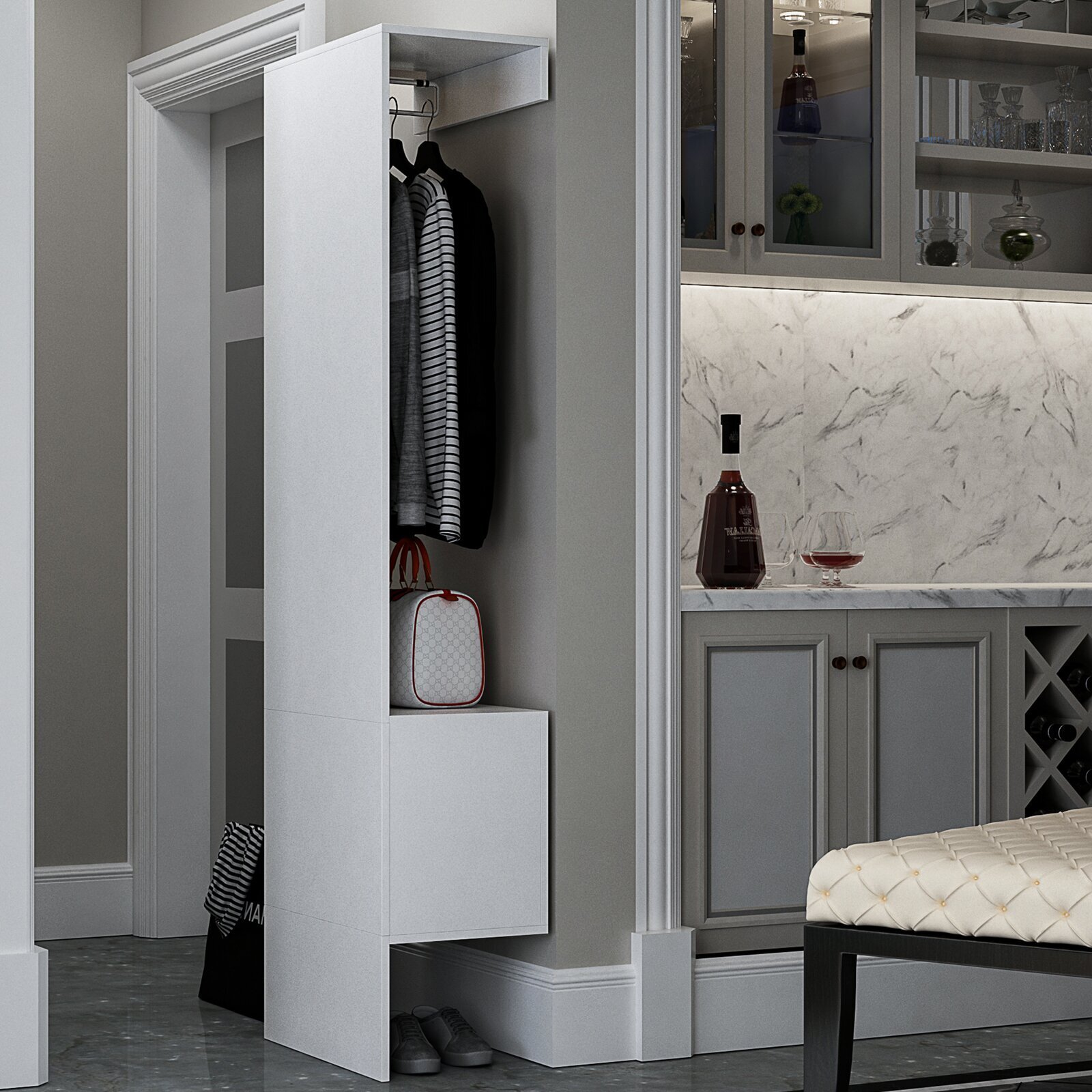 Discrete Open White Armoire
Latitude Run®
This discrete open armoire offers utilitarian design; and fits easily to the wall, with a single white front for modern aesthetic. It boasts a small shoe cupboard and a small coat rail. It is made from manufactured wood and is 76'' high.
Merchant links are sponsored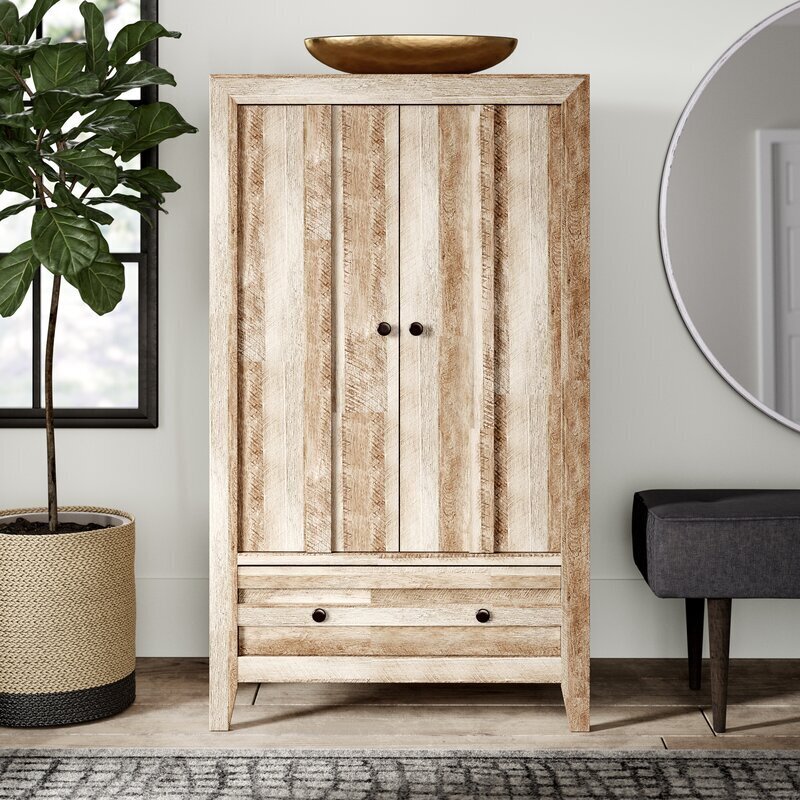 Modern Farmhouse Coat Wardrobe
Millwood Pines
Perfect For: A bright front hallway or living room space for extra storage
What We Like: There are matching chests of drawers, a desk and a side table available for a cohesive look
Sitting on four peg legs, this coat wardrobe contains two large doors and a bottom drawer that feature a paneled and worn-in look. When you open up the two doors, you're met with an upper clothing rod as well as an adjustable shelf down below. Both the doors and the drawer are outfitted with simple bronze knobs.
$344.99 $349.99
Designer Advice:
Position this craftsman oak finished coat wardrobe in your mudroom or spacious front foyer to add some much-needed storage space. If you have the space, incorporate a low-profile wood bench beside it and perhaps some floating shelves on the wall to create a real focal point when people walk into your home.
What Users Say:
Love it! It's the perfect piece for a spare room that doesn't have a closet. When a guest is not using it, it's perfect for storing linens and blankets. It's heavy, durable and gorgeous!
Merchant links are sponsored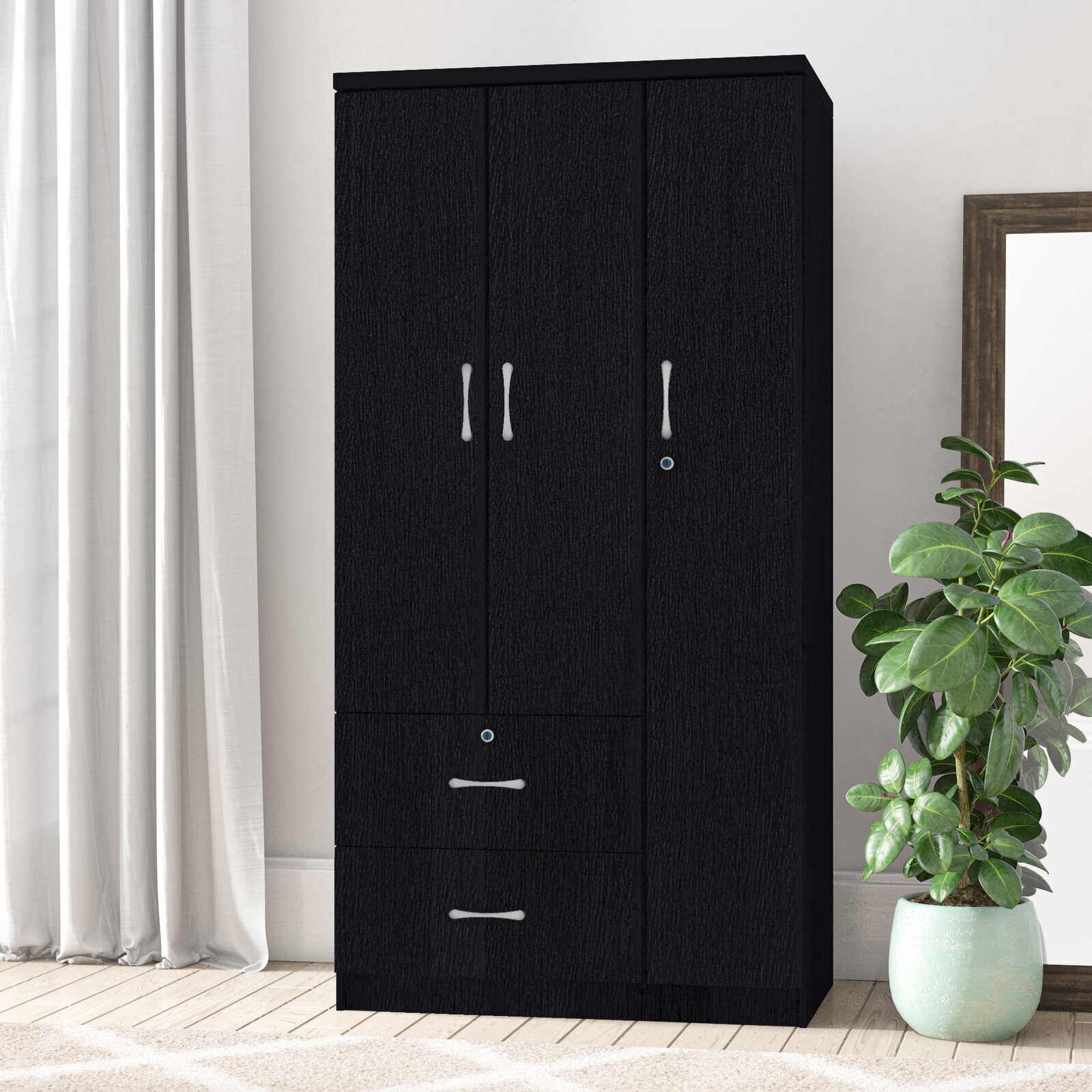 Black And Chrome Accented Armoire
Winston Porter
With chrome accented hardware, this black armoire made from manufactured wood has plenty of storage space. It would work well in a foyer or bedroom as a closet. It features two generous drawers and two internal cupboards, complete with clothing rail. It is 72'' high.
Merchant links are sponsored