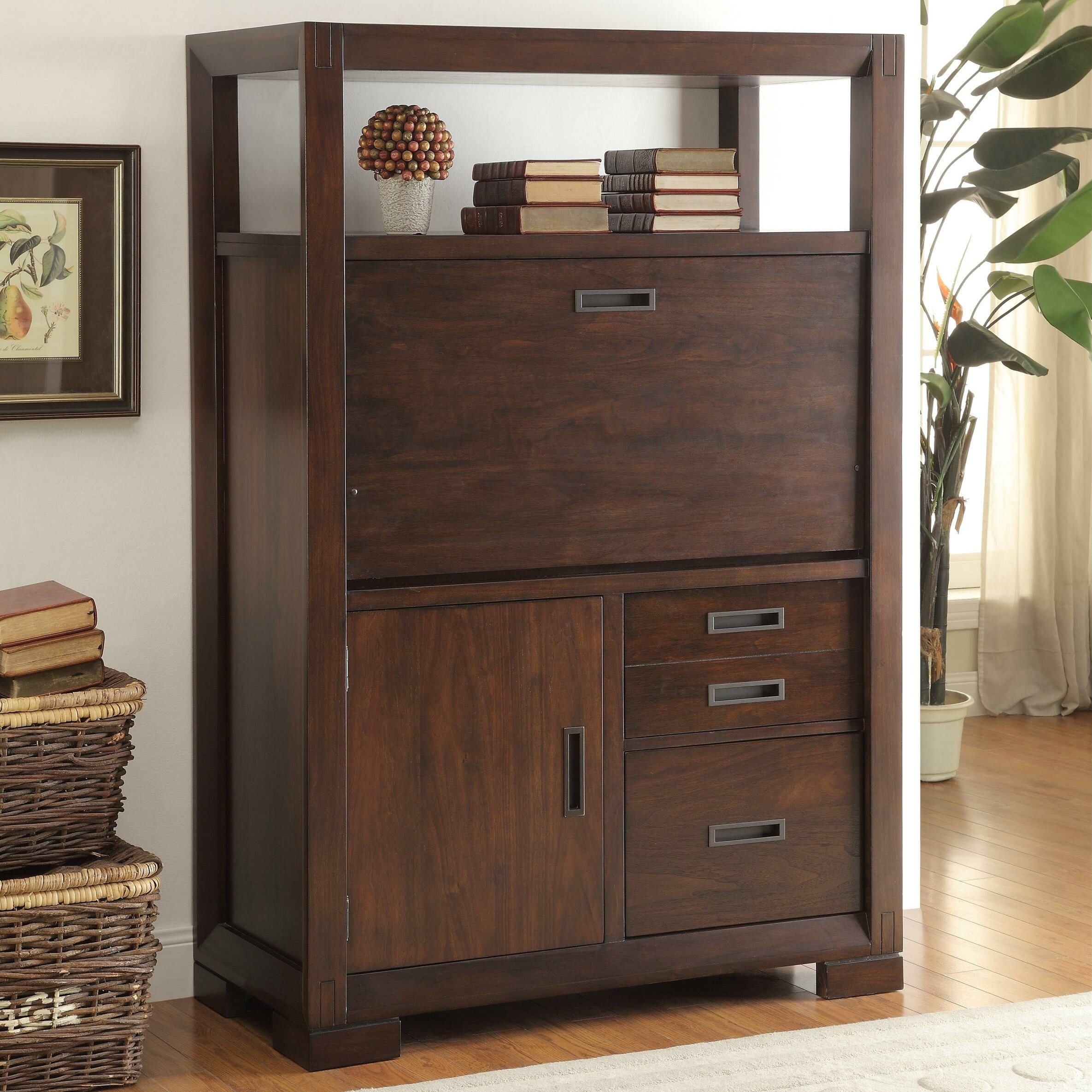 Riata Computer Armoire
This is a very practical shelf closed with a door. Its design allows for very efficient use of it. It is dark brown. It is very nice. Perfect for the living room and office. It is a combination of practic and beauty.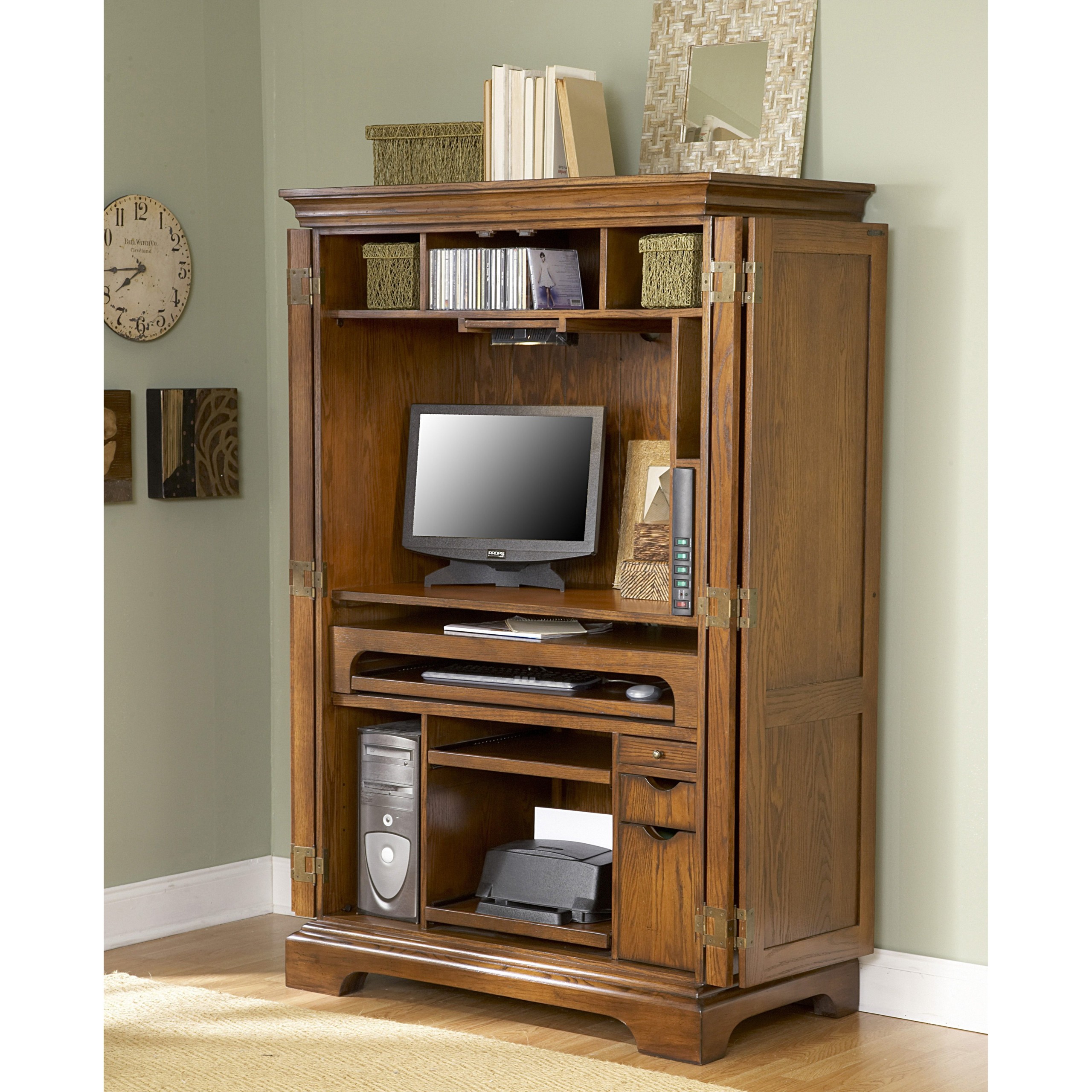 Seville Square Armoire
It is a very practical piece of furniture for computer. Specially designed cabinets and shelves allow you to effectively deploy a computer, monitor, printer and several handheld documents. This is a perfect solution.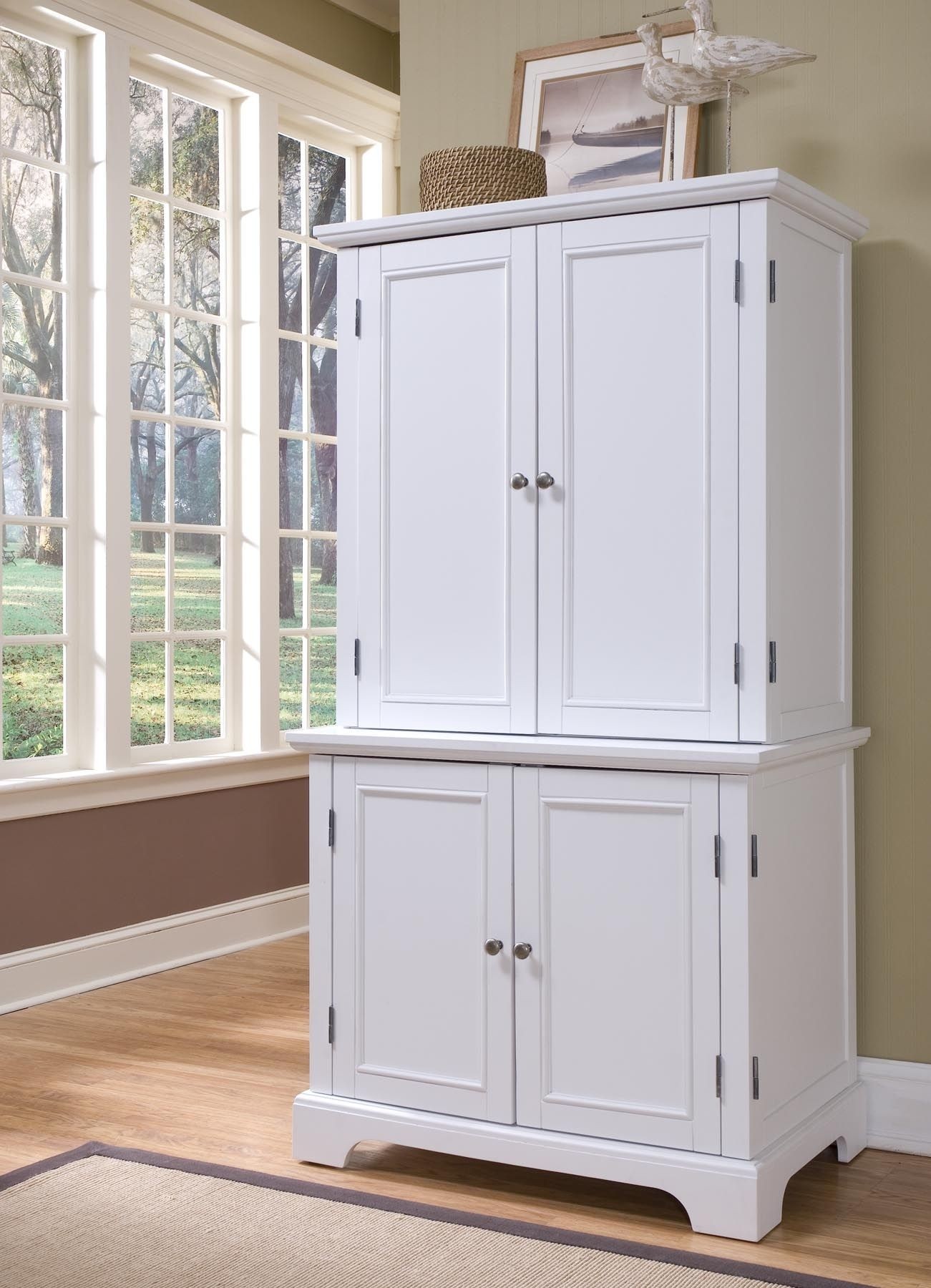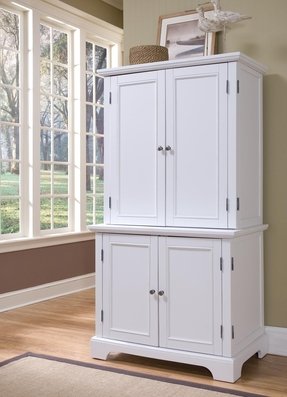 Naples Armoire Desk
Very capacious armoire that will help you to organize your clothing without paying too much effort. It is practical and stylish, with timeless design pairing seamlessly with most interior settings. It is made of engineered wood with white finish.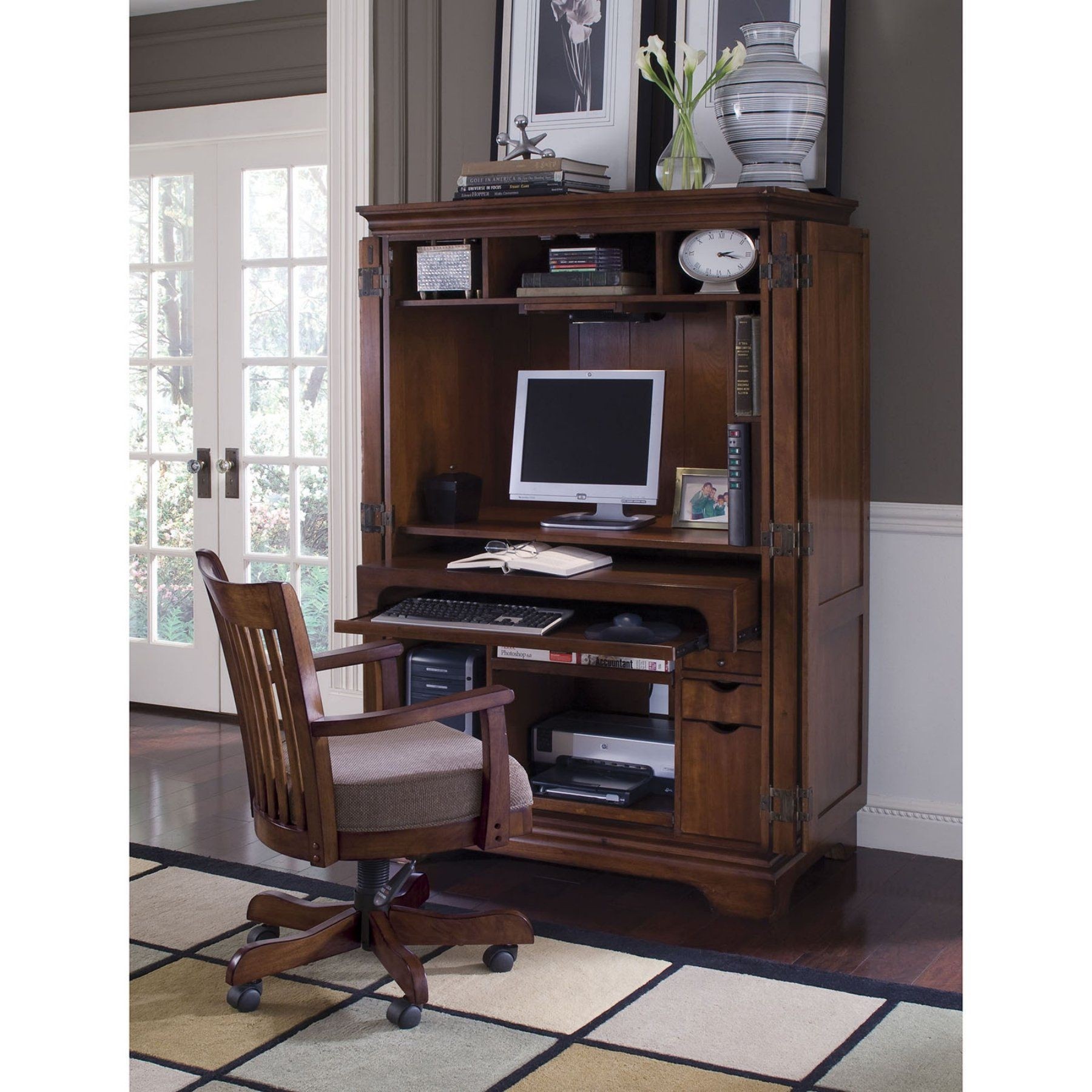 Cantata Computer Armoire
Computer desk opened as needed. It includes open shelves, drawers, cabinet, space for computer equipment and the keyboard tray with an additional sliding top. A good solution for small spaces.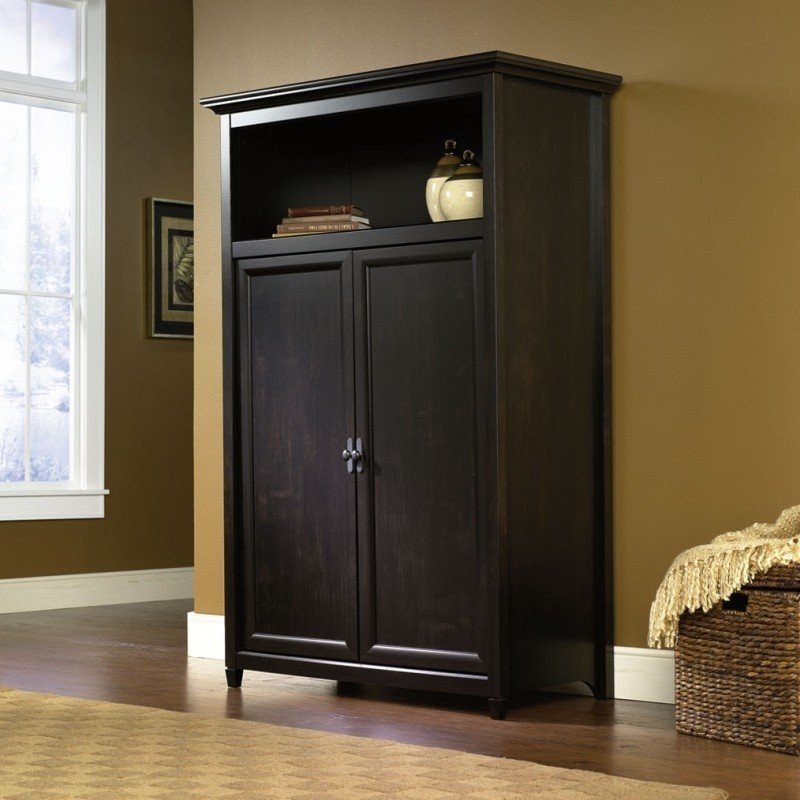 Edge Water Desk Armoire
It is a fantastic, solid, classic and nicely finished Edge Water Desk Armoire. It has got a shelf to display your favorite accent pieces, books and other. It is a great addition to any home.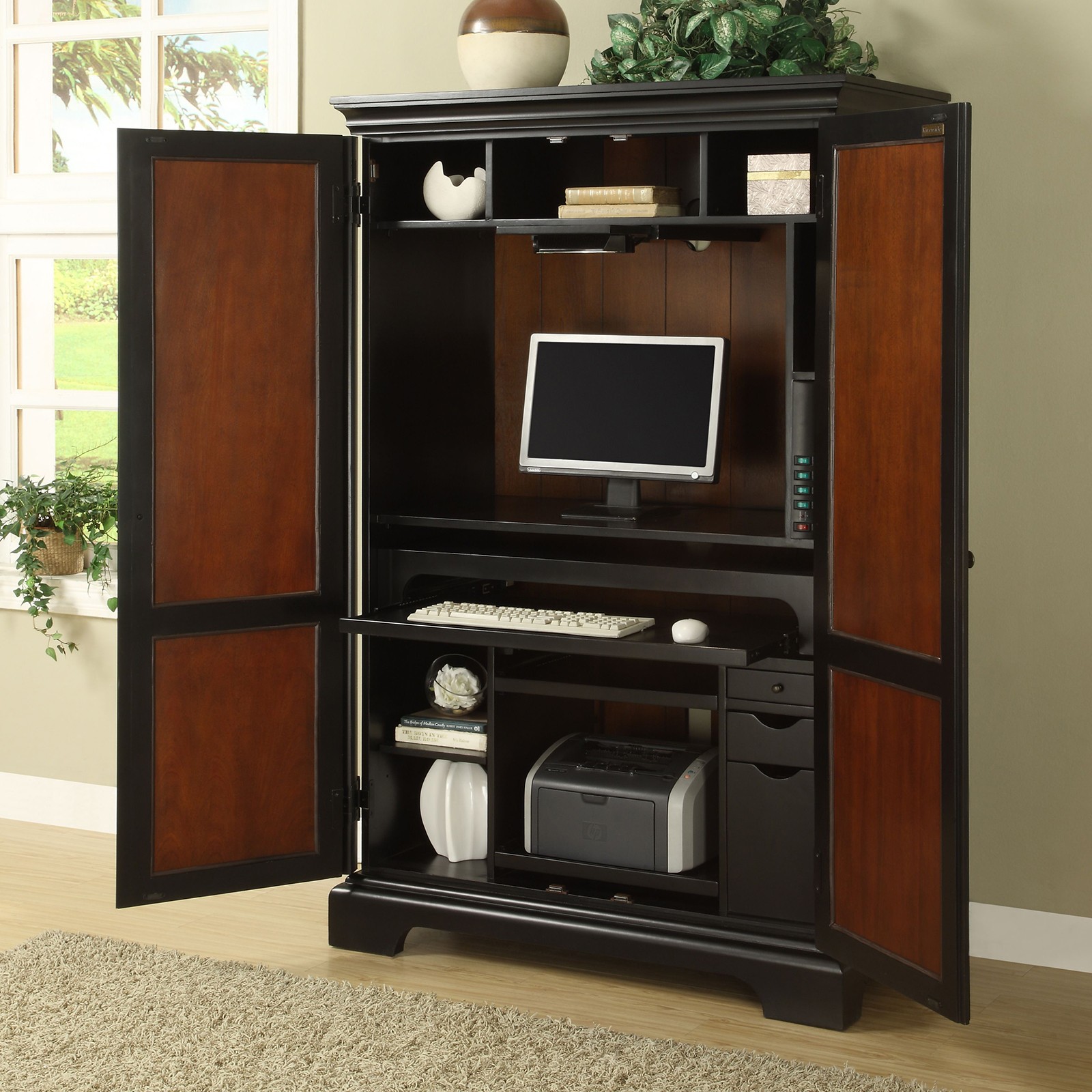 Bridgeport Armoire Desk
Classically styled desk combined with storage armoire. It combines two functions in one furnishing, which boosts the number of possibilities of its application. It sports traditional finish, namely black combined with dark oak wood.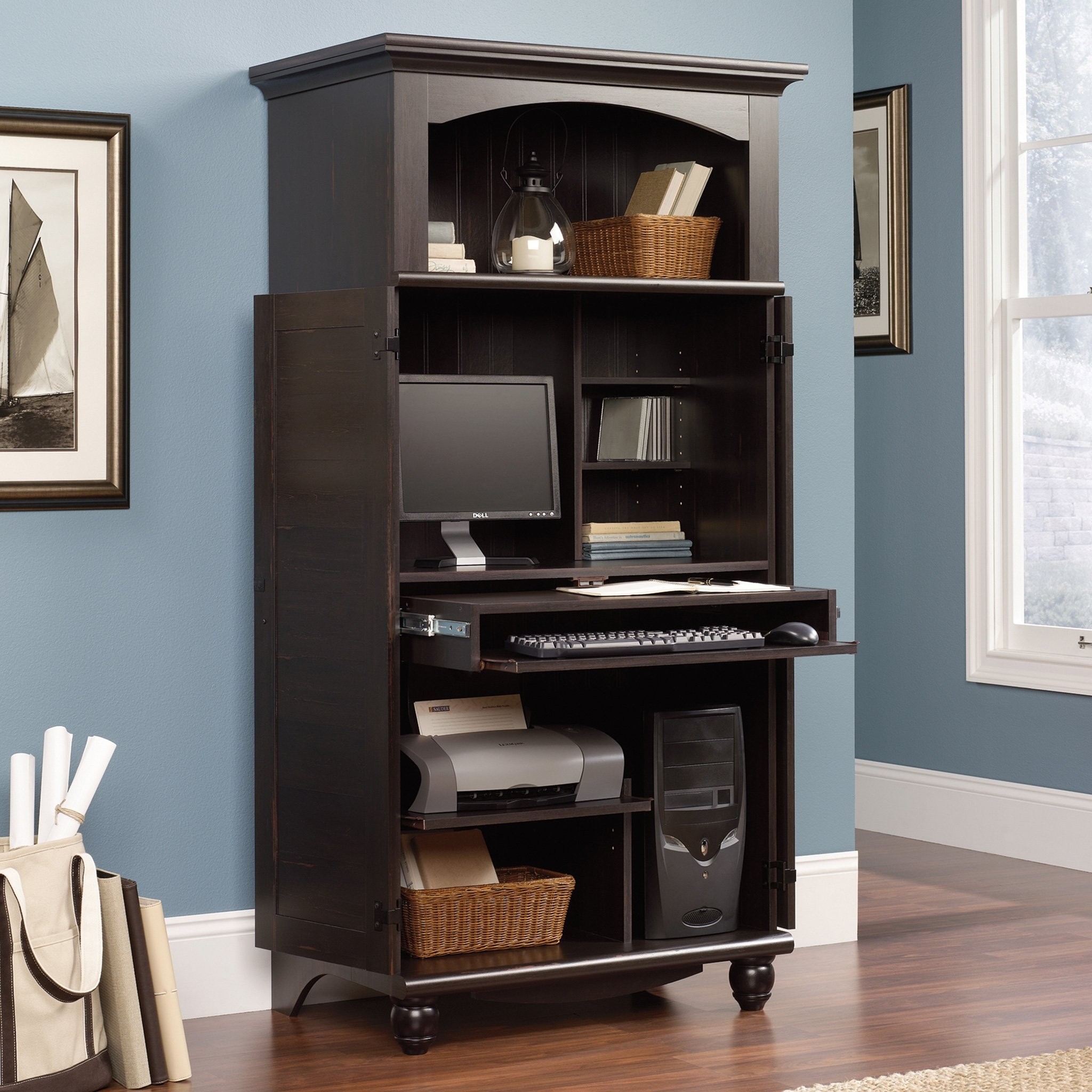 Harbor View Armoire
Extremely practical and ingenious piece of furniture. It is a bookcase closed with doors. Behind them is a retractable computer desk with a special place to monitor and CPU. The whole is both practical and pretty.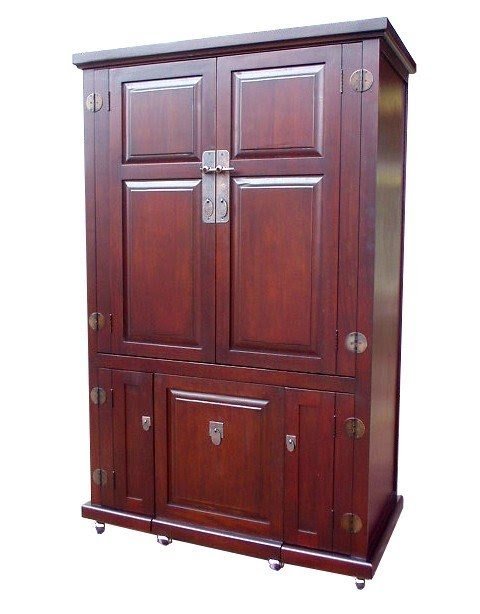 Computer Armoire
Computer armoire featuring mahogany finish and pull-out seat. Additionally, the furniture is made of strong, durable and sturdy manufactured wood and has brass hardware. These features make it a long lasting construction.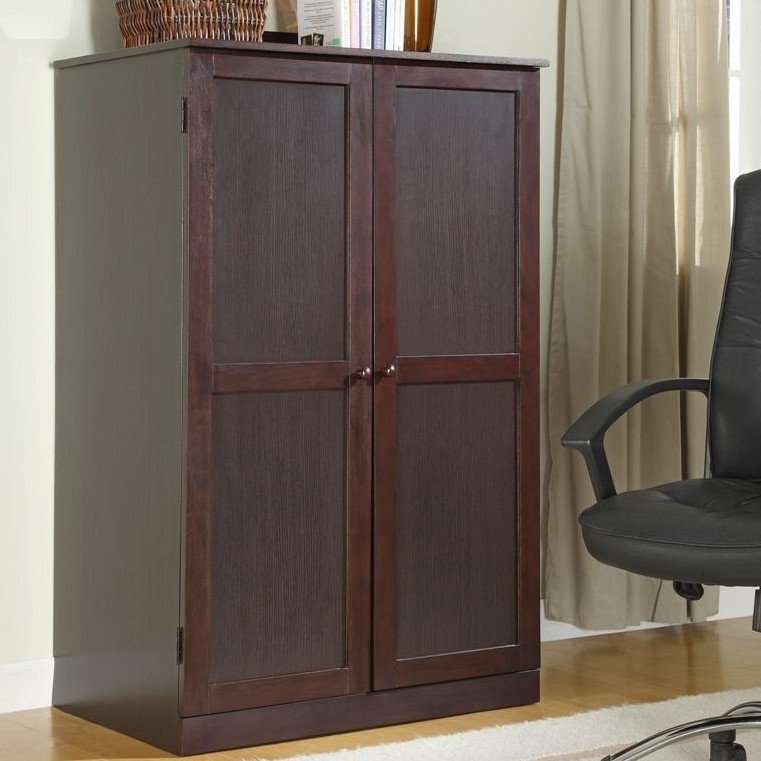 Armoire Desk
If you looking for a classic and simple armoire desk, you have to choose this one. It fits perfectly to any style and decor in your home. You will be impressed how cool this product is.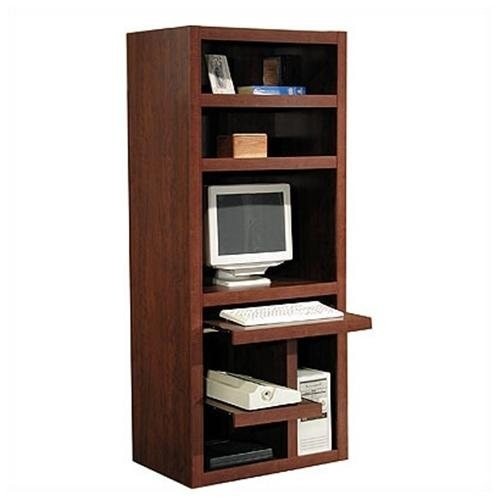 Charles Harris Computer Desk with Armoire
Simple & modern computer desk combined with armoire. It has a pull-out shelf for keyboard and some compartments to organize stationery and office accessories together with PC components. Functionality has met with updated style here.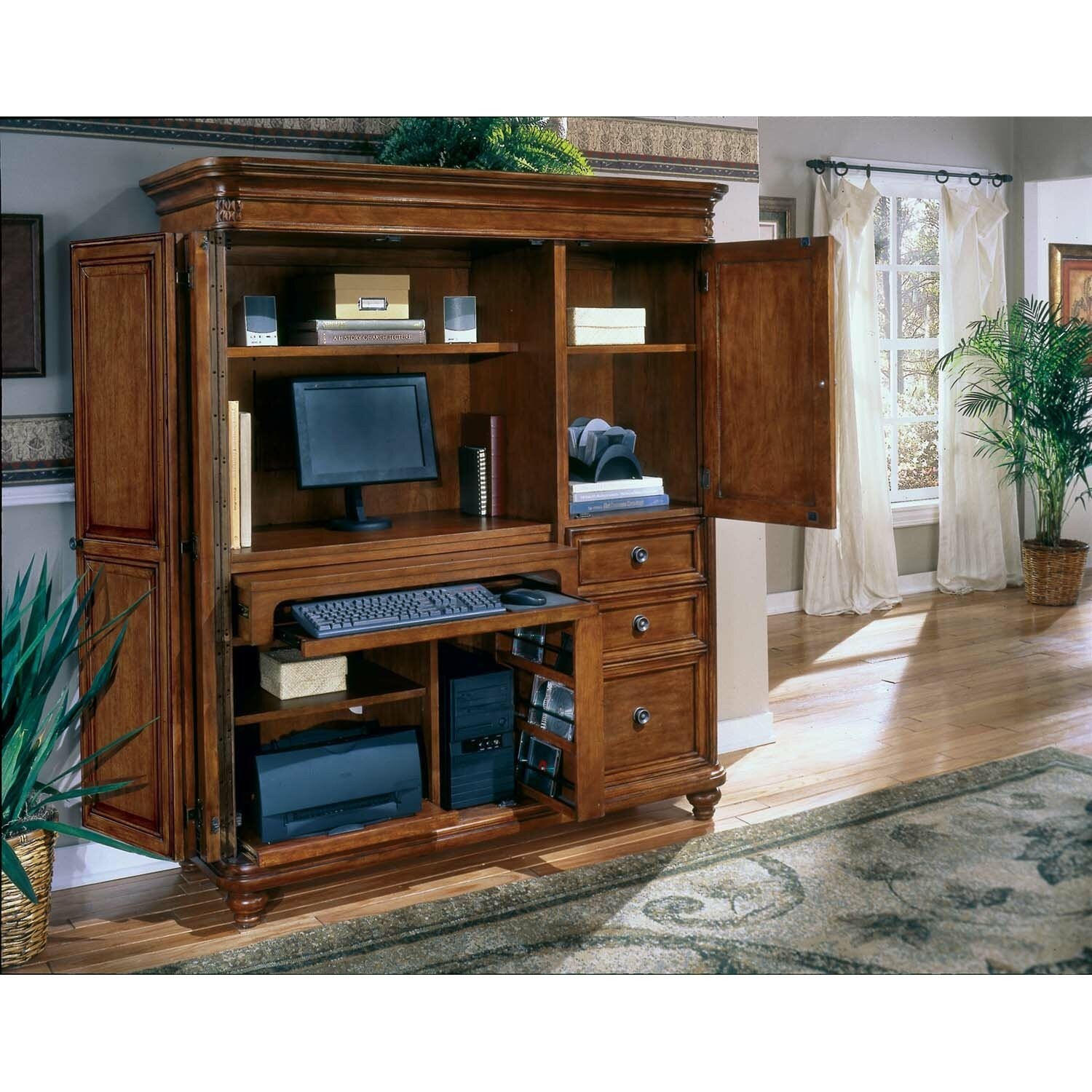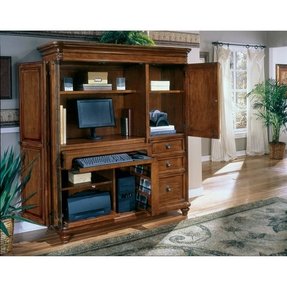 Antigua Armoire
This beautiful and fully-functional Contemporary Armoire in Cherry Finish conceals a desk that appears from nowhere. The armoire includes 1 monitor compartment, storage cabinets with an adjustable shelf, computer compartment with a pull-out CD rack, two-tier pull-out tray, and file drawers for letter or legal size hanging files.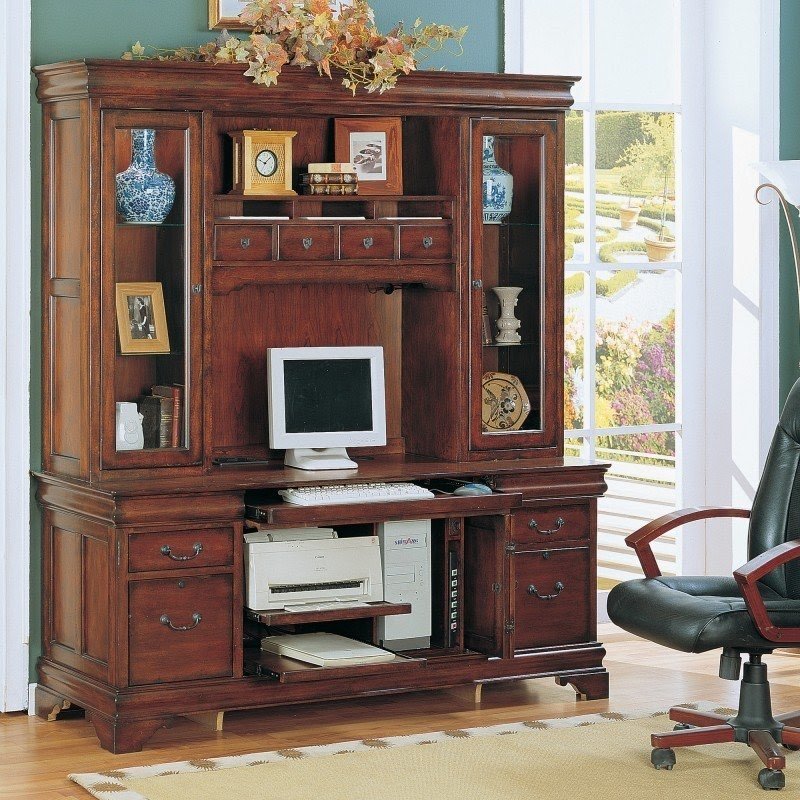 Versailles 72" W Computer Credenza with Grommet Holes and Keyboard Tray and Wire Management
Stunning antique style media unit of brown-finished wood. A stand and a hutch have moulding tops and recessed side panels. Both are equipped with lots of size-varied drawers and shelves. A stand has a keyboard tray, a hutch 2 glazed door cabinets.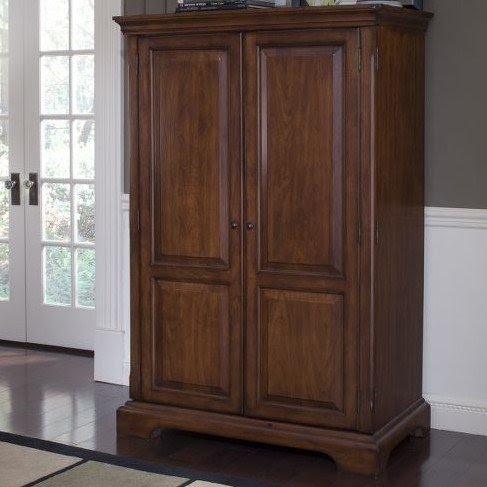 Cantata Computer Armoire
Computer armoire featuring classic finish, small file drawer and construction made of poplar hardwood and cherry and birch veneers. Additionally, the ample storage space provides enough space for monitor, computer, printer and other items.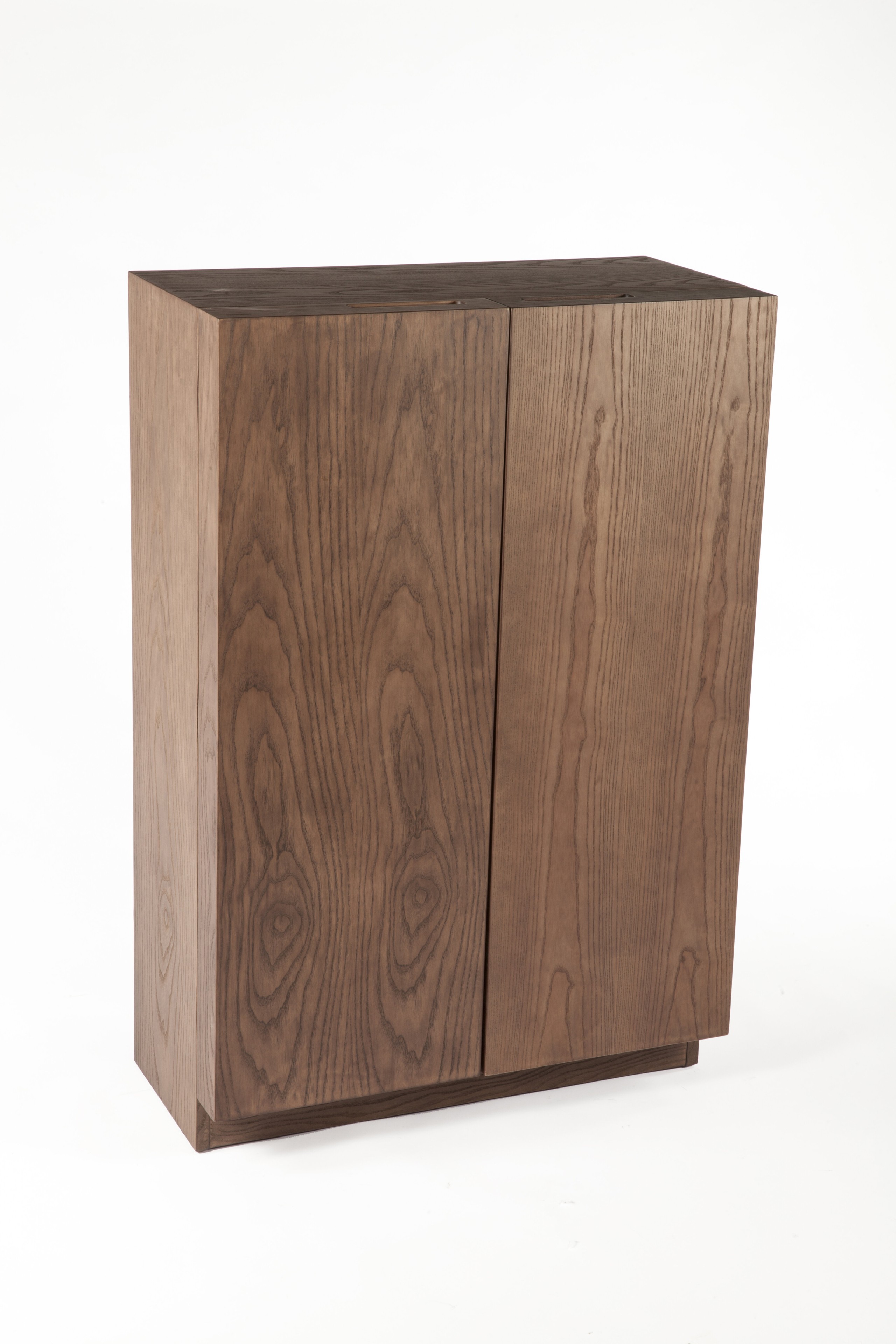 Freeman Bar Armoire
25. It is a simple and classic bar armoire that has got traditional style, solid wood construction and hardware and brass finish. It fits to any style and décor and is great for your living room and other.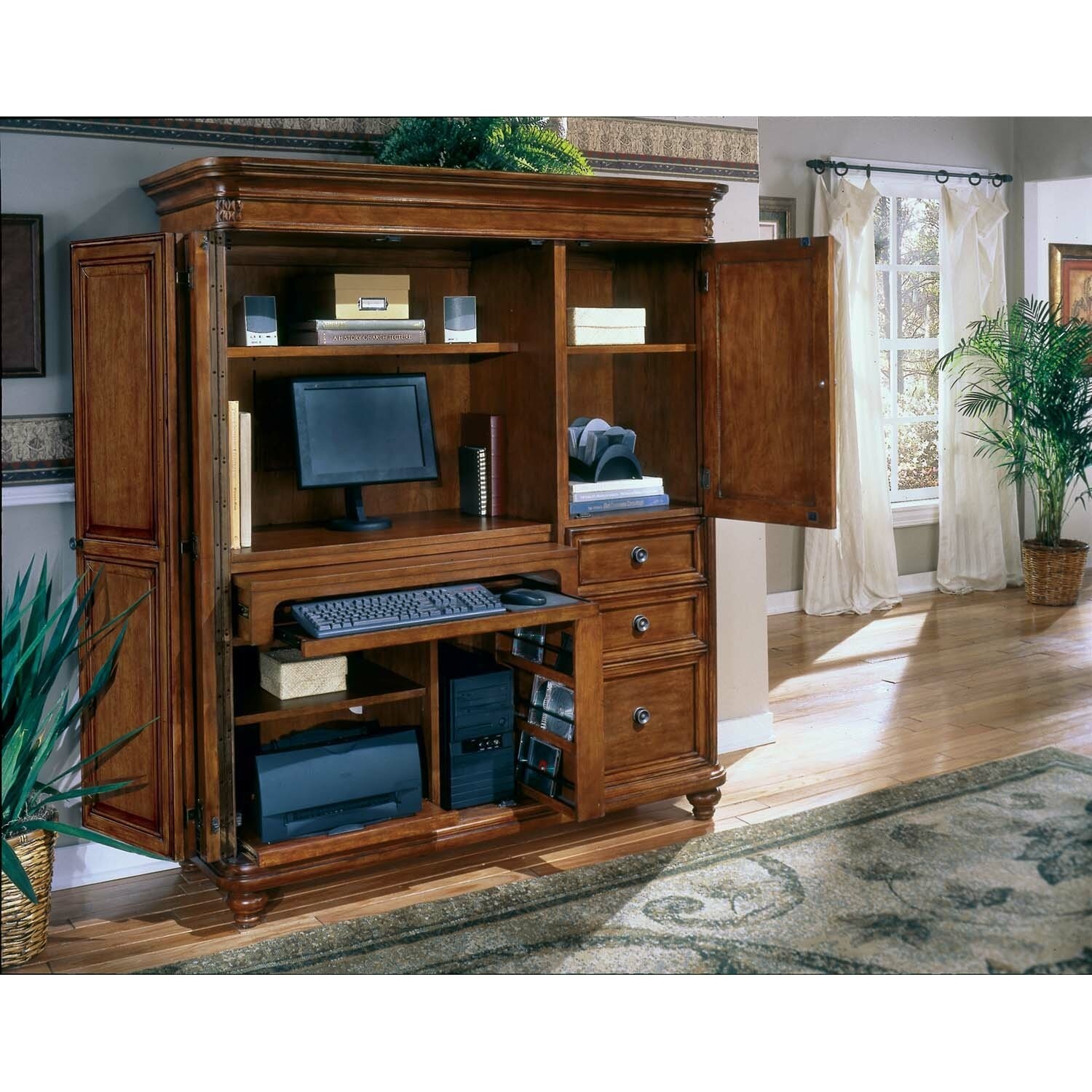 Antigua Armoire
It is an Antigua armoire that is perfect for your computer, books and other office items. It is an attractive addition to any home. This product is high quality and nicely finished.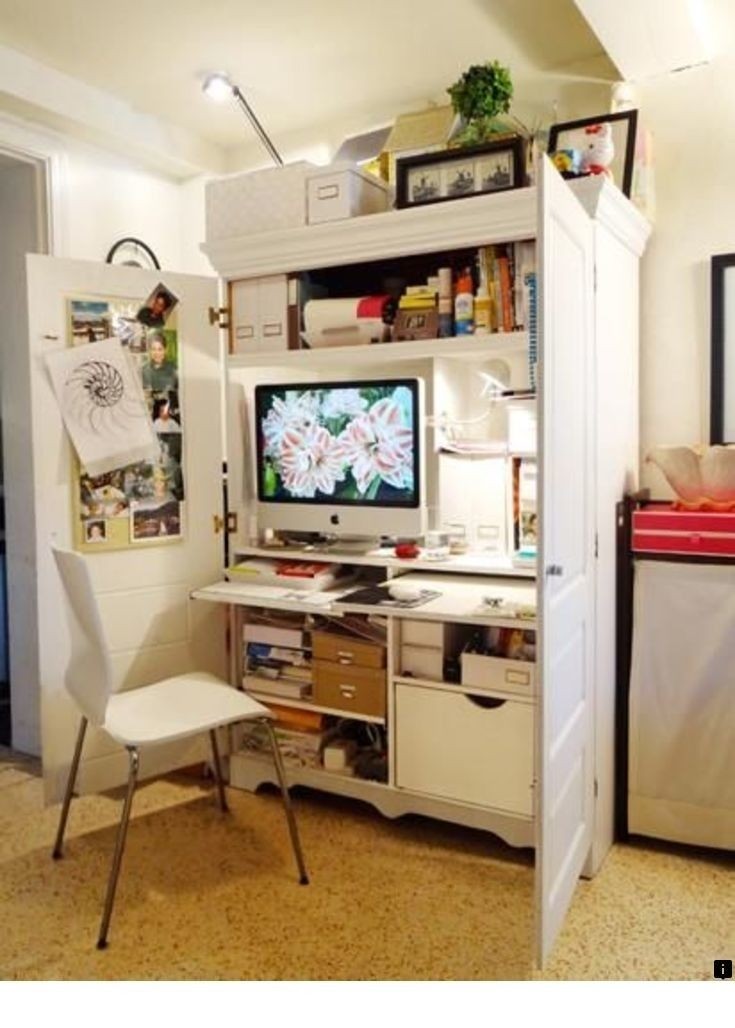 A compact and space-saving solution for a small study room – a hidden office cabinet with a desk inside of it, fitted with a bunch of drawers and compartments for storage as well a keyboard shelf and a display holder.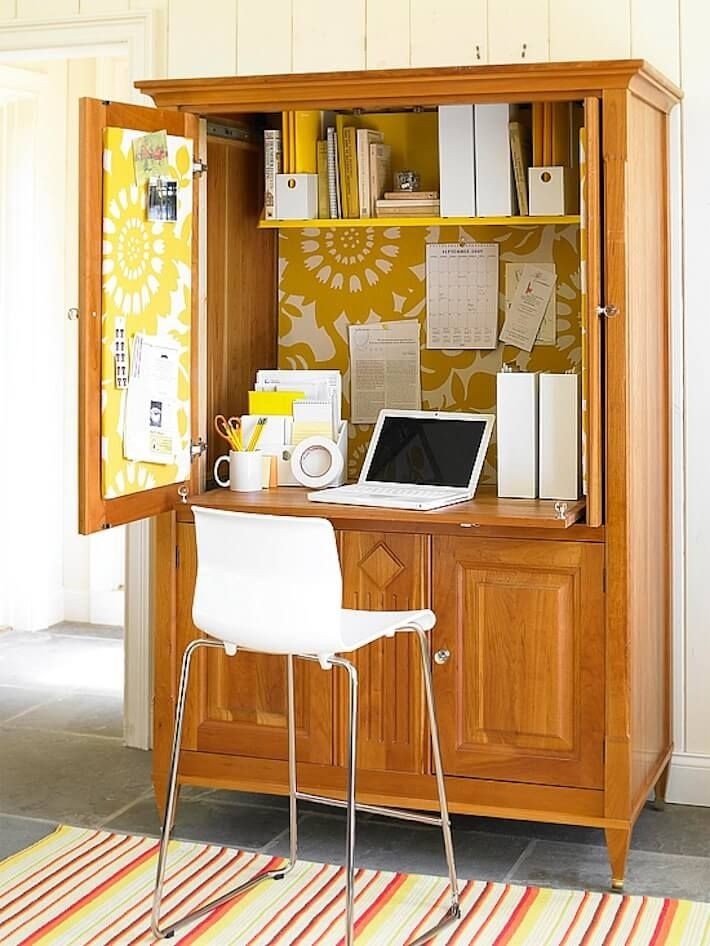 A superb office cabinet perfect for small rooms. It has a computer desk, which you can slide out only when you need it or hide it behind the glass door when you finish your work. The unit features a dated character, but it's very functional.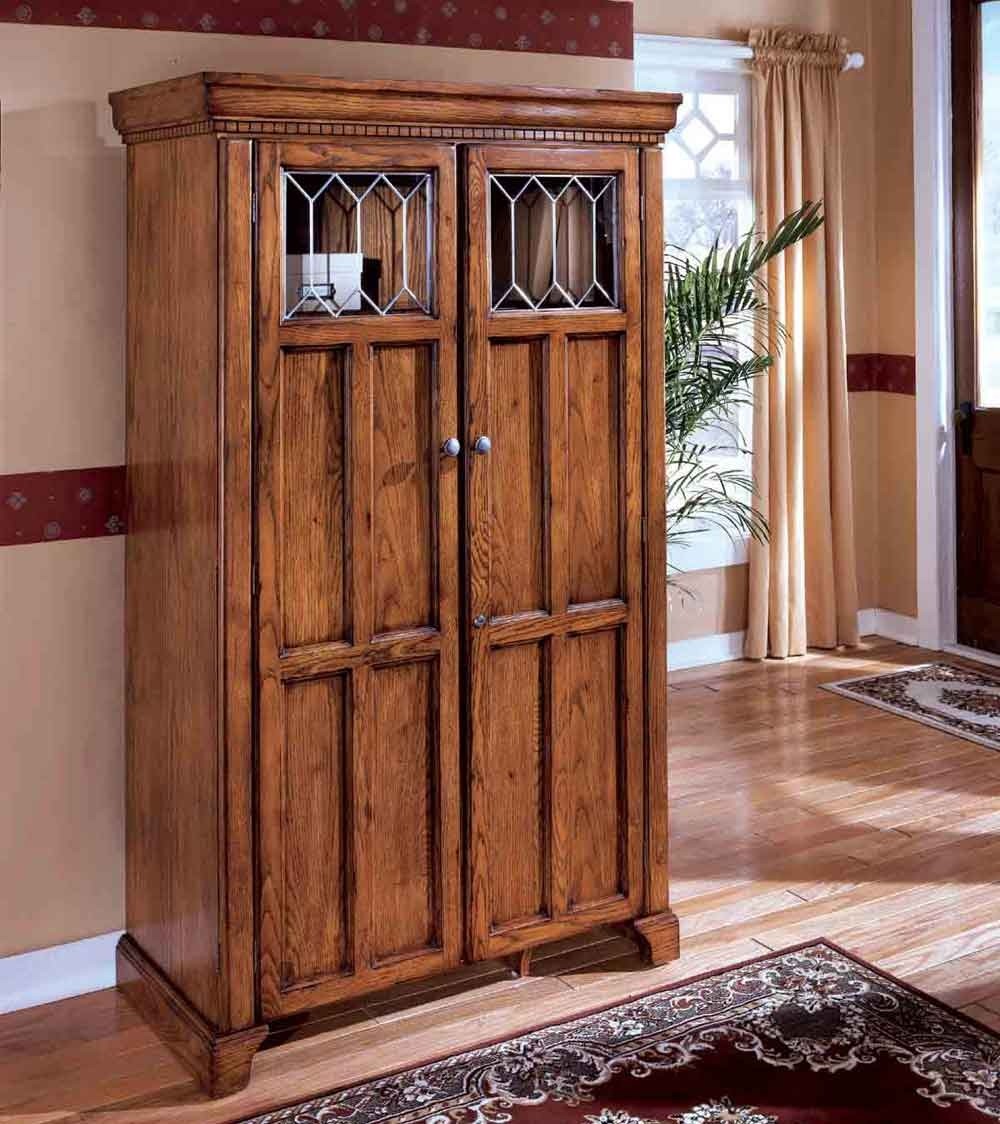 Home Office Armoires to Save More Spaces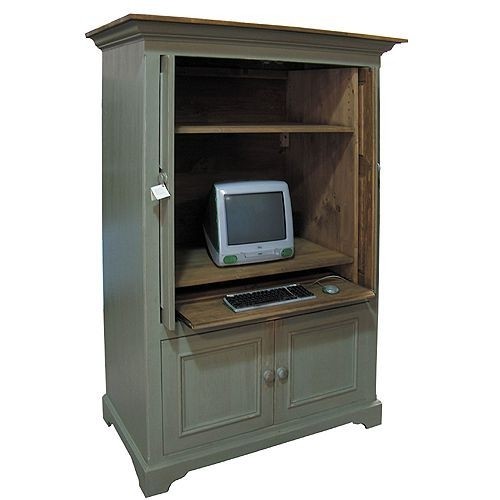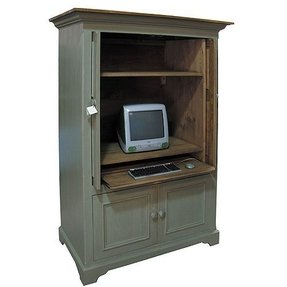 sliding keyboard tray, storage shelves and filing bays. This armoire ...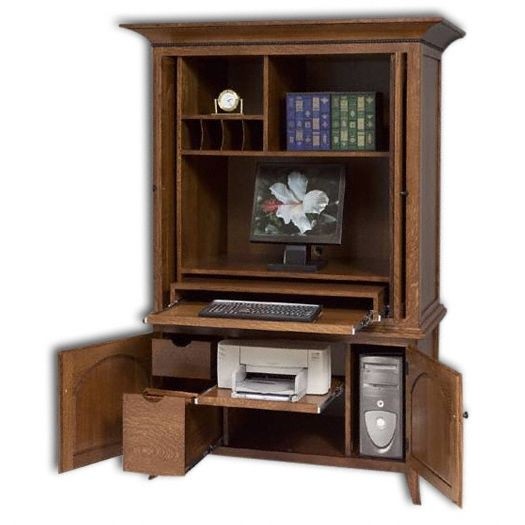 Mt. Eaton/Bunker Hill Computer Armoire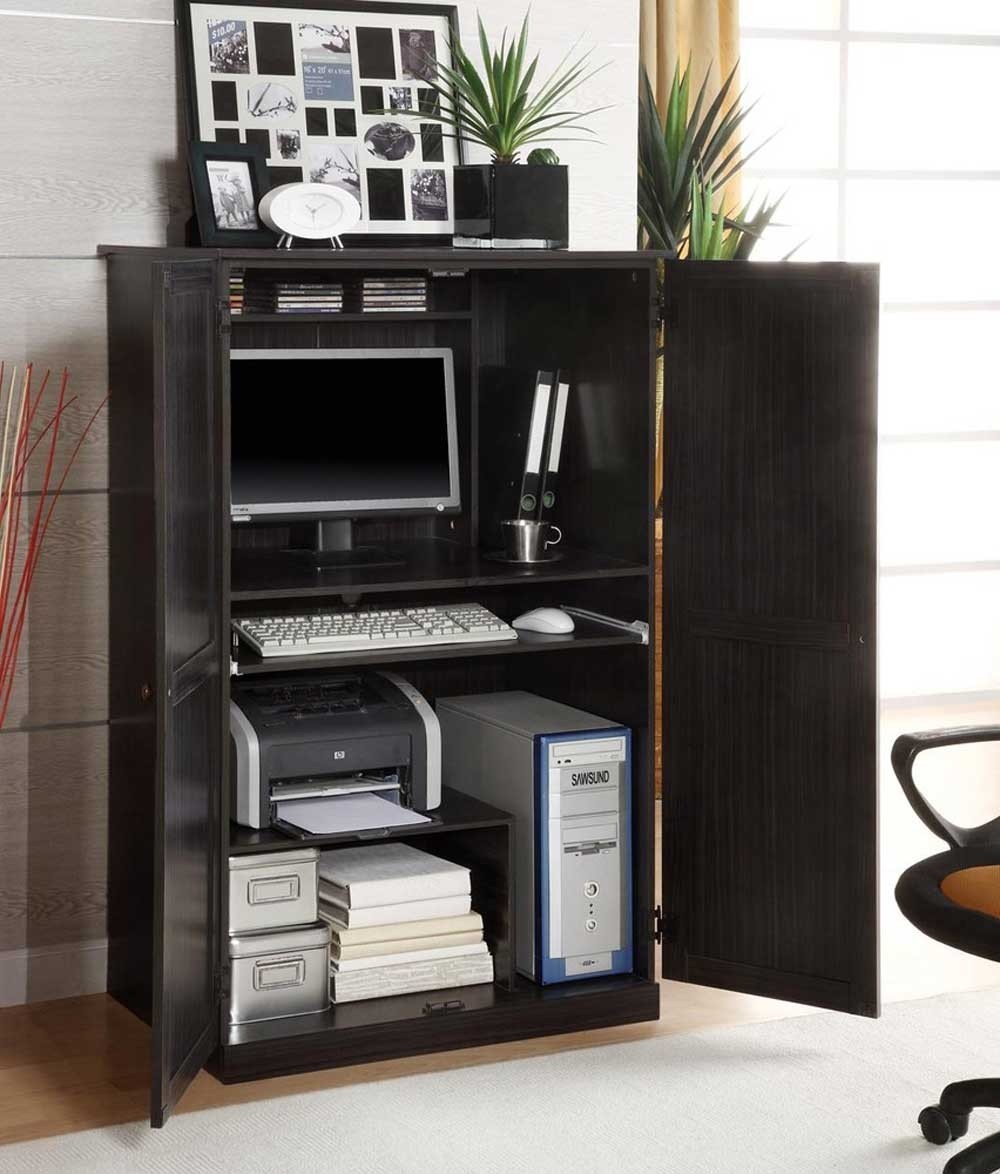 An aesthetic practical contemporary computer cabinet of wooden materials finished in dark brown. It has a rectilinear body, a recessed base, 2 hinged full doors. It's equipped with lots of size-varied niches and a sliding out keyboard tray.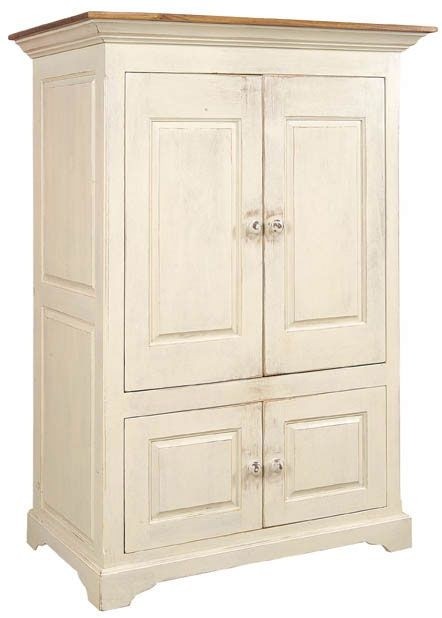 View Full-Size Image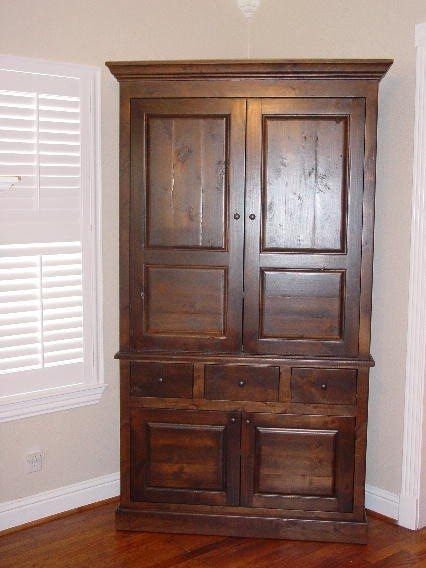 corner armoire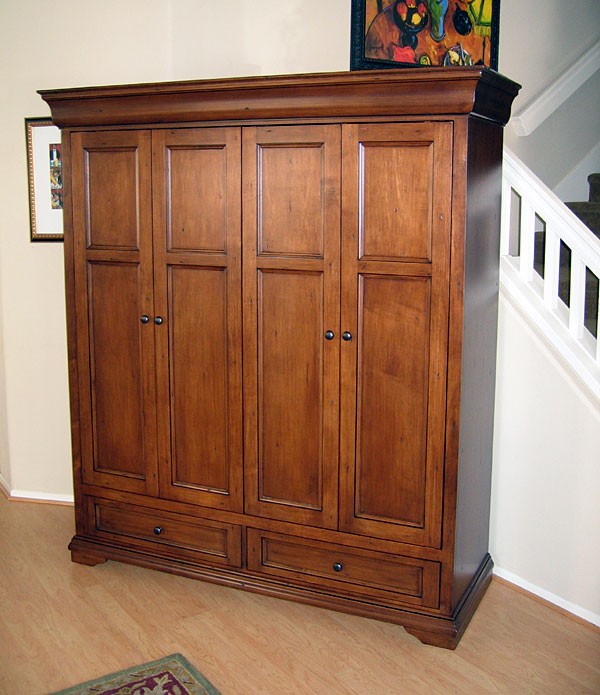 The extremely big, four-door armoire made of oak wood. If ever had doubts, if there is any existing armoire, which could accommodate all your clothes - I found the one. The 2 meters wide, equipped with many shelves. Perfect.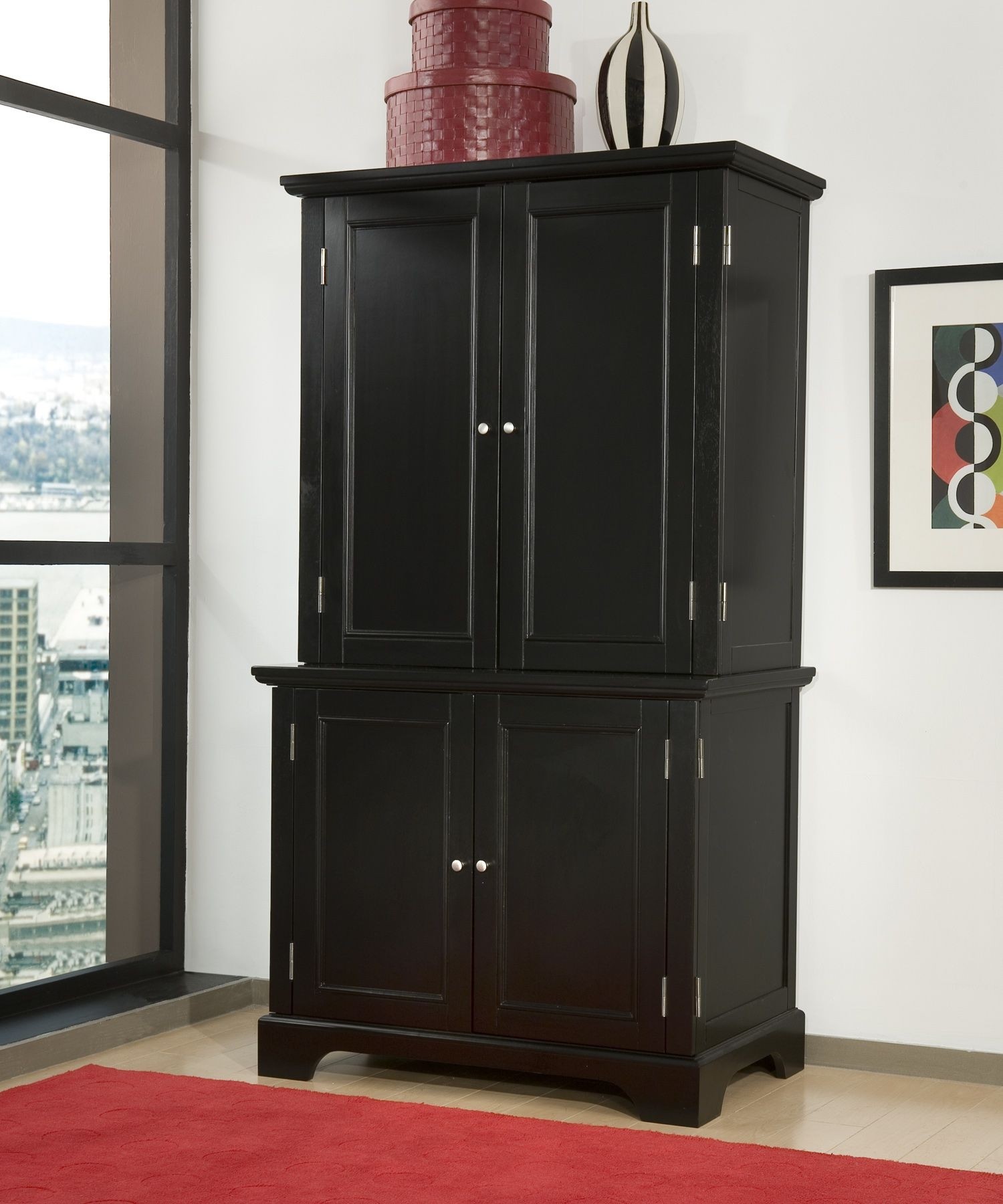 Bedford Compact Office Cabinet and Hutch - Ebony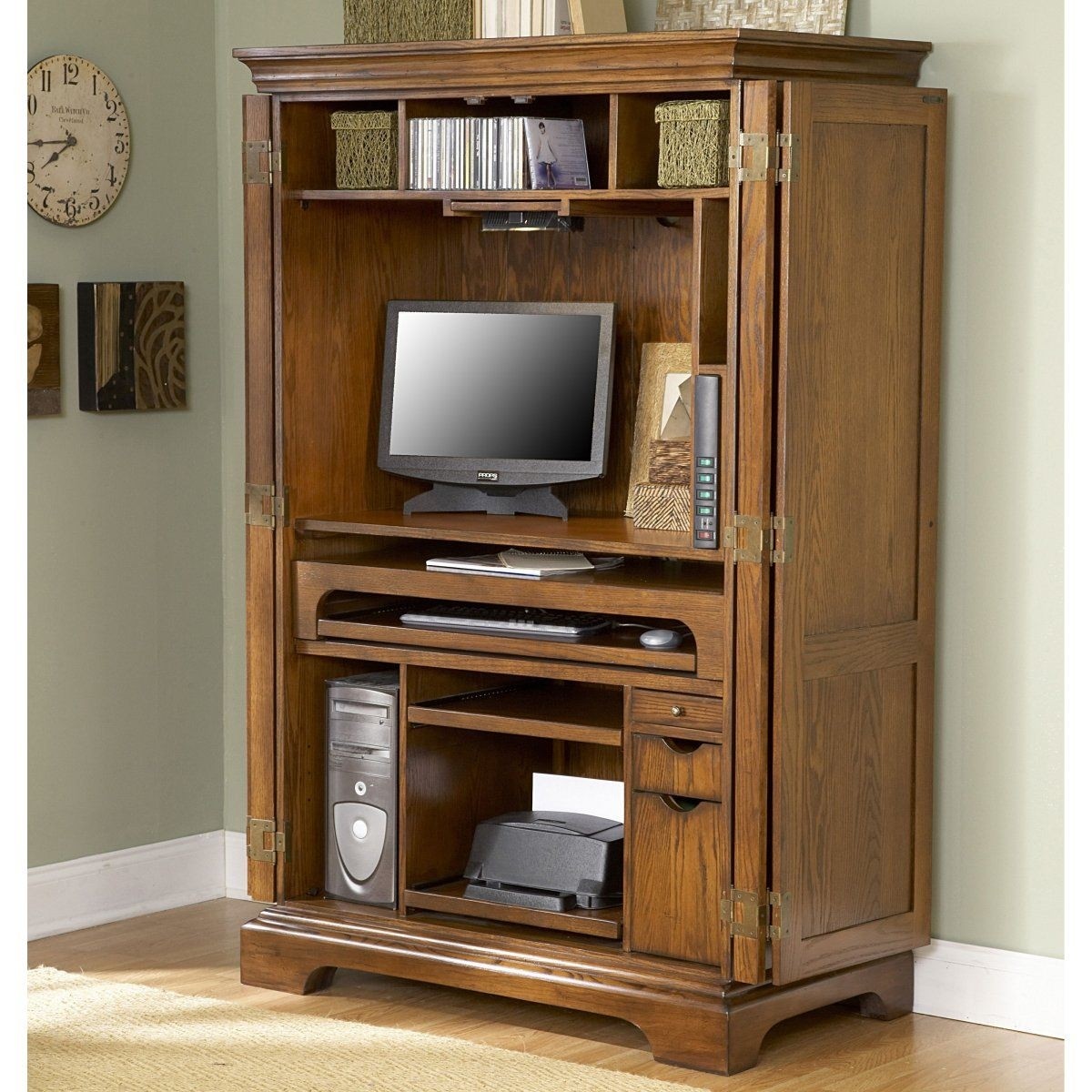 Product Features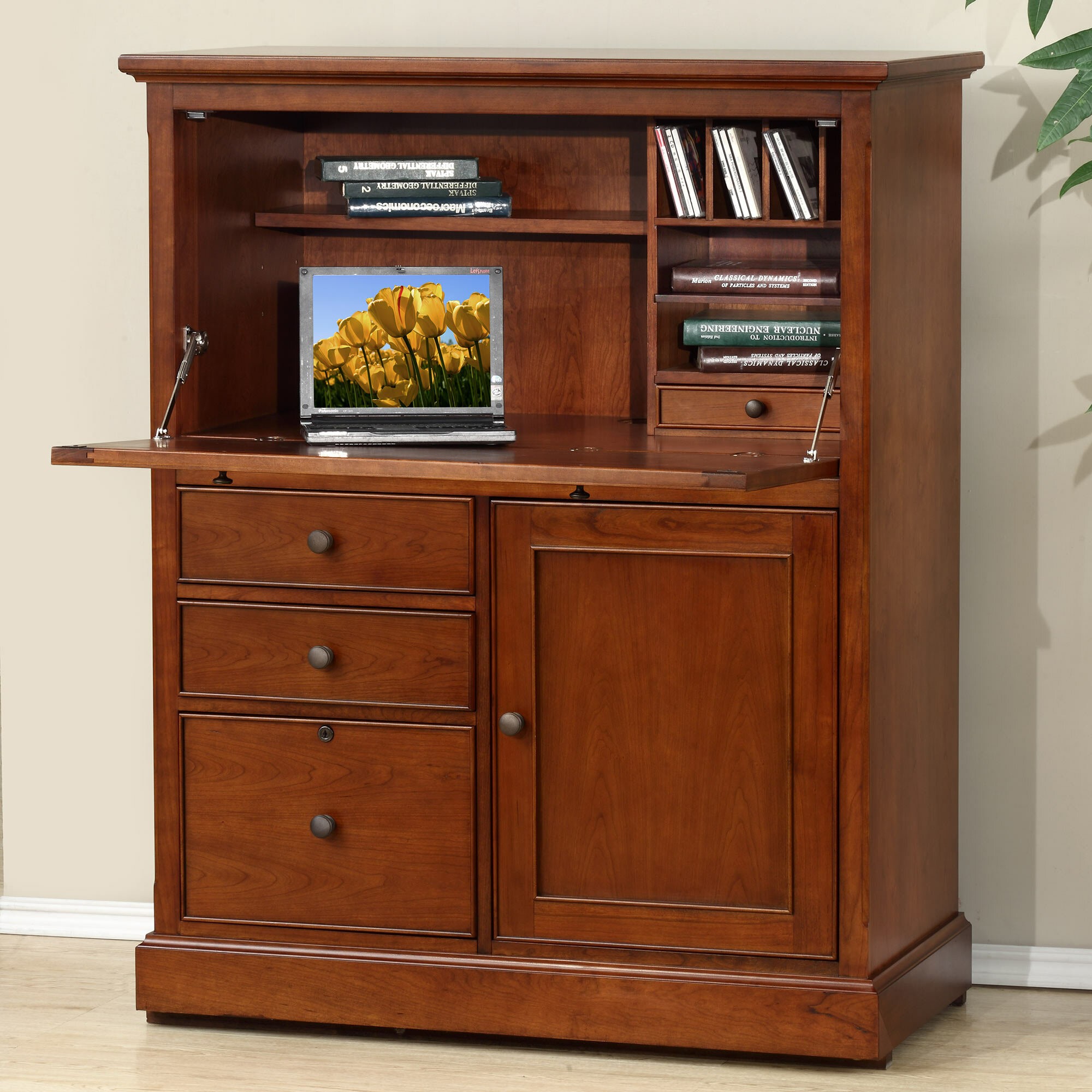 ... details for computer armoire by home styles dark wood 5333 76 computer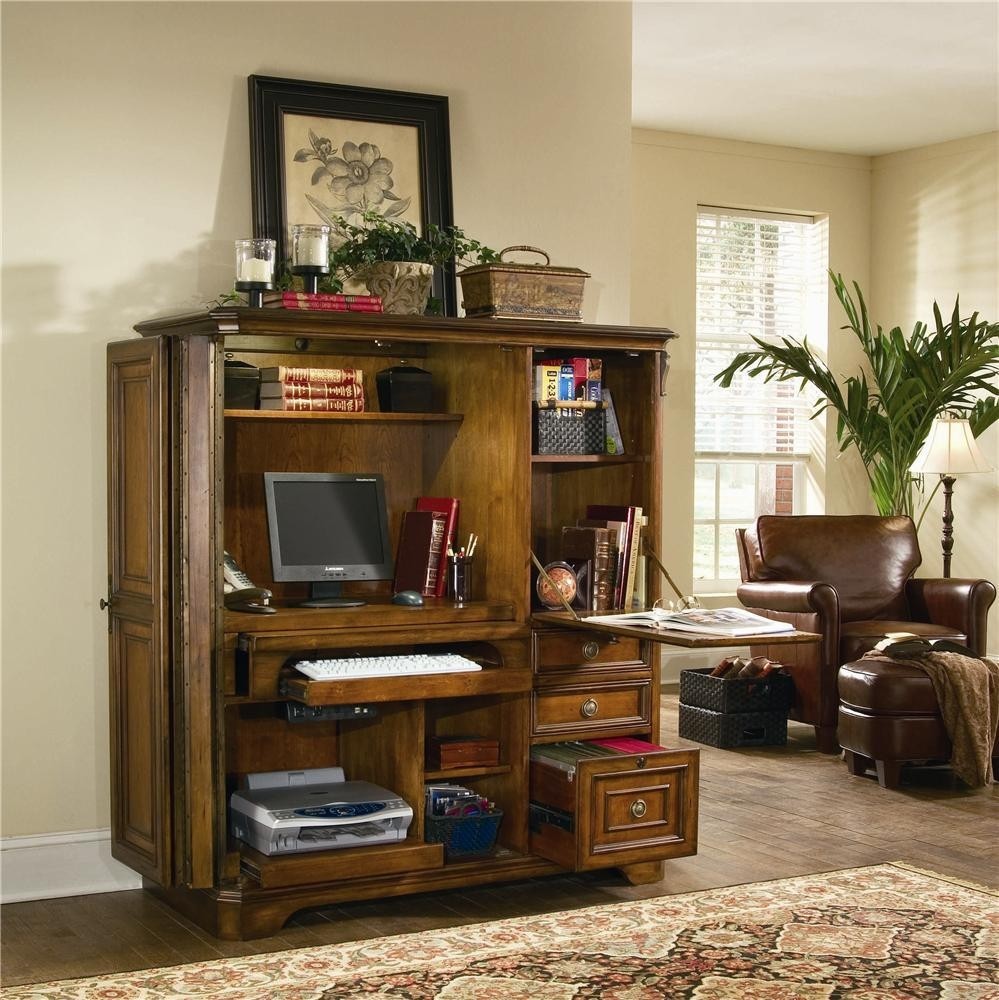 computer armoires office chairs included $ 798 00 1238 office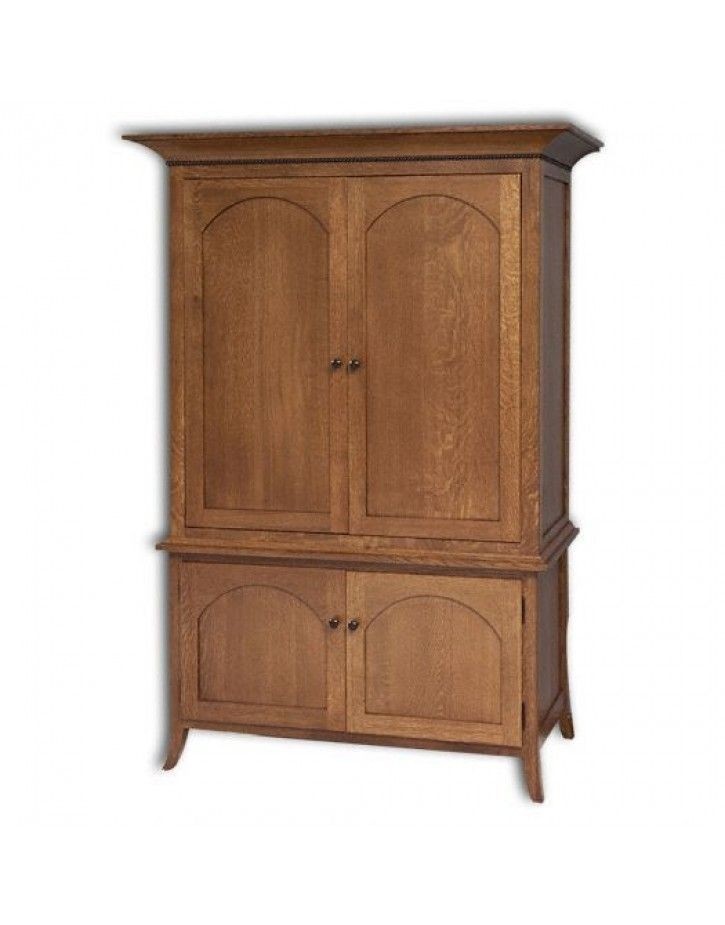 Computer Armoire with Pocket Doors.htm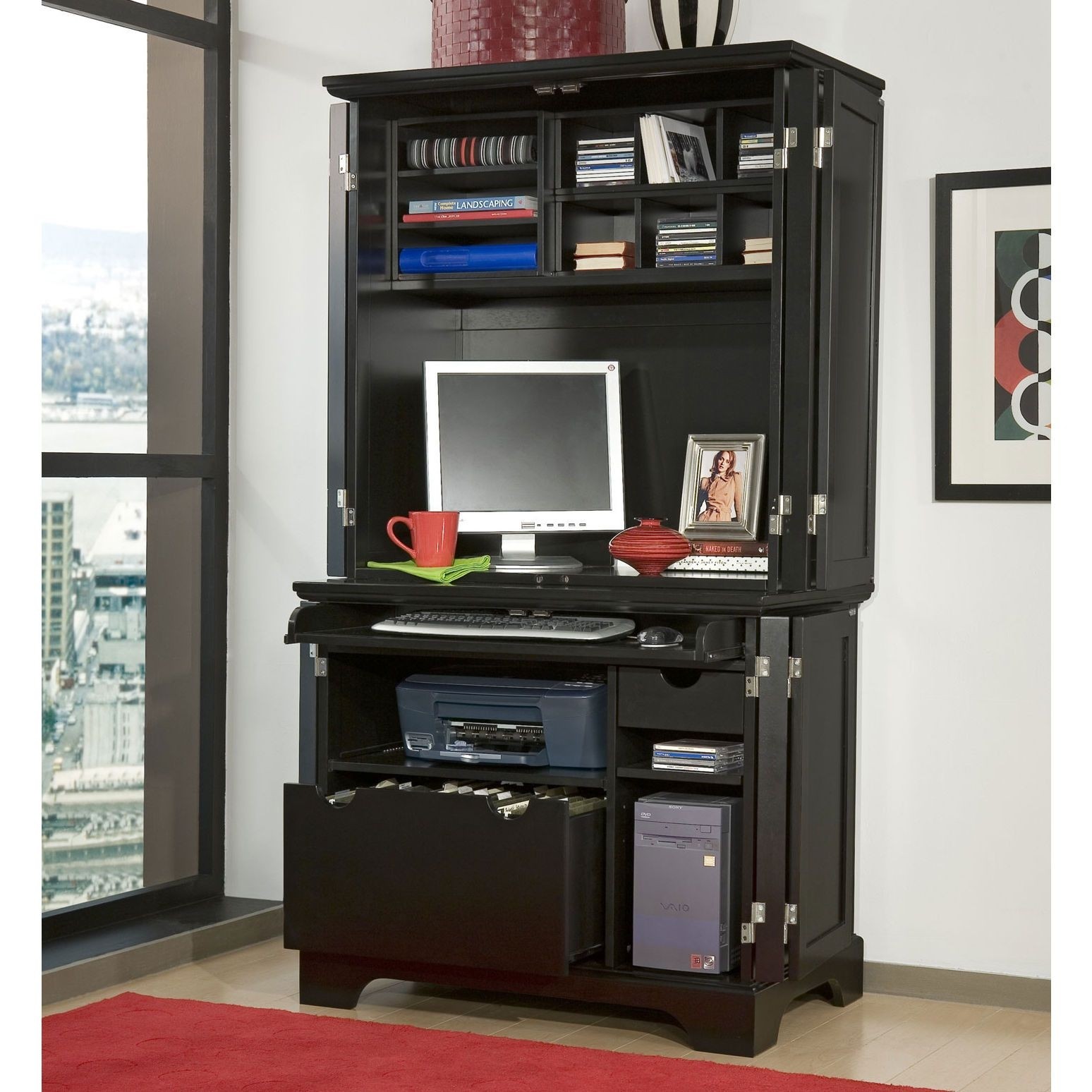 Massive and stable compact office cabinet and hutch. Perfect for organizing small spaces rooms - drawers and shelves make it easy to organize documents and office work. It has a convenient pull-out shelf for keyboard and a place for the printer.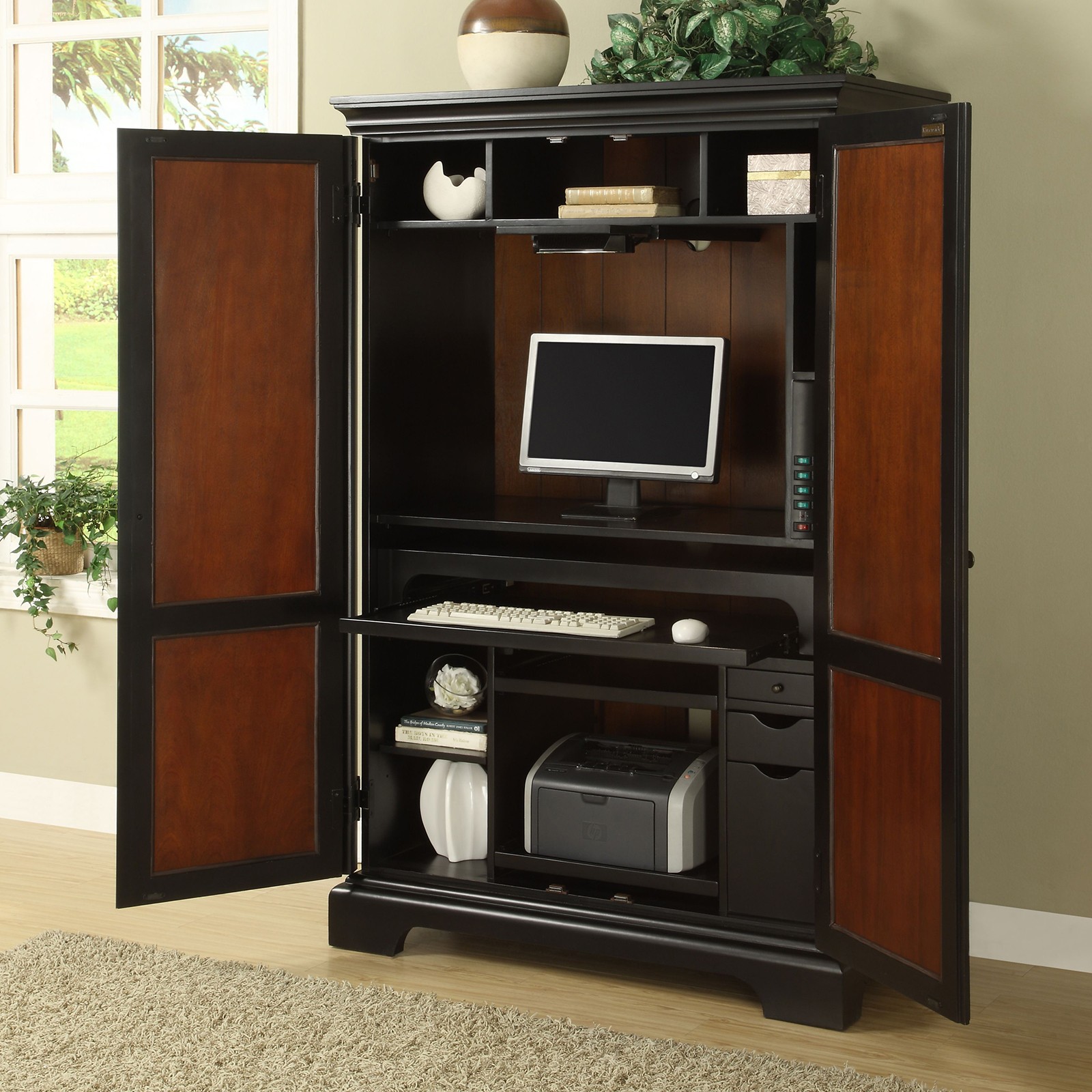 Bridgeport Armoire Desk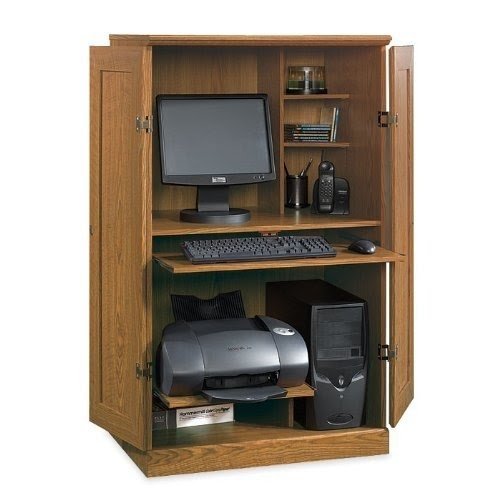 Sauder — Worthington Computer Cabinet Armoire (New In Box)
computer armoire with pocket doors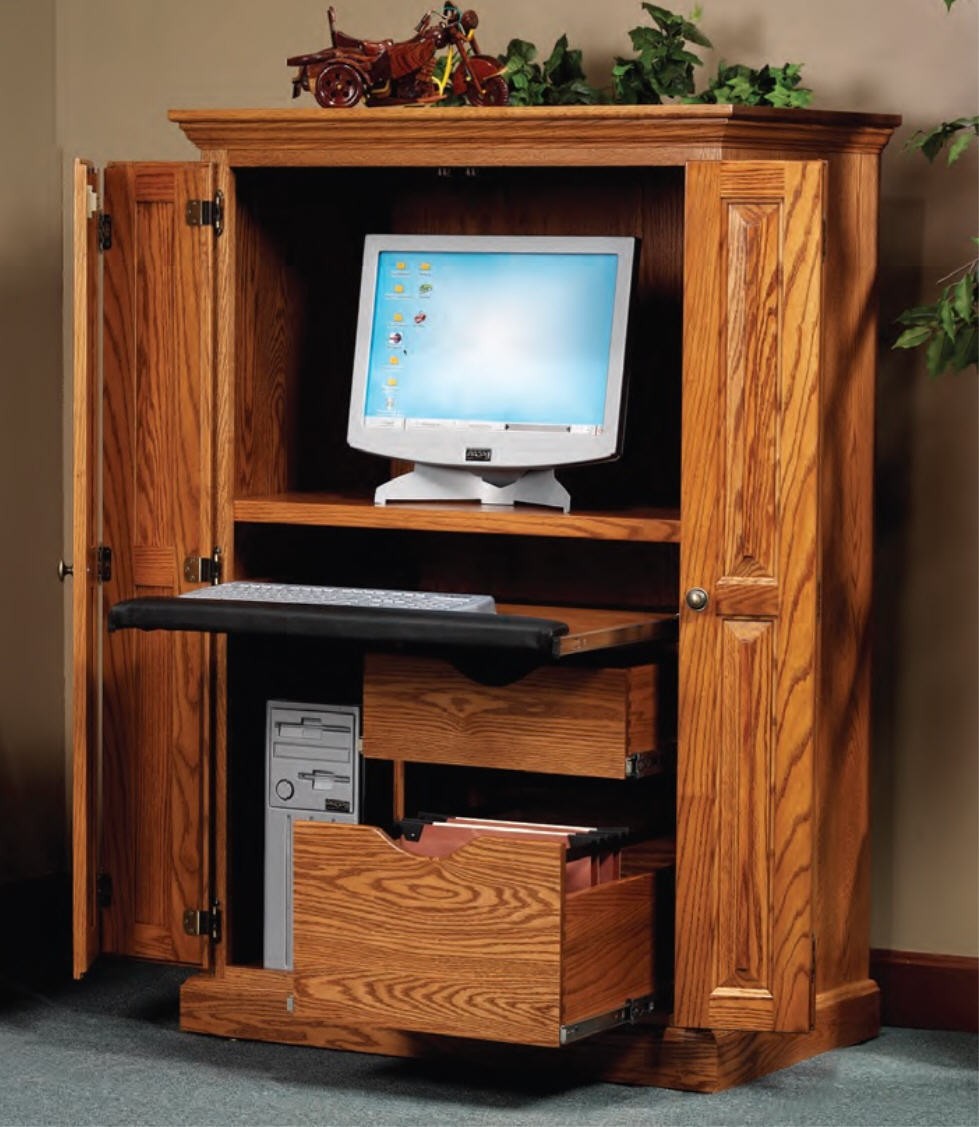 Distinguishing itself with the characteristic pocket doors on each of the sides, this unique computer armoire constitutes a great space-organizing item for your home office. Densely grained wood emphasizes the charming, natural character.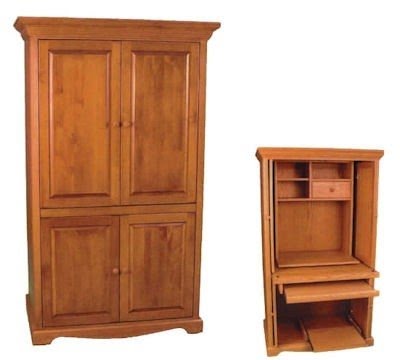 из 5 на основе 34 оценок. 6 обзоров ...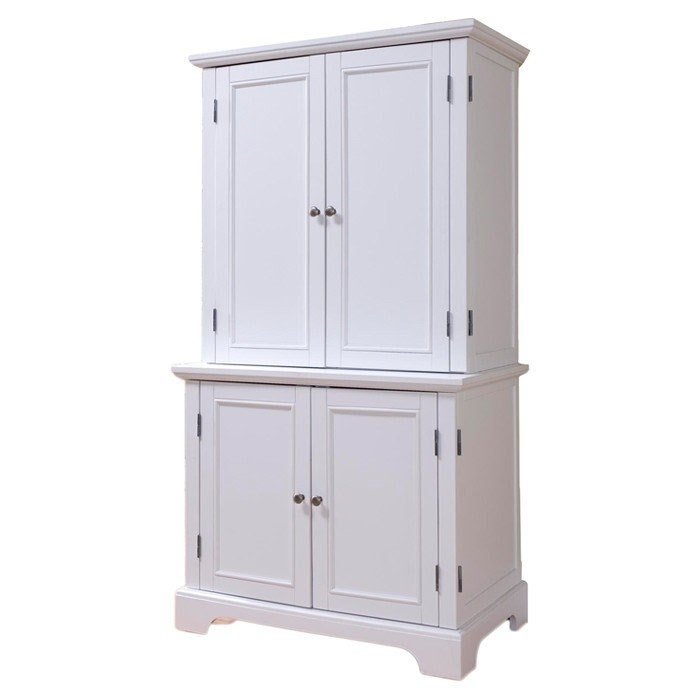 Naples Armoire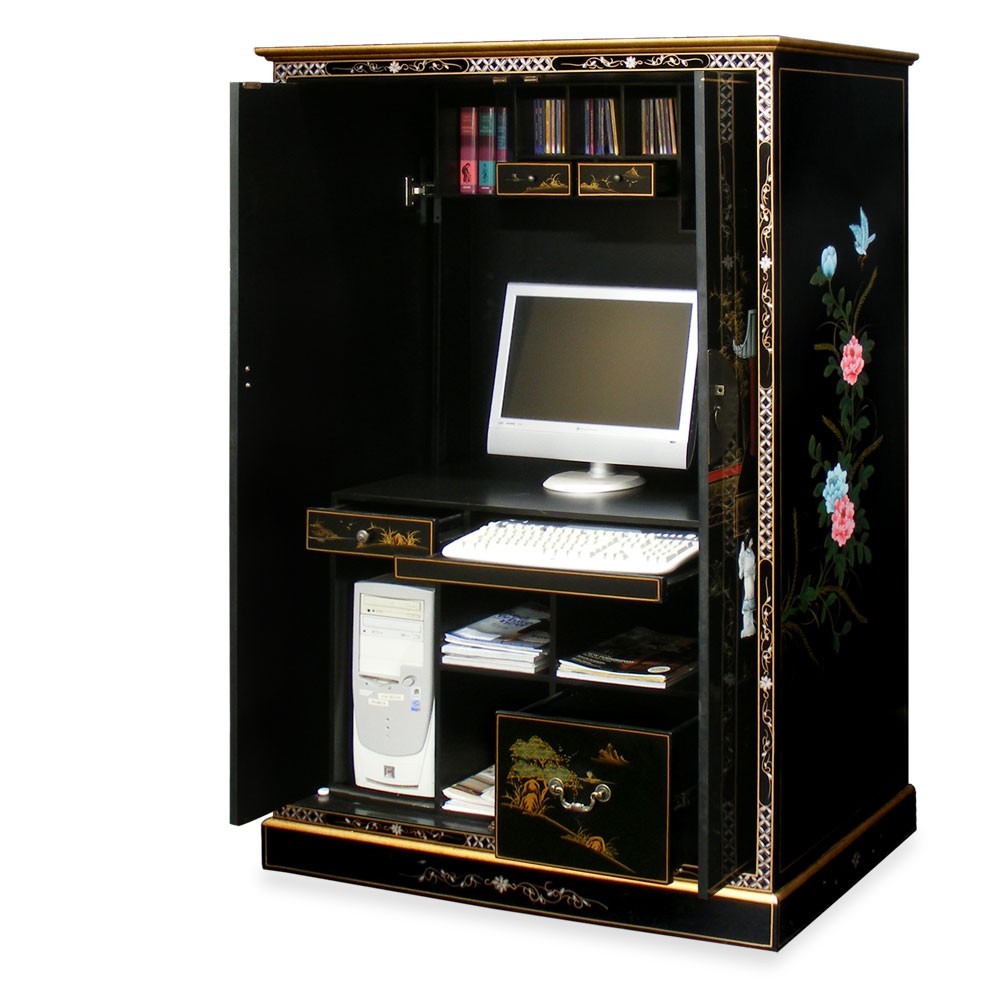 Black Lacquer Courtyard Design Computer Armoire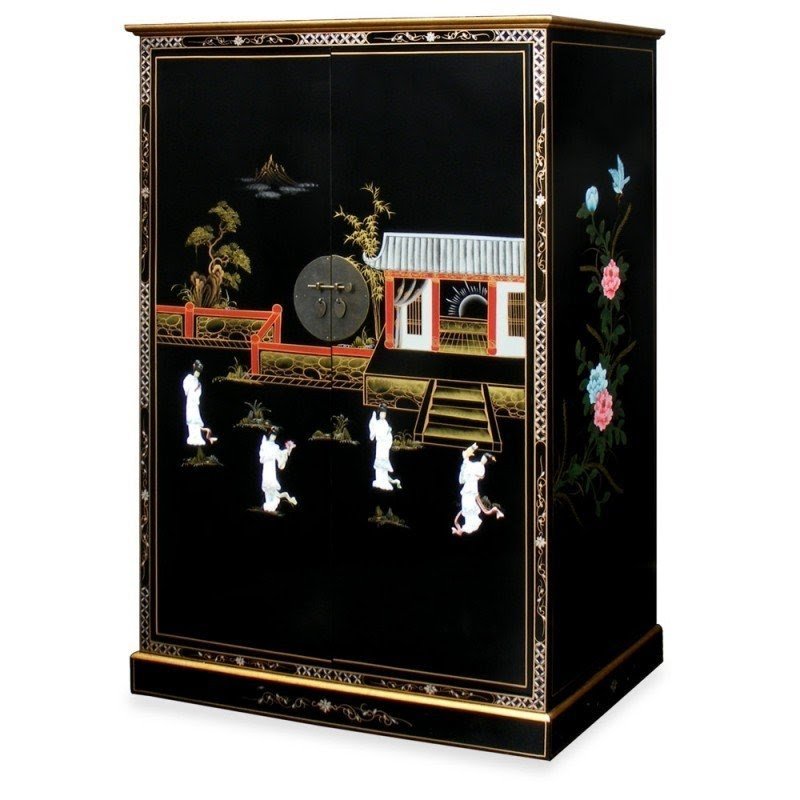 Black Lacquer Courtyard Design Computer Armoire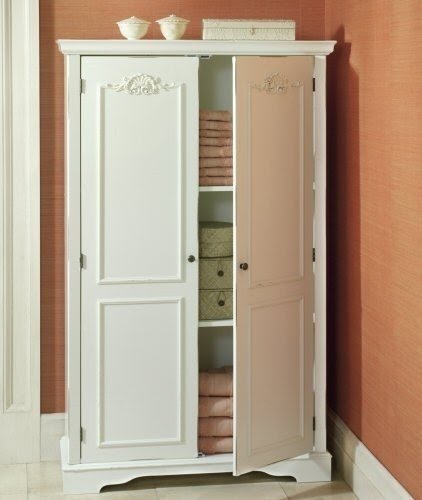 computer armoire with pocket doors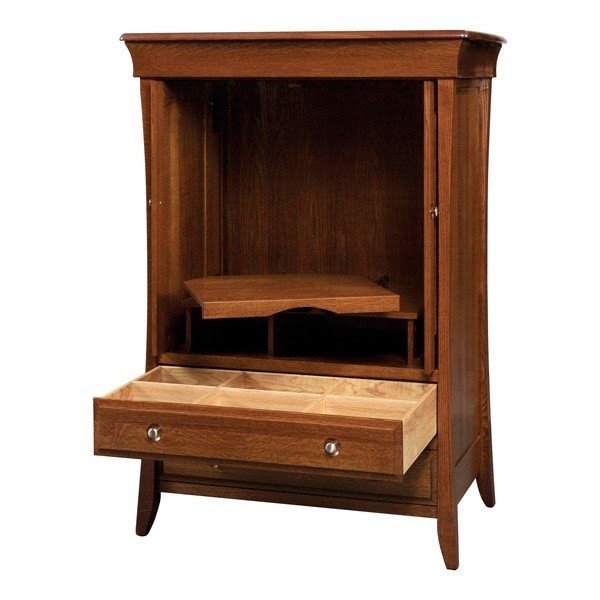 Tv Armoire With Pocket Doors Ideas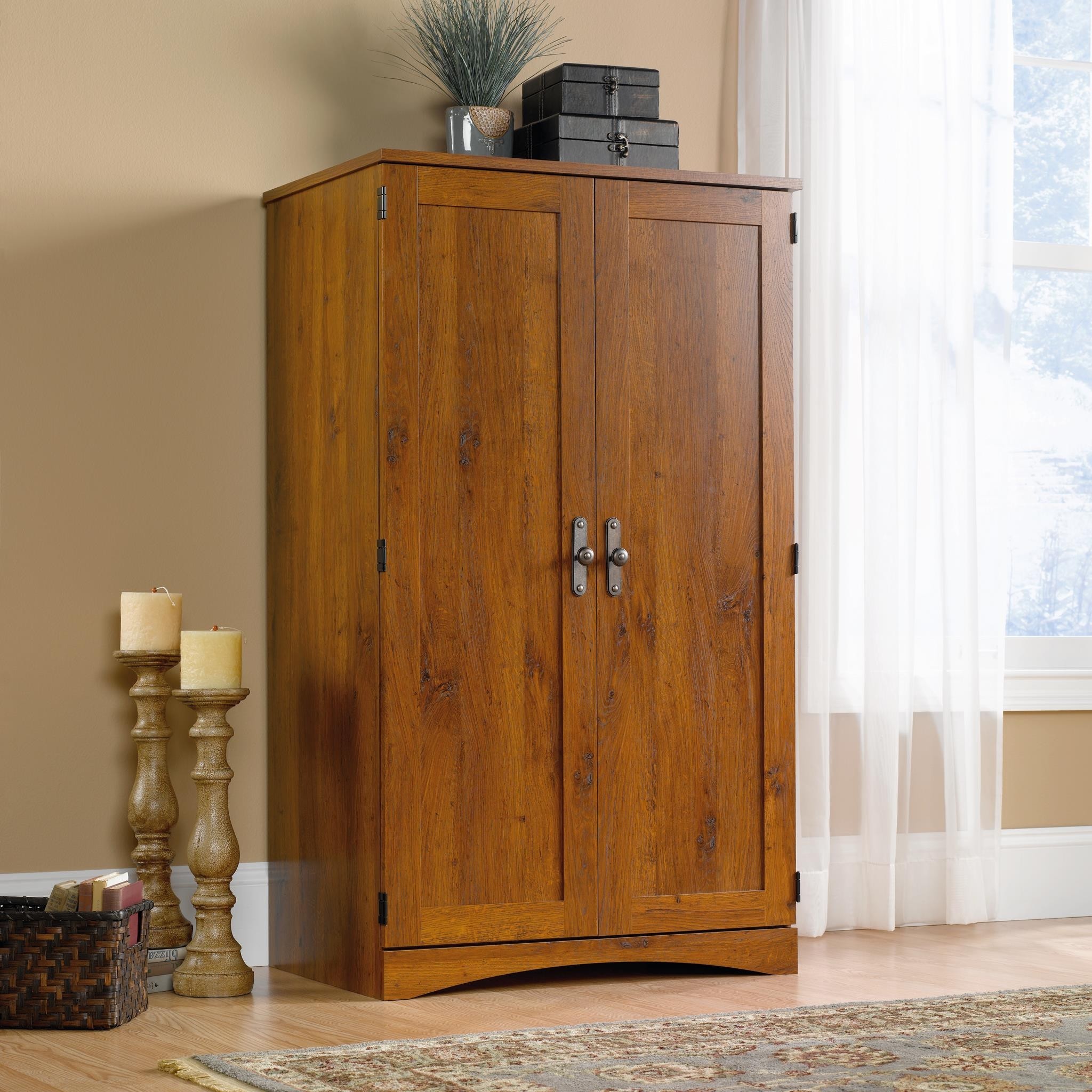 Harvest Mill Desk Armoire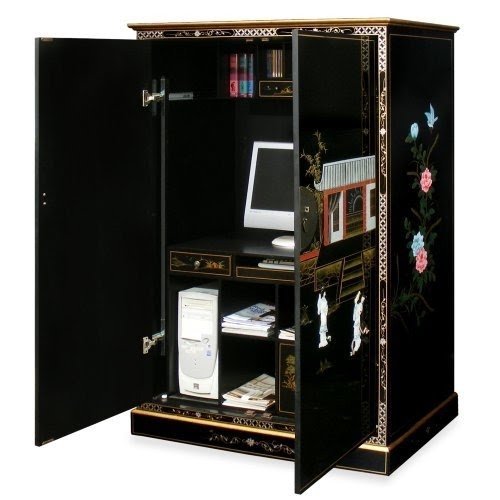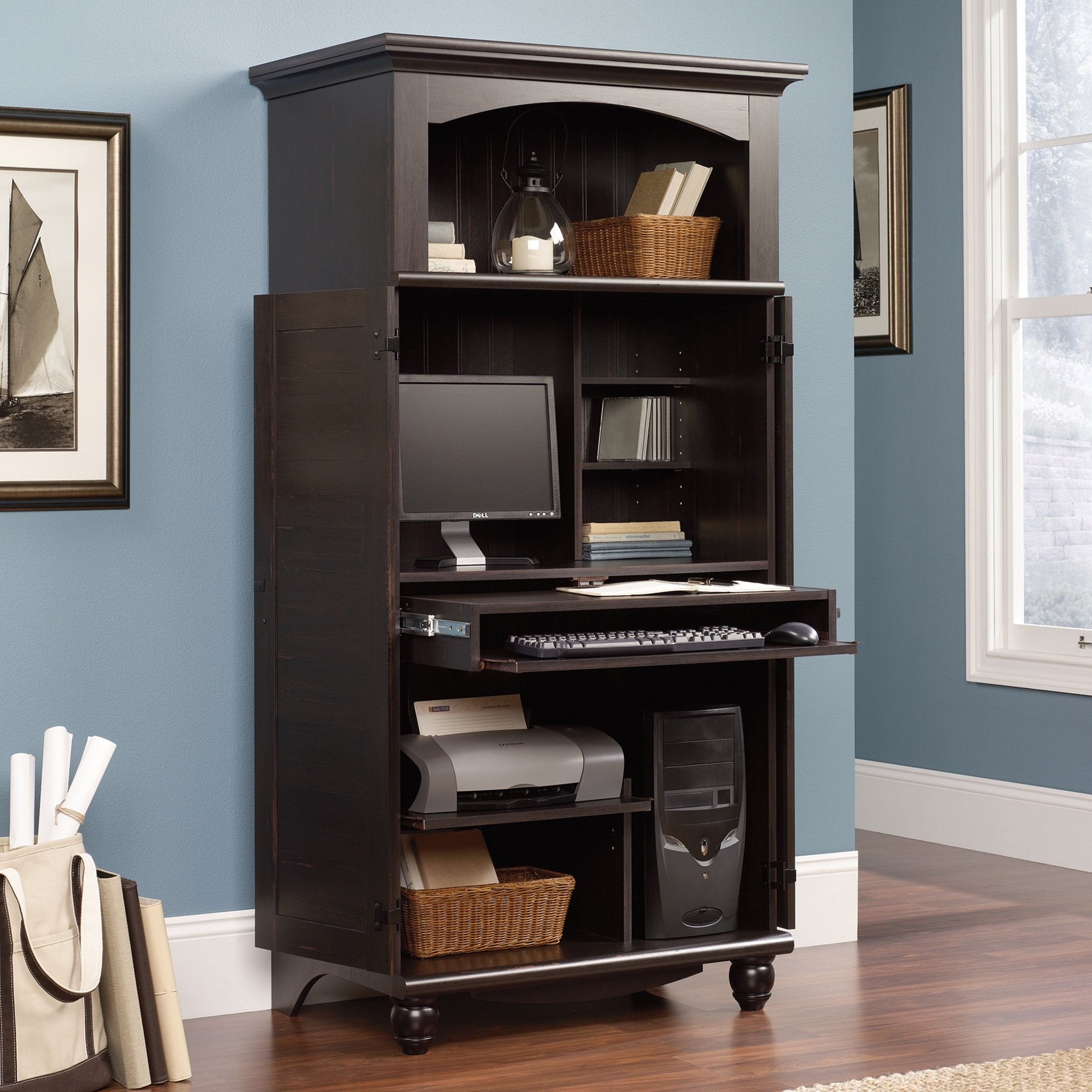 Harbor View Armoire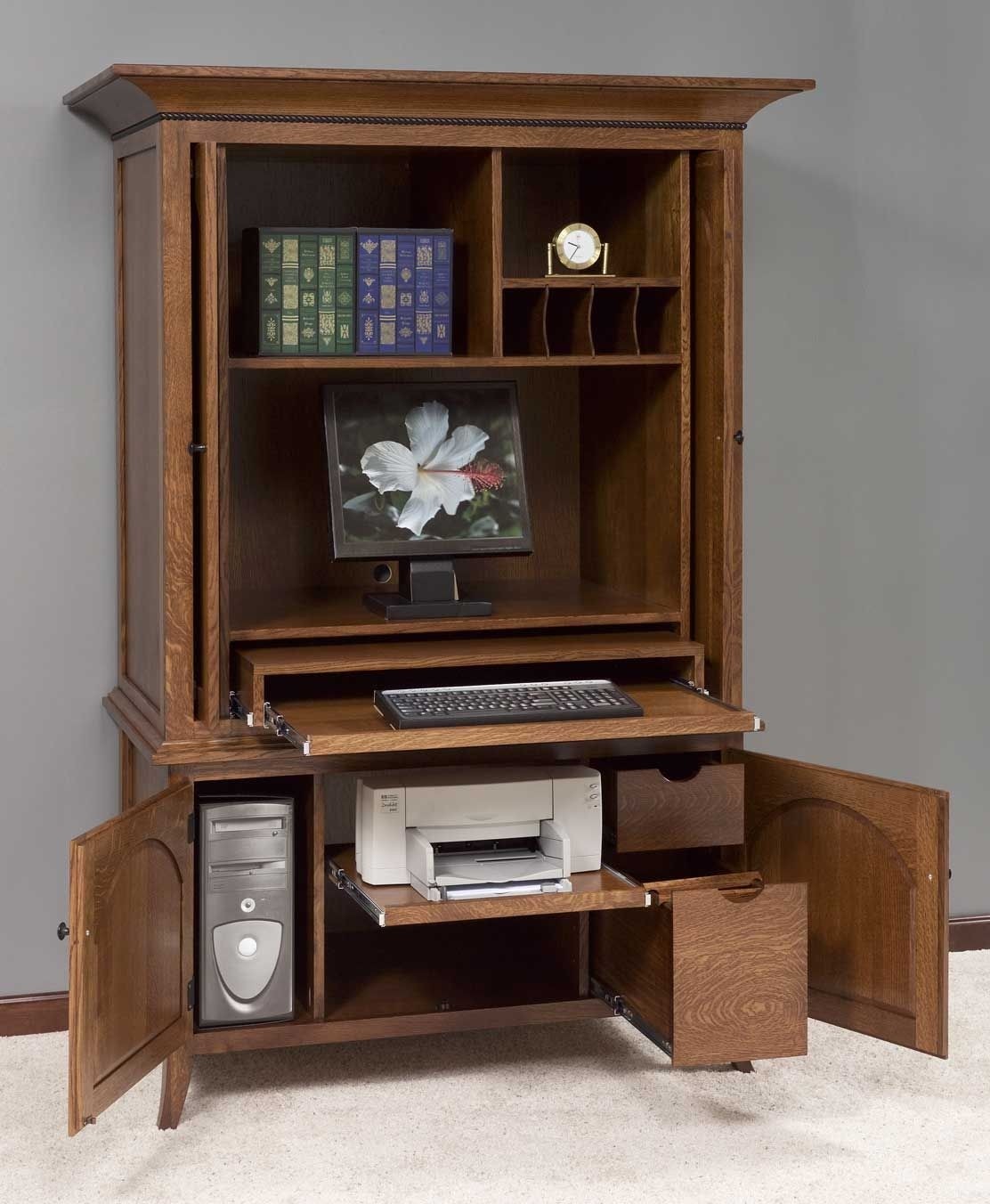 Home Office Furniture Computer Armoires ...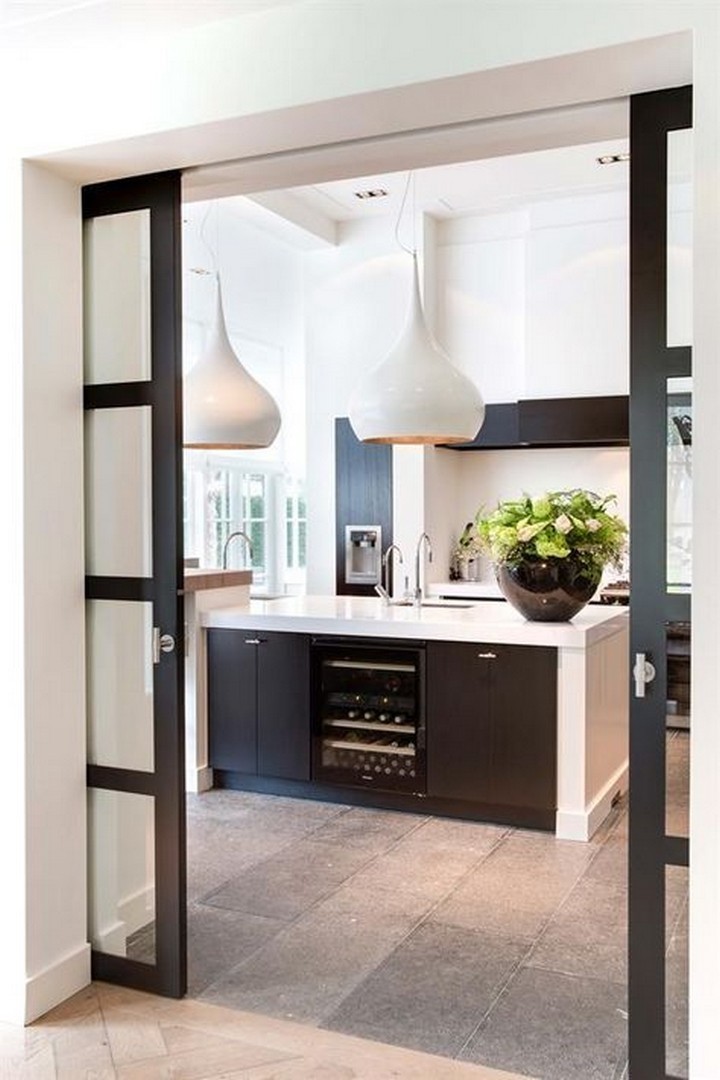 15 Computer Armoire With Pocket Doors For 2020 (2 ...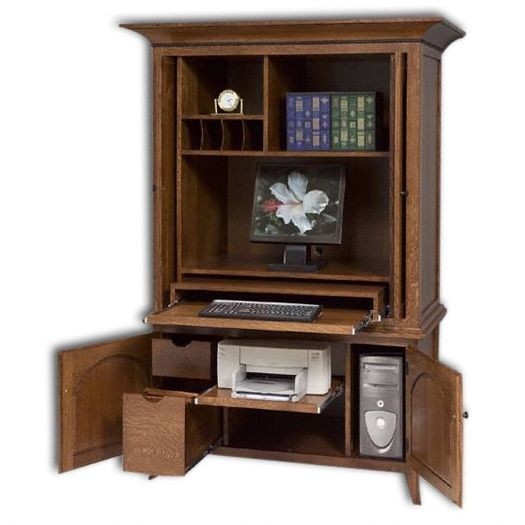 Mt. Eaton/Bunker Hill Computer Armoire. Pocket doors (With ...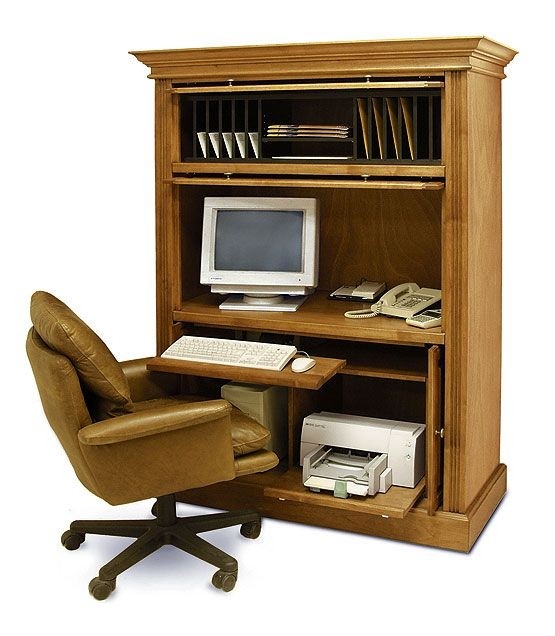 Computer Armoire | Computer armoire, Home office furniture ...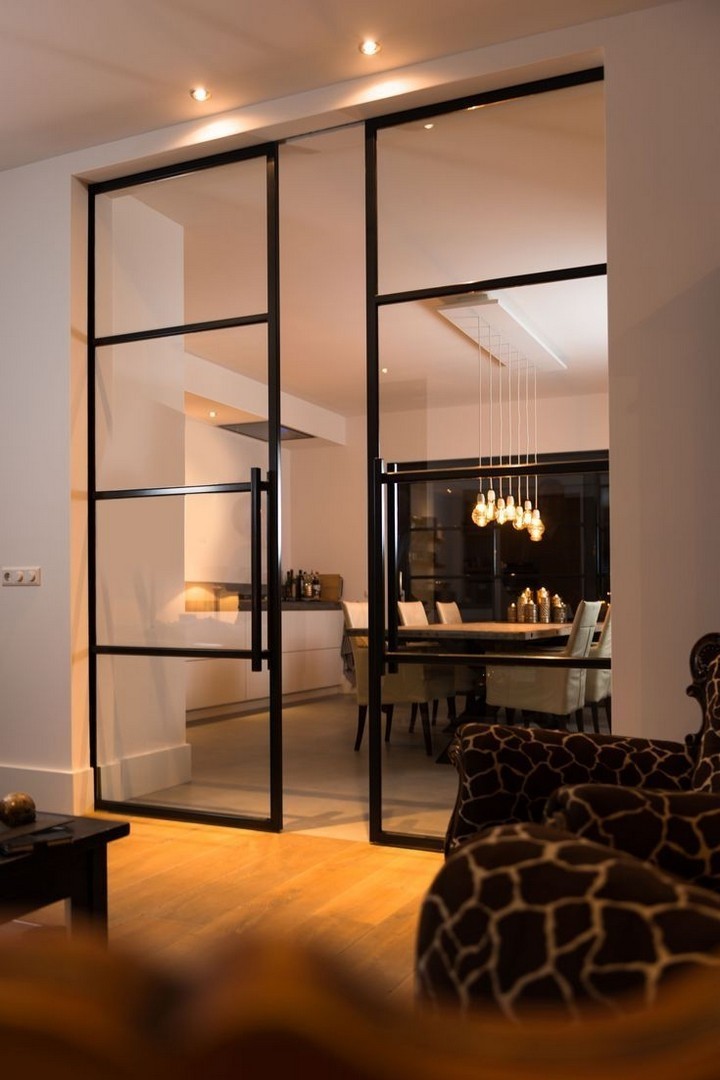 15 Computer Armoire With Pocket Doors For 2020 (5 ...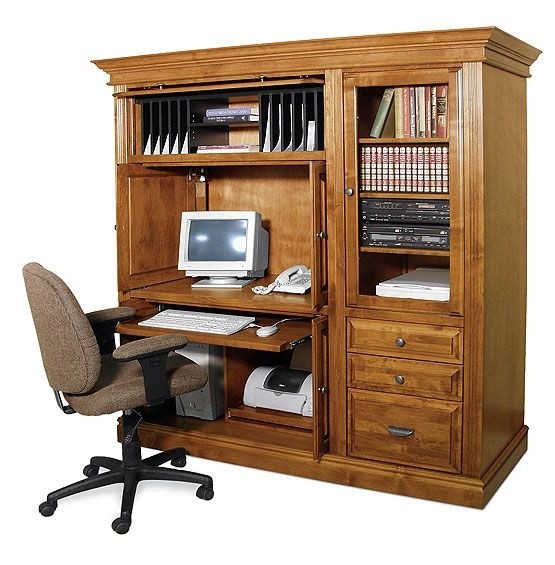 Computer Armoire | Computer armoire, Armoire, Furniture