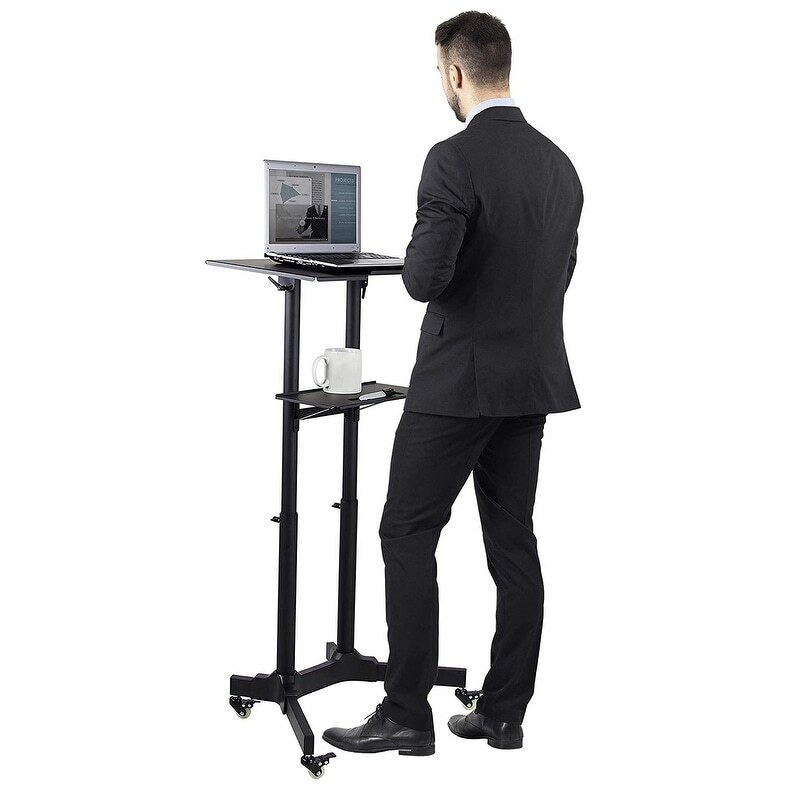 Mobile Standing Desk

Desk technology and design has changed a lot over the years, and one fantastic innovation is the standing desk. Sitting too long can lead to lethargy and the possibility of blood clots in the legs, but a standing desk takes away those concerns, while giving you better posture and more attentiveness.
This computer desk on wheels is perfect for active work habits. Move your computer around the room, the office, or the building, and have it at the ready whenever you need it, all without bending over. And this model is all steel, very sturdy, and comes in standard black for modern office spaces.
What we like:
● Adjustable height
● Four quality castors
● Two shelves
● Steel construction
What we don't like:
● Bottom shelf immobile
● Time consuming to build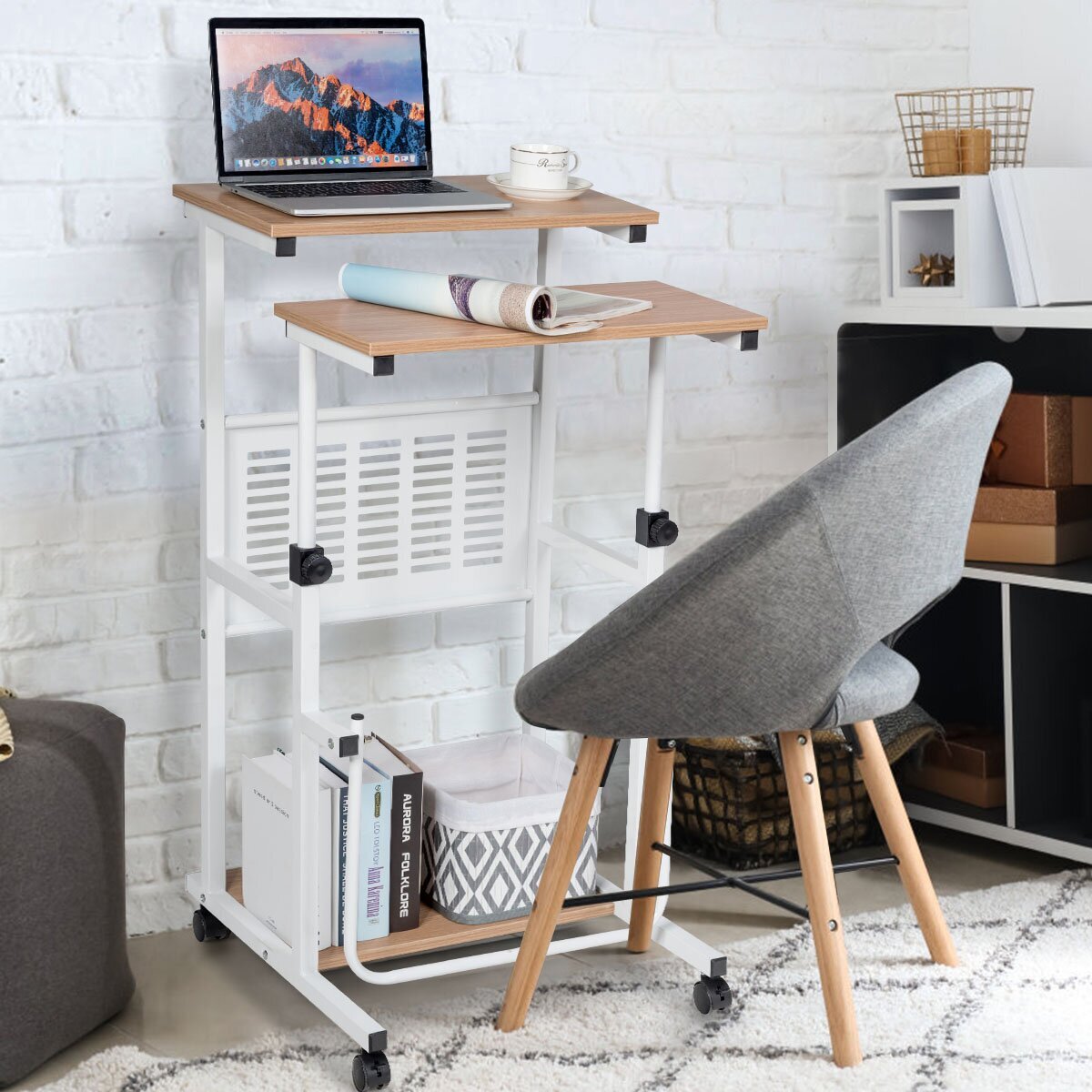 Olivieri Computer Desk on Wheels

A lovely setup that would look at home in a country or farmhouse decorative style, this desk on wheels boasts many features not common on other models. For instance, it has plenty of shelves, and all but the bottom shelf is adjustable. It is more than just a desk, but a presentation center that will occupy very little space overall.
It features four heavy-duty castors and two brakes to keep it firm in place when its mobility is not necessary. The whole steel unit is available in a very fetching polished white color with light colored veneer shelves. And if all of that didn't seal the deal, it comes with a separate matching printer stand. This desk with wheels has it all.
What we like:
● Lots of shelves
● Fully adjustable
● Classic look
What we don't like:
● There is nothing we don't like about this desk.
$119.99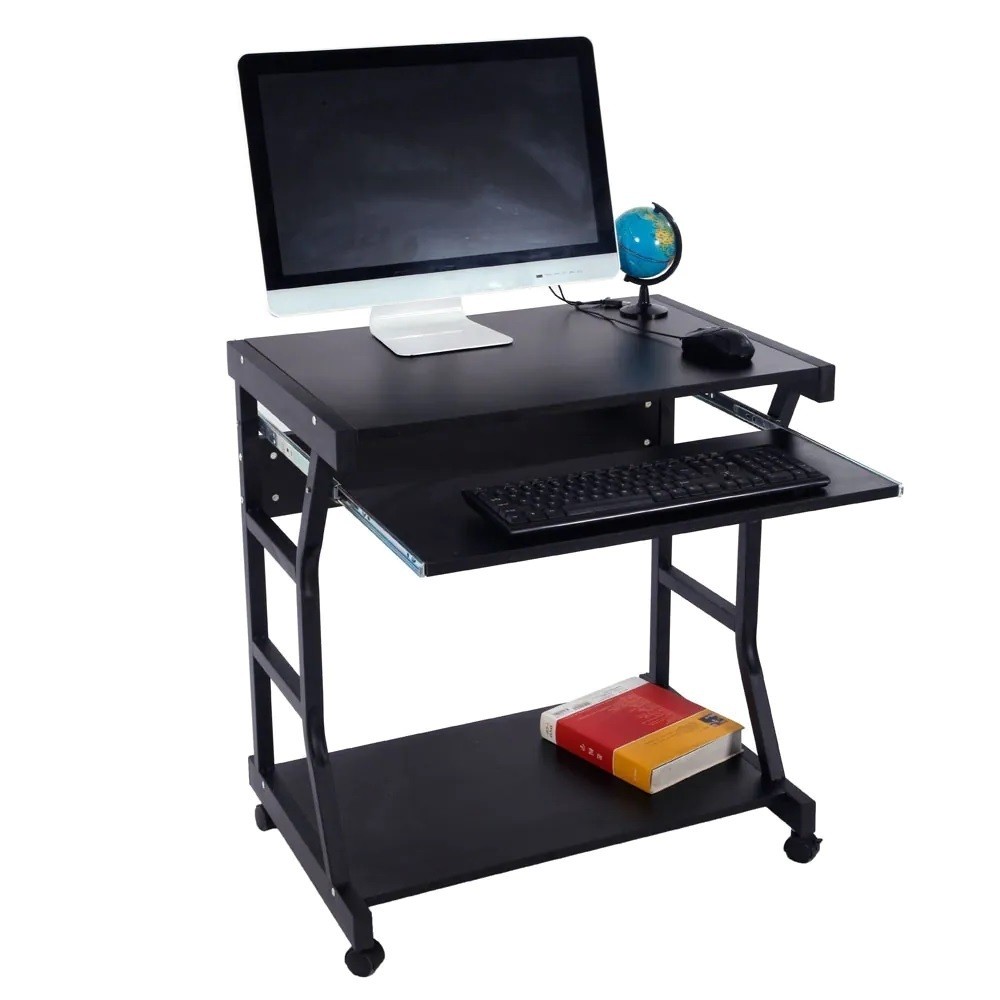 Moveable 4 wheel Computer Desk

The best way to stay efficient is to keep your workspace clean and simple. You will accomplish way more with this basic computer desk with wheels, and you can stay on the move. In all steel in basic black and with plenty of room for your monitor, keyboard, and tower, with this setup, you are ready to finish those projects.
It is short, great for sitting work, and very stable. The shelves are hard clipboard material, with the keyboard shelf easily sliding out to meet your fingers. And if you don't need it anymore for working, it can be repurposed elsewhere in the home or office.
What we like:
● Sturdy
● Good Construction
● Simple design
What we don't like:
● Wheels don't lock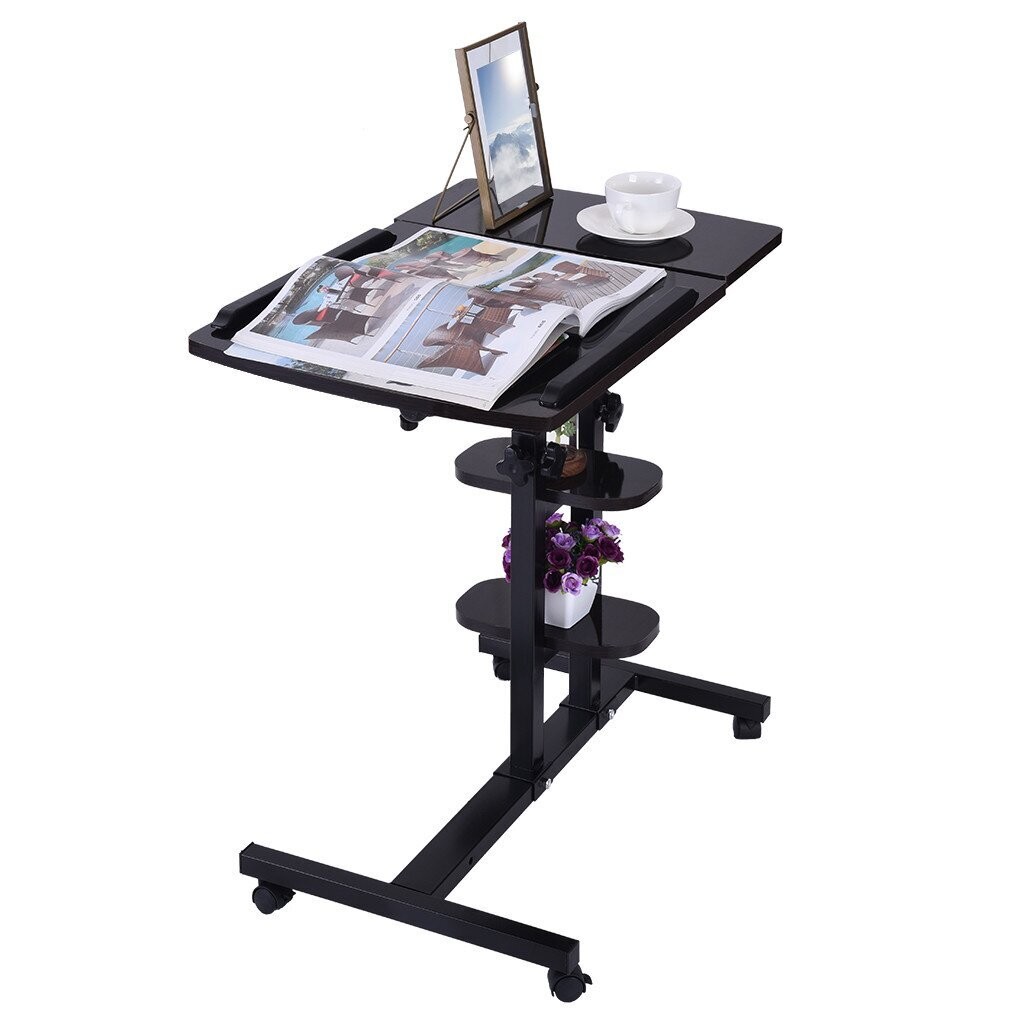 Inbox Zero Desk with Wheels

Where desk concepts meet innovation, you find the Inbox Zero Liftable Desk. What makes it so spectacular? For one, the adjustable height with just the simple act of lifting the main work surface. It is hydraulically powered to easily raise with minimal upward pressure, and then descends with the flip of the release. A very versatile idea that will accommodate anyone.
But this is only that start. It is designed to slide under your chair or bed for relaxing while working. It comes with two small shelve built into the leg frame and the top folds upward to allow easy movement if you don't wish to roll it away. Add the 180 degree swivel motion and you have a pretty fantastic desk on wheels.
What we like:
● Innovative design
● 180 degree swivel
● Hinged desk top
● Well-made
What we don't like:
● Nothing
$86.99 $89.99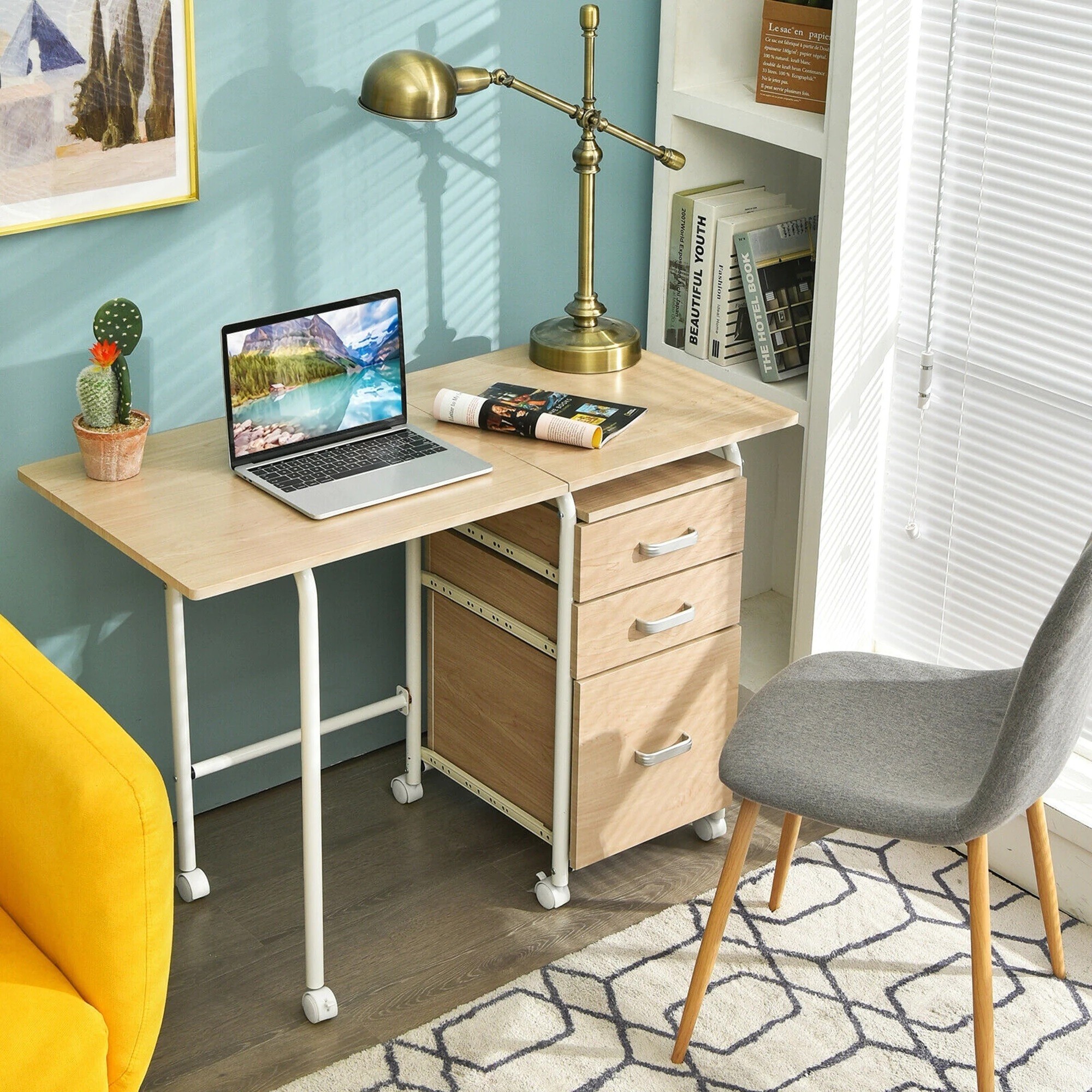 Gymax Folding Computer Desk On Wheels

In a word, this desk on wheels is just plain clever. It starts with the simple style and appeal. White steel legs and supports are the framework for this desk, while the work surface and drawers are a light colored veneer. Such a color scheme will fit well in any home, and its size will not crowd your work space.
This is even more true when you factor in the foldable option. The overall size of the unit is almost cut in half as the top folds down the side of the cabinet space, with the supports hinged and hugging the front of the drawers. And all of it atop six heavy duty castors for easy mobility.
What we like:
● Foldable
● Three drawers
● Well-designed
What we don't like:
● Difficult to assemble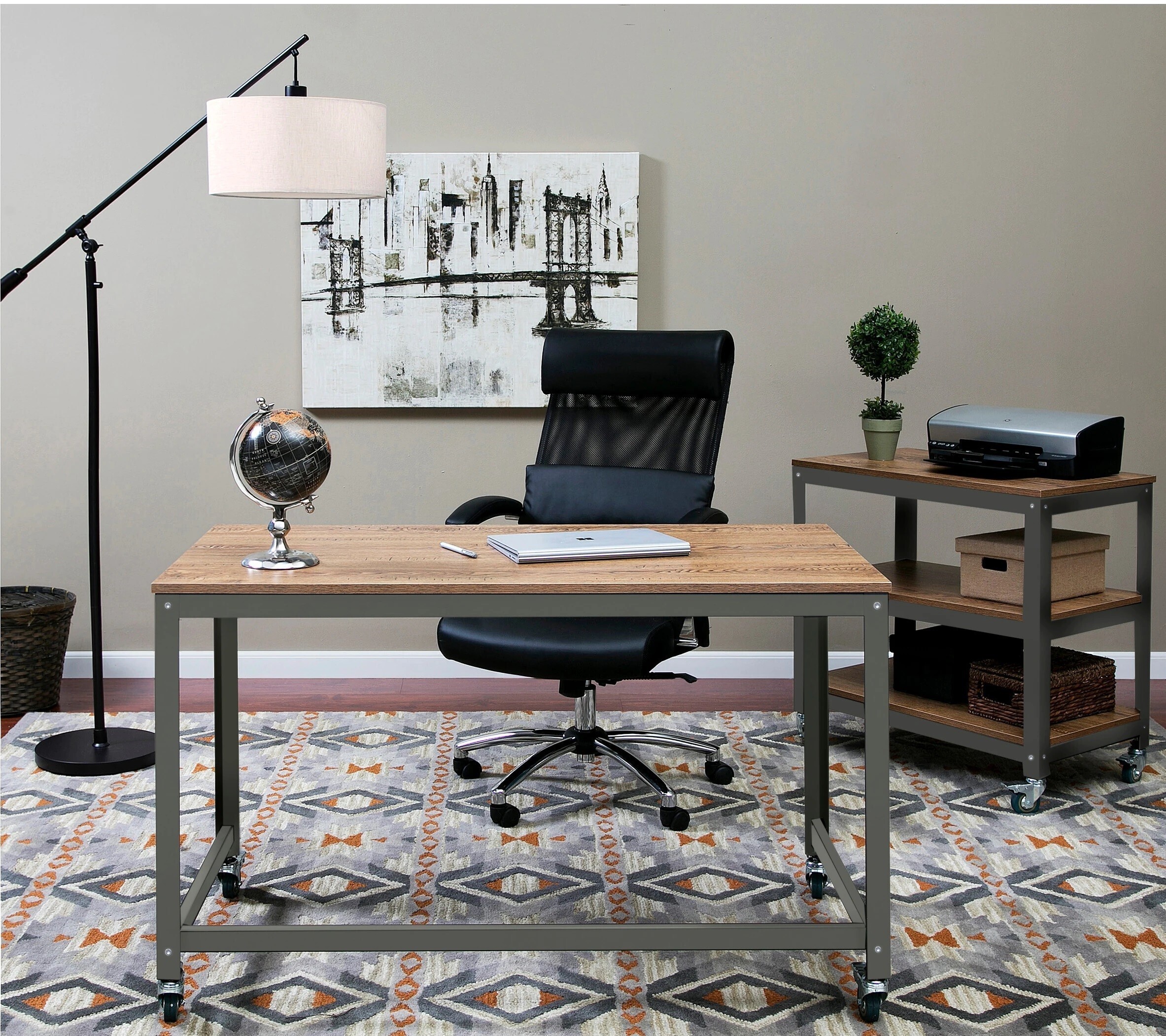 OneSpace Desk on Wheels

Yes, it is titled as a writing desk, but it is more than just a simple place to write. In this contemporary loft style workspace you have plenty of room for all your work needs, all on a well supported steel frame with fetching wood top. It is quite a bit larger overall that the traditional wheeled work desks but is simpler in design.
The structure that comes in three colors for your decorative needs holds up to 150 pounds and is very sturdy, easy to move, and on four heavy-duty castors with locks, can be moved out of the way and secured in place. This large work space can be used for a multitude of projects, not just work.
What we like:
● Sturdy steel frame
● All castors lock
● Large work surface
● Three colors
What we don't like:
● Design may be too simple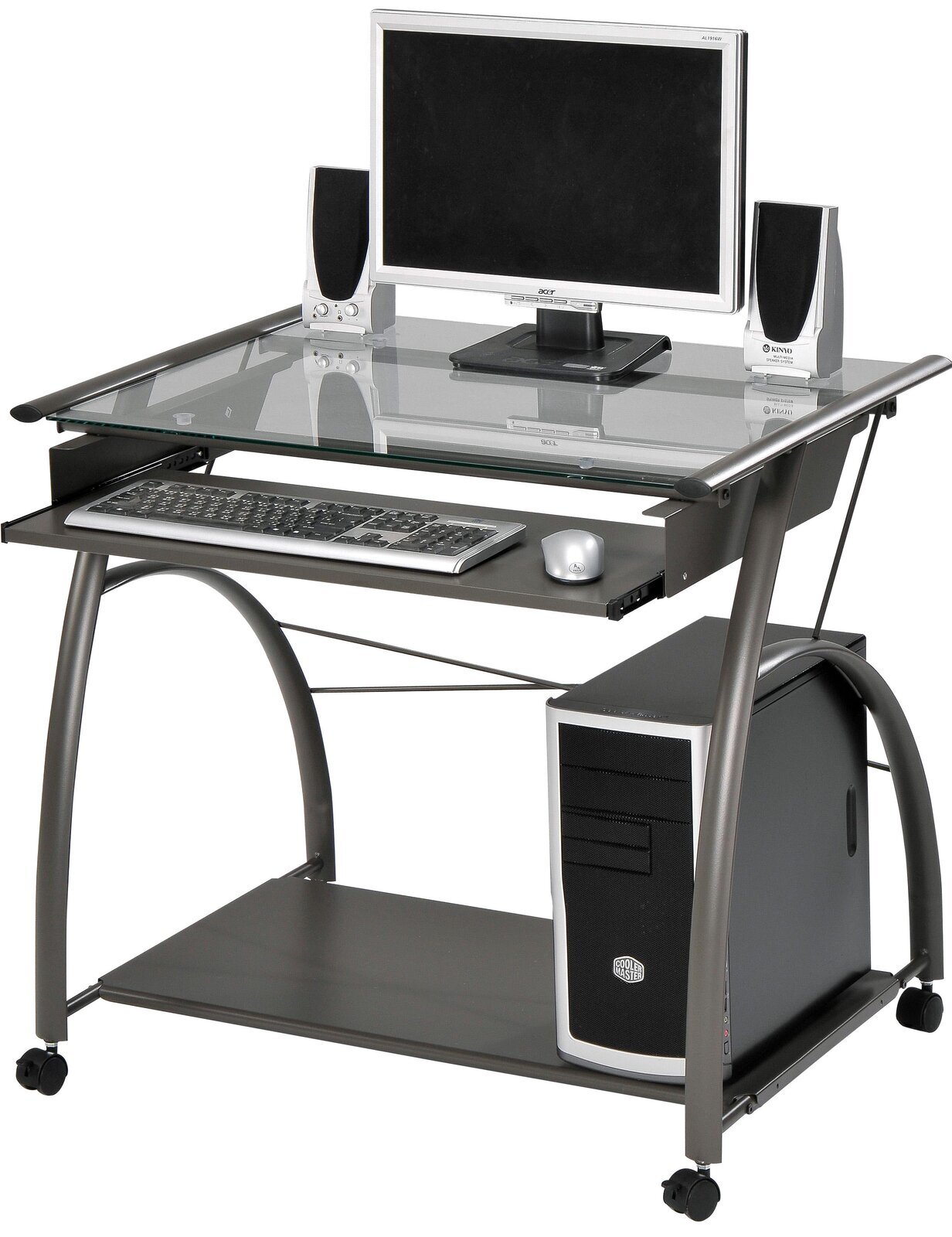 Baillargeon Pewter Computer Desk

A desk on wheels befitting the modern style, this computer desk is quite an attractive option. It has a futuristic appearance and smooth sliding features that make it seem to have come from a few years form now. All of its lines and edges are curved, showcasing a unique build you will love to see.
The table top for your monitor or laptop is a solid sheet of clear glass big enough to also hold your speakers. The slide out keyboard and mouse cubby is on whisper quiet tracks that move with ease. And the large, sturdy shelf below has room for your tower, as well as plenty of other work items. All of this is mobile on heavy-duty castors for a great desk on wheels.
What we like:
● Futuristic style
● Pewter color over steel supports
● Glass top
● Big shelf
What we don't like:
● Not super sturdy
$66.99 $130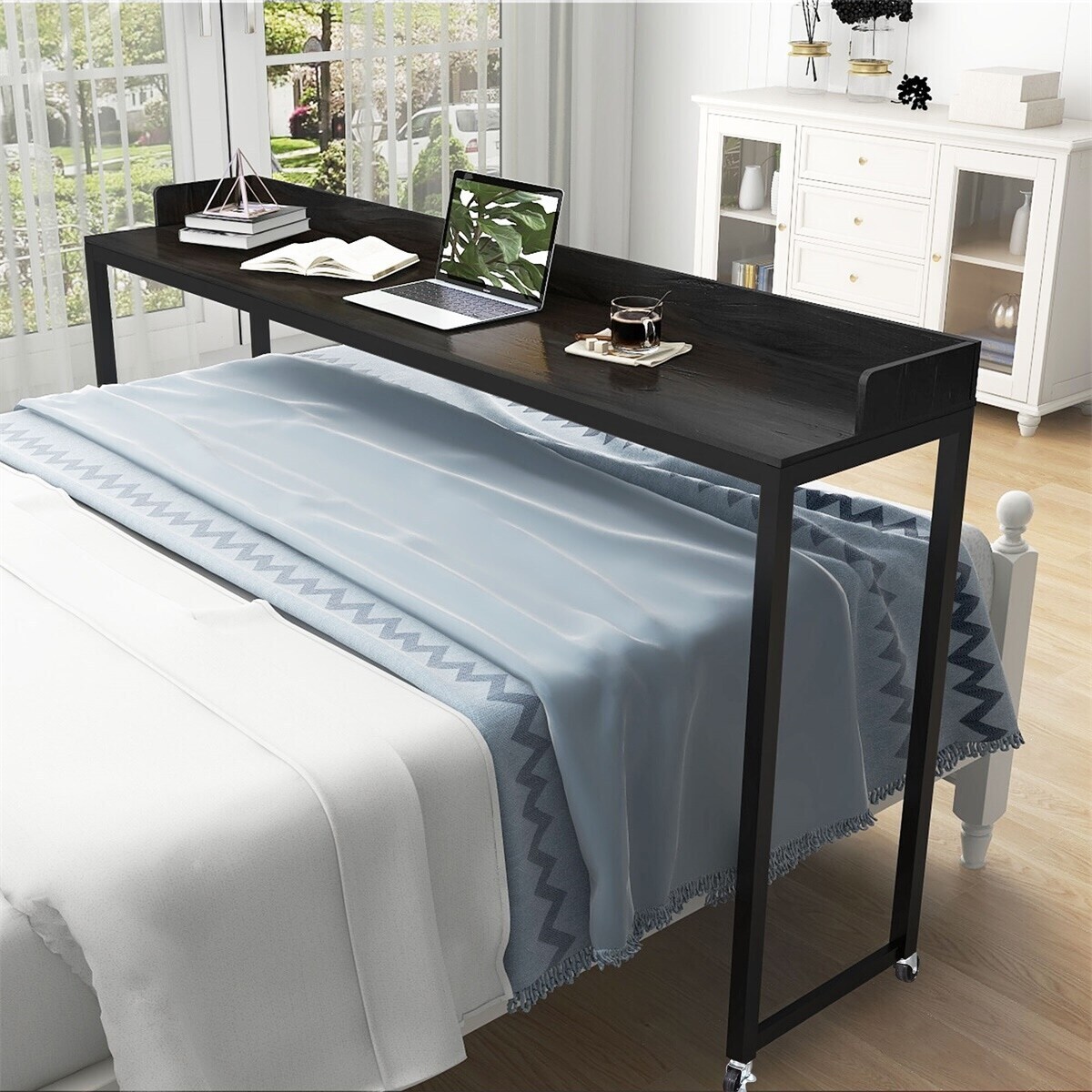 Merax Overbed Computer Desk on Wheels

When we saw this was an over-bed design, we thought it was like many of the others, but we were blown away when we discovered it goes over the bed, completely, with the legs touching the ground on each side. This model is essentially a long standing desk with room for anything you can possibly need, but for working form bed, it cannot be beat.
Roll this over your queen size bed for working when ill or if you just feel like relaxing, and if you wish to have it as your standing desk, you will love the backsplash that keeps your stuff from falling off the back. It is a wonderful concepts, it rolls on heavy-duty castors, and its steel structure will keep you happily toiling away for years to come.
What we like:
● Inventive design
● Over-the-bed model
● Two lockable castors
● All steel frame
What we don't like:
● Only comes in black