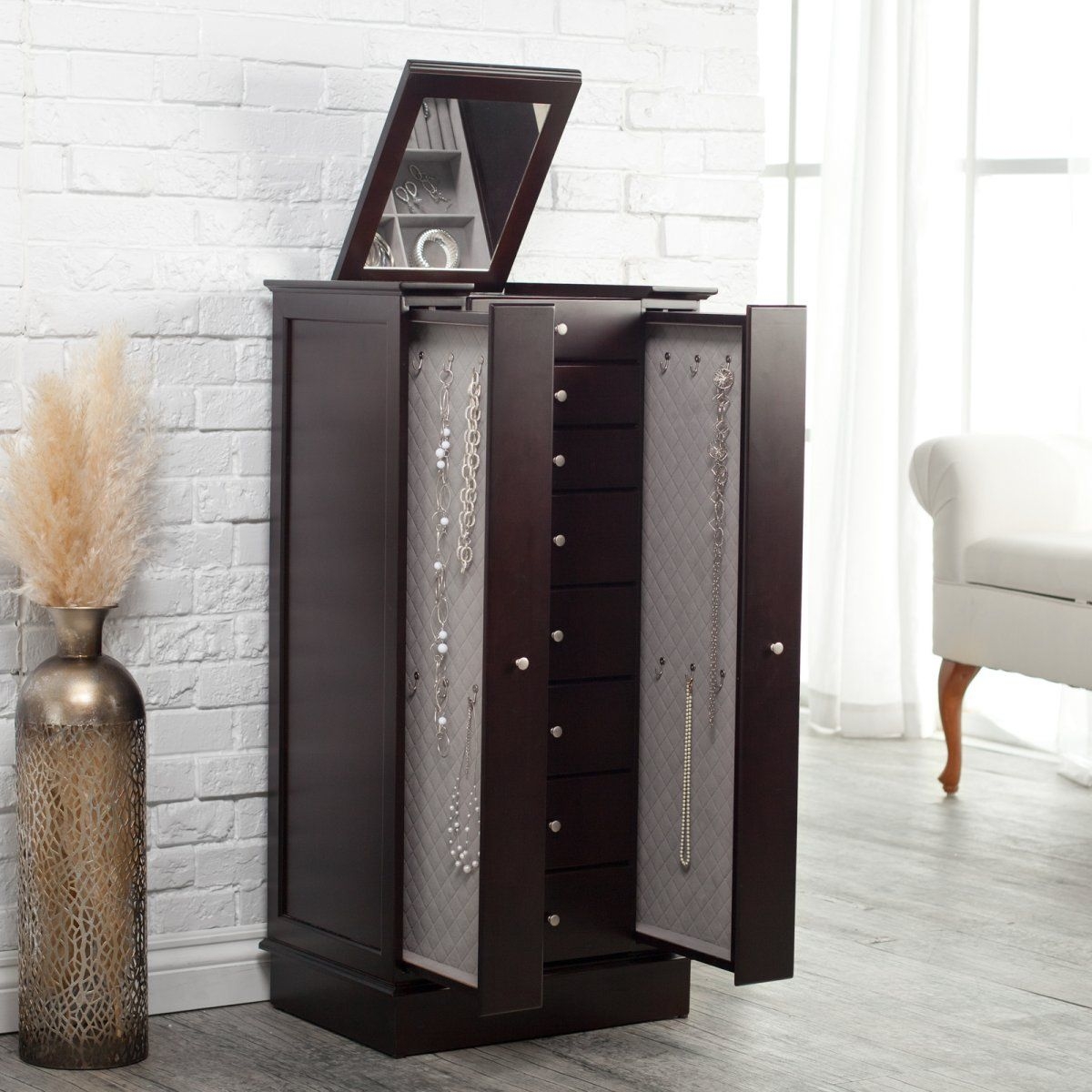 Make sure your jewelry is displayed with style and elegance by choosing this sublime armoire with the quilted pullout storage and the charming espresso finish. It offers an abundance of space and will become a useful addition to your home.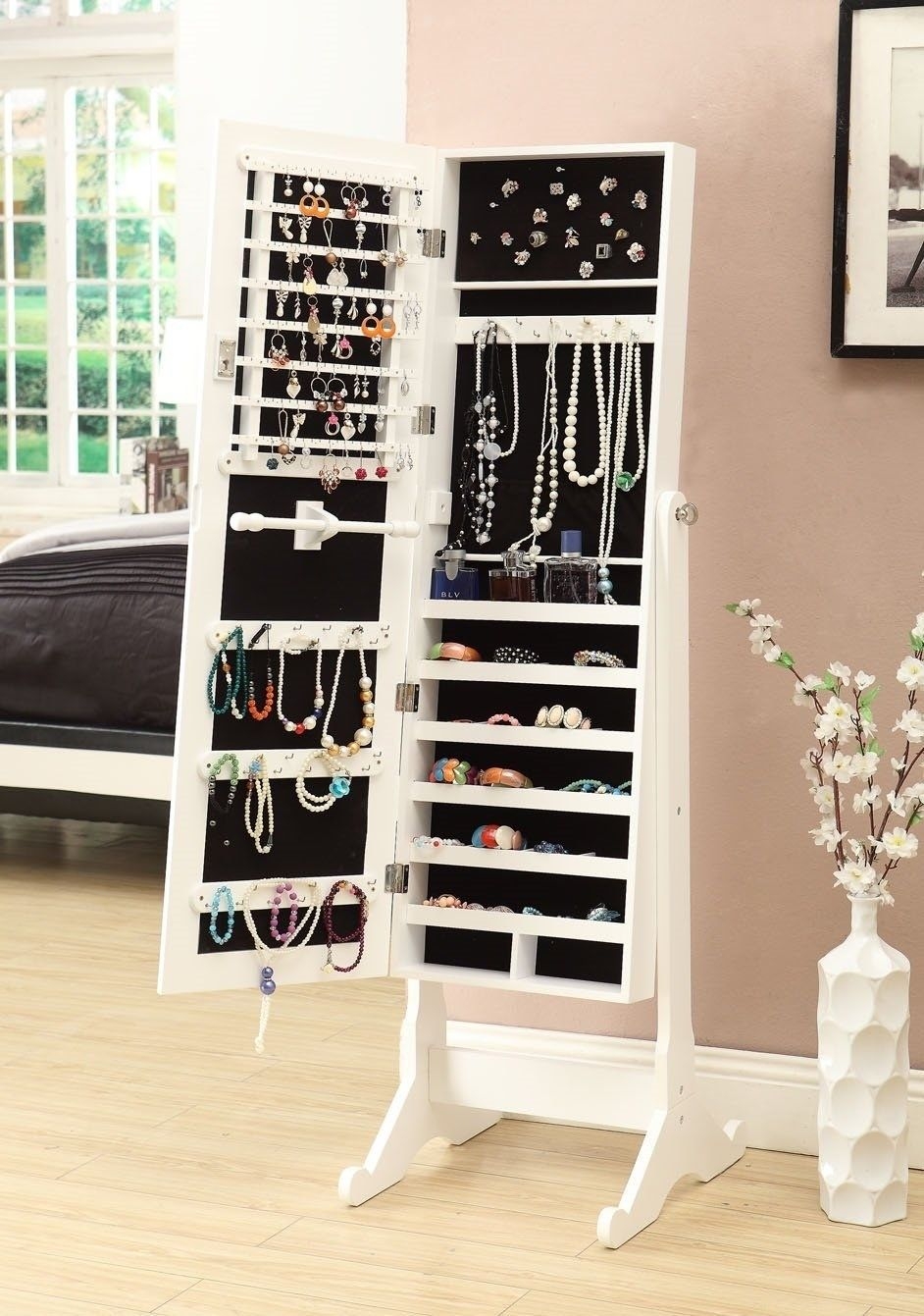 White Wooden Cheval Mirror With Jewelry Armoire Cabinet
Now you can have your jewelry well-organized, thanks to this functional, free-standing armoire. When the door is closed, you are getting an adjustable mirror, and when wide open, you have at your dispostition compact shelves, small drawers and tiny hooks for your rings, bracelets, necklaces, earrings, etc.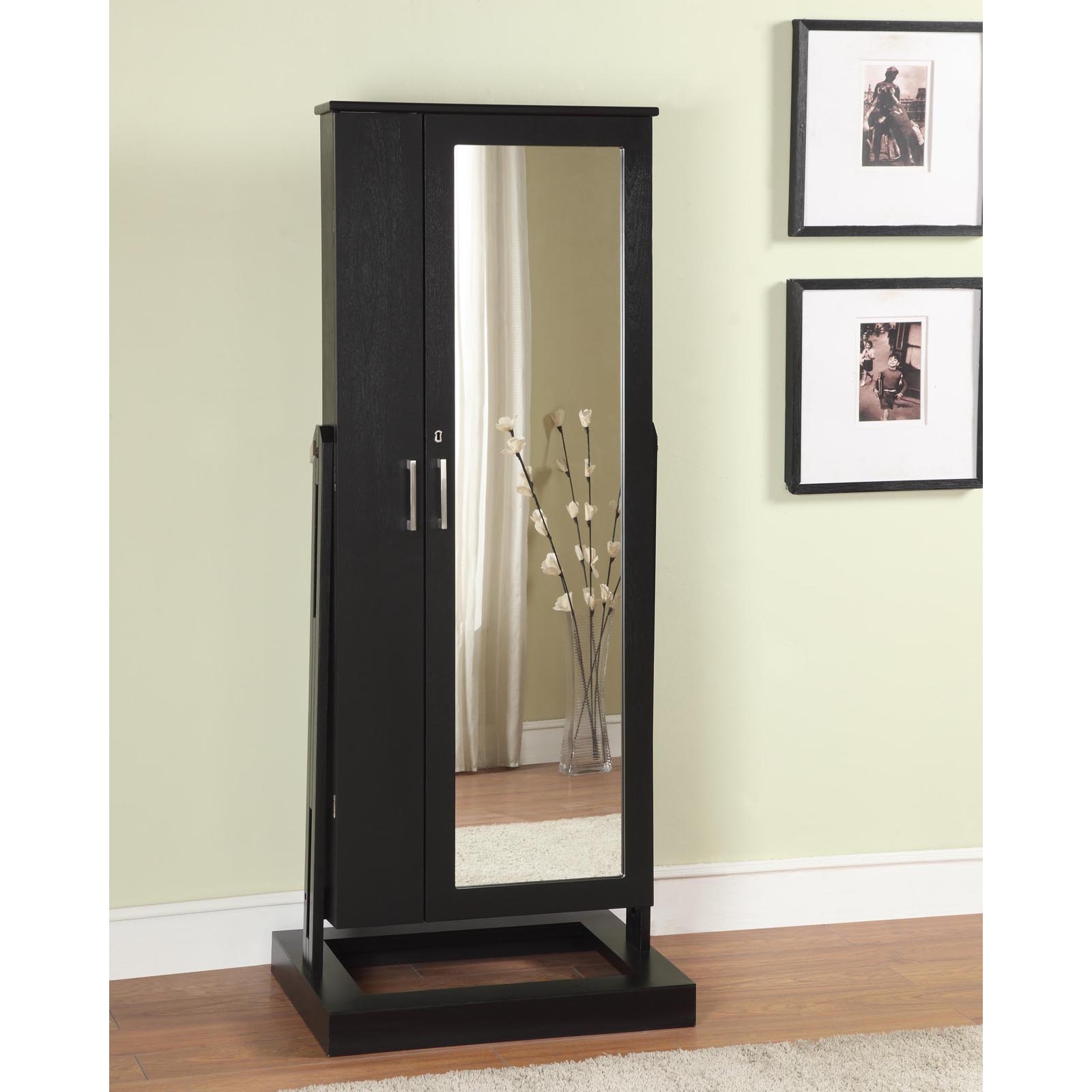 Mirror Jewelry Armoire to be Placed in Your Bedroom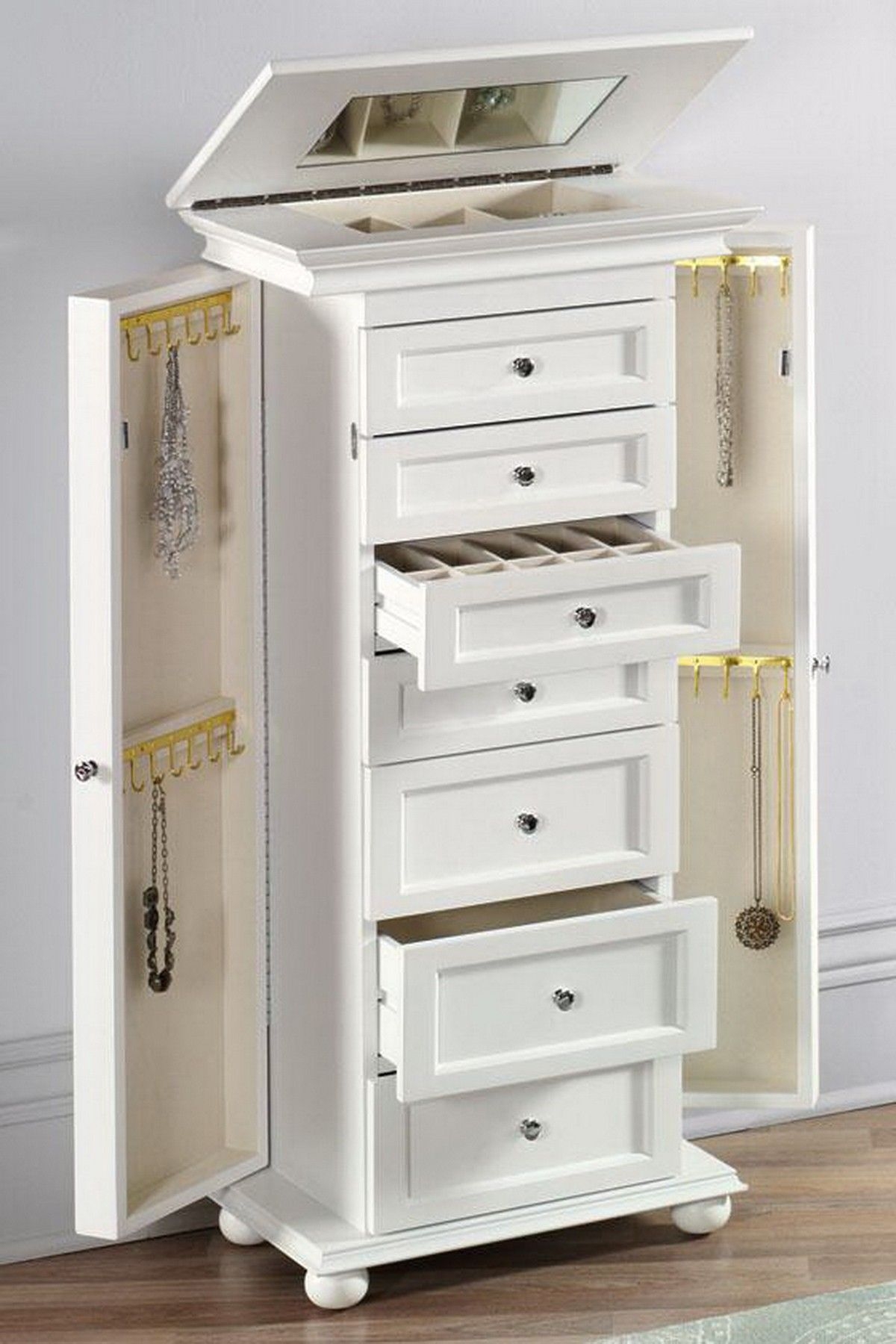 Representing style and chic that will impress every woman, this functional jewellery armoire has 7 drawers, 2 side doors and one outer hole and the top. All, equipped with hacks, cubby holes and compartments, enabling you to organize your collections.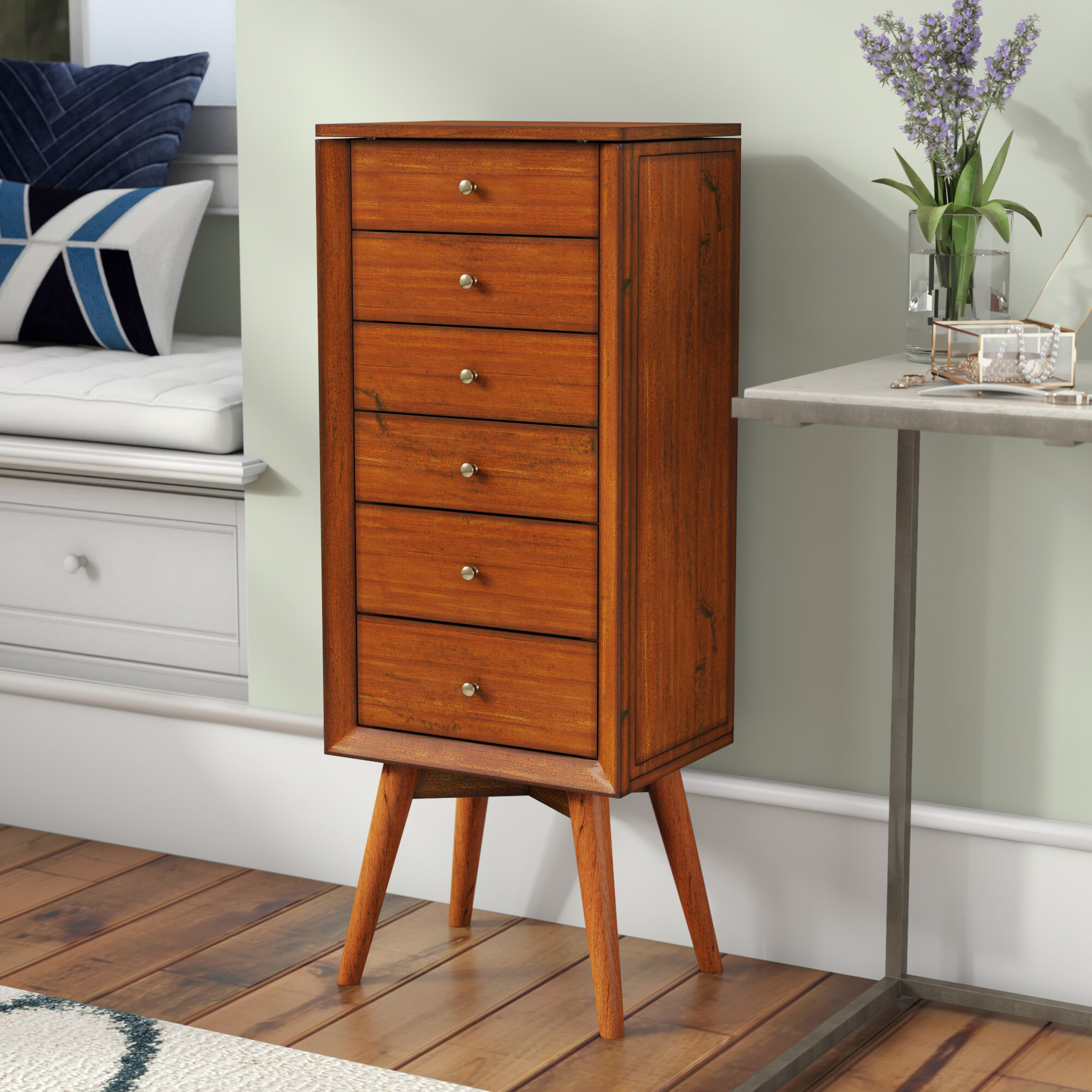 Rectangular, free standing mirror with a solid wooden frame and rectangular doors that hide a practical storage compartment for jewelry. White, cherry and light brown finish looks very good in any home design.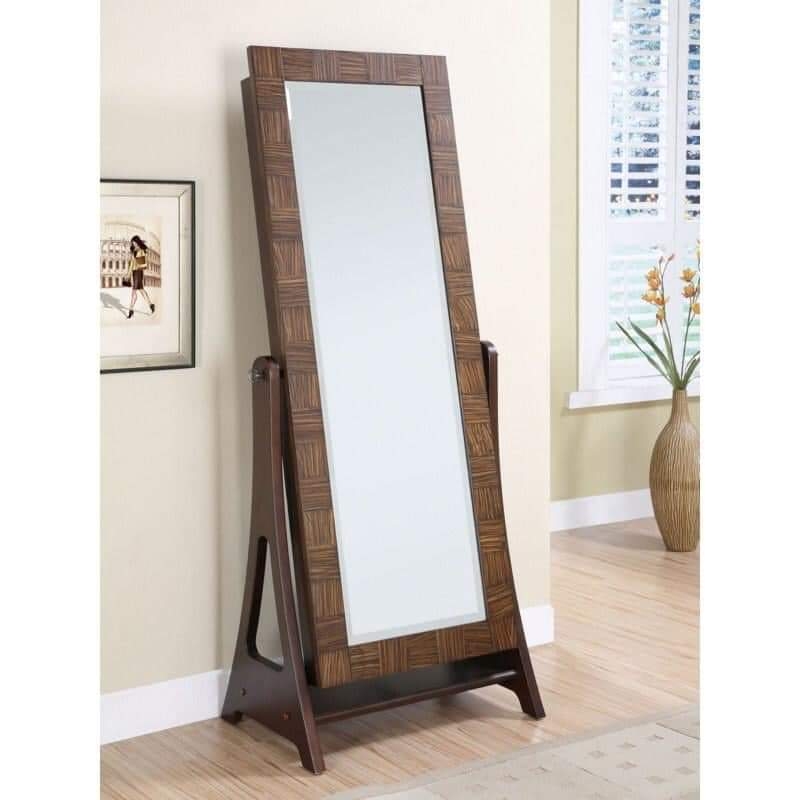 Wooden Jewelry Armoire , Jewelry Armoire …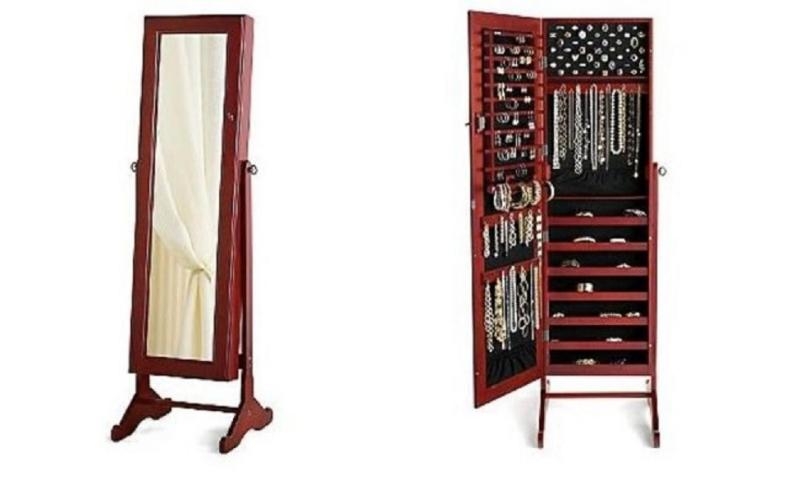 The slim design of this freestanding jewelry armoire with mirror is a great solution for keeping jewelry and an attractive piece of bedroom or wardrobe decor. Beautiful finish in dark brown is fantastic.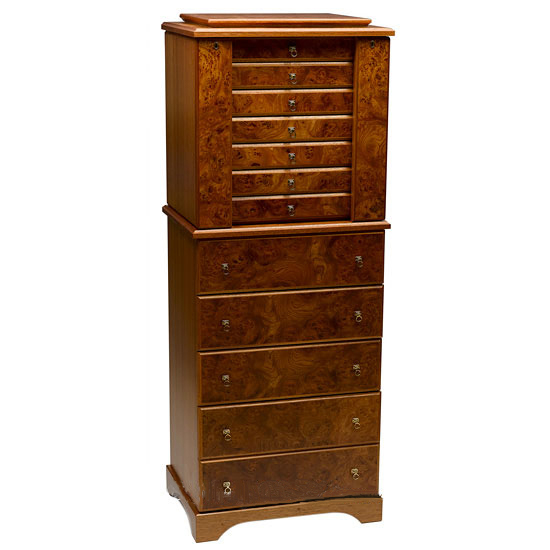 Jewelry armoire with a free standing wooden construction. It features two bottom drawers and a rectangular doors with large mirror. Practical storage compartment offers plenty of space for different elements of jewelry.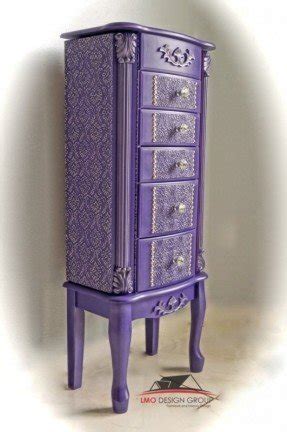 Jewelry Armoire
Elegant take on a tall jewelry armoire with an antique design and a vibrant, purple color which gives it a unique look. Perfect piece of furniture if you're looking for a contrasting element to a traditional bedroom.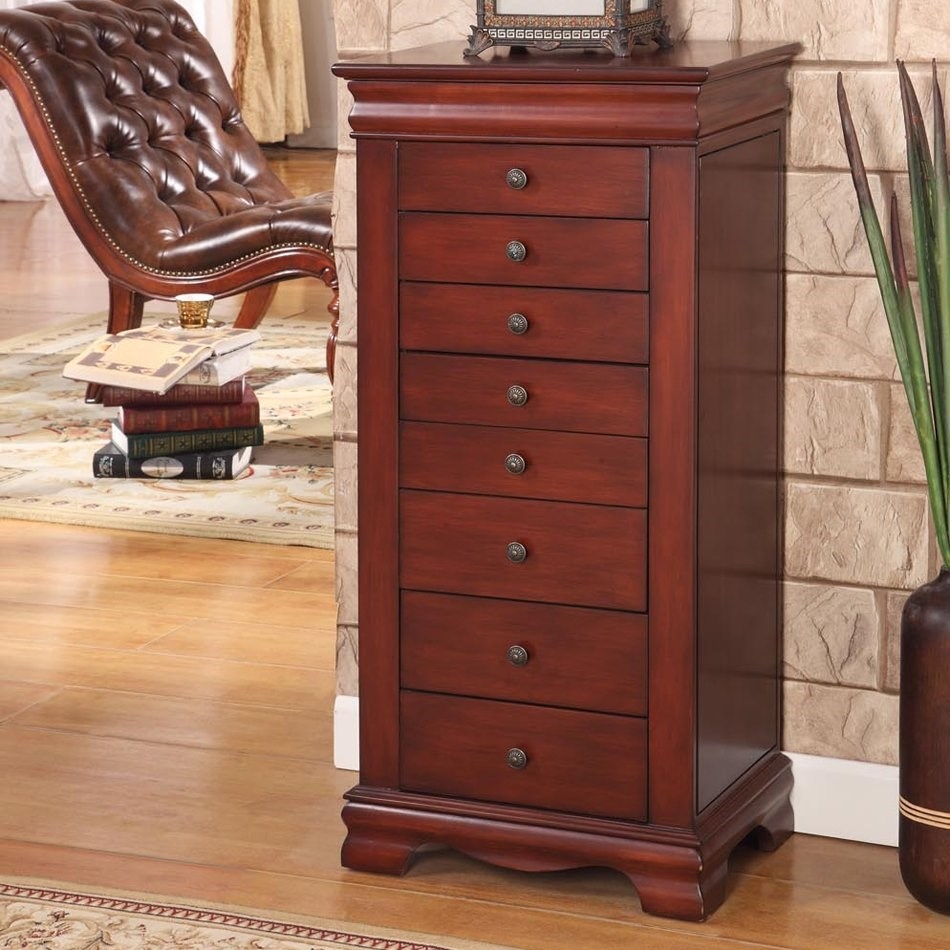 Marks Jewelry Armoire with Mirror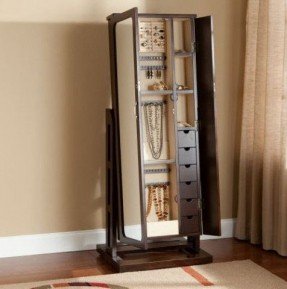 standing mirror jewelry armoire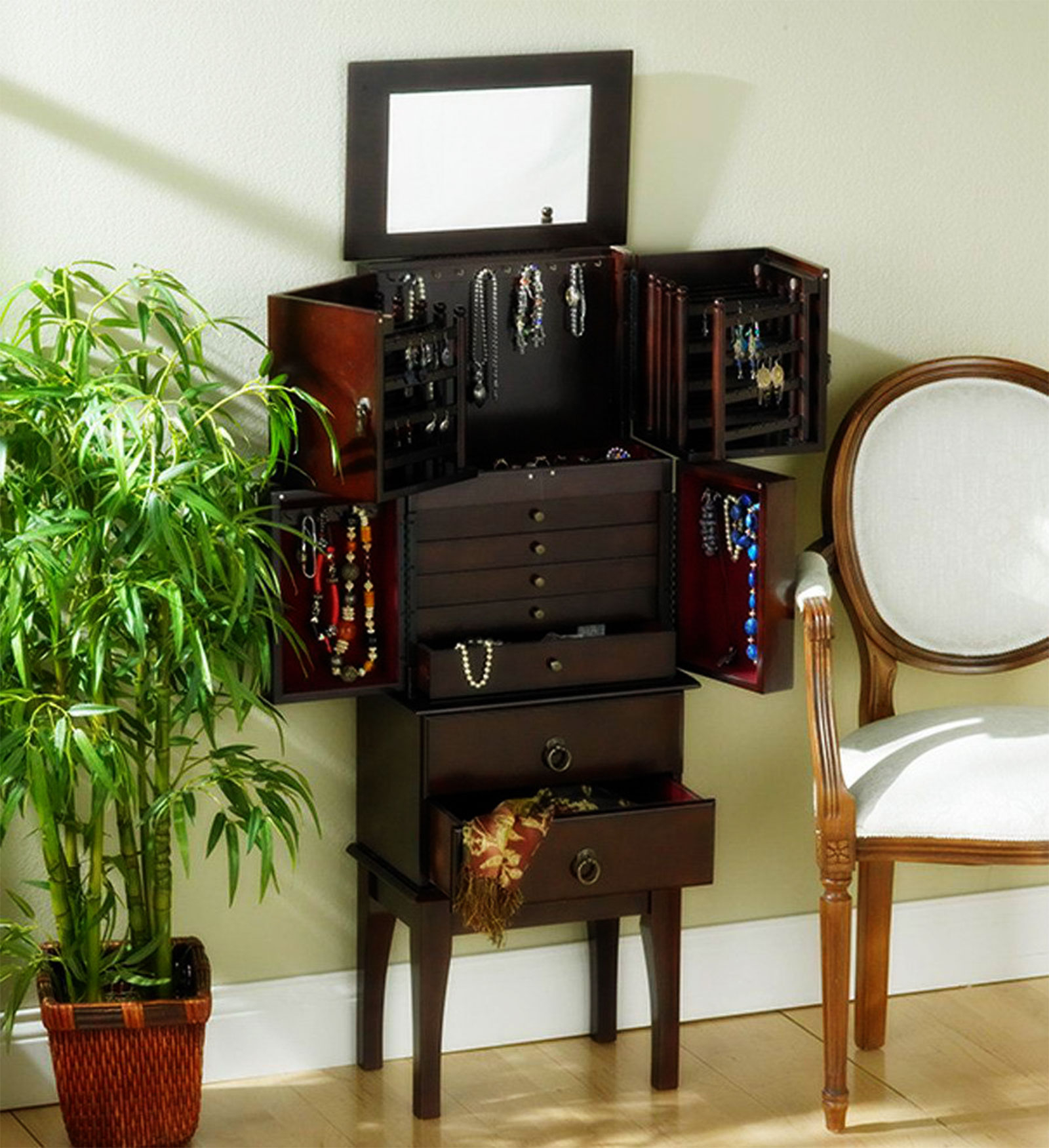 Cute Looking Cherry Colored Armoire with Lift Top Mirror - Go online and check out what options are available. Talk to your interior decorator to know whether a free standing, a desk/dresser -top or a built-in wall unit will be the best for you.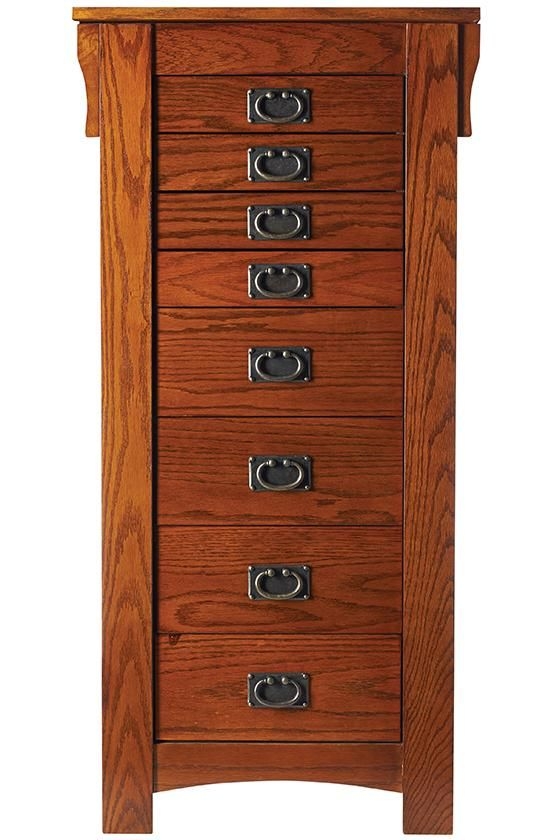 Jewelry armoire with a fee standing wooden construction. It includes eight drawers of different size. These drawers include metal hardware and they provide practical storage space for different types of jewelry.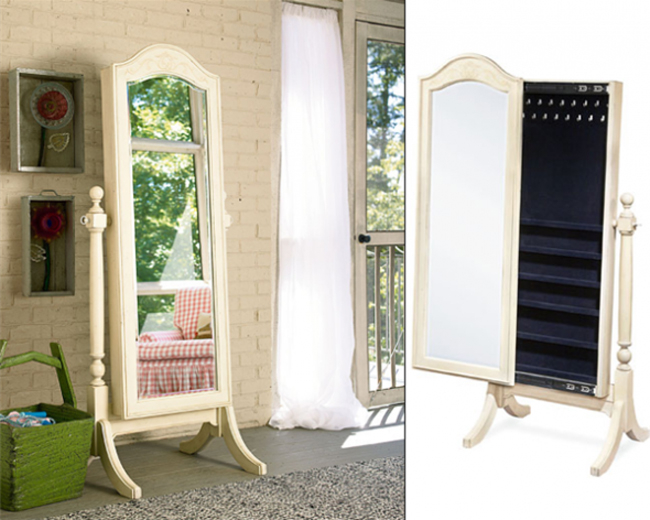 Black Cheval Mirror Floor Standing Jewelry Armoire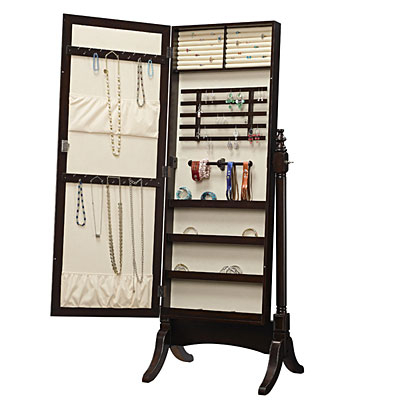 Jewelry Armoire & Cheval Standing Mirror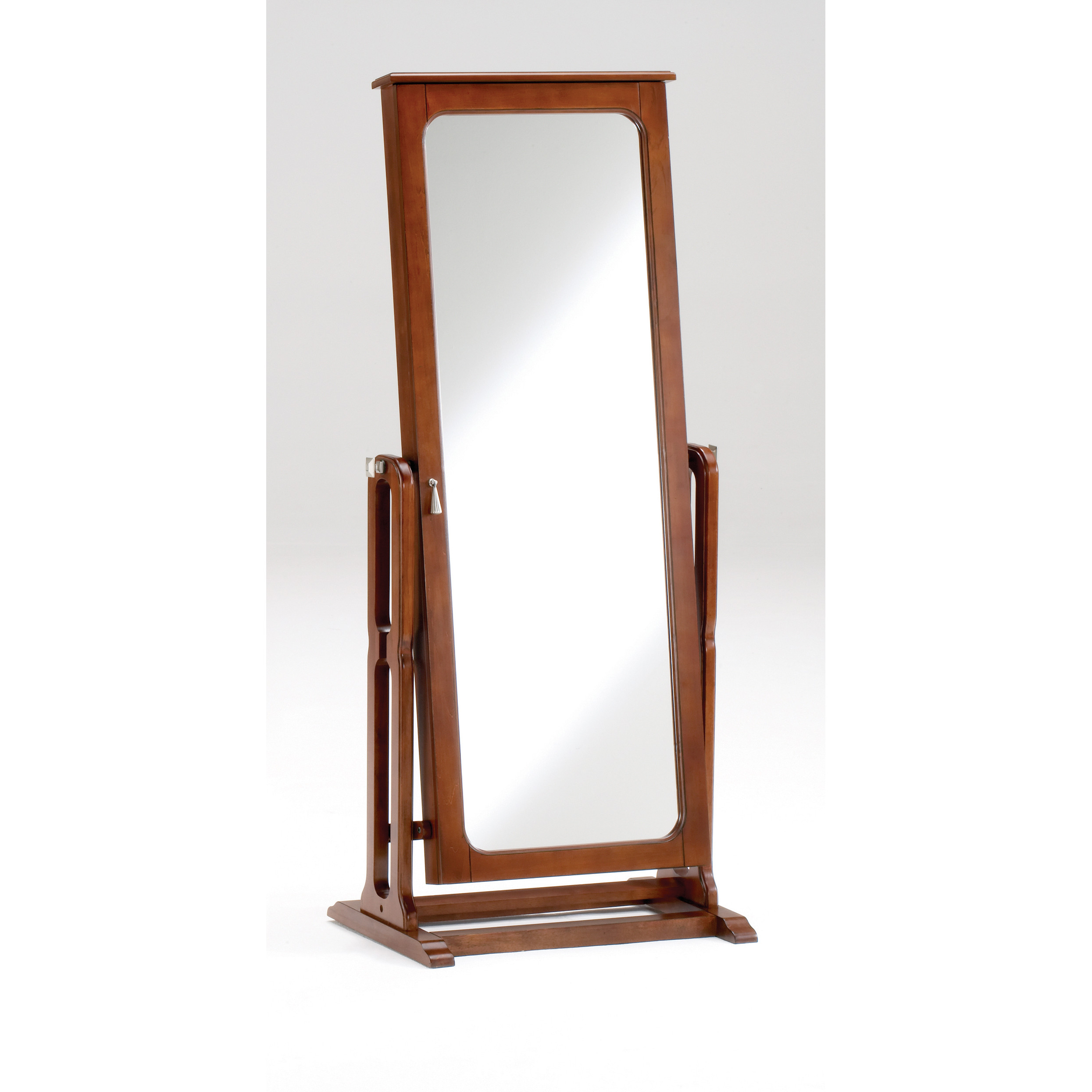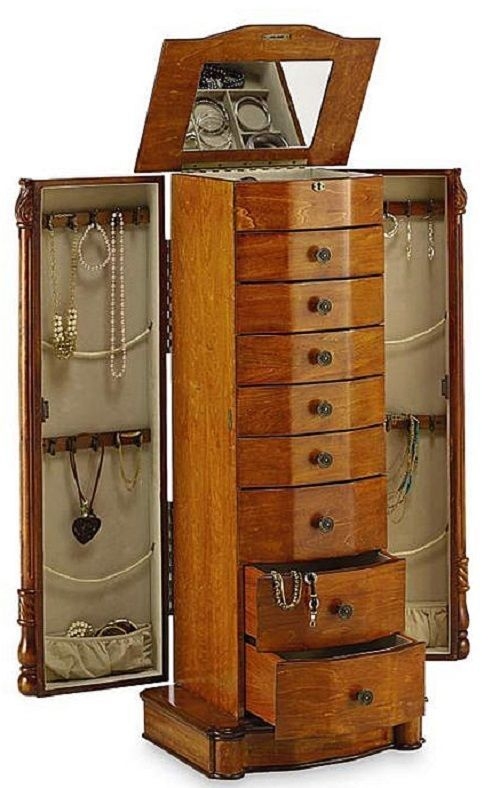 An 8 drawer, solid wood jewelry armoire cabinet with a Louis XVI style and a plenty of drawers to store all your jewelry in. The armoire has a handy mirror hidden in the top and two doors on each side with racks.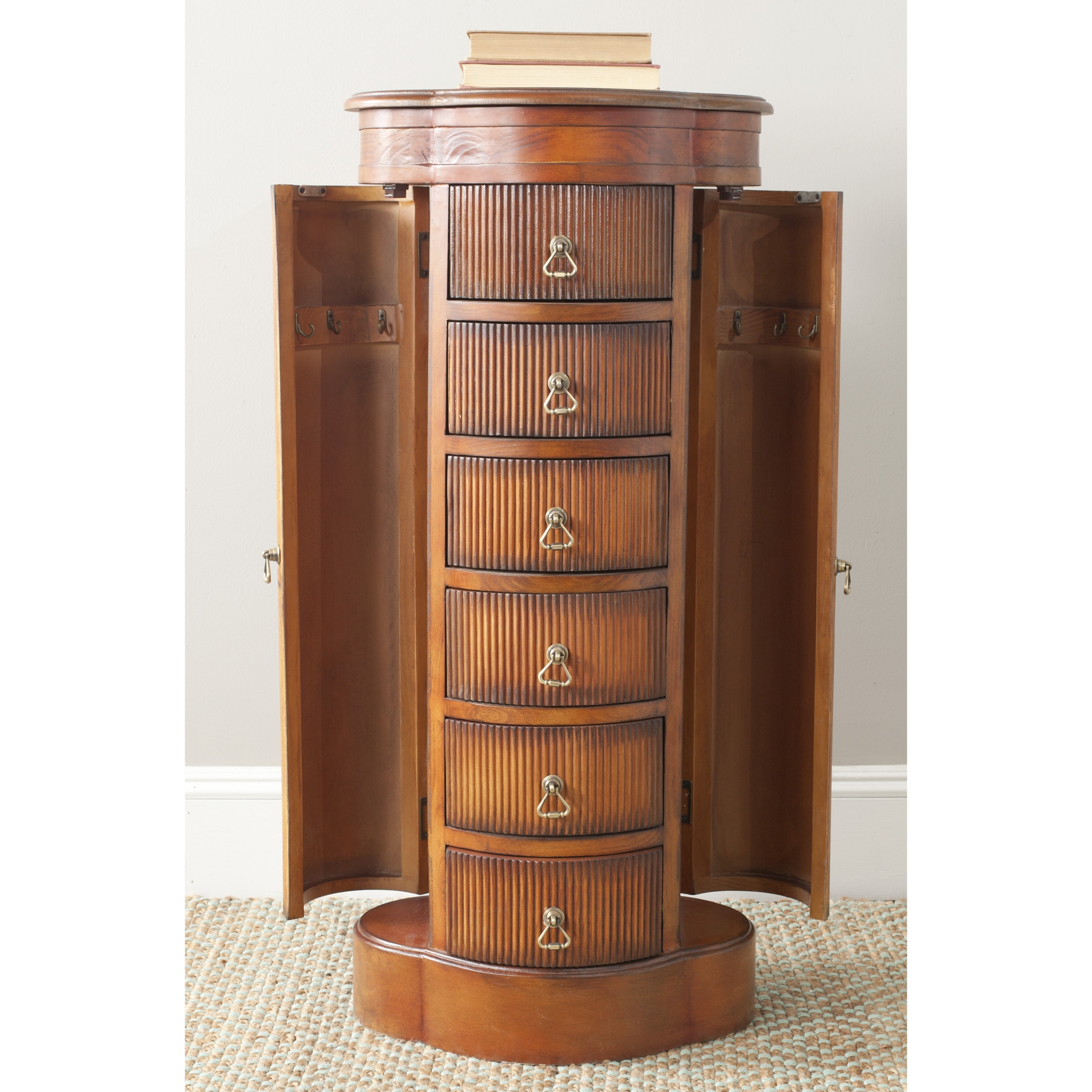 JPG?set_id=2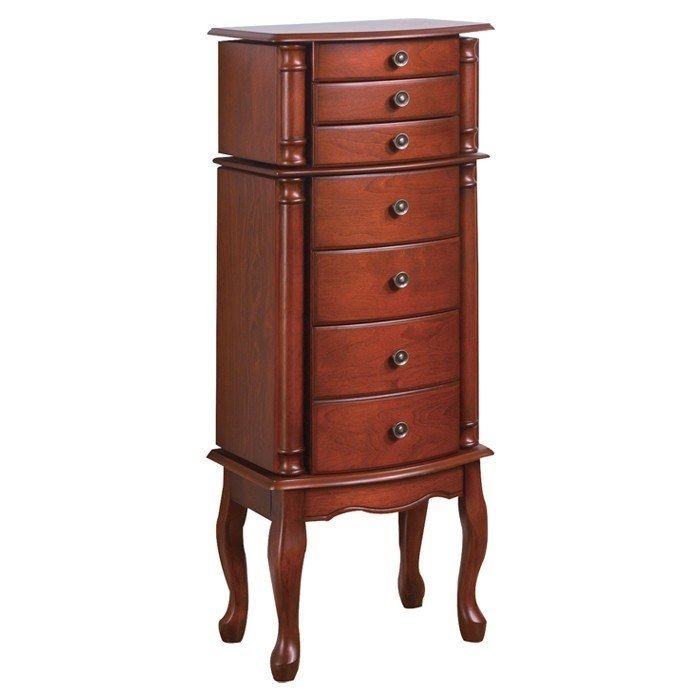 Wapato Jewelry Armoire with Mirror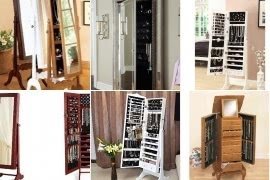 White-Standing-Mirror-Jewelry-Armoire.jpg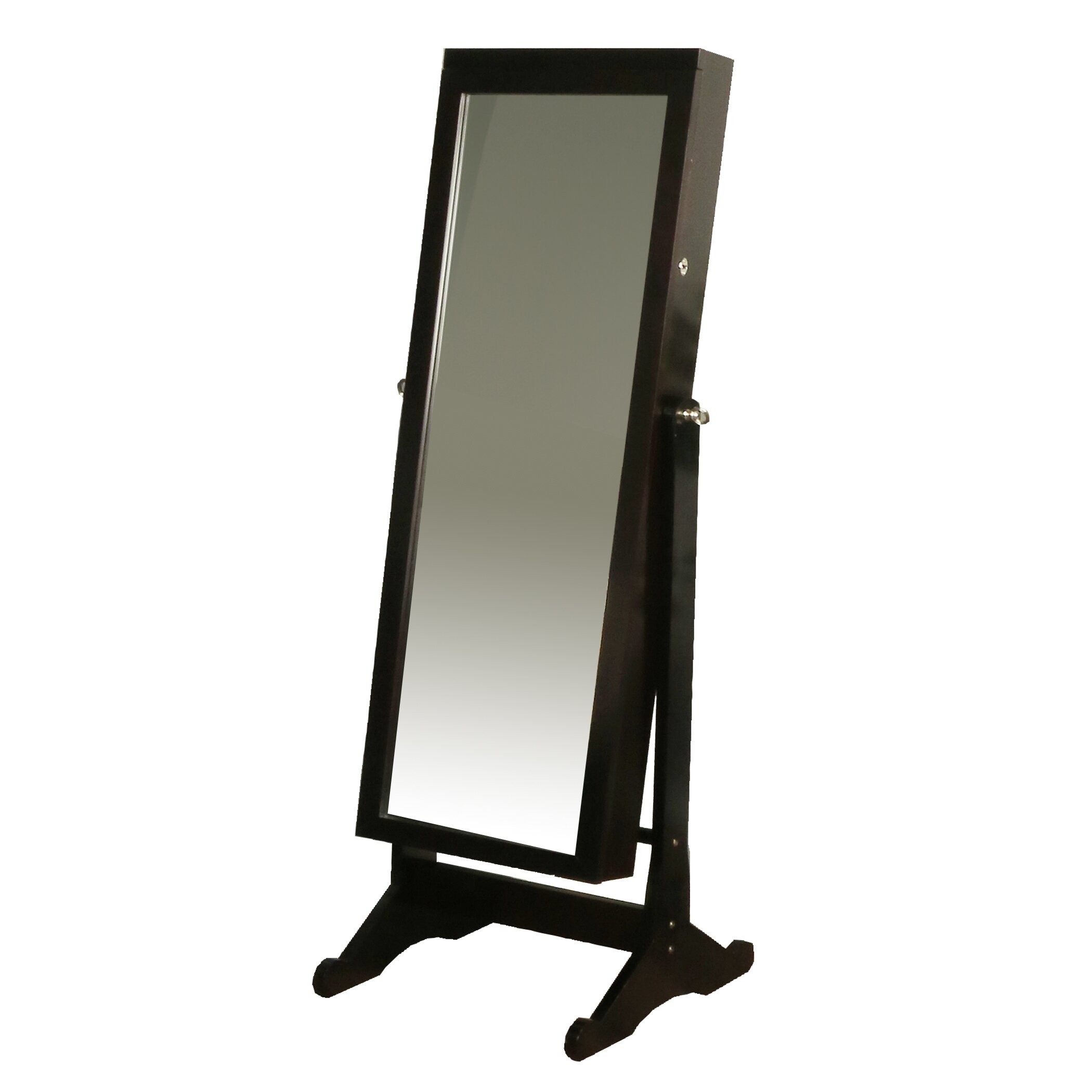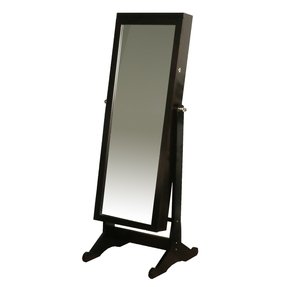 Standing Jewelry Armoire with Mirror
A jewerly armoire that is great for anyone loving their jewelry and looking for a way to display it beautifully and in a classy way. It will make it easier for you to choose what to wear in the morning without hassle and frustration.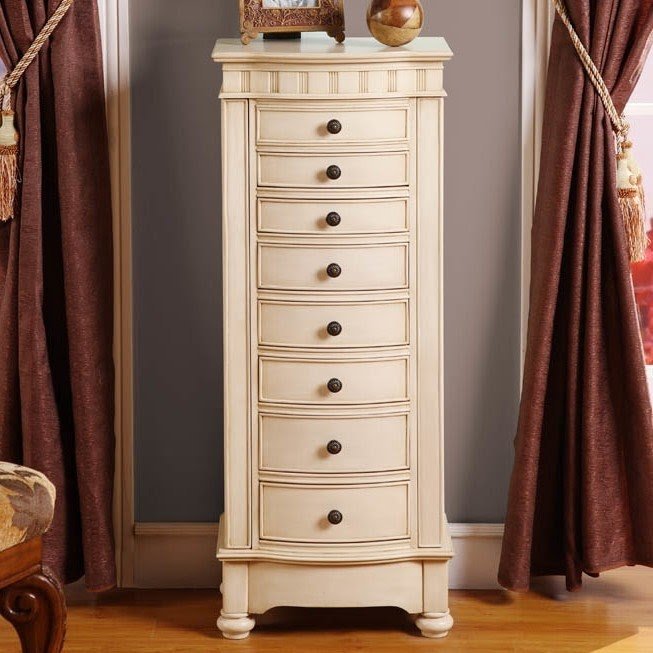 Murphy Jewelry Armoire with Mirror
This stylish jewelry armoire with mirror would be a perfect choice for every kind of bedroom, no matter if you prefer traditional or modern style. It will bring a huge dose of comfort and unique design.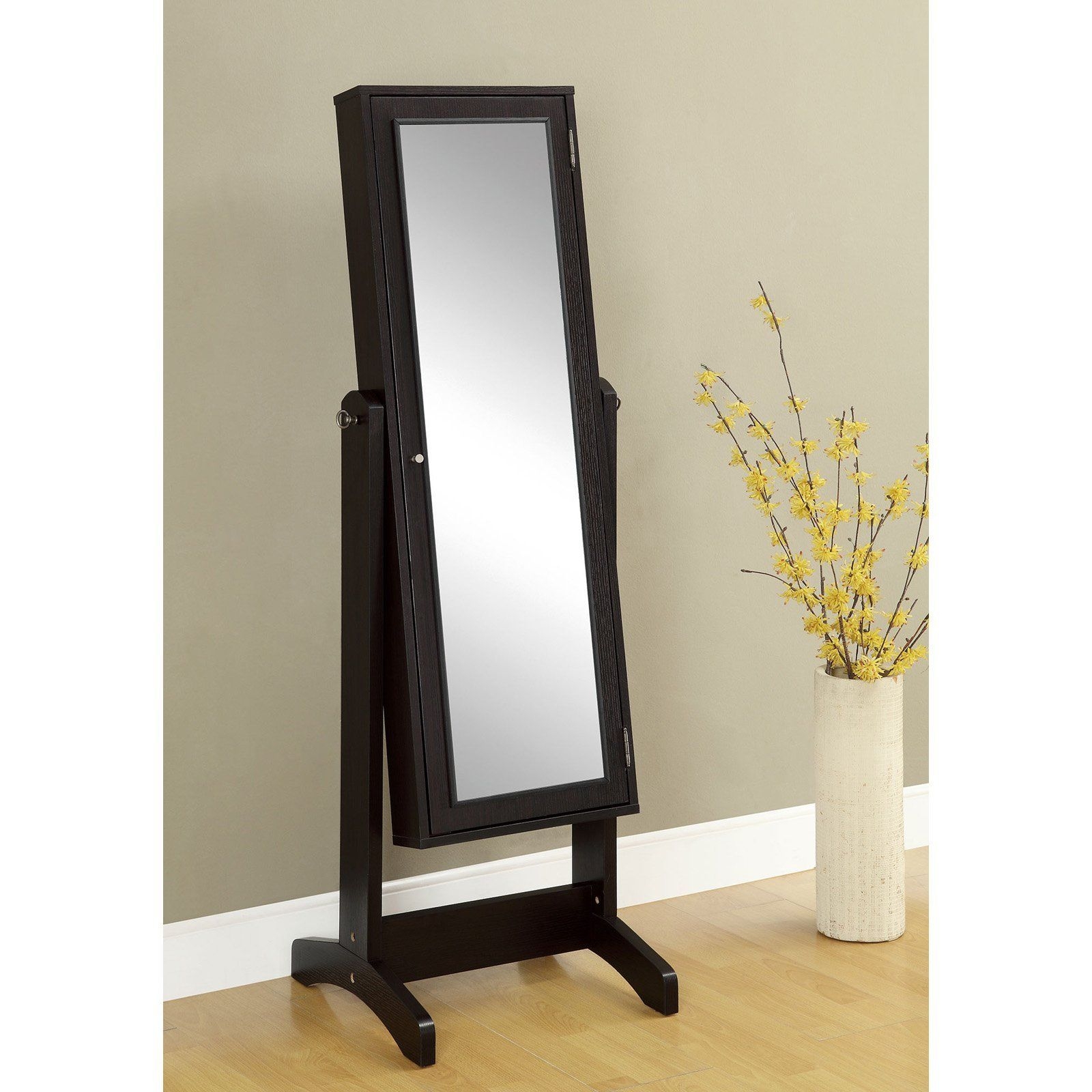 A discrete and functional jewelry armoire with mirror, characterized by a free-standing design, and an espresso-finished wood frame that allows you to adjust mirror's angles. The front opens, revealing a well-organized compartment for storing your earrings, necklaces, rings, bracelets, etc.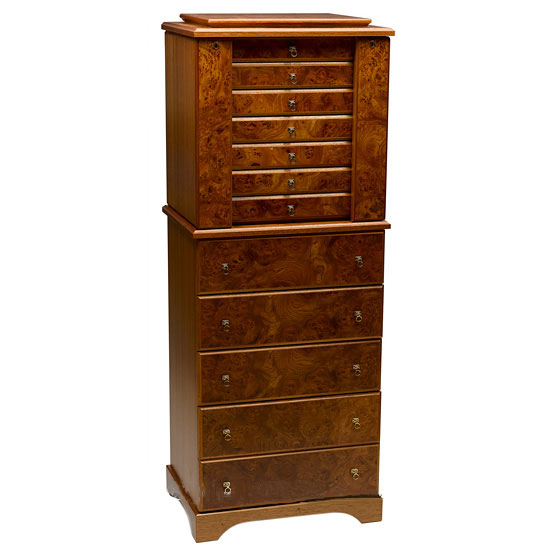 A chic traditional jewellery stand of wood in mid browns. It has a tall rectilinear frame, a cutout base, low angle legs. It's adorned with ledges. It has flip up mirrored top, 2 side cabinets, 5 large and 7 small drawers with metal mushroom pulls.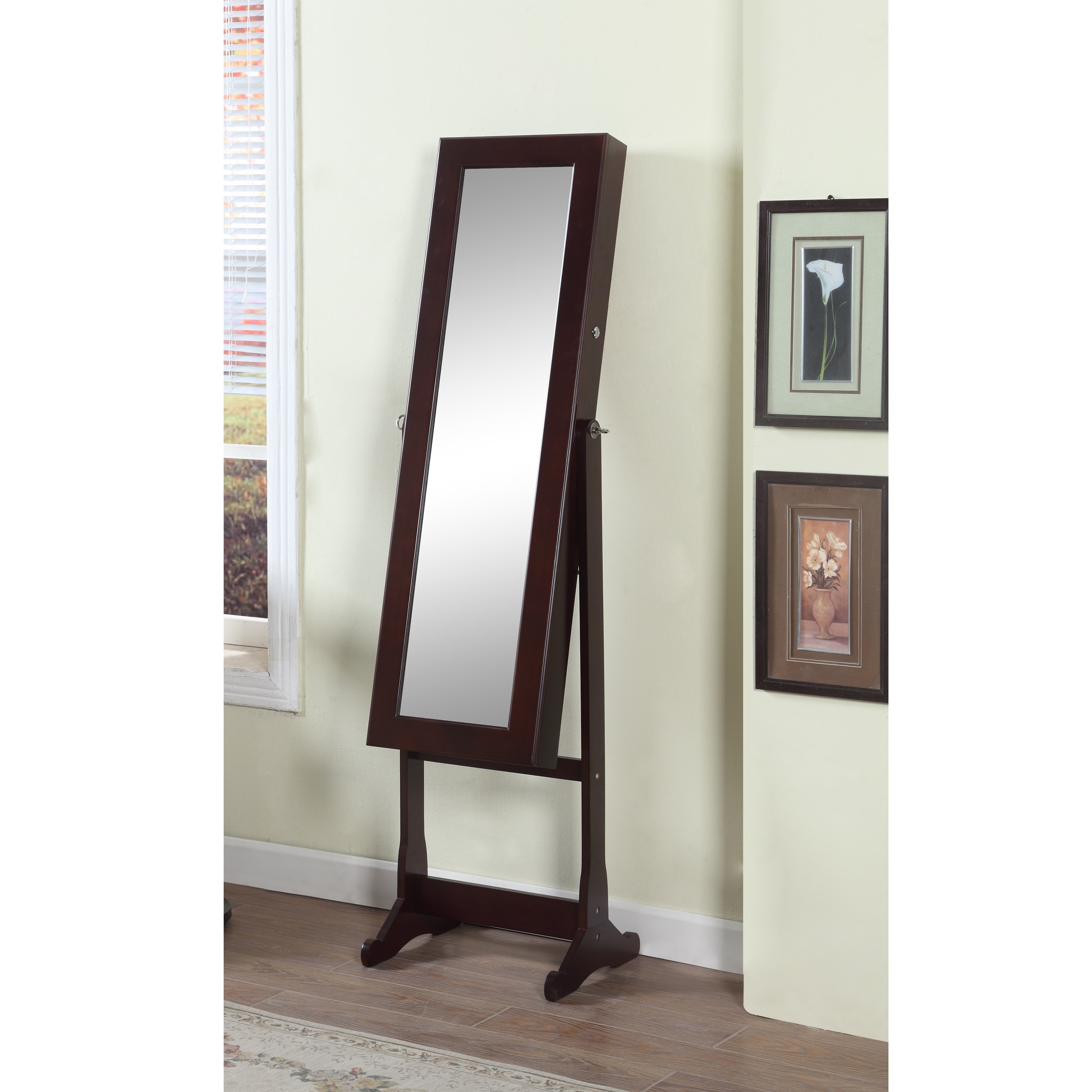 Artiva Usa 63 Inch Walnut Floor Standing Mirror And Jewelry Armoire With Led Light
This is a very interesting solution for people who are looking for attractive decorations and useful storage spaces. This mirror also plays the role of a jewlery storage. It is made of metal, glass and MDF.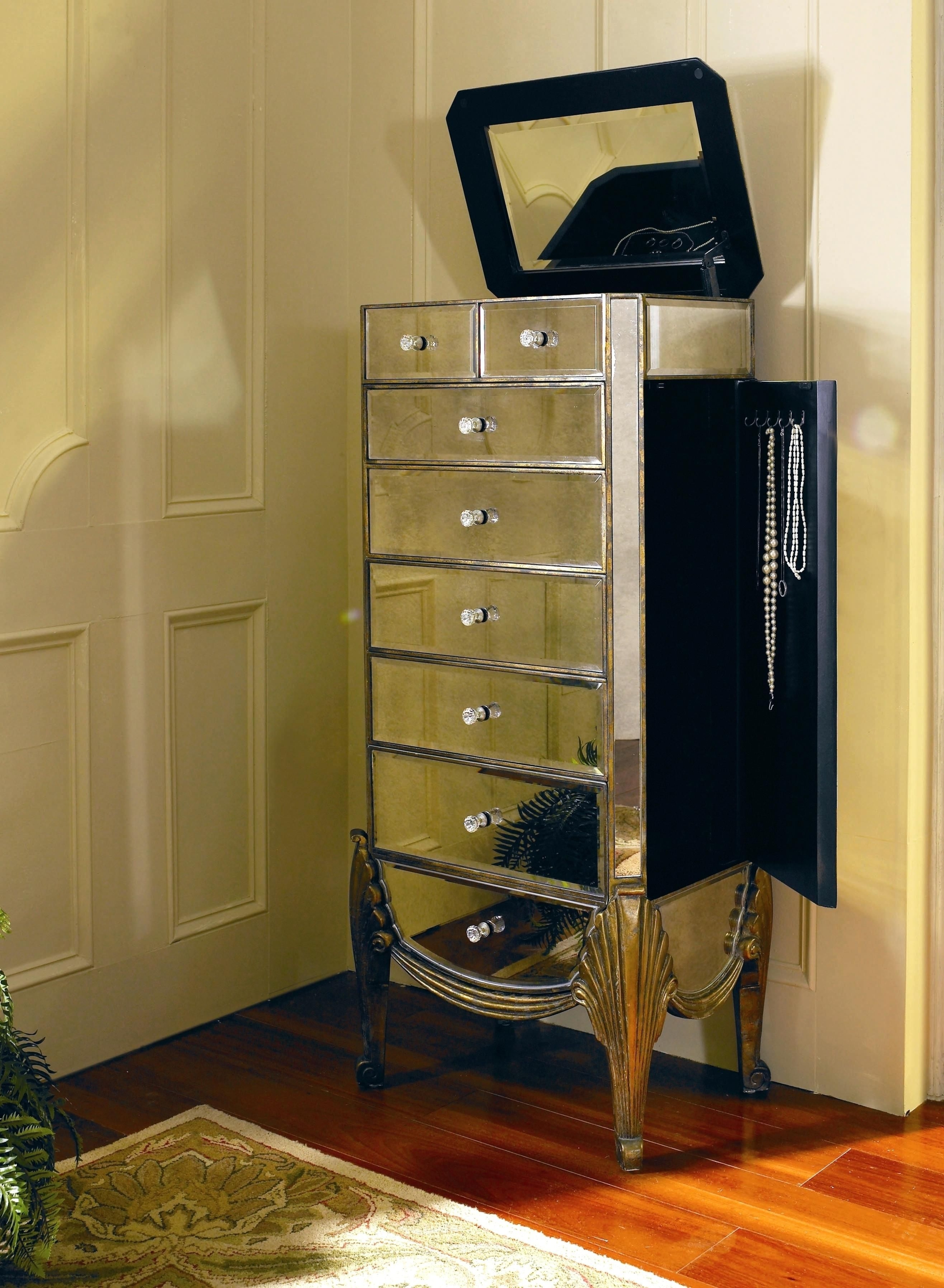 Collette Jewelry Armoire with Mirror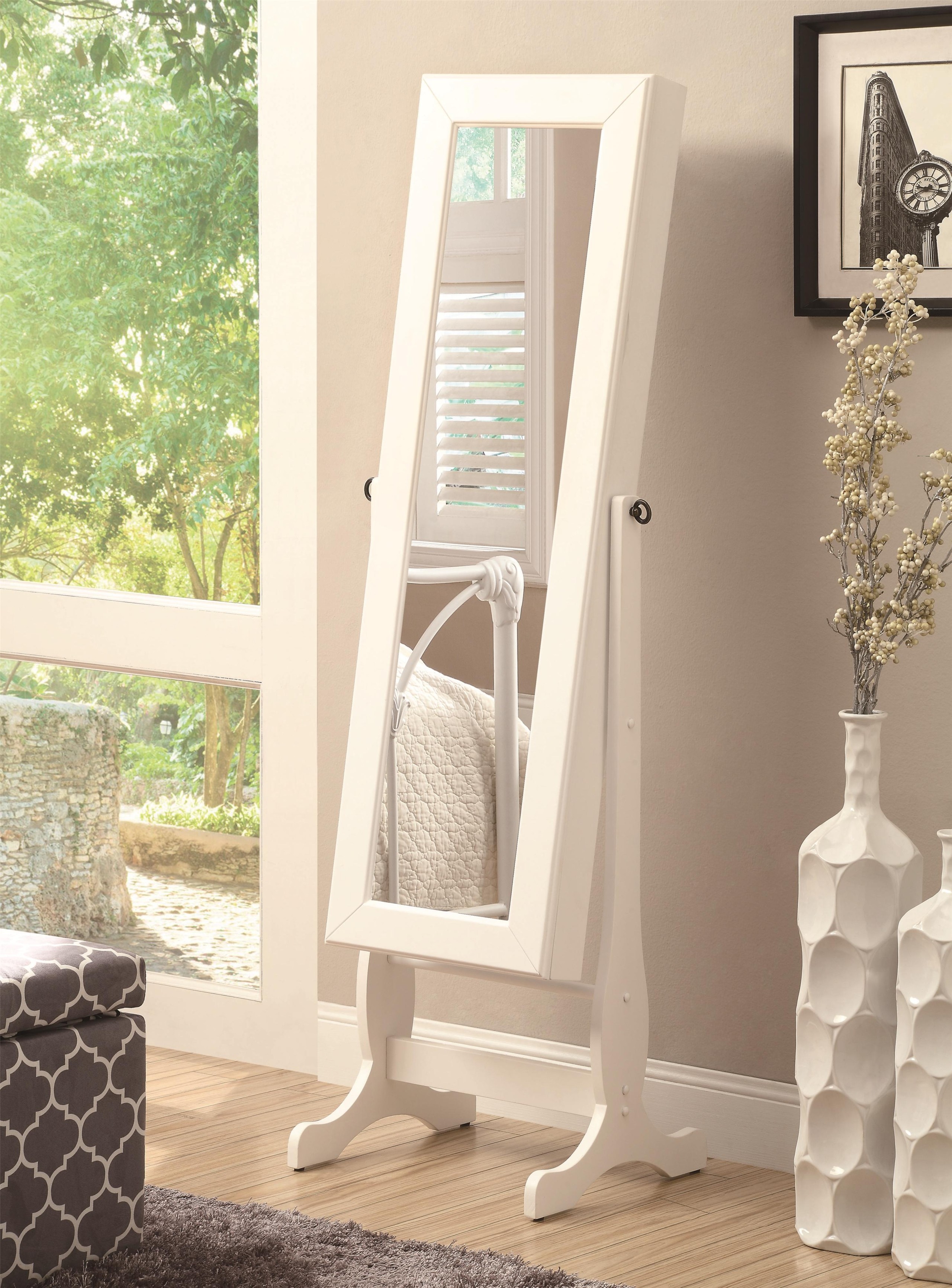 Adding brightness and warmth to the space, this shabby chic jewellery armoire with mirror will add style and functionality to women's bedrooms. Behind the glass surface, it conceals a considerable storage space, divided into several compartments.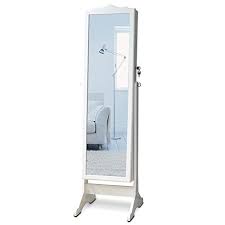 Organizedlife White Mirror Armoire Mirrored Full Length Bedroom Jewelry Storage Cabinet Chest. Stores all of your jewelry safely with lock and in a organized manner. Lock and key. 6 Wooden shelf for glass, perfume, tie, watch. 2 Bottom drawers for the sma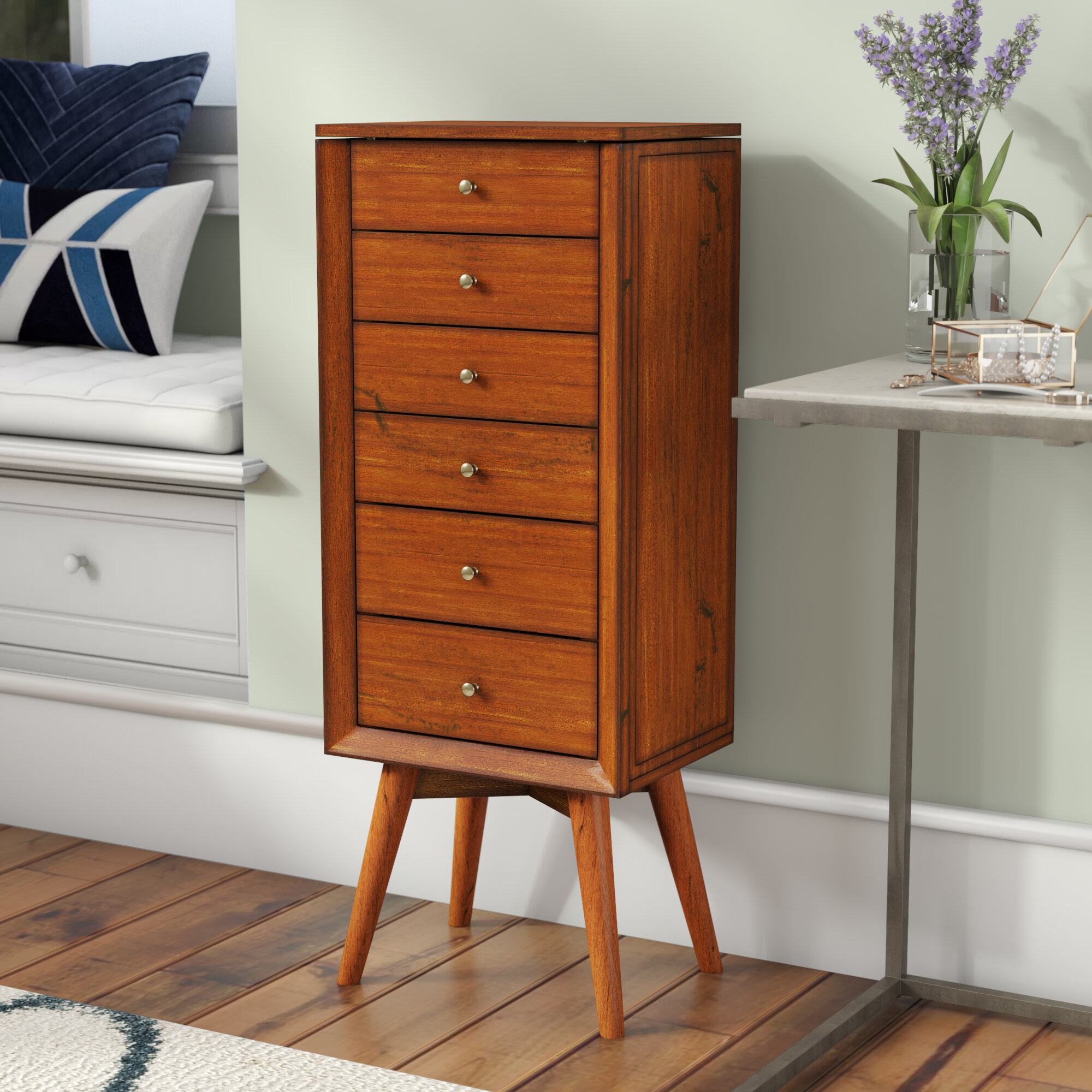 This free standing armoire may be a perfect spot to store your jewellery. 8 variously-sized drawers with ornamental, brass pulls, conceal a considerable storage space for your rings, earrings and more.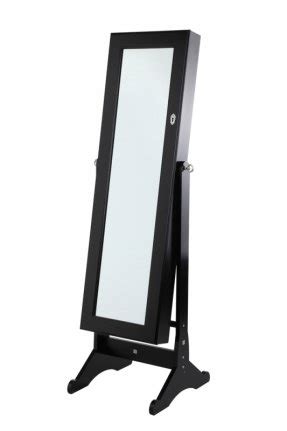 Combining functionality with modern style, this sleek mirrored jewelery cabinet with stand back helps to make the most of every space. It features large mirror that can be tilted to different heights, road, shelves, drawers, hooks and ring and earring holders.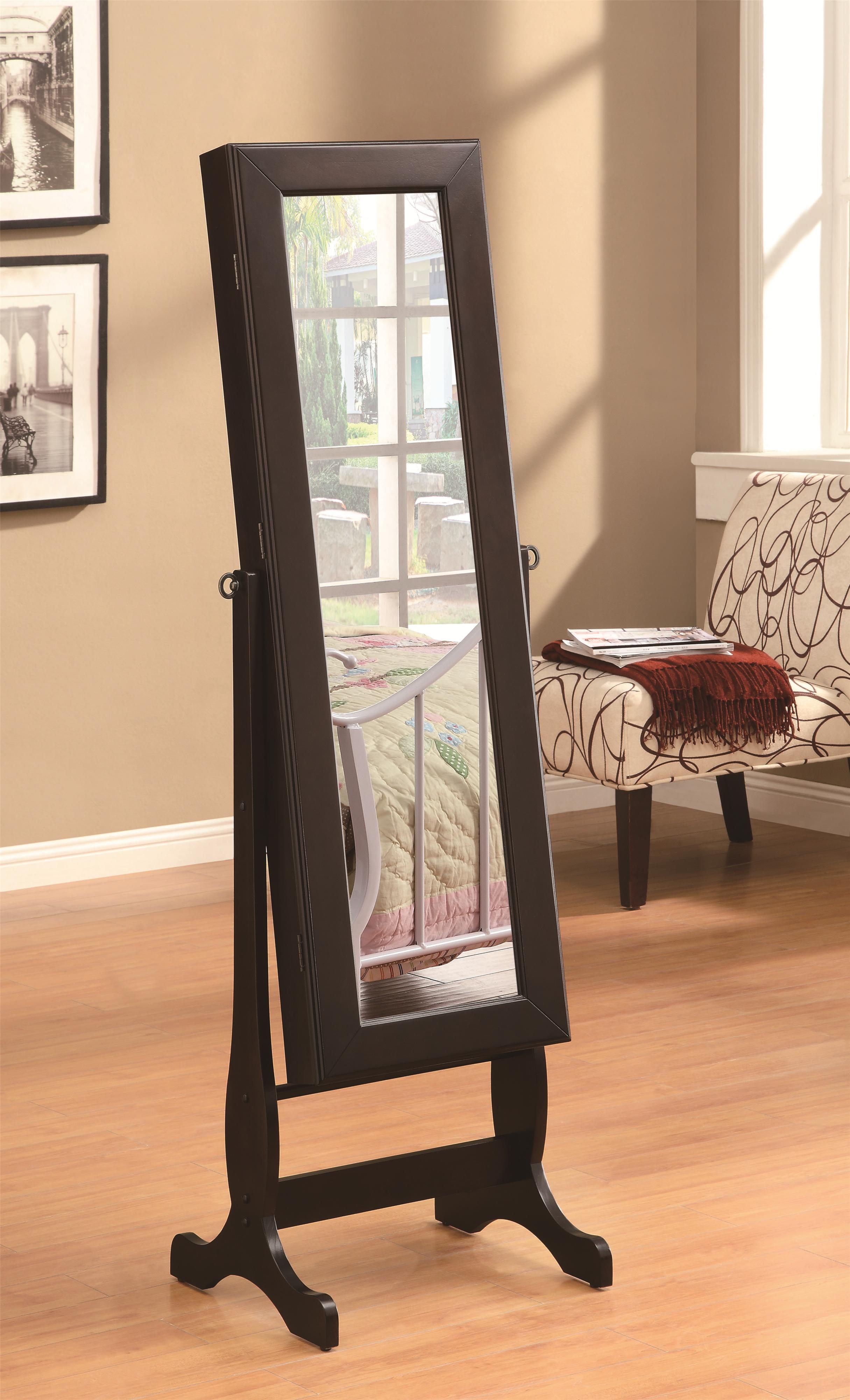 The espresso finish on this casual wooden free standing cheval dressing mirror, looks elegant and stylish. I like the jewelry armoire cabinet which is behind the mirror.
The stand-alone armoire for jewelry is an eye-catching combination of functionality and style. The ingenious combination of cabinets with mirror is very original and works well on a daily basis.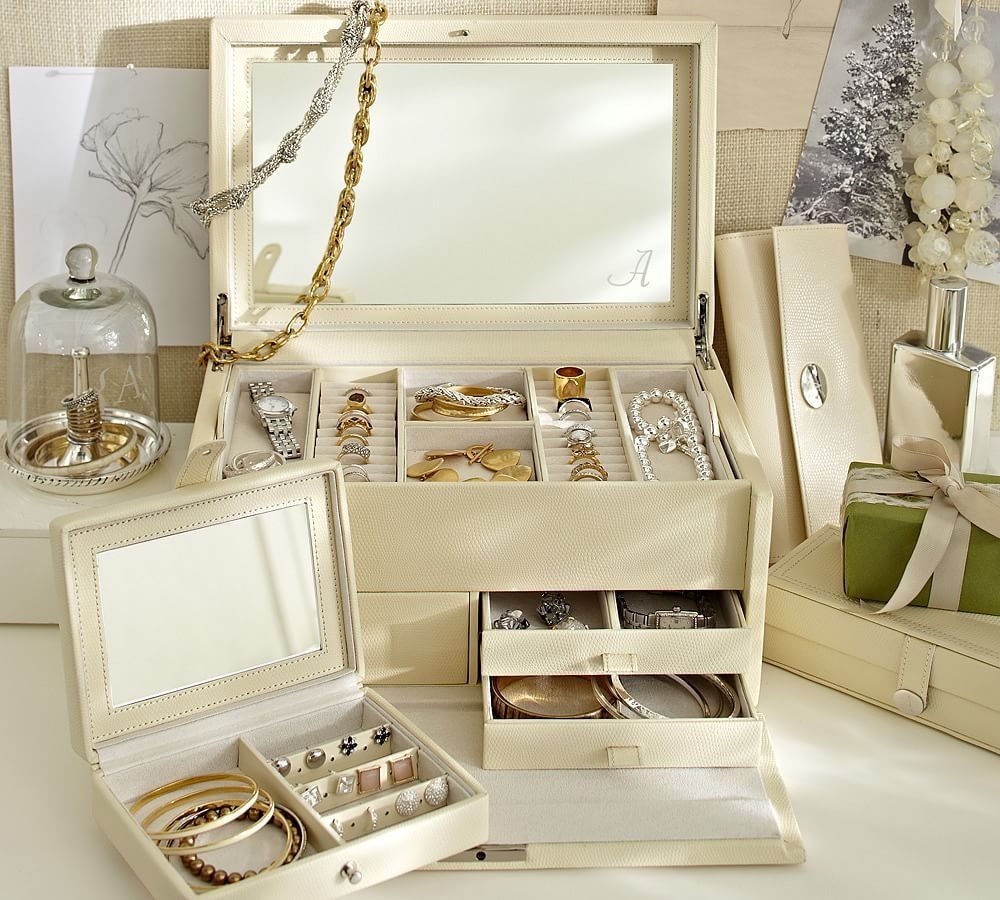 Mckenna Jewelry Armoire
It is a very useful piece of equipment ideal for people who own large collections of jewelry. This armoire has got a large divider drawer and sections for different pieces of jewelry. The overall size of this product is 16.5" wide x 10.5" deep x 10" high.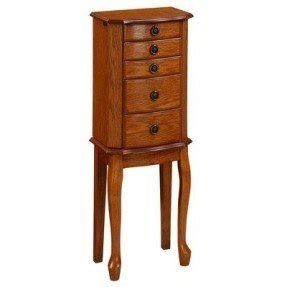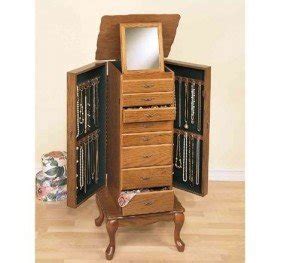 Crafted of solid Oakwood and bathed in a two-tone walnut and oak finish, the jewelry armoire is sturdy, well-organized, and elegant. Includes 1 flip-up top with a hidden mirror, 8 small drawers, 2 side cabinets with black fabric padding, and lovely curved legs.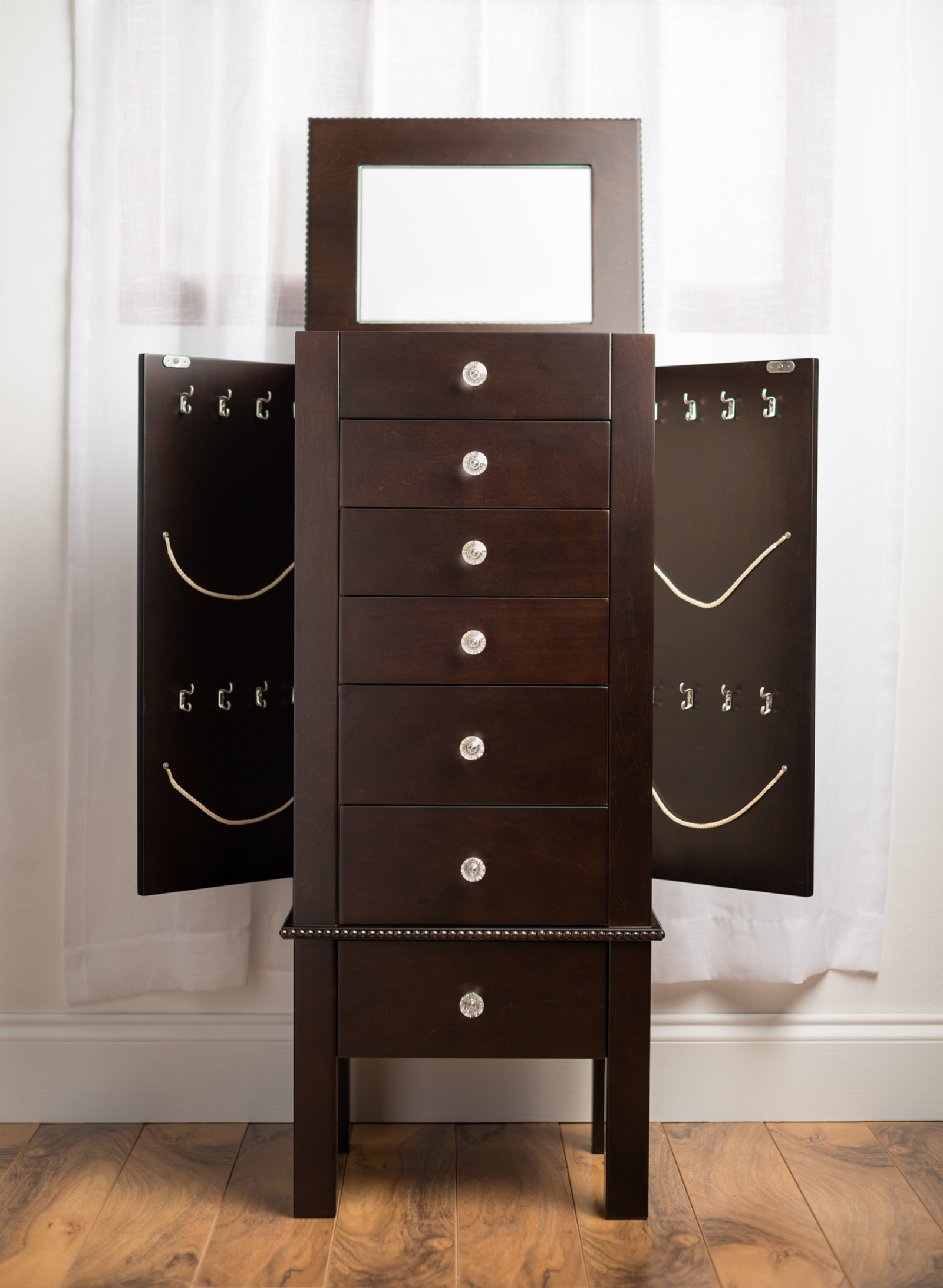 This crystal jewelry armoire storage organizer stand has a top drawer that flips open revealing a handy mirror. Lined compartments ensure your pieces are cradled in a scratch-free environment. The armoire itself, is almost as pretty as the jewelry within.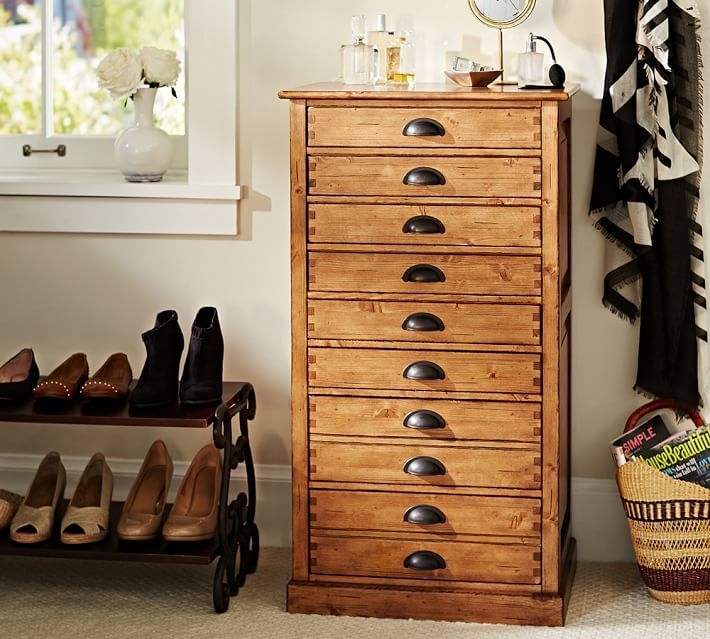 Shelby Accessory Tower Dresser
This piece of furniture allows for better organization of jewlery and other items. It has got ten drawers that are ideal for the storage of small items. This piece of furniture measures 24.5" wide x 15" deep x 43" high.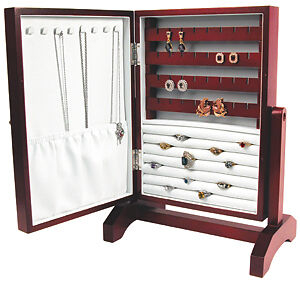 Free standing jewelry armoire padded with velvet material. Frame is made of wood and fitted with mirrored doors. Includes many compartments for all kinds of jewelry. Classic form and neutral design.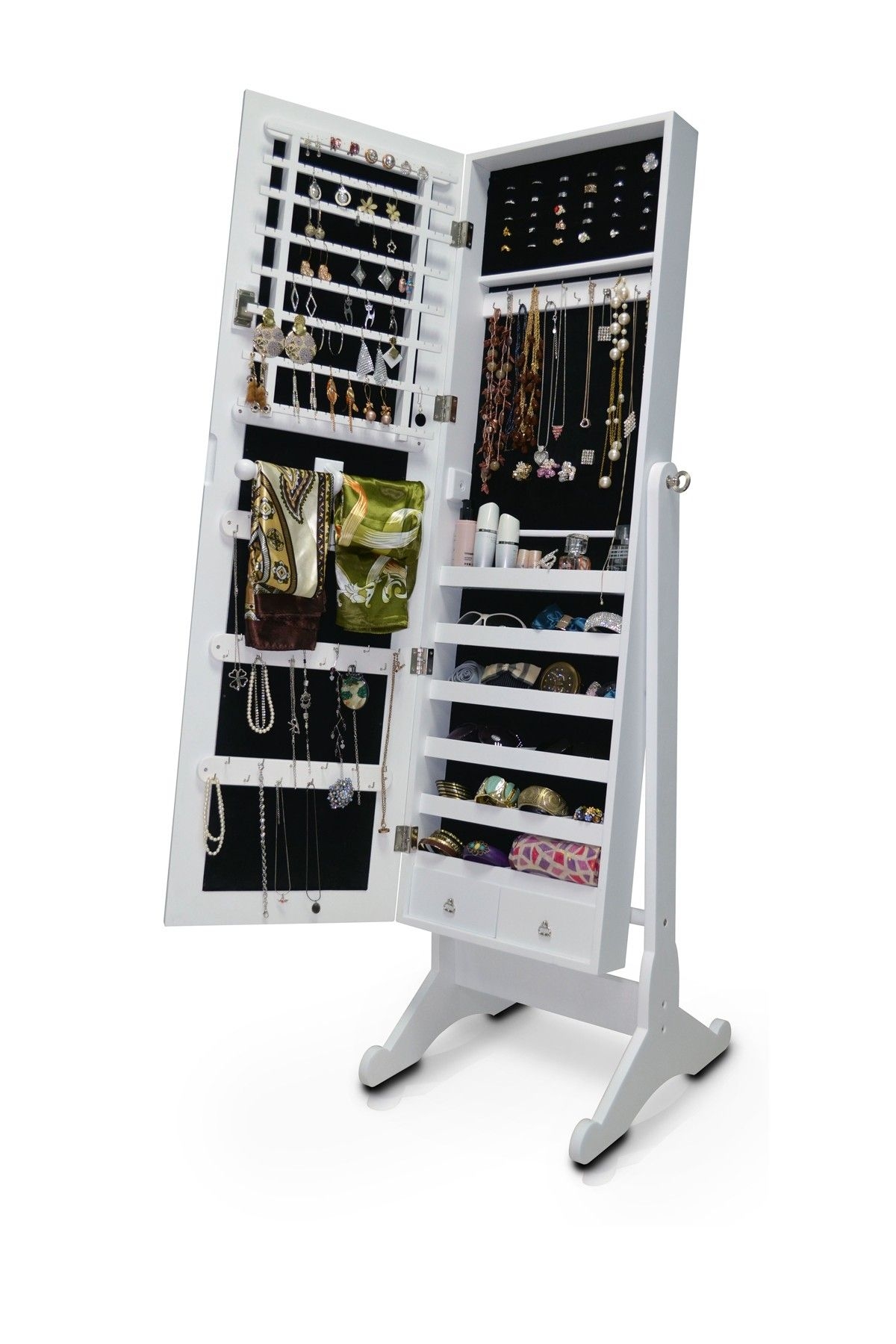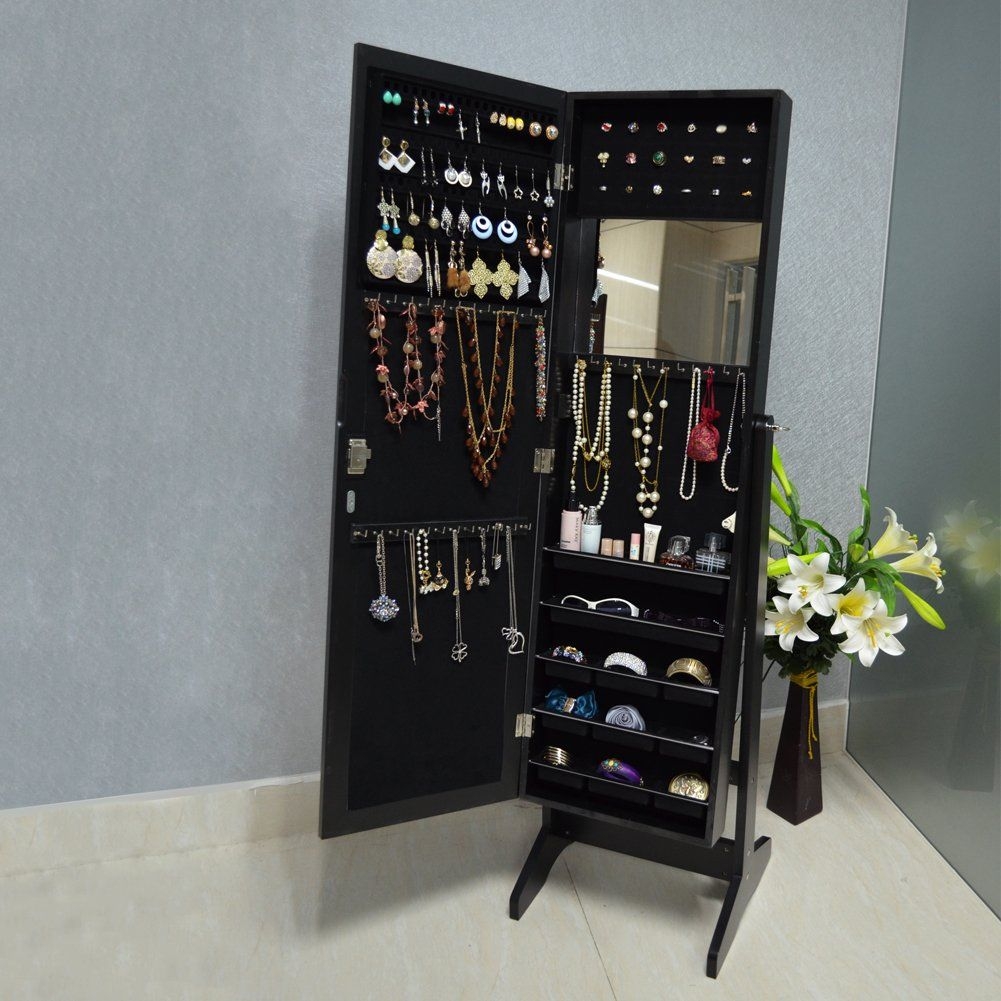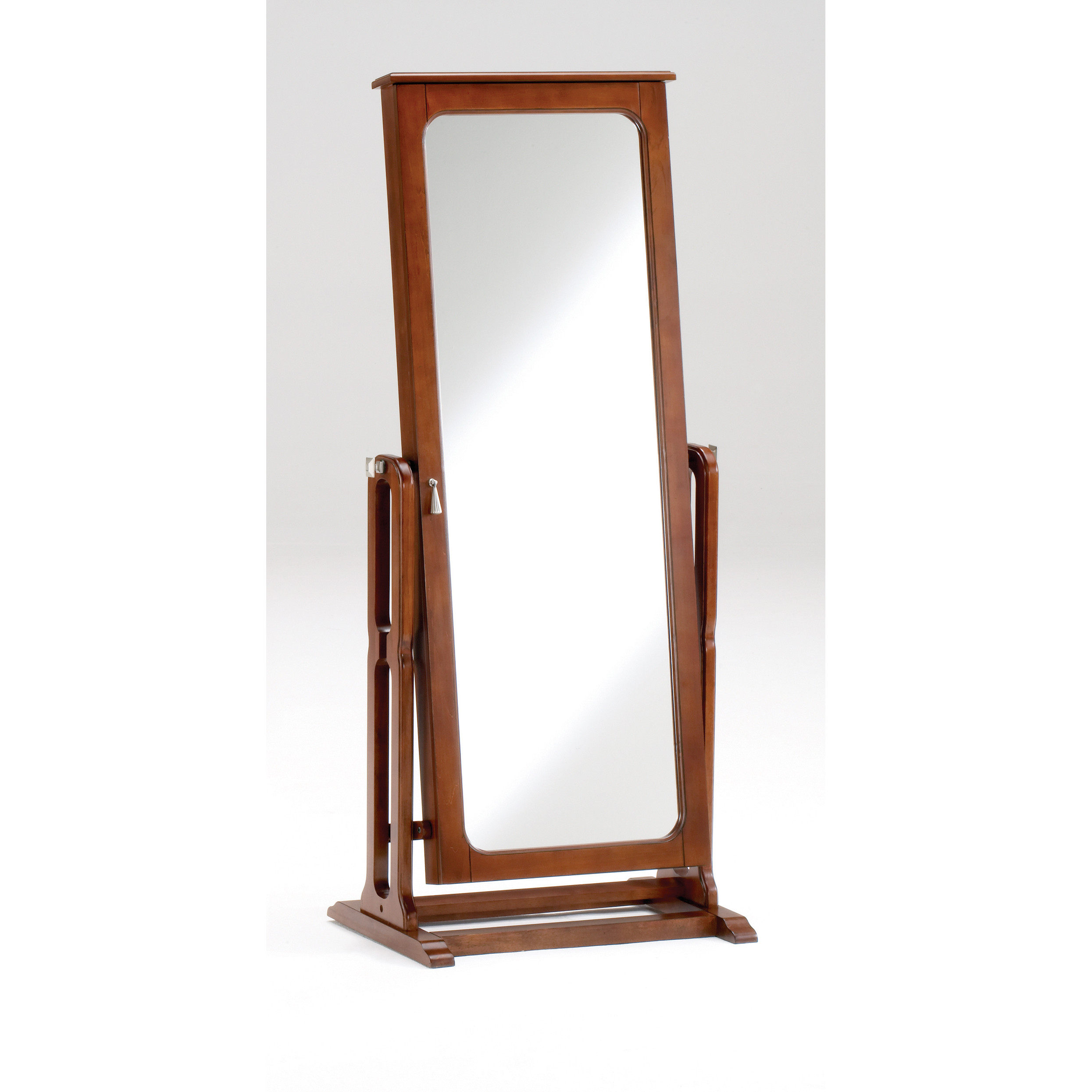 Jewelry Armoire with Mirror