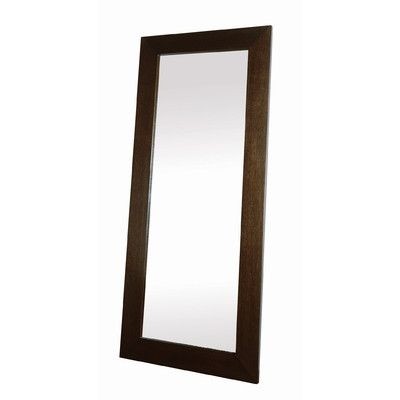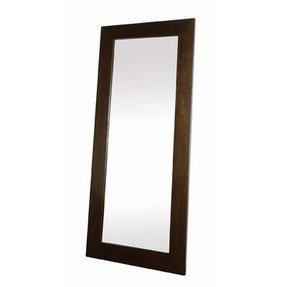 Cadence Leaning Mirror
Highly versatile and classy mirror with solid and good-looking 4" thick frame constructed out of wood veneer on medium density fiberboard. Rich brown finish is elegant and complements a variety of decors.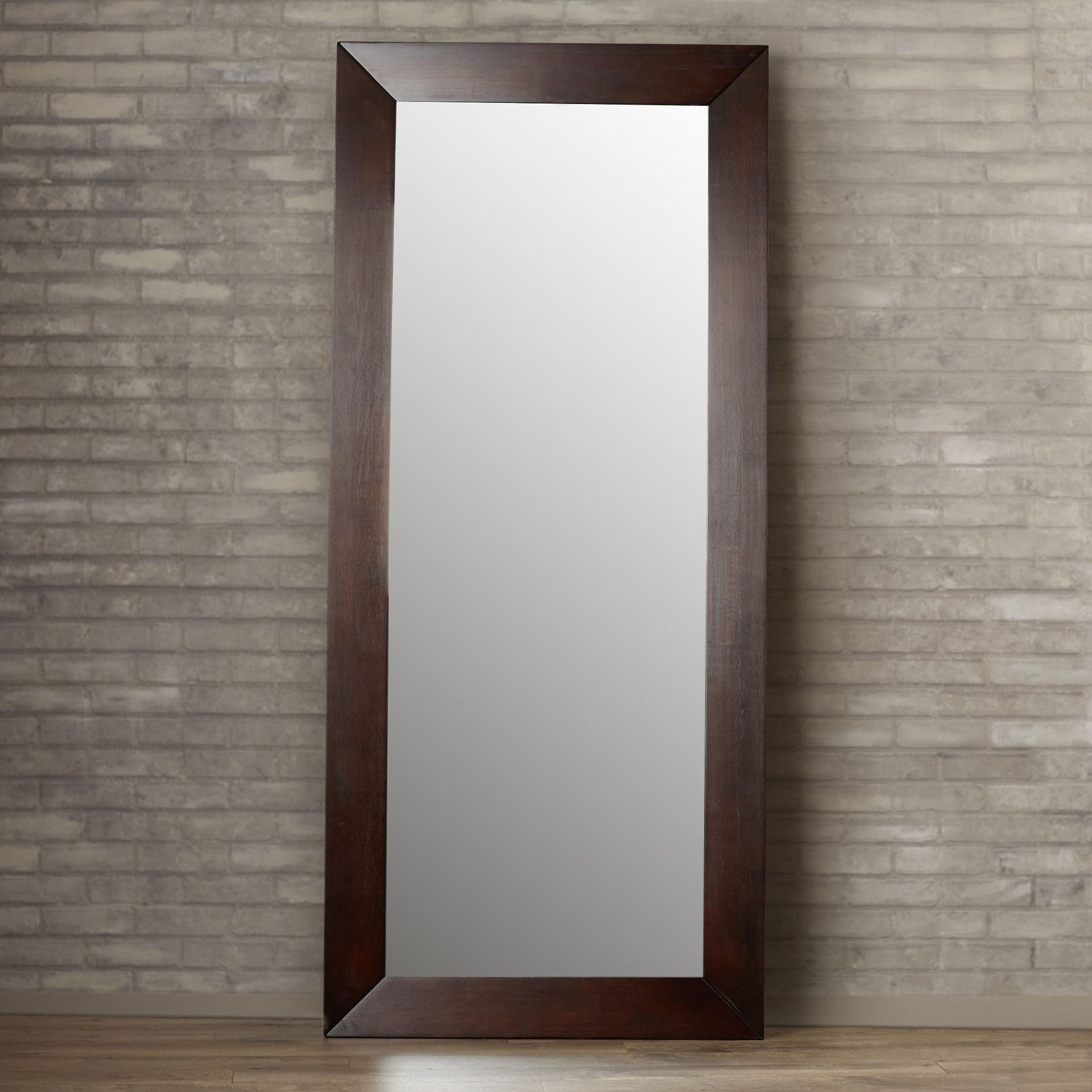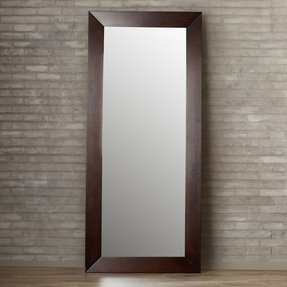 Brentwood Daffodil Floor Mirror
This high and very glamorous mirror floor is a combination of stylish and functional frame of the mirror. It looks beautiful and check in the bedroom, closet or bathroom. Elegance and style in one.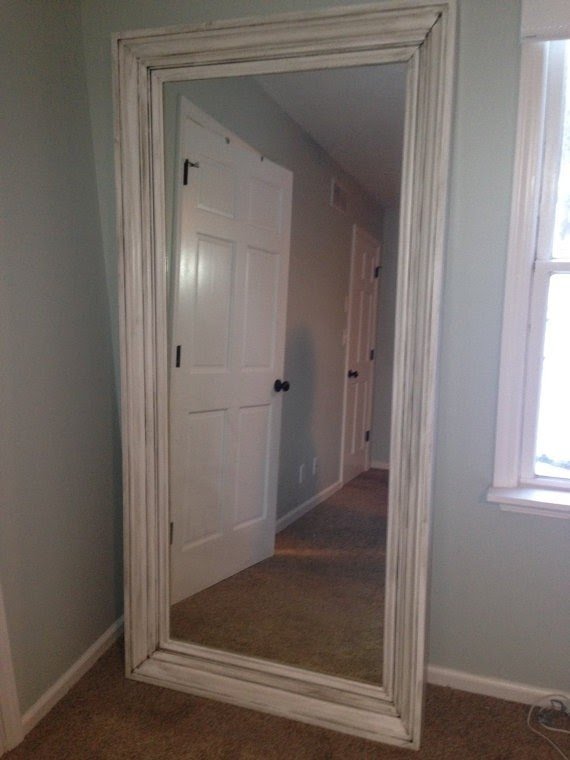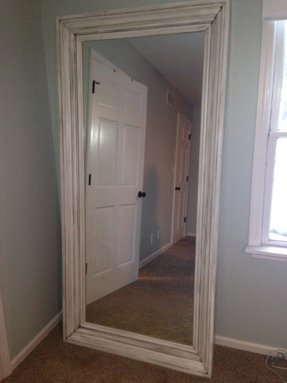 Oversized floor mirror wood
Today, although we have become accustomed to the ubiquity of mirrors,we are still disturbed by the broken mirror. This is not cracked oversized leaning floor mirror, so we have nothing to fear.A simple wooden frame of this mirror lends our room a shaded white.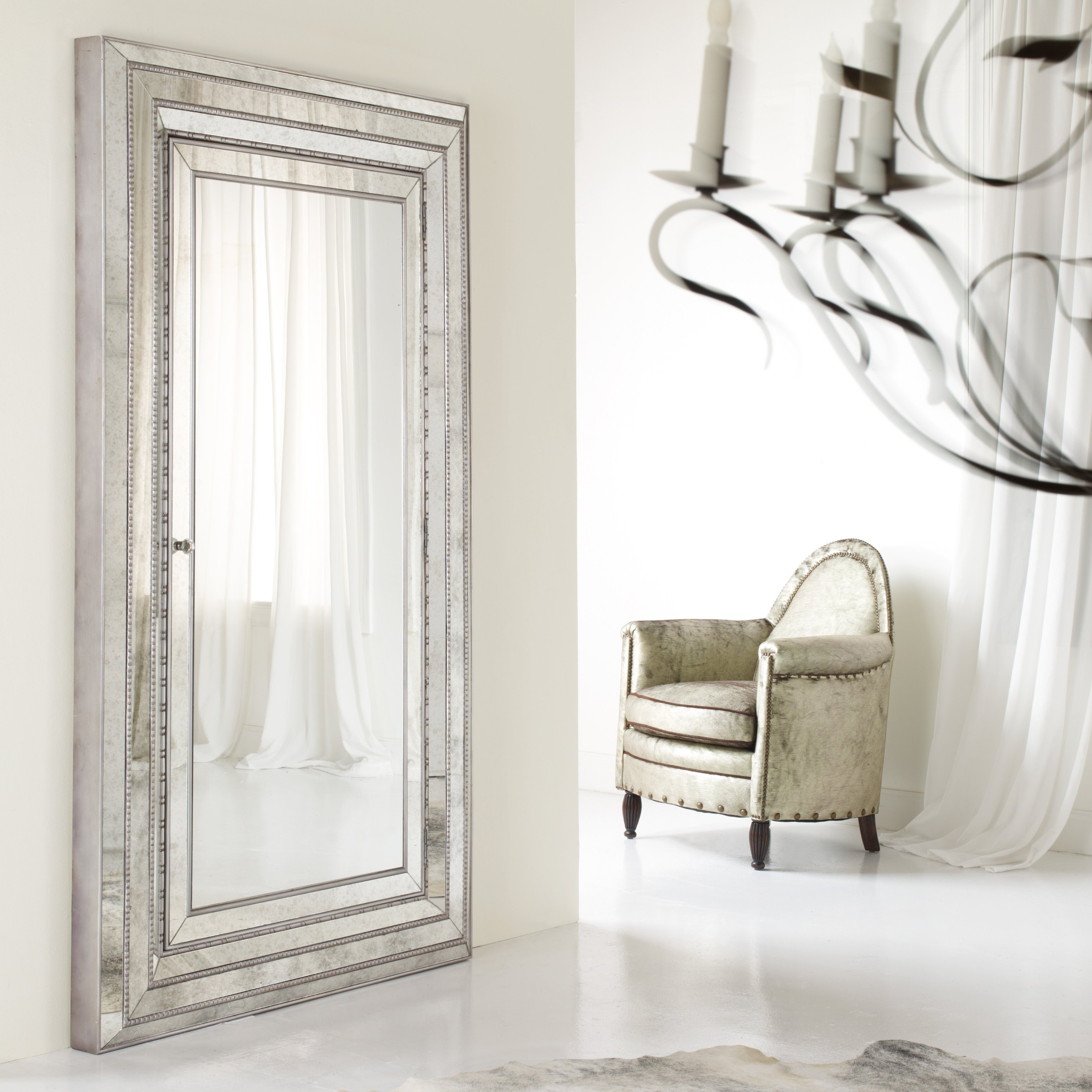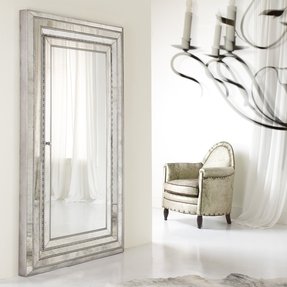 Melange Glamour Floor Mirror
This impressive mirror is a real treat for the lover of trends and being glamorous. Beautiful mirror and the mirror border as they do a stunning impression by giving the class and style to any salon, hall or bedroom.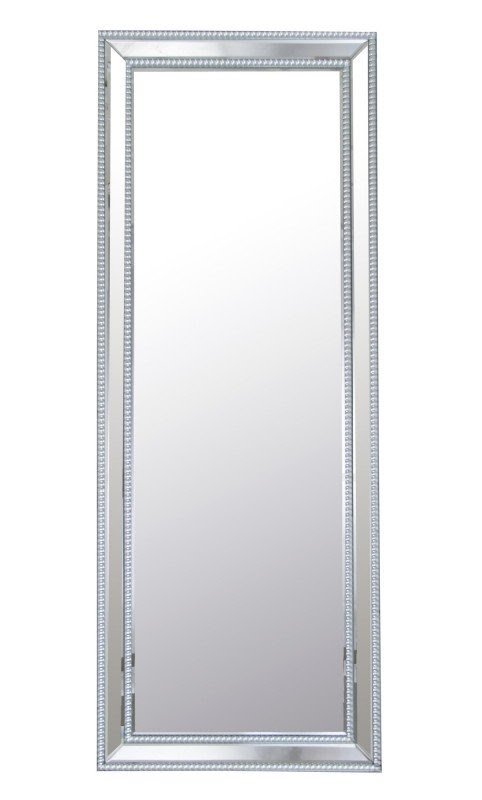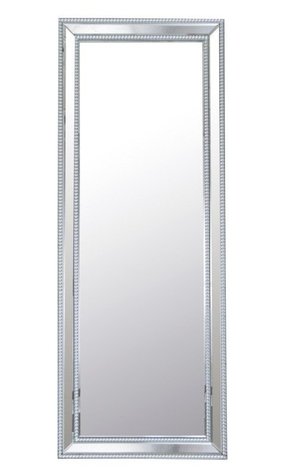 Vivian Rectangle Studded Leaning Floor Mirror
This useful and decorative item is a leaning floor mirror. It has got a very solid frame with some decorative accents. Its rectangular glass area is solid, stylish and quite large. The whole mirror is resistant to damage.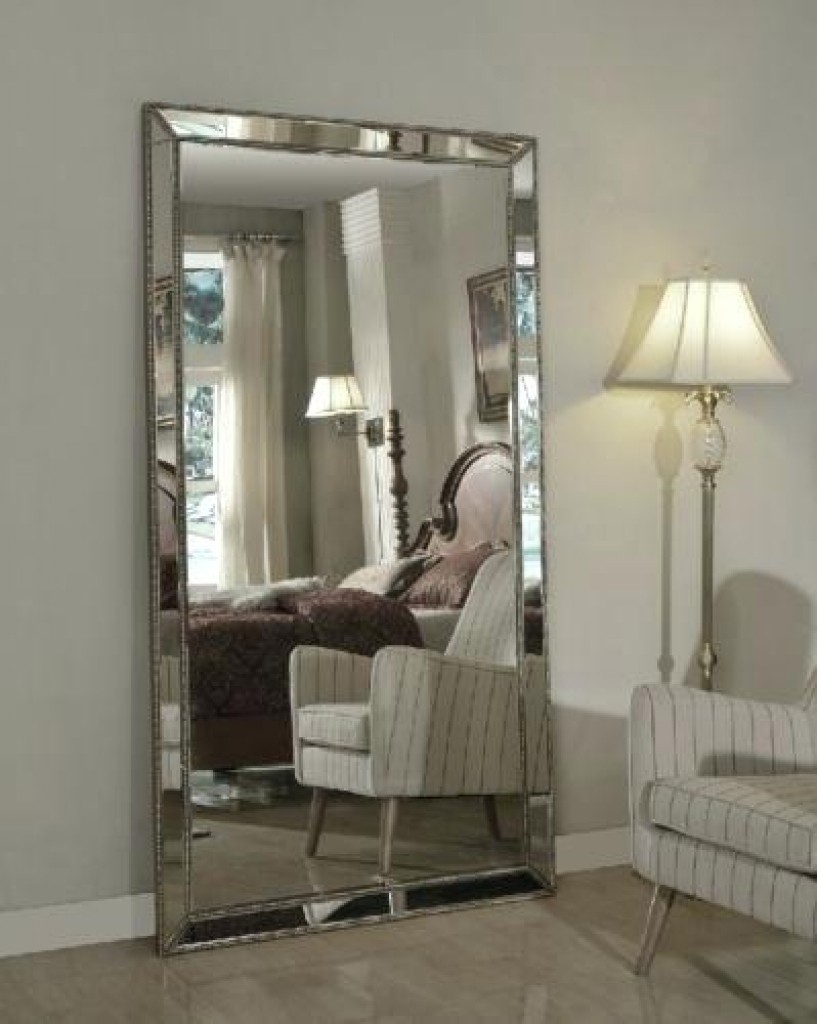 A stylish Venetian masterpiece that goes well with contemporary decor of your master bedroom. The mirror is designed to stand on a floor. And it's quite huge, so you may want to lean it against a wall for stability. Measurements: 110cm x 200cm.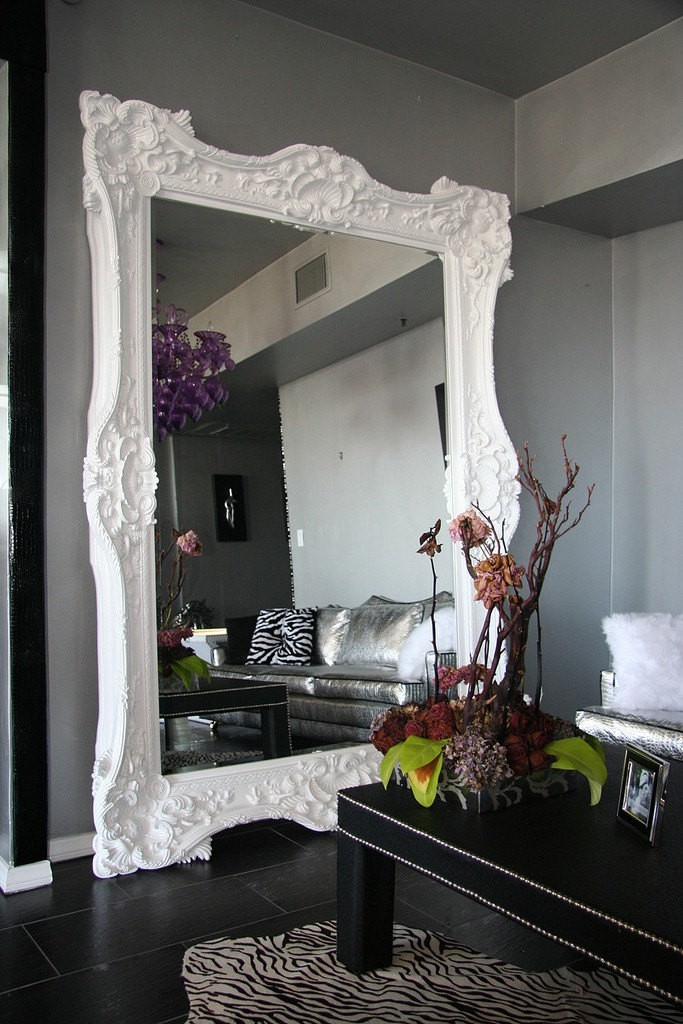 This huge and beautifully exposed in a unique frame mirror is a beautiful detail of the interior design. The interior adds lightness and optically expands the space. Fine particulars of the decorative frame fascinate.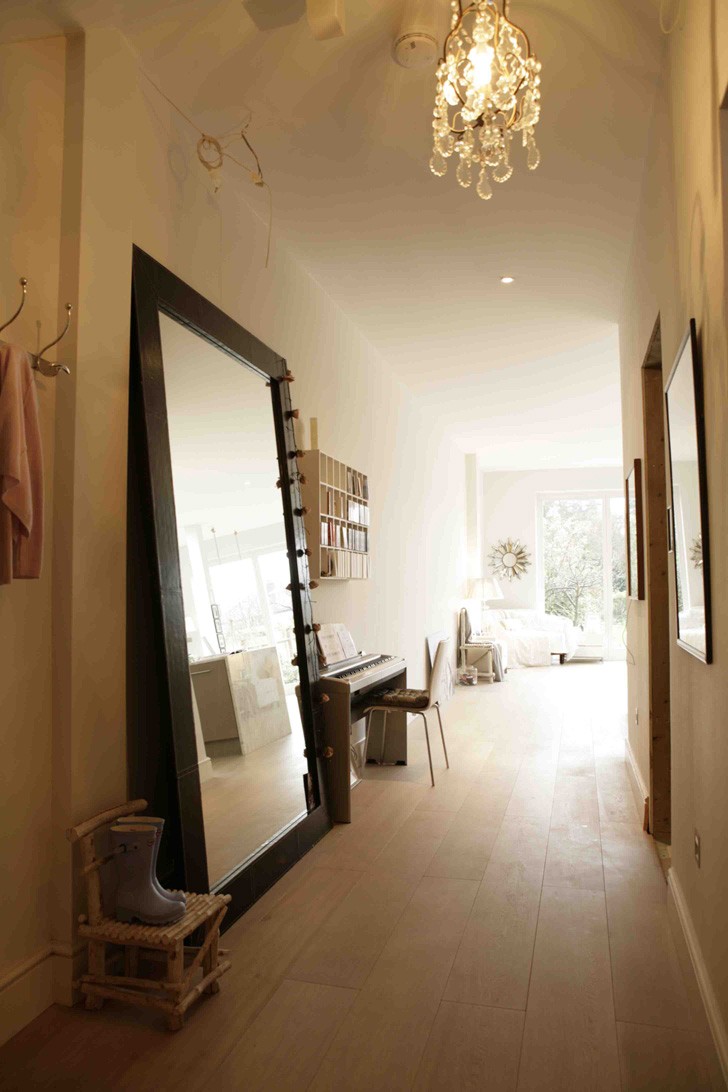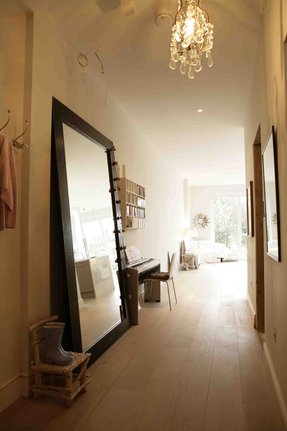 Oversize floor mirror is unque accent of stylish house. Antique frame, which gives him a touch of old mode in modern, minimalistic style. Not only for seeing your whole outfit, but also to make the room brighter and bigger.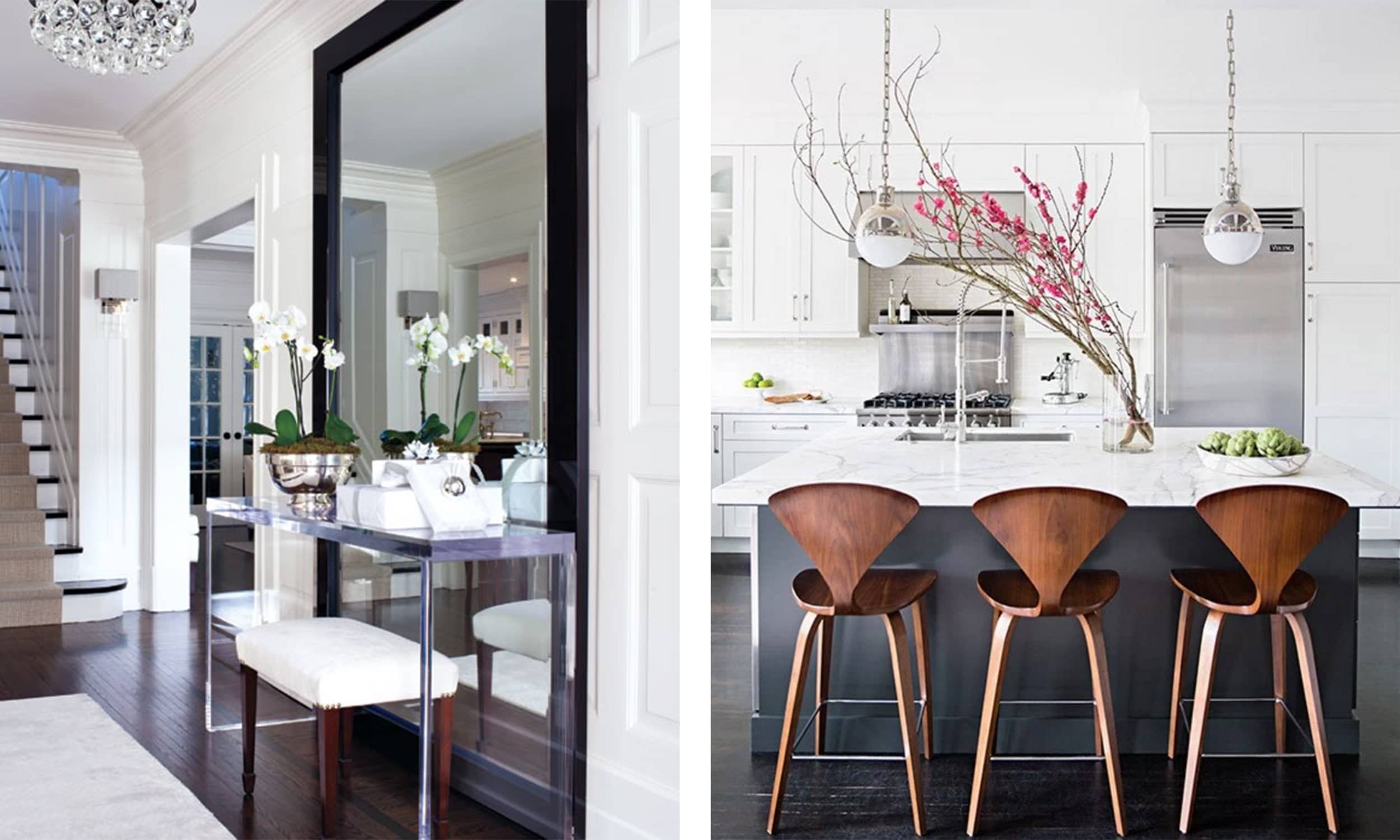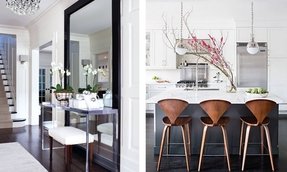 Massive and large floor mirrors add to the living room, hall, bedroom or dressing room nice charm. Combined with a vanity table and a delightful ottoman, the daily preparations are great. The whole is elegant and chic.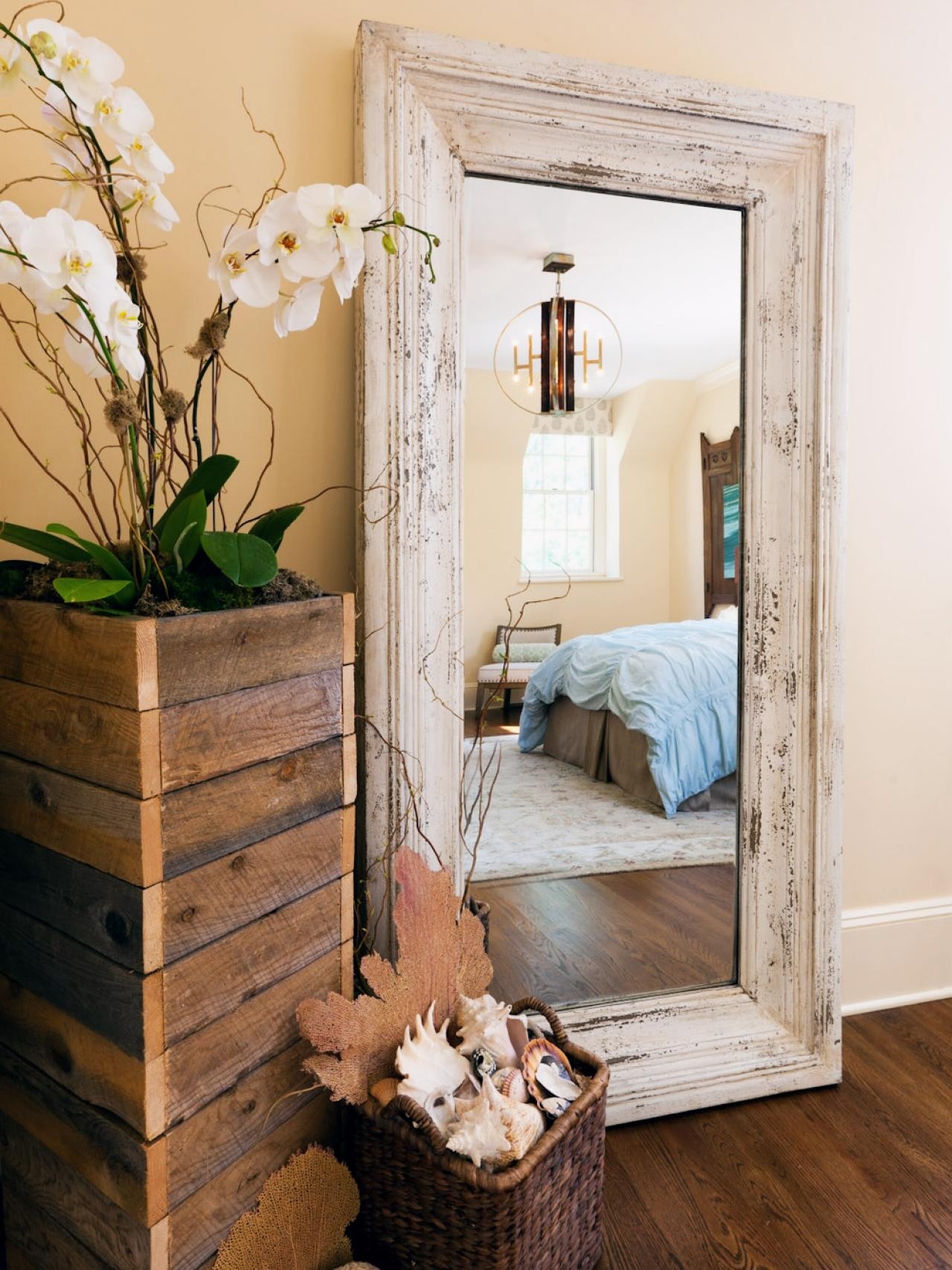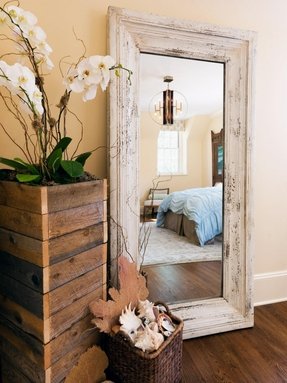 Floor mirrors are great for minimalistic, modern houses, where you don't need much decoration. The one here has an antique vibe to it because the frame shows signs of old age. Well, it can be used like that, or renovated if one prefers it that way.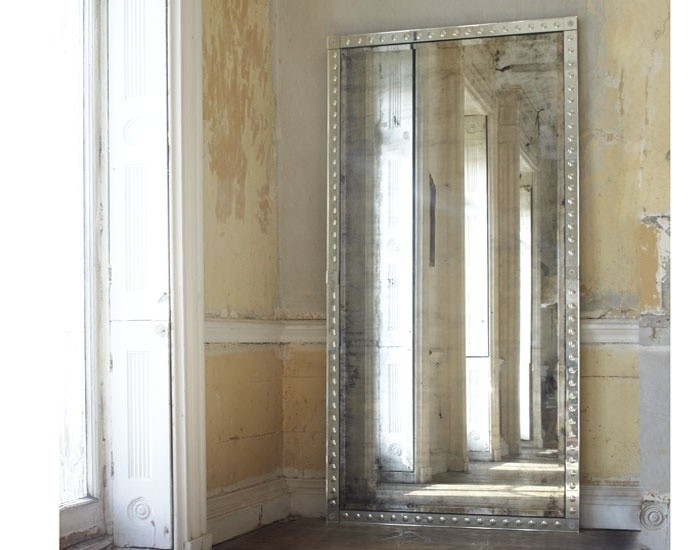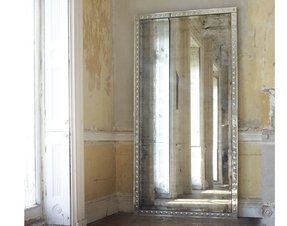 Beautiful shabby look of this leaning floor mirror was accomplished through aged finish and eglomisé frame surrounding the antique mirror plate. This rectangular mirror can be either leaned against a wall or hung, horizontally or vertically.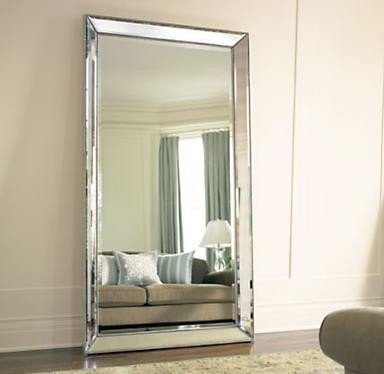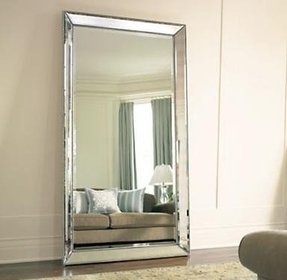 Add this stunning Venetian beaded leaner mirror that will beautifully complete the look of your room and add some nice visual appeal as well as the practical use to your interior instantly with its wide and spacious frame.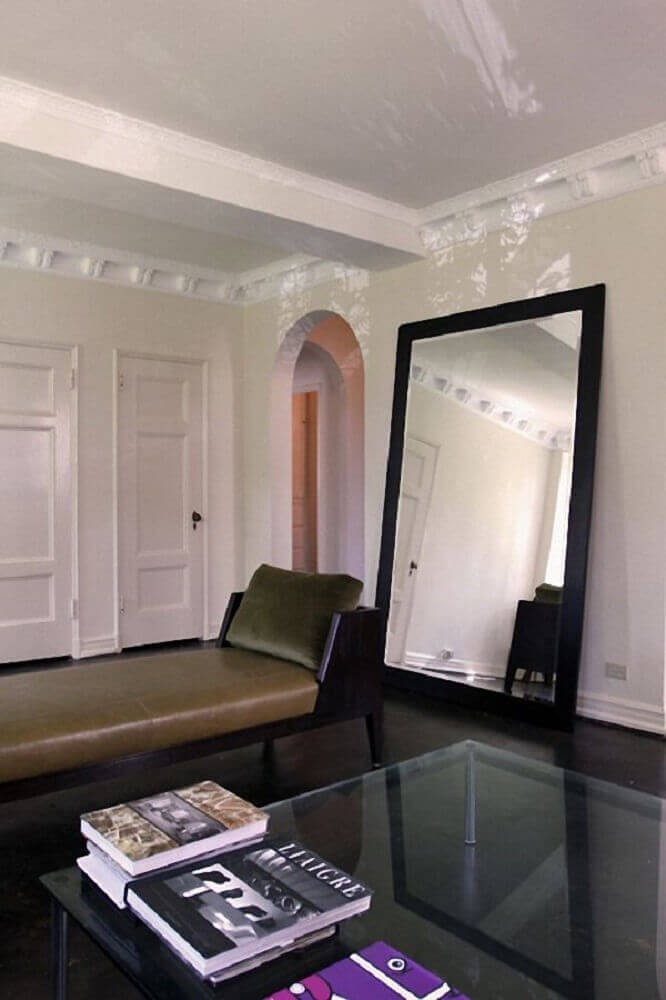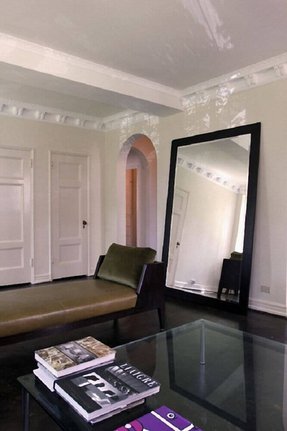 Using oversized leaning floor mirror to decorate your space is a perfect idea, because it perfectly enlargen the room and bring there more light. Perfect solution for small but, remember, not cluttered space.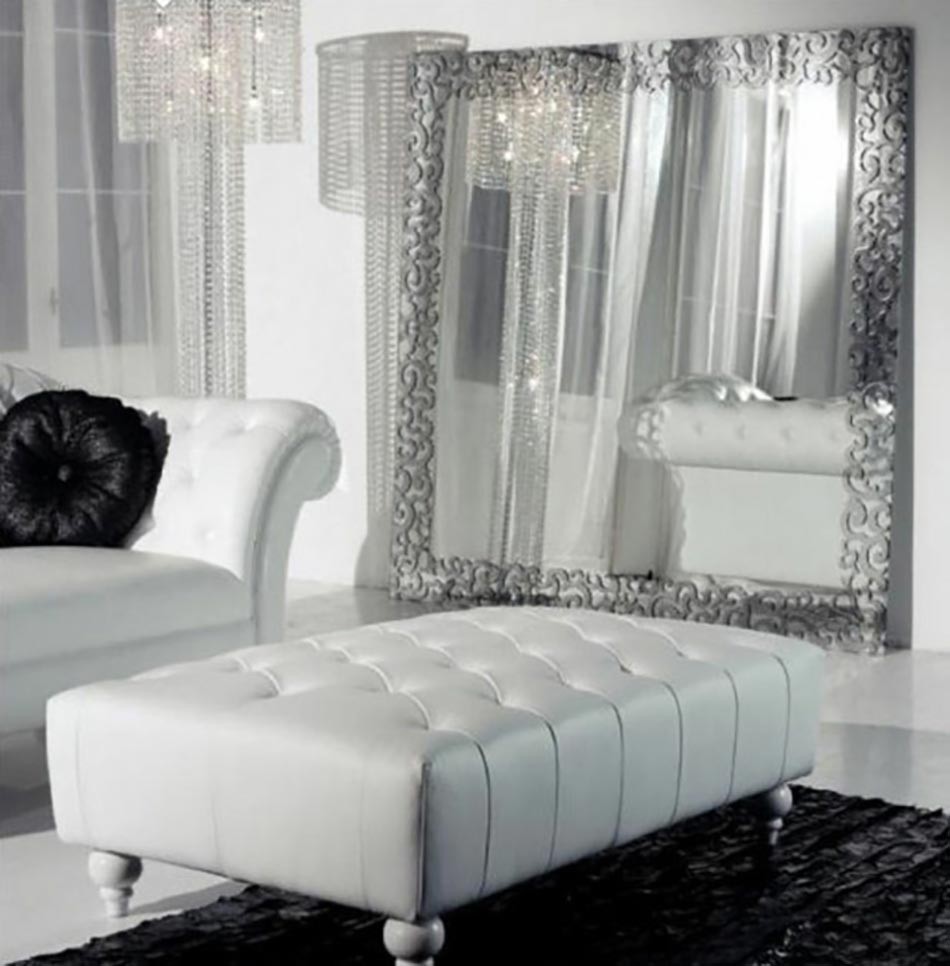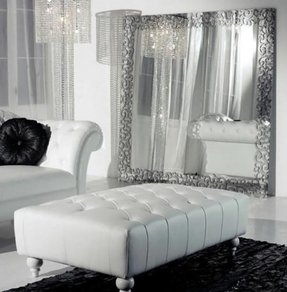 Oversized Modern Floor Mirrors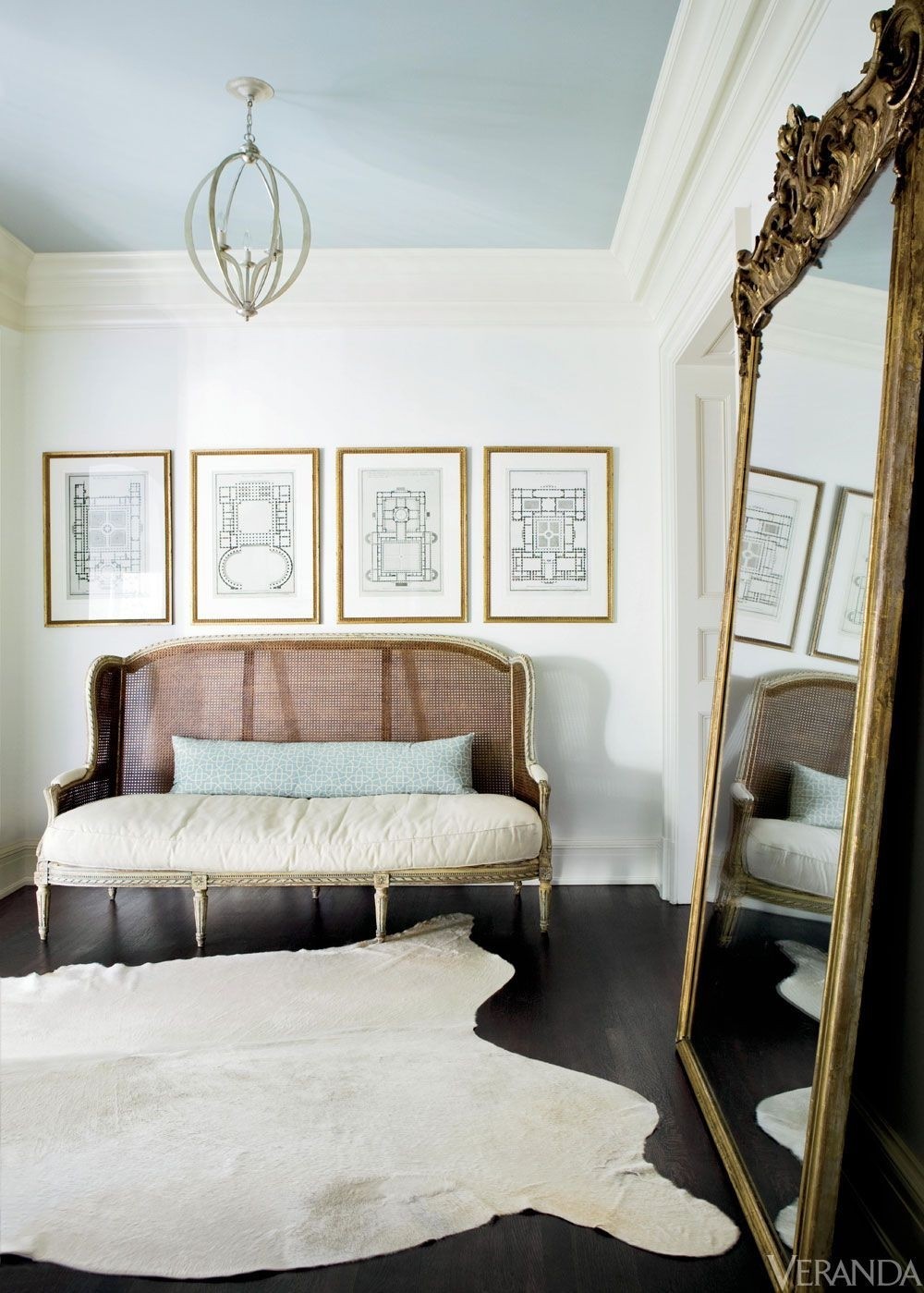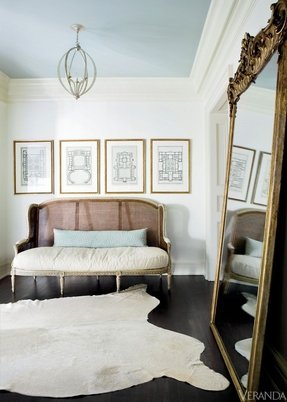 This gorgeous interior with oversize leaning mirror in the golden frame is a perfect combination of unique style and beautiful interior detail. Combined with an impressive bench and leather on the floor looks great.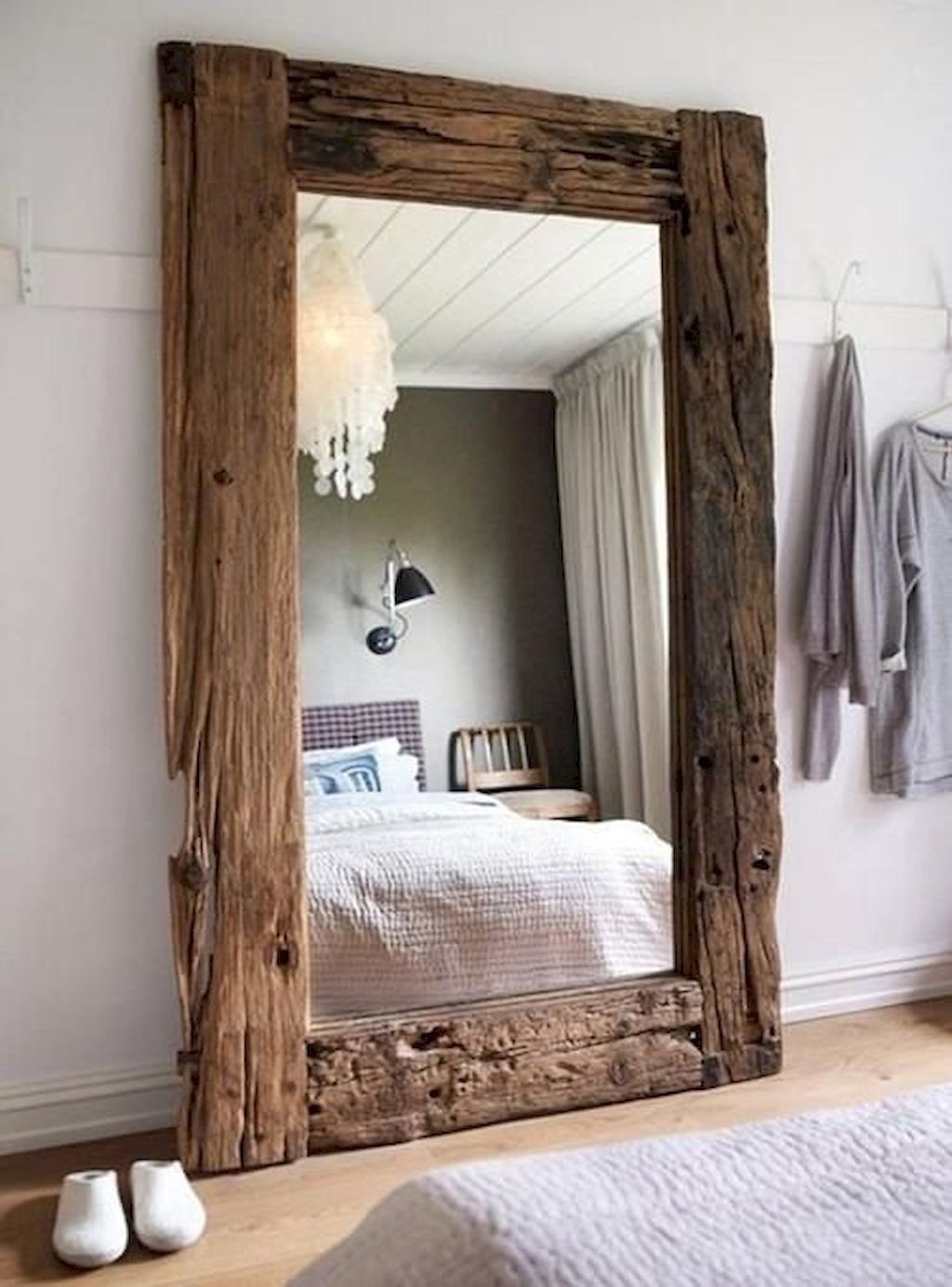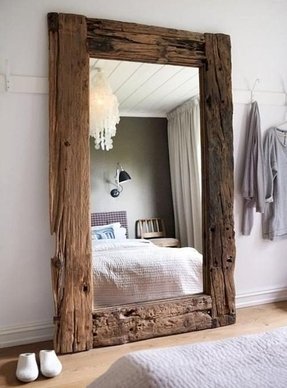 decor reclaimed wood mirrors8 HomeSpirations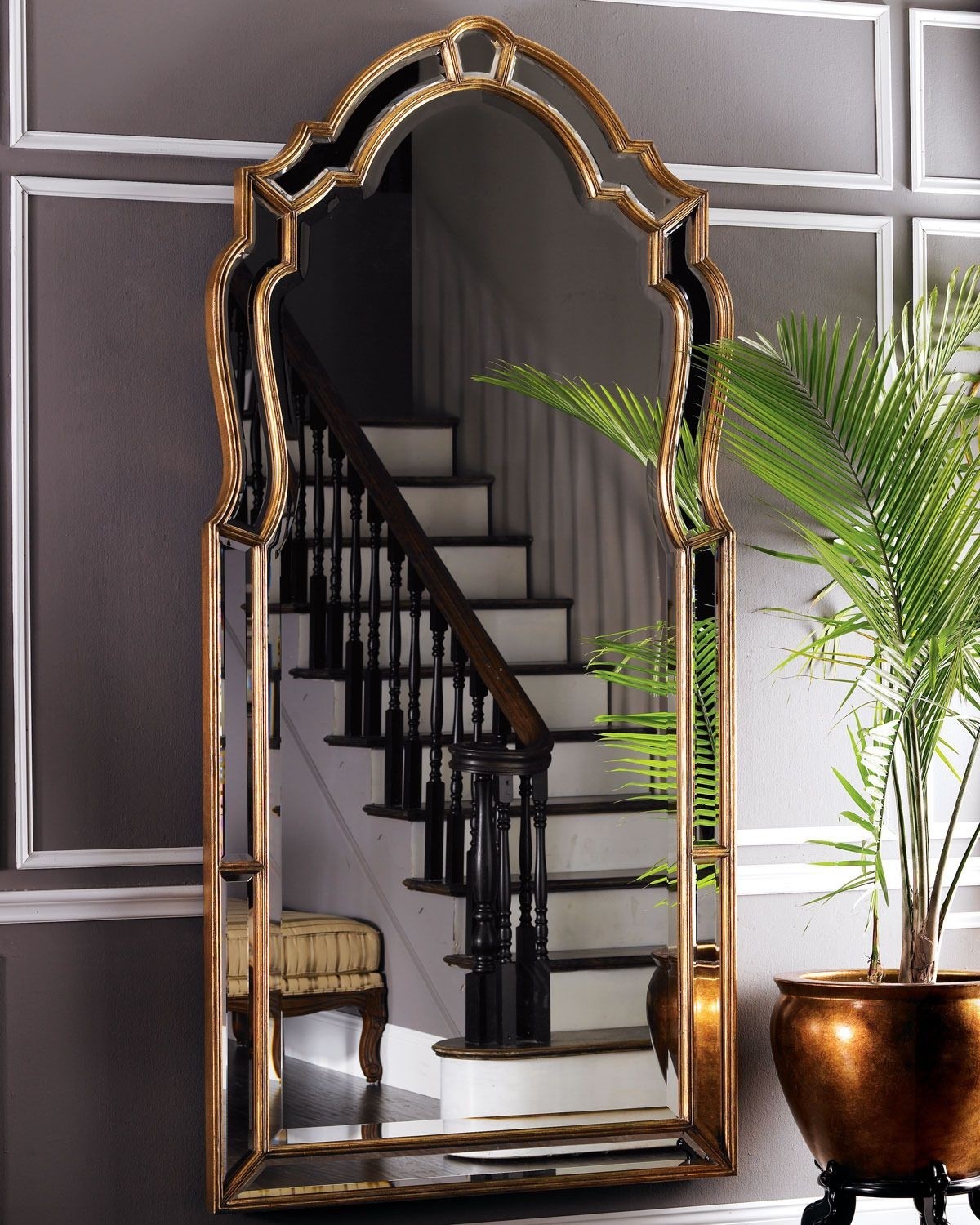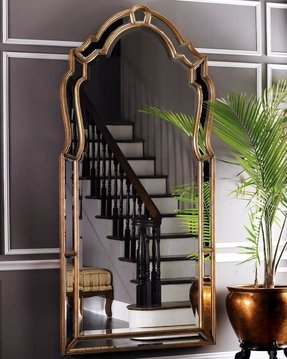 A wonderful, beveled mirror in a size that is normally placed on the floor, but here it's mounted on the wall, which looks really impressive. A mirrored frame features accents made of acacia wood with a gold trim.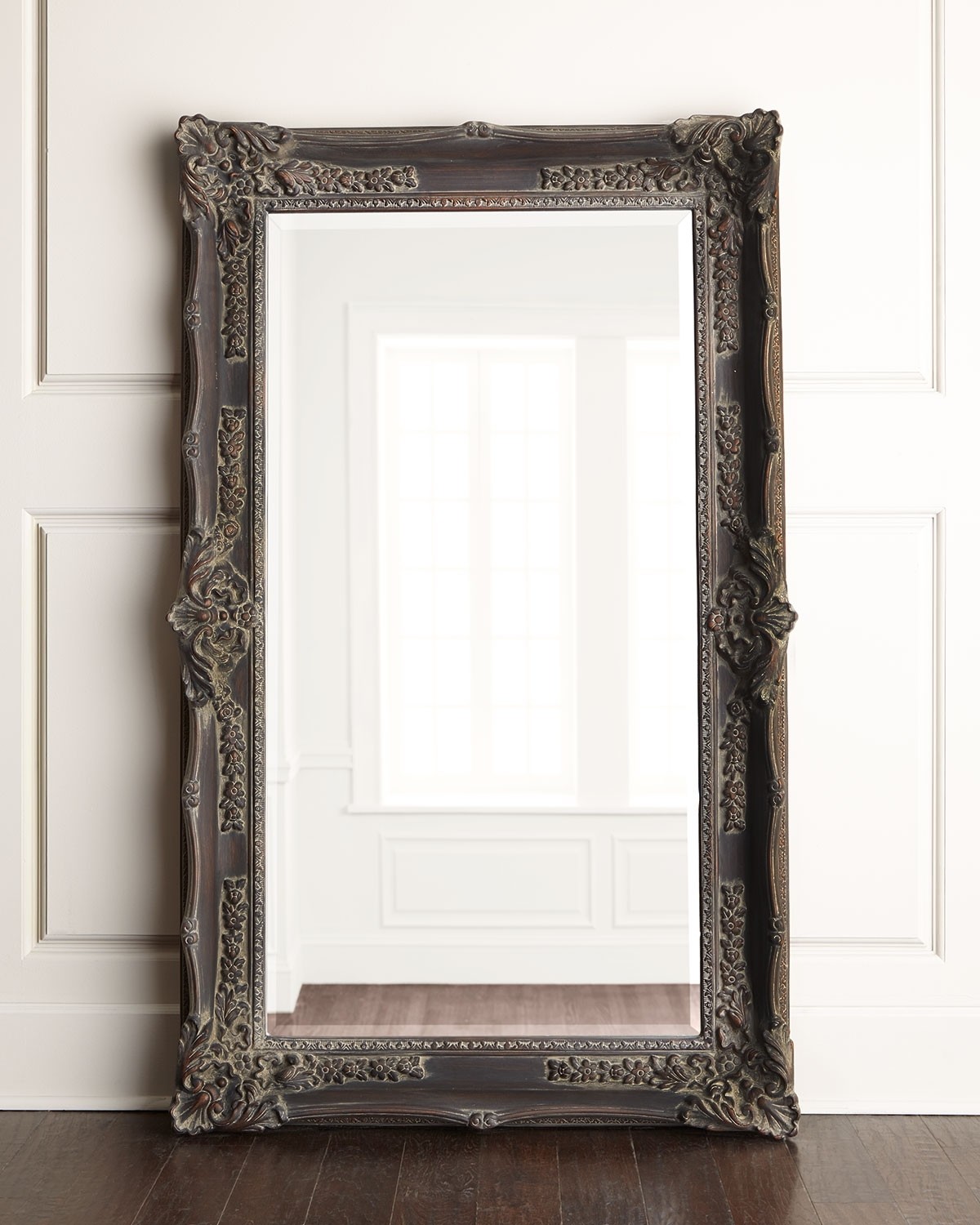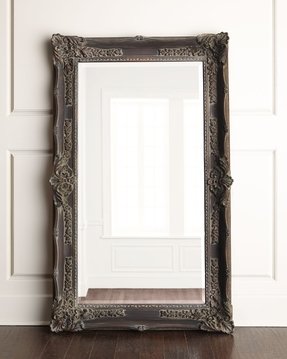 A great idea to enhance your master bedroom with vintage accents and an oversized masterpiece. This oversized mirror stands firmly on a floor while gracefully leaning against a wall. It has a artistically carved frame with a distinctively weathered finish.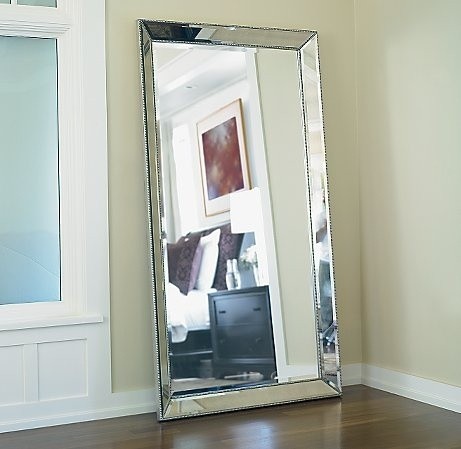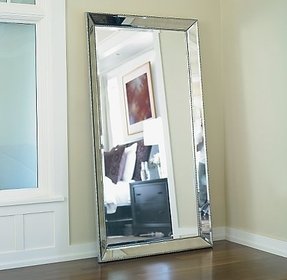 This leaning mirror offers a sublime design and the oversized structure that will ensure to make it into a true focal point of any space and will allow you to create an illusion of more room anywhere it's put.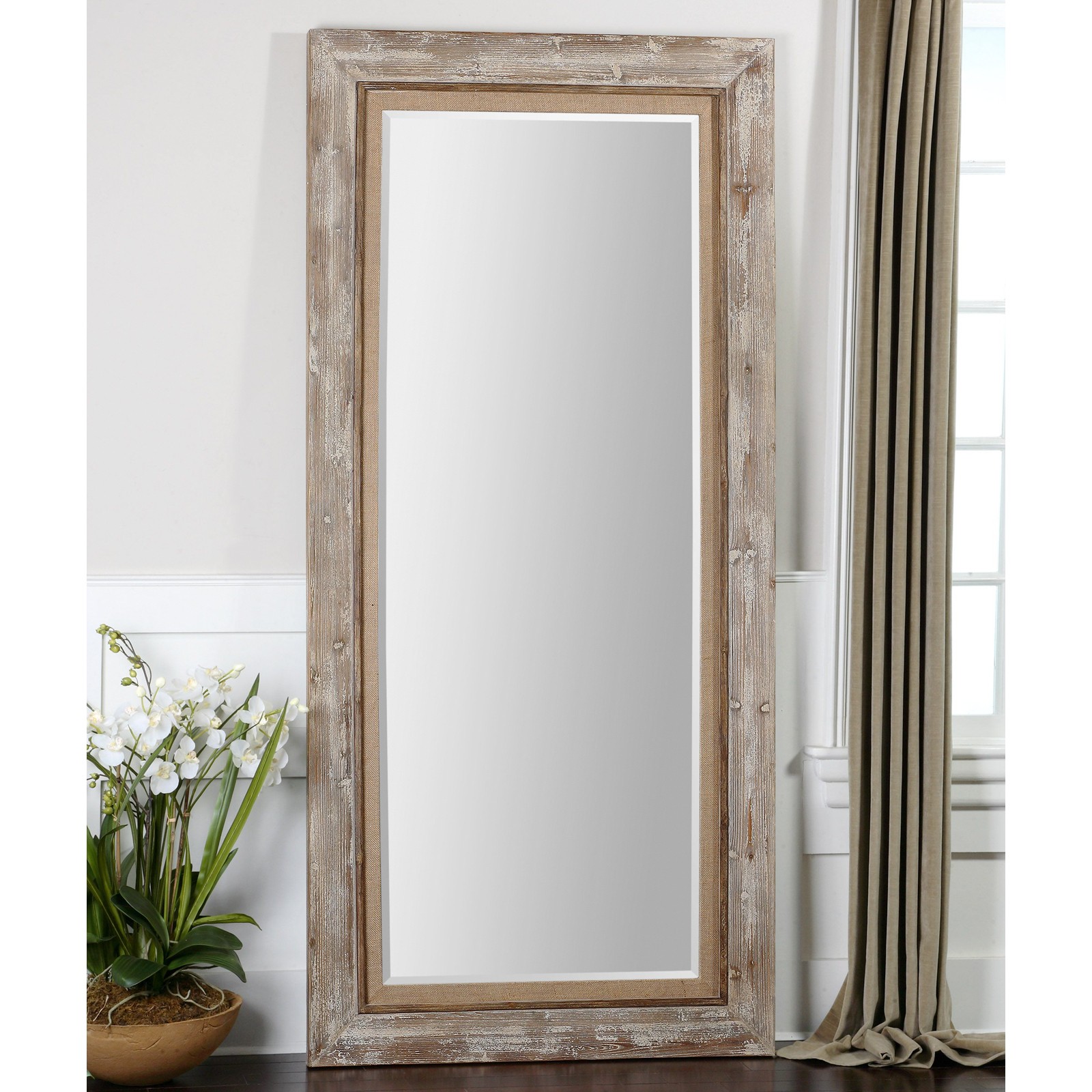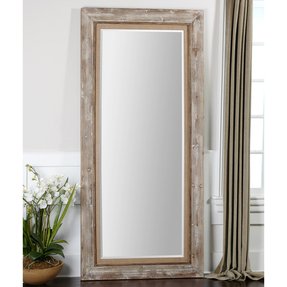 FRENCH COUNTRY Distressed Wood Leaning FLOOR MIRROR 82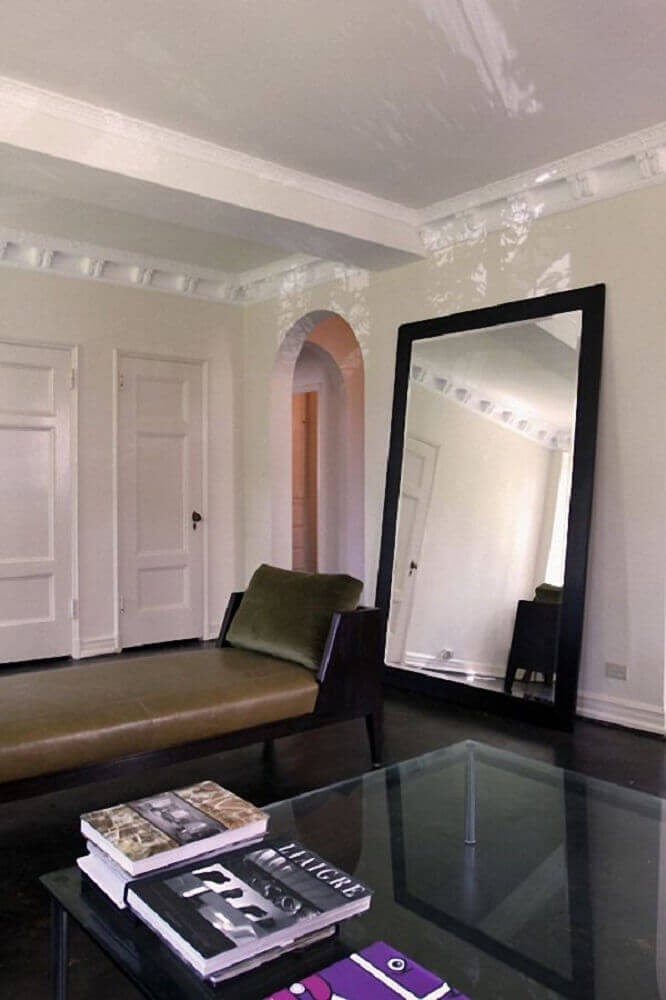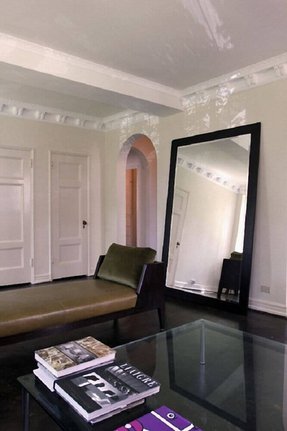 black framed oversize leaning mirror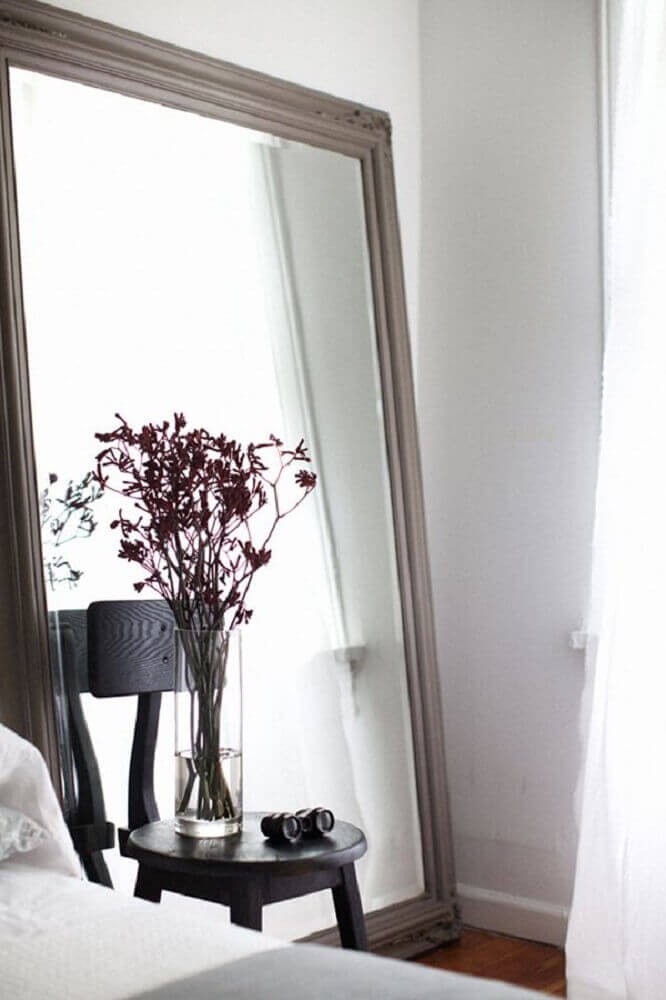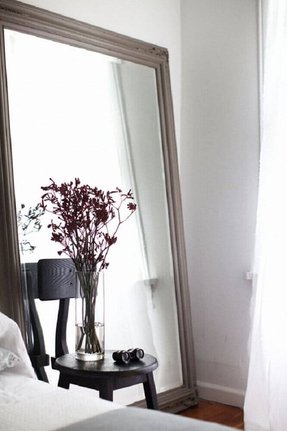 I want to furnish my master bedroom with a large floor lenght mirror. It has got the rectangular shape and elegant, classic style, and wooden light gray frame with floral decors in the corners.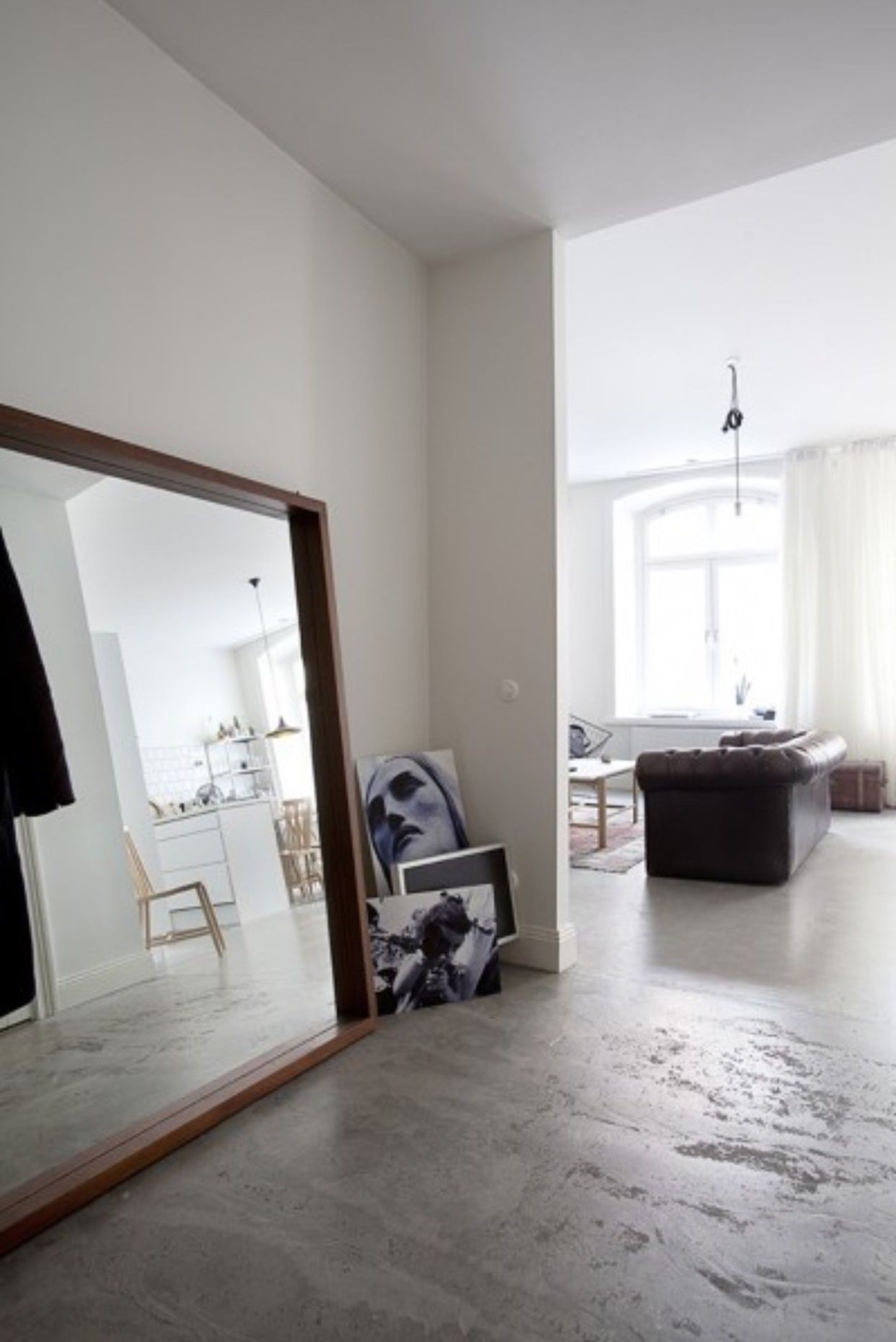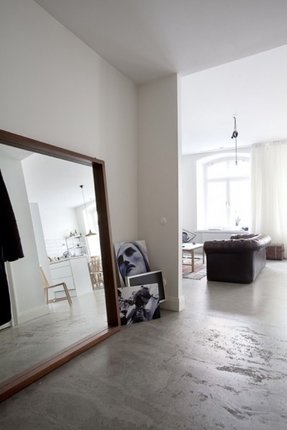 An impressive and fashionable large rectangular mirror of bevelled glass. It has a straight frame of brown plastic. It can be wall mounted or simply leant against the wall vertically or horizontally.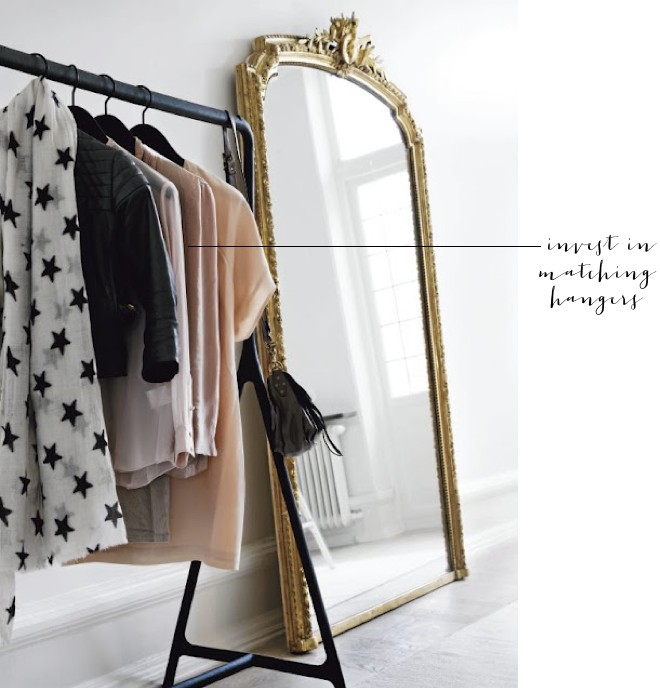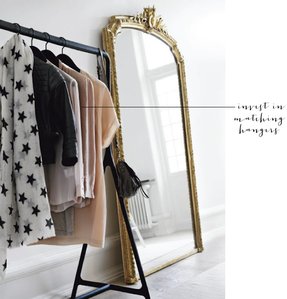 The Design Chaser: Interior Styling | Oversized Mirrors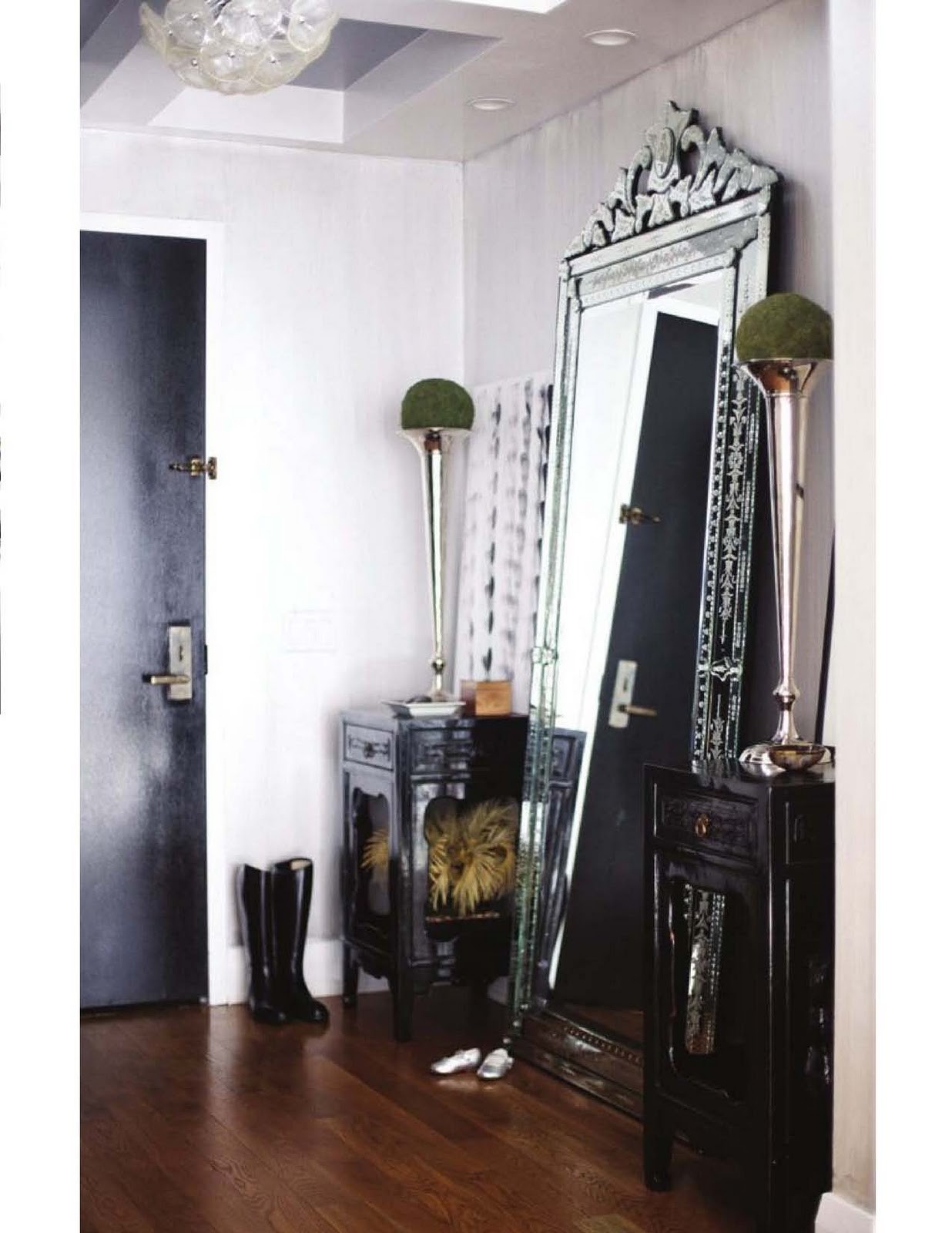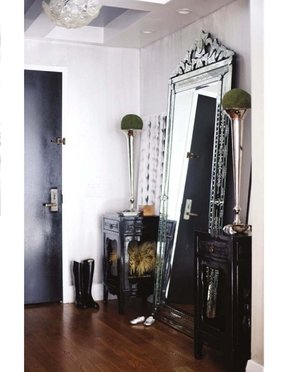 With this oversized floor mirror you'll be able to see yourself in all your glory! The mirror is, simply, gorgeous, and can be leaned against a wall for maximum stability. The frame is beautifully crafted, bringing to your bedroom a flare of Venetian elegance.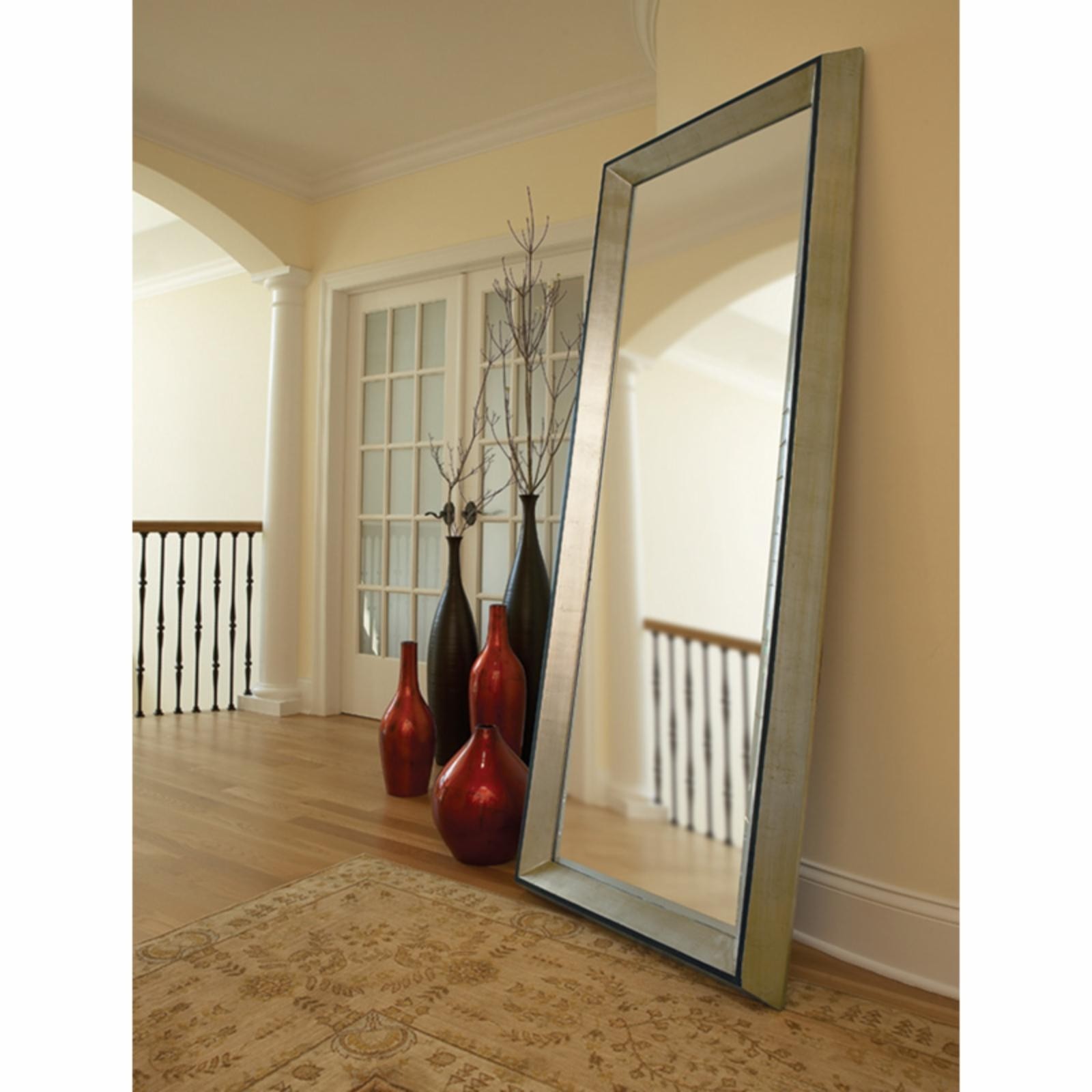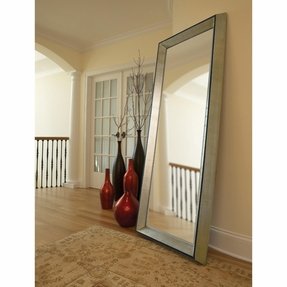 Apart from its modern, steely finish, this oversized floor leaning floor mirror has the ideal size to place it in a bedroom or the end of a hallway. It has the following dimensions: 80"H x 33"W.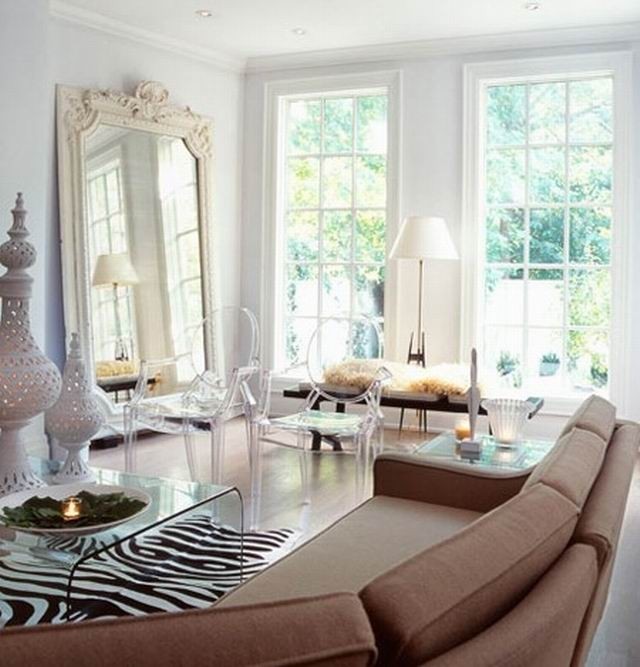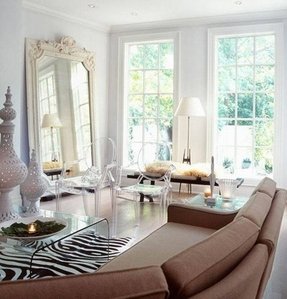 This oversized leaning floor mirror constitutes a great example of the ornamental, antique art. Richly adorned silhouette fits well to the eclectically designed interior, providing a refined appeal.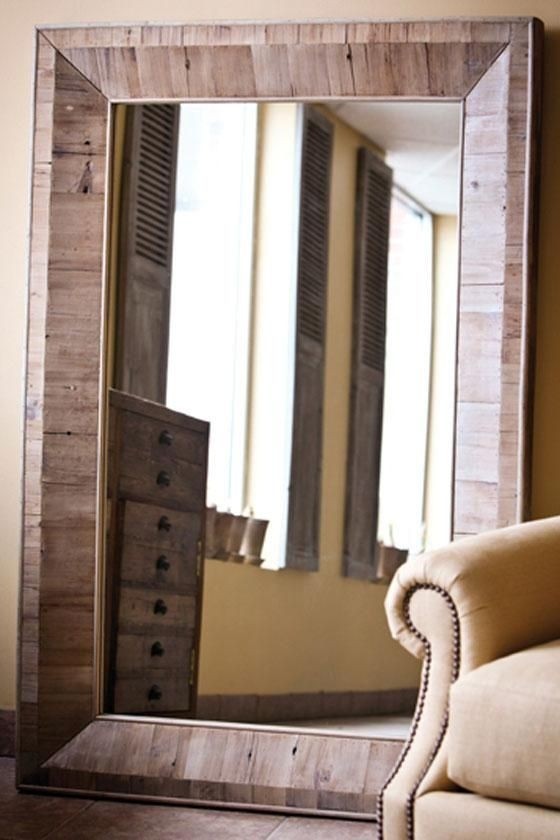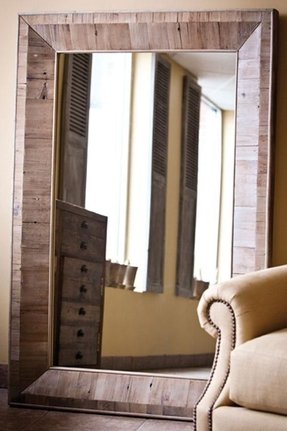 love oversize leaning floor mirrors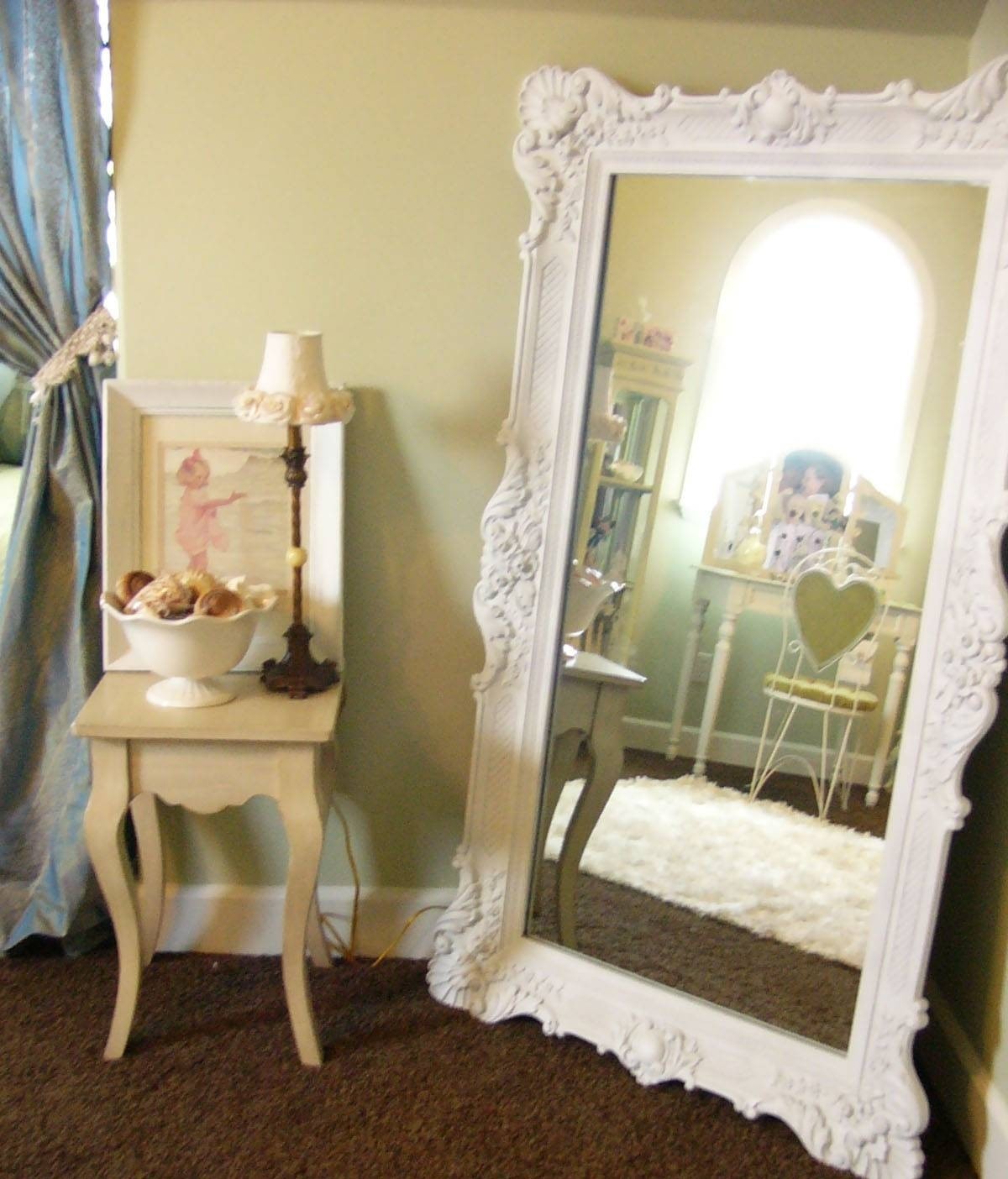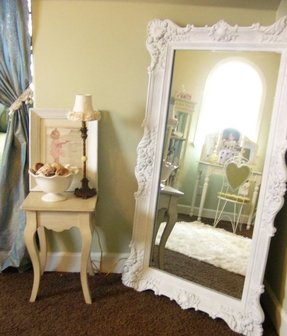 Attractive and very useful mirror with a simple rectangular surface. Its durable frame is finished in neutral white color and it includes some decorative carvings, so it is able to decorate different types of rooms.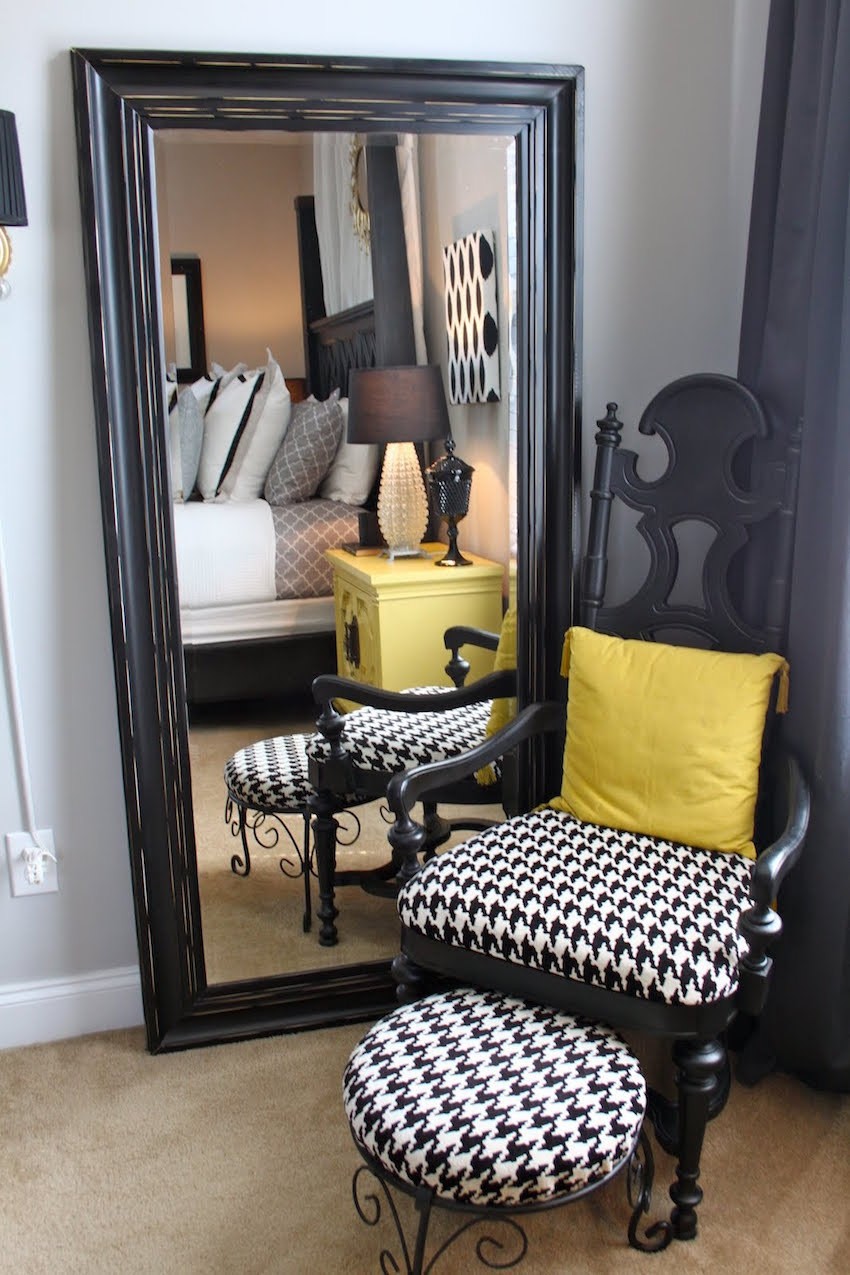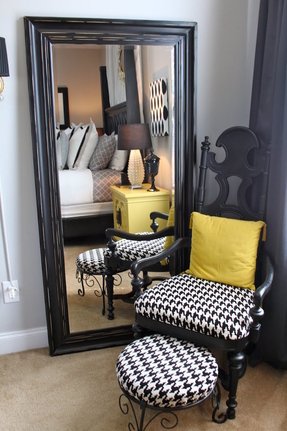 Houndstooth!!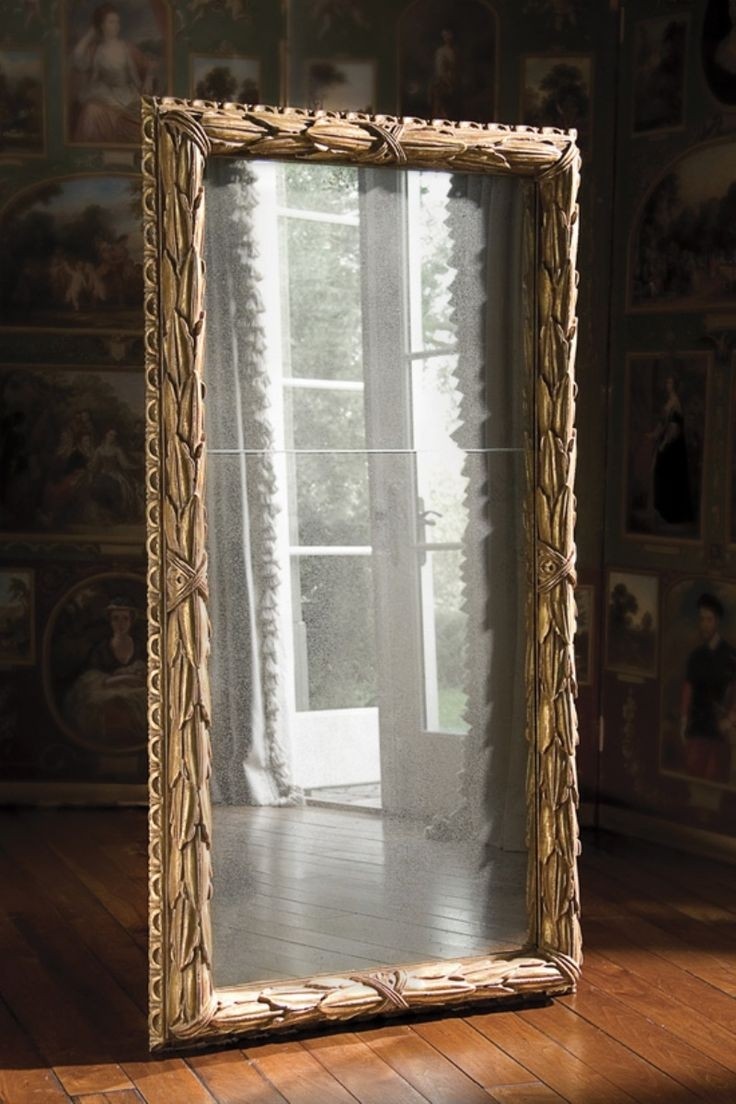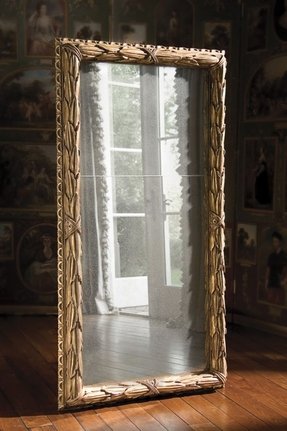 001 decor iv wall decor floor mirrors alloro mirrors floors mirrors ...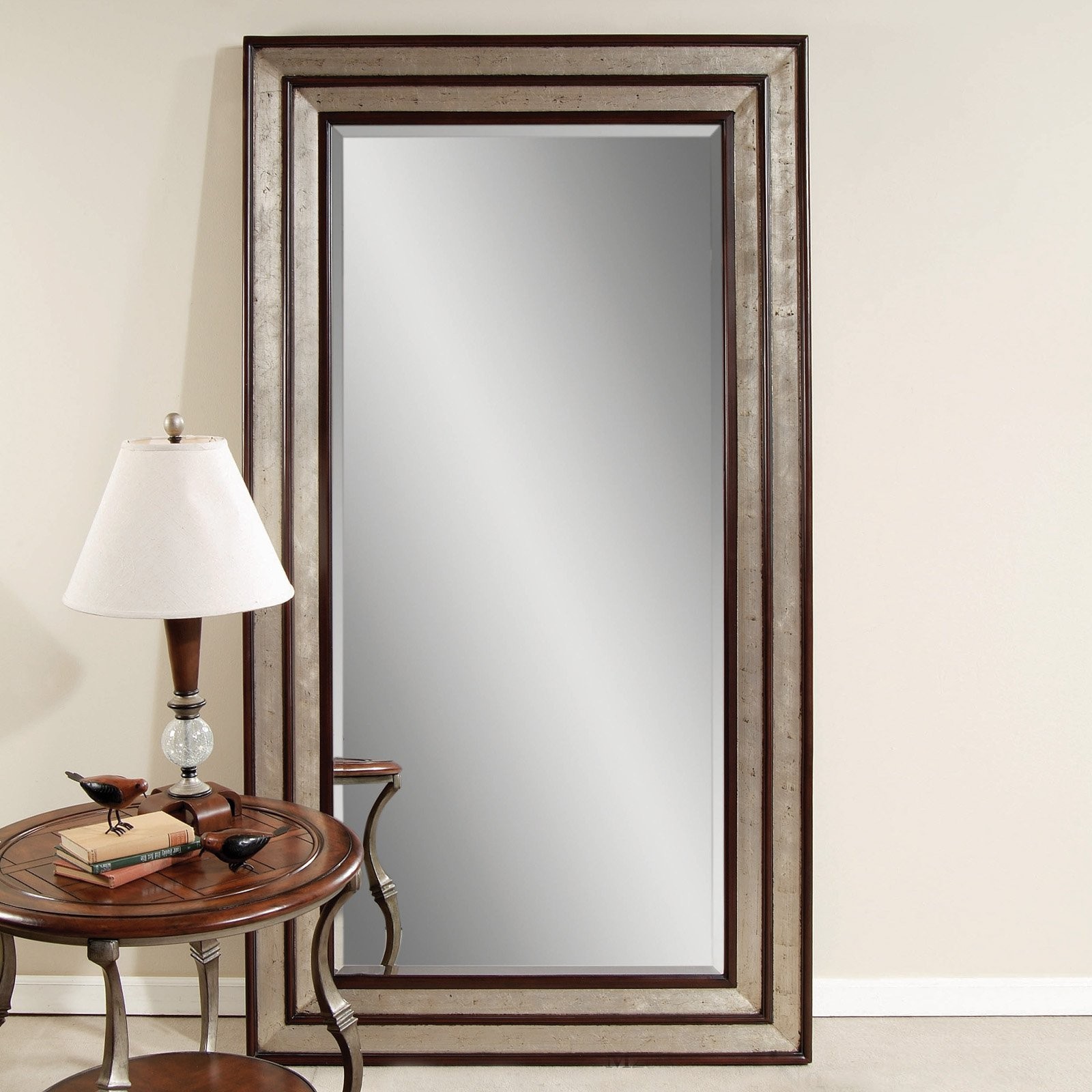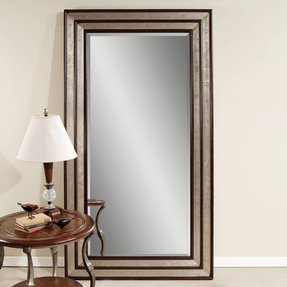 Transitional rectangular leaning floor mirror with a durable frame in silver and ebony finish. This element of design is practical and decorative. It matches many different types of indoors thanks to its transitional style.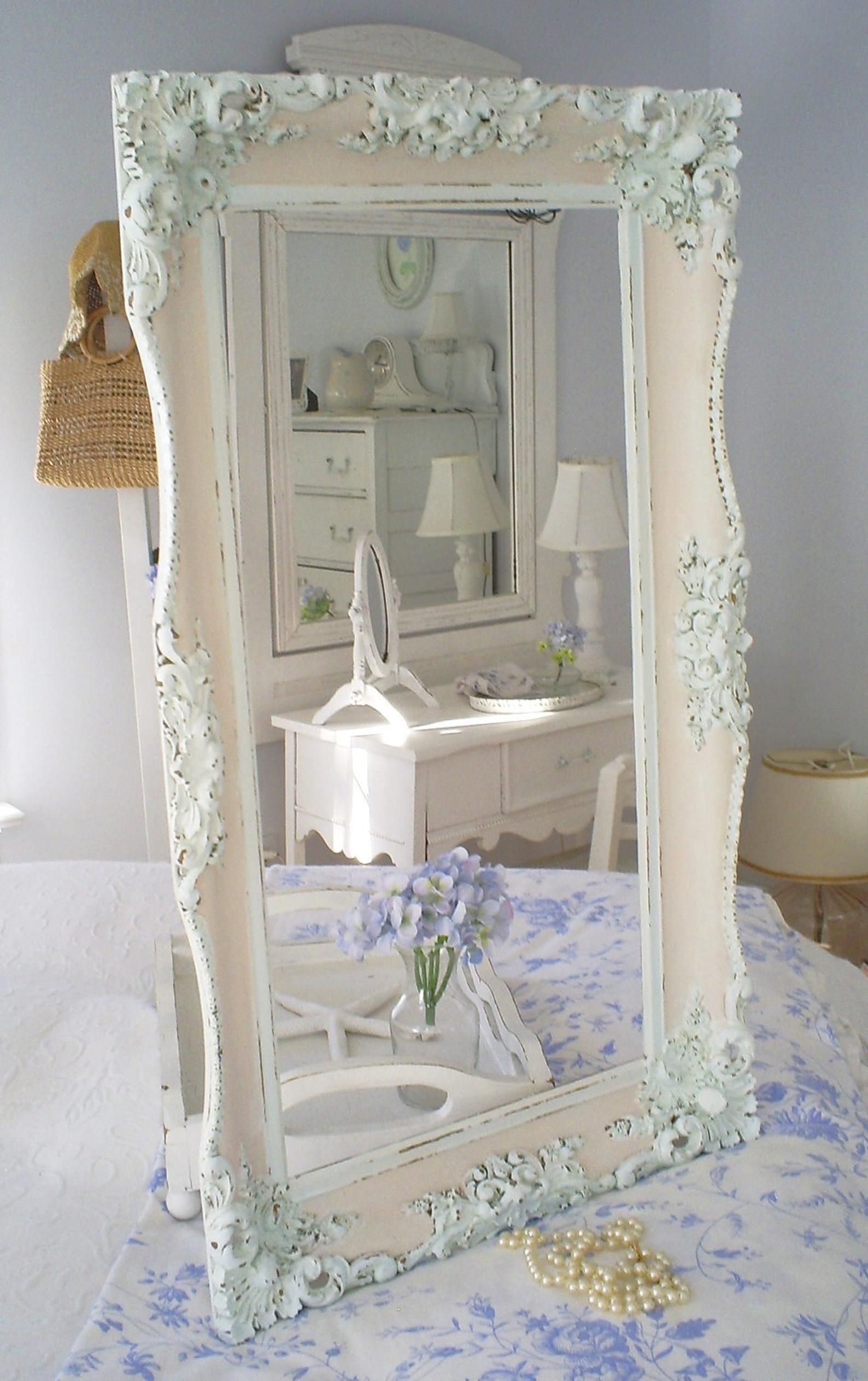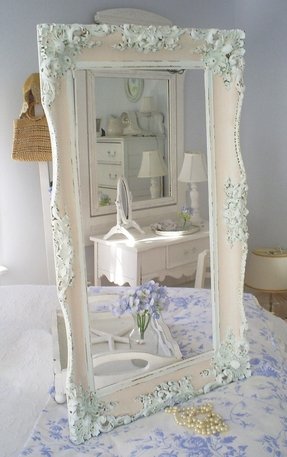 Gorgeous makeover for an old-fashioned, oversized leaning floor mirror with a decorative, ornate frame around the reflective surface. The string of yellow Christmas lights around the piece provides a unique, bright appearance.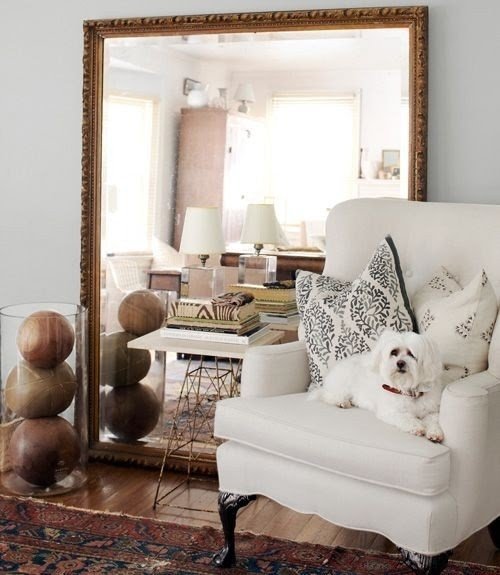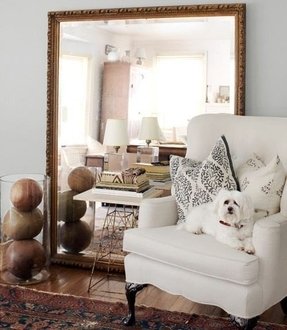 The production of mirrors began in ancient times. Were then made of polished metal. Today, oversized leaning floor mirror add the character of the bedroom thanks to, this huge, slightly carved wooden frame - also increasing the size of the room visually.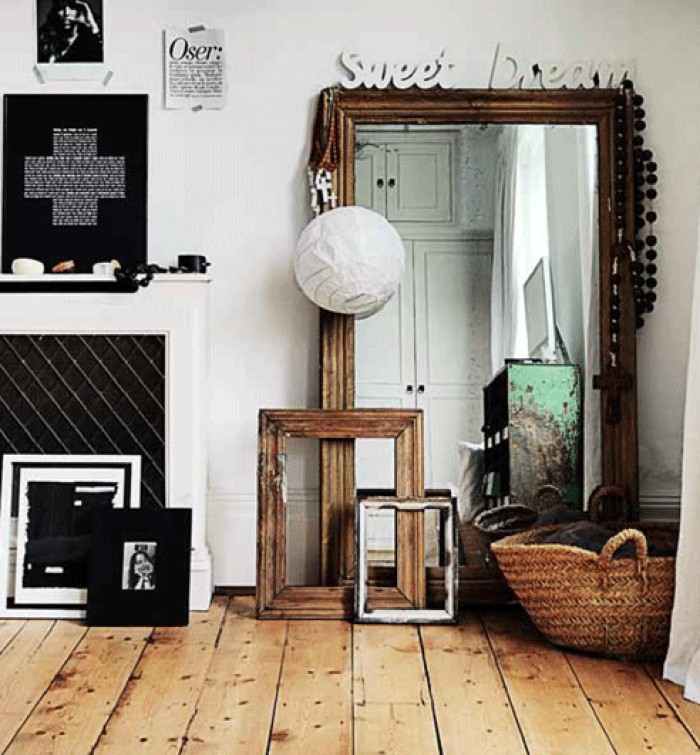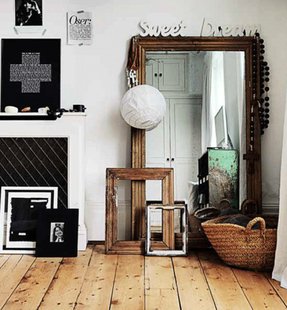 The Design Chaser: Interior Styling | Oversized Mirrors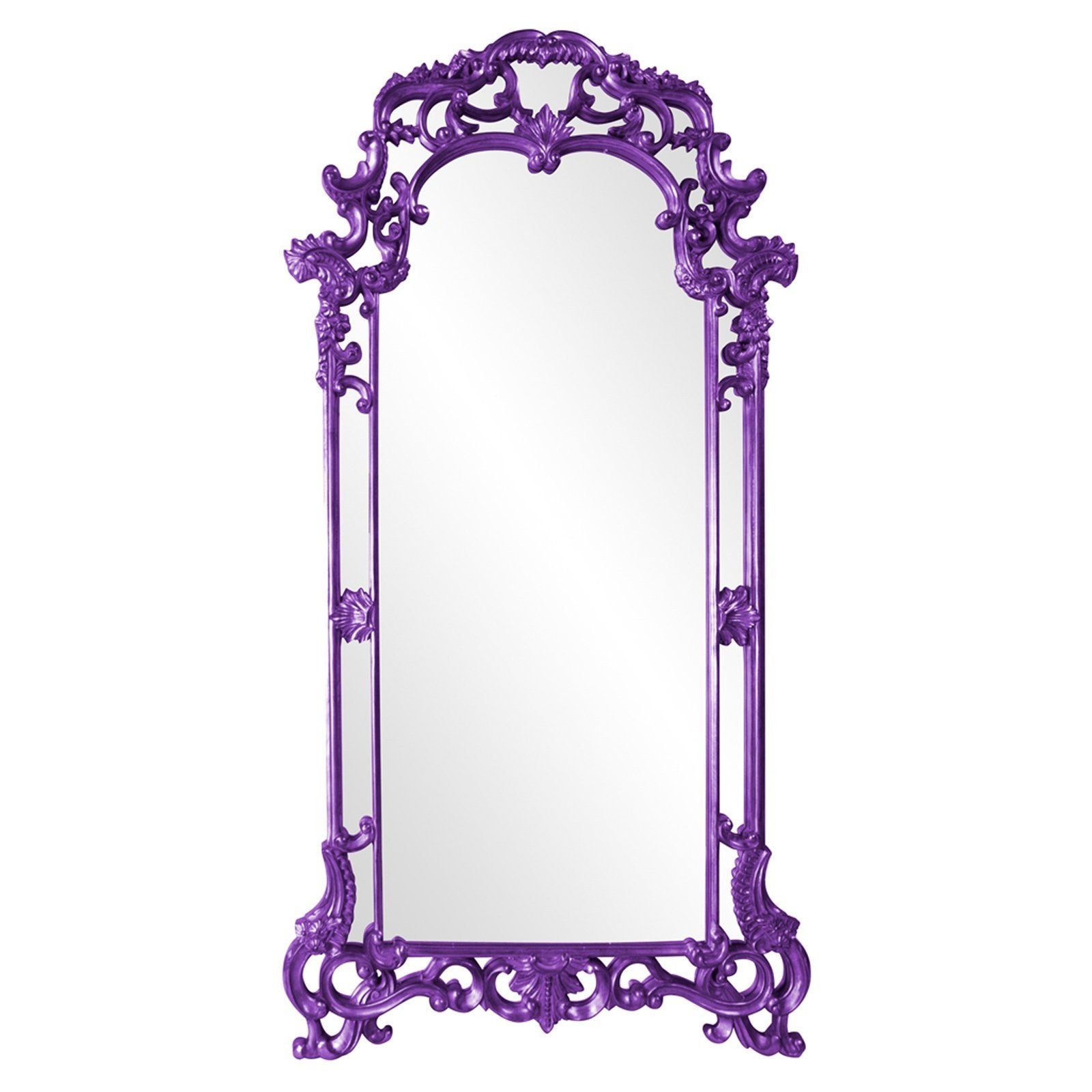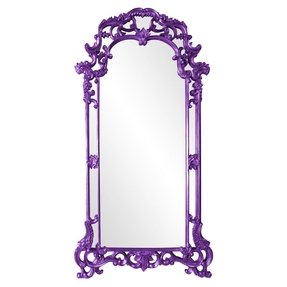 Imperial Oversize leaning floor Mirror. Available at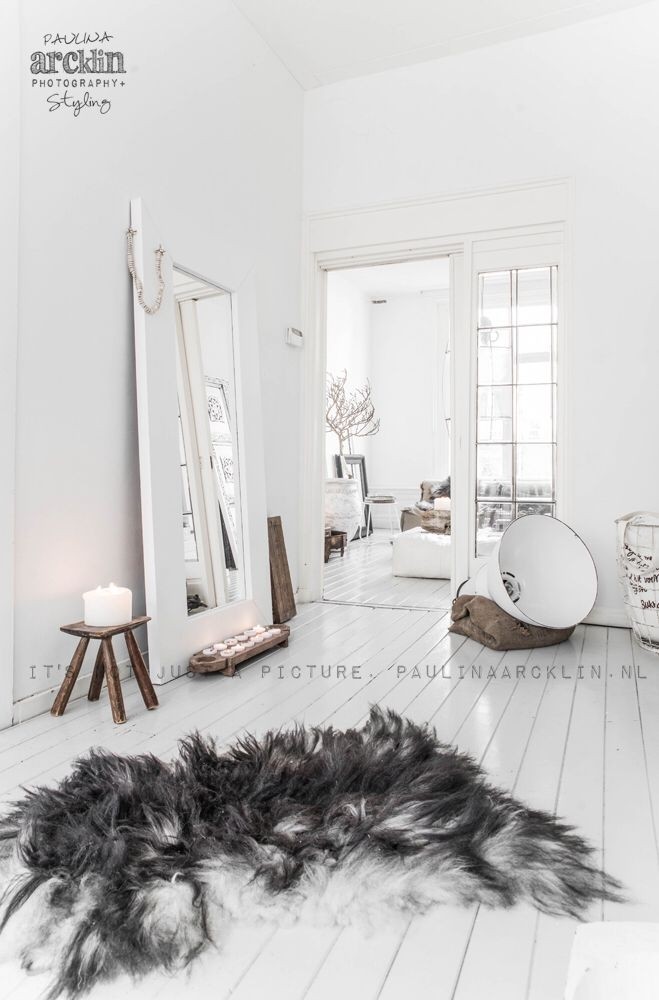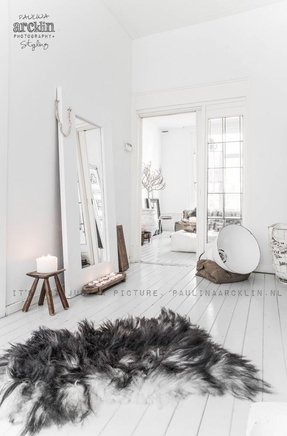 Baroque styled mirror with a durable, rectangular frame that provides some decorative carvings and accents. Its rectangular shape is stylish, so the whole element looks very attractive in different interior stylizations.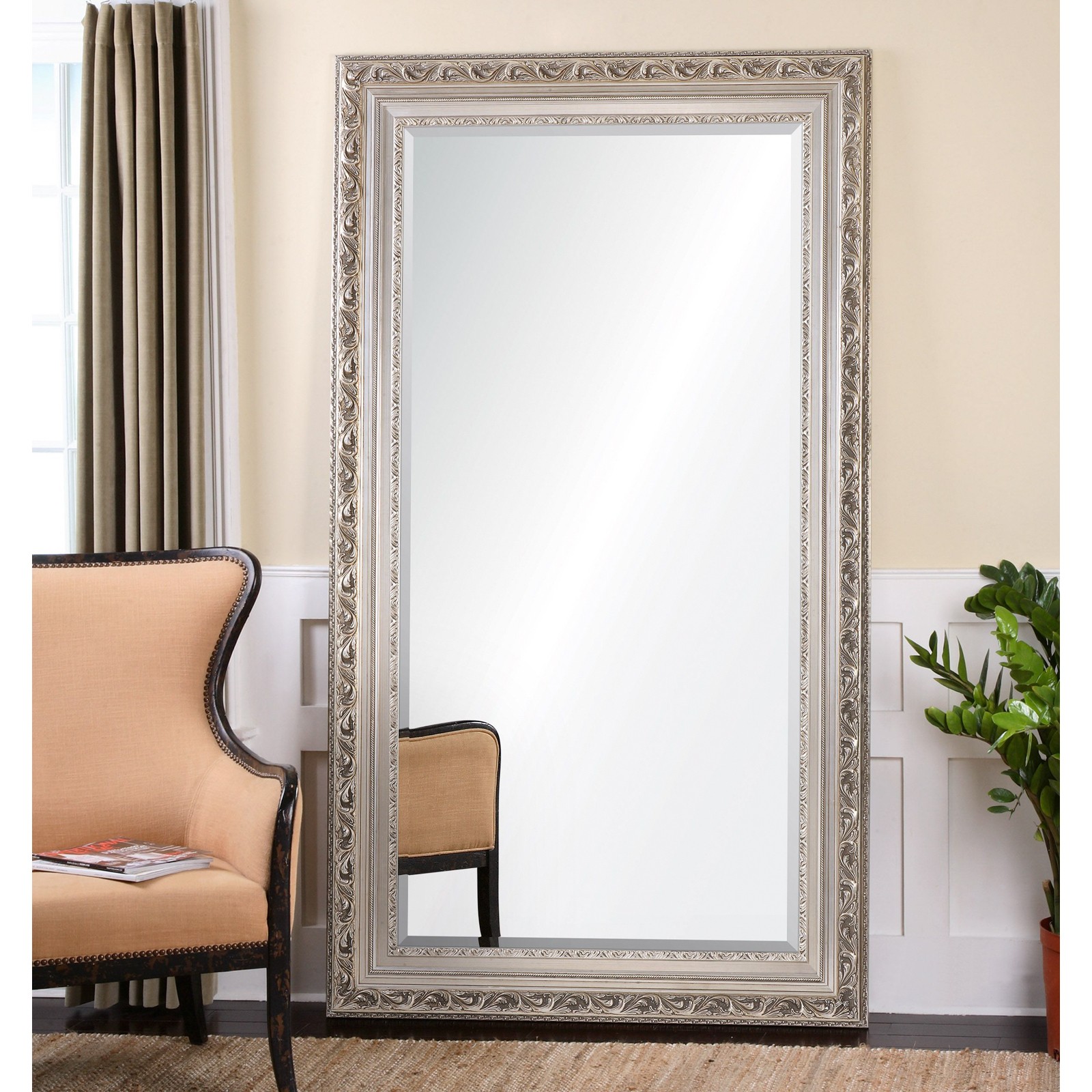 Uttermost Mathilda Oversized Silver Leaner Mirror - 47.88W ...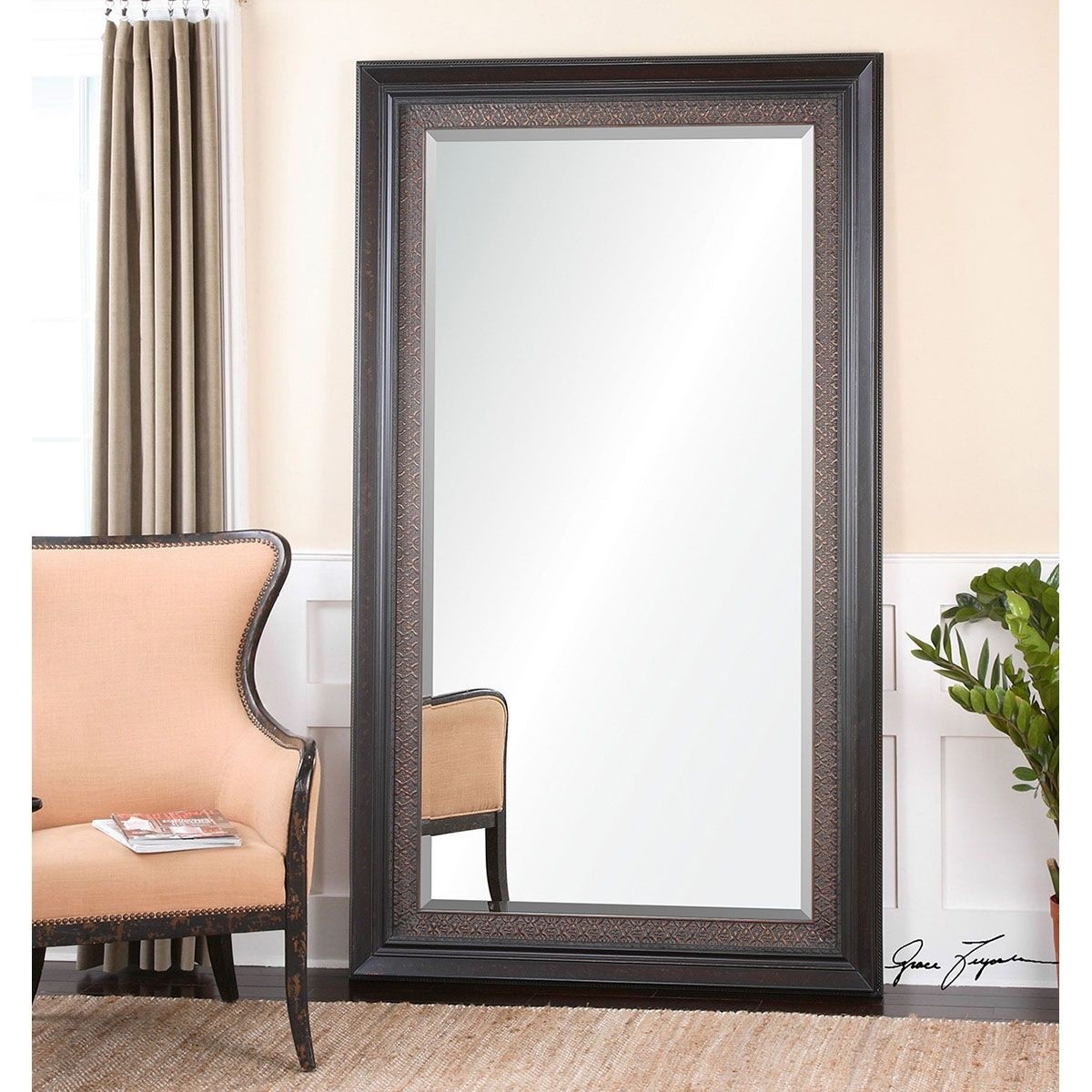 Uttermost Marcellina Oversized Dark Bronze Mirror 14244 ...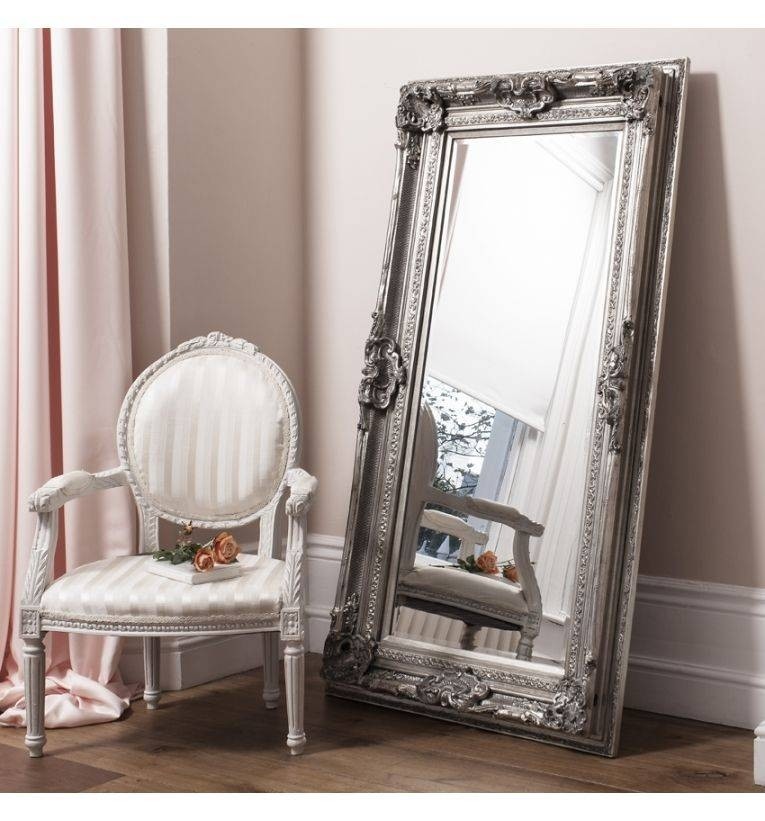 15 Best of Large Leaning Wall Mirrors