Our Choice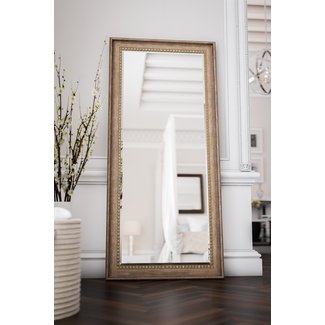 Brunswick Floor Rustic Beveled Distressed Full Length Mirror
Add a rustic touch to your contemporary living room or bedroom with this distressed full-length floor mirror. The earthy tones and distressed gold-toned details of the mirror's frame make the space appear more cozy and laid-back.
Pair it with colorful Scandivanian furniture to tone down the room or let it blend with other neutral decors such as a large houseplant in a white vase to create a simple and sophisticated look.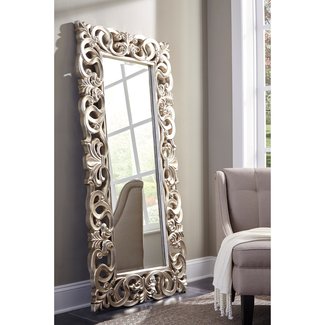 Traditional Rectangle Accent Mirror
If you're looking for a stylish accent mirror that will stand out, this rectangle floor mirror with ornate details is the perfect addition. It adds a touch of traditional style to contemporary and transitional interiors.
The floor mirror can be mounted or leaned on the wall, depending on the available space. Pair with a floor lamp and wall frames with antique silver accents for a luxurious look.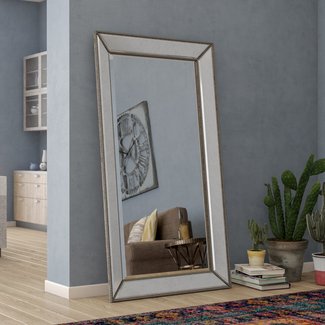 Kael Full Length Mirror
Complete the look of your transitional or rustic home with this vintage-modern floor mirror. It has a contemporary design with a dark brown and light caramel traditional frame that perfectly suits other wooden furniture.
With a dimension of 65.5" H x 32" W x 0.75" D, this full-length pine wood mirror is sturdy and can easily brighten the room without appearing too extravagant. Add a potted plant nearby for a welcoming atmosphere.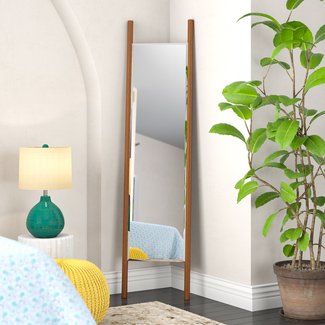 Cressida Full Length Mirror
This full-length floor mirror with extended legs and a faux ladder look is a combination of modern and boho-chic style. Made of solid rubberwood and engineered wood with a rich dark tobacco finish, its clean design adds a unique touch to any interior while keeping the setting simple.
This floor mirror is designed to lean against the wall, creating a more laid-back atmosphere and looks best accompanied with a tall houseplant to complement its 70 inches height.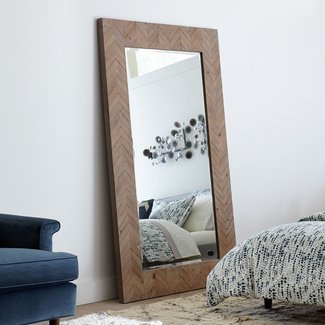 West Broadway Coastal Beveled Distressed Full Length Mirror
Complement your furniture and decor with this distressed floor mirror that is simple and elegant enough to make a statement. Combining maximum functionality with versatility, this floor mirror is full-length and fits well in various home settings including traditional, contemporary, and beachy.
Its minimal and distressed style with carved chevron accents creates a warm and graceful atmosphere. Coordinate with neutral-toned furniture and decors for a chic and natural look.
Rectangle Silver Wood Mirror
Step up your decor with this rectangle floor mirror with a scratched silver leaf finish. Its contemporary and glamorous style blends well with other color schemes but especially complements calm and neutral-toned spaces.
Crafted from a wooden frame with a distinctive geometric look, this floor mirror can be leaned on the wall for a casual look or mounted on the wall for a luxurious touch.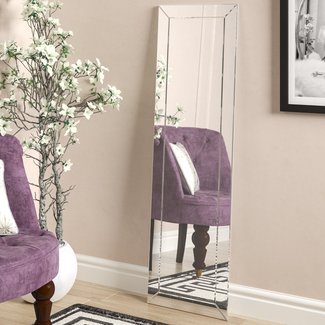 Daksh Wall Mirror
This elegant wall mirror is the perfect addition to modern and contemporary spaces. Although its design is simple, it has an angled mirror frame that makes it a unique focal point.
The mirror measures 45" H x 13.5" W x 0.5" D which is perfect for smaller spaces. You can add glamour to your home by hanging it on your door, entryway, or on the wall, accompanied by houseplants in white vases.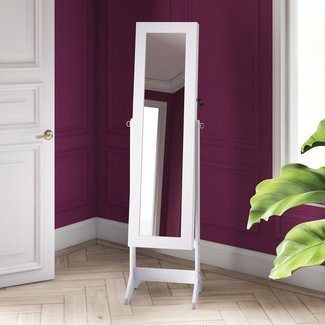 Shallowater Free Standing Jewelry Armoire with Mirror
This free-standing jewelry armoire with a mirror offers functionality and elegance to your room. It's space-saving, can neatly organize your jewelry with the various earring, necklace, ring, and bracelet slots, compartments and drawers, and blends well with other home decors.
Featuring a front-facing built-in mirror, you can easily adjust the mirror to four different angles and check yourself out. The armoire is spacious enough for hundreds of pieces of jewelry and can be locked to keep them safe.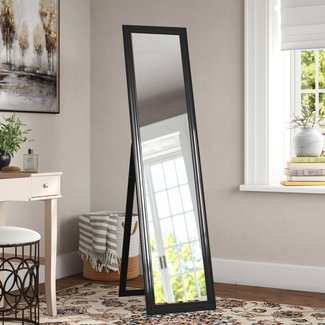 Rectangle Rubberwood Standing Wall Mirror
Elevate your home's aesthetics with this rubberwood standing floor mirror. Its simple structure with an intricately designed corner trim is perfect for any home style.
It has a support in the back that keeps the mirror stable, has an adjustable depth, and can easily be cleaned and maintained. Available in black, champagne, silver, and white, you can easily match this floor mirror with your existing decor and add artwork in the same shade for a well put setting.