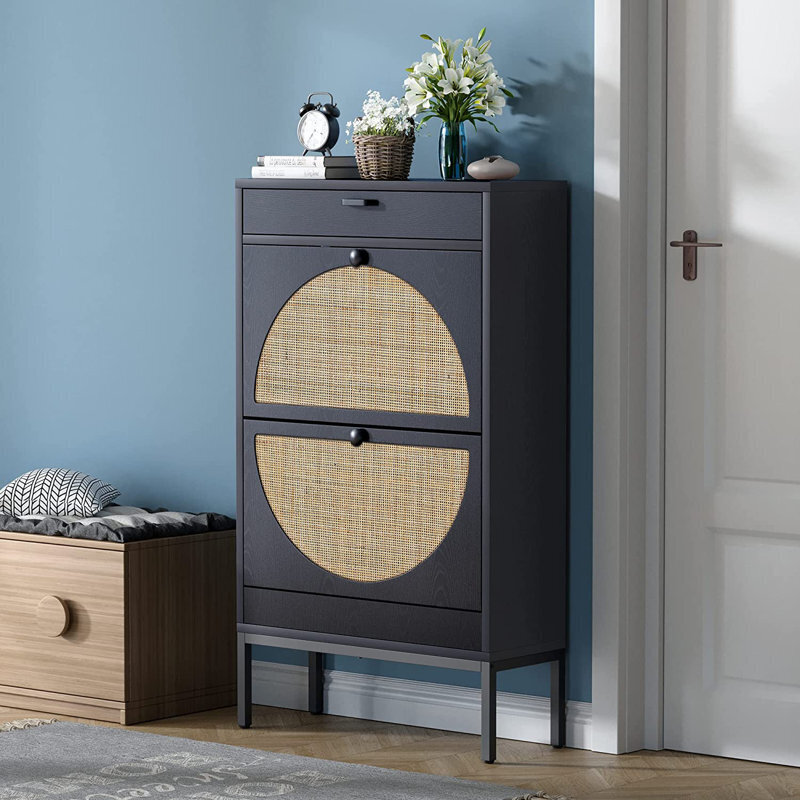 Sleek Mid Century Modern Thin Shoe Cabinet
$119.99 $149.99
Sleek Mid Century Modern Thin Shoe Cabinet
Bay Isle Home™
$119.99 $149.99
Perfect for: Airing out smelly shoes
We like: Geometric dual-material front
Not great for: Storing tall shoes
This skinny modern shoe storage container comes in brown or black with stylish geometric half-circle weaved rattan doors. Inside is a small drawer, and two flip drawers hold 12 shoe pairs. The adjustable feet allow for a 7.08" tall under space.
Designer Advice:
Slim shoe storage cabinets with half-woven rattan front panels keep your shoes smelling fresh and prevent mold growth. The holes in the weave let air circulate in the cupboard. And you can use the open space below shoe storage racks to store boxes, baskets, or other shoes and make it easy to keep your floor clean.
What Users Say:
Fits perfectly on our narrow entryway wall and fits most women's shoes and short men's shoes (think low vans or converse).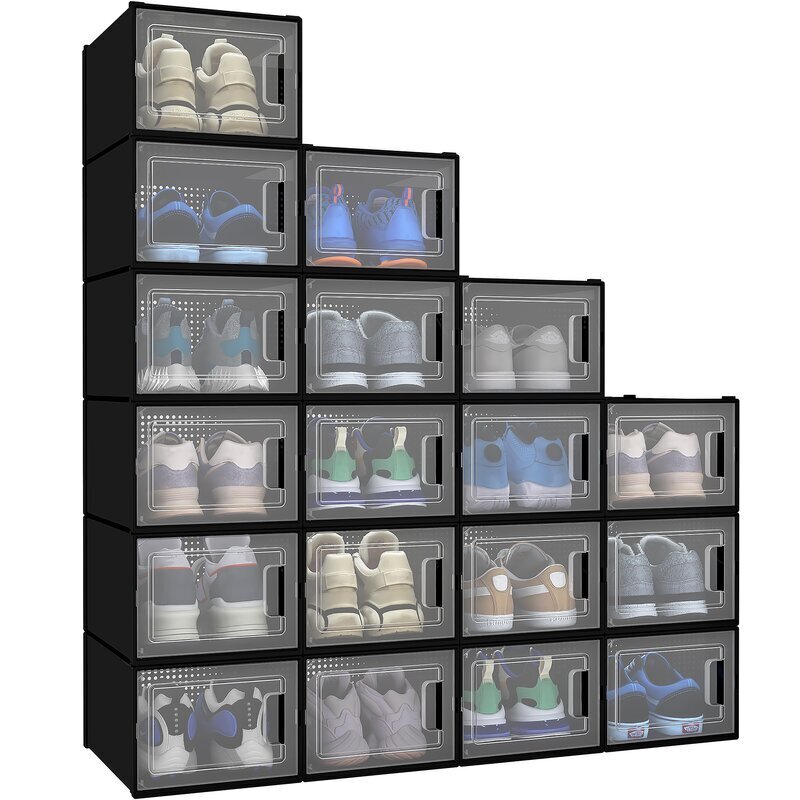 Stackable Slimline Shoe Storage for Sneakers
$4.83 $203.82
Stackable Slimline Shoe Storage for Sneakers
Rebrilliant
$4.83 $203.82
Perfect for: Kids, teens, and adults with a large sneaker shoe collection
We like: The stackable nature and the air holes that prevent odors
Not great for: Discreet closed storage
You can store 18 pairs of sneakers in the black or white freestanding 13.8" long by 7.3" tall by 9.8" wide stackable waterproof plastic crates. The compartments have clear doors that open from the right.
Designer Advice:
Stackable sneaker crates can be a perfect narrow shoe storage design to show off your shoe collection. And it makes it easy to know which shoes are in each slot. You can connect multiple crates to make room for additional pairs of shoes to accommodate your entire collection. It's an excellent way to display a killer sneaker collection.
What Users Say:
Great boxes, made everything more neatly in my home.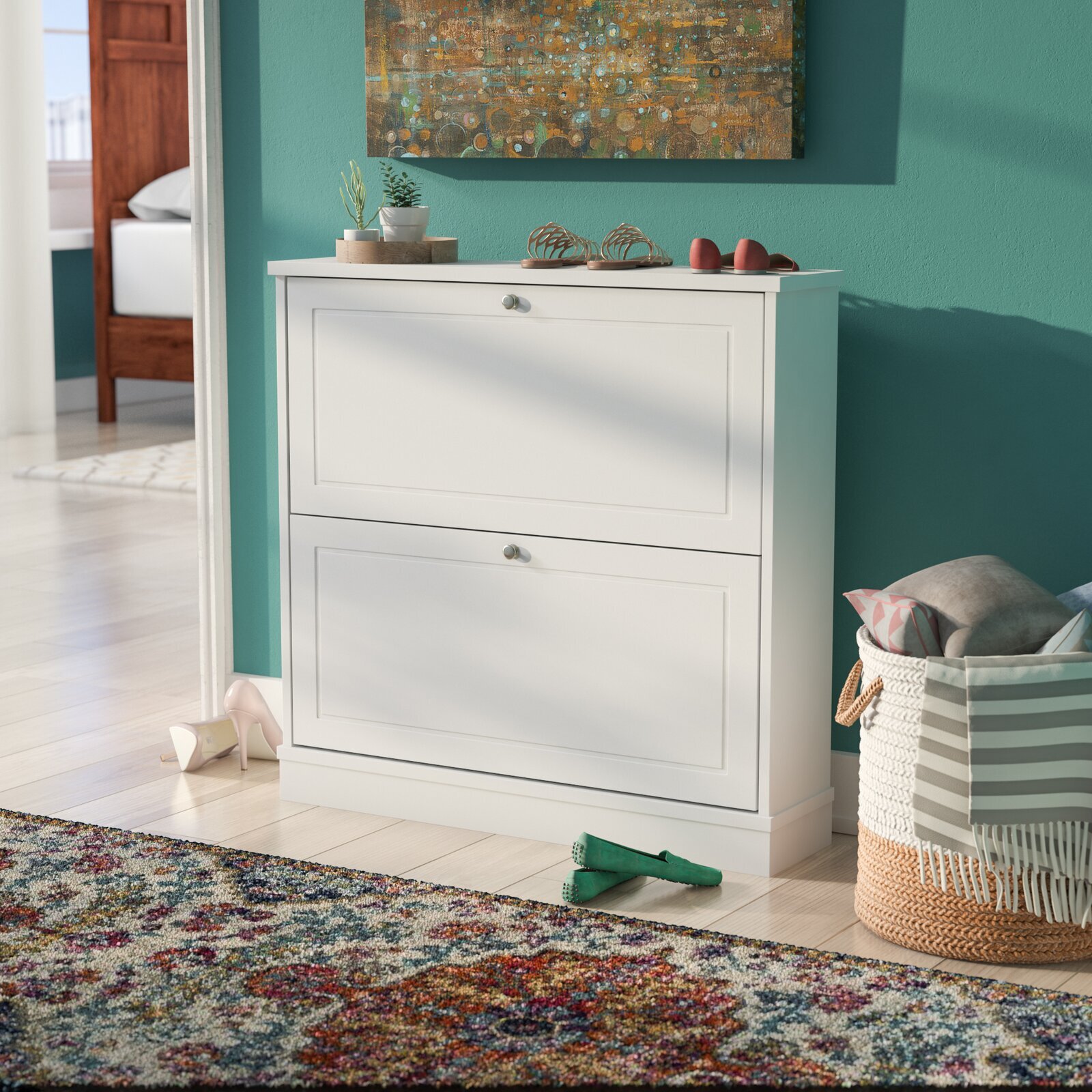 A classy white slimline shoe cabinet
$142.99 $193.71
A classy white slimline shoe cabinet
Latitude Run®
$142.99 $193.71
Whether your interior boasts a neutral color scheme or a variety of vibrant colors, an ultra-thin shoe cabinet in white will fit seamlessly into any setting.
It brightens up the room and exudes an understated elegance that goes with any kind of decor!
If you do get bored of the white finish as time goes by, you can paint it in a different shade for a pop of color!
Remember that white furniture shows dirt easily so you'll need to clean it regularly to keep it looking as good as new.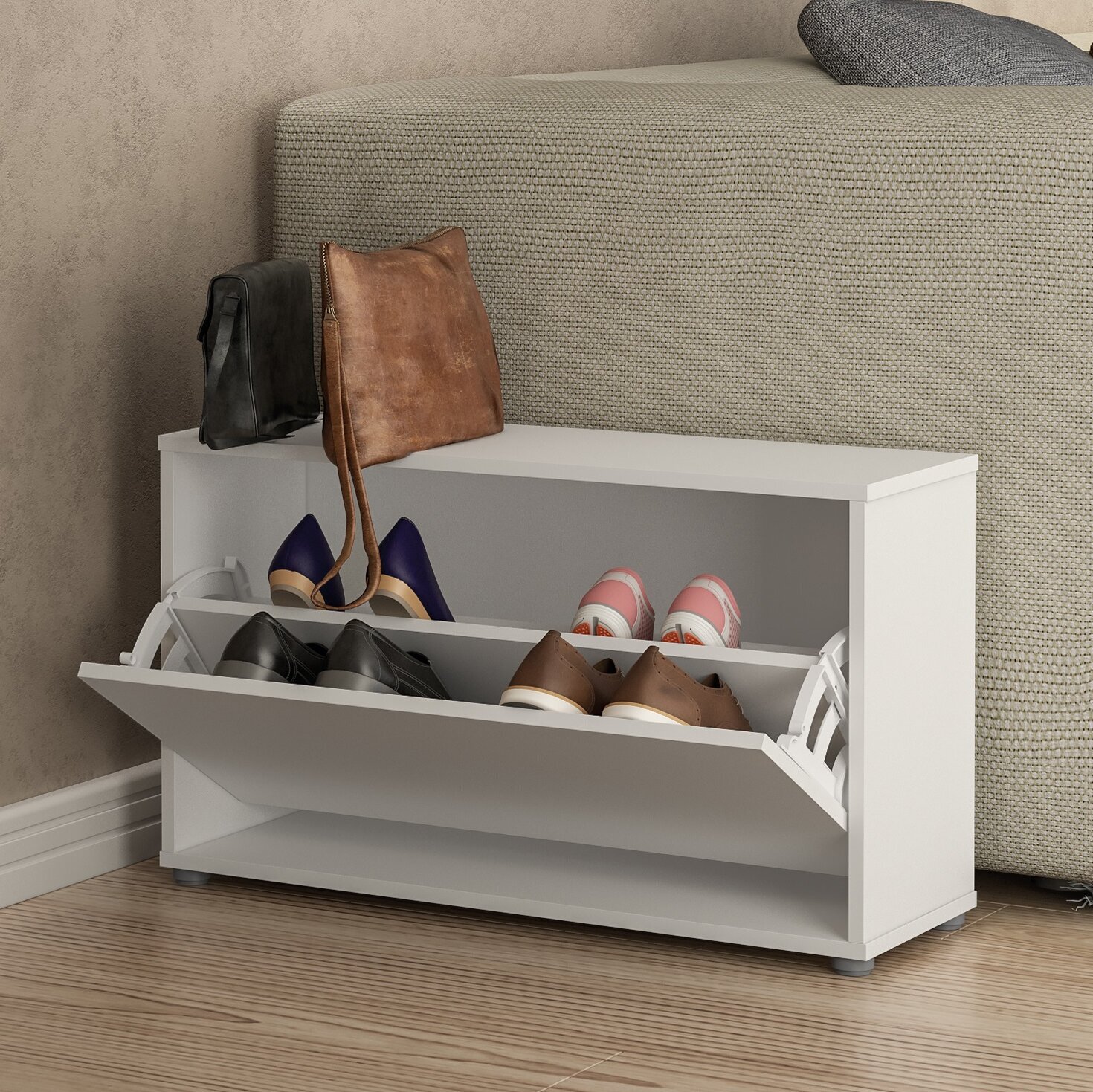 Small, minimalist shoe cabinet
$67.99 $135.81
Small, minimalist shoe cabinet
Latitude Run®
$67.99 $135.81
If you're not a fan of ornate and striking furniture, you're good to go with a thin shoe cabinet with a simple, clean-lined appearance.
Most, if not all, minimalist shoe storage have sleek, hidden compartments to stash shoes out of sight so your guests won't even know what's inside!
These shoe cabinets have an uncluttered look that is super versatile and can go with just about any home style, be it contemporary, modern, or coastal!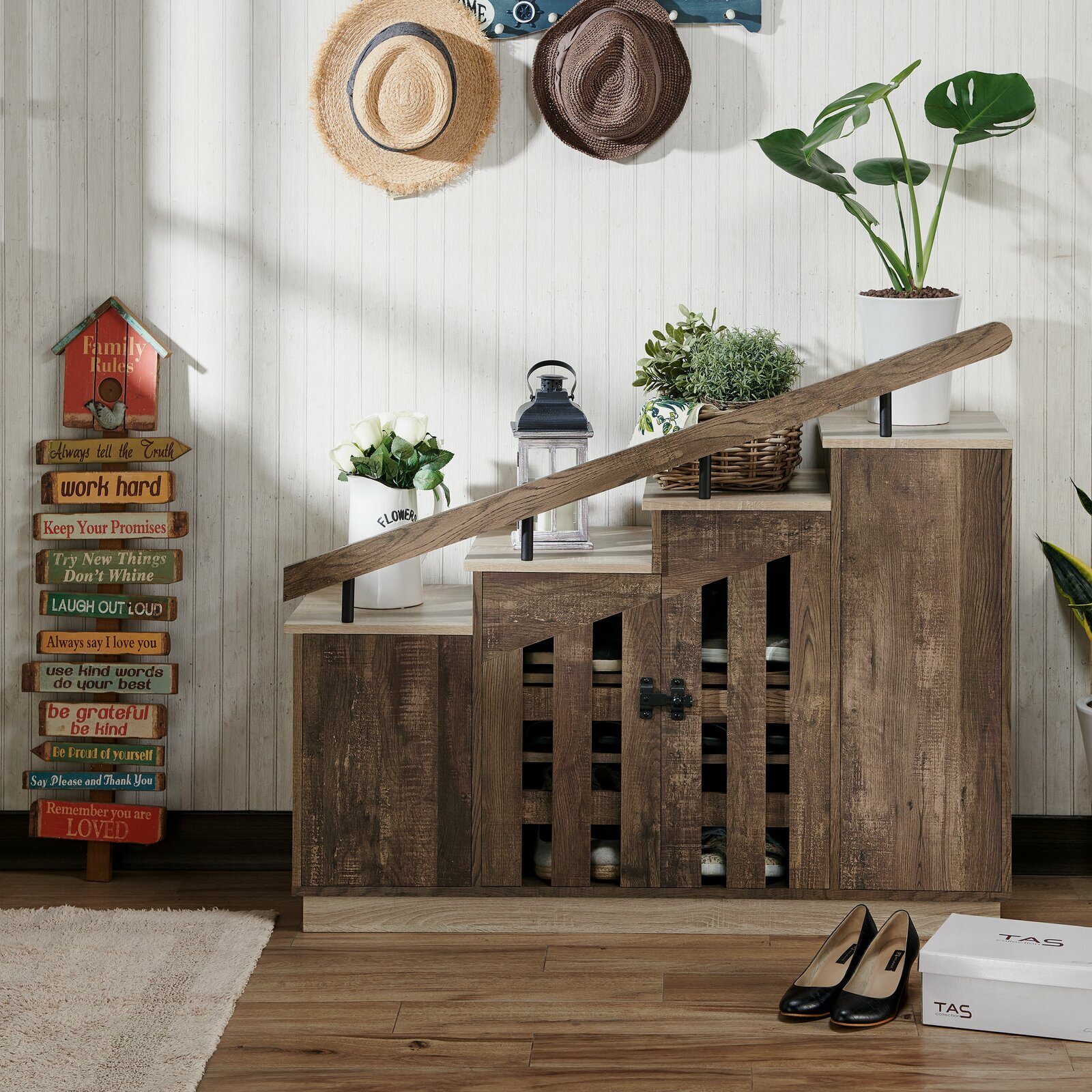 A decorative shoe cabinet
$229.99 $334.1
A decorative shoe cabinet
Mercury Row®
$229.99 $334.1
Who says shoe organizers can't be attractive, fun, and attention-grabbing pieces of furniture?
Thankfully, decorative shoe cabinets come in narrow versions as well, so you can store your footwear in style even when there's not much space around!
From unusual designs that resemble a staircase to bold pieces that ooze industrial charm, these types of shoe cabinets will surely make a statement and become a showstopper in your home!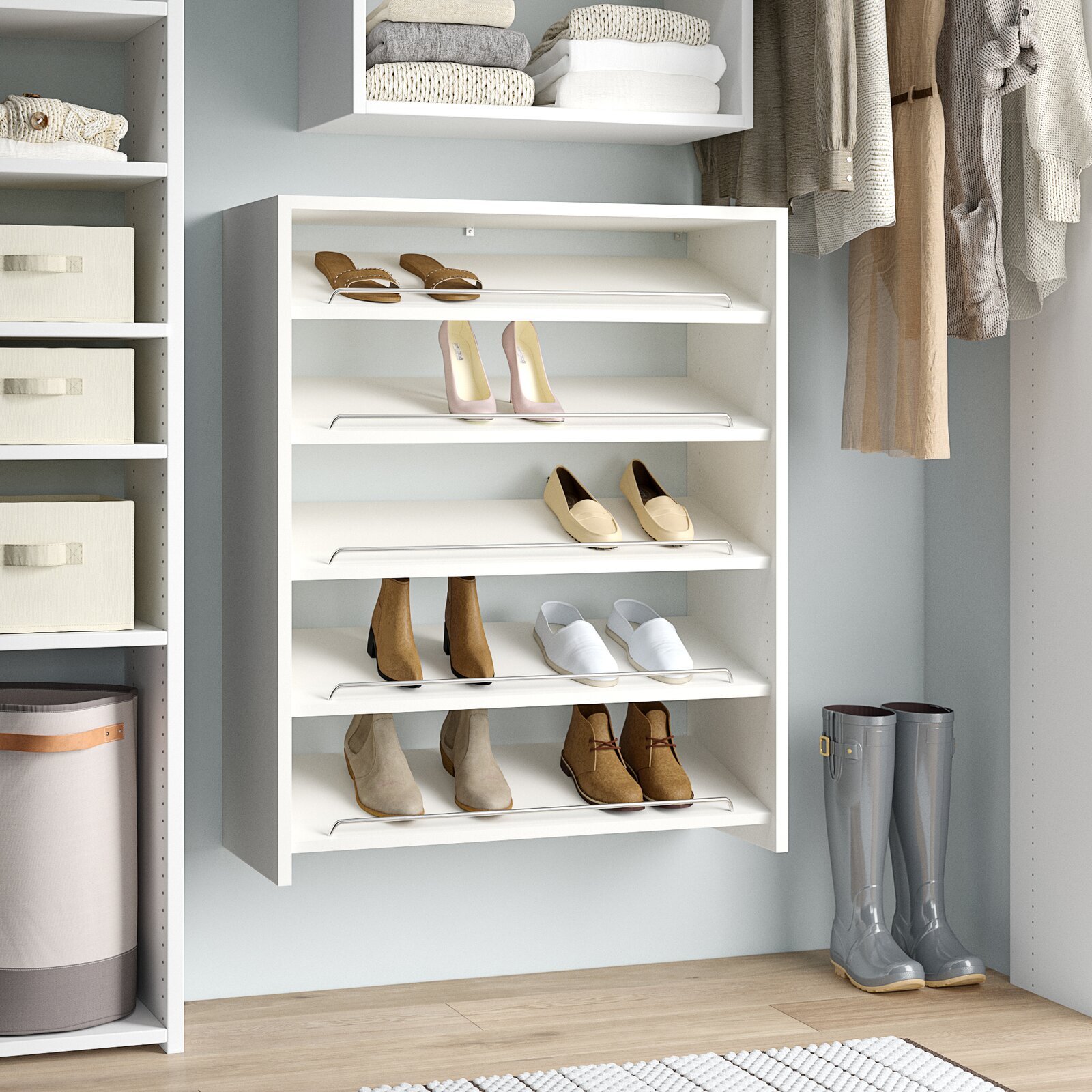 Wall mounted shoe storage
$171.99 $176.99
Wall mounted shoe storage
Dotted Line™
$171.99 $176.99
Not all shoe storage solutions have to be slimline and freestanding to be considered space-saving.
A wall shoe cabinet or rack is an ideal alternative for when floor space is limited or for when you've got lots of wall space to work with!
What's more, it keeps your shoes off the floor while still being easy to access, not to mention it will give the setting an airy and open feel with its hanging design!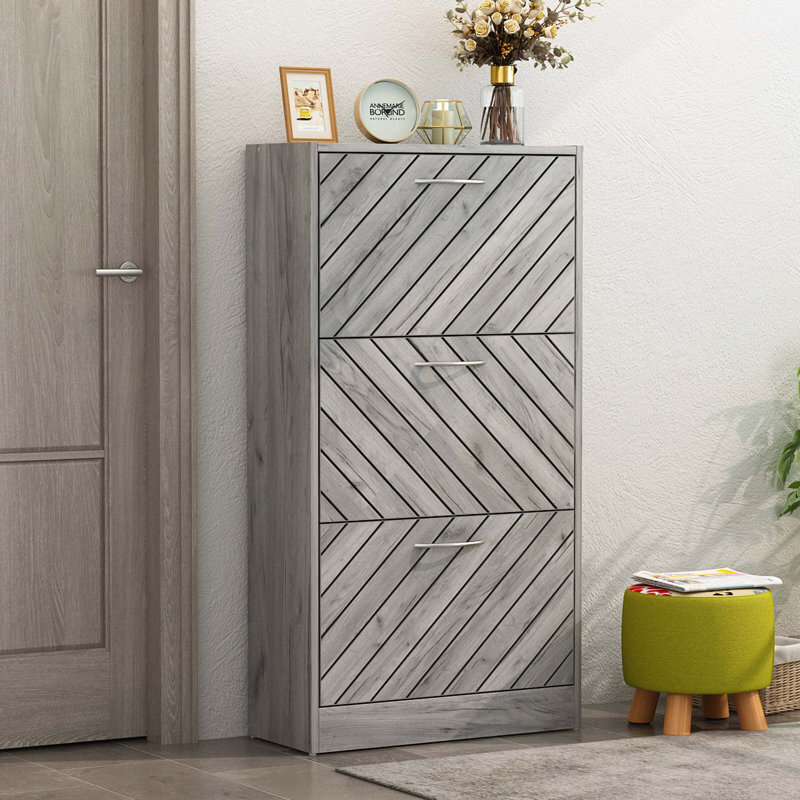 Stylish Ultra Thin Shoe Cabinet
Stylish Ultra Thin Shoe Cabinet
Union Rustic
Perfect for: Neutral modern aesthetic
We like: Adjustable compartment
Not great for: Shoes larger than men's size 10
This 9.4" deep by 42.3" tall freestanding shoe cabinet adds a stylish focal point with three slat-front cabinet panels with silver handles. It stores 12 pairs of shoes inside, and the 22.4" wide top allows you to display decor pieces.
Designer Advice:
Picking a shoe storage cabinet with decorative features like textured slat doors is an easy way to add extra style to a room. It can make your entry organized and attractive. And having adjustable compartments inside the drawers makes it an excellent option for a family shoe storage cabinet. In addition, you can use different containers for specific types of shoes.
What Users Say:
It is a great space saver and the design is so cute!!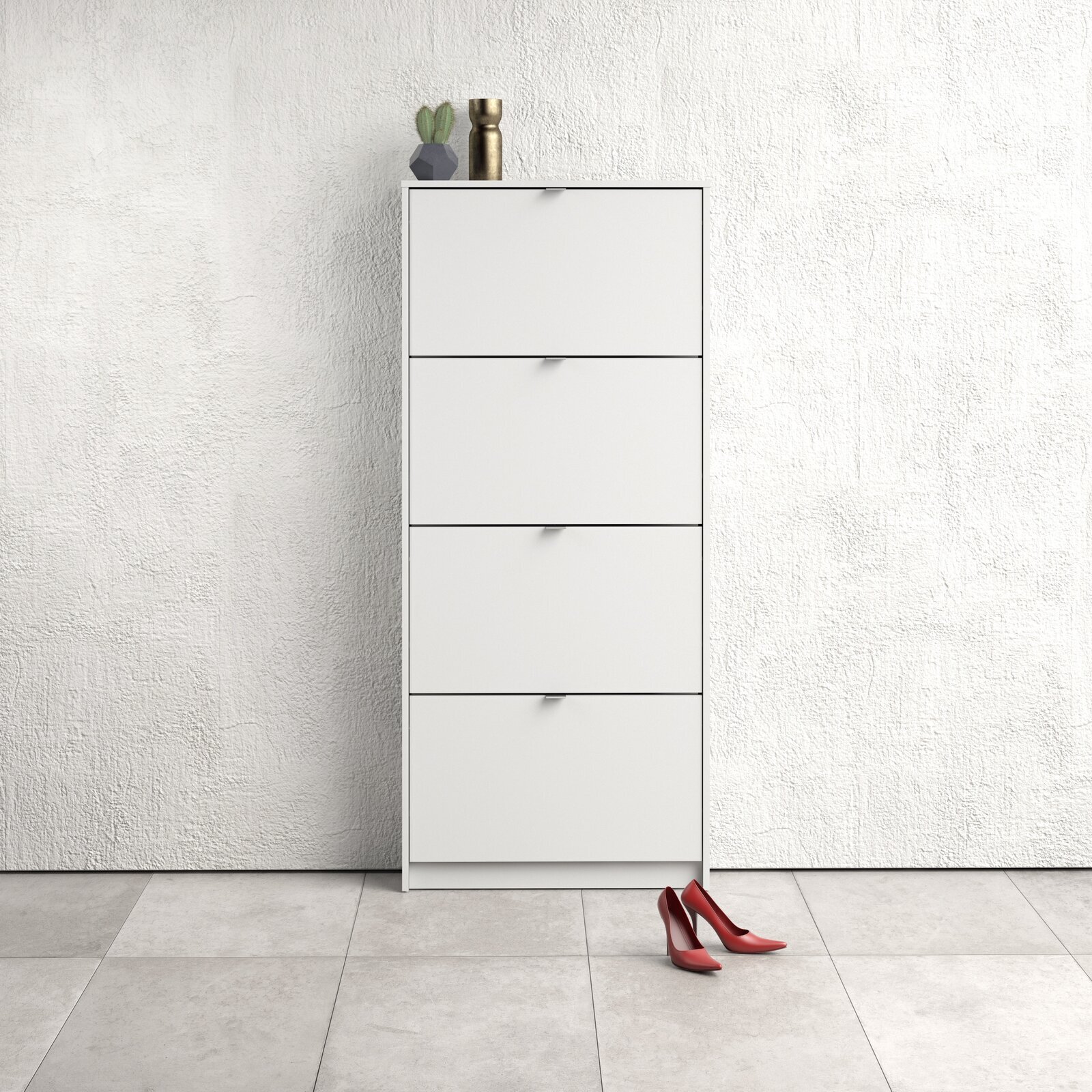 6 inch deep shoe cabinet
6 inch deep shoe cabinet
Looking for an ultra-slim shoe cabinet that hardly takes up any space yet can hold a decent amount of shoes? If yes, a low-profile unit that is 6 inches deep may be your best bet!
This shallow shoe cabinet can be placed behind doors, in tight hallways, cramped closets, or anywhere where space is at a premium.
On top of that, its thin silhouette stays out of the way!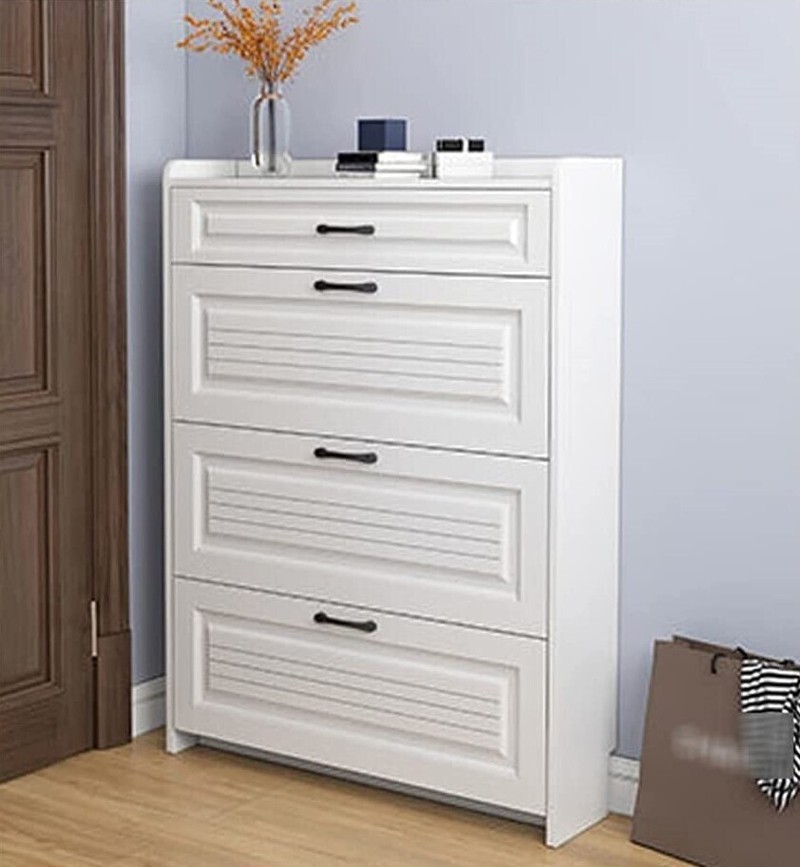 Narrow entryway shoe cabinet with drawers
Narrow entryway shoe cabinet with drawers
When it comes to entryway storage, the more functional the better, especially when you live in a tiny apartment. Putting a console table and a shoe cabinet in a small entryway simply doesn't make sense!
So, instead of choosing a regular shoe cabinet with only shelves, why not invest in a unit that will give you even more storage possibilities?
For instance, a narrow shoe cabinet for a hallway that features some drawers can come in handy for organizing your keys, sunglasses, socks, gloves, and other small everyday essentials.
This way, you can drop off your keys and put your shoes away the minute you get home without causing a mess!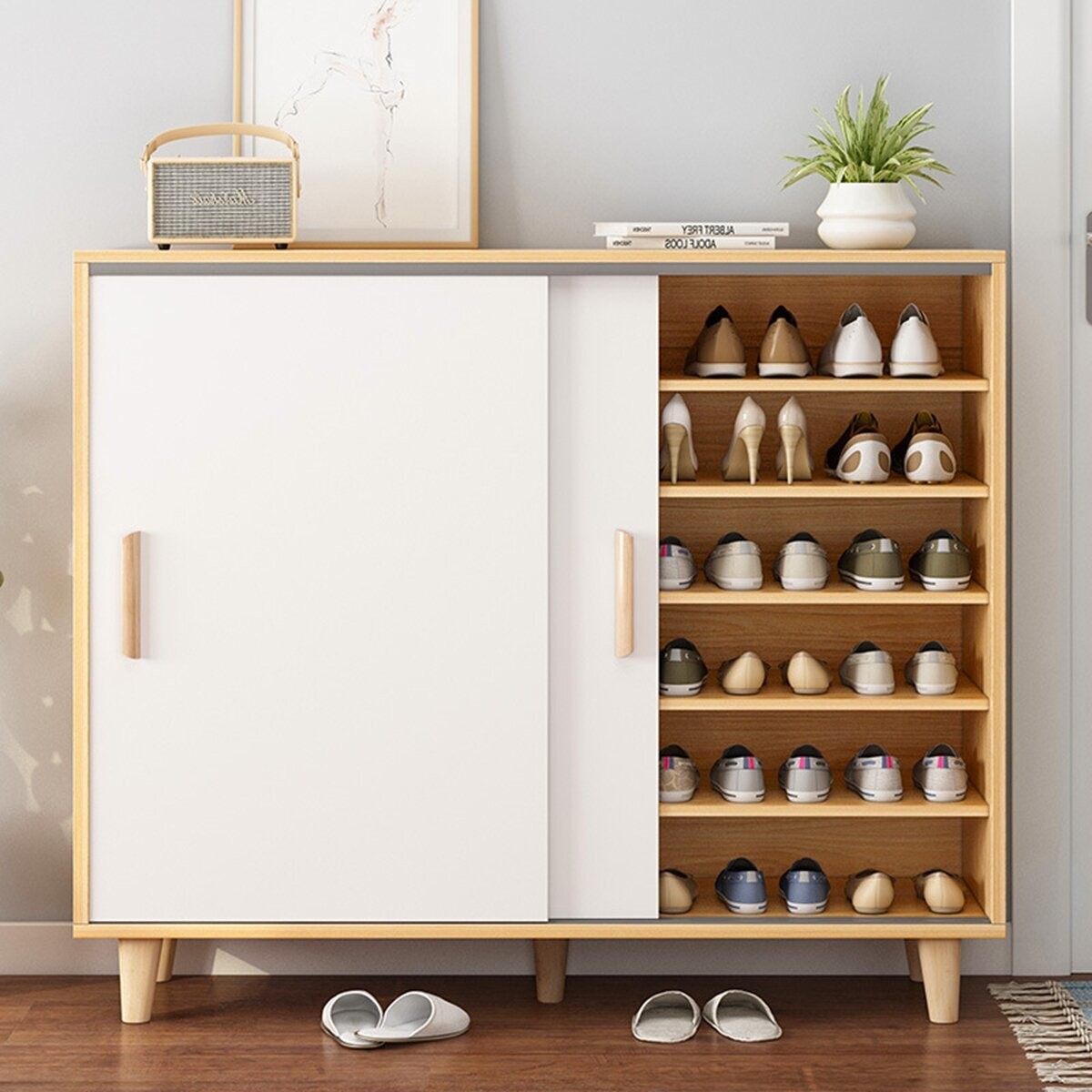 Multi layered yet compact shoe cabinet
Multi layered yet compact shoe cabinet
Corrigan Studio®
If your shoe collection keeps growing while your storage space does not, it's time that you opt for a narrow, multi-layered shoe cabinet!
These designs offer a large capacity of up to 38 pairs of shoes given that they typically feature 5 or more spacious shelves!
In addition to being functional, they can also be stylish and give a nice touch to your home.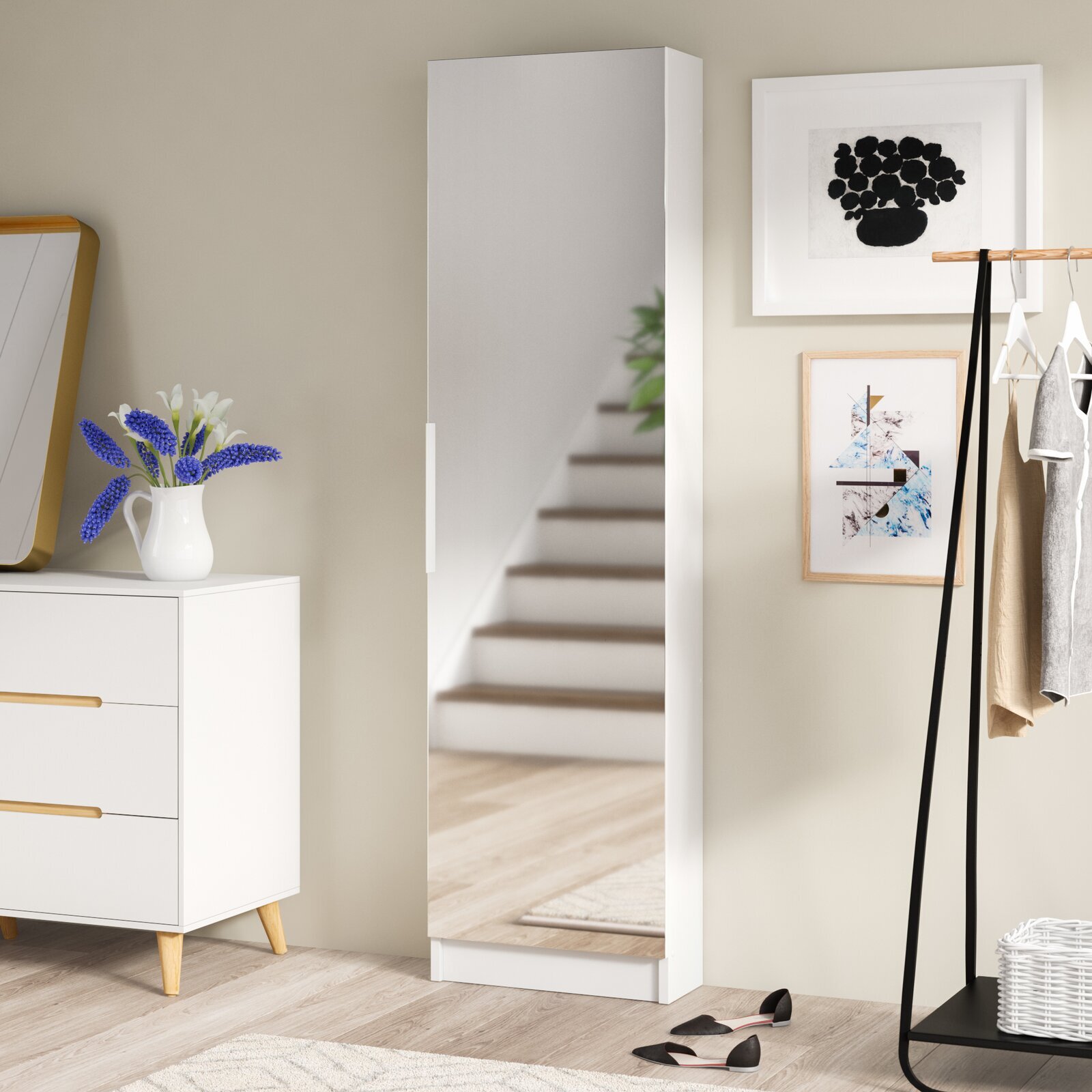 Tall mirrored shoe cabinet
Tall mirrored shoe cabinet
Did you know that some shoe cabinets can serve as mirrors too? Indeed, there are various shoe storage pieces out there that come with a full-length mirrored door!
Think about how much easier it would be to get ready in the morning!
With this added functionality, you can always make sure that your shoes match your outfits!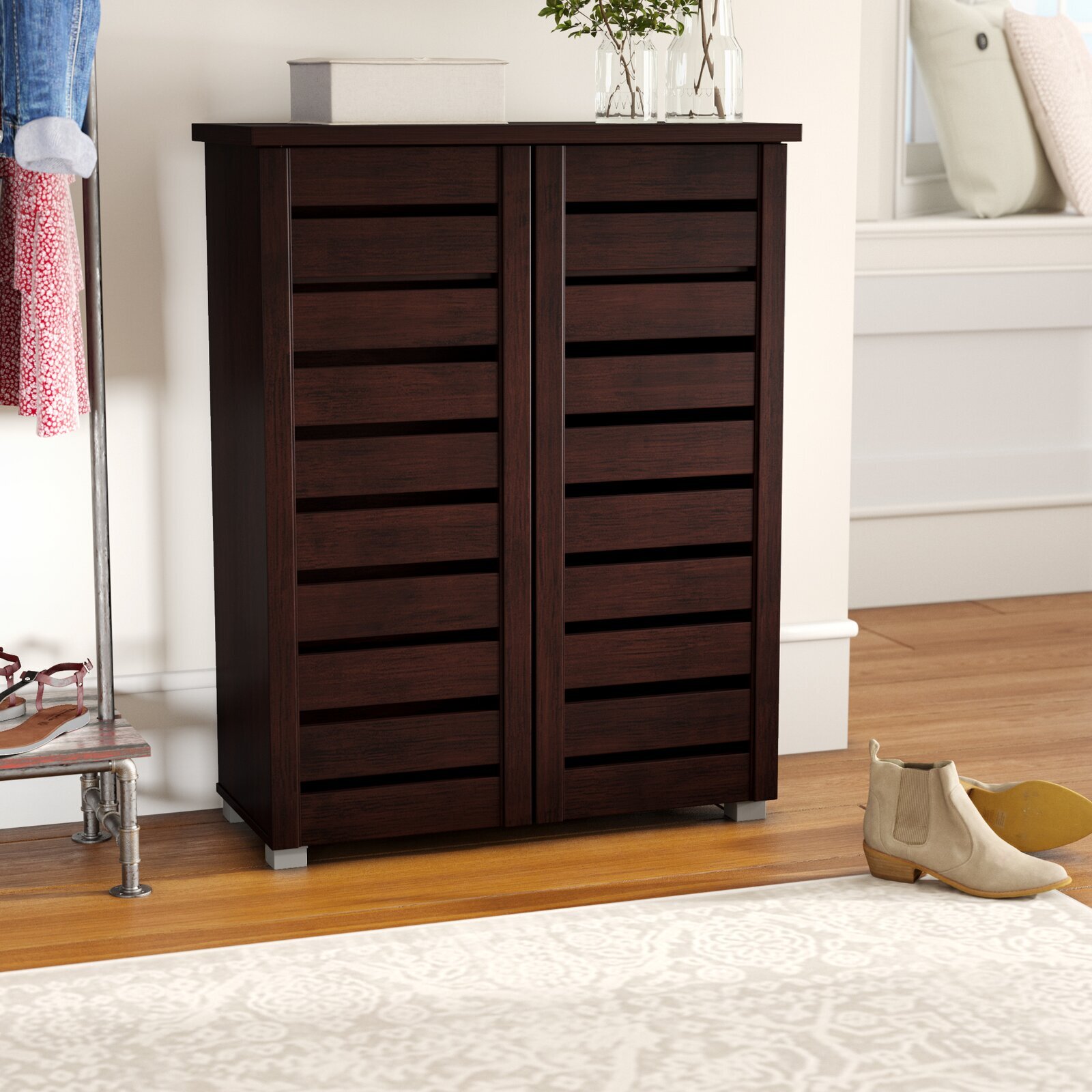 Narrow shoe cabinet with doors
Narrow shoe cabinet with doors
Wade Logan®
Glass doors, sliding doors, pull-down doors, slatted doors—you name it!
These doors all come with their own benefits! For instance, glass doors are an excellent choice if you want to put your fancy shoe collection on display.
Alternatively, sliding doors and pull-down doors are the ultimate space-savers since they don't occupy much space when opened. Plus, they're much easier to handle when in a rush.
On the other hand, slatted doors provide good airflow, thus reducing odor build-up!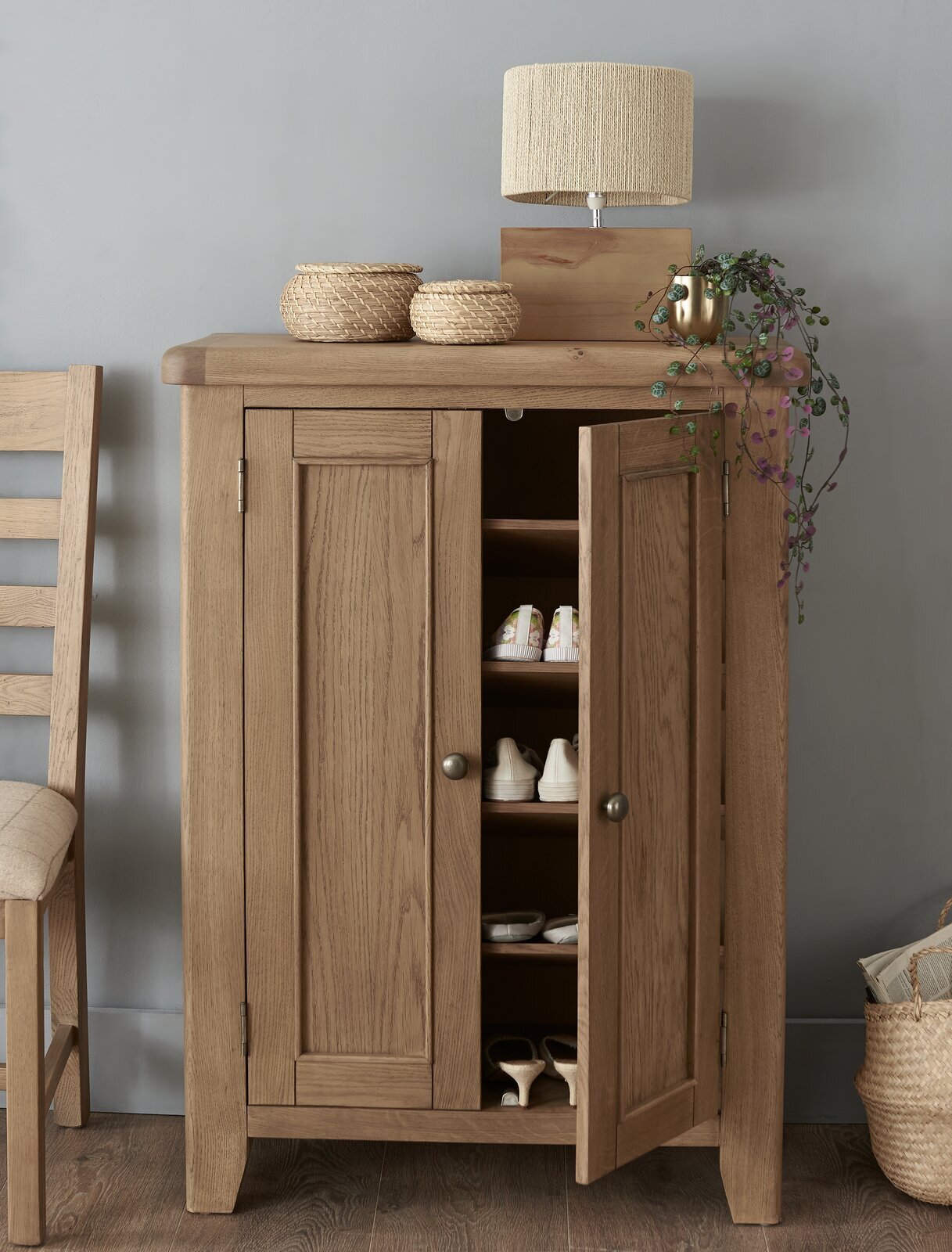 Solid wood shoe cabinet that looks like traditional furniture
Solid wood shoe cabinet that looks like traditional furniture
What sets traditional-style shoe cabinets apart from others is their sturdy construction and ornate detailing. We're talking about crown molding, stately rounded edges, vintage handles, and tapered legs!
Unlike manufactured wood, solid wood pieces have a natural, warm, and inviting appeal that complements any cozy space, such as country, rustic, and boho chic!
Also, they can be re-stained or painted so you'll never get bored of the way they look.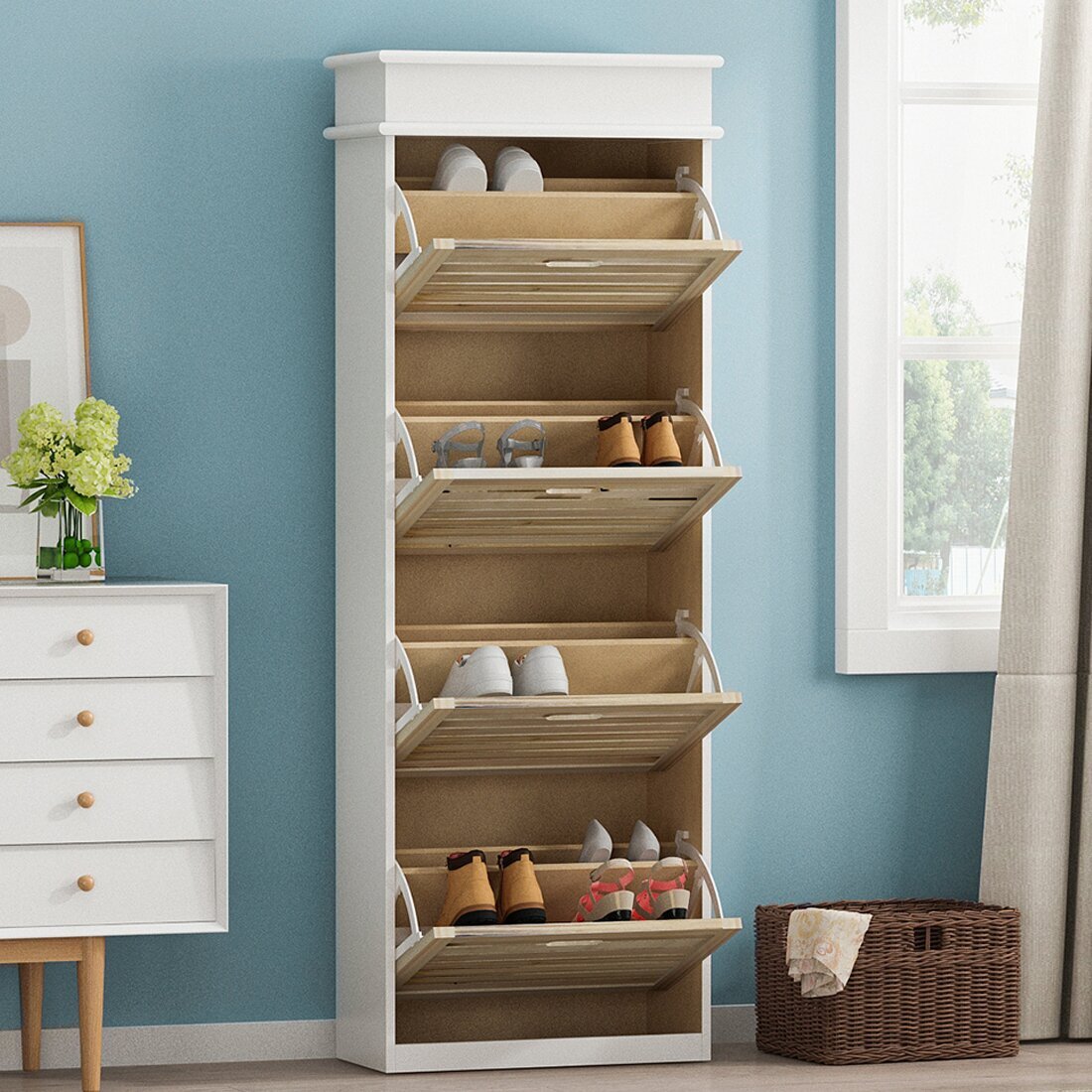 Vertical shoe cabinet
Vertical shoe cabinet
Dovecove
Just because space is a constraint doesn't mean your shoes should be scattered everywhere across the floor.
Rather than buying a wide unit, you could save a lot of your precious floor space by picking a slender and tall cabinet with a smaller footprint.
Moreover, lengthy shoe cabinets offer more storage space than other models, making them a suitable option for larger shoe collections!
Simply place the skinny shoe cabinet in a spot where there's a bit of wall space to spare.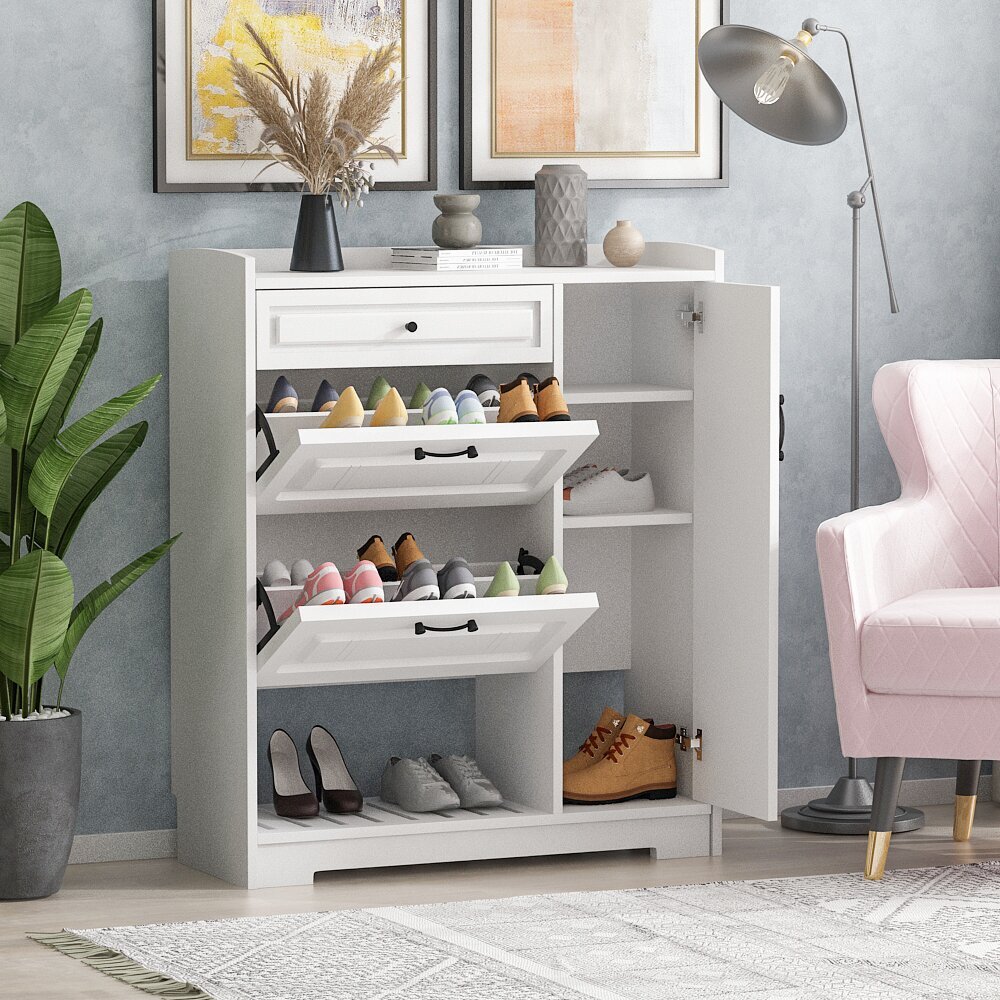 Narrow shoe storage with vertical compartment
Narrow shoe storage with vertical compartment
Red Barrel Studio®
Don't know where to store your knee-high boots since they don't seem to fit anywhere? Fret not because some narrow shoe organizers include a storage compartment designed just for boots.
Now, you can make your boots stand up straight to prevent them from creasing! For more flexibility, choose a unit with adjustable shelves.
Of course, you'll have more room for other shoes as well!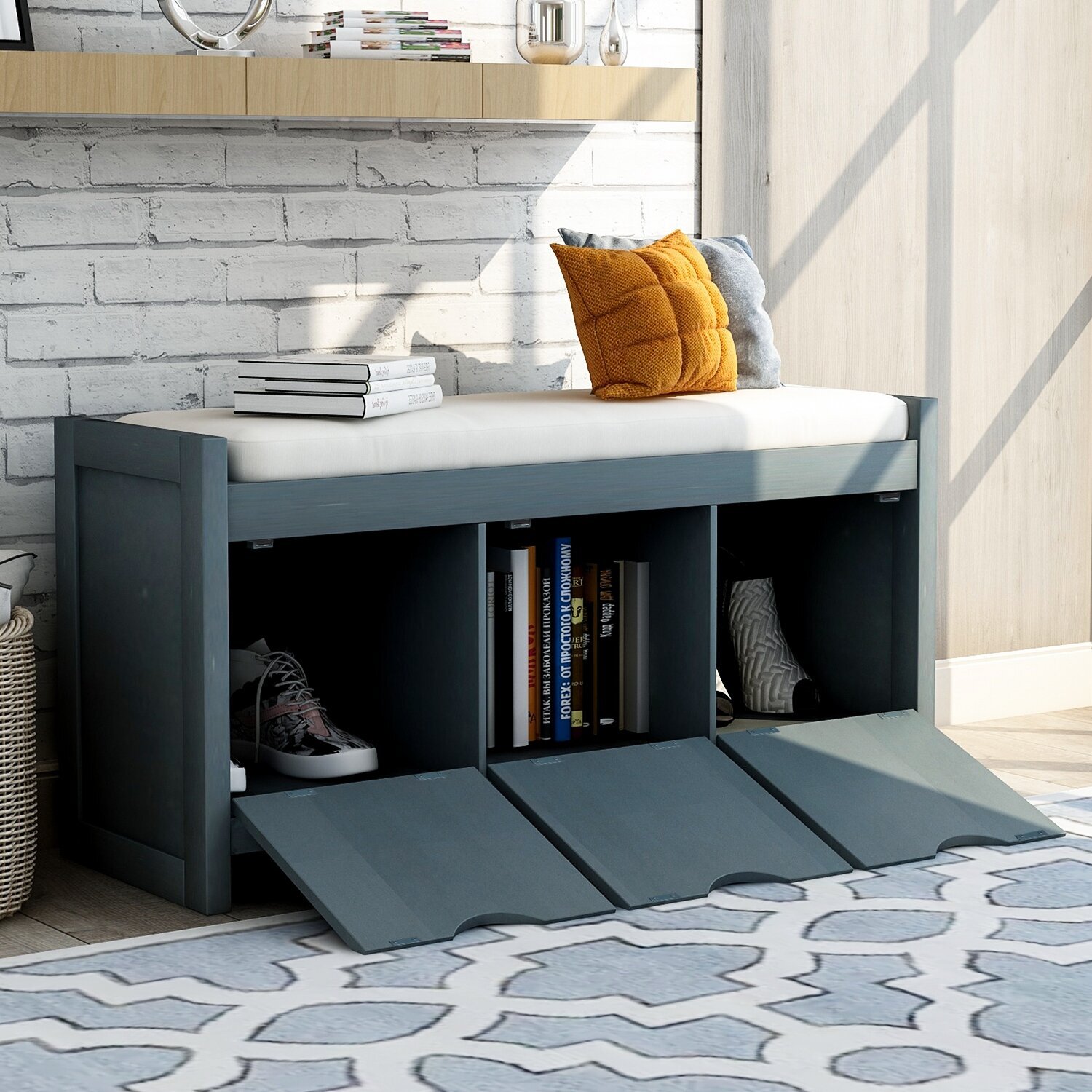 A narrow shoe bench
A narrow shoe bench
Longshore Tides
Are you hopelessly inflexible and hate tying your laces while standing up? Or maybe you suffer from back pain whenever you bend over? If this is the case, look no further than a narrow shoe storage cabinet with a bench.
Now, you can comfortably sit down and put on your socks and shoes without needing to go elsewhere!
Do the shoes not go well with your outfit? Put them back in the cubbies underneath, have a seat, and try on another pair!
For extra comfort, go for a cushioned bench.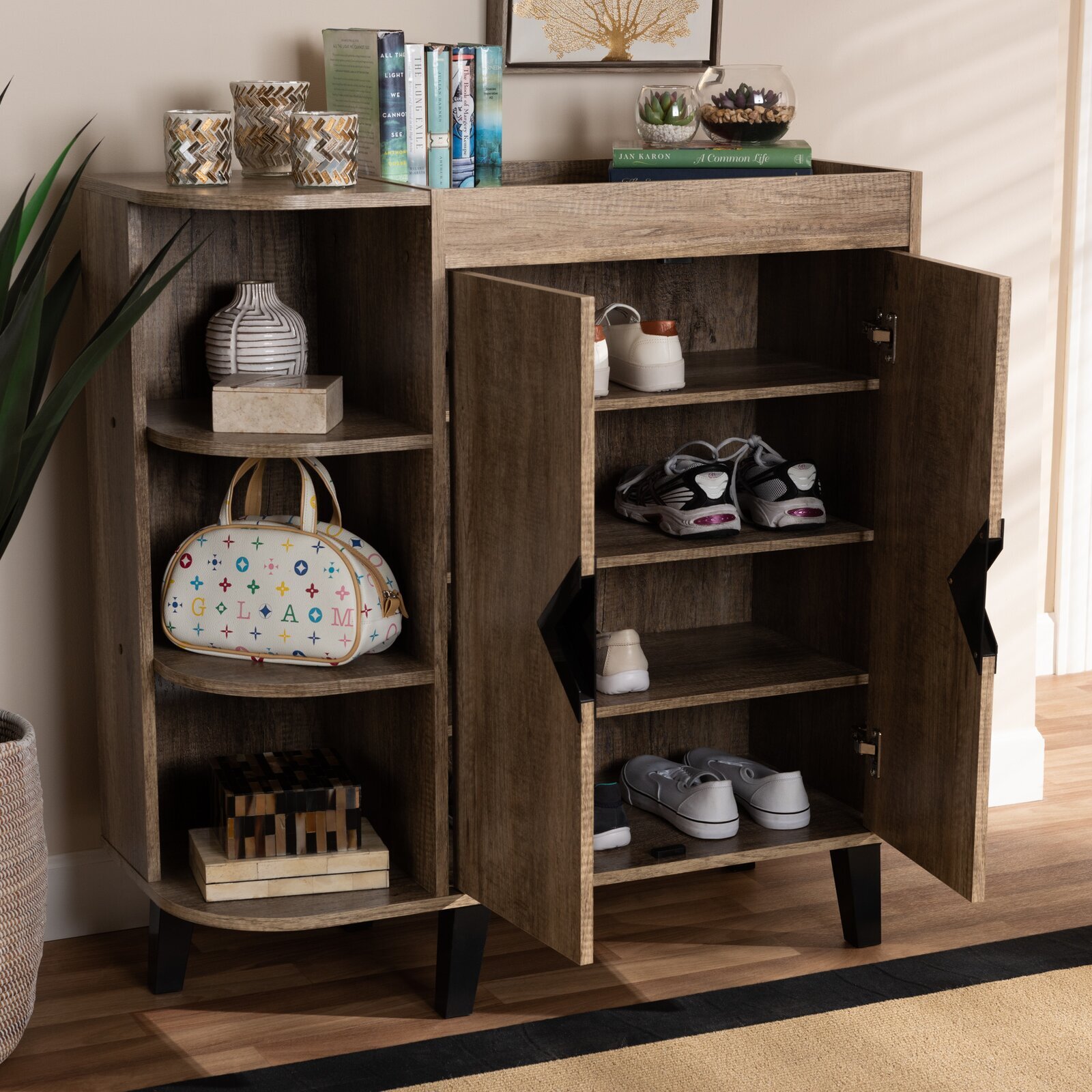 Compact shoe cabinet with open storage compartments
Compact shoe cabinet with open storage compartments
Loon Peak®
It's no doubt that multifunctional furniture is a must-have for any small room. After all, they help you make the most of the available space in your home.
But did you know that shoe storage units can be used for more than just storing shoes?
Open storage, such as shelves and a top surface gives you the perfect stage for displaying decorative items or even your favorite purses and accessories!
Jazz up your little shoe cabinet with photo frames, potted plants, candles, and books for an eye-catching focal point!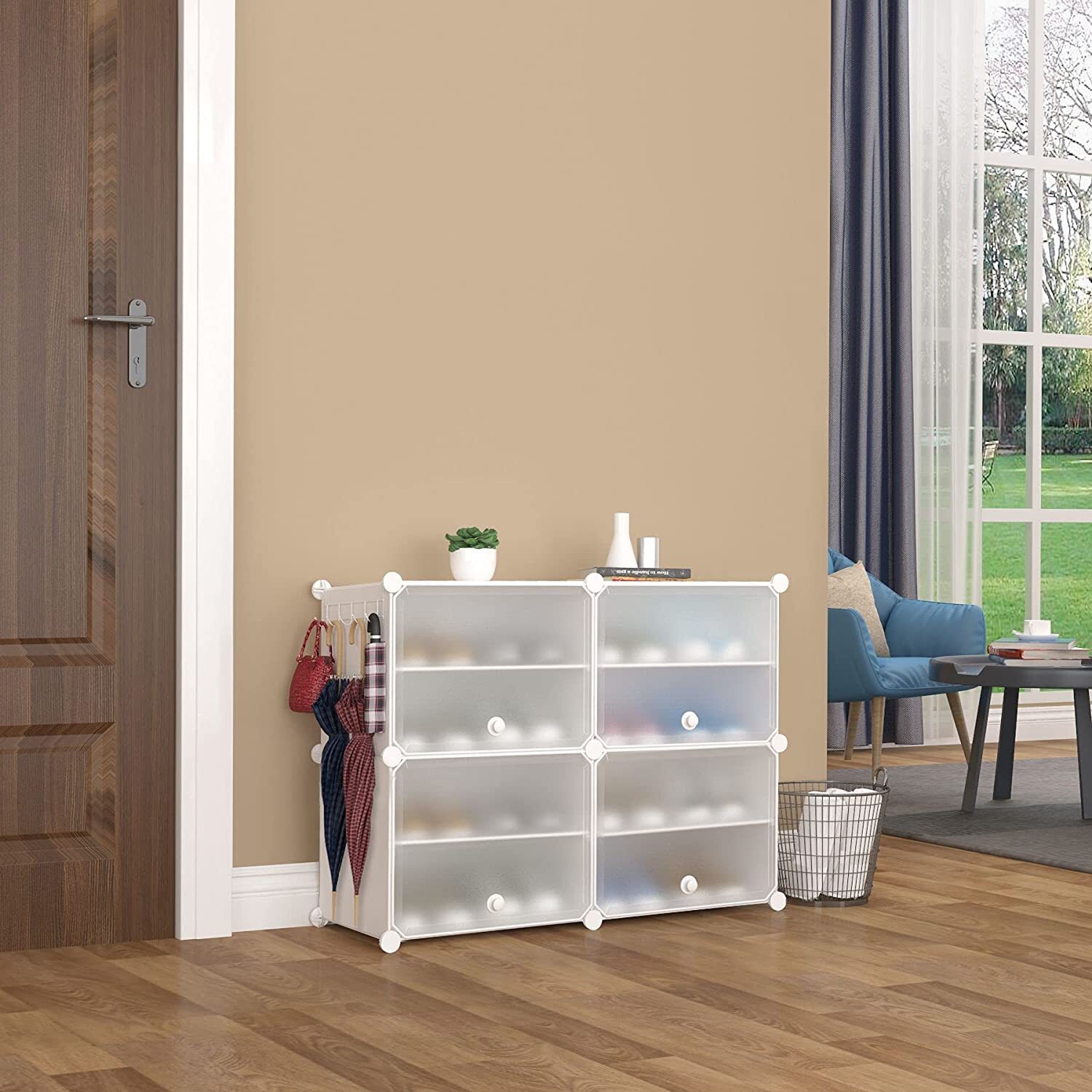 Space savvy shoe storage with hooks
Space savvy shoe storage with hooks
dapei
Other useful features you might want to look for in a shoe storage cabinet are hooks!
Imagine running late because you misplaced your keys or you suddenly can't find your umbrella when it's pouring out!
Since keeping a small space neat and orderly can be a challenge of its own, having hooks on your shoe cabinet is easily the answer to all your disorganization woes. They're perfect for hanging hats, umbrellas, bags, and anything else you need before heading out the door.
The best part is, there's no need to drill holes on your wall to mount these hooks!