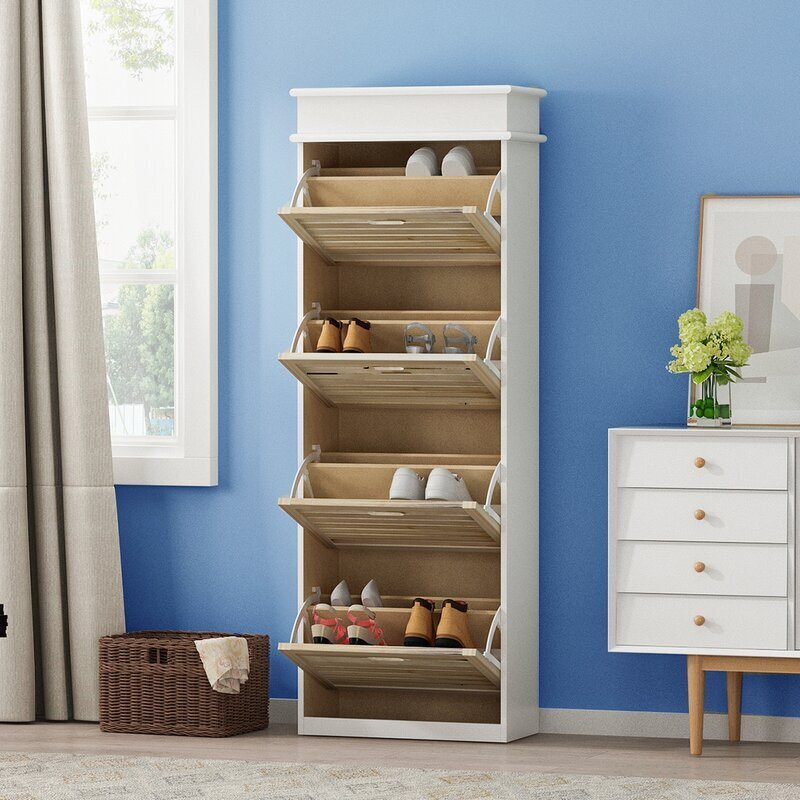 Shuttered Shoe Rack for Small Entryway
Rosecliff Heights
Perfect For: Hiding away clutter
What We Like: Closed back
Not So Good For: Grabbing shoes on the go
Made from solid and manufactured wood, this shoe rack features a layered bucket design. Each shelf tips out easily and can hold two pairs of shoes, though this rack can hold up to 16 pairs of shoes overall. It will also bring rustic style to your entryway due to the distressed wood drawers and two-tone finish. The drawers additionally feature shuttered fronts.
$114.99 $210
Designer Advice:
The dual white and oak finish of this shoe rack would look great paired with sage green. Though it isn't the narrowest of shoe racks, it's still slim enough to fit in a gap next to a door or beneath stairs.
What Users Say:
Product is exactly as described. Absolutely love it. Love that it doesn't protrude from wall very far yet still offers tons of storage.
Merchant links are sponsored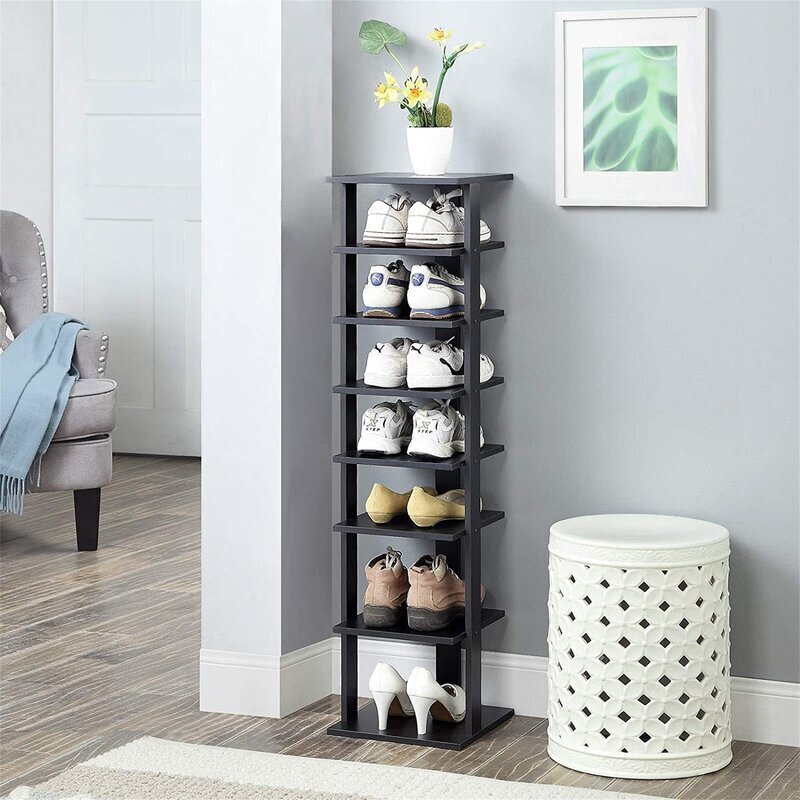 Minimalist Skinny Shoe Rack
Latitude Run®
Perfect For: If you don't own many shoes
What We Like: Simple design
What We Don't Like: Won't fit large shoes
The extra slim size of this shoe rack makes it an excellent option for apartment spaces that have a small entry space. It comes in a white, black, or brown finish. Constructed from manufactured wood, it has seven evenly sized shelves. The top shelf has raised edges so you can place a decorative object like a plant above.
Designer Advice:
The understated design of this shoe rack means it's a good fit for contemporary spaces. We recommend the white option if you want to brighten up an area, but note that a white rack will show scuffs and marks from your shoes. If you want to avoid this, darker colors like black and brown are better.
What Users Say:
Love this! It was easy to put together, fits nicely where we need it and is sturdy.
Merchant links are sponsored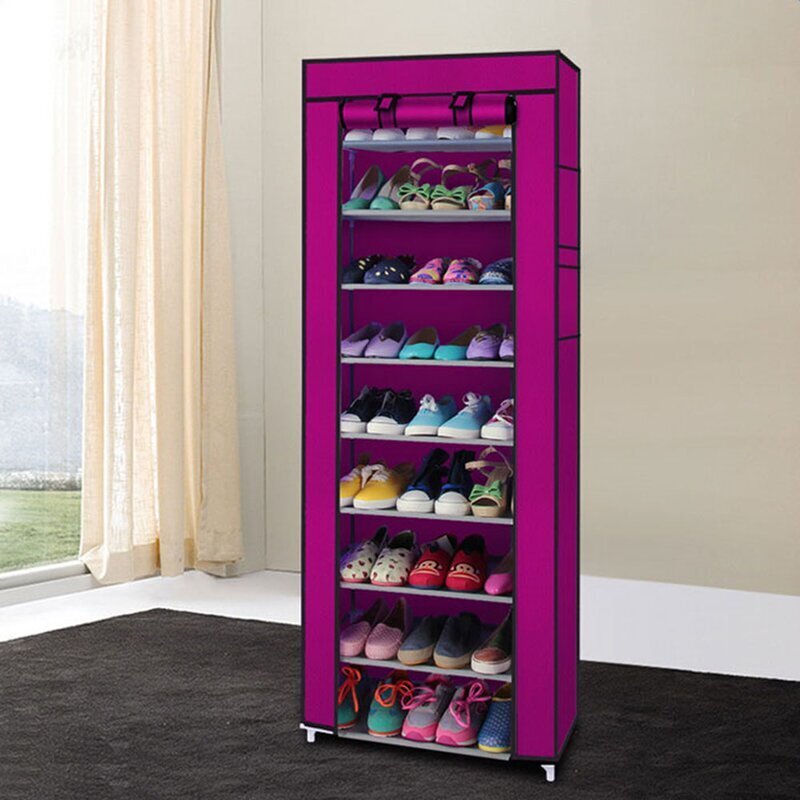 Contrasting Slim Shoe Rack
Rebrilliant
Perfect For: Closets
What We Like: Widely spaced shelves
What We Don't Like: Not the sturdiest option
You're sure to find the best décor match with this shoe rack due to the six color choices available, including black and gray. Priced at under $30, it's a fantastic option if you are trying to save money or want something temporary for storage. It's made from fabric and metal and can hold up to 30 pairs of shoes.
$19.99 $26.99
Designer Advice:
This cabinet is a great all-rounder due to its color options and the fact it can hold taller or wider shoes. Nevertheless, it isn't the sturdiest option due to being made of fabric instead of wood or plastic. It may also sag with heavier shoes.
What Users Say:
It fits perfectly in the space I selected for it. My shoes are big so I couldn't get 30 pairs in it, but I'm still impressed with it.
Merchant links are sponsored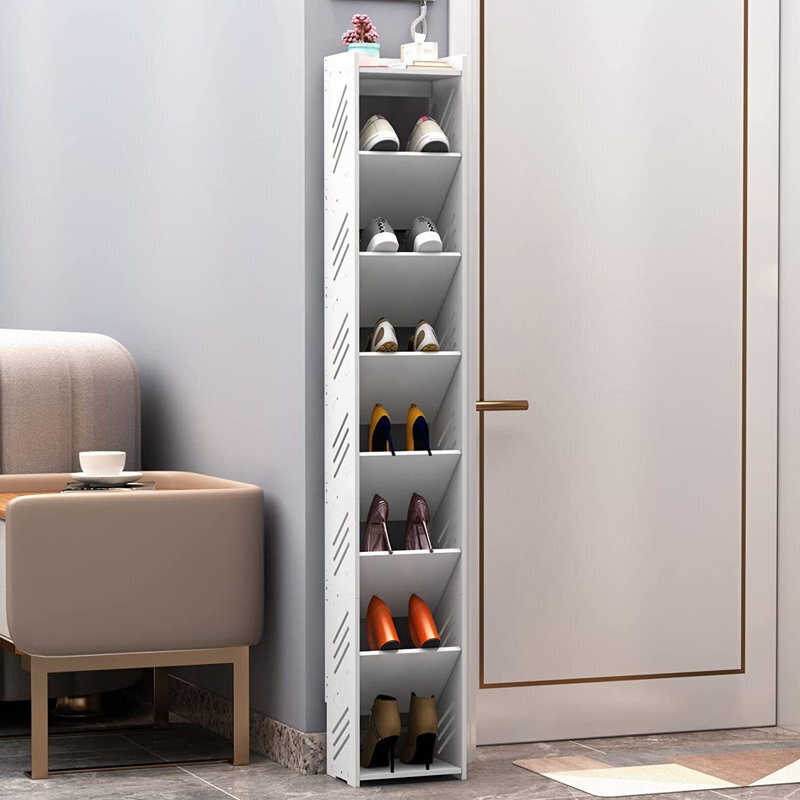 Narrow tilt out shoe cabinet
Latitude Run®
This shoe rack measures less than 7" in depth and 10" in width. It features eight tiers, so you can store one pair per level. It displays a versatile white finish, and it comes with metal brackets to secure it to the wall.
Designer Advice:
If you're really low on space, choose a narrow shoe rack with a tilt out design. This will allow you to make the most of a particularly small corner where you thought nothing would fit. You could even place it behind a door to keep your shoes out of sight.
Merchant links are sponsored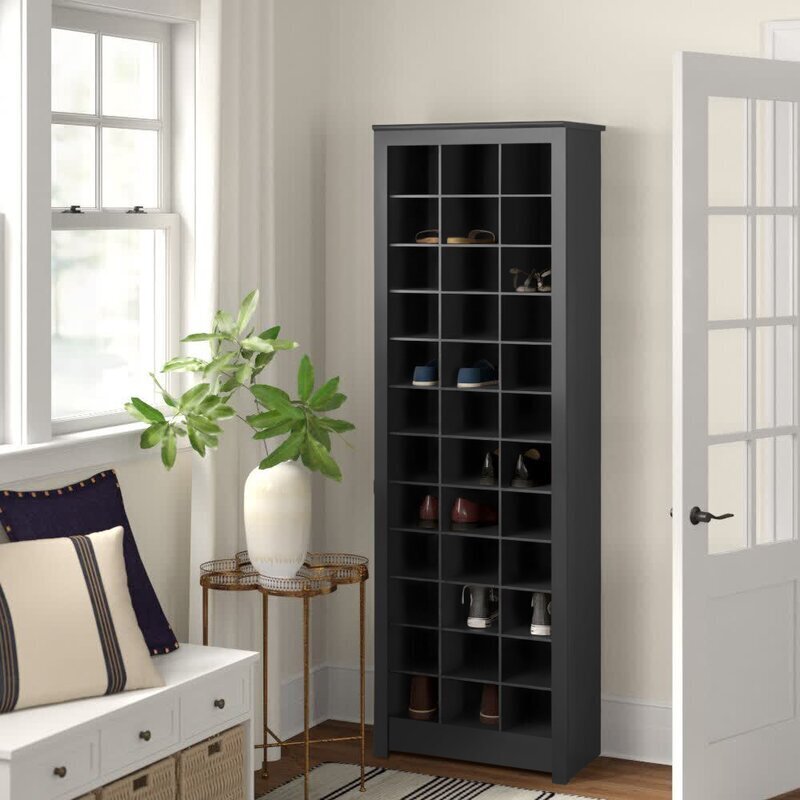 Tall narrow shoe storage cabinet
Gracie Oaks
This shoe rack is over 72" tall, but only 13" deep and less than 24" in width. It relies on twelve rows with three cubbies each to accommodate up to 36 pairs! However, you won't be able to fit boots and tall models.
$193.99 $229.99
Designer Advice:
For a cohesive feel, look for a narrow shoe rack that matches the rest of your room. This should involve the same decor style and a shade that's already present in your palette. For example, this model is particularly ideal for traditional interiors, and you can find it in a black, white, drifted gray, and rich espresso finish.
Merchant links are sponsored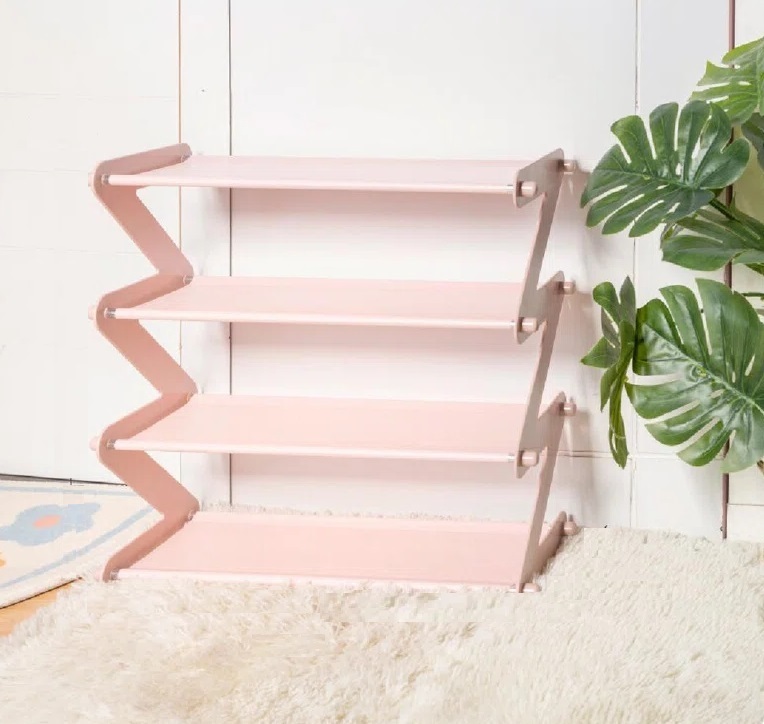 Decorative shoe rack for narrow hallway
Rebrilliant
This model is available in a versatile gray finish and a more eye-catching pink hue. Either way, it'll make a statement thanks to its unique Z-shaped design. It fits up to eight pairs but only measures 8" in depth and less than 18" in width.
Merchant links are sponsored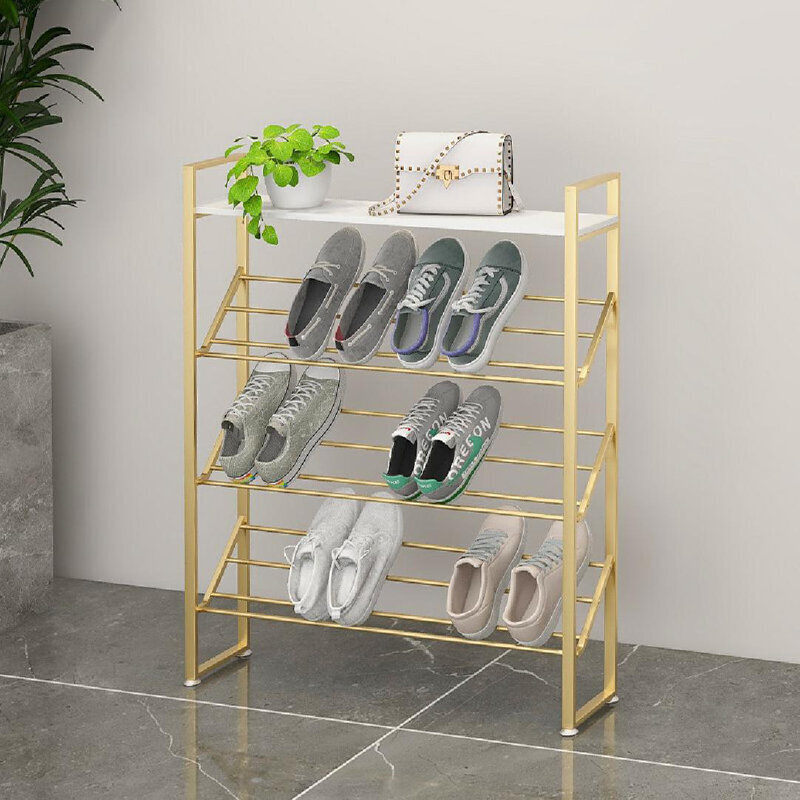 Compact and narrow shoe rack for entryway
Mercer41
This narrow shoe rack measures less than 11" x 7" and is just under 38" in height. This makes it a great space-optimizing choice for your entryway, and it still stores up to eight pairs. The handy top shelf is an added bonus.
$213.99 $203.99
Designer Advice:
Unlock some additional storage space by choosing a shoe rack with a shelf. Depending on where you're placing it, you can use it for practical or decorative items… or both! It'd be useful to keep your purses and small bits and bobs at hand next to your front door. Alternatively, in your living room, you could use it to showcase some ornamental items or plants.
Merchant links are sponsored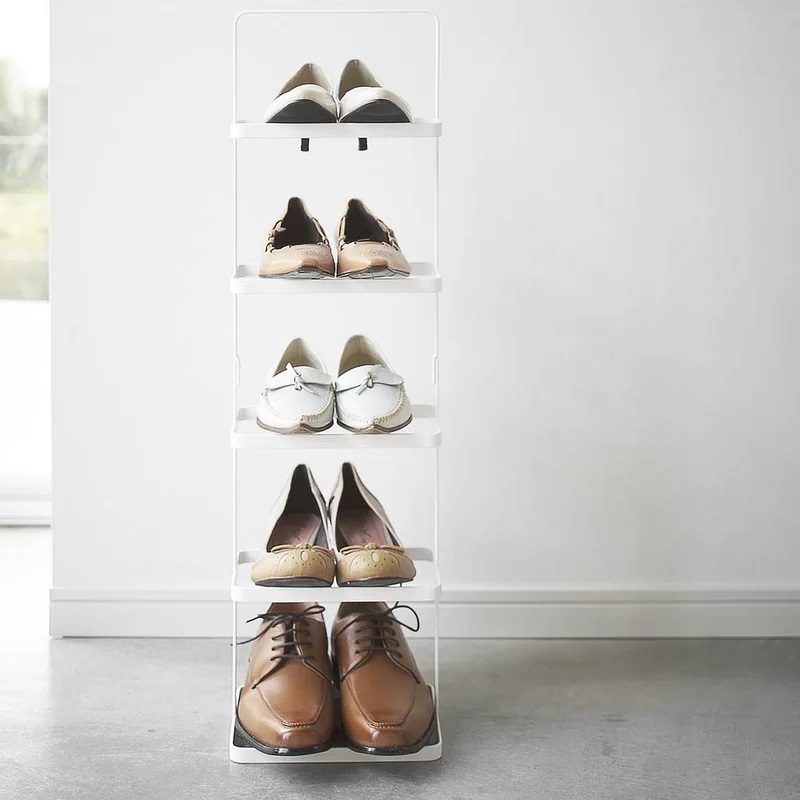 Minimalist and narrow shoe rack
Yamazaki Home
Maintain an airy feel in a small room with this rack's open design (available in white or black). Because it only stores up to five pairs, we mainly recommend it for single professionals or couples looking to keep a selection of their favorite shoes near the door.
$65
Merchant links are sponsored