Our Choice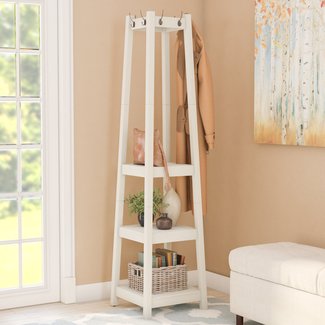 Swaffham Coat Rack
Give your entryway that inviting warmth with this breathtaking free standing coat rack. The piece comes with a pyramid-shaped frame and an open shelf design that would be perfect for displaying accessories. The coat rack is a beautifully executed modern take on a classic design that will blow you away. The piece is also constructed from a blend of manufactured and solid wood for long-lasting service.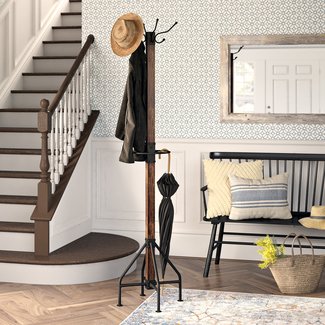 Logan Coat Rack
This entryway coat rack will lend a touch of minimalist retro appeal to any space. The piece has a farmhouse-inspired design. It offers a four-footed base and up to eight different hooks for all your coats. There is also an umbrella stand at the bottom for added functionality. The rack is made from quality mango wood and its distressed natural wood finishing will wow anyone who sees it for the first time.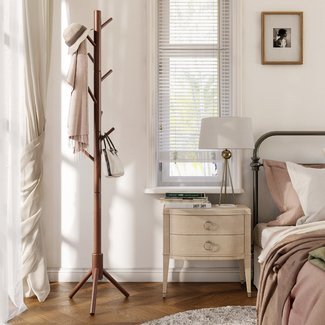 Geesche Coat Rack
This free-standing coat rack is constructed using a 1.6" thick solid wood poll sitting on top of a sturdy three-legged base for outstanding stability. The rack comes with a unique natural texture and eight rounded arms that you can use to hang coats, handbags, and all other accessories. It's neutral finishing also ensures that it can seamlessly blend into any décor. While the rack is usually recommended for the entryway, you can also place it in the bedroom or mudroom.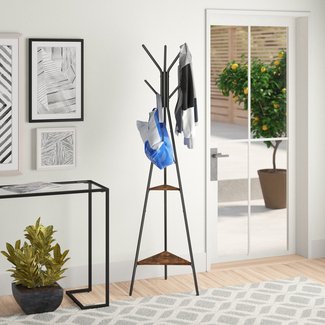 Valdosta Coat Rack
Neatly organize your coats, hats, handbags, and other outdoor accessories using this state-of-the-art free-standing rack. The piece is made from metal, guarantying excellent durability and longevity in the long run. The metal frame is finished up with a black industrial look that would blend perfectly on the white wall background. There is a total of six hooks in there too and a single open shelf at the bottom for extra storage.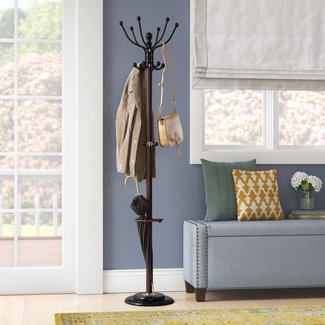 Reidsville Coat Rack
Looking for a versatile coat rack that offers multiple functionalities? Well, this one won't disappoint. The piece, first of all, offers a total of 12 hooks and an umbrella rack at the bottom. It also features a sturdy metal frame standing atop a stable marble base for outstanding stability. The rack also offers multicolor finishing with an emphasis on neutral color palettes. It will be perfect in any type of décor scheme.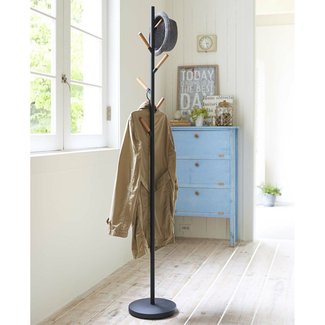 Plain Pole Hanger
Made from a sturdy metal frame and a strong support base, this freestanding coat rack comes with a breathtaking modern white finish. It is perfect for all your outdoor wear and offers up to six different hooks for that purpose. Assembly is needed when you buy it for the first time but it shouldn't take more than ten minutes. The white finishing makes the rack quite versatile so be sure to try it out in different rooms.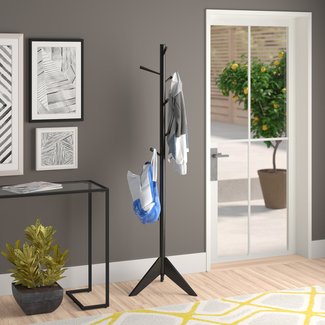 Freestanding Wood Coat Rack
Measuring up to 71.3 inches in height, this wooden free standing coat rack features six angled hooks that should be enough for most of your outwear. It also comes with an incredibly beautiful neutral solid finish that adds excellent décor value into your entryway. The frame is founded atop a sturdy four-legged base to ensure stability. You will also enjoy the innovative swivel top that allows you to access your coats in a breeze.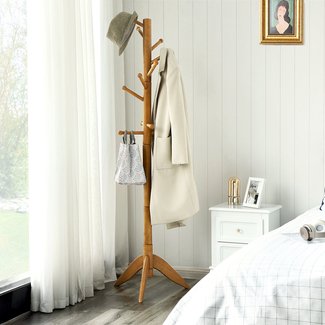 Artur Coat Rack
Clean up and organize your entryway with this high-end free standing coat rack. Featuring a tri-legged sturdy base and a solid wooden frame, the piece offers a total of 11 hooks to hang your coats. The beautiful espresso finish on the rack also delivers a classy appeal that will lend a touch of modern elegance to any space. The rack is made from solid rubberwood to give you a bit of extra durability in the long run.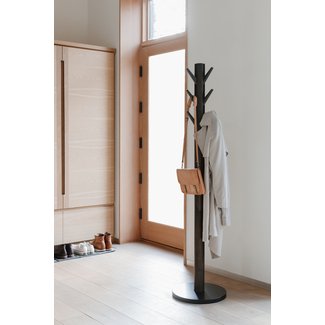 Flapper Coat Rack
Featuring a modern sleek design, this wooden free standing coat rack offers the perfect natural tree-like aesthetics. Its towering design is matched up with a compact base, making it a great addition to small spaces. The piece is also easy to assemble and has up to 9 hooks. The coat rack is available in several different colors too including white, walnut, and black. It's one of the easiest ways to keep your outwear organized and easily accessible.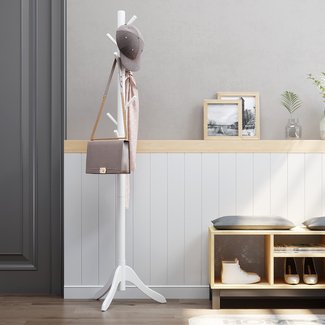 Vecellio Coat Rack
This free-standing coat rack may not be one of the tallest pieces out there but it sure has its charm. Featuring a stately white finish, the rack will add a fresh new look into your mudroom or entryway. It is made from sturdy solid wood and comes with a stable three-legged base as well. Despite its short stature, the rack offers a total of 8 different hooks for coats, handbags, hats, scarfs and other stuff as well.