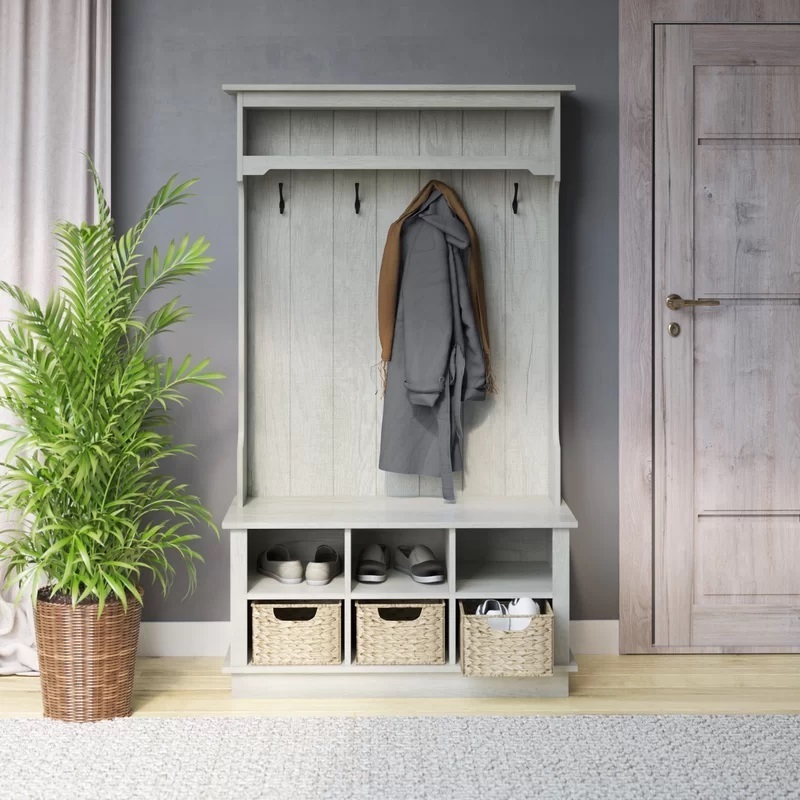 Traditional hall tree coat rack storage bench
Sand & Stable™
Organize your entryway with this 67 ¼" x 40" piece. While it showcases a versatile modern design, its storage baskets make it ideal for traditional homes in particular. The white oak option, on the other hand, will instantly match any shabby chic setting.
$206.99 $464.99
Designer Advice:
Hall tree coat racks are fairly bulky and attention-grabbing pieces. As such, we recommend choosing them in a color and design that really match the rest of your setting. If placing them right by your front door, they could even start introducing the decor style of your living room.
Merchant links are sponsored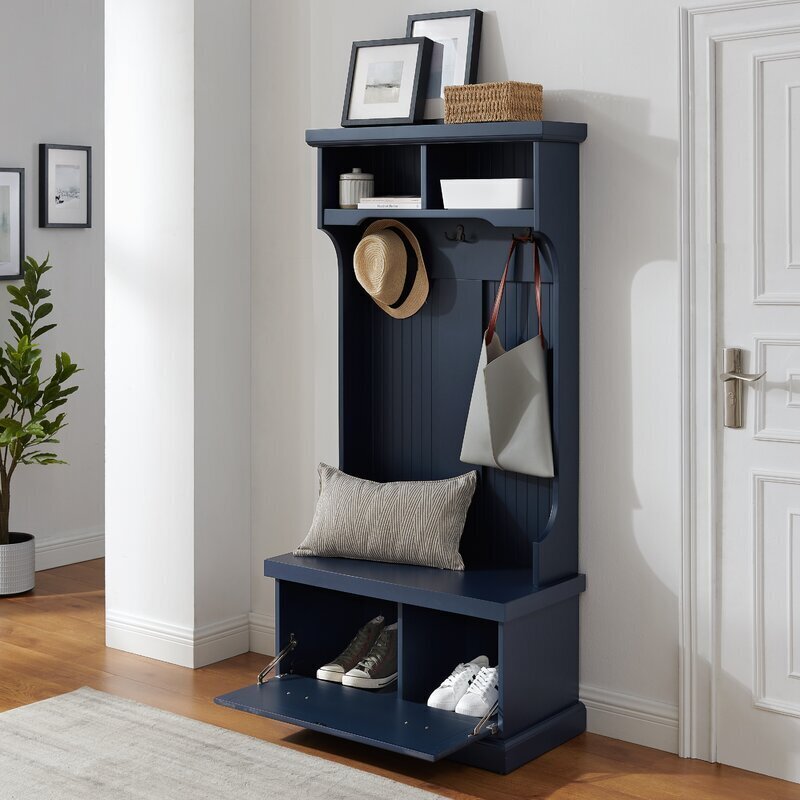 Narrow hall tree coat rack with storage bench
Laurel Foundry Modern Farmhouse®
This hall tree coat rack is a great space-saving choice for small households. Only 31.5" wide and less than 16" deep, it crams in a handy top surface, three double hooks, two open shelves, and a storage bench. Find it in four finishes.
$229.99 $339.99
Merchant links are sponsored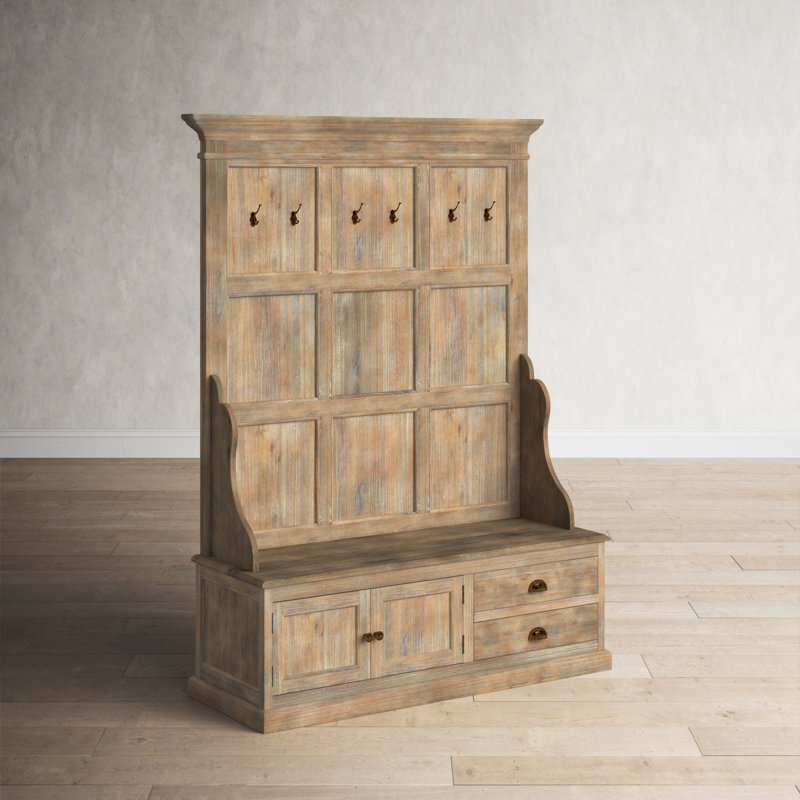 Solid wood entryway bench and coat rack
This model is guaranteed to inspire a sophisticated but cozy feel in your home right from the start. 74" x 55", it features six hooks, two drawers, and a cabinet. However, keep in mind that it doesn't include any open shelves for accessories.
Designer Advice:
Solid wood coat rack storage benches can make a bold statement in your entryway. Such a large and monochrome design with a paneled back, however, can be quite overwhelming. So, we only recommend it in the largest settings to prevent a crowded feel.
Merchant links are sponsored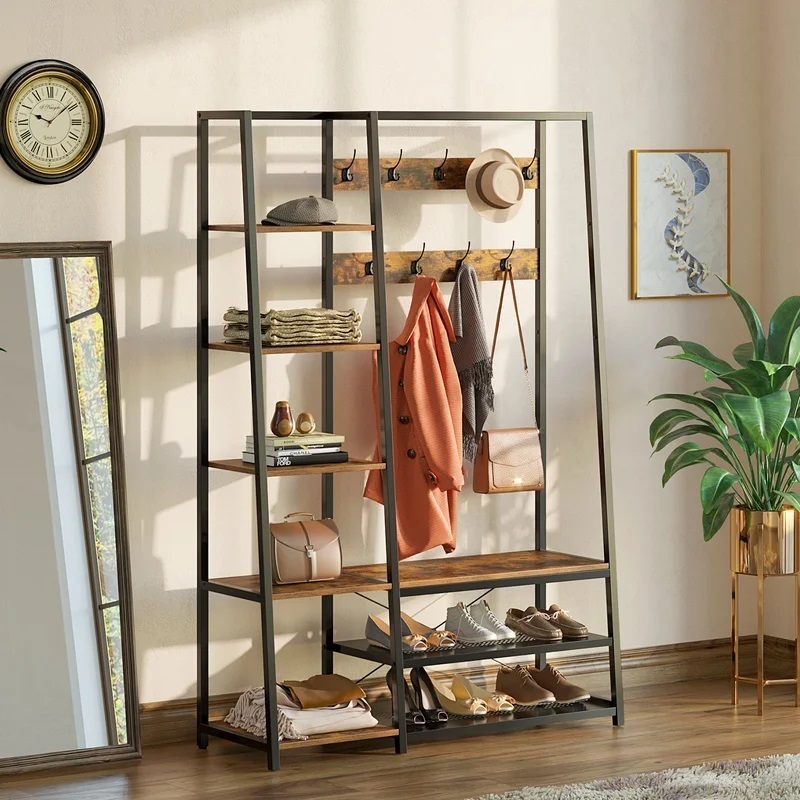 Entryway tree coat rack with open storage
17 Stories
This stylish model inspires a dynamic sense of verticality with its diagonal lines. It features a variety of storage solutions, from open shelves to hooks and a shoe rack. You can choose between a very industrial wooden and black finish and a more versatile gray option.
Merchant links are sponsored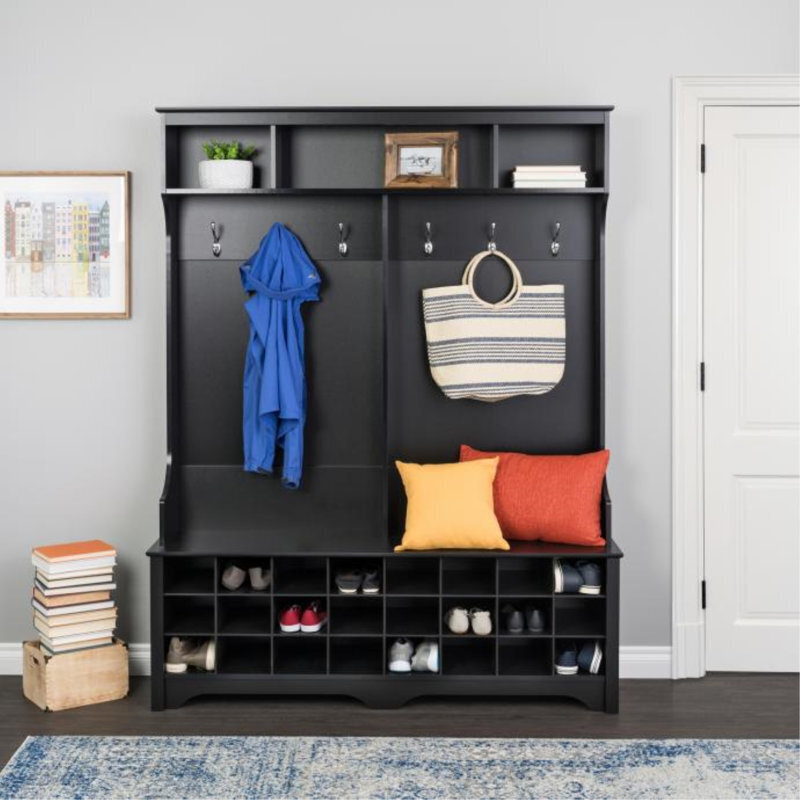 Hall tree coat rack storage bench with plenty of shoe storage
Gracie Oaks
This large model reaches a whopping 60" in width. If your hallway is big enough for it, get creative with its six hooks, three open shelves, long top surface, and bench. It has 24 shoe cubbies, so you won't need to introduce a separate rack.
$289.99 $429.99
Designer Advice:
Before choosing a specific hall tree coat rack storage bench, figure out exactly what you need it for. No point in choosing a model with lots of shoe storage if you only ever use the same five or six pairs. At the same time, if you want to decorate it and make it cozier, it'd help to have a few open shelves, too.
Merchant links are sponsored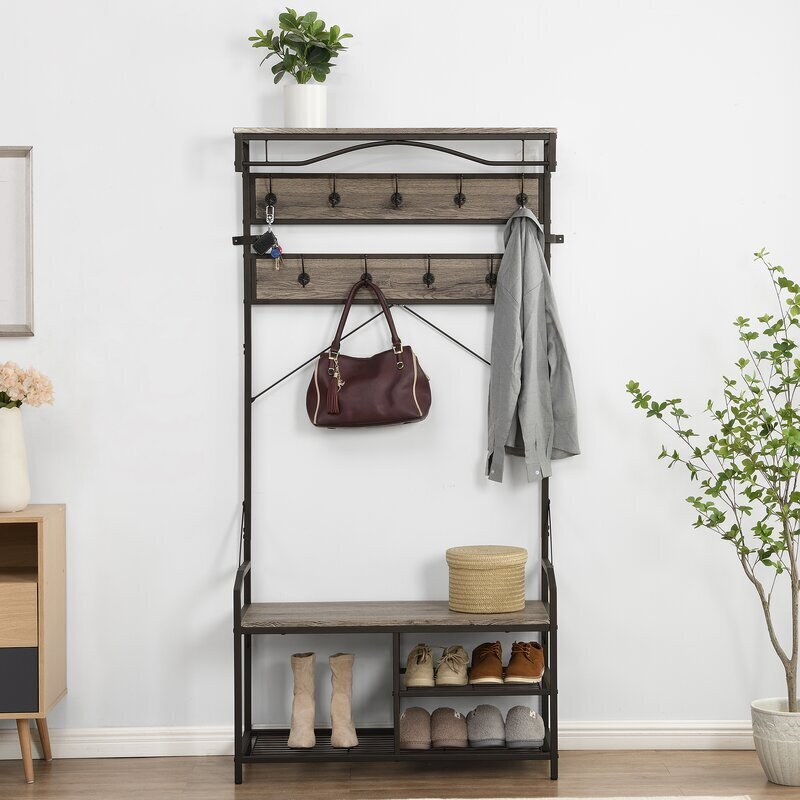 Airy hall tree coat rack with storage
Williston Forge
This model comes in a versatile gray design or a natural wood and metal combination. The latter will be a divine match in industrial interiors. It includes a top shelf, nine hooks, a bench, and additional storage space for shoes.
Designer Advice:
If space is one of your main concerns, choose your new hall tree coat rack tactically. This goes beyond sticking to a compact size. For example, selecting a model with an open back will allow you to inspire a breezier sense of space. Another trick is to stick to lighter wood finishes, white, or pale hues as opposed to darker colors.
Merchant links are sponsored