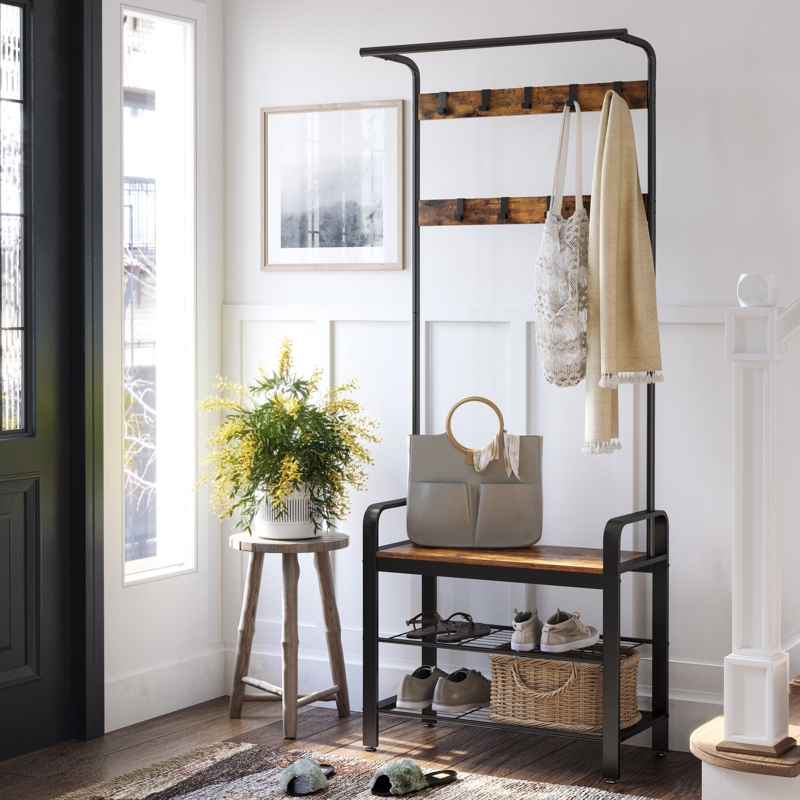 Industrial Entryway Hall Tree with Shelves
17 Stories
Perfect For: Organizing and decluttering your entryway
What We Like: Mixed material design and ample storage options
This industrial hall tree combines engineered wood and a neutral finish, creating a trendy mixed material look that fits in any space. The two shelves at the base are perfect for keeping shoes and bags, while the top row features two rows of coat hooks and a garment rod, ideal for hanging scarves, hats, and coats. Measuring 72'' H x 28'' W overall, this stylish hall tree adds both organization and a touch of industrial flair to your entryway.
$58.99
Designer Advice:
Place this hall tree by the entrance or mudroom, and complement it with a rustic bench or a colorful rug to create a warm and welcoming atmosphere.
Merchant links are sponsored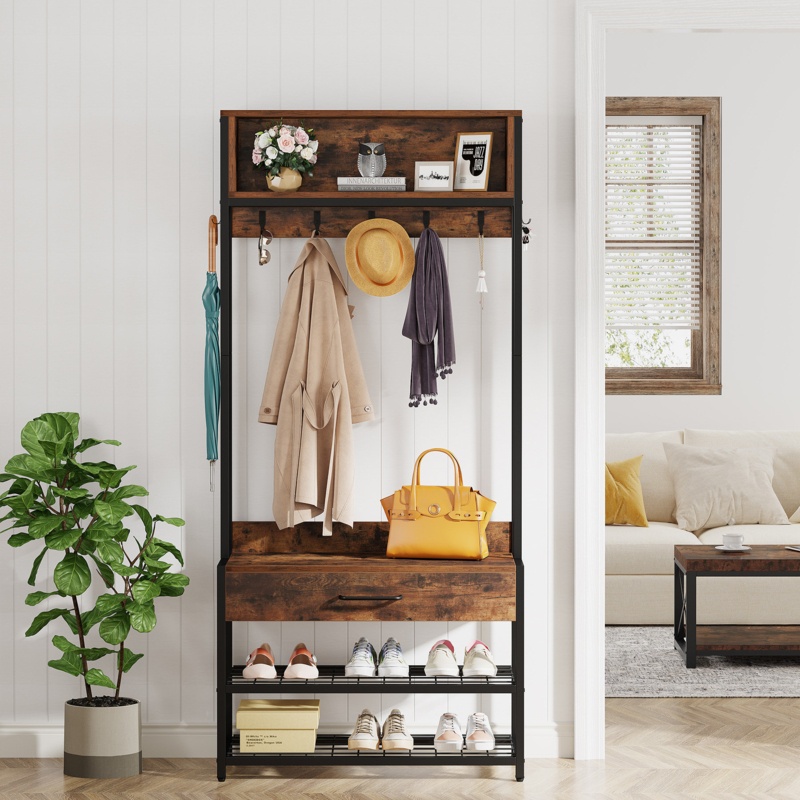 Sit-Down Coat Rack with Storage Bench and Shelf
17 Stories
Perfect For: Organizing and optimizing small entry spaces
What We Like: A versatile and functional combination of coat rack, shoe storage and wooden shelf
Tidying up your entryway, hall, foyer, or mudroom has never been cozier or more practical. Our sit-down coat rack blends functionality with style and features a comfortable bench to remove and store shoes on the shoe rack, hooks to hang clothes, and a wooden shelf for keys, hats, and more. Carefully crafted to suit various spaces, this coat rack is an ideal solution for any room including bedrooms, hallways, and even offices.
$96.99
Designer Advice:
Place a cushion on the bench for extra comfort and consider adding a decorative storage basket on the shelf to store smaller items, creating a tidy, organized space.
Merchant links are sponsored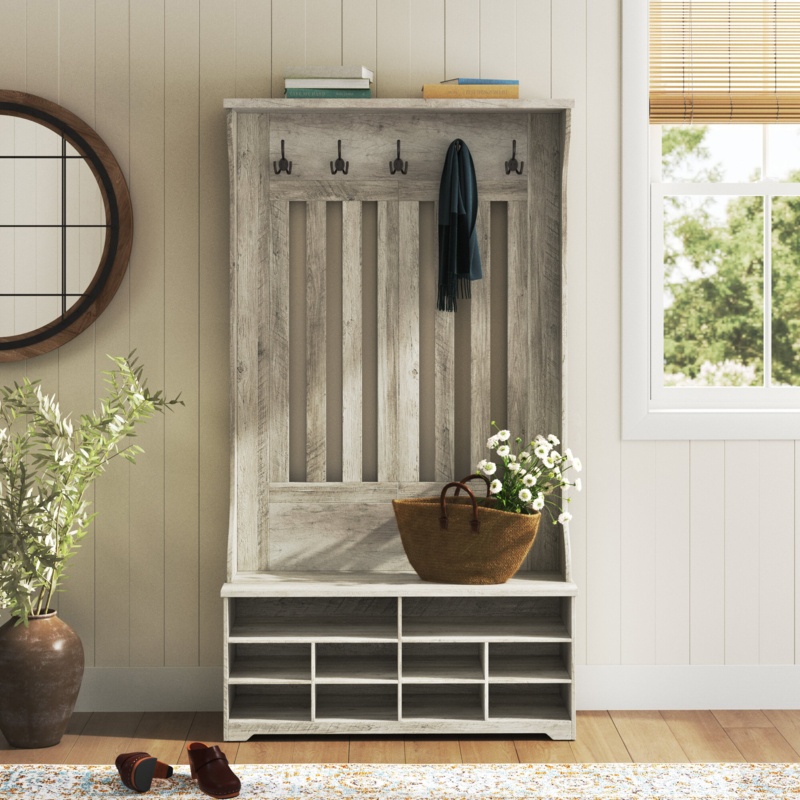 Coastal Farmhouse Hall Tree with Bench
Sand & Stable™
Perfect For: Organizing busy entryways in style
What We Like: Combination of hooks and storage cubbies
Embrace the charm of this coastal farmhouse hall tree with bench, designed to streamline your entryway and offer ample storage solutions. Crafted from engineered wood with a smooth neutral finish, this piece complements any color scheme. Featuring five hooks for coats, scarves, or hats and a bench with three open cubbies for storage baskets or books, it keeps your space tidy. The four additional shoe cubbies complete the organization, ensuring this piece is as practical as it is stylish.
$168.99
Designer Advice:
Consider pairing this hall tree with woven baskets in the open cubbies for a touch of warmth and texture, while also keeping your belongings neatly contained.
Merchant links are sponsored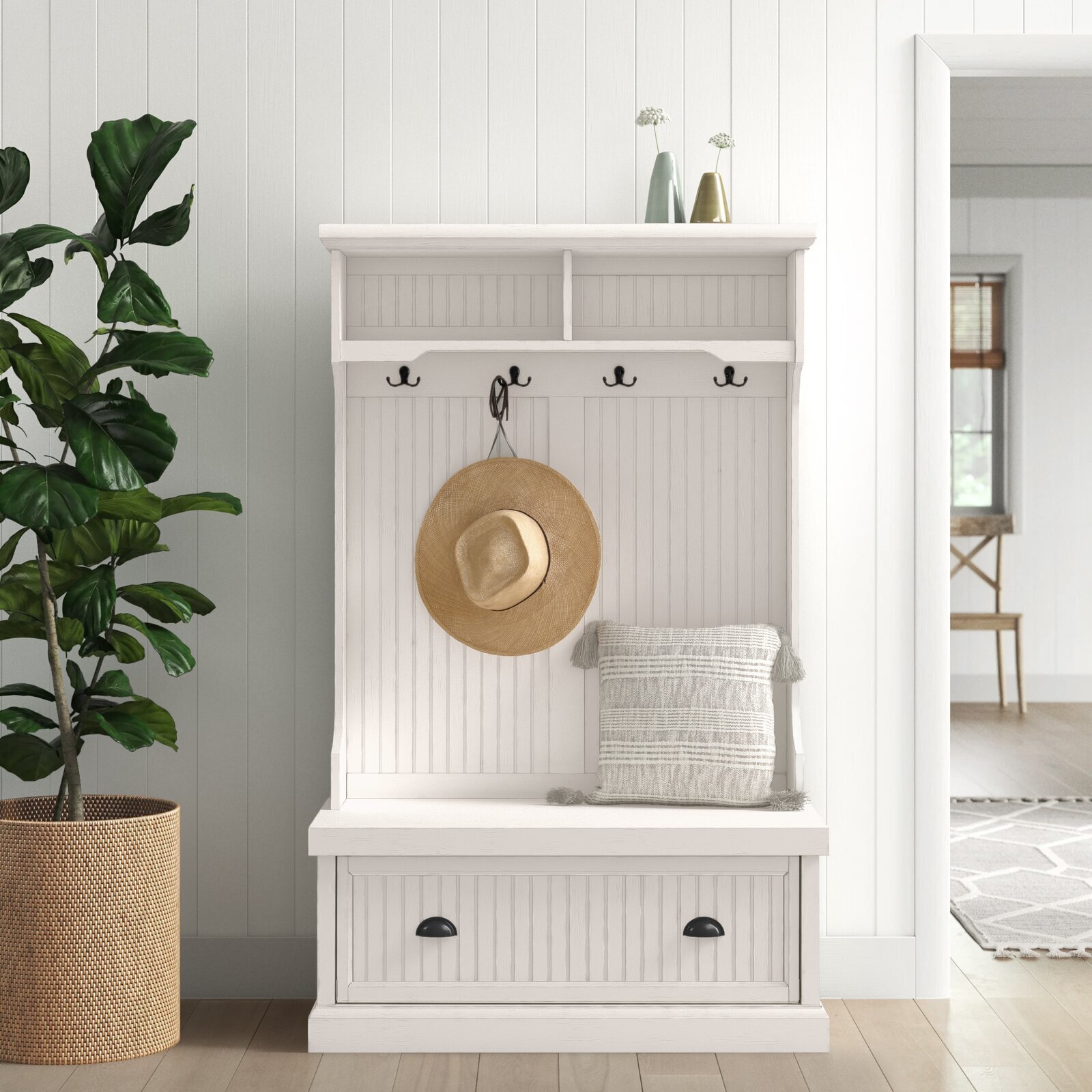 Coastal Bench with Coat Rack
Sand & Stable™
Available in distressed white, distressed black, gray, or navy, this breezy coat rack is crafted from solid and manufactured wood. It features four hooks, two open cubbies at the top, and a drawer below that closes for extra privacy.
$299.99 $619
Designer Advice:
A great option for a coastal chic or farmhouse décor scheme, this coat rack will help to create a light and airy ambiance. We recommend opting for the lighter colors to create a more open feel, as darker colors can sometimes make a space appear smaller. The closed-off aspect means you can hide away any dirty sneakers, too.
Merchant links are sponsored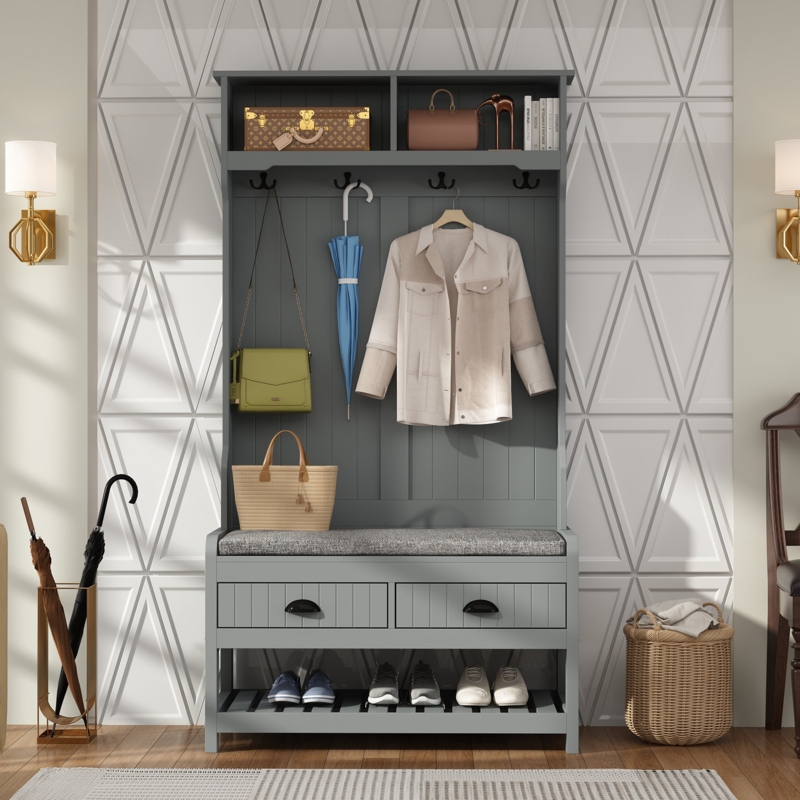 Stylish Foyer Tree with Storage and Seating
Red Barrel Studio®
Perfect For: Keeping your entrance passage organized and welcoming
What We Like: Versatile storage options and seating area
This stylish foyer tree instantly adds elegance and practicality to your entrance passage, providing ample storage and organization options. With two small compartments, a shelf, and 4 hooks for coats, hats, and gloves, this piece keeps your entryway clutter-free. The bench features two pull-out drawers for additional storage and a comfortable seating space to put on boots or change shoes. A wide bench with a suitable height also allows you to display books, school bags, or flower pots, enhancing your home's personality.
$182.99
Designer Advice:
Pair the foyer tree with a complementary area rug and a decorative mirror to create a visually appealing and functional entrance to your home.
Merchant links are sponsored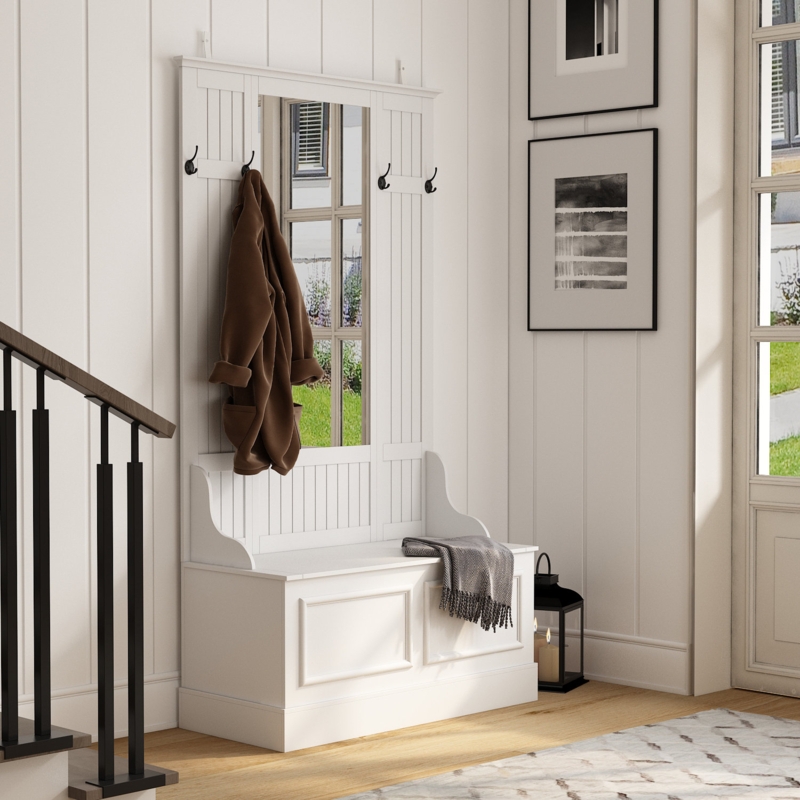 Minimalist White Hall Tree with Mirror and Storage
Red Barrel Studio®
Perfect For: Keeping your entryway organized and clutter-free
What We Like: Multifunctional design with ample storage options
This minimalist white hall tree combines a full-length mirror, four sturdy hooks, and a hidden storage bench to create the perfect solution for tight entryways or mudrooms. The P2 grade MDF board and eco-friendly spray paint ensure durability, while the wooden tenons and iron pieces provide strong connections between the group frames. Easily hang coats, bags, and accessories while utilizing the spacious storage compartment underneath the cushion for shoes and other essentials.
Designer Advice:
Enhance your hall tree by placing a decorative tray or bowl on the storage bench to hold keys and other small items, while adding a cozy rug below to create a warm and inviting entryway.
Merchant links are sponsored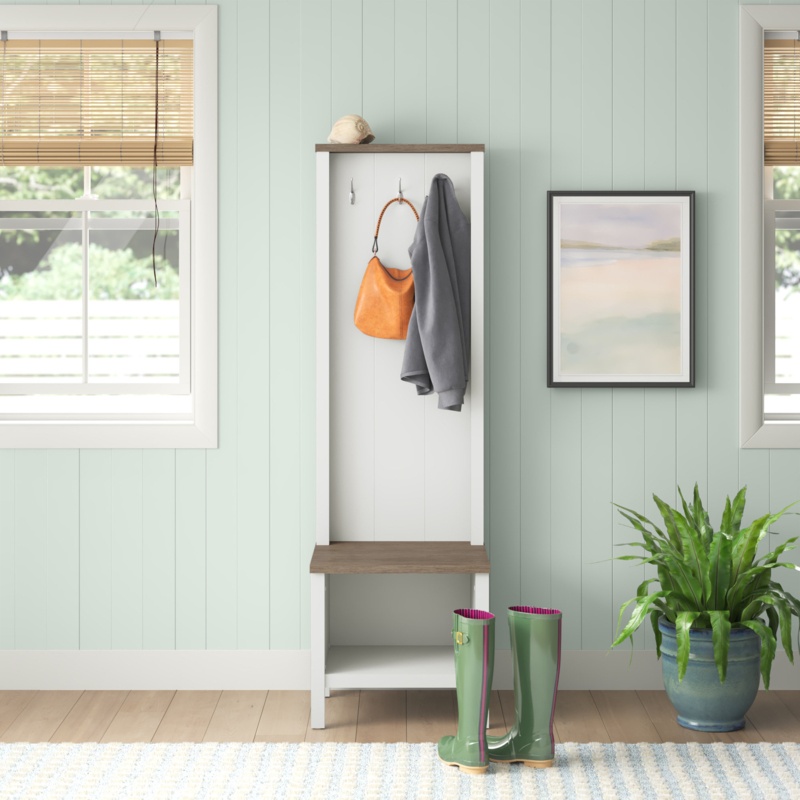 Two-Toned Hall Tree with Shoe Bench and Coat Rack
Sand & Stable™
Perfect For: Keeping entryways and mudrooms organized and clutter-free
What We Like: Classic design with functional storage
This two-toned hall tree offers an excellent solution for tidying up your entryway or mudroom. The built-in shoe bench allows you to sit and tie your laces, while storing a few pairs of shoes in the exposed lower cubby. Made from engineered wood, the brown and white finish complements its rectangular silhouette and coastal farmhouse style. The top section features a coat rack with three hooks, perfect for hanging hats, jackets, and umbrellas.
$219.99
Designer Advice:
Style the hall tree with a coordinating two-toned storage cabinet or console table and add a soft cushion to the shoe bench for extra comfort.
Merchant links are sponsored
Simple Coat Rack with Bench
Williston Forge
You can choose from a dark walnut, gray wash, rustic oak, or slate gray finish with this bench. As well as four double-prong hooks, there is extra storage at the side. It is crafted with a moisture-resistant melamine finish.
Merchant links are sponsored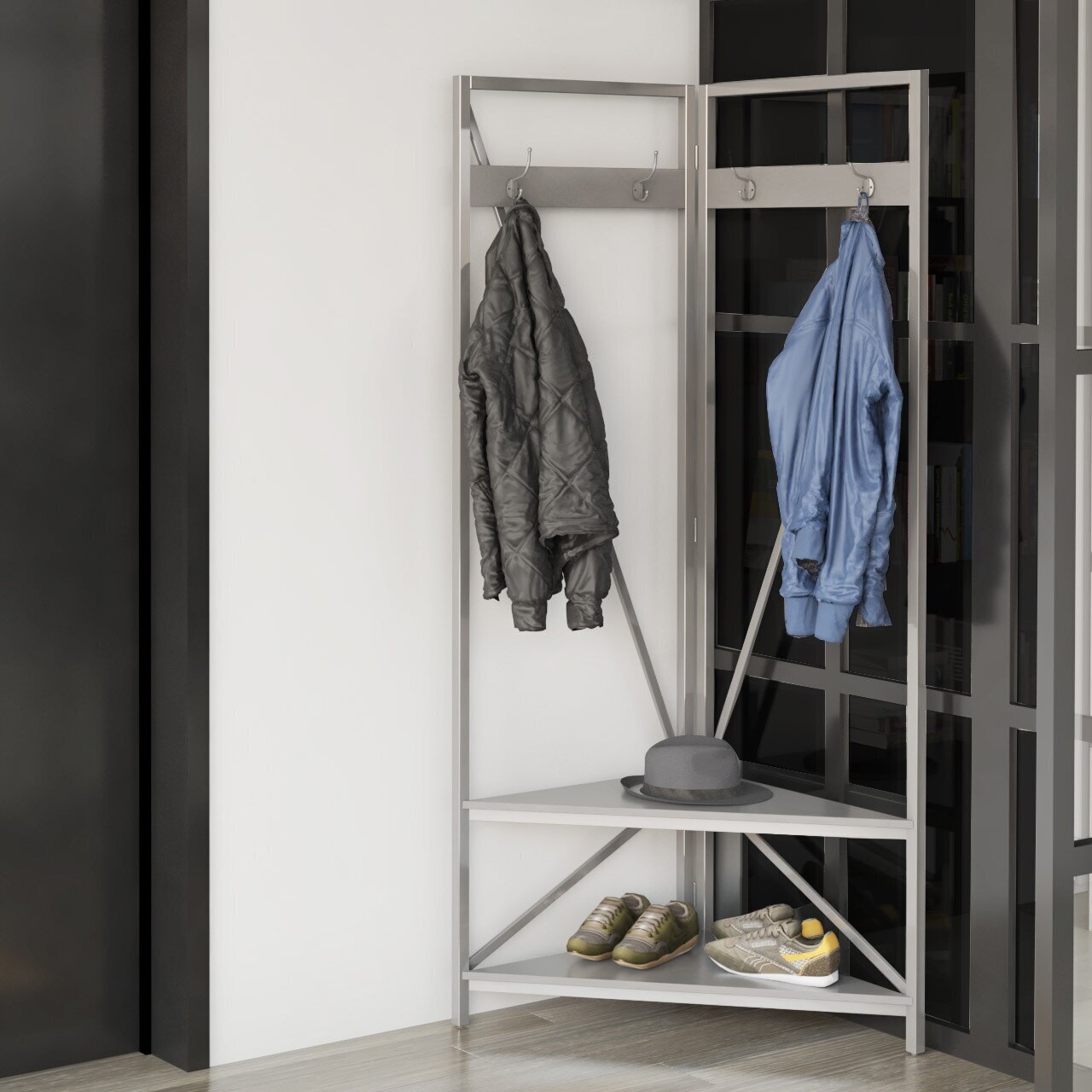 Corner Built In Coat Rack Bench
Ebern Designs
Designed to fit in a corner, this coat rack bench comes in off-white or antique gray. Affordably priced, it has four double-pronged hooks for coats or smaller items. Additionally, there are two shelves below for shoes or larger items.
$79.99 $314.99
Merchant links are sponsored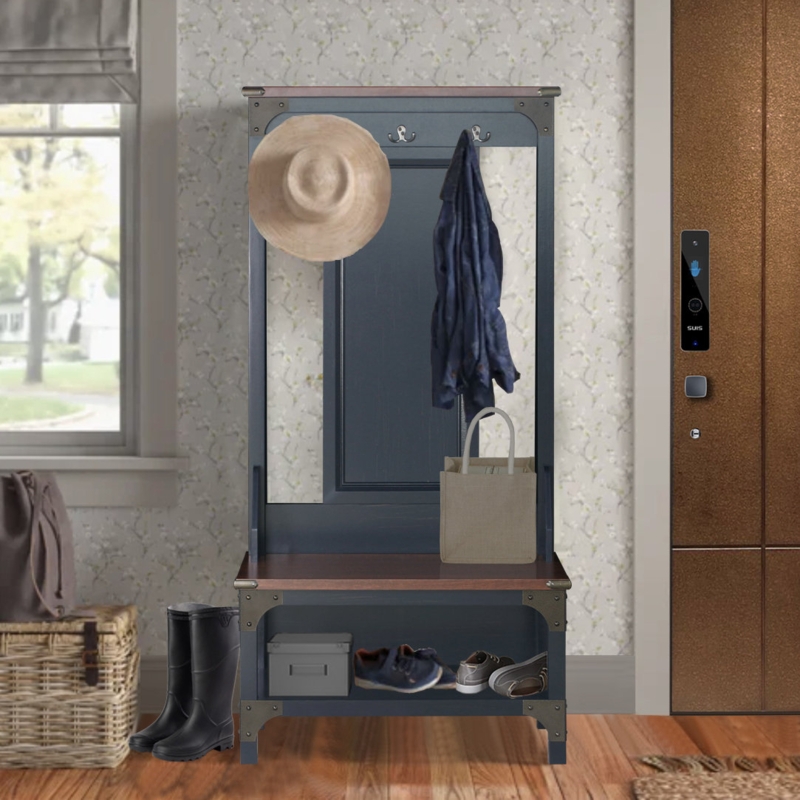 Freestanding Hall Tree with Storage Bench
Lark Manor™
Perfect For: Keeping your entryway or mudroom organized and stylish
What We Like: Compact design with hooks and storage
Tidy up your entryway with this sleek, transitional freestanding hall tree that offers a space-conscious design and an industrial vibe. Crafted from engineered wood, it features a black finish with contrasting dark brown tones for the bench and upper platform. Metal corner brackets enhance the look, while three double-prong hooks hold hats, coats, and bags. The open lower shelf conveniently stores footwear, and the included wall mount ensures extra safety and stability.
$146.99
Designer Advice:
Use this hall tree to streamline your cluttered entryway, and complement it with a statement mirror and a decorative rug for a visually appealing and efficient space.
Merchant links are sponsored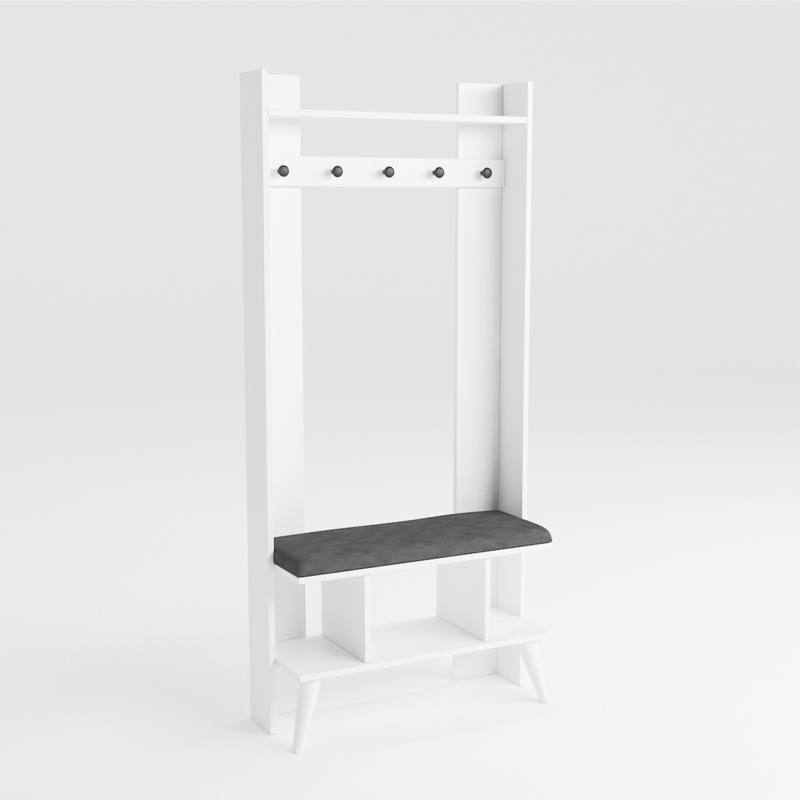 Industrial Bookshelf with Ladder
East Urban Home
Perfect For: Efficient and stylish home office organization
What We Like: Adjustable shelves and built-in ladder
This industrial bookshelf features a unique combination of wood and metal construction, adding character and charm to any room. The adjustable shelves allow for easy customization to accommodate a variety of items, from books to decorative pieces. Perfect for a home office or living room, this bookshelf also includes a built-in ladder, providing a convenient way to access higher shelves and enhancing the overall design. Combining functionality and style, this bookshelf makes a statement in any space.
$299.99
Designer Advice:
Incorporate it into your home office setup by placing it against a brick wall or a soft-textured wallpaper, and add plants or other personal touches to create a cohesive and inspiring work environment.
Merchant links are sponsored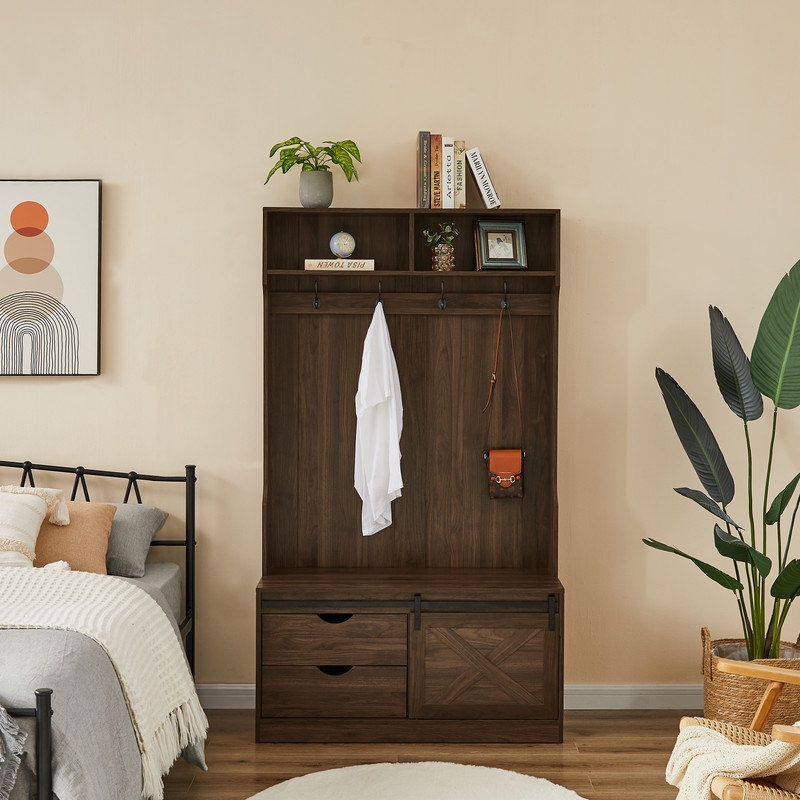 Vintage Wooden Hallway Coat Rack
Gracie Oaks
Perfect For: Organizing and enhancing your entryway
What We Like: Sliding barn door design
This vintage wooden hallway coat rack boasts multiple functions to meet your daily needs, making it an ideal addition to any home's entrance. The sliding barn door design adds a nostalgic touch to this storage bench while its excellent craftsmanship ensures durability and an aesthetically pleasing appearance. Its smooth, U-shape designed drawer and anti-falling hardware provide added security and convenience for everyday use.
$365.99
Designer Advice:
Pair this coat rack with a rustic entryway rug and a woven basket for shoes to create an inviting and well-organized space that welcomes you home.
Merchant links are sponsored