Elegant Country Store Canister Set Of 4 Flour Sugar Coffee Tea Sealtite Lids New
Set of 4 canister in Vintage style. Includes canister for coffee, tea, flour and sugar. It has lids with comfortable handle for easy carrying. Stylish accent for each kitchen.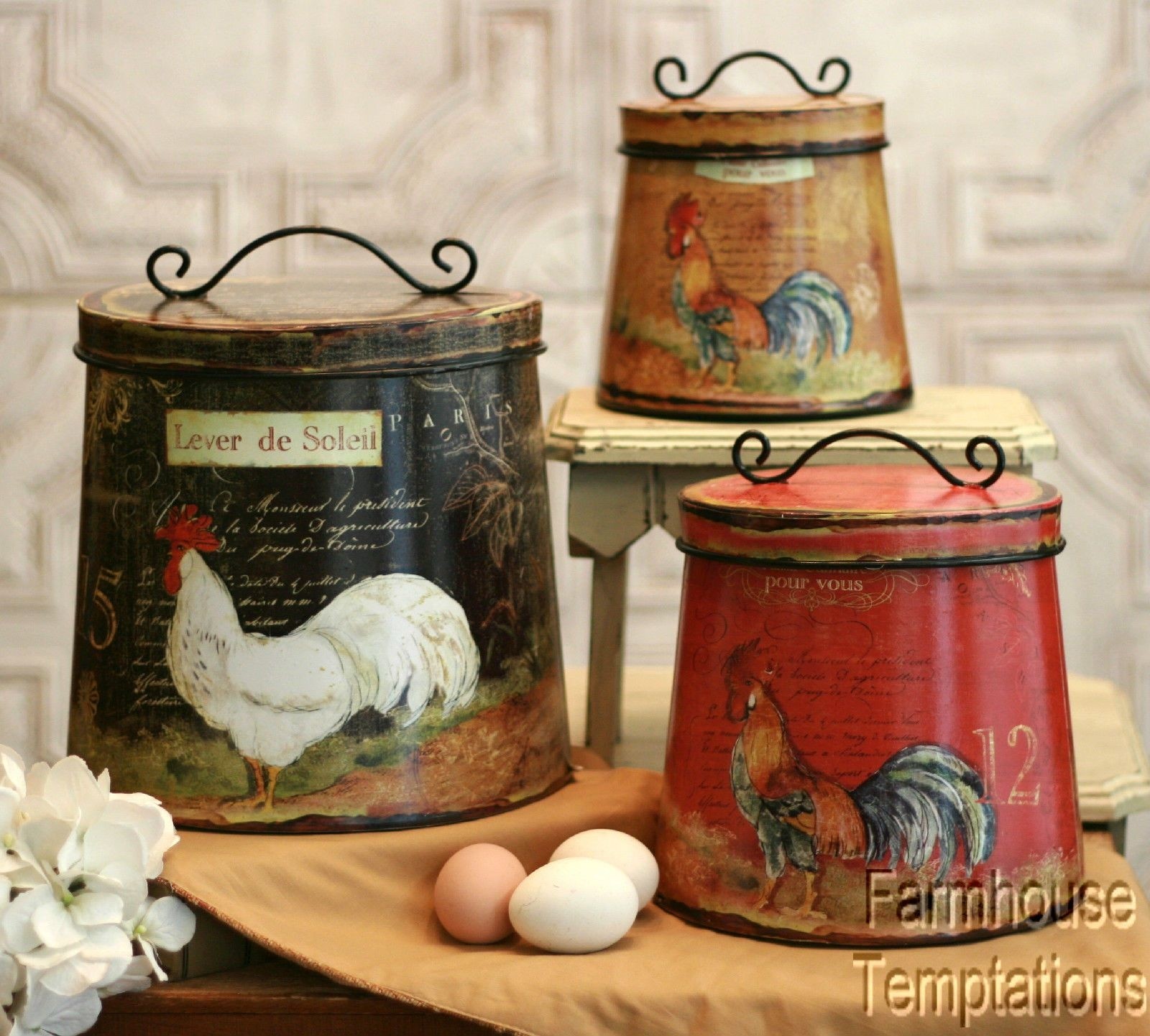 Cottage Rooster Canister Set Shabby French Country Chic Tin Tuscan Kitchen Decor
These kitchen elements are special canisters for sugar, salt, spices and other products used in the kitchen. These canisters feature rooster patterns, so they are suitable for country-styled kitchen indoors.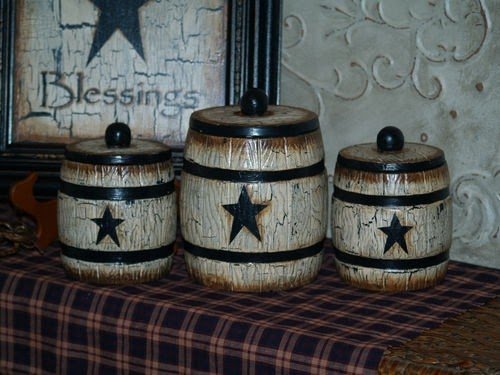 Country Farm House Cowboy Primitive Star Canister Set Vintage Barrel Set
Country style set of 1 big and 2 smaller barrel-like ceramic canisters in grey, brown and black. Each barrel is decorated with a black 5-arm star in the centre as well as 2 black stripes around. Round dark lids are sealed and have small ball handles.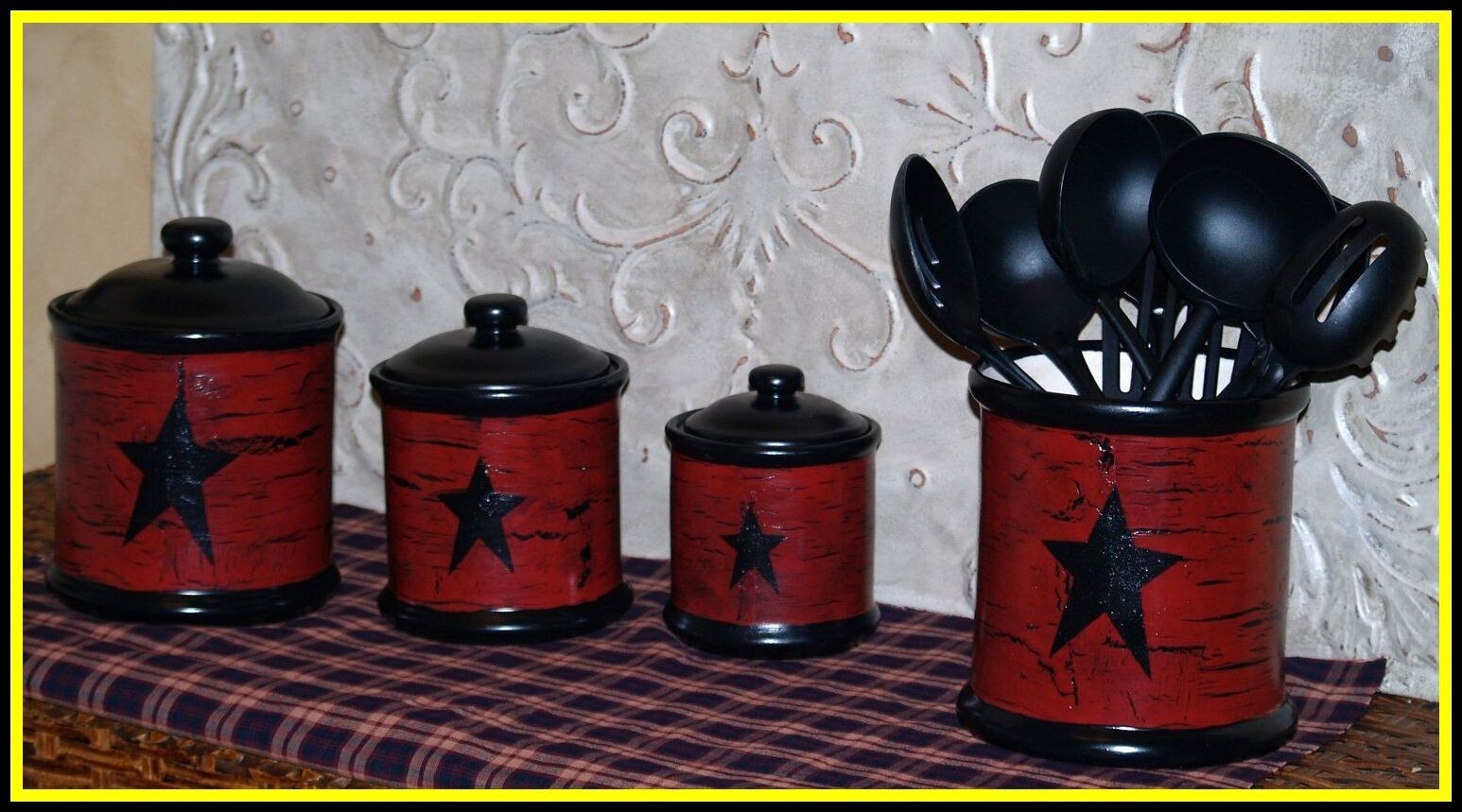 Farm house rustic primitive star vintage
Set of kitchen canisters with star theme. It is fitted with convenient lids. Handy gadget in any kitchen. Suitable for storing food, kitchen tools and others needed stuff.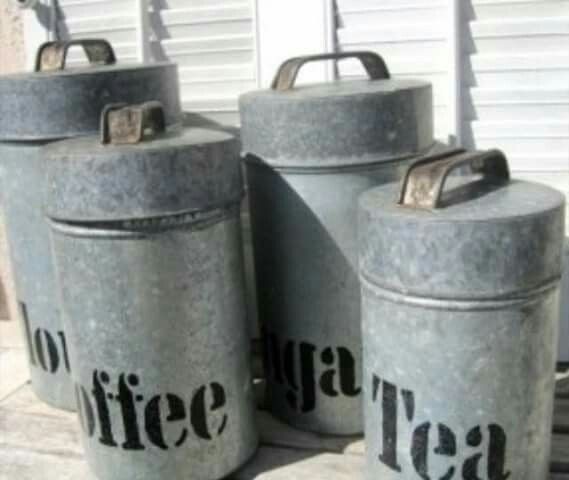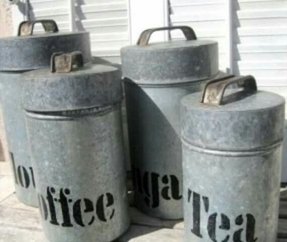 Reserved for caos1 vintage galvanized
Rustic kitchens need decorations that bring vintage accents into the play. Just like this eye-catchy canister set made of galvanized metal. Each of those tins has a large black sign, and a deep lid with a convenient handle.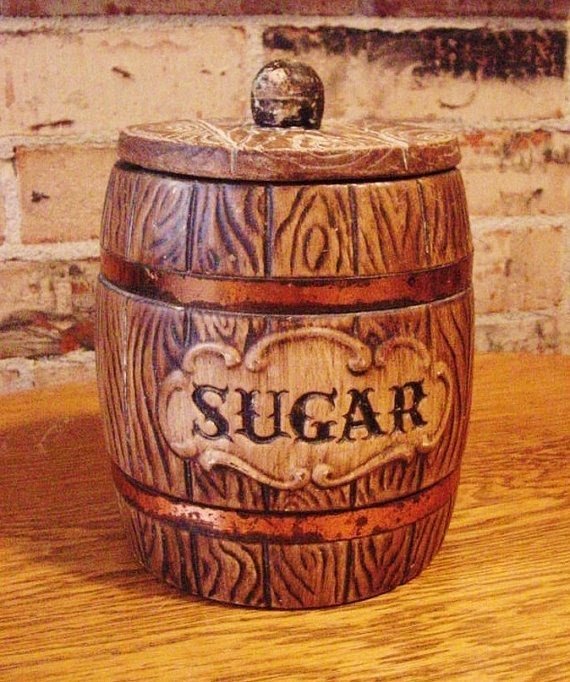 Vintage barrel shaped sugar canister
This is a truly gorgeous decoration for kitchens, dining rooms, bars, and restaurants. Designed in a vintage style, this rustic sugar canister features a faux wood grain pattern, and it's shaped like an old barrel.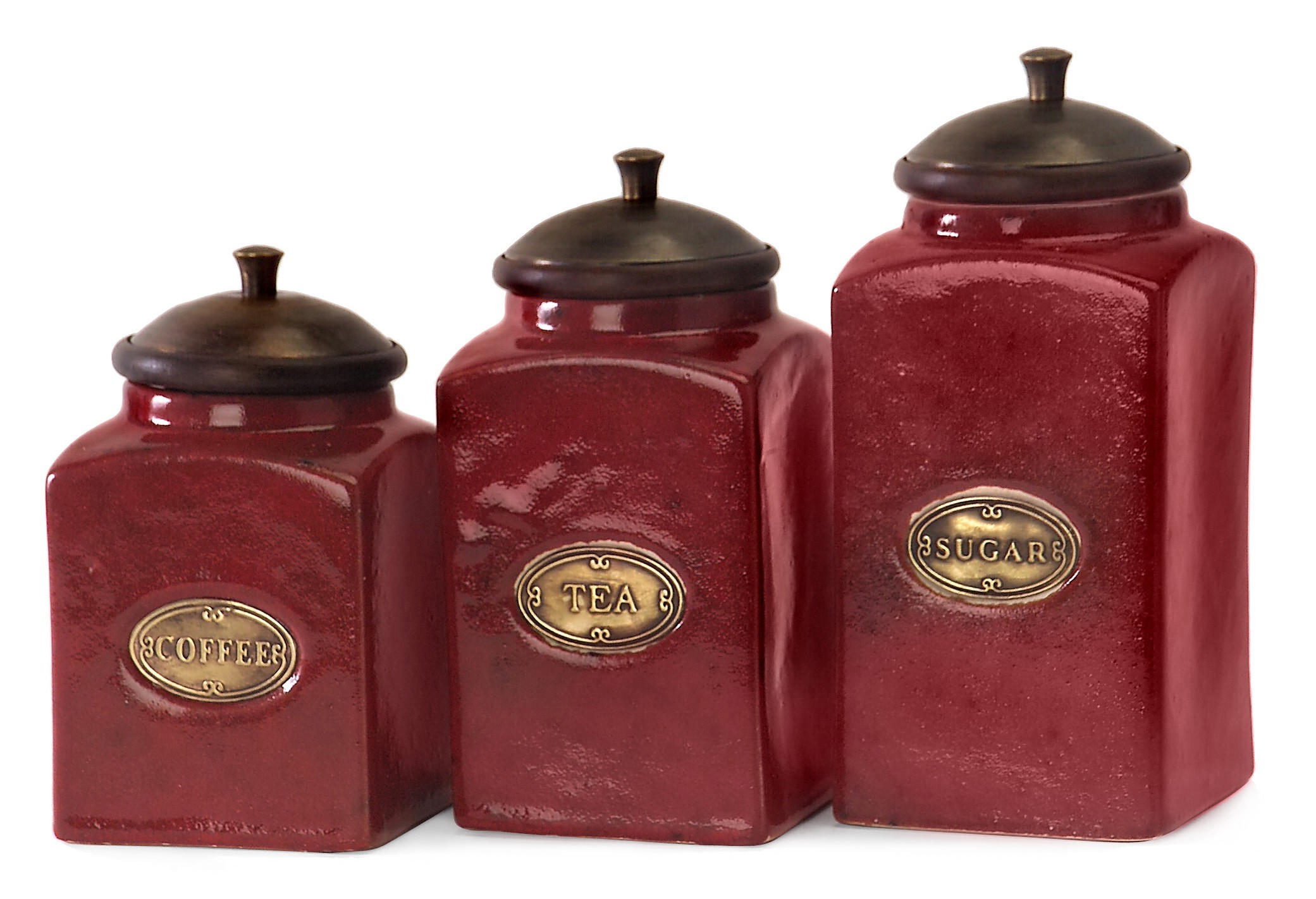 3-Piece Canister Set
Bring an old-world charm to your kitchen with this 3-piece canister set. Each canister has a wood lid and features its own content label with vintage lettering. You can safely keep there any food. Square shape makes them tuck nicely together.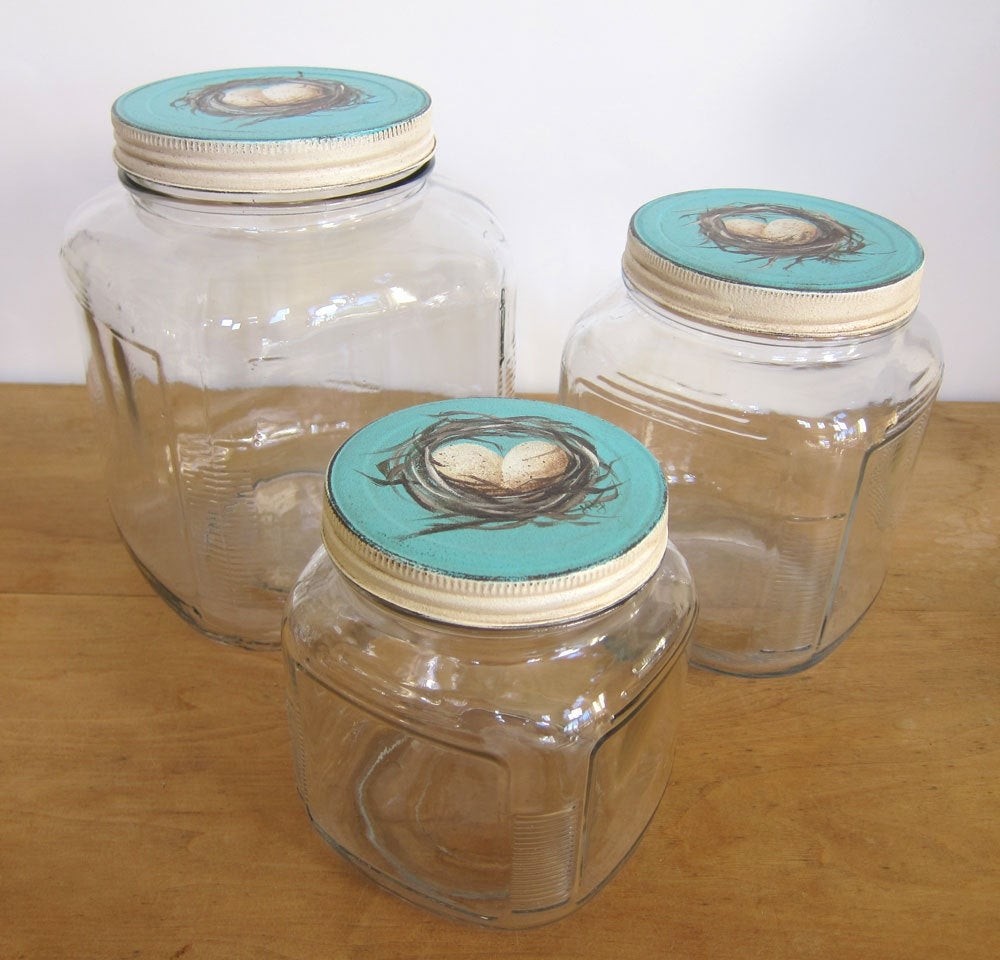 3 piece french country farmhouse cottage
Practical canisters for different kitchen and home applications. These glass jars feature attractive, hand-painted lids with eggs in a nest theme on a blue background. They are quite spacious and attractive.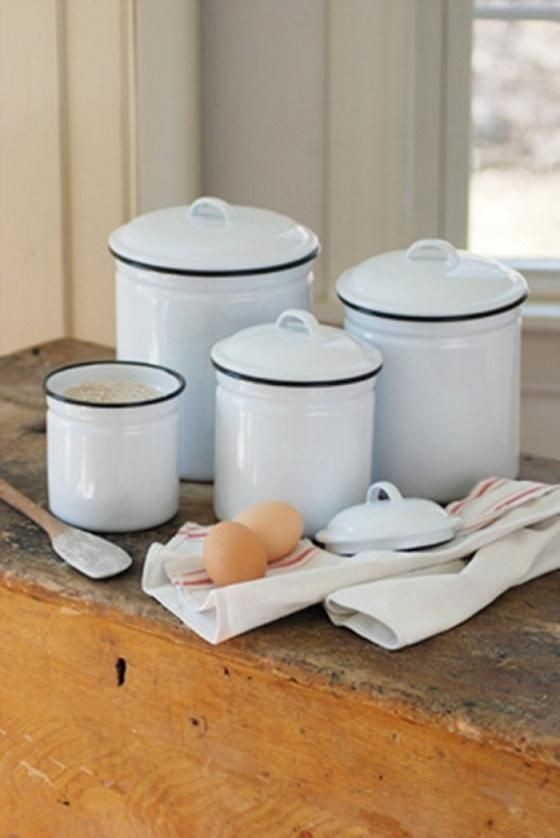 With this white enamelware canister set of four canisters you will get the vintage style for your kitchen. They've got a black trim and four different sizes. they are excellent as a gift.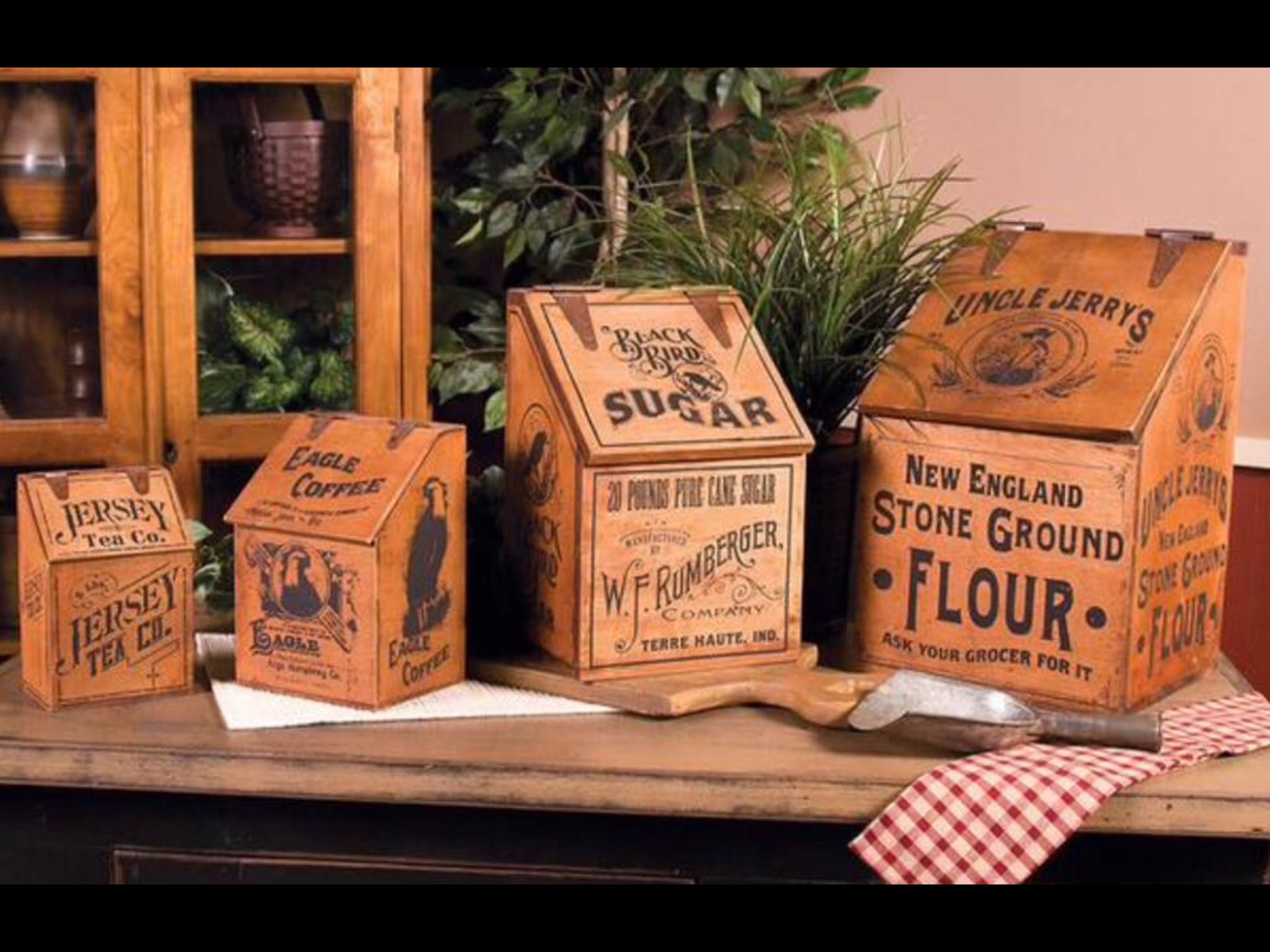 Four Western style handicraft painted wood canisters with bold black advertising inscriptions and attractive worn finish - exact replicas of original vintage canisters. Dedicated for storing dry edible products.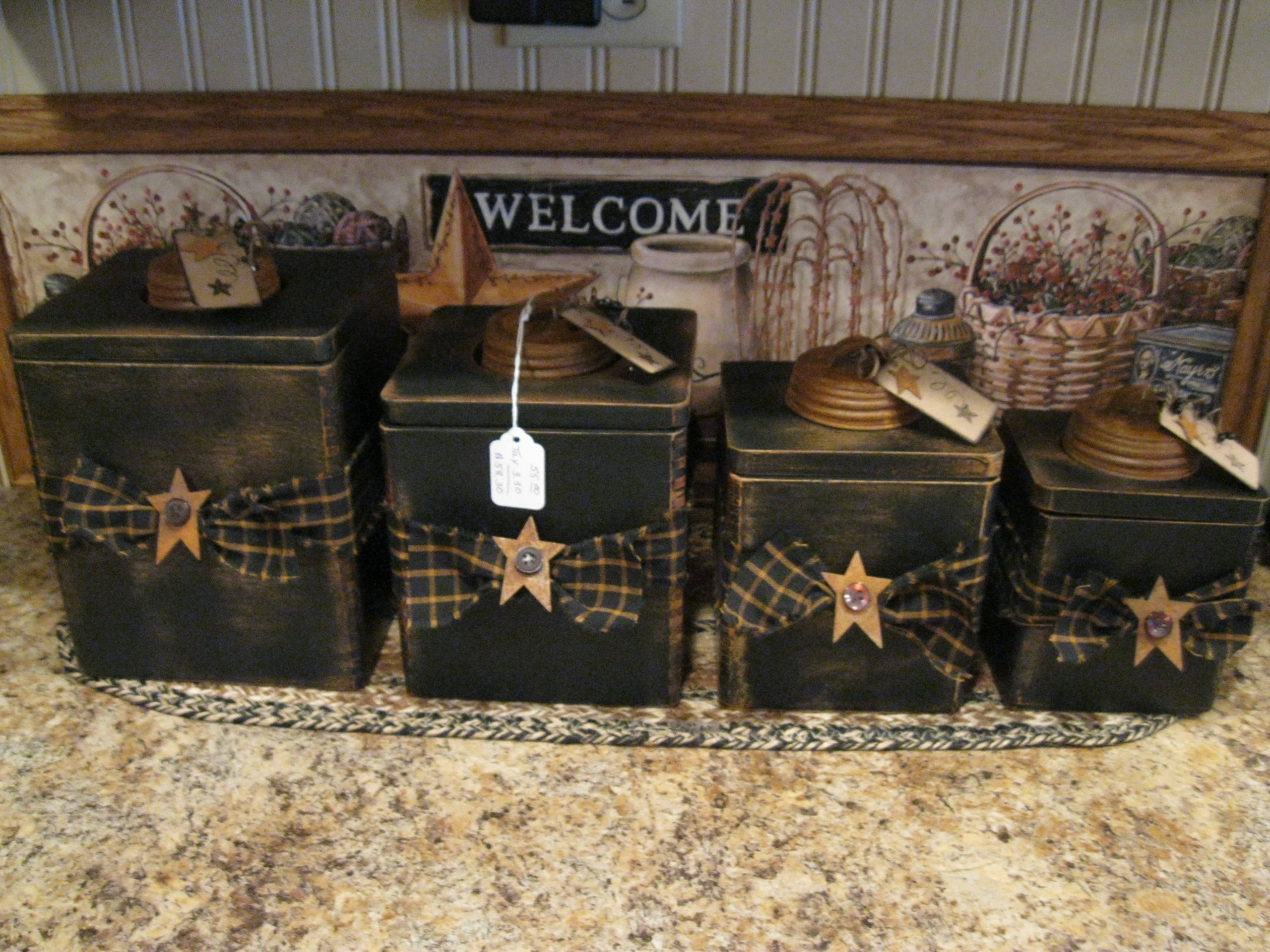 Set of four cute containers in four different sizes stylised on vintage. They are made of metal and have lids made of sheet tin and wood. Containers are decorated with checkered bows with little wooden stars. You can use them in the kitchen!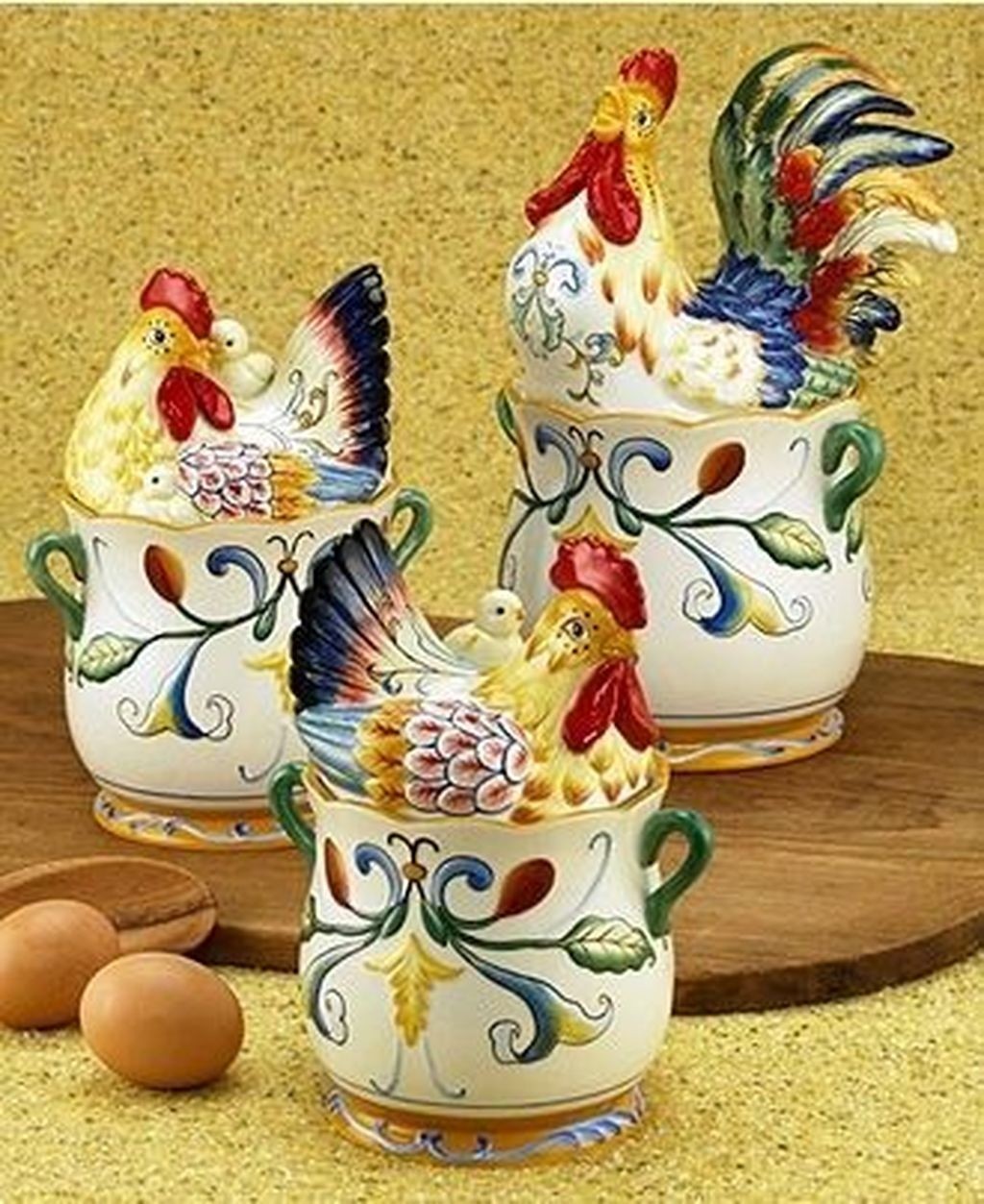 Folkloristic art is also often very useful. For example in the form of ceramic kitchen canisters set that can be both bowls and sugar bowls and are topped with beautiful and proud cocks. They work great as hand-painted country containers in the kitchen.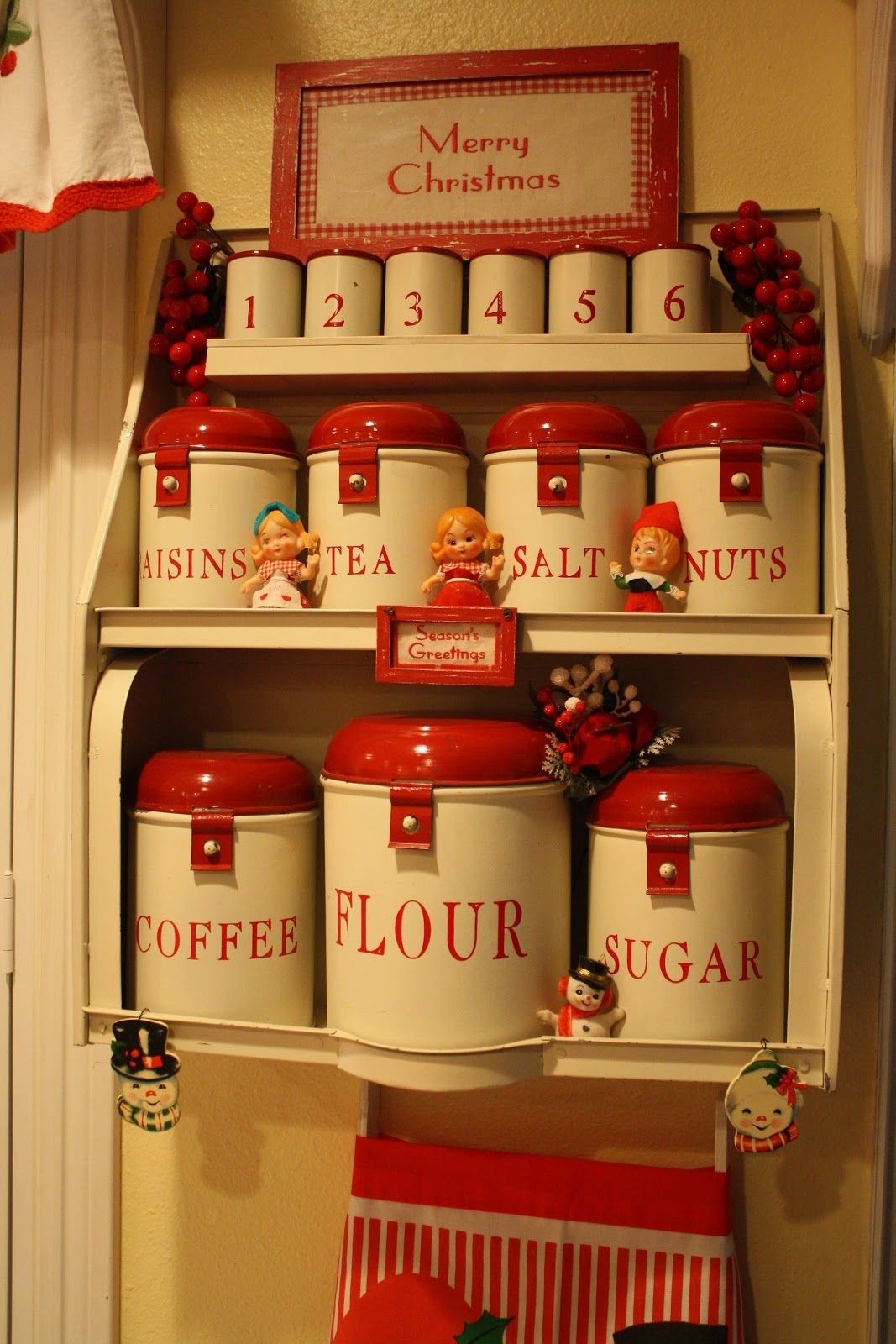 With those beautiful tins you'll be able to bring practical solutions and a vintage look into your lovely kitchen. Each tin is air-tight, characterized by a detailed design consisted of a white body, red lid, and readable red signs.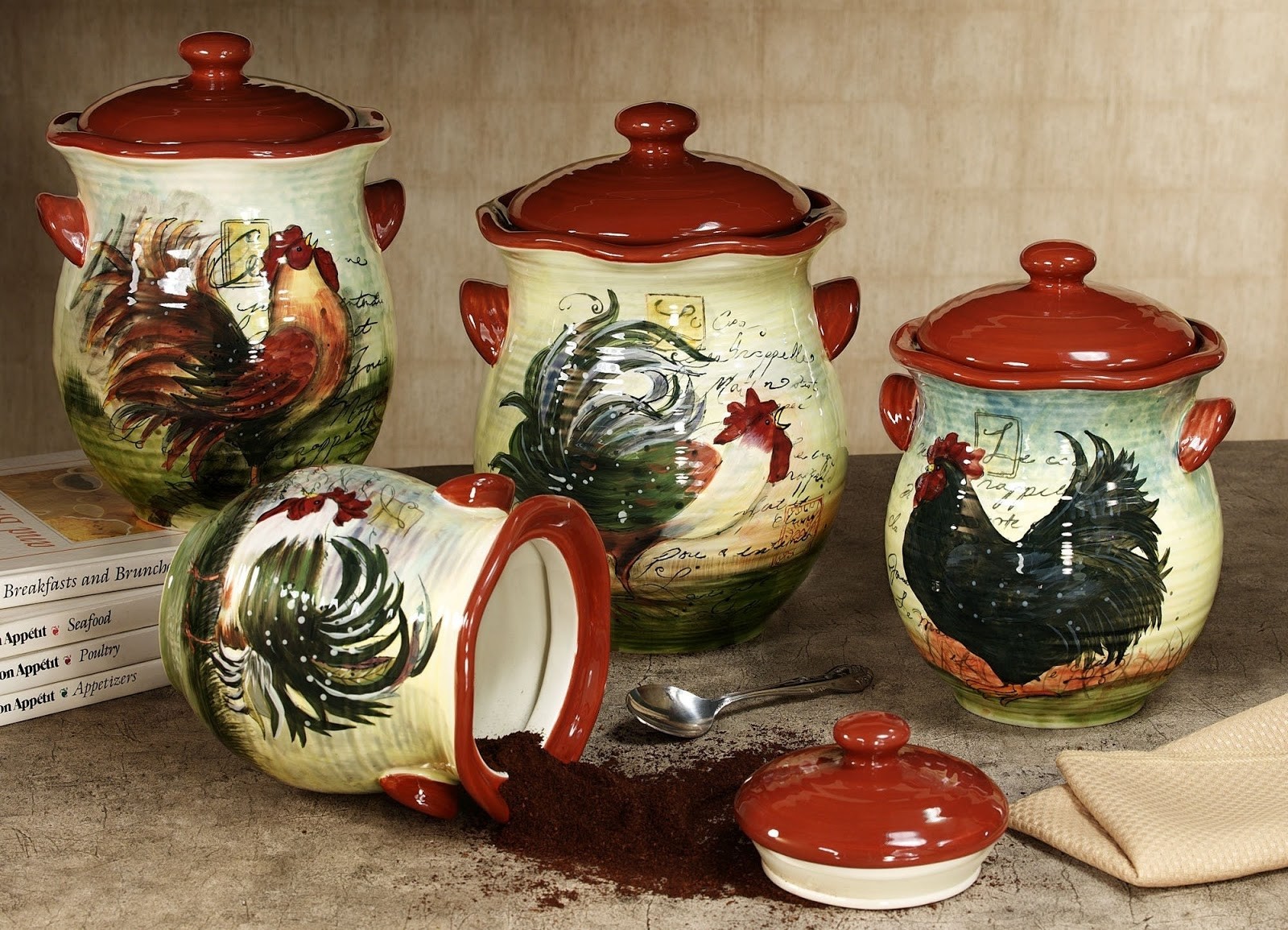 A cute decoration for kitchens, which will spice the interior with vintage accents and live colors. Each canister is made of earthenware, hand painted, and glazed for extra looks. Small canister - 58 oz.; Medium canister - 76 oz.; Large canister - 96 oz.; Extra-large canister - 142 oz.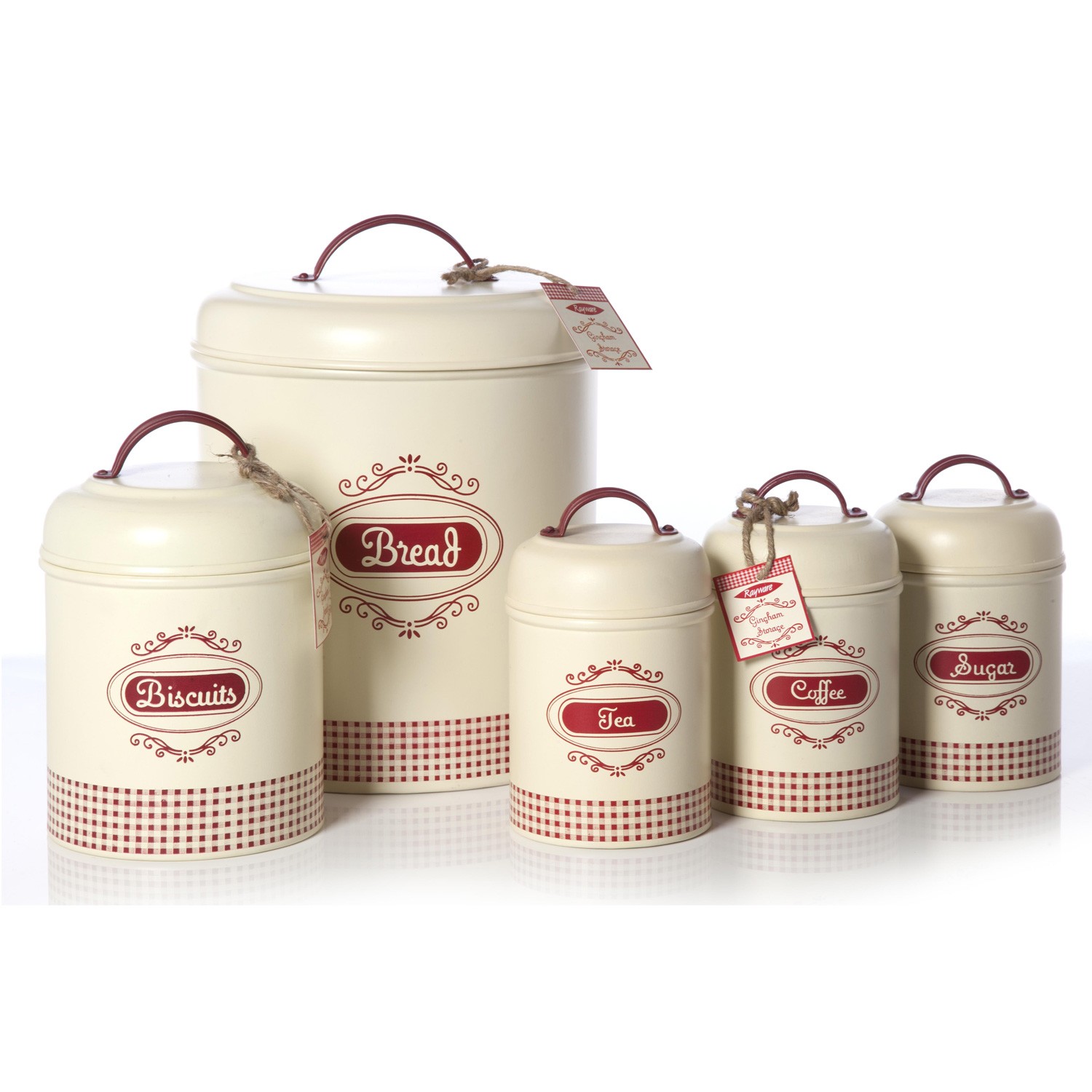 Storage canisters suitable for kitchen use. These decorative and practical items introduce a very interesting country style into the house. Their red accents are well matched with neutral white background.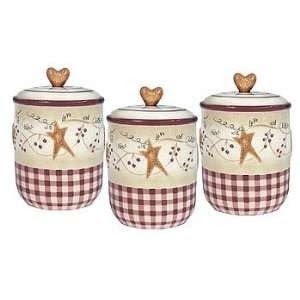 Country HEARTS & STARS kitchen CANISTER SET airtight 3 Home & Kitchen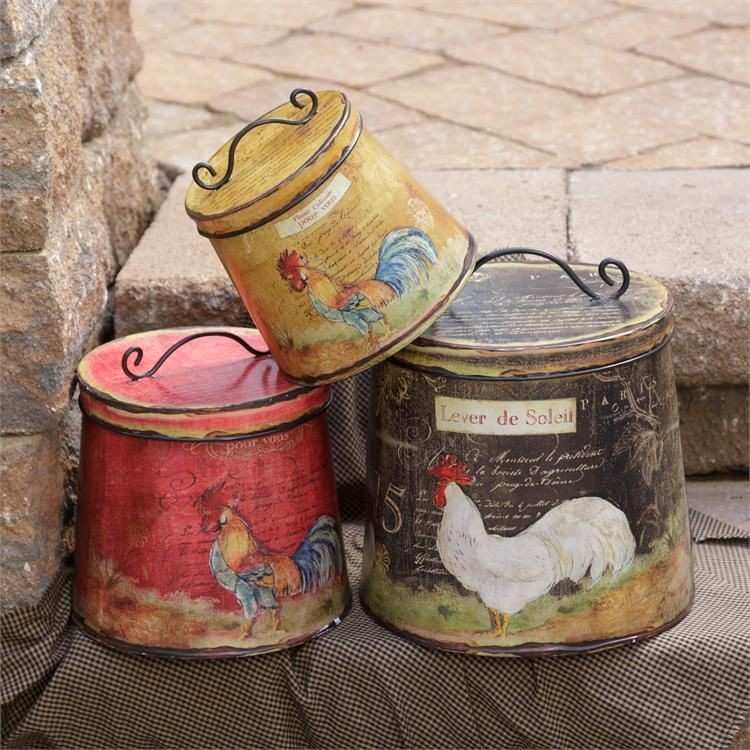 French Country Farmhouse Chic Set 3 Hen Rooster Chicken Canister Tin With Lid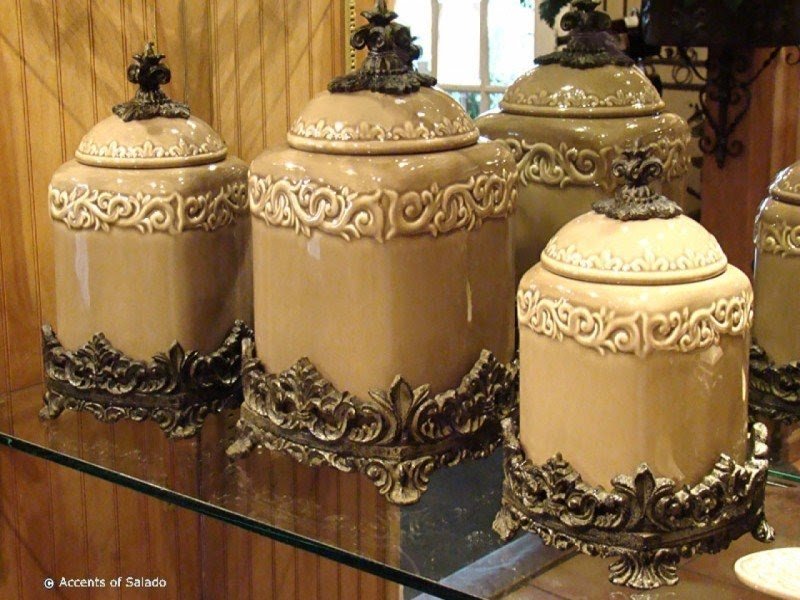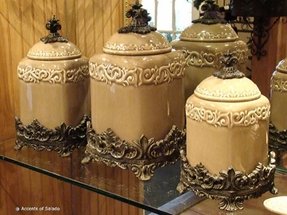 According to you, the devil is in the details? So you will like ceramic,richly decorated large kitchen canister set. Biscuit color, does not mean that you have to put biscuits into them. But they will also accommodate them, thanks to their large dimensions.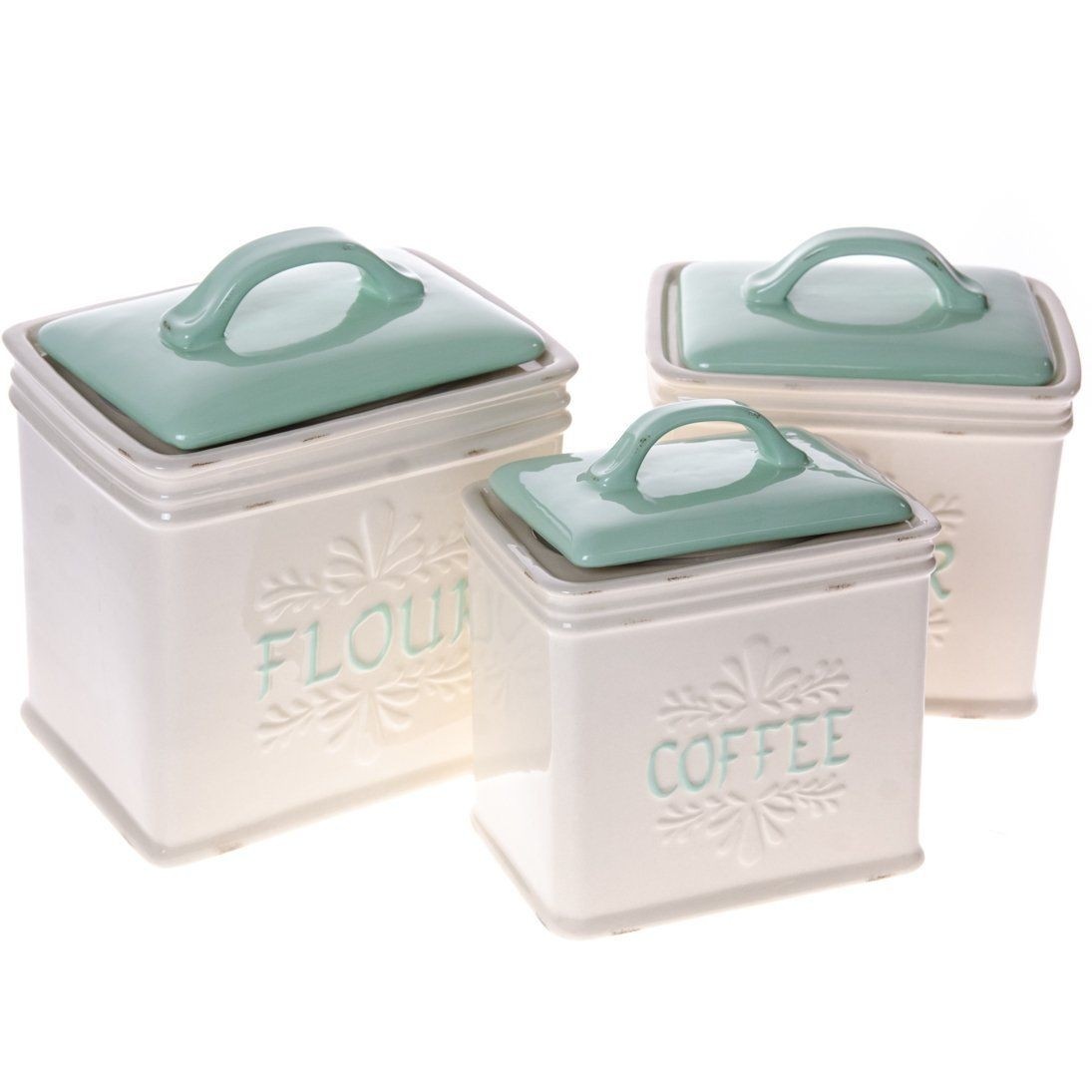 Attractive, solid and very useful kitchen canisters for flour, sugar and coffee. They include green lids and white main constructions. These solid items not only play functional roles, but they also decorate kitchen indoors.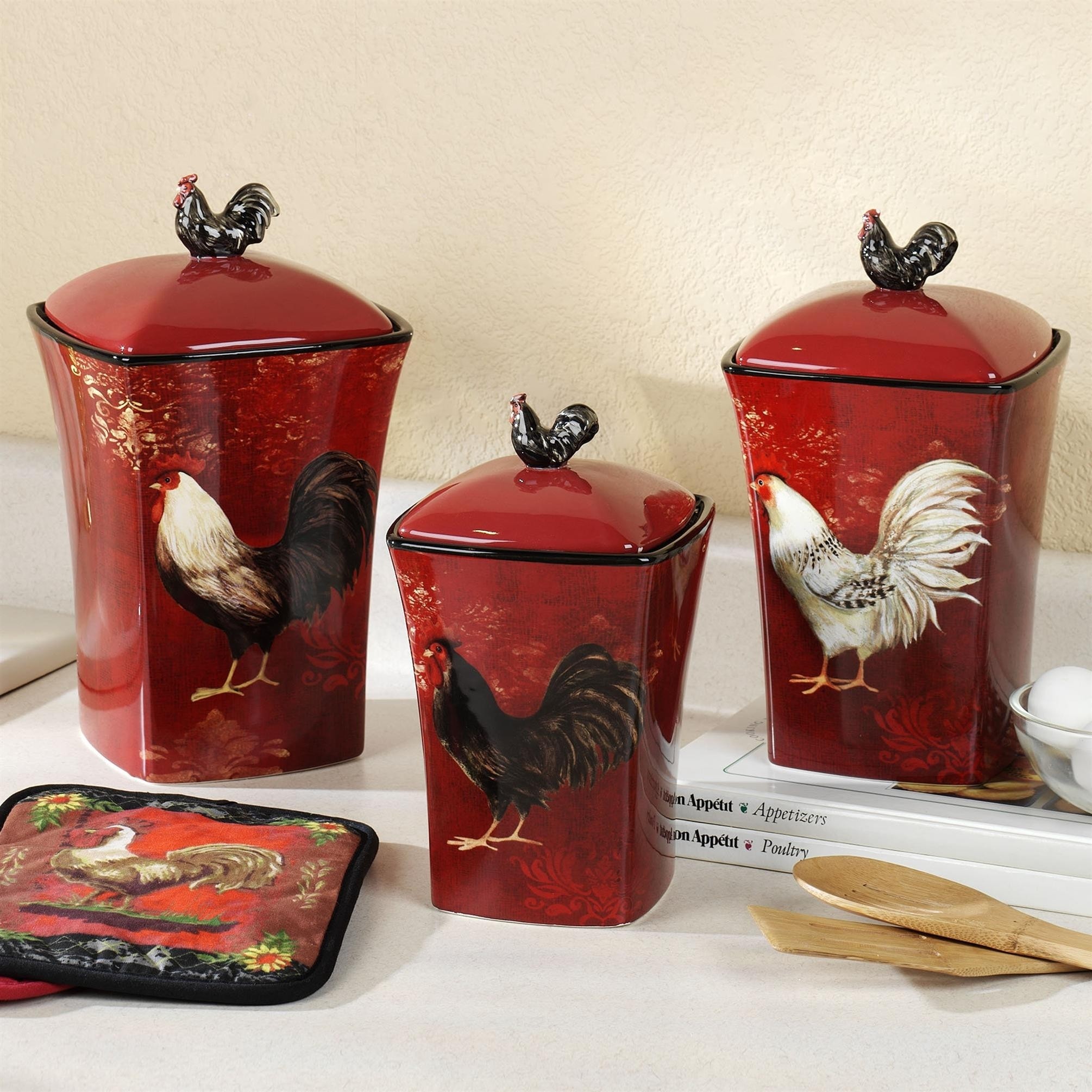 A set of kitchen canisters with attractive, nautrla rooster pattern on a red background. All canisters are very solid and they provide space for spices, sugar, etc. They are functional and they can also decorate kitchen indoors.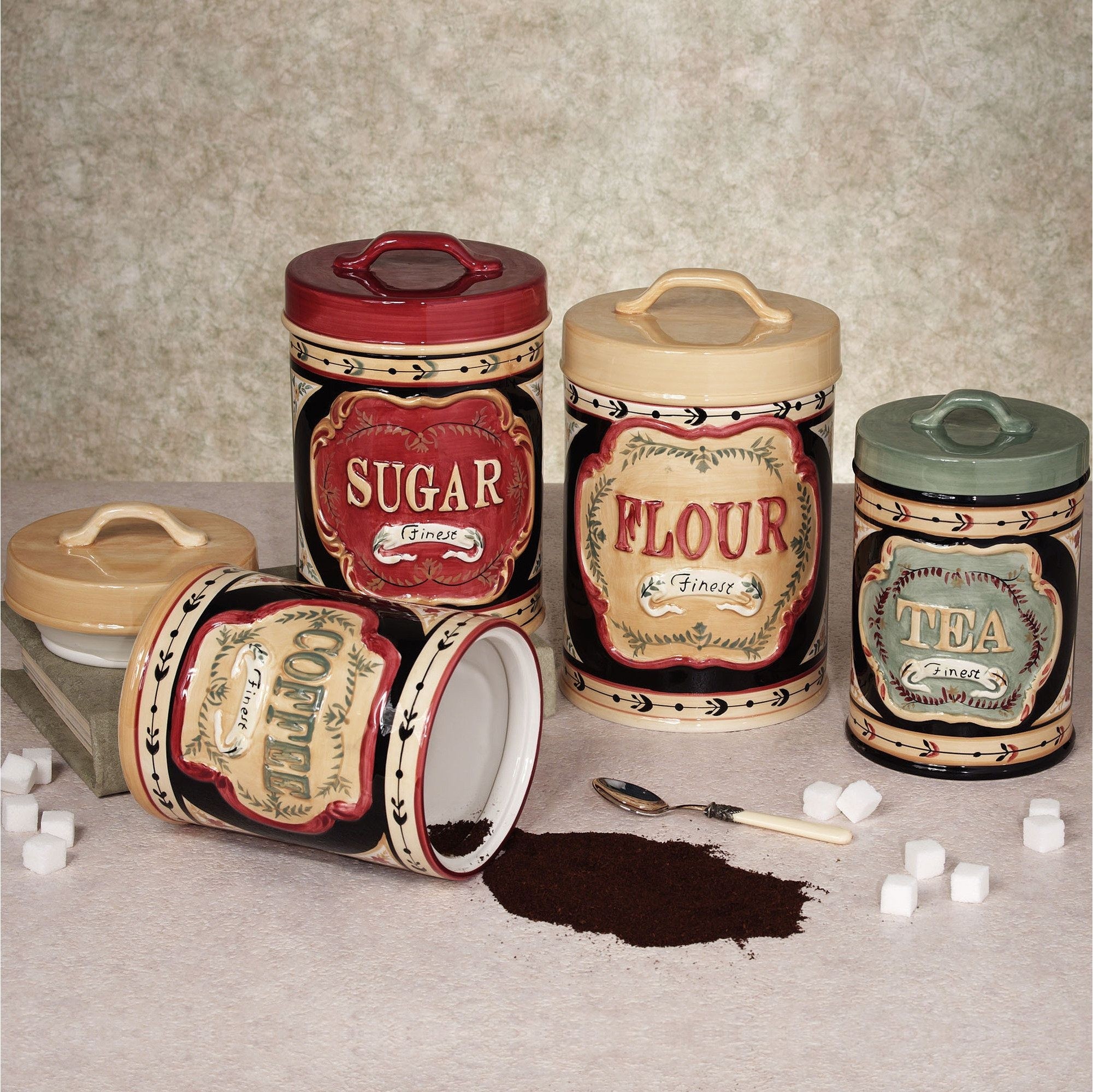 Country Store Canister Set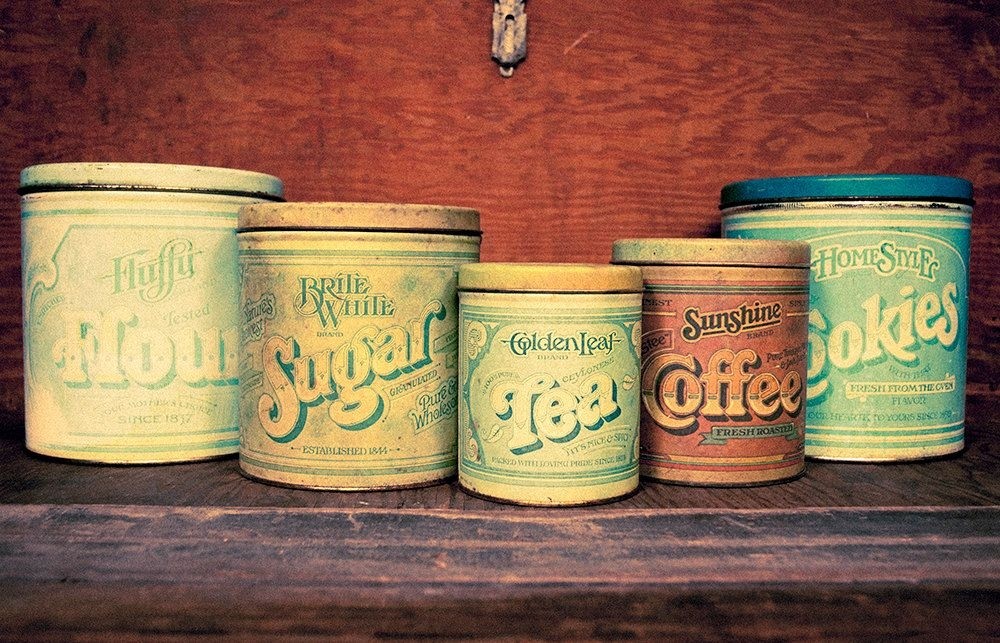 5 Piece Vintage Circa 1977 Kitchen Tin Canister by TheUrbanBarn, $64.00 original Vintage kitchen décor mid century etsy shops antique colorful unique one of a kind 50s 60s 70s cute gift for her for him rusty rustic primitive barn farm country home farmho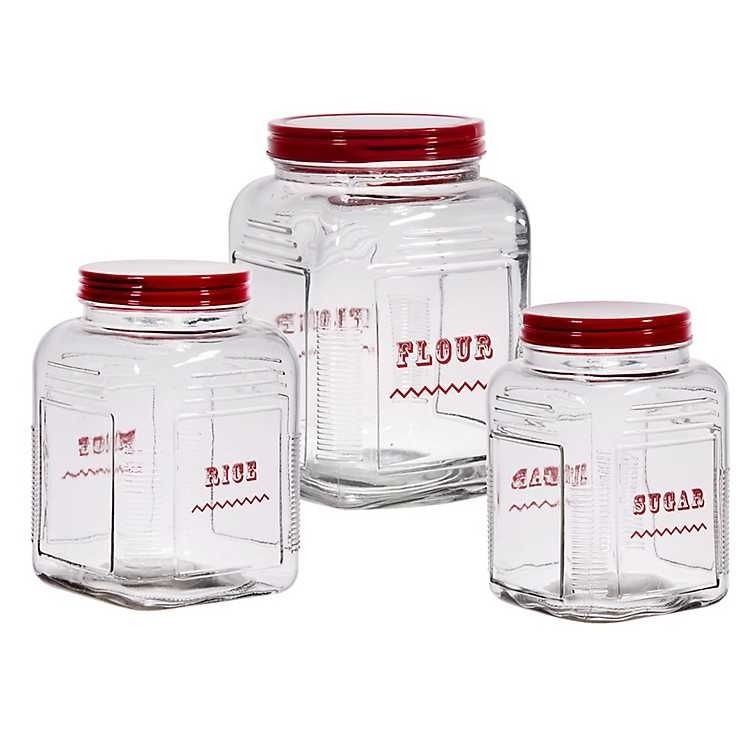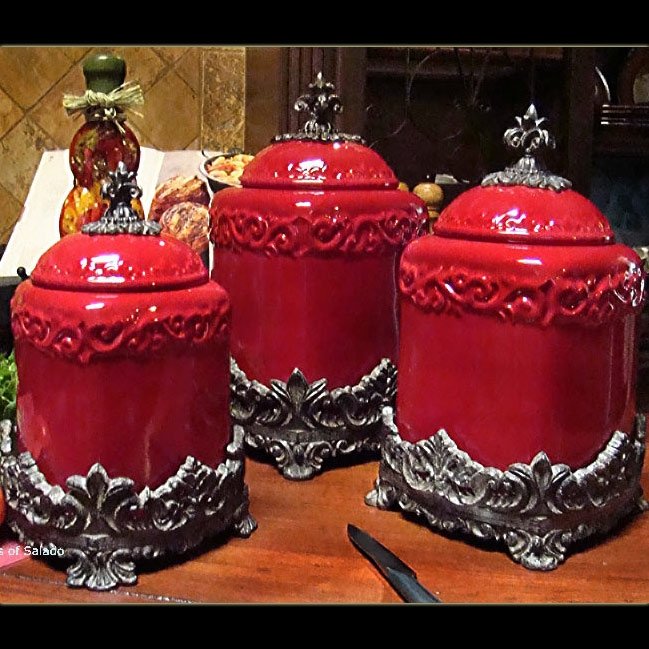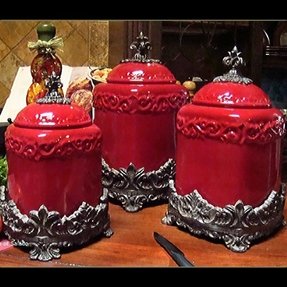 Ceramic and exceptionally impressive kitchen accessories are trifles that give the interior character. This charming French-style set with fleur de lis features an excellent choice for rustic décor. The beautiful combination of colors delights.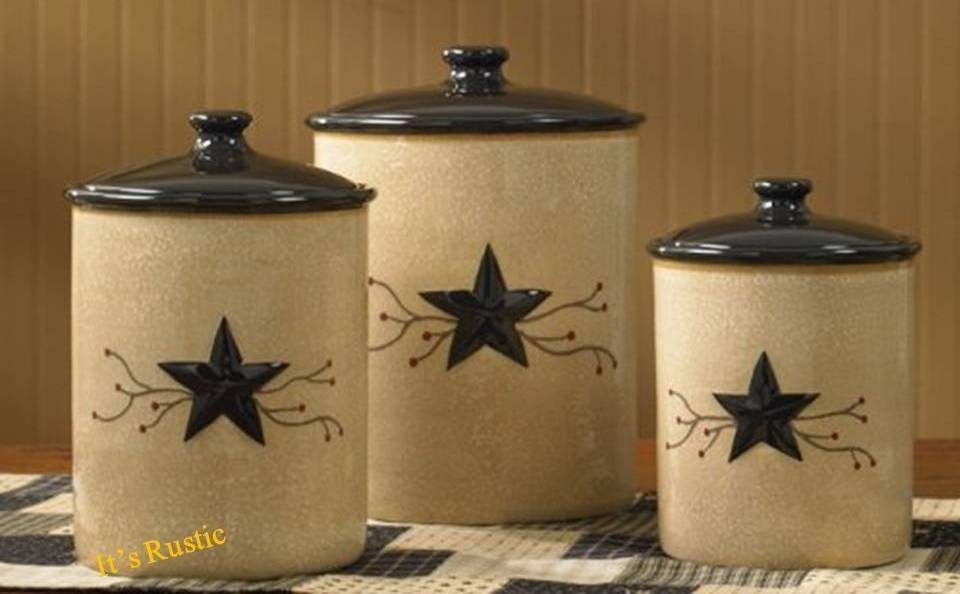 These canisters, coming in set including three of them in varied sizes), sport eye-catching black star and vine motif on a crackled cream background. Their lids are accordingly black. They're ceramic.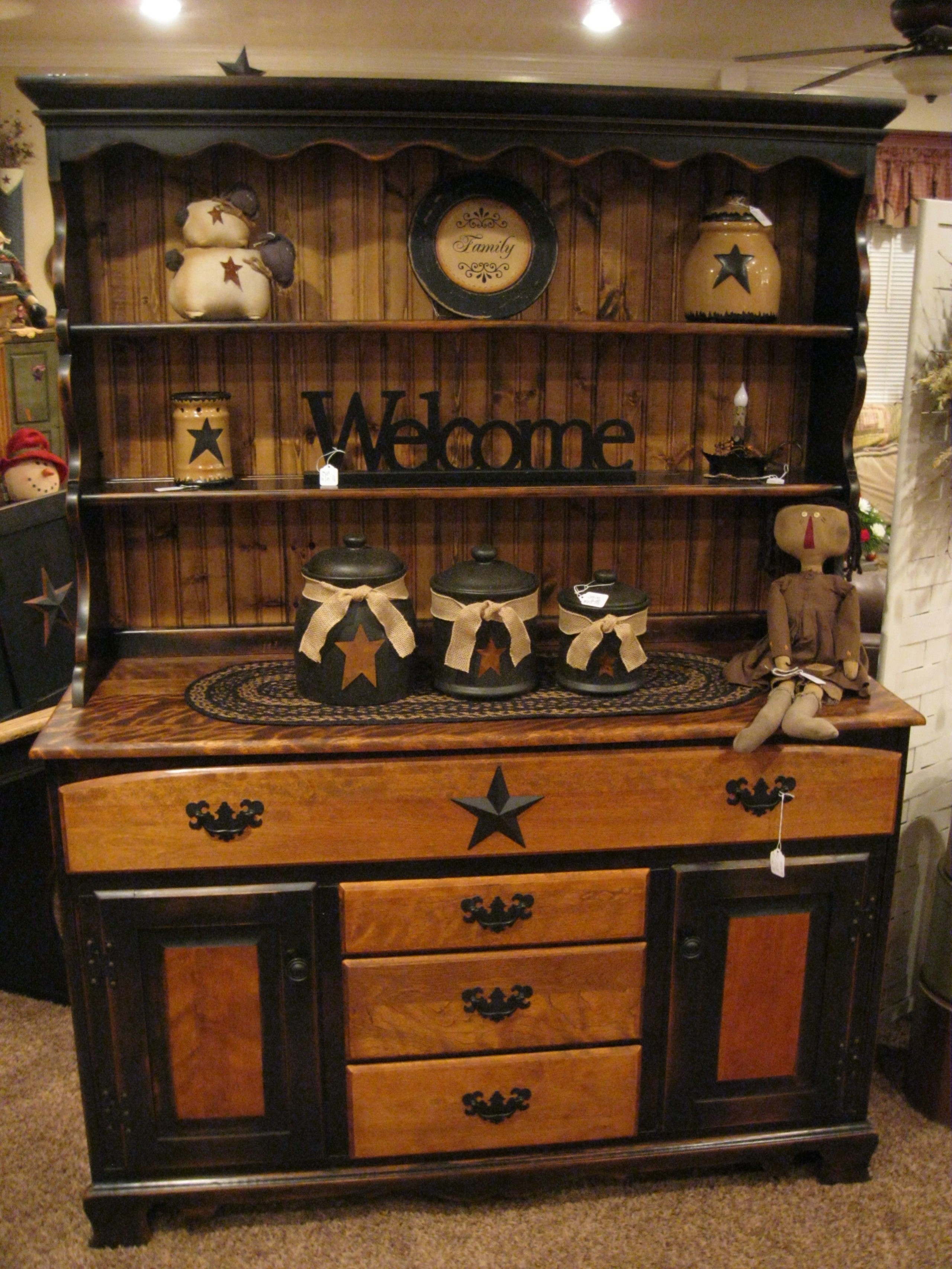 I have the perfect piece of furniture that I can turn into something like this!! Thank you Pinterest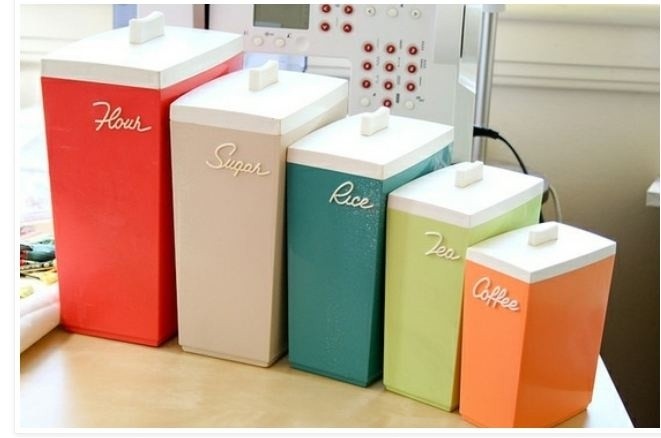 This set may not only bring vibrancy and brightness to your kitchen, but also help you organize your daily cooking. Available in various sizes and colors, will create a great storage option for all granular or powdery products.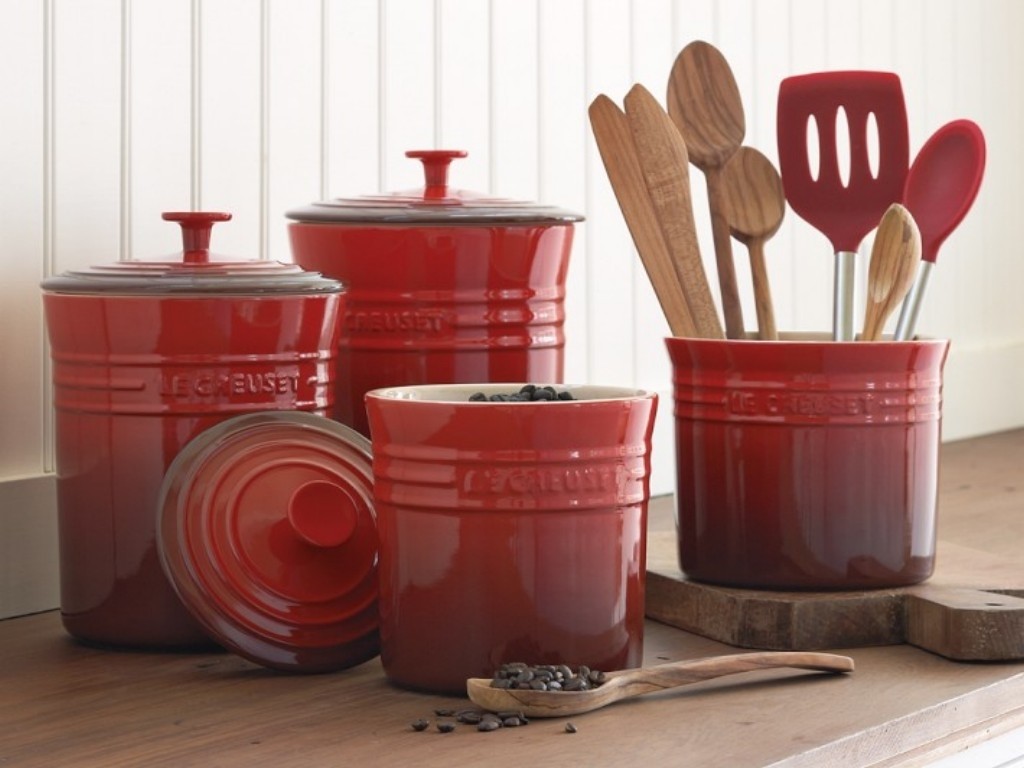 Traditional arrangement of decorations in a vintage kitchen, made with the use of several ceramic canisters made out of white ceramic inside and red-stained ceramic on the outside, which provides a stylish storage for kitchen utilities.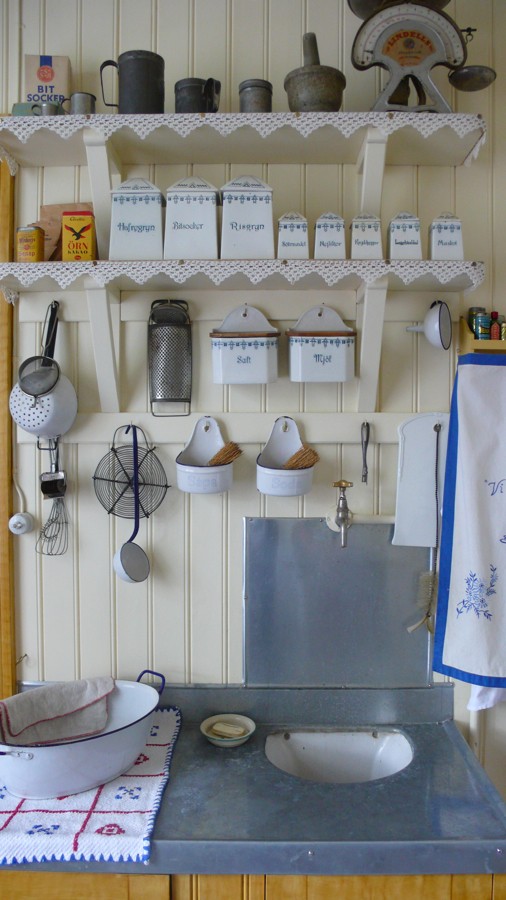 Wall shelf with hooks for storing kitchen tools, cups and more. Frame is made of wood and fitted with screws holes for easy mounting. Ideal solution for space saving in any kitchen.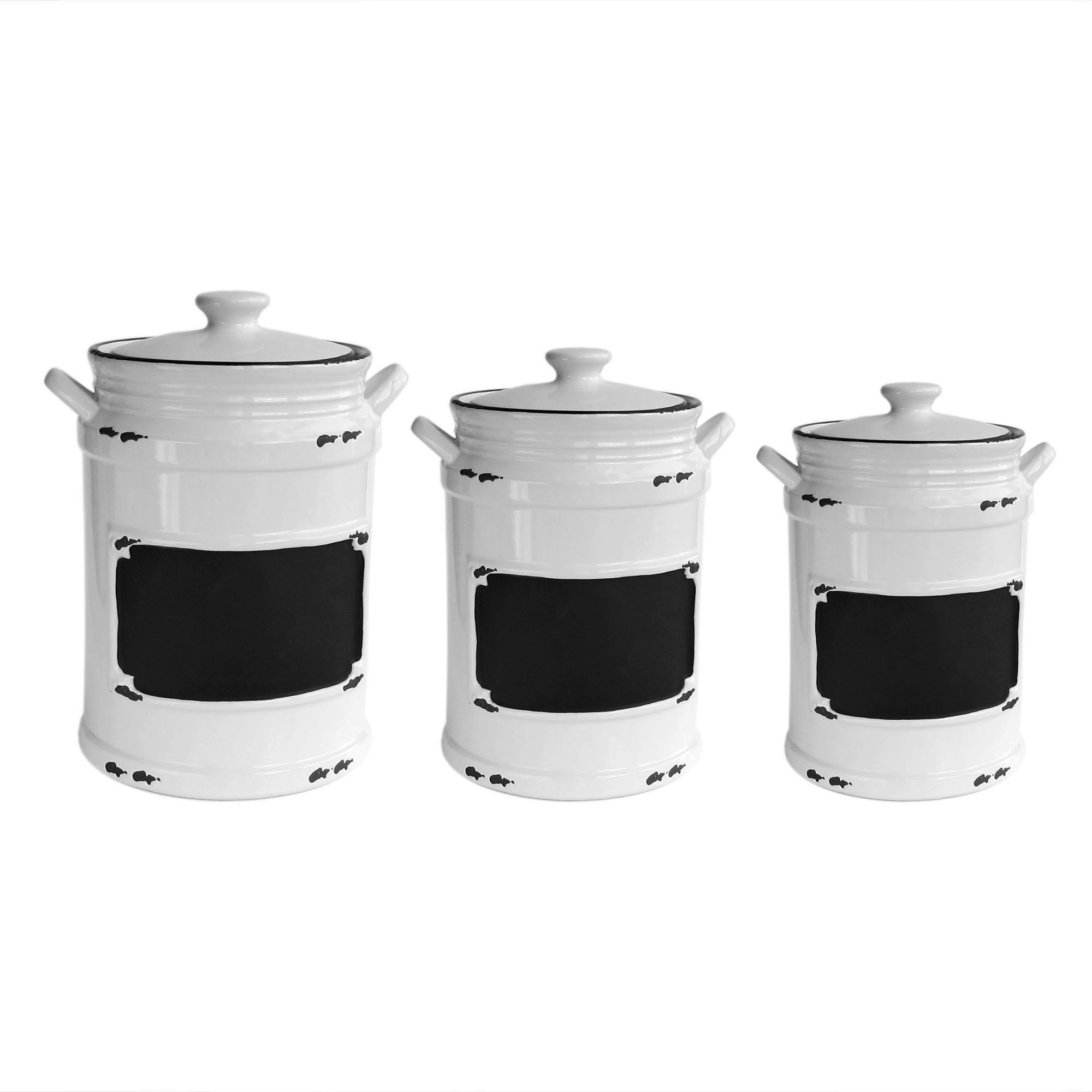 3-Piece Vintage Canister Set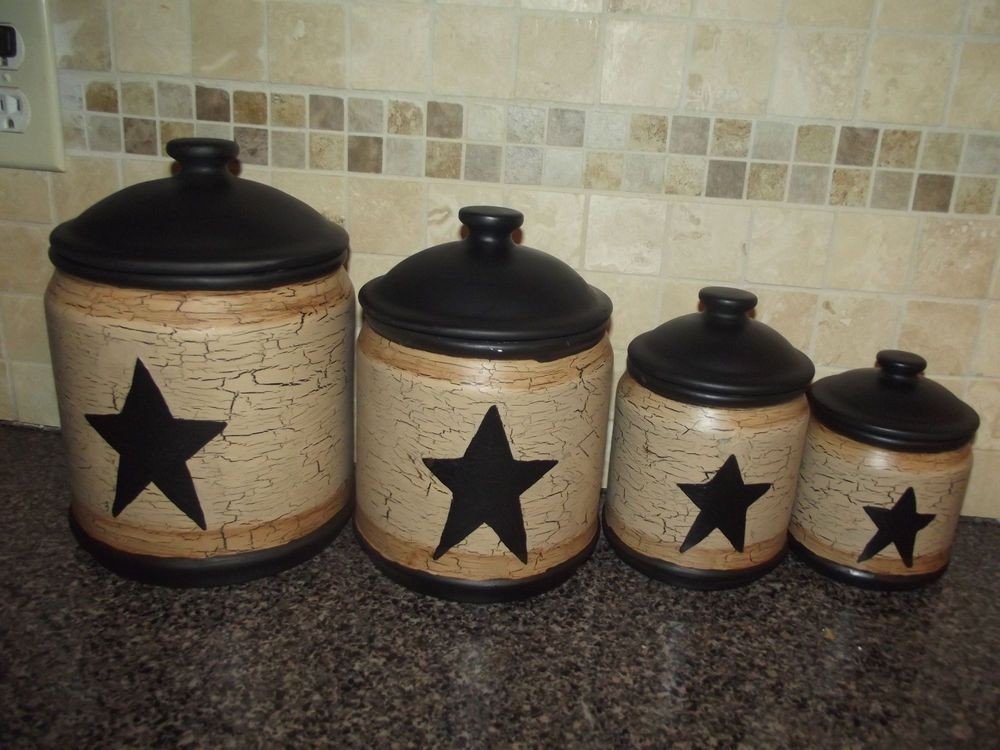 Primitive Set of 4 Canisters ~ Tan Crackle ~ Black Star ~ Country Decor #NaivePrimitive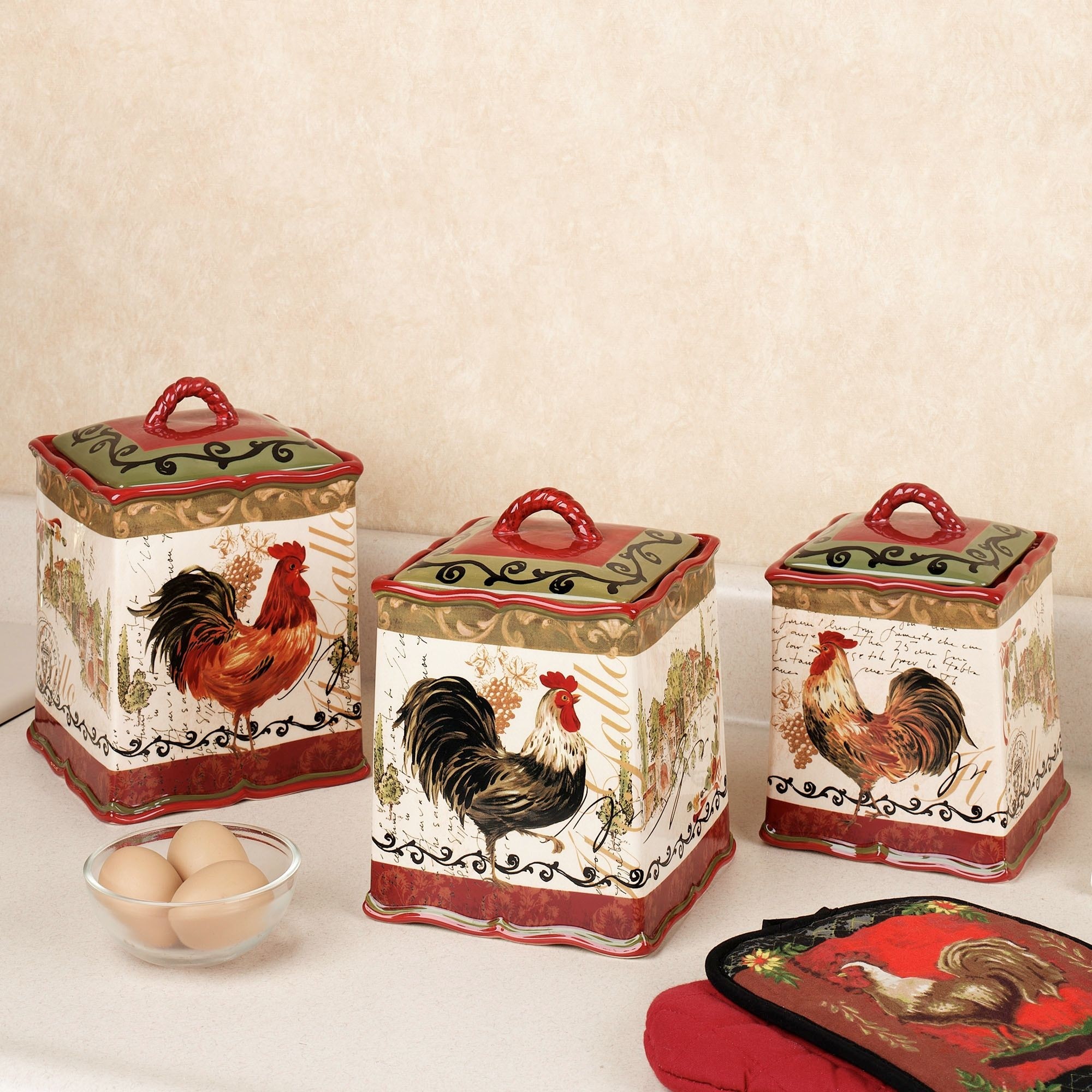 Tuscan Rooster Kitchen Canister Set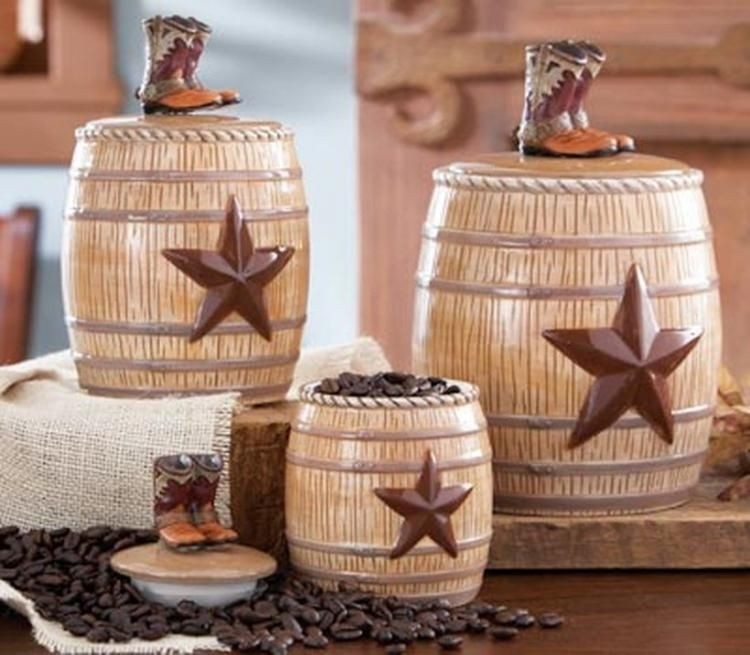 This kitchen canister set fits well into the country style. Beige, wooden-like barrels, embellished by a lovely pair of cowboy shoes as the handlers, it oozes with the old-school, western climate.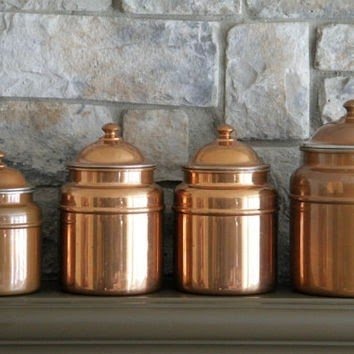 Copper Canisters, French Country Cans, Kitchen Canisters, Kitchen ...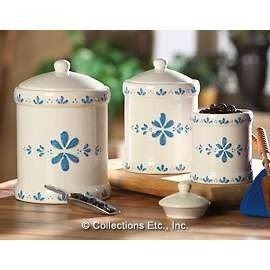 Check out other gallery of Blue Kitchen Canister Sets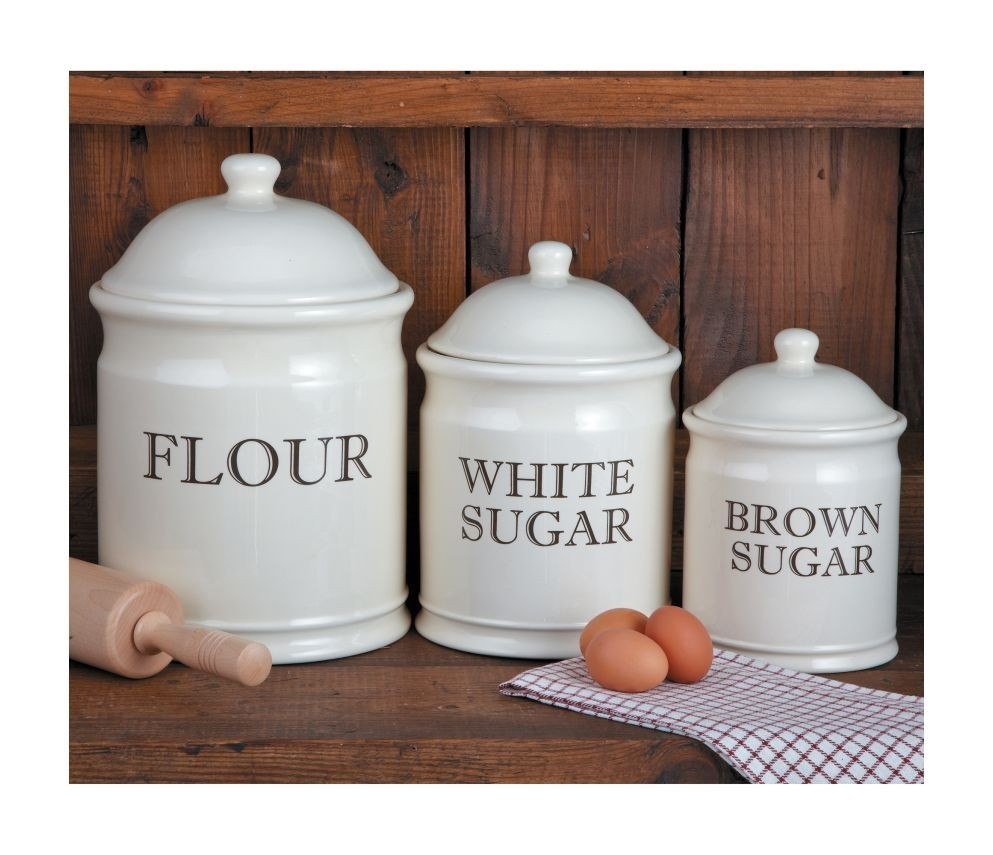 What EVERY kitchen needs! A great resource for newlyweds!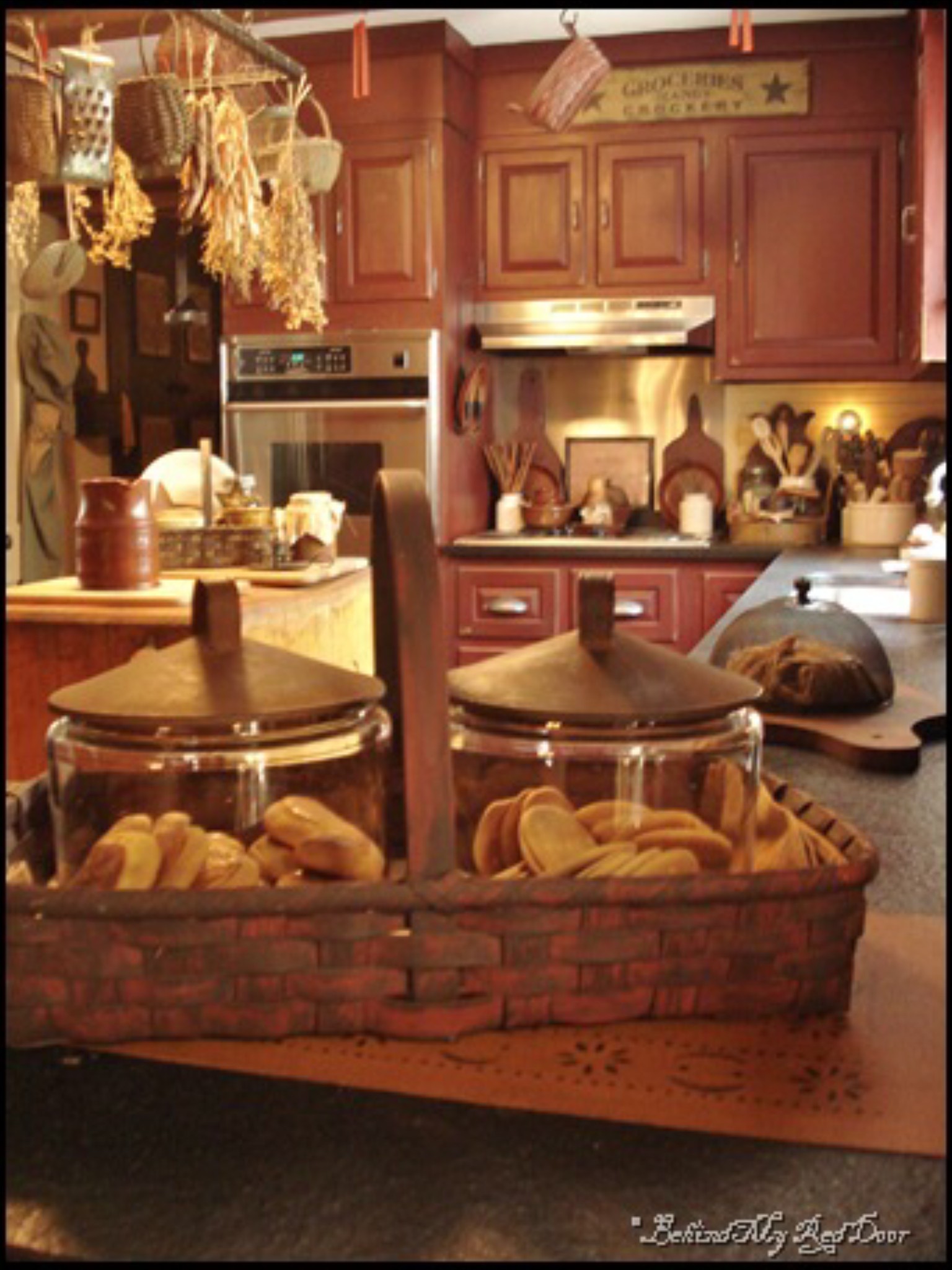 Cozy and homely setup for a moody, country kitchen with a farmhouse vibe and a vintage appearance. The old-fashioned, elegant kitchen is fitted with some handy and functional modern appliances, which also provide a modern contrast.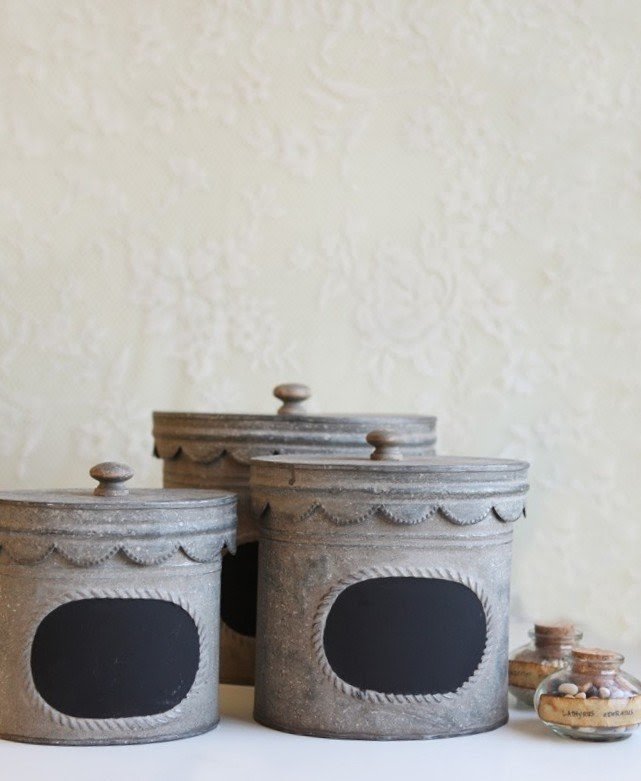 Those charming canisters are going to enhance you kitchen in a blink of an eye. With their lovely design, beautiful lids, and chalkboards labels, you are gaining a truly vintage as well as practical decoration.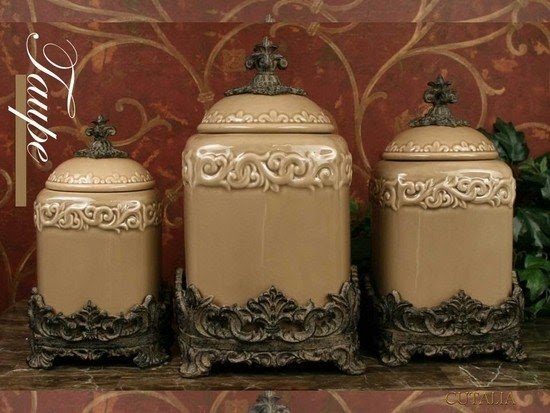 Ceramics is a universal material with many aesthetic and practical qualities. A set of French country kitchen canisters with a coffee shade of latte macchiato is made of this material. The Tuscan style is visible in rich, carved brass bases.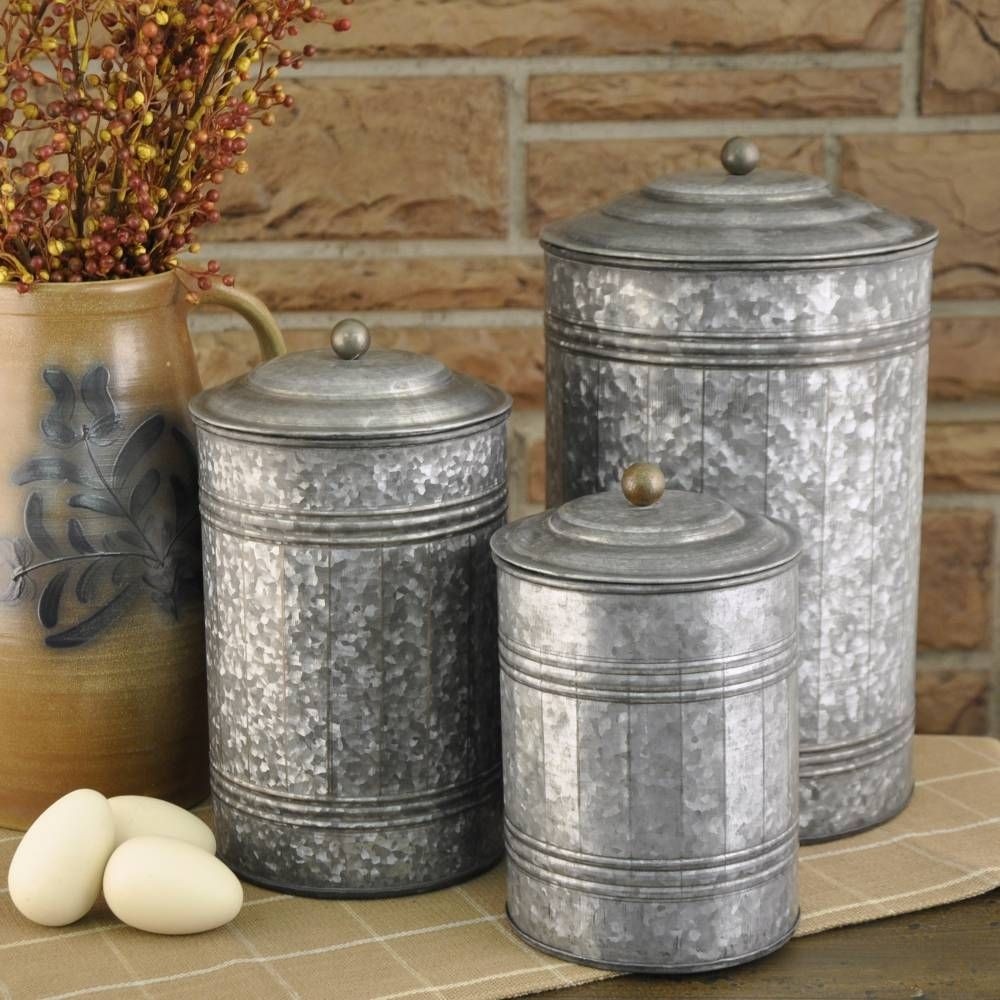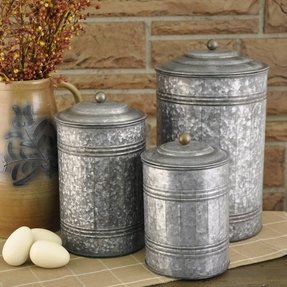 Great set of country kitchen canisters. The plate they were made from was galvanised, to ensure top quality and nice, cosy look. This set is awesome for keeping all the kitchen necessities, such as sugar or spices.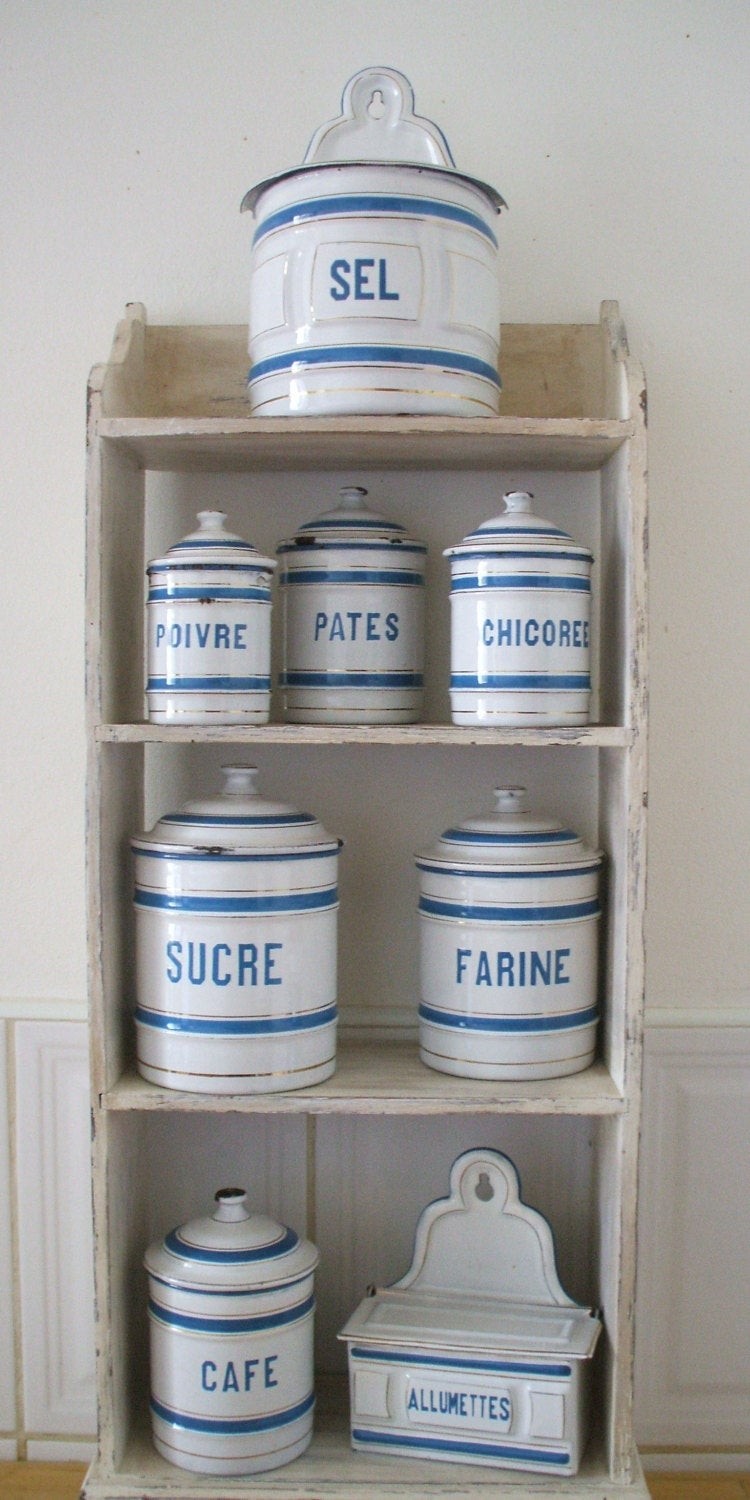 6 FRENCH ENAMELWARE GRANITEWARE kitchen by vintagefrenchstyle, $185.00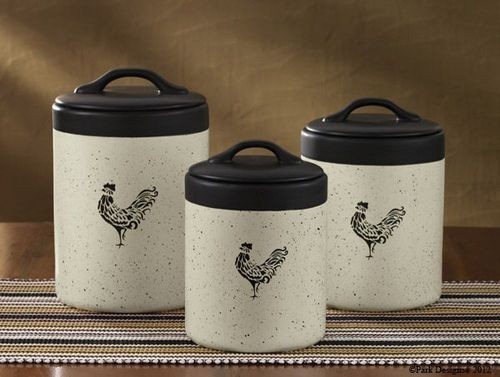 Devon-Canister-Set-by-Park-Designs-Set-of-3-Country-Rooster-Kitchen ...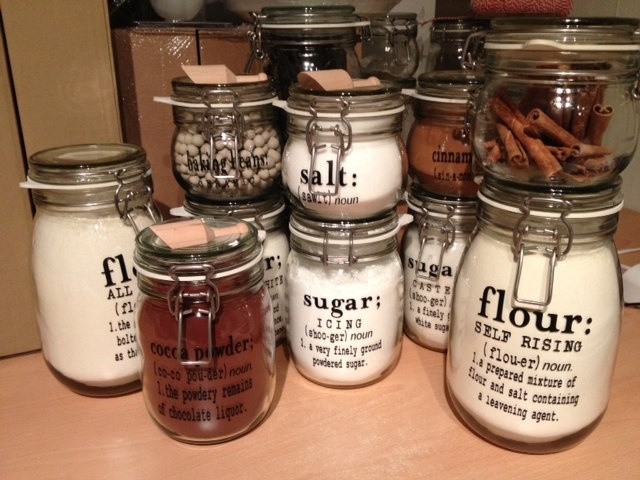 Custom Kitchen Canister Labels set of 6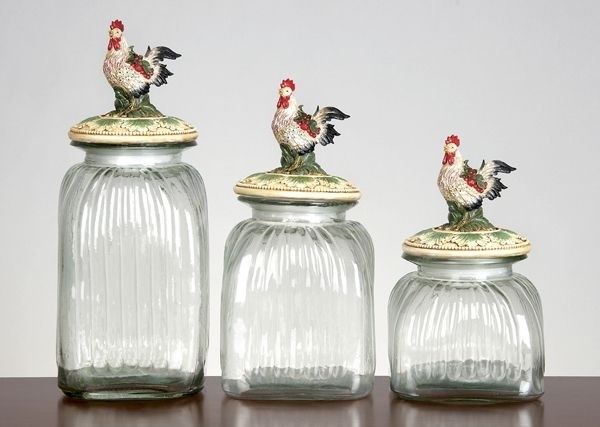 41yxgNDwKeL._SL500_AA300_.jpg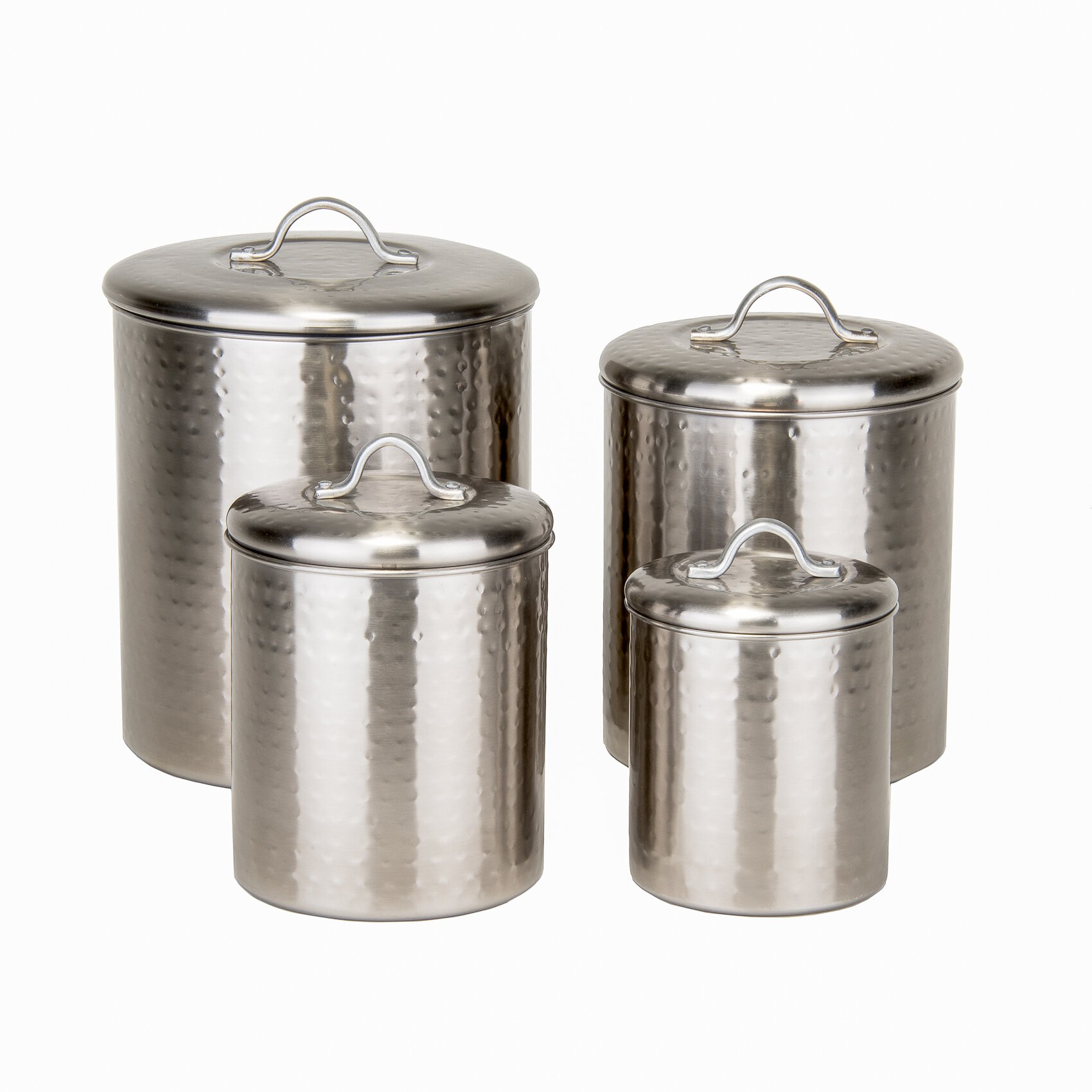 4-Piece Canister Set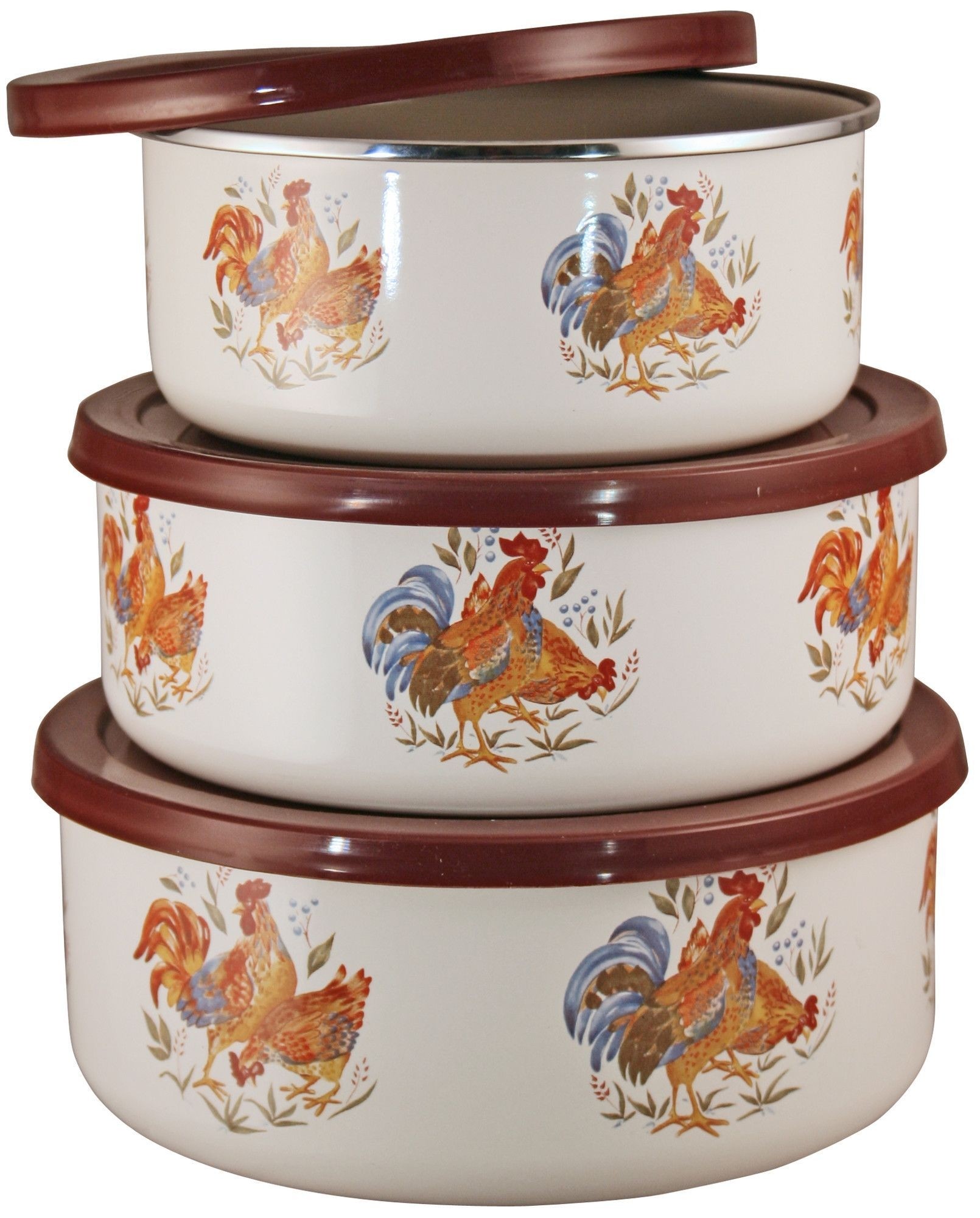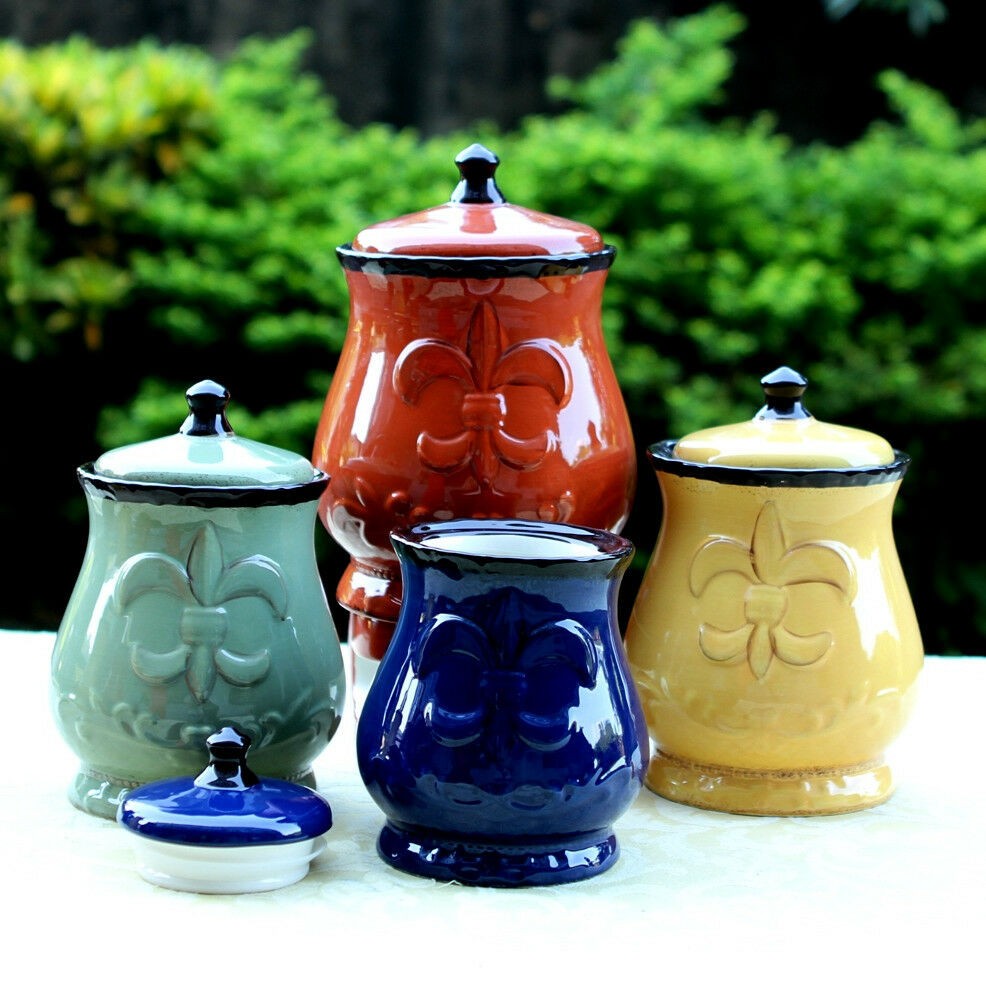 Country Kitchen Canister Set Tuscan Decorative Red Green ...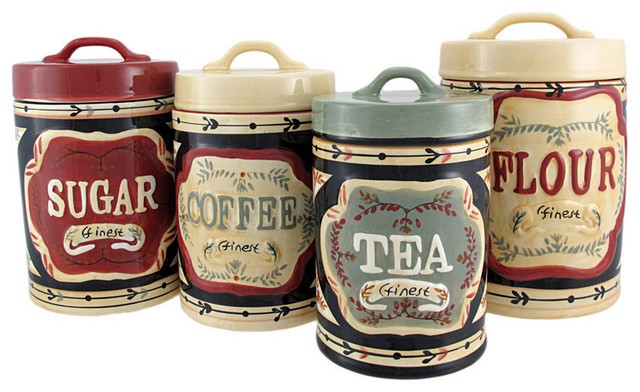 4-Piece Country Store Kitchen Ceramic Canister Set ...