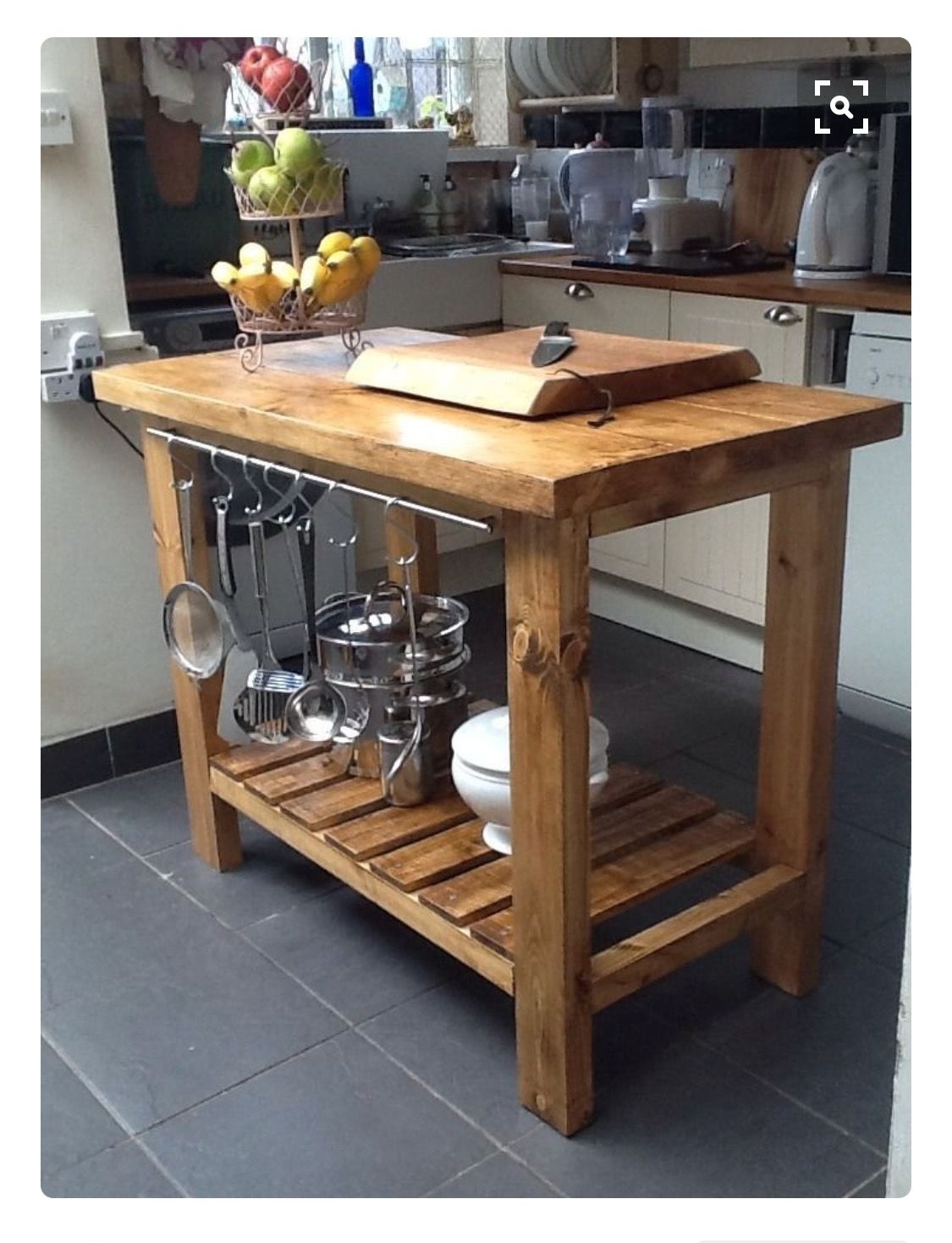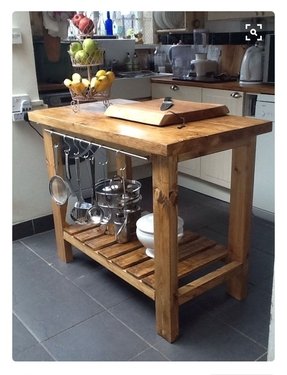 Rustic style in the kitchen. This kitchen island is a handmade product made of wood finished in antique pine Briwax for even more rustic look. Lower part of this island includes a shelf based on slats and a metal rack for kitchen accessories.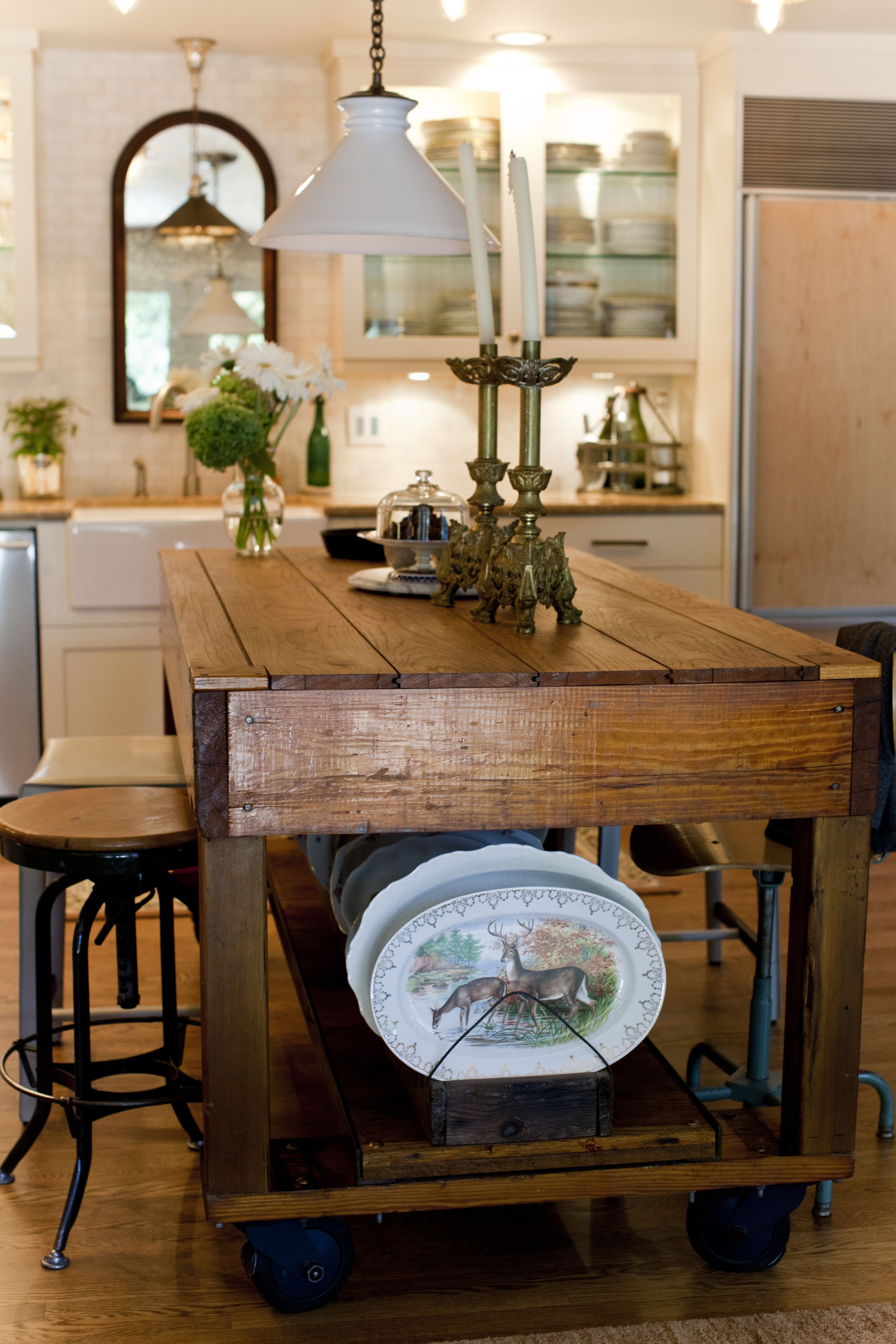 A functional helper around the house during family gatherings. This mobile kitchen island is made of sturdy wood in oak finish, with a large top and 1 open shelf. The whole thing moves on locking caster wheels.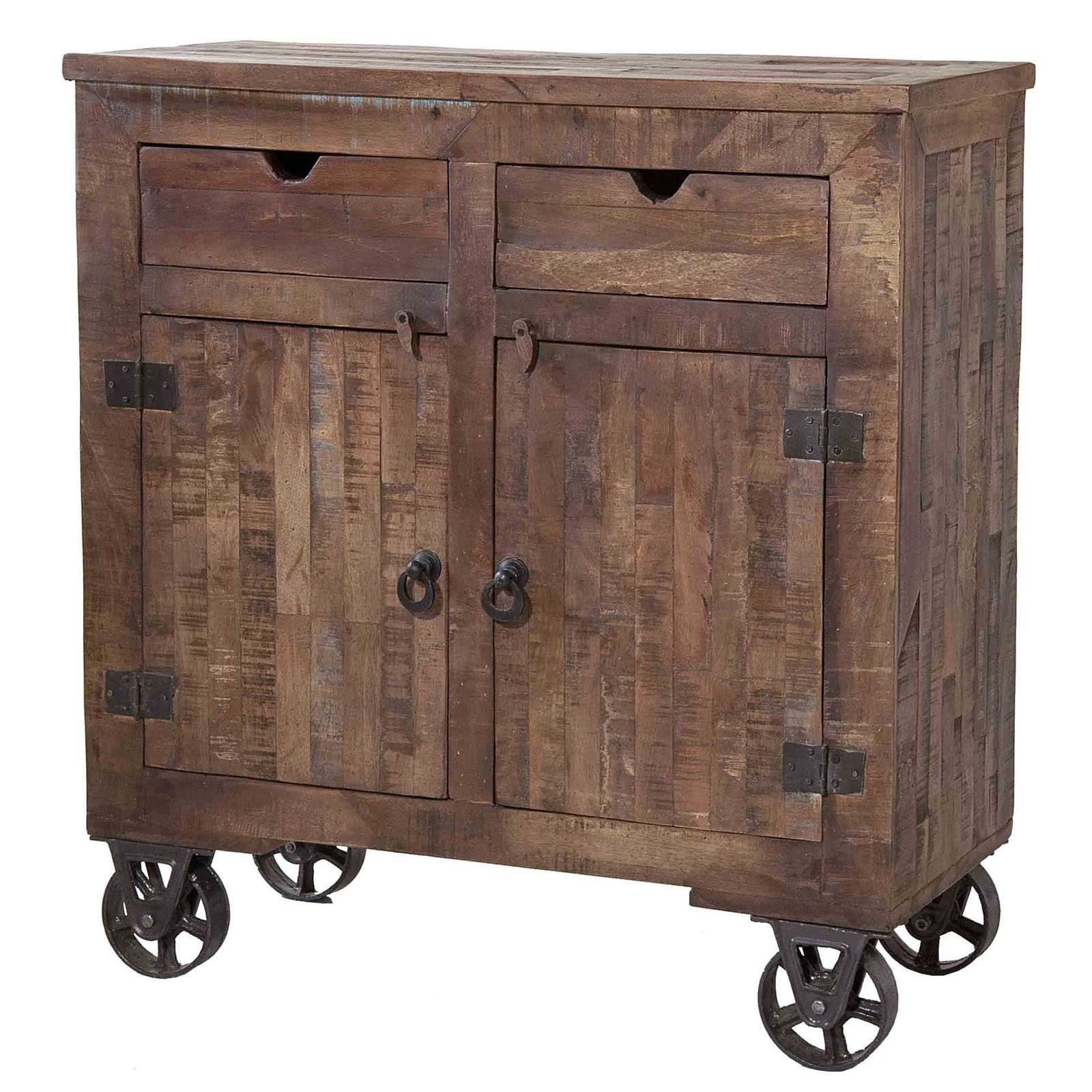 A fine piece of rustic work of art, that can be as functional as beautiful addition for your vintage-looking home. The kitchen island rolls on metal wheels, supproting 2 top drawers with cut-out handles, and 1 two-door cabinet with metal ring pulls, matching hinges and wood locks.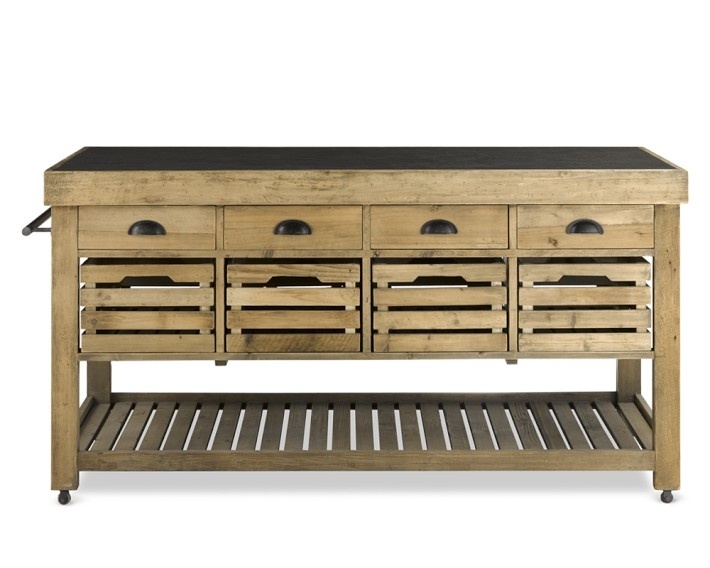 If you are looking for a bit more original idea for your kitchen island then this rustic piece will easily aid you with that, sporting the beautiful design and the all-wood structure with the highly durable and resistant top.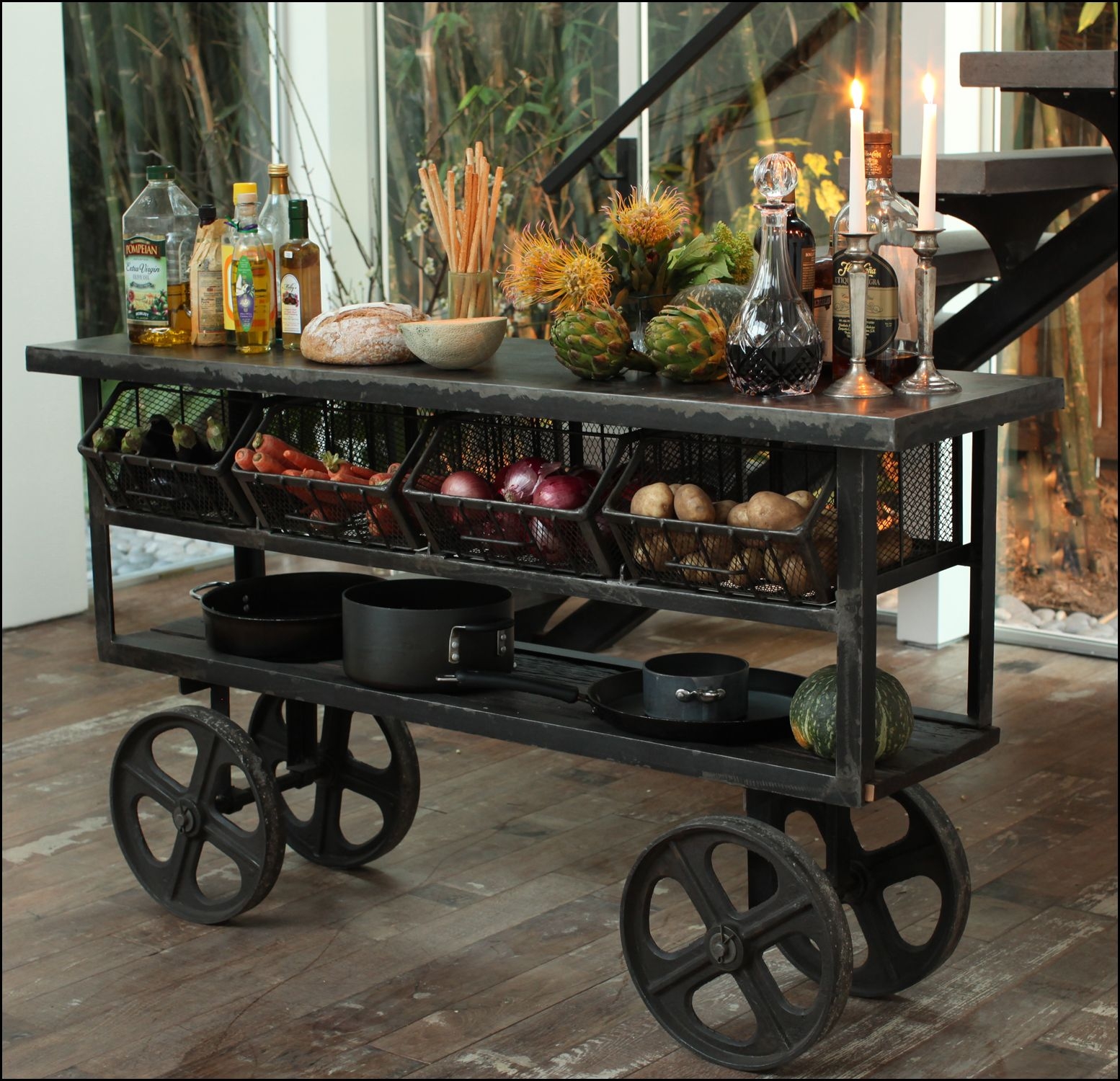 Kitchen cart with a solid and rustic construction based on metal in old-styled black finish. This mobile kitchen island offers a rectangular top and two lower storage shelves and baskets for different food products.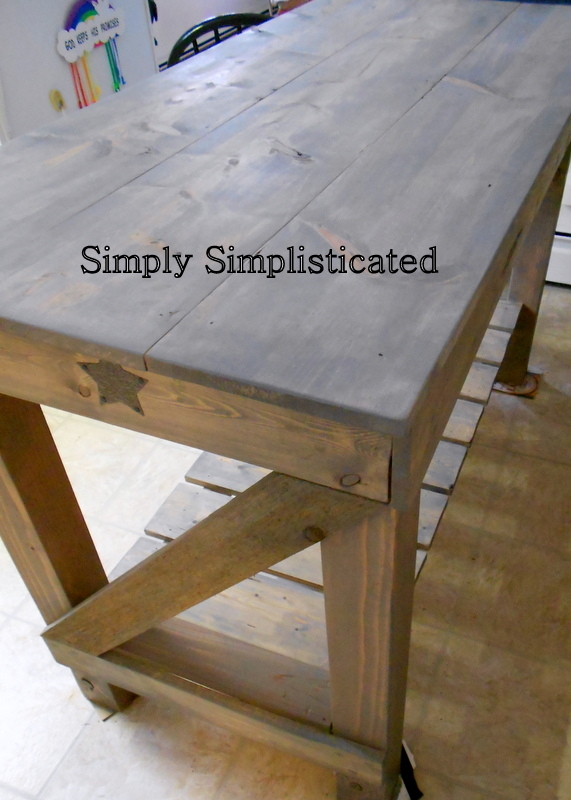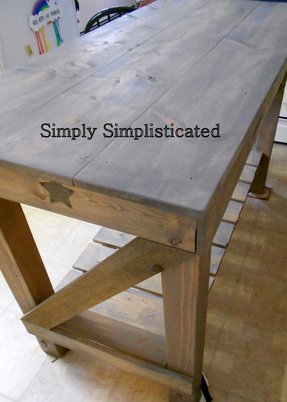 Old-fashioned farm table, which will play its role perfectly in the kitchen or in the workshop. This piece of furniture is made of unlacquered, oak wood. It has drawer intended to storage cutlery - it is decorated of metal star.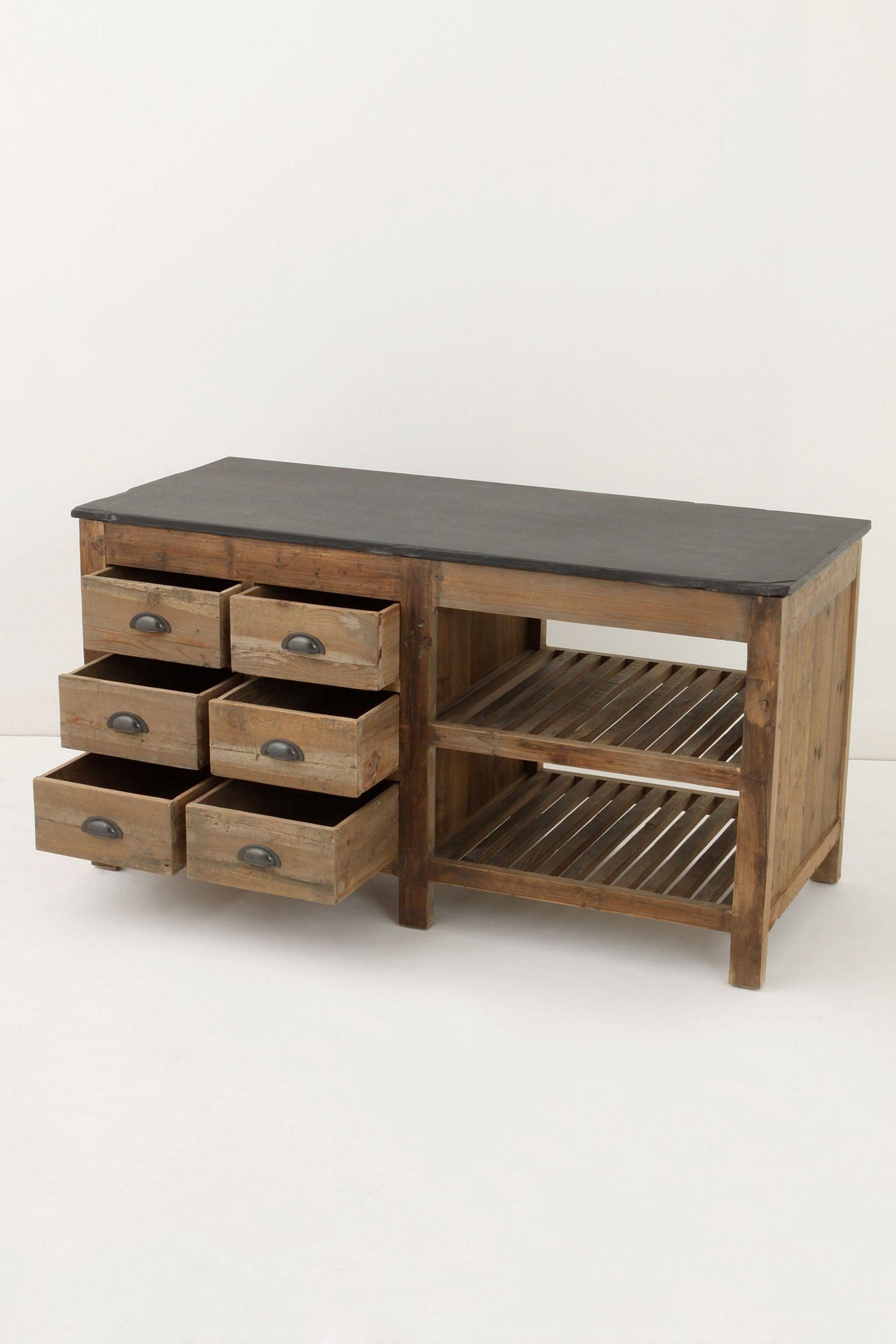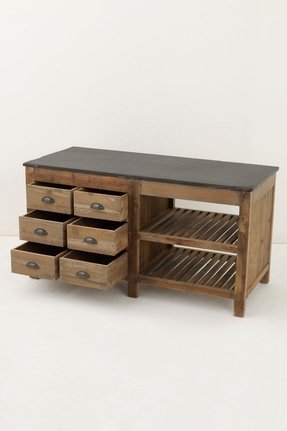 Being a proposition for all, who like the contemporary, urban style, this kitchen island will enchant you with its simplistic, yet natural construction. Made from solid, densely grained wood, it features 6 small drawers and two shelves for storage.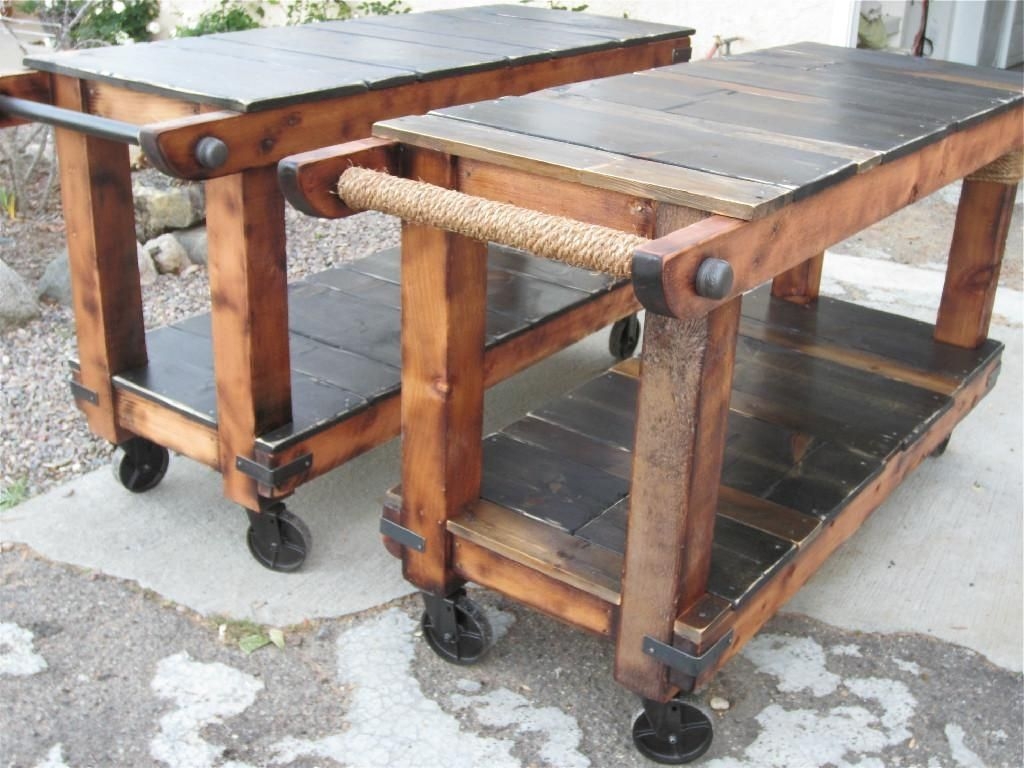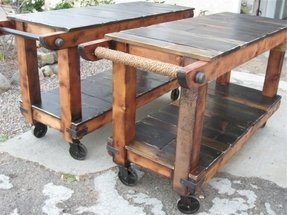 When you want to give your family on the rural party- a cake or other treats in the right way, you can use these trolleys - rustic kitchen carts, made of old pine and cider wood. Metal stripes on the corners add an interesting touch. Based on solid carts.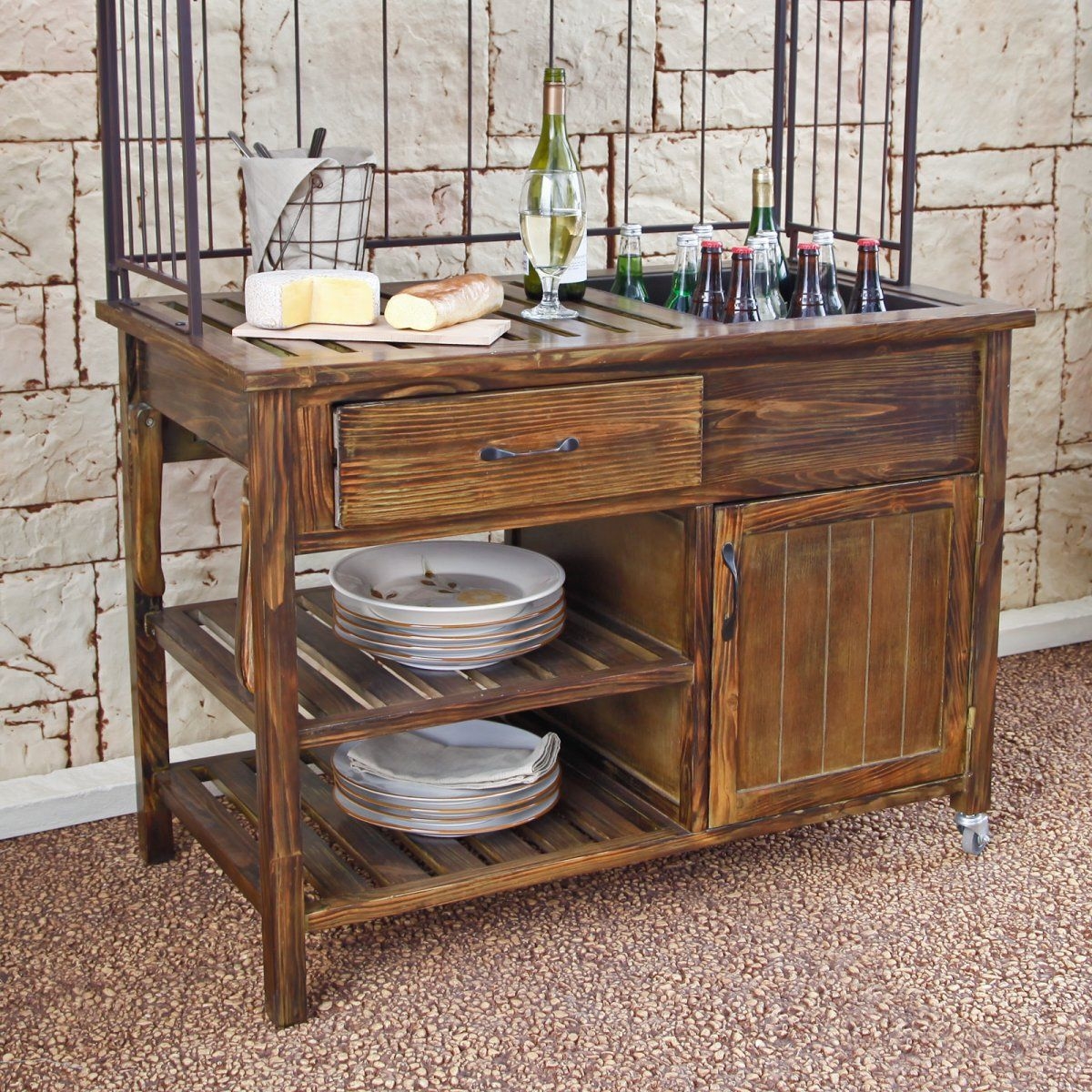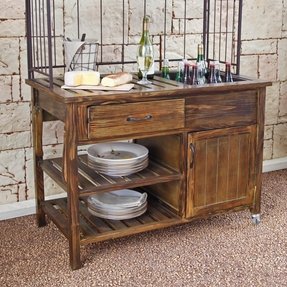 Wooden outdoor buffet suitable for patio use. This rustic piece of furniture features a traditional construction with a storage compartment, drawer and two shelves based on solid slats. Upper area includes some working space with slats and a bowl for cooling wine or other drinks.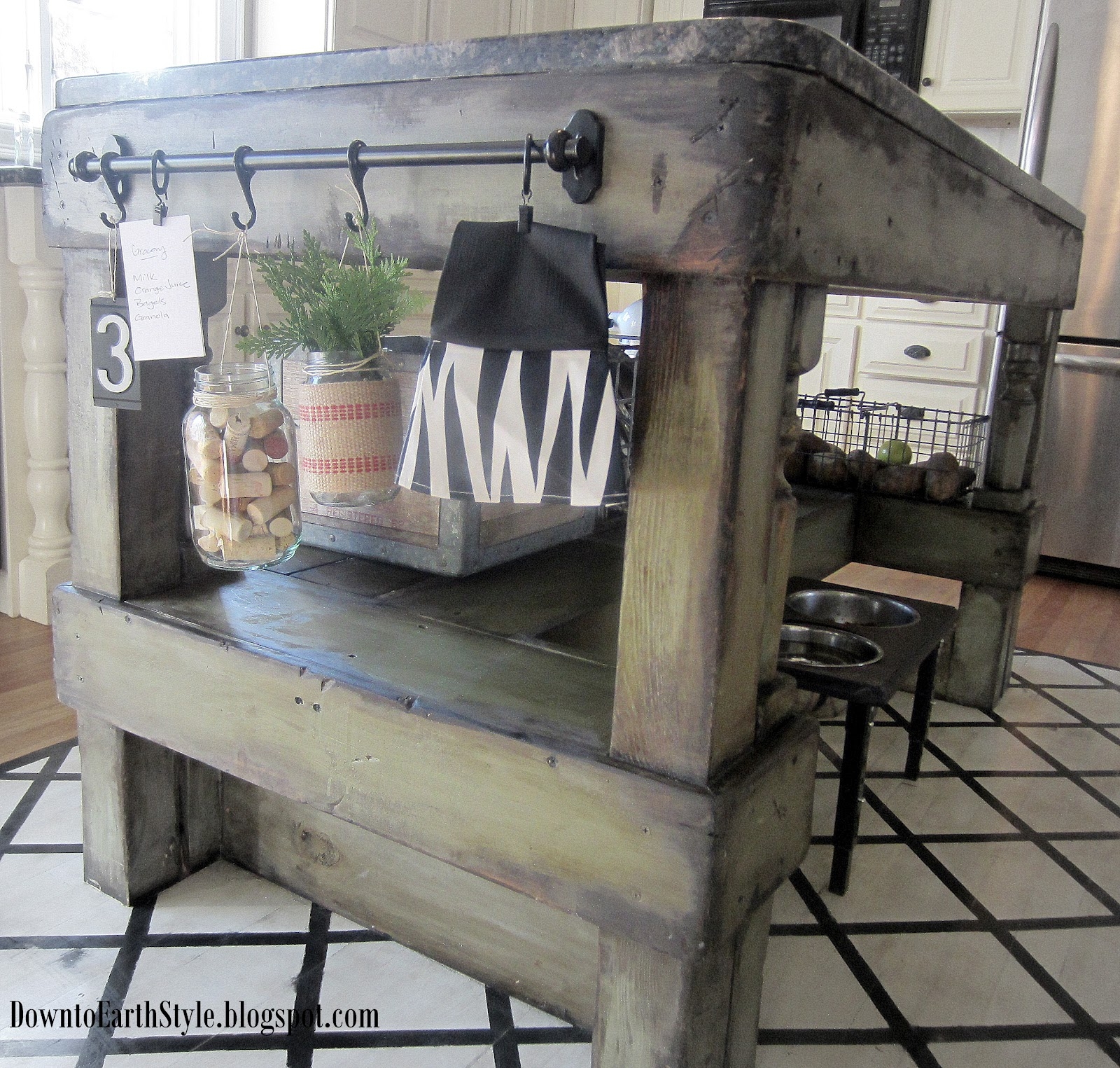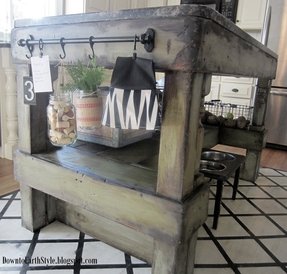 Substantially built of genuine solid wood logs, left with distressed finish for bold rustic style, this kitchen island with metal racks definitely stands out, and I believe that it's meant to last for ages.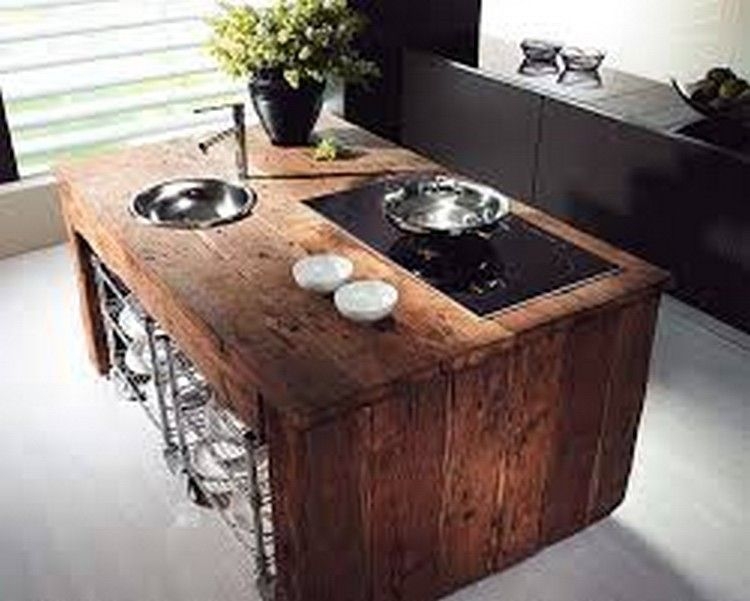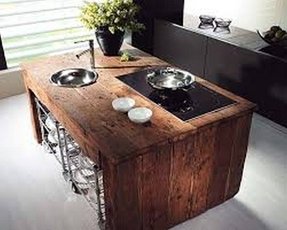 Rustic and practical kitchen stylization. This kitchen island is aesthetically pleasing and very durable thanks to its construction based on wooden slats. It includes a sink and quite large working surface for preparing meals and cooking.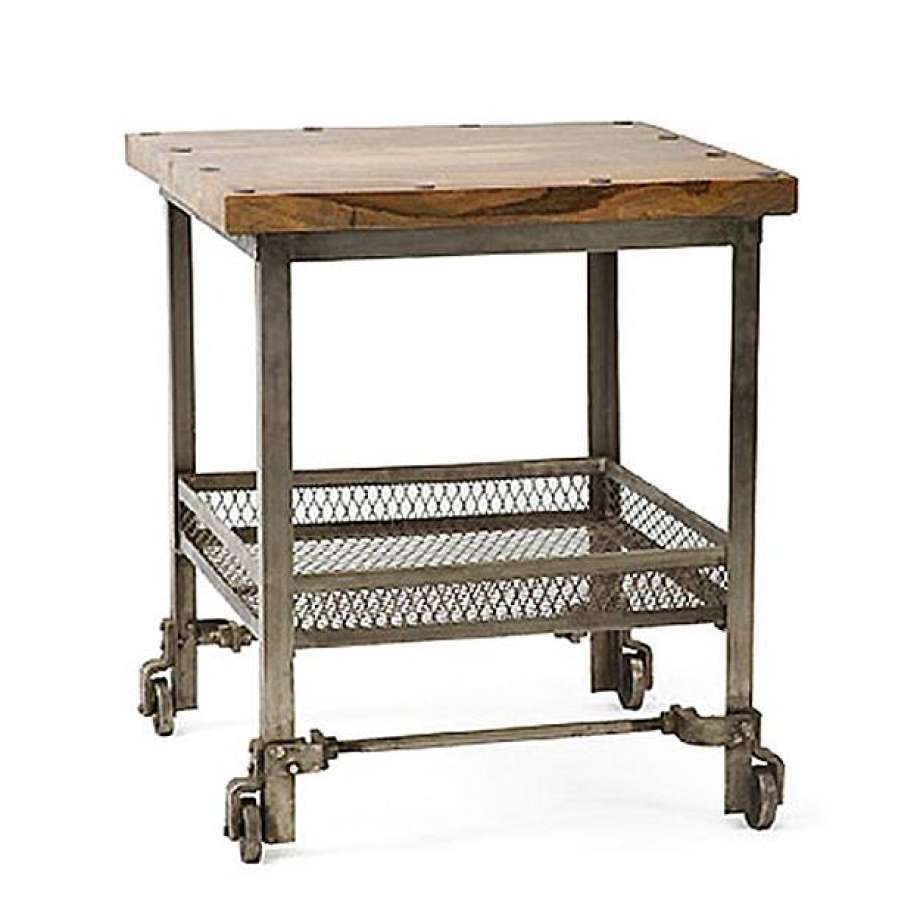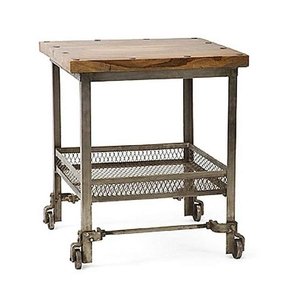 Factory Cart Side Table at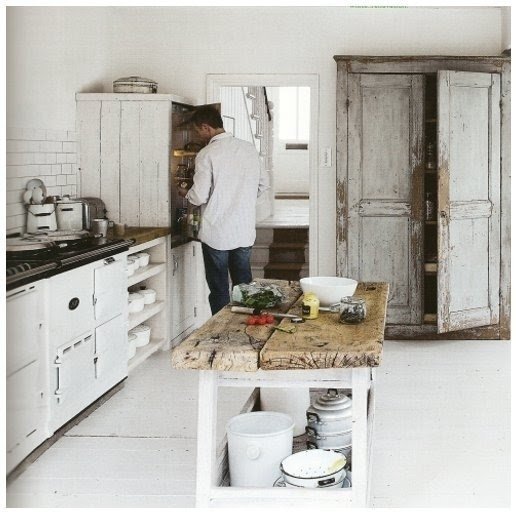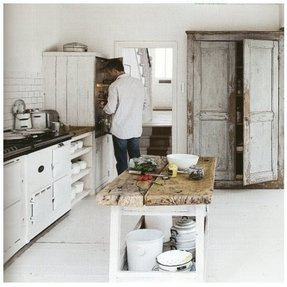 rustic kitchen islands and cart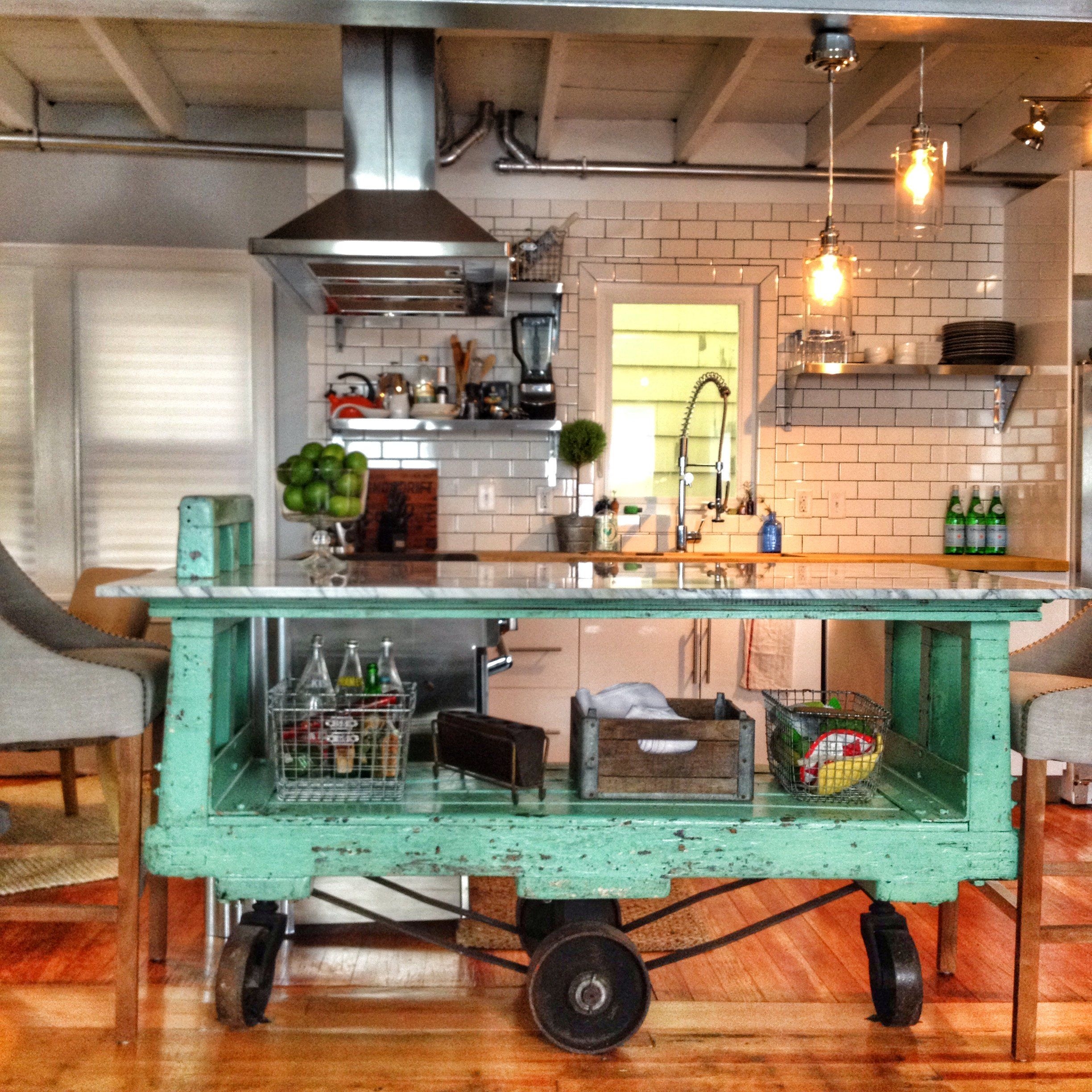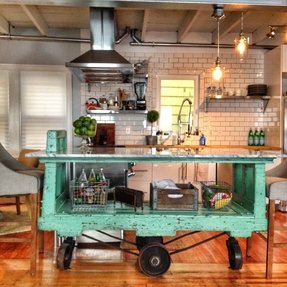 Rustic kitchen is a beautiful way to make the atmosphere of the interior. Stylish elements in the form of a fabulous island kitchen and cart delight. Attractive colors and functional shelves delight.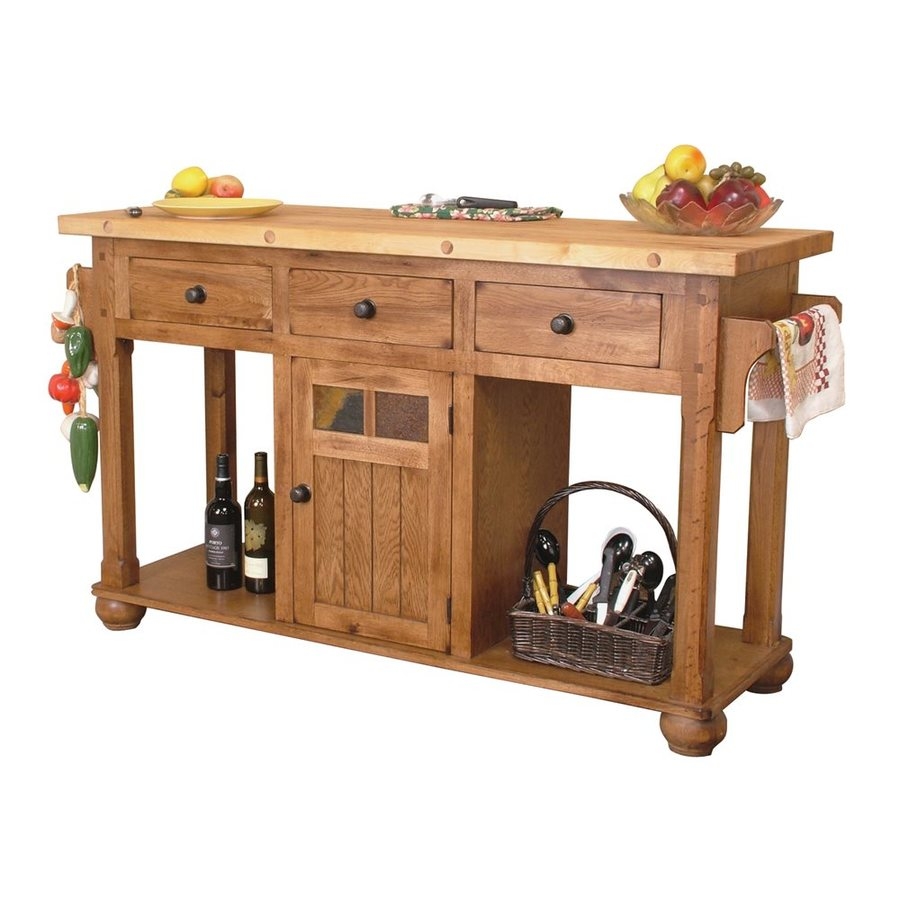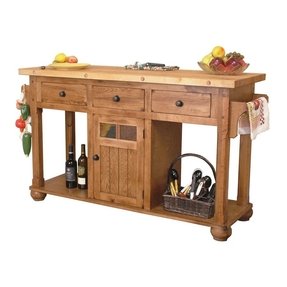 SD-2522RO Sedona Rustic Oak Kitchen Island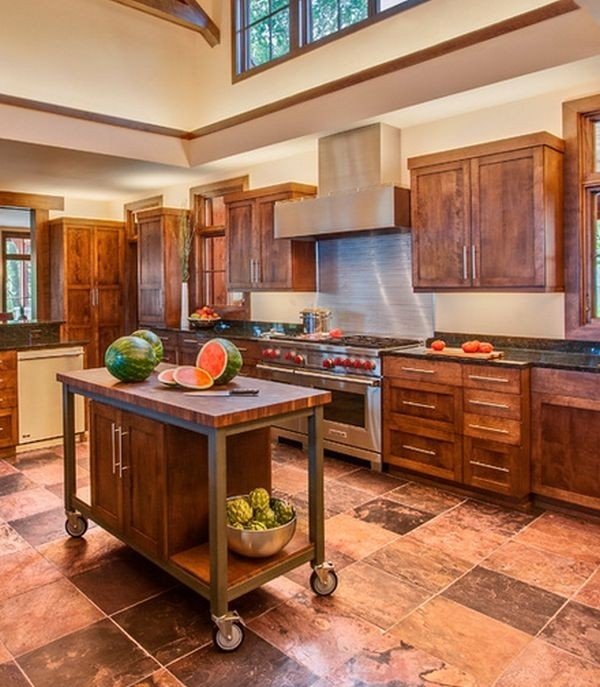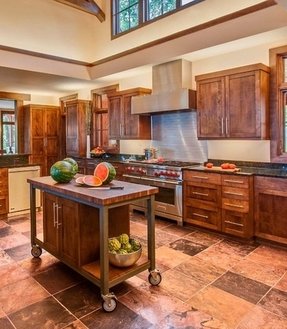 I am a big fan of space saver ideas, just like this portable kitchen island. It features casters, doors, rustic look, long rectangular work top and shelves. This is exactly what I'm looking for.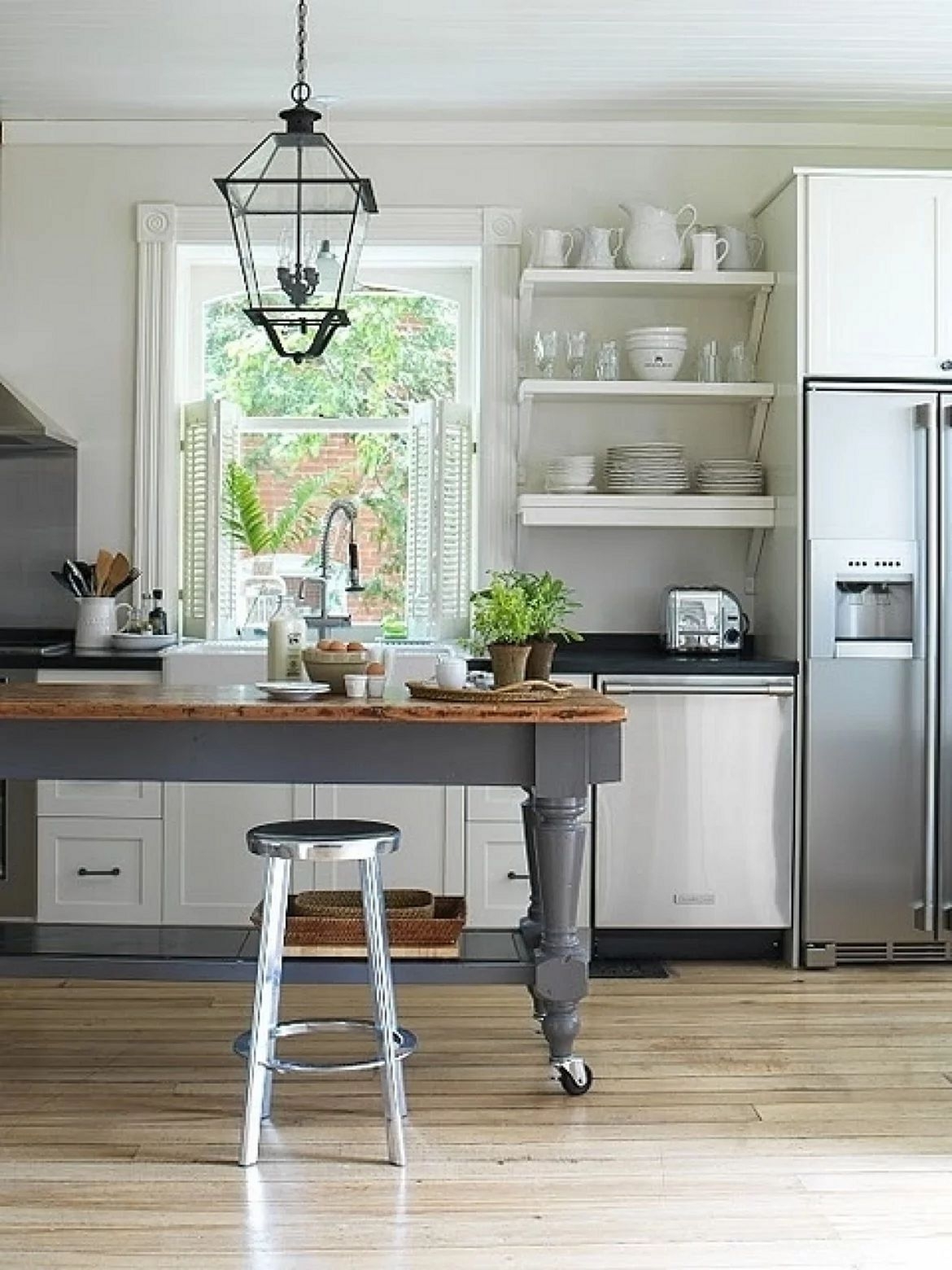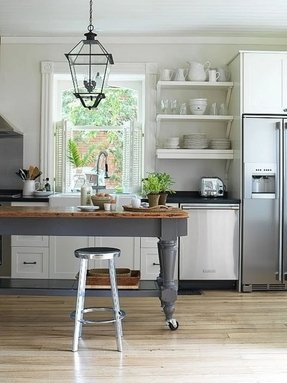 I love the rustic + utilitarian feel of the farmhouse-kitchen-island. And that it can truly move about is a big plus.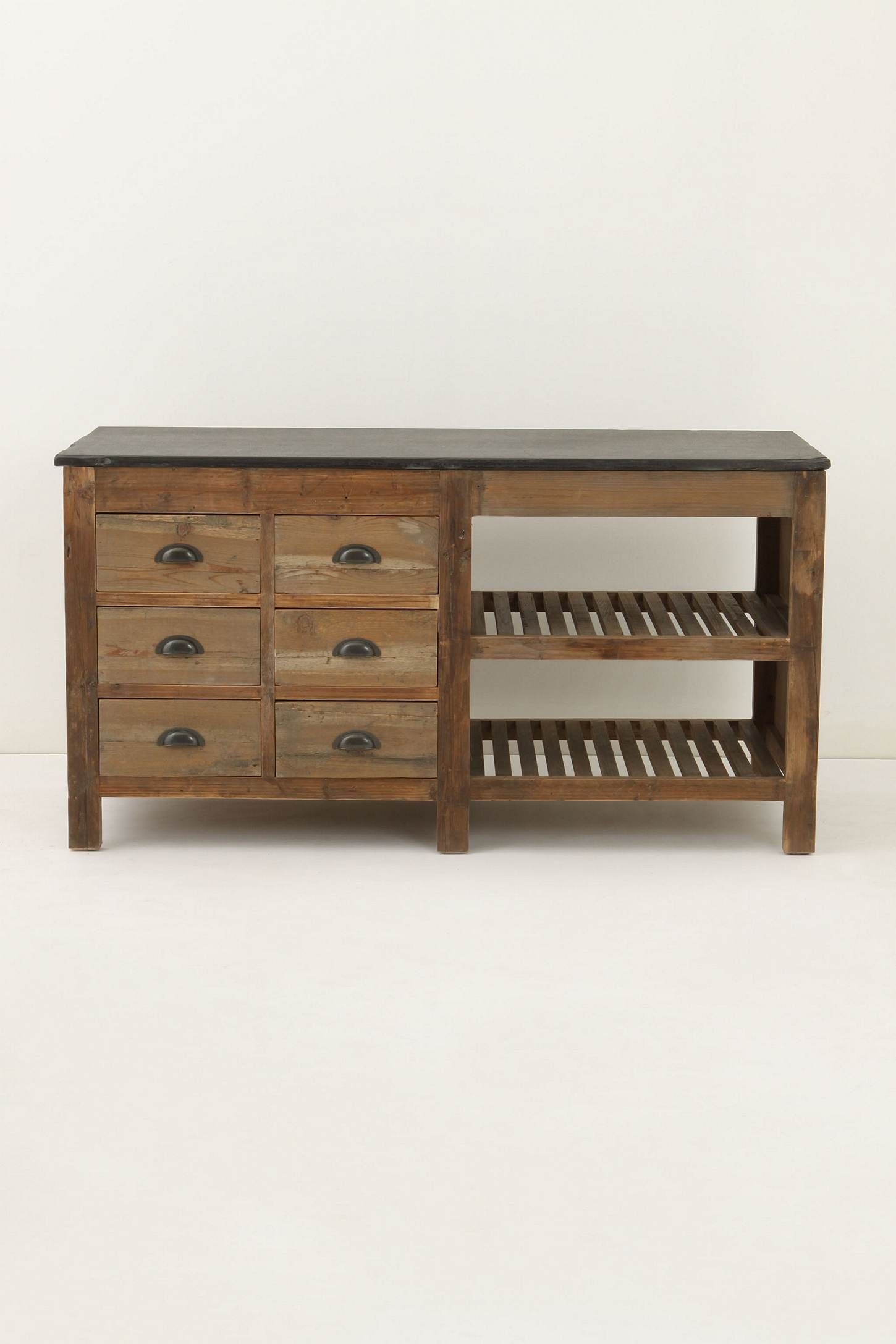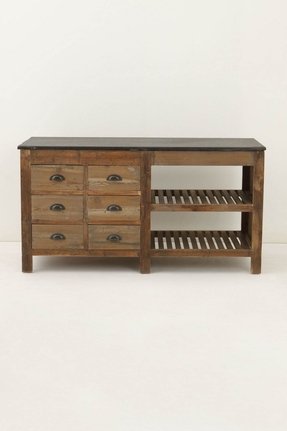 Blue stone and reclaimed pine make for an organic looking piece for the kitchen. $1,998 from Anthropologie.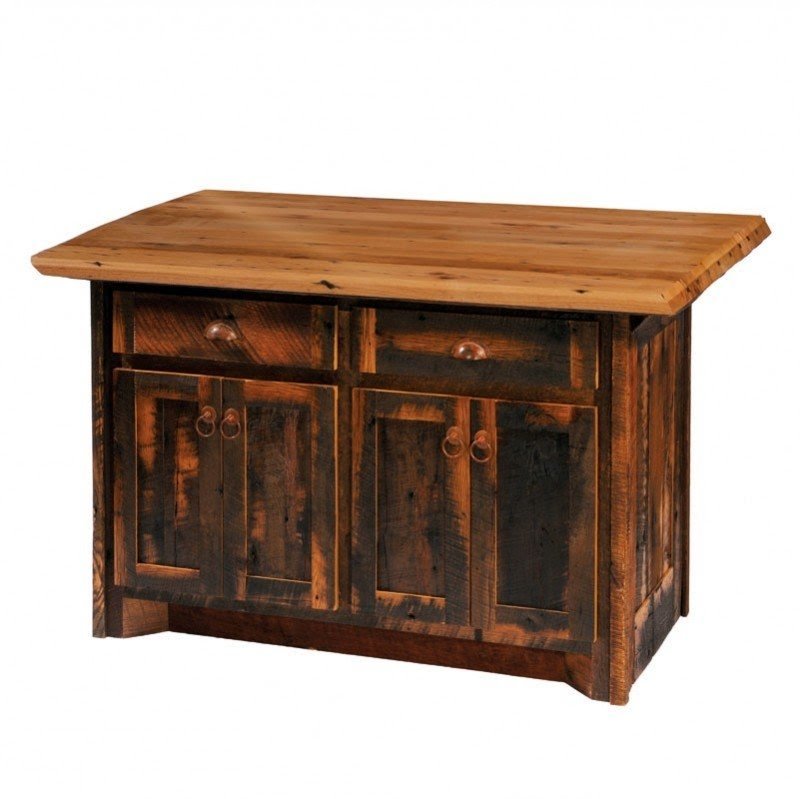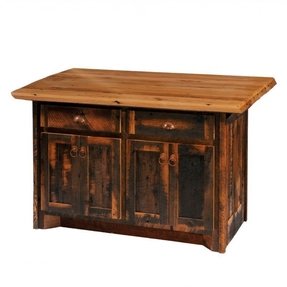 Reclaimed Barnwood Kitchen Island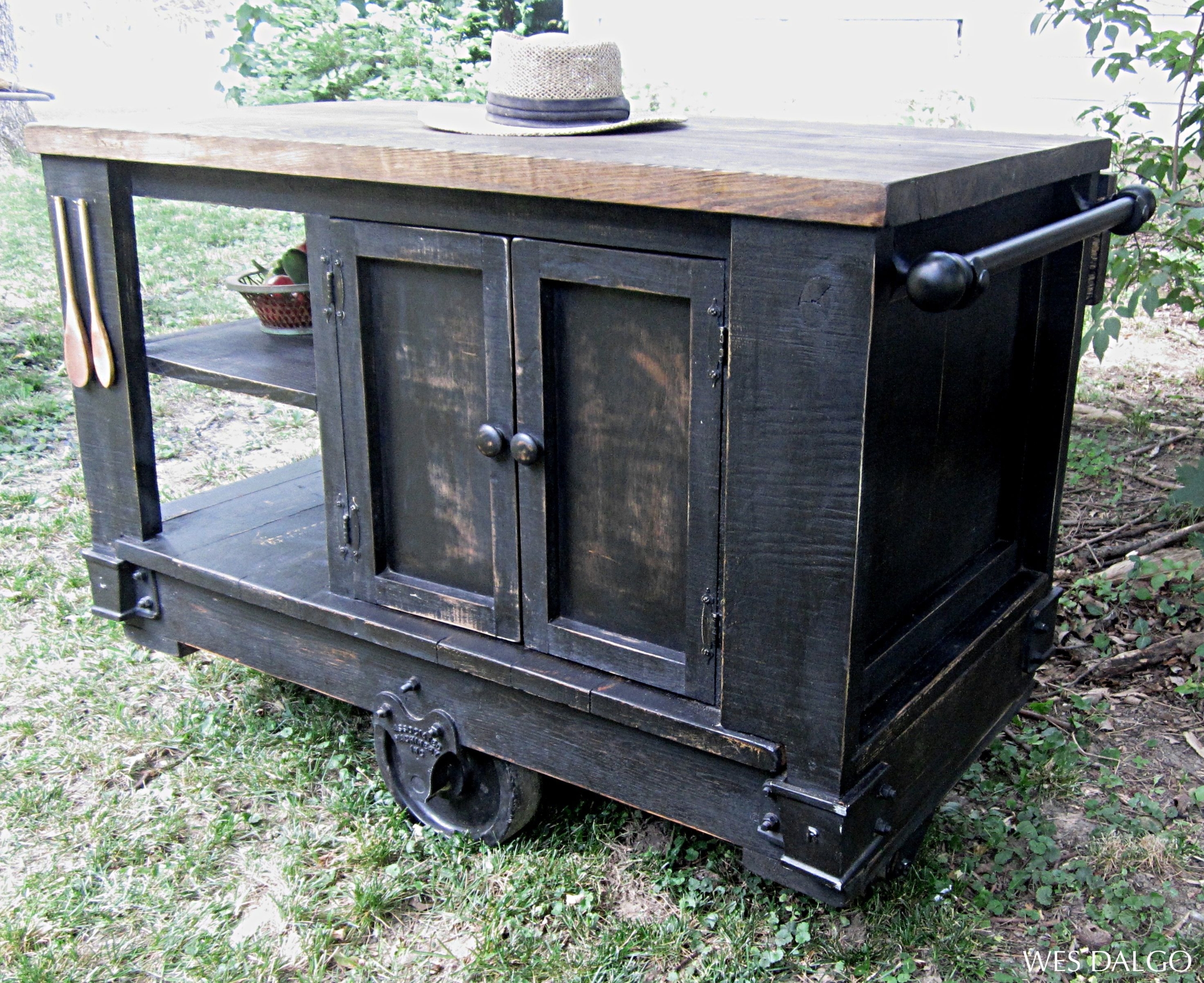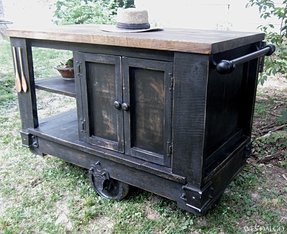 Distressed Black Modern Rustic Kitchen Island Cart with Walnut Stained from Wes Dalgo Furniture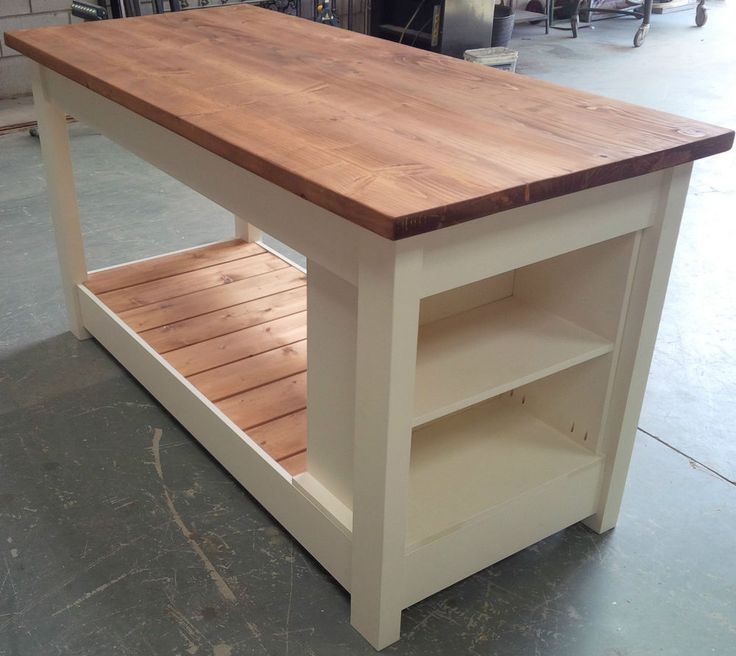 Rustic Kitchen Island Table Cart Kitchen Cabinet Cart Island Wooden Wood Free Shipping Included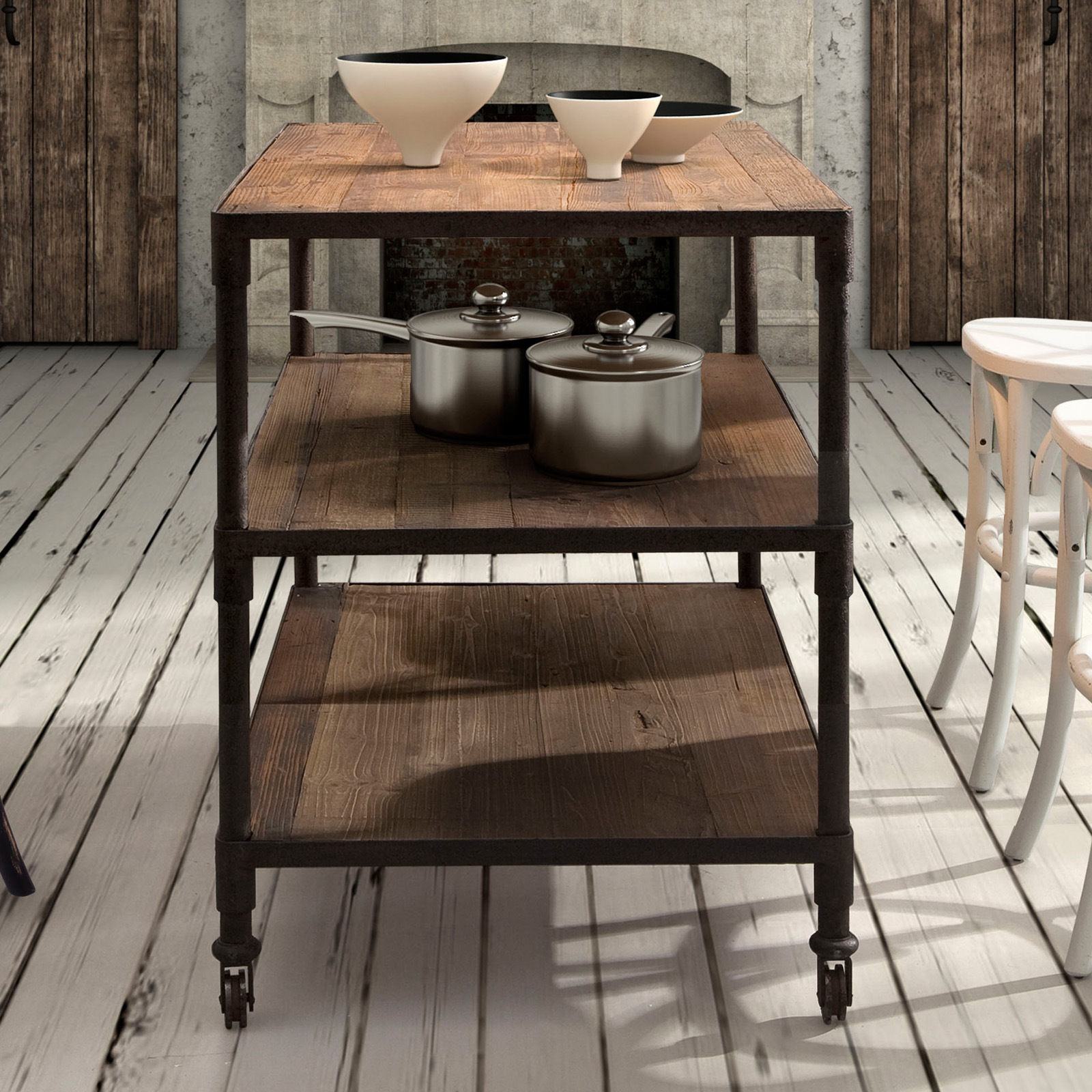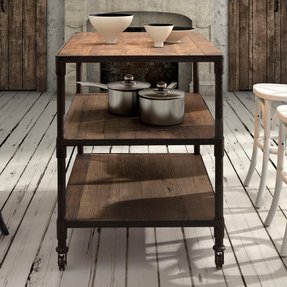 What can you obtain with natural solid distressed mahogany wood, framed in durable rustic iron metal in bronze? Additionally based on the black metal carts? A wonderful rustic kitchen cart with three spacious wooden tops.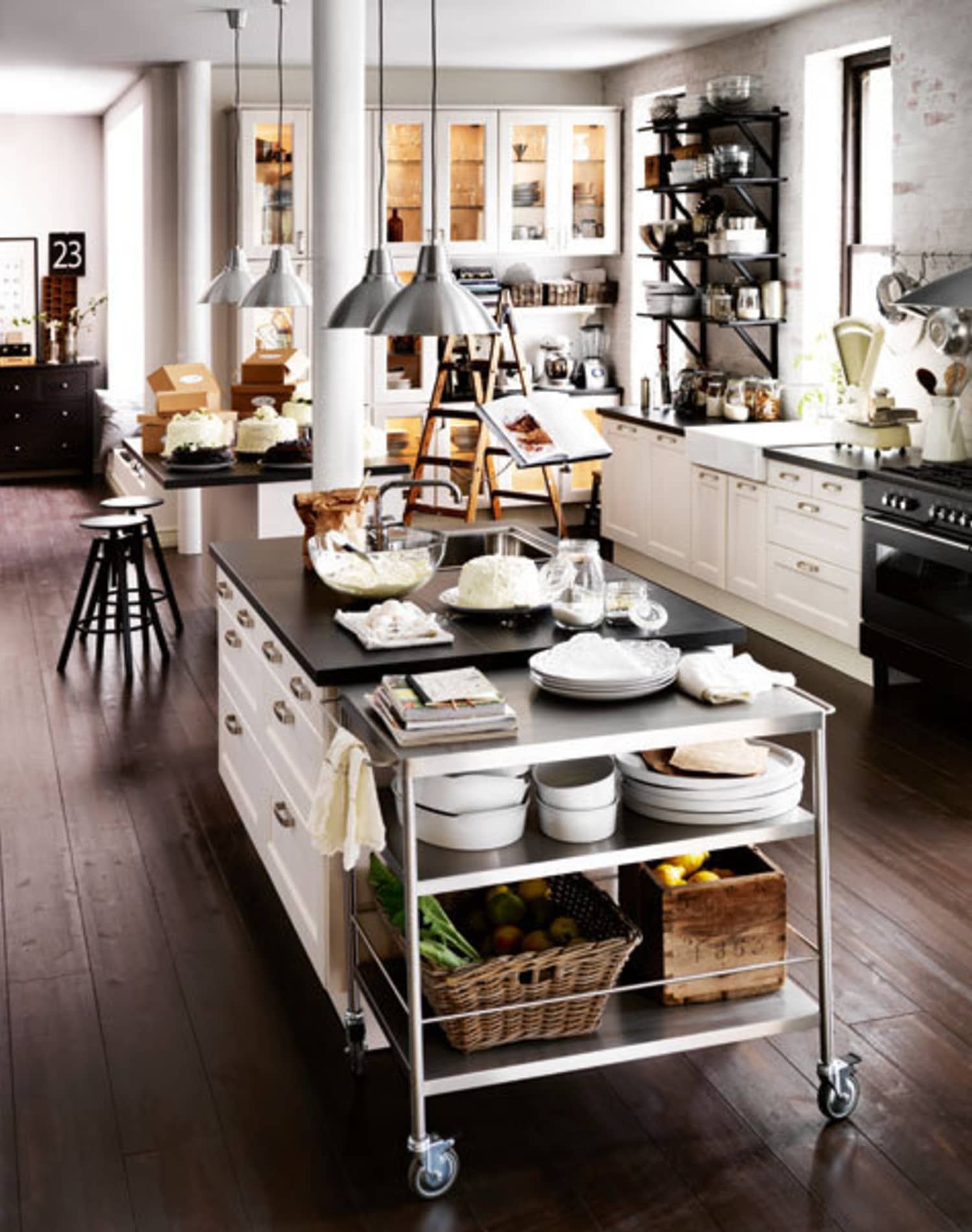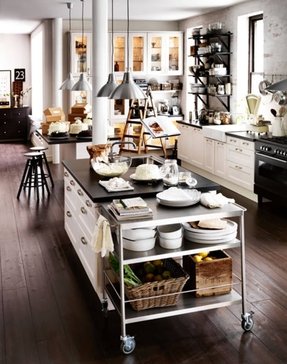 Gorgeous kitchen with open shelving, white cabinets and industrial touches.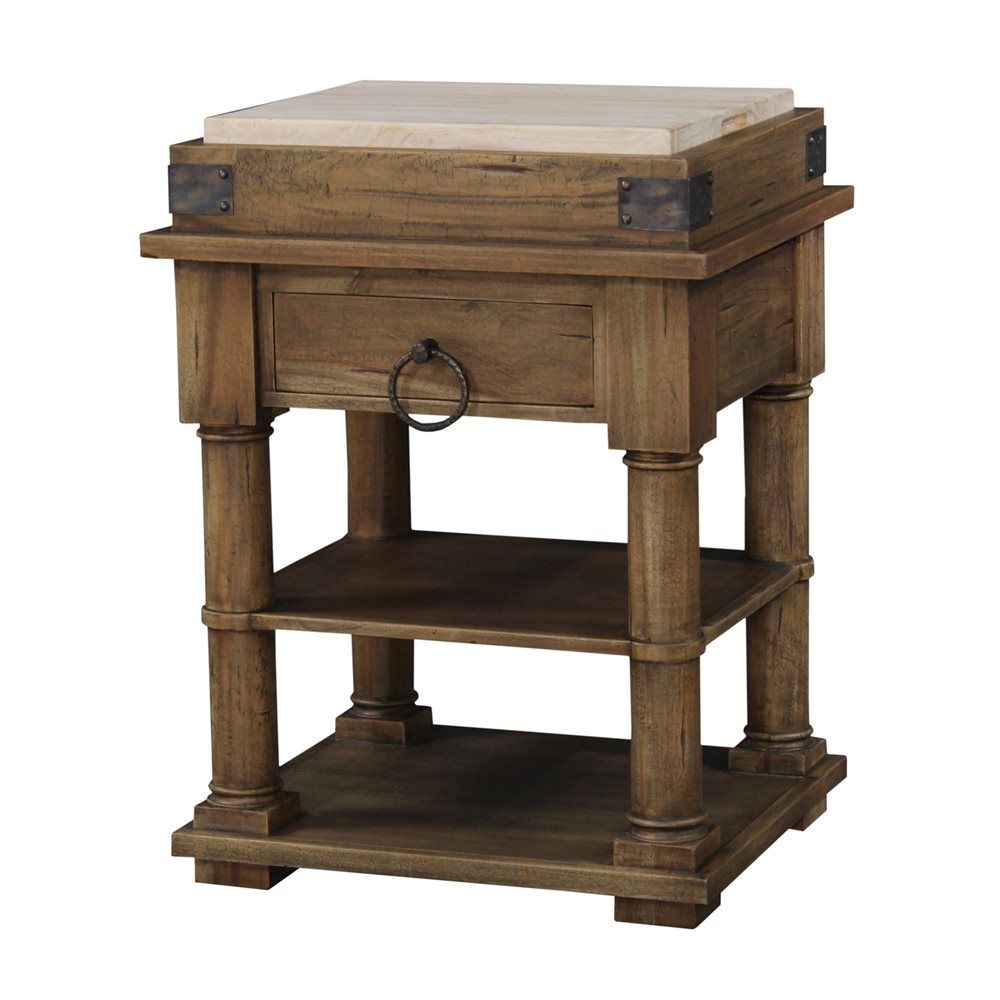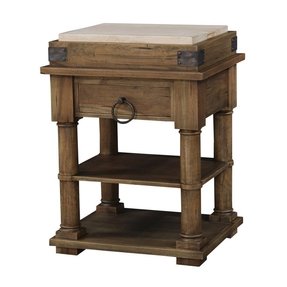 Feel like emphasizing rustic vibes indoors? Thick wooden logs creating a sturdy kitchen island are a good way to start. This small kitchen island features solid removable butcher block and hammered bronze hardware.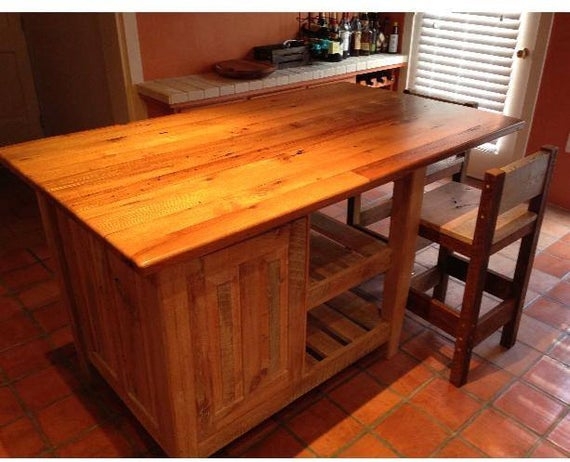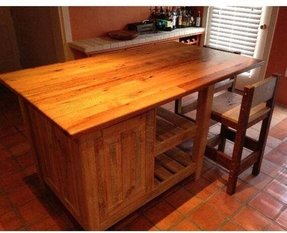 80 Rustic Kitchen Islands, Carts and Pantry Furniture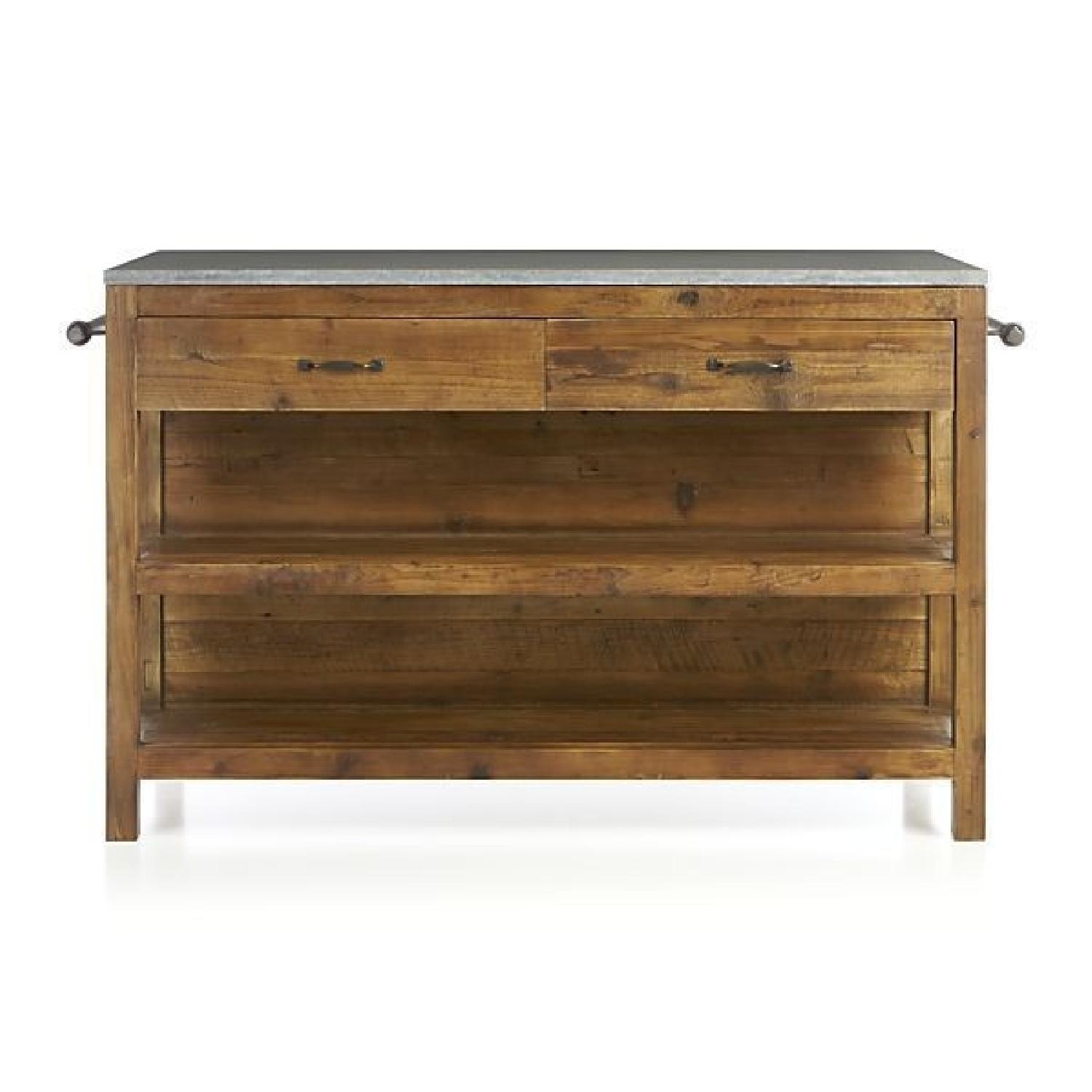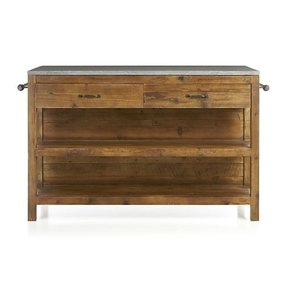 Like a treasured vintage find or a custom-designed piece, our gorgeous kitchen island makes a unique statement and is perfect for the home cook or entertaining enthusiast. Wood reclaimed from old buildings and doors transforms as a rustic yet refined wor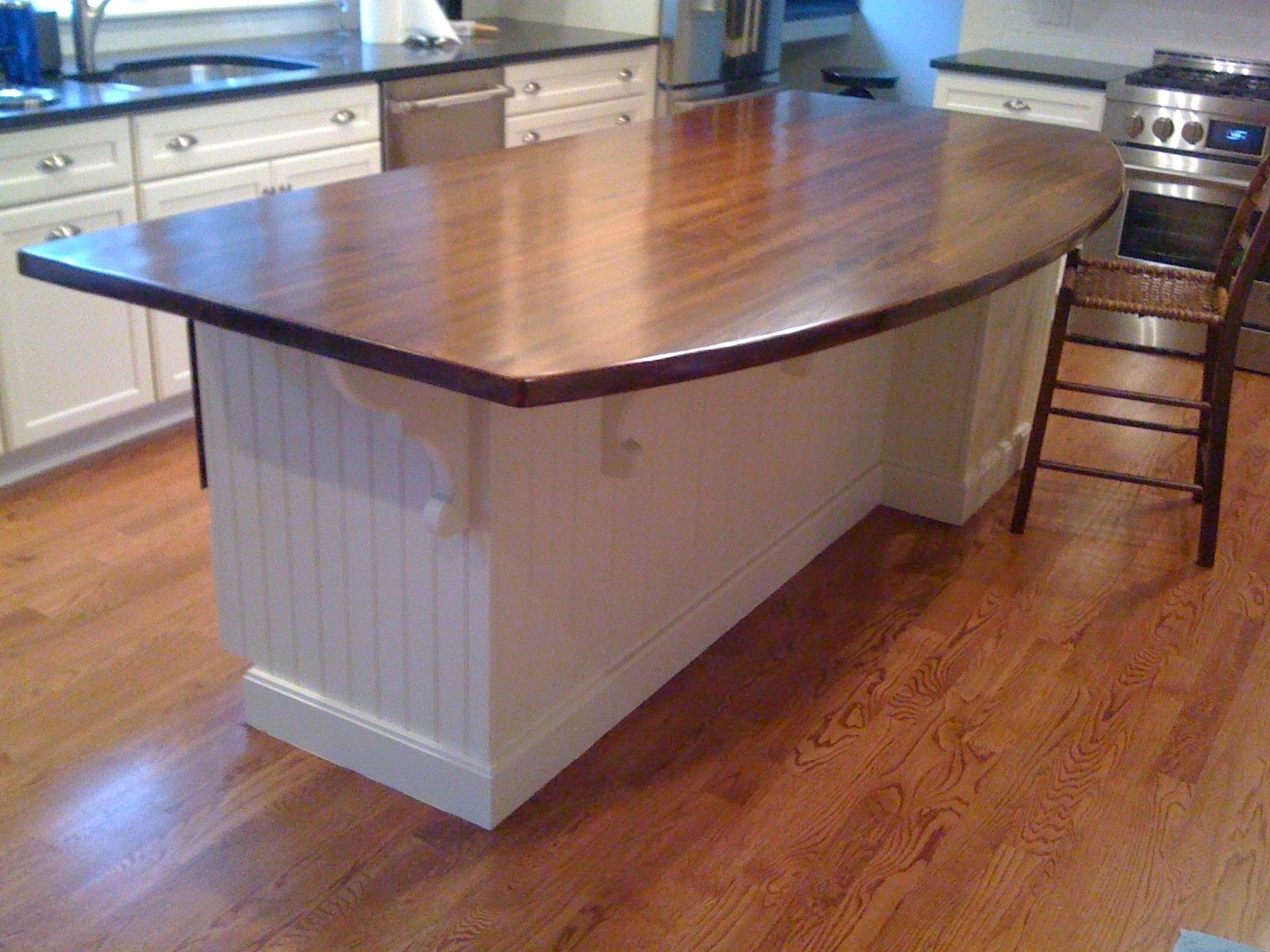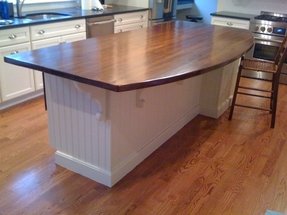 Heart Pine Rustic Dark Stain Island - contemporary - kitchen islands and kitchen carts - other metro - The Reclaimed Kitchen Company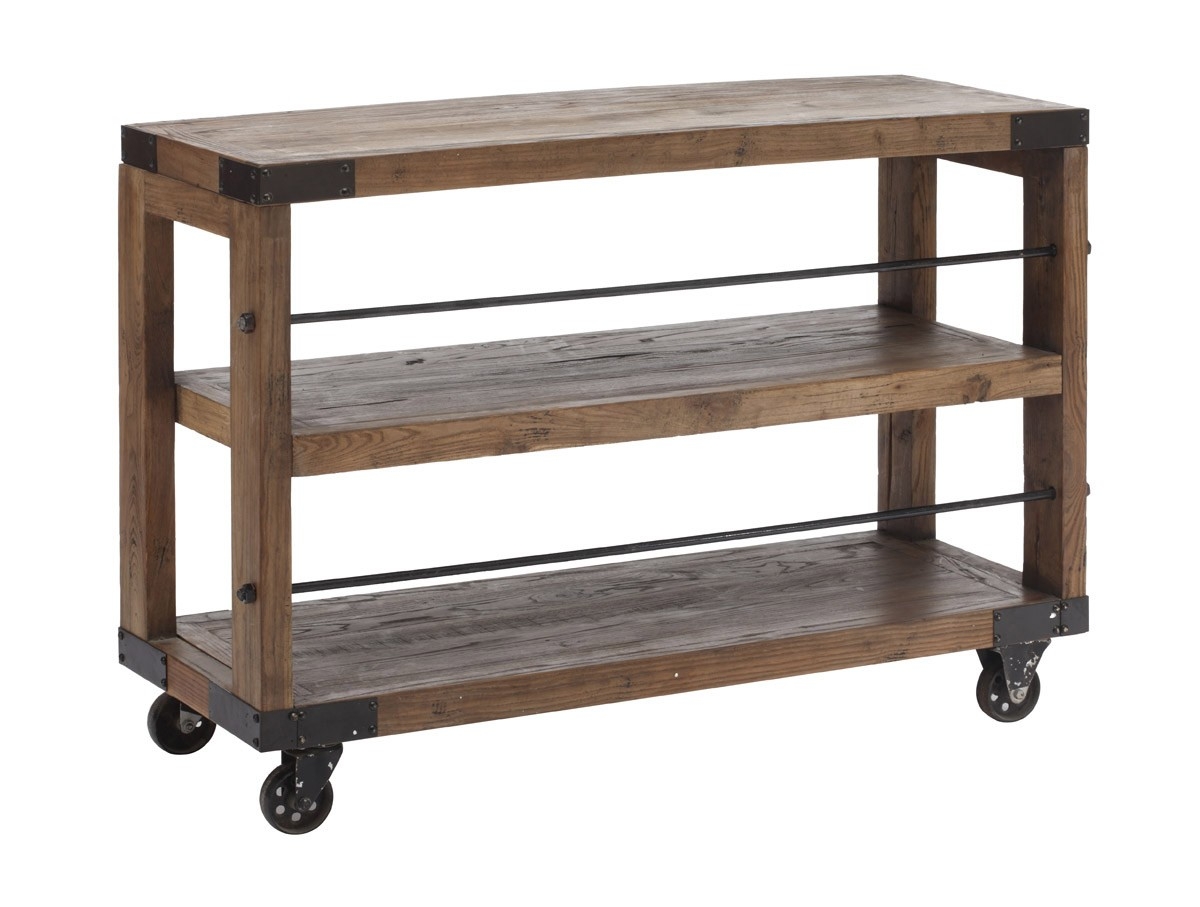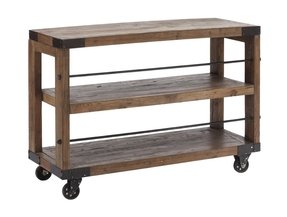 Wheeled elm wood bookshelf with steel accents. Product: BookshelfConstruction Material: Wood and steelColor: NaturalFeatures: Two shelvesDimensions: 32.68" H x 47.2" W x 15.7" D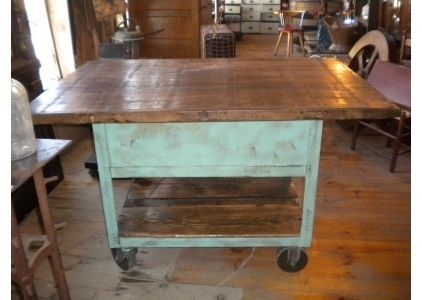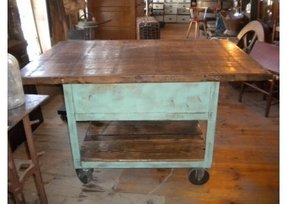 Farmhouse Style Furniture this would make a great island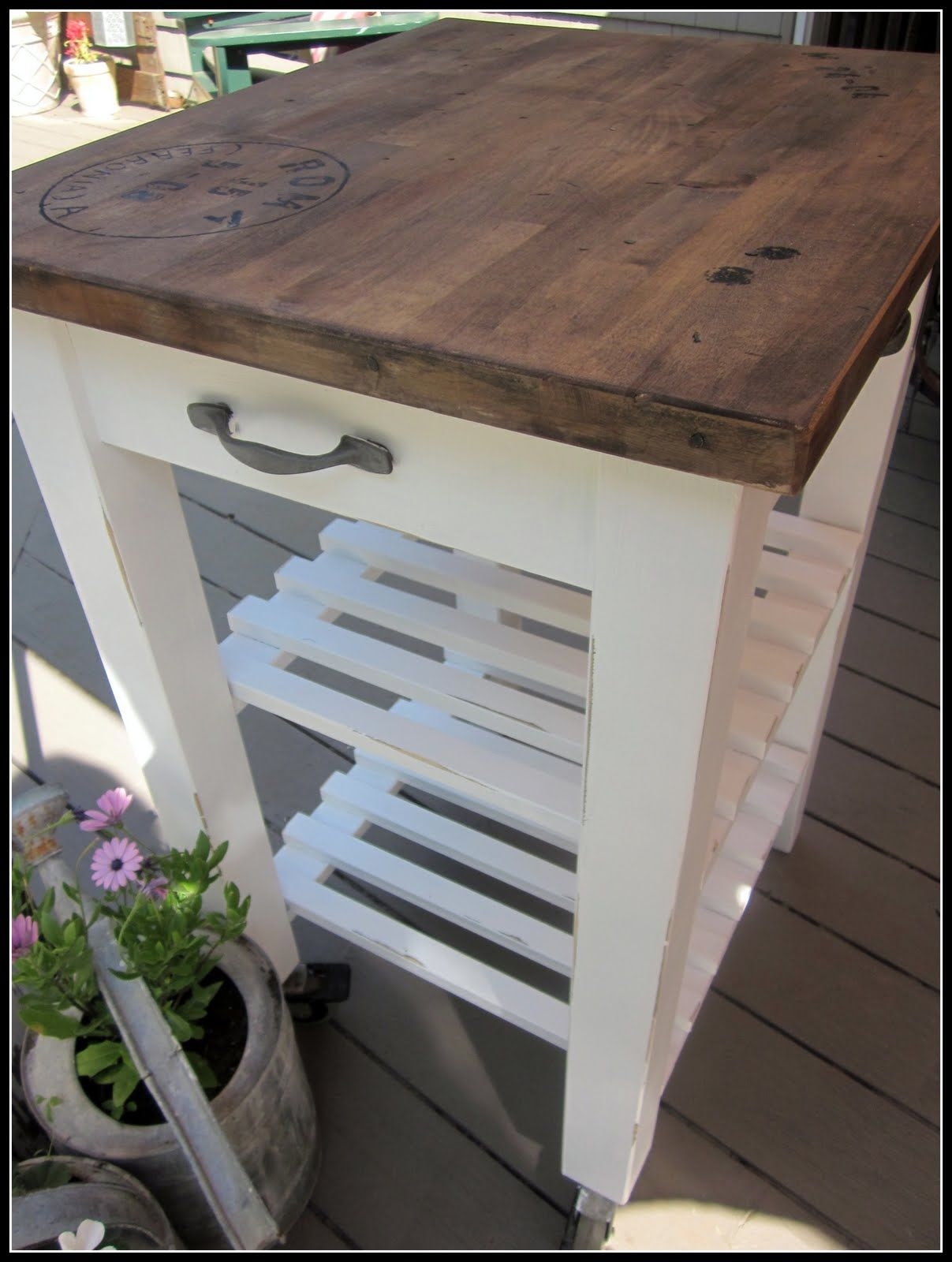 Imagine that your beautiful rustic kitchen island can be taken to another room or to your veranda. White, stylized boards combined with a rustic top.There are also two additional shelves, and a neat drawer. Everything on wheels.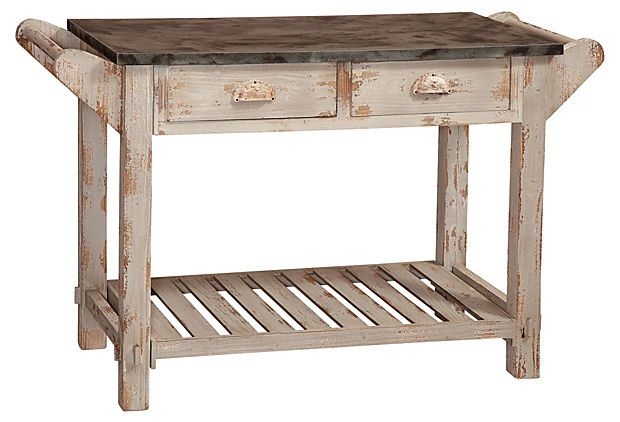 ... Table, Rusticated White rustic-kitchen-islands-and-kitchen-carts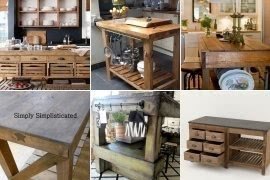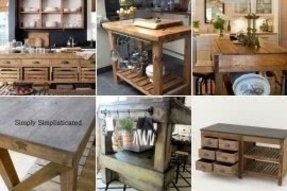 With its distressed appeal, this dining table will fit perfectly well to a rustic kitchen or dining room, oozing a cool, vintage vibe around the space. Solid wooden construction, painted in white and dark brown.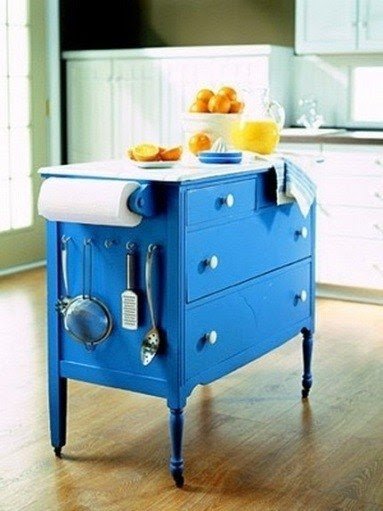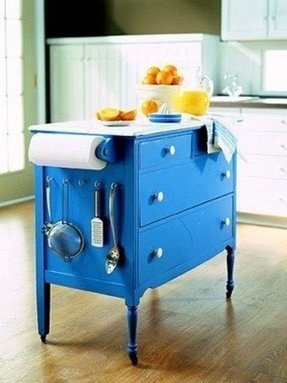 Portable Blue Kitchen Island Design Rustic Cheap Kitchen Islands Sale Online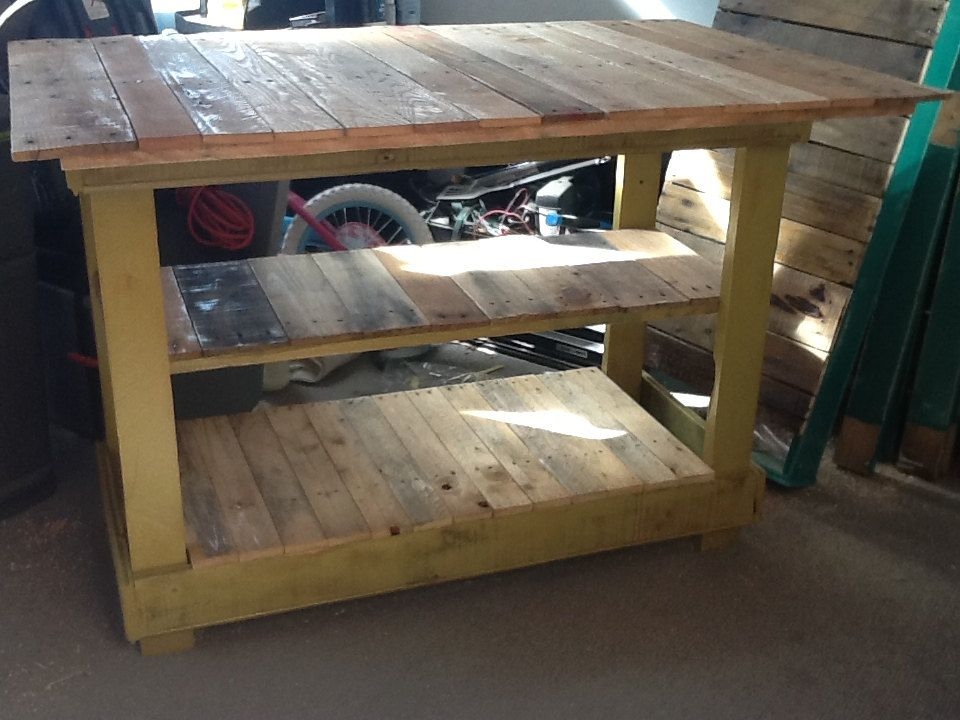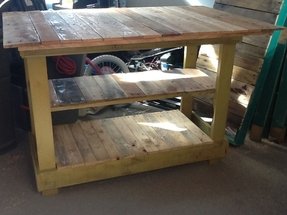 Rustic Cottage Pallet Kitchen Island Bar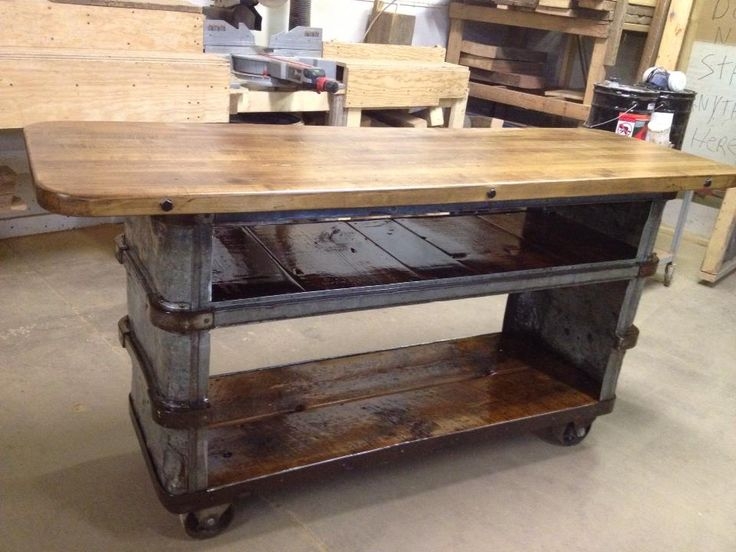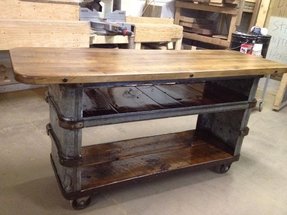 Reclaimed laundry cart transformed into kitchen island by Rustic Refinery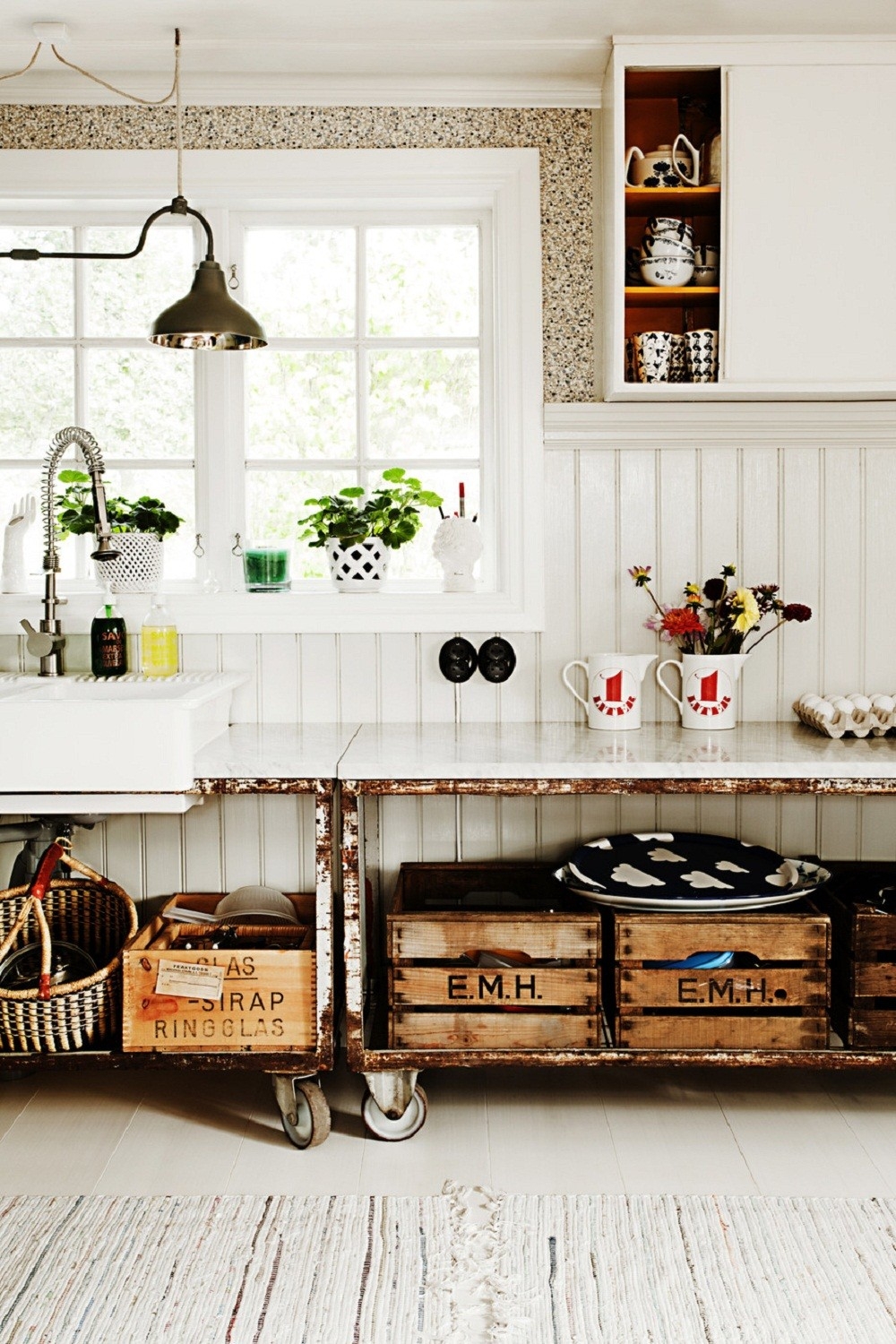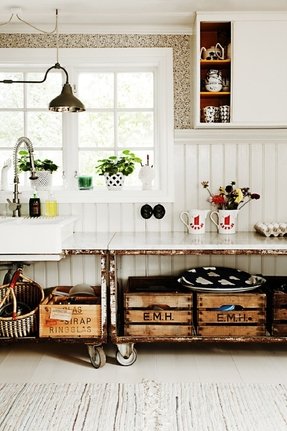 Crazy about this rustic kitchen... rolling counters!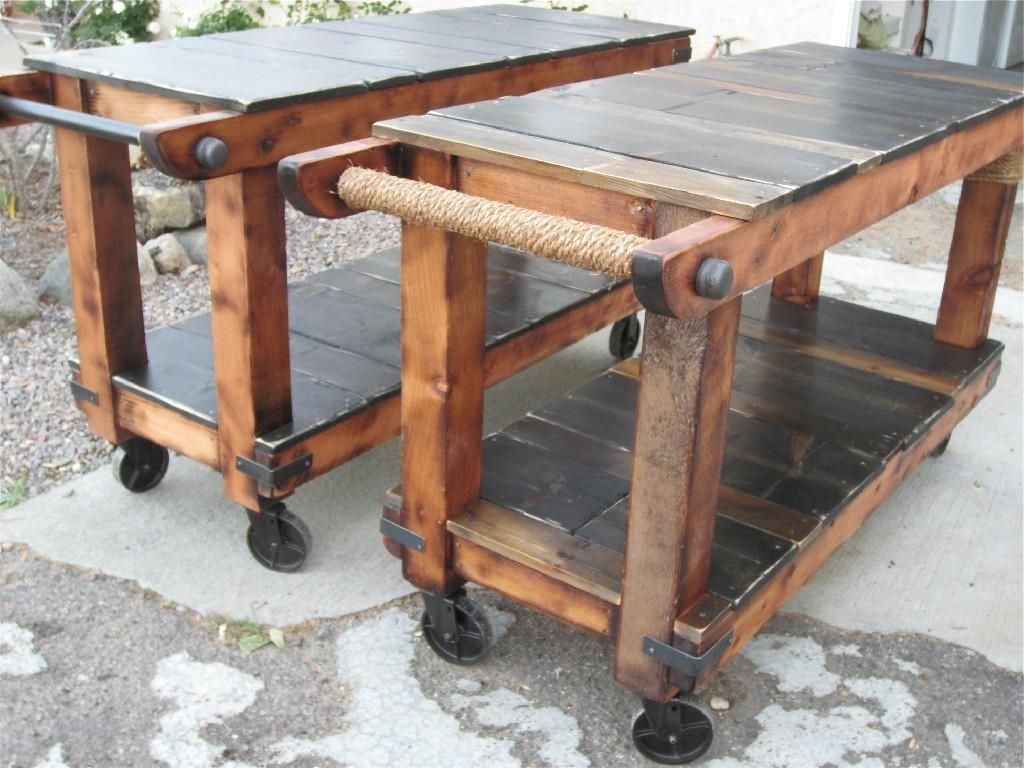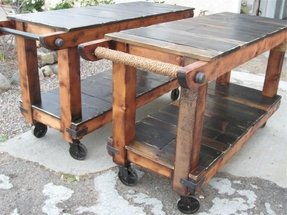 Floating kitchen island?Why not!Why not to make it on wheels so it can also be a mobile table, ideal for parties. Dark,cherry wood is an ideal component for modern interiors.Is finished with black metal.And 2 extra planes will definitely help you in the kitchen.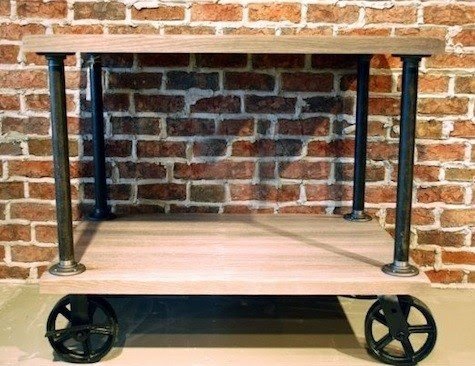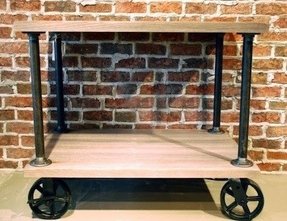 American wood with a bright shade, with visible streaks of nature in its texture, in the form of two square countertops, combined with hydraulic, industrial brass pipes to form a portable rustic kitchen island on black carts.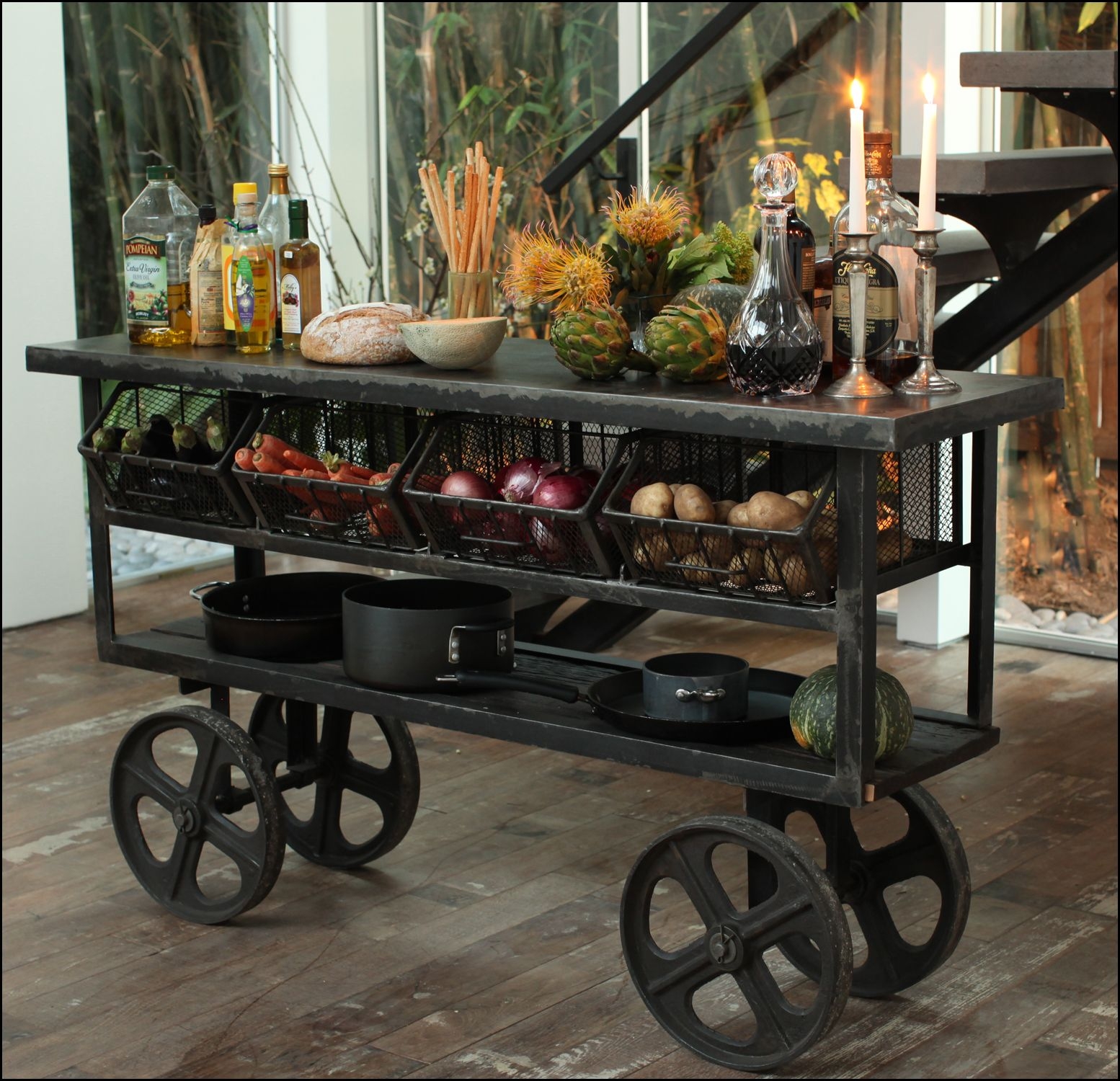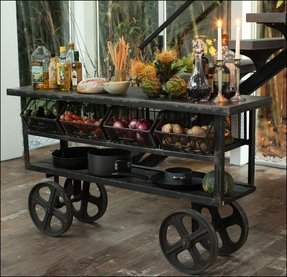 The impressive combination of color and styling and pallet made of wood makes this original rustic kitchen cart or island the perfect solution for any decor. Beautiful details delight and bring to the interior a pleasing atmosphere.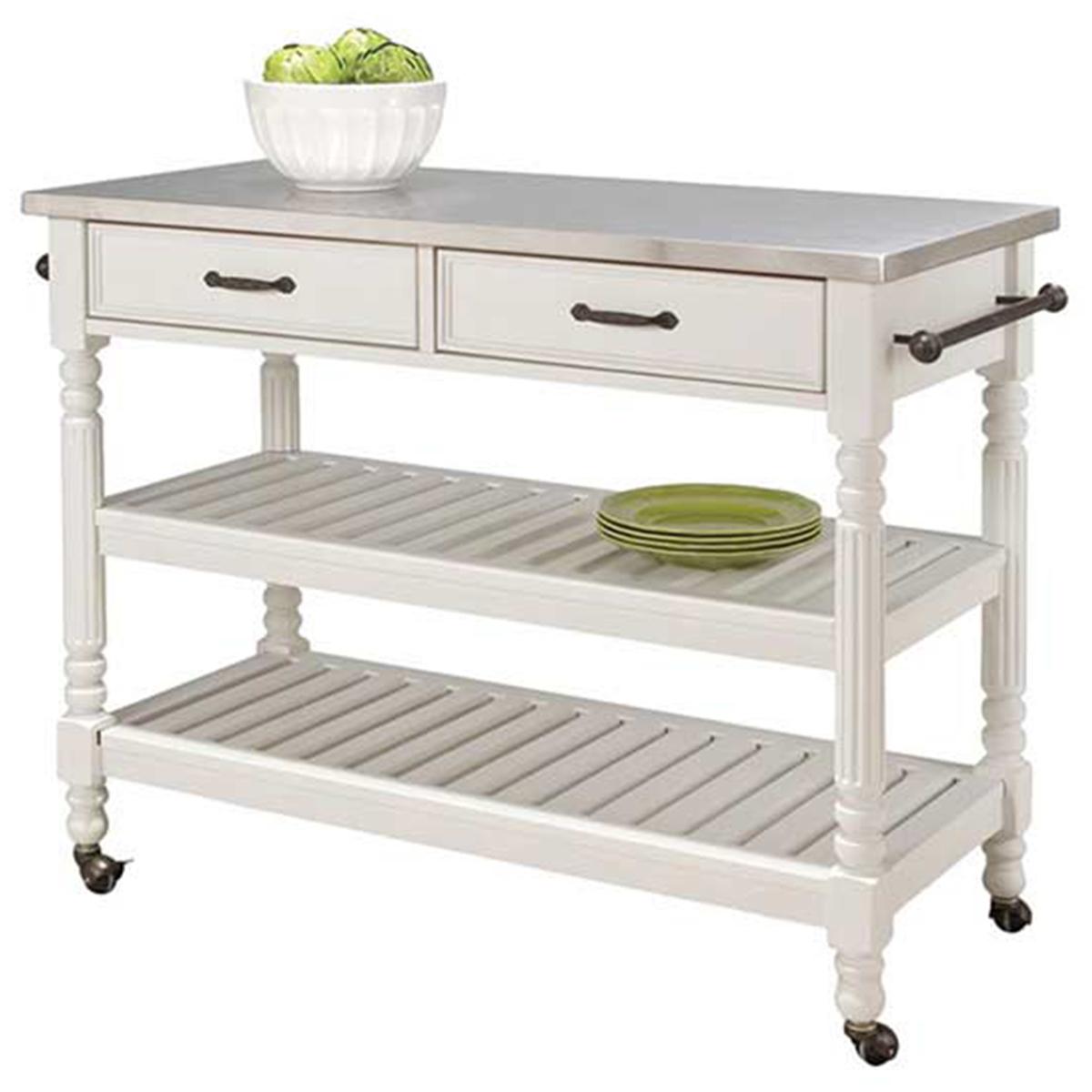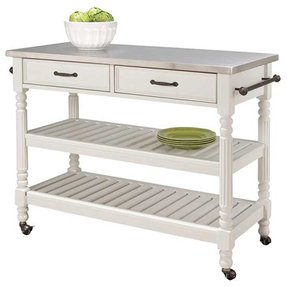 kitchen cart w/ stainless steel top + antique bronze hardware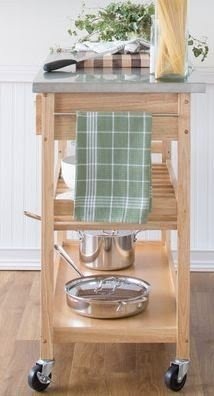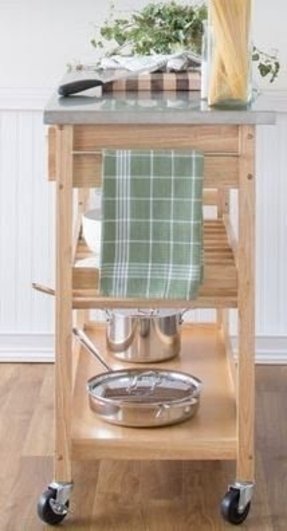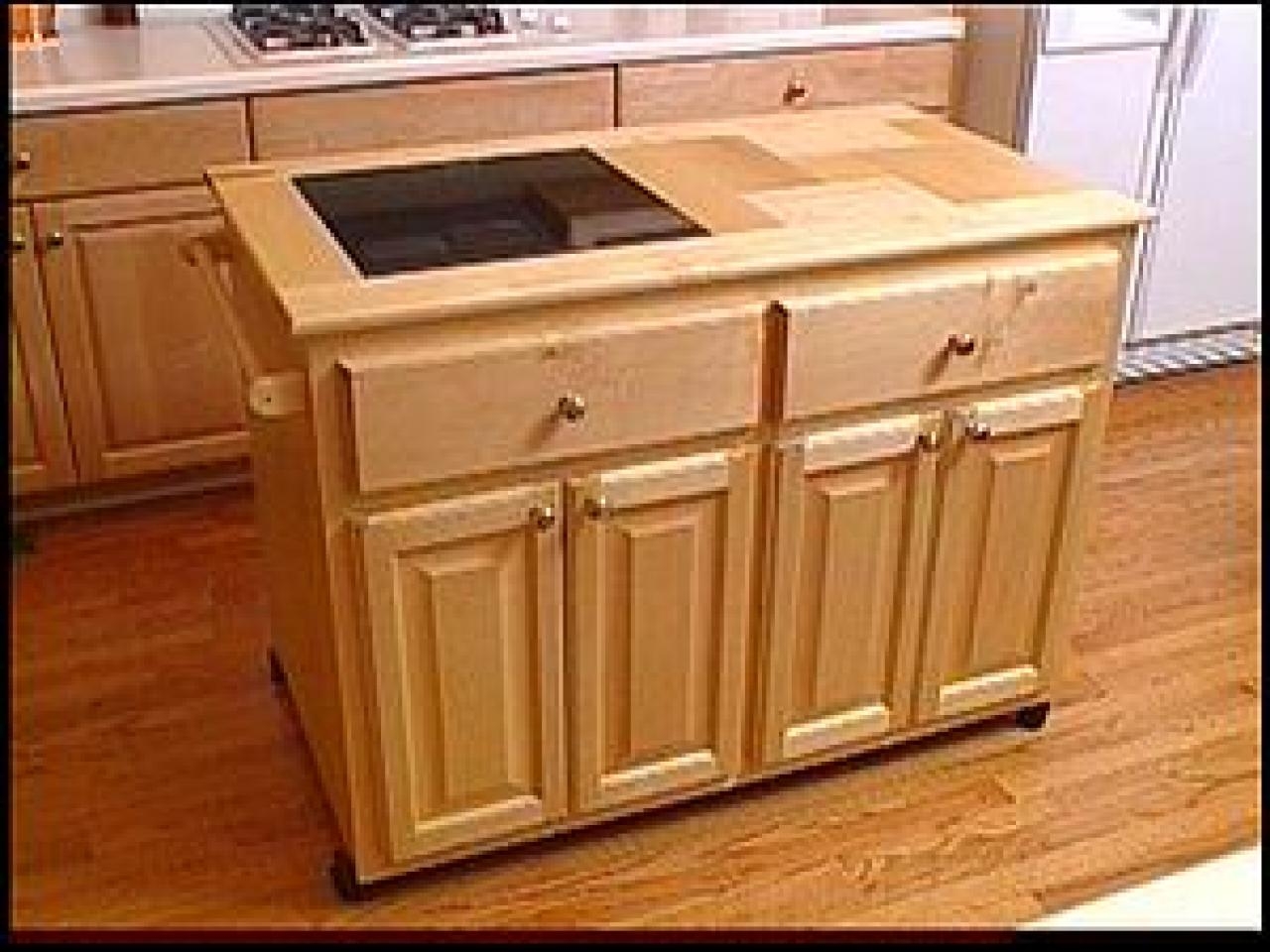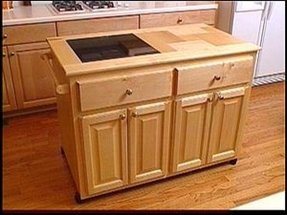 This practical kitchen island has one more advantage - it can be rolled. It has 4 wheels, which allows to move it from place to place. Classic design and a lot of spacious cabinets and drawers makes it very practical.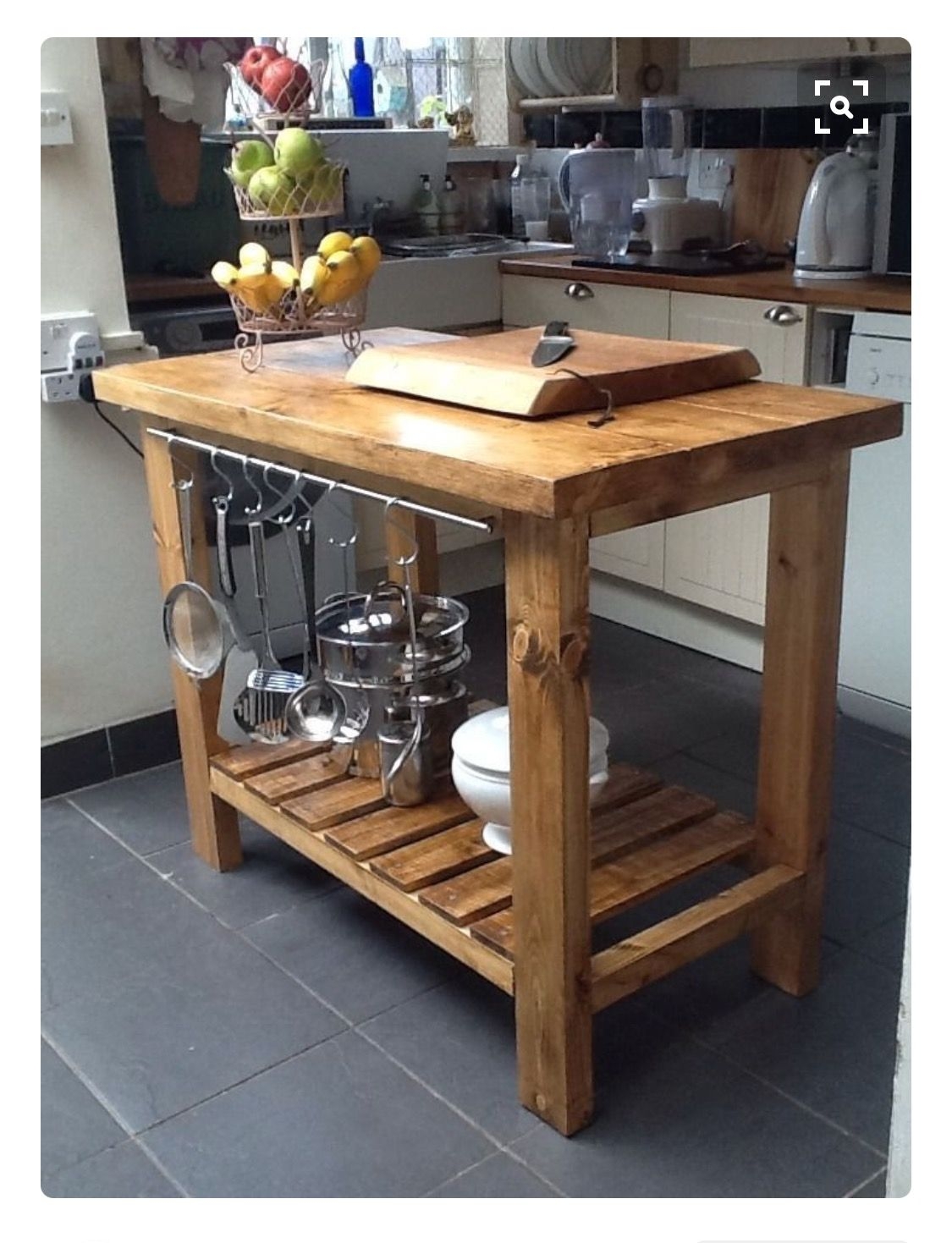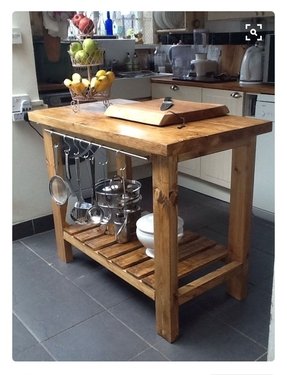 Ikea Hack ~ Learn how Shizzle Design Style created a rustic Kitchen Island out of a $35 Ikea Rast 3 Drawer Chest at: