Kitchen Pendants Lights Over Island
As you walk towards your friend's kitchen, you turn a corner, and wow, look at those accent lights! That is what you want to see glancing over at your kitchen island.
Now your big question is, what kind of lights will be eye-catching over my kitchen island? You want that wow factor you felt at your friend's house, at the store, or from those photos you found online.
You want your lights to be used as a kitchen accent. They must be unique. Keep scrolling as we are about to give you 15 kitchen pendant lights over islands that are stunning and worth your while.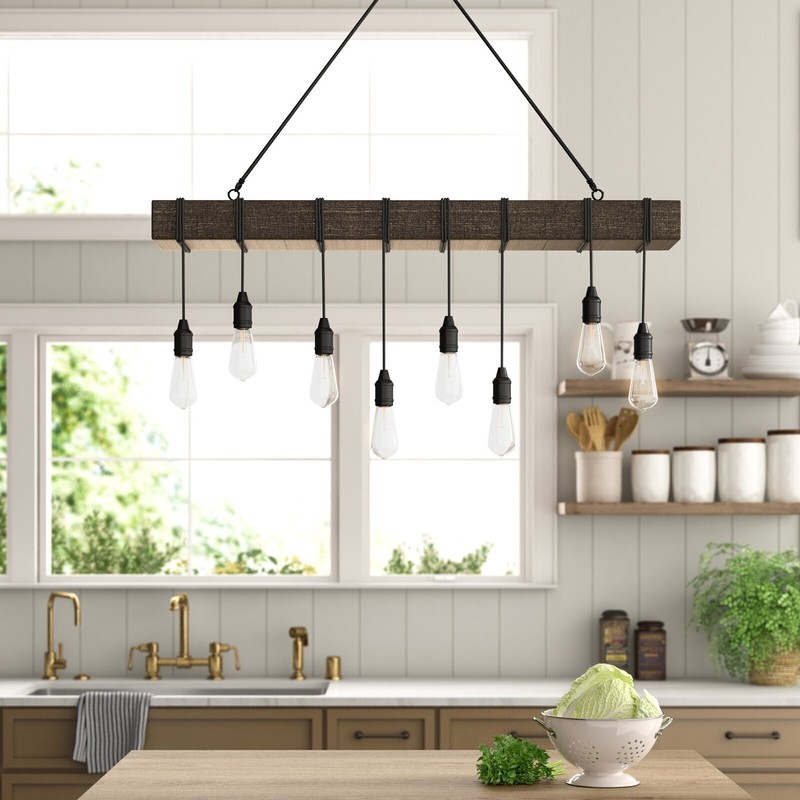 Rustic Kitchen Pendant Hanging Lightbulbs

Hanging these minimalistic rustic pendant lights over your kitchen island is a terrific way to bring calming ambiance to a room. Lightbulbs hanging freely from nylon cord wrapped around a beam a few times is simple and stylish.
A mix of shorter and longer cords creates a flow to a kitchen. These present marvelously over shorter and smaller kitchen islands.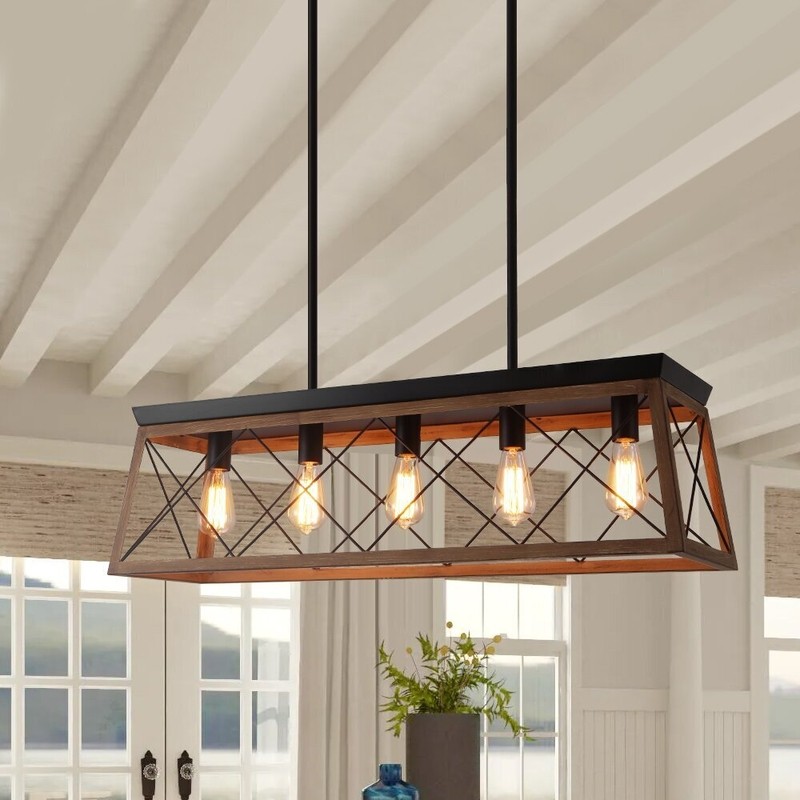 Crisscross Open Box Kitchen Pendant Lights

Rich warm wood and metal-designed framework add rustic and industrial flair to your kitchen. The open crisscross pattern shadows triangles across your space.
The semi-solid outline and five-lightbulb design add a formal yet welcoming vibe to your kitchen. Odd numbers create an artistic twist, while even-numbered kitchen pendant lights maintain symmetry.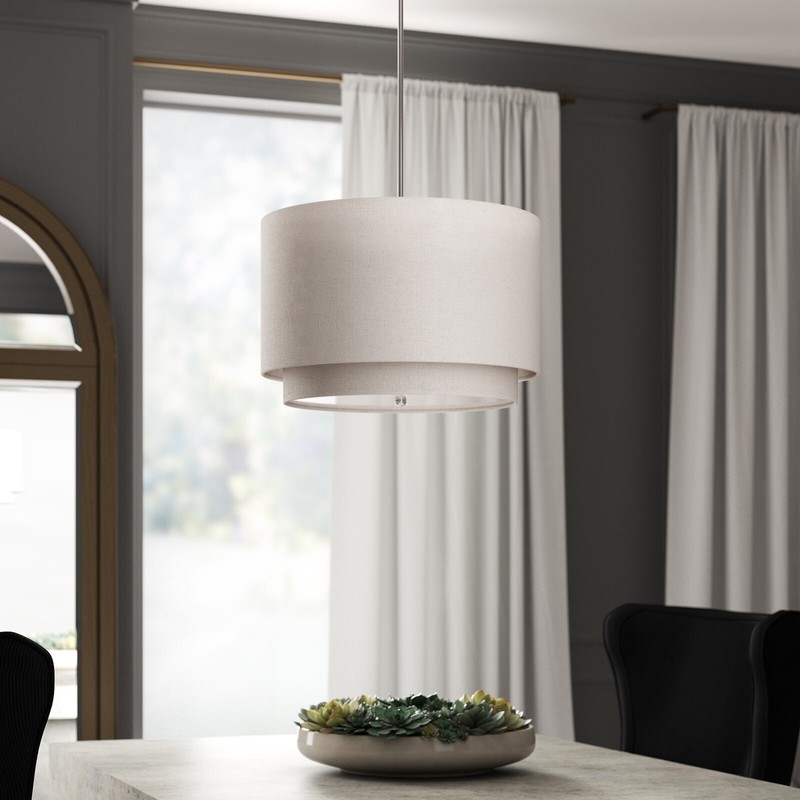 Singular Drum Pendant Light Over Island

Solo pendant lights create a major statement in a kitchen. The frosted glass drum shade surrounding a singular pendant light produces a charming radiance over your kitchen island.
You can find these pendant lights in glass, metal, or wood. Hanging a single drum pendant light over a unique centerpiece is an excellent way to wow your friends.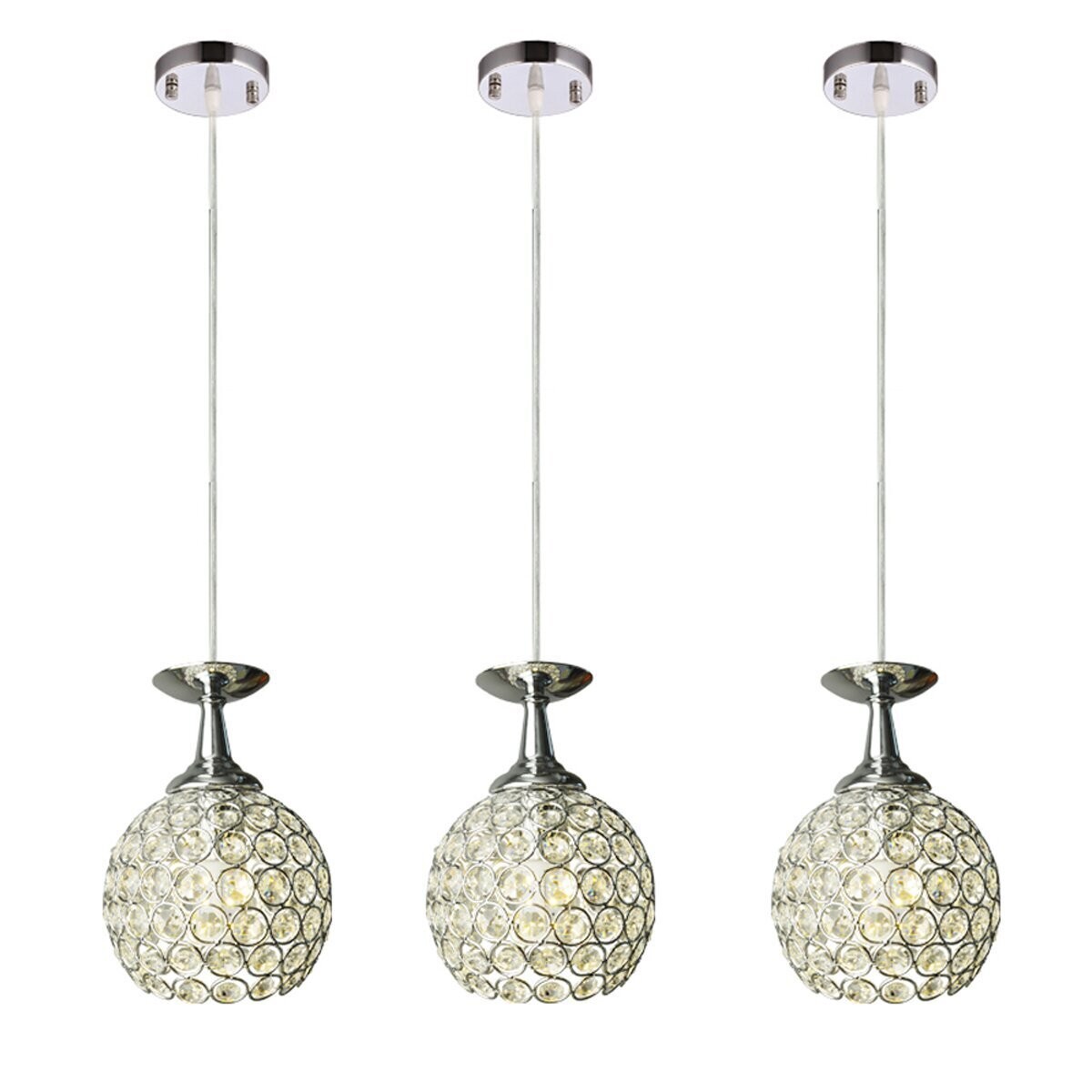 Glamorous Ball Pendant Lights Over Islands

Smooth and gorgeous, these types of pendant lights are fashioned to cast light throughout a kitchen. Metal circular design patterns and crystal material draw on the glam décor style.
Quartz crystals used in kitchen pendant lights will create a rainbow hue across your room. Larger crystals create a nicer rainbow tint.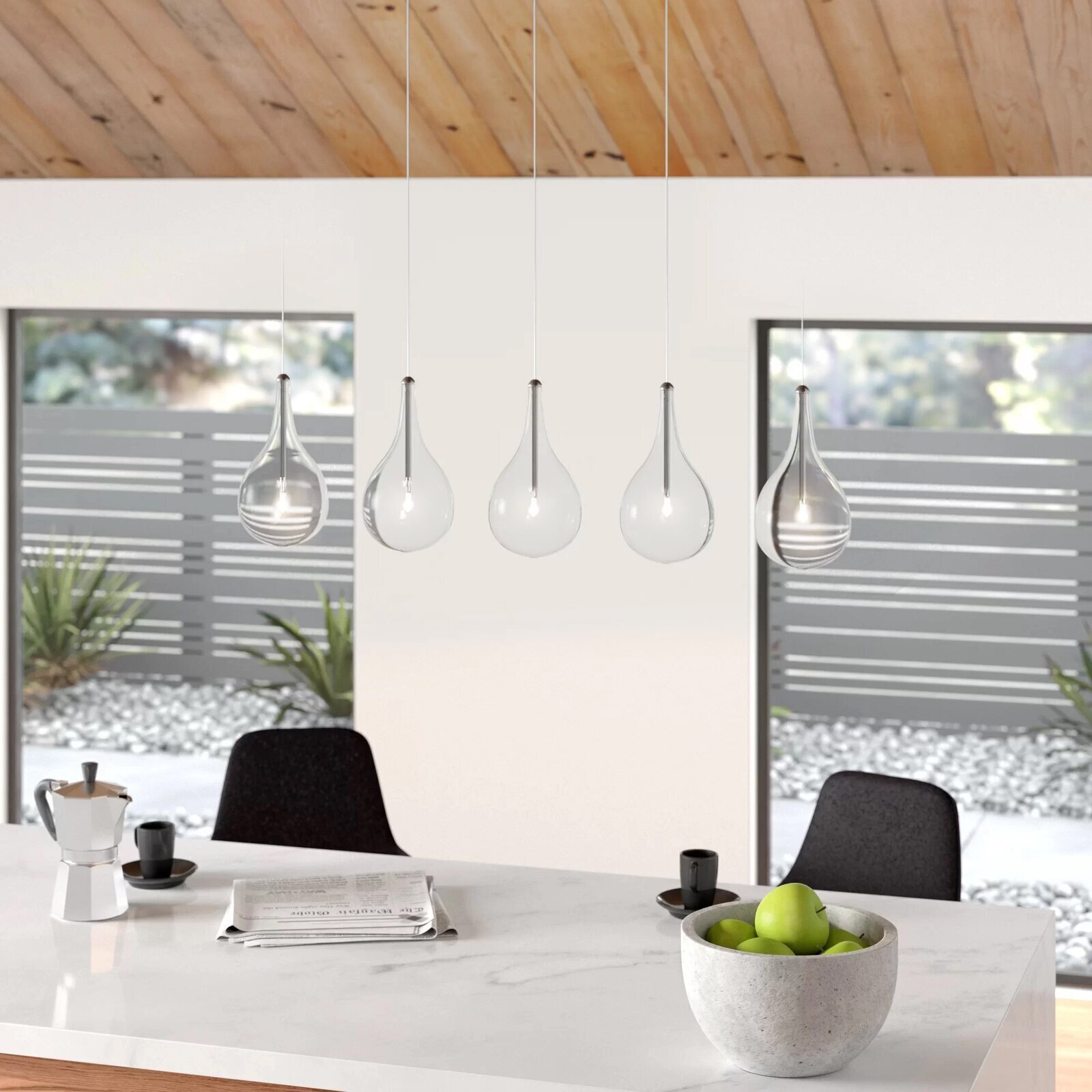 Clear Teardrop Kitchen Pendant Lights

Teardrop pendant lights mimic raindrops appearing in nature. If you are naturally inclined, then lights that imitate nature are a brilliant notion for you.
The clear wiring holding the pendants gives the illusion your glass lights are hovering in mid-air. Clear glass pendant lights are perfect for reflecting light off white or light-colored surfaces.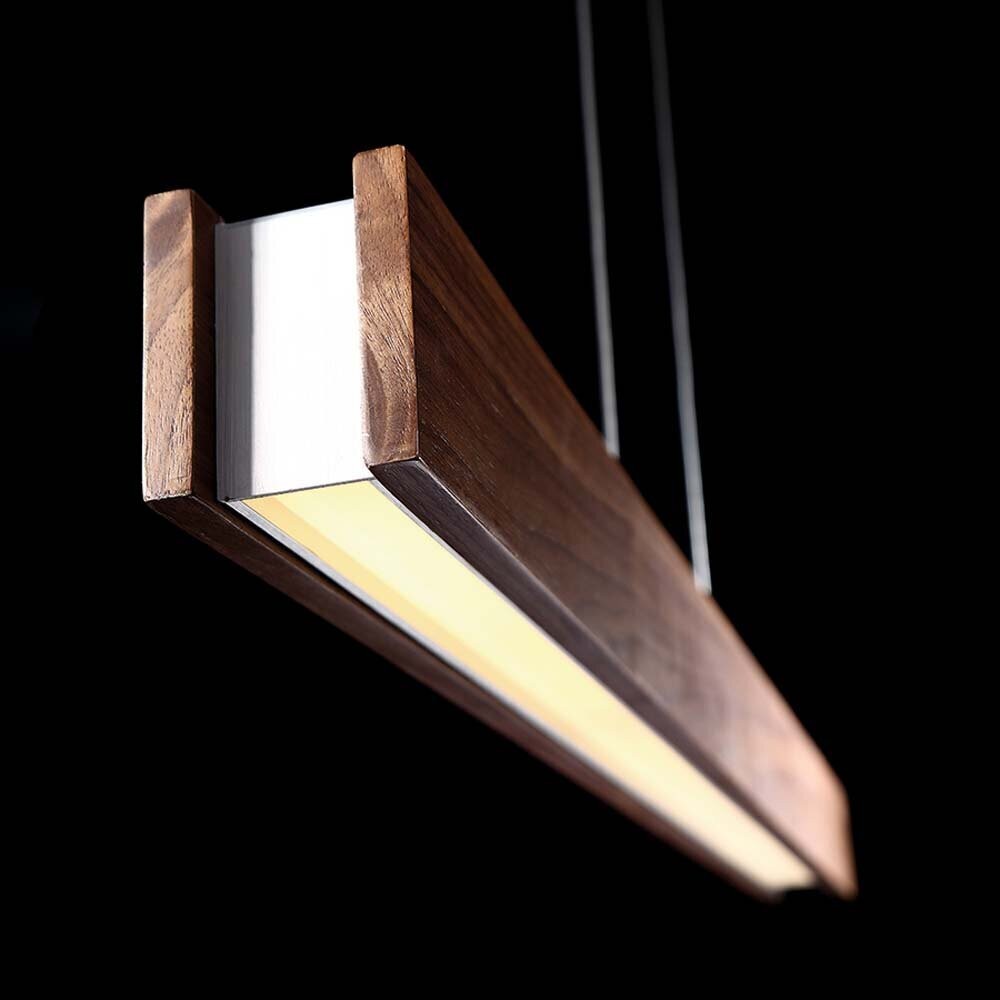 Long Rectangular Pendant Light Over Islands

Long rectangular pendant lights look best over longer rectangular kitchen islands. They create a long and focused strip of light, emitting a more formal appearance.
Long rectangular lights keep strict control of your kitchen lighting. These types of pendant lights are great for people who appreciate straightforward lighting without all the bells and whistles.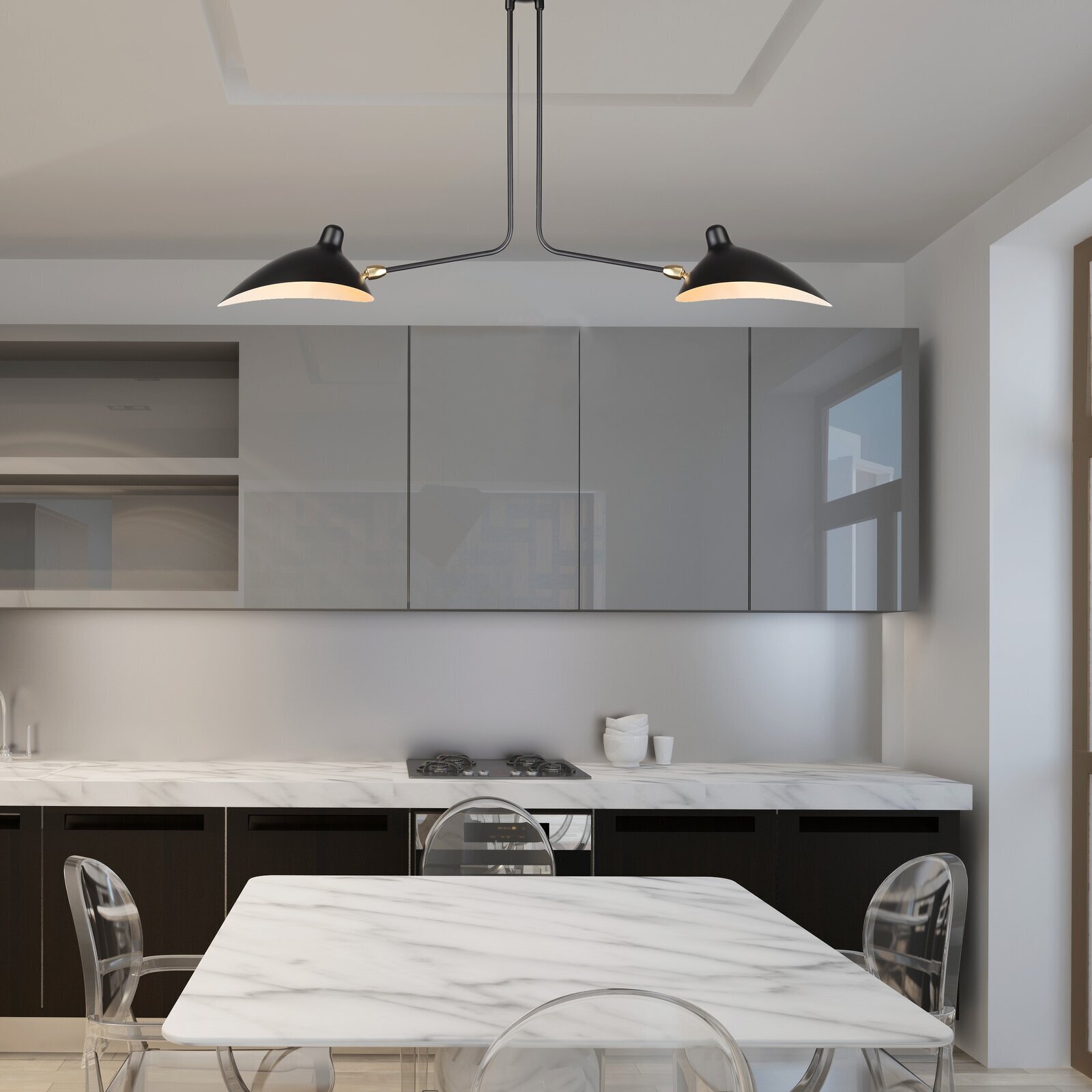 Angular shaped Kitchen Pendant Lights

Odd-shaped pendant lights are an art piece even with the lights turned off. When the light is on the scoop-shaped frame prisms light downwards for an interesting art display on your countertop.
The 45-degree metal framing brings your attention to what is sitting on the kitchen island just beneath it. For a minimalist appeal, leave your kitchen island bare.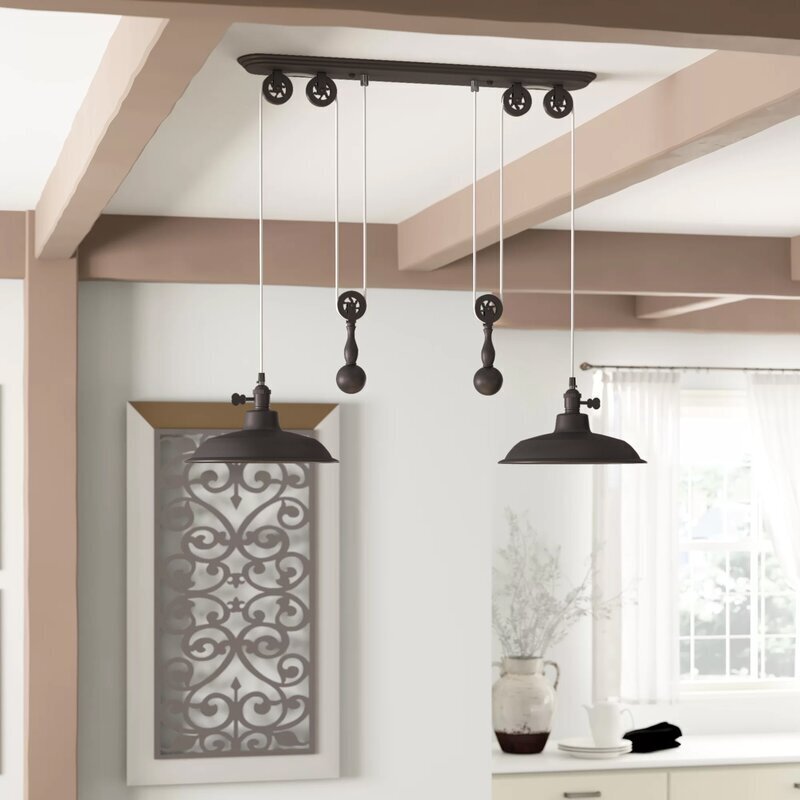 Weighted and Shaded Kitchen Pendant Lights

Weighted pendant lights add physics and a tasteful touch of gravity to your kitchen décor. Darker metals are best for industrial and antique decorating styles.
Having the light hidden completely beneath the shade framing will create a much more concentrated light form on your kitchen island. Stage two centerpieces below each pendant light to showcase and attract attention.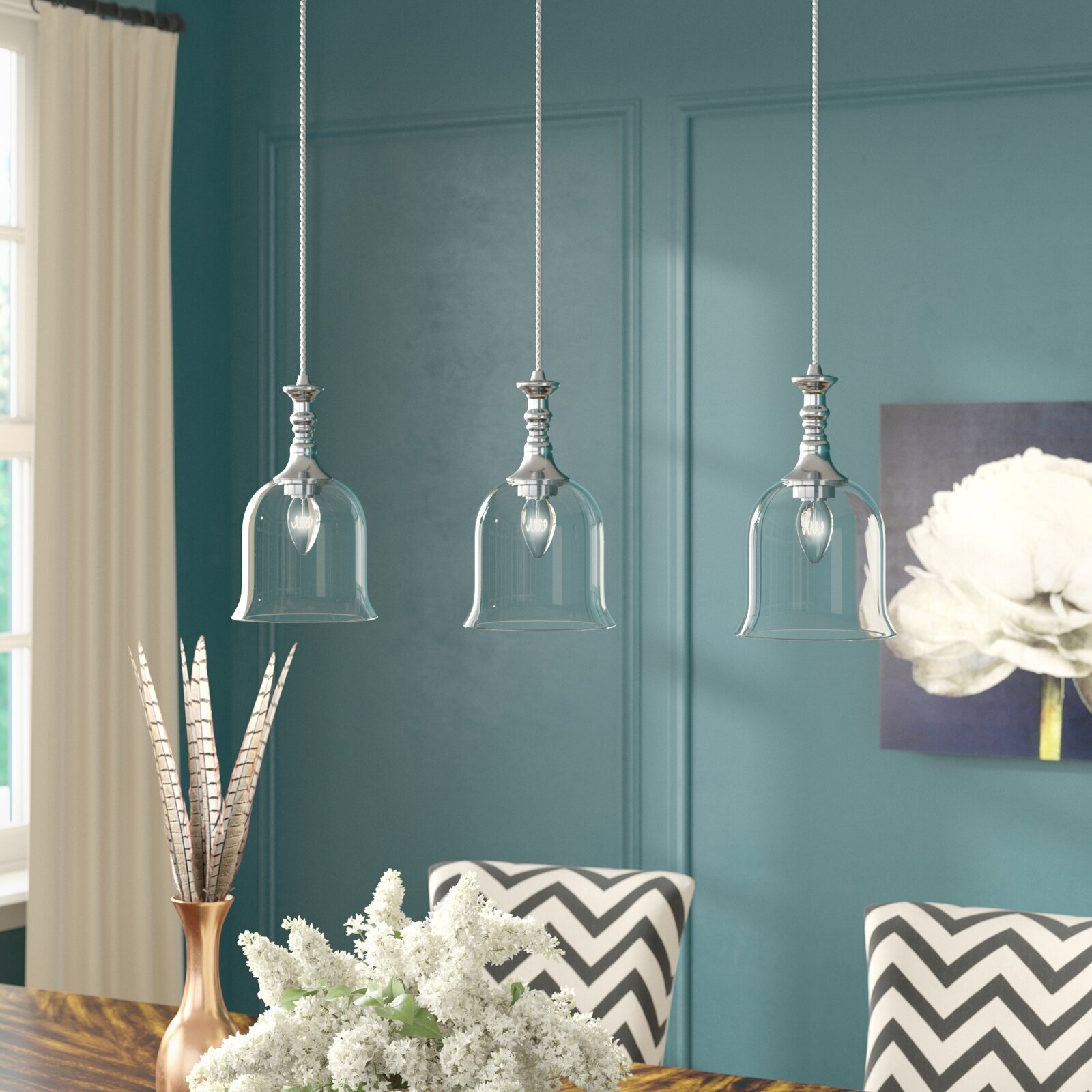 Glass Linear Kitchen Pendant Light Trio

Linear glass pendant lights are versatile and extremely trendy. They easily diffuse light in your kitchen without creating any unwanted shadows. You can find linear glass pendant lights in an assortment of colors.
For a feminine flair, find glass pendant lights that end with curving. Glass pendant lights that end in a full circle create a more masculine sense.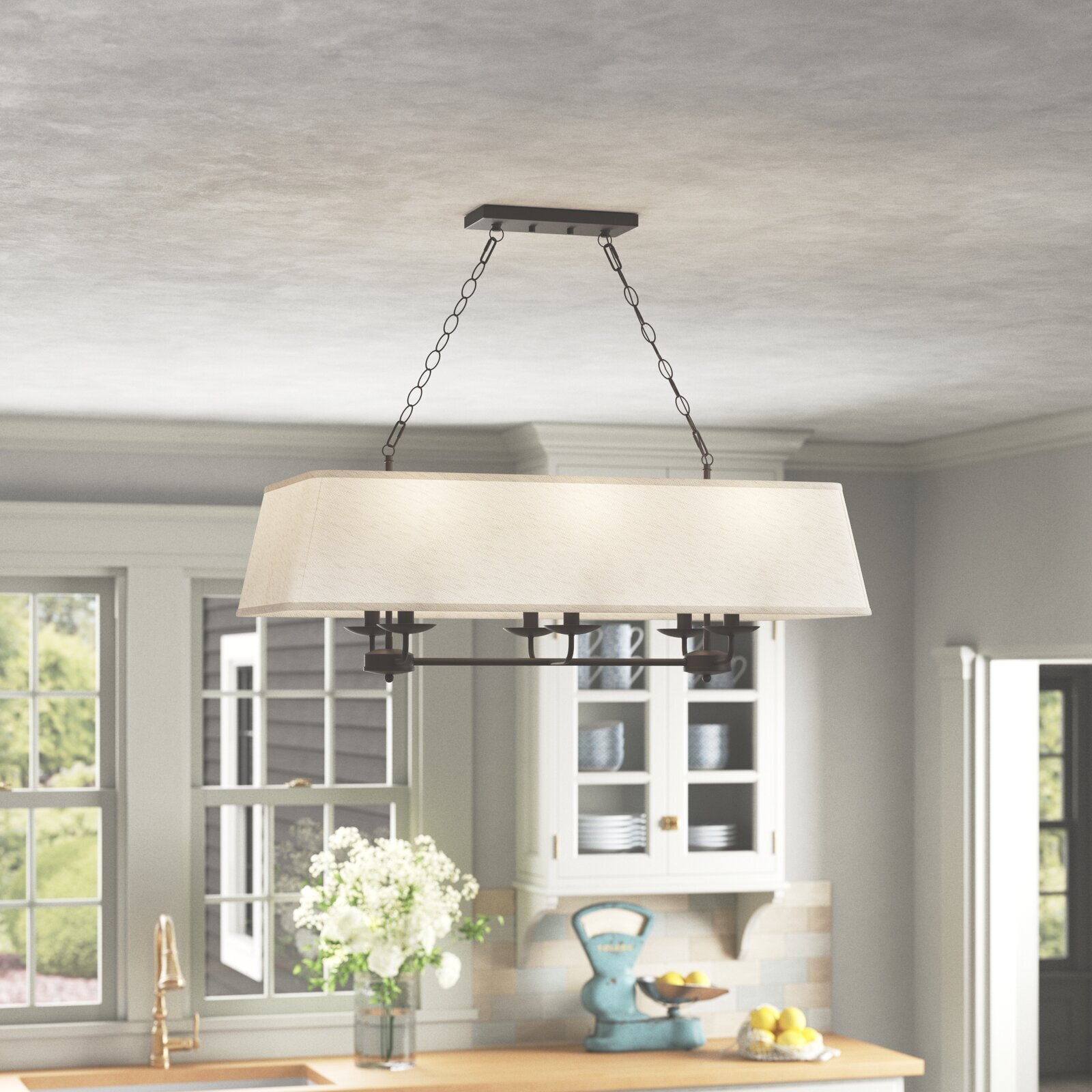 Linear Rectangular Shaded Pendant Light

Linear rectangular shades balance light more evenly. Your light is directed both up and down rendering it less dramatic compared to shaded pendant lights that point only downwards.
This shade can be made of metal, glass, or soft fabric. Soft fabric shades look more comforting and are better matches to the farmhouse décor style. Metal shades create cooler atmospheres that emphasize industrial and antique styles.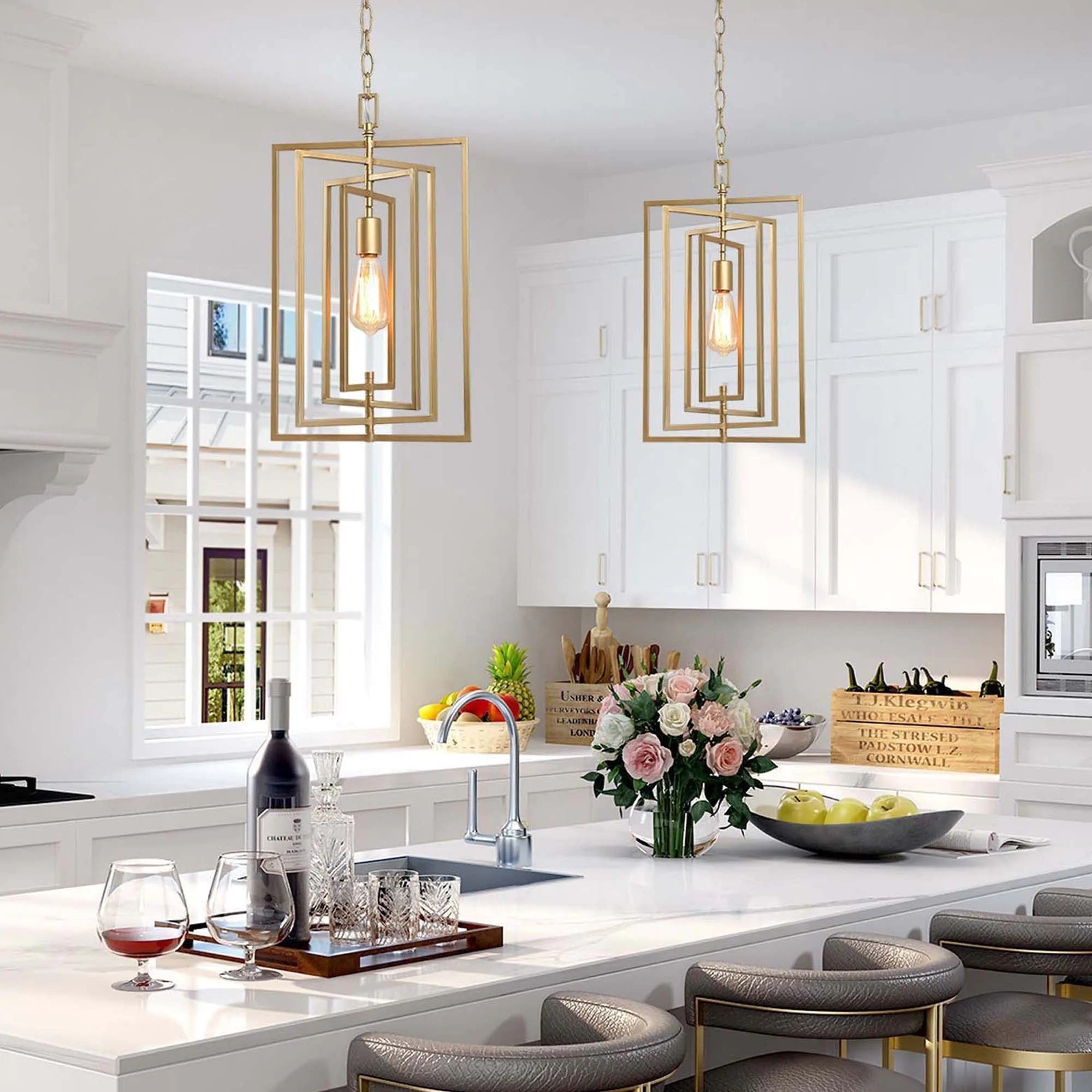 Geometric Lantern Pendant Lights Over Islands

Geometric lantern pendant lights are best matched with modern-designed homes. The shiny metal lantern frames can be purchased in golds, and bronzes, silvers.
To make your geometric lanterns stand out, paint your cabinets black or white. Matte and monochromatic backdrops permit polished square lanterns to be the main attraction in your kitchen.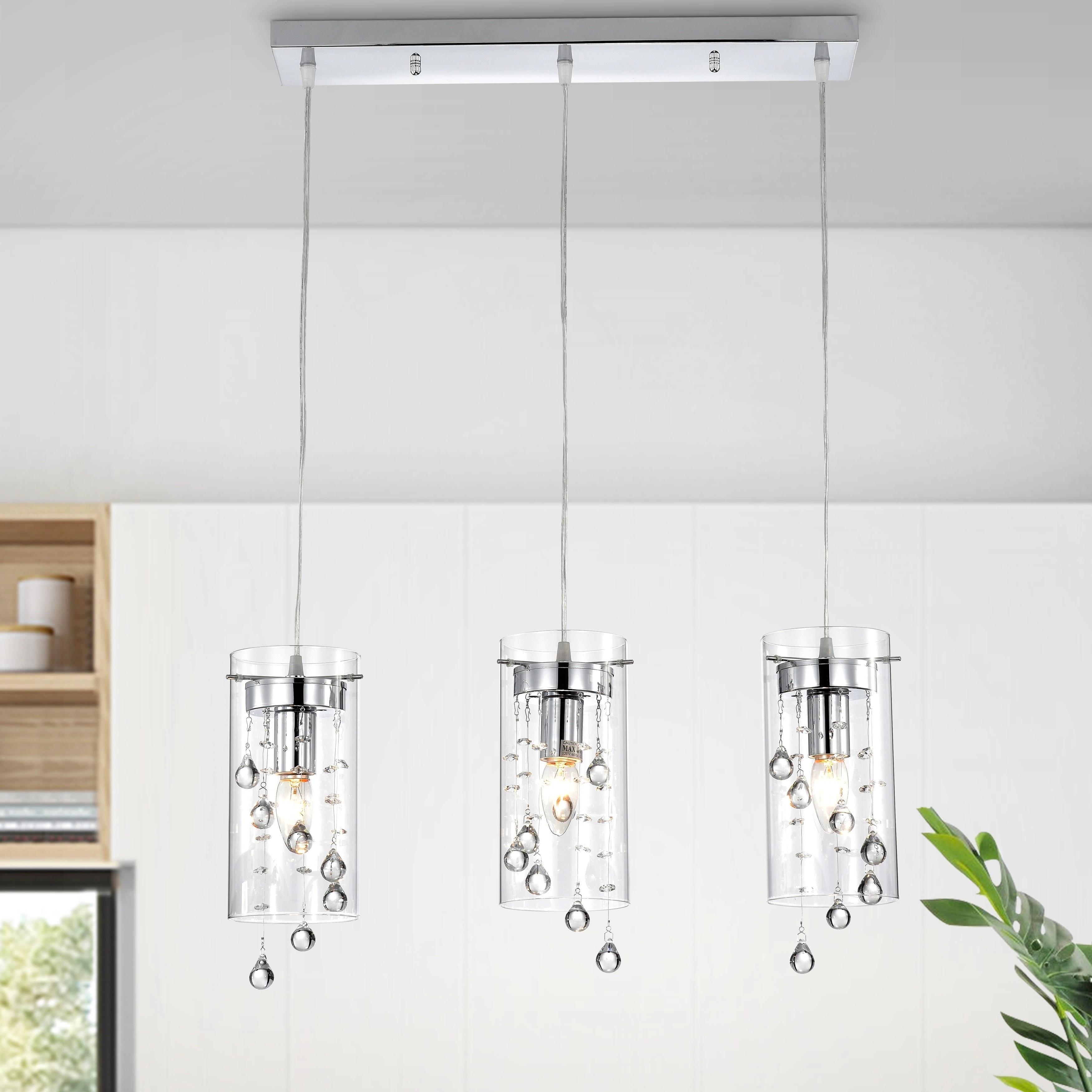 Glass Cylinder Kitchen Pendant Lights

What looks more beautiful than a glass pendant light? A cylinder glass pendant light with multiple glass pieces dangling within it.
Modern and contemporary designers adore cylinder glass pendant lights above light-colored marble countertops. Glass lights and shiny white marbled countertops, make a kitchen seem larger than it truly is.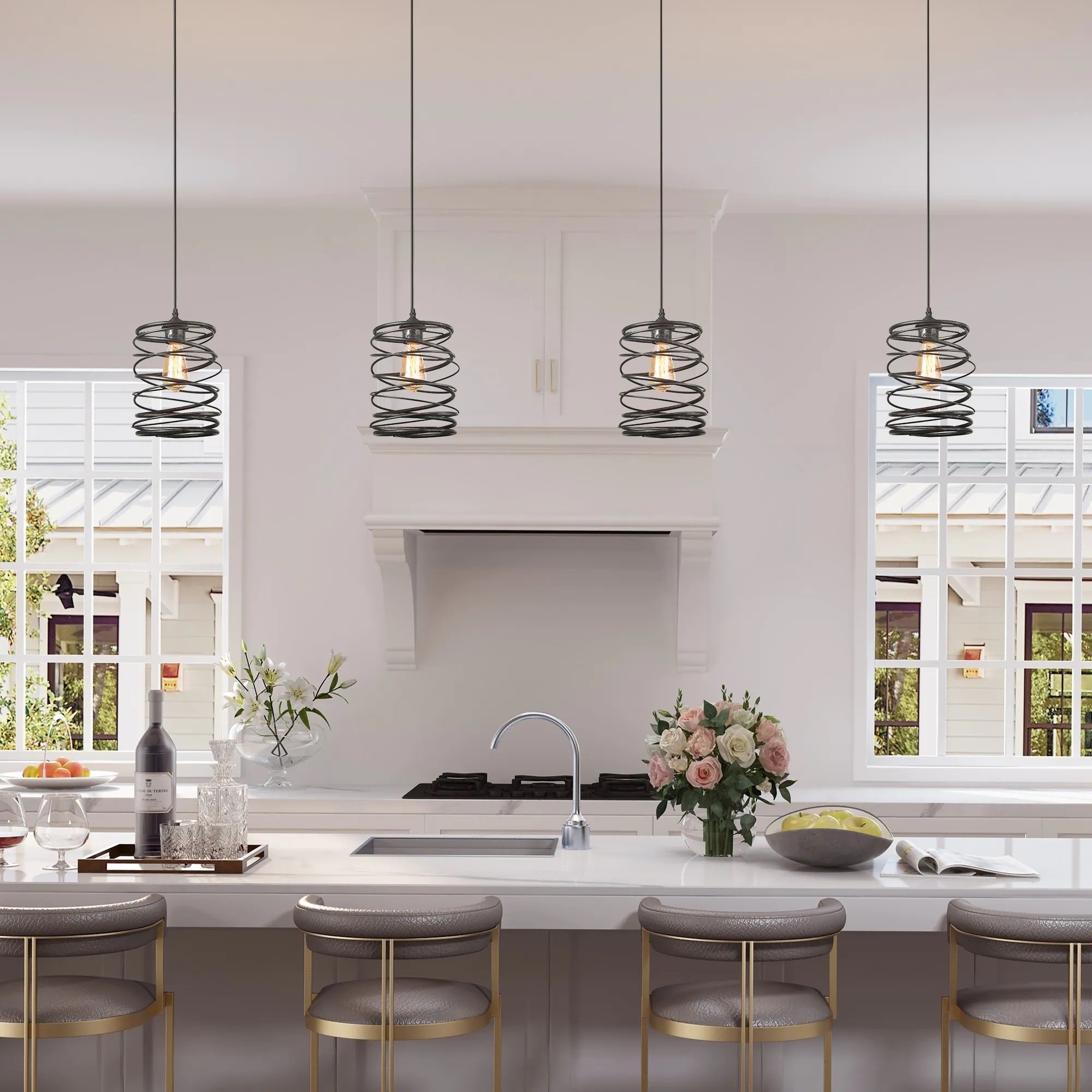 Vintage Spiral Kitchen Island Pendant Lights

For a fun twist in the kitchen add dark metal spiral pendants above your kitchen island. The spiral isn't just eye-catching, but also a fun way to move the light around your kitchen.
The even number of pendant lights creates a symmetrical appearance along with having two or four barstools. If you choose a darker pendant light frame, then go with a light-painted background to show off the vintage spiral design.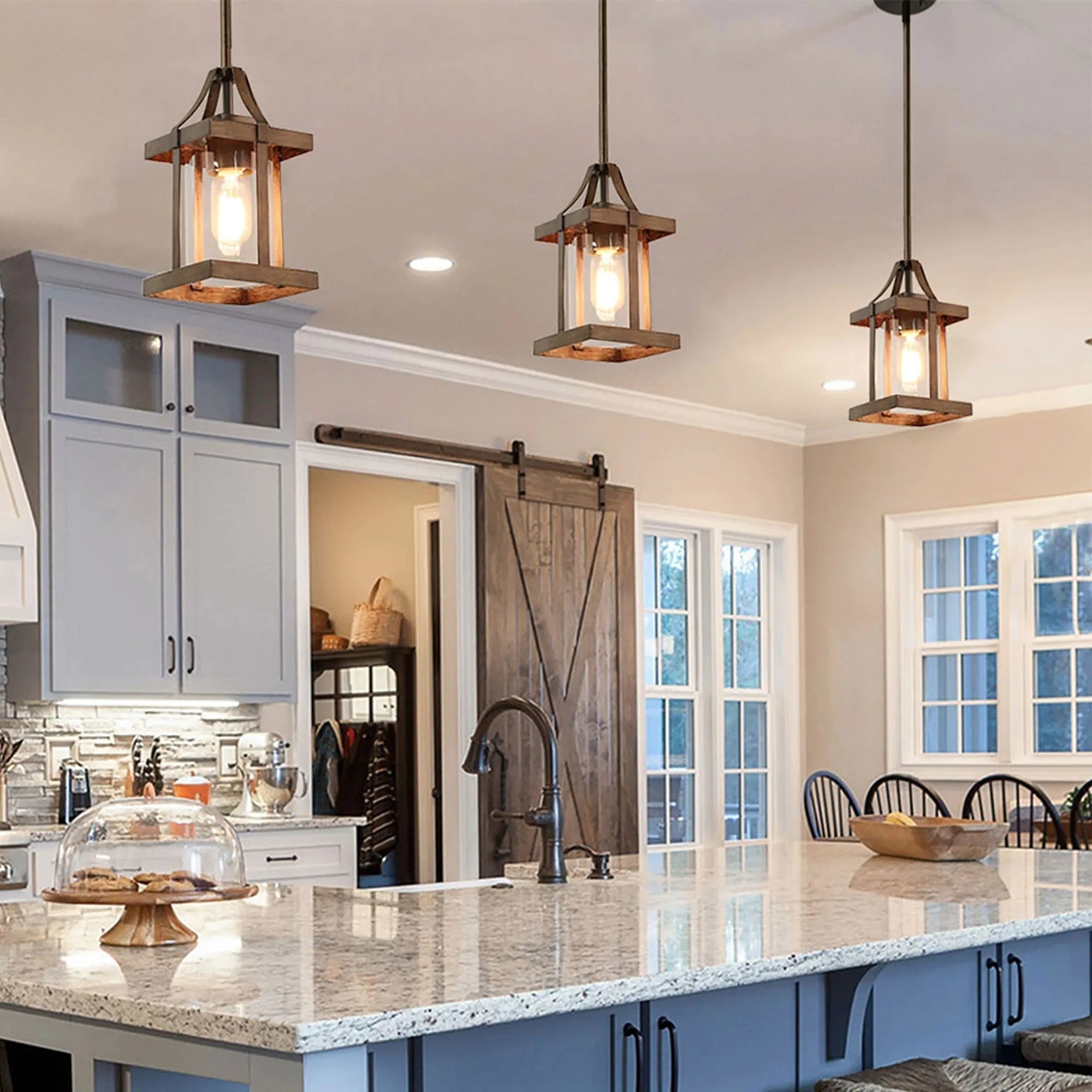 Wooden Lantern Pendant Lights Over Islands

Wooden lanterns are key in a rustic or farmhouse design. Adding them above your kitchen island is a great way to flaunt their beauty.
Warmer lightbulbs bring a relaxed ambiance while cooler light bulbs create an energetic atmosphere. For taller appearing ceilings, hang your wooden pendant lights farther from your kitchen island.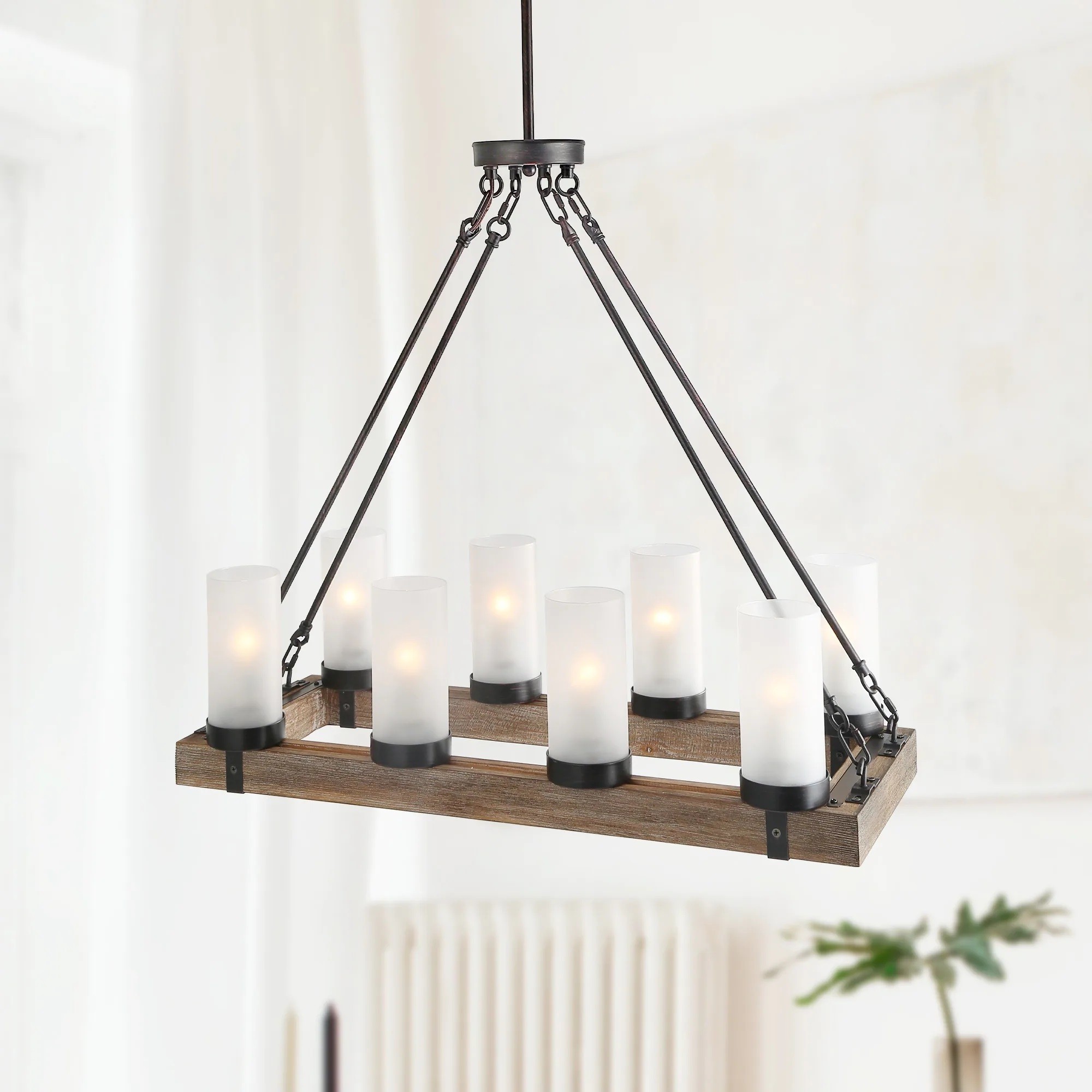 Chandelier Kitchen Pendant Lights Over Islands

Not all chandeliers are made of glass. These wooden and metal mixes are gorgeous in a farmhouse kitchen.
Your eyes are drawn towards the ceiling with these types of pendant lights. However, your awareness stays fastened to the heavy four-sided wood structure.