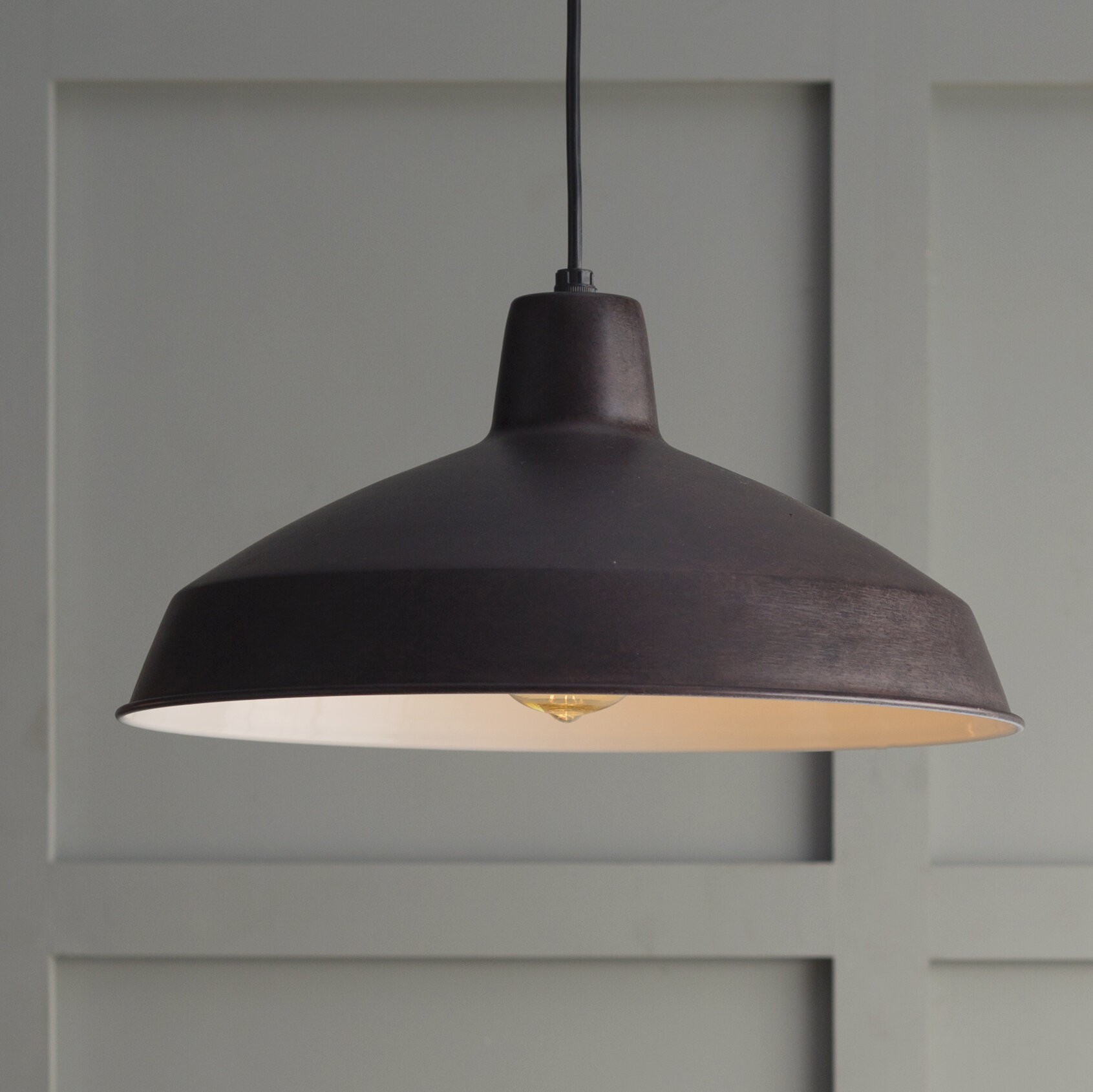 Dim Control Inverted Pendant Light
Give your house an austere, industrial touch with this simple, yet stylish light pendant, made out of metal. The dome-shaped shade of the lamp is rather shallow, providing an unusual element to the lamp. It is fully constructed out of metal with a broad variety of different color options and finishes and makes for a perfect finish to a family dinner, a modern living room, or even a study room.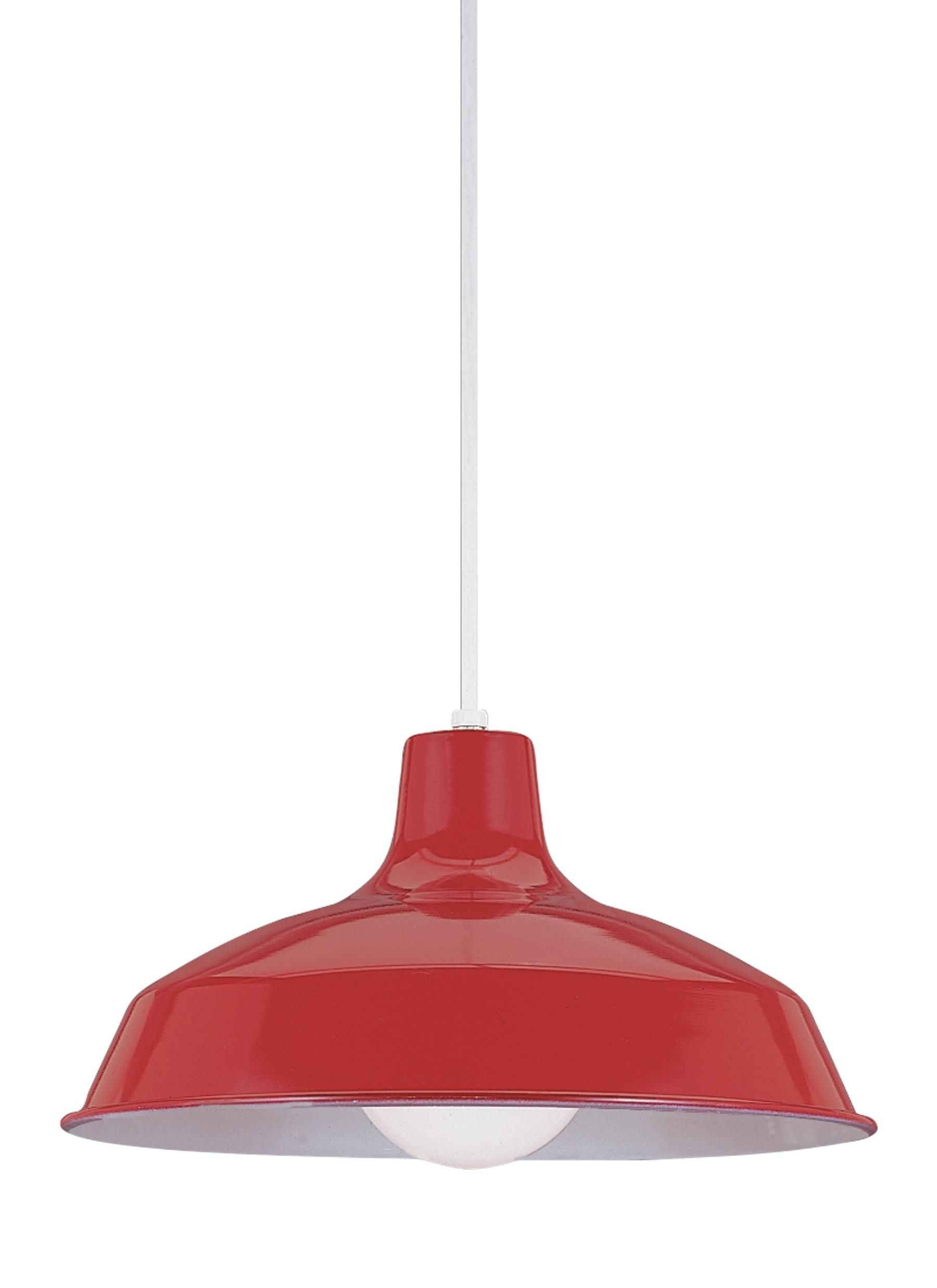 150 Watt Hardwired Bowl Pendant Light
If you're looking for a vintage vibe that will finish of your 1950s stylized kitchen or a dining room, just take a look at this beautiful ceiling pendant lighting with a bell-shaped shade made out of metal with a reflective finish, which shines in the sunlight. The lamp provides perfect illumination when placed above a kitchen island, sure to both make the cooking process easier and give the room a sophisticated touch.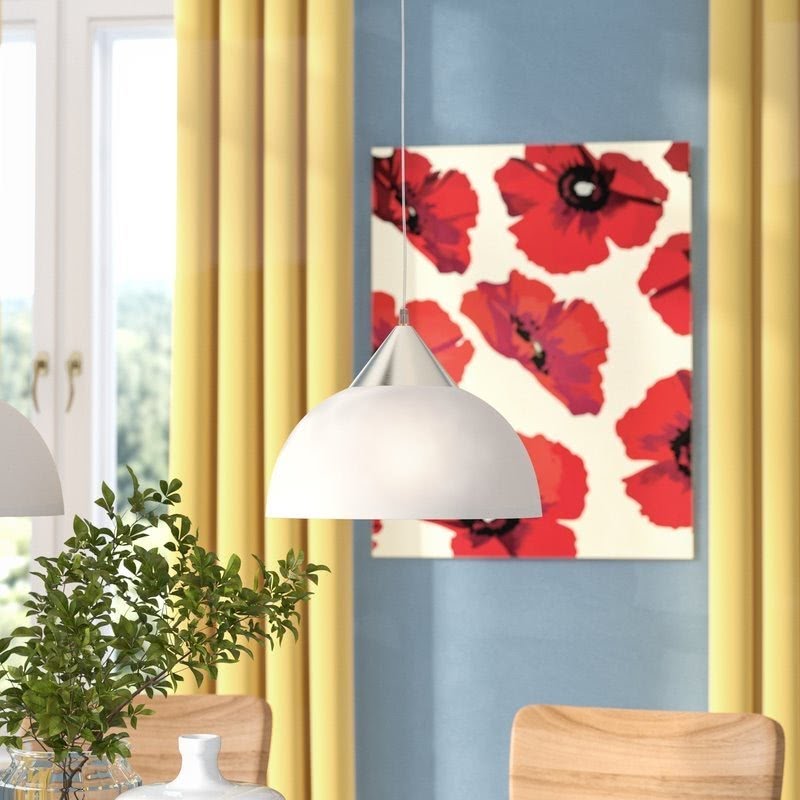 Modern Cone Shaped Bowl Pendant Light
A contemporary ceiling pendant lamp with a bowl-shaped lampshade meant for illuminating a dining room, a kitchen, or even a family living room. The lampshade is crafted out of metal and has a brushed nickel finish, which gives the lamp its modern vibe. The cone-shaped top of the shade holds the lamp in place and sports a long, adjustable cord, which can even suspend the lamp from a sloped ceiling.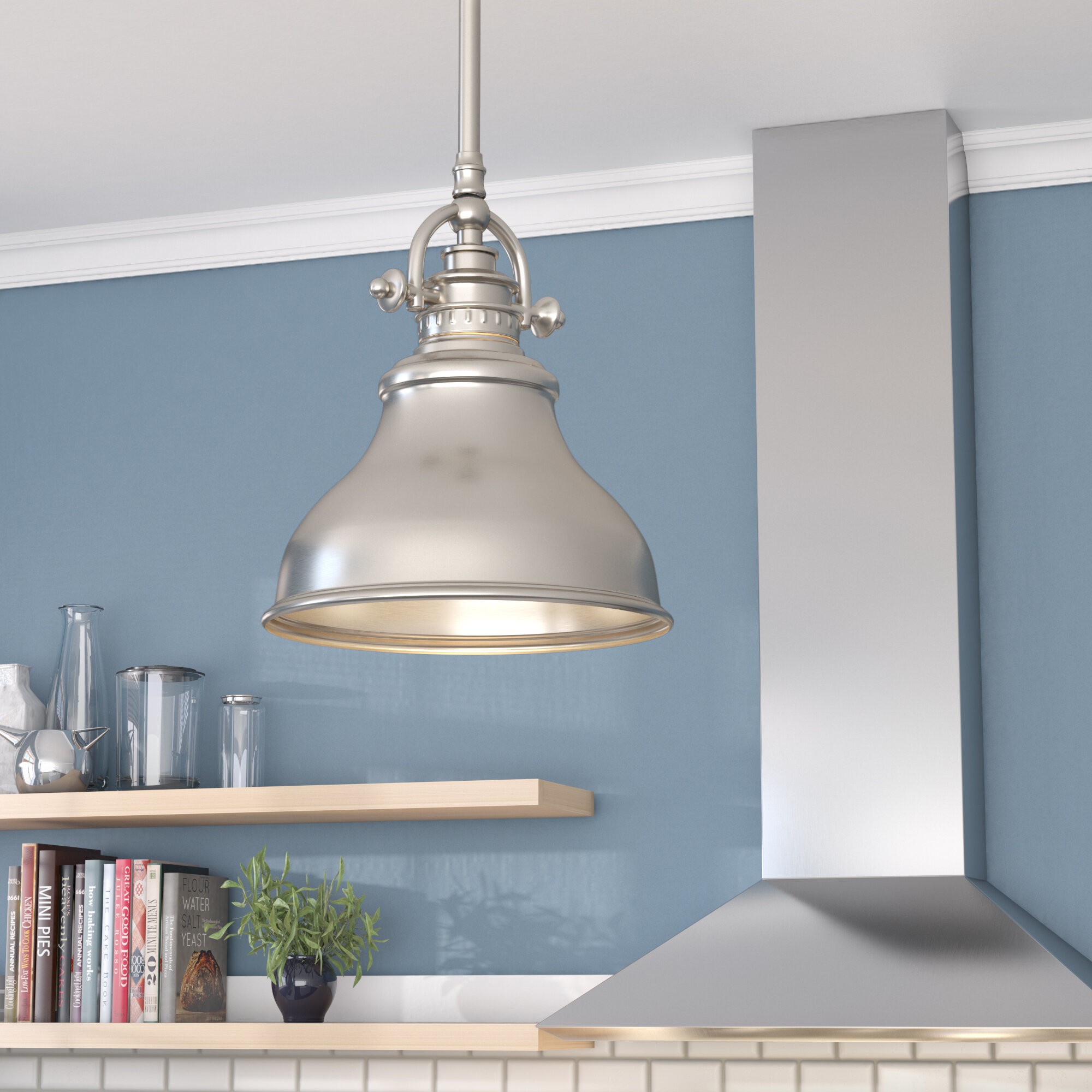 Stainless Steel Nautical Mini Pendant Light
With an aquatic vibe and an appearance as if taken straight from a naval vessel, this minimalistic pendant light in a miniature size is sure to fit great in an open kitchen or a spacious dining room. The lamp is crafted entirely out of stainless steel with a brushed nickel finish, which not only makes the lamp extra-durable but also gives it a nice, contemporary touch. The insides of the shade are layered with white paint, which nicely reflects the light and provides even more illumination.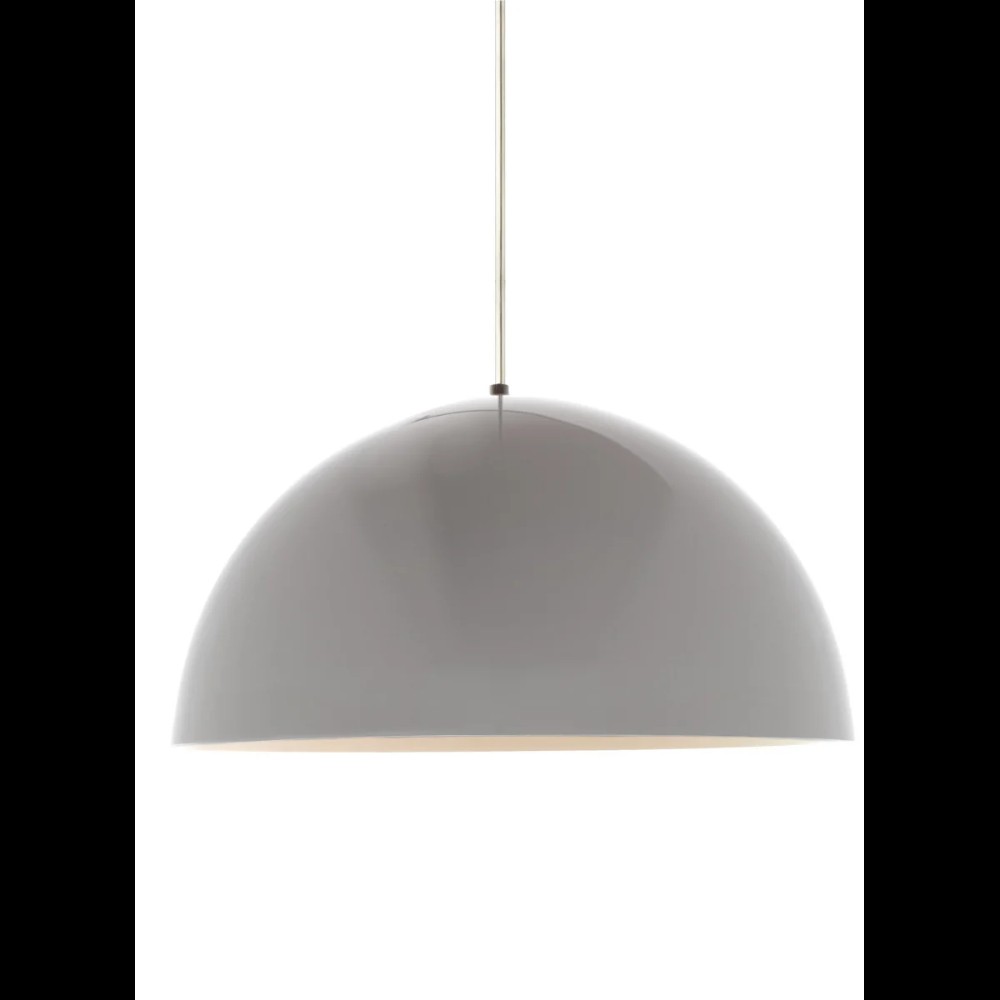 Small Compact Inverted Pendant Light
This miniature pendant light will ensure that any room in your household stays brightly lit despite its small dimensions. The petite size of the lamp makes it space-efficient and perfect for small living spaces, while its inverted lampshade gives the piece a contemporary style with a small retro touch. The lamp is made out of metal, which reduces the amount of required maintenance to the bare minimum, and is meant to be used in indoor areas.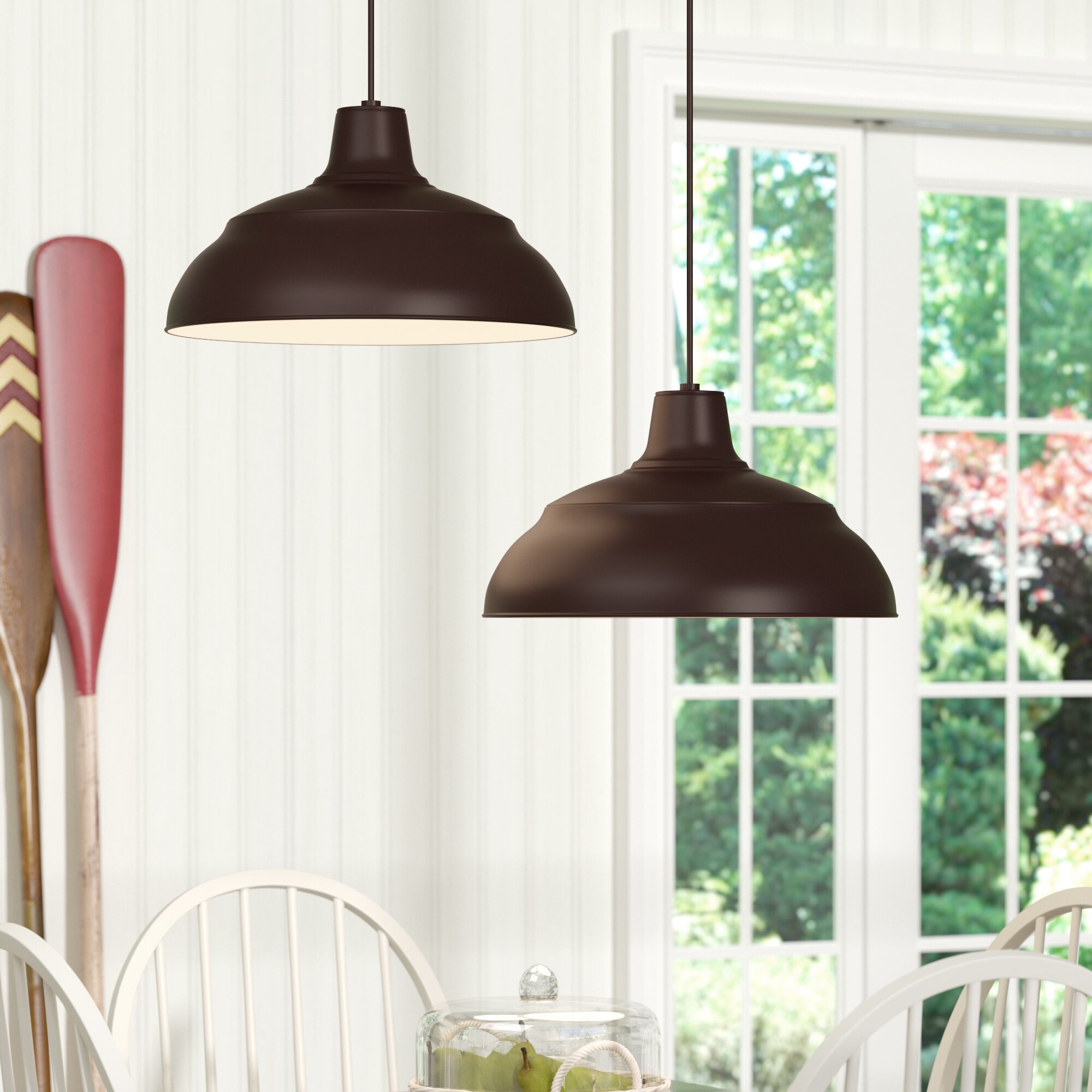 Vintage Pendant Light With Dim Control
This elegant pendant light could be just the finishing piece you are searching for to a vintage-inspired living room or an old-fashioned kitchen. The lamp is made in a nautical style and is crafted entirely out of metal, which not only makes it sturdy and durable but also provides it with an eclectic touch. The lampshade of the lamp is bowl-shaped and has an adjustable downrod, fitted with a matching ceiling mount to be placed above.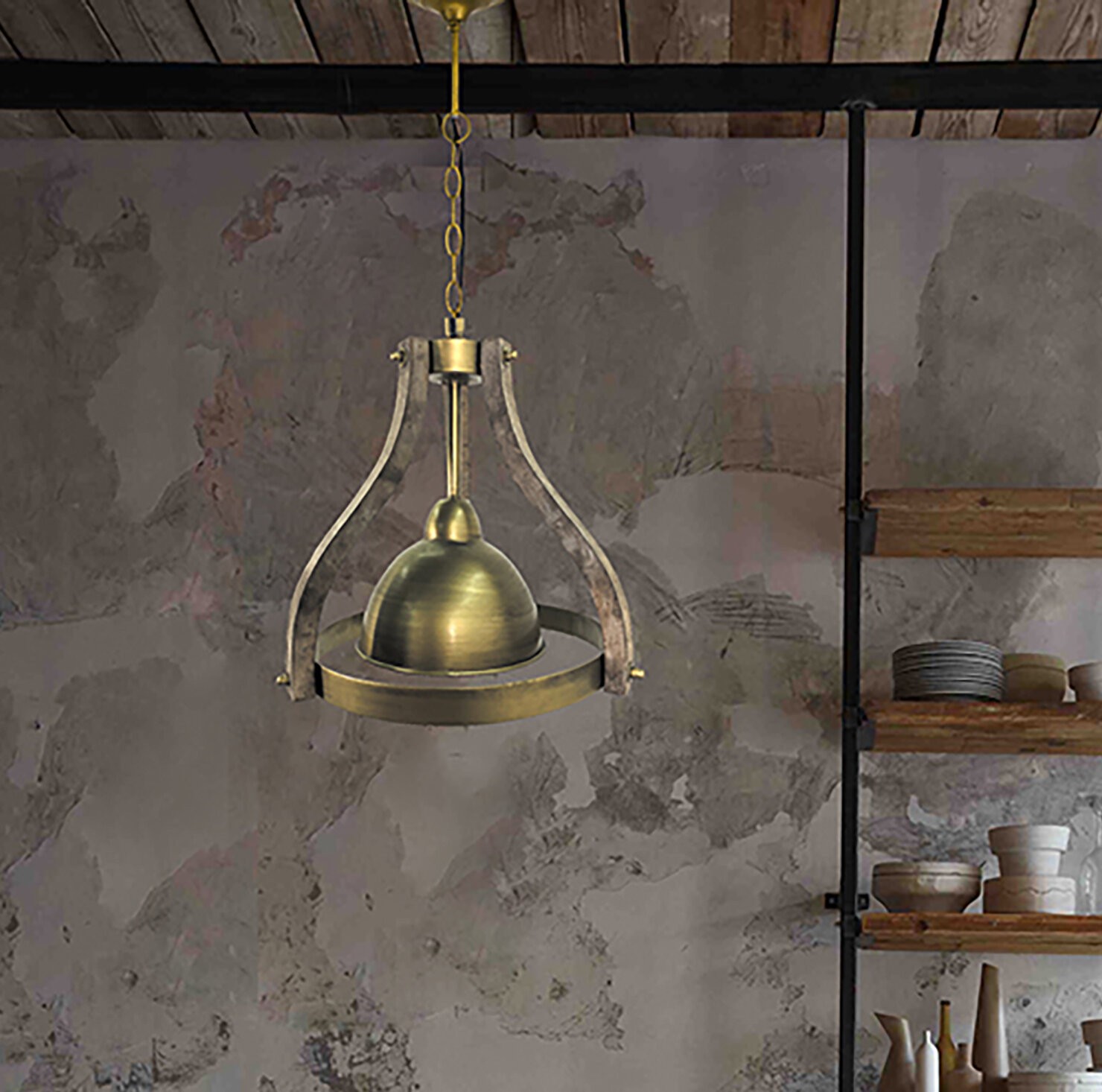 Hessmer 1 - Light Single Dome Pendant
Made of wood and antique brass, this lamp is a stunning addition to any room in the house. Its dimmable features and adjustable height combine modern edge with outward rustic charm making it a beautiful focal point. Enjoy this lamp even more knowing it has been sustainably sourced and made with recycled materials.

Knoxville 1-Light Single Bell Pendant
Perfect for a modern interior, this sleek pendant light boasts dimmable features and height adjustment, making it a stunning and practical addition to your home. The 10.5" diameter shade is available in five different metallic finishes, from sleek chrome to on-trend natural brass.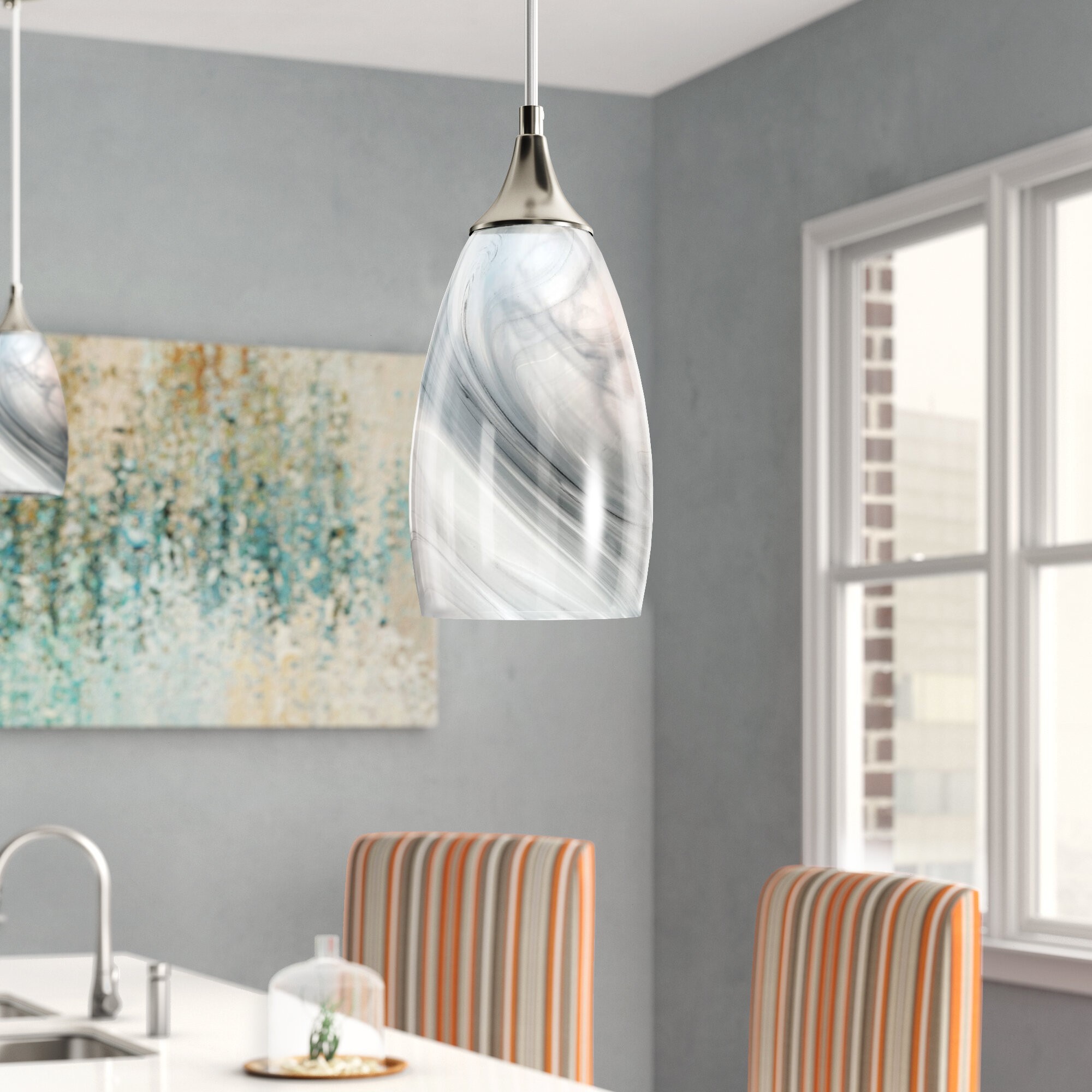 Moris 1 - Light Single Bell Pendant
Made using handcrafted techniques, no two lamps are the same and will be the focal point of any room. This contemporary piece will instantly become a beloved classic in your home and provides dimmable options and height management. It is available in two different fixture finishes and four lamp shade colors, so you are sure to find the perfect combination for your home.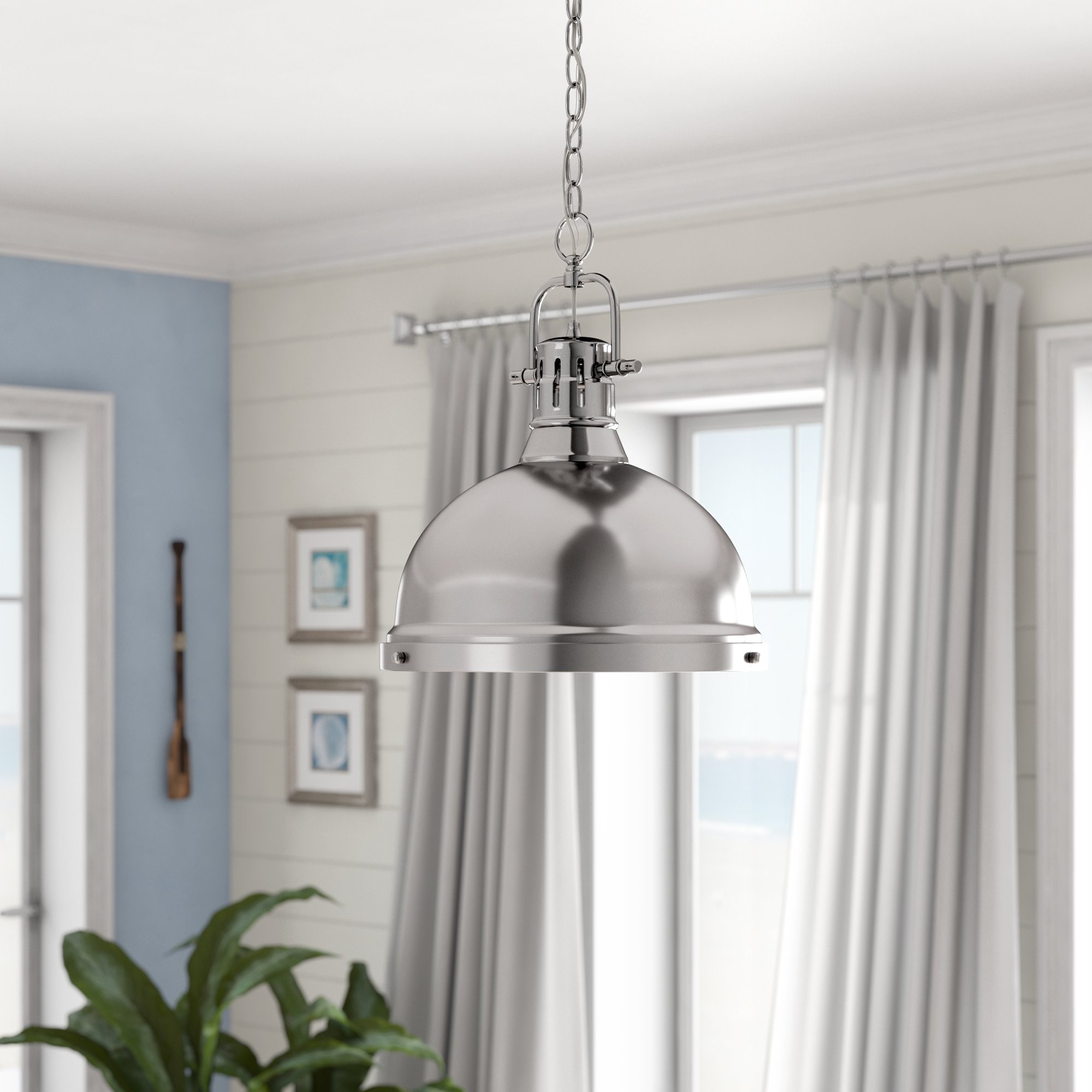 Bodalla 1 - Light Single Dome Pendant
Inspired by nautical design, this pendant lamp features dimmable options and height adjustments, allowing you to place this piece in a variety of locations around your home. Available in over 30 color options, this 13.75'' shade can be hung at a maximum height of 89.87'' to make a dramatic statement in your home.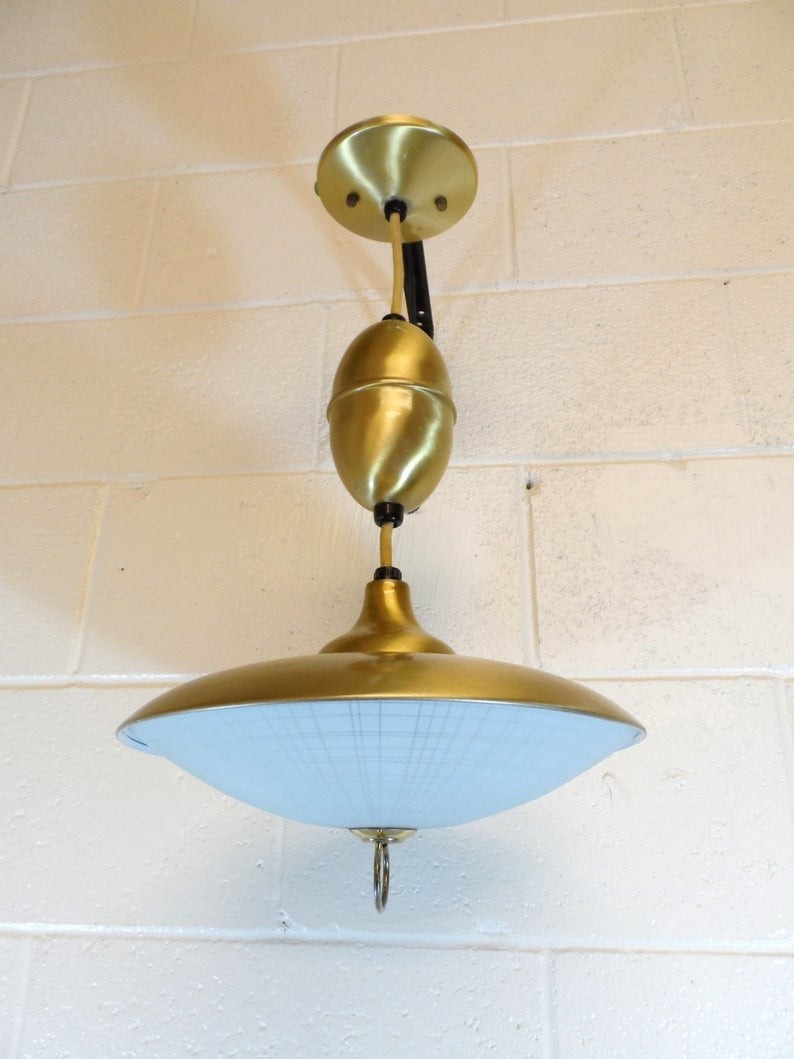 Mid century modern pull down reel light
An attention-grabbing retro pulled down hanging lamp resembling a flying saucer. An upper part of a spaceship-lampshade, an egg-like stem and a round mount are of gold-finished metal. A bottom part of this 'UFO vehicle' is of bluish glass.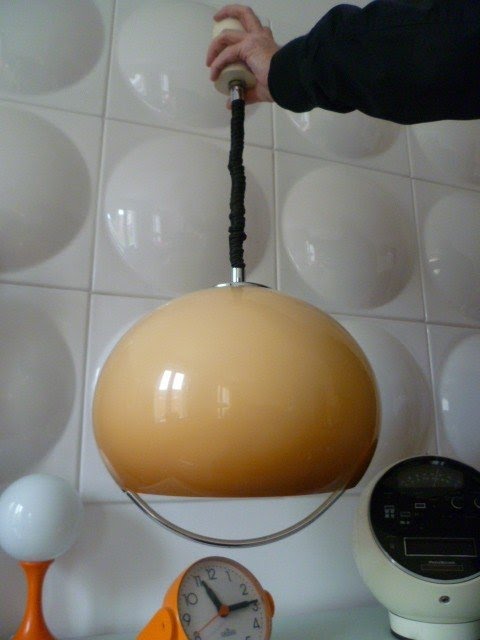 Large Retro Vintage 60s 70s Guzzini Rise Fall Pulldown Pull Down Light Lamp
The 70's are back! This Guzzini Rise & Fall Pulldown Light Lamp constitutes a great funky accent in one's interior. Combined with this type of wall tiles, it looks absolutely gorgeous.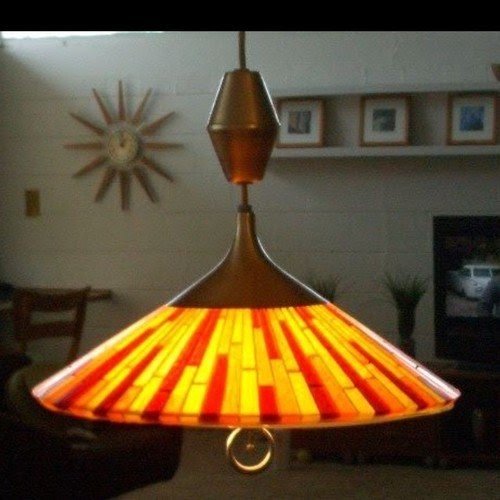 Vintage 1960s Lucite Lamp Moe Vibrant Fiesta Rare Mid Century Ceiling Pull Down
Ceiling mounted pull down lamp with a very nice, multi-color shade inspired by 1960s. Solid ceiling mounting rod is made of materials that are resistant to wear. This lamp assures illumination and attractive appearance.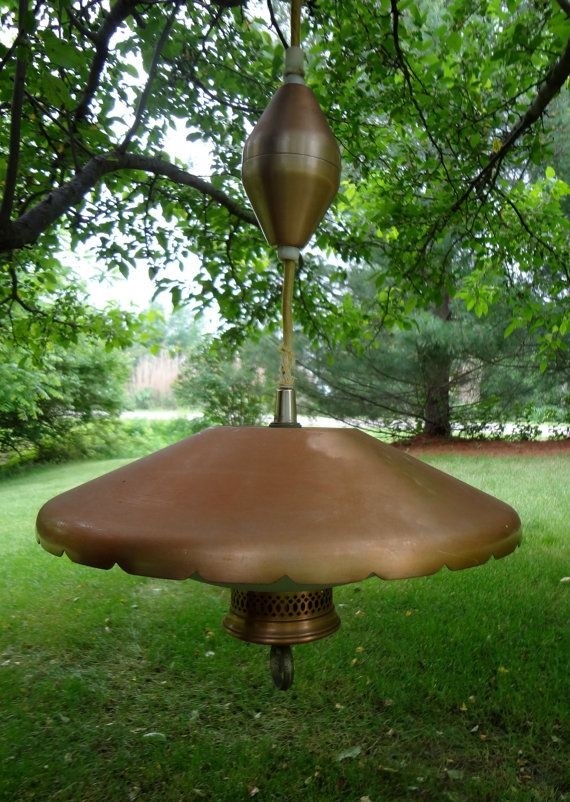 Vintage mid century copper pull down
Designed in mid-century style and made of copper, this pull down lamp fixture is a nice way to bring some ambient light on your deck or patio. The lamp has a convenient handle on the bottom, so you can adjust its height as you please.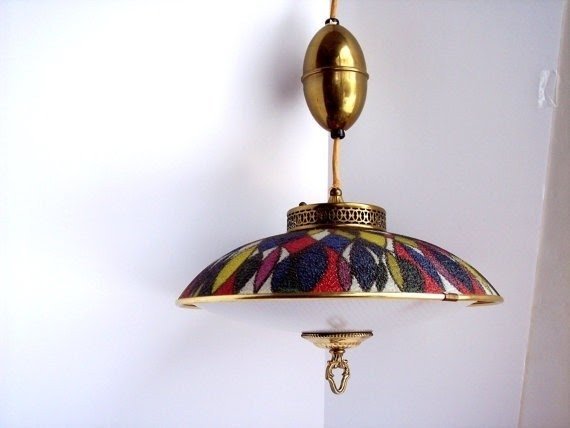 Vintage pull down space age atomic
A decorative addition for accentuating contemporary decor, this vintage lamp is quite functional, especially, thanks to its pull-down design that allows you to easily adjust its height. The lamp was made in the 1960s and measures approx. 17" inches in diameter.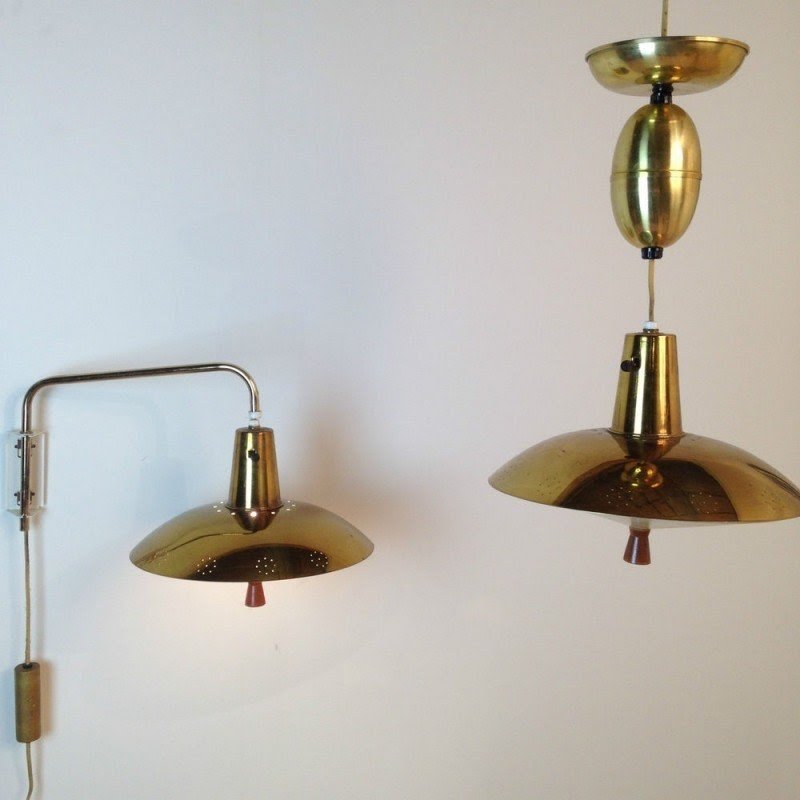 Gerald Thurston Lightolier Swing Sconce Lamp And Hanging Pull Down Vintage Model
Wall lamp fitted with swing arm. Frame is made of metal with gold finish. Great addition for the bedroom, living room and others interiors according to taste and need.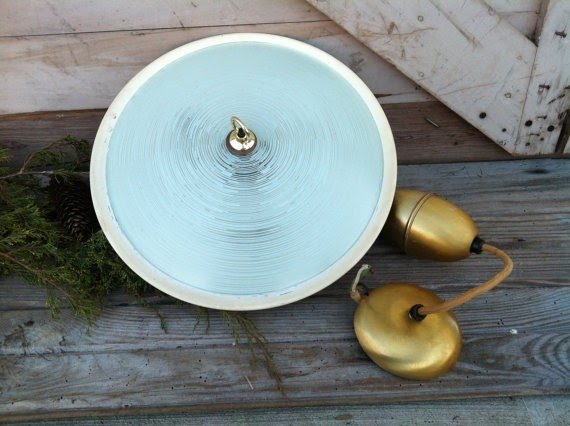 Mid century pull down lamp atomic gold
The unique shape and design of this mid-range pull down lamp is a great touch for any interior design. Ancient design and a beautiful blue color shade combined with a gold mount charms. The perfect solution for the living room.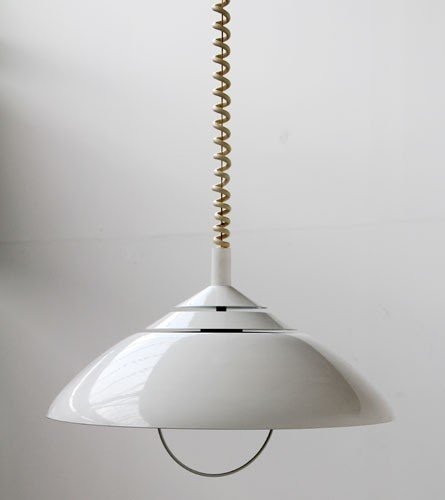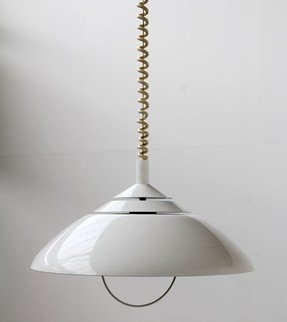 As they said - beauty lies in simplicity. This minimalistic hanging lamp inspired of seventies style is a proof that this sentence is true. Sectional lampshade is made of lacquered ceramic and hanged on spiral chain.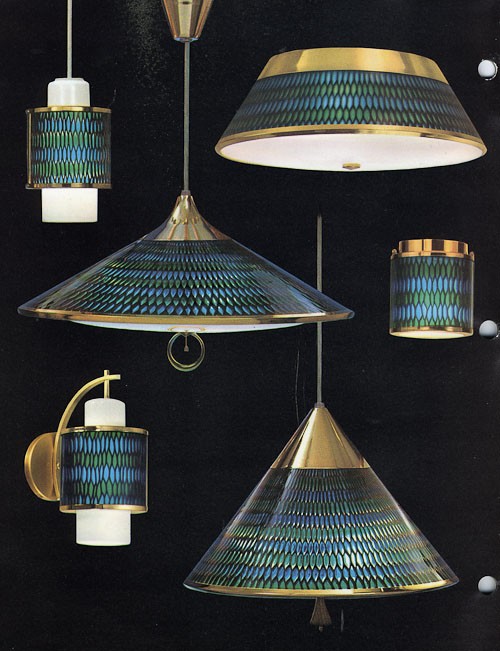 This impressive set of lamps is an original combination of functionality, unusual design and beautiful colors. The whole combines golden frames and handles with beautiful blue, green and black patterns.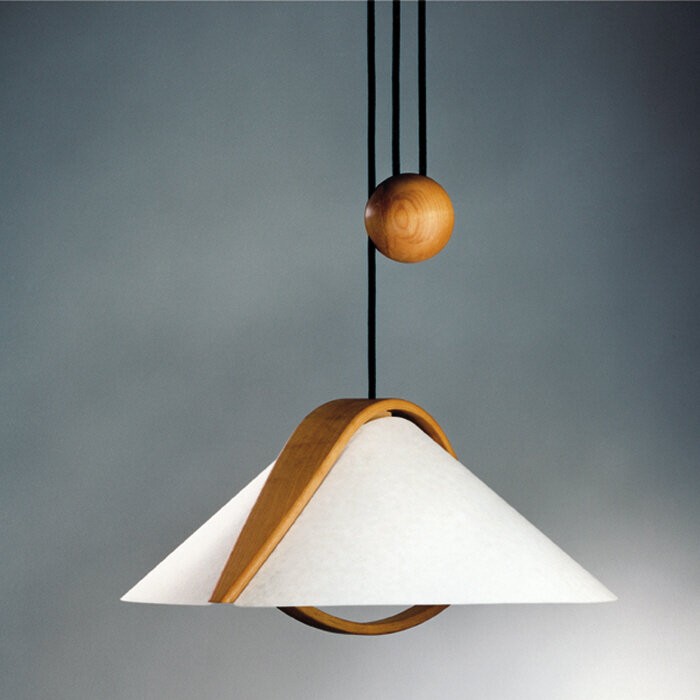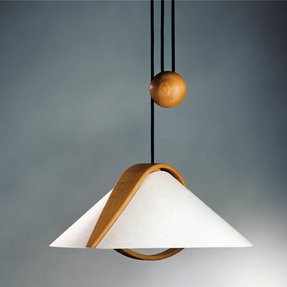 Contemporary pull-down lamp in Asia influenced style. Translucent polycarbonate shade resembles premium parchment paper. Elegant wood canopy, handcrafted from alder wood, contributes to simple but lovable design.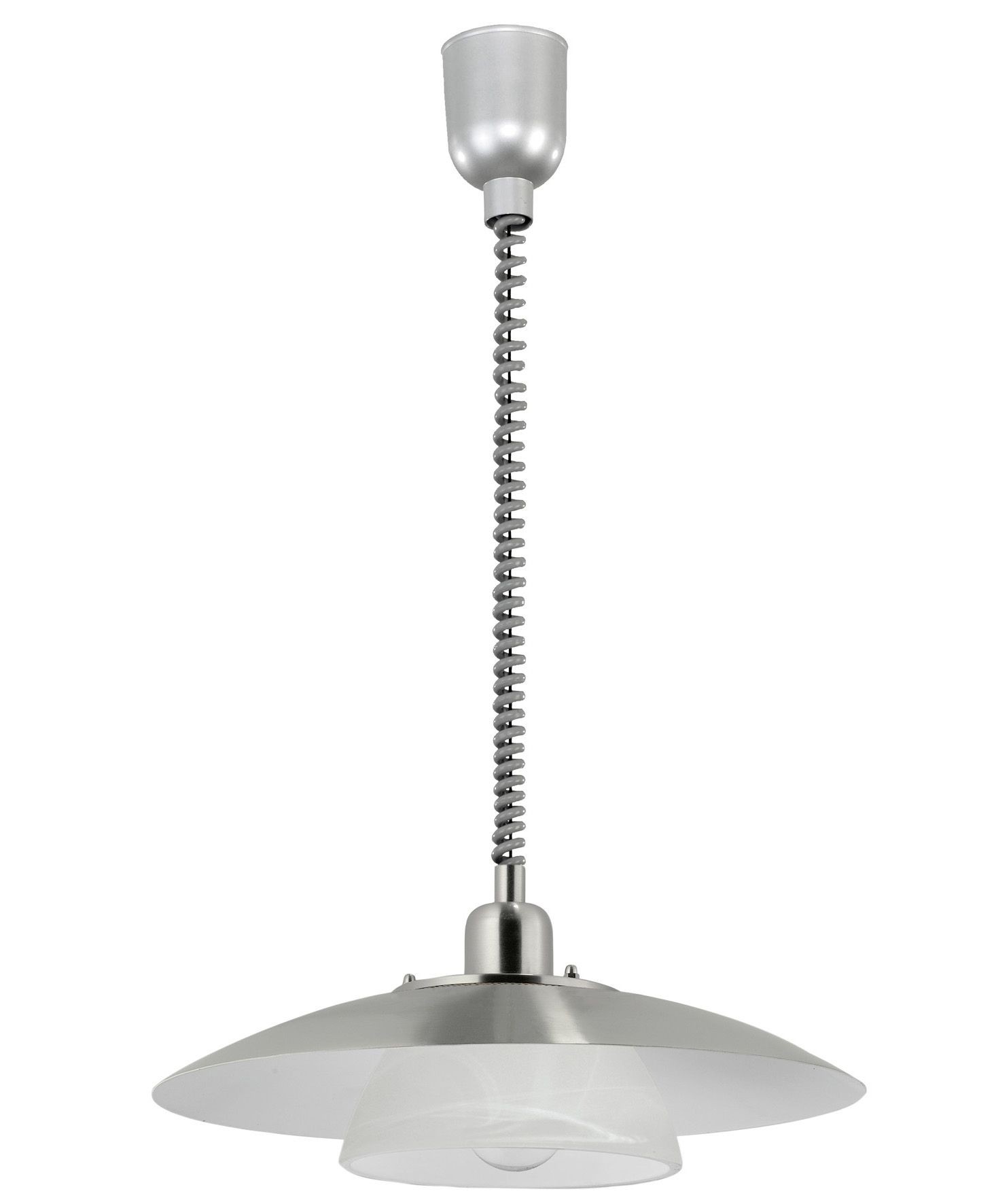 Pull down lamp in neutral form. Lampshade is made of metal and glass. Suitable for living room, kitchen, dining room and others interiors according to taste and need.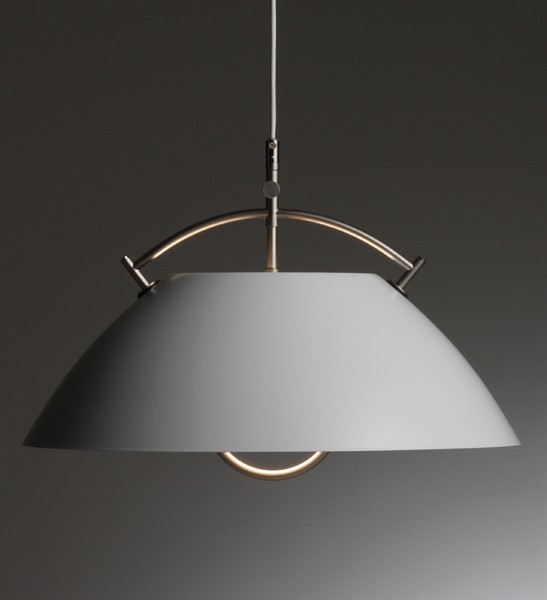 This light and very impressive in its simplicity, the lamp is an attractive detail ideal for living room, dining room or kitchen. Beautiful white lampshade with metal clasp presents stylish and neat.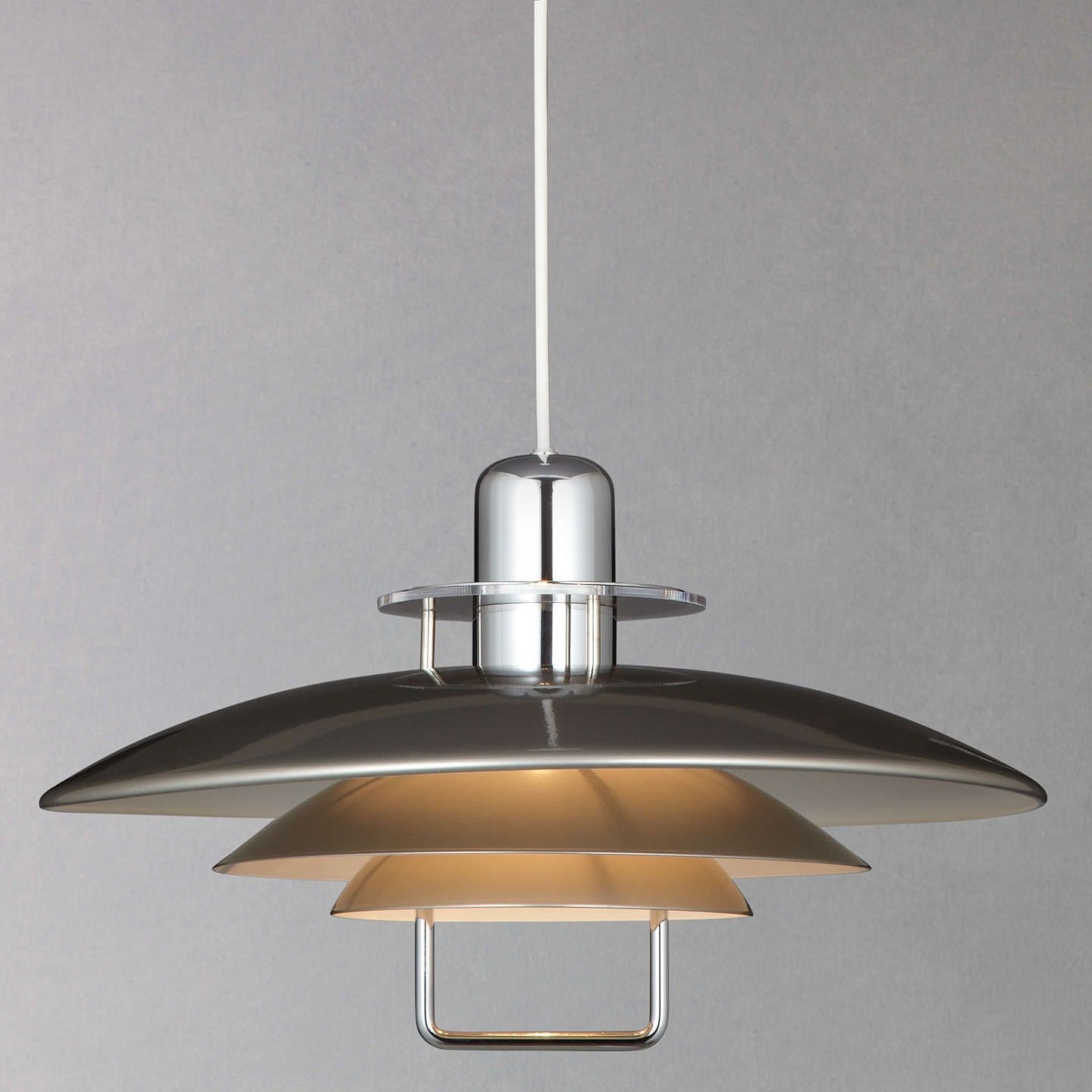 A modern take on a contemporary pull-down ceiling lamp made out of chromed aluminium with a shiny polish and a glossy finish. The handle on the bottom of the lamp allows adjusting the height of it, which provides a handy detail.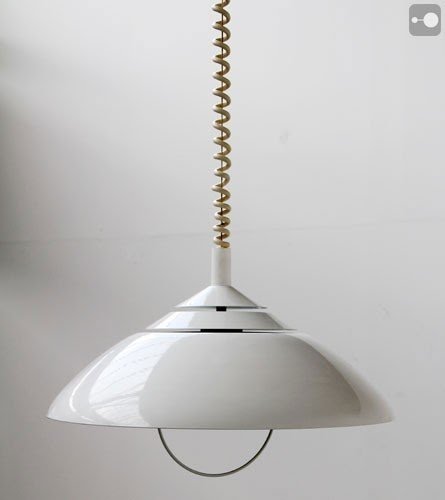 Retro Ceiling Light, 1970s, 3 tier Pull Down Lamp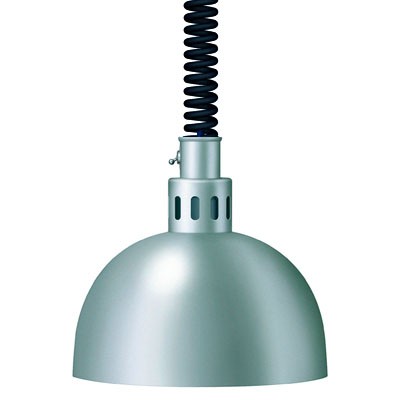 Pull down lamp in neutral form. Lampshade is made of metal and gives warm tone of light. Application in all kinds of interiors as needed.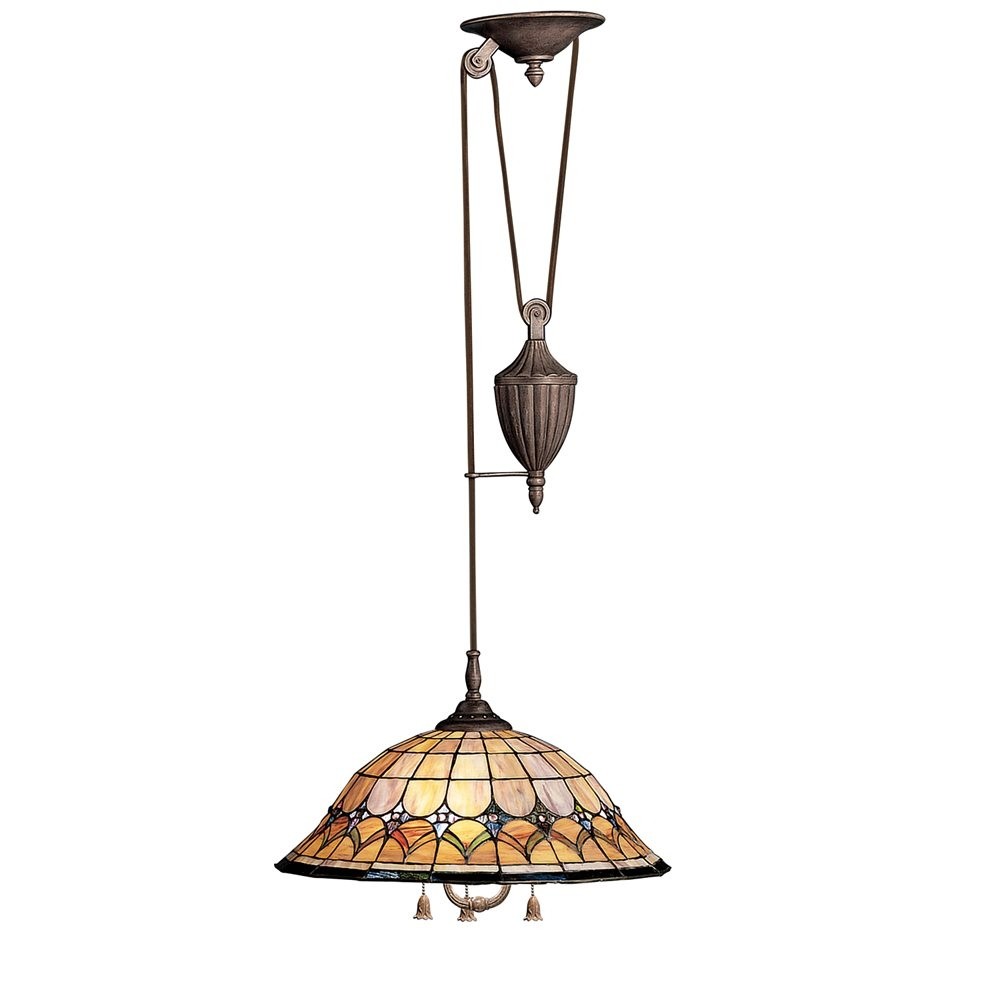 Kichler 65168 Tiffany Artaxerxes Pull-Down Hanging Lamp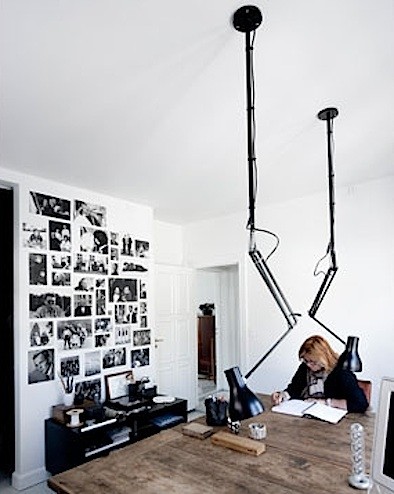 Pull down lamp in industrial style. It is mounted on adjustable arm. Frame and lampshade are made of metal. Suitable for residential and commercial premises. Simple form and functional design for each place as needed.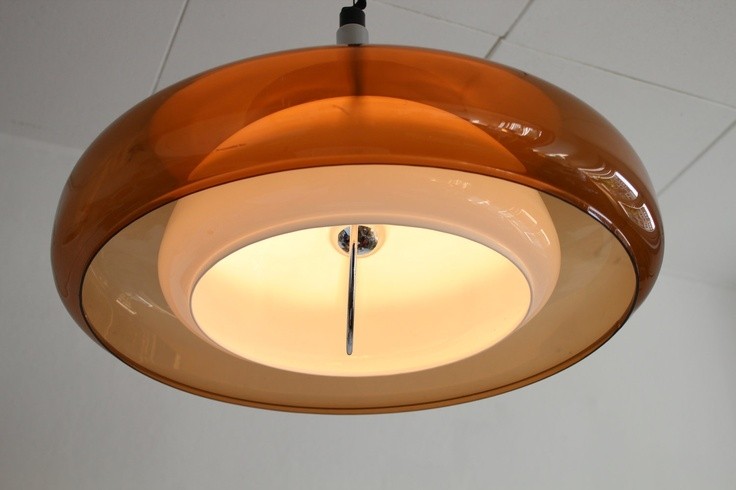 Vintage pull down pendant lamp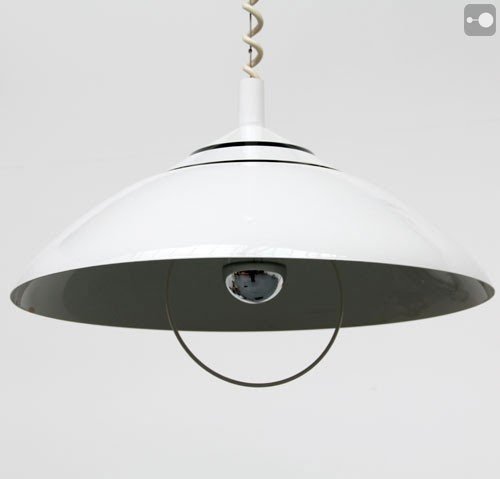 Retro design for a 1970s retro pull down ceiling light in a vintage style, made out of white-painted aluminum with a chromed, high polish shiny finish and a handle around the light, which makes it easy to adjust the height.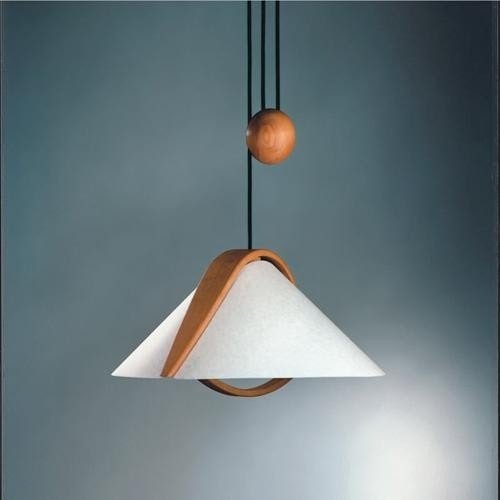 Pull down pendant lights | Shop for the Best Price Compare Deals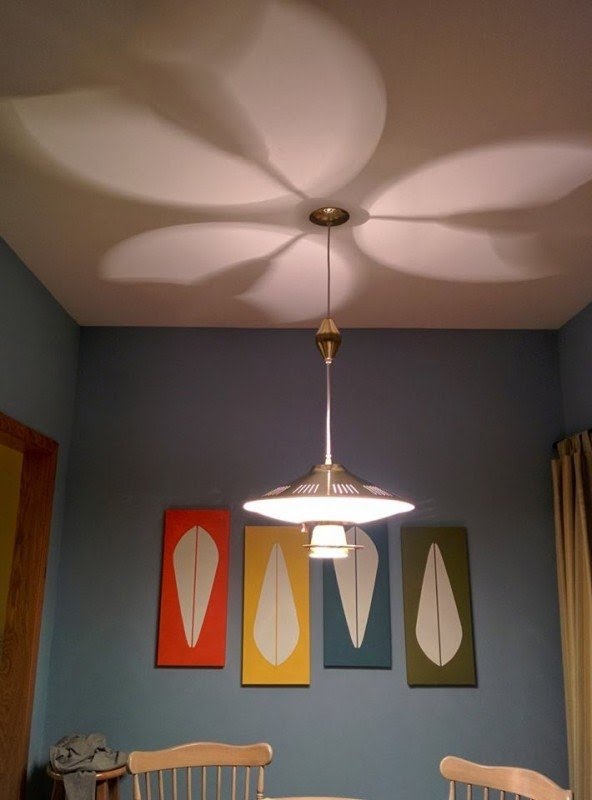 For those, who want a cool UFO lamp shining down on them, should, definitely, check this pull-down lamp. The metal lamp works smoothly, and has a convenient handle, allowing you to easily adjust the lamp's height according to your needs.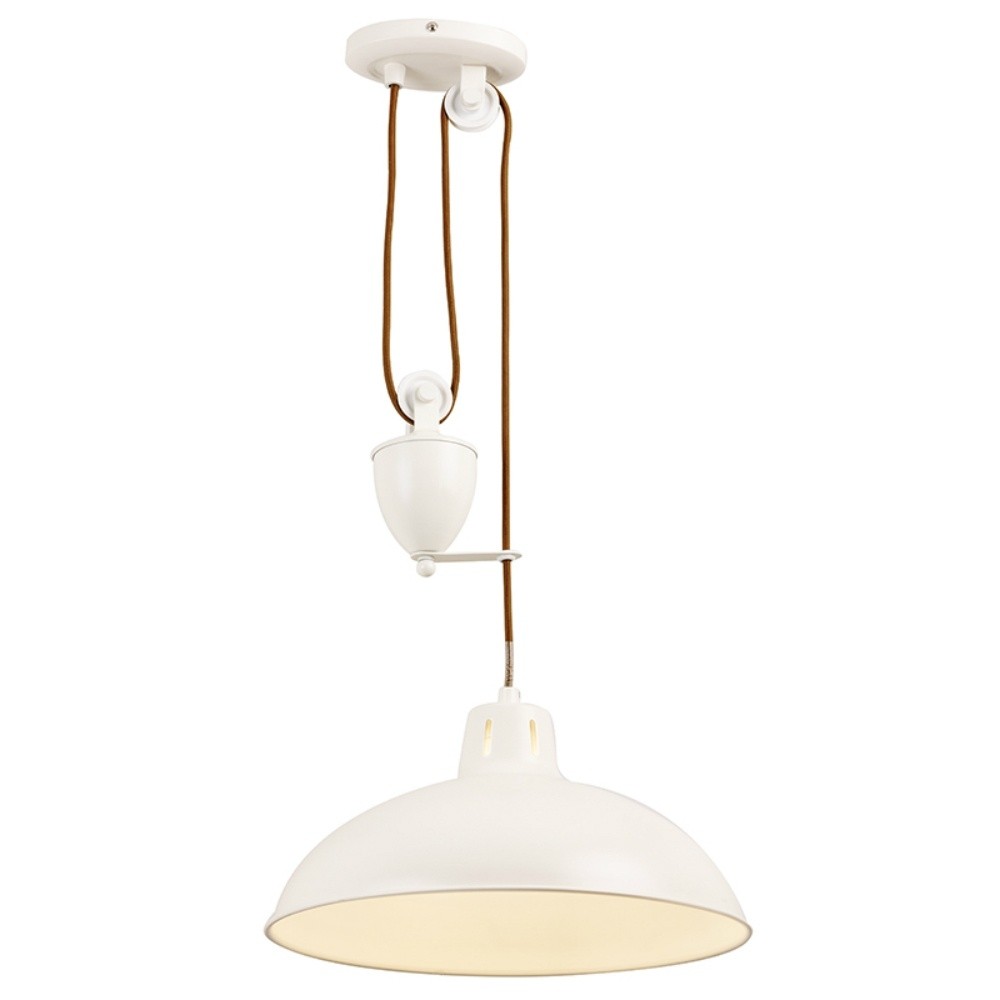 Pull Down Light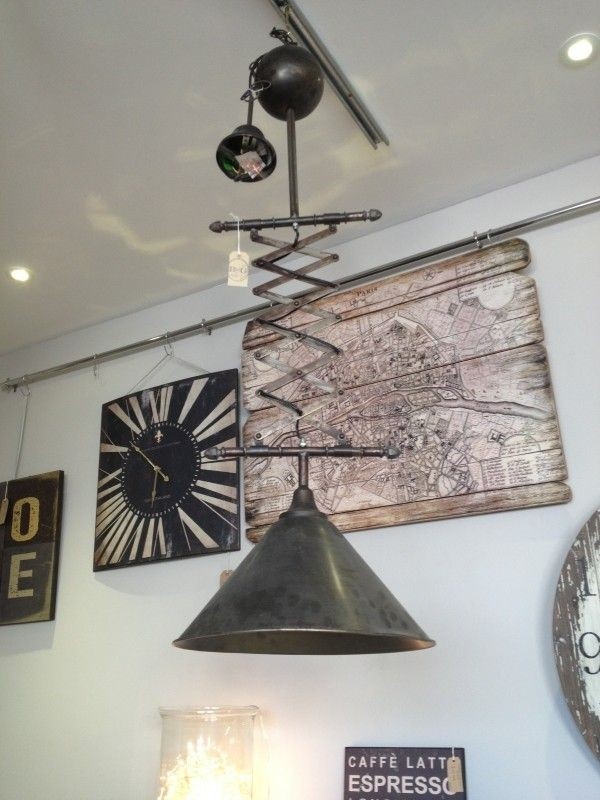 Thanks to its functional solutions, you can easily regulate the lamp's height according to your needs. The lamp is durable and nice to look at, crafted of quality metal, along with its zigzag design, ball fixture, and conical shade.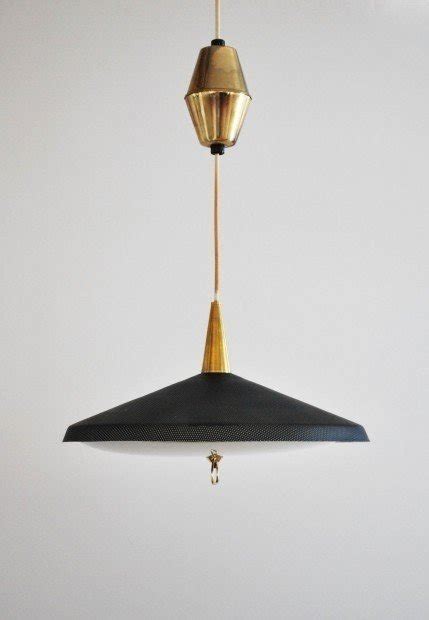 ELK Lighting Farmhouse 1-Light Pull-Down Pendant Ceiling Lamp in Antique Brass -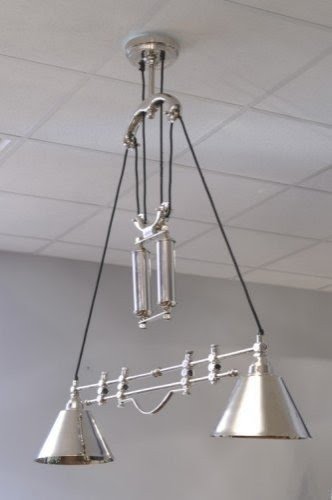 An interesting industrial style ceiling lamp crafted of brushed metal. It's equipped with a pulley so can be pulled down or up. It's built of a round backplate, weights, 2 horizontal bars with a C-shaped grip and 2 conical lampshades.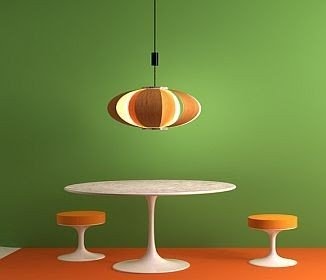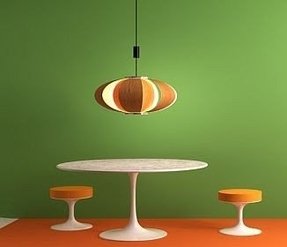 Designed in mid-century style, this oval dining table with 2 stools and 1 pull down lamp, can be a great move to make your kitchen snazzier and tastier. The lamp has a unique, brown shade, and it can be adjusted in terms of its height.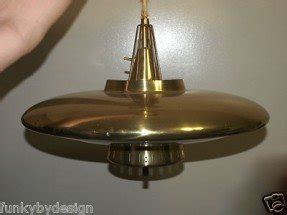 A beautiful combination of mid-century style and modern solutions, this Danish lamp is as functional as eye-catchy. Its pull-down design allows you to adjust the height of the lamp, setting the light beam according to your needs.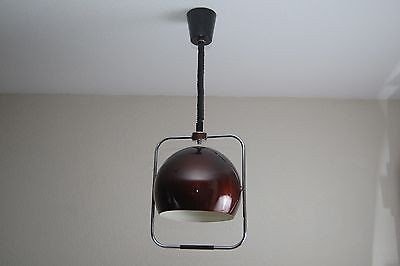 Modernist Pull Down Hanging Lamp from Gepo Eames Panton Guzinni Era  | eBay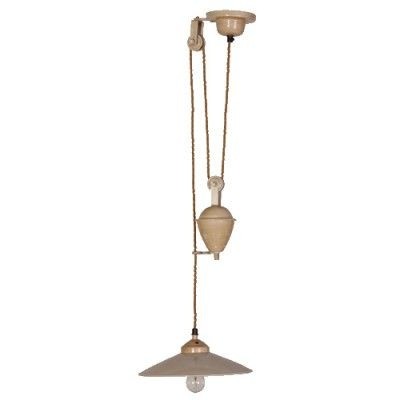 Created of quality ceramic in a cream finish, this pull-down lamp can be easily adjusted to your needs. Its functional design and eye-catchy silhouette make the lamp as practical as beautiful.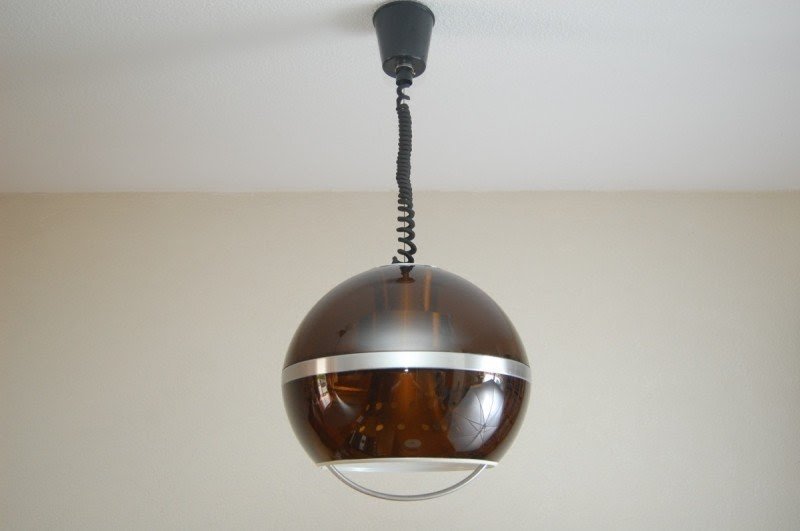 This vintage pull-down Lamp from Dijkstra is pretty great. Not sure I have the space-aged house for it. But if I did...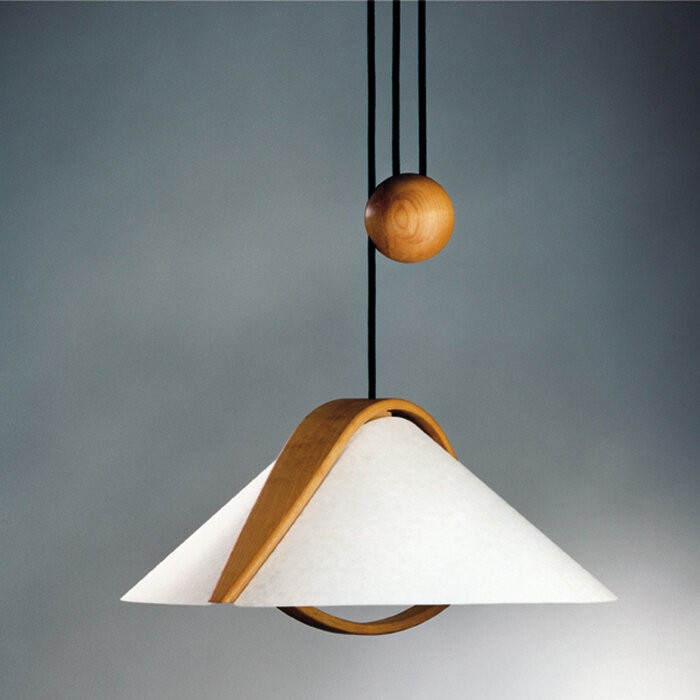 Hanging Lamp Pull Down 1950 Black and by cabinintheheartland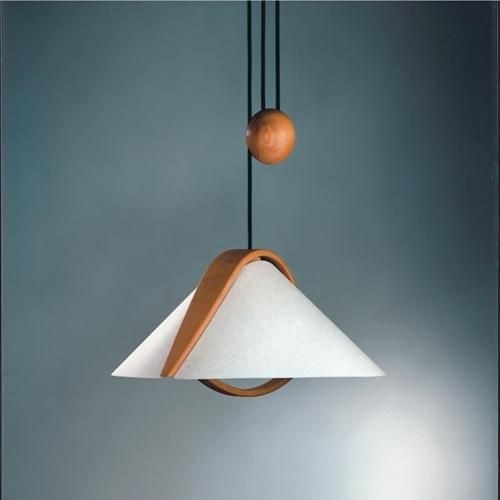 Bradley & Hubbard Mission Style Pull Down Lamp. At Hunt & Gather: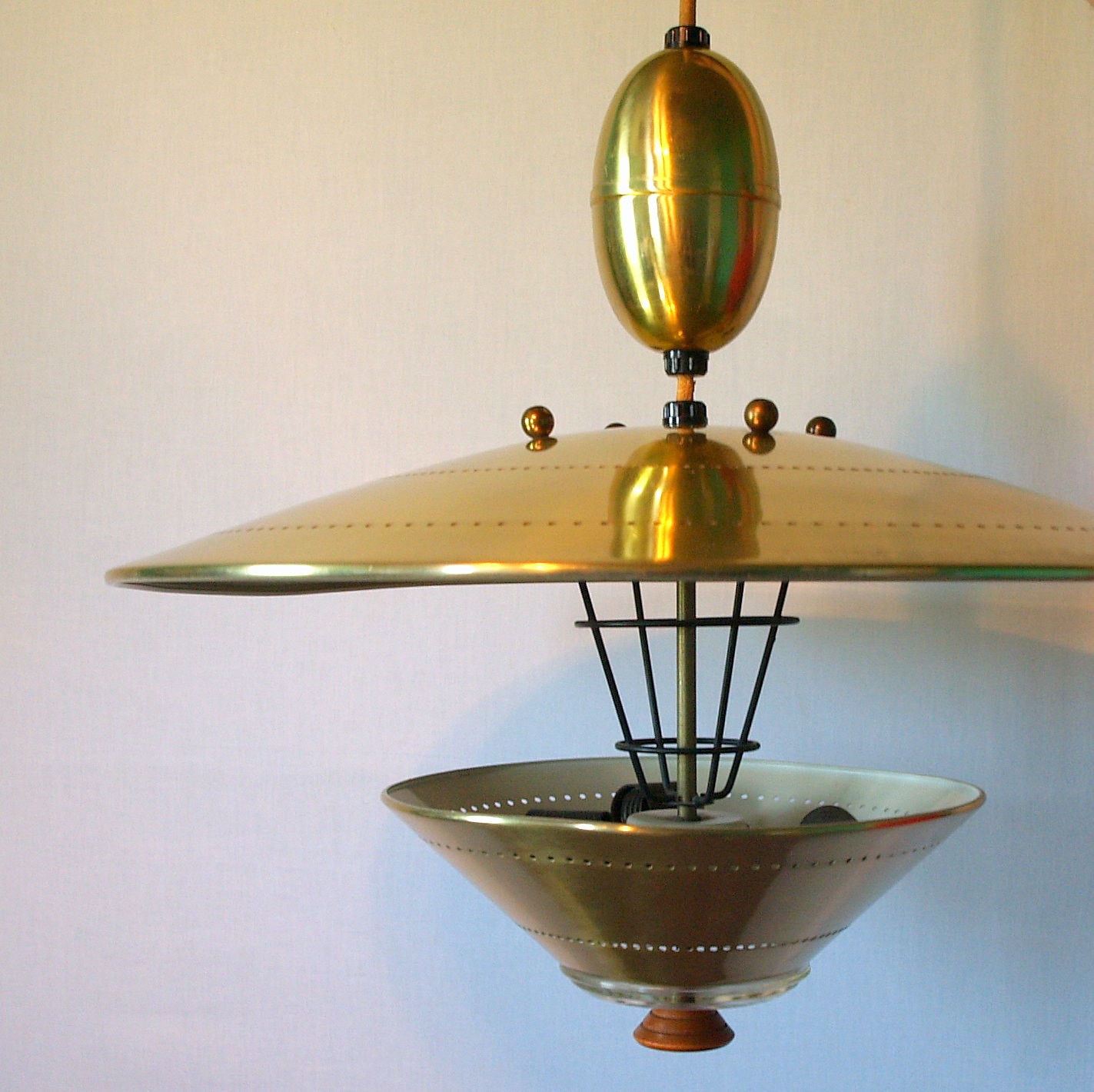 Mom used to have this pull down lamp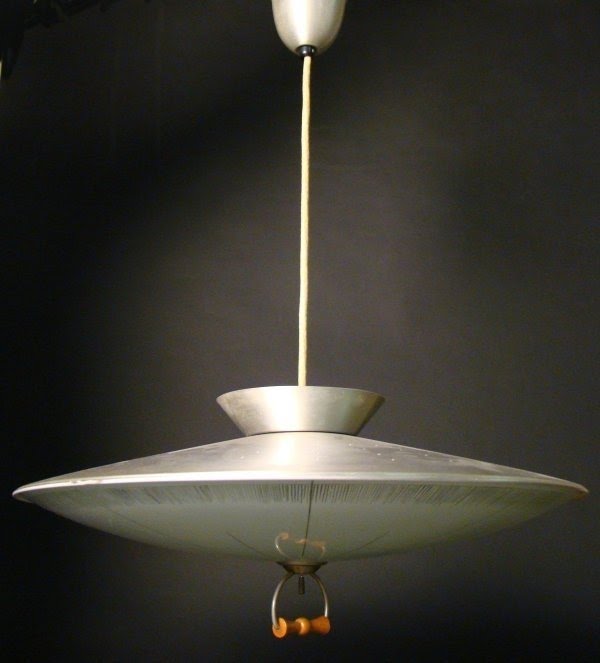 339: 1950s brushed aluminum pull down light fixture, 9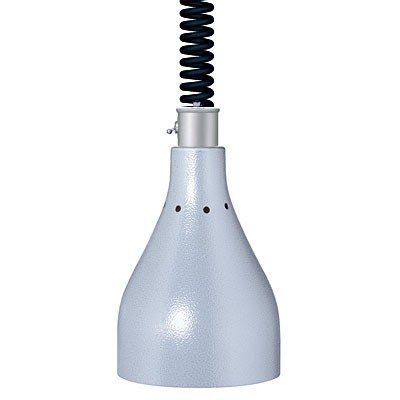 Specify Color or Finish: Select an Option Bright Nickel Polished Brass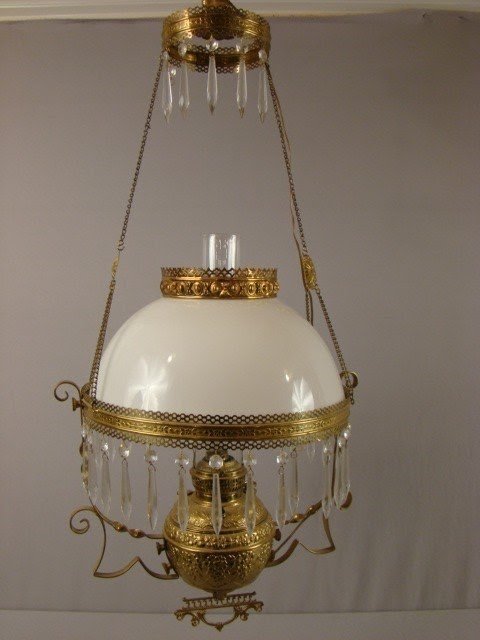 164: Brass kitchen pull down oil lamp with milk glass s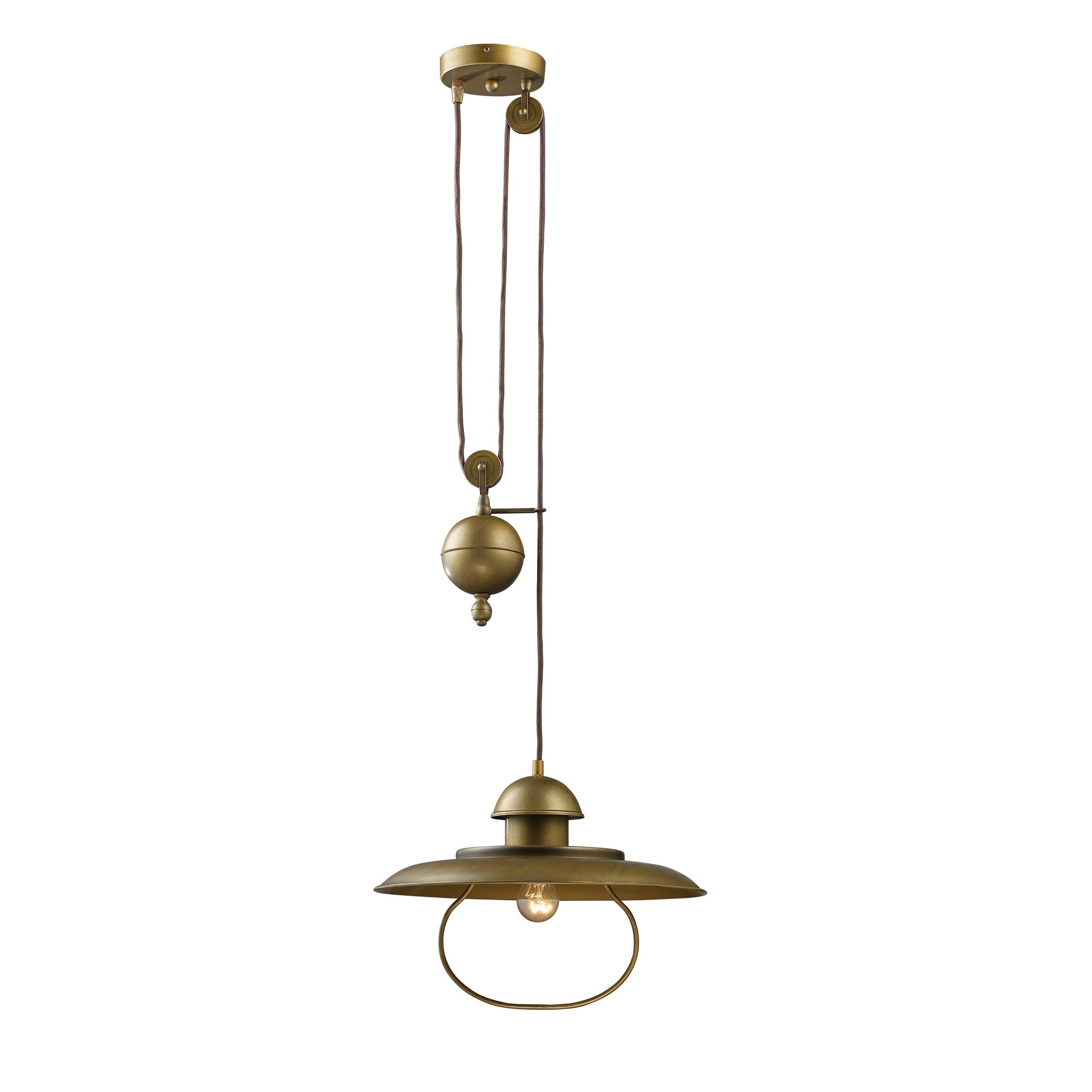 Created back in 20th-century, this lovely lamp represents a farmhouse style combined with functional design. It is height adjustable, covered in an antique brass finish, and requires one 60 W or 13 W CFL medium bulb.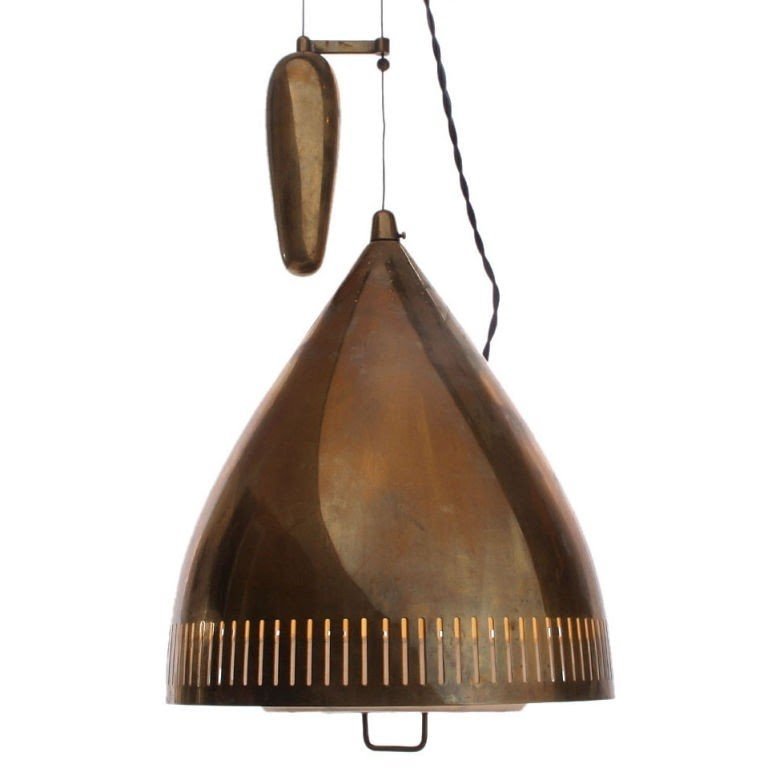 Paavo Tynell, Bullet Counterweight Fixture for Taito of Finland, 1950s.