Tiffany Style Stained Glass Hand Crafted Parrot Bird Hanging Lamp Chandelier
Ideal to add glamour and chic to one's interior, this lovely bird lamp represents the characteristic Tiffany style. Handmade, stained glass construction depicts a vibrant parrot. During the evenings, it effulges with a fullness of colours.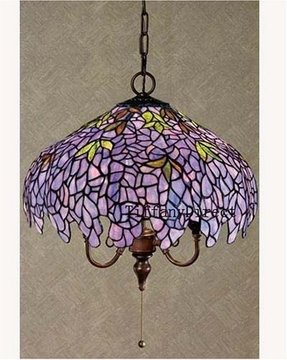 Delightful Tiffany style pendant lamp with inverted heart shade composed of stained glass pieces. Purple dominates here, and some light green elements have been added for visual interest. Beautiful ceiling fixture.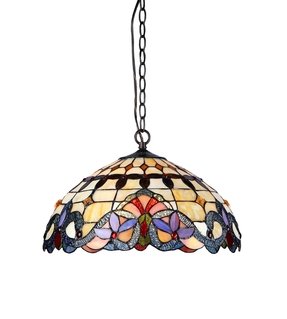 Stained Cut Glass Pendant Hanging Ceiling Light Fixture Tiffany ...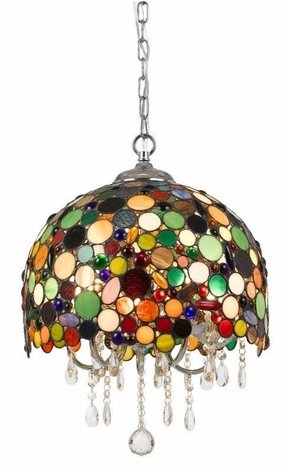 Stained Glass With Crystals Pendant Light Fixture Chandelier Hanging ...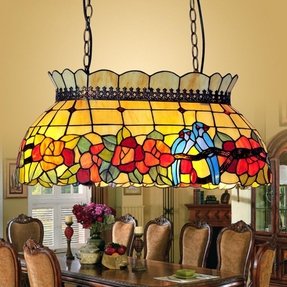 Byb Tiffany Style Stained Glass Hanging Pendant Ceiling Lamp Chandelier 4 Lights
This large and colorful glass hanging pendant lamp would define your interior character. It will attract a lot of attention and look fancy. Made of high-quality glass and attached with a high-quality steel chain.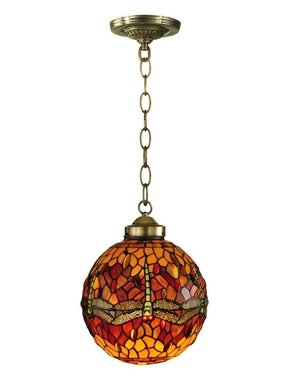 Pendant lamp with round shade finished with stained glass. It is mounted on adjustable chain. Frame is made of metal. Elegant style for living room, bedroom, dining room and more.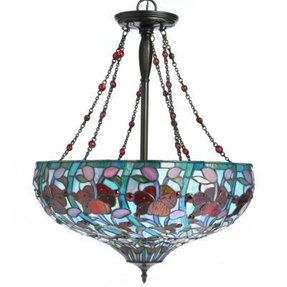 Florence Stained Glass Hanging Pendant Lamp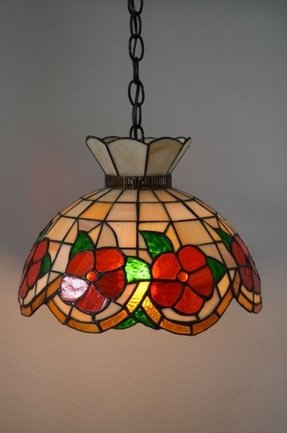 1970 Slag Glass Shade Hanging Pendant Lamp by shopvintageeclectics, $30.00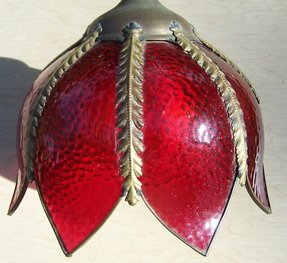 A beautiful lamp shade that enhances interiors with its exquisite tulip shape. Designed of red stained glass and embedded in a brass-finished metal frame, the shade is wall-mounted and creates a truly magical ambiance.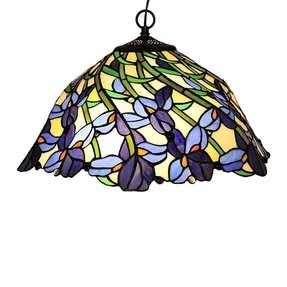 Stunning Tiffany style stained glass hanging pendant lamp, laboriously soldered together by hand from many individual colored glass particles.
The lamp has a high-quality glass with violet, cobalt and sky-blue shades of flowers - irises and others.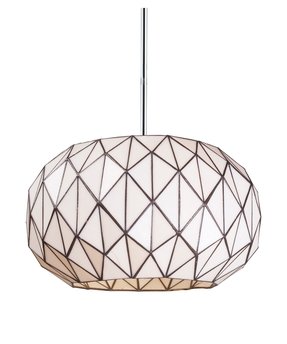 With its smooth, geometrical shape, this pendant lamp can be a perrfect proposition for a refined contemporary interior. Finished in stained glass, the lighting fixture contains three lights.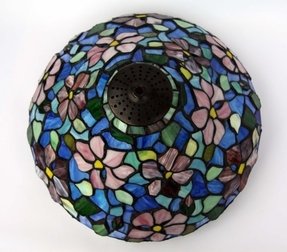 Hanging Pendant Lamp Stained Art Glass Light by cherryREVOLVER
A chic hanging lamp having a lampshade like an upturned umbrella with a wavy edge. It's of stained glass tiles in light warm hues arranged in geometric motifs. A bottom cap with a finial, a bulbed holder and 4 decorative rods are of metal in bronze.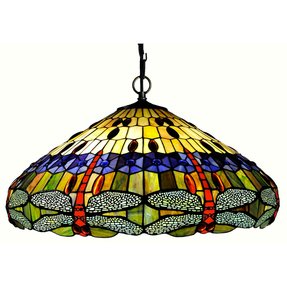 Dragonfly Tiffany Style Stained Glass Hanging Pendant Lamp Jewels
With the immensely detailed and well finished stained glass of its structure and a stylish design this Tiffany pendant lamp will make for a perfect addition to your household, brighting it up with utmost charm.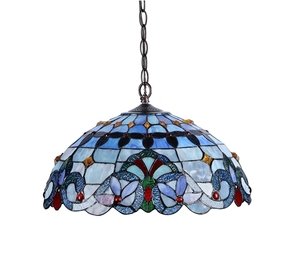 JPG?set_id=880000500F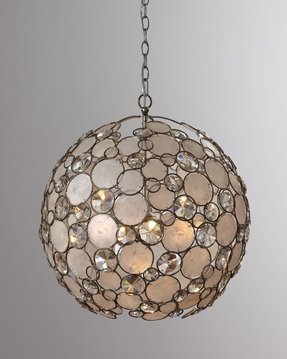 Elegant chandelier with round lampshade. Frame is made of metal and finished with decorative crystals. Suitable as main or additional source of light. Adds freshness and modernity to each place.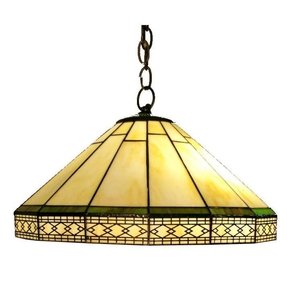 Roman 2 Light Hanging Pendant
This is a very elegant and extremely impressive hanging chandelier. It is made in the form of stained glass. It is decorative and colorful. Its appearance arouses your interest and curiosity. It is not only practical but also a decorative piece of equipment.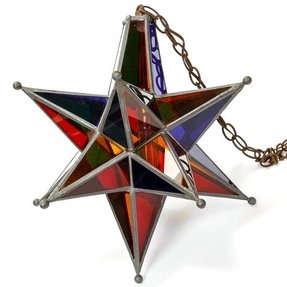 Art Deco hanging stained glass pendant lamp; geometric dimensional ...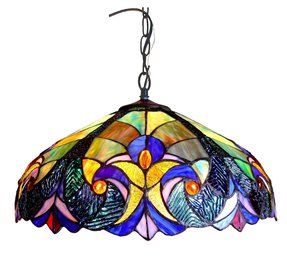 ... Tiffany Style Stained Glass Hanging Ceiling Pendant Light Fixture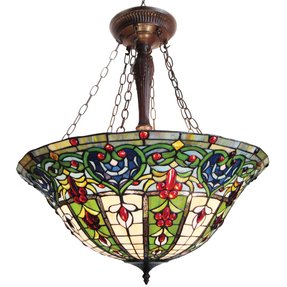 Functional and decorative hanging pendant lamp with stained glass construction. Its glass shade is finished in multiple colors that look attractive in the house, so the lamp provides light at night and decorates rooms at day.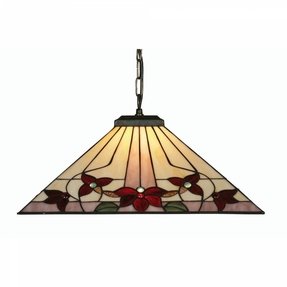 ... Lighting › Oaks Lighting Tiffany Camillo Stained Glass Pendant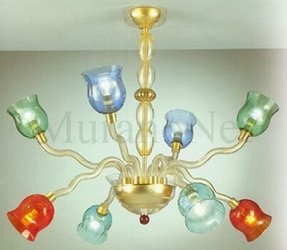 Multicolor Murano Venetian glass shades chandelier. Stained glass shades in red, bright teal, blue and ocean green surround the gold colored center enveloped in clear glass. Graceful form hints to art nouveau style.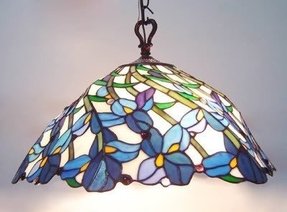 ... TIFFANY IRIS VIOLET FLOWERS FLORAL STAINED GLASS HANGING PENDANT LAMP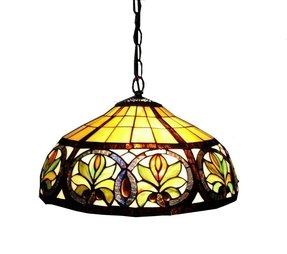 A charming hanging lamp with a domed lampshade of hand-cut stained glass tiles in prevalent vivid light colours with accents in greens and purples as well as floral motifs in a bottom part. Fixture - including a chain - is of bronze-finished metal.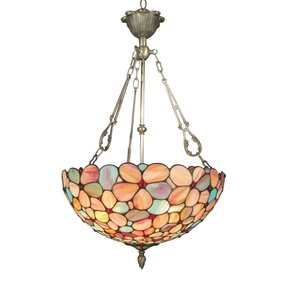 Go Victorian during your next front room remodelling - a Tiffany style lamp with bowl shade and colorful stained glass is an accessory you can't go wrong with when you want to introduce a large amount of opulence to your interior.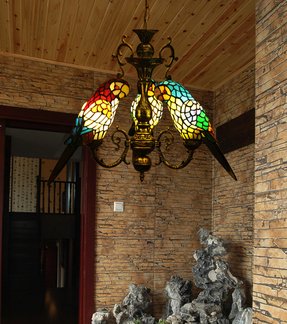 Tiffany Style Stained Glass Retro 3 Parrots Shades Hanging Pendant Lamp
You know exactly what is said about parrots - lovebirds. Today they are accompanied by a three-dimensional stained glass pendant lamp, colorful glass slides of these parrots meet in a romantic joint of the tips, on the iron shaft of the hanging lamp.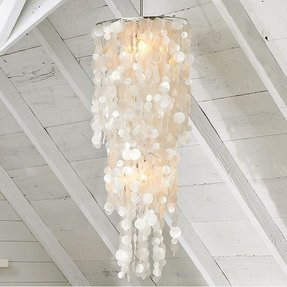 Long Hanging Capiz Pendant Lamp
Original chandelier as main or additional source of light in any interior according to taste and need. Lampshade consists of pearly shells. Frame is made of metal. Traditional form and modern design.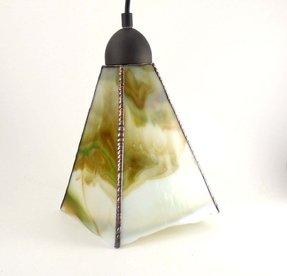 Stained Glass Pendant Light by Nostalgianmore, $135.00 Gorgeous earth tones in a fabulous light!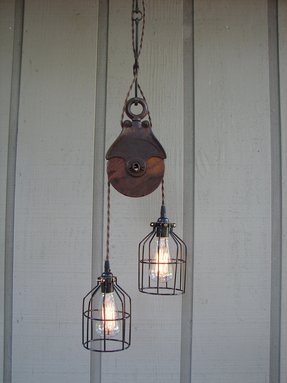 Another nearly steampunk caged light fixture made up of simple elements that work together oh so well. Love this.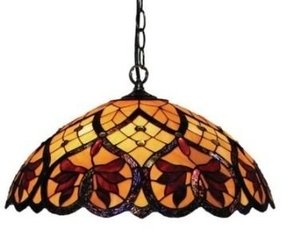 The most popular technique for making stained-glass lamps is to combine transparent and opalescent glasses with copper foil and soldering them with tin. This is seen in the example of this pendant lamp with a floral motif in a copper and amber shade.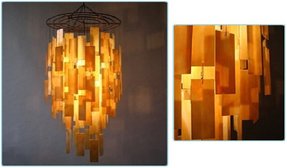 Unique hanging lamp. This chandelier is made of metal frame and hanging piece of delicate wood. It looks very stylish, but it is modern and little bit sophisticated, so it doesn't fit to every type of interior.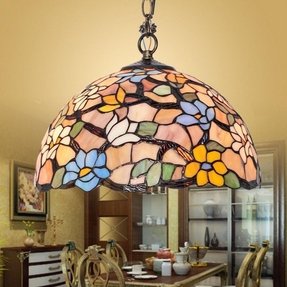 BYB Tiffany Style Stained Glass Hanging Pendant Ceiling Lamp Chandelier Glass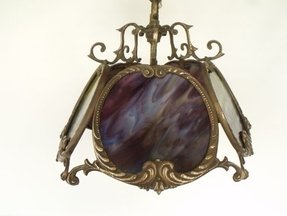 Antique Stained Glass Brass Hanging Pendant Light 5 Panels Purple ...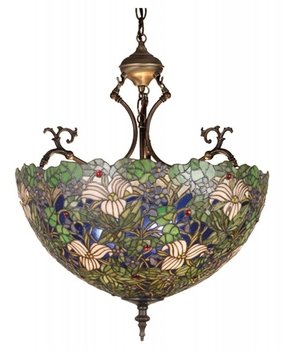 A stylish hanging lamp having an upturned umbrella-like shade with a curved edge. It's of hand-cut stained glass tiles with beautiful floral motifs in prevalent blues and greens. Fixture (with curved arms, a bulb and a finial) is of metal in bronze.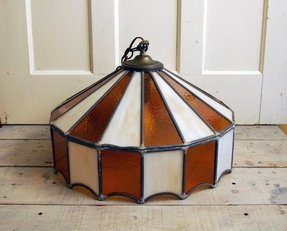 Hanging Stained Glass Tiffany Lamp Pendant Lighting by BingoBox, $75.00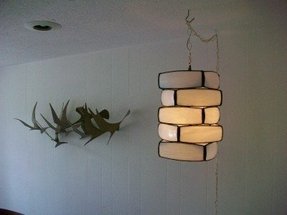 A modern interpreation of the cool mid-century design. This original pendant lighting fixture constitutes a solid and stylish, stained glass proposition. It features 5 square bricks, organized in various ways.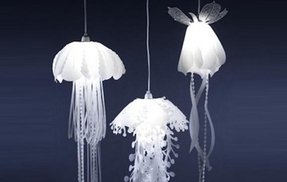 If you are not afraid of marine monsters there are many interesting lighting solutions related to them. For example pendanting jellyfish!
Medusa, and her friends are great idea for a hanging lamp. They are white and very light, and look like fluffy curtains.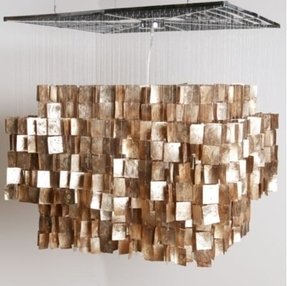 A unique contemporary ceiling lamp featuring an unusual lampshade made of hundreds square tiles of mussel shells in beiges with pearly undertones. They hang on length-varied thin white fly lines attached to a grid backplate of black coated metal.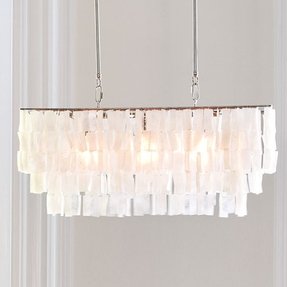 Large Rectangle Hanging Capiz Pendant
If you want to buy modern, but not simple and dull hanging lamp, this chandelier is intended for you. It has metal frame and it is hanged on metal ropes. Lampshade is made of little silk's pieces. It will be fit to your dining room.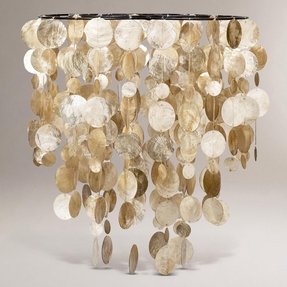 Handmade hanging pendant lantern made out of a plentiful of little plastic disks around a ceiling lamp, which reflect the light around giving any room a unique appearance and a romantic, moody atmosphere.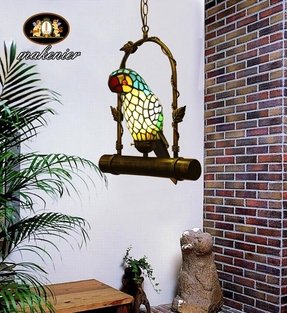 Stained glass lamp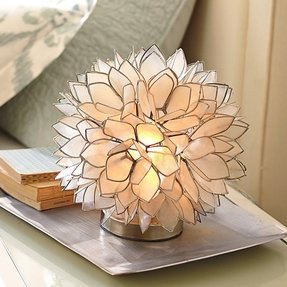 Table Bedside Lamps
This Capiz shell lamps not only adds light while turned on but is a great accent even when it is not glowing! Made from various little glass slides, coming from its inside, it is a beautiful mosaic construction.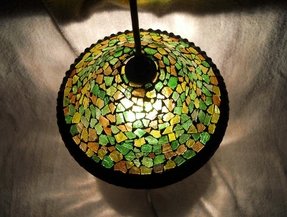 Mosaic Glass Pendant Light Hanging Lamp Lighting Stained Glass