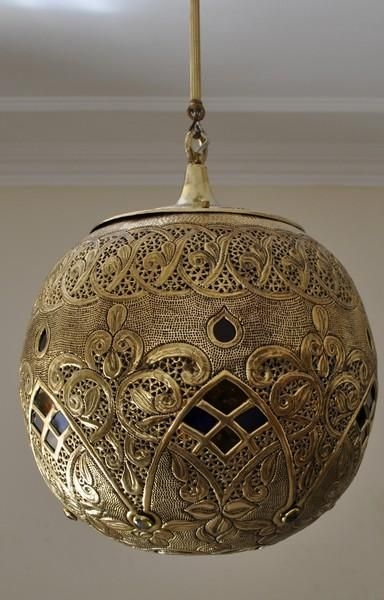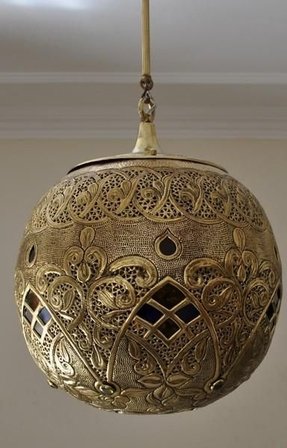 Highly ornamented brass lamp cover is perforated at strategic intervals to emit light. Ornate bas relief patterns surround the perforations and small panes of colored glass creating an amazing, unique lampshade with a lovely style all its own.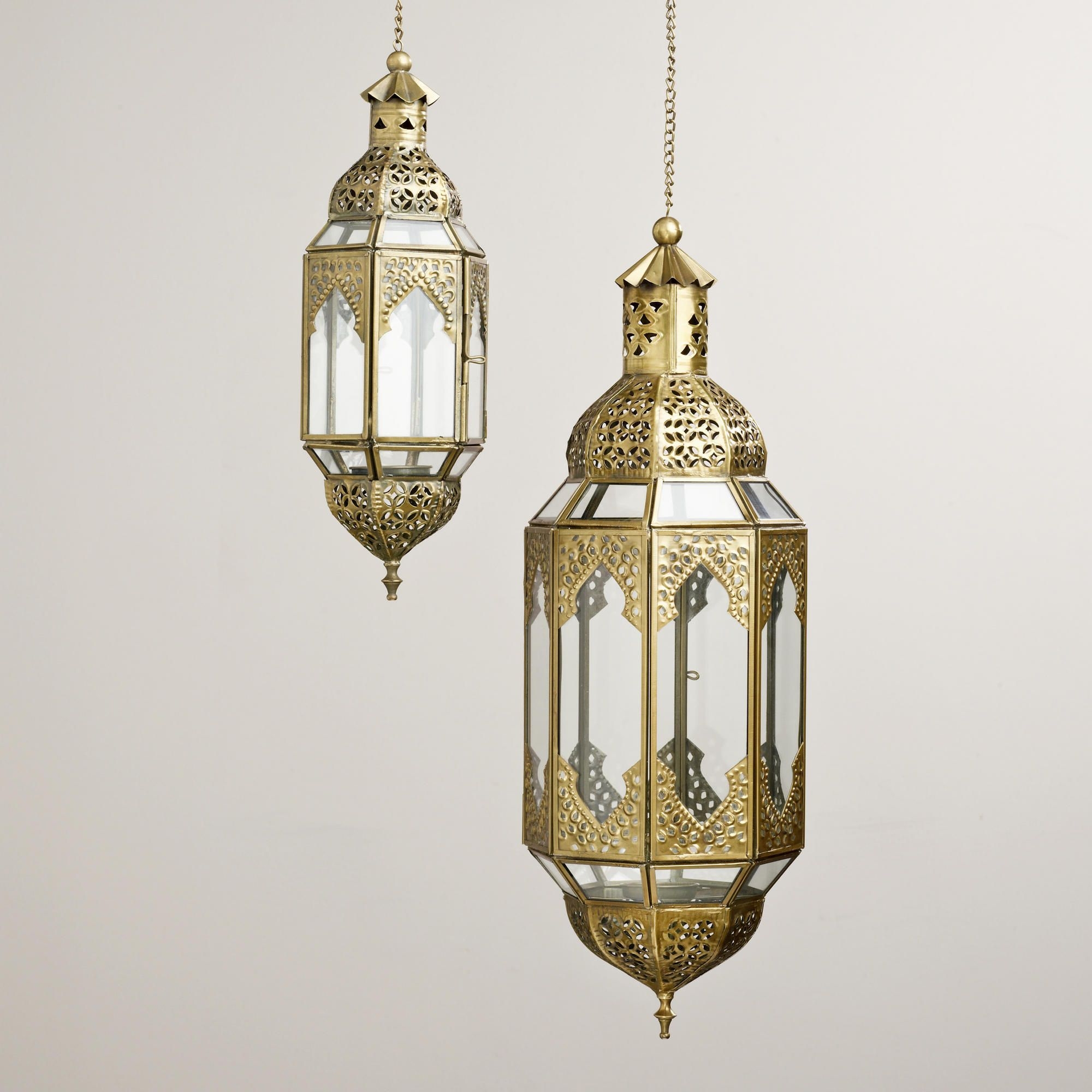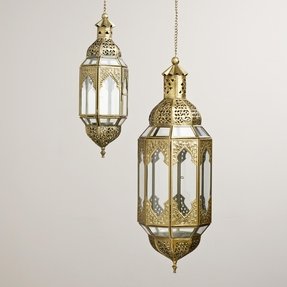 A wonderful pair of old-fashioned hanging lanterns that boast of impeccable design and exotic elegance. Made in Moroccan style, each lamp has a brass-finished metal frame surrounded with small pieces of clear glass.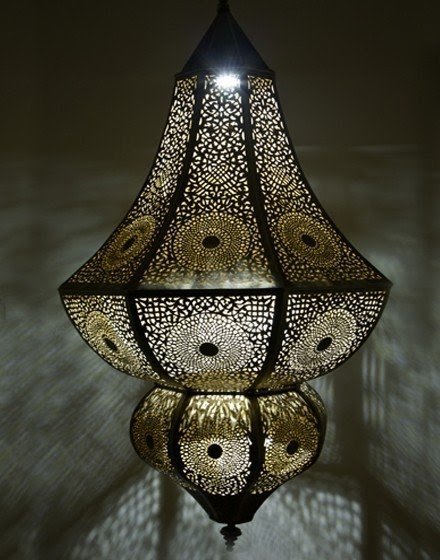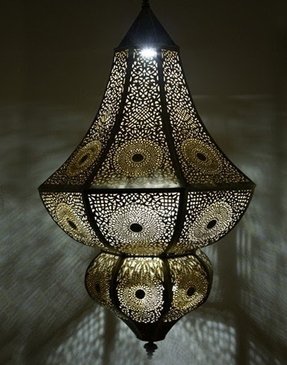 Moroccan Asni Pierced Antique Brass Hanging Lamp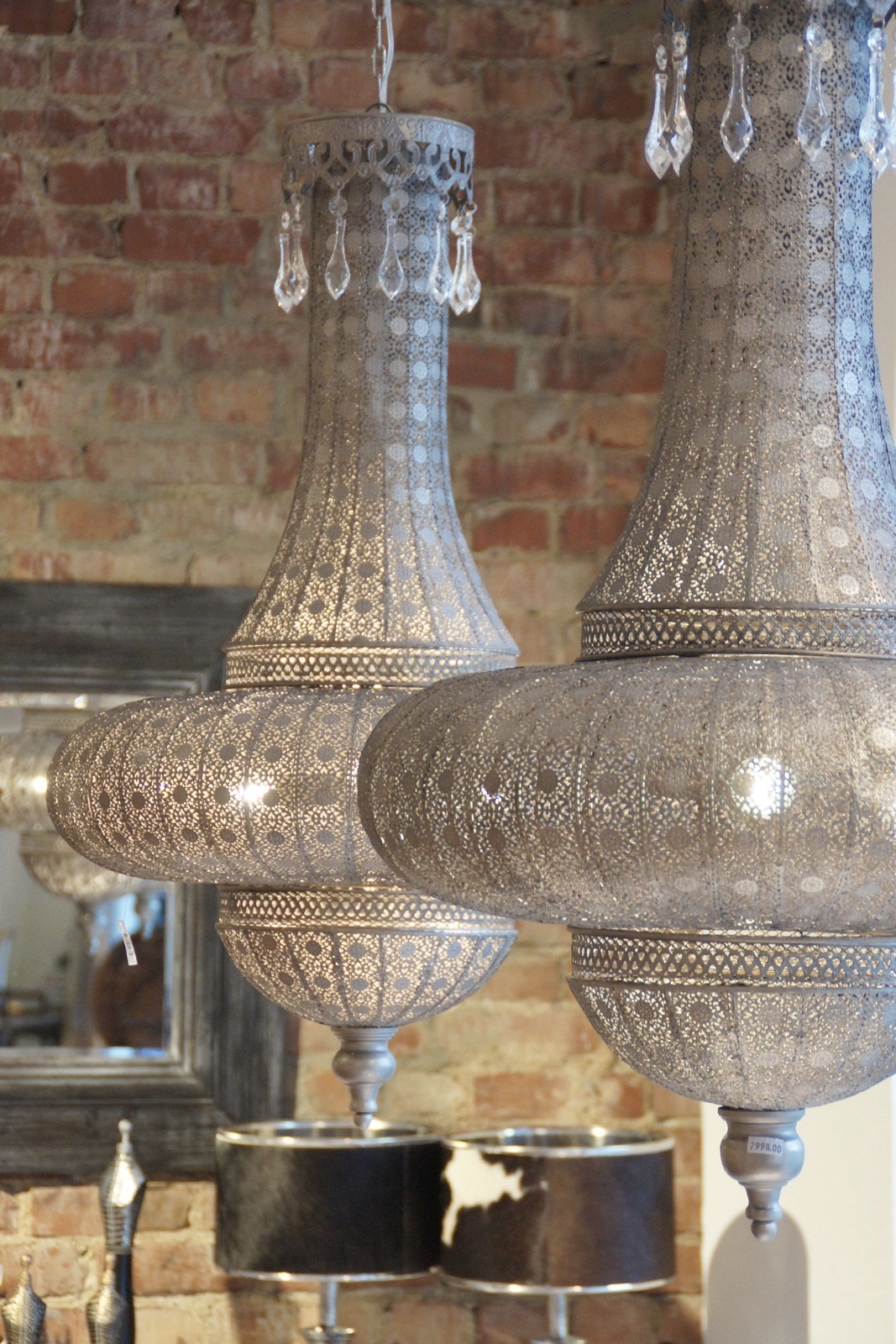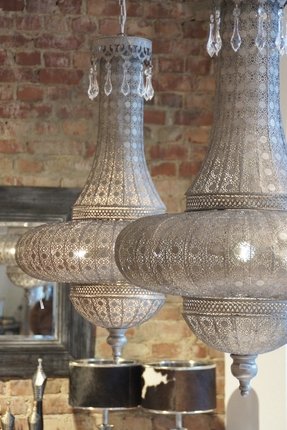 Thin, perforated metal in ornate designs characterizes these beautiful brass lamps. Crystal decorations hang from the rim of the top, while a sturdy brass piece holds it all together at the bottom. Charming, and very Moroccan old-world design.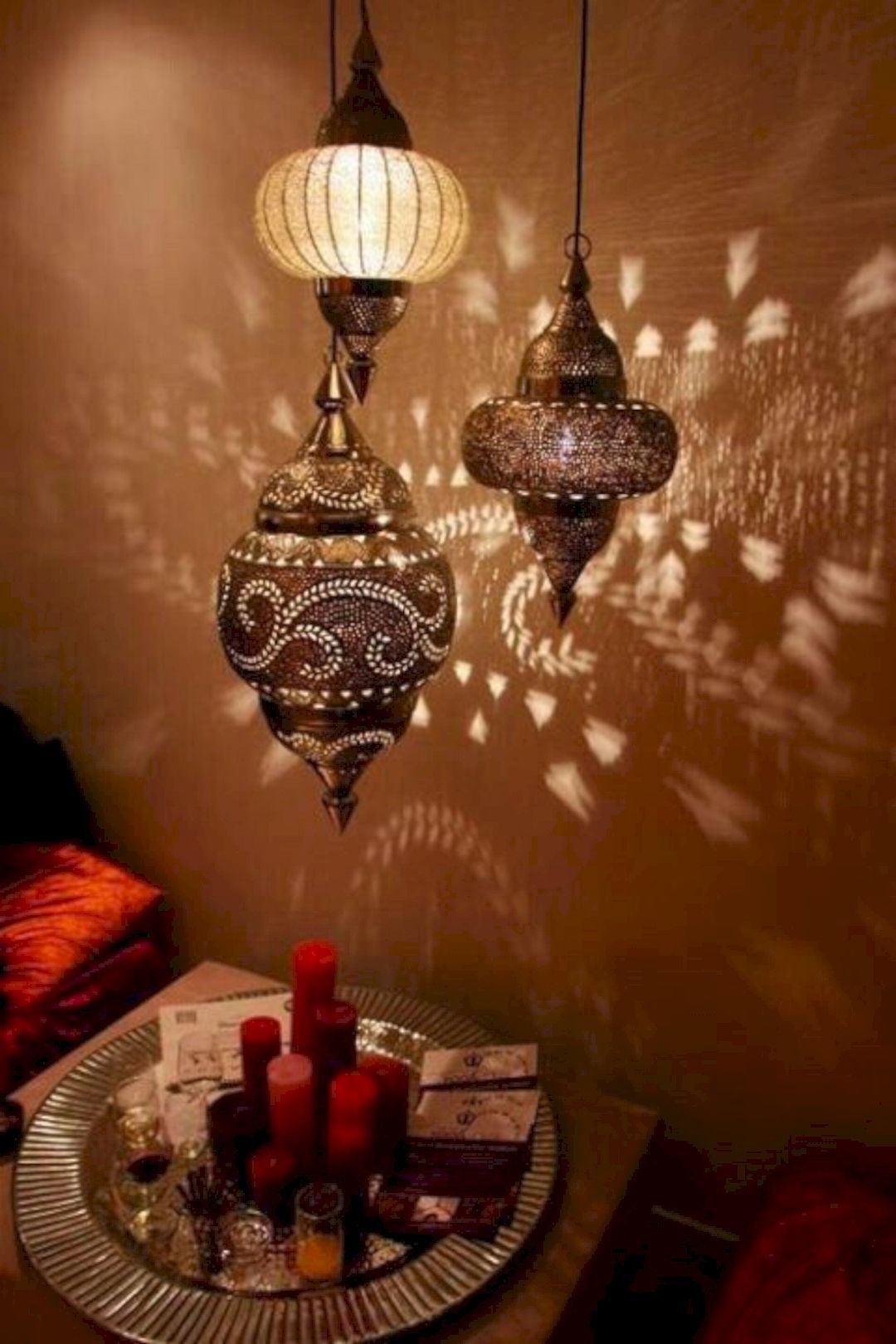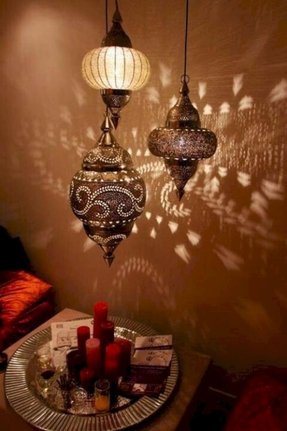 Bohemian Lights Amsterdam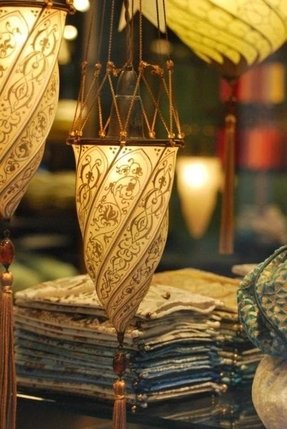 Saw these in a couple of little shops in Venice and would have loved to buy some but too fragile to cart back to OZ :-(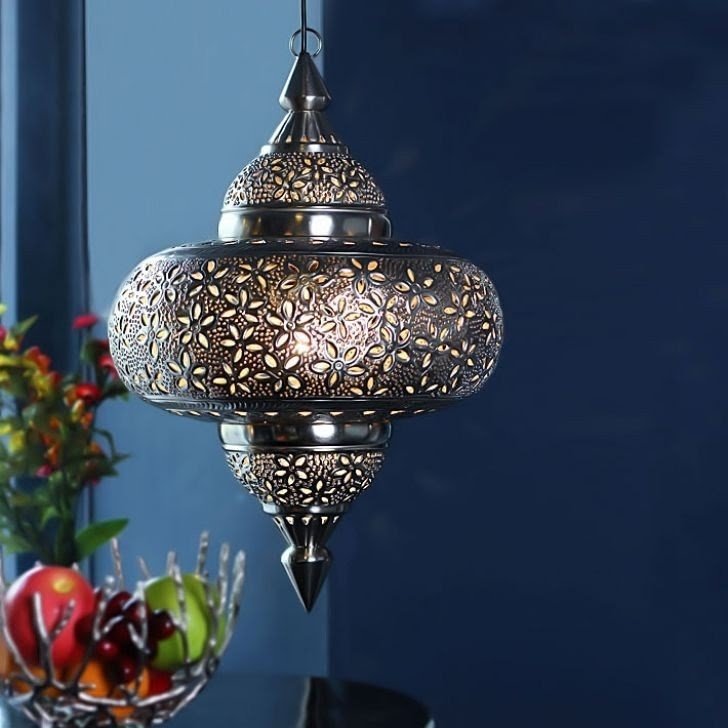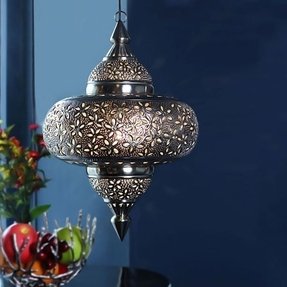 FSB Morrocan Hanging Lamp -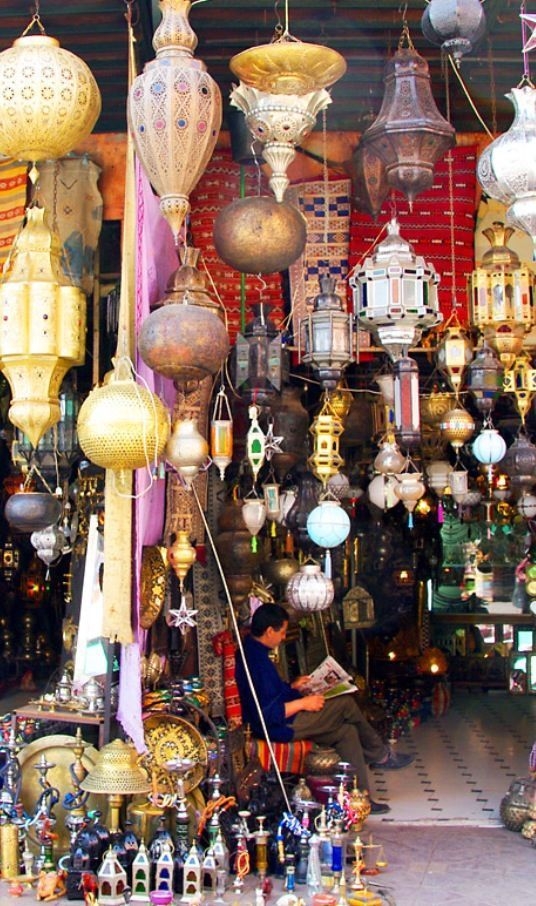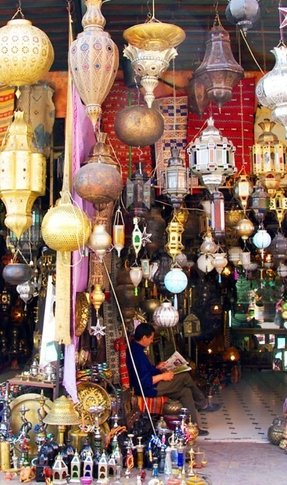 Souk of Marrakech. Side by side lamp shops in this picture, but other items such as scarves, rugs and shoes are also sold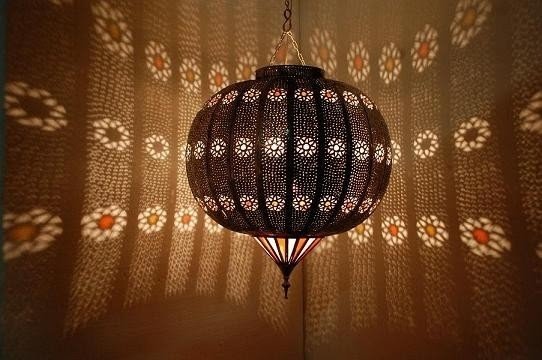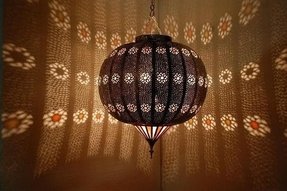 this entire website is full of the most gorgeous stuff! warning, could be dangerous!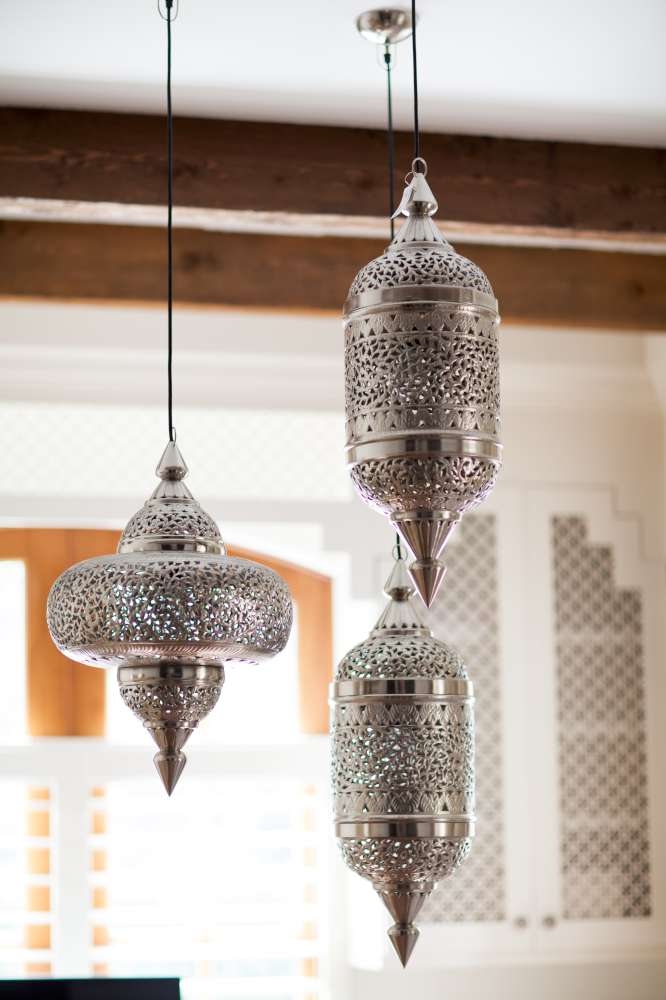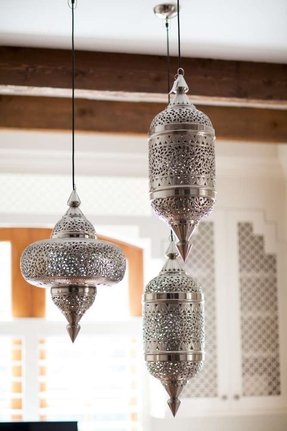 Hanging light pendants are an elegant addition to the office.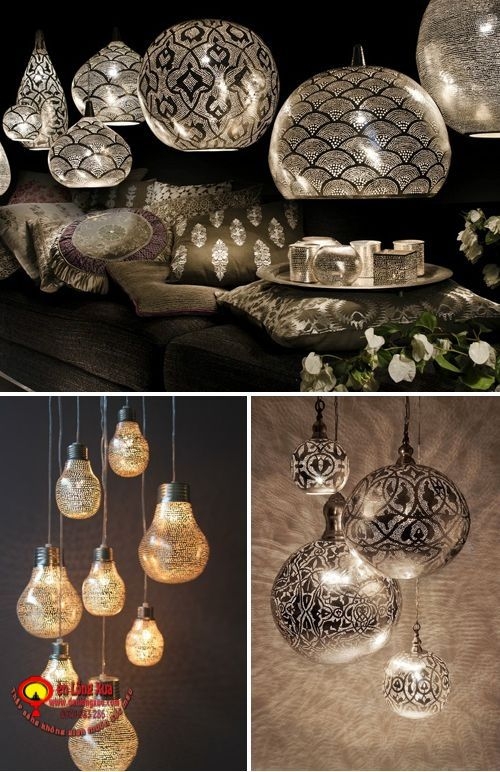 These pendants are all handmade in Egypt. Traditional techniques and craftsmanship are combined with a modern design. The hand hammered brass lamps are silver plated and then drilled with delicate patterns. The little holes give the most gorgeous light ef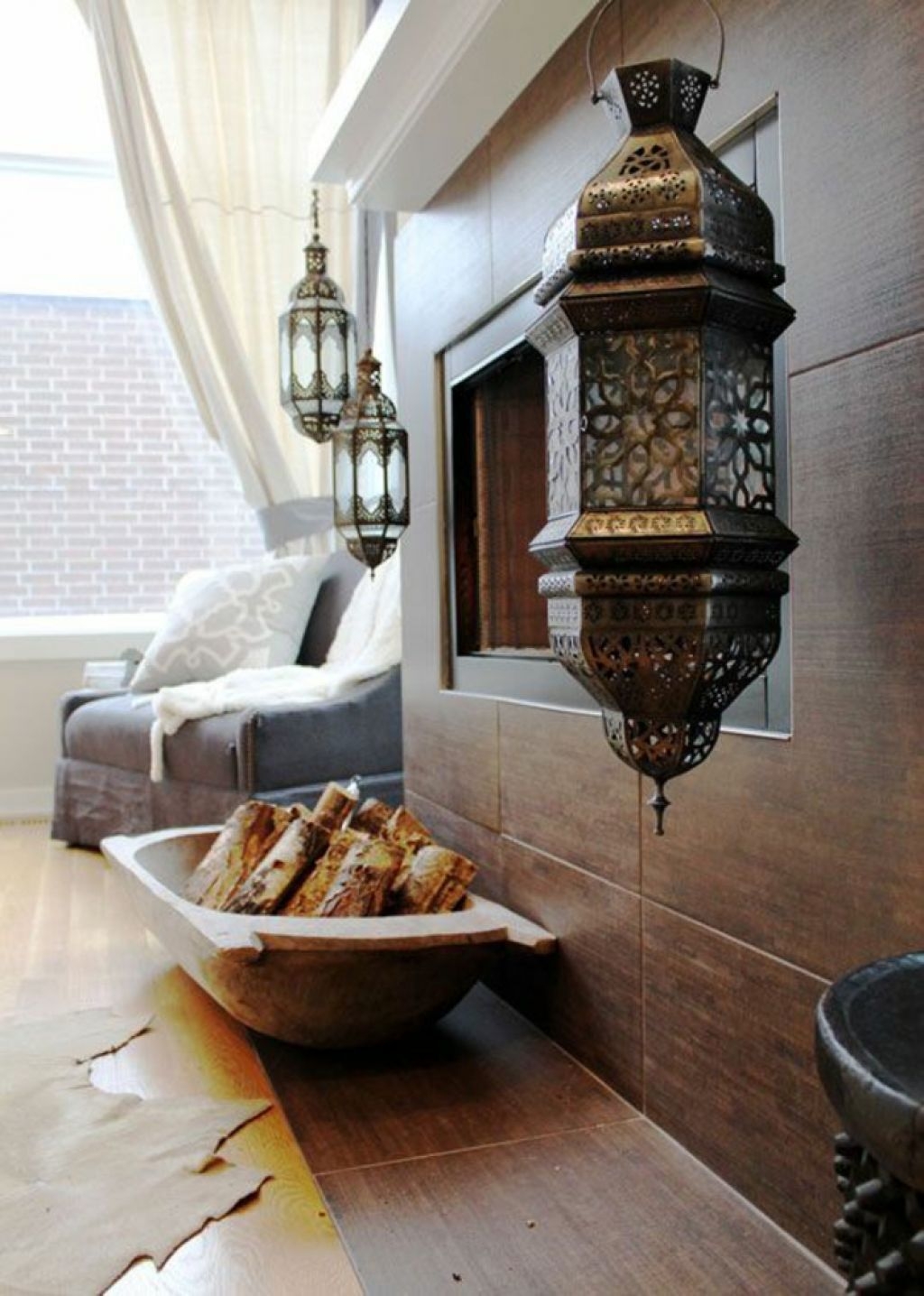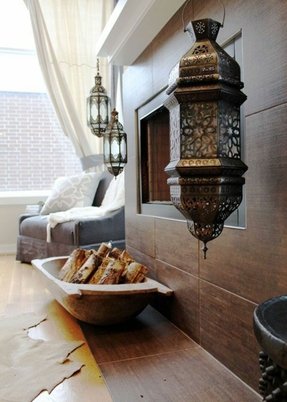 Moroccan lanterns hanging off the modern mantle...brilliant juxtaposition!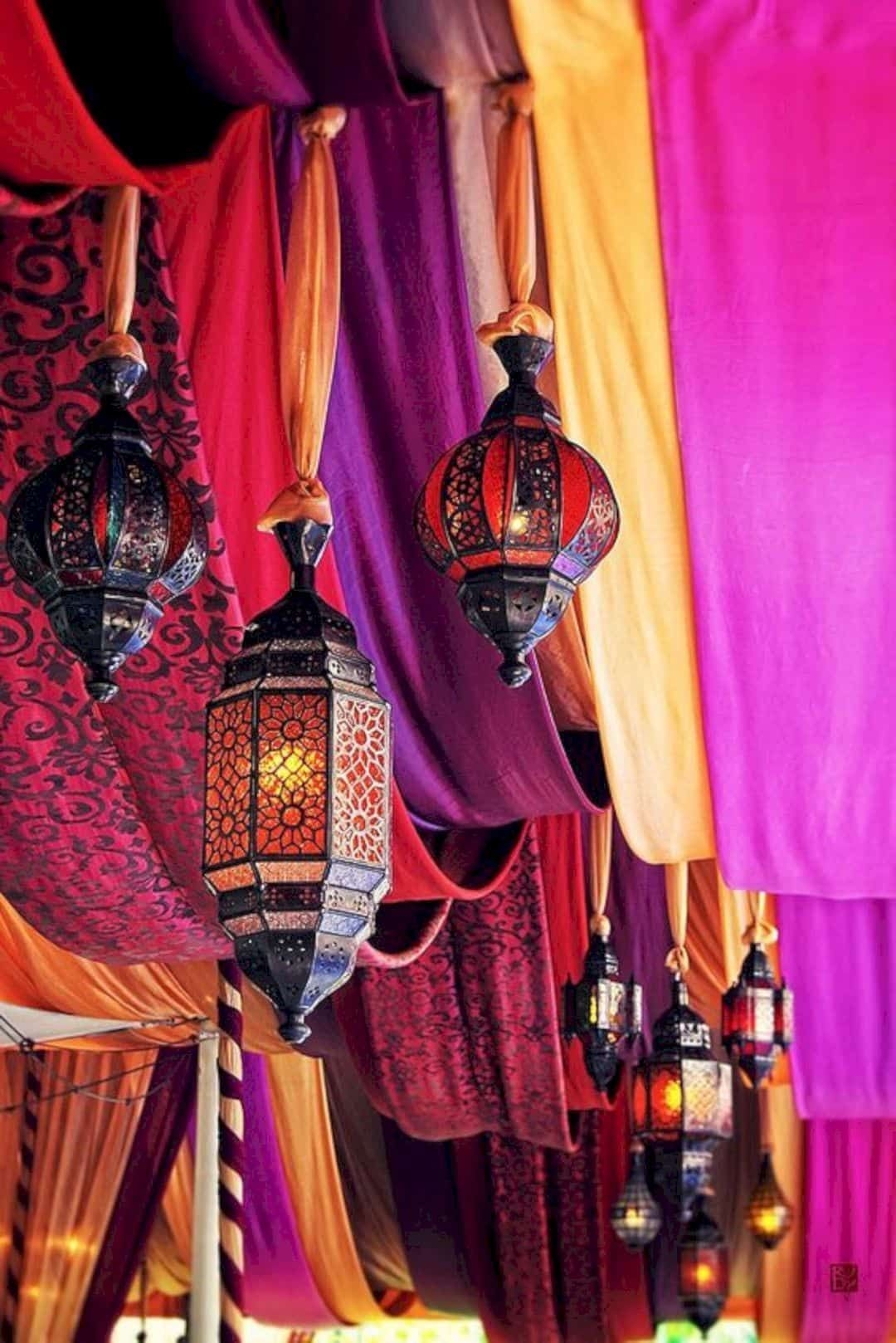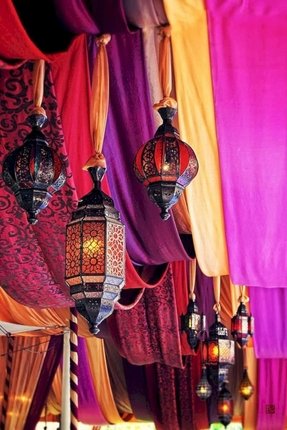 Hanging lamp in Moroccan style. Frame is made of metal and decorated with sophisticated ornamentation. It is mounted on adjustable cord. Suitable for residential and commercial premises.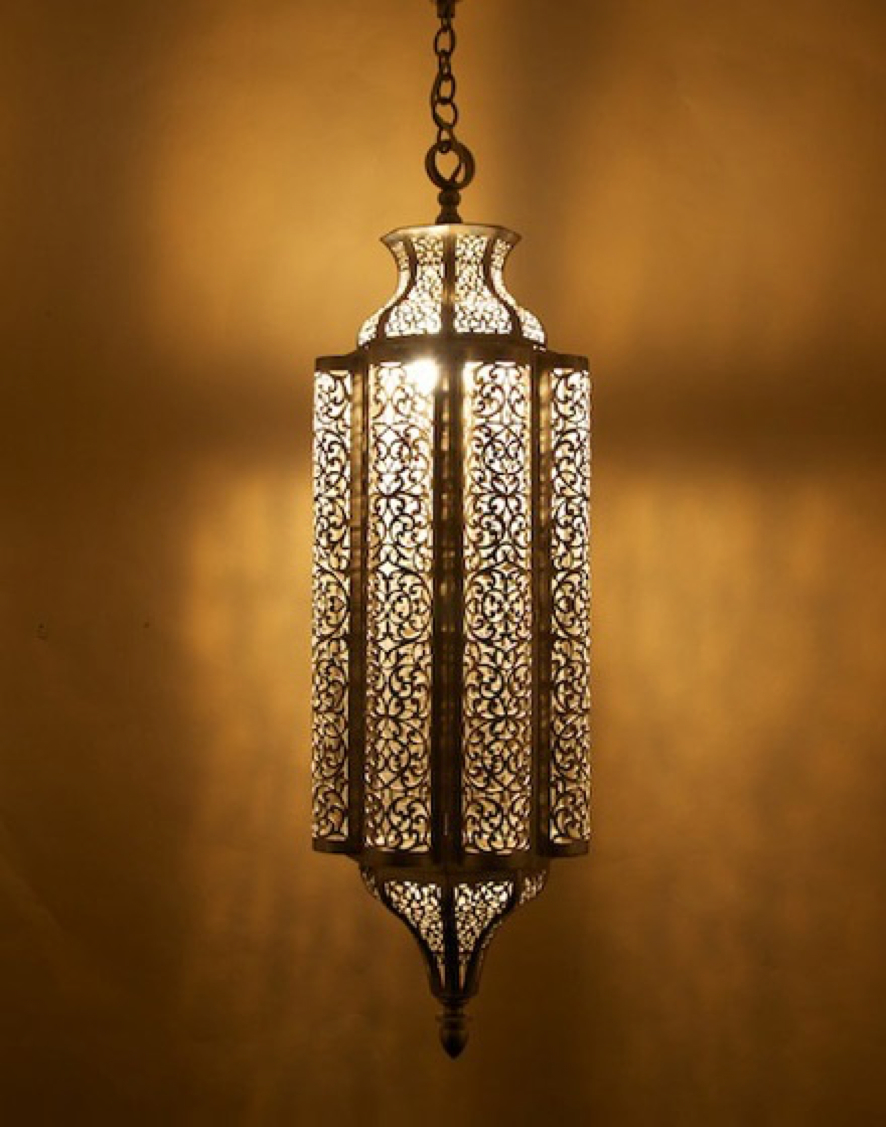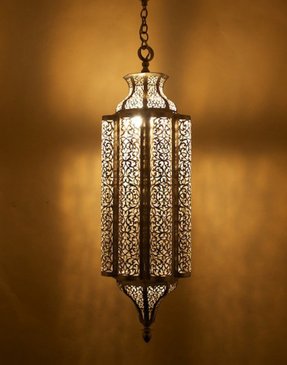 Love this, but way too expensive. Moroccan Hanging Pendant Light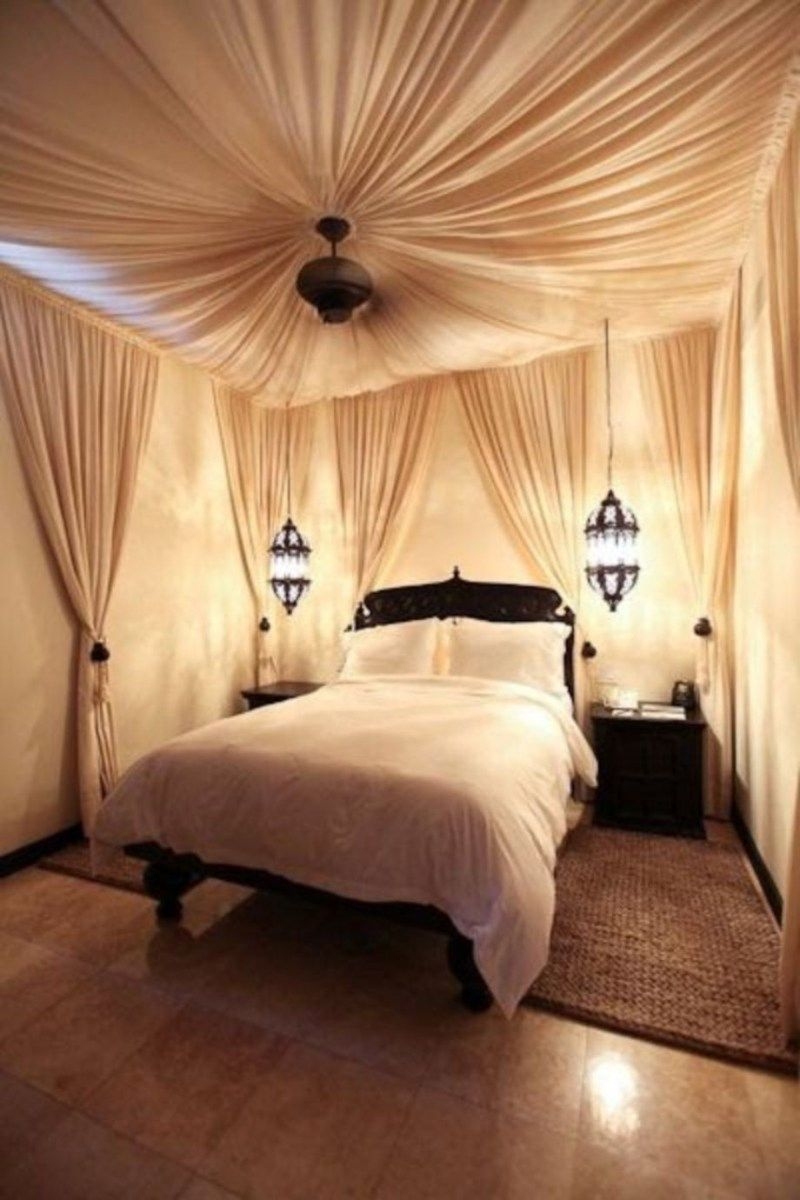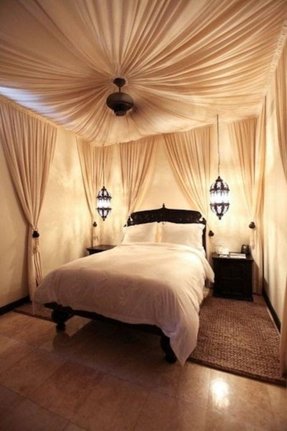 morrocan style bedroom will go great with the archway. Colors are nice too but I dig the white.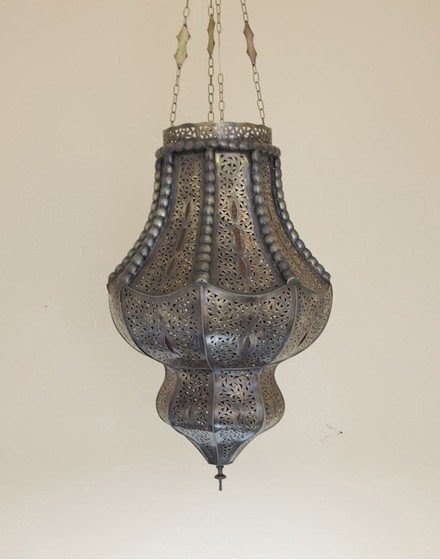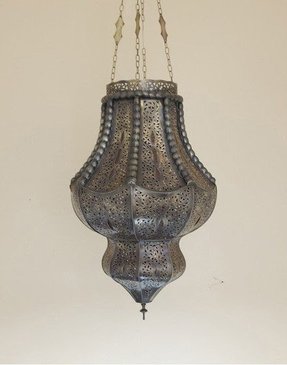 Antique Brass Moroccan Hanging Lamp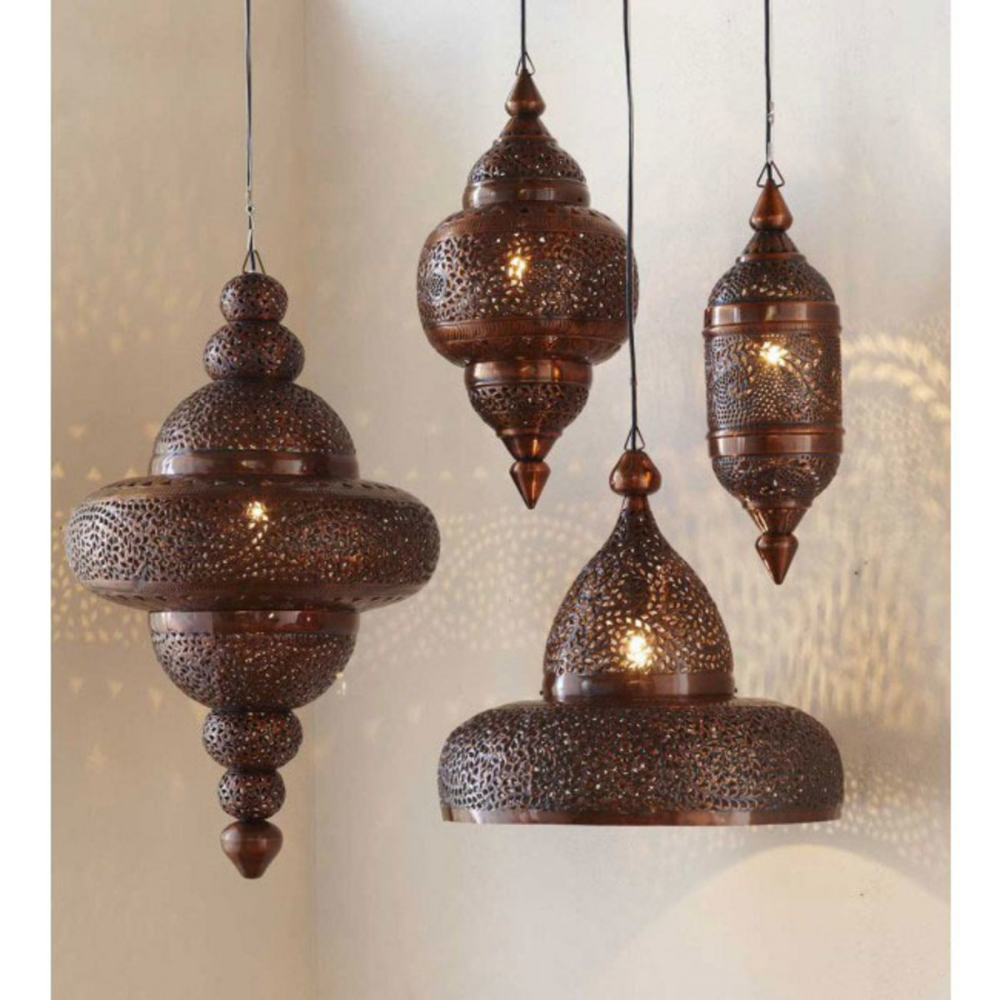 Antique Copper Moroccan Hanging Lamp - VivaTerra The fine toolwork in our Moroccan lamps creates a soothing envelope of soft, ambient light. Using methods as ancient as the design, artisans pour hot wax into each lamp then use hand tools to puncture the r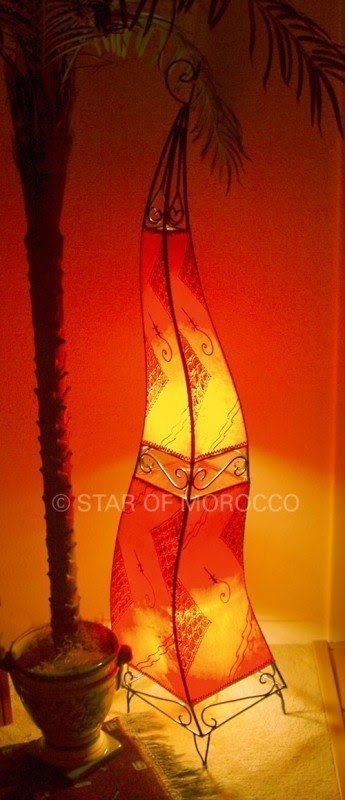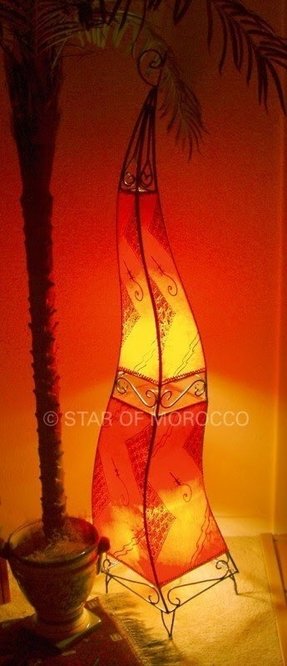 This sublime piece was made of sheep or goat skin that is stretched around the original shape of the lamp. It's wrought iron frame and the colorful, warm sun finish make it into the true must-have in any home.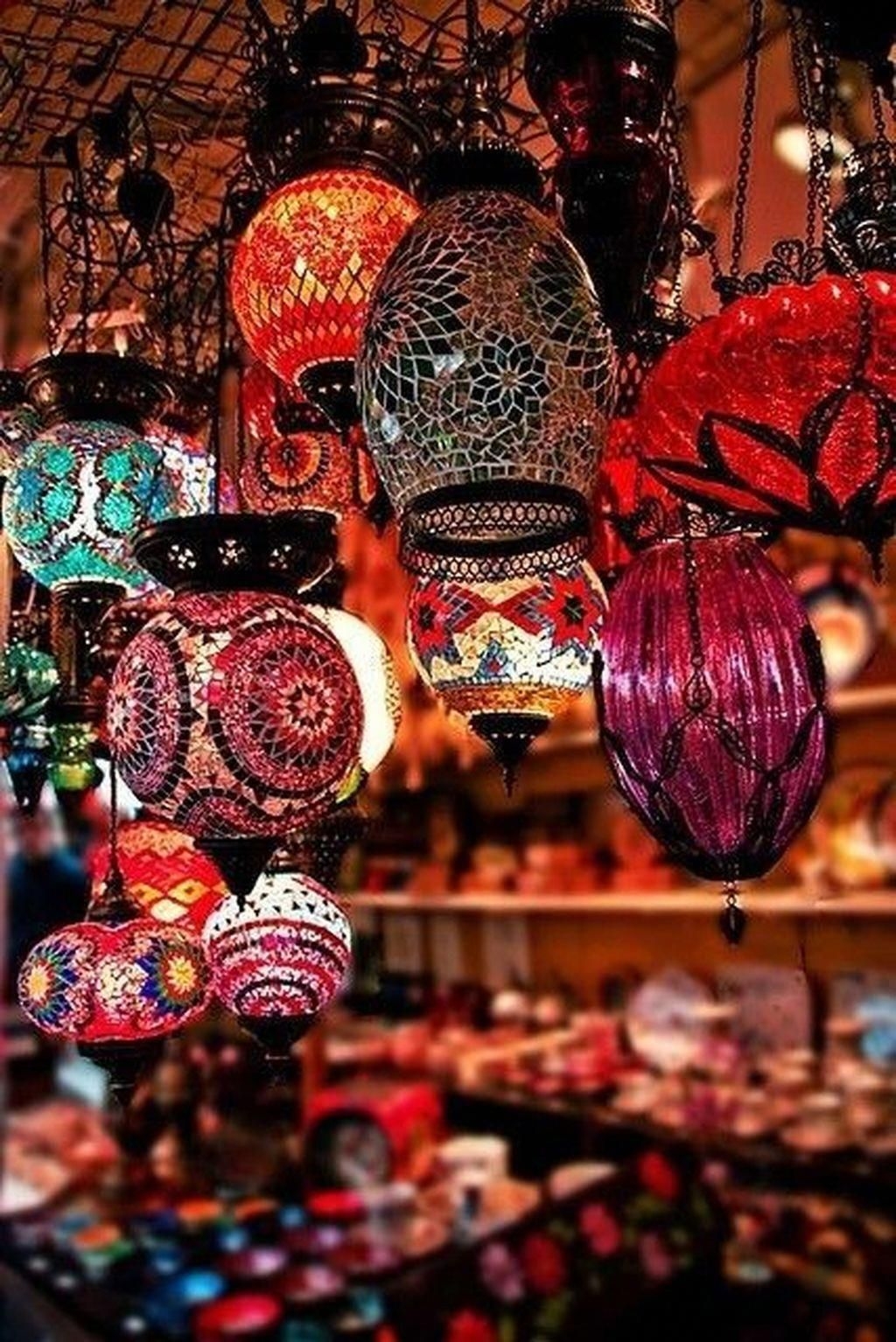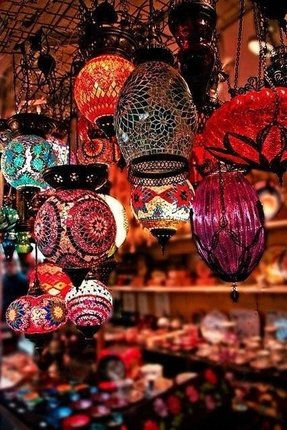 Gorgeous Moroccan hanging lamps are a unique combination of color, design and attractive design solutions. Captivating performance and beautiful details will give you a fantastic atmosphere. Perfect for any interior.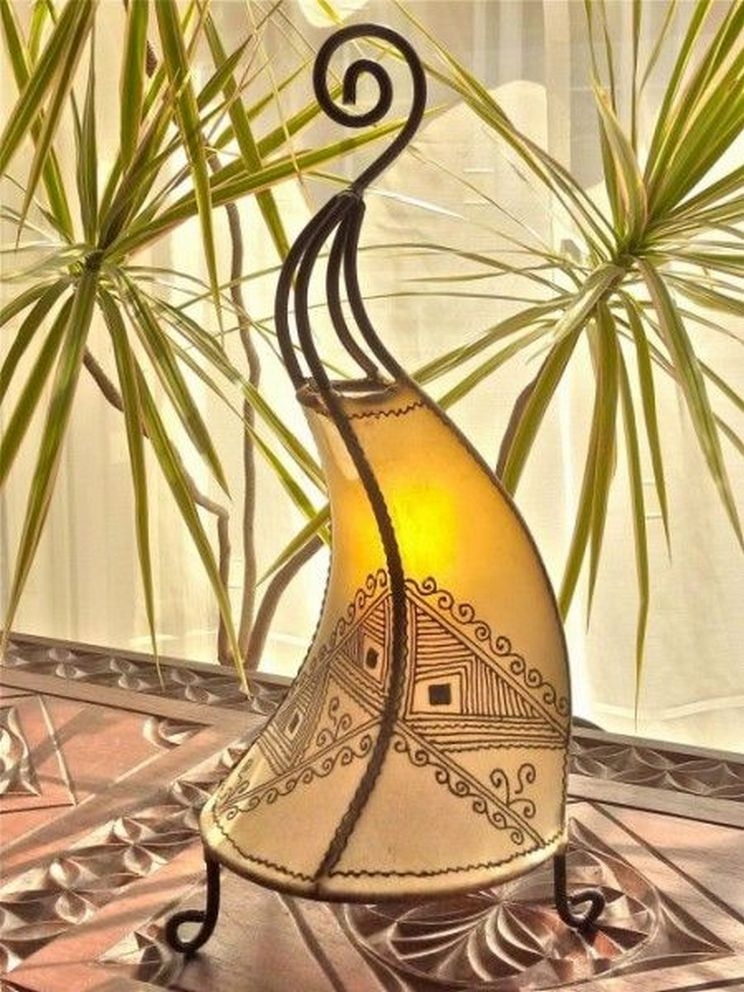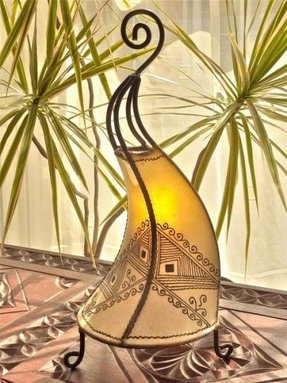 Floor lamp in Moroccan style. Frame is made of metal. It is covered with fabric and decorated with interesting pattern. Ideal as additional source of light in any interior. It is very well appreciated by the customers.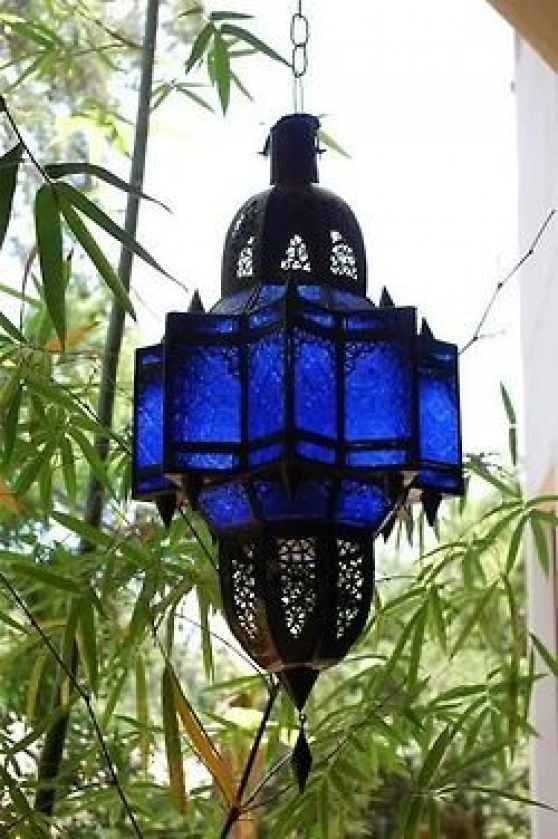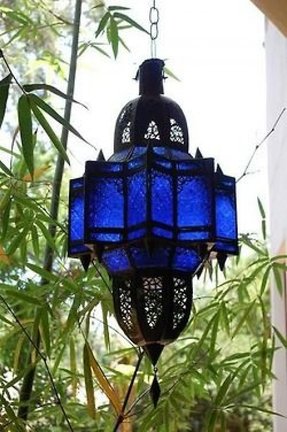 A truly breathtaking hanging lamp, designed in Moroccan style and suitable for both indoors and outdoors. The lamp offers an incredible effect even when off, boasting of a powder-coated metal frame surrounded with deep blue pieces of stained glass.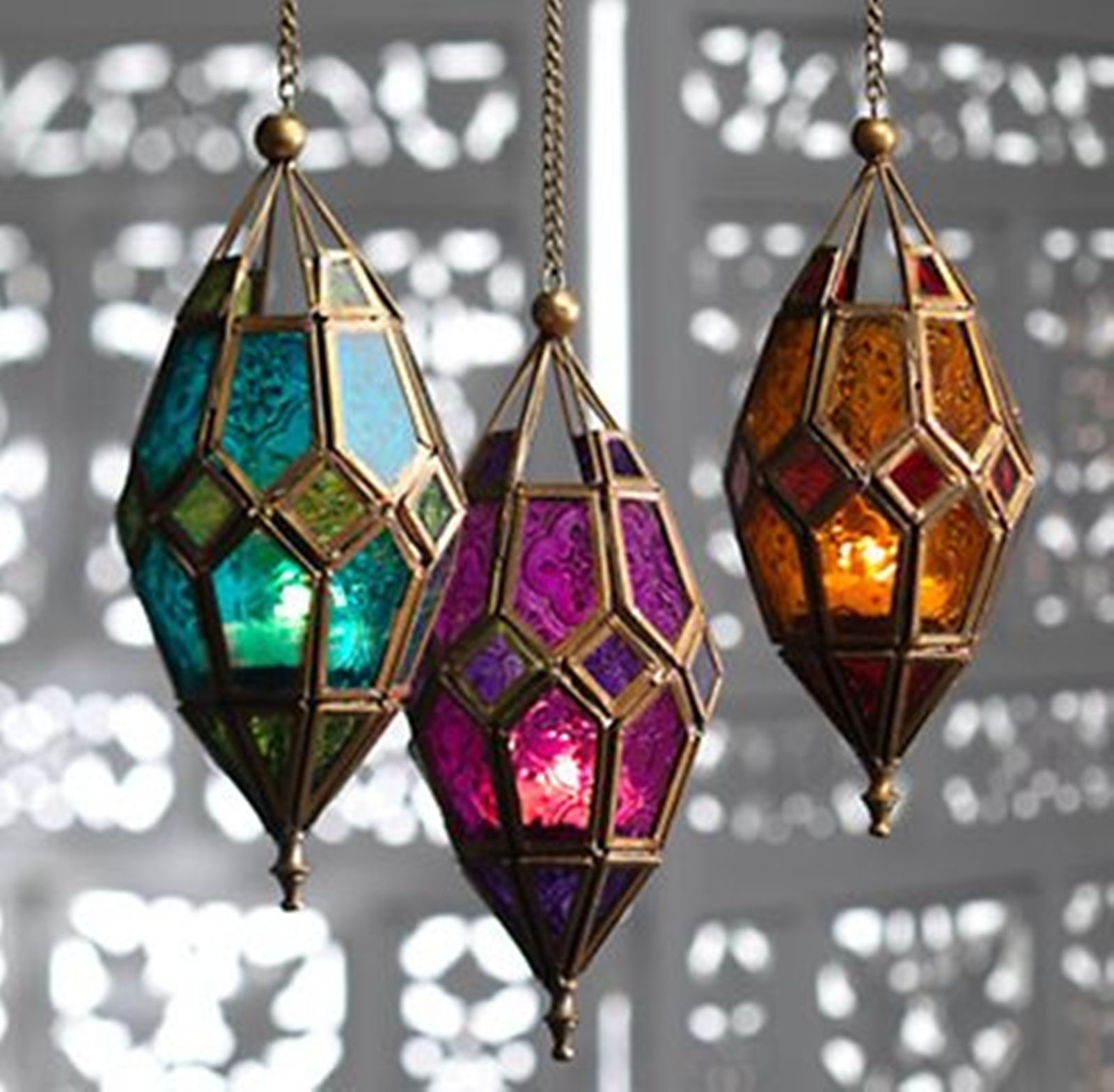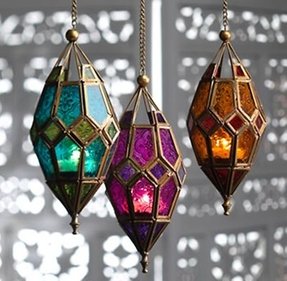 moroccan hanging lamp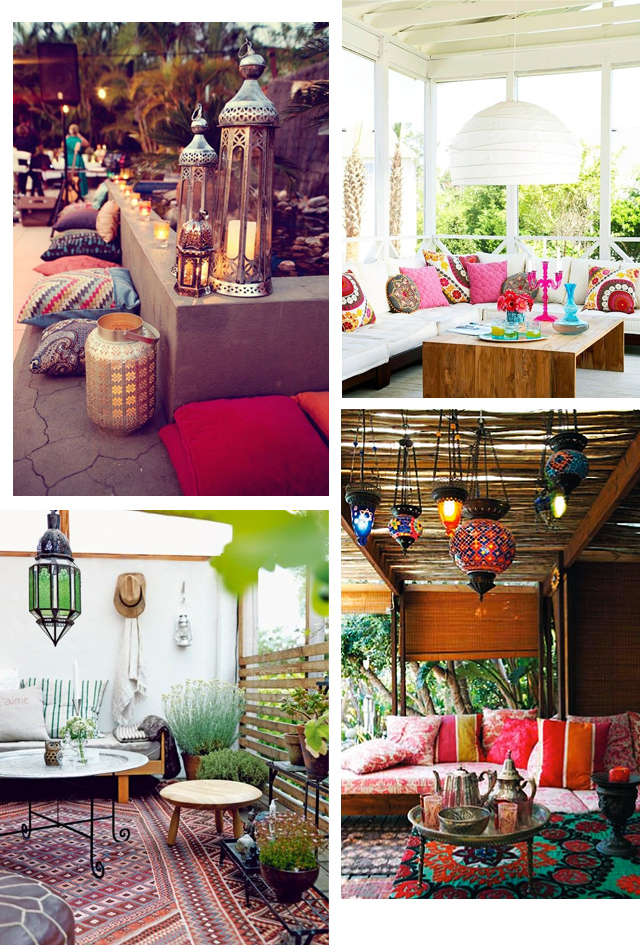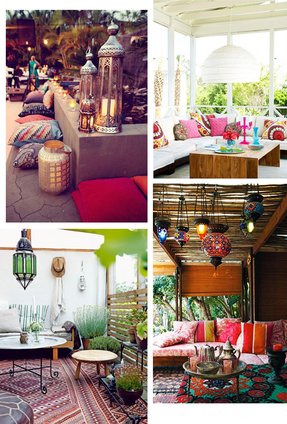 DESIGN: MOROCCAN OASIS..Thanks love it.xxx.bureauofjewels/etsy and facebook...XXX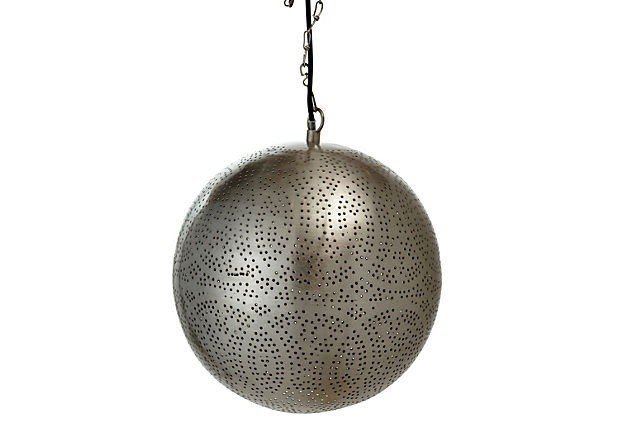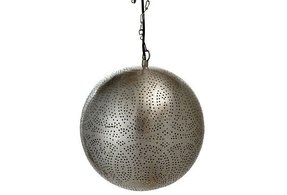 Moroccan Hanging Lamp, Silver Wonderfully exotic, this Moroccan lamp ...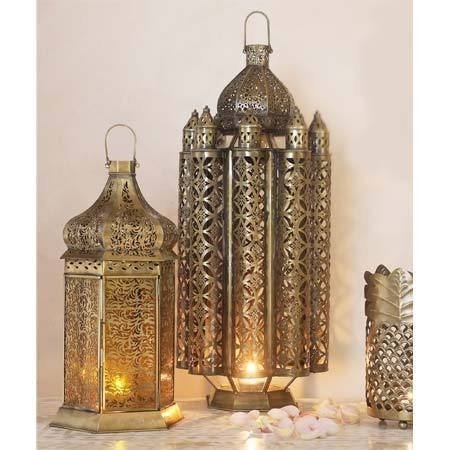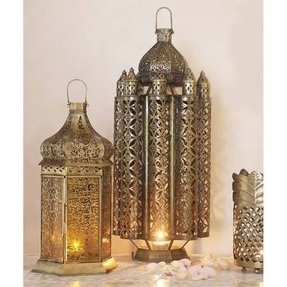 Like a Moroccan house, of one rich Moroccan - beautiful iron, metal, like embroidered moroccan hanging lamps. Associated with Middle Eastern Morocco, they have the shape of a lighthouse with a very rich finish.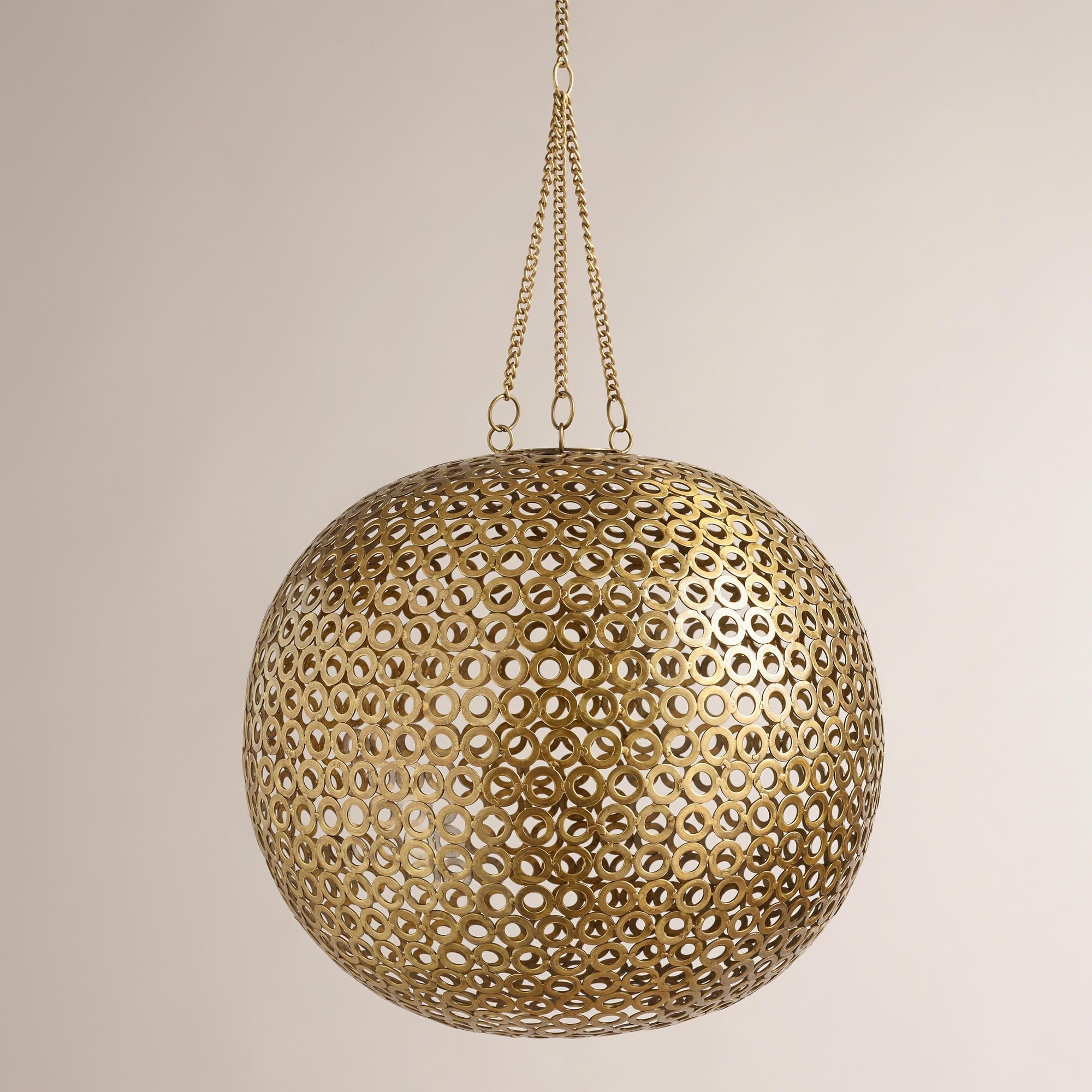 Brass globe hanging pendant lamp - a variation of Moroccan hanging lamp. Adds a bling factor to your interior, as the brass finish shines and shimmers when the lamp is lit. Really nice home décor idea.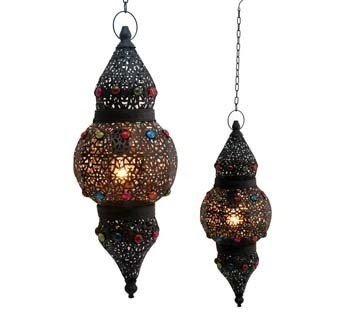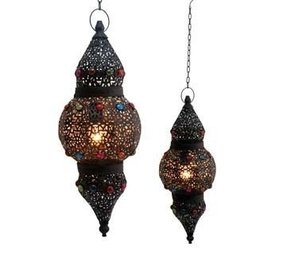 ... Collection Moroccan Handmade Majlis Hanging Lamp Small Size 2057 2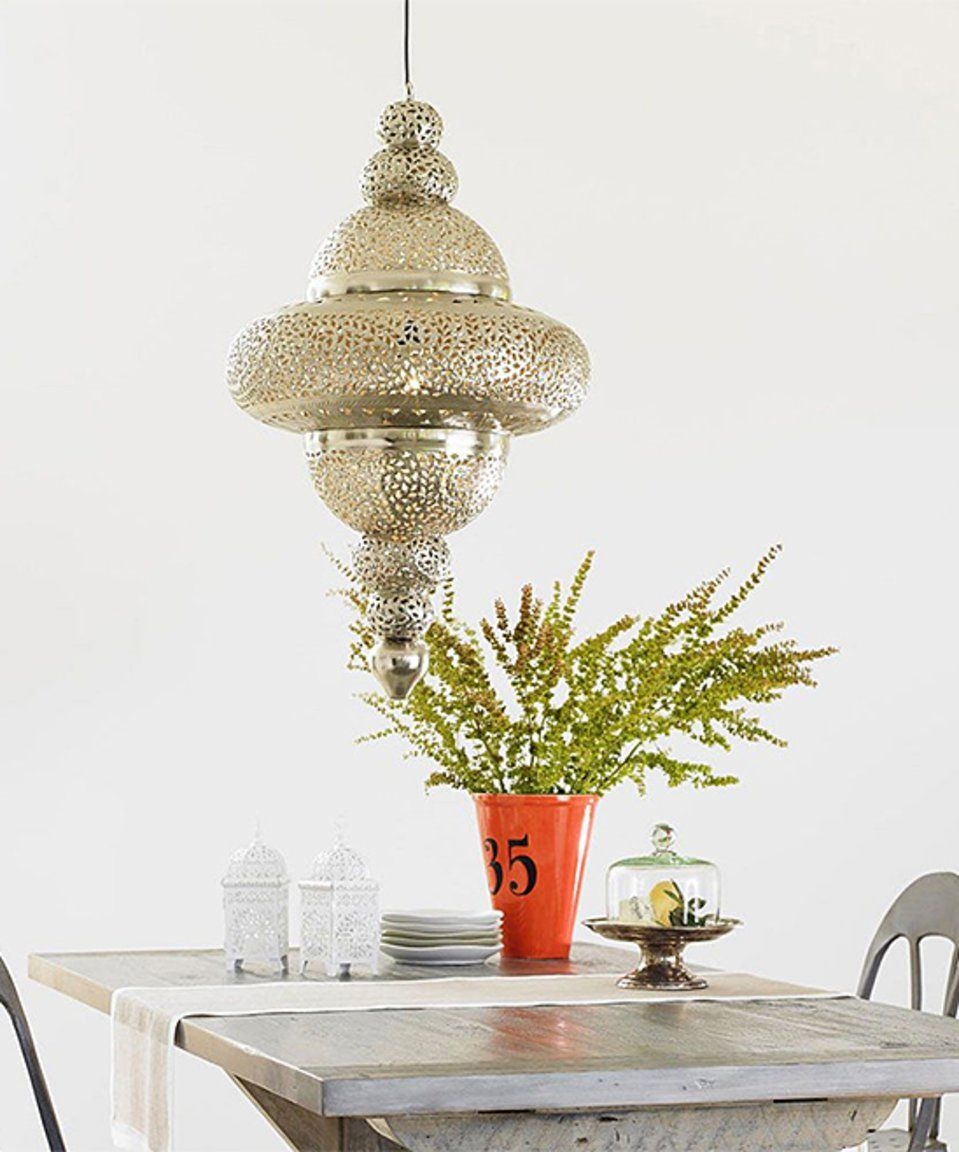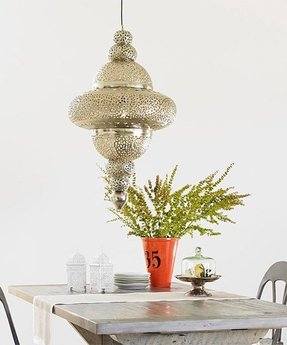 Moroccan Hanging Lamp - VivaTerra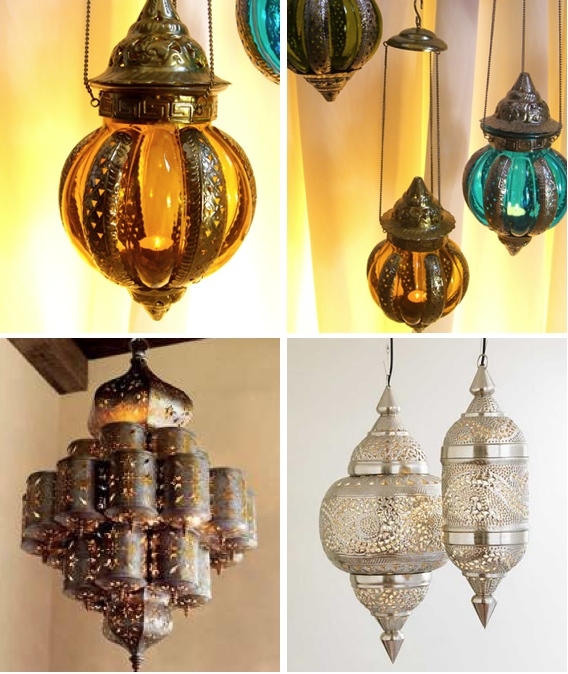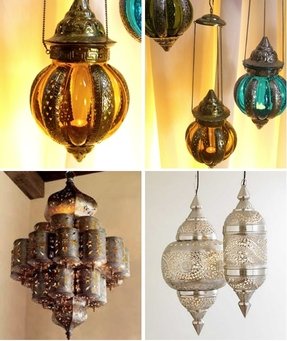 natural modern interiors: Turkish lamps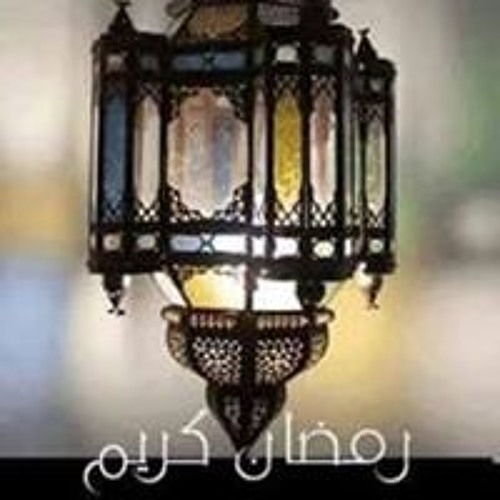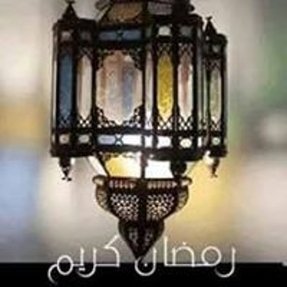 Moroccan lantern. #Morocco is the setting of Garment of Shadows, the twelfth #MaryRussell and #SherlockHolmes novel by Laurie R. King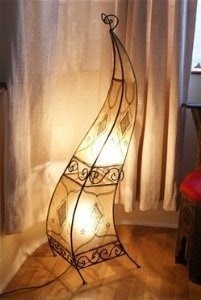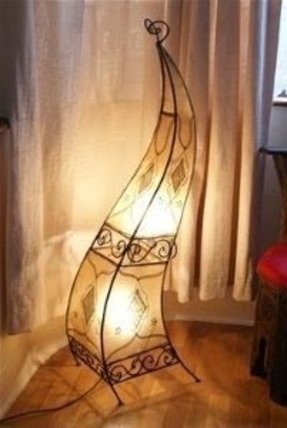 Incorporate a bit of oriental style with this Moroccan henna lamp for an upper entryway. Its original, intricate shape catches the attention from the very first steps in your house.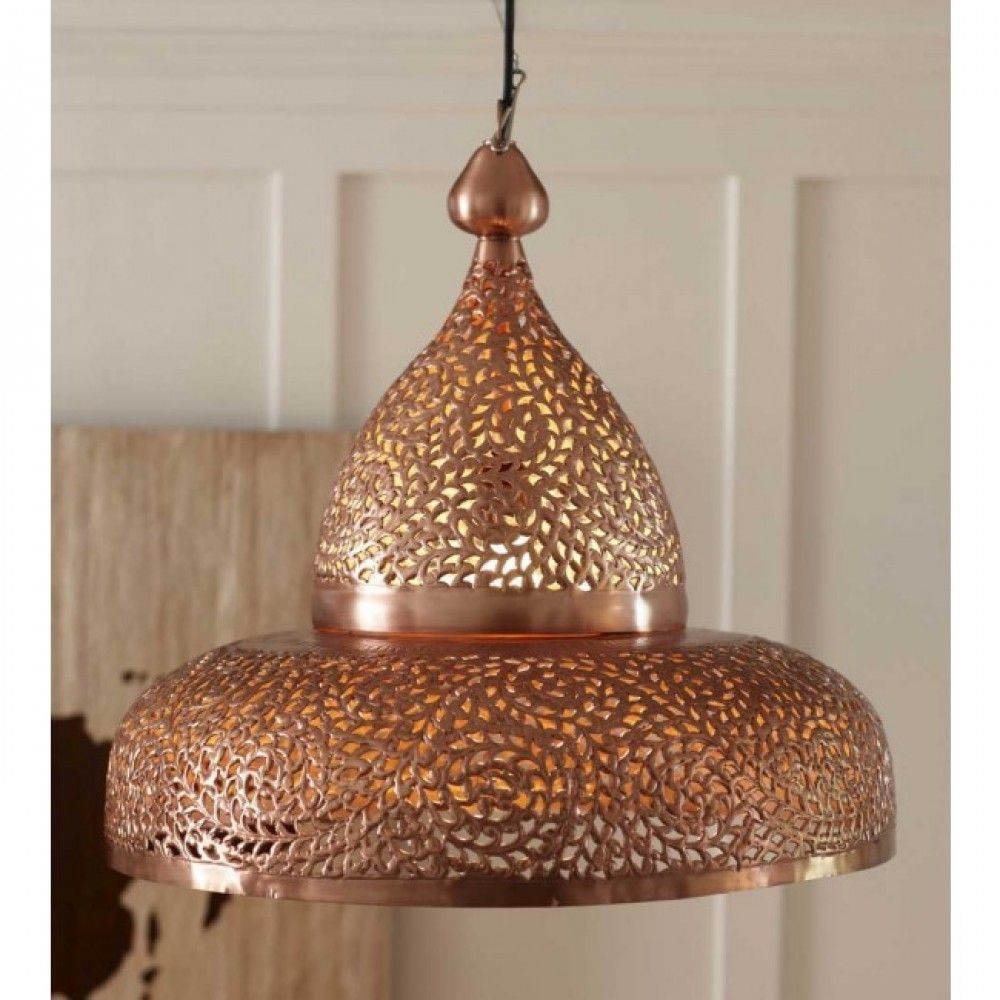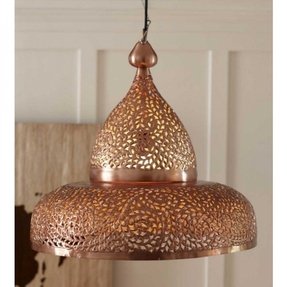 A highly decorative piece of illuminating work of art that is designed in gorgeous Moroccan style. Made of premium copper and adorned with stylish cutouts, the lamp ensures a breathtaking effect even when the light is off.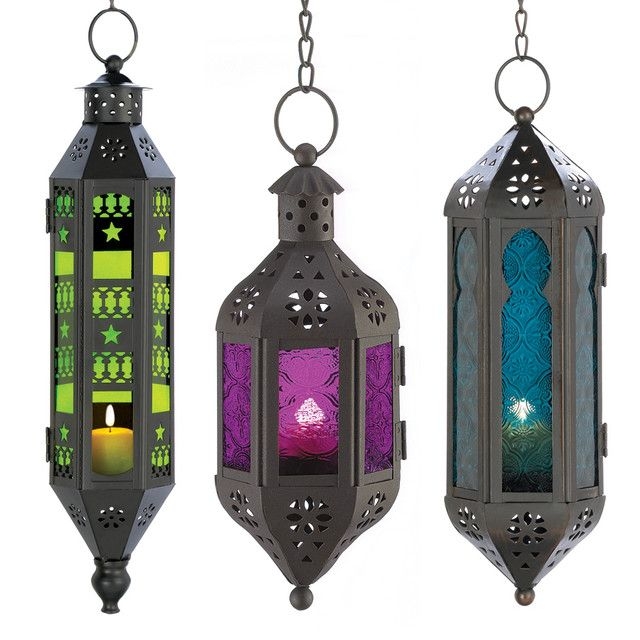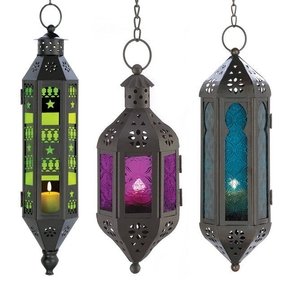 Gorgeous Moroccan Hanging Lanterns - these would add charm and romance to any home, indoors or out. Hang them around the patio or over a table for a romantic dinner. Just add tea lights or your favorite votive candles.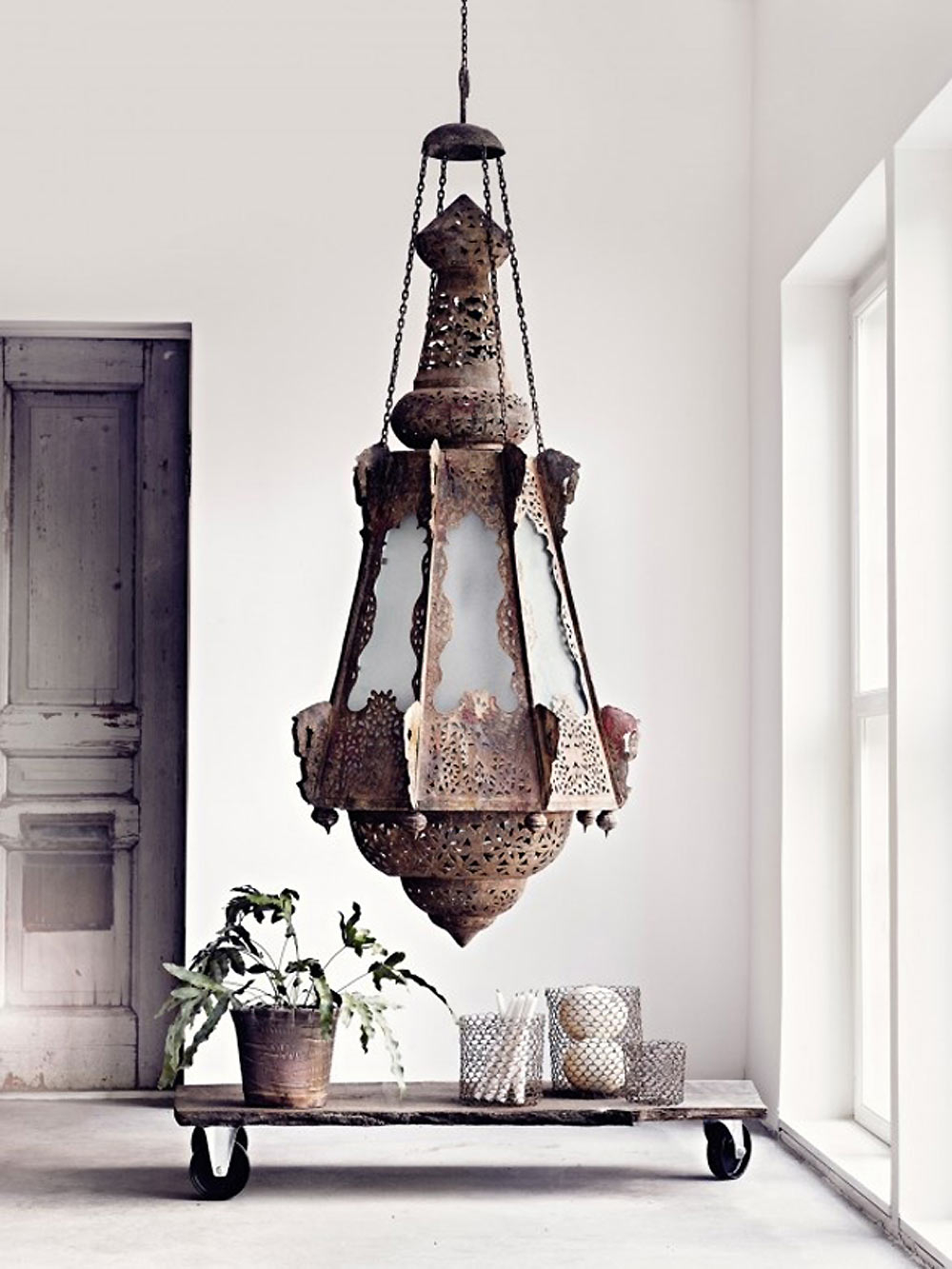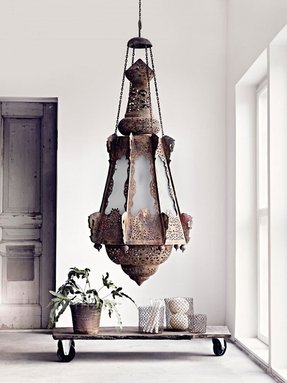 | ETHNIC ESSENTIALS |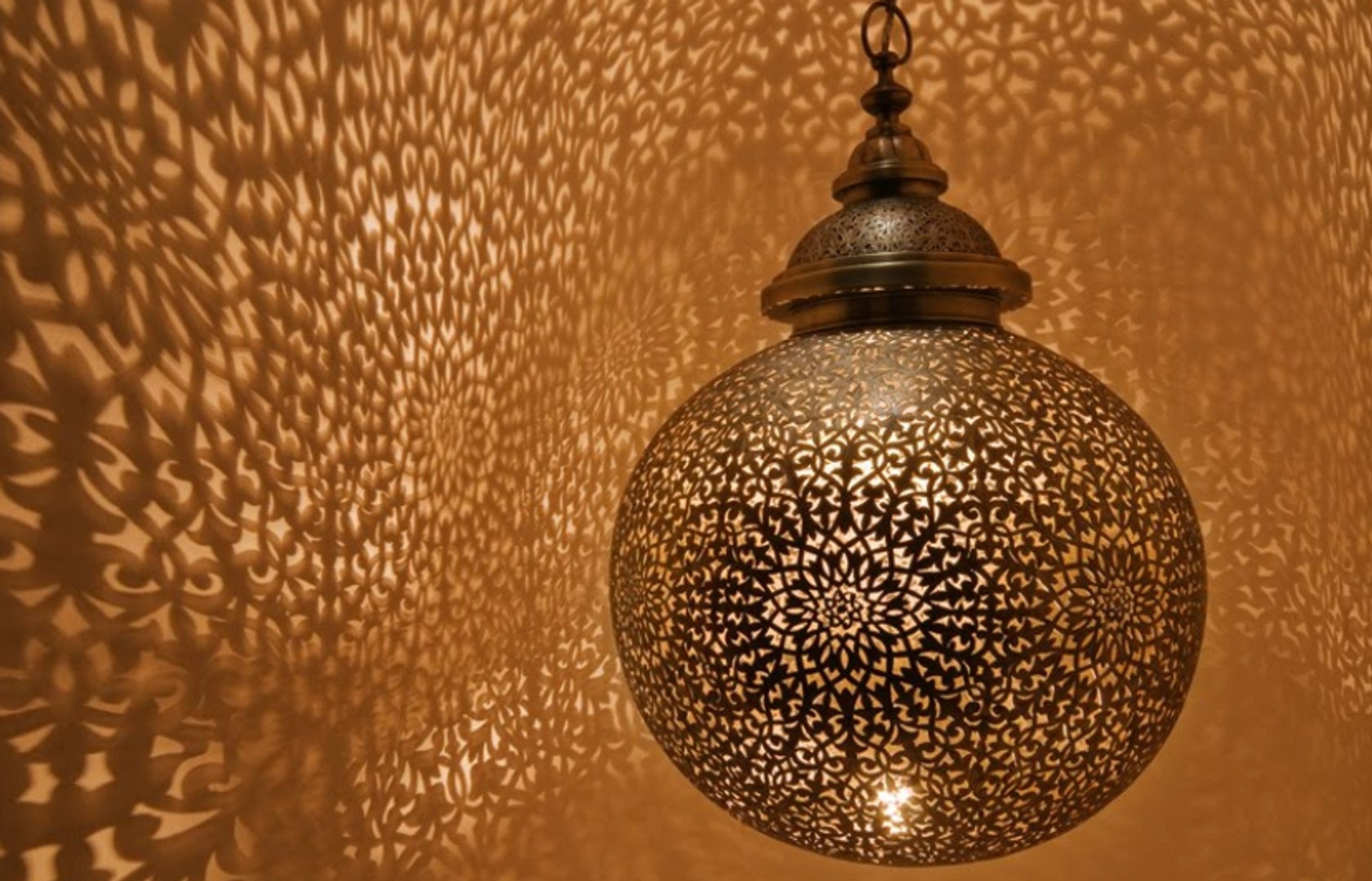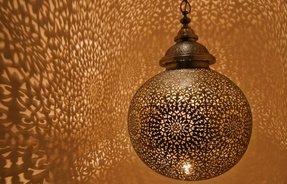 ... moroccan lamp moroccan lamp hanging moroccan lantern hanging moroccan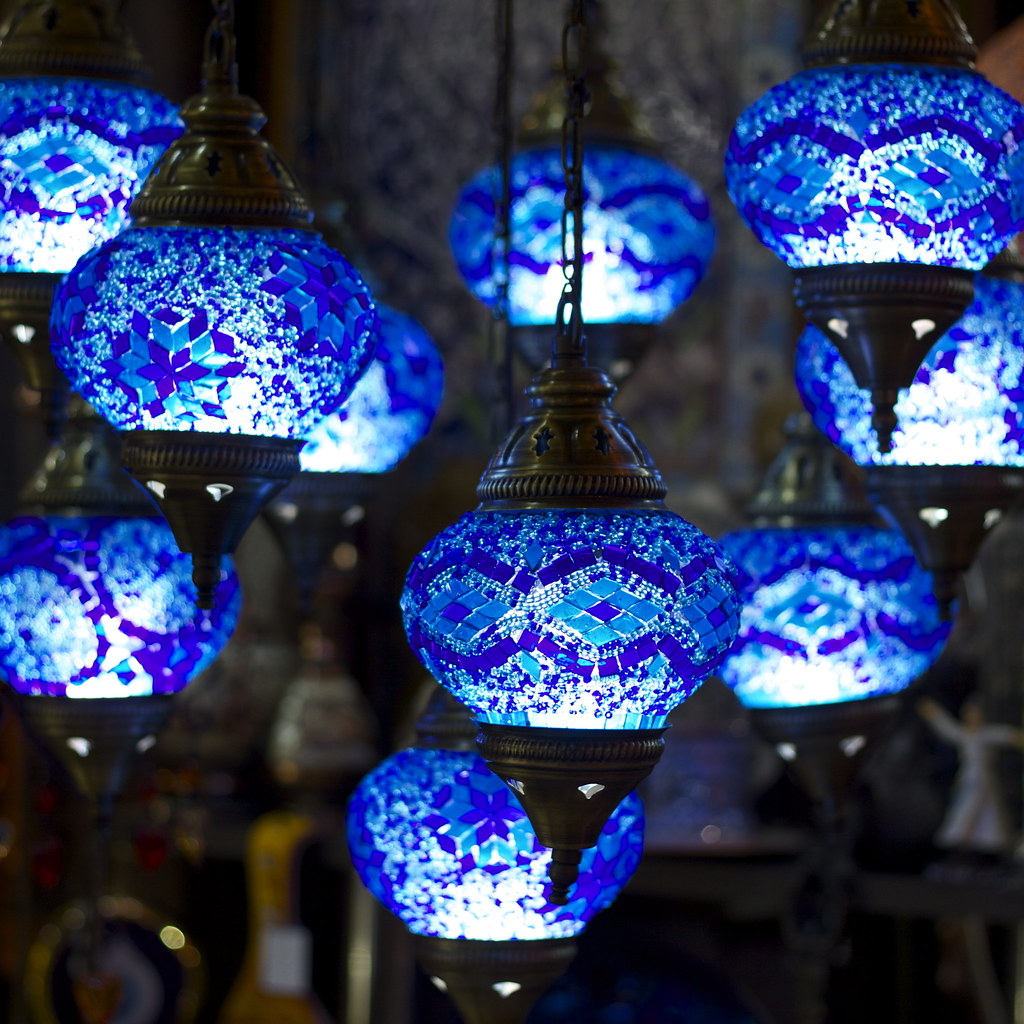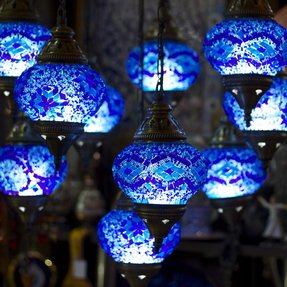 Blue lanterns. These are sooooo much prettier than the ones I made outta mason jars!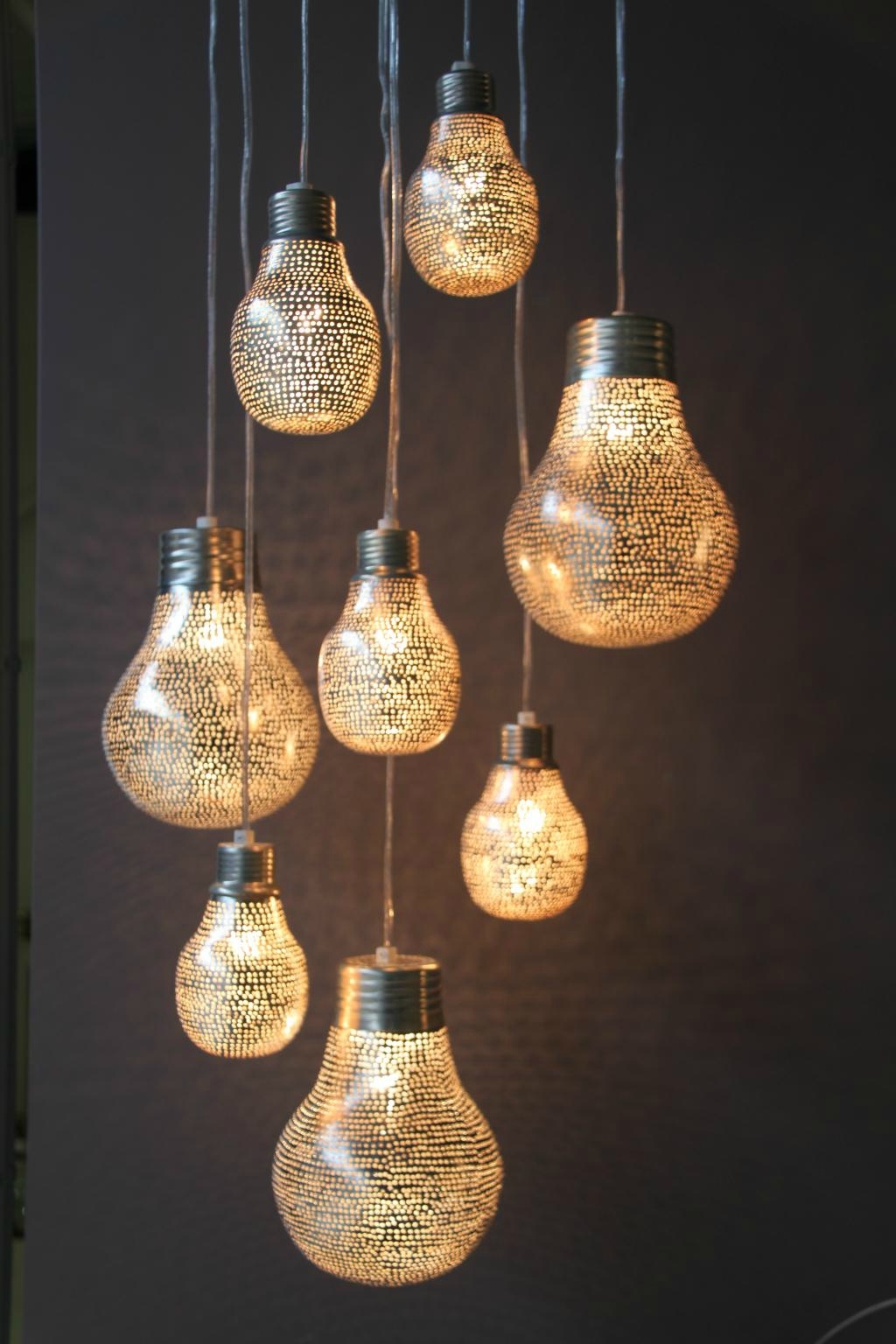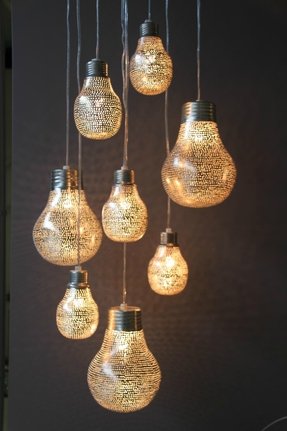 Lounge - (over bar) Zenza - Filisky little pear | i want an apartment so bad so i can use these!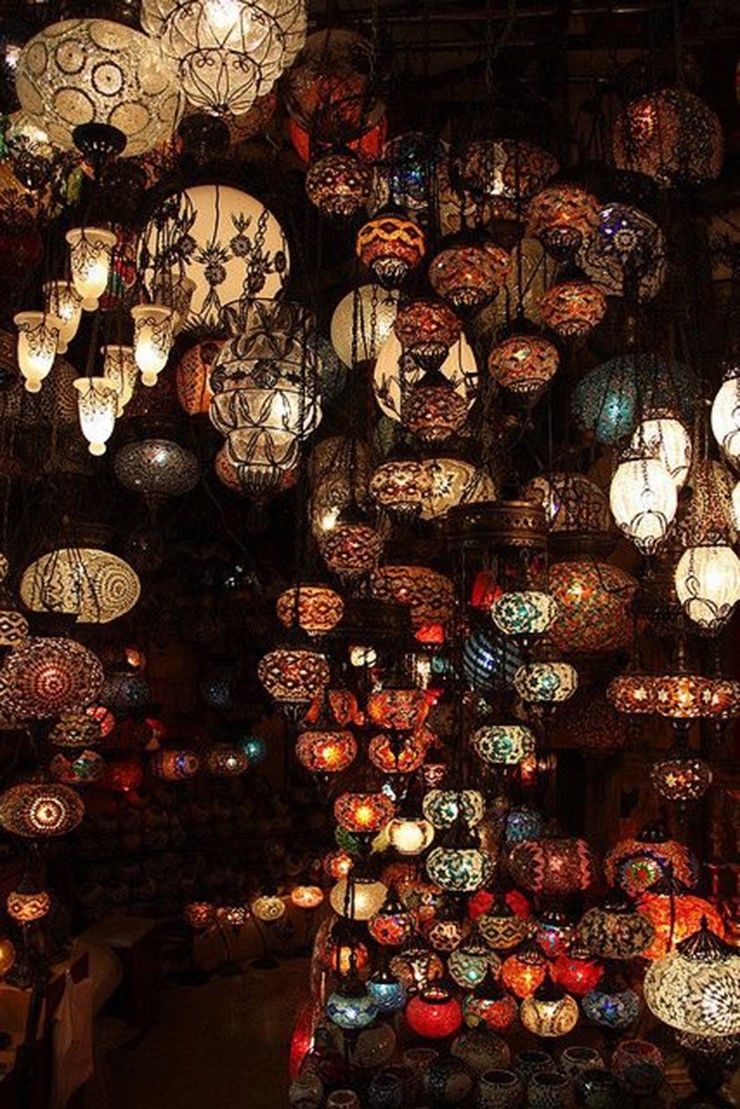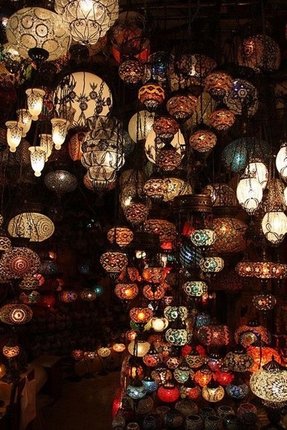 Went into a flower shop and they had lanterns and flowers dangling from the ceiling just like these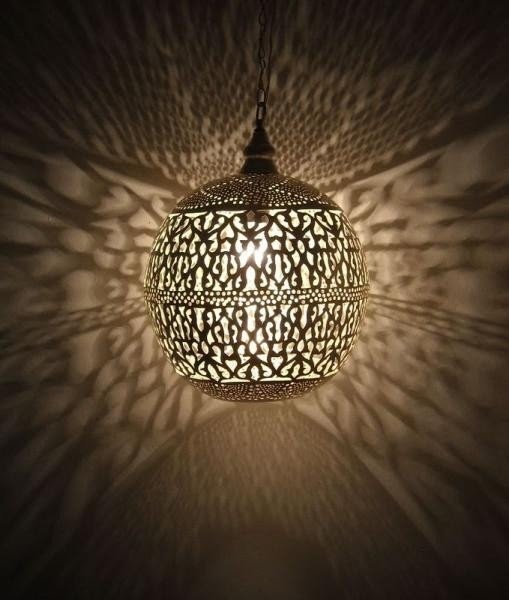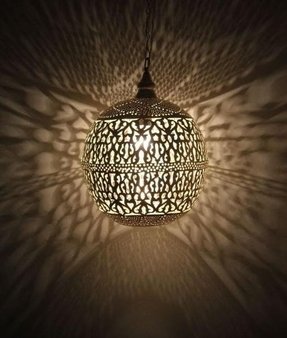 Moroccan Lamp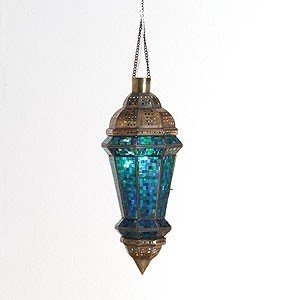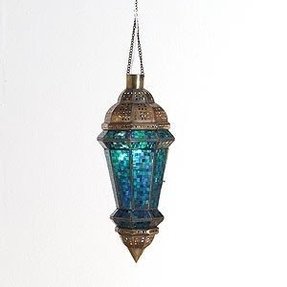 love this lantern! I world love the money to put these all over the back yard and make a private little oasis for myself!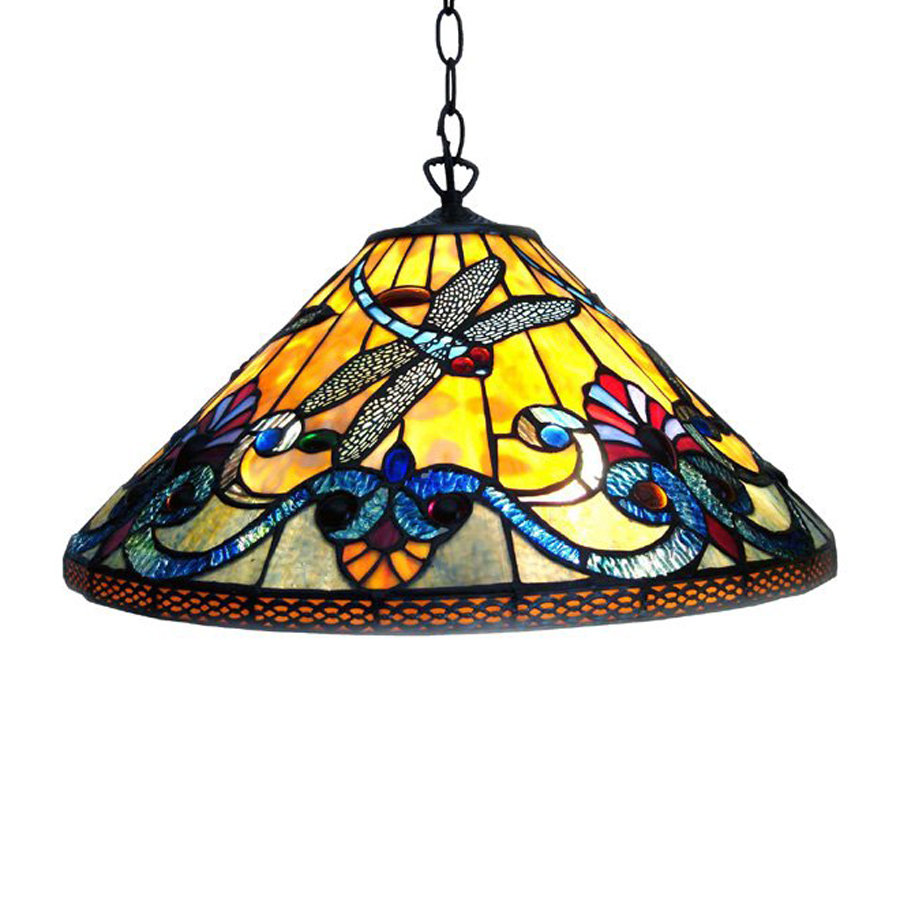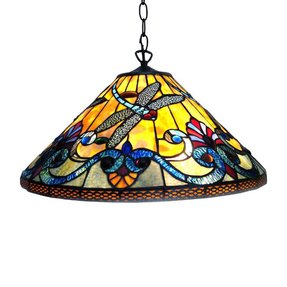 Chloe Lighting Tiffany 2 Light Hanging Pendant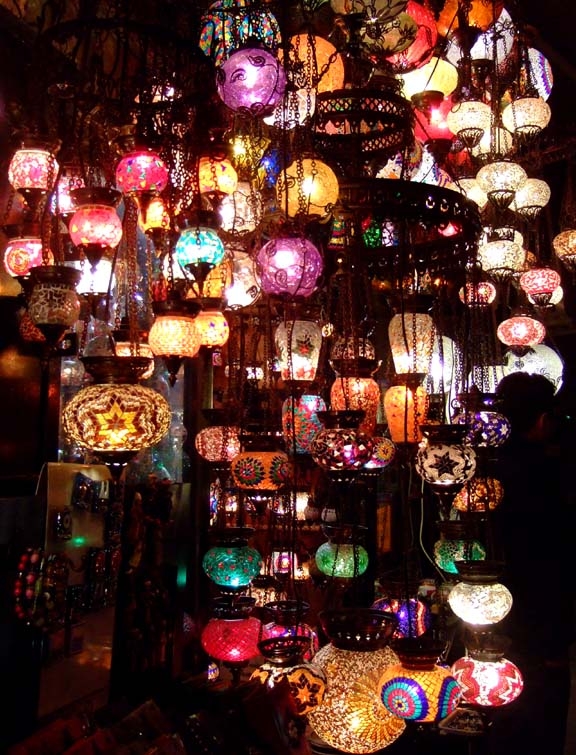 Lanterns,lights,candles......... - Temple Illuminatus, a how to on how to make your own lanterns or where to purchase some beautiful ones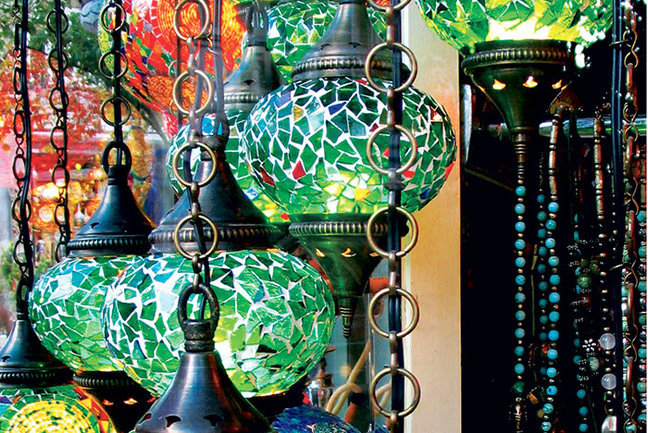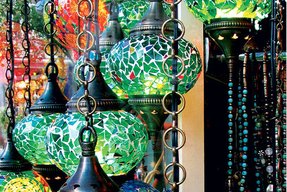 Turkish mosaic hanging lanterns